When you take your time to prepare a chicken pot pie, you want it to be in a real meal, which means you need it aside. Choosing what to serve with chicken pot pie is not easy as there are many different ingredients mixed together, and you need a side dish that complements them all without destroying the main taste.
In this article, I will provide you with suitable options to go with the taste while also surprise your guests with more creative ideas than just fries or rice. Scroll and pick the side that you find most appealing, or try them all; it is up to you!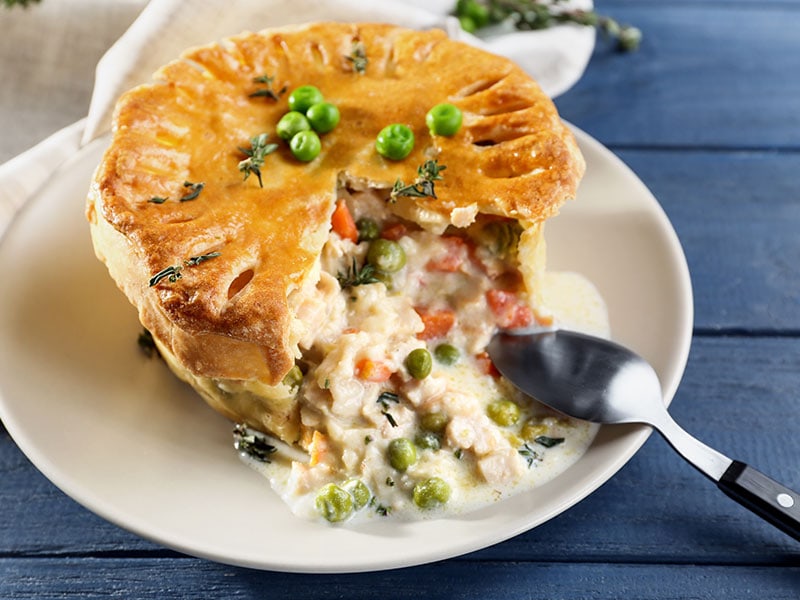 The Basics About Chicken Pot Pie
In general, a pot pie is like a normal savory pie, which, however, also contains a dough crust on the top. Despite being called pot pie, it does not necessarily need to be prepared in a pot on the stove, as many people are actually baking it in the oven.
It is one of the very oldest dishes, and archeologists found proof of its existence at around 9500 B.C. Nowadays, chicken pot pie is a wonderful recipe for your dinner. And of course, will contain primarily chicken meat, but this can be mixed with vegetables, and recipes differ.
While not always looking very royal and exclusive, the pot pie was originally served during banquets in the Roman Empire and back then filled with luxury food such as high-quality meat, oysters, or other seafood.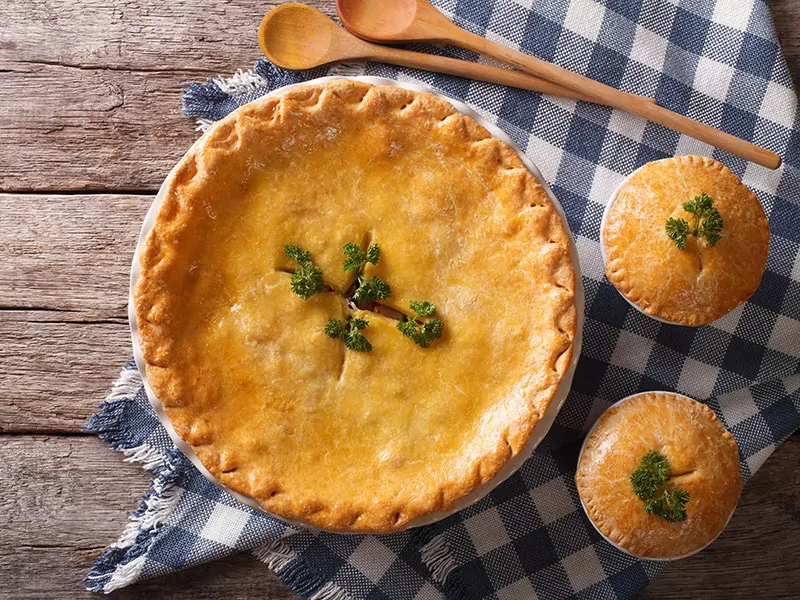 Is it the first time you are going to do a chicken pot pie? If so, watch this video and imitate all steps from Natasha to make sure you will get it right the first time.
The Best Sides for Chicken Pot Pie
Browse through the list of sides to make your chicken pot pie meal complete and successful.
Part 1: Salads
Pairing a pie with something light can be a good idea, especially when serving it for lunch. As the pie contains quite a lot of dough, pairing it with another side full of carbs may be too much for some people.
Green Salad
A green salad that is well composed of some nice green leaves is always welcomed. Try to find something more exquisite than lettuce, such as arugula, spinach, or lamb's lettuce. Garnish it with some roasted walnuts, and you have an upscale but very healthy side.
I also recommend making the salad dressing by yourself. You can choose from a honey mustard sauce, where you simply mix mustard, honey, and olive oil, or a classical vinaigrette using the finest Italian olive oil and balsamic vinegar.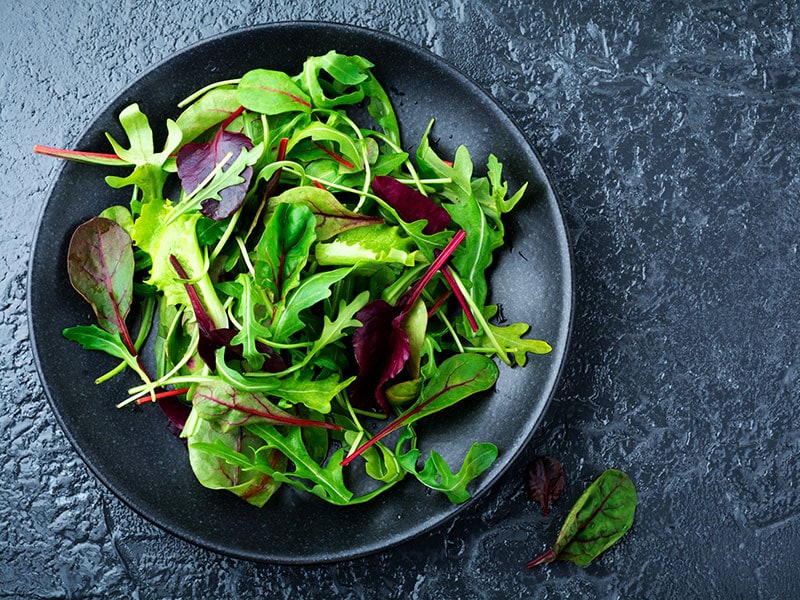 Mediterranean Salad
Many Mediterranean salads are perfect for vegetarians because they contain vegetables from that region, such as paprika, tomatoes, and olives. You can also grill those vegetables to make them taste even sweeter, and then you can also add zucchini, lentils, and cubes of feta cheese.
Garnish it with a few leaves of fresh basil and prepare a vinaigrette, and you are all set with a colorful plate that lets everyone taste the summer.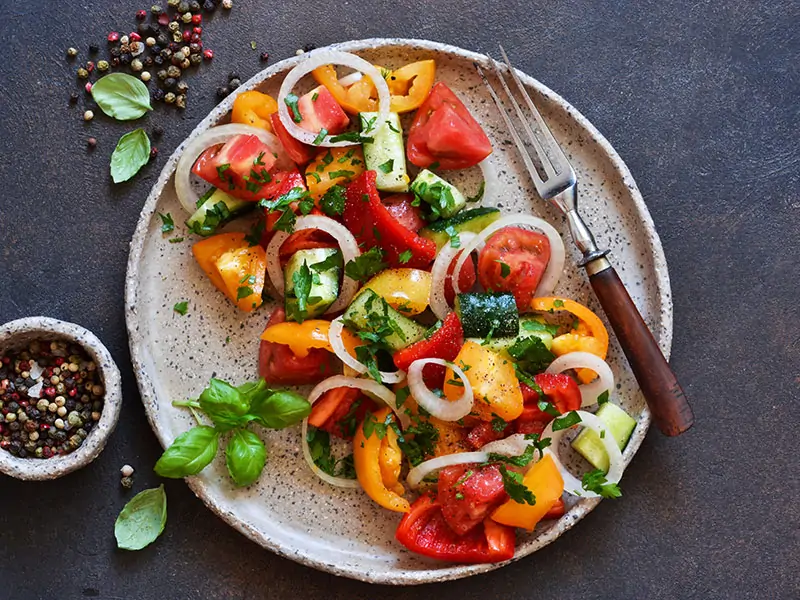 German Potato Salad
In contrast to the way how potato salad is made in America, using a lot of mayonnaise, the Germans actually focus on the plain taste of the potatoes. But as your main dish is already very rich in fat as you have lots of chicken meat, dough, and a sauce, your side does not need to come with a heavy sauce as well.
To prepare this must-try German dish, simply boil potatoes, slice them and mix them together with some oil, vinegar, salt, onions, some herbs, and a boiled egg to garnish on top. Little fewer calories, and if you choose the potatoes well, and even more intensive, natural taste.
In case you made too much and are unsure about freezing your potato salad, fortunately, you can easily keep it in the freezer for your next consumption. But you also need to know the correct storage ways, otherwise, your salad will go bad soon.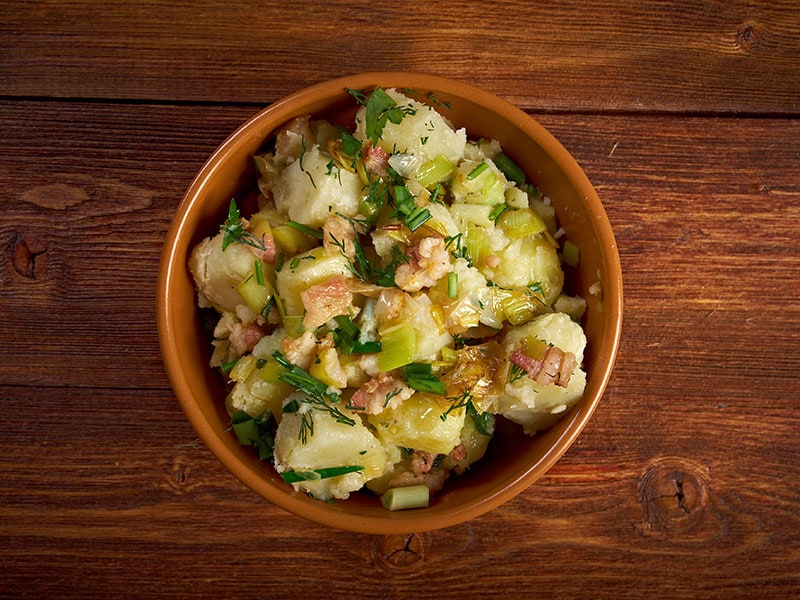 Part 2: Soups
In case you are serving chicken pot pie on one of the colder days in the year, such as during winter, then a hot soup can be a great food to pair with to give an extra cozy feeling of warming up the body from the inside. Also, here, you have many different options to choose from.
Tomato Soup
Let's start with a classic one – tomato soup, which is also a good idea to accompany with sandwiches. Instead of pouring a container of sieved tomatoes into a pot and heating that up, you can go the extra mile and use fresh tomatoes. It is easy to make and its taste is incredible.
To start with, cut some small cracks at the bottom of the tomatoes and then pour boiling water over them. Wait for a few minutes, and then you will be able to easily peel off the skin. Cut them into cubes and throw them into a pot with a little bit of olive oil, small pieces of onion, and pressed garlic.
After a few minutes, you add vegetable broth (which you can get at every supermarket) and some spices and boil that on low flame for about 20 minutes. Garnish with a spoon of whipped cream and some herbs, or alternatively, a leave of basil.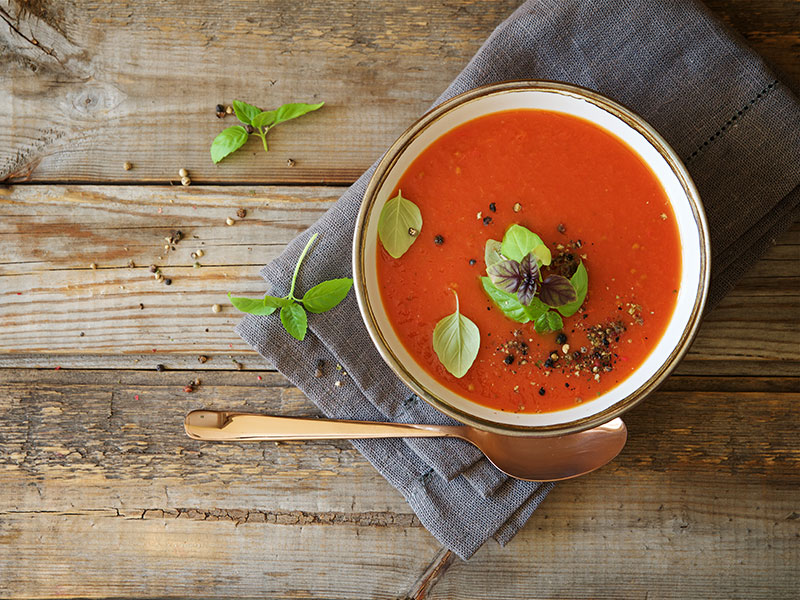 Mushroom Cream Soup
If the tomato is too mainstream, I can recommend a creamy mushroom soup. The taste is rather mild, and it is, therefore, a great option as an aside. You can use your favorite type of mushrooms or even mix different types together.
It starts with sauteing onions and then adding the sliced mushrooms. Sprinkle some flour over the mushrooms and add some white wine and boil all for about three minutes. At the same time, you are preparing a vegetable broth, then pour that into your main pot.
After boiling for a little more, add the whipping cream and slowly let it simmer while you add your favorite spices. One thing to remember is that cream soups are slow-cooked meals, so you will have much better results if you cook slowly and on low heat.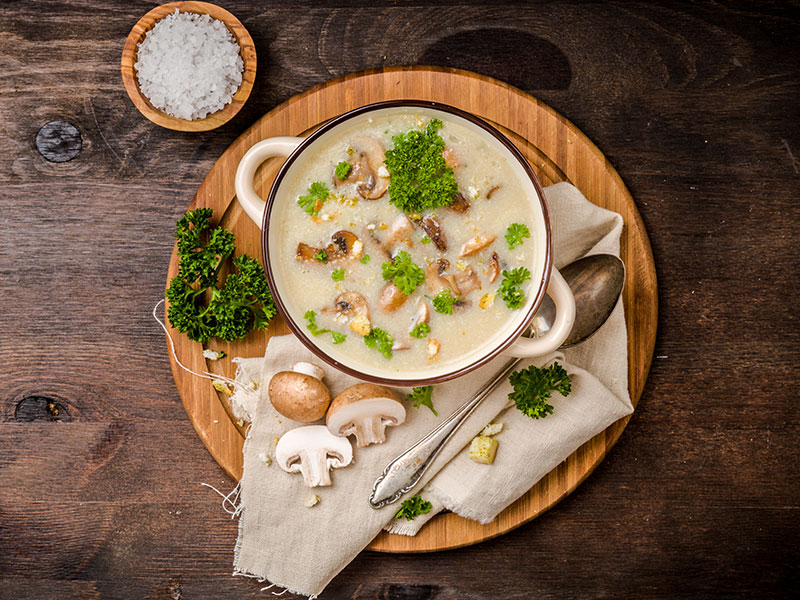 Pumpkin Soup
In autumn, pumpkins are sold almost everywhere, and you should use this occasion to make a delicious pumpkin soup. This soup is also a perfect recipe with canned pumpkins. Overall, either fresh or canned variety, they are all suitable to make a delicious soup.
Cutting a pumpkin takes a little bit of time, so you better start early with the preparation. Once cut in cubes, you should boil it together with onions, garlic, and a vegetable broth until the pumpkin pieces are soft enough that you can sieve them.
Add some whipping cream and keep cooking slowly while spicing, and you are all set with a delicious, warming-up meal for the ugly winter weather.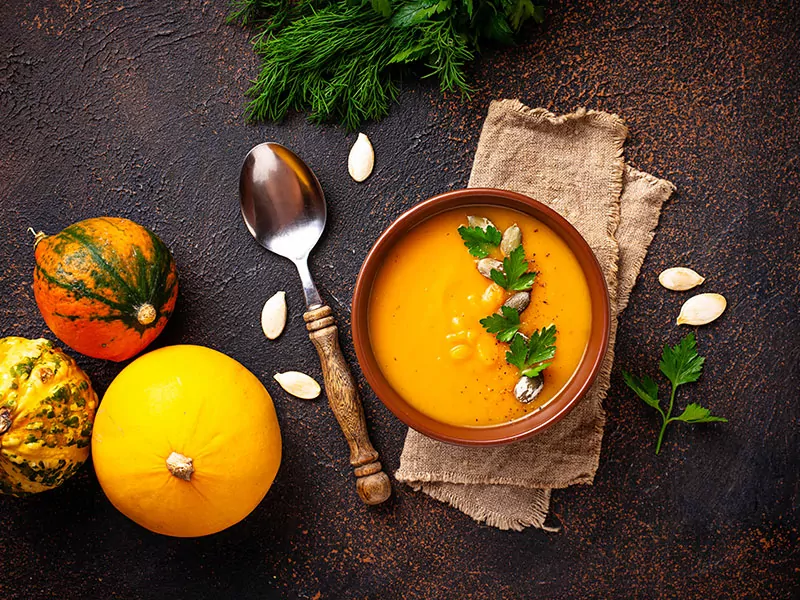 Part 3: Vegetables
If you want something hot but healthy, I can tell you that there is a lot that you can do with vegetables. Simply browse the ideas.
Grilled Green Asparagus
In many parts of the world where asparagus is growing, it is considered a very seasonal vegetable. This means it's crucial you know spoilage signs in asparagus and how to pick the freshest ones. It's no fun buying out-of-season asparagus only to find it's no longer good.
In Germany, for example, it is commonly known among farmers that asparagus cannot be harvested after the 24th of June as this would bring bad luck to the harvest in the following year. This means that it is very difficult to get any fresh asparagus after that date in central Europe.
Green asparagus has a slightly spicier taste than its white relative, while it sometimes can have a subtle note of bitterness. When grilled, though, it becomes slightly sweet and soft, which makes it a very attractive and tasty vegetable and a perfect side for a lot of meals.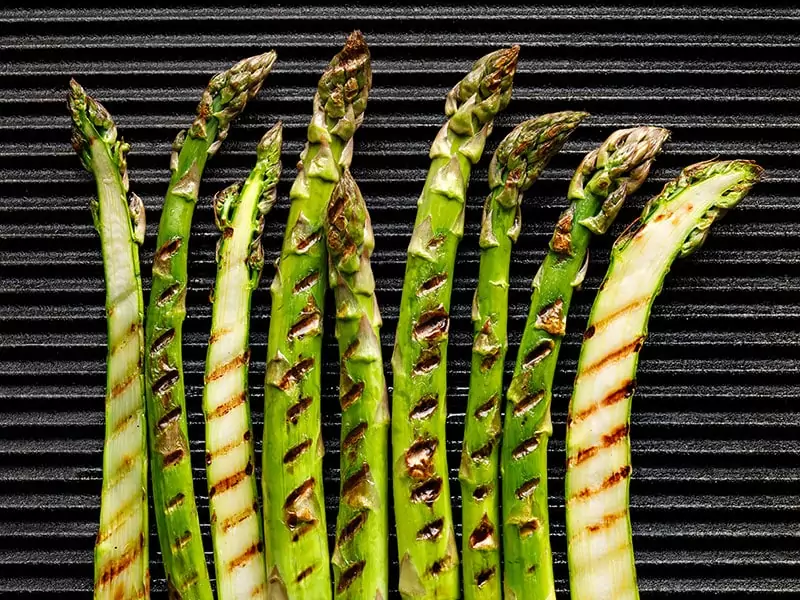 Corn On The Cob
As it is common in the Southwest, pair your meals with corn. Corn is massively available and is therefore for a Southwestern what pasta is for an Italian. The easiest way to serve corn is to leave it in its natural shape and just serve it on the cob.
You can very shortly boil it, add a toothpick on each side and then place it on a bbq. Once grilled, you can now grab it on the toothpicks and one after another bite down. Especially children love it like corn on the cob is eaten with hands instead of using knife and fork.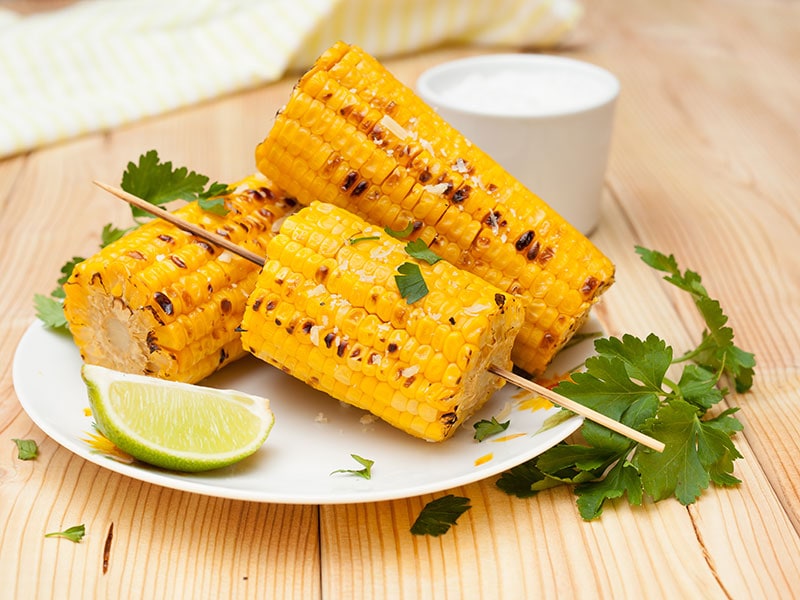 Roasted Brussel Sprouts
Another green vegetable that will come with a crunchy, slightly sweet taste is Brussel sprouts. They are also easy to prepare, though they have a negative image among some people, who dislike them although they most likely have never even eaten them.
Hence, be prepared that if you invite a few, there might be one who refuses to eat that, and you have to convince that person to give it a try first, then realizing that when prepared well, it is a delicious green.
You can fry them in the pan with small cubes of bacon, as this will add a slightly salty taste in contrast to the sweet bitterness from the Brussels sprouts.
Normally, I don't recommend using frozen Brussels Sprouts for this recipe. However, I've come to realize that with the proper techniques to freeze Brussels Sprouts, it's completely possible to use this frozen green.
Grilled Vegetables
During summer there are a lot of different vegetables easily available and affordable to buy, so why not take them all and make a big batch of grilled veggies.
Besides serving them with chicken pot pie, this is a versatile dish that you can pair with quiche too. You can cut vegetables such as zucchini, bell pepper, broccoli, carrots, and cauliflower into stripes or pieces that can easily fit the mouth and marinate them with olive oil.
If you have one, grill them on a BBQ; otherwise, put them into an oven-safe container and heat them in the oven. Towards the end, turn on the grill function to make them slightly brown, but keep an eye on them as they can burn quickly.
Part 4: Staples
Nonetheless, if you have to feed quite a lot of people, or you think that every meal needs to have a staple side, here are some nice ideas. I, however, recommend not only serve staples with chicken pot pie as some people of your crowd might miss a healthy or lighter option.
Mashed Sweet Potatoes
Instead of serving regular mashed potatoes, use sweet potatoes instead. First of all, it will provide a different color as those types of potatoes are orange. In addition, sweet potatoes are less frequently served, and hence you still bring some variation to the table.
As mashed potatoes are smooth and creamy, they are easy to eat and to be enjoyed, and you can keep them warm for quite some time without losing quality. Furthermore, due to the sweetness, it makes a great contrast to the richness of flavors in your chicken pot pie.
As sweet potatoes are a little heavier to digest than normal potatoes, you do not need to serve massive amounts of them; a small bowl for everyone can be sufficient already.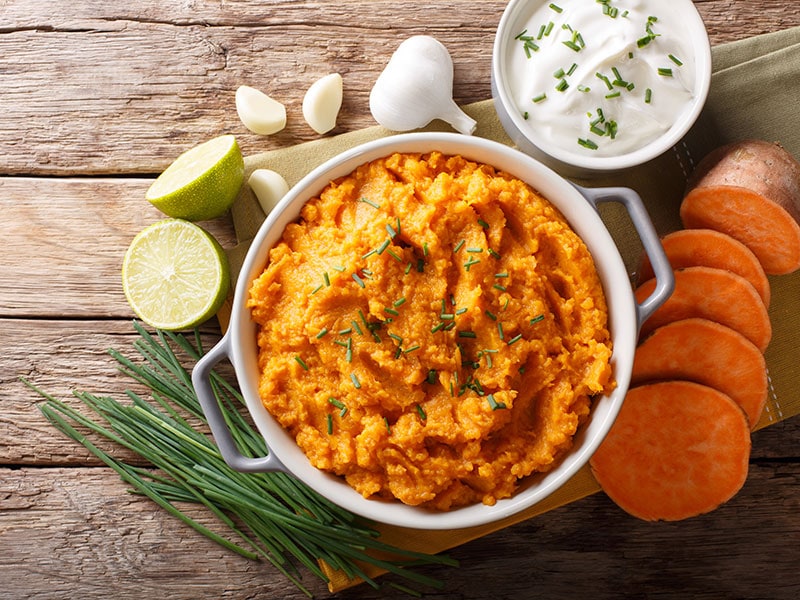 Cornbread
Another Southwest special is cornbread. Similar to the sweet mashed potatoes, it also has a certain type of sweet flavor which could make some people who do not know it wonder why you are serving a dessert with the main meal.
You can bake it on a tray and cut it into small pieces when serving so that people can take it by hand and even dip it into the chicken pot pie. The sweet cake will also offset the intensive spices from the main dish, rounding it off very well.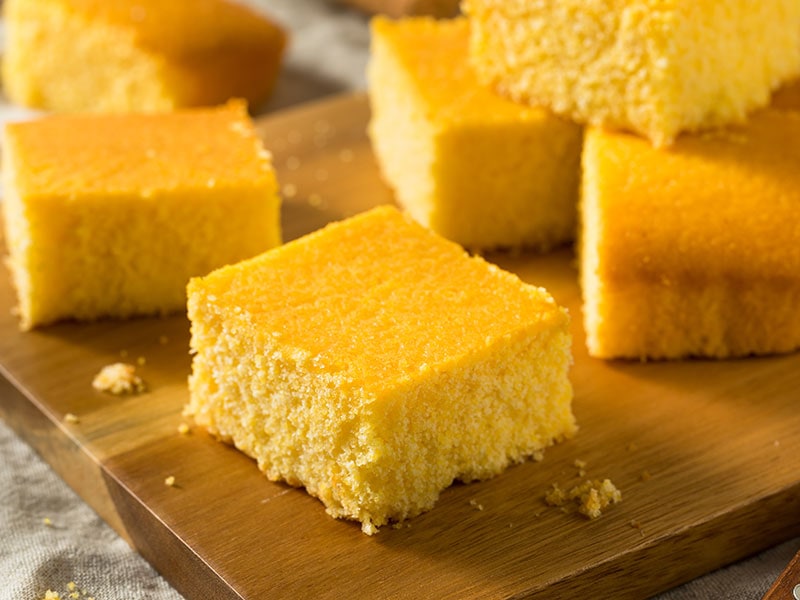 Hash Browns
They are considered to eat for breakfast, but you can, of course, also serve small sliced, fried potatoes with a chicken pot pie. As they contain fat due to the way they are prepared, they can transfer the taste from the chicken pot pie very well, which means that they actually support the casserole flavors.
Part 5: Sweet & Fruity
A chicken pot pie is a generally heavy dish, and many people may therefore not be able anymore to eat a dessert afterward. Hence, be smart and move the dessert a little forward in the meal plan by turning it aside.
Fruit Salad
The healthiest, lightest, and simplest option is probably a fruit cup. Especially during summer, many different fresh fruits are available and not that much expensive. There is no real recipe, and you can mix along whatever you like or you can get.
However, there are some tips you can follow to keep it nice and appealing. For example, avoid apples and pears as they turn brown if the fruit pulp is exposed to oxygen. You can prevent that slightly if you sprinkle lemon juice on them, but I advise you to leave them out.
Melon fruits, berries, kiwi, mango, and cherries can be kept quite long; this is why you most often see such a composition on breakfast buffets or coffee shops. So, if you need to prepare the fruit cup in advance, try to use most of these fruits.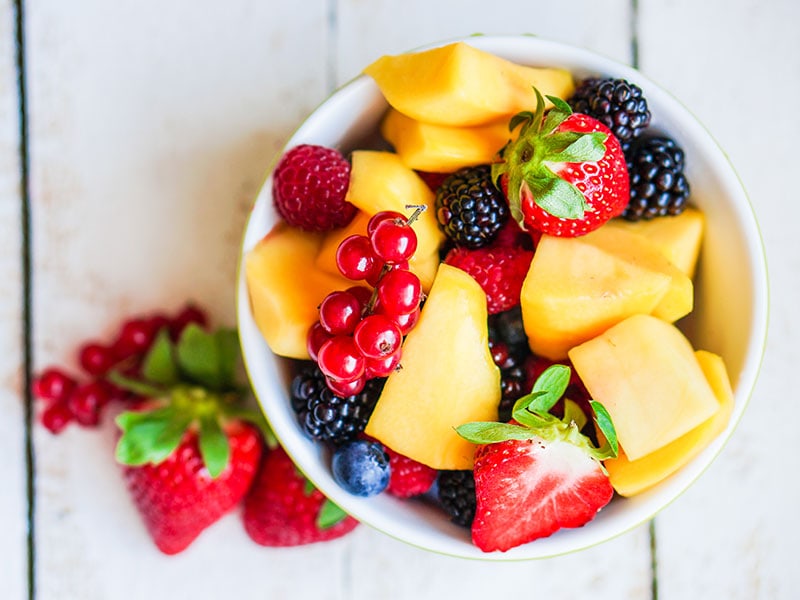 Apple Sauce
It might sound odd, but apple sauce is not only suitable to eat with rice pudding. It actually complements creamy meat dishes quite well and can be a great side. You can cut some small stripes of fresh apples inside and spice them with a swirl of cinnamon.
Not only children will love it, as you can dip the pie into the sauce and get an incredible taste made up from spicy chicken, crunchy dough, and a summerly sweet, refreshing apple taste.
Cranberry Sauce
In some cultures, such as in Sweden, or Austria, it is common to serve a sweet berry sauce with meat, and it works perfectly well. If you simply do not have the time to make a complicated side, or you think the pot pie is heavy enough already, then just prepare a cranberry sauce.
All you need is cranberries, which you season a little with rosemary, thyme, and sage, and you are ready. It will go very well with the creamy and cheesy flavors of your chicken pot pie.
Did You Find Something For Your Dinner Party?
I am quite confident that my suggestions have given you quite some inspiration. As you have seen, not every side can work for every occasion as there is food that is more suitable for colder days, but not suitable when it is really hot outside.
Keeping in mind those little things, I am sure you are able now to pick something very delicious. From time to time, it is a nice courtesy to your family or your friends if you cook them a comprehensive, creative, and delicious dinner.
Nutrition Facts
8 servings per container
---
Amount Per ServingCalories96
% Daily Value *
Total Fat 6.6g

10

%
Cholesterol 4mg

2

%
Sodium 353mg

15

%
Potassium 321mg

10

%
Total Carbohydrate 9g

3

%

Dietary Fiber 2.5g

8

%
Sugars 4.4g

Protein 2.2g

4

%
---
* The % Daily Value tells you how much a nutrient in a serving of food contributes to a daily diet. 2,000 calories a day is used for general nutrition advice.