Thai cuisine offers many mouth-watering Thai foods you will love enjoying. Thai dishes often have a unique flavor that you can hardly find from other places. The spicy taste of recipes will make you unforgettable.
I will bring a list of typical and outstanding Thai recipes that you can refer to for your upcoming trip to Thailand. Therefore, save the list to taste all these famous dishes when you set foot there.
Soup And Curry Dishes Should Not Be Missed When Stepping On Thailand
Thai dishes are very diverse in taste and preparation. They are especially famous for their soups and curries with rich flavor and characteristic spicy taste that you can only find in this magnificent cuisine. Therefore, do not forget to take the time to eat the dishes below.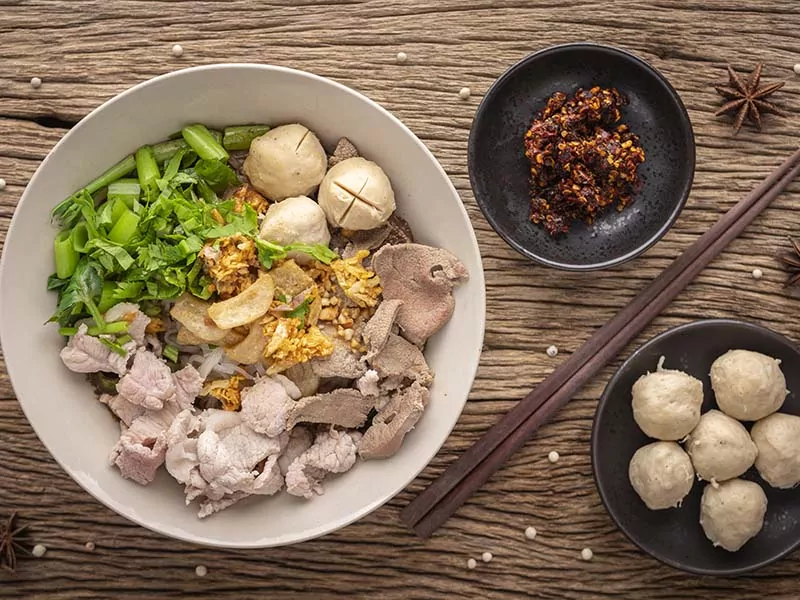 It is a pity not to enjoy Guay teow on your journey to discover Thailand. It is a famous dish of Thai cuisine that you can find in every corner of this country. It is a kind of noodle soup with broth, noodles, and various types of meat.
You can choose between two kinds of Thai noodles: egg noodles or rice noodles, depending on your preference. In particular, the meatballs that vendors put in the broth make it sweet and rich. Put some lemon juice, fish sauce, and chili in the bowl to enjoy right away.
This is a food that originated in China and was brought to Thailand by a Chinese merchant during the Ayutthaya era and became a famous dish here.
2. Panang – Thai Curry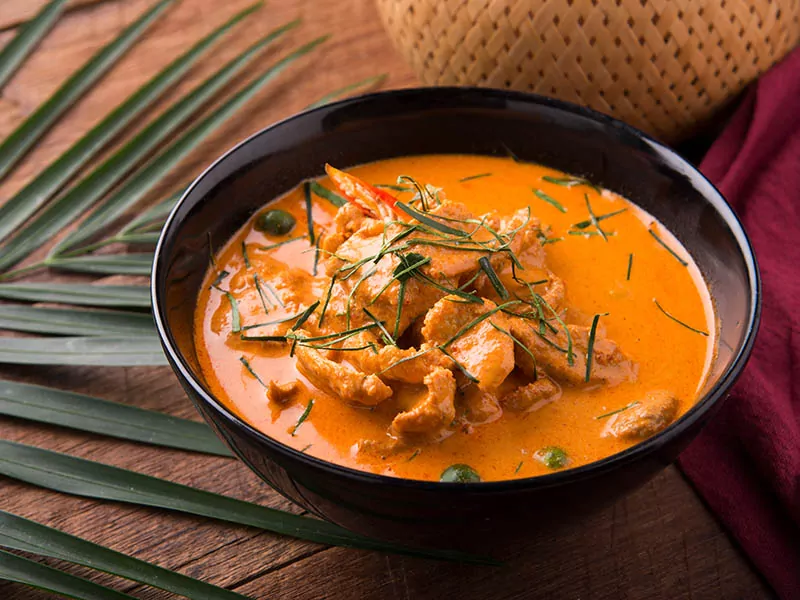 Panang is a wonderful curry recipe first created by people in central Thailand. Gradually, it became popular and loved all over Thailand. This recipe is said to have appeared since 1890 with the name phanaeng.
Panang is a perfect addition to your Thai dinner recipes. The name panang is derived from the name of an island on the West coast of Malaysia, which is Penang. It is a traditional curry that many tourists want to enjoy when coming to Thailand.
Unlike other Thai curries, the taste of panang is a little lighter, and the spiciness is moderate enough for everyone to taste. This curry has a distinctive red color to distinguish it from other curries. It is often eaten with shrimp and vegetables.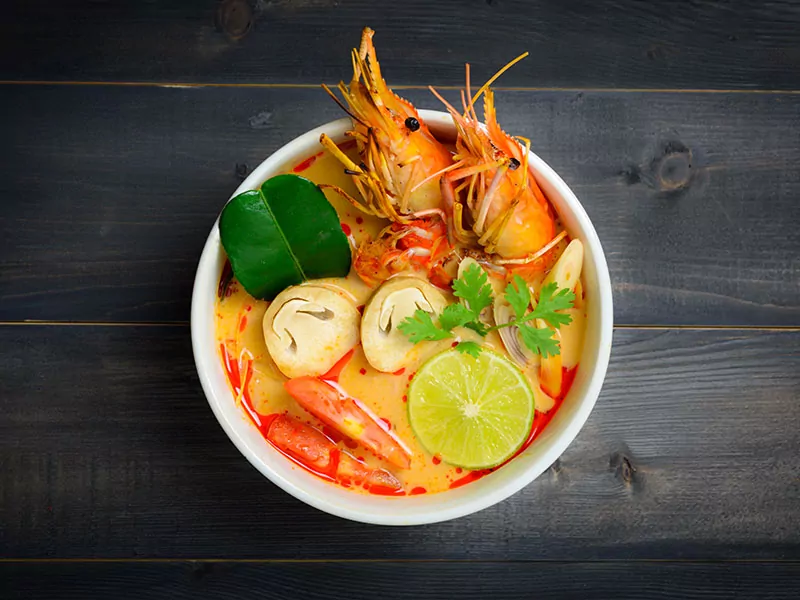 When you come to Thai Square, you will notice many stalls selling delicious Tom Yum Goong. It is good to order a bowl and enjoy the essence of Thai cuisine right away. Before its taste hits you, you will not be able to sit still with its attractive look.
Its rich flavor and enticing aroma will excite all your senses. This recipe will clearly show the typical spicy taste of Thai cuisine. In addition to shrimp, you will feel the aroma of lemongrass and the rich flavor of coconut cream, mushrooms, and fresh prawns.
Not much is known exactly about the emergence and development of this wonderful dish. However, many people believe that this dish was first made in the Chao Phraya River region of Central Thailand.
Let's take a trip to Thailand to taste the delicious Tom Yum Goong.
4. Tom Kha Gai – Chicken In Coconut Soup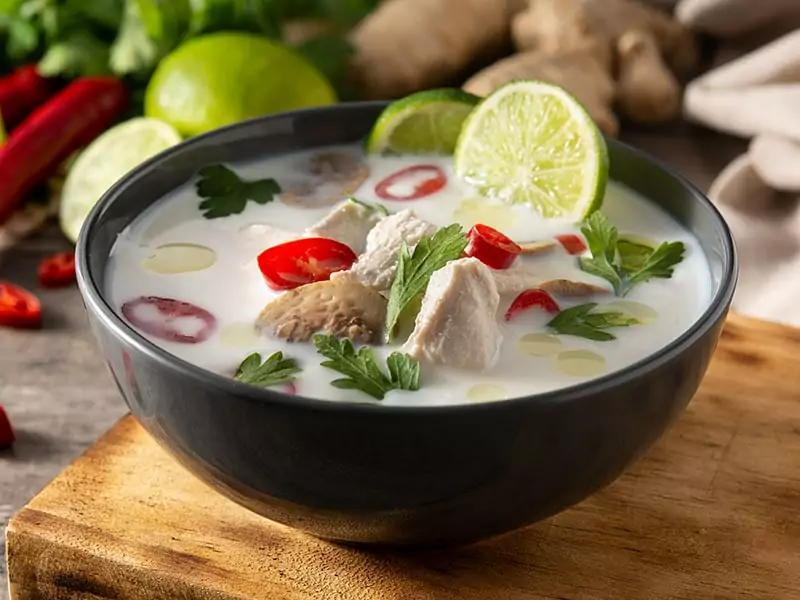 Tom Kha Gai is considered a national dish in Thailand. It is common in Northern Thailand and is inspired by Latian cuisine. The combination of chicken and coconut milk makes this recipe rich and creamy.
Coconut milk plays an essential role in Southeast Asian cuisine, and I am sure you will fall in love with its incredible taste. When compared to other Thai delicacies, its spiciness is subtle, so even those who are not good with spicy food can enjoy it.
Learn the ways to make delicious Tom Kha Gai at home.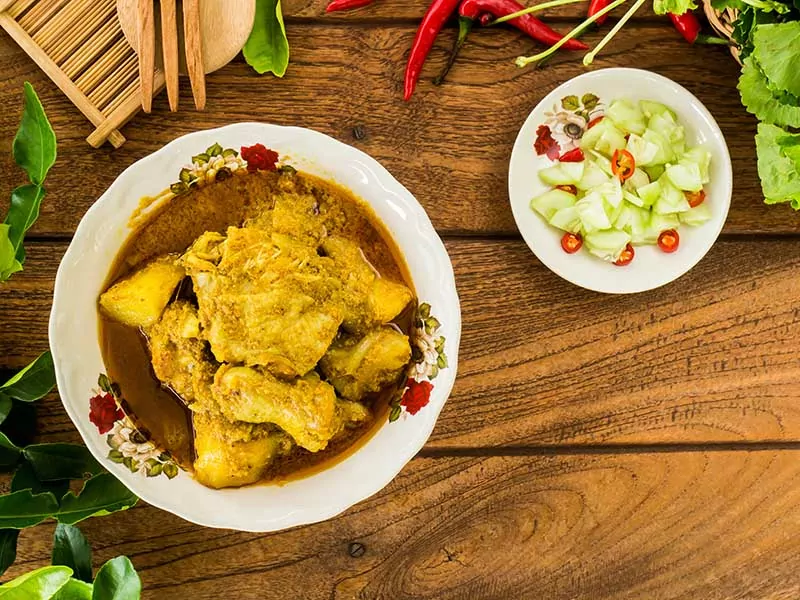 Thanks to the low amount of chili, this curry will not taste too spicy. You can easily find this dish in restaurants in Western Thailand. It was inspired by British naval cuisine when British troops arrived in Thailand in the 20th century.
It is a combination of Indian curry powder and traditional Thai curry paste to create a unique color and flavor. Unlike other curries, turmeric is added to the curry to make it yellow. Moreover, you will feel the flavor of coconut milk when you taste it.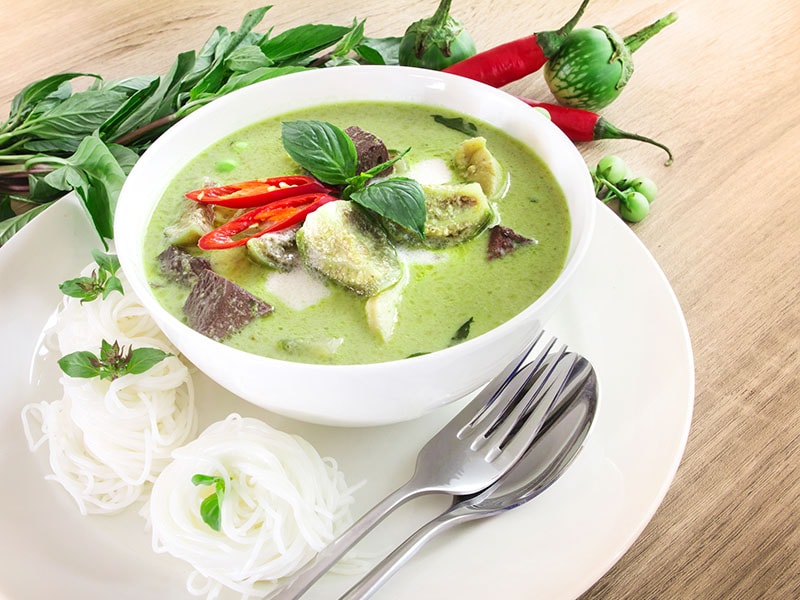 Among Thai dishes, green curry is one of the spiciest. It originates from central Thailand with unique processing and flavor. The remarkable thing about this recipe is the amount of coconut milk added to make the dish sweet and fatty.
The presence of lemongrass, coriander, galangal, zest, and chili makes the flavor of the food intense and robust. If you like spicy food, this dish is definitely a must-try.
Its name "Green curry" is inspired by the color of green chilies added to this food. In Thai, the word "wan" means "sweet", so you will feel a slight sweetness when eating it. This food was common during the reigns of King Rama VI and VII.
7. Khao Soi – Coconut Curry Noodle Soup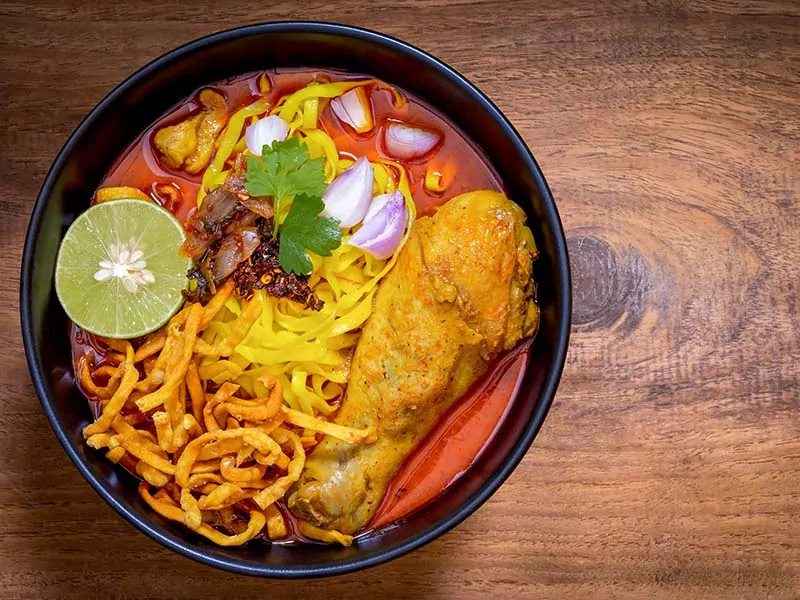 Khao Soi is a dish you should try when visiting Northern Thailand. This dish got its inspiration from a signature dish from Burmese cuisine – coconut curry. It was first brought to Chiang Mai by the Chinese in the late 19th and early 20th centuries.
The flavorful and enchanting taste of coconut milk deserves a 100 mark. The chewy and tender egg noodles will make you want to enjoy this excellent Thai soup again. You should eat it with red onions, salted cabbage, and lemons for extra flavor.
8. Massaman Curry – Chicken Massaman With Potato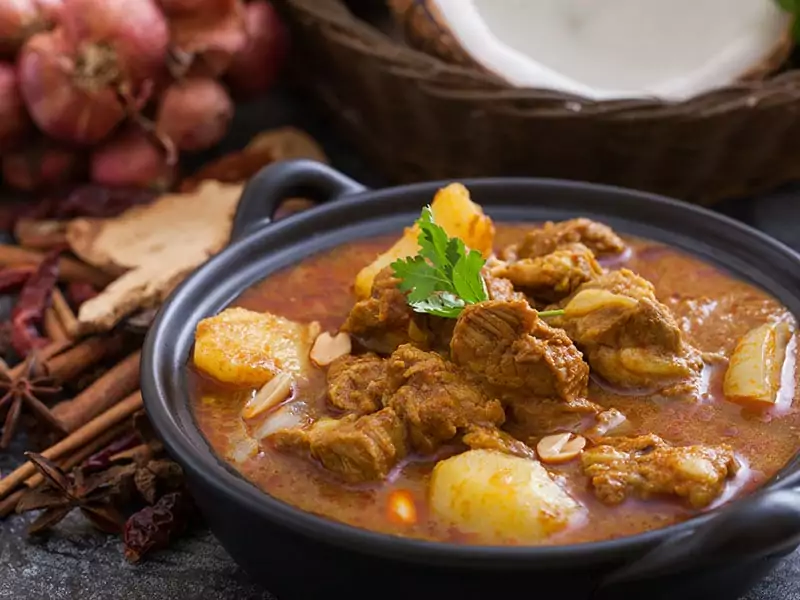 Another scrumptious Thai lunch recipe you should try is massaman curry. This is a traditional Thai chicken dish associated with the memories of many Thai people. They say that Muslims from Malaysia strongly influenced it, and it was invented in the 17th century.
The spices blend perfectly to make a harmonious whole. You will feel the typical flavors of cumin, cloves, and cinnamon when sipping a spoonful of the broth. Chicken, potatoes, and coconut milk make a perfect dish in terms of look and taste.
It is time to enjoy the excellent flavor of Massaman curry in Thailand.
Salads play an essential role in making Thai cuisine widely known in many countries. Thai recipes for appetizers always need one or two salads at a party. The ingredients and flavors of them always leave an impression in diners' minds.
9. Som Tam – Spicy Green Papaya Salad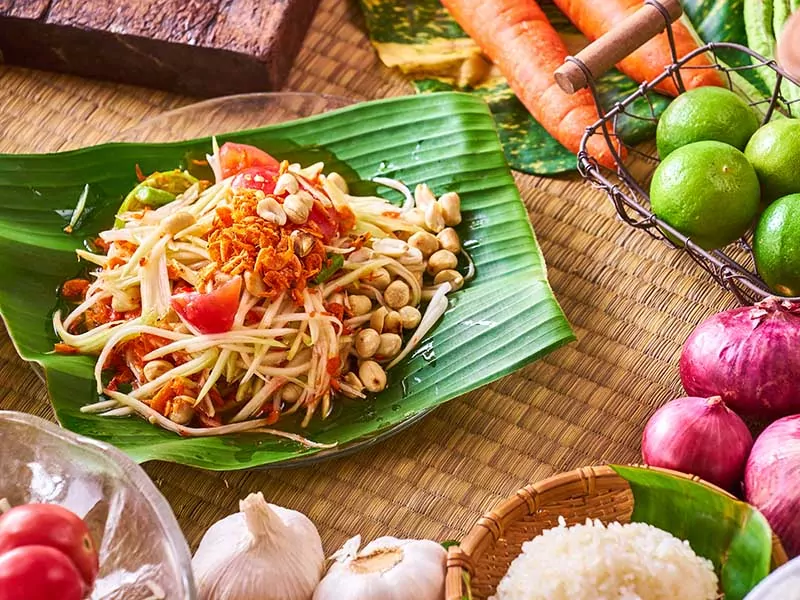 It would be a real pity if you did not enjoy the famous Som Tam in Thailand when coming here. When leaving Thailand, I firmly believe that most people want to come back to taste this dish again. It comes from the Lao-Chinese ethnic minority.
The taste of Som Tam will be best when you enjoy it in Isaan in Northeastern Thailand since this is where it came from. There are different versions, but the most popular one contains a lovely Thai fruit: green papaya.
The crispness and natural flavor of green papaya blend with carrots, tomatoes, dried shrimp, and many other seasonings, thanks to the artisan's professional and hand mixing skill to create a unique and stimulating taste.
Check out the instructions to create a fantastic Som Tam.
10. Yam Talay – Spicy Seafood Salad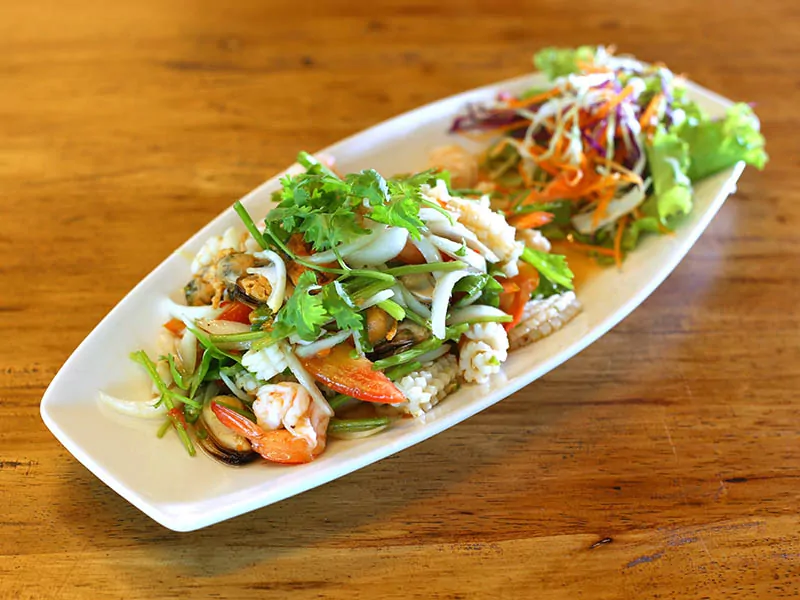 When traveling to the Land of white elephants, Yam Talay is food that tourists want to eat. Besides the exceptional taste, it is also a healthy food as it brings many nutritional values to the body. A miniature seafood feast appears on this salad plate with squid, shrimp, crabmeat, mussels, and scallops.
Onions, rice noodles, and tomatoes added to the recipe will upgrade the flavor of the dish. When chewing Yam Talay, the seafood and accompanying components blend, and you will feel the distinctive taste of fish sauce in this food.
There are 4 different salad preparation methods in Thai cuisine, including yam, tam, lap, and phla. You can find several different yam salad variations besides yam talay, like yam thai, yam kung ten, yam salat, and more.
11. Yam Pla Dook Foo – Catfish And Green Mango Salad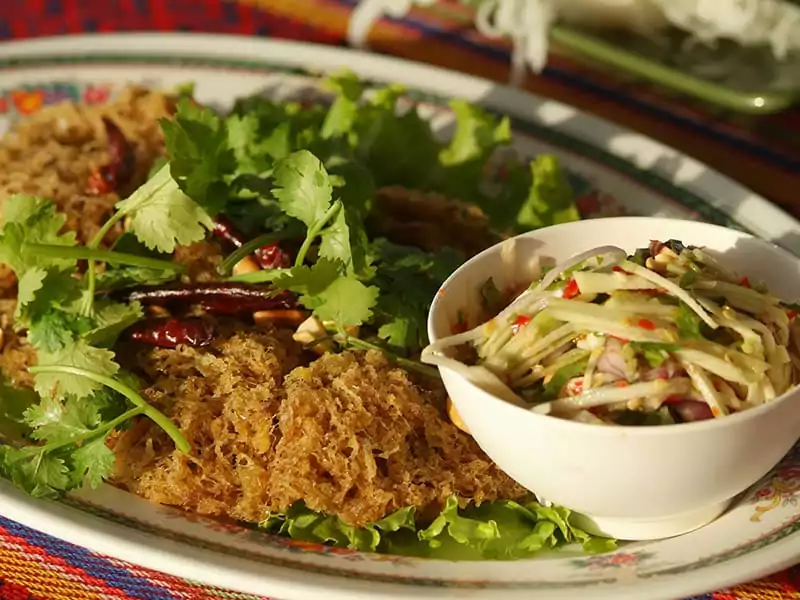 I will use two words to talk about this beautiful dish, "crunchy" and "fluffy". This is a perfect combination when fried catfish is served with green mango salad. Both, when eaten simultaneously, will bring a unique and irresistible taste.
Take a bite of fluffy fried catfish and a chopstick of crispy green mango salad to feel the sour, spicy, and sweet flavors dancing inside your mouth. This food is often used as an appetizer at Thai parties or served with beer.
Born in Central Thailand, this food is considered a typical dish of the Essan people. Thais usually serve it as Gap Glaem or with rice.
Get the tutorials to make the incredible catfish and green mango salad.
12. Yum Nua – Beef Salad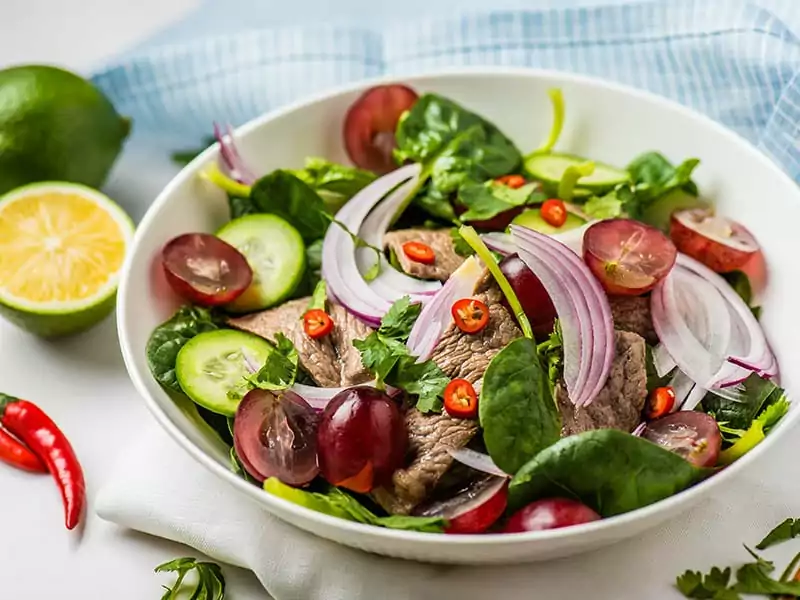 You should immediately enjoy Yum Nua if you're a fan of tender beef. You will be fascinated with the characteristic spicy flavor of this savory salad. Thinly sliced beef tenderloin offers just the right amount of softness. This salad always appears on Kalaya menus.
The beef is mixed with various ingredients to create a flavorsome dish. A little salty and sour flavors from fish sauce and lime juice contribute to a rich salad recipe imbued with Thai cuisine and culture.
13. Laab – Spicy Salad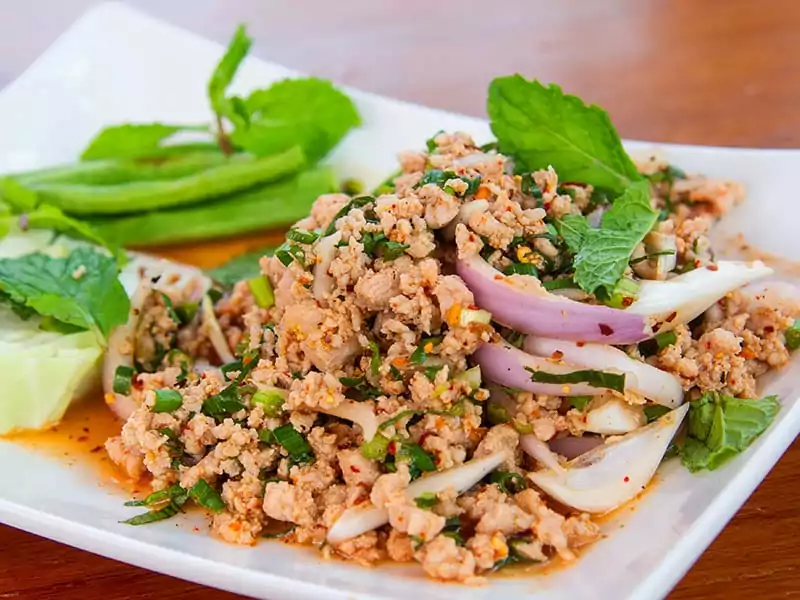 One of the salads that leave a lot of impressions on diners is laab. It came from Isaan province, located in Northeastern Thailand, bordering Laos and Cambodia. The combination of meat and mushroom makes a wonderful recipe.
You can find chicken or pork on laab plates. The highlight of the food comes from its intense spicy taste. Therefore, it is a suitable choice for fans of spicy food to stimulate their taste buds.
What if you can't handle spicy food very well? I'd still recommend that you try out this dish. Just pair this with some refreshing Thai beverages to dispel the heat. It'd be unfortunate if you don't get to taste this amazing Thai dish.
Remarkable Traditional Thai Foods For Rice Fanatics
Rice is a popular food in Southeast Asian countries, and so is Thailand. There are many traditional Thai dishes with the main ingredient being rice that you should eat. Please save the list below and enjoy them.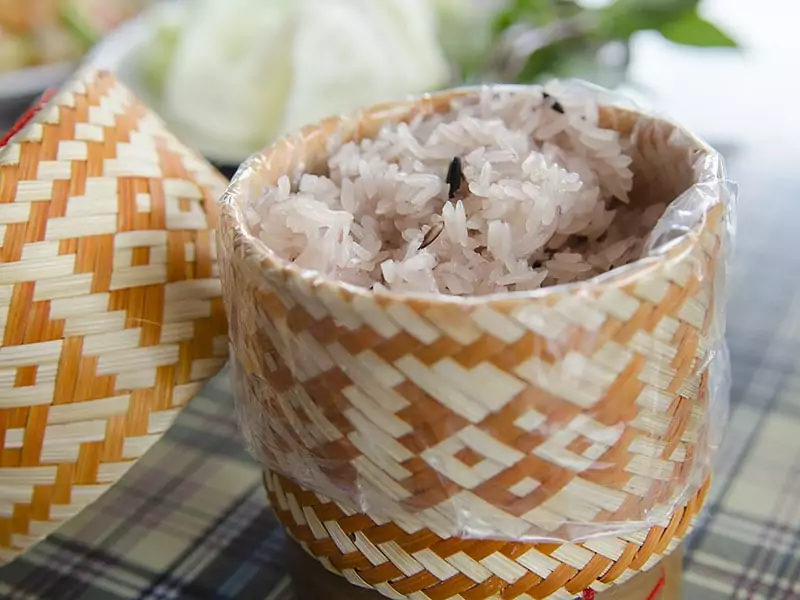 Khao Niao is a famous traditional dish in Thailand, with the main element being sticky rice. This is a primary food that appears in every meal of the people in the Isan region in Northeastern Thailand. It was created by the Portuguese during the Ayutthaya period.
Sticky rice is also a prominent dish in Vietnamese cuisine. In this country, the locals usually eat sticky rice with peanuts. Another equally famous variation is sticky rice with ham, pork floss, fried onions, and quail eggs. Moreover, the dish is a famous street treat in Lao.
It can be present in the list of Thai lunch recipes or go well with appetizers or desserts in Thai meals. The softness and flexibility of the pure and fragrant white rice grains will captivate you immediately.
15. Pad Kra Pao – Thai Holy Basil Stir Fry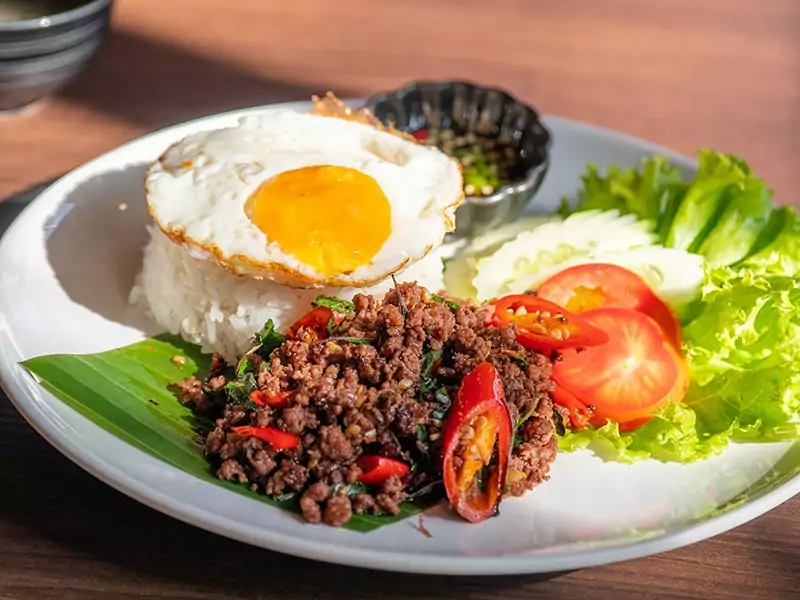 This wonderful recipe was first prepared 40 years ago, and the basil used in this dish was discovered between 2450 and 2500 BC. This food is an indispensable part of Thai cuisine.
Thais have delicately combined rice, meat, and eggs to make an excellent plate of rice for dinner. Minced chicken or pork is stewed for a long time to infuse the spice. All flavors will create an excellent symphony of flavors.
When enjoying it, you will drizzle a few teaspoons of sweet and sour fish sauce over the meat, white rice, and fried eggs to make the food more flavorful. The typical and irresistible taste of basil will make it hard for you to forget this appealing dish.
It is a great experience to enjoy Pad Kra Pao in Bangkok.
16. Khao Pad – Fried Rice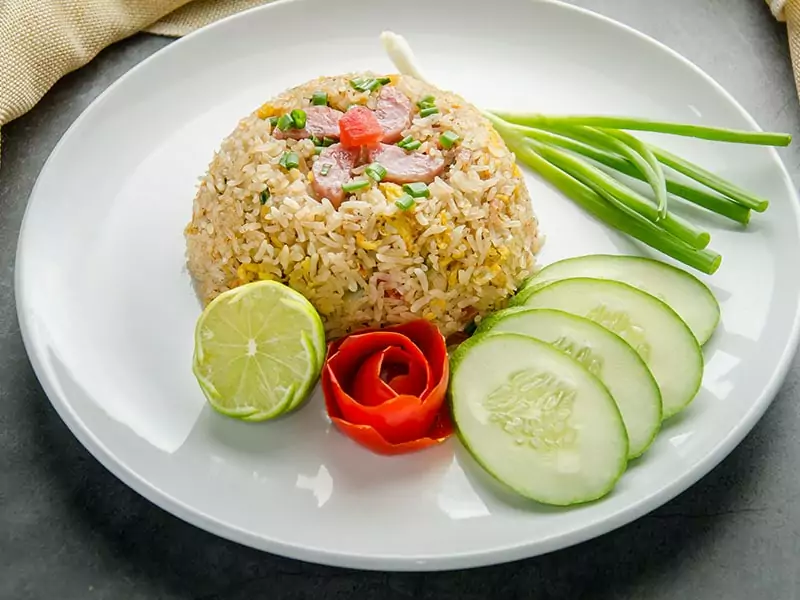 Instead of eating white rice with other foods, Thai people fry rice with various meat, eggs, and vegetables to make a fabulous Thai breakfast recipe. Thais call it Khao Pad. It will be perfect to start a new day full of energy in Thailand.
The rice and ingredients are fried together and seasoned with fish sauce and soy sauce to bring a rich flavor to each grain of rice. Khao Pad sapparod is a famous version where rice is enjoyed with sweet pineapple.
Khao Pad was invented by the Thais in the Northern province of Chiang Mai a long time ago and has become a symbolic food of this area. You can choose from many various variations of it to eat like pork fried rice, seafood fried rice, chicken fried rice, and others.
Let's go to the kitchen to make a yummy khao pad for your breakfast.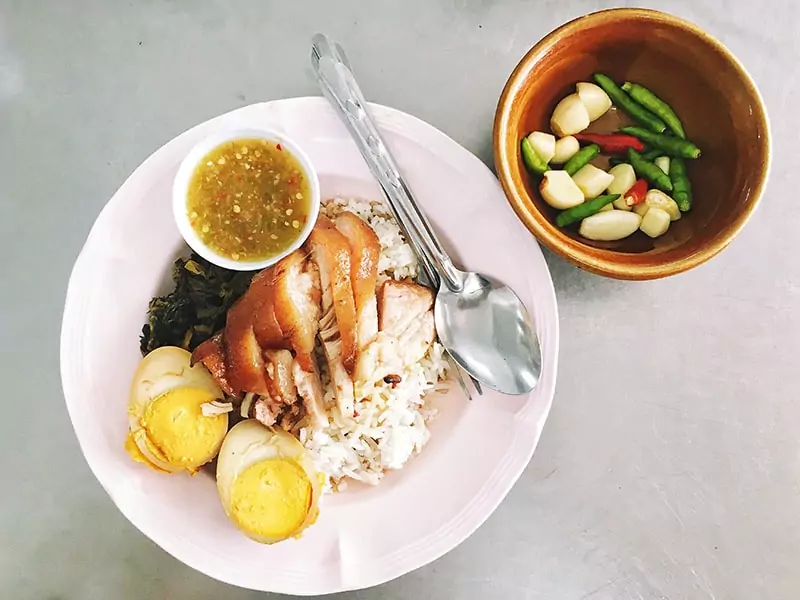 When you have the chance to stroll the streets of Chiang Mai, you should stop by a stall to enjoy traditional Thai Khao Kha Moo. A plate filled with rice, chunks of pork, and boiled eggs will give you an instant energy boost.
The rich flavor and gentle sweetness of pork leg cooked in broth with various spices will make it hard for you to stop eating. The freshly boiled eggs will blend with the soft rice grains and delicious pieces of meat that leave you wanting more.
Chinese cuisine has a profound influence on this food. In Thailand, you can enjoy khao kha moo at Bang Wa, Mo Mi, Sam Yan, and Phlapphla restaurants to get the best taste.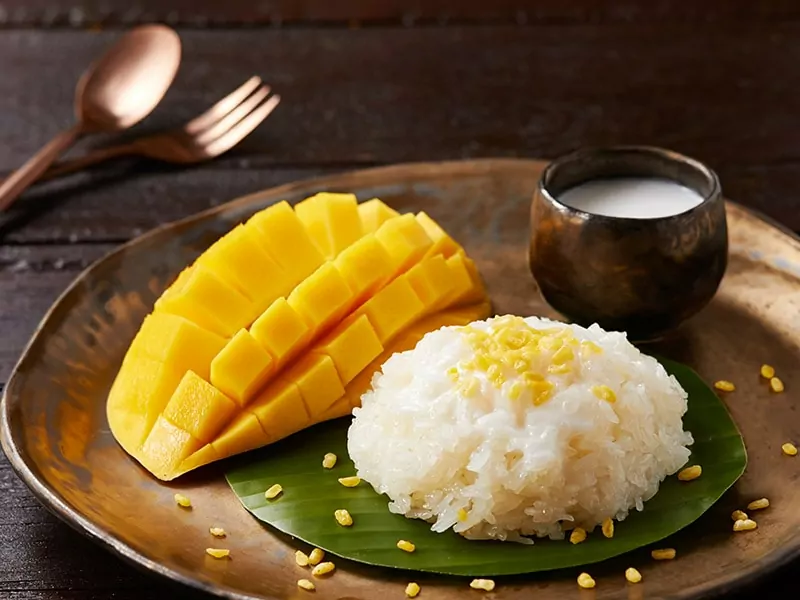 The list of must-try desserts when coming to Thailand have to include Kao Niaow Ma Muang. This is a traditional food with a combination of mango and sticky rice. As strange as it sounds, its flavors will surprise you.
Sticky rice is soft and fragrant and will melt in your mouth. An indescribable feeling will appear when you bite into a slice of fresh sweet and sour mango. Not only that, the sweetness of condensed milk is the factor that will knock you down.
There is no exact information about the origin of this wonderful dessert. This street food also appears in the Philippines and Laos. In particular, the Filipino version is served with hot chocolate to give it a special flavor.
Thai mango and sticky rice is fantastic dessert you should not ignore.
19. Khao Kluk Kapi – Rice Tossed With Shrimp Paste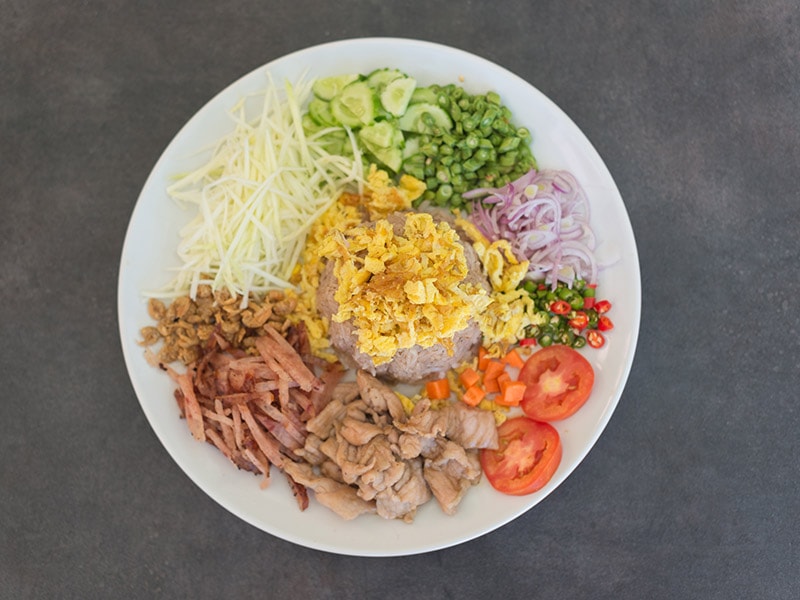 Referring to the famous rice dishes of Thailand, you should not skip Khao Kluk Kapi. Thanks to its excellent taste, this is a popular food loved by almost all Thai people. It first appeared in Central Thailand and is a variation of a Mon dish during the reign of Rama King II.
You will get to eat rich, soft, and fragrant rice grains that are sauteed with shrimp paste. Besides, the dish provides many nutrients for you with the omelet, pork, sausage, and dried shrimp. The recipe looks more eye-catching with decorative vegetables.
Understand the delicious flavor of Thai Khao Kluk Kapi through some reviews.
20. Khao Mok Gai – Fried Rice And Chicken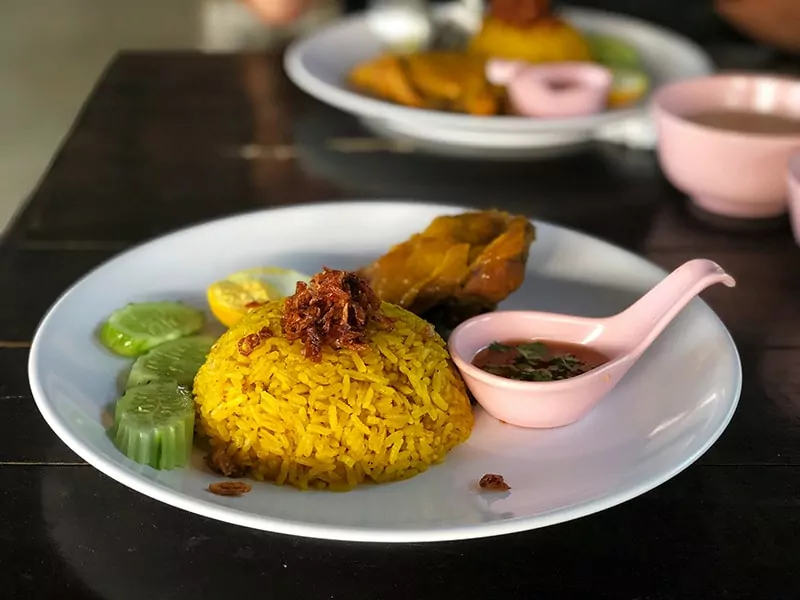 Khao Mok Gai is a famous traditional dish of Thailand. People often call it the Biryani of Thailand. The Muslim people of Southern Thailand created this wonderful rice recipe, so let's find and eat it when you are on your travels to Thai.
Its bright yellow color will captivate you at first sight. The rice grains are cooked with turmeric, meat, and many spices to give them distinctive color, flavor, and aroma. The food is a combination of Thai and Indian spices.
21. Jok – Thai Congee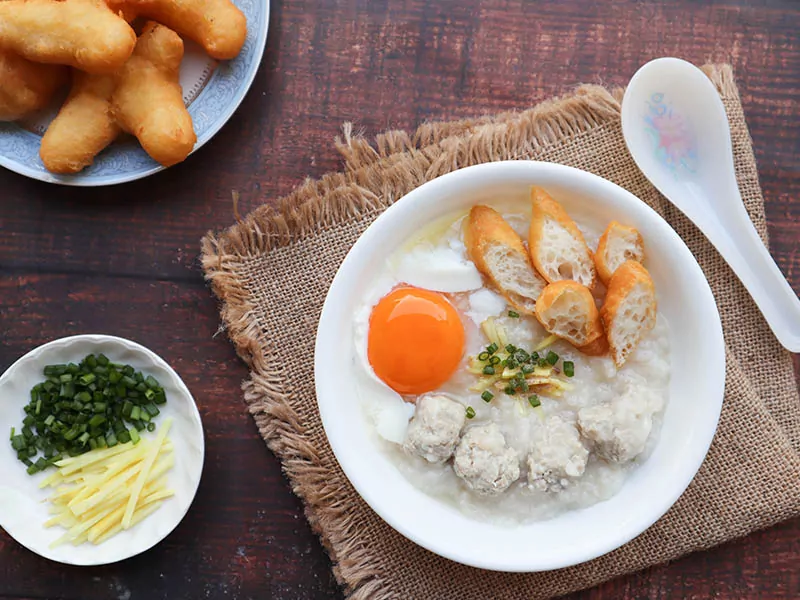 Thai people eating jok for breakfast is a familiar image in Thailand. This dish contains many nutrients for the body, so it is the most effective way for you to recharge before starting a long working day.
The secret of this food lies in the broth made from minced pork, chives, and various spices. You should enjoy a hot and mouth-watering bowl of jok in the morning to feel its peak flavors right now.
This recipe comes from Chinese cuisine. It is pretty famous all over Asia with many variations. Taiwanese porridge usually has ground pork, eggs, and vegetables. Meanwhile, the Japanese often eat congee with toppings, such as salmon, ginger, and onions.
Popular Mouthwatering Thai Foods On Streets
Street food is a feature of Thai cuisine. There are many great dishes that you can only find on the streets of Thailand. Here are the famous street foods you need to know to try while exploring this beautiful South East Asian country.
22. Pad See Ew – Soy Sauce Noodles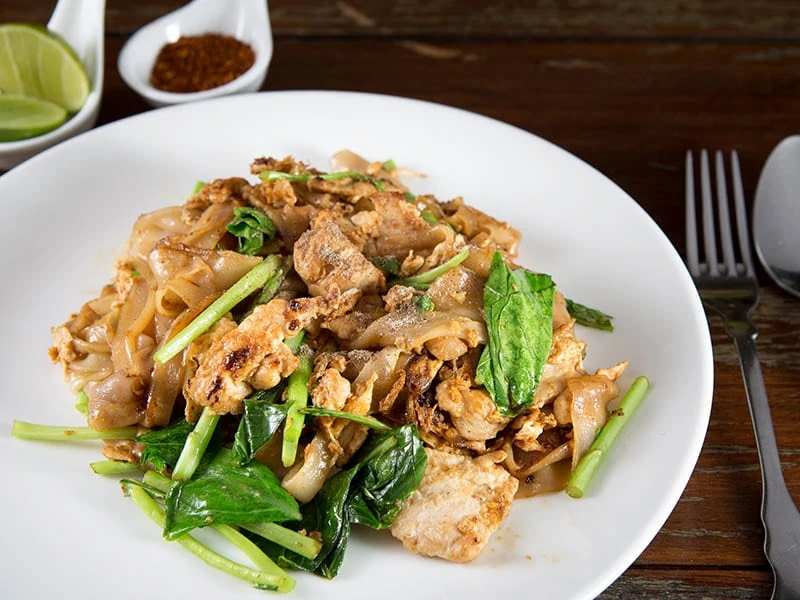 Your day in Thailand will be complete when enjoying the wonderful flavors of Pad See Ew. It is a recipe derived from Chinese cuisine. This recipe is pretty popular, so you can easily find it on some food streets in Thailand.
The chewy and tender rice noodles stir-fried with vegetables and meat will mesmerize you right away. Soy sauce is added to the dish giving it a distinctive flavor. You should add some lime juice and chili flakes to enhance their taste when eating them.
23. Malang Tod – Fried Insects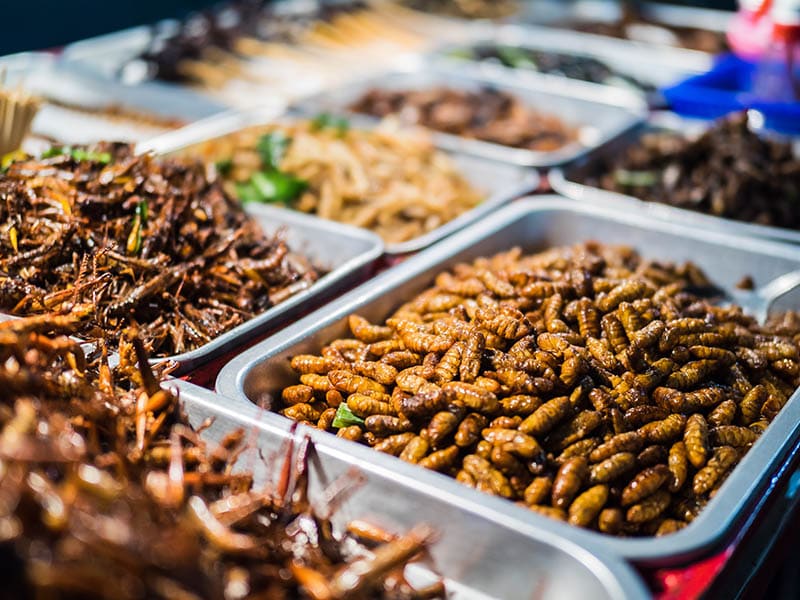 Thailand has many unique and quirky dishes, and Malang tod fried insects are one of them. You will immediately think of Thailand when it comes to this wonderful dish with authentic Thai cuisine.
They are pretty standard on the streets of Bangkok, especially in Khao San. Insects, such as grasshoppers, bees, or worms, are fried with fish sauce and other seasonings until crispy. It is nice to sip a few glasses of wine with fried insects on the street.
24. Gai Yang – Grilled Chicken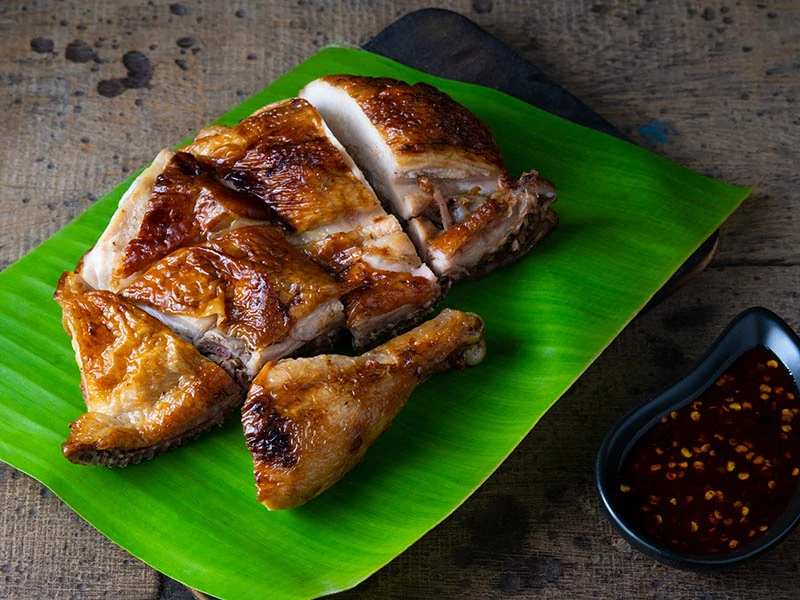 The golden and fragrant grilled chicken pieces will attract you immediately. It comes from Isaan province in Northeastern Thailand. There are various refreshing Thai beverages to pair with a plate of Gai Yang, especially in the Isaan region.
The chicken is grilled evenly on both sides and still retains the tenderness and moisture in each fiber. The oldest stalls in Thailand always bring Gai Yang with the highest quality and flavor.
25. Pad Thai – Stir-Fried Rice Noodles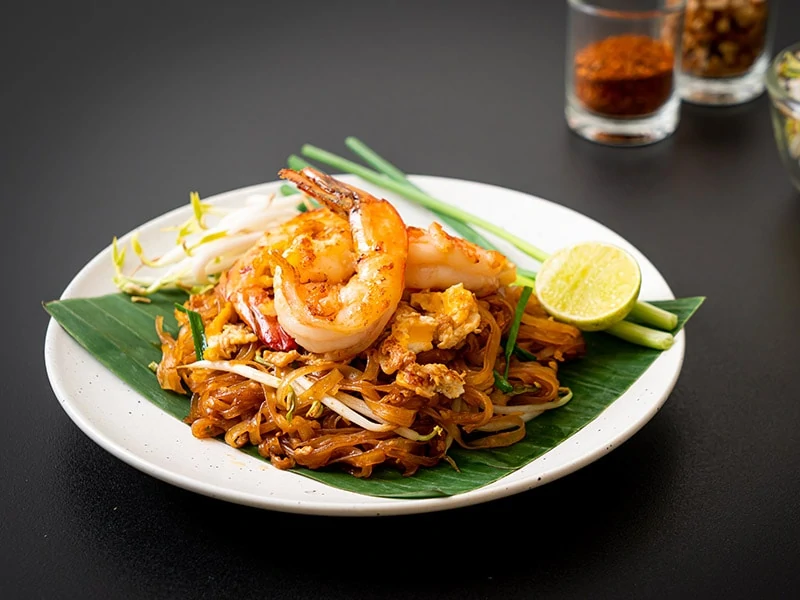 Pad Thai is a typical Thai food. It had a long history when it was first made in 1938. It was initially called Guay Teow Pad Thai, and the word Guay Teow "in Chinese means "rice noodles". The dish is also partly influenced by Chinese cuisine.
While you can say that Chinese cuisine has influenced Thai cuisine quite a lot, there's no denying that there are many clear distinctions between Chinese foods and Thai foods. So don't make the mistake of thinking Thai foods are the same as Chinese foods.
It is loved by a lot of tourists when visiting Thailand. You will never forget the sweet and savory taste of this recipe. The rice noodles are tossed with eggs, bean sprouts, and peanuts to create a perfect whole.
Shrimp and meat are often added for extra flavor at street food vendors. You can also find vegetarian versions of this Thai dish with tofu. It is sold on every street across Thailand.
Learn some information about the history of the famous pad Thai.
26. Moo Satay – Peanut And Pork Satay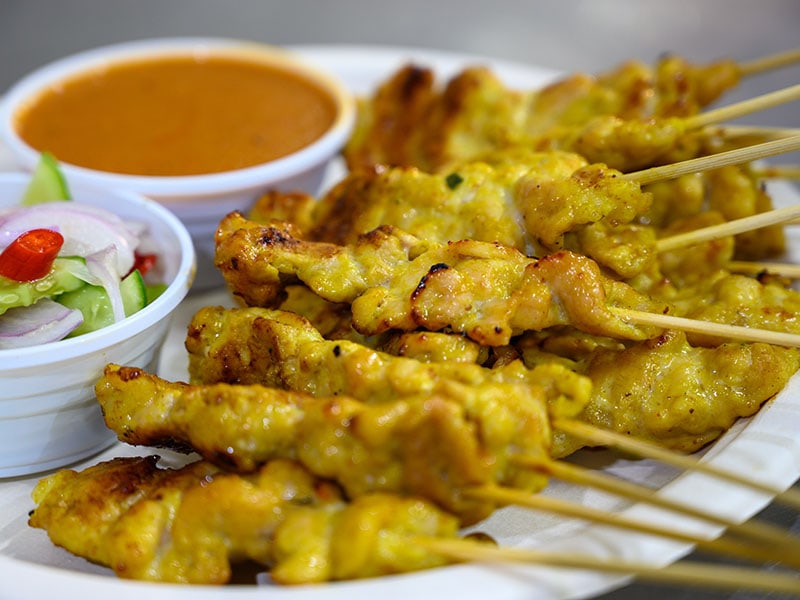 Satay is a barbecue recipe that originated in Java Indonesia in the early 15th century when the Indonesians adapted from the Indian grilled meat. Gradually, it spread to many Southeast Asian countries, such as the cuisine of Laos, Thailand, Vietnam, Malaysia, and so on.
I think the amount of Moo Satay at the stalls will not be enough to satisfy your eating needs because it is too delicious. After each Moo Satay stick, your taste buds seem to be stimulated to create the feeling of wanting to eat more.
The pork slices are carefully seasoned with coconut milk when grilled over charcoal, making your mouth water. You should dip this hot meat into peanut sauce and serve with a cucumber salad to grab all the taste.
27. Poh Pia Tod – Fried Spring Roll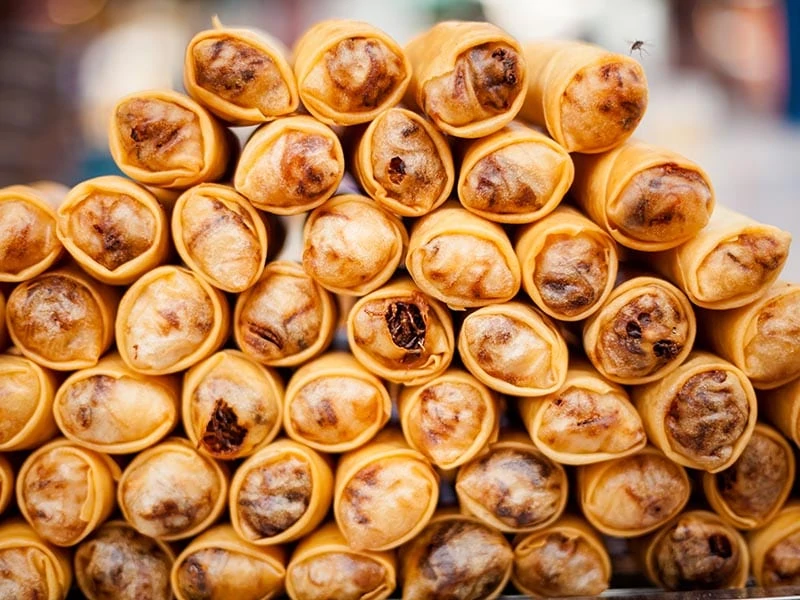 Poh Pia Tod is a famous snack sold on the streets of Thailand. It comes from Fujian in China originally. Its crispness and enticing flavor will satisfy your craving for iconic street food in Thailand. Here, Poh Pia Tod will be rolled in bite-sized pieces, and you will use a toothpick to eat them.
When you dip a piece into the sweet chili sauce and bite into it, all the culinary goodness will melt inside your mouth. When marinated, vegetables, rice noodles, and minced meats will absorb the seasoning. You will want to eat more of it before leaving Thailand.
Despite their similar appearance, spring roll and egg rolls have many dissimilarities. So it's best not to confuse between these two signature Asian dishes, especially if you want to avoid ordering the wrong dish.
Make mouth-watering Poh Pia Tod treat your family now.
28. Gai Tod – Thai Fried Chicken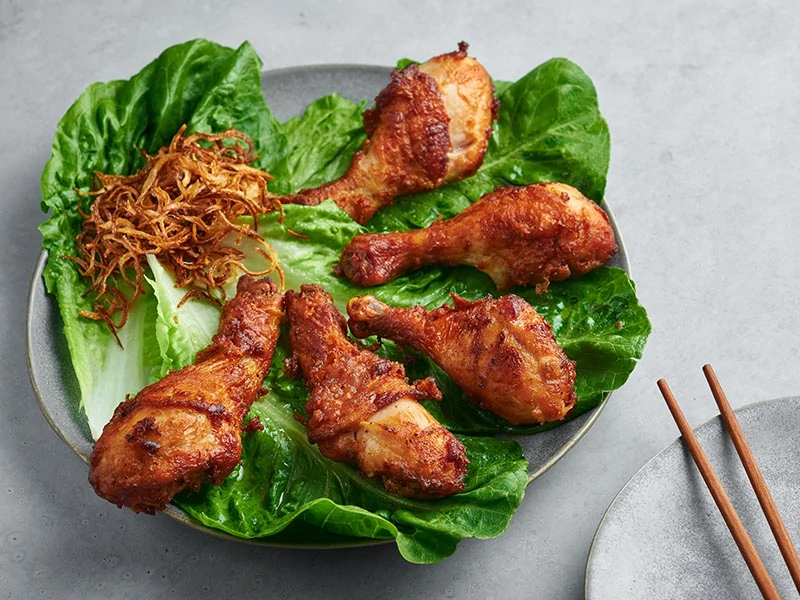 I could not resist these crispy fried chicken pieces while traveling to Thailand last year. When I was walking the streets in Thailand, a seductive scent held me back, and I tried this attractive Gai Tod immediately.
Chicken pieces are crunchy on the outside and tender on the inside dipped in a sauce of oil and shallots that will leave you in love. In particular, it is not as greasy as fried chicken in Western countries.
This food was born 30 years ago when a couple selling chicken at Hat Yai market did not sell all the chicken. They used leftover chicken to turn into this delicious crispy fried dish.
Other Delicious Thai Dishes You Should Not Ignore
Besides the great dishes above, you should also not miss the fabulous recipes below. Make the most of your remaining days in Thailand to enjoy this culinary quintessence right away.
29. Pak Boong – Stir-Fried Morning Glory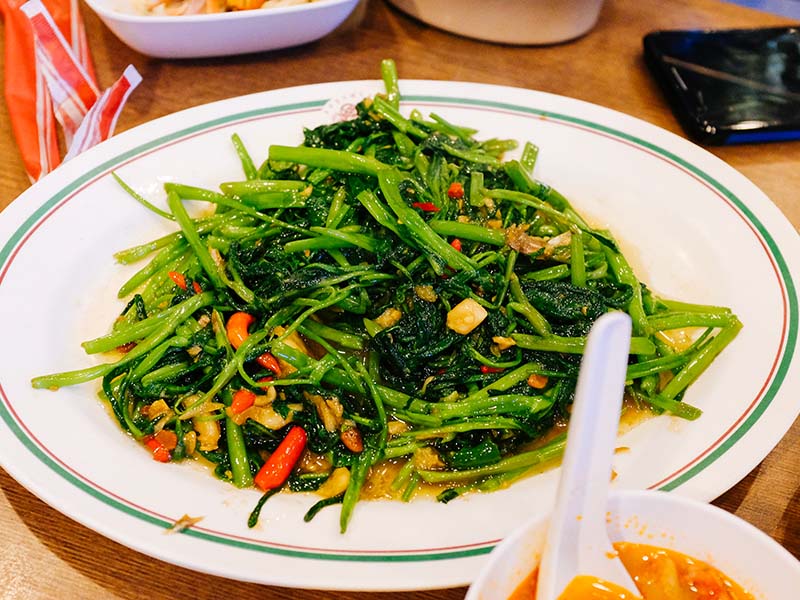 If you are looking for vegan Thai food, you can consider Pak Boong. The freshwater spinach plants will be stir-fried with soy sauce, garlic, and other spices to make a dish full of sour, spicy, salty, and sweet flavors.
Besides soy sauce, Thai people will change the taste by using oyster sauce. You will easily find this recipe at pubs or food markets in Thailand. It is common all over the country, so you can eat it whenever you want.
Phak boong has appeared in Thailand and Southeast Asian countries for a long time, and it is associated with the culture of these countries. You can easily see bunches of water spinach in the fields in Thailand.
30. Goong Ten – Dancing Shrimps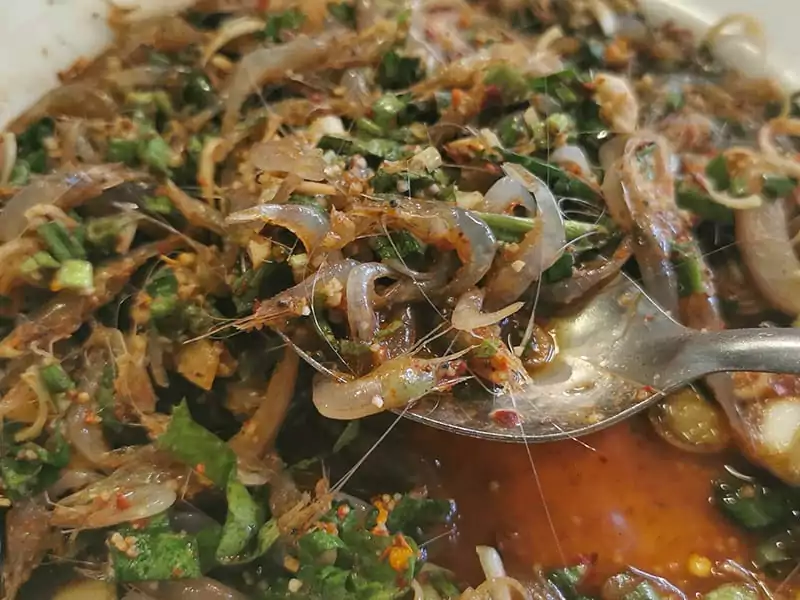 If you like to discover unique dishes of Thai cuisine, you should try Goong Ten. This is food not for those who cannot eat raw food because its main ingredients are live shrimp, but you will hardly forget its taste if you can eat it.
Tiny shrimp, when eaten raw, will retain their natural sweetness. You will feel the sour and salty taste of the fish sauce and lime juice in this food. This special dish is typical in the Isan region of Northeastern Thailand, which is also its hometown.
Let's try the natural flavor of the live shrimp with goong ten.
31. Larb Leuat Neua – Uncooked Beef And Raw Cow Blood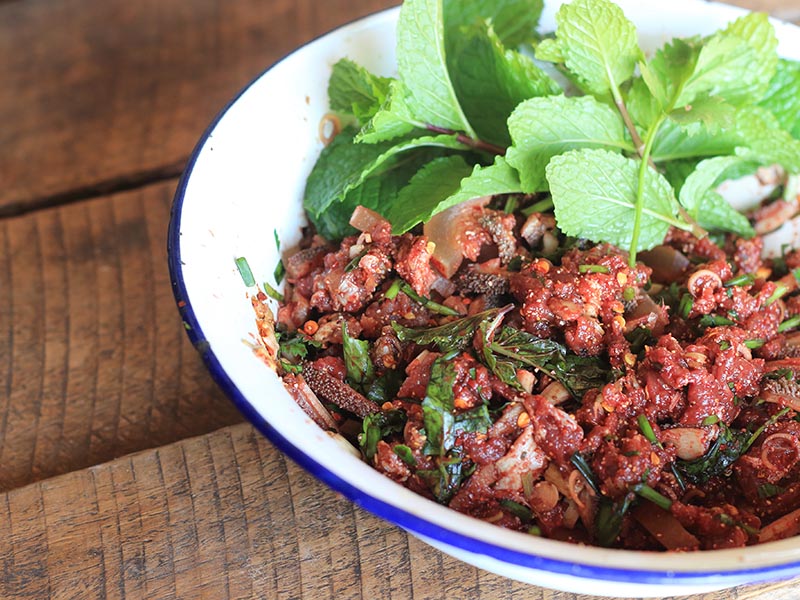 This is an option for those who like intense experiences, Larb leuat neua will serve you with all raw ingredients. You will feel the original taste of these components in this food, but you can also vomit at any time.
The uncooked beef is combined with raw cow blood. Wow! Sounds interesting, doesn't it? Satisfy your curiosity right now with a plate of larb leuat neua. You need to prepare an excellent stomach to not get sick when eating this recipe.
32. Pla Plao – Grilled Fish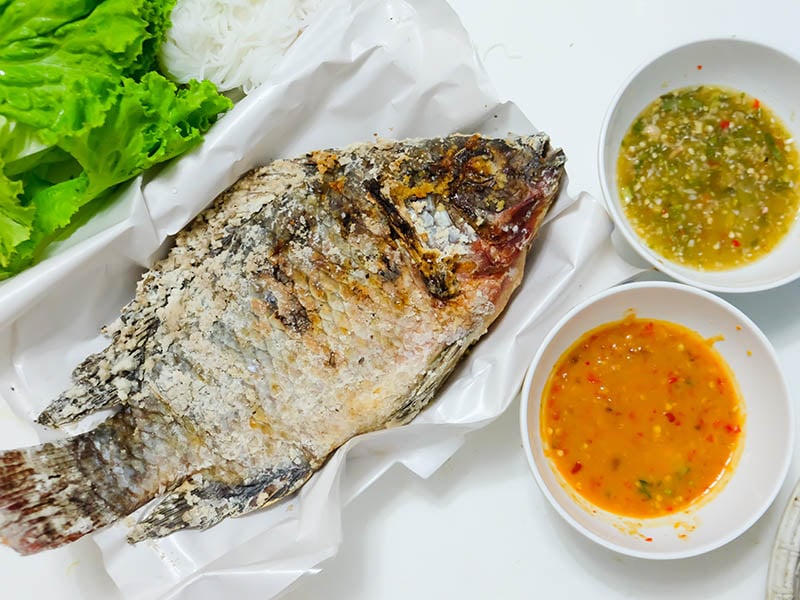 Pla plao is a recipe that should appear on your must-try Thai food list. The dish has a unique way of processing when the fish is covered with salt and grilled with charcoal in layers of fragrant lemongrass leaves.
The outside of the fish looks a bit dry, yet it is soft and juicy on the inside. You can serve it with fresh noodles and herbs. This food was born and popularized during the Ayutthaya Kingdom.
When making Thai grilled fish, it's important that you remember the indications showing that fish is properly cooked. Otherwise, it's impossible to achieve the perfect balance between a crunchy exterior and a soft, juicy interior – a signature feature of this delicious Thai food.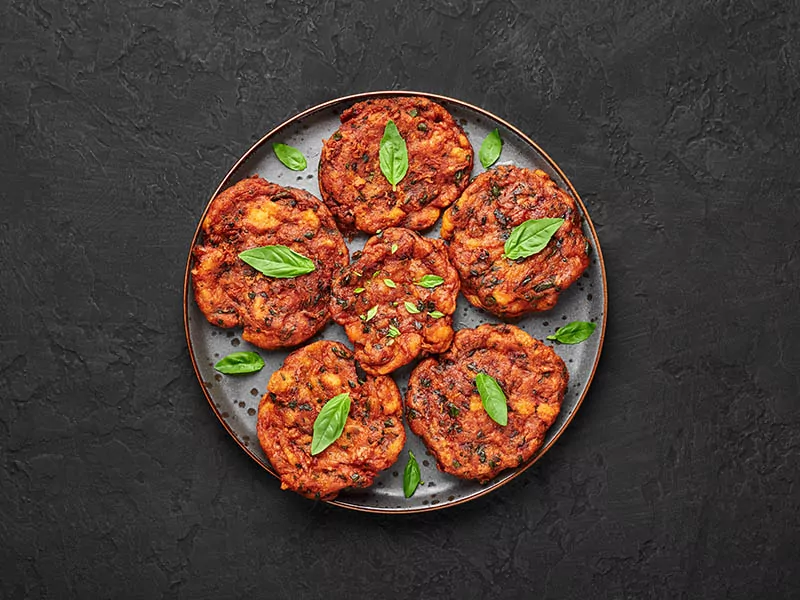 If you are a fan of fish dishes, Thai fish cake is an option you should consider enjoying. Tender fish is combined with basil, lime leaves, and long beans to make a wonderful recipe that you can hardly pass up.
The secret to this incredible food is the dipping sauce. The sauce is like a mixture of flavors with alluring sweet, salty, and spicy tastes. Thais have combined many different ingredients and seasonings to make the perfect dipping sauce.
You can easily find this dish at Thai restaurants as an appetizer or enjoy the comfort of eating it at street vendors.
It is straightforward to cook delicious Tod Mun Pla.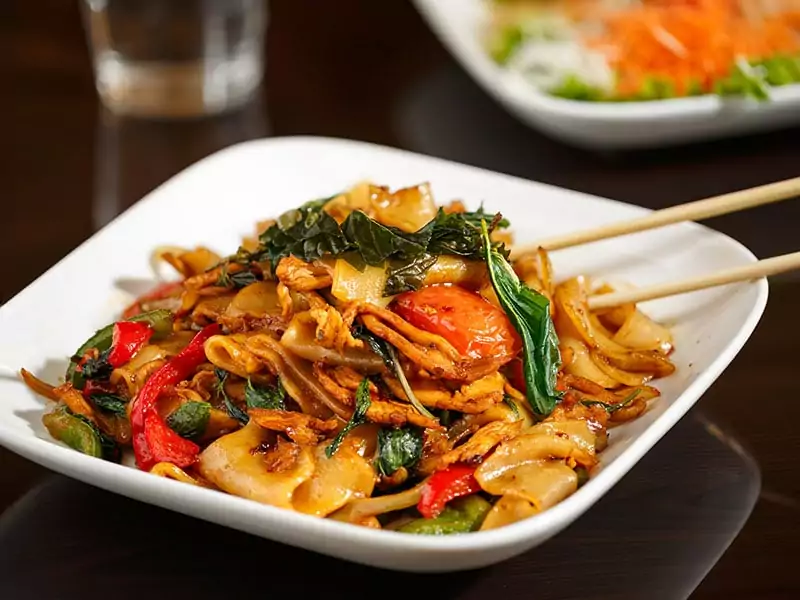 When coming to central Thailand, you will have the opportunity to enjoy delicious drunken noodles. This food was created by Chinese people living in Thailand. Its first version has the characteristic flavor of rice wine.
The chewy and soft noodles are stir-fried with vegetables and spices for a fantastic taste. You will not be able to stop eating after enjoying this food for the first time.
Have A Good Trip!
Food plays an essential role in travel to better understand the traditions and culture of a country. Therefore, do not forget to taste the unique Thai dishes in this post to have a wonderful trip.
If you know other famous Thai dishes, do not hesitate to share them in the comments below to let everyone know. I hope this article will make your Thailand travel planning easier. Thanks for reading.