Thanks to these Hawaiin recipes, even if you can't get an opportunity to set foot on this tropical island, you can still experience the wondrous dishes there.
When it comes to Hawaiian cuisine, most people will probably think of Hawaiian pizza. And while this dish truly packs a strong punch of Hawaiian flavors, there are many more dishes to discover. You might even be surprised by how many Hawaiian dishes there are.
From simple coconut rice to tasty Hawaiian meatballs and enticing passion fruit bars, Hawaiian recipes are fun and easy to make. So buckle up and get ready, for you're about to go on a virtual flavor trip to the island of sunshine, summer breezes, and sandy beaches.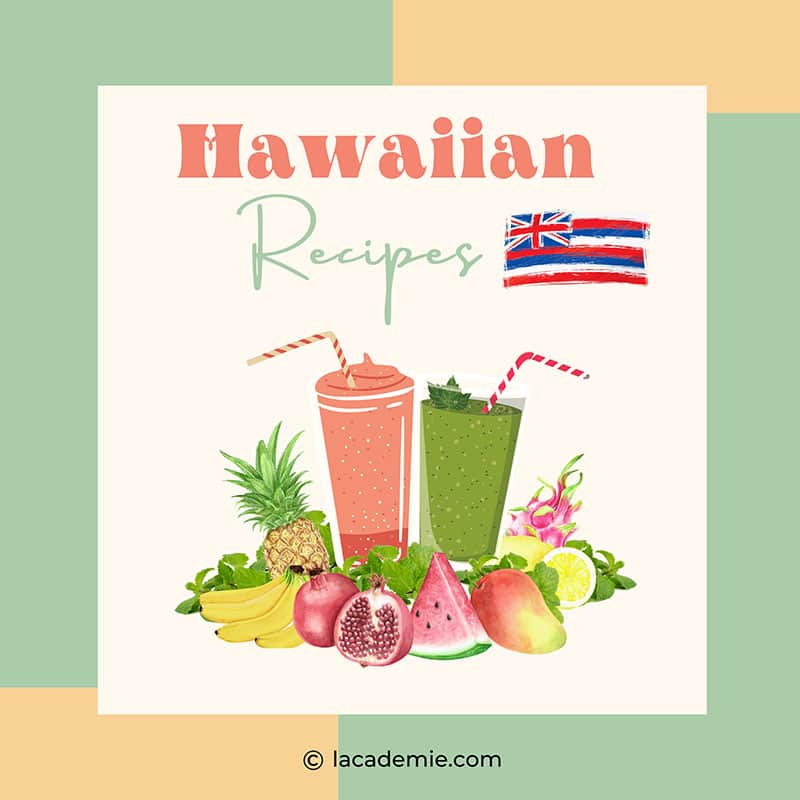 Top 30 Hawaiian Recipes You Need To Try Right Now
Not convinced there are a lot of iconic Hawaiian foods for you to discover? If so, you can have a look at this list below.
Side Dishes
Coconut Rice
Hawaiian Luau Rice
Hawaiian Fried Rice
Hawaiian Coleslaw
Hawaiian Mango Bread
Hawaiian Banana Nut Bread
Hawaiian Macaroni Salad
Hawaiian Sweet Rolls
Hawaiian Chicken Kebabs
Main Dishes
Hawaiian Chicken With Coconut Rice
Hawaiian Ham And Cheese Sliders
Hawaiian Pineapple Chicken
Hawaiian Meatballs
Kalua Pork
Hawaiian Shoyu Chicken
Hawaiian Haystacks
Huli Huli Ribs
Hawaiian Pizza
Hawaiian Loco Moco
Desserts
Furikake Chex Mix
Hawaiian Pineapple Pecan Cookies
Hawaiian Rice Pudding
Lilikoi Bars (Passion Fruit Bar)
Passion Fruit Donut
Hawaiin Butter Mochi
Haupia (Hawaiian Coconut Pudding)
Hawaiian Fruit Salad
Drinks
Blue Hawaiian Cocktail
Mai Tai
Hawaiian Mimosas
Hawaiian Recipes For Side Dishes You Can't Help Loving
The key to the perfect dinner is delicious side dishes. If you're looking for a change in your usual side dishes, these amazing Hawaiian recipes will be more than enough to help you.
Coconut rice is one of the easiest Hawaiian side orders you can make and yield wonderful results. To make this fluffy recipe, you only need to switch water with coconut milk and add a pinch of sugar. Once the rice is done, you can pair this with Hawaiian chicken for a satisfying meal.
Luau rice is a popular Hawaiian dish featuring pineapples and spam, one of the highly recommended canned hams. Both of them give the dish a nice blend of savory and sweet flavors.
As ham is quite high in fat content, the addition of pineapples and bell peppers truly lend the dish a perfect flavor balance. You'll surely find this irresistible.
Like many Hawaiian recipes, this delicious fried rice is packed full of classic Hawaiian flavors, which come from the divine combination of pineapples, ham, and bell pepper. Once you add in the soy sauce, this fried rice will have a subtle Asian flavor to make the dish more complex.
Hawaiian coleslaw is a symphony of flavors from lovely pineapple varieties, cabbage shreds, and carrots. With its distinct Hawaiian flavors, this fun take on the traditional coleslaw will bring about an exciting culinary experience that you'll certainly love.
You don't need to travel all the way to Hawaii to get a taste of this fantastic mango bread again. Thanks to this easy Hawaii recipe, you can now make tender bread with robust mango flavors right at home. You can pair this with some sweet and sour stew or enjoy mango bread for a Hawaiian-style breakfast.
This fool-proof method will ensure your mango bread is always a success:
In this Hawaiian banana nut bread, you'll get to savor the heavenly combination of savory ripened bananas, crunchy walnuts, and sweet pineapples. It's not an exaggeration when I tell you that this Hawaiian banana nut bread offers such a unique take on bread that you'll find addicting.
An ideal side dish for barbecues and picnics, this Hawaiian macaroni salad turns your typical macaroni into something truly special. Thanks to the milk, yogurt, and vinegar, Hawaiian macaroni salad is incredibly creamy and oh-so-flavorful. It's definitely love at first bite.
Incredibly easy to make, these Hawaiian sweet rolls are ideal as a side dish, a quick snack, or the start for beautiful Hawaiian ham and cheese sliders. The unique thing about these sweet rolls is that they're made with pineapple juice, which gives the rolls very distinct flavors.
Make the fluffiest Hawaiian sweet rolls with the amazing recipe in this video:
Boasting vibrant colors and delightful bursts of flavors, these Hawaiian chicken kebabs are great for an outdoor party or a cozy family dinner.
And you don't even need to prepare the whole grill set. Just one nice broiler pan is enough. The juicy chicken gets enhanced by the tender pineapples, crunchy bell peppers, and crispy onions. Glazed with gravy and cooked to perfection!
Enrich Your Main Dishes With Hawaiian Recipes
How to make everyone on the dinner table scrape their plates clean? Easy! You can start with these Hawaiian recipes for main dishes, which are guaranteed to deliver such irresistible flavors that even the pickiest eater can't turn down.
This easy Hawaiian recipe is a love story between chicken and sweet pineapples. Soaked with pineapple marinade, the tender chicken becomes incredibly juicy and flavorful. Top the meat onto rice cooked in sweet coconut, and your scrumptious meal is ready to serve.
Ideal as both appetizers or light dinners, Hawaiian ham and cheese sliders are so delicious that it's impossible to resist them. This Hawaiian recipe starts with fluffy Hawaiian sweet rolls and ends with a contented sigh of pure bliss and satisfaction.
In this fantastic crossover between Hawaiian and Mexican cuisines, you'll get to experience all the finest flavors these two cuisines have to offer. Fresh pineapples get combined with chicken breast, jalapeno, and spices. Everything delicately placed in tortillas for a flavor-packed bite.
Step up your meatballs by cooking them with sweet and sour sauce, combined with juicy pineapples. The flavor combination might not sound that appealing at first to you, but I swear that this dish is so good that it will be gone in a flash.
Blow everyone away with your irresistible Hawaiian meatballs.
This dish got its name from how it used to be prepared, which involves kalua – a Hawaiian cooking method that calls for a sort of underground oven. Nowadays, you can cook kalua pork inside an oven until it becomes succulent, soft, and tender with a rich earthy flavor.
Made with shoyu, a type of Japanese soy sauce, this tasty chicken dish can be found in virtually all Hawaiian restaurants. As Hawaiian shoyu chicken contains a generous amount of ginger and garlic, this dish gives off an irresistible fragrance and offers an incredibly flavorful bite.
Discover the authentic recipe for authentic Hawaiian shoyu chicken here:
Hawaiian haystacks is a popular dish consisting of rice topped with chicken gravy and several toppings. The beauty of this dish is that you can start with the base – rice and gravy, and from there, you can add any toppings you want. Hawaiian haystack is the definition of comfort food.
To make these lip-smacking Huli Huli ribs, you'll need to marinate the pork overnight in a mixture of pineapple juice, soy sauce, and spices. Once properly marinated, the ribs are then smoked over an open fire to gain an irresistible smokey and earthy flavor.
Say what you will about pineapples on pizzas; there's no way you can convince me to renounce my love for Hawaiian pizzas. After all, what's not to love about the sweet and vibrant flavor that pineapples bring to the pizzas? Honestly speaking, I think the flavor combination is perfect.
And if you're also a fan of Hawaiian pizzas like me, I'm certain you'll also love the Hawaiian chicken wings – one of the signature sauces/flavors from Wingstop. Me personally? Every time I get Hawaiian pizza, I always make sure to have a large side of Hawaiian wings with me as well.
This Hawaiian Loco Moco is a savory dish featuring rice and a burger patty, topped with generous gravy and served with a sunny-side-up egg. You can easily come across this delicacy on Hawaiian streets.
While this amazing Hawaiian recipe is simple and straightforward, it yields such a delicious and hearty dish that no one can refuse.
Delicious Hawaiian Desserts You Need To Try At Least Once
You'd be mistaken if you think there are no Hawaiian recipes for desserts. The truth is: there are many scrumptious Hawaiian desserts that will definitely sate your inner sweet tooth. Let's find them out!
Granted, furikake is a Japanese seasoning. However, furikake Chex mix is indeed an authentic Hawaiian snack packed full of signature Hawaiian flavors. Thanks to the butter glaze and jazzy seasonings, this furikake Chex mix is unimaginably tasty with a delightful crunch.
Make super addicting furikake Chex mix with the recipe in this video:
21. Hawaiian Pineapple Pecan Cookies
Give your typical cookies nutty and fruity flavors with citrusy notes by adding pineapples and pecan to the mix. Give the cookie batter some flaked coconut to achieve the perfect cookies that will instantly steal everyone's heart at first bite. Be careful; these cookies are very addicting.
This recipe brings vibrant Hawaiin flavors to the classic rice pudding. As a result, apart from the creamy and decadent taste of the traditional rice pudding, you'll get to relish the unmistakable flavors of pineapples. Thanks to the fruity notes, you'll never grow bored of this rice pudding.
Tired of the ever-so-popular lemon bars? How about trying this Hawaiian version with the mouth-watering passion fruit flavor. This citrusy dessert is packed with tropical flavors. One bite of this Hawaiian dessert is enough to fill you with passion.
Although donuts are an incredible snack, sometimes you might grow tired of the usual flavors and crave something beyond. If you find yourself to be in a similar situation, you might want to check out these Hawaiian-inspired donuts, which burst with pineapple flavors.
With this recipe, you'll want to learn all the ways to keep your donuts from going stale. Why not, right? Nothing tastes better than fresh, piping hot donuts!
Don't let the word mochi fool you; this Hawaiin treat does not resemble the classic Japanese mochi many people are familiar with. Instead, this Hawaiin dessert offers a chewy and buttery bite with a crispy exterior. No wonder this butter mochi is so popular in Hawaii.
Haupia is a classic Hawaiin treat and usually served at potlucks or luaus (a Hawaiian feast). Straightforward to make, haupia only requires 4 ingredients to yield a sweet treat with delicious coconut flavors. Haupia might be simple, but it'll sweep everyone off their feet.
You won't be able to resist haupia made with this fantastic recipe:
Nothing speaks of tropical islands and summer breeze than this refreshing Hawaiian fruit salad. Simply speaking, this salad is a concoction of popular Hawaiian fruits, thus offering the vibrant flavors of fruit. Full of vitamins and fiber, Hawaiian fruit salad is indeed a healthy dessert.
Amazing Hawaiian Drinks You Don't Want To Miss
Aside from food, there are quite a few Hawaiian drinks that you'll surely love as well. So if you're looking for a cold drink to refresh yourself, these delightful Hawaiian drinks might just be what you need.
This cocktail with a gorgeous blue shade will make you feel like you're sitting on a sandy beach, listening to the sound of waves crashing into the shore. This beautiful cocktail starts with coconut rum and blue curacao as the base and finishes with a Hawaiian touch of fresh coconut juice.
Mai tai is a classic cocktail in Hawaiian cuisine. It packs a strong alcohol punch, zesty lime juice, and a distinguished flavor from orange curacao. While traditional Mai Tai does not contain pineapples, you can add a touch of pineapple juice if you want it to taste more complex.
If you're looking for a drink to chase away the summer's heat, Hawaiian mimosa is surely a choice worth considering. With some coconut rum mixed with pineapple juice, you're already well on your way to a refreshing drink to quench your thirst—definitely a must-try Hawaiian drink.
Make Mealtime More Fun With Hawaiian Recipes
As you can see, Hawaiians sure love their pineapples. So if you're planning to make some Hawaiian recipes, I'd recommend that you get some fresh pineapples to achieve the best results.
I've also found that it would be best to combine various Hawaiian dishes together. This will make your meal pack with vibrant tropical flavors. I'm certain you won't want to miss that fantastic sensation of having robust flavors burst on your palates.
What's your favorite Hawaiian so far? Which of these Hawaiian recipes do you plan to try out? Let me know what you think by commenting down below.
Nutrition Facts
12 servings per container
---
Amount Per ServingCalories282
% Daily Value *
Total Fat 15.6g

24

%
Cholesterol 49mg

17

%
Sodium 616mg

26

%
Potassium 112mg

4

%
Total Carbohydrate 23.9g

8

%

Dietary Fiber 1.4g

6

%
Sugars 4.5g

Protein 12.5g

25

%
---
* The % Daily Value tells you how much a nutrient in a serving of food contributes to a daily diet. 2,000 calories a day is used for general nutrition advice.