Chinese foods or Chinese cuisine are prevalent worldwide thanks to their signature ways of using and combining ingredients, spices, and recipes. The dishes from this culinary culture all provide unforgettable taste experiences, and there is no reason to ignore them.
In the below section, I will introduce you to various famous dishes of Chinese cuisine that you should definitely not miss if you have the opportunity to visit this country. Let's scroll down and learn more!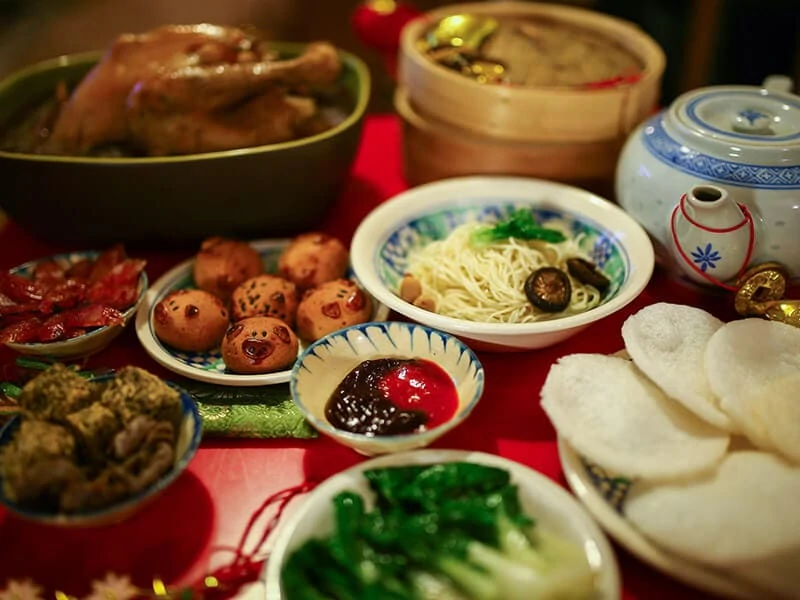 Famous Chinese Dishes That Will Be Worth Trying
I will start today's topic with some most prevalent Chinese delicacies that you should refer to whenever coming to a Chinese restaurant or China.
Char Siu is a special pork dish that is first marinated with plenty of condiments and spices, so its tastes will absolutely be robust and toothsome. After cooked, the meat will be coated with an appealing dark amber exterior (thanks to the marination) while the interior will remain juicy and "glittering".
Unlike some other Chinese pork-made dishes, the way to process Char Siu adds a delicate depth to its flavors with prominent sweet-salty and touches of spices.
You can serve Char Siu in various ways, from eating it with rice (and sauteed veggies), wrapping it in baozi or other dumplings, and serving it as a topping for soupy dishes. People also love to make dried char siu noodles from this delicacy.
All of them taste phenomenal, so you should give them all a go.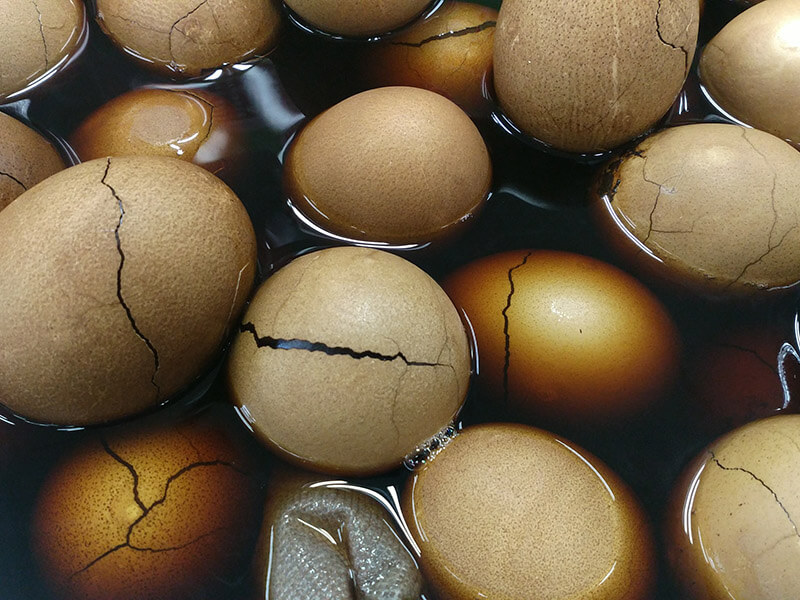 These tea eggs are usually served as a side dish or component, can be eaten hot or cold, and deliver the taste combination of black tea, cinnamon, soy sauce, bay leaves, and star anise. Therefore, this kind of food also brings a lot of healthy benefits.
To consume them, you will have many options. The first choice is to eat them as whole to fully taste the light, salty, and savory flavor; or serve these eggs with noodles, rice, veggies, or snack.
Some things you should know about these tea-flavored eggs.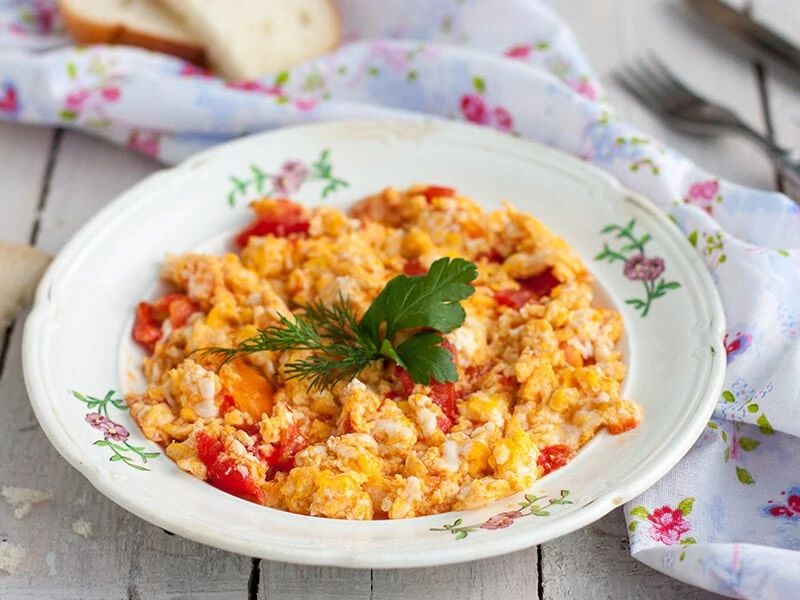 Don't be surprised that this seemingly simple dish can be part of any meal of the day. But I suggest you have this with rice for your Chinese mid-day meals because it is effortless to try at home and very cheap to buy at the store.
Contrary to the simplicity of ingredients, its taste is quite complex. The main components are fried eggs with richness and slightly sour tomatoes; a touch of spicy chili and pepper will make your dish bring out the perfect flavor.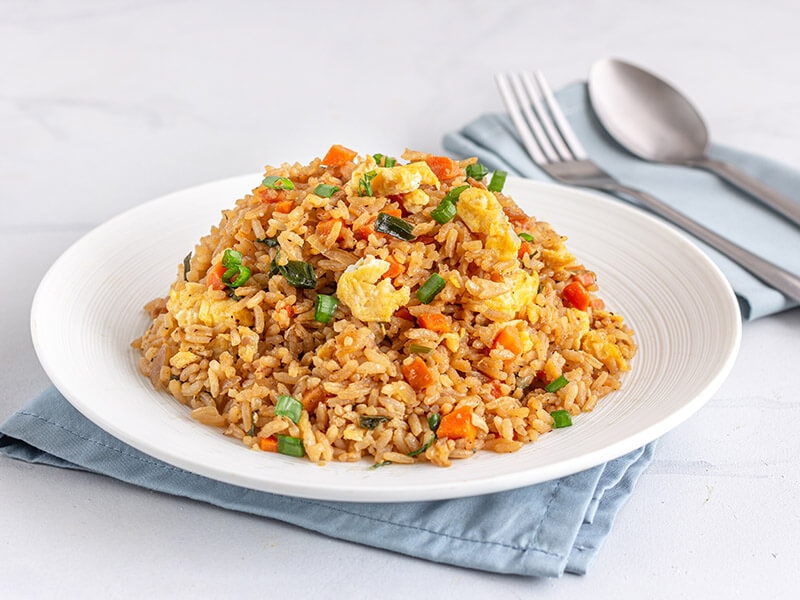 One of the most recommended Chinese dishes for breakfast that might be familiar with any Asian kid is this egg fried rice. If it is not the most delicious dish for you, it will still be easiest to find or prepare yourself.
Each rice grain will be mixed with eggs and fried on a pan to become chewier inside and crunchier outside. You can experience a more mixed and nutritious version by adding vegetables, sausages, or meat. But trust me, any kind is delicious.
Egg fried rice and the secret behind its deliciousness will be shown here!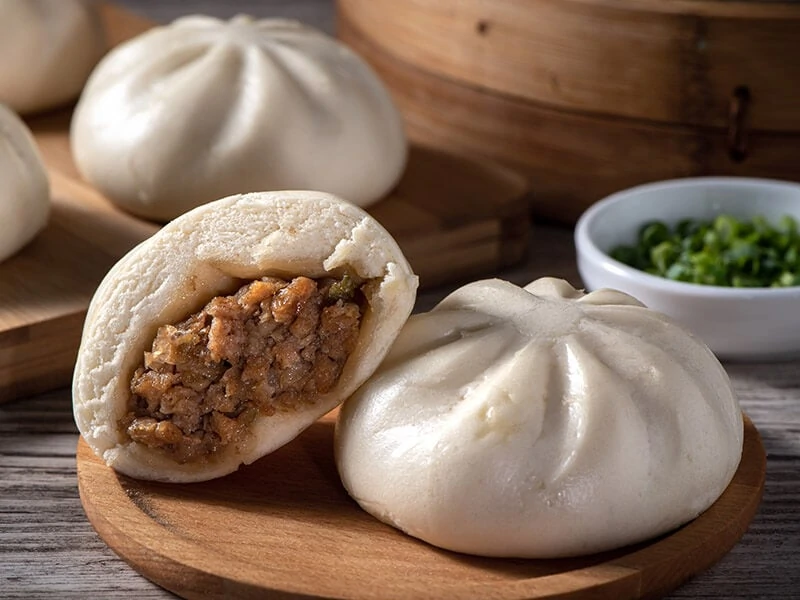 When you think about baozi, mantou, or Chinese steamed buns, you probably envision buttery-scented, soft, and fluffy buns encasing juicy, mellow, and flavorful fillings.
Sweets (sugar/ butter), meat (pork, chicken), seafood (shrimp/scallop), or mushrooms can all be used as fillings. Because of that, you will have many options to choose from.
With a big mouthful, all the tastes will blast in your tongue. It is only to be calmed by the gently sweet bread-like bun with just-enough-soft texture. Nothing's better than curling up with a warm steamed bun and a cup of tea on a rainy day.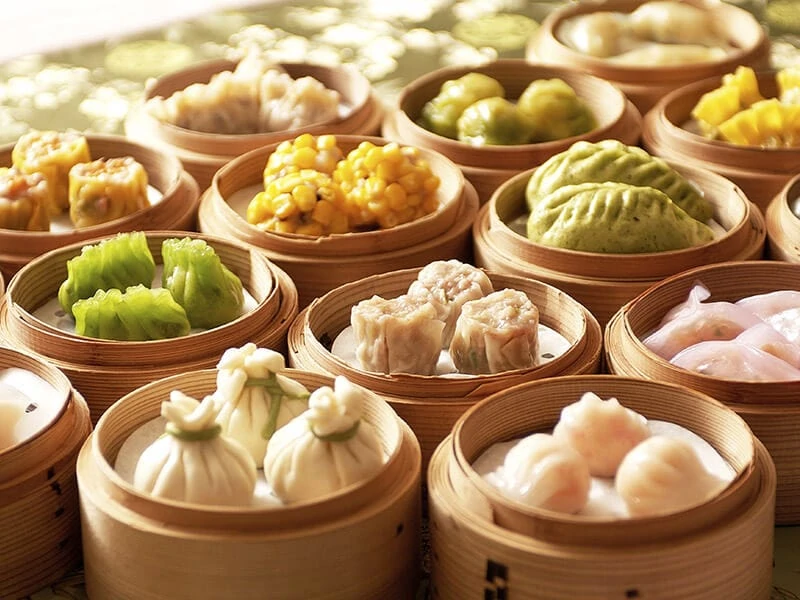 There are various instructions for making these authentic Chinese dishes, and each recipe will create a different variant of dim sums. They can be a meaty Siew Mai, sweet, corn-coated Siomai, or chewy, enticing Har Gow.
These variants might be different in shapes and fillings, yet the idea to create them is somehow the same. Their fillings are all covered with extra-thin, chewy wrappers that will turn more transparent when cooked.
You can easily find these delectable treats in many Hong Kong street vendors, Chinese restaurants, or Asian take-out services. Therefore, it is not a daunting task to have these delightful Chinese delicacies once.
Let's see how varied these Chinese specialties (dim sums) are!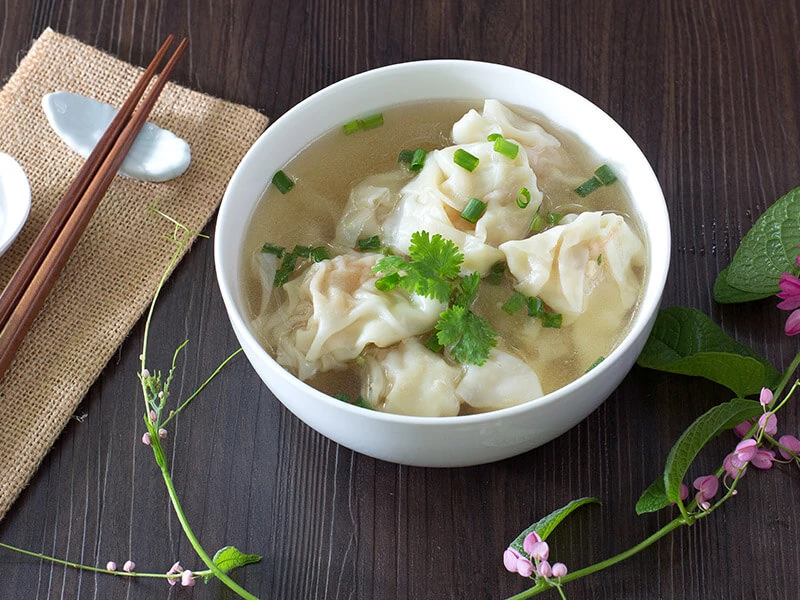 Like other typical Asian cuisines, Chinese cuisine also has famous soupy dishes. The first dish I would like to introduce is this wonton soup. The main component of this food with "W" as the first letter is small wontons made of meat (pork), poultry (chicken), and veggies.
Although the appearance and fillings of wontons might resemble dumplings, their skins/doughs are much thinner and have small sizes that you can eat a whole one in one bite.
Another allurement of this dish is its slow-cooking bond soup; it will deliver the slight sweetness and richness that can refresh your taste buds.
The unmistakable feature of this delicacy is the sweet broth encased in the thin, chewy exterior of xiao long bao. Other dumplings with juicy fillings may exist, but nothing compares to the soup's sweetness inside this delicious food that begins with "X".
From a dish from a little hamlet in Shanghai called Nanxiang, it's grown famous worldwide for its distinctiveness and deliciousness. If you're a gourmet, you won't want to miss these delights.
The best introduction to know more about these special soup dumplings (xiao long bao)!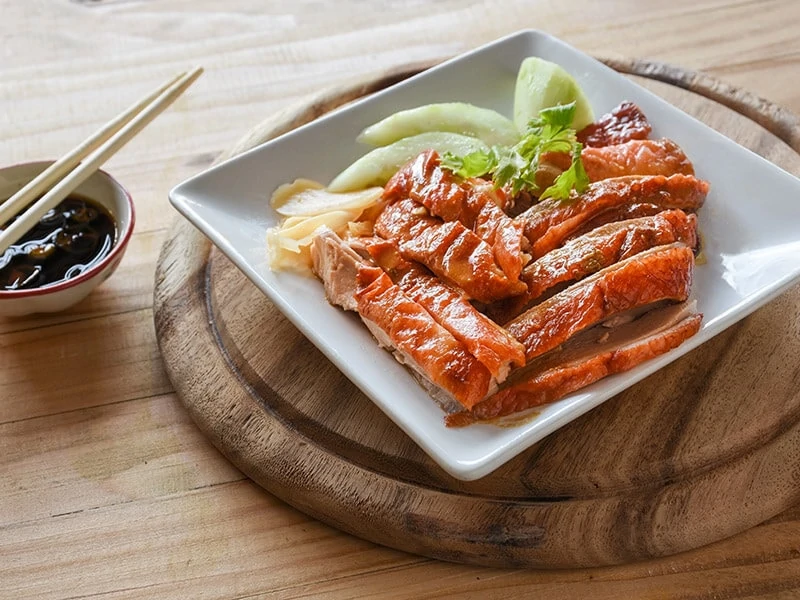 It is impossible not to think of the unique crispy skin roasted duck when it comes to Beijing cuisine. If you have tried it once, you will definitely not forget the crispy skin that is perfectly seasoned with sweet, salty, and spicy flavors.
Duck meat is also a money-making part of this dish. It's delicately tender thanks to the moderate amount of fat, which melts in your mouth in just a few minutes.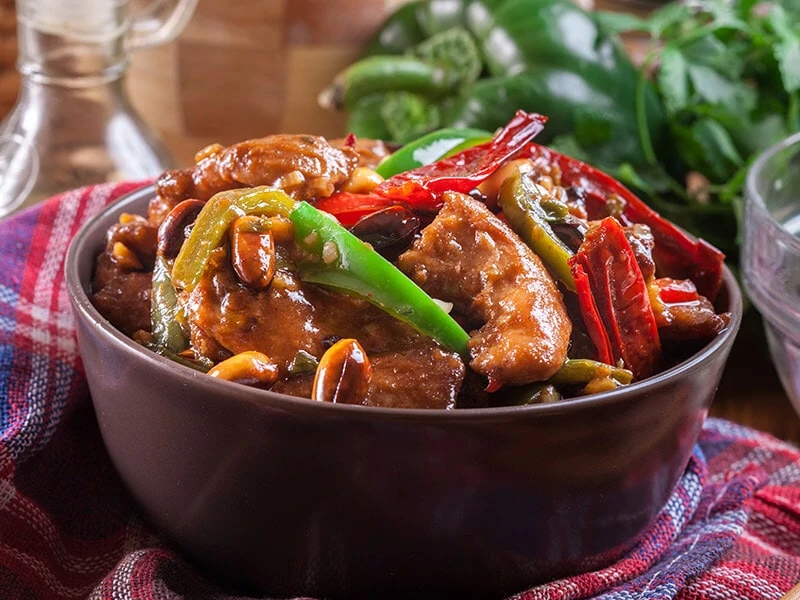 Kung pao chicken is a delicious Chinese dish with various ingredients besides the main protein, which is chicken (bell pepper, chili, vegetables), and is straightforward to prepare or order.
Based on that, you can have an ideal Chinese dinner anytime. On the other hand, this dish is completed with many strong spices, and in my opinion, it is pretty spicy and robust, which is a bit too much if you eat it alone.
Therefore, to enjoy this dish to the fullest, I recommend eating this chicken dish with Asian-inspired accompanying food – white rice. With any savory dish that is too much for your palate, steamed rice will help you balance it out effectively. An iconic Chinese beverage can also help reduce the spiciness of this dish also.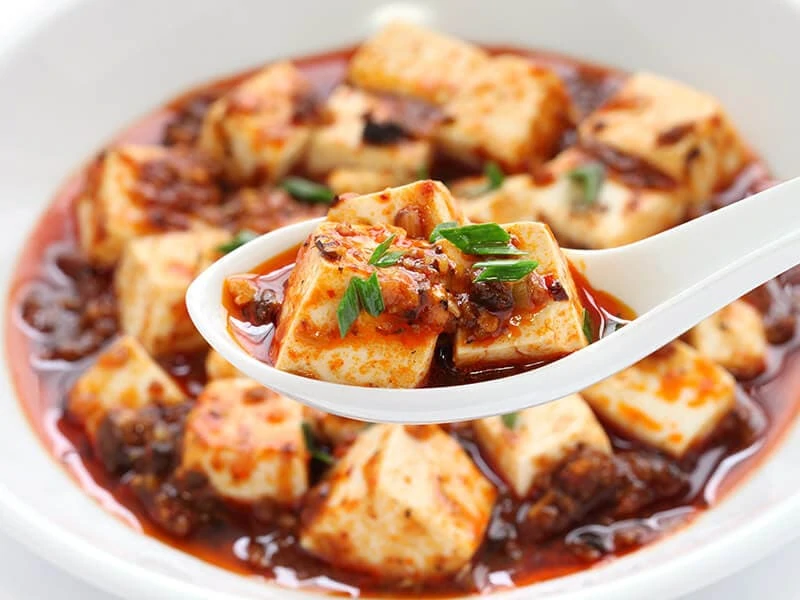 Applying the unique Sichuan spice, Sichuan peppercorns, this Mapo tofu delivers aromatic layers with spicy, booming, and addictive tingling in your tongue. The fresh, soft, and a bit rich tofu excellently mildens the hot and robust spice.
The story behind this prevalent food is incredibly humble. This Chinese tofu-based delicacy initially came from a food stall of an old lady from years ago in Sichuan. The rustic tofu dish, at that time, was loved by many diners and the rumors spread quickly."
After a time, the scale of this food is not packed in its hometown. It is now known worldwide, and many variants have been created. Just by that, you can see how loved this humble dish is, so why not experience it as soon as possible.
Whenever you feel like spicing up the flavors of your tofu, Chinese Mapo tofu should be your go-to choice. It's not an exaggeration to say that this dish has an alluring flavor complexity despite featuring only a few simple ingredients.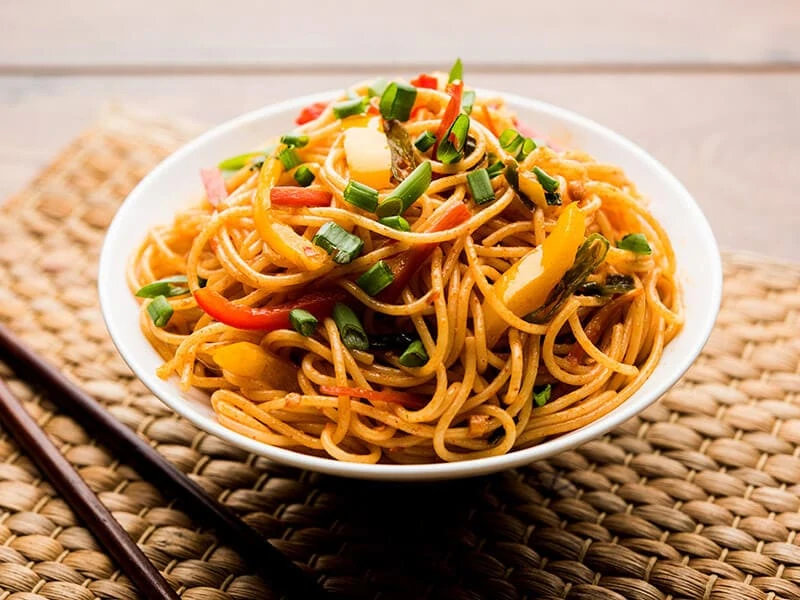 There is a small secret in the name of chow mein. "Chow" means "fried," and "mein" means noodles. Therefore, you can basically understand it as fried noodles. There are distinctions that set chow mein and chop suey apart, so don't mistake these two dishes despite their apparent similarities.
These Chinese fried noodles recipes are versatile since you can modify the ingredients, which will still turn out delicious. However, in this list, I'd like to suggest this healthy version of vegetables-paired chow mein.
It will be absolutely light, fresh, and delicious for a weeknight dinner!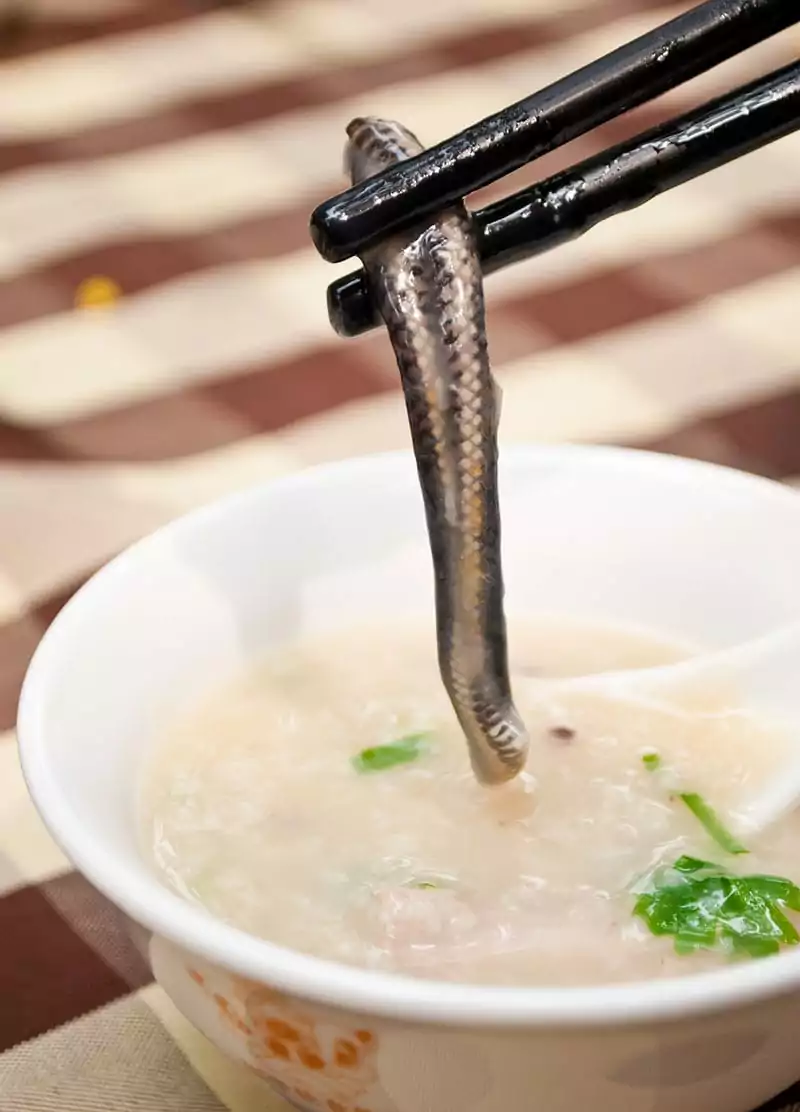 There is a myth that eating snakes can help to increase your longevity and incredibly boost your health status. Because of that, you can easily find this special soup in China.
If you are hesitant since you don't know how the snake will taste, feel free to eat this soup once because it will taste exactly like chicken meat. The soup base will deliver a tasteful, warm, and mild sweetness that brings out a refreshing feel.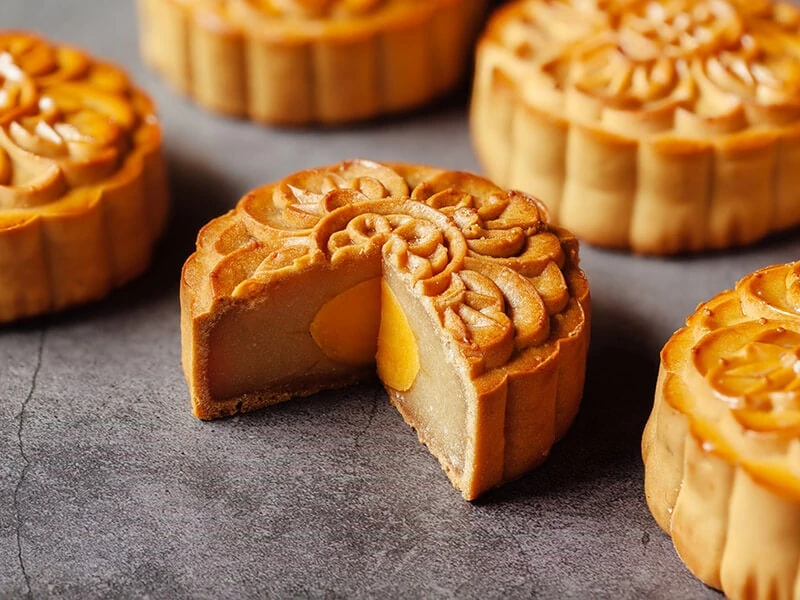 The next nominee on this list is a special Chinese sweet treat for the traditional mid-autumn party. These cakes are first to appear since the Shang Dynasty from a long time ago and gradually become a must-have treat for that feast.
There are many reasons why these iconic sweet treats in Asian cuisine are called "mooncakes", one of them is the dessert's shape and its salted egg yolk filling. Although the traditional fillings only include mung beans and salted egg yolk, nowadays, you can have much more options.
The modern mooncakes' fillings vary from the sweet kinds like red bean paste, nuts, lotus seeds, dried fruits to the saltier, savory ones like ginkgo, pork floss, ham, and many more. No matter what type you prefer, you should prepare some good tea to serve with it.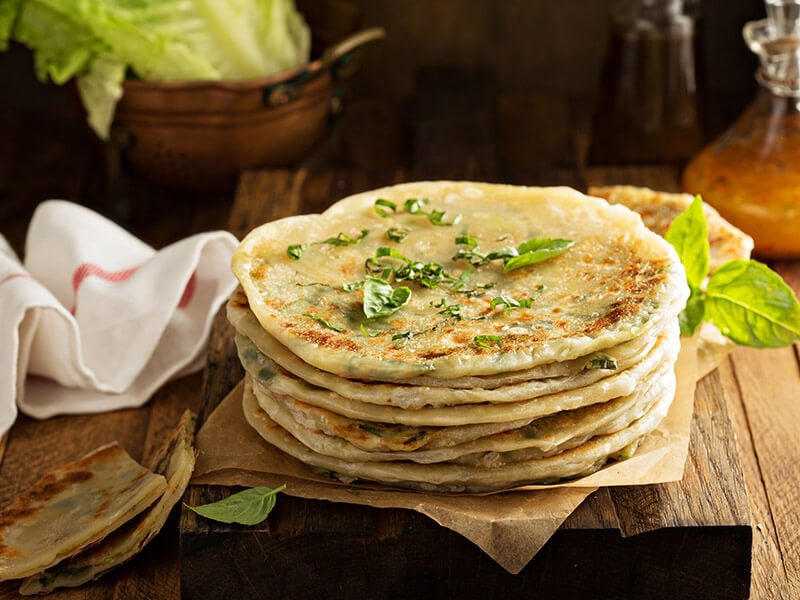 If you want a light and quick breakfast with a Chinese dish, you should opt for these Chinese-styled scallion pancakes. These scallion-filled flatbreads are normally sold on the Chinese streets, so you can easily grab one.
Don't dip your pancakes with syrup; they are savory food, so you should better eat them as is. How pleasing it would be when taking a bite into their crispy skin and the mildly sharp and peppery flavors of scallion rush into your mouth!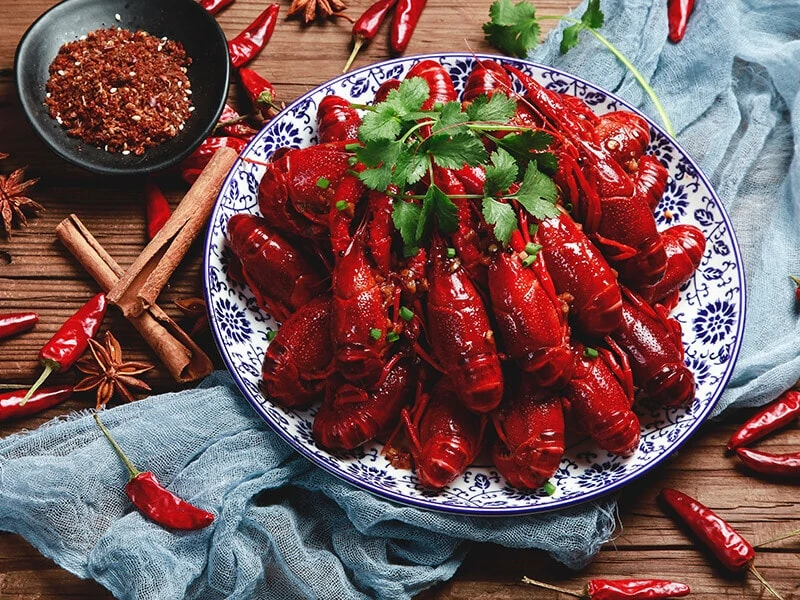 You have probably seen this dish somewhere online or in well-known cookbooks of Chinese cuisine, and don't hesitate to try it! To describe the flavor of crawfish, I would say it is chewy and tasty. The taste will remind you of shrimp and crab, but it will be sweeter and meatier.
Prepare this meal with a spicy sauce (heavy or light, depending on your preference) and sweet veggies like corn to balance the flavor. If the spiciness gets a bit too much, don't forget that China offers a wide variety of delightful drinks that you can enjoy on the side!
When eating, detach the iridescent flesh from the crawfish body's shell, dip it in the sauce once, and chew slowly to feel the spicy and sweet flavors spread throughout your tongue. Is this enough to persuade you to give this dish a try?
Fascinating Regional Chinese Specialty You Will Love
If you are familiar with the above dishes and need something more, move on to this section. In this part, I will introduce you to some outstanding local specialties of China that you may want to dig deeper into.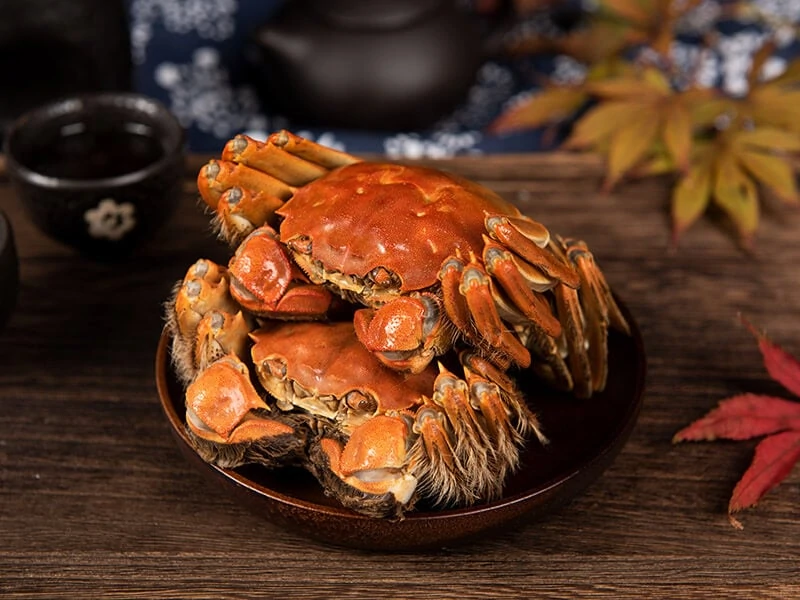 Steamed crab sounds ordinary with nothing special, so how do these Shanghai-style crabs stand out in the crowd? It is not a coincidence; the uniqueness lies in crabs that are hard to find elsewhere other than this province.
These freshwater crabs are in-season in September every year, and they are usually served in luxury restaurants, not street food stalls.
The golden roe of these hairy creatures lends incredibly creamy and buttery flavors with much sweeter flesh compared to the regular ones.
If you wonder how these hairy crabs are served, this introduction will help you out!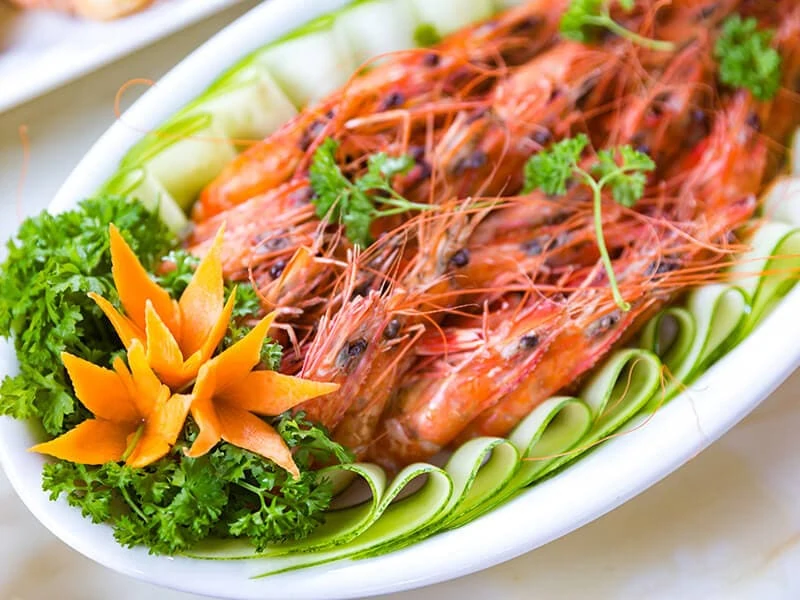 The allurement of this shrimp delicacy from China lies in its simplicity. Sometimes you don't need to over-complicate things to make them better, and this straightforward prawn dish will be solid proof.
All you can see will only be some blanched prawns with pinkish, transparent milky-like flesh. Guangzhou people purposely process these delicate ingredients to retain their exquisite natural tastes fully.
If you are still questioning, how about giving it a try and verifying it yourself.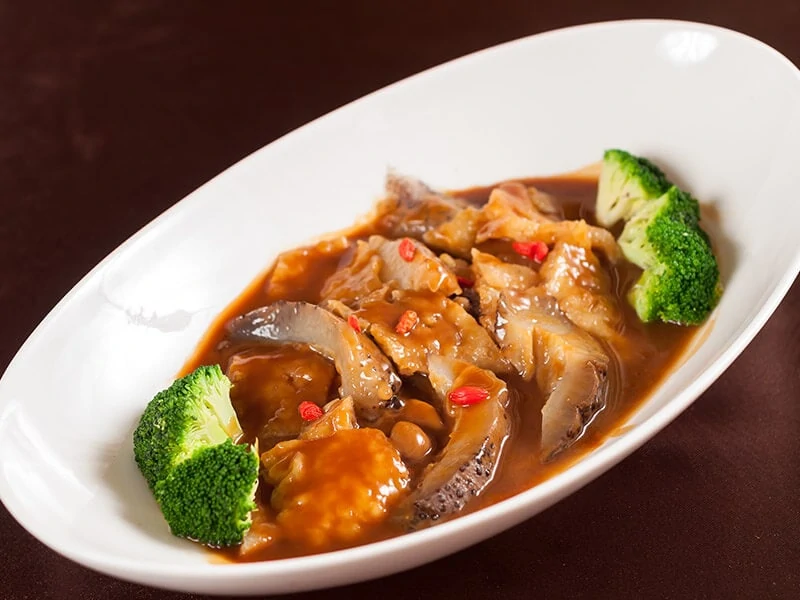 Usually cooked with oyster sauce and scallions, this braised sea cucumber offers you any tastes you can expect from the unique Shandong cuisine. From the rich combined with freshness and bright aroma to the main seafood ingredient, it will represent all of that.
You can also expect the signature mix of sweet, sour taste from this delicacy, and don't forget white rice to pair with it. Just imagining drizzling a spoonful of its iridescent sauce over a bowl of steaming hot rice makes my mouth water already.
20. Anhui Fried Hairy Tofu (Mao Doufu)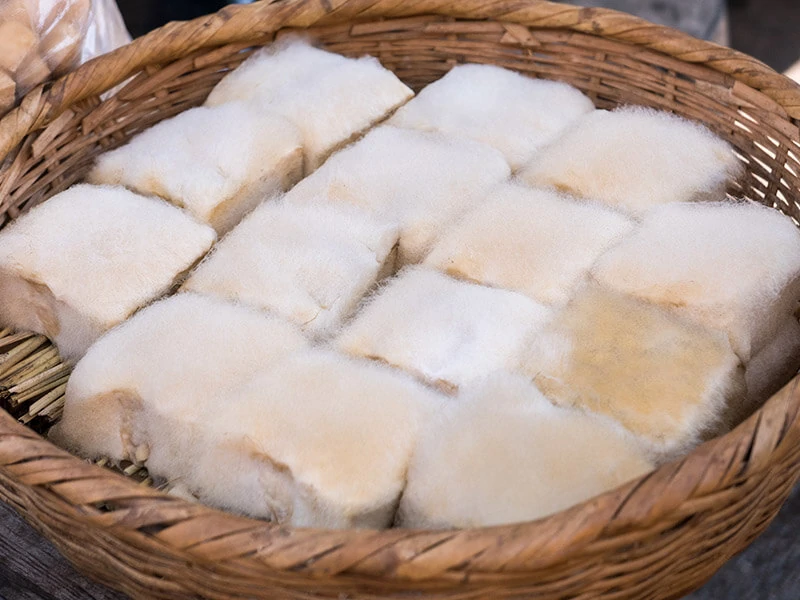 Because of its peculiar scent, this Anhui specialty dish is considered one of the most difficult meals in Chinese cuisine, yet you would be remiss if you did not try it at least once.
To lessen the smell, the exterior and "hair" of fermented tofu are usually fried until crispy golden and sprinkled with a few spicy and salty seasonings.
When you bite into it, you will first notice the crunchiness of the skin, followed by a strong fragrance that rushes into your nostrils. Right after that, a greasy, smooth flavor from the interior will overflow on the tip of your tongue.
It will be one of the most pleasurable culinary experiences you have ever had.
Taste test on the authentic Anhui fried hairy tofu you should not miss.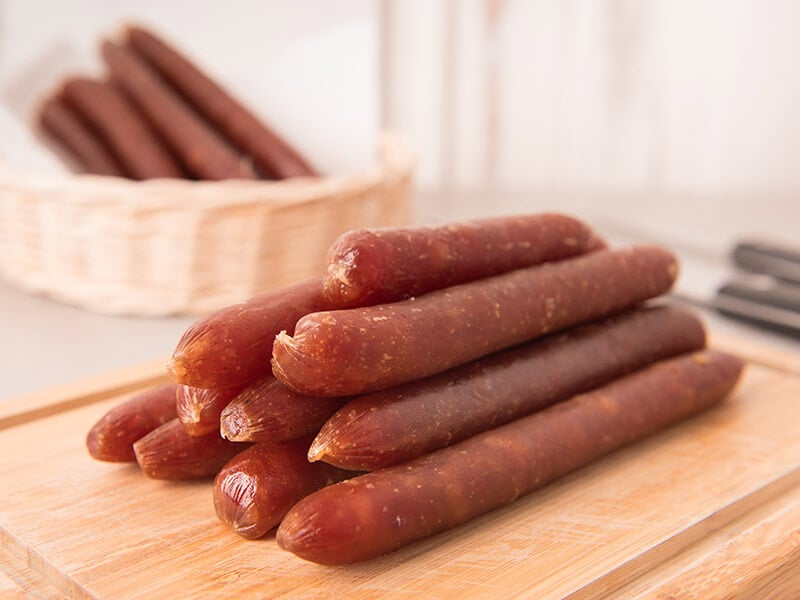 This Cantonese-style food – Cantonese sausages stand for Chinese cuisine and play a big role in their traditional culinary culture. It is because this type of specialty appears on many Chinese family's new year meals or is simply served with white rice for dinners.
Those special Chinese sausages have non-complicated ingredients, including chopped/ground pork and several robust condiments/spices (soy sauce, wine, Szechuan peppercorn, and other basic seasonings).
These sausages are made in many regions of China, such as Hunan, Shanghai, or Szechuan/Sichuan, and each of those places has their own recipes to create regional uniqueness.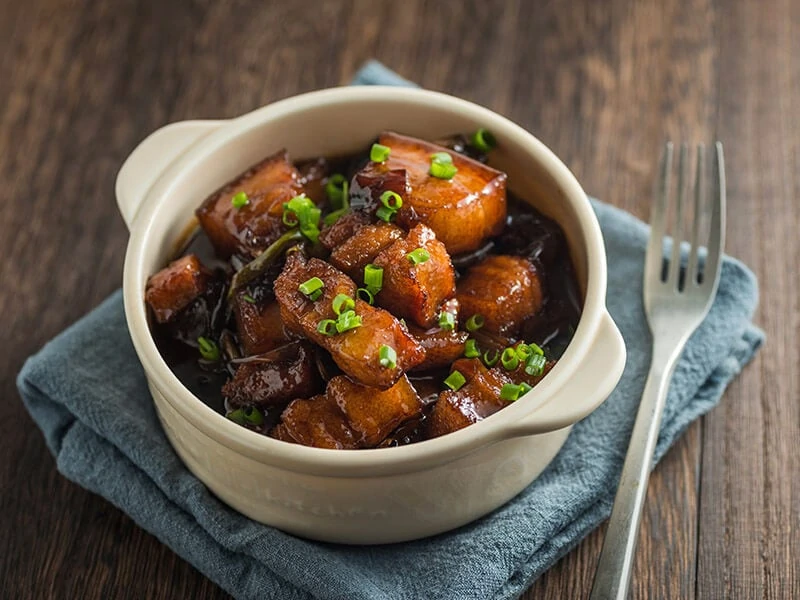 You can easily find this red braised pork anywhere in China, and each region will have their own version of this dish. In Hunan, an excellent cuisine renowned for the uses of spicy spices and sour food, their red braised pork dish will probably be hot and more intense.
The main ingredient for this dish is the streaky pork belly. The meat will be seared before braising, so the exterior will have a beautiful dark amber color when cooked. It will be chewy on the outside and tender on the inside, then melt in your tongue like jelly.
Enjoy hot rice because the rich, meaty, sweet, and spicy taste will be balanced and surely leave you satisfied.
The best red braised pork cooking instruction that will make you want to have a bite of it immediately.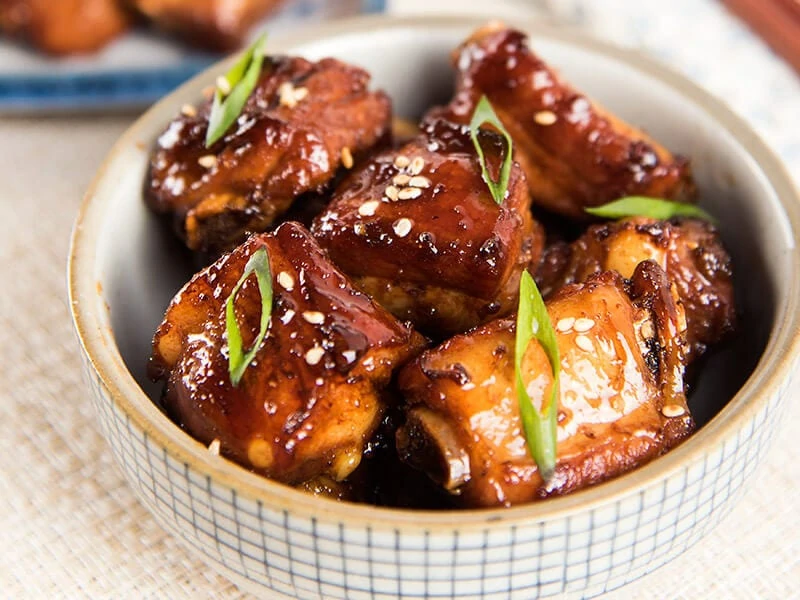 This will be one of the few non-spicy Chinese dishes you can give your little ones to try, and it will also be relatively easy to eat.
This rib dish will have relatively firm meat. It will be quickly deep-fried in oil before being cooked with aromatic spices and a layer of sticky sauce.
And of course, it will be even more perfect if eaten with starch, like rice. Who doesn't love the combination of sour and sweet-savory dishes with rice?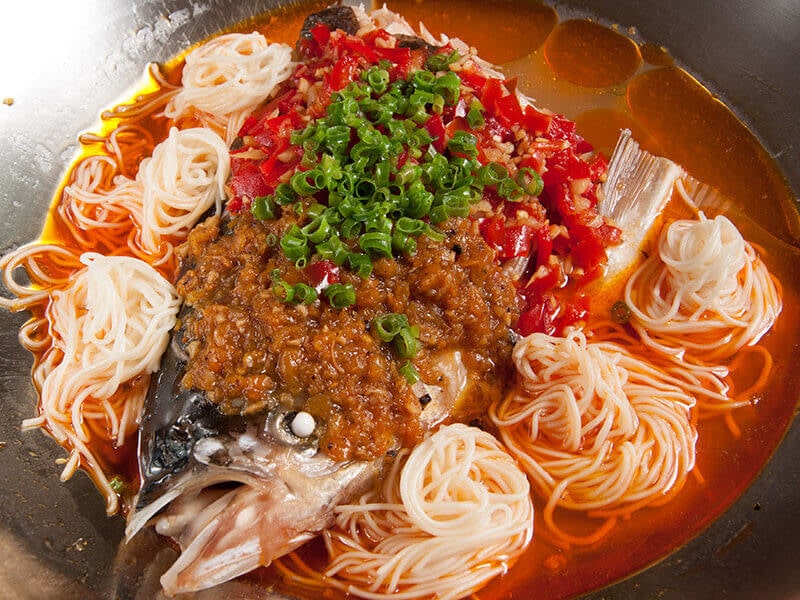 You may think that the fish head is very fishy, but if you know how to cook a fish head like this, it will definitely not be fishy anymore. Rinse, halve, and stuff plenty of strong spices in it will help you mask the unpleasant smell of the fish.
The highlight of this dish is also the main ingredient to help you successfully cover the scent, chopped/diced chili. The beautiful red color will make you want to have a taste.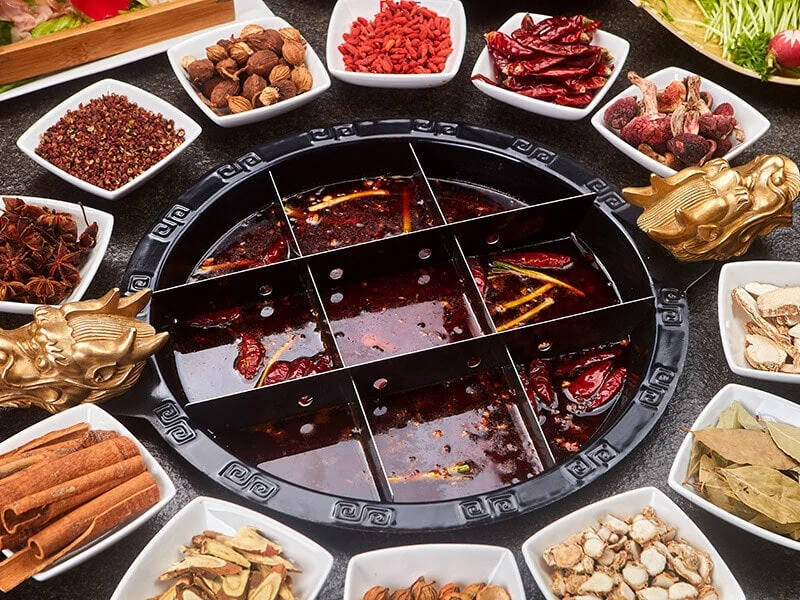 I'd be making a tremendous mistake if I didn't include this delicacy on my list. The toppings for such dishes, like those for other types of hot pot, vary. Thus the broth is one feature that distinguishes them.
And the secret lies in the spice combinations of this food. Since Szechuan/Sichuan is famous for their hot spices, they also include many spicy spices. One of them is the one-and-only Sichuan peppercorn.
Once having the first sip of the hot pot's broth, you can immediately feel the irresistible spiciness together with numbing and tingling effects on your tongue. Believe me; the effects will last until you finish the meal.
Do you want to have some more reviews? Here you are!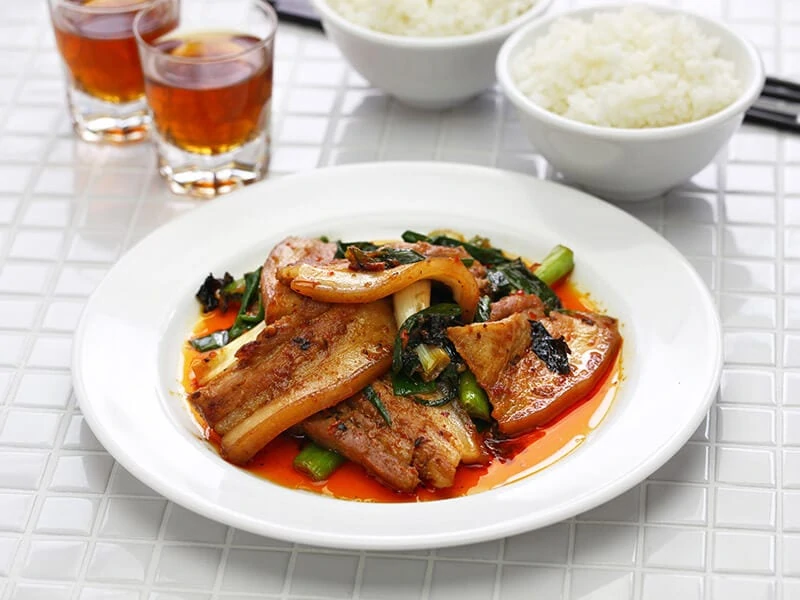 Even though it resembles red braised pork, it is an entirely distinct meal. Pork buttock (which has more fat than pork belly) is utilized, and the processing method is different.
This food's pork will be quickly boiled until half-cooked, then sautéed with veggies and spices in Sichuan style chili oil to make a gorgeous dish, as seen in the photo.
Allow me to give you a description of what it tastes like. It will be a wonderful mix of spicy, sweet, and fatty lard flavors. What a fantastic dish!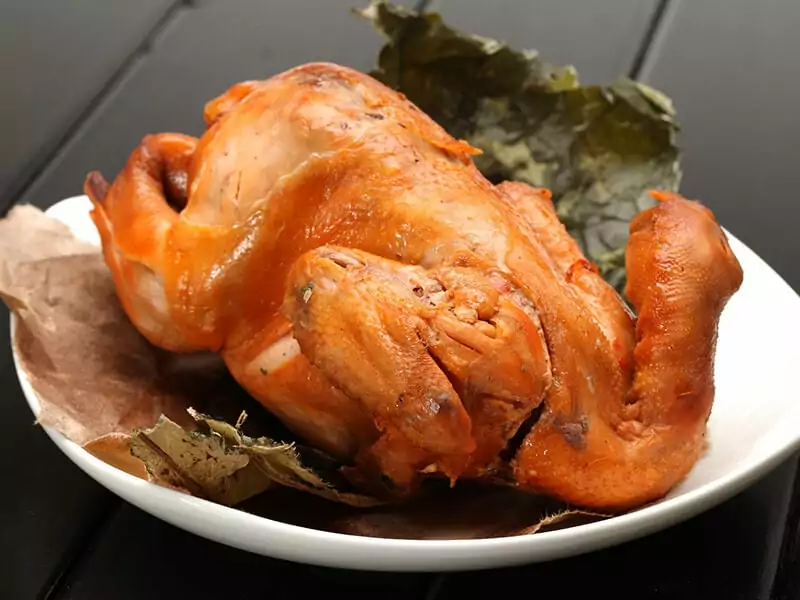 If you want to experience eating food with a hammer, you should try this beggar's chicken. Because in this dish, a whole chicken will be tightly wrapped in lotus leaves to retain moisture and then covered with a layer of mud.
There was a legend behind the unique cooking method and name of this dish. The story was about a beggar, he had a chicken to eat that day but he didn't have anything to cook it up. Then he came up with that genius cooking method, which has become prevalent until now.
Besides the tender chicken that melts due to being cooked for many hours, the juice from vegetables, chicken, and spices will be delightful sweet/mellow. Blended with the fragrant aroma of lotus leaves enhance the food's exquisiteness.
Brief guidance on how this beggar's chicken dish is made you will love!
Several Chinese Fusion Foods You Should Not Miss In A Lifetime
What about those dishes that combine other cuisines and Chinese? They are, of course, also excellent, and here are a few of my recommendations for you.
This will continue to be a dish that goes well with white rice rather than eating it without. From the alluring appearance to the yummy taste, you certainly have nothing to complain about in this dish.
Coated with an eye-catching orange shade with the perfect combination of sweet sauce and the mild sourness of citrus fruit like oranges, nothing can go wrong here. Preparing this dish is wise if you want Chinese inspiration for your Christmas party.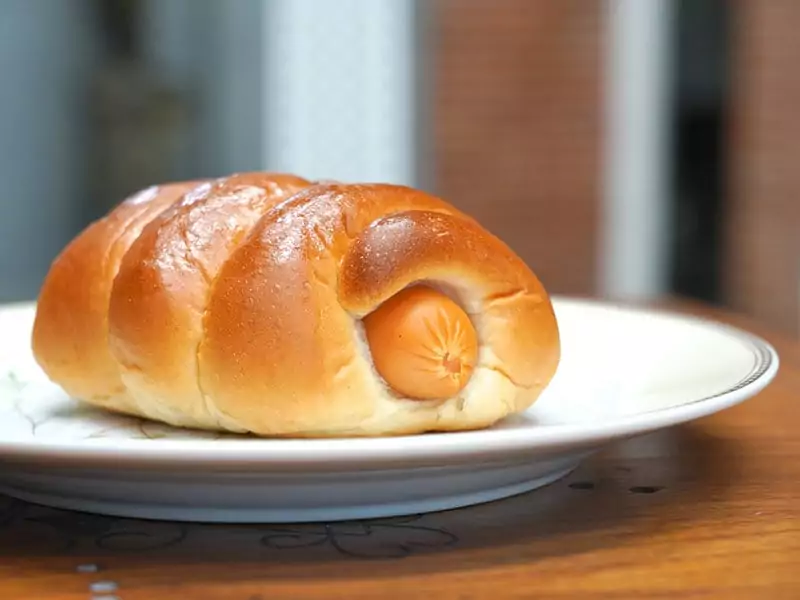 This is definitely not a traditional Chinese dish as its filling is a Western-style sausage, which seems to be why it is called a "hot dog".
The only difference between this Chinese fusion hot dog and the original one is that instead of sandwiching them in the middle of a regular bread bun, you will roll the dough around the sausage (or stuff it inside the dough) and then bake them all together.
Don't underestimate this humble food; it has always been a part of Chinese children's childhood (as a delicious snack or a quick breakfast), and it can also play a role in your life.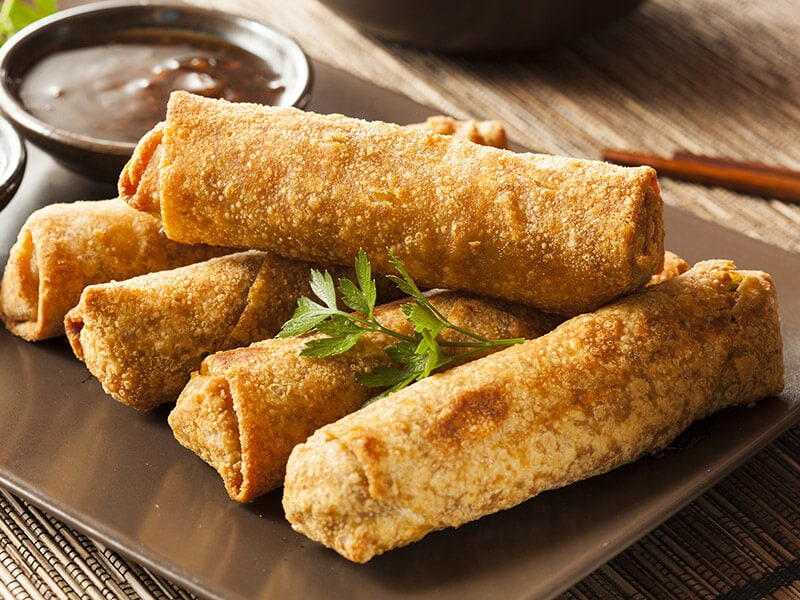 Other Asian countries have their own versions of rolls, but these Chinese egg rolls are particularly stunning. Several features set egg rolls apart from spring rolls, so it's best not to confuse between spring rolls and egg rolls – they're two completely different dishes.
One misunderstanding about this delicacy is it is not a traditional Chinese food since it was created in America in the 1930s. Later on, it became one of the most famous Chinese dishes in America and worldwide since they are tasty and easy to eat by anyone.
Crunchy and crumbly on the exterior with crisp skins with the interior soft and moist, this American-Chinese dish makes you unable to stop in the first roll.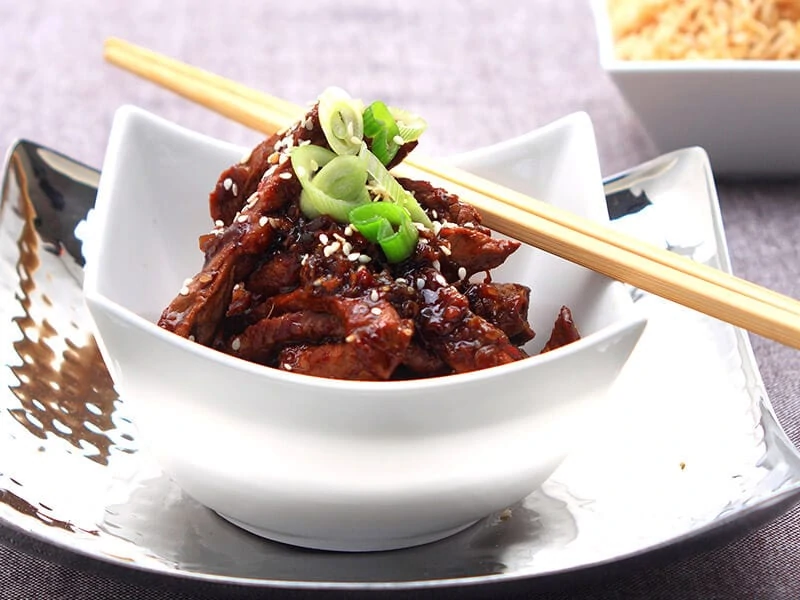 Do not assume this dish is from Mongolia. In reality, this is a Chinese stir-fry dish, and the main star here is lamb cooked in brown sauce.
The dominant flavors of this fusion recipe will be full of onions' peppery/robust tastes and solid sweetness from the unique sticky sauce. Those flavors will match well with the gamey, grassy, pastoral, and well-balanced fatty lamb meat.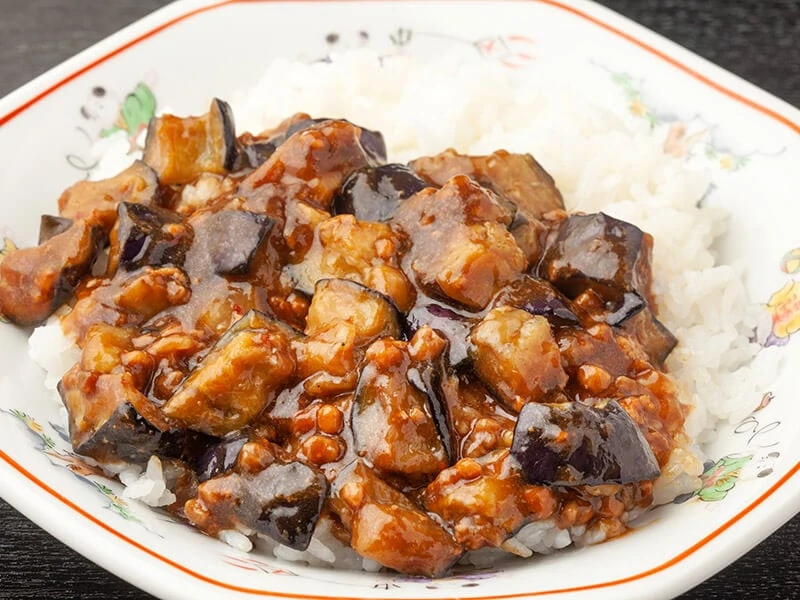 Using the typical spicy spices of Mapo tofu, this eggplant variation still brings back the familiar features besides the modified aspects in ingredients.
After being cooked, the eggplants will be stripped of the signature "vegetable" smell and only retain the mellow taste with a soft texture. Some Japanese-inspired Mapo Eggplant recipes use miso soup instead of soy sauce or typical Japanese condiments.
So, if you are both a fan of Chinese and Japanese cuisine, this dish should be on your wait-to-eat list.
It Is Time To Create An Authentic Chinese Feast!
Chinese cuisine is now extensively available around the world, and you can find it in any area or region, particularly in Asian towns. Therefore, if you have the opportunity, you must taste the delectable delicacies that I have presented today.
Alternatively, if you've tried them, please tell me about your experiences or recommend restaurants where you can get these tasteful dishes in the comment section so that I will be able to try them with you. Loving is sharing!