"Are baked beans gluten-free?" is a question of vital concern for many people. The right answer to this question, however, isn't always easy to find due to the large volume of misinformation running rampant on the internet.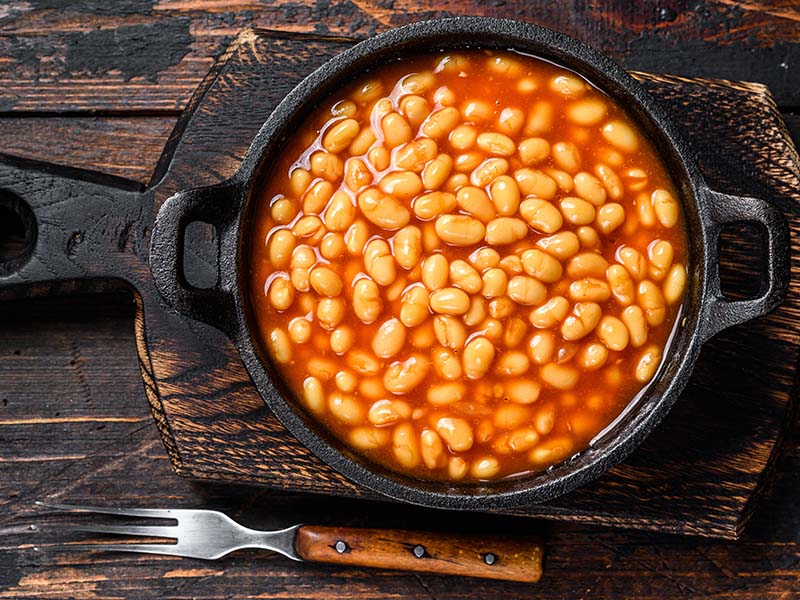 In this article, I'll tell you everything you need to know about gluten in baked beans and some delicious, certified gluten-free baked beans brands that you can trust. If that sounds good to you, make sure to read the post till the end!
Let's Learn About Baked Beans
First, let's take a quick look at the definition of baked beans and determine whether baked beans are a type of vegetable. While most people are familiar with this dish, revisiting its definition is a necessary first step in deciding whether the dish is gluten-free or not.
Baked beans are a staple in Native American cuisine and were originally made from white beans indigenous to this region. The dish started to gain popularity in the 17th century when English colonists in New England began to incorporate it into their meals (1).
Navy beans are the most common bean choice when it comes to making baked beans. However, you can use cannelini beans for this dish, or other legumes such as Great Northern, black, pinto, or kidney beans.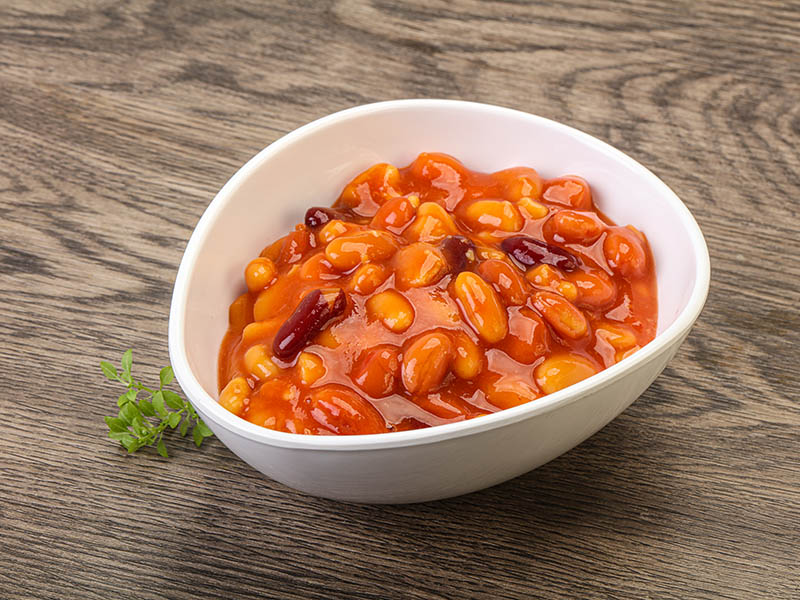 Some people even make use of multiple types of beans to create a more diverse texture and taste. Do keep in mind that some beans will hold their shape at high temperatures better than others, thus requiring more cooking time.
For example, one of the main differences between pinto beans and black beans lies in their firmness. While pinto beans are mushy and quick to soften when exposed to high heat, black beans are much sturdier and will need to be cooked for longer.
Traditionally, maple syrup, a classic companion dish for pancakes, was added to the sauce to sweeten baked beans. However, brown sugar and molasses are more widely-used these days.
There's a slight difference in how baked beans are made in North America and the United Kingdom. While Americans parboil then slowly bake their beans in sauce at low temperature, British people often stew their beans in sauce after parboiling.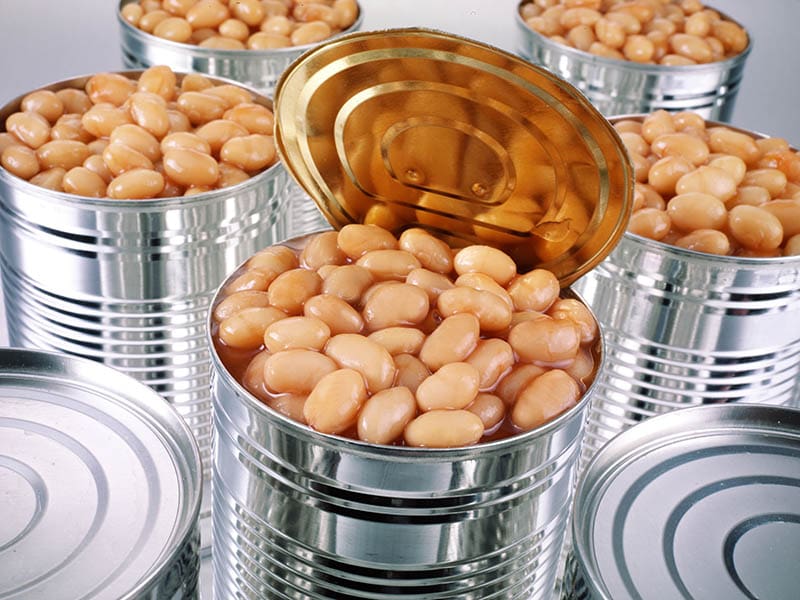 Baked beans are an immensely well-loved dish throughout the States, and there are even different ways to make BBQ baked beans for your parties and picnics. Today, canned baked beans, which are actually steamed, not baked, are a go-to for many people, thanks to their convenience (2).
Everything About Gluten And Why It Might Be Harmful
Gluten is a group of storage proteins found in a number of grains such as wheat, rye, and barley. Varieties of wheat like durum, semolina, wheat berries, spelt, semolina, farro also carry gluten.
These proteins act as a binder that holds and maintains food's shape. Without gluten, grain-based products like bread, cereals, or pasta will lose their signature chewy texture.
Even in non-grain-based products, there's still a possibility that they can contain traces of gluten. That's why questions like "Does oyster sauce contain gluten", "Is fish sauce gluten-free", or "Can tamales be considered gluten-free" are not uncommon for gluten-intolerant people.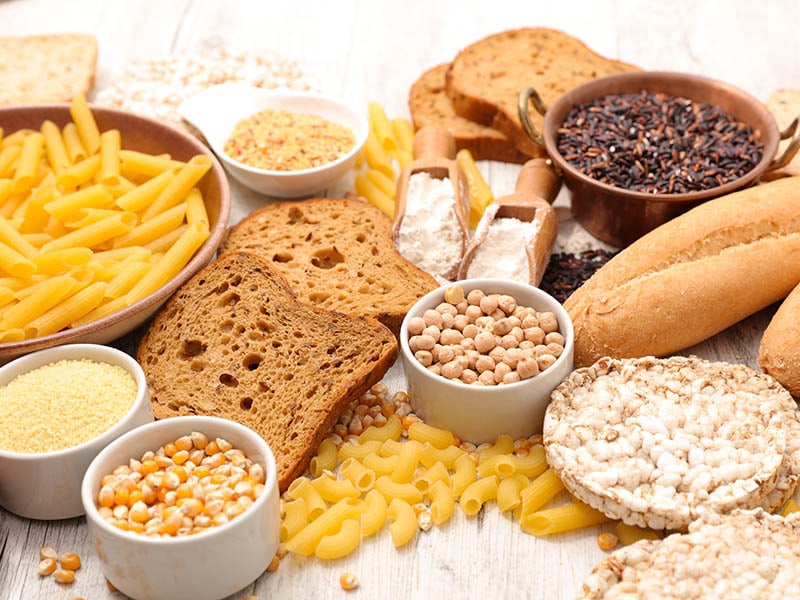 So why do some people need to avoid eating food with gluten? According to a study done by the Harvard School of Public Health, the human body can sometimes mistake gluten for a toxin, resulting in a "battle" between these proteins and one's immune cells.
This condition is called celiac disease and might lead to severe side effects like malnutrition, uncontrolled weight loss, and intestinal damage.
Fortunately, only about 1% of the American population has celiac disease, but that doesn't mean it should be taken lightly (3).
In addition, people who have dermatitis herpetiformis – a skin condition related to eating gluten, wheat allergy, or are non-celiac gluten sensitive also need to be mindful of their gluten intake.
Learn more about gluten and its related disorders.
Baked Beans – Gluten-Free Or Not?
Now that you know what gluten is, time to address the elephant in the room: do baked beans contain gluten.
All types of beans, including the ever-popular navy, pinto, and kidney beans, are naturally free of gluten – which is good news. That said, you might want to hold off on buying a can of baked beans until you've read what I'm about to reveal.
While beans themselves are gluten-free, bad farming practices can infuse them with chemicals that might contain gluten. In addition, cross-contamination during processing and packaging can also lead to gluten-contaminated beans.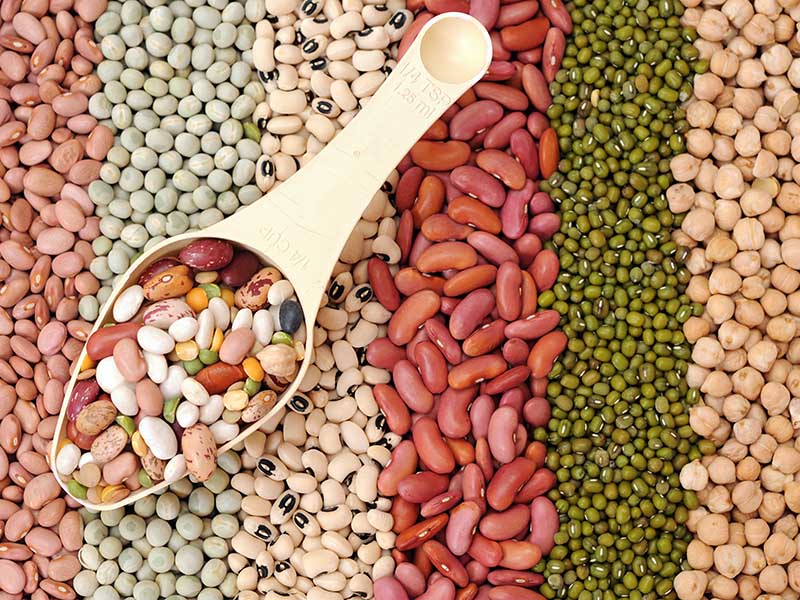 Baked beans, especially the commercially canned type, are even more likely to contain gluten than normal canned beans. This is because many canned baked beans include potentially glutenous ingredients like liquid smoke and distilled vinegar.
Generally, you want to be careful of any product that contains protein additives (wheat protein, hydrolyzed plant protein, seitan, TVP), texture additives (flour, starches, vegetable gum), and flavor enhancers (flavoring, miso, spices, seasonings).
Fortunately, not all baked beans are unsafe for gluten-sensitive people, as you can find certified gluten-free canned baked beans quite easily on the market.
According to the FDA guideline, a product must have less than 20 parts per million of gluten to be considered free of gluten (4). So what brands of gluten-free baked beans should you buy? Well, I'll answer that question in the next section so read on!
The Best Ways To Find Gluten-Free Baked Beans
Although there are more than a handful of tasty canned baked beans brands on the market, not all of them are gluten-free. In this section, I'll show you the best ways to make sure that your baked beans contain no gluten.
Tips On Choosing Gluten-Free Baked Beans
The safest way to ensure that your canned beans, whether baked or raw, is to buy those with a "certified gluten-free" label slapped on them. This label proves that the products have passed the FDA requirements, making them a safe addition to your gluten-free diet.
While saving money is a good thing, it's better to spend a bit more on high-quality gluten-free products as they are less likely to be contaminated by gluten (5). I guess the saying "you get what you pay for" is true in this case.
4 Gluten-Free Baked Beans To Buy
To save you from a headache, I've rounded up the best certified "no-gluten" baked beans brands on the market. You can easily purchase these baked beans in common grocery stores or order them from Amazon.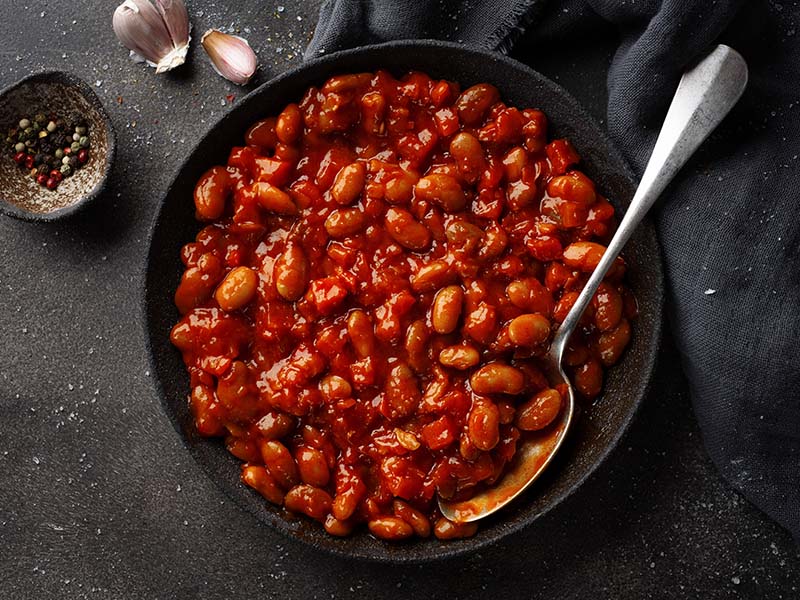 Bush's Best offers a wide variety of baked beans products, and each one boasts a unique taste. Some of the more popular flavors include Original, Country Style, Organic, Vegetarian, Homestyle, Brown Sugar, and Sweet Heat.
The best thing? All baked beans from Bush's Best are gluten-free! Although some might consist of cornstarch – an ingredient known to contain gluten, the company states that its version of cornstarch is 100% safe for gluten-intolerant people.
Amy's Vegetarian Organic Baked Beans is one of the healthiest canned beans products that you can find. Not only do these beans contain no gluten, dairy, soy, lactose, or tree nuts, but they are also completely vegan, kosher, and organic.
Plus, these beans taste amazing and will fit perfectly in an array of recipes.
Much like Bush's Best, Heinz baked beans also come in various flavors. These beans are usually imported from the United Kingdom and are a perfect choice if you're craving an authentic English breakfast.
However, Heinz baked beans can be a bit "too runny" for some people. If that's the case for you, there are plenty of baked beans thickening methods that you can try.
One thing to keep in mind about Heinz is that not all their baked beans are gluten-free. So it's best that you double-check the ingredients before buying. If you want to play it safe, stick to the Original, Molasses & Pork, and Hickory Smoke flavor.
B&M baked beans are rich in flavor and are extra saucy. In addition to being incredibly delicious, these beans are also 99% fat-free, making them a healthy choice. You can also choose from 7 different varieties, all of which are free of gluten.
5 Baked Beans Brands To Avoid If You're Gluten-Sensitive
While the products listed here are not by any means "bad", they either contain gluten or are dubious about their gluten ingredients.
To be safe, I suggest staying away from these baked beans brands if you're gluten-sensitive, unless they come out with a new product that says "gluten-free" on the packaging.
Van Camp's Baked Beans (All Flavors)
Pacific Foods Baked Beans (All Flavors)
Grandma Brown's Home Baked Beans
Trader Joe's Organic Baked Beans
Campbell's Chunky Original Baked Beans
Make Your Own Gluten-Free Baked Beans
Do you know the best way to ensure that there's absolutely no gluten in your baked beans? That's right; the answer is to cook your own baked beans. If you have the time, how about giving home-baked beans a shot?
Today, I'll show you how to make baked beans on a stovetop. Fans of smoked baked beans will have to wait another day, as the method and the length of time to smoke baked beans vary drastically from the stovetop technique below.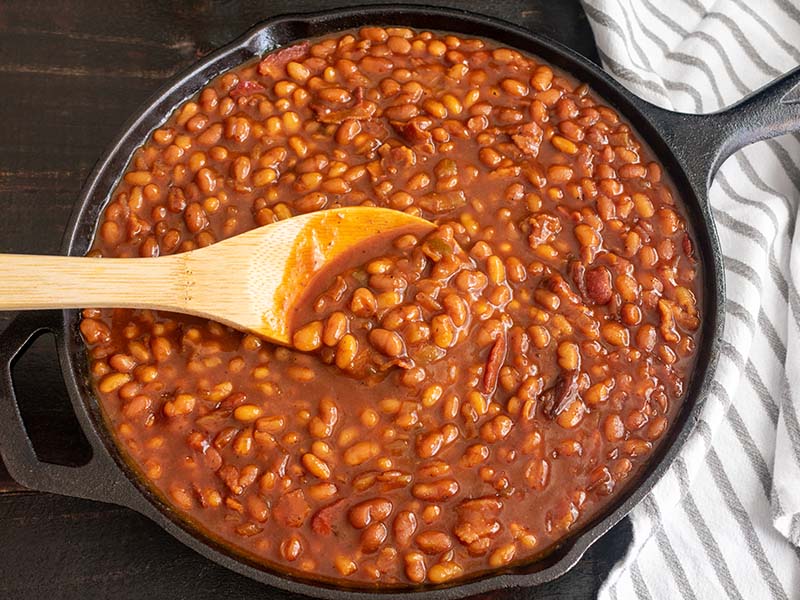 First, Prepare These Ingredients
Here are all the ingredients you'll need for this recipe. As you can see, every ingredient can be easily found in a normal grocery store.
Gluten-free canned navy beans: 2 15-ounce cans
Diced onion: ½ cup
Organic ketchup: ¼ cup
Organic yellow mustard: 2 teaspoons
Maple syrup: ¼ cup
Molasses: 2 tablespoons
Tomato sauce: 1 cup
Cumin: ¼ teaspoon
Chili powder: ¼ teaspoon
Pink Himalayan salt
Ham or bacon (optional): ¼ cup
An Easy Step-By-Step Guide
Now that you've got all the ingredients, time to cook up some yummy baked beans!
Step 1: Drain And Rinse Your Beans
Draining and rinsing canned beans will remove the excessive sodium content (which can be pretty high), thus improving their flavor.
Step 2: Add All The Ingredients To A Saucepan
Gather all the necessary ingredients and add them to a saucepan. Remember to cook and chop your ham and bacon beforehand. But also, don't forget to pay attention to the maximum time cooked bacon can sit out. Season the mixture with salt.
Step 3: Cook Over Low-Medium Heat
Cook the mixture on a stovetop over low-medium heat for 20 to 25 minutes, stirring frequently. Keep the pan uncovered. The beans will become thicker the longer they cook, so feel free to stop cooking at your desired consistency.
Step 4: Enjoy Your Homemade Baked Beans!
Wait for the beans to cool down and enjoy!
Add a touch of homemade flavors to canned baked beans.
Tips For Storing Leftover Baked Beans
There are 2 main methods for storing leftover baked beans: refrigerating and freezing. You can expand the shelf life of refrigerated baked beans by putting them in air-tight containers at a stable temperature. Typically, your beans will last for about 3-4 days in the fridge.
What about freezing? Can baked beans be stored in the freezers? This might seem like a no-brainer issue, but many have voiced their concern that freezing will affect the beans' flavors as well as the dish's consistency. Is this a legitimate concern?
Well, long story short, freezing your baked beans is a viable option when you need to keep them from going bad for a long time. You can expect a life span of 6 months for frozen beans. In order to preserve the dish's flavor and consistency, you need to know the correct way to freeze it.
Apart from freezing and refrigerating, canning is another solid storage option.
Must-Try Gluten-Free Side Dishes For Your Baked Beans
After you've made (or bought) your tasty gluten-free baked beans, you must be wondering: "What should I pair my baked beans with?". Worry not; I've got you covered!
Devilled eggs are a crowd-pleasing appetizer that not only looks beautiful and tastes delicious but is also surprisingly easy to make. Plus, all eggs are naturally gluten-free, so you don't need to worry about getting the "wrong" type of egg.
Add a touch of sweetness to your devilled eggs with candied bacon.
Nothing beats some crispy and savory smashed potatoes. They are a magical appetizer/side dish that always seems to disappear before you even realize it. The best thing about smashed potatoes is, you only need 3 main ingredients to make them!
While it's true that devilled eggs and smashed potatoes are incredibly tasty, both of them are considered side dishes by most people. Well, how about some mouth-watering roasted ham to fill your hungry stomach?
Juicy ham wrapped around by a layer of heavenly-tasting glaze, this dish is an absolute winner for any special occasion.
FAQs
While I believe that you've already learned whether baked beans are gluten-free by now, there might be some other questions regarding this topic that you want to ask. For that reason, here are some of the most commonly asked questions about baked beans.
The Label Is Your Best Friend
Depending on the brand, baked beans might or might not contain gluten. For your safety, it's best that you make a habit of double-checking the ingredients before purchasing any food product, not just baked beans.
Do you have any other recommendations for gluten-free baked beans brands? Let me know what you think about this topic in the comment section! Lastly, I'd really appreciate it if you could like and share this article!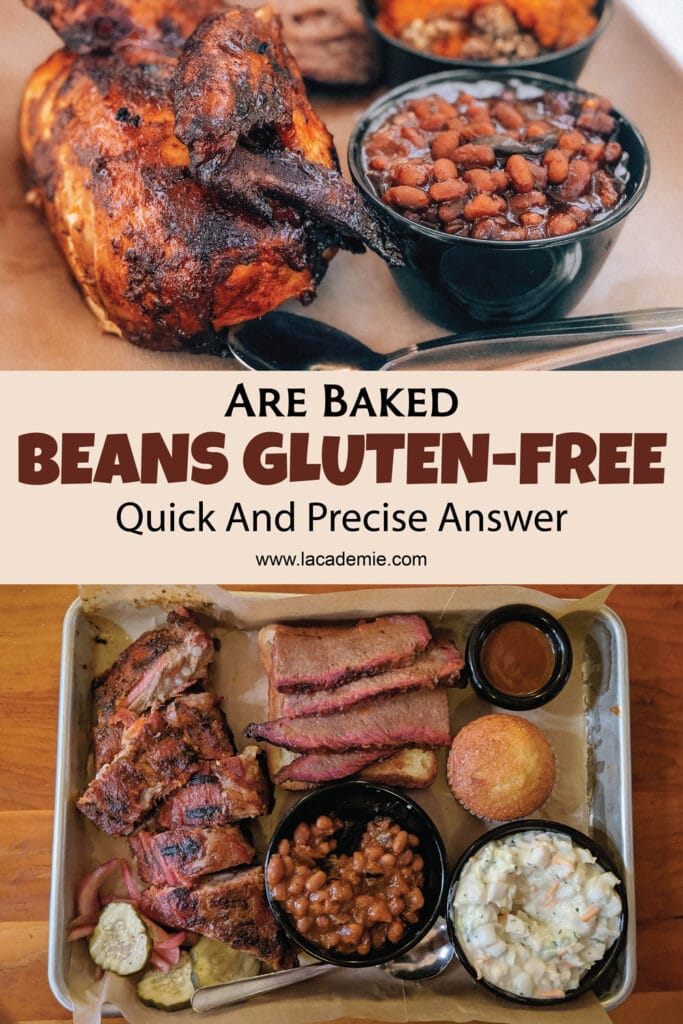 References
Contributors to Wikimedia projects, (2003). Baked beans – Wikipedia.
O'Callaghan, L., (2016). How are your baked beans REALLY made? Behind the scenes footage at a factory reveals ALL [online]. Express.co.uk.
Gluten: A Benefit or Harm to the Body? [online]. The Nutrition Source.
Gluten and Food Labeling [online]. U.S. Food and Drug Administration.
Gluten Contamination in Naturally or Labeled Gluten-Free Products Marketed in Italy [online]. PubMed Central (PMC).