Cannellini bean recipes are varied and convenient as canned beans are widely accessible in most supermarkets and grocery shops. Therefore, just with a bit of effort, you can prepare various meals with cannellini beans.
Cannellini beans (aka white kidney beans, or simply white beans in many recipes) are the biggest cultivar of beans in the white bean group. They have a nutty and mild flavor that perfectly pairs with many kinds of dishes.
In this post, I'd like to present my best 25 recipes with cannellini beans that I believe will leave you stunned by how delicious they are. So are you ready to be wowed? Let's jump right in.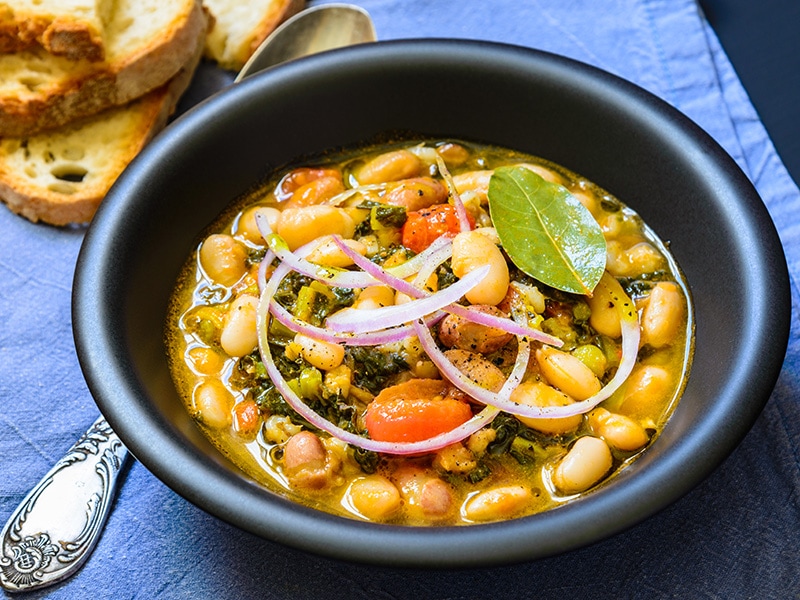 25 Wholesome Recipes With Cannellini Beans That Deserve A Thumb-ups
Many vegan dishes use cannellini beans as a protein source. However, they are also a star for non-vegan culinary ideas on this list. Take a look at the collection of vegan and non-vegan cannellini bean recipes below to find out.
Non-Vegetarian Cannellini Bean Recipes
1. Shrimp Fennel and White Bean Salad
2. Beef and Cannellini Salad
Ideas For Soup
3. White Bean and Sausage Soup With Pasta
4. Creamy Cannellini Soup
5. Sausage Kale Bean Soup
Ideas For Meat Stew
6. White Chicken Chili
7. Turkey Pumpkin Chili
Other Non-Veg Ideas
8. Cheesy Italian Baked Cannellini Beans
9. Squash Stuffed With White Beans, Spaghetti and Sausage
10. Seared Sea Bass Lemon Olive White Beans
11. Tuscan Chicken Skillet With Cannellini Beans
Vegetarian Cannellini Bean Recipes
Dipping Treats
12. White Bean With Sun Dried Tomato Dip
13. White Bean And Garlic Scape Dip
14. Vegan Kale White Bean Dip
15. Rosemary White Bean Dip
Salad Treats
16. Cannellini Bean Salad
17. Sun Dried Tomato and Beans Salad
18. Farro Pesto White Bean Salad
Soup Treats
19. White Bean Soup
20. Vegan Tuscan Kale and White Bean Soup
21. White Bean and Mushroom Soup
Stew Treats
22. Vegan Sausage and Bean Stew
23. Vegan Instant Pot White Bean Stew
And Other Vegan Treats
24. Pesto Pasta and White Beans
25. Quinoa and White Beans Fritters
Insanely Tasty Non-Vegetarian Cannellini Bean Recipes
With 4 main parts (Salad, Soup, Stew, and Other non-vegan dishes) and 11 detailed recipes with cannellini beans, I hope you can have better protein options for your diet.
'Cannellini Bean And Friends' Salad Recipes
Delicious and full of nutrients are what I want to describe with the salad list for non-vegans. Meats sometimes are too much for your diet, so why don't you regulate them by adding cannellini beans and other veggies to make perfect salad dishes.
The combination of fennel, cannellini bean, and shrimp creates a delightful and healthy salad. All main ingredients are also a good source of fiber that benefits your digestive system and overall health.
Nothing is complicated for the preparation. For dried beans, you must soak them at least 4 hours before boiling. You can skip this step if you use canned beans.
Once beans are soft and edible, mix them with other ingredients. With this recipe, they are perfect as an appetizer not requiring to be served hot. A little bit of lemon juice or a hint of vinegar will make your salad shine.
If you do not like fennel, shrimp, and white bean, still pair well to make the finest salad. You can see this video to know more:
2. Beef And Cannellini Salad
If you want more protein for your salad with red meat, beef, and cannellini beans will meet your needs. You can substitute cannellini beans with other white beans like Great Northern or navy beans.
You can even use beef sausage to mix with beans and other vegetables such as tomatoes, onion, or cucumber. And nothing can compare to the scent of herbs in your salad. Do not forget to dress them with vinegar or mustard dressing.
Recipes For Warm And Healthy Cannellini Bean Soup
Nothing can compare with a warm soup on cold days. And it would be way better when using cannellini beans to increase the creamy and nutty flavor of a soup.
What could be better than a hot and comforting meal on freezing winter nights? Let warm up your stomach with just one bite of sausage soup with cannellini beans.
Use Turkey sausage, or Tuscan sausage, or any smoked sausage that you like. With pasta, you'd better choose small pasta like ditalini, shells, or macaroni.
Remember to add Parmesan cheese for a more satisfying soup and max out the flavor. I guarantee your family will devour everything in their soup bowl.
With this recipe, the creaminess in cannellini beans will be upgraded to a new level to become a well-loved soup all the time.
The prep and cooking are also super easy. Remember to rinse and drain canned beans before using. Add sausage, potatoes, beans, and onions into a big pot of chicken broth. This mixture will be pureed in a blender later for a smooth and thick texture.
If you are concerned about your low-carb diet, cauliflower is a great substitute for potatoes. Plus, adding green vegetables will brighten the color of this soup, making it appear more appetizing.
This is another recipe that uses cannellini beans and sausage to make a delicious appetizer or even a perfect main dish.
And you know what makes them more special? It just takes around 30 minutes to prepare a hearty soup meal that will delight even the pickiest of eaters. So if your kids do not like veggies, make this soup for them. I believe they will ask for more.
Moreover, you can serve this soup with bread or with salad for a fulfilling meal.
Cozy Cannellini Bean Stew Recipes For Winter Night
Like soup, stew dishes are also a popular choice to warm up your body and satisfy your tummy. With a bowl of cannellini bean and meat stew along with a glass of wine, your life is perfect.
The first thing that will impress you about white chicken chili is its appearance. Indeed, the visual is so bright and vibrant with 2 primary colors: light yellow from chicken and bean and green from avocado and herbs.
Though they might have 'chili' in the name, it is not a spicy dish, so do not be alarmed. There are many ways to make your chili creamier and thicker. A food processor to puree beans with other ingredients may be the fastest way.
Or, if you do not have a food processor on hand, or just because you like the coarse texture, just add a whole bean into the broth and cook. They are still wonderful and taste delicious as well. Finally, sprinkle some cheese, and fresh cilantro will make your dish yummier.
A hearty dish with chicken and beans that go straight to your heart. You can see this video to know more:
Pumpkin is a great food of high nutrients but low calories. And when it comes to cannellini beans, they become an incredible pair for a hearty and fulfilling dish.
However, slow cook this stew for at least 5 hours to ensure that the flavors of the turkey, beans, and pumpkin mix nicely. This recipe is also one way to use your available canned pumpkin. You may not believe it, but the richness and creaminess will still be there.
Other Non-Vegan Recipes Cooked With Cannellini Beans
The 4 below dishes are also the most-saved recipes to cook with white beans. Make sure that you will not skip it.
Let's treat your beloved people to this classic Italian-inspired food for dinner. Besides beans, cheese is a hit of this dish to create a gooey and buttery taste for your dish.
They are all simple ingredients, but when combined, they make a high-class and delectable dinner that will satisfy everyone.
Serve them with crusty bread. And if you want to add some heat, red pepper flakes are a wonderful option.
When winter comes, spaghetti squash season is finally here. Once you've known the correct method for storing spaghetti squash, you can keep it fresh for a long time and make many delicious dishes with it. So why don't you turn them into a new dish with beans and sausage?
Cut the squash haft in half, remove the seed in the middle, and roast for 40 minutes until tender. Meanwhile, make the filling by combining sausage, onion, beans, chicken stock, and seasonings.
After cooking squash, fill their middle parts with the sausage mixture, cover with cheese, and bake for another 3 to 4 minutes, or until the cheese has melted and has an eye-catching brown color.
Imagine a crispy edge of fish with delicate meat combined with cannellini beans and other vegetables in one mouthful; you can imagine how heavenly delicious it is, can't you?
That's why this recipe must be a go-to recipe for you and everyone. Seasoned sea bass fillets will be pan-seared for 2 to 4 minutes on each side. This mix of cannellini beans, cherry tomatoes, and spinach in chicken broth provides the foundation for crispy, golden brown fillets.
Do not forget to sprinkle some olive oil and squeeze with a little bit of lemon juice. It will provide contrast tastes to your food, making it more enjoyable.
Hate washing dishes after eating? This one-pan dish is your lifesaver. Tuscan chicken skillet with cannellini beans recipe is very easy yet so light and healthy.
This Tuscan-style skillet is not only tasty but also looks incredibly good. Chicken, mushrooms, tomatoes, cannellini beans, and herbs are such a good treat for dinner or any meal. Let's try them tonight. Your kids and husbands will love it.
Vegan Cannellini Bean Recipes That Even Non-Vegans Will Love
I know many of you are concerned that plant-based recipes may leave you hungry. After trying one of the 14 recipes organized into 5 parts below, you will think again.
Dipping – A Magical Sauce For Cannellini Bean Recipes
Are you tired of guacamole or normal dipping with tomatoes? Let's try these cannellini bean dipping to expand your culinary recipes.
Looking for a perfect dip for your snack? Let's try white bean and sun dried tomatoes dipping to entertain your game day.
Super-easy and ready-in-minute are 2 key factors that make me fall in love with this dish. All store-bought ingredients will be pureed in a food processor, increasing the blending process in flavors for the components. The chunky or smooth textures are both fine.
It is also highly convenient as you can keep their flavor and texture in the fridge for up to 5 days if they are correctly stored.
Wonder what you should do with garlic scape? How about mixing them up with cannellini beans to create a creamy and a little bit of garlic-taste dipping that makes everyone go nuts.
Garlic scapes have a distinct flavor that combines onion and garlic, making them milder and more delicate than garlic. Remember to cook the garlic scapes before blending them with cannellini beans and other spices in a food processor.
Puree them until they are entirely smooth. Add additional water if you find the mixture is too thick. This dipping sauce is great with vegetable sticks or bread.
Kale is such a great companion with cannellini beans. So there is no reason to make a flavorful dipping sauce with kale and beans.
A little hint of aroma herbs, a creamy of beans mixed with a strong and earthy kale taste creates a perfect contrast that makes you gobble them up after one bite.
The light green dipping color is also beautiful, and it is embellished with almonds or sunflower seeds. So, give them a try and let the dipping blow your mind.
If you are a fan of steak, you might be too familiar with rosemary. They are an aromatic herb that has an intense flavor. But they also can be a perfect balance for many dishes, including this dipping sauce.
Rosemary and cannellini bean dipping sauce is a one-of-a-kind sauce that could not be simpler or quicker. Just combine all components and let a blender do the work. Voila, a perfect and satisfying dipping, is ready to serve with crackers and vegetables.
In-depth and helpful information to make a rosemary cannellini bean dip. You can see this video to know more:
Fresh Plant-Based Salad Recipes With Cannellini Bean
Even if you are a non-vegan, I bet you will love all the vegan salad ideas here. And you cannot even tell how they are different from the non-vegan salad ones.
Here is a no-cook salad that you can make ahead. Cannellini bean salad is a mixture of chopped tomatoes, onion, cucumber, radishes, beans, and lemon juice; therefore, it is super fresh and full of flavors.
Use canned beans for this dish so you can save a lot of time in prep. Just do not forget to rinse the beans before mixing them with other ingredients.
In fact, you should make the salad in advance and allow them to sit in the fridge overnight. The flavors of the veggies and beans, at this point, can absorb the light sourness of lemon juice, making them tastier.
With this recipe, you can mix cannellini beans with other kinds of beans or just use cannellini beans alone. And similar to the above salad recipe, make them in advance so that they can marinate overnight.
Sun-dried tomatoes have a sweet-and-sour flavor and a chewier texture that will give enjoyment when eating. By combining every ingredient, they are so tangy and robust in flavors. Serve them with bread or crackers for a perfect side dish or appetizer.
This is my to-go cannellini bean salad as they are so incredibly delicious, fresh, and healthy. Plus, the only cooking part in this dish is just for farro – a grain that perfectly fits with salad or soup dishes.
You might need a food processor to make pesto sauce at home. Once the farro is cooked, allow them to cool off before mixing with veggies. Chop veggies like bell pepper, cucumber, olives, and onion, combine everything with farro, and toss with pesto sauce.
Enjoy the salad with a cold drink to increase the summer feeling. Now you have got an ideal picnic dish that everyone would love.
Vegan Cannellini Bean Soup Recipes That Are So Good To Be True
Gluten-free, vegan, healthy, and low-budget, what else can I tell about them? Ah, that's right. They are also super delicious, literally melting on your tongue and making your soul sing. Let's follow me to discover why.
Let's begin the vegan soup list with the basic one – White bean soup. I have to say that this would be the cheapest soup that you can get, as the ingredients are so budget-friendly. Or they may already be residing in your pantry.
Accessible components, quick prep and cooking, are excellent solutions for busy bees. This soup's overall color is also appealing. You can sprinkle some rosemary to enhance the aroma of your savory dish.
Don't know what to cook for dinner? This creamy and delish vegan white bean soup will help you to figure it out. You can see this video to know more:
Do you know that in Tuscany – a central region of Italy, beans are an essential part of their cuisine? Tuscans are also famous for the large consumers of beans. So what does white bean soup look like in Tuscan style?
Once again, kale, white bean, and other components will combine to make a cozy soup that keeps you warm and provides many nutrients to your body. Who can say no with a soft, creamy, and somewhat chunky soup?
Even if you are not a vegetarian, I guarantee their perfection will steal your heart.
This one-pot soup will highlight your day for sure with the fragrant and elegant flavors. The vague sweetness of mushroom perfectly pairs with the creamy cannellini beans, making a masterpiece soup.
You do not have to worry if there are any leftovers. Your soup will be fine in the fridge or freezer, and it still keeps its fresh and creamy flavor. That's why this kind of soup is ideal for any lunch at work.
And if you are not a fan of pureed soup, just let cannellini beans and mushroom soup be your favorite ones.
Veggies Stew With Cannellini Bean Recipes That Will Blow Your Mind
At this point, I do not think that you still consider which plant-based cannellini bean dishes that will not leave you hungry because these stew recipes are ideal for filling your tummy with nutritious ingredients and happiness.
With this stew recipe, you cannot believe how ridiculously fast they are. It is definitely a no-fuss yet superb dish that is perfect for any meal and leftover.
Vegan sausage and beans create a nutty, rich, and comforting stew to warm your soul. With a touch of spicy spice, they will blow away all of your sadness on cold days.
Also, mashed potatoes or crunchy flatbread can be served on the side for the best-enjoyed.
If you do not have an instant pot, this recipe will convince you to get one. Why? Because this vegan instant pot white bean is so amazing that you cannot help yourself craving more.
What can beat a gluten-free, healthy, and super delicious stew? I doubt it. One more thing that makes me like this vegan bean stew is though they require many ingredients, you can easily use their substitutes.
Top them with herbs or gremolata – a special Italian topping that is made from chopped parsley, lemon zest, salt, and garlic. You might want to serve this stew with rice or bread to bulk the meal up.
Finally, Other Recipes To Have An Amazing Vegan-Friendly Dish With Cannellini Bean
They are other must-have recipes that you should not miss. Allow them to fill your tummy with summer flavors and keep you entertained during your meal.
If you want a quick meal full of nutrients and freshness, this pesto pasta with cannellini beans dish is perfect for summer days.
This no-fuss recipe goes with easy-to-buy ingredients, and simple preparation sounds so awesome. If you have more time, make pesto sauce at home instead of buying it in the supermarkets.
But it does not mean the store-bought pesto is not good. They are still perfectly acceptable. With around 20 minutes, you can now treat yourself to a plate of creaminess mixed with summer taste in pesto pasta with cannellini beans.
Enjoy your lazy day with this quick white beans and pesto pasta cooking instruction. You can see this video to know more:
Do you know quinoa is an excellent package of protein, vitamins, and minerals? Quinoa and cannellini beans are an excellent pairing for making your vegan, gluten-free recipe more full.
There are 2 ways to make quinoa and bean fritters. You can use a spoon (or a fork) to mash them or use a food processor to puree ingredients for a smoother texture of fritters. Also, adding other veggies is acceptable if you want more 'green' in the fritters.
Pay more attention to the heat when you fry them. Make sure both fritter sides look crispy and golden brown. And it is perfect for serving them with dipping sauce.
Cannellini Beans – A Soul Of Many Delicacies Around The World
These creamy-white beans are so magical and versatile. Chunky or smooth texture, canned or dried beans are both perfect to create masterpieces in culinary.
Therefore, the 25 cannellini bean recipes here are those amazing ideas that I am so enthusiastic about sharing with you. And as long as you follow the recipe, nothing can challenge you.
Finally, have you tried to make 1 of them yet? Which cannellini bean recipes are your favorite ones? Do not hesitate to share your ideas with me. Thank you and enjoy!
Nutrition Facts
6 servings per container
---
Amount Per ServingCalories280
% Daily Value *
Total Fat 6.4g

10

%
Cholesterol 9mg

3

%
Sodium 111mg

5

%
Potassium 965mg

28

%
Total Carbohydrate 41.8g

14

%

Dietary Fiber 16.6g

67

%
Sugars 2.3g

Protein 16.3g

33

%
---
* The % Daily Value tells you how much a nutrient in a serving of food contributes to a daily diet. 2,000 calories a day is used for general nutrition advice.