Noodle recipes are diverse in cuisines, cooking styles, and ingredients. Therefore, they all have distinctive characteristics of flavors and textures. So if you want to expand your culinary knowledge and cooking skills, these ideas will help you.
Overall, noodles are a century-old food found in a book in the Eastern Han period in China. Nowadays, they are a staple in many cuisines, from Asia to Europe. And each country or region also has different ways of making noodles.
In European cuisine, people refer to these foods as pasta. However, there are certain differences between noodles and pasta that you should note regarding ingredients, prices, and serving methods. Good news, I will cover all of these styles of noodles in this post.
Alright! Let's dig into this article to find excellent ideas to treat yourself (and your beloved family)!
Total time: 8 hours 30 minutes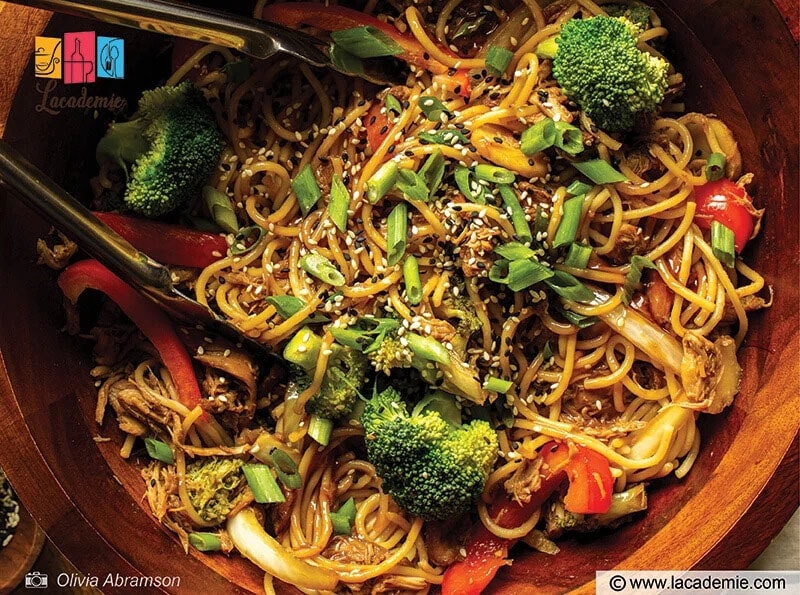 The root of noodles is from China, so I want to begin this list with one of the most famous noodle dishes – Lo Mein. Among many Chinese noodle varieties, Lo Mein traditionally uses egg noodles and is tossed with other ingredients like sauces and vegetables.
I use the same traditional Chinese noodles in this recipe, but you can switch to spaghetti. They both absorb the sauce well. For a gluten-free version, rice noodles or gluten-free spaghetti noodles are also ideal.
To make the sauce perfectly, I should combine soy sauce and oyster sauce to have the best characteristics of both. So make sure you use high-quality brands. Moreover, this recipe only takes 30 minutes to prepare, and the crockpot will do the rest for you.
This Lo Mein is easy enough to wipe out your tiredness after a long working day.
Total time: Approximately 30 minutes
What is the ideal noodle dish paired with steak? Try this Mongolian beef noodle bowl, and tell me how much you love it. Mongolian beef is a Taiwan-origin dish made with flank steak, onions, and vegetables (optional). Instead of rice, in this recipe, I will serve it with gluten-free rice noodles.
Sweet and savory, this homemade treat is even better than a takeout meal that you can prepare in a snap. However, please ensure that you cook the meat with a high-heat oil and do not overcook it because beef can easily turn out rubbery.
I also use a bit of ginger to add a "zing" touch to the overall flavor. Thanks to the sauce mixture, it will coat an attractive color to your noodles bowl. Serve immediately for the best flavor!
Total time: 50 minutes
If you love gochujang – a traditional Korean sauce with a sweet-and-spicy taste, then the delicious rice noodle recipe might be what you desire. This meal mainly features crispy-exterior noodles, which require some steps to prepare.
First, you need to cook the dried noodles in boiling water, drain and rinse them with cold water afterward. Then, mix them with oil (to avoid clumping) and salt and spread them on the baking pan to dry, increasing the crunchiness.
After that, you pan-fry noodles and ensure both sides turn golden brown. On the other hand, you can use fresh rice noodles as well. The last part is to drizzle a bit of hot sauce over the noodles and top with 2 fried eggs. Voila! A simple dinner is ready to go!
Total time: 20 minutes
Wide rice noodle (Sen Yai) is the most classic Thai noodle style and also the key component in Pad See Ew (Thai stir-fried noodles). You can easily find it on the street and at local restaurants when traveling to Thailand. But how about making it at home?
Luckily, you can quickly pull it off. I think the hardest part could be finding wide rice noodles. If you cannot find authentic Sen Yai, opt for any wide-flat type. Cook them based on instructions and avoid overcooked and mushy ones.
The rest of the ingredients are simple, like chicken breast, bok choy, soy sauce, etc. You should cook chicken breast and veggies first, set them aside, and use the same pan for cooking boiled noodles with sauces in around 30 seconds.
Finally, turn up the heat so the noodles can have a chewier texture with a lightly caramelized hue. Combine it with a mixture of chicken and bok choy, and enjoy!
Total time: 50 minutes
Let's see how Westerners enjoy their noodles (or so-called pasta). Spaghetti is a classic type of pasta made from milled wheat and is a staple food in Italy. For an easy weeknight dinner, the combo of spaghetti and meatballs is undoubtedly a great choice.
Meatballs are like a flavor bomb since it includes herbs, spices, and garlic. Moreover, breadcrumbs are a must-have element to prevent the meatball from drying out. After shaping them into ball-sized meatballs, bake them in the oven for about 10 minutes.
On the other hand, the thickening Marinara sauce is also essential. You should use the finest brands to ensure your spaghetti dish is delicious.
Total time: Less than 30 minutes
The main star in this recipe is the dressing made with Sichuan peppercorns, oil, soy sauce, and other flavorings. It has a spicy and umami flavor to increase the bland flavor of cold noodles.
The oil you use in this recipe must be heated oil, so when pouring into the peppercorn mixture, the dressing can get all the best aromatic flavors from these ingredients. You can make the dressing ahead (up to 3 days) and store them in the fridge.
Furthermore, cold noodles are incomplete without vegetables. In this idea, I use corn and green beans, which feature contrasting colors to make them look tastier.
Total time: 1 hour 40 minutes (including 1 hour 10 minutes for resting time)
Biang Biang noodles are easy to recognize due to their extra-wide and thick appearance. It is a specialty in Shaanxi province in China. Plus, Biang Biang noodles comprise wheat flour and are hand-pulled to form a chewy texture.
By checking this recipe, you can learn how to make these noodles yourself. By mixing water, flour, and salt to create a smooth dough, you need to knead it so these components can mix. It will also ask for around 1 hour to rest, so make sure you have enough time to prepare.
Regarding the seasoning, you will apply the same method as the above recipe by pouring hot oil over scallions, chili flakes, garlic, and more. Afterward, mix it with vinegar and soy sauce to create a thin caramel-colored sauce.
Total time: Around 30 minutes (excluding marinating time)
This Vietnamese-style noodle bowl is a basic recipe to go with vermicelli noodles. Easy, loaded with flavors and fresh ingredients, you do not know what you might miss if you do not try this idea!
For the best result, you should spend at least 4 hours (and up to 24 hours) marinating chicken with lemongrass, sauce, and other flavorings. Plus, as sliced chicken pieces are thin, you should constantly flip both sides to prevent burned meat.
Last but not least, it is about the soul of this noodle bowl – the sauce. If you have not tried fish sauce before, this recipe is a good way to get used to this component.
By mixing it with other items, you might not recognize the salty and a bit funky flavor of fish sauce. And time by time, I am sure you will be hooked on it.
Fresh and flavorful; here is a brief instruction to make a perfect lemongrass chicken noodle in Vietnamese style.
Total time: 25 minutes
It never runs out of ideas regarding Chinese-style noodles. And if you're a fan of delicacies that contain egg noodles, you should not miss this treat.
The delicacy might look simple, but it is a true flavor explosion in each mouthful. It is sweet, nutty, and fragrant, thanks to the addition of silky and thin sauce made with sesame paste, fermented tofu (aka furu), soy sauce, and other seasonings.
Before chilling noodles in the fridge, you need to heat the oil and let it sit to cool down. Then combine the oil with cooked noodles. In brief, these homemade chilled sesame noodles are better than takeout.
Total time: 25 minutes
How can you differentiate Chow Mein and Lo Mein? Just remember: Chow Mein is stir-fried noodles, while Lo Mein is stirred (or tossed) noodles. Though they are well-loved food in China, Chow Mein is from the Southern part, whereas Lo Mein's root is from the Northern area.
People normally consume Chow Mein with meat (e.g., beef, pork, chicken) or seafood, but this recipe is made for you if you need a vegetarian version. Similar to Lo Mein, the sauce mixture plays a certain role in perking up the noodle's flavor.
Of course, vegetables like mushrooms, carrots, cabbage, etc., are indispensable to make this treat more healthy. You will need to cook these ingredients first, then add noodles and sauce and saute them for a few minutes over high heat. That's all! Your noodle dish is ready to enjoy.
Total time: 8 hours 10 minutes
If you have a crockpot at home, take it out from your cabinet and make this slow-cooking beef noodle soup in Asian style. It is a hearty dish for lazy weeknight dinner because you can "set and forget" it.
Indeed, this soup is a 95% hand-off cooking idea because you only need to rinse beef chunks in boiled water in advance so the broth will be clear after cooking in a crockpot. Set it at a low temperature and cook for 8 hours until the meat is soft enough that it can melt in your mouth.
When the soup is done, you can boil the flat rice noodles with high heat for a few minutes. In the meantime, you can cook the bok choy and eggs in hot water as well. The last step is pouring the soup with noodles and veggies into a bowl.
Total time: 25 minutes
Japchae is a staple on Korean dining tables, including glass noodles and vegetables. Traditionally, it uses dangmyeon – a famous kind of noodle in Korea made from sweet potato starch; therefore, ensure you can buy the exact noodle type before making this treat.
This glass noodle is soft yet chewy with translucent color. By mixing with sauces and other foods, it can absorb the flavor ideally. Furthermore, mushrooms and veggies like bell peppers, spinach, and carrots can add tons of contrasting textures and colors, making it more enjoyable.
People normally enjoy Japchae as a side dish, but if you consume it in a big amount, it can be a delectable main course.
Total time: 25 minutes
Ho Fan (aka Ho Fun) is a thick flat noodle with a chewy-yet-soft exterior derived from Guangdong province (China). Rice flour is the key component in making this noodle style. And the best characteristic of this noodle is that its application in culinary recipes seems unlimited.
Moreover, the noodles themselves carry a very mild flavor, making them pair well with other foods. In this case, I mix them with vegetables, mushrooms, tofu, and sauce to have a nice vegan meal that only takes 25 minutes.
It would be best if you used fresh rice noodles. But if it is too hard to find in your area, dried form is acceptable, as long as it has a minimum of 10-mm thickness. It will not take too much time to cook the noodles in hot water.
Total time: 40 minutes
The biggest advantage of this idea must be its convenience. As a one-pot treat, you can minimize the clean-up part after consuming your dinner. Besides, this beef stroganoff recipe is a cost-effective meal that can catch everyone's fancy.
In fact, this Russian-origin dish can be served with noodles or rice generally. Regarding noodles style, egg noodles are the greatest choice to drench in the creamy gravy made with sour cream, sauce, and other seasonings.
For your information, the classic version usually uses flank steak. But do not worry; the ground beef I use in this recipe will not decrease the final result.
Creamy noodle dish with beef stroganoff is always a great option. Check here to find out how to make it!
Total time: 30 minutes
When the summer comes, a cold salad plate is all you need to cool down the heat. So there you are – an Asian-based noodle salad including various types of veggies with peas and fruits. That's why this salad owns a vibrant and colorful look that indulges you right away.
Plus, it is easy to throw together with a few simple prep steps like steaming veggies, boiling noodles, and combining them with sauce and seasonings. Remember to chill your salad in the fridge before serving.
Overall, it can excellently accompany your grilled chicken, steak, or seafood, making a perfect crowd-pleaser at any party, picnic, or potluck.
Total time: 30 minutes
When it comes to delicious Japanese culinary ideas with noodles, miso noodle soup must be many people's favorite dish. Packed with tons of umami flavors, this noodle soup is also a good source of protein.
Miso paste (one of the main components) comprises fermenting soybeans, salt, and filamentous fungus, which have significant health benefits in lowering heart rate and blood pressure. And thanks to salmon, your soup is not only healthy but also flavorful.
You can use fresh-cooked salmon or canned salmon; they are all tasty. The addition of mushrooms and bok choy will enrich the texture of your meal as well. And lastly, top it with roasted seaweed sheets, soft-boiled eggs, or sesame seeds for the full soup bowl.
Total time: 30 minutes
Speaking of a Filipino-style noodle dish, Pancit (pronounced pansít) is a popular choice among locals and foreigners. In reality, you can find many styles of Pancit as they vary in ingredients, type of noodles, cooking techniques, and more.
With this idea, I will show you how to make Pancit Canton, aka stir-fried noodles, in the most authentic way. This treat is pretty similar to Lo Mein, which requires a tossing step to stir noodles with sauce, veggie, and chicken.
The ideal noodle sort here is thin rice vermicelli, and it can absorb the sauce excellently. You can either use freshly-cooked or leftover chicken as well. If you do not like chicken, swapping it for steak, pork, or shrimp is totally fine if you do not like chicken.
Total time: 1 hour
This Singapore specialty is another popular dish made with rice noodles. What's better, it is suitable for vegetarian dieters who are craving Chinese-based food.
These noodles are referred to as "mei fun" to indicate a thin rice noodle. It is mostly gluten-free, but you should check the packing for more information to be sure. Since it is a vegetarian dish, most components here are veggies and mushrooms with a light touch of curry powder.
When cooking it, you must stir the ingredients well so they can mix together, blend flavors, and are cooked through. If you find your noodles start drying out, adding a bit of water is preferable.
Total time: 15 minutes
Here is a no-fuss noodle idea made with a special noodle variety in Japan – shirataki noodles. Made of konjac yam, this noodle comes in a long shape with transparent color. It is also an amazing ingredient for a low-carb and gluten-free diet yet very rich in fiber.
You can enjoy it with sauce or soup. In this recipe, I would like to combine it with a sauce mixture consisting of garlic, ginger, oil, soy sauce, etc., to enhance the flavor of the noodles since their flavor is very mild.
Plus, when dry-frying the noodle, stir in occasionally so they will not come out rubbery. A handful of bell pepper, shredded carrots, and a bit of sliced green onion can brighten your meal, making the noodle dish look more appetizing.
Total time: 15 minutes
Pad Thai is a phenomenon dish to highlight the deliciousness of Thai cuisine. Traditionally, the noodle people use for making Pad Thai is thin flat rice noodles. Still, as this is a keto recipe, I replace it with shirataki noodles for lower carbs without compromising calories.
For a correct Pad Thai, you need to saute the noodles with sesame oil until they turn golden and relatively crispy. The main protein source here is chicken and egg. You can also swap the chicken for other red meats or seafood if you want.
In order to make your Pad thai more flavorful, pepper flakes, erythritol (a type of sweetener with low calories), and fish sauce are essential. And let's sprinkle a few drops of lemon juice before enjoying.
Learn how to prepare an authentic Pad Thai with a native cooker is the best way. But a friendly reminder, this is not a keto version.
Total time: 30 minutes
For those parents struggling to find the ideal meal for their kids, chicken noodle soup is the ultimate answer. I know they are picky eaters, but I guarantee they will devour the soup in a snap.
Without celery, broccoli, onion, or any green vegetables that your children do not like, it is still a healthy and comforting noodle soup. Broth, noodles, and carrots are 3 key elements here to ensure they can sit quietly and enjoy your food.
You can use any type of noodle, even those in cute shapes, to make it more attractive to your kids. But please keep in mind that the noodles can absorb the soup, so you can add a bit of broth if the dish gets thicker or when reheating it.
Total time: 1 hour 15 minutes
There are several Vietnamese noodle styles served in many different ways, showing the diversity of Vietnamese cuisine. But when it comes to the signature food here, Pho is the first choice among many diners.
A hot bowl of Pho is truly a comforting dish with white rice noodles, beef broth, and thinly sliced beef. The broth is very important since it decides how good your soup is. Thanks to many spices, it is packed with many surprising flavors.
Regarding beef slices, you should cut them as thin as possible so they can be cooked thoroughly while pouring the hot soup over them.
You can also enjoy Pho with fresh herbs (e.g., Thai basil or cilantro), bean sprouts, sliced green onions, etc., to brighten the overall flavor of your meal.
Total time: Less than 20 minutes
Going vegan has never been late to improve your diet and health. And suppose you are a big fan of noodles; this cooking recipe will 100% fit your veganism requirement for a plant-based and tasty dish.
There is no cream, milk, or dairy product in this recipe, but it still has a creamy sauce. Can you guess what I use to have such texture? That's right; it is avocado. By pureeing it with pine nuts, basil, etc., in a blender, the sauce comes out unbelievably creamy.
Instead of regular wheat-based noodles, I use 6 large zucchini and spiralize them (by cutting them into thin, long, and spiral strands). Since the water content in zucchini is extremely high, you must use paper towels to soak the excess water inside the vegetables.
Finally, mix noodles with the sauce. You can sprinkle some parmesan cheese for a vegetarian option. For storing leftovers, ensure you wrap your dish thoroughly because avocado can easily turn brown when exposed to the air.
Zoodles (or zucchini noodles) with avocado pesto sauce is a super healthy treat to try out!
Total time: 25 minutes
Soba is another famous Japanese noodle with buckwheat flour. It is pretty distinctive compared to others since this type has a nutty flavor and a slightly chewy texture. You can serve it hot (with hot soup) or chilled.
This recipe is perfect for both. Nutty, mildly spicy, and healthy, all you need for easy and delectable salad is here. It also features different tones in textures with the crunchiness of bell pepper and cabbage, the gooeyness of spicy peanut sauce, and soft-yet-chewy soba noodles.
You can prepare it ahead of time. But do not mix the vegetables until the salad is ready to serve. Furthermore, you can customize the ratio of noodles, chicken, or veggies, depending on your preference.
Quick fact: Buckwheat flour's fiber amount is 4-time higher than normal flour.
Total time: 45 minutes
Tan Tan ramen (aka Tantanmen) is a tasty Japanese dish with a creamy and spicy broth made of sesame paste, soy sauce, chicken stock, and more. This noodle soup typically goes with ground pork seasoned with minced ginger and mirin.
Besides, the quality of the ramen noodles is also crucial, so make sure you use the top-rated noodles for your ramen dish. In this case, I choose the premium medium-thick ones.
Cook them according to the instructions. If you do it right, these noodles have a bouncy and chewy texture that can hold up excellently in the hot soup bowl.
Total time: 15 minutes
Besides noodles salad, parmesan buttered noodles are another perfect candidate for a side dish. And it cannot get any easier with a few components and drool-proof instruction.
Indeed, this 15-minute dish is simply a noodle dish coated with parmesan cheese, butter, and chopped fresh herbs. You can choose pasta or egg noodles based on your liking. After cooking it, if your noodles/pasta look wet, just leave it out for a few minutes so it can absorb the moisture.
If you want to add a few garlicky hints to your dish, you can cook minced garlic with butter so these two can blend their flavors. Or opt for garlic-flavored butter instead of regular butter.
Total time: 10 minutes
Another super quick and straightforward recipe to try out at home is this rice noodles dish with peanut sauce. But first, you will need a blender for a smooth peanut sauce. Obviously, this is a key factor in making your dish taste spicy, nutty, and savory in every bite.
It is also a versatile idea since you can enjoy it hot, cold, or at room temperature. Moreover, regardless of being the main dish or appetizer, this noodle treat surely shines on your table at any time of the day (especially for dinner and lunch).
If you cannot buy rice noodles, go for any available noodles. Before serving, do not forget to sprinkle some sesame seeds, crushed peanuts, and spring onions. Now, you have a gluten-free and vegan dish to diversify your healthy diet meal.
Total time: 40 minutes
Here is an ultra-creamy twist to a regular chicken noodle soup. You might assume that cream is a must-have component in this recipe, but it is not. I use milk instead to have a skinnier soup. Plus, you can serve your chicken noodle soup with other side dishes for a fulfilling meal.
So similar to normal chicken noodle soup, chicken broth and chicken meat are indispensable. You can use up your leftover rotisserie; it will not affect the quality of your food.
Overall, I highly recommend using high-quality ingredients, from veggies and herbs to broth. Start the making process by sauteeing veggies and herbs to increase the taste before pouring the broth over them.
Adding milk is one of the last steps because boiling it too long can result in curdled milk. Before serving, sprinkle some fresh parsley to make it more colorful and tastier. Enjoy it with blanched vegetables (like bok choy or spinach) and a handful of chopped green onions.
Total time: 30 minutes
Another Italian-themed pasta dish is chicken fettuccine alfredo. This is a well-known main course mainly including fettuccine (a thick and flat pasta made from flour and egg) and cheese. To add more protein, I choose chicken breast – one of the leanest proteins among other meats.
If possible, get a thermometer to check the internal temperature of cooked chicken. It must reach 165 F degrees for safe eating. Preparing the alfredo sauce is also crucial for creating a gooey pasta dish since it contains butter, cream, cheese, and other seasonings.
If you want a thicker sauce, adding more parmesan cheese is a good solution. In case you find it is too thick after tossing the pasta with the creamy sauce, you can use reserved pasta water to loosen the alfredo sauce.
What's not to love a cheesy chicken fettuccine alfredo, right? And guess what, it is also simple to prepare.
Total time: 50 minutes
Thai red curry noodle soup is a hot noodle dish to warm up your cold night. And no need to travel to Thailand to enjoy it because you can totally whip it up at home.
The best thing about this noodle soup is its flavor profile. It is so overwhelming with many tones, including sour, spicy, sweet, and salty. It also has an appealing look with red from bell pepper and curry paste and a bit of green from basil and cilantro.
Ideally, rice noodles (e.g., pad thai noodle or rice stick) go best with the soup. But if you cannot find this type, ramen noodles are not a bad choice. In contrast, rice vermicelli with a thin texture might not be ideal in this case.
Pick One And Make The Best Meal With Noodles!
Noodles themselves are abundant in styles, and so are the culinary ideas to cook with them. The greatest thing about these recipes is they require no effort to make it. Many of them are even budget-friendly too!
So, which treat is your favorite? Let me know how you feel after experiencing them at home. I bet they can make your dinner more extraordinary. The last word, please also share this post with your friends or co-workers so they can expand their noodles menu as well.
Thank you for your support, and have a nice day!
Nutrition Facts
6 servings per container
---
Amount Per ServingCalories480
% Daily Value *
Total Fat 18g

28

%
Cholesterol 109mg

37

%
Sodium 2317mg

97

%
Potassium 680mg

20

%
Total Carbohydrate 40g

14

%

Dietary Fiber 4.5g

18

%
Sugars 14.7g

Protein 36g

72

%
---
* The % Daily Value tells you how much a nutrient in a serving of food contributes to a daily diet. 2,000 calories a day is used for general nutrition advice.