If you find yourself in a bit of a rush, these recipes with egg noodles are the perfect ways to fill you up without taking up too much time. And the best thing about them is that they are fairly easy to make with components around your house.
When it comes to egg noodles, there are a few different types you might find on the market. The most common variant is the ones with long and thin strands. On the other hand, some versions look thicker but shorter in height.
Despite the physical differences, the noodles still possess a delectable creaminess. Today, I'm going to show you how to use that factor to your advantage with these awesome noodle dishes. Say goodbye to take-out and start making home-cooked meals!
The Best Meals With Egg Noodles You Can Dream About
As you will see from the list below, egg noodles are very versatile. It is part of many cuisines, including Chinese, French, and even Hungarian. And each cuisine gives the noodles a distinct flavor and aroma that can improve your appetite.
Total time: 8 hours 30 minutes.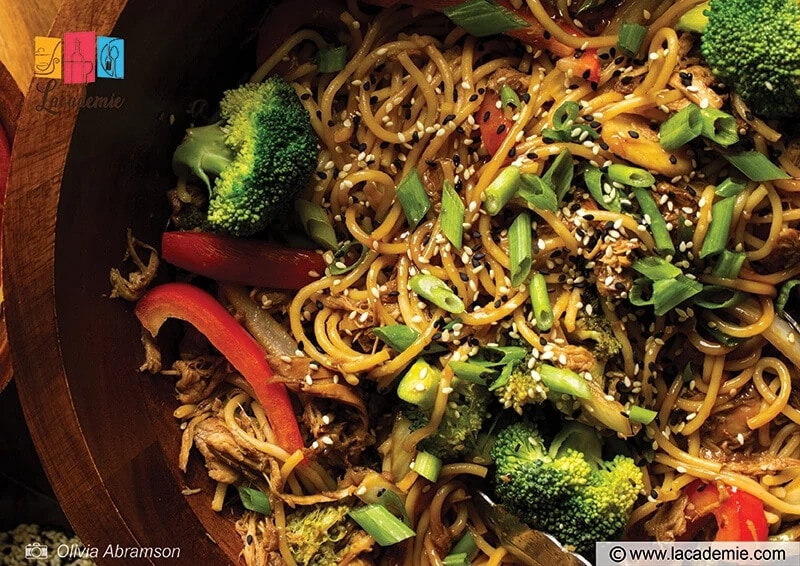 Similar to Chow Mein, Lo Mein is also a big part of Hong Kong cuisine. However, the biggest difference that separates Lo Mein from Chow Mein is how egg noodles are handled. For Lo Mein, you boil noodles in hot water first before mixing them with other ingredients.
First, you prepare the sauce for the chicken by combining soy sauce and sesame sauce with oyster sauce. This sauce coats the meat with a very delectable brown color. At the same time, it strengthens the savoriness of the meat.
Simply pour the delicious sauce over the chicken, stir well, and let the crockpot does it work. When you combine the cooked egg noodles, meat, and sauce, the blend can send you to that blissful culinary heaven.
Total time: 1 hour.
It's finally time for your weekly family gathering, and you don't know what to make to suit their taste buds. Don't worry, because I have the solution right here. Introducing the Sour Cream Noodles Bake, a very delicious casserole that you can whip up in no time.
Thanks to the help of the ingredients, there are lots of fantastic flavors that you can unpack within this dish. First, the ground beef provides both savoriness and juiciness that make you come back for more.
Apart from the meat, you get an incredible tanginess from the tomato sauce. The addition of sour cream and cottage cheese increases the richness of the mixture. And of course, the most important part is the egg noodles, which bind everything together with their creaminess.
Total time: 40 minutes.
It doesn't matter who you are, what you do, and where you come from, there's one thing that connects us all together: a good homemade meal. However, not everyone has the luxury of time and space to cook.
That's where this chicken-based casserole comes in handy. It's easy to make, and it doesn't require a big kitchen with lots of equipment. You only need an oven, a tray, and the necessary ingredients.
These are the main components: cooked chicken meat, egg noodles, and milk. First, cook the egg noodles to soften them up. The moisture of the noodles will keep the casserole from being too dry.
Next, stir everything together in a bowl before transferring the mixture to the baking tray. When you are done, the result is a creamy tray of Chicken Noodle Casserole with a cheesy top.
This is a different way of cooking Chicken Noodle Casserole.
Total time: 50 minutes.
Casserole never gets enough credit for being a very reliable meal that you can make any time of the day. Besides, there are quite a few casserole recipes that you can incorporate into your health-conscious diet, including this Tuna Noodle Casserole here.
Despite being a type of comfort food, this dish is not greasy or fatty at all. That's because the ingredient list is very balanced with tuna, Baby Bella mushrooms, and green peas. With the mushrooms, you can make an umami-filled gravy by adding flour and vegetable stock.
Next, you combine the mushroom gravy with the tuna, peas, and cooked egg noodles in a bowl. The final step is to bake the mixture until the top layer turns a nice shade of yellow. When you take the first bite, you can feel that milky sauce spreading everywhere.
The freshness from the vegetables is very delightful as well since it keeps the richness from overwhelming the flavor.
Total time: 30 minutes.
Ham And Noodles Casserole is perfect for days when you don't want to cook a full 3-course meal for your family. There is nothing more simple than tossing most of the ingredients in a baking tray and letting the oven do its job.
To get started, all you have to do is to gather the right components according to the recipes. These are egg noodles, ham, and cheese as the topping. The egg noodles provide a good base for this delicacy as they are quite tender and creamy if you cook them right.
The ham adds that unique smokiness that improves the delectability of this casserole. With a bit of garlic powder and onion powder, this casserole with ham boasts a pleasant aroma. After the baking is done, the cheese on top will melt to create a stretchy layer.
Total time: 6 hours 10 minutes.
If you have a slow cooker, this might be a great chance to take advantage of it. This recipe for Beef Sauce With Egg Noodles is just fantastic all the way around with the help of so many flavorful components.
One of the best things about the slow cooker is its ability to cook on low heat for a long time. This allows for the beef to simmer and break down its tissues. As a result, your meat can come out extremely tender that you can tear off with a fork.
The process also creates a thick sauce consisting of beef broth, mushrooms, and red wine. When you throw in the spongy egg noodles, they will absorb the liquid, and every strand of noodles becomes juicy and irresistible.
This Beef Sauce With Egg Noodles tutorial is very simple to copy.
Total time: 4 hours 35 minutes.
Don't put back that slow cooker just yet because I still have more recipes for you. Enters the Egg Noodles With Pork; this delicacy is very simple as the only thing you have to do is throw every ingredient into the pot and let the device do its magic.
Or at least that's the majority of what you have to do. There is an extra step at the start. After coating the pork with flour, sear it on a skillet until every side turns brown. This is called caramelization, which extracts plenty of flavors out of the meat.
Now comes the easy part: you place the pork and egg noodles with a sprinkle of garlic powder into the slow cooker. You can add water to help the egg noodles soften up. When everything is done, you will have a nourishing plate of savory and rich Pork Egg Noodles.
Total time: 4 hours 5 minutes.
The crockpot is a wonderful device, isn't it? It's so convenient for people who are too busy to cook dinner. That's why I want to help by giving you as many useful recipes for the crockpot as possible, starting with a dish called Egg Noodles With Chicken Thighs.
Not only is it comforting thanks to the ingredients, but this delicacy can also be a healthy addition to your diet meal. Why? Because one portion will offer you carbs (egg noodles), proteins (chicken thighs), and broccoli (fiber).
And the list of advantages of Egg Noodles With Chicken Thighs is not finished yet. There is also the milk, which enhances the creaminess of the noodles, while the condiments, like garlic powder and chicken bouillon (chicken powder), raise its savoriness to a higher degree.
Total time: 30 minutes.
Chicken Stroganoff is derived from the classic Russian delicacy called Beef Stroganoff. The original recipe made its debut in the 19th century, named after the powerful Stroganov dynasty. While the beef version is more popular worldwide, you should not sleep on this chicken variant.
First, let's talk about the ingredients. Aside from the obvious use of chicken, you should also get chicken broth, egg noodles, and sour cream. With the broth, the richness of the chicken will become more apparent.
Adding the egg noodles can create an interesting effect as well since they will soak in all of that chicken goodness. Drizzle white wine for that dry and light zing to keep this dish a bit more balanced. The sour cream caps everything off nicely with its creaminess and sourness.
This version of Chicken Stroganoff With Egg Noodles looks incredible.
Total time: 40 minutes.
Moving on from Russia, I'm going to take you a little further west to meet this wonderful delicacy from Hungary called Goulash. It is one of the most popular Hungarian dishes in the world due to the beef stew's comforting nature.
You can enjoy Goulash either on its own or with a combination of egg noodles and sour cream. The best cut of meat for this version is rib-eye steak. First, slice the steak diagonally (against the grain). You can sear the meat on a skillet first to extract the beefy essence.
The other ingredients are bell peppers, onions, and tomatoes. The inclusion of vegetables evens out the richness of the beefy essence. This keeps the delectability of the dish at an optimal level. When you combine the Goulash with egg noodles, its texture will have a delightful sponginess.
Total time: 1 hour 35 minutes.
Káposztás Tészta or you can simply call it Cabbage Noodle, is another Hungarian specialty that is rich in carbs and proteins. Unlike Goulash, Cabbage Noodle doesn't have that much meat but makes up for it with a sizable portion of cabbage, noodles, and chicken broth.
First, the egg noodles are very carb-heavy. If you're sick of eating potatoes and beans, egg noodles offer a very great alternative to your diet. This recipe requires you to add butter and cheese to the noodles, improving the texture with an extra amount of creaminess.
But creaminess alone can cause a dish to lose its palatability. That's why you need the cabbage to give that sweet and fresh vegetable essence. If you want more crunchiness, sprinkle breadcrumbs during the baking process to create a very brown crusty top layer.
Total time: 35 minutes.
This mini-adventure around Europe is not over before I show you this one entry right here. Spaetzle is a type of egg noodle that comes from Germany. While the exact history is unclear at the moment, the recipe for this delicacy already appeared during the 18th century.
The process of recreating Spaetzle is not too complicated, so you can make it at home. The components that you should get are flour, eggs, and milk. First, mix all of the ingredients to get a batter. Next, you should prepare a boiling pot of water.
This step might be easier if you have a Spaetzle maker. However, if you don't, you can use a colander with big holes to squeeze the batter into the boiling water. It will create tiny shapes that look like oversized rice grains.
When the grains firm up, strain them out. These special noodles are very creamy, soft, and very absorbent. Before you serve, saute the noodles with butter to bring about that buttery aroma.
Total time: 55 minutes.
In this Swedish-inspired recipe, there is no need for you to use many cooking utensils when one pan is just enough. The Swedish Meatballs With Egg Noodles might be one of the best dinners you can whip up for your family.
First thing first, you have to prepare the meat by mixing ground beef, pork, and veal. The combination brings out the best essence of each type of meat. Combine the meat mixture with eggs, milk, and breadcrumbs. The last ingredient can hold the round shape together.
When you finish forming the balls, sear them in a skillet until the meatballs turn brown. This process creates a caramelized layer that oozes savoriness. The final step is to cook the meat and egg noodles with chicken stock.
The chicken stock can soften the noodles up to the perfect consistency. To increase the creaminess, you can pour whipping cream as well.
This is another quick way to cook Swedish Meatballs With Egg Noodles.
Total time: 40 minutes.
If you ever get a chance to visit Central or Southern Europe, there is a good chance you might encounter Haluski, which is a type of noodle dish from around that region. Today, I want to focus specifically on the Polish variant.
Traditionally, you have to make the noodles from scratch. But with this recipe, you can just buy packaged egg noodles instead. First, boil the noodles until the texture gets to the correct level of softness. This means when you bite onto the noodles, it's still chewy.
When you're done with the noodles, saute the bacon until it crisps up. This will improve the flavor with the smokiness. Next, you cook the cabbage with onions until both are fully caramelized before adding the bacon and noodles back.
This simple dish is packed with so many flavorful elements that you won't get sick of starchy noodles.
Total time: 10 minutes.
This next entry right here is such a great way to relieve some of that miserable chilly air. Ji Tang Mian, or Chicken Noodle Soup, is one of my favorite Chinese delicacies to make during winter. Both the soup and tasty noodles will be able to pick your spirit up in no time.
The best thing about the broth is the texture and flavors. It comes from a combination of chicken stock, oyster sauce, and soy sauce. The umami from the soy sauce increases the richness of the stock. On the other hand, the oyster offers a hint of sweetness to enhance the overall taste.
In this version of a Chinese noodle, I would highly recommend the Chinese-style egg noodles. The strands are thinner but also longer. This helps the noodles absorb more liquid compared to the thicker pasta-like version.
For some freshness, you can add bok choy (Chinese cabbage) to get an extra side of crunchiness.
Total time: 3 hours 45 minutes.
If chicken is not what you want in a bowl of noodle soup, I also have an alternate recipe that you could try out. Similar to Ji Tang Mian, this Beef Noodle Soup is a Chinese specialty that has a very wonderful combination of flavors.
For a lot of Chinese-styled soup dishes, the most important factor is the broth as well as the seasonings that enhance the essence to a much higher level. In this case, the broth plays a vital role in forming a rich and savory beef chuck.
As for the condiments, this specialty utilizes quite a lot of signature oriental condiments, including Sichuan peppercorns, soy sauce, and spicy bean paste. This allows for an explosion of spiciness at the tip of your tongue.
With the peppery creaminess of the egg noodles and the broth, it's no wonder Niu Rou Mian is a must-have if you crave Chinese food.
Total time: 20 minutes.
Have you ever considered adding both tomatoes and eggs into a bowl of noodle soup? The combination is quite strange at first, but if you follow this recipe to a tee, I can assure you that the result will be a very warm and delicious meal.
From the name alone, you can probably guess what the three most important ingredients are. However, it doesn't mean you can complete this dish without an extra layer of seasonings. Those are tomato paste, vegetable broth, and soy sauce.
There is one word that I can use to describe the overall taste of this soup, and that is "hearty". You can feel the richness of the vegetable broth. The umami from the tomatoes blends so well with that freshness. The eggs offer a lot of creaminess which makes the soup special.
Total time: 35 minutes.
What would you do with that leftover turkey from a holiday dinner? If you're still wondering, let me make it easier for you with this Turkey Noodle Soup. This means you won't have to waste food anymore, and you still get a very delicious meal.
Since the turkey is pre-cooked, there is no need for further preparation other than shredding the meat. This process helps the meat become more tender in the chicken broth. Aside from the meat, there are other ingredients like egg noodles, onions, and carrots.
With the egg noodles, the starchiness can seep into the broth, hastening the thickening of the soup. The vegetables are there to create a more even texture, or else the stock might be too rich. Sprinkle a bit of thyme and oregano if you want a more herbaceous aroma.
This tutorial shows you a more thorough way to cook the Turkey Noodle Soup.
Total time: 20 minutes.
Are you having a bit of a "financial trouble" at the end of the month and consequently unable to afford much to eat? Don't worry because this recipe can be your life-saver. Egg Noodles With Cheese is very budget-friendly, so you won't have to starve before the next paycheck.
There are three main ingredients: Egg noodles, Cheddar cheese, and heavy cream. The preparation doesn't require much effort. That's because you only have to boil the noodles to soften them up and melt the cheese with cream.
In the end, mix both parts until you get a very creamy mixture. While this dish might not offer much nutritional value, it's still affordable and filling enough to be a suitable dinner. The warmth from the egg noodles and cheese just makes everything feel better.
Total time: 30 minutes.
Beef Chow Mein remains one of the core delicacies of Cantonese-style cuisine. This dish is available in many Chinese restaurants across the world. But if you're not in the mood to go out, let me show you how to make Beef Chow Mein at home.
There are two versions of this beef delicacy from China. The first version utilizes softer noodles. This second one is crunchier thanks to a deep-frying process, and the sauce is very thick in this version. I'm going to focus more on the latter option.
To get the beef to release its essence, you marinate the meat with soy sauce, sesame oil, and Chinese cooking wine. The marinade also acts as a tenderizer. The sauce consists of cornstarch, oyster sauce, and maple syrup, which make it very sweet.
The resulting product provides a really interesting combination of textures. When the fried noodles soak in the meat sauce, it softens the strands and increases the savoriness. The texture provides a good contrast to the creamy noodles.
Total time: 1 hour 20 minutes.
If there existed a Mount Rushmore of popular Chinese food, Shrimp Wonton Soup would deserve a place right there. This Chinese comfort food has been my go-to meal whenever I feel the cold air of winter approaching.
The best parts of this staple of Hong Kong cuisine are the tasty egg noodles and the savory wonton dumplings. In the case of the dumplings, their filling contains a mixture of minced shrimps, egg whites, and chicken bouillon (or chicken powder).
With such a delectable mix of ingredients like that, you will be surprised that the broth is even better with the inclusion of chicken broth, egg noodles, and cabbage. The sweetness from the soup contrasts nicely with the savory Wonton dumplings.
Total time: 20 minutes.
Dan Dan Mian, or Sichuan Spicy Noodles in English, offers a great option if you want your taste buds to experience a literal firestorm. That's because this dish is a staple in the Sichuan province of China, a place that is infamous for its fiery cuisine.
To recreate this appetizing Chinese noodle specialty, you can start by marinating the meat with soy sauce, Chinese cooking wine, and cooking wine. The marinade creates a nice brown coating to the meat and provides a lot of savoriness to the rich pork.
As for the noodles, you can use anything you like, but I highly suggest getting egg noodles instead since the creaminess might reduce the effect of the peppercorn. Both chicken broth and bok choy (Chinese cabbage) can also be great options to keep the heat bearable.
If you long for a spicy Sichuan dish, Dan Dan Mian might be what you need.
Total time: 15 minutes.
If you're not a big fan of spicy noodles, you can always choose this delicacy as an alternative. The incredible Cantonese Soy Sauce Noodles contain a mix of ingredients that might look simple, but that magical first bite can overwhelm your taste bud with its exciting savoriness.
While the main part consists of egg noodles, most of the savoriness comes from the combination of sauces, including sesame oil, dark soy sauce, and light soy sauce. This mixture provides the umami and nuttiness that will greatly appeal to your palate.
Most of the noodle specialties in the Cantonese culinary world contain vegetables to even out the flavors. For this particular dish, both onions and bean sprouts offer a crunchy and refreshing texture, improving the delectability of the noodles.
Total time: 18 minutes.
While Mie Goreng is one of Indonesia's most recognizable street food staples, the origin of this noodle-based delicacy is actually from Chinese immigrants. So what are the reasons that make Mie Goreng so popular?
There are two factors that you have to consider: One is the stir-fried components, and the other is the sauce. The stir-fried part is customizable since there are many variations of this delicacy. For this particular recipe, I recommend egg noodles, shrimps, and bok choy (Chinese cabbage).
To make the sauce, you need soy sauce, Sambal (Indonesian chili paste), and chicken stock. The addition of spicy Sambal makes the Mie Goreng very appetizing. Not on that, but the shrimps and chicken stock provide much-needed sweetness and savoriness.
Total time: 15 minutes.
There is just something so wonderful about a dish that only takes around 3 to 5 main ingredients to make. You don't have to spend a lot of time cooking, and the result is just as fantastic as any fancy delicacies out there. And yes, I'm referring to this entry right here.
This noodle-based side dish only requires egg noodles, butter, and Parmesan cheese. First, boil the noodles until they puff up. Next, you mix the butter with the egg noodles. The last step is to combine them with the rest, including cheese and garlic powder.
And voila, you have a nice bowl of Buttered Egg Noodles. When you take that first bite, the creamy noodles are completely coated with butter and cheese, improving the overall texture. The addition of garlic powder cuts through the richness of its pungency.
Total time: 1 hour.
To me, the best thing about the culinary world is the unpredictable factor. When you combine the art of cooking with the ingenuity of the human mind, it can lead to so many amazing and unexpected creations. One of the most notable examples is the Pizza Egg Noodles.
This dish is a combination between a pizza and a casserole that includes sausage. First, there is a layer of egg noodles to act as a base. When you combine that with tomato sauce, it provides a type of savoriness that blends nicely with the more creamy top.
This top consists of Pepperoni (a type of spicy Salami sausage from America), olives, and a lot of cheese. When the cheese is fully melted, it becomes a lid to trap the moisture. The cheese is also very thick and milky, so the spiciness from the Pepperoni acts as a palate cleanser.
Total time: 1 hour 15 minutes.
After going through an extensive list of magnificent recipes with egg noodles, let me blow your mind one more time. While egg noodles are great for savory dishes, there is one way to use them for this dessert called Sweet Noodle Kugel.
This delicacy has its roots in Jewish tradition. The name comes from the word "kugel", meaning "globe" in Middle High German, which is a language spoken between the 11th and 14th centuries. There are other variants, including Jerusalem and Potato Kugel.
With Sweet Noodle Kugel, the ingredients you should get are wide egg noodles, cottage cheese, and sour cream. First, cook the noodles until they soften to the correct texture. In the meantime, combine cottage cheese and sour cream with an egg mixture (eggs and sugar).
Finally, combine the noodles with the new mixture in a baking tray before putting it in the oven. This will melt the cheese and bind everything together. When you bite into this, you can feel the rich and velvety consistency of the cheese and eggs.
Sweet Noodle Kugel is a great dessert if you have leftover egg noodles.
Egg Noodles Are Versatile For Any Recipes
With just a pack of egg noodles, you can create so many creative and mouth-watering delicacies. And the best thing is that the noodles only cost a few bucks, so you can buy them in bulk to save a lot of money on food.
Of course, it's only effective if you know the right way to cook them. That's the purpose of the list above, to show you great budget-friendly recipes for you and your family. And maybe someday, you will be able to come up with new ways to cook egg noodles too.
And this is the end of today's article; I hope you like it. If you want to show some appreciation, just smash that thumbs-up, share this post on your social media, and comment down on the topic you want to see next. Have a great meal!
Nutrition Facts
6 servings per container
---
Amount Per ServingCalories480
% Daily Value *
Total Fat 18g

28

%
Cholesterol 109mg

37

%
Sodium 2317mg

97

%
Potassium 680mg

20

%
Total Carbohydrate 40g

14

%

Dietary Fiber 4.5g

18

%
Sugars 14.7g

Protein 36g

72

%
---
* The % Daily Value tells you how much a nutrient in a serving of food contributes to a daily diet. 2,000 calories a day is used for general nutrition advice.