Not only are the rice noodle recipes in this list delicious but they are also budget-friendly and easy to prepare. Moreover, they possess the special characteristics of the culinary culture of many countries in the world, especially Asian countries.
This post will provide you with their names and some special things inducing you to want to make them at home right away. No more headaches when you have rice noodles in the kitchen. Let's treat your family with these specialties.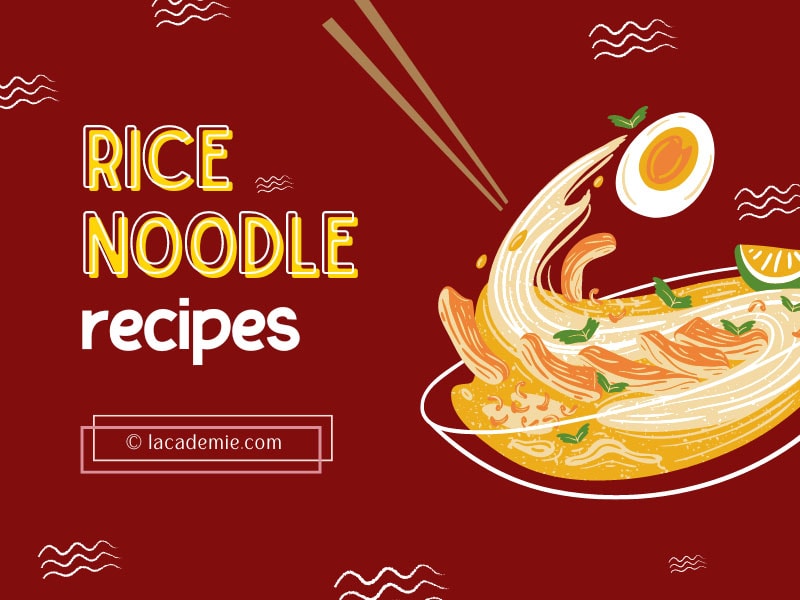 Change Your Mind About Rice Noodles With These Treats
Known as a starchy food made from rice flour and water, rice noodles are a great addition to your diet. From soups to fried dishes, this ingredient always works well with other ingredients to bring you a wonderful delight. Have a look at the recipes below.
Total time: 1 hours 50 minutes.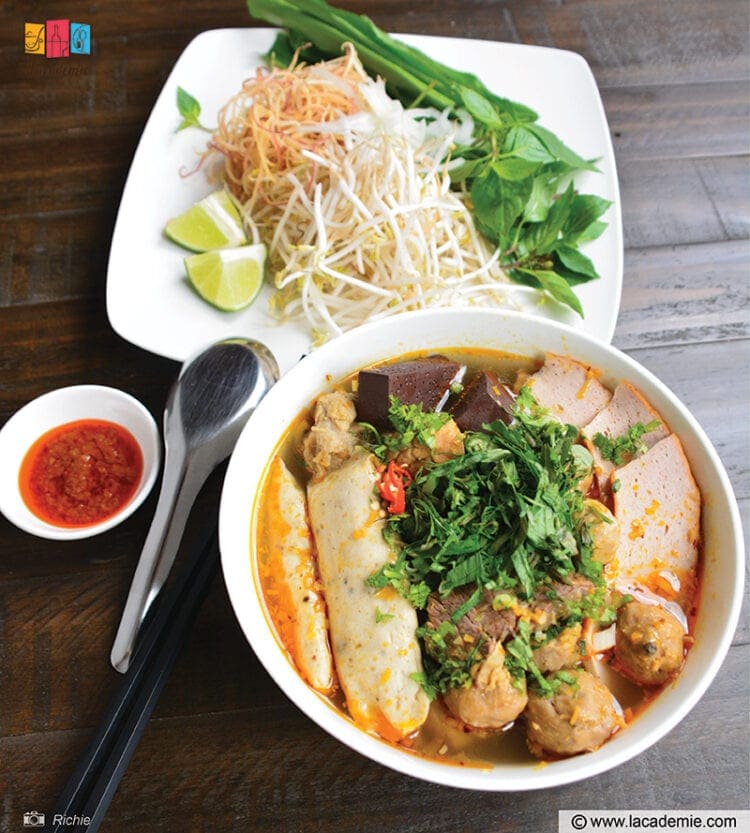 If you have the chance to travel to Vietnam, especially the Central region, missing Bun Bo Hue, or Spicy Vietnamese Beef Noodle Soup will make you regret it. With a robust broth and aromatic flavor, this delicacy will become your next favorite comfort food.
This delight requires more than an hour to prepare the broth to get the best flavor. You can use ready-made beef broth to save time; however, it's difficult for you to acquire a strong and rich taste. Therefore, you should consider carefully before choosing this method.
Although this delight contains a variety of local ingredients, you can buy most of them at an Asian grocery store. Besides beef brisket, you can also use beef shank as a substitute without any change in the texture as well as the taste of your soup.
Brown sugar gives your soup a naturally sweet and silky texture. If you love something truly spicy, you can also add chili flakes to the treat.
Surprise your friends with your homemade Spicy Vietnamese Beef Noodle Soup.
Total time: 35 minutes.
Let's start the culinary discovery journey today with Loaded Rice Noodles Stir Fry. Full of veggies, healthy, and incredibly tasty, this dish is gluten-free and dairy-free, a good option to add to your boring menu.
This delight is a nice combination of rice noodles, chicken breast, chicken broth, and numerous healthy vegetables. If you don't have chicken available, you can substitute it with pork or shrimp.
Moreover, replacing the chicken broth with vegetable broth and chicken with tofu will help you have a vegan version of this treat. Crispy garlic scallion chili oil is not a must-have ingredient in this dish, but it will enhance your taste perfectly.
To have this delicious addition, you just need to heat the mixture of sesame seeds, garlic, chili flakes, and green onions until your garlic is crispy. Pair this mix with your rice noodle dish before serving to get the best taste of this dish.
Total time: 30 minutes.
Famous for its exotic taste of spices, Thai foods are always something that a true foodie should try once in life. This distinguished example of Thai cuisine will bring the wonderful and unique flavor of this country's gastronomy to your dinner table.
This delight is a creamy Thai-style noodle made from chicken, coconut milk, rice noodles, and fresh herbs. To prepare this hearty dinner, you should start with boiling the rice noodles and stir-frying the mix of nutritious veggies with chicken.
After that, prepare the sauce for your dish by combining coconut milk, garlic, and red curry paste until it is thickened. The final step is to add rice noodles and the chicken mixture. You can serve this spicy delight with some cilantro leaves on top to make it more aromatic.
Total time: 45 minutes.
It's no exaggeration if you call this Mongolian Beef Noodle Bowls recipe a harmonious blend of sweetness and saltiness. Loaded with various protein-rich ingredients, especially savory beef, this delight is good for a gluten-free diet.
In addition to flank steak and rice noodles, the two pivotal ingredients, you should prepare brown sugar, green onions, and other things. Flavored with ginger and garlic, this noodle also takes a decent dose of spices from red chili pepper flakes.
Total time: 15 minutes.
Are you struggling to find a healthy option for your breakfast or even dinner on busy days? You are in luck because this Garlic Sesame Noodles recipe will solve your issue. Within 15 minutes, you will have a hearty and filling delight to serve.
Instead of using white rice noodles, this delight utilizes brown rice noodles, which are richer in nutrients than white ones. Therefore, eating this dish will increase the nutritional value of the dish as well as help you reduce stress.
While tahini (a Middle Eastern condiment made from sesame seeds) adds a strong nutty and earthy flavor to your dish, ginger and sriracha (a chili sauce) will give your treat a spicy taste.
This delight is not too spicy. Therefore, if you like something spicier, don't hesitate to add more sriracha or red pepper flakes to your dish. After combining the noodles with the sauce, never forget to garnish with some scallions and crushed peanuts to suit your appetite better.
It's time to make Garlic Sesame Noodles your own.
Total time: 30 minutes.
You don't need to waste time going to an Asian restaurant just to eat an Asian-style cuisine that doesn't satisfy your taste. Just prepare this Asian Beef And Broccoli Noodle at home; the sensation it can bring will amaze you.
When cooking this stir-fry dish, you have to make the sauce first. Just mix all the ingredients, including soy sauce, rice vinegar, and oyster sauce together. When your sauce is ready, just add it to your dish when the beef is cooked through.
Oyster sauce is a thick, rich, and syruplike sauce made by cooking oysters. It gives this delight a slightly sweet, salty, and earthy flavor.
Never forget to let the Chinese rice wine and arrowroot powder sit in a bowl with the beef for about 3-4 minutes. This step helps your beef have a perfectly tender texture. If you don't like beef, you can use a chuck roast or a flank to replace this component.
Total time: 26 minutes.
Are you sure this Singapore Noodles recipe is a specialty of Singapore? If so, you are mistaken. It is believed that this is an invention of Hong Kong or China-American restaurants.
The classic versions often contain beef, pork, or meat, but the one I would like to introduce today is a vegetarian-friendly dish.
Coming out with a signature yellow color from curry powder and turmeric, this delight is considered a blend of pad Thai (a type of traditional noodle in Thailand) and curry.
Like other savory noodle delicacies, this delight starts with boiling the vermicelli rice noodles. The next step is to stir-fry some ingredients such as bell peppers, snow peas, and turmeric.
If the mixture is too dry, you can add a little water to loosen the spices, creating a favorable condition for noodles to absorb the spices better. Adding the noodle is, of course, the final step to complete this delicacy.
Total time: 20 minutes.
Let's bring the beauty and delightful subtle flavors of Japanese culinary cuisine to your home through this tasty Japanese noodle, Bok Choy Soup, in just 20 minutes.
From its name, you can guess that bok choy (Chinese white cabbage) is an indispensable ingredient. This recipe uses baby bok choy, which is tenderer and sweeter than bok choy. Moreover, it takes a shorter time to cook, suitable for making soup.
Star anise (a spice made from the fruit of the illicium verum plant) adds a mild and fragrant licorice flavor to your dish. If you can't find this ingredient, you can substitute it with cinnamon sticks. The taste will change a little bit, so you should consider it carefully.
Your Bok Choy Soup can't be nutritious, comforting, and hearty enough without rice noodles, sesame seeds, mushrooms, and some other healthy veggies. Its delicious simplicity will make you want to lick the bowl clean.
Total time: 1 hour.
When mentioning noodle dishes from Vietnam, what would you say? Give me the answer after learning about this exquisite Vietnamese Noodle Salad!
For the best flavor and texture of this delight, you should note the three important things. First, the dressing must be the perfect blend of sweet, sour, spicy, salty, and savory. This is also the most prominent feature of Vietnamese cuisine.
Secondly, this is a culinary delight with vermicelli rice noodles, so you need to choose the right noodle from Vietnam. Otherwise, your salad can't get the best texture. I suggest you buy them at Asian groceries to get the best quality ones.
Thirdly, you should prepare baked tofu with a crisp exterior and a soft center. It's so hard to prepare with traditional methods, but this recipe will give you a hand.
All you need to do is to press the tofu to remove moisture and bake your chopped tofu at 200 degrees C for about 30 minutes. It's easier than you might think, right? When everything is ready, just combine them, and you will have a tasty salad to enjoy.
Preparing Vietnamese Noodle Salad has never been so easy if you follow these instructions.
Total time: 31 minutes.
This Asian Stir-Fried Shrimp And Rice Noodles delicacy will hit the spot when you are craving seafood. Thai green beans and sautéed garlic broccoli are the best accompanying foods for this dish.
First of all, you should prepare a well-combined mixture of chili garlic sauce, cornstarch, and sherry. After that, start to stir-fry all the ingredients, including shrimp and rice noodles, in oil, garlic, and ginger.
Finally, you just need to pour your hot and tangy sauce into the mixture and continue stir-frying until your shrimp is completely cooked and rice noodles have perfectly soaked the condiments. Garnish with cloves on top to bump up the favor of your delight.
Total time: 35 minutes.
Have you ever tried a flavor-packed Chinese noodle dish? If not, don't skip this Braised Rice Noodle With Pumpkin. This is a perfect blend of rice noodles, pumpkin, garlic, and dried shrimp.
This recipe only requires some simple ingredients as well as easy instructions. You just need to boil the rice noodle first, like in other recipes, and stir-fry the rest of the ingredients in the pot until everything has absorbed the flavor.
Loaded with various minerals, vitamins, and antioxidants, pumpkin is incredibly healthy, making this treat suitable for a healthy lifestyle. Moreover, green scallions add a depth of flavor to your dish, giving it a sharp and peppery taste.
Total time: 30 minutes.
Enrich your boring menu with another Thai-style dish! Authentic Pad Thai is famous for popular street food in Thailand with a perfect blend of disparate tastes.
This recipe will make an interesting twist by replacing some additional ingredients, but its sweet and salty flavor will please your taste.
What you will need is rice noodles, green onions, garlic cloves, and carrots. With these diverse ingredients, you can easily guess that your Pad Thai will be a colorful party.
Remember to prepare the sauce with fish sauce, soy sauce, and brown sugar to boost the flavor of this specialty. You can enhance your appetite by pairing it with a side dish such as a cucumber salad or a Thai mango salad.
I'm sure that you will regret it if failing to this Pad Thai recipe.
Total time: 25 minutes (excluding the time of marinating the pork overnight).
Let me introduce to you another ideal staple for dinner: it's Hoisin Pork With Rice Noodles. Including lots of veggies and tons of flavors, this recipe is also very straightforward to prepare.
Let's start with making the marinade for the pork. What you need to do is to combine soy sauce, lime juice, garlic, and hoisin sauce, and then add your pork and place the mixture in the fridge overnight. The final step is to cook your pork mixture with rice noodles and veggies.
However, what is hoisin sauce, you might ask? Hoisin sauce is a thick and fragrant Chinese condiment made from fermented soybeans and other spices. This ingredient adds an Asian flavor with a sweet, spicy, and tangy taste to your dish.
Total time: 10 minutes.
If you are looking for a vegan delicacy on this list, this Thai Red Curry Rice Noodles recipe is an ideal option for you. Let's add this recipe to your meatless menu right now because its taste is super addictive.
Consisting of rice noodles, sesame seeds, and garlic, this dish is quick, spicy, and sweet. You will want to stay longer in the kitchen after making this delight the first time.
Thai red curry paste contributes a touch of warm, but not biting, taste of ginger and garlic to your dish. With this component, it's unnecessary to add any other condiment. However, you can add a little peanut butter to enhance your experience.
Moreover, brown sugar gives this Thai specialty a sweet taste. Replacing it with maple syrup is also acceptable in this recipe. Don't forget to accompany the noodles with crispy fried corn and sticky sesame tofu. This combo is truly an explosion of flavors.
Total time: 55 minutes.
Have you ever heard about Vietnamese Pho? If not, here is some detailed information about Pho for you! Pho is a Vietnamese national dish cooked with beef or chicken stock, basil, and ginger. "Fuh" or "foe", which one do you choose to pronounce this delight?
I hope you choose the first one because "fuh" is exactly the correct answer. And today, I would like to share with you a vegetarian version of this specialty, a dish that you have to use both spoon and chopsticks (or a fork) to enjoy.
To cook this vegetarian Pho Soup, you have to prepare rice noodles, tofu, ginger, and cinnamon. Remember that various fresh herbs play an important role in this recipe. Without them, you can get the best flavor of this soup.
This perfect combination results in a Vietnamese delight with a deep and rich flavor. Moreover, it derives strong and spicy aromas from herbs, making it more attractive and appealing.
Learn to diversify your dinner with this Vegetarian Pho Soup.
Total time: 30 minutes.
Are you curious about the name of this dish and whether it is alcoholic? Interestingly, this Drunken Noodles recipe doesn't include alcohol. People give it this name due to the story that drunk people always try to find this dish to "quench their thirst".
Drunken Noodles is a stir-fry dish with a distinctive spiciness originating from Thailand. This vegetarian version will offer you the maximum deliciousness of this dish. The core ingredients you should prepare include rice noodles, Thai basil, and ginger.
You should use wide rice noodles instead of thin rice noodles to improve the texture of your dish, making it more delectable and similar to traditional Pad Kee Mao.
After finishing cooking, you should serve this dish immediately to prevent your noodles from sticking to each other and making it difficult for you to enjoy it. You can also add chicken, shrimp, or any veggies when you aren't on a vegetarian diet to please your appetite.
Total time: 15 minutes.
If you have some leftover veggies in the kitchen and don't know how to process them, try this Stir-Fry Peanut Sesame Noodles right now. Whether your dish is good or not, depends entirely on the sauce.
This sauce is a nice combination of vegetable broth, garlic, maple syrup, and peanut butter. Thanks to the last ingredient, your sauce becomes richer and creamier, making it an ideal option to pair with your noodles.
While cilantro imparts to this delight a pleasing flavor reminiscent of parsley and citrus, sesame seeds give it a slightly sweet and nutty taste. Don't ignore them for topping if you want your family to fall in love with this treat.
Enjoy The Best Comfort Foods With Rice Noodles
So, above are various rice noodle dishes you can choose to enlarge your daily menu. From soups to stir-fried delights, they always know how to satisfy your taste buds. Don't let your meals go boring when you have this ideal ingredient in the kitchen.
If you find this post useful, please share it to help more people know about these interesting delicacies. Have you tried these delights before? Please leave a comment to share your experience with me. I always appreciate your contributions. Thank you!
Nutrition Facts
5 servings per container
---
Amount Per ServingCalories754
% Daily Value *
Total Fat 42.4g

66

%
Cholesterol 163mg

55

%
Sodium 1810mg

76

%
Potassium 700mg

20

%
Total Carbohydrate 32.8g

11

%

Dietary Fiber 1.2g

5

%
Sugars 2.8g

Protein 57.1g

115

%
---
* The % Daily Value tells you how much a nutrient in a serving of food contributes to a daily diet. 2,000 calories a day is used for general nutrition advice.