If you are looking for Malaysian foods, this post contains everything you need. I will provide you with a list of the most common and prominent Malaysian recipes in this beautiful country, along with helpful information about them.
After reading this article, you will have more knowledge about the cuisine of this Southeast Asian country and its traditions and customs. This information will come in handy if you want to travel to Malaysia.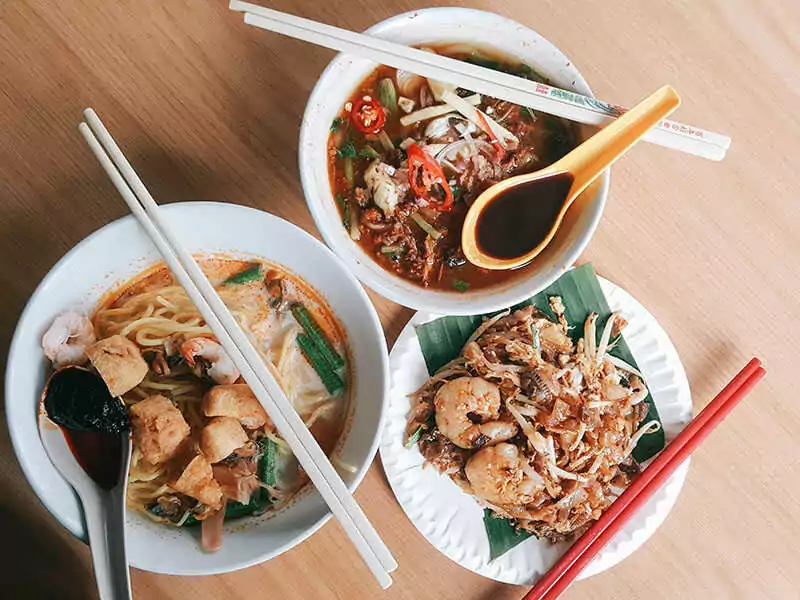 Let's Forget Your Hunger With The Malaysian Foods With Rice
Rice is an essential food in the cuisine of Southeast Asian countries, and so is Malaysia. Malaysian cuisine has many fantastic rice foods that you should not miss when coming here.
1. Nasi Kerabu – Blue Rice With Meat And Veggies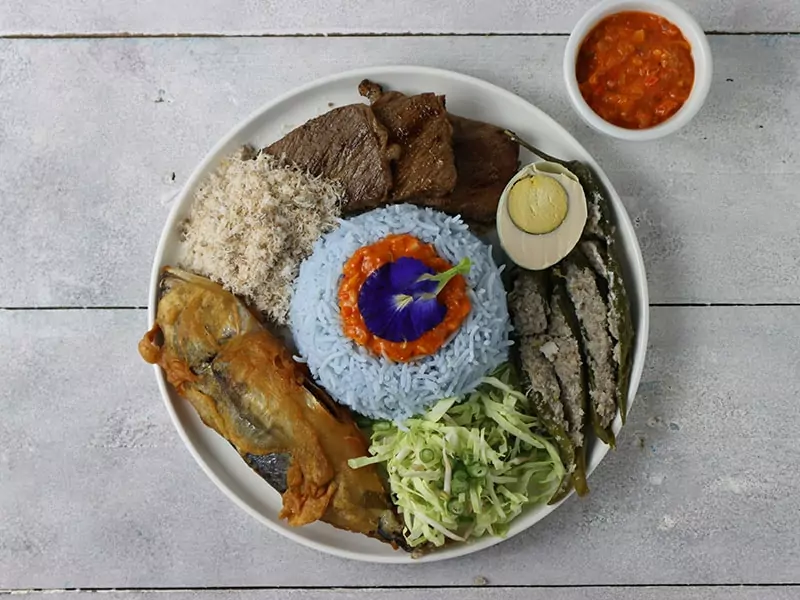 Nasi Kerabu is a fabulous Malaysian dinner recipe to recharge your energy after a long day of exploring this beautiful country. This blue rice dish is a type of Nasi Ulam and is usually served with fried chicken, pickles, salads, or dried fish.
The chef used Clitoria ternatea flowers (butterfly-pea) to give the rice a unique blue shade. Some of its variations may contain plain white rice or rice cooked with turmeric. These versions often appear with Solok Lada (Malay stuffed chilies) and fried Keropok (deep-fried cracker).
People in the Eastern coastal regions of Peninsular Malaysia, like Terengganu and Kelantan, love this food. Also, it is popular in the South of Thailand under the name Khao Yam.
Take a trip to Kelantan to taste delicious Nasi Kerabu.
2. Lemang – Glutinous Rice Cooked With Coconut Milk In Bamboo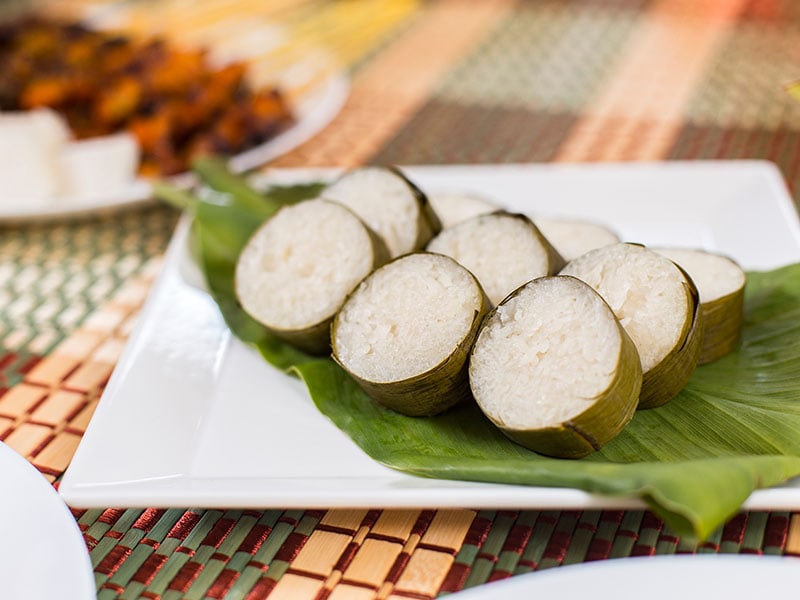 You can eat this delicious Lemang made from glutinous rice and coconut milk when coming to Malaysia. It has an incredible aroma, thanks to the unique preparation method when chefs use bamboo for cooking rice.
It takes a while to prepare, but the result you get is soft, supple, and delicious rice grains. Sheikha Burhanuddin is the creator of the Lemang processing technique. It is an essential food in traditional Malay ceremonies.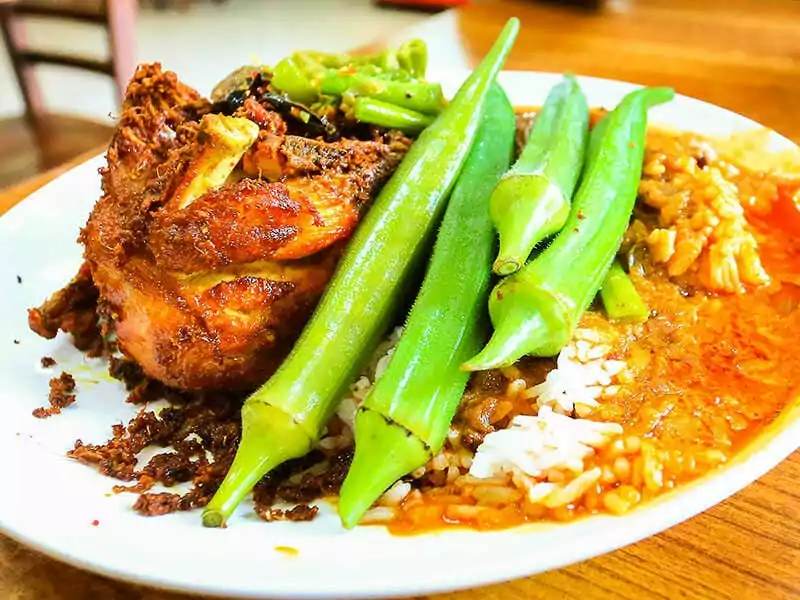 It is a pity that your Malaysian lunch recipes lack the famous Nasi Kandar. Thanks to Tamil Muslim traders from India, it originates from Penang and is popular in Malaysia. It is the favorite choice of the people of Northern Malaysia.
The soft and warm rice grains will become more flavorful when served with fish, egg, okra, and curry. In Malaysia, stores that sell Nasi Kandar will be open 24 hours and run by ethnic Indian Muslims.
Take a trip to Malaysia to taste delicious Nasi Kandar right away.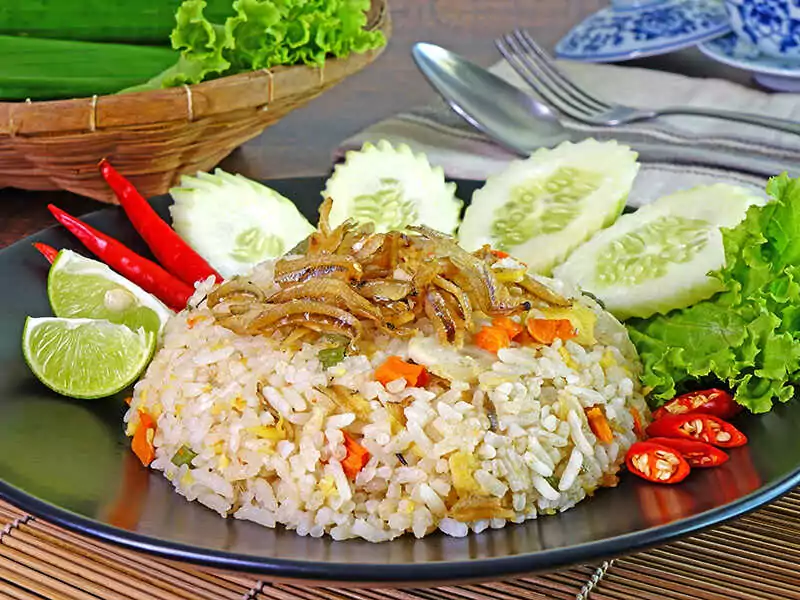 Nasi Goreng is the term used to refer to fried rice dishes in Malaysian cuisine. Nasi Goreng Kampung is a variant that originated in Malaysia and spread to Indonesia and Singapore's food culture. Let's recharge your energy with this yummy rice dish when coming to Malaysia.
The rice will be fried with assorted vegetables, anchovies, and eggs to blend it all. Restaurants usually serve it hot as soon as it has finished. The plate of rice will be fuller and more complete with cucumber slices and dried anchovies on top.
5. Nasi Lemak – Rice Cooked In Coconut Milk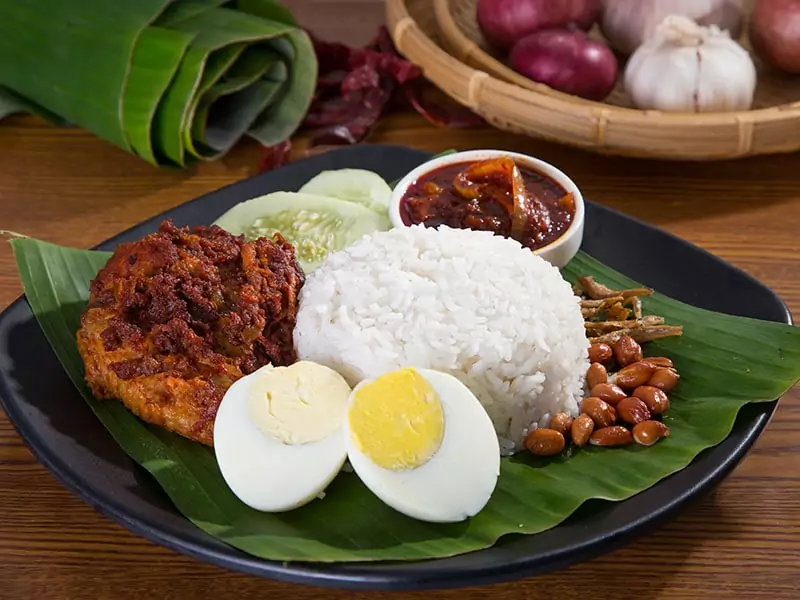 Nasi Lemak is a national Malaysian breakfast recipe I would like to introduce in this article. You will feel the aromatic and buttery taste of rice when cooked with coconut milk. You should try this dish as soon as you have the chance.
In different parts of Malaysia, the accompaniments will not be similar. You can see this dish go with boiled eggs, meat curry, seafood, peanuts, vegetables, or chili-based sauce. This food first appeared in 1909 in the book "The Circumstances Of Malay Life".
Explore the origins of fantastic and yummy Nasi Lemak.
Fall In Love With Yummy Malaysian Noodles-Based Dishes
Malaysian cuisine is heavily influenced by Chinese cuisine, so many wonderful and appealing noodle foods are available here. You can refer to this section to know the attractive noodle dishes.
6. Mee Rebus – Malaysian Spicy Noodles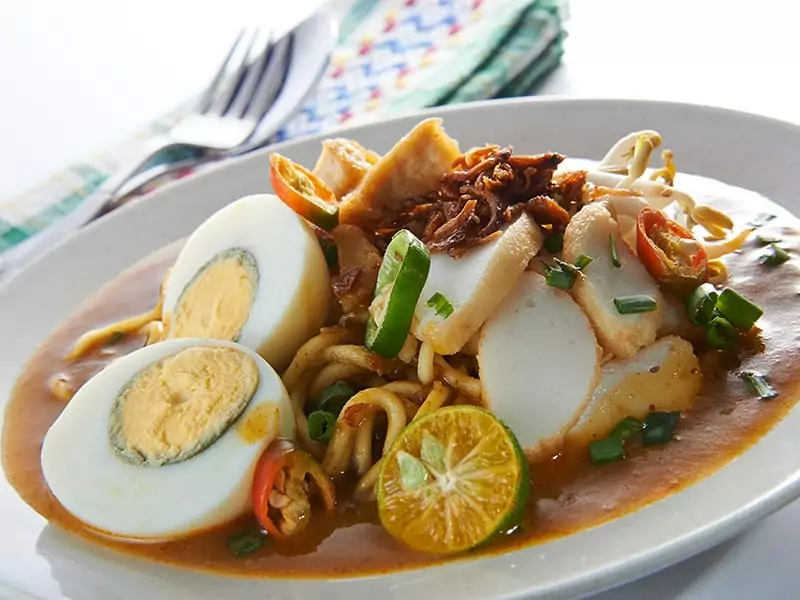 You will love the chewy and soft noodles with the eye-catching golden color of Mee Rebus. The most memorable thing about it is the spicy and sweet gravy-like curry broth. The scent of lemongrass and ginger will make you addicted to it.
This fantastic recipe is an invention of the people of Muar, Johor. You will get a considerable boost of protein when this food contains muttons, prawns, and anchovies. In addition, boiled eggs and spouts are also indispensable.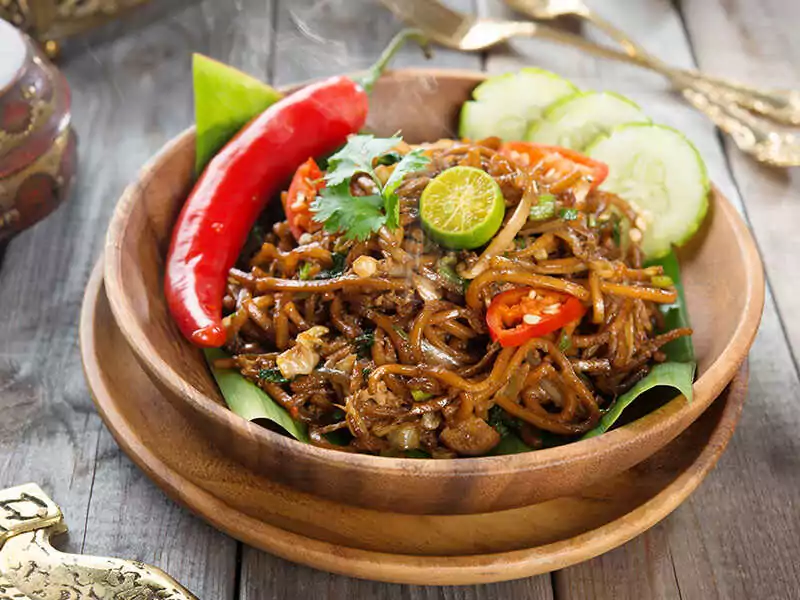 Mee Goreng Mamak is a Gee Goreng version of Malaysian cuisine. Mee Goreng Mamak is a famous dish in Chinese cuisine style born in 1975 by Ting Choon Teng (owner of a restaurant) and Hock Kee (chef of a Seafood restaurant). In Tamil, the word "Mamak" means "uncle".
This is a version of noodles with eye-catching yellow color and distinctive flavor. Furthermore, the presence of chicken, beef, shrimp, and vegetables will create an irresistibly delicious taste.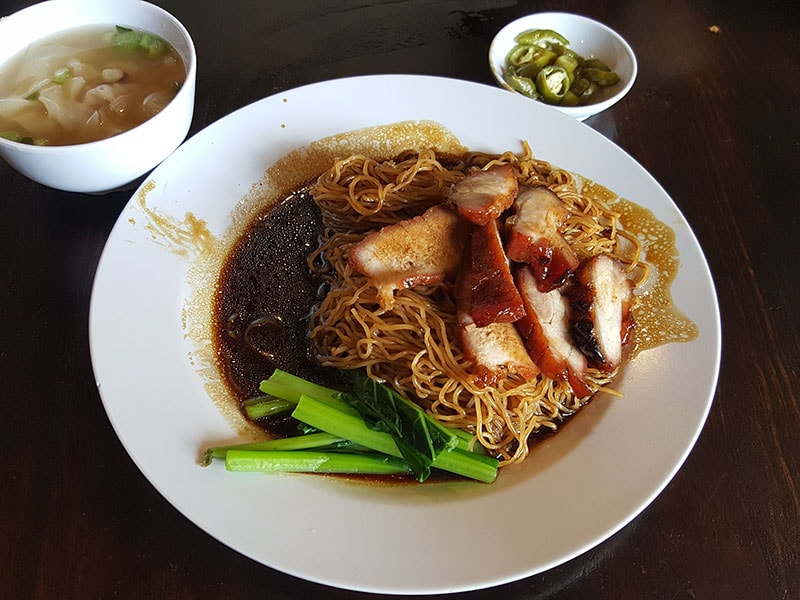 Wonton Mee or Wanton Mee is a famous noodle dish originating from China. It was not until the Tang Dynasty that it got the name "Wonton Mee". This recipe is a favorite all over Asia with various variations.
You will sense the taste of the sticky sauce with soy sauce and lard oil as the main ingredients in this tasty egg noodle dish. You can come across various versions of Wonton Mee in different regions of Malaysia.
A few slices of delectable char siu will make the difference between the Malaysian version and the original version. Soup and wontons will be served in a separate bowl. You can select the deep-fried wontons style. The vegetarian version will replace the meat char siu with wheat gluten char siu.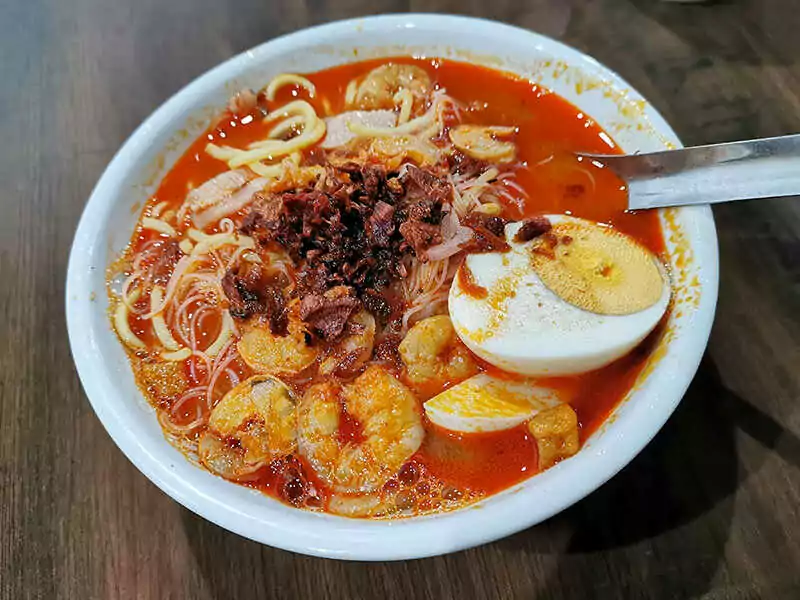 Penang Hokkien Mee is a famous noodle recipe in Malaysia. People often call it prawn mee. Prawns and pork ribs are the 2 main ingredients to make the broth. Furthermore, sliced pork, water spinach, boiled egg, and bean sprouts will raise the flavor of the food.
You will easily find a cup of chili-based sauce next to a bowl of Hokkien Mee. The original version of this food originated from the Hokkien community in China, and when they immigrated to Malaysia, they brought this wonderful dish with them.
Let's discover all things about the origins of Penang Hokkien Mee.
10. Mee Siam – Spicy Rice Vermicell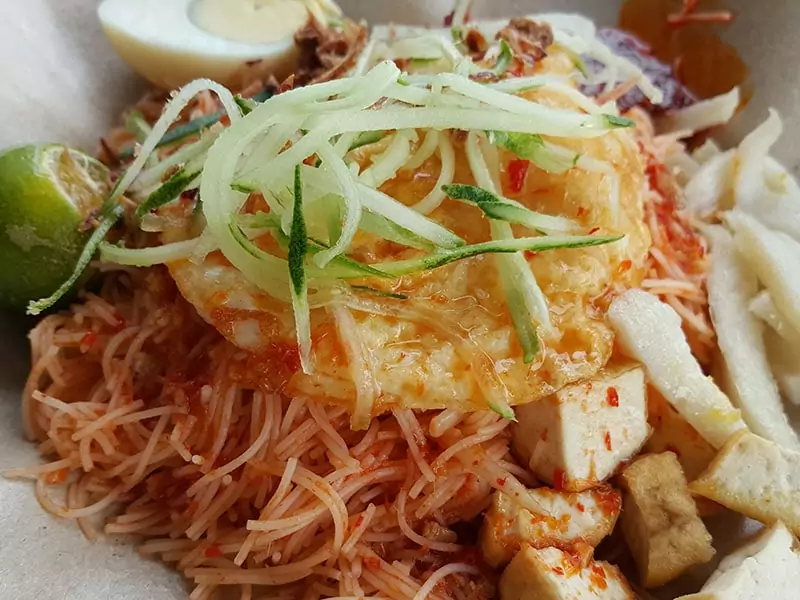 It is time to fill your hungry stomach with Mee Siam or Siamese noodles. Malaysians and Singaporeans both love this dish. This recipe is influenced by the Thai culinary style. The chef will saute vermicelli noodles with bean sprouts, soybeans, shrimps, and chili paste.
This recipe originates from the Malay community in Maritime Southeast Asia. You will not be bored when enjoying it with toppings like a boiled egg, omelet strips, onions, fried onion. This dish is a top choice for special occasions.
11. Mee Bandung – Malaysian Bandung Noodles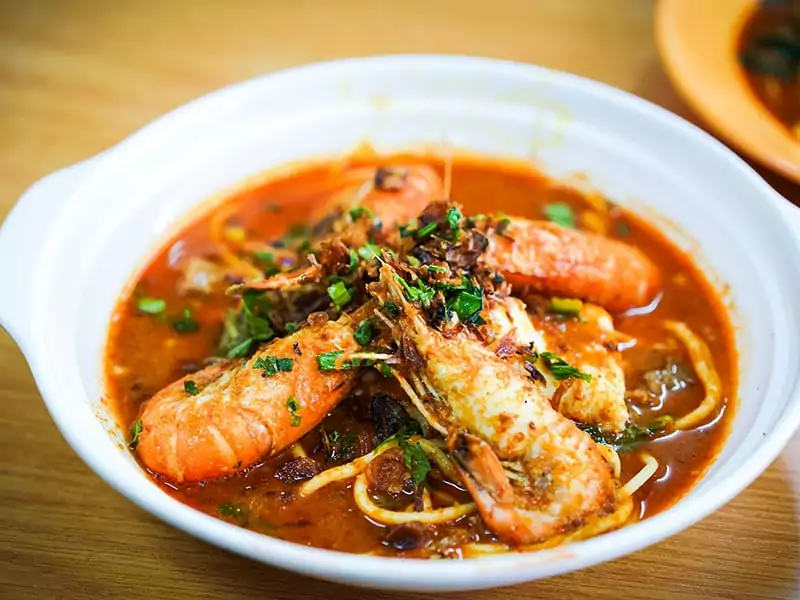 Mee Bandung is a culinary pride of Muar, Johor, Malaysia. Its name "Bandung" means "mixture" or "combined". Not only is it loved in Malaysia, people in neighboring countries like Indonesia and Singapore also like it. It usually appears in lunch, breakfast, or brunch meals.
The yellow noodles will be bathed in thick and spicy sauce. This sauce combines shrimp paste, chilies, onions, and dried shrimp. Besides, its taste will be richer with the appearance of fishcakes, eggs, shrimps, veggies, and lime juice.
12. Char Kuey Teow – Stir-Fried Rice Noodles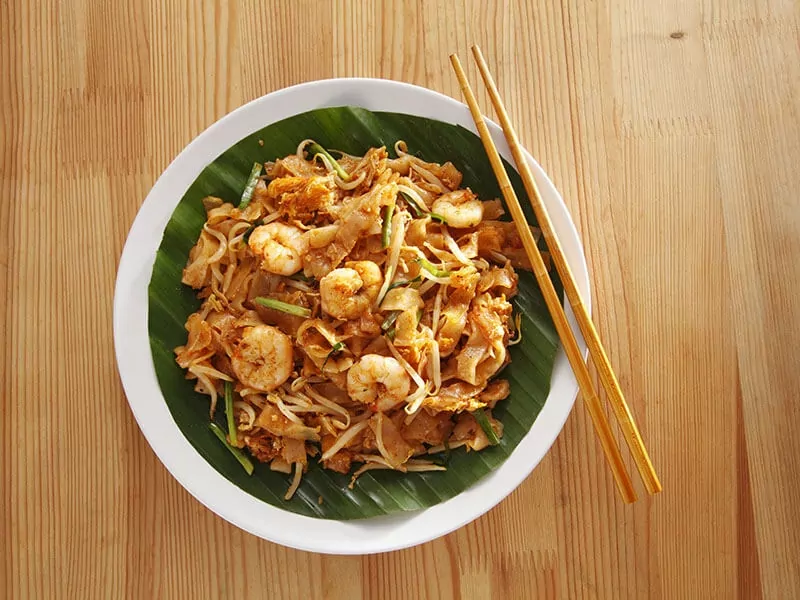 Char Kuey Teow is a symbolic dish of this beautiful country. Fishermen, farmers, and cockle gatherers selling prawns and blood cockles in Malaysia created it first. You can find king prawn versions of this noodle dish to eat.
Besides prawns and blood cockles, this fried noodle also contains pork lard, soy sauce, chili, egg, and Chinese chives. Chefs will use a cooking technique called "wok hei" (breath of the wok) that cooks by the high heat of the wok to create the mouth-watering flavor of this dish.
Go to Malaysia to enjoy the incredible Char Kuey Teow.
Pickle Your Taste Buds With Mouthwatering Malaysian Meat-Based Foods
It is time to stimulate your taste buds and add protein with fantastic and tasty Malaysian meat-based dishes. It is a perfect experience if you have a chance to try all of them.
13. Ayam Percik – Grilled Chicken With Percik Sauce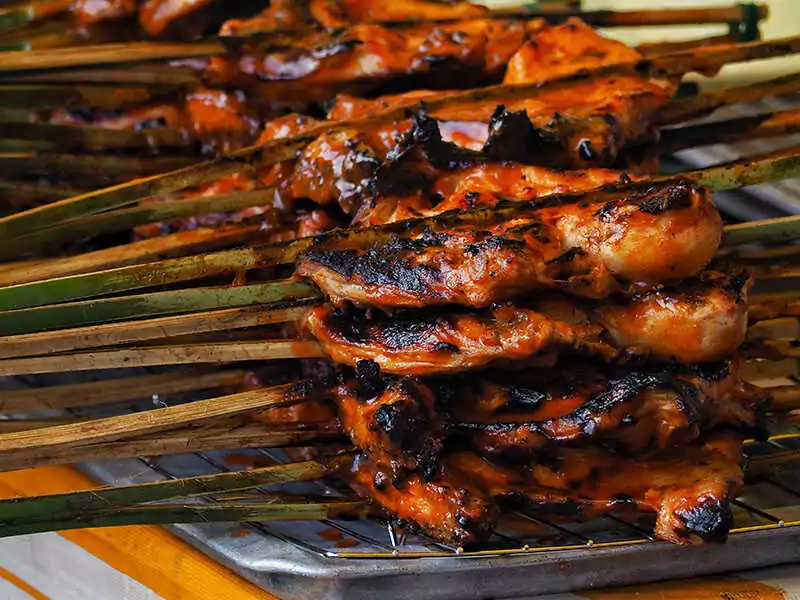 If you are a fan of grilled chicken, you must try Ayam Percik when visiting Malaysia. It is an authentic dish of Malaysian cuisine, and this spicy sauce chicken dish has also spread to many different countries.
This mouthwatering recipe will immerse you in the signature and spicy flavor of the percik sauce made with hot peppers, garlic, ginger, and coconut milk. A bit of smoky taste will stimulate your taste buds. It is an invention of Kelantan state cuisine.
Follow these instructions to make fantastic Ayam Percik.
14. Lor Bak – Penang Braised Pork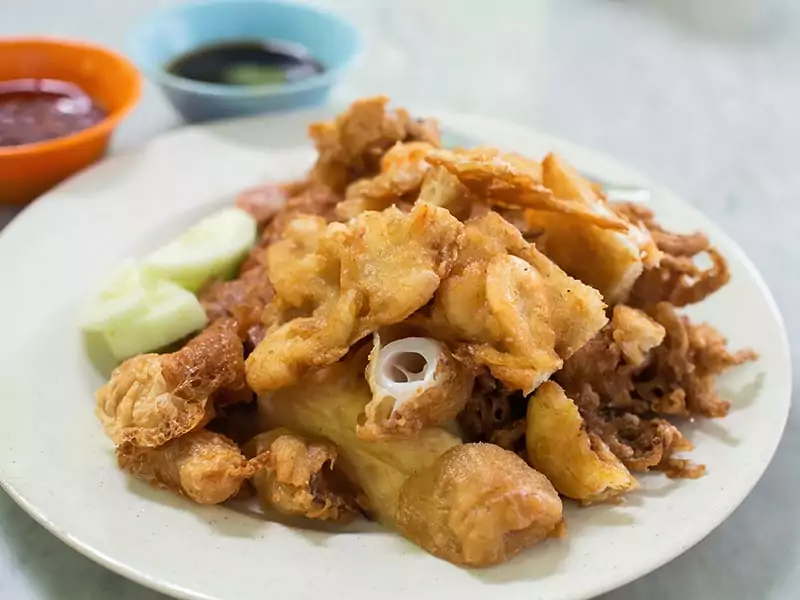 Lor Bak or Heh Gerng (Chinese name) is a specialty of the Penang region, Malaysia. After tasting, this braised pork dish will bring a rich and unforgettable flavor to you. Five-spice powder plays an essential role in this food. You will love the crispy outer layer with the deep-fried bean curd skin.
In Malaysia, people eat it with spicy red chili sauce and gravy made from beaten egg and cornstarch (lor). This excellent food originated from the Chinese Fujian, and it appeared in Nonya Flavors published by The Star.
15. Kari Kapitan – Kapitan Chicken Curry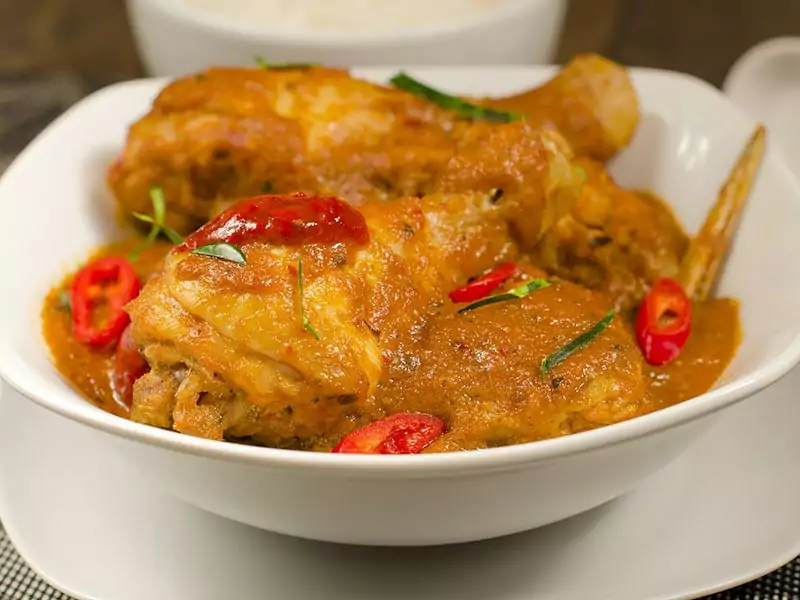 A Chinese chef created this wonderful dish while traveling on a British ship. When the dish was finished, the captain asked the chef the name of the food, and he mumbled: "Kari Kapitan".
This food became common in Malaysia in the 16th century when the Portuguese came here. This chicken curry has a rich flavor and thick texture. You will feel the sourness of tamarind in it, and a bit of turmeric and shrimp paste will add flavor to the food.
16. Satay – Grilled Chicken Skewers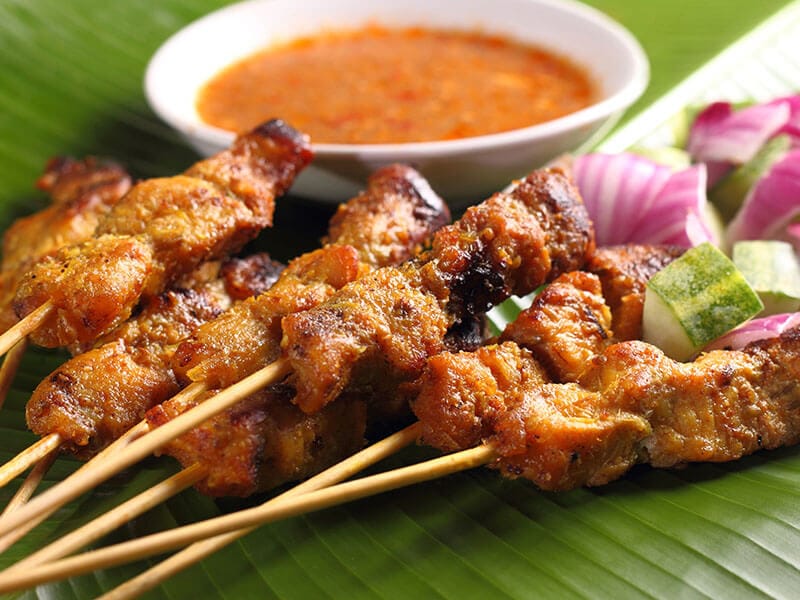 If you love the smoky flavor of grilled chicken, you cannot miss this incredible Satay. It is well-known in many countries such as Malaysia, Thailand, and Indonesia. There are many battles about the origin of this dish between Thailand and Malaysians.
However, Indonesian gastronomy is the exact homeland of this fabulous dish. Indonesians took inspiration from Indian kebabs brought by the Muslim traders to make Satay. Malaysian Satay is different from other countries.
Malaysians will use chicken as the prominent ingredient for this delicious dish. In some cases, they will replace chicken with pork to change the flavor. Grilled chicken skewers will bring a tasty and unforgettable flavor for diners. It is good to eat it with peanut sauce in Malaysia.
17. Karipap – Malaysian Curry Puff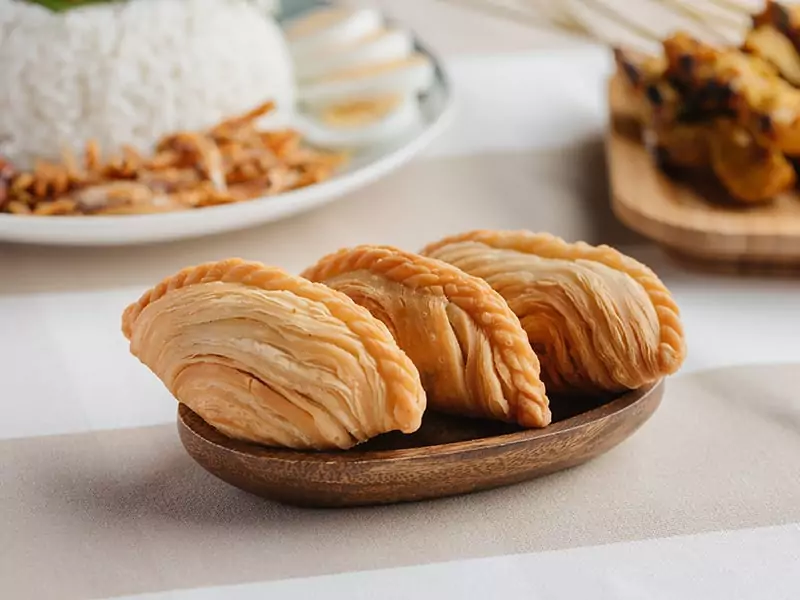 You must definitely try the Karipap of Malaysian cuisine. It is a small and deep-fried pastry stuffed with chicken and potato curry. This recipe comes from Maritime Southeast Asia with the influence of British pasty, Portuguese empanada, and Indian Samosa.
When you bite into Karipap, the crispy pastry shell will make you flutter, and the rich filling will make everything perfect. It is famous not only in restaurants but also in bars and stores. Many variations have various fillings, such as tuna, beef rendang, and sardines.
18. Murtabak – Pan-Fried Bread Stuffed With Meat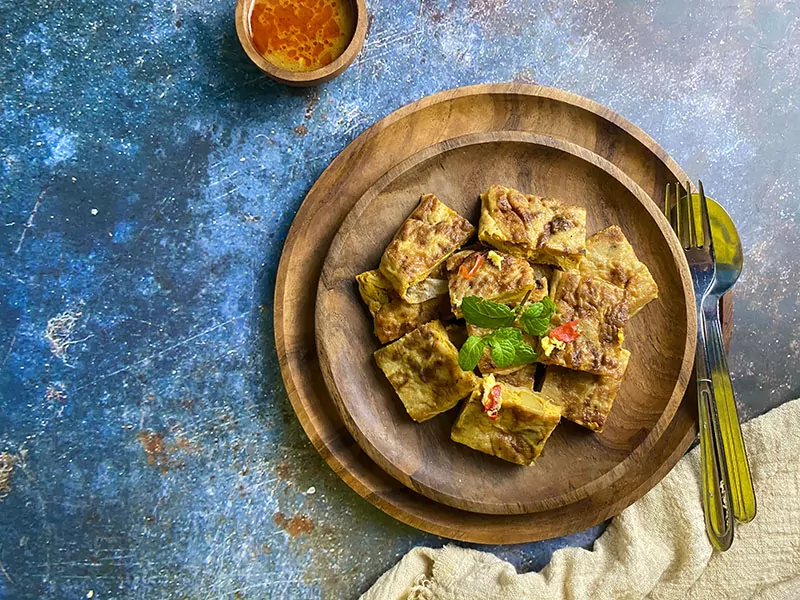 Murtabak is originally from Yemeni food culture but is popular in Malaysia. Tamil Muslim traders brought Murtabak to Southeast Asia. This is a pancake with many layers originating from Kerala. Here it is known as "mamaks", and in Tamil, "mama" means "uncle".
You can feel the flavors of minced meat and onions in this pan-fried bread. Your mouth will explode when you eat it with spicy sauce. Besides the savory version, you can enjoy the sweet version of Murtabak Manis.
Enjoy Your Meals With Incredible Malaysian Dishes With Seafood
Seafood-based dishes are always the favorite choice of many natives and tourists. If you want to enjoy the flavor of the sea from Malaysian dishes, you should not neglect these suggestions in this part.
19. Laksa – Malaysian Shrimp Soup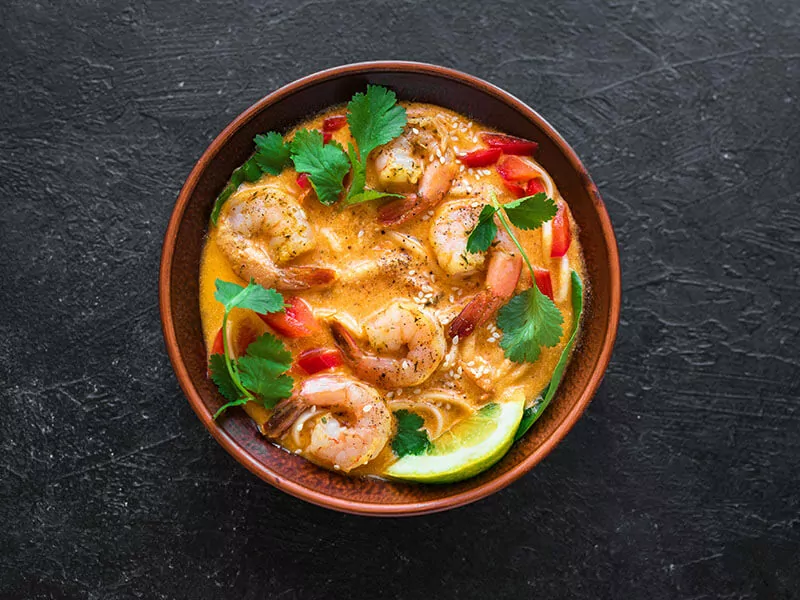 Laksa is a staple food of the Malaysian people. Besides, you can find it in many other cities like Bangkok, Shanghai, etc. You will be addicted to the rich flavor of this spicy noodle soup, and in some cases, you may find it in curry form.
The birth of this attractive dish is a combination of the culinary culture of the indigenous people of Malaysia and the Chinese immigrants. You can choose the shrimp or fish version, depending on your preference.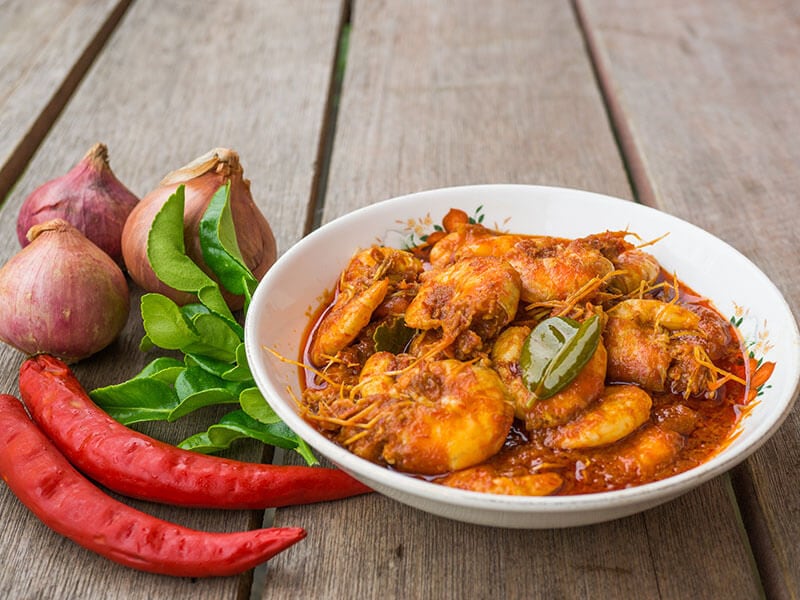 Sambal Udang is a beautiful invention of the Peranakan people, descendants of Chinese immigrants between the 15th and 16th centuries. These people usually live in coastal Malaysia like Melaka and Penang, and they have many delicious recipes.
Sambal Udang is food with prawns as the main ingredient. Your taste buds will explode when enjoying prawns bathed in chili paste. Occasionally, chefs add tamarind juice to dishes for a tangy flavor.
21. Asam Pedas – Sour And Spicy Fish Stew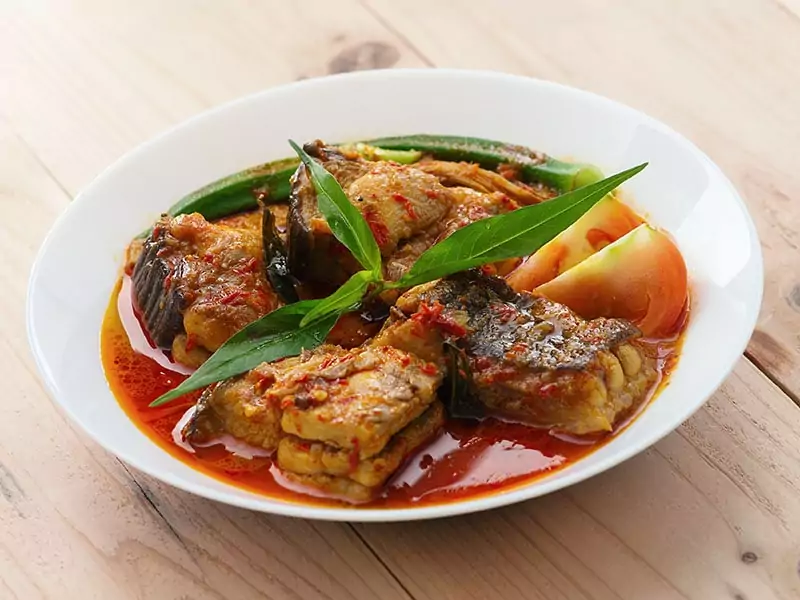 Asam Pedas is a famous fish curry all over Peninsular Malaysia. Freshwater fish or stingrays are the main elements that often appear in this food. It originated from Minangkabau of Indonesia and spread throughout the Malay Peninsula.
The two words "Asam" and "Pedas" in its name mean "sour" and "spicy". They are the two primary flavors that you can find in this food. Sour tamarind will bring sourness, and the spiciness comes from fresh chili peppers.
22. Keropok Lekor – Malaysian Fried Fish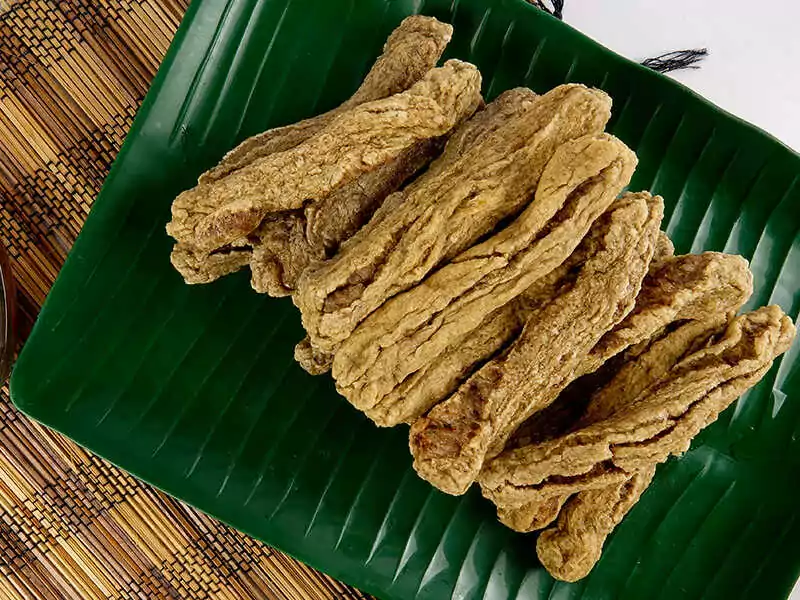 It is excellent to enjoy a few beers with friends with this excellent Keropok Lekor. It is a specialty in the Terengganu region, Malaysia. Groundfish and sago flour are the main elements of this food. You will be addicted to the crunchiness of this excellent snack.
It will be more delicious when served with spicy chili sauce. Malaysians had been eating it 30 to 40 years ago. A fisherman returned home with a lot of fish after a fishing trip. He shared the excess fish with the villagers, creating this snack.
23. Satar – Grilled Fish Wrapped In Banana Leaf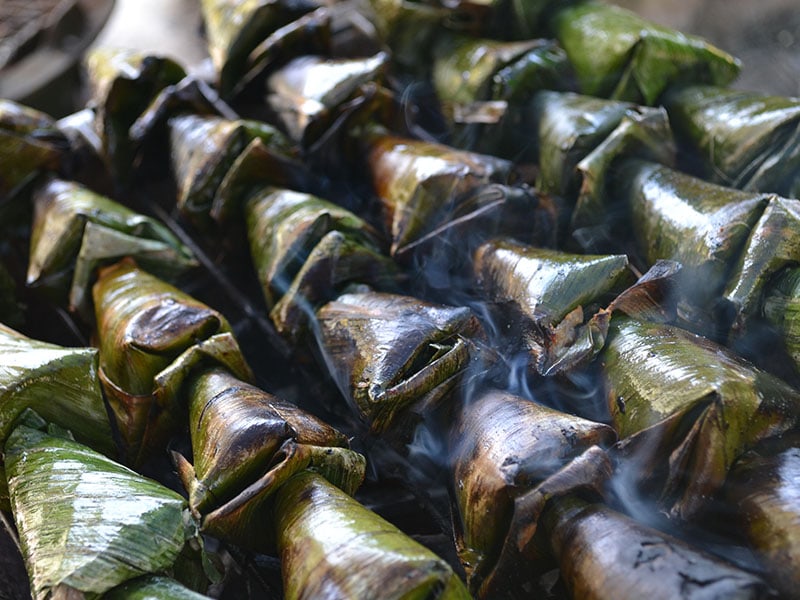 Satar is a traditional and typical dish of Malaysian cuisine. It is considered a kind of grilled fish hot dog. You will easily find bands of smoke rising at vendors selling this tasty Malaysian street food in Kelana Jaya, Malaysia.
Malaysians often use mackerel, coconut, ginger, and onions to prepare this food. Grilling fish in banana leaves will help keep the natural flavor and bring the typical aroma of banana leaves to the food. The seasoning used in it is not too much to retain the authentic taste of the fish.
Refresh Your Taste Buds With Sweet Snack And Desserts
Have you ever eaten a dessert and sweet snacks of Malaysian cuisine? Please try them now if you have a chance because their tastes are unforgettable.
24. Apam Balik – Peanut Pancake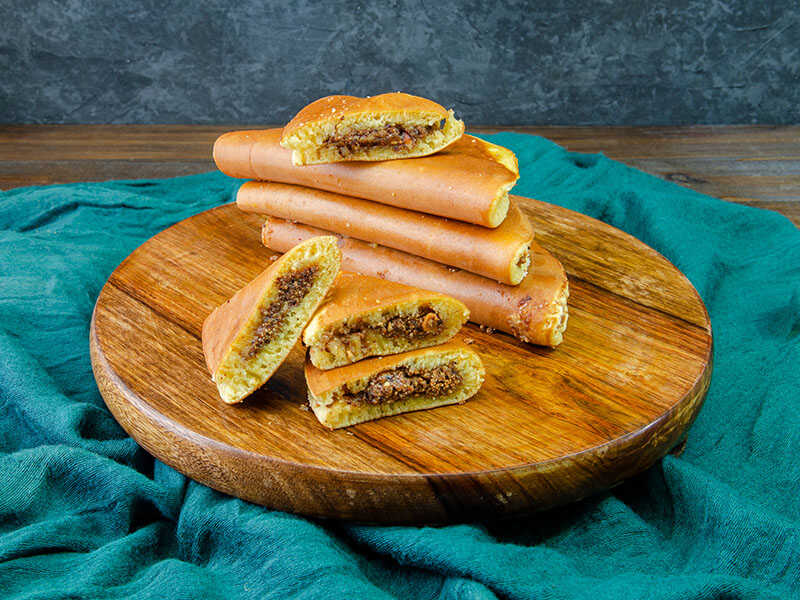 Apam Balik is a fantastic addition to your Malaysian dessert recipes. It is a peanut pancake turnover filled with buttery peanut filling. Its name is taken from the method by which the cake is turned over. You can enjoy it with a cup of tea after a meal.
This is a Chinese-style food first invented by General Tso of the Qing Dynasty. Gradually, this food spread to areas, such as Fujian, Quanzhou, and Malaysian as the Chinese migrated to Southeast Asian countries.
25. Kuih – Malaysian Sweet Pastry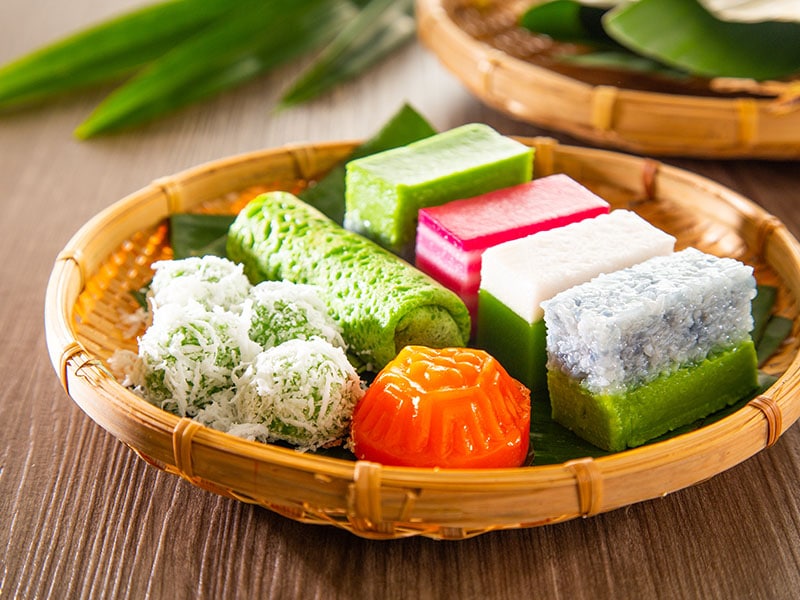 Kuih is a dish of Chinese cuisine and is common in Malaysia and Indonesia. Malaysian Kuih will have you hooked with its combination of rice flour, mung bean starch, coconut milk, and more.
This is a Malaysian-style pastry. Its sweetness, softness, creaminess, and buttery flavor will make you go crazy. There are various types of Kuih with different colors, textures, and shapes you can settle for to enjoy.
You can taste Kuih Bingka Ubi with a brown crust baked with sweet pandan-flavored custard. If you want light, you can choose Kuih Cara Berlauk, which contains eggs, coconut milk, flour, and turmeric.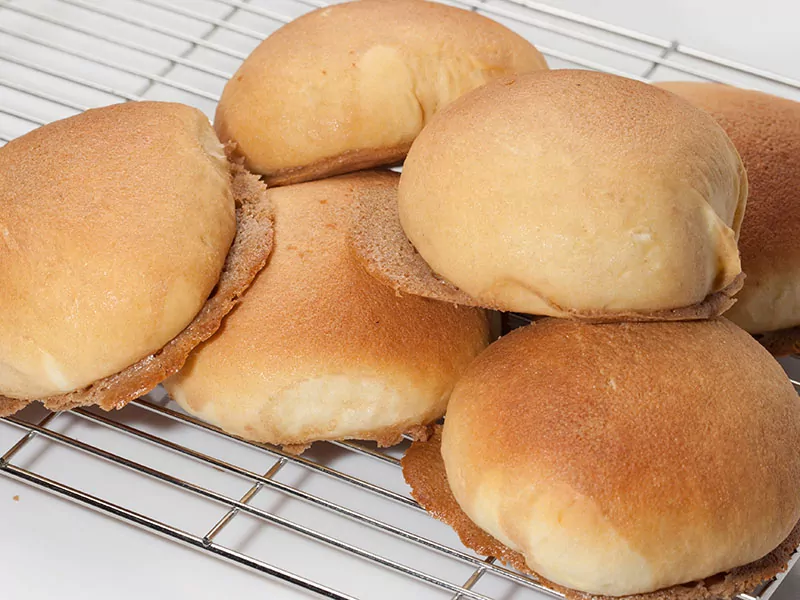 Referring to Malaysian cuisine, it is impossible not to mention Papparoti. It is a type of bun that appeared in Malaysia in 2002, and a woman made it. Recipes popular at these trademarks contain sugar, flour, milk, eggs, and butter.
You will go crazy with Papparoti's caramel and coffee icing on top. Once baked, it will have a crispy outside and buttery inside. This food started to gain popularity in Malaysia in 2003 with the appearance of the first trademarked Papparoti store.
Learn how to make delicious Paparoti Buns right now.
27. Tepung Pelita – Coconut Custard And Pandan Layer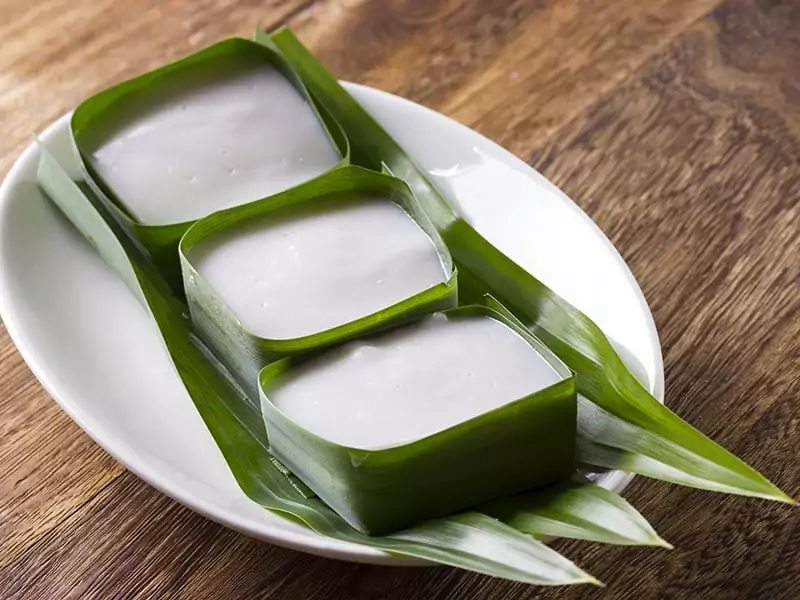 Tepung Pelita is one of the famous types of Kuih that you can find in Malaysia. It is a fantastic choice to end your meal. Coconut milk is the prominent ingredient of thíis food, so you will feel the creamy taste when enjoying this dessert.
Underneath the coconut milk is a layer of milky liquid with a combination of sugar and pandan leaves. Tepung Pelita, when translated into English, means "flour" and "oil lamp" because the shape of the folded banana leaf resembles a traditional oil lamp.
28. Putu Piring – Steamed Rice Flour Cake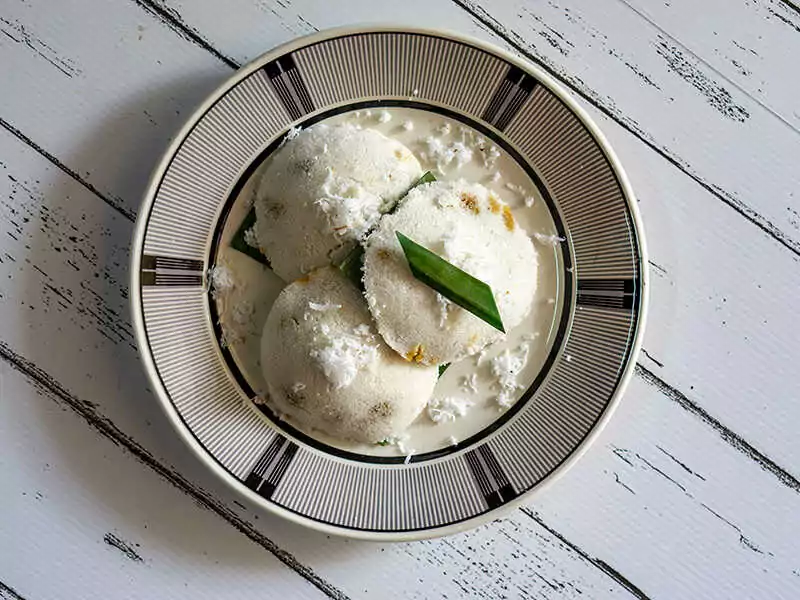 Putu Piring is a type of Kuih of Malaysian cuisine. Rice flour is the main ingredient that makes this beautiful dessert. You will love the tenderness and smoothness of the dough and the sweetness of the palm sugar filling.
You can find different Putu Piring in Southeast Asian countries with various names. The chef will use a flower-shaped stainless steel mold to create a unique look for the cakes.
It is time to check out how Malaysians make Putu Piring on the streets.
29. Pulut Durian – Durian With Sticky Rice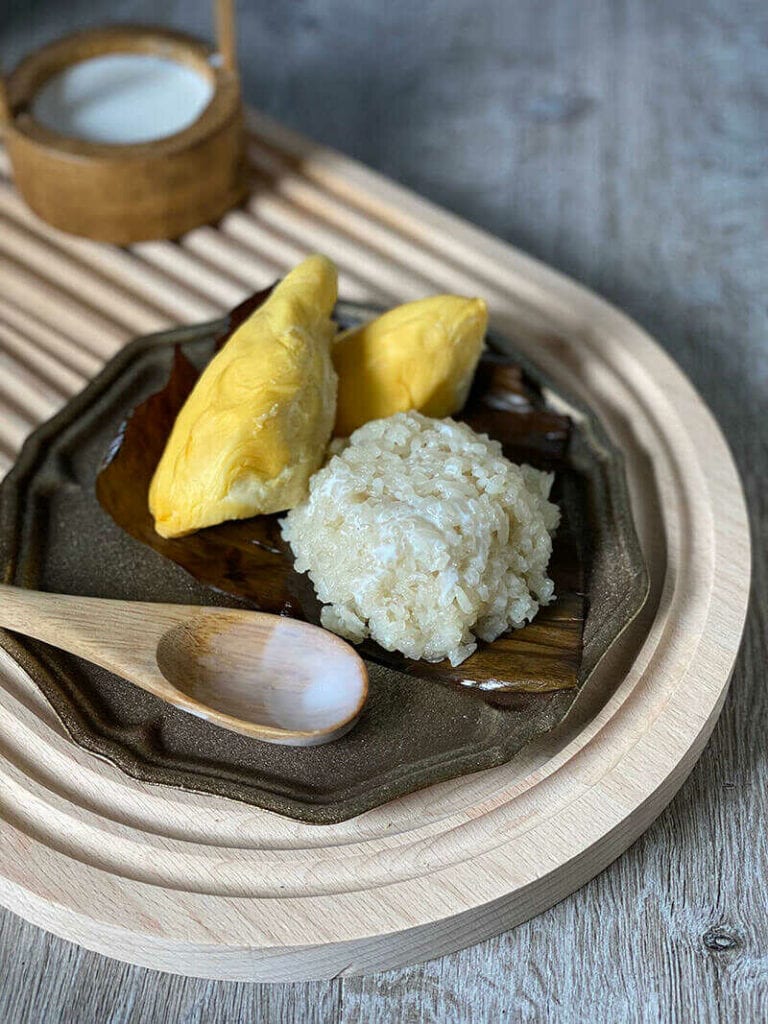 Durian is a common fruit in Malaysia as well as other Southeast Asian countries and tropical regions. This fruit has thick skin with many sharp spines. You can find seeds with yellow flesh surrounding them inside the fruit. It has a characteristic aroma.
Malaysians have combined durian with glutinous rice, pandan leaves, and coconut milk to make an enticing dessert. The chef will cook durian, sugar, pandan leaves, and coconut milk until it forms a thick sauce to serve with rice.
30. Air Tebu – Malaysian Sugarcane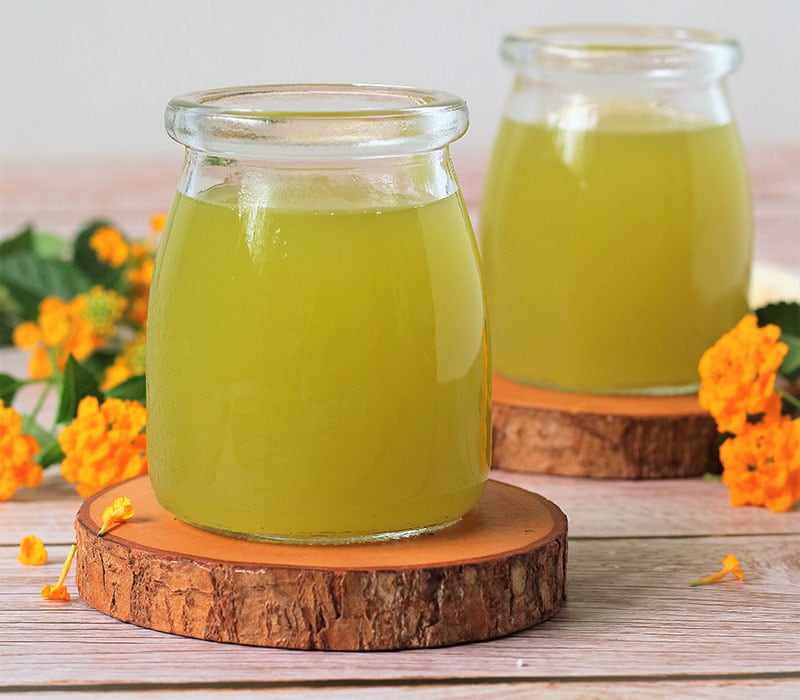 Air Tebu or sugarcane is a preferred drink of Malaysians on hot summer days. It is also loved in many other Asian countries. The Malays will give sugarcane in industrial-sized juicers to extract the sweet liquid from the cane stalk.
You will see smoke rising through the bazaar crowd from boiling sugarcane pots. There are many stalls selling bags and bottles of sugarcane in Malaysia. This is a fantastic option to drink while watching music shows.
31. Bahulu – Malaysian Egg Cake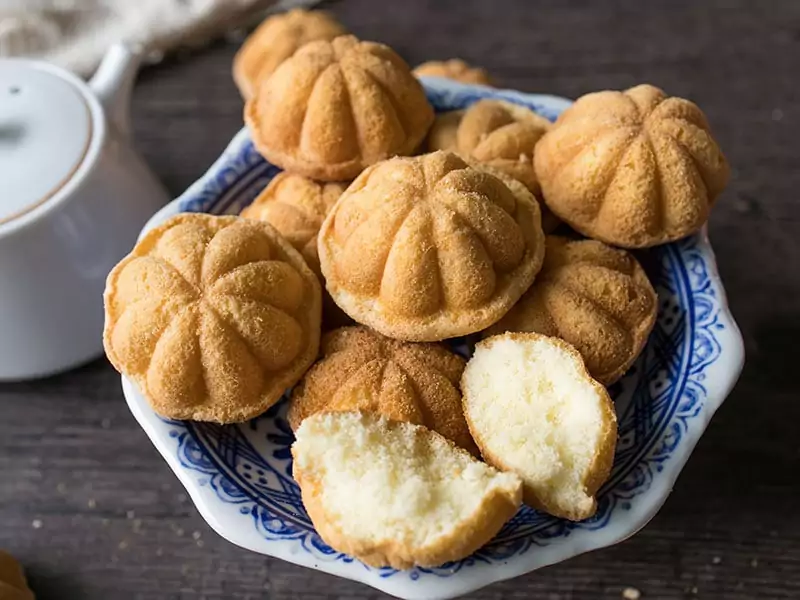 Bahulu or Baulu is a great option to sip on with a cup of tea. It is a sponge cake and a kind of Kuih. There are three versions of Bahulu with various shapes that you can choose from, including star-shaped (Bahulu Cermai), roll-shaped (Bahulu Gulung), layered (Bahulu Lapis).
This dessert is a result of the people of the Malay Peninsula during the Portuguese colonial period. This food often appears during essential occasions, such as New Year or Eid al-Fitr (end of Ramadan). It is on the list of Malaysian national Heritage.
32. Ais Kachang – Malaysian Shaved Ice With Beans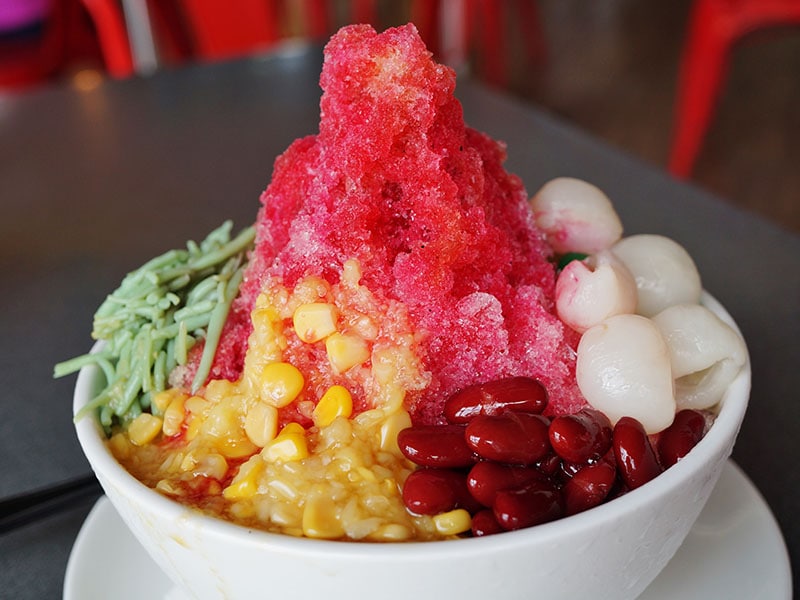 It is time to cool down with this refreshing Ais Kachang. The combination of shaved ice, beans, condensed milk, and syrup creates a perfect whole for the dish. This is an excellent invention of Singaporean cuisine in the 1900s.
You will be immersed in the sweetness and coolness of this dessert. In Malay, "Kachang" means "beans", and it is also called ABC (Ais Batu Kachang). This name comes from the main elements that make it, red bean and ice.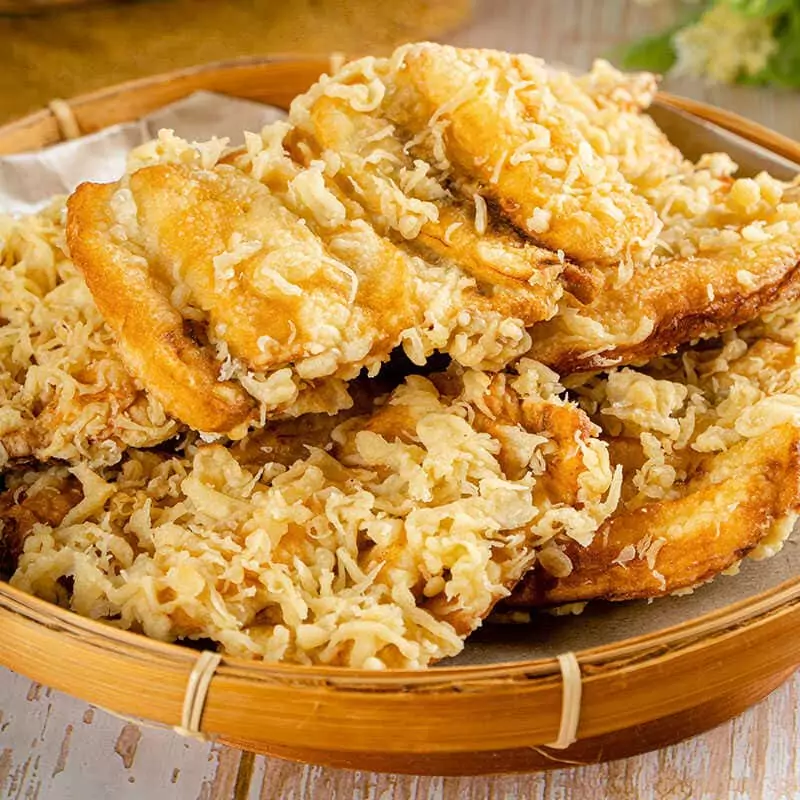 Pisang Goreng is a popular snack in Malaysia and many other Asian countries. The Portuguese made banana fritters for the first time in 1511 for breakfast. Before the Portuguese arrived, the Malays only ate raw bananas.
When the Portuguese came to Malaysia, they brought flour with them so that the Malays could make these delicious banana fritters. You will feel the natural sweetness of deep-fried bananas. Bananas still retain the softness and juiciness inside.
34. Rojak – Malaysian Fruit Salad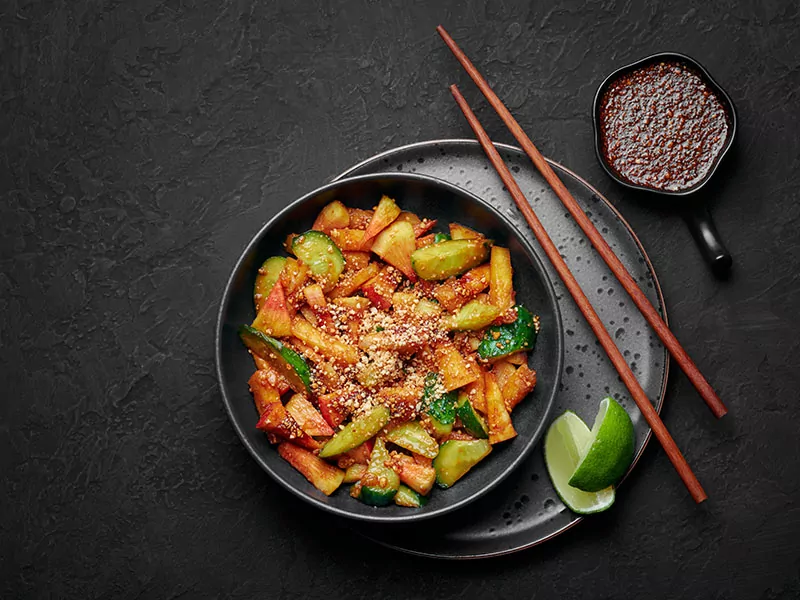 You will regret not tasting Rojak before leaving Malaysia. It is time to fall in love with the crispness of the dried dough fritter and the distinctive and fresh flavors of the fruits and vegetables. Different regions will have dissimilar variations.
Rojak in Malay means "mixture". Malaysians often serve it with shrimp paste, so it has the full flavor of sour, salty, spicy, and sweet. This food is also popular in Singapore and Indonesia.
Other Incredible Malaysian Foods You Must Try
This section will give you other excellent options that you can try while traveling to Malaysia. Do not miss any of the appealing dishes in this part.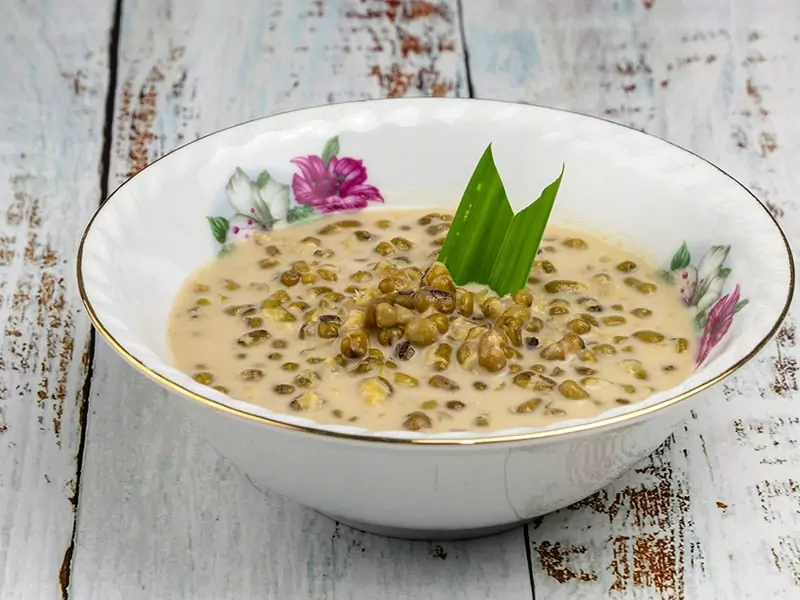 It is refreshing to start a new day in Malaysia with a delicious and nutritious Bubur. You can find stalls with giant steel pots selling this porridge in Malaysia. You will fall in love with the soft and thick texture of the porridge.
The creamy taste of coconut milk in the congee will blend with vegetables, meat, and flour balls to create a harmonious whole. This food came from the Chinese chicken congee and was brought to Malaysia and Indonesia by immigrants.
36. Roti Canai – Indian-Inspired Flatbread
Roti Canai is a flatbread influenced by Indian charming cuisine, especially that of the Muslims. Today, it appears in many Southeast Asian countries, including Malaysia, Thailand, and Singapore.
People started knowing it in the 19th century when Indian Muslims brought it to Southeast Asia during the British Malaya era and the Straits Settlements.
Malaysians often eat it with different curries. You can find both sweet and savory versions of it with various ingredients like eggs, meat, and cheese. This recipe is popular at street Mamak stalls all over Malaysia.
It is time to go to Malaysia to eat fantastic Roti Canai.
37. Roti Jala – Lace Pancake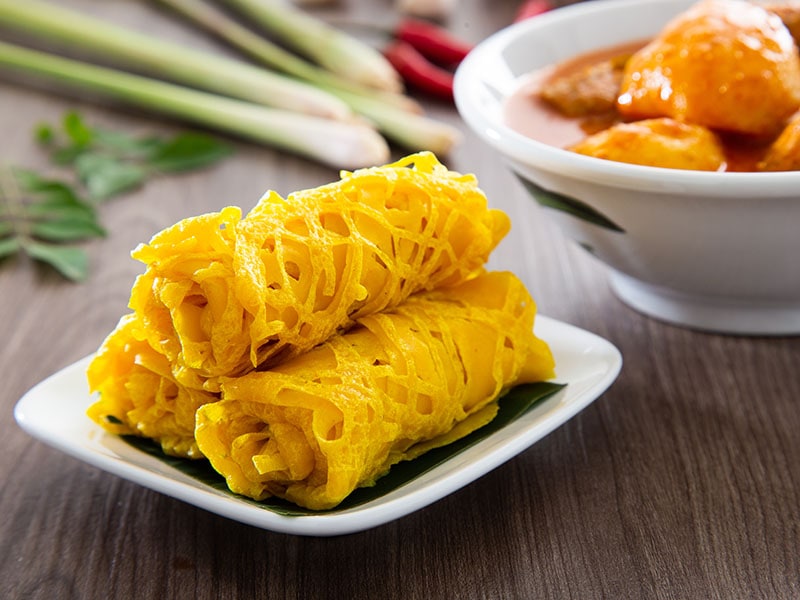 Roti Jala or net bread, lace pancake, is a typical side dish with curry in Malaysia and other Southeast Asian countries. Its appearance is similar to nets. You can easily come across it at festivals or weddings in Malaysia.
Flour, eggs, turmeric, and milk are the indispensable elements of Roti Jala. People believe that the Malay fishers created it inspired by their fishing nets. Roti Renjis is another name that means "rinsed bread".
The name comes from how it was created when the maker rinses the components on a pan for processing. Many people call it Roti Kirai because "Kirai" is the circular motion when pouring elements onto the pan.
38. Kaya Toast – Malaysian Coconut Custard Jam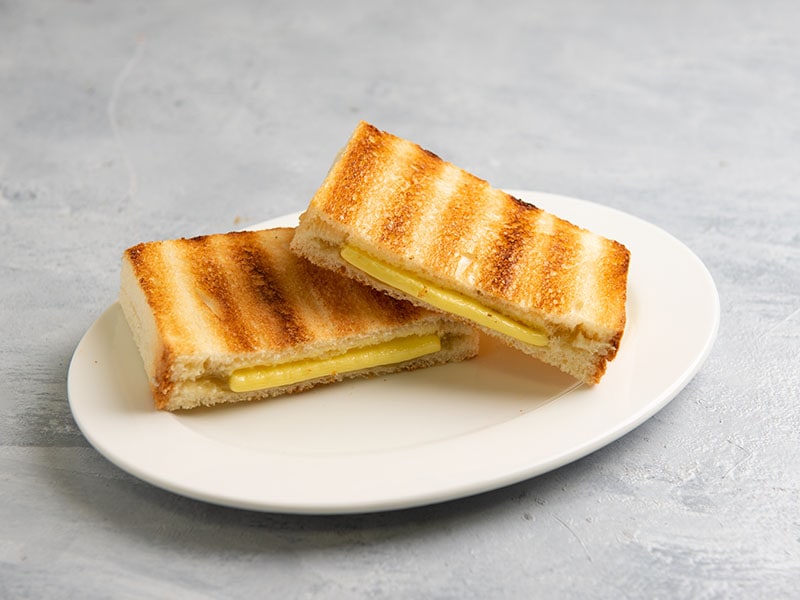 Kaya is a Malaysian favorite after every meal. It is a sweet coconut custard jam. In particular, when toasting with ample butter, Kaya will have a fragrant outer layer and a typical buttery taste. Malaysians often have it with a cup of black coffee.
Occasionally, it is served for breakfast along with boiled eggs, pepper, and soy sauce. Hainan immigrants made it first by adapting the foods they had prepared while serving British ships docked at ports. It is the ideal substitute for western fruit jam.
39. Chai Tow Kway – Stir-Fried Carrot Cake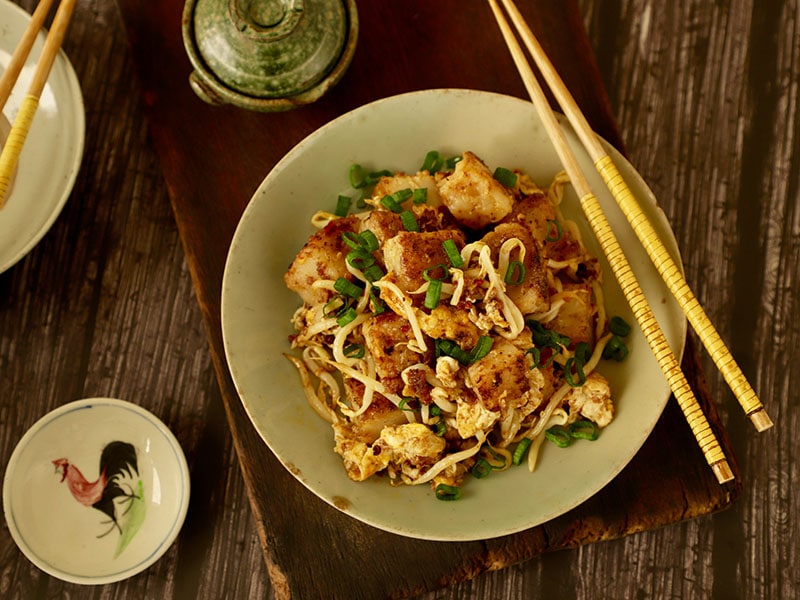 You will be disappointed if you do not try Chai Tow Kway when you arrive in Malaysia. This amazing recipe is a combination of rice flour and grated white radish. After steaming, you will get tender and delicious cakes.
Moreover, the chef will cut the cake into small slices and fry it with soy sauce, fish sauce, eggs, and spring onions before serving. It has 2 prominent versions, white and black, and the difference between them is that the black version contains sweet dark soy sauce.
40. Rempeyek – Rice Flour Fritters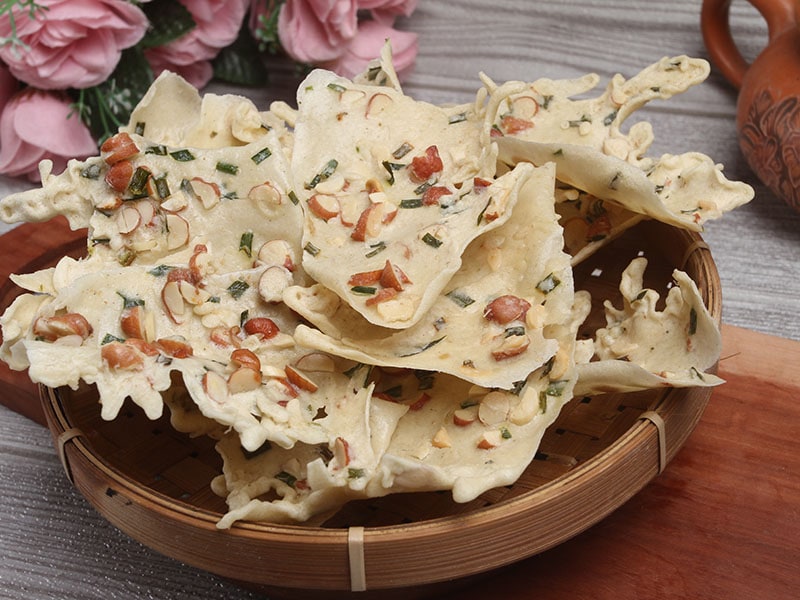 Rempeyek is one of the favorite snacks of many tourists when visiting Malaysia. You will love the crispness of deep-fried dough and the distinctive flavor of peanuts and anchovies on top.
Instead of using anchovies, some variations will add dried shrimp or garlic to diversify its taste. It appeared first in Malaysia in the early 19 century when many Javanese immigrants came to Malaysia. Peyek is the sound when biting this crunchy snack.
41. Roti John – Malaysian Sandwiches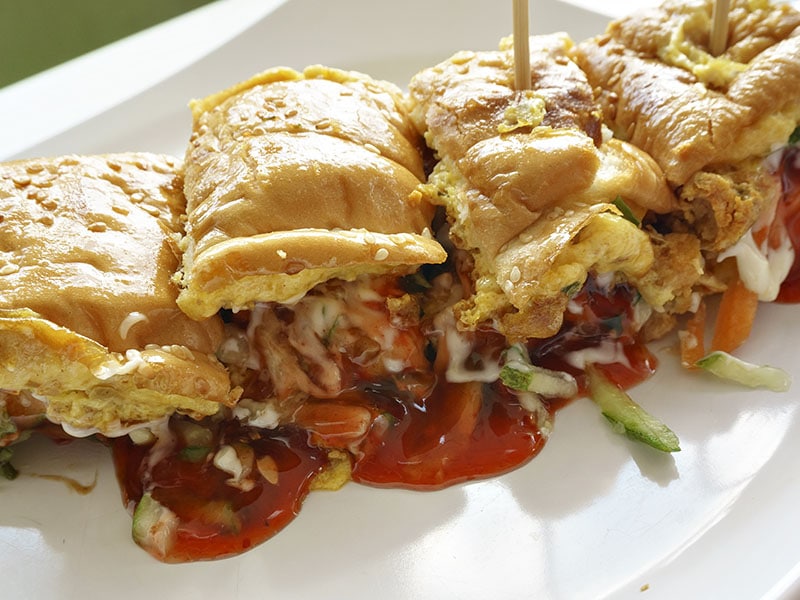 Roti John is a famous bread on the streets of Malaysia. The slim and tender slices of bread will combine with minced meat, eggs, and confection of condiments for an appealing overall taste. You can eat it with ketchup, chili sauce, or mayonnaise.
This fantastic recipe comes from vendors at Koek Road. However, another anecdote suggests that it was invented by a Malay hawker in Sembawang in the 1960s while making an omelet sandwich for an Englishman.
The word "Roti" in its name comes from the Sanskrit word "Rotika", which means "bread". Today, this food is famous all over the Malay Peninsula with many different variations.
It is time to check out all valuable information about the origins of Roti John.
Do you know any other Malaysian recipes? It is time to share them in the comments to help others understand. I am sure you have got yourself a massive treasure of Malaysian dishes for your upcoming trip. Do you know any other Malaysian recipes? If you do, please share them with other readers in the comments.
You can bring this valuable information to the community by sharing the article. This will be helpful for those who have difficulty planning their meals for their trip to Malaysia. Thanks for reading!