Korean foods always leave deep impressions in the mind of diners after enjoying them. If you are on a journey to discover the unique features of the lovely dishes from Korea, this article will be of value to you.
This is a list of famous foods loved by many people when they come to Korea. You may be familiar with some of the items on this list, but there are a few that you may not. It is time to enter the world of Korean cuisine.
This Section Is For Meat-Based Korean Foods Lovers
Meat is an ingredient that appears in many wonderful Korean recipes. Dishes with beef, chicken, or pork have become iconic in traditional Korean cuisine. Let's discover protein-rich Korean delicacies right now.
1. Bulgogi – Barbecue Beef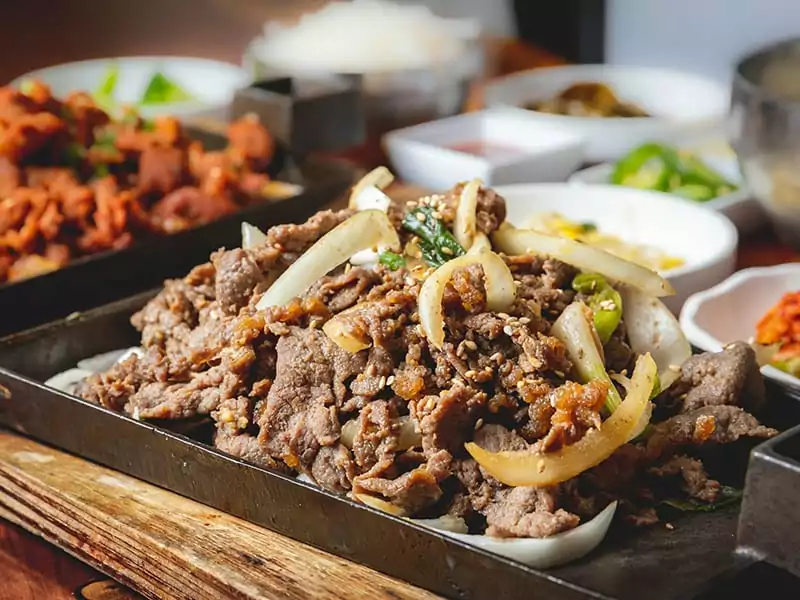 Bulgogi first appeared in the Goguryeo era. This famous Korean BBQ dish was originally known as "maekjeok". At that time, only the rich and the aristocracy were served beef.
Beef has become an indispensable dish in Korean meals. The pieces of beef, when carefully seasoned with spices, will create an attractive aroma when grilled. The tender and flavorful streaks will melt inside your mouth in no time.
It is great to organize a BBQ party with Korean beef and a plate of fresh green lettuce. Dip a piece of beef with ssamjang sauce, wrap it inside lettuce, and put it in your mouth to feel the fullness of this dish.
So if you're ever looking for suggestions for summer dinner dishes, don't hesitate to include Bulgogi in your list. It's a simple dish to make, yet it includes delectable flavors with clear influences from Korean cuisine. No one can deny the appeal of this iconic Korean dish.
2. Tteok-Galbi – Short Rib Patties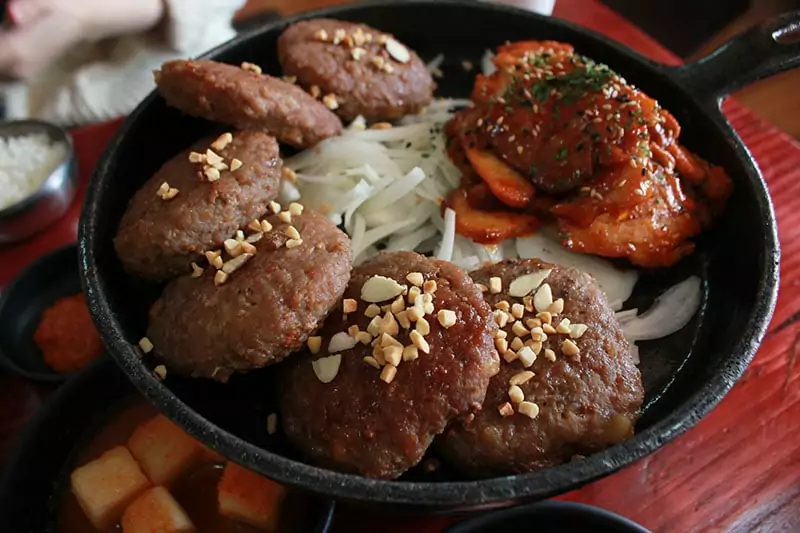 If you are looking for Korean dinner recipes, you should not miss galbi. You will be mesmerized by the beautiful taste of these delicious and tempting ribs. You can find this food with pork or chicken ribs in Korea.
Galbi appeared in Korea in the late 1960s and early 1970s. Before that, it was known as "no-galbi", which means "elder ribs" because it was a familiar dish for old people with weak teeth.
The ribs are seasoned to evenly absorb the spices and are braised or grilled to serve with rice in meals. You will eat more rice when you have this fantastic recipe on the table.
Check the directions to make delicious braised short ribs at home.
3. Samgyeopsal – Grilled Pork Belly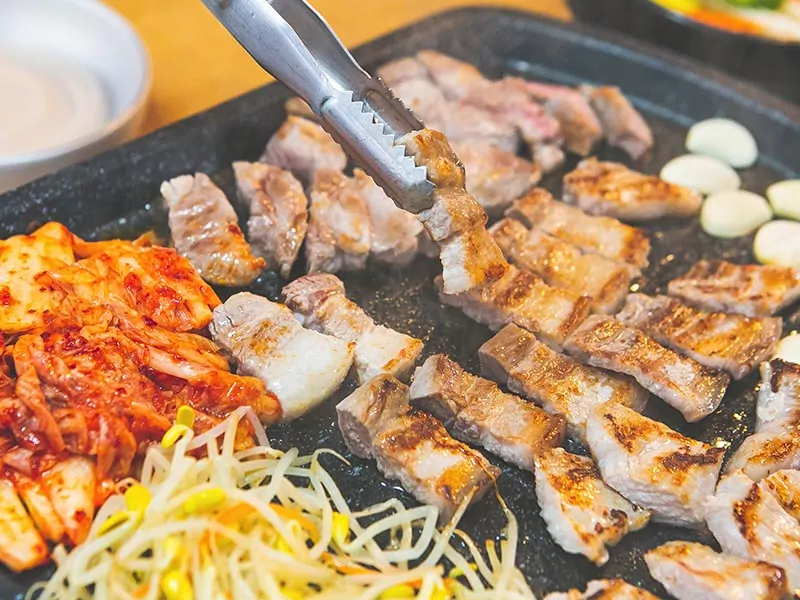 Samgyeopsal is another popular dish at barbecues and picnics. Unlike bulgogi, Koreans often do not season slices of pork belly meat before grilling to preserve its natural flavor.
The taste of the pork is enhanced when dipped into a sauce made with salt, sesame oil, and pepper. Lettuce, kimchi, grilled garlic, and onions are essential side elements for this recipe. Samgyeopsal was first prepared in the early 20th century at Kaesong.
4. Chimaek – Fried Chicken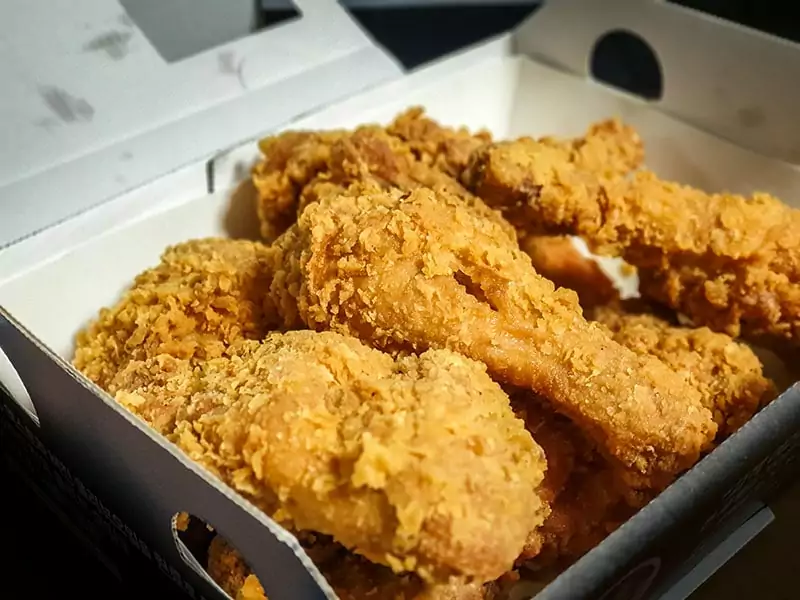 Almost every restaurant in Korea serves chimaek. It is considered a national dish here. The chicken wings and thighs are fried with deep-fried flour, making a rustling sound when chewing them.
A common custom in Korea is eating this dish with some common Korean beverages. For example, on winter days, friends will gather to drink beer and enjoy fried chicken. Perhaps, not many people know it was an old Korean dish invented in the 1970s.
Let's go to Korea to eat incredible crispy fried chicken.
5. Bossam – Boiled Pork Wraps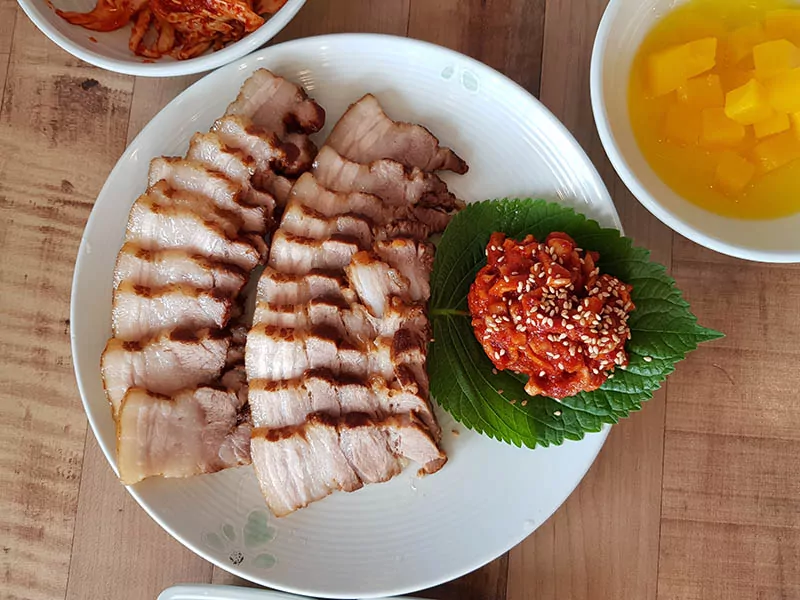 This wonderful dish was first made in the Jolla-Do region, and it is a favorite dish of the Korean aristocracy. It is a food with a long history dating back to the Joseon period.
There are many foods made from pork in South Korea, but bossam still holds a place in the hearts of tourists when coming here. Boiled meat is cut into bite-sized pieces and garnished with accompanying vegetables for an eye-catching appearance.
You will wrap a piece of meat with lettuce, kimchi, or perilla leaves and dip it in the dipping sauce to enjoy the essence of the cuisine. You can choose ssamjang or saeujeot sauce to serve with bossam.
Warm Up Your Body With Yummy Korean Soups
Hot soups are recipes that have been associated with generations of Korean people. Almost every Korean meal has a bowl of soup on the table, and they will eat rice while sipping soup. Let's discover famous soups in South Korea.
6. Samgyetang – Ginseng Chicken Soup
If you come to Korea in the summer, I recommend you to find restaurants that sell Samgyetang to enjoy. You will feel good after eating a bowl of this amazing soup. This is a traditional food with chicken as the main ingredient.
You will feel the creamy and meaty taste when tasting this food. Not only does it taste outstanding, but this famous Korean soup also contains many valuable nutrients that are good for your health.
This mouthwatering dish was popular among Koreans during the Joseon Dynasty (1392-1897). This chicken soup is eaten by the elderly in the summer, and its broth was used to treat the queen's illness during the reign of King Injo.
It is time to taste the fantastic flavor of chicken soup.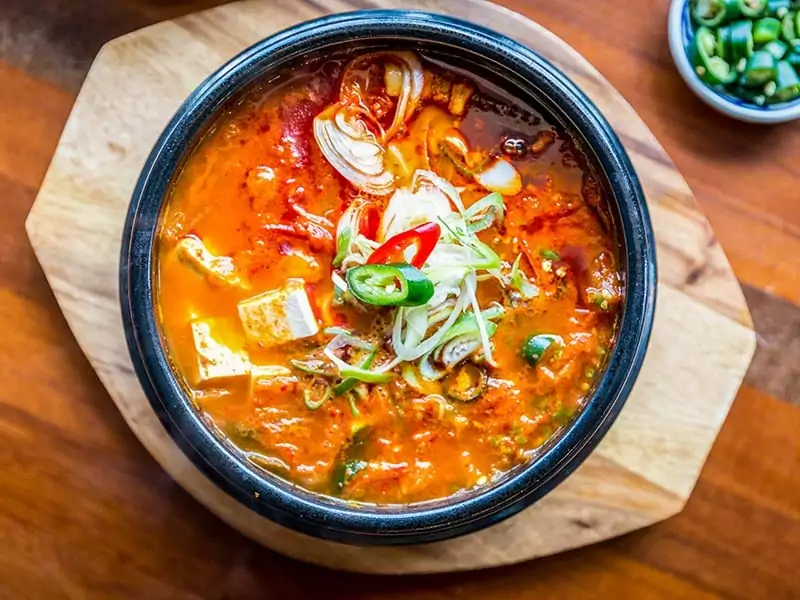 Mentioning Korean dishes, people will think of kimchi immediately. Many excellent dishes are prepared with kimchi, and kimchi jjigae is one. If you wonder whether kimchi can go rancid, it depends on how you store it.
Before the Joseon era, kimchi was not pickled with chili. It was not until chili was imported into Korea that kimchi had the current version. Kimchi jjigae also appear during this period.
Because the main component is kimchi, its unique flavor will prevail in this yummy Korean stew. In addition, you will enjoy the soft tofu pieces. I am sure you will be captivated by it after the first taste.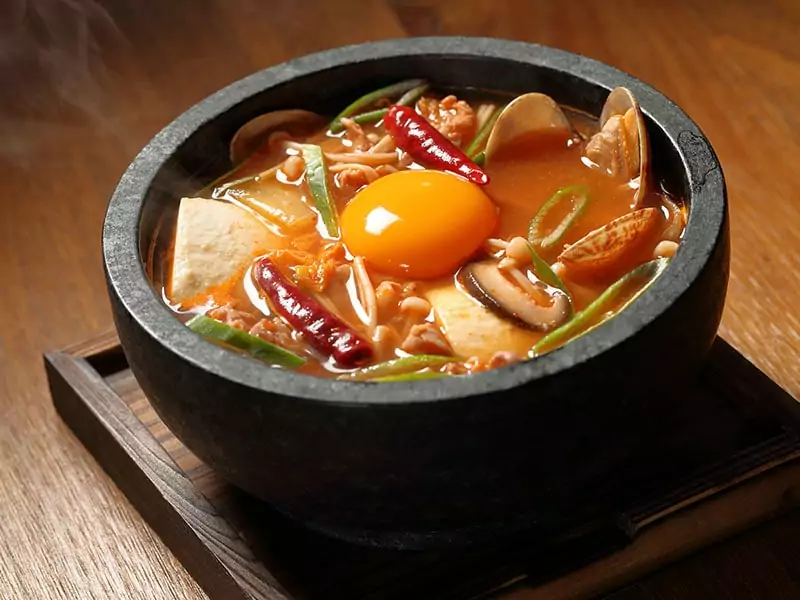 Sundubu-jjigae should appear in your Korean lunch recipes, and it is considered one of the best soups in Korean cuisine. This fantastic dish is a perfect choice for those with a passion for tofu.
The soft tofu will melt in your mouth quickly. Korean restaurants often combine tofu with pork, kimchi, and seafood to add flavor to the dish, so you may want to enjoy this soup again and again. Regarding its origin, this amazing dish dates back to the Joseon era.
Take a trip to Korea to eat soft tofu stew right away.
9. Tteokguk – Rice Cake Soup
Tteokguk is a dish associated with the first days of the Korean New Year to wish for a year of prosperity and happiness. Not only that, this savory soup is still served at restaurants at any time.
The tender and chewy rice cakes will be cooked with beef broth to bring out an umami taste. The unique flavor of seaweed will create the highlight for this attractive recipe.
This wonderful dish was first recorded in the 19th century as beef and pleasantries were used for cooking the broth.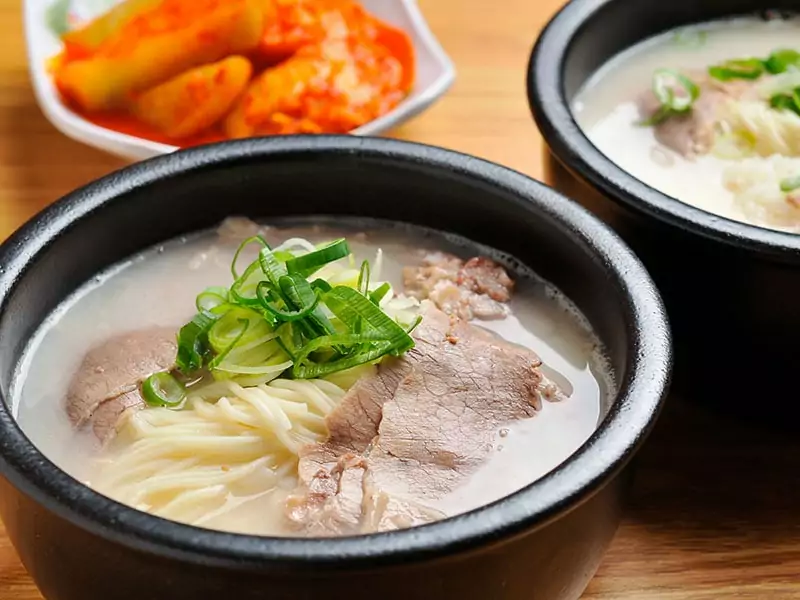 It is a pity not to enjoy the traditional Seolleongtang when you come to Seoul. You will indulge in the sweet flavors of broth of beef bone, meat, and briskets. A little onion, garlic, and pepper will warm your stomach.
This soup with milky white color will be delicious when eaten with rice. A lot of tourists want to enjoy the taste of this food when visiting Korea. When the Mongols invaded Korea in the Joseon Dynasty, this food was also born during that period.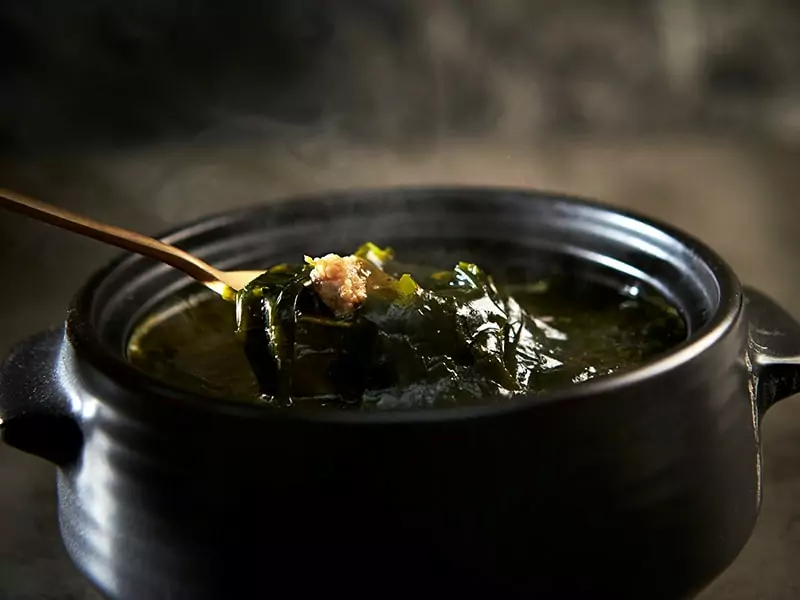 A particular tradition of Koreans is to eat seaweed soup on their birthday; it also can appear in daily meals. When eating seaweed soup, you will supplement your body with many nutrients, such as calcium, iron, and iodine.
Koreans believe that Miyeok Guk is a food that represents birth because of an anecdote about seaweed. The Koreans of the Goryeo period believed in whales eating seaweed to recover from childbirth, so they used it to cook for pregnant women.
Bowls of seaweed soup with a distinctive flavor will become richer with pieces of beef. When you eat rice at restaurants, you are often served free cups of seaweed soup to go with the rice.
Let's make warm seaweed soup for your loved ones' birthday.
12. Gamjatang – Pork Bone Soup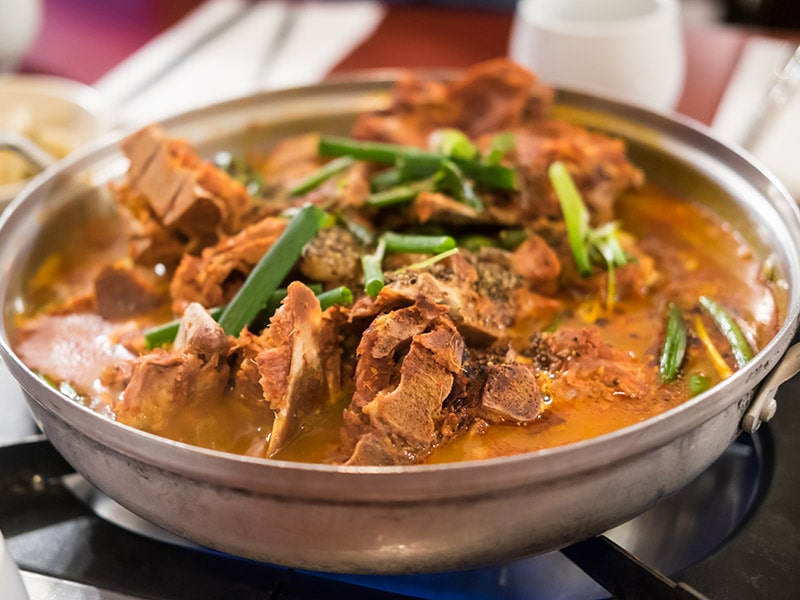 If you come to Korea, you will easily find gamjatang restaurants open all night since this food is a favorite choice of Koreans in the early morning. You should wake up early to enjoy a bowl of hot gamjatang filled with a lot of pork.
Meat, potatoes, scallions, and perilla seeds that are stewed for hours with pork bones will bring out its sweetness and rich flavor when you eat it. The distinctive aroma and taste of perilla seeds will make you remember this wonderful recipe forever.
It originated in Jeolla province during the Three Kingdoms period when people started raising hogs for meat. Because carnivores do not eat hog neck bones, people easily make meals out of them.
Go to the kitchen to create yummy Gamjatang for dinner.
Common Yummy South Korean Food With Noodles
Koreans can eat noodles anytime, and it is considered a national dish here. The noodle dishes are pretty diverse and also have great taste. I recommend that you enjoy all of the noodle recipes I offer in this section right away.
13. Japchae – Stir-Fried Glass Noodles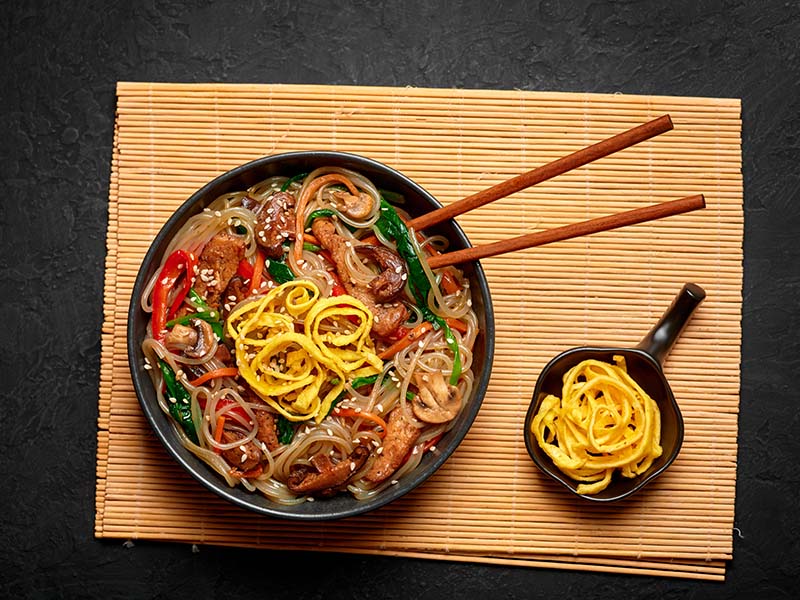 Stir-fried noodles are a standard recipe in the land of kimchi. It appears as an accompaniment to Korean meals. The noodles are stir-fried with vegetables, potatoes, beef, and spices to make a harmonious overall taste.
You will be impressed with the sweetness and moderate chewiness of the noodles. When you enjoy this food at restaurants, you may come across fresh mushrooms added to various flavors.
A resident of the Joseon Dynasty, King Gwangaegun created this dish for a royal celebration in the 17th century. Since then, Japchae has become an iconic Korean dish, and a fantastic side dish to have at BBQ parties. Fans of BBQ need to add Japchae to their list of must-try foods.
14. Naengmyeon – Cold Buckwheat Noodles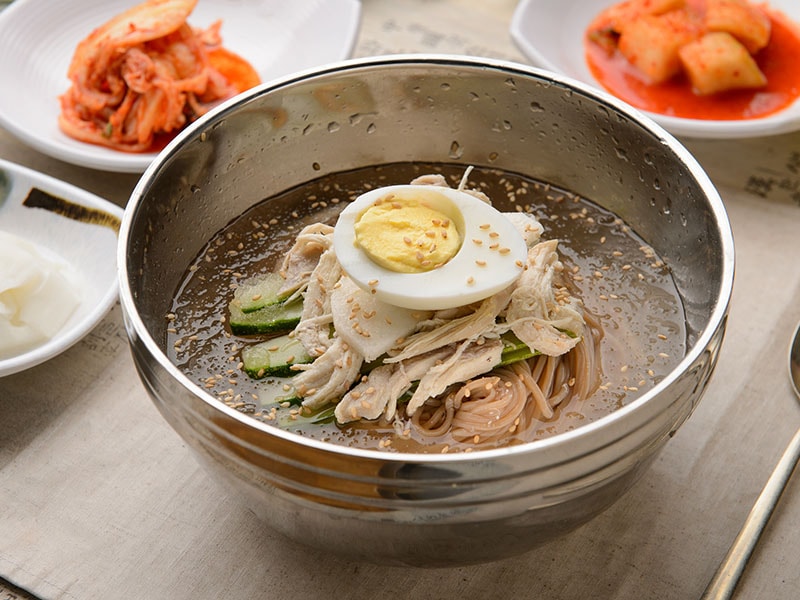 Naengmyeon is a famous dish in North Korea and South Korea alike. It was brought to Seoul in the 19th century, and a series of naengmyeon restaurants sprang up in the 1920s.
Naengmyeon has become a familiar dish to cool the body on hot summer days in Korea. This unique kind of Korean noodles is always a favorite recipe on the menus of restaurants, and I will eat a bowl whenever I travel to Korea.
You will love the chewy buckwheat noodles and the crunchiness of the potato pieces when you taste this food. Mul naengmyeon and Bilim naengmyeon are two famous versions of this delicious recipe.
Listen to some feelings of tourists about the flavor of naengmyeon.
15. Jajangmyeon – Korean Noodles In Black Bean Sauce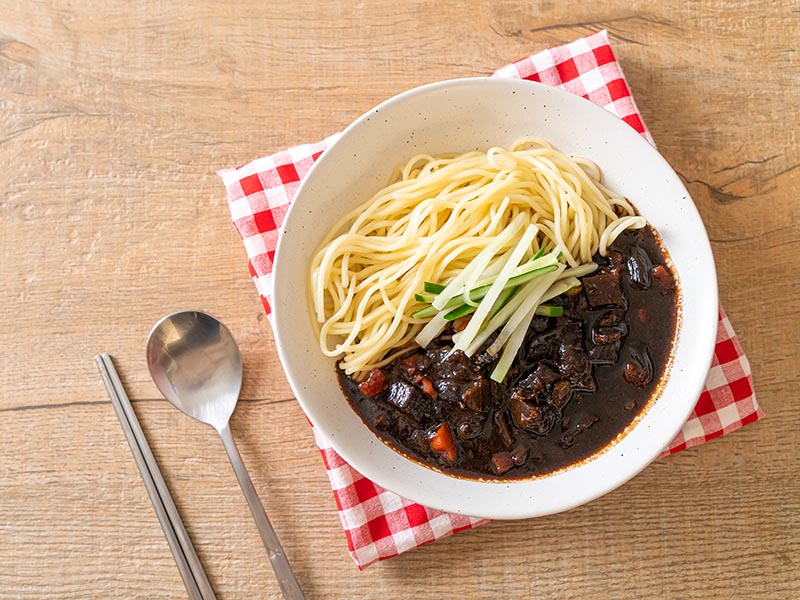 Jjajangmyeon is a famous noodle recipe first sold in 1905 at a Chinese restaurant in Incheon. Noodles are covered with a black sauce made from minced pork and vegetables. Seafood and other meats are other sauce variations you can find.
When enjoying it, you will mix the sauce and noodles together. The noodles will become flavorful with the sauce, and you will clearly feel the tastes of the meat and seafood in the sauce.
To whet your appetite for this dish, you should start out the meal with some delectable Asian-inspired starters. This will get your palates ready to enjoy the full flavors of this incredibly complex-tasting dish.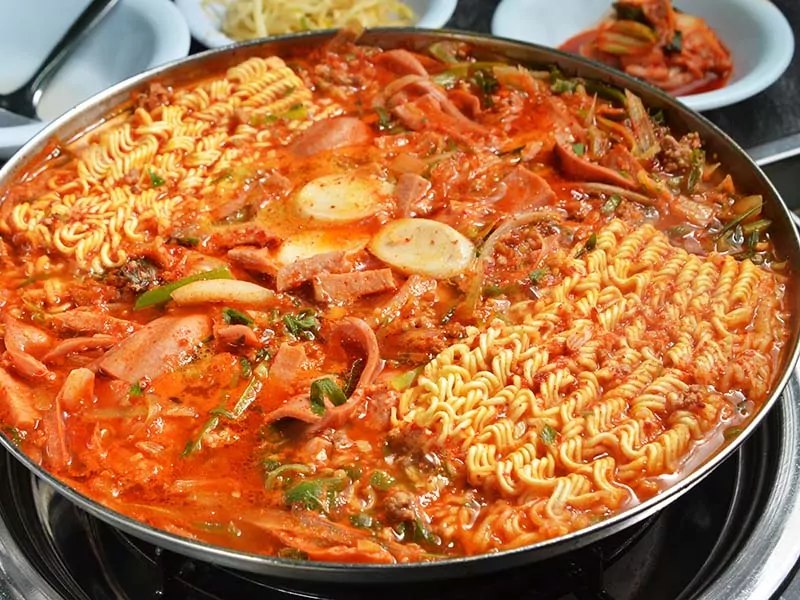 A dish usually served with South Korean beverages, army stew is a mixture of many different ingredients. After the Korean war, the Koreans solved the problem of food scarcity by combining various foods that they collected from the US army base.
You will enjoy these chewy instant noodles with sausage and American cheese. In addition, the taste of the food will become more diverse and attractive with different vegetables. You should treat your family to this wonderful dish before leaving Korea.
17. Jjamppong – Korean Spicy Seafood Noodles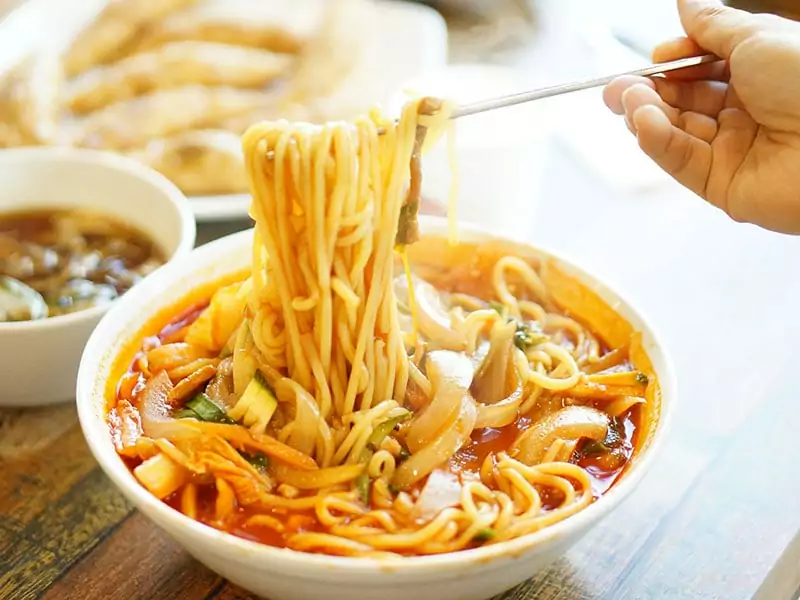 Jjambbong is a famous Korean spicy noodle soup. This dish is a fusion of Chinese and Korean cuisine and originates in Chinese. Natural ingredients bring irresistible flavor to this tasty soup. However, its taste is pretty intense, so you should consider it before eating.
The amount of chili in this food is so much that it gives the recipe a distinctive red color. You will be immersed in the rich flavor of the broth and seafood in the bowl of noodles.
Chaomamian is the name of this incredible food in Chinese. The name of the Korean version is inspired by chanpon, and this word when transliterated into Korean as jjamppong.
18. Kongguksu – Soy Milk Soup Noodles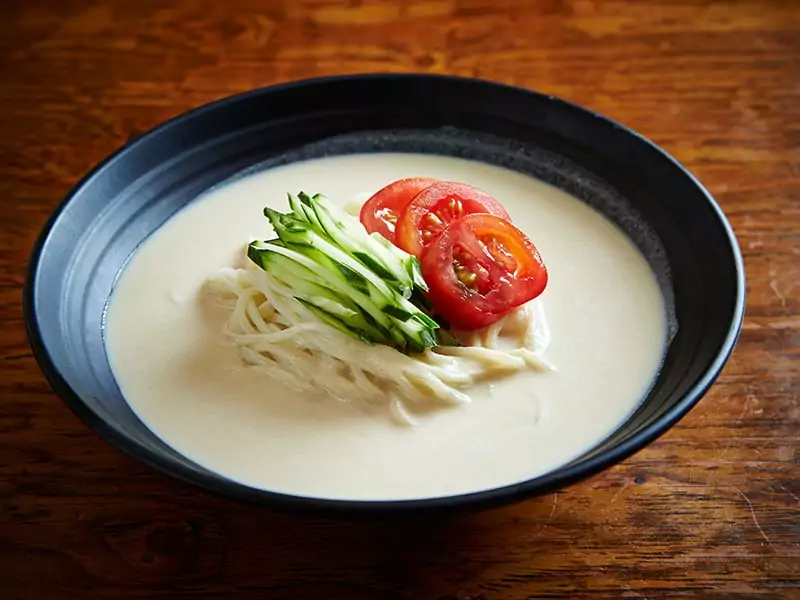 Have you ever enjoyed noodles combined with soy milk? If not, you should try Kongguksu when you have a chance to visit Korea. It was born in the early 19th century. Its taste is pretty bland: however, you will be hooked on it after eating for a while.
Its flavor is like cold noodles, and the creamy taste will refresh your mouth instantly. You will not find a reason to complain about the texture of the noodles. It is a healthy choice due to containing many nutrients.
Next time you feel hesitant to stock up on soy milk because you fear the possibility of soy milk going bad, perhaps you can think of this Korean dish. Soy milk noodles may sound strange at first, but their flavor is something that your taste buds will thank you for.
Get the instructions to make mouthwatering kongguksu.
19. Kalguksu – Knife-Cut Noodles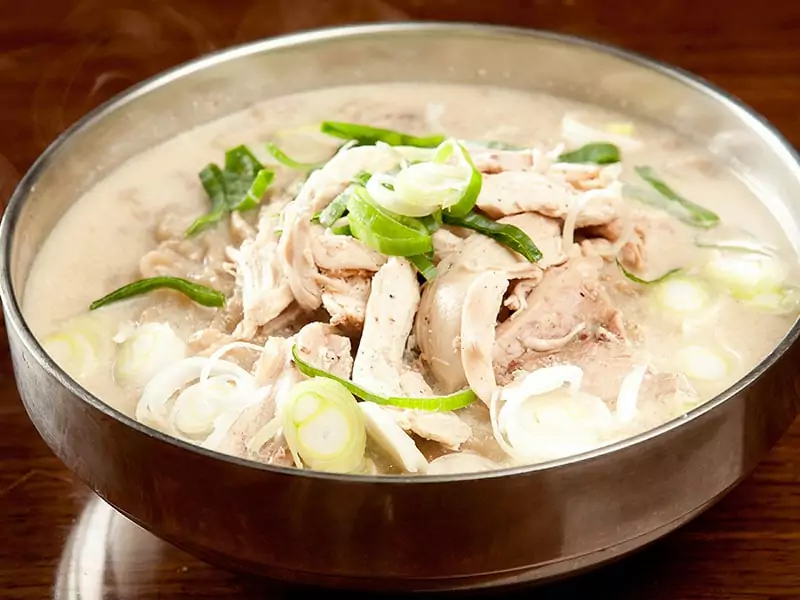 It is time to warm up with delicious Korean knife-cut noodle soup. It will suit your poor appetite because it is not spicy. You can easily buy a bowl of Kalguksu at restaurants, and you can enjoy the noodle-making demonstration at the table.
Handmade noodles have a characteristic bouncy texture and flat shape. Besides the chewy noodles, you will enjoy fresh seafood when ordering this wonderful dish. Sip a spoonful of broth to feel all the essence of this recipe.
This wonderful dish has been around since the Joseon period. In 1670, it appeared in a cookbook by Lady Jang. During the barley and wheat harvest festival, Koreans will eat this food a lot.
Rice-Based Korean Recipes To Fill Your Stomach
Rice is an indispensable dish in Korean meals. Rice is transformed into many different recipes with special flavors. In this section, I will bring a collection of famous rice-based Korean foods.
Mixed rice is an iconic dish of Korean cuisine. Instead of eating rice with individual foods, Koreans have combined them to create a unique food. Various ingredients are added, but carrots, mushrooms, beef, and fried eggs are the most common.
There are many versions of bibimbap around the country, depending on the diner's preferences and the taste of each region. Basically, this is a creative combination that makes the flavor of the rice grains richer.
Due to this, bibimbap is an ideal dish to make with leftover rice. You can adjust the ingredients however you like. This means bibimbap can become a paleo-friendly dish for vegans as well. Truth to be told, the ingredient combinations are endless if you're creative enough.
People in rural Korea created this food when they put vegetables, meats, and rice in a bowl to eat. When Koreans still use Chinese characters, it is written as "hanja".
21. Kimbap – Seaweed Rice Rolls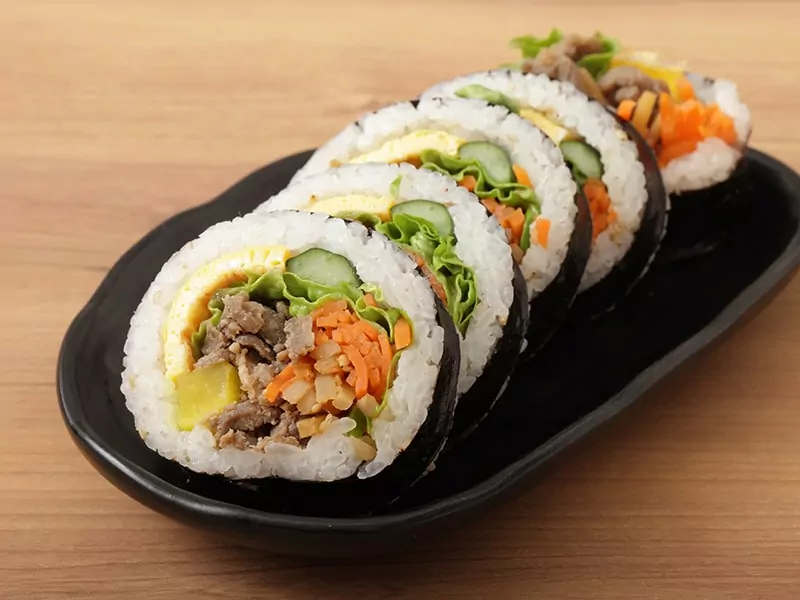 It is impossible not to mention kimbap when it comes to famous rice-based foods. It will diversify your choice of Korean breakfast recipes. Moreover, you will easily see kimbap rolls with a beautiful appearance in Korean restaurants and even on the streets.
The vegetables are stir-fried with spices and rolled with beef, sausage, fried egg, and rice in a seaweed sheet. The chef will cut it into thin slices before serving it to you. You can eat it with fragrant and buttery mayonnaise.
Kimbap is often brought up when people compare Korean and Japanese food. This food was born when the Japanese invaded Korea in the early 20th century. Koreans have modified the way Japanese food rolls to create a dish according to their own identity.
Depending on what ingredients you use for kimbap, it can become the ultimate Asian dish for vegetarians. Trust me on this. The briny, umami flavor from the seaweed sheets truly goes well with creamy rice's fragrance. So there's no need for you to stuff kimbap with juicy meat.
Taste kimbap and bibimbap to understand more about their flavors.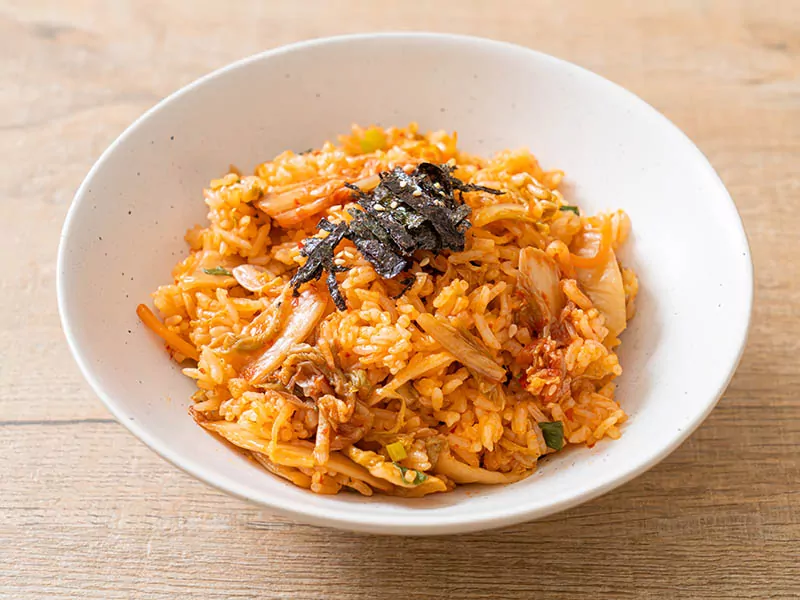 You will regret it if you do not enjoy Korean fried rice with kimchi. Let's put it on the list of recipes you should enjoy for this trip. Rice is combined with traditional Korean food to create a culinary masterpiece.
The rice will have a beautiful golden color and a typical kimchi flavor. In addition, its taste becomes more diverse with the appearance of vegetables and soy sauce. It still ensures the nutritional value for you with pork or beef.
Kimchi fried rice became common in Korean pop culture. In the song "Wishes" by male singer Byun Jin Sub, he mentioned his ideal type as a girl who cooks delicious kimchi fried rice. Thanks to the K-pop wave, Korean cuisine is more widely known.
23. Kongnamul Bap – Soybean Sprouts With Rice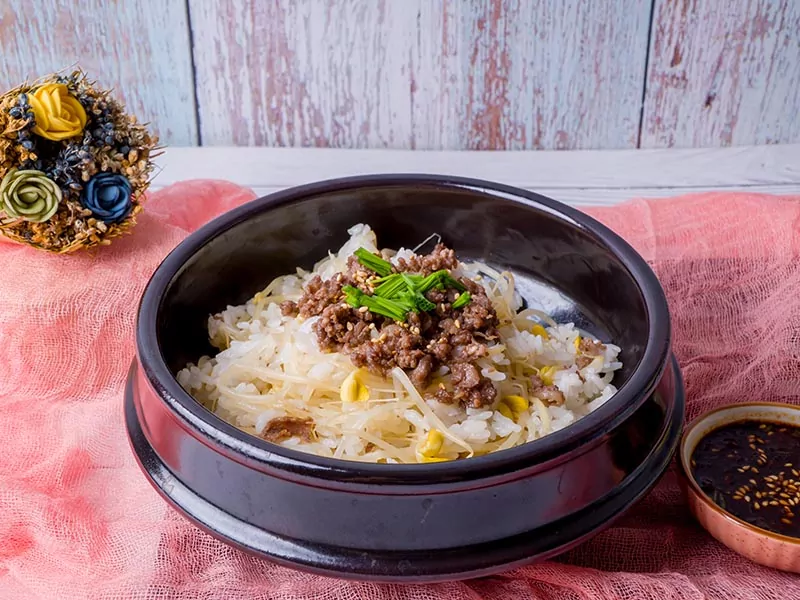 Sprouts have been brought into the cuisine by Koreans since the Three Kingdoms period of Korea. Records of the cultivation of sprouts were first discovered in the 13th century. Bean sprouts dishes appear in Joseon era books.
I am sure that you will love the flavor of this incredible food on the first try. Tender and supple rice cooked with beef and bean sprouts will leave a deep impression in your mind after eating it.
You should mix it with soy sauce and green onions when enjoying it. Putting a spoonful of rice with all the elements in your mouth will give you a burst of robust flavors. They blend and melt in your mouth at the same time.
Incredible Suggestions For Seafood Lovers
If you are craving seafood, here are suggestions that you should not ignore. It is great to be immersed in the wonderful taste of typical seafood when you land in Korea-the capital of kimchi. Please try them now!
24. Haemul Pajeon – Seafood Vegetable Pancake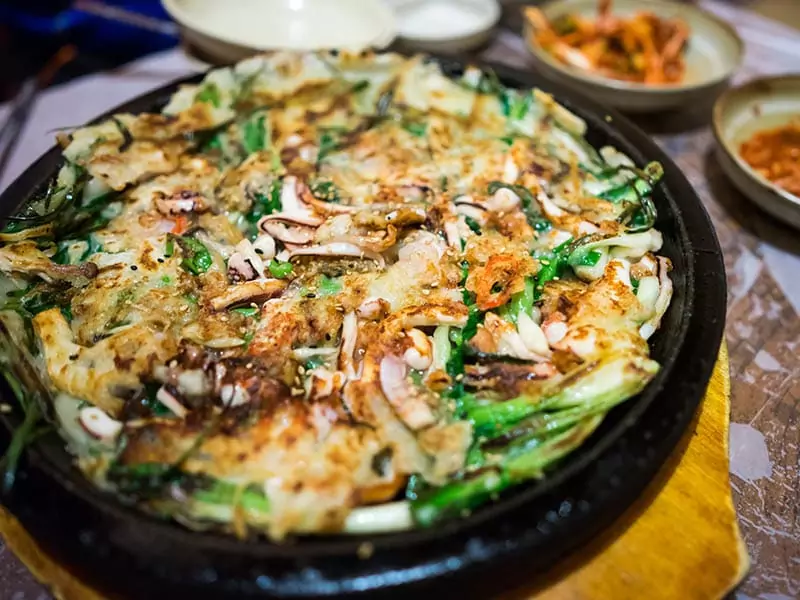 Why don't you eat a big golden haemul pajeon with loads of seafood and vegetables? You will not be able to resist the perfect crunch and mesmerizing taste of this wonderful recipe.
The appearance of this wonderful Korean food is said to resemble Chinese scallion pancake, but its texture is not as thick. Besides the Korean seafood pajeon, there is also a version of dongnae pajeon.
The powder used to make cake is pretty unique since it is made up of flour, cornstarch, and rice flour. This is a savory cake, so you can order it back to your hotel and sip on a bottle of rice wine on rainy days.
25. Nakji Bokkeum – Spicy Stir-Fry Octopus/Squid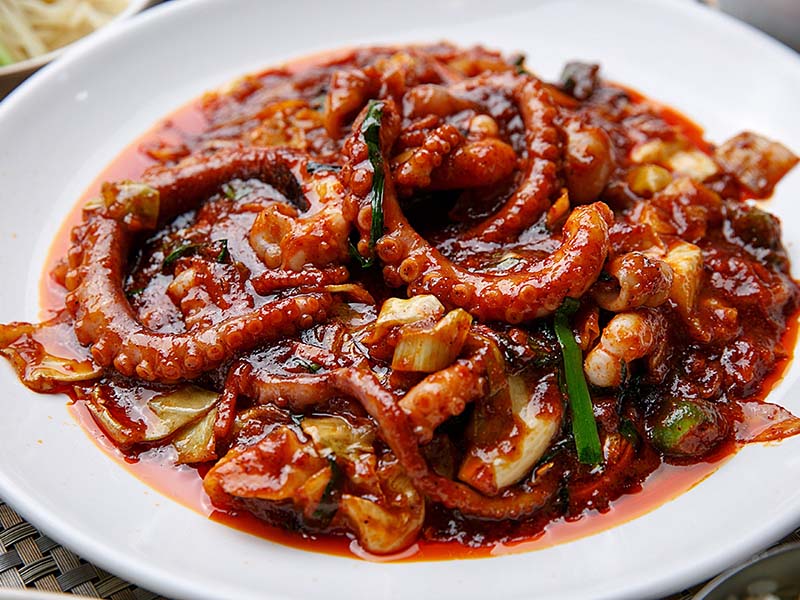 If you are a fan of squid, Nakji bokkeum is a delicious dish you should not miss. It is nice to have dinner with a plate of squid bathed in red caramel sauce. Your mouth cannot stop drooling when you see this dish.
The soft and chewy squid blends with the vegetables and the rich taste of the sauce will make you satisfied. The spiciness is its hallmark as chefs will add chili powder, chili peppers, and chili paste to make an explosively spicy flavor.
In the 19th century, when more and more Koreans ate raw or fried squid, this wonderful dish was born. In 1972, a restaurant selling this food was opened with the name Nakji Center.
26. Ganjang Gejang – Raw Crab Marinated In Soy Sauce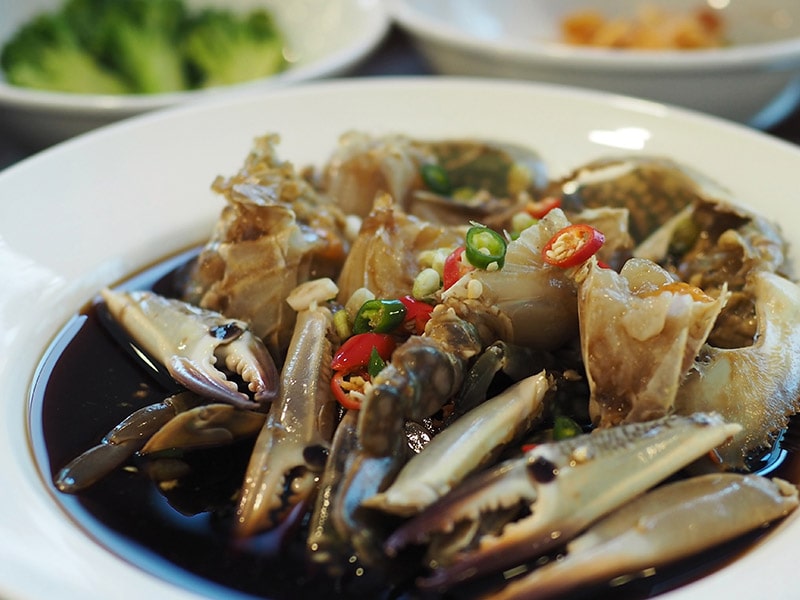 A traditional food I would recommend to you is Ganjang gejang. The fresh crabs will be soaked in soy sauce for a while to absorb the taste evenly. Rice will not be enough for you to eat with this dish.
Crabmeat has a natural sweetness and a moderate salty taste of soy sauce. In particular, you will not be able to forget the greasy and unique flavor of the crab roes when soaked with soy sauce.
There are many records of the history of this wonderful marinated crab, and they date back to the Joseon period. Therefore, this food stuck with Koreans for a long time. These books also show how to prepare crab with alcohol or boiled salt.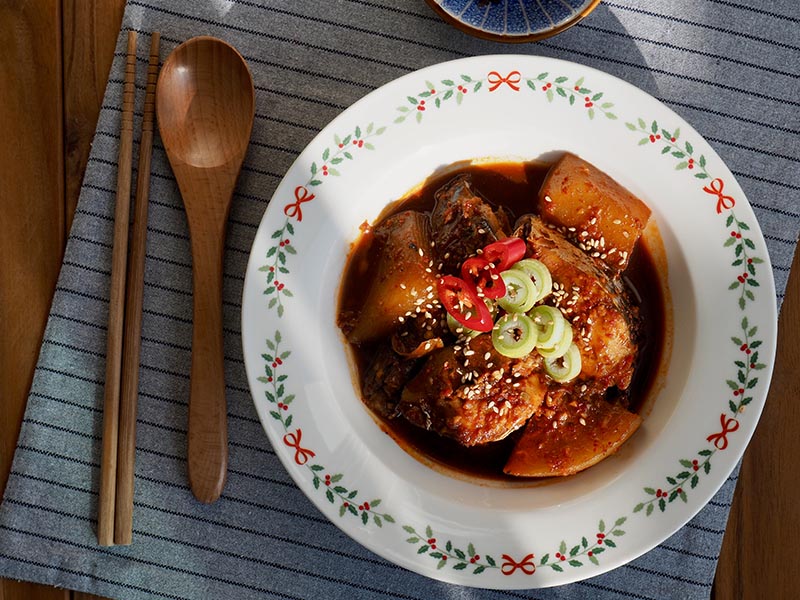 Godeungeo jorim will steal your heart in no time, thanks to its fantastic taste. This recipe combines mackerel and radish braised together in soy sauce for a nutty flavor. That is why you should enjoy it right away.
You will be captivated by the sweet and salty taste of radish when stocked in this way. It is fantastic to take a bite of a rich and tender mackerel and enjoy the wonderful aroma of the pot of braised fish. The first jorim appeared in a cookbook in the 19th century.
Experience Mouthwatering Korean Street Foods
Korea is a country famous for many attractive street foods. Therefore, street food in Korea is one of this country's long-standing traditions. Save the names of these great dishes, so you can enjoy them while you are out on the town.
28. Bungeoppang – Fish-Shaped Pastry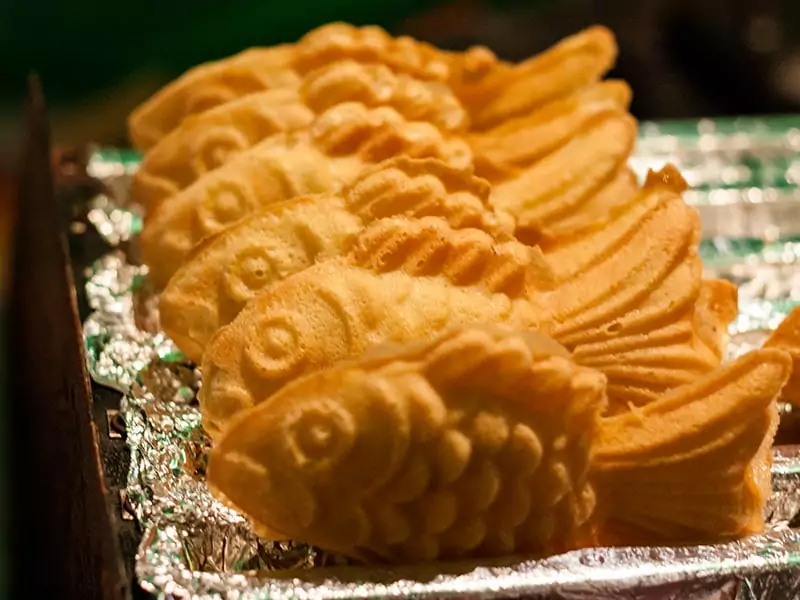 Bungeoppang was inspired by the Japanese taiyaki when it was brought to Korea in the 1930s. Koreans have transformed to create a dish with their own style.
Bungeonppang is an excellent choice for those with a sweet tooth, and it deserves to be on your list of Korean dessert recipes. You will be mesmerized by their alluring sweetness. The sweet red bean paste inside this sponge cake will not disappoint you.
The fishes look so pretty and eye-catching with their yellow-brown shell. If you want to change the taste, you can buy cakes with fillings made with chocolate or vanilla ice cream inside.
29. Hotteok – Sweet Pancake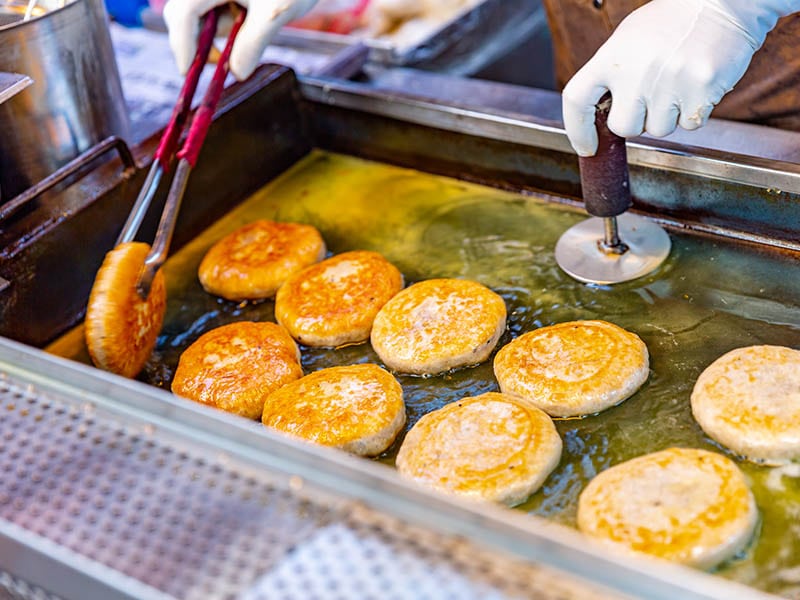 Hotteok is a street snack associated with generations of Korean children and is loved by many foreign tourists. You can find stalls selling this flour dough with sugar syrup on many streets in Seoul and across the country.
You will melt when you take a bite of the soft pancake. The syrup inside the cake will flow gradually and soon explode your taste buds. You should eat cake with a cup of warm milk and enjoy the chilly air on the streets of Korea.
When Chinese merchants came to Korea in the late 19th century, they brought this food with them. Many people opened shops in Korea to sell this cake.
30. Tteokbokki – Spicy Rice Cake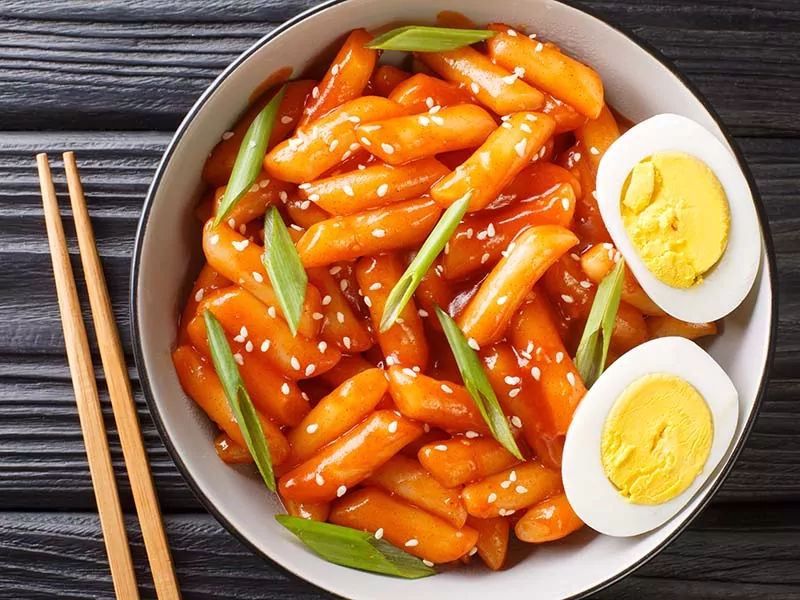 Your trip will not be complete without eating the famous food with a T as its name starter. I guarantee that this rice cake's flavor is hugely delicious. Its rich umami flavor and characteristic spicy taste will make you addicted to this dish.
The chewy and sticky rice cakes bathed in the spicy sauce will leave an indelible impression in your mind. This well-known street food was included in the Korean cookbook in the 19th century and gradually became a culinary icon of this nation.
Watch this video to know more:
31. Soondae – Blood Sausage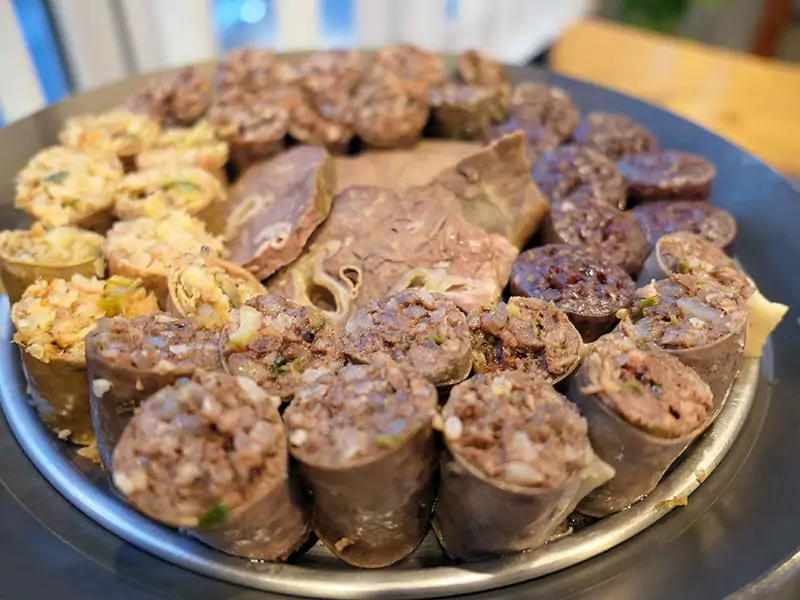 Soondae or Korean sausage is an old recipe that dates back to the Goryeo period (918-1392). At that time, the Koreans took advantage of the rich source of wild boar meat on the Korean peninsula to make this food. It was found in famous Korean cookbooks in the 19th century.
Soondae is an indispensable name in the list of famous street foods in Korea. This is a unique recipe where pig blood, vegetables, and noodles are stuffed inside the pig's intestines and create products like sausages.
The remarkable thing about this dish is the variety of sauces served. You will eat soondae with salt in Seoul and ssamjang sauce when you come to Busan or Ulsan. In Chungcheong and Jeolla provinces, people eat it with chojang sauce and shrimp sauce.
32. Odeng – Fish Cake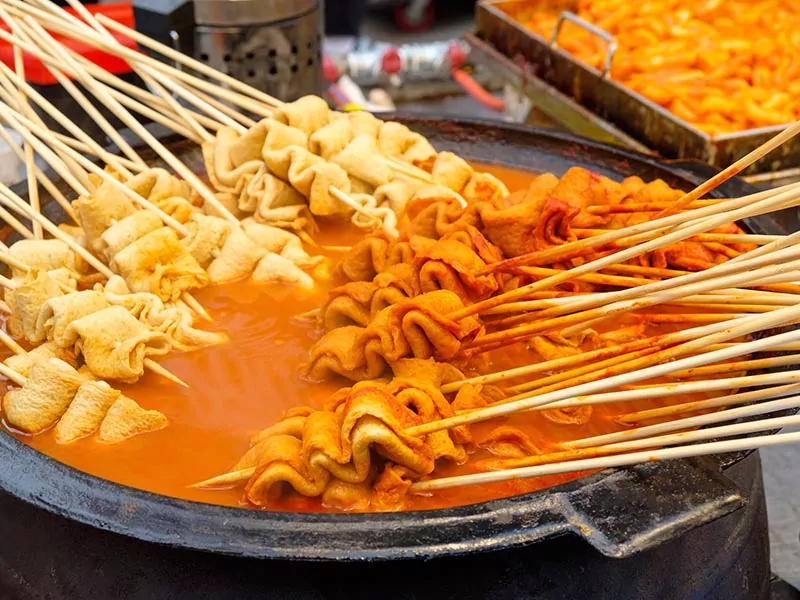 Odeng is always the first recipe that pops into my mind when I want to enjoy delicious street food in Korea. It is always at the top of the list of priority dishes to enjoy by tourists.
The chewy and tender fish cake becomes more fantastic when served with a spicy broth. You will dip a fish cake stick into the broth or take a bite of the fishcake and take a sip of the broth. Wow, it feels so warm and comfortable.
Odeng is named after the famous Japanese Oden stew. Because Japan occupied Korea from 1910 to 1945, there are a lot of Korean dishes named after Japanese.
33. Pajeon – Savory Scallion Pancake
I always wanted to eat these delicious savory pancakes before leaving Korea. It is a unique combination of carrots and green onions with flour to make soft and delicious cakes. You will be served with a side sauce made from soy sauce, garlic, and honey.
What makes this dish beginning with a "P" so famous and addicting is this cup of divine sauce. The flavor of the cakes will become more intense when bathed in this wonderful dipping sauce. You will not be able to stop eating it after the first bite.
The name Dongnae Pajeon was inspired by the name Dongnaesung fortress of the Joseon Dynasty. This is the gravesite of prominent battles during the Imjin War.
Fall In Love With Others Fantastic Korean Foods
Besides the above dishes, Korean still has many other famous dishes that deserve to appear on this list. You should not miss the beautiful recipes in this section because their flavor will make it hard to forget.
34. Bingsu – Shaved Ice Dessert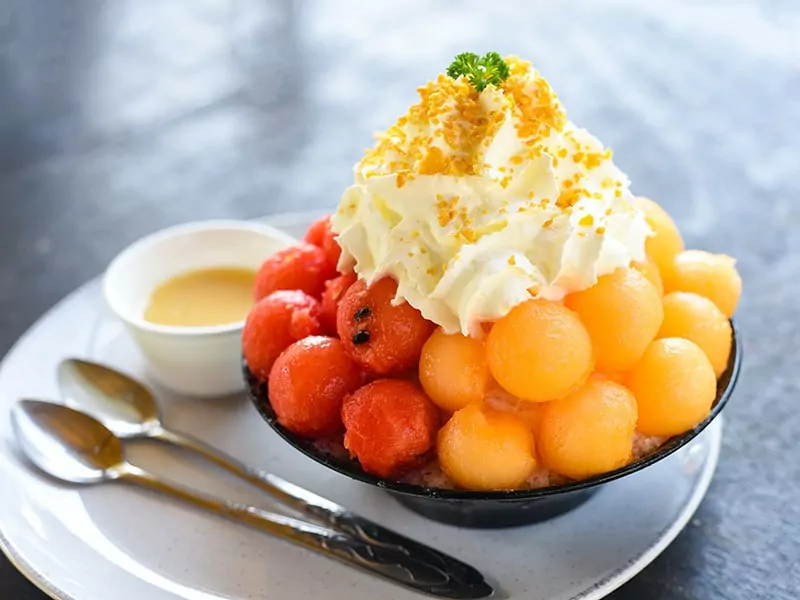 On hot summer days, Korean bingsu shops are always crowded. Cool portions of bingsu will help you cool down and feel good. This ice cream and the frozen milk-based dish are well-deserved as an excellent dessert for you.
The ice cream is not hard because it is grated with a knife to give it a snow-like texture. In addition, its flavor is enhanced with various juicy Korean fruits and condensed milk toppings. You can also ask for candies or cakes for a variety of toppings.
Bingsu was first made in the Joseon era. After the Korean War, various ingredients were added to bingsu. Modern bingsu is sold at Taegeukdang.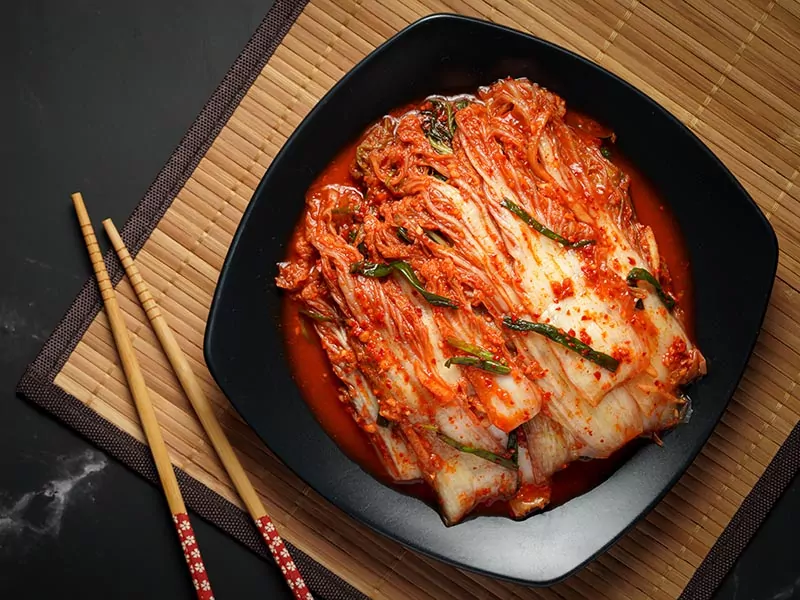 Perhaps, you will be no stranger to kimchi. In Korea, kimchi is everyone's dish, and it is incorporated into many culinary recipes in Korea. Fermented cabbage for a long time with paprika and other ingredients will bring out the distinctive umami flavor.
"Can vegans enjoy kimchi?" is a common question. The good news is that there are different types of kimchi created by Koreans to satisfy their dietary needs. The attractive and stimulating flavor of kimchi is used to accompany rice or combined in soups and hotpots to diversify the tastes of recipes.
Kimchi appeared in Korea 3000 years ago when Koreans stored and salted food for cold winter days. In the Silla dynasty, it became popular.
Learn some incredible things about Korean kimchi.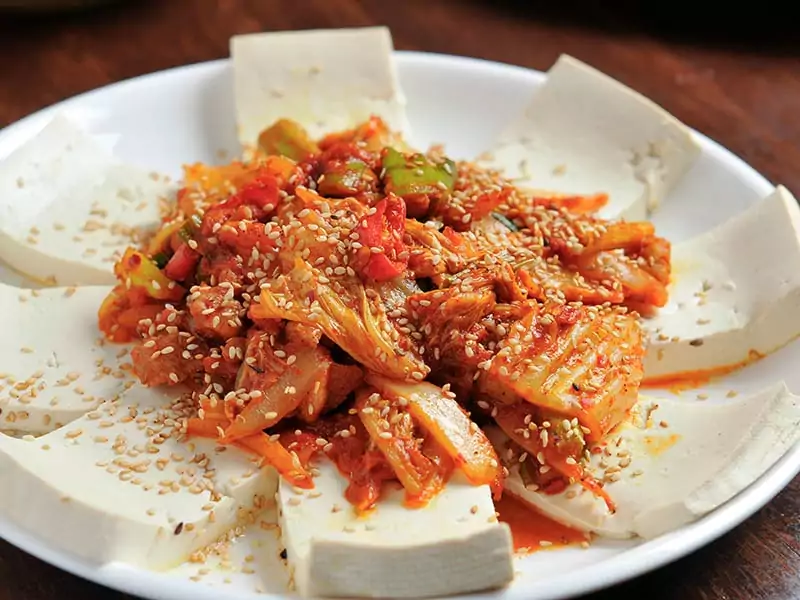 Tofu is a traditional dish that originated in China 2000 years ago and became popular all over Asia. When it appeared in Korea, people combined it with the signature kimchi that was born 3000 years ago to make a perfect dubu kimchi recipe.
Dubu kimchi is a traditional dish of the land of kimchi. The pork pieces, when stir-fried with kimchi, will become more flavorful. You will go crazy when you bite into sliced tofu with a soft and smooth texture.
The mild flavor of the tofu accentuates the signature taste of the kimchi and the tenderness of the pork pieces. When you put all of them in your mouth, you will have to scream because of the exquisite taste of all three when blended.
37. Gopchang – Korean Grilled Cattle Intestine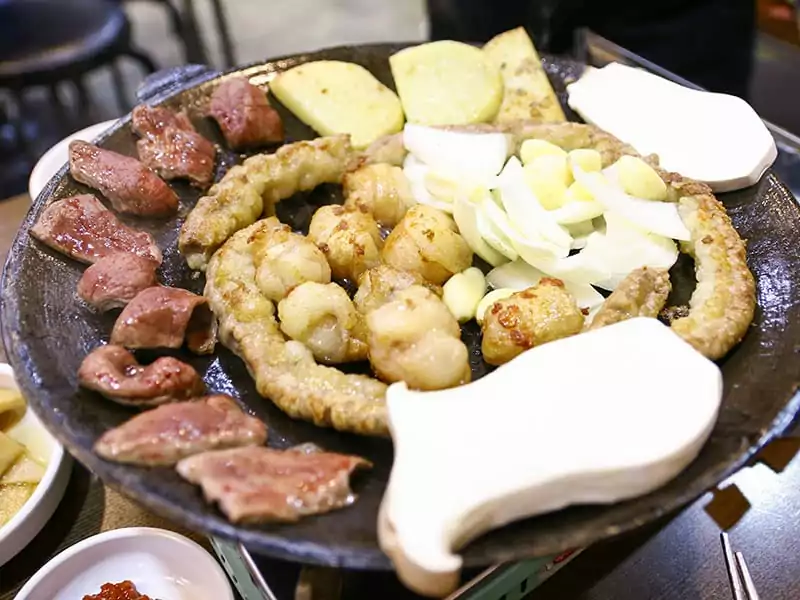 Gopchang is a famous dish especially loved by office workers in Korea. The intestines of pork or cattle are cut into small pieces that look delicious when grilled. They are moderately chewy, so you will not feel too tired when chewing them.
During festivals, gopchang is served pretty much and has become a tradition and identity of this country. This food is often ordered with soju by diners at restaurants because they are the perfect combination.
There are various versions of gopchang sold in Korean restaurants. If you want grilled pork intestines, you can order dwaeji gopchang. Grilled beef tripes are known as yang gopchang. This food is pretty similar to the Latin American chunchullo.
Enjoy Your Journey!
If you have a chance, let's enjoy all the delicious dishes on this list. I am sure you will be satisfied with their great taste. In case your friends ask about what to eat when visiting Korea, give this article to them.
There are still many other delicious foods that I have not mentioned in this list. If you know any other fantastic foods, feel free to share them in the comments. Also, do not forget to leave your questions; I will respond as soon as possible.