Korean foods always leave deep impressions in the mind of diners after enjoying them. If you are on a journey to discover the unique features of lovely dishes from Korea, this article will be of value to you.
This is a list of famous foods loved by many people when they come to this country. You may be familiar with some of the items on this list, but there are a few that you may not. It is time to enter the world of Korean cuisine.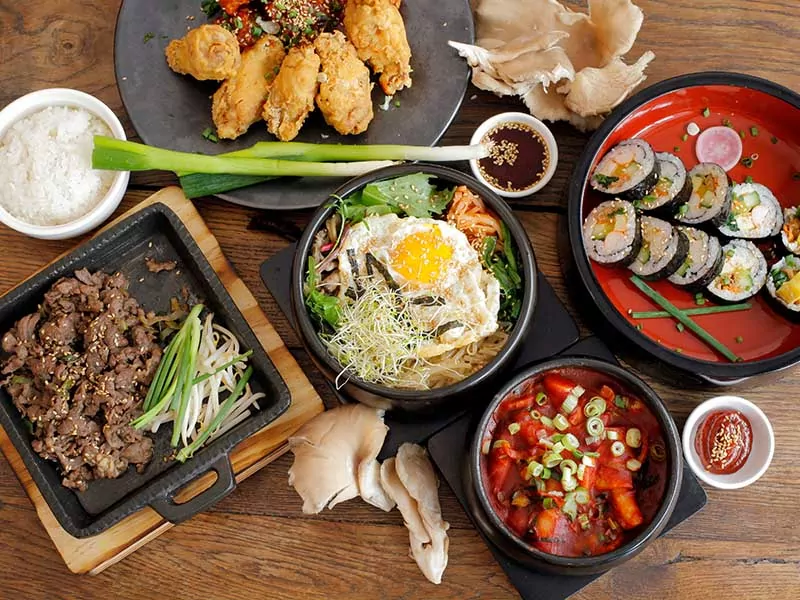 Korean Meat Dishes
Meat is an ingredient that appears in many wonderful Korean dishes. Dishes with beef, chicken, or pork have become iconic in traditional Korean cuisine.  Let's discover protein-rich Korean delicacies right now.
1. Bulgogi – Barbecue Beef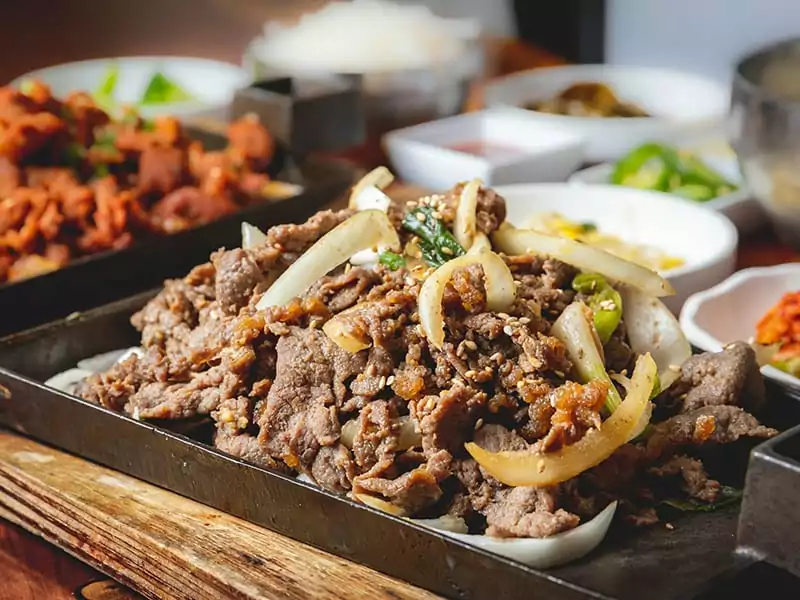 Bulgogi first appeared in the Goguryeo era. This famous Korean BBQ dish was originally known as "maekjeok". At that time, only the rich and the aristocracy were served beef.
The pieces of beef, carefully seasoned with spices like ginger and garlic, will create an attractive aroma when grilled. Since it is cooked on a barbecue or stovetop grill, you can easily feel the juicy and tender texture and the salty and slightly sweet flavor.
It is great to organize a BBQ party with Korean beef and a plate of fresh green lettuce. Pairing it with rice is also a good choice.
You can enjoy this Korean delicacy right from the comfort of your home or at most Korean restaurants. Dip a piece of beef with ssamjang sauce, wrap it inside lettuce, and put it in your mouth to feel the fullness of this dish.
2. Tteok-Galbi – Short Rib Patties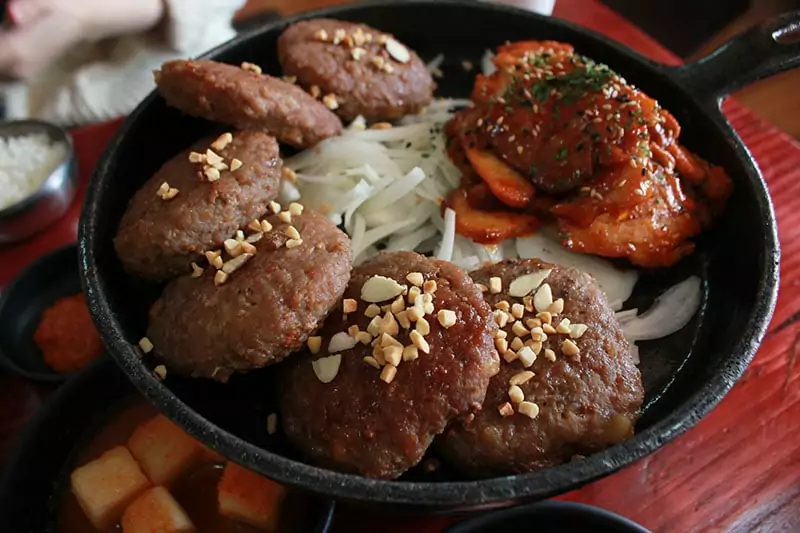 Galbi appeared in Korea in the late 1960s and early 1970s. Before that, it was known as "no-galbi", which means "elder ribs" because it was a familiar dish for old people with weak teeth.
According to a story in Korea, the creation of tteok-galbi in Korean royal court cuisine was prompted by the desire to avoid kings gnawing on bones while dining. Court ladies and scholarly officials in exile passed down the recipe, especially those from Gyeonggi Province and South Jeolla Province.
The magic of galbi lies in its perfectly seasoned ribs that are grilled or braised to perfection, resulting in a heavenly dish that pairs perfectly with rice.
Today, tteok-galbi in Korea has expanded beyond beef to include pork and duck as alternative ingredients. Songjeong's "tteok-galbi street" is known for its unique half beef and half pork version, while Gwangju boasts the delicious ori-tteok-galbi, made with duck meat.
3. Samgyeopsal – Grilled Pork Belly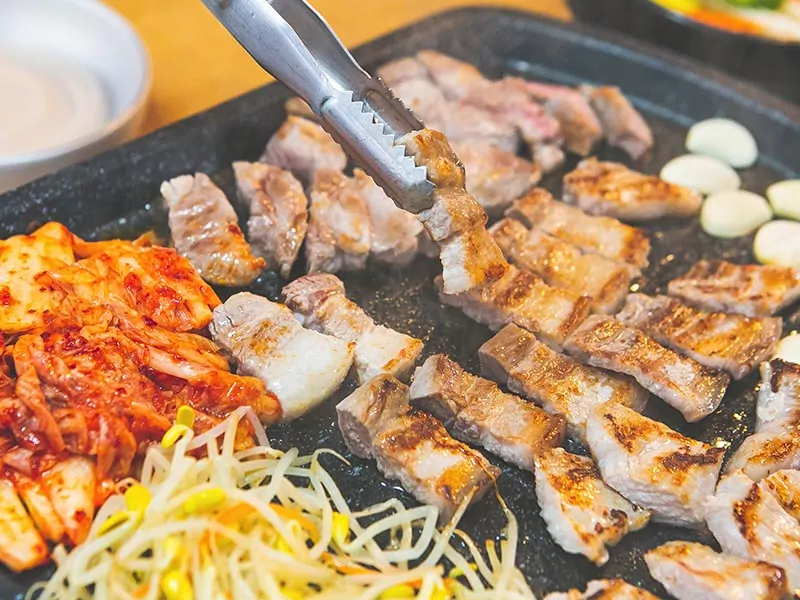 Samgyeopsal or "Three-layered pork belly" is a traditional Korean cuisine that boasts generous cuts of pork belly, comprising a fatty cap and two layers of meat below it. It was first prepared in the early 20th century at Kaesong.
This dish, classified as gui, is visually reminiscent of bacon. However, its distinct taste profile is more comparable to pork cutlets, with earthy undertones. 
Unlike bulgogi, Koreans often do not season slices of pork belly meat before grilling to preserve its natural flavor. The taste of the pork is enhanced when dipped into a sauce made with salt, sesame oil, and pepper.
While the meat is commonly unseasoned and unmarinated, marinated Samgyeopsal has surged in popularity since the late 2000s.
Typically, Samgyeopsal is grilled to perfection on an inclining metal griddle or gridiron right on the diners' table to provide customers with a hands-on dining experience.
Samgyeopsal is frequently accompanied by grilled vegetables, such as garlic, onions, green chili peppers, mushrooms, and kimchi. A good way to enjoy Samgyeopsal is placing grilled meat on fresh or pickled leaves of vegetables, combined with ssamjang, and wrapped in one full bite.
You can also pair Samgyeopsal with cooked rice, stews, and naengmyeon. For a more authentic Korean dining experience, enjoy this dish with shots of soju or somaek (a simple mixed drink consists of soju and beer).
4. Chimaek – Fried Chicken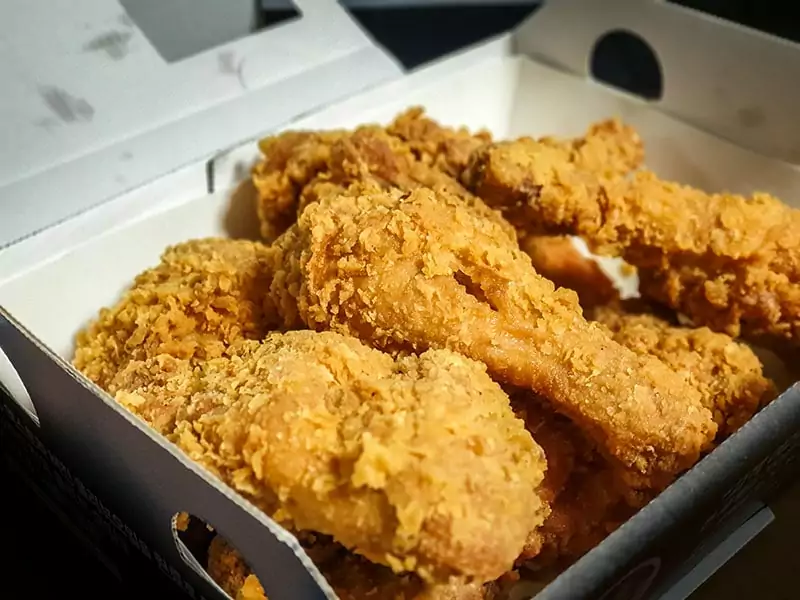 The name Chimaek is a combination of two words: chikin (chicken) and maekju (beer). It has roots dating back at least 600 years ago, although the recipe was forgotten until the late 2010s. The exact origin of modern chimaek is still unclear, but it is believed to appear in the late 20th century.
Chicken dishes in Korea gained popularity with the introduction of new roasted and spicy varieties, while draft beer also became increasingly popular in the 1970s.
After that, the pairing of chicken and beer became a widely favored menu option, and the 2002 Korea-Japan World Cup contributed to the growing popularity of chimaek, which has since had a profound influence on Korean drinking customs.
A common custom in Korea is eating this dish with some Korean well-liked beverages. For example, on winter days, friends will gather to drink beer and enjoy fried chicken. 
5. Bossam – Boiled Pork Wraps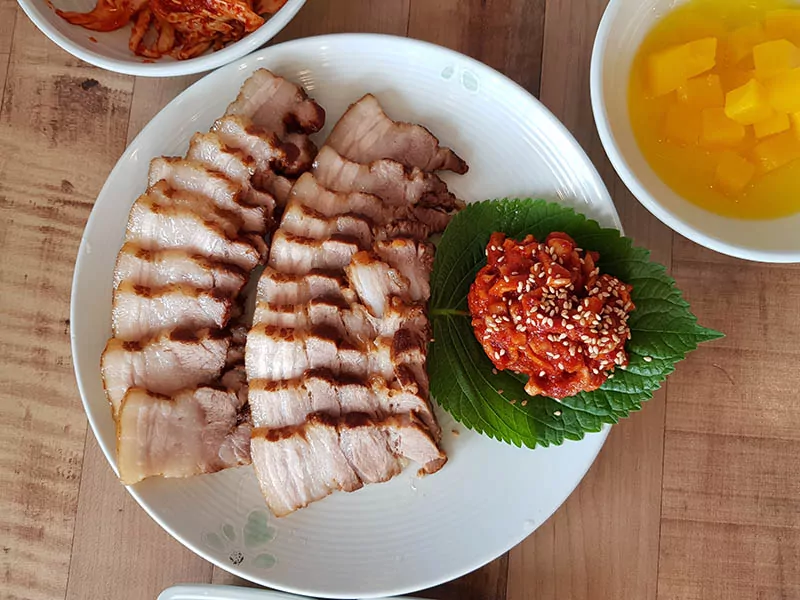 With its origins in the Jolla-Do province, this magnificent dish has been a favorite of the Korean upper class for generations. Emerged during the Joseon dynasty era, this dish has stood the test of time and continues to enchant diners to this day.
Passed down through generations, this dish is a go-to choice for accompanying alcoholic beverages as anju. Pork is the preferred meat, and pork neck is the optimal choice for bossam due to its lighter texture and lower fat content.
Boiled meat is cut into bite-sized pieces and garnished with accompanying vegetables for an eye-catching appearance.
Enjoy the authentic taste of this dish by wrapping a piece of meat in lettuce, kimchi, or perilla leaves. You can dip it in either ssamjang, a spicy and savory sauce made of chili paste and soybean paste (doenjang); or saeujeot, a piquant pink sauce made of tiny pickled shrimp.
Both sauces complement bossam's flavor beautifully.
6. Dakgalbi – Spicy Chicken Stir Fry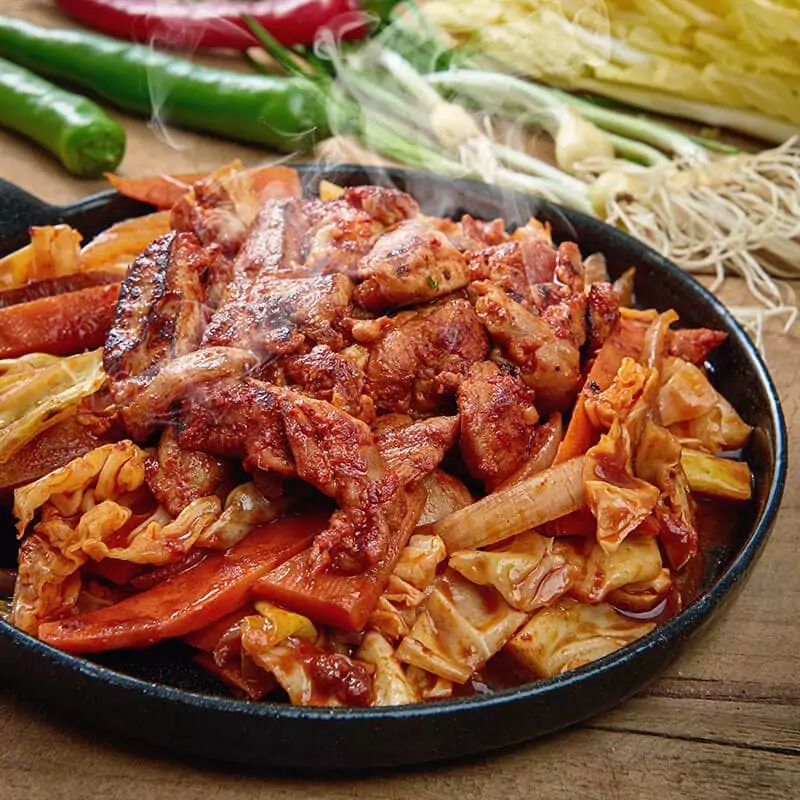 Dakgalbi is made by marinating diced chicken in a spicy sauce comprising chili paste and other seasonings. It's then stir-fried with tteok, cabbage, carrots, and sweet potato.
Created in the 1960s as an affordable alternative to pricey grilled dishes, this dish quickly became a favorite among budget-conscious soldiers and students.
You will also find another familiar name for this dish – Chuncheon dakgalbi. As a local specialty of Chuncheon, there is an entire street of restaurants and an annual festival dedicated to it.
It's noteworthy that Dakgalbi's sauce tends to splatter, which is why many diners wear aprons to protect their clothes while enjoying the dish.
7. Andong Jjimdak – Korean Braised Chicken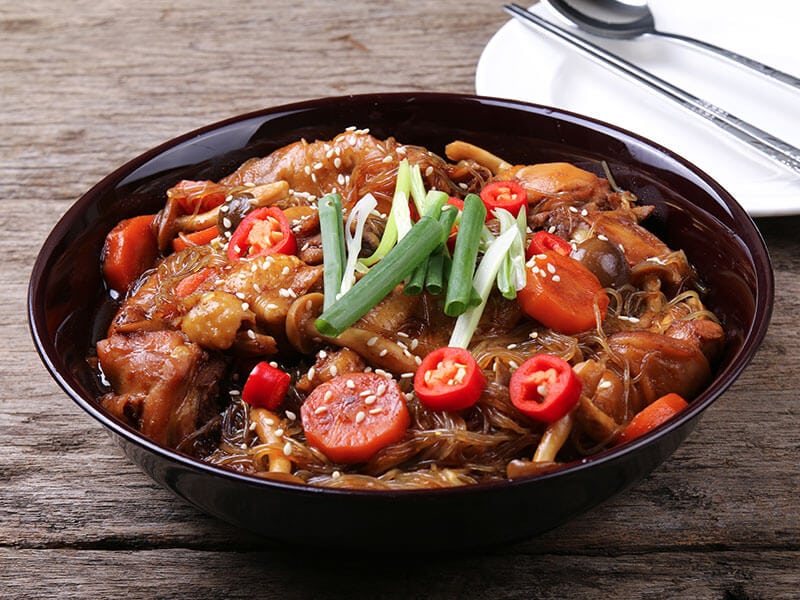 Andong jjimdak is a scrumptious Korean chicken-based recipe that is a breeze to prepare. This appetizing dish is a medley of soy sauce, glass noodles, potatoes, and carrots. Pair it with some fluffy white rice, and it's sure to become an instant favorite.
The roots of Andong-jjimdak are shrouded in mystery, with various accounts of its origin story. However, the most intriguing explanation posits that it was created by the merchants of Andong Gu Market's "chicken alley" to counter the surging demand for Western fried chicken.
To make this mouth-watering dish, chicken is simmered in a delectable braising sauce that is both sweet and savory, with a nice kick of spiciness coming from a mix of dried whole red chili peppers and fresh hot chili peppers.
8. Tangsuyuk – Korean Sweet And Sour Pork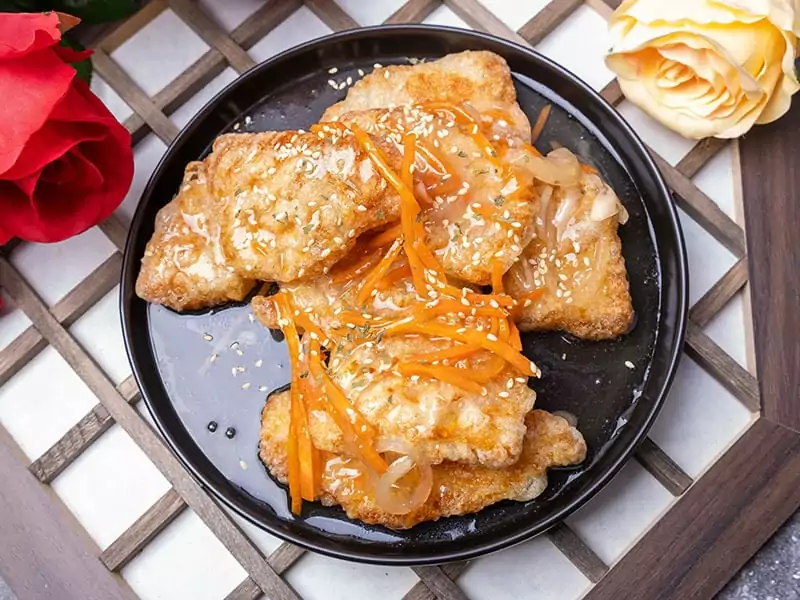 Let's explore the delightful fusion of Korean and Chinese Cuisine with Tangsuyuk, a scrumptious meat dish that perfectly balances the savory richness of pork (or beef) with a sweet and tangy sauce.
Tangsuyuk was first made by Chinese merchants in Incheon, a city with a large ethnic Chinese population. This dish draws inspiration from tángcùròu, a Shandong-style recipe that was favored by Chinese immigrants in Korea, especially those with ties to Northeastern China.
In Korea, Tangsuyuk is among the most popular fried foods. At many Chinese restaurants in Korea, this dish is frequently enjoyed alongside Jajangmyeon or Jjampeong.
9. Gopchang Gui – Korean Organ Meat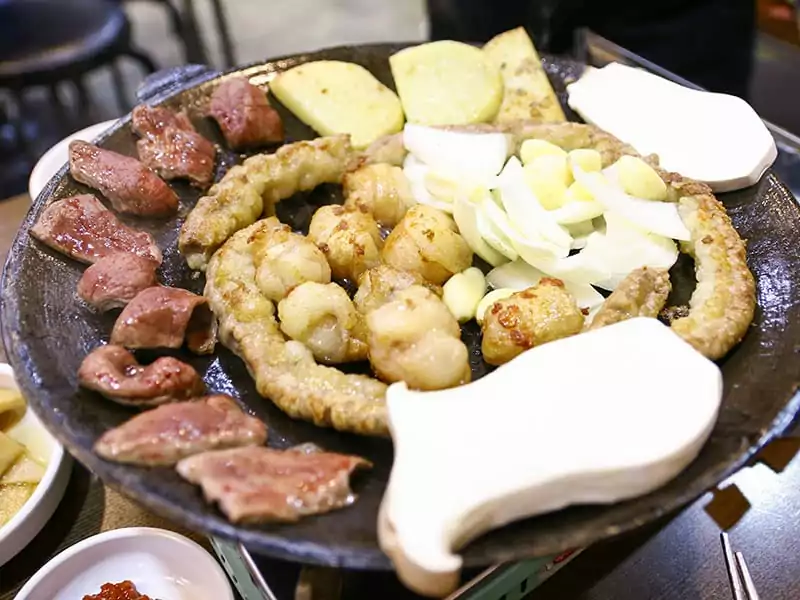 Gopchang is a famous dish especially loved by office workers in Korea. The intestines of pork or cattle are cut into small pieces that look delicious when grilled. They are moderately chewy, so you will not feel too tired when chewing them.
This food is pretty similar to the Latin American chunchullo. During festivals, gopchang is served pretty much and has become a tradition and identity of this country.
There are many variations of gopchang available in Korean restaurants. You can order dwaeji gopchang if you prefer grilled pork intestines or yang gopchang if you're more into grilled beef tripe.
This food is often ordered with soju by diners at restaurants because they are the perfect combination.
Korean Soups
For Koreans, hot soups are not just food but an important part of their culture and heritage. From childhood, they grow up eating soup with rice, and it becomes a daily habit that they never outgrow. Now, let me introduce you to some of the most renowned soups in Korea.
10. Samgyetang – Ginseng Chicken Soup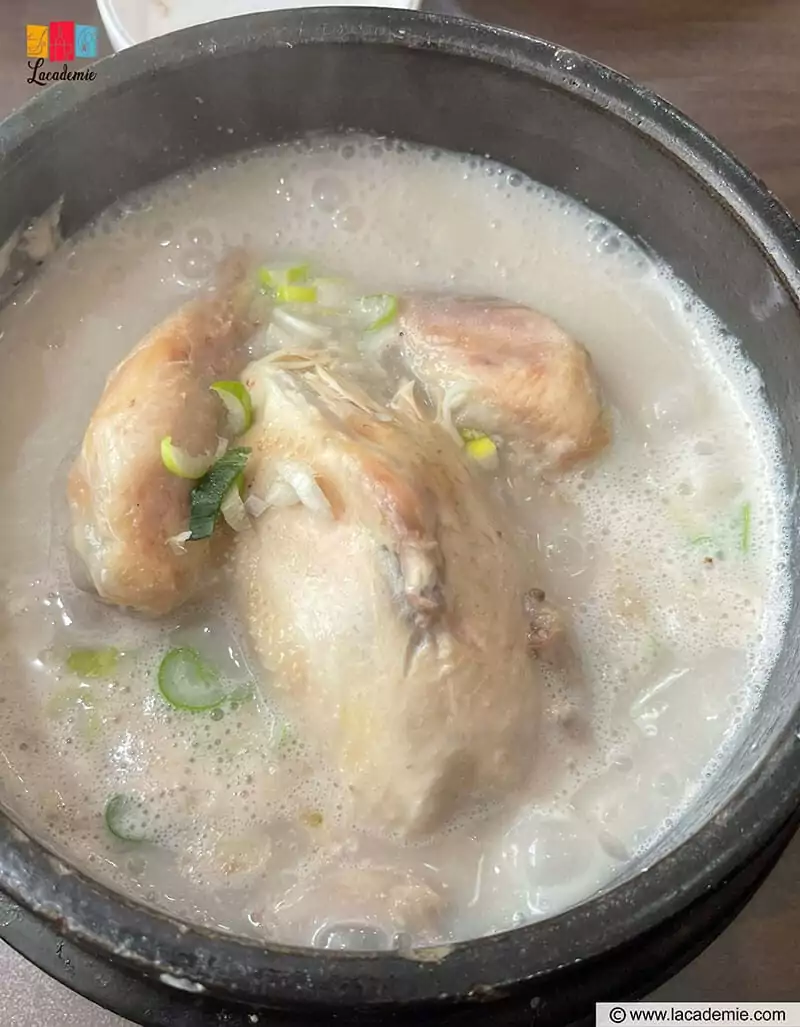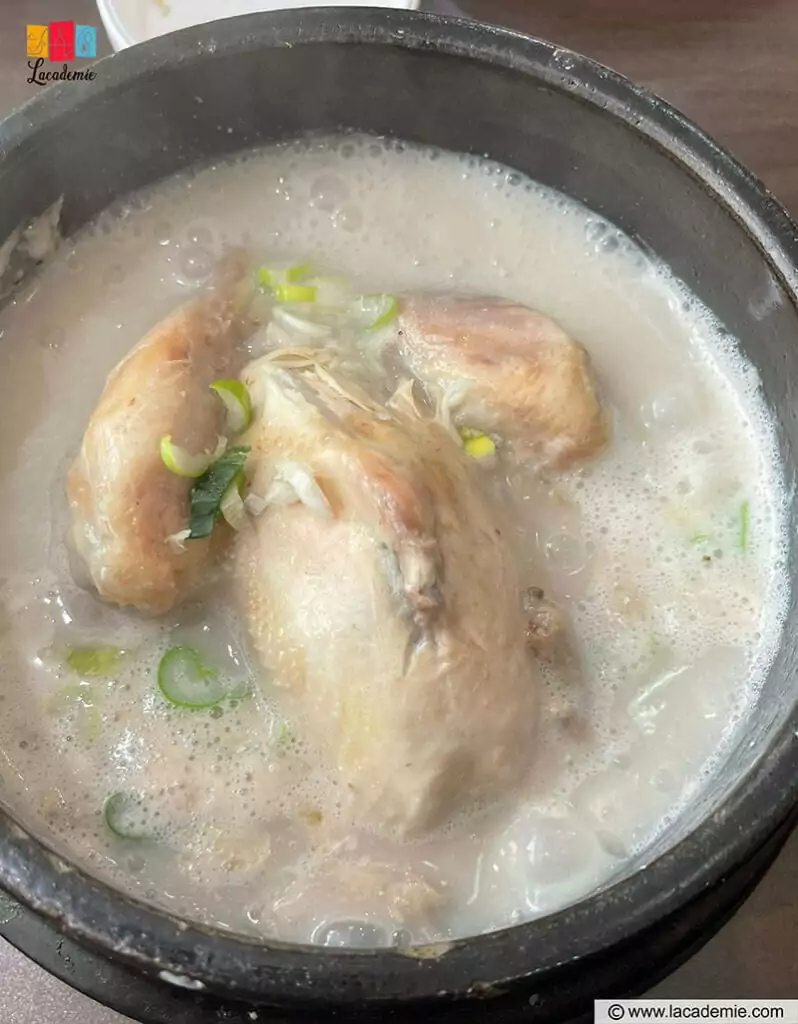 This iconic Korean soup was popular among Koreans during the Joseon Dynasty (1392-1897). It is eaten by the elderly in the summer, and its broth was used to treat the queen's illness during the reign of King Injo.
The Korean custom of eating Samgyetang during hot weather dates back centuries and is still widely practiced today, especially during sambok days.
There's something special about Samgyetang that makes it the perfect summer dish in Korea. Perhaps it's the refreshing broth, made from a whole young chicken stuffed with ginseng, garlic, jujube and rice. Or maybe it's packed with nutrients and can help you stay cool and energized during the most sweltering days of the season.
At select restaurants, you may be treated to a complimentary bottle of insamju (ginseng wine) to enjoy alongside your samgyetang.
It is time to taste the fantastic flavor of chicken soup.
11. Kimchi Jjigae – Kimchi Stew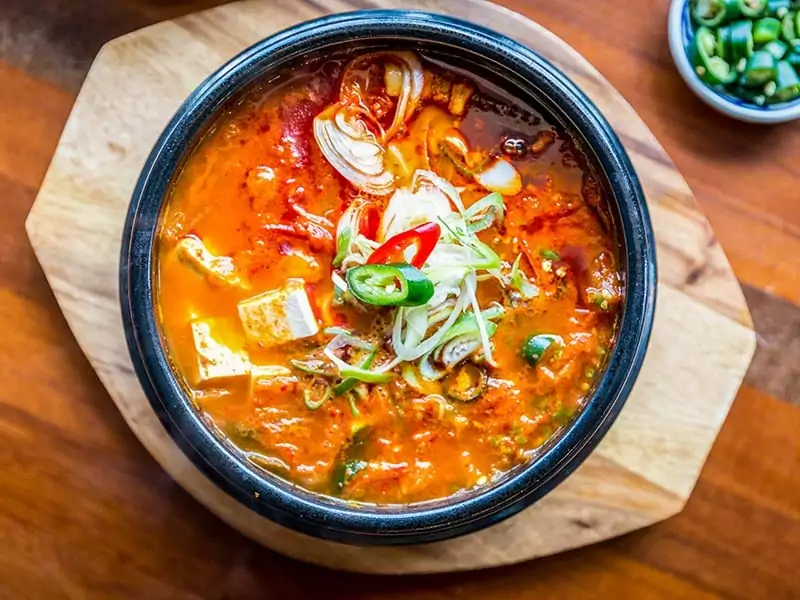 Before the Joseon era, kimchi was not pickled with chili. It was not until chili was imported into Korea that kimchi had the current version. Kimchi jjigae also appear during this period.
Because the main component is kimchi, its unique flavor will prevail in this yummy Korean stew. And older fermented kimchi is usually chosen for a stronger flavor.
Beside the main ingredients, you can freely customize other ingredients to your likings. However, for an authentic savor, simmer some meat, chopped kimchi, tofu, green onions, and garlic in water or anchovy-based broth.
Do not overlook the addition of fermented soybean paste or fermented chili pepper paste for that extra zing.
Koreans serve it along with additional kimchi as a complementary dish, rice heated in a searing hot stone pot, and other customary Korean side dishes.
12. Sundubu-Jjigae – Spicy Soft Tofu Stew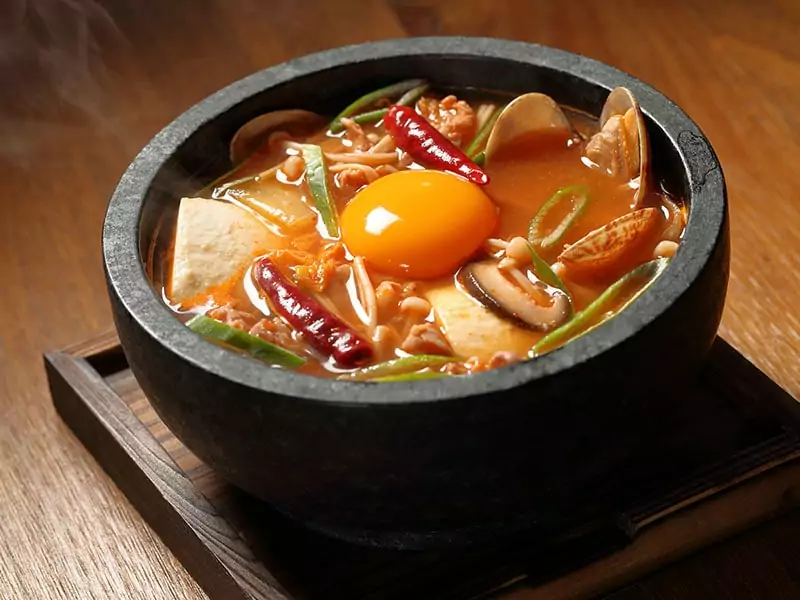 Sundubu-jjigae should appear in your Korean lunch recipes, and it is considered one of the best stews in Korean cuisine. Regarding its origin, this amazing dish dates back to the Joseon era.
It is a perfect combination of soft tofu, vegetables, and meat or seafood. The soft tofu used in the dish is freshly curdled, which gives it a unique texture that melts in your mouth.
The most common ingredients are pork, kimchi, and seafood, giving it a flavorful kick. And if you're a fan of spicy food, you'll love the addition of gochujang (red chili paste) or gochugaru (Korean chili powder or flakes).
Served in a traditional earthenware pot, the stew stays piping hot, and the egg is cracked into the bowl just before serving for an added touch of richness and flavor.
Koreans usually enjoy this stew with a bowl of steaming white rice, kimchi and several banchan on the side.
13. Tteokguk – Rice Cake Soup
This wonderful dish was first recorded in the 19th century as beef and pleasantries were used for cooking the broth.
Back in the day, Tteokguk was reserved for the first day of the Korean New Year as a sign of good luck and aging another year. Today, however, this delicious dish can be enjoyed any time of year, no matter your age.
Get ready to slurp up a delicious and satisfying Korean soup made with delicate rice cakes (tteok) and a tasty broth (guk). The dish is typically finished off with thinly sliced cooked eggs, marinated meat, crispy seaweed, and a splash of sesame oil.
The tender and chewy rice cakes will be cooked with beef broth to bring out an umami taste. The unique flavor of seaweed will create the highlight for this attractive recipe.
It's fascinating how the texture of Tteokguk changes depending on whether it's served hot or cold. When it's hot, the rice cakes are soft and tender, but the cold version has a firmer and chewier texture that adds a refreshing element to the dish.
14. Seolleongtang – Ox Bone Soup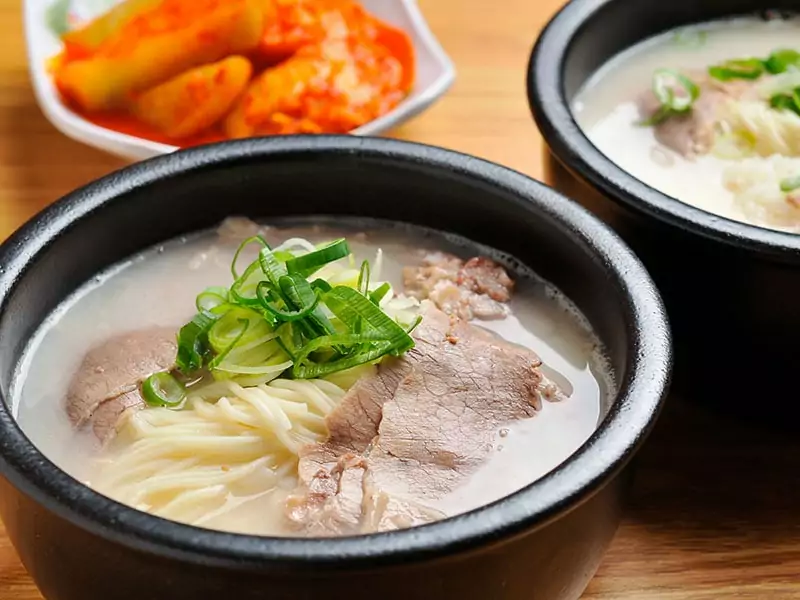 Experience Seoul like a local and try the city's signature dish, Seolleongtang. This dish was created during the Mongol invasion of Korea. Despite its humble origins, this dish has become a favorite dish of Korean cuisine.
This hearty soup is a staple during chilly Seoul winters. Since it is made with beef bone, meat, and brisket, it features a creamy and cloudy appearance. Koreans usually enjoy it with scallions and strips of savory meat.
You can customize the flavor of the soup by seasoning it to your liking. Add a dash of salt, black pepper, red pepper, garlic or spring onions to create a perfect taste.
Rice and kkakdugi kimchi are the classic pairing with this soup, but those looking for a more substantial meal can add the rice directly to the broth.
15. Miyeok Guk – Seaweed Soup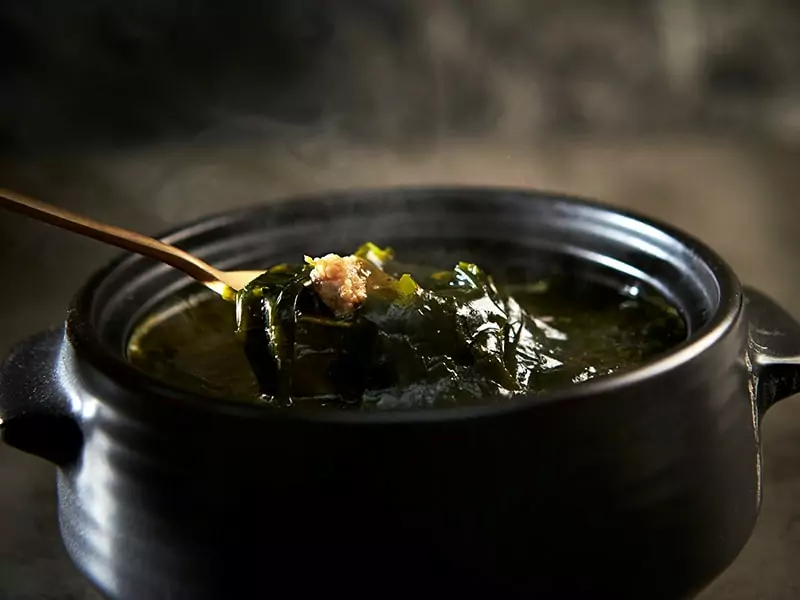 Miyeok-guk isn't just a tasty soup; it's also deeply rooted in Korean culture and tradition. In particular, miyeok-guk is associated with Samsin Halmoni, a revered goddess who is believed to help women through the birthing process.
The consumption of seaweed soup to support recovery postpartum is a customary practice among women. Interestingly, the tradition of eating seaweed soup postpartum dates back to the Goryeo Dynasty, where people noticed that whales consumed seaweed after giving birth.
Furthermore, miyeok-guk is a well-liked food item during birthdays. As part of the birthday customs, guests are served miyeok-guk, along with other customary foods like rice cakes. This custom is a way to pay homage to one's mother and the sacrifices she made during childbirth.
While many people associate seaweed with a strong oceanic taste, miyeok-guk is an exception to the rule. The seaweed in this soup adds a slight briny flavor and a touch of saltiness, so you don't have to worry about adding too much seasoning.
16. Gamjatang – Pork Bone Soup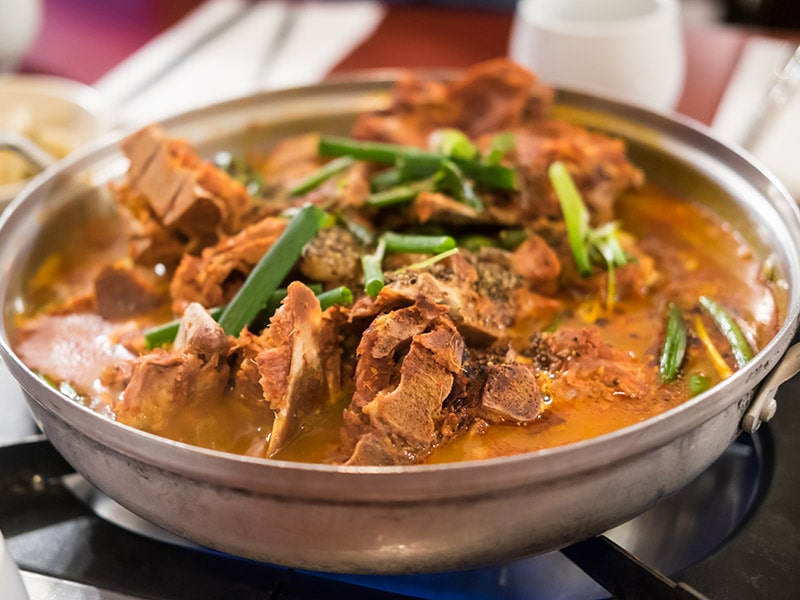 Traditionally from Jeolla province, gamjatang has a long history dating back to the Three Kingdoms period when hog neck bones were a common ingredient in meals.
Today, gamjatang is a staple in Korean cuisine and can be found in most Korean restaurants worldwide, including the United States and Canada.
The magic of gamjatang lies in its complex blend of flavors. Its rich broth, made with pork bones and infused with perilla seeds, creates a dish that is both bold and comforting. The seeds' earthy taste and aroma are the true stars of the show that elevate the dish to new heights.
When it comes to gamjatang, there's no need to wait for a specific mealtime to enjoy it. Many gamjatang are open 24 hours a day since it is a dish that Koreans can't get enough of, especially in the early hours of the morning.
Go to the kitchen to create yummy Gamjatang for dinner.
17. Yukgaejang – Spicy Beef and Vegetable Soup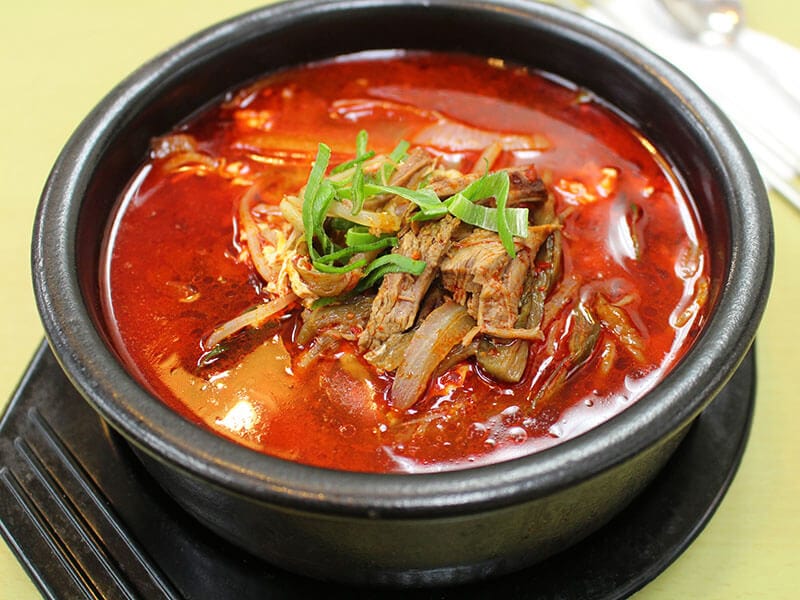 Yukgaejang is a famous Korean soup packed with shredded beef, gosar (fernbrake fiddleheads), beansprouts, scallions, mushrooms, and other vegetables. With a rich and spicy flavor, this soup is both hearty and satisfying.
Yukgaejang is a type of thick soup, known as gomguk in Korean, that was once a staple in royal court cuisine. In Korea's summer months, it serves as a popular repast as it is believed to supply a refreshing energy boost and aid in combating the heat.
Thanks to its well-known medicinal advantages, this soup is also a favorite among the elderly. Although Yukgaejang is typically made with beef, there is a special type of this soup called Dakgyejang that's made with chicken instead.
Korean Noodle Dishes
Noodles are a beloved staple in Korean cuisine and are considered a national dish. With so many diverse and delicious noodle dishes to choose from, you will want to try them all!
18. Japchae – Stir-Fried Glass Noodles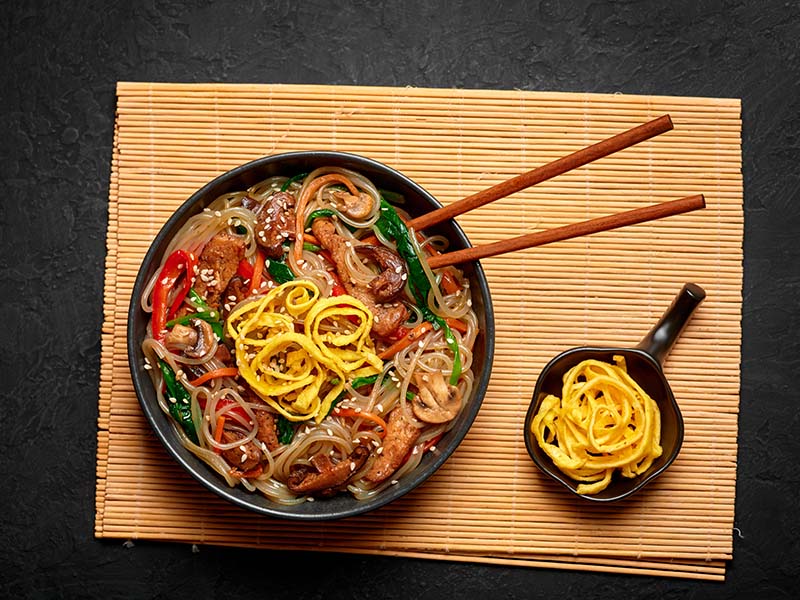 A resident of the Joseon Dynasty, King Gwangaegun created this dish for a royal celebration in the 17th century. Since then, Japchae has become an iconic Korean dish, and a fantastic side dish to have at BBQ parties.
The glass noodles are stir-fried with vegetables, potatoes, beef, and spices to make a harmonious overall taste. Other variations for beef are pork, chicken strips or even seafood (usually crab).
The real spotlight of this dish is the crisp, fresh vegetables, which provide a satisfying crunch that pairs nicely with chewy glass noodles. Plus, the sweet notes of the noodles and meat are perfectly offset by the salty soy sauce and the rich, nutty flavor of sesame oil.
It's no secret why Japchae has become a crowd-pleaser at Korean Celebrations, from grand banquets to intimate family gatherings.
19. Naengmyeon – Cold Buckwheat Noodles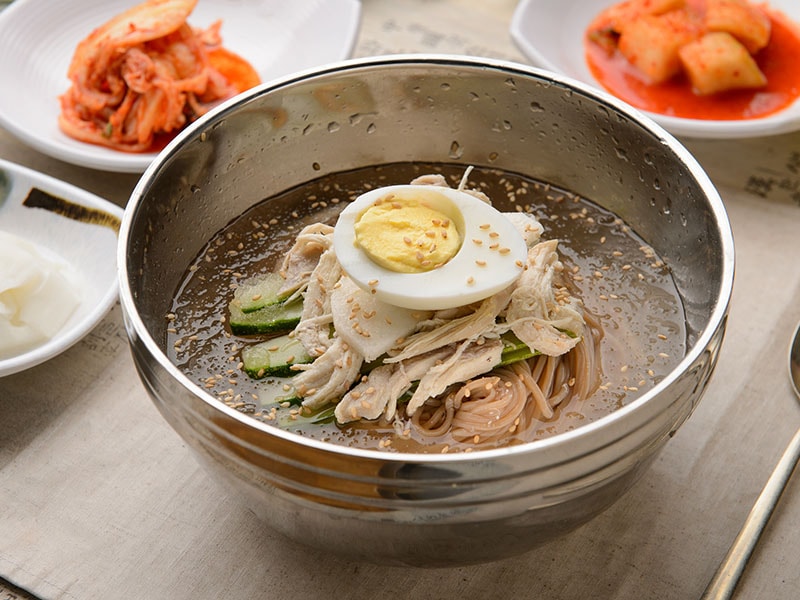 Naengmyeon is a famous dish in North Korea and South Korea alike. This dish was brought to Seoul in the 19th century, and a series of naengmyeon restaurants sprang up in the 1920s.
This unique kind of Korean noodles is always a favorite recipe on the menus of restaurants. Naengmyeon is typically served in a large brass or stainless-steel bowl with a variety of toppings, such as julienne cucumbers, Korean pear slices, and lightly pickled radish strips. 
You can also add slices of cold boiled beef or boiled egg, and season with spicy mustard sauce or mustard oil and vinegar before enjoying. This light and refreshing dish is perfect for a hot summer day or as a palate cleanser after a heavy Korean barbecue.
In the past, people used to believe that cutting the long noodles would diminish their symbolic meaning of longevity and good health. But nowadays, many restaurants provide the option to cut the noodles with scissors for your convenience.
There are 2 common versions of Naengmyeon: mul naengmyeon and Bibim naengmyeon. Mul naengmyeon originated in North Korea's Pyongyang and is served in a broth made from dongchimi (radish water kimchi).
Bibim naengmyeon is a cold noodle dish that's dressed in a spicy gochujang sauce instead of broth.
20. Jajangmyeon – Korean Noodles In Black Bean Sauce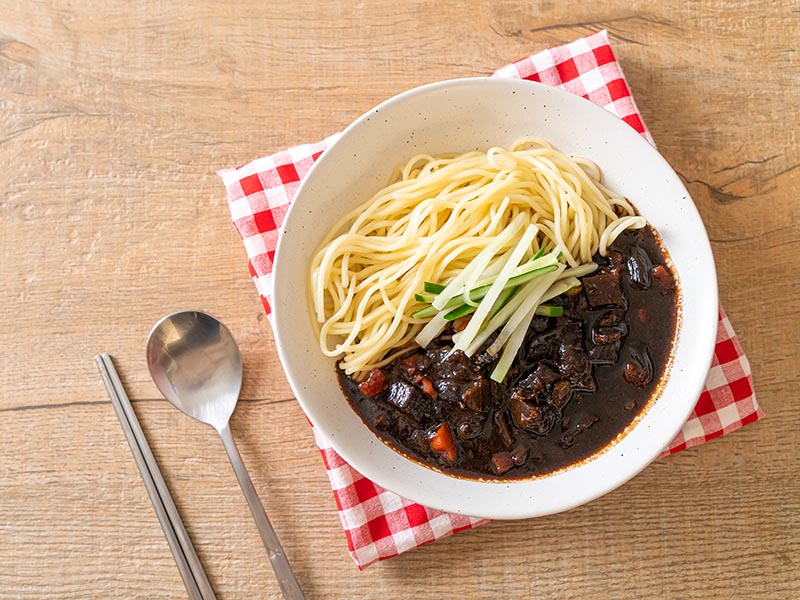 Jajangmyeon is a famous noodle recipe first sold in 1905 at a Chinese restaurant in Incheon. Noodles are covered with a black sauce made from minced pork and vegetables. Seafood and other meats are other sauce variations you can find.
When savoring the dish, it is customary to mix the savory sauce and noodles together for maximum flavor. Since this dish is both flavorful and economical, it has been enjoyed by people from all walks of life since its inception.
Additionally, it has become a dish that's as ubiquitous in Korea as kimchi and bibimbap. You can find this beloved noodle dish in restaurants, cafes, and street vendors all over the country.
Jjajangmyeon lends itself to customization, with a wide variety of toppings available to suit any taste. Some popular options include boiled or fried egg, blanched shrimp, julienned cucumber, scallions, and stir-fried bamboo shoot slices.
And don't forget the traditional accompaniments: sliced raw onions, danmuji, and chunjang sauce for dipping.
21. Budae Jjigae Hotpot – Army Stew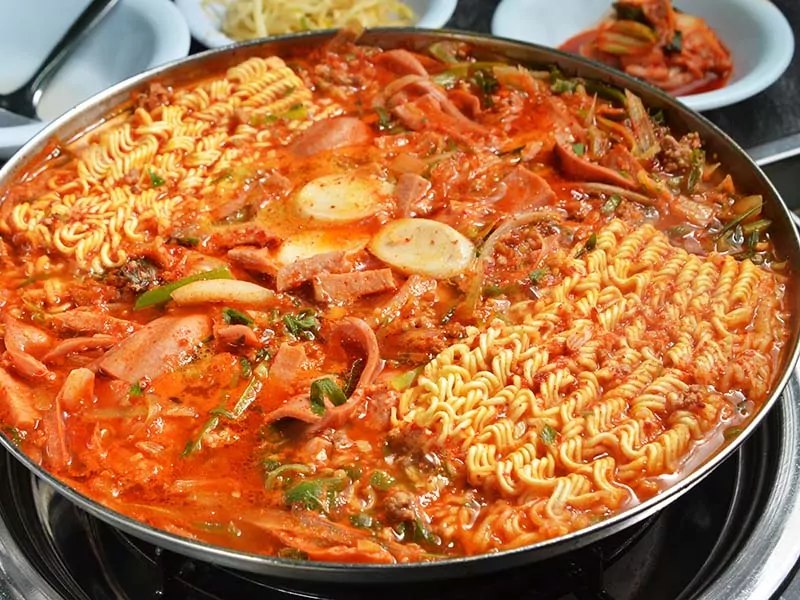 I'd like to introduce you to Budae Jjigae Hotpot, also called army stew! The term "budae" is associated with a military base in Korea, while "jjigae" refers to soup or stew. This Korean-American fusion features a rich broth that makes your taste buds rejoice.
After the Korean war, the Koreans solved the problem of food scarcity by combining various foods that they collected from the US army base.
Instant noodles, sausage, and American cheese contribute to the dish's chewy texture, and its taste is further enhanced by the inclusion of different vegetables.
Although it originated during a time of struggle, this dish has managed to maintain its popularity and cultural significance throughout South Korea's history.
22. Jjamppong – Korean Spicy Seafood Noodles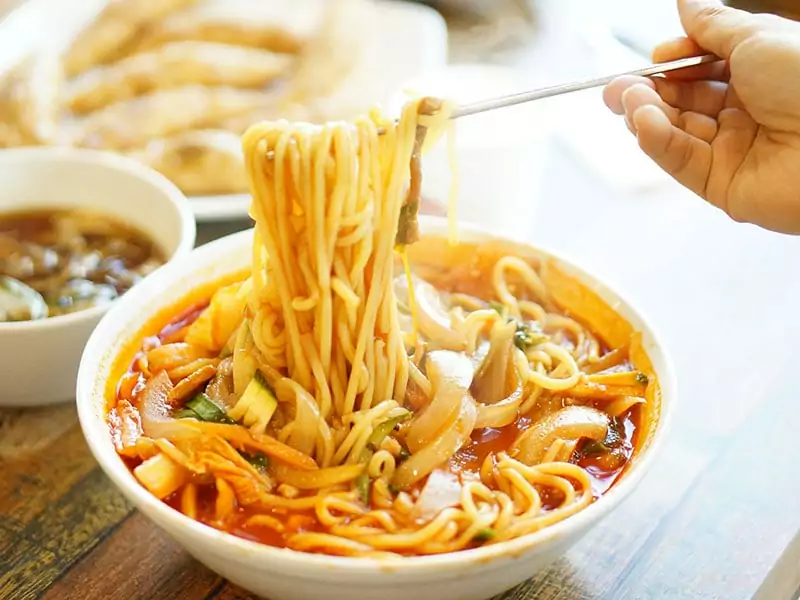 This dish is a fusion of Chinese and Korean cuisine. Chaomamian is the name of this incredible food in Chinese. The name of the Korean version is inspired by chanpon, and this word when transliterated into Korean as jjamppong.
This Korean noodle soup packs a punch with its spicy red broth made from gochugaru, or chili powder. It is typically made with a variety of seafood or pork, and a mix of garlic, onion, Korean zucchini, cabbage, and carrots.
Natural ingredients bring irresistible flavor to this tasty soup. However, its taste is pretty intense, so you should consider it before eating.
Jjamppong has many types. Seafood lovers can try Samseon jjamppong with various seafood (but this type is more expensive), while Gul jjamppong has oysters and a spicy white broth.
Pork back-bone jjamppong is also popular with pork bone broth, stir-fried seafood, chili oil, and vegetables. For those who like it spicy, gochu jjamppong has Cheongyang chili pepper. You can also opt for the pan-fried version of jjamppong for a different texture.
23. Kongguksu – Soy Milk Soup Noodles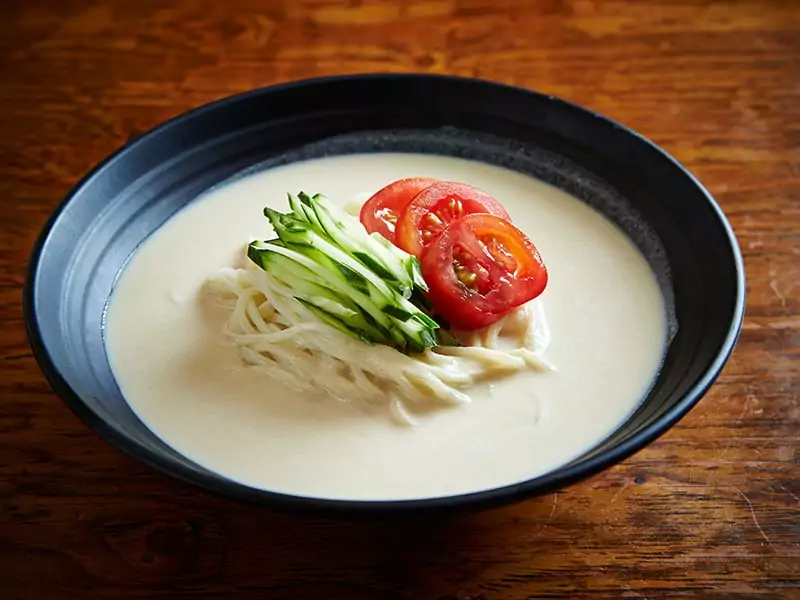 Have you tried Kongguksu? It's a Korean delicacy consisting of cold wheat noodles bathed in soy milk broth. It was born in the early 19th century. Although the taste is pretty, you will be hooked on it after eating for a while.
Not only is it a perfect summer deal, but it is also vegan-friendly. The beauty of this dish lies in simplicity: just 5 ingredients are needed to create the nutty and rich broth. All you need is dried soybeans, cucumbers, pasta, salt, and water.
Next time you feel hesitant to stock up on soy milk because you fear the possibility of soy milk going bad, perhaps you can think of this Korean dish. Soy milk noodles may sound strange at first, but their flavor is something that your taste buds will thank you for.
24. Kalguksu – Knife-Cut Noodles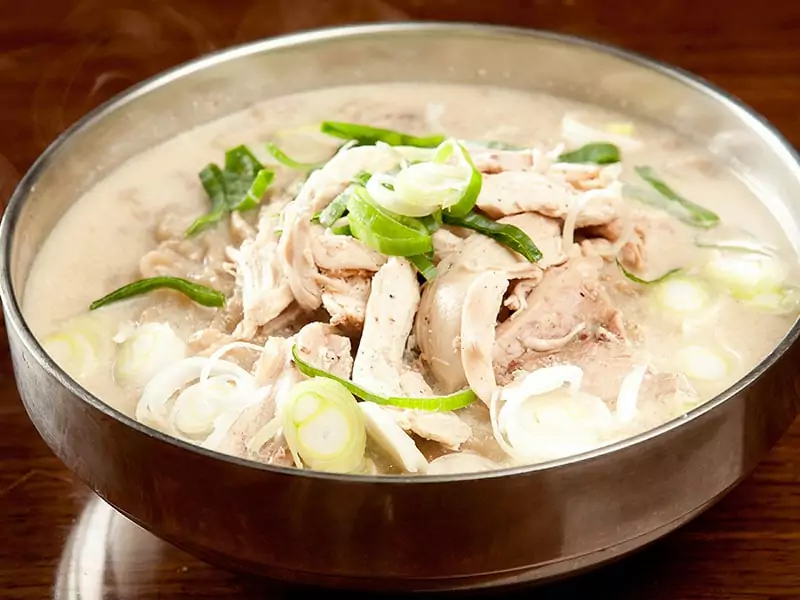 Kalguksu is a traditional Korean noodle dish that includes handcrafted wheat flour noodles served in a generous bowl of broth and additional components. The dish is usually enjoyed during the summertime and gets its name from the cutting process used to create the noodles.
This wonderful dish has been around since the Joseon period. In 1670, it appeared in a cookbook by Lady Jang. During the barley and wheat harvest festival, Koreans will eat this food a lot.
Handmade noodles have a characteristic bouncy texture and flat shape. To make the kalguksu broth, shellfish, kelp, and dried anchovies are commonly used, and chicken broth may be used as well.
These ingredients are simmered for a prolonged period to create a flavorful broth. Following this, the wheat flour noodles, Korean zucchini, potatoes, scallions, and other vegetables are added to the broth and cooked together.
Korean Rice Dishes
Rice is a crucial component of Korean cuisine and forms the foundation of many traditional recipes. In the upcoming section, you will find a compilation of popular Korean foods that are made with rice as the star ingredient.
25. Bibimbap – Rice Bowl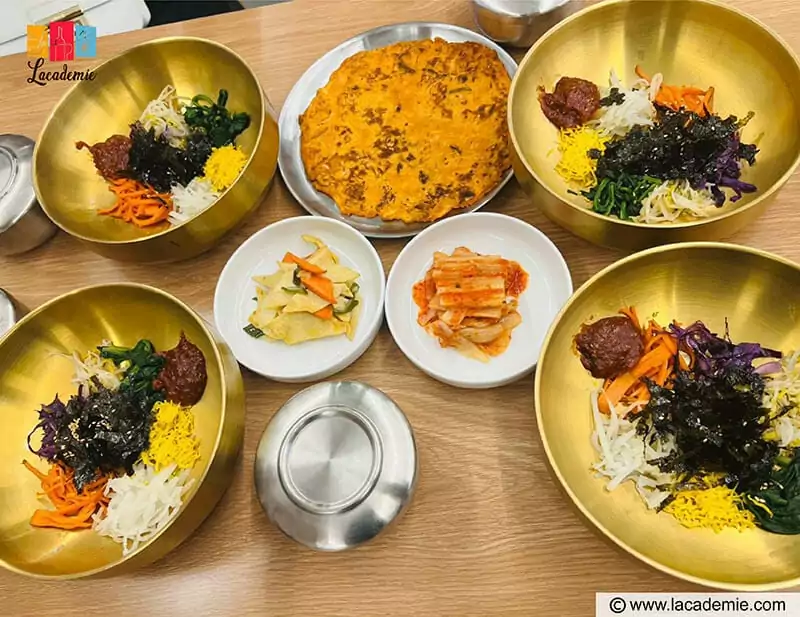 Bibimbap is an iconic dish of Korean cuisine, but do you know what the name actually means? Bibim means "mixing," while bap refers to cooked rice.
But bibimbap isn't just popular in Korea. According to CNN Travel's readers' poll for the world's most delicious foods in 2011, it placed 40th out of the top 50.
Instead of eating rice with individual foods, various ingredients are combined to create a unique food. Carrots, mushrooms, beef, and fried eggs are the most common.
Bibimbap is highly customizable and has many regional variations across Korea, so you can make it with any ingredients you have on hand.
26. Gimbap (Or Kimbap) – Seaweed Rice Rolls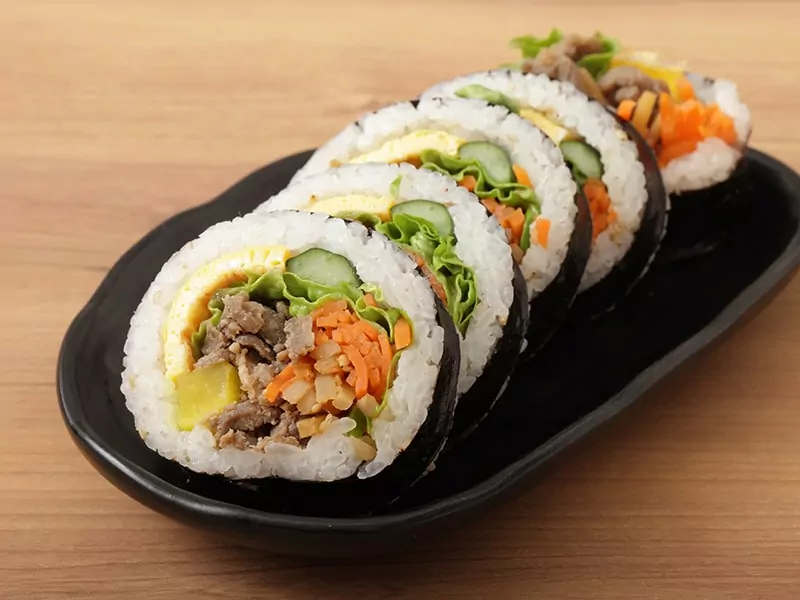 Gimbap (also known as Kimbap) will diversify your choice of Korean breakfast recipes. Not only are Gimbap rolls delicious, but they're also a feast for the eyes. Therefore, they become a common sight in Korean restaurants and on the streets.
The vegetables are stir-fried with spices and rolled with beef, sausage, fried egg, and rice in a seaweed sheet. The chef will cut it into thin slices before serving it to you.
From picnics to take-out orders, this dish is a versatile dish that's loved for its portability. Enjoy it with a side of danmuji and kimchi for a light and satisfying meal.
Kimbap is often brought up when people compare Korean and Japanese food. This food was born when the Japanese invaded Korea in the early 20th century. Koreans have modified the way Japanese food rolls to create a dish according to their own identity.
Depending on what ingredients you use for kimbap, it can become the ultimate Asian dish for vegetarians. Trust me on this. The briny, umami flavor from the seaweed sheets truly goes well with creamy rice's fragrance. So there's no need for you to stuff kimbap with juicy meat.
Taste kimbap and bibimbap to understand more about their flavors.
27. Kimchi Bokkeumbap – Kimchi Fried Rice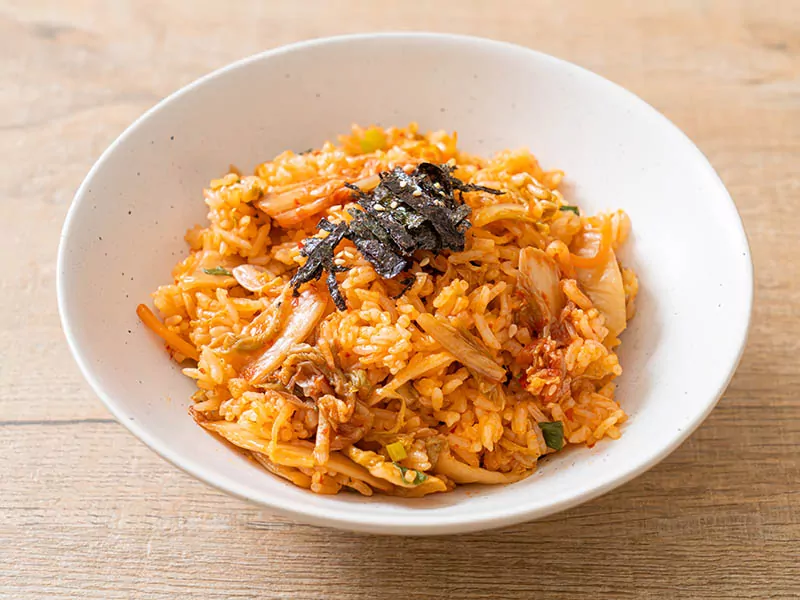 You will regret it if you do not enjoy Korean fried rice with kimchi. Rice is combined with traditional Korean food to create a culinary masterpiece.
The rice will have a beautiful golden color and a typical kimchi flavor. In addition, its taste becomes more diverse with the appearance of vegetables and soy sauce. It still ensures the nutritional value for you with pork or beef.
Kimchi fried rice is a popular and affordable meal option, especially for students. The dish is often served with warm soup such as kongnamul-guk (soybean sprout soup), or miyeok-guk (wakame soup) , danmuji, and cool dongchimi (usually in the summer).
Kimchi fried rice became common in Korean pop culture. In the song "Wishes" by male singer Byun Jin Sub, he mentioned his ideal type as a girl who cooks delicious kimchi fried rice. Thanks to the K-pop wave, Korean cuisine is more widely known.
28. Kongnamul Bap – Soybean Sprouts With Rice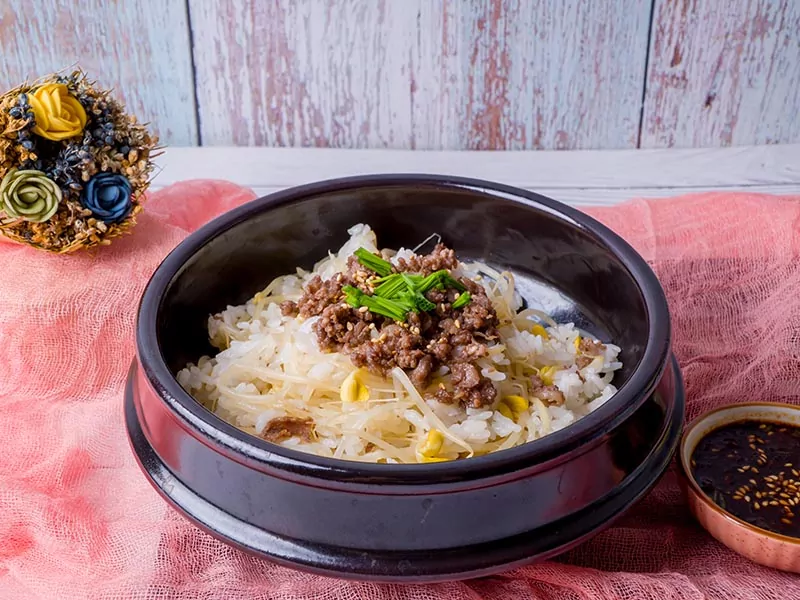 Koreans have been incorporating sprouts into their cuisine since the Three Kingdoms period, as evidenced by records of their cultivation dating back to the 13th century. Bean sprout dishes can even be found in historical books from the Joseon era.
I am sure that you will love the flavor of this incredible food on the first try. Tender and supple rice cooked with beef and bean sprouts will leave a deep impression in your mind after eating it.
You should mix it with soy sauce and green onions when enjoying it. Putting a spoonful of rice with all the elements in your mouth will give you a burst of robust flavors. They blend and melt in your mouth at the same time.
Korean Seafood Dishes
If you are craving seafood, here are suggestions that you should not ignore. It is great to be immersed in the wonderful taste of typical seafood when you land in Korea-the capital of kimchi. Please try them now!
29. Haemul Pajeon – Seafood Pancake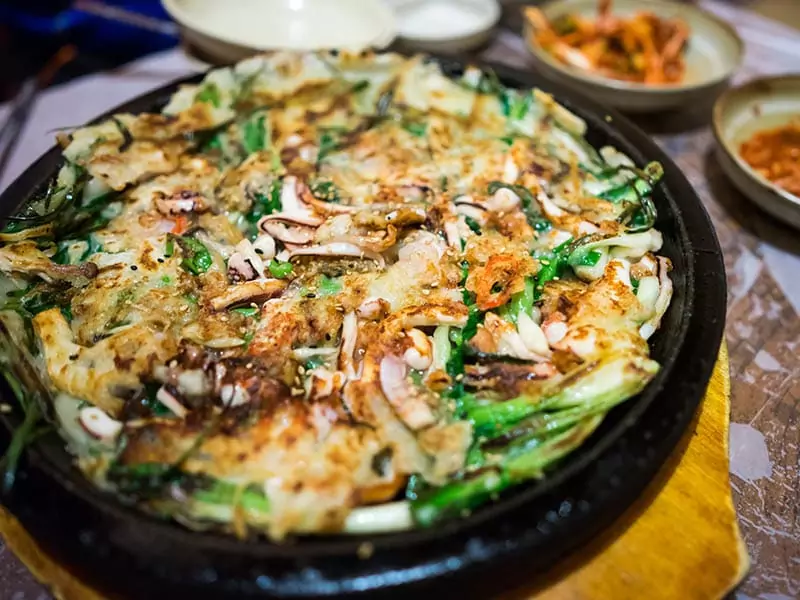 Haemul Pajeon is typically made with a batter consisting of rice flour, wheat flour, eggs, scallions, and other ingredients depending on the regional variation. Common fillings include beef, pork, kimchi, and seafood.
The appearance of this wonderful Korean food is said to resemble Chinese scallion pancake, but its texture is not as thick. Enjoying a warm pajeon with a glass of cold makgeolli is a beloved tradition on rainy days in Korea.
Another variety is dongnae pajeon. This version is made from eggs, glutinous rice flour, rice flour and gochujang. It originated in Busan and was named after Dongnaesung fortress.
Dongnae pajeon was created to celebrate a victory against invading Japanese soldiers. It gained popularity during the Joseon era, especially with the rise of the Dongnae market.
30. Nakji Bokkeum – Spicy Stir-Fry Octopus/Squid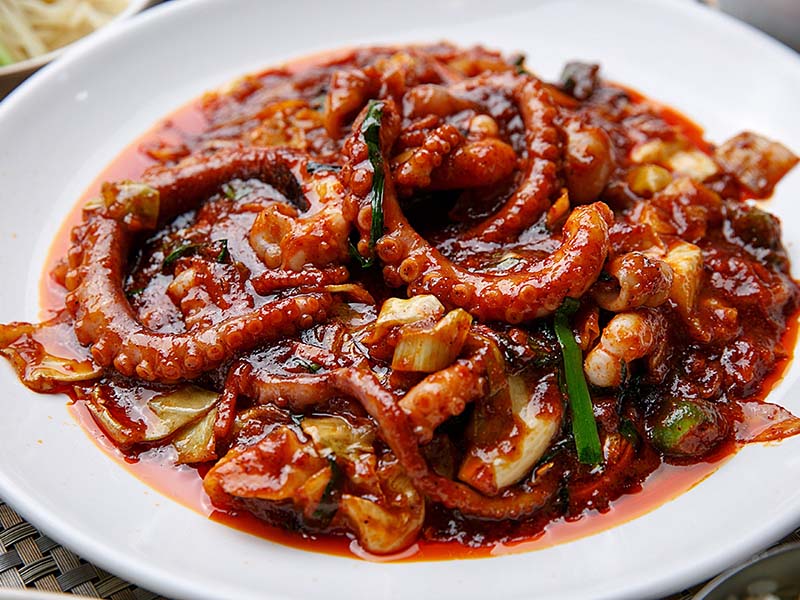 In the 19th century, when more and more Koreans ate raw or fried squid, this wonderful dish was born. In 1972, a restaurant selling this food was opened with the name Nakji Center.
It is nice to have dinner with a plate of squid bathed in red caramel sauce. The soft and chewy squid blends with the vegetables, and the rich taste of the sauce will make you satisfied.
The spiciness is its hallmark, as chefs will add chili powder, chili peppers, and chili paste to make an explosively spicy flavor. In Korea, it is often accompanied by cooling or mild side dishes such as shellfish soup to balance the heat.
31. Ganjang Gejang – Raw Crab Marinated In Soy Sauce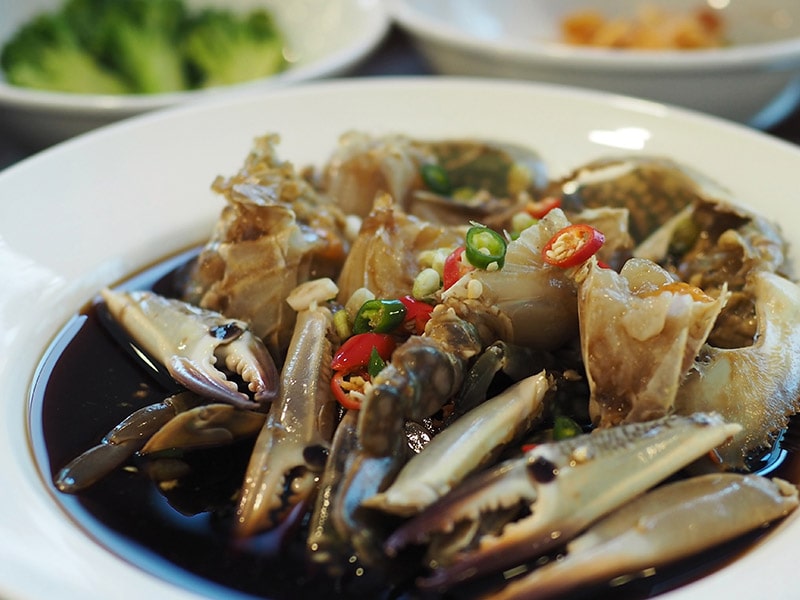 Ganjang Gejang is a traditional Korean fermented seafood made from live crabs that are marinated in a soy sauce or chili pepper-based sauce.
The name "gejang" is a portmanteau of "ge" (crab) and "jang" (condiment). There are many versions of this dish. However, Chamgejang is worth mentioning.
Chamgejang is often referred to as "bapdoduk" (which means "a meal thief" or "a rice thief") in Korea because it is believed to stimulate the appetite and make people want to eat more.
Crabmeat has a natural sweetness and a moderate salty taste of soy sauce. In particular, you will not be able to forget the greasy and unique flavor of the crab roes when soaked with soy sauce.
There are many records of the history of this wonderful marinated crab, and they date back to the Joseon period. Therefore, this food stuck with Koreans for a long time.
32. Godeungeo Jorim – Braised Mackerel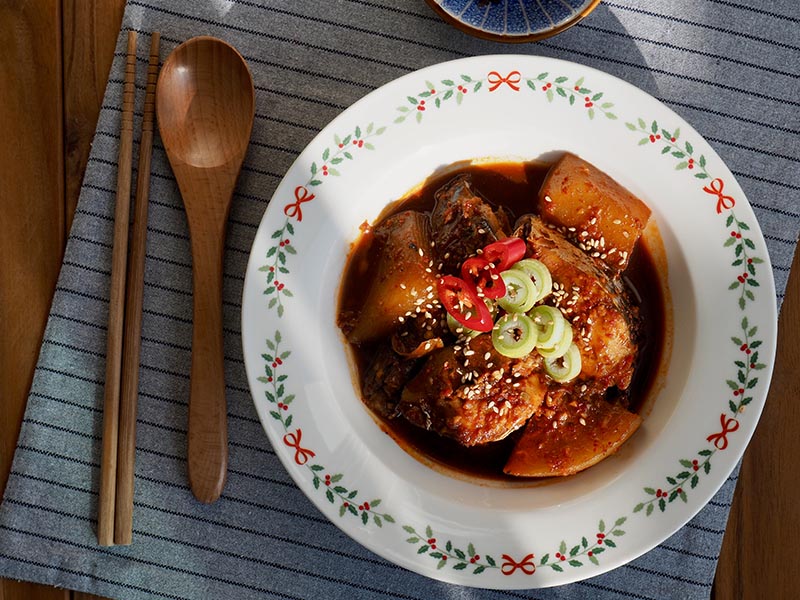 If you're a fan of mackerel, you'll love "godeungeo-mujorim," a traditional Korean dish that involves simmering mackerel and radish in a delicious soy sauce-based broth.
Jorim is a classic Korean cooking technique that involves slow-cooking ingredients in a flavorful broth until they are infused with flavor and tender to the bite.
Typically, jorim dishes are made with soy sauce, which adds a salty-savory flavor, but you can also use gochujang or gochugaru for a spicier twist.
You will be captivated by the sweet and salty taste of radish when stocked in this way. It is fantastic to take a bite of a rich and tender mackerel and enjoy the wonderful aroma of the pot of braised fish.
Korean Street Foods
Korea is a country famous for many attractive street foods. Therefore, street food in Korea is one of this country's long-standing traditions. Save the names of these great dishes, so you can enjoy them while you are out on the town.
33. Bungeoppang – Fish-Shaped Pastry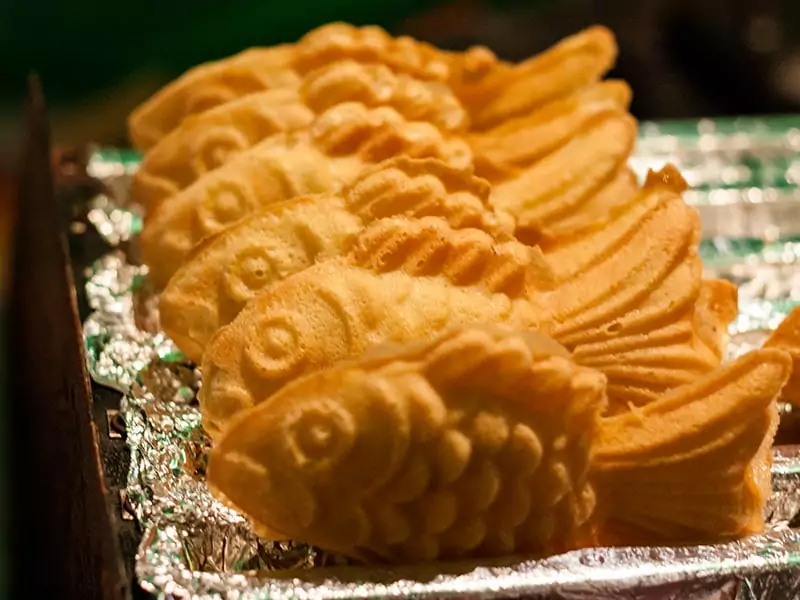 Bungeoppang, a fish-shaped pastry, is a popular Korean street food commonly enjoyed during the winter months. The pastry is filled with sweetened red bean paste and grilled on a fish-shaped mold similar to a waffle iron.
Bungeoppang, was originally inspired by the Japanese taiyaki and was introduced to Korea in the 1930s. However, Koreans have since put their own twist on this classic treat.
It is an excellent choice for those with a sweet tooth, and it deserves to be on your list of Korean dessert recipes. The traditional filling for bungeoppang is sweetened red bean paste, but nowadays, many vendors in Korea offer a variety of fillings, such as pastry cream, pizza toppings, chocolate, and more
34. Hotteok – Sweet Pancake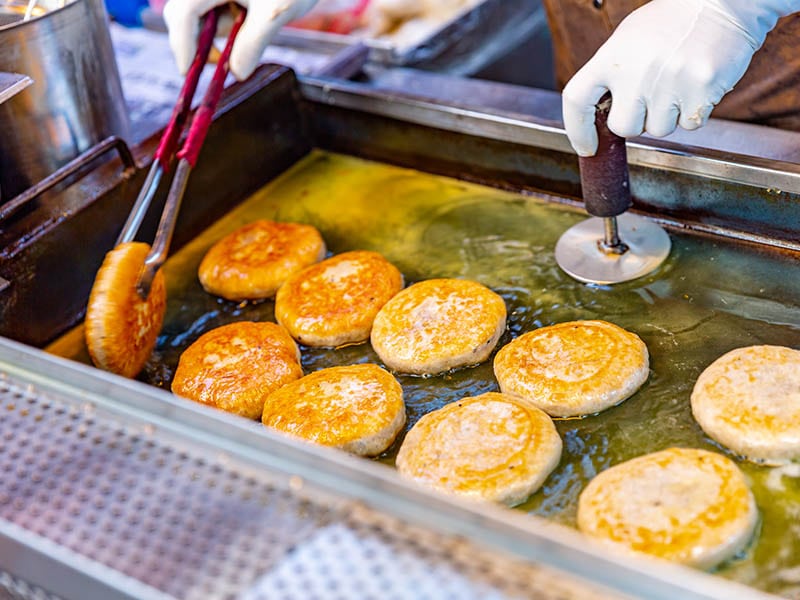 Hotteok has a Chinese origin, coming from the tang bing or sweet pancake. Chinese merchants who settled in Korea in the late 19th century sold tang bing at a low price, which helped spread the dish's popularity in Korea.
Eventually, the Koreans adapted and renamed it hotteok or "barbarian's rice cake. In contrast to many Chinese pancakes that are commonly filled with savory meat, hotteok is typically filled with sweet ingredients.
This Korean snack has undergone many changes and now features a variety of sweet fillings. While the classic cinnamon and peanut flavors remain popular, newer versions have emerged such as green tea, pink bokbunja, corn, and pizza hotteok.
In addition to traditional fillings, vendors provide yachae-hotteok with japchae and vegetables. Ready-to-cook hotteok products are also available from brands like Samyang, Ottogi, and CJ.
35. Tteokbokki – Spicy Rice Cake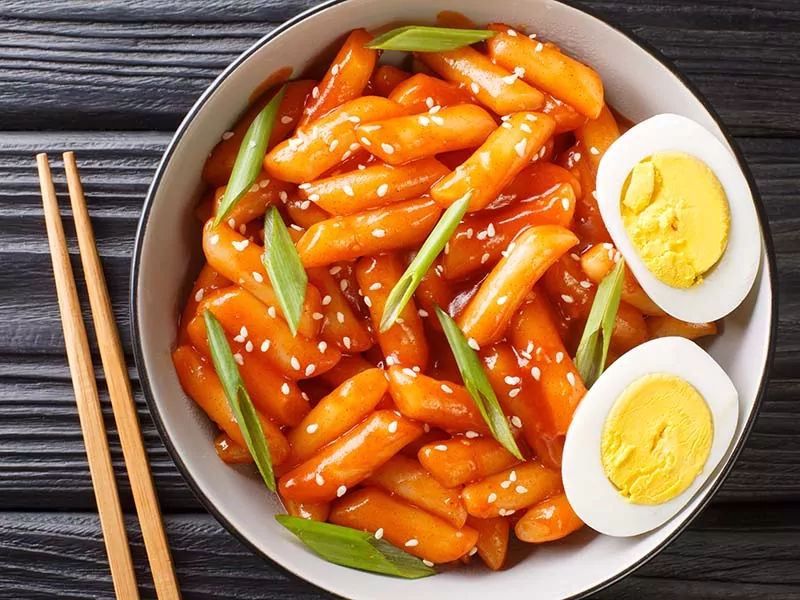 Tteokbokki, a well-known Korean food, is made with garae-tteok (a long, white, cylinder-shaped rice cake), along with fish cakes, boiled eggs, and scallions. The chewy and sticky rice cakes, bathed in the rich umami flavor and characteristic spicy sauce will make you addicted to this dish.
This dish is traditionally flavored with spicy gochujang or non-spicy ganjang sauce. The spicy gochujang sauce is the most common, while the non-spicy version, called gungjung-tteokbokki, is less popular.
This well-known street food was included in the Korean cookbook in the 19th century and gradually became a culinary icon of this nation. Your trip will not be complete without eating the famous food with a T as its name starter.
In Korea, tteokbokki is available at dedicated restaurants, commonly known as jeukseok tteokbokki. Additionally, it is a popular home-cooked meal as garae-tteok (rice cakes) are readily available in pre-packaged form.
36. Sundae (Or Soondae) – Blood Sausage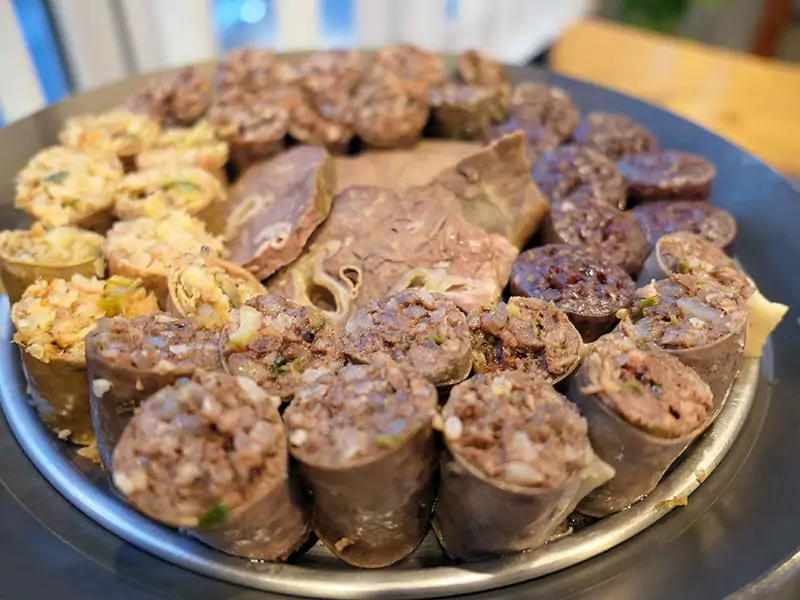 Sundae, also recognized as soondae, is an old recipe that dates back to the Goryeo period (918-1392). At that time, the Koreans took advantage of the rich source of wild boar meat on the Korean peninsula to make this food. It was found in famous Korean cookbooks in the 19th century.
Soondae is a unique recipe where pig blood, vegetables, and noodles are stuffed inside the pig's intestines and create products like sausages. The remarkable thing about this dish is the variety of sauces served.
In South Korea, sundae is a dish that is typically steamed and accompanied by offal like liver and lung. To bring out the flavors, you can dip sliced sundae pieces and sides in a salt-black pepper mixture when you come to Seoul.
In Honam, this dish can be served with vinegar-gochujang mixture while the Yeongnam people prefer seasoned soybean paste and Jeju fancy soy sauce.
37. Korean Fish Cake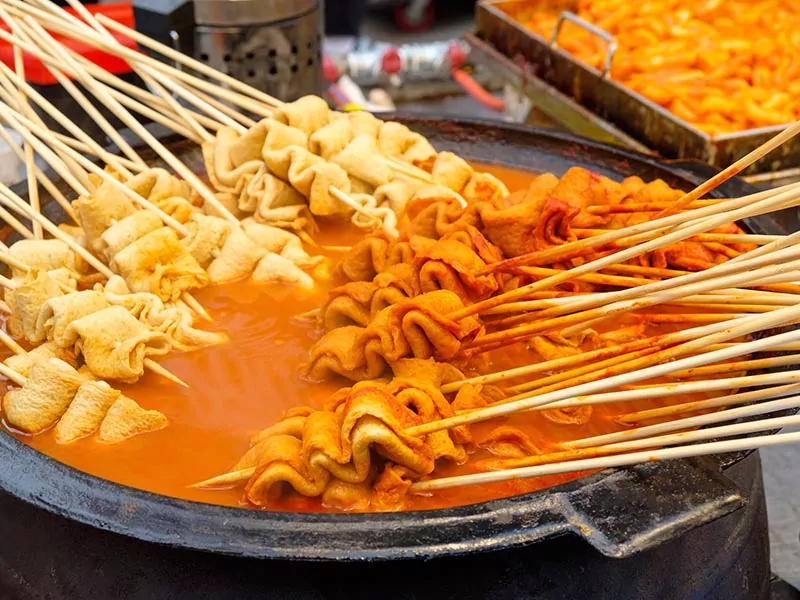 Fish cake is a classic Korean dish that comprises ground fish meat, flour, and seasonings skewed on bamboo sticks. It goes by 2 names: "oden" and "eomuk".
Eomuk is the native Korean word for fish cake, while odeng is thought to have originated from Japan and is a long, flat type of fish cake cooked with vegetables and eggs on skewers.
The chewy and tender fish cake becomes more fantastic when served with a spicy broth. You will dip a fish cake stick into the broth or take a bite of the fishcake and take a sip of the broth.
Korean Desserts
Korean desserts encompass a wide range of sweet treats, from traditional delicacies to modern innovations. These desserts often incorporate ingredients like rice, beans, fruits, and sweet syrups.
Whether it's a refreshing shaved ice dish to beat the summer heat or a warm, comforting rice cake in the winter, Korean desserts offer something delightful for every palate.
38. Bingsu – Shaved Ice Dessert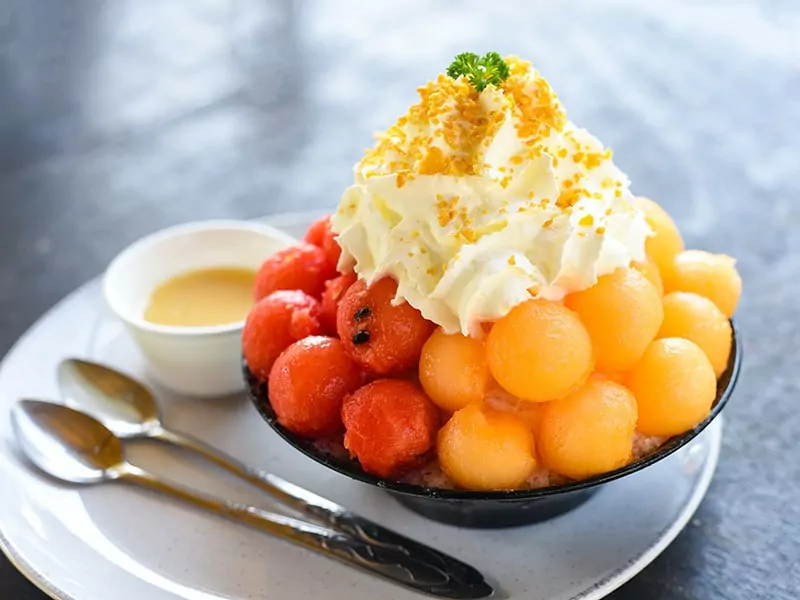 Korean bingsu shops are a popular destination on hot summer days, as people flock there to enjoy cool servings of bingsu and beat the heat.
Bingsu has been savored in Korea since the Joseon era, where initial renditions consisted of shaved ice and a few plain elements. Later renditions of bingsu with an assortment of ingredients began to emerge and were introduced at Seoul's most aged bakery in 1946.
The preeminent sort of bingsu in Korea is the Pat-bingsu or red bean shaved ice. However, it has undergone various transformations. Present-day variations arrive in diverse flavors, such as green tea, coffee, or yogurt, and some may even forgo the paste completely.
In addition, its flavor is enhanced with various juicy Korean fruits and condensed milk toppings. You can also ask for candies or cakes for more choices.
Korean Side Dishes or Banchan
In Korean cuisine, side dishes play a crucial role in complementing and enhancing the flavors of the main course. These dishes offer a variety of textures, flavors, and colors, ensuring that each meal is balanced and harmonious.
Banchan refers to the collection of these small side dishes, often served in small bowls or plates. Ranging from fermented items like kimchi to sautéed, steamed, or pickled delicacies, banchan adds depth to the Korean dining experience and showcases the diversity and richness of its culinary traditions.
39. Kimchi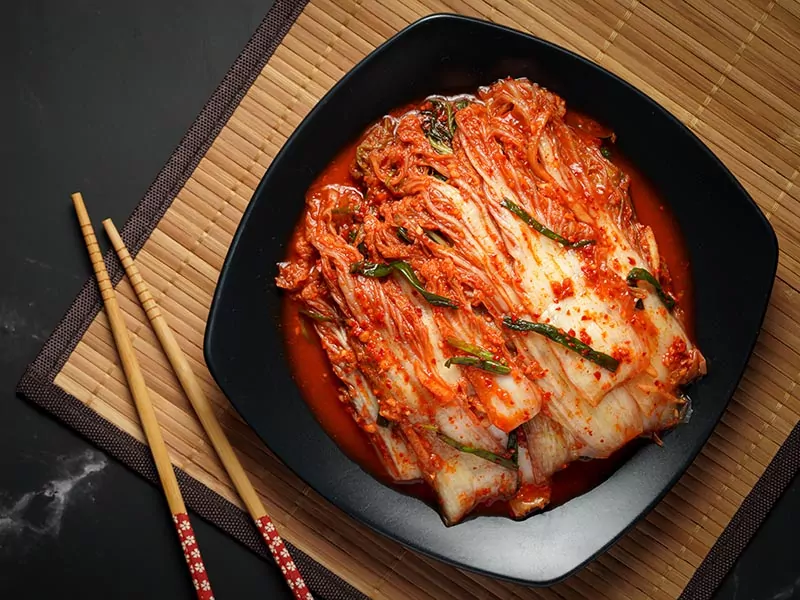 One of the things that make Korean food so unique and delicious is banchan, a collection of small side dishes that are served with every meal. And when it comes to banchan, kimchi is the star of the show!
Kimchi appeared in Korea 3000 years ago when Koreans stored and salted food for cold winter days. In the Silla dynasty, it became popular.
This spicy sidekick is made by salting and fermenting vegetables (usually napa cabbage and Korean radish), and it's flavored with pepper, garlic, ginger, and scallion. The result is a delicious, tangy, and slightly spicy flavor that pairs perfectly with rice, soups, and stews.
You will likely recognize this memorable food by its bright orangey-red color and pungent garlicky aroma. It's served in almost every Korean meal, and available at most grocery stores and restaurants.
Beside the common Baechu-kimchi (napa cabbage kimchi), there are some other variations such as Baek-kimchi (white kimchi), Dongchimi (radish water kimchi), Kkakdugi (cubed radish kimchi), Nabak-kimchi (water kimchi), Pa-kimchi (green onion kimchi), and Yeolmu-kimchi (young summer radish kimchi).
Learn some incredible things about Korean kimchi.
40. Dubu Kimchi – Tofu and Kimchi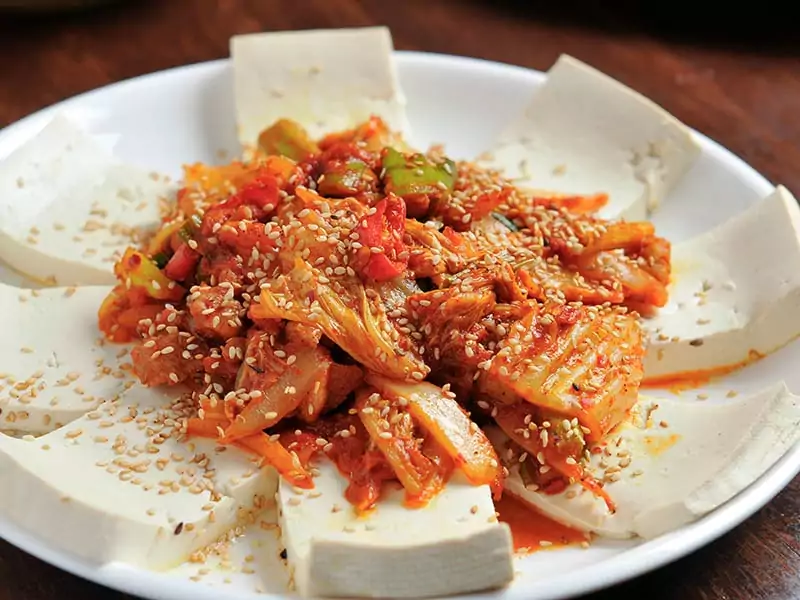 Tofu is a traditional dish that originated in China 2000 years ago and became popular all over Asia. When it appeared in Korea, people combined it with the signature kimchi that was born 3000 years ago to make a perfect dubu kimchi recipe.
Combining pork pieces and kimchi in a stir-fry not only adds depth to the dish's flavor but also intensifies its taste. The mild flavor of the tofu accentuates the signature taste of the kimchi and the tenderness of the pork pieces.
Dubu kimchi is a well-known accompaniment to alcohol, particularly at traditional bars and restaurants. It can make even the hardest alcoholic beverage like soju go down smoother.
---
If you have a chance, let's enjoy all the delicious dishes on this list. I am sure you will be satisfied with their great taste. In case your friends ask about what to eat when visiting Korea, give this article to them.
There are still many other delicious foods that I have not mentioned in this list. If you know any other fantastic foods, feel free to share them in the comments. Also, do not forget to leave your questions; I will respond as soon as possible.