Have you ever tried Kenyan foods? They are a great example of majestic and ancient African cuisine. In addition to famous wildlife and impressive athletic accomplishments, Kenyan dishes are another treasure of this East African country
When you are done with ubiquitous dishes from well-known and much-hyped countries, let's refresh your gastronomic knowledge with interesting Kenyan foods. In this post, I'm going to show you that it will be an amazing experience, so hop on now!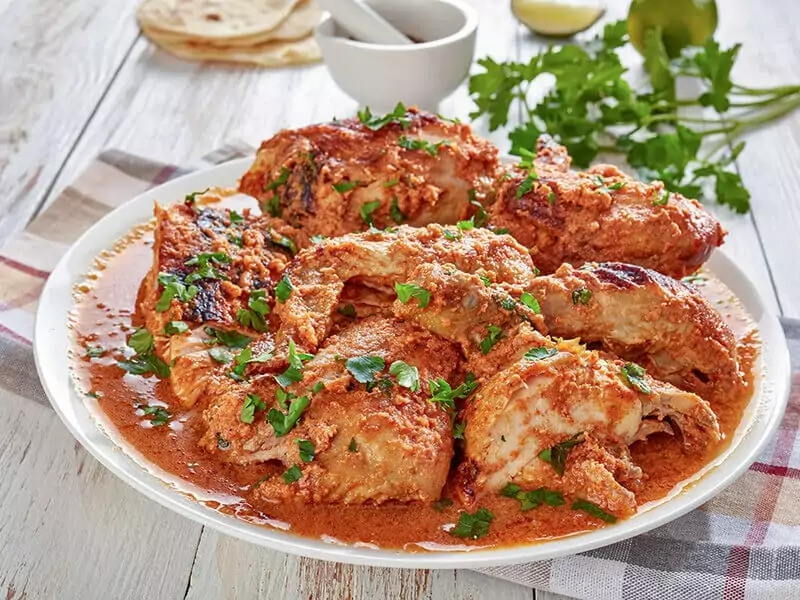 Amazing Kenyan Appetizers And Side Dishes To Jumpstart Your Appetite
Kenyan cuisine places a strong emphasis on the dishes below. They are versatile and can fulfill many roles. You can even enjoy some of them as tasty street food items.
1. Bhajias – Potato Fritter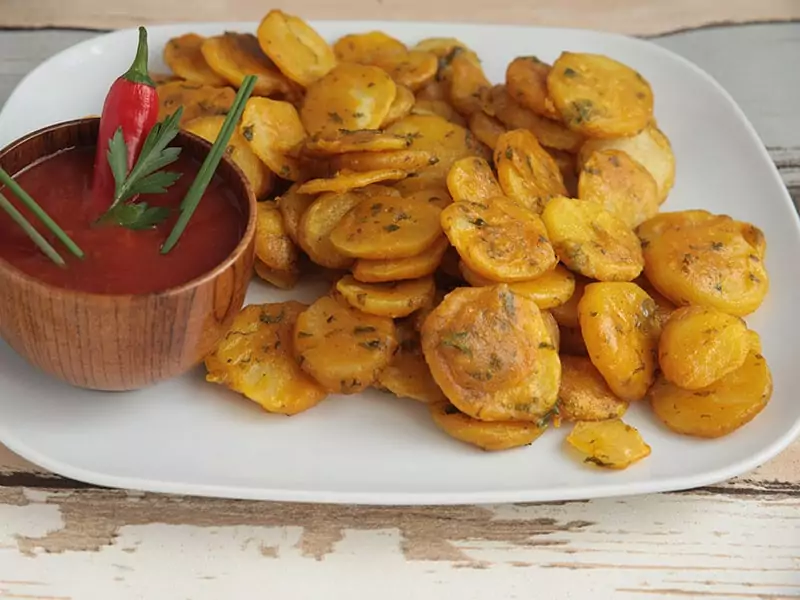 This potato-based snack is immensely popular in Kenya and its neighbor Tanzania. But why do many Google searches say it is Indian delicacy? It is because Indian workers brought it to Kenya when they worked on the railway construction taking place in the country in the late 19th century.
The sublime flavor of Bhajias explains why it quickly took hold of Kenya. People cook it by dipping slices of potatoes into a mixture of gram flour and strong spices (such as cumin and chili powder). The last step is to deep-fry them in oil until golden brown.
Needless to say, you should enjoy Bhajias when it's hot and crisp. Some tomato or chili sauce will make it a nice appetizer or snack. Indian railway workers brought Bhajias to Kenya but it is the local people who cherish and keep it alive.
Add this easy Bhajias recipe to your culinary repertoire.
2. Mutura – Kenyan Sausage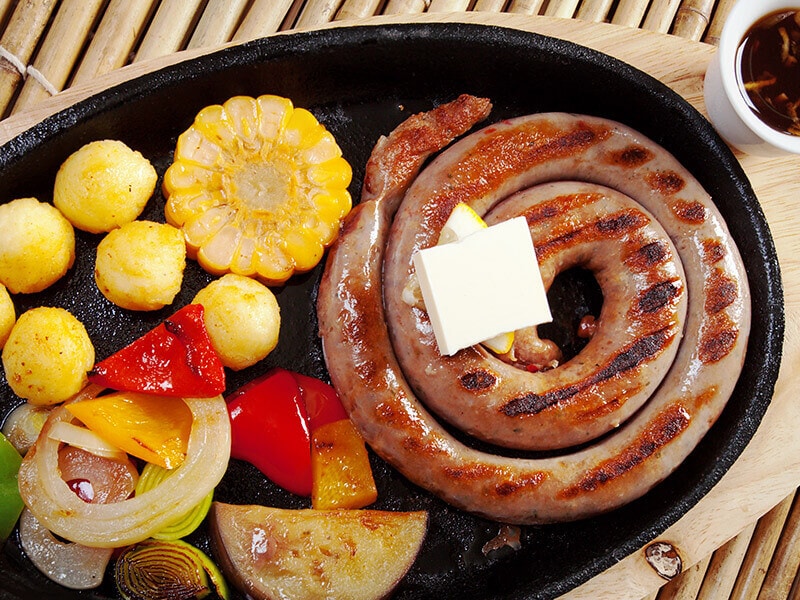 You can't paint a scene of Kenyan street food without Mutura. It is an affordable and heavily seasoned variety of sausage. Mutura vendors usually operate at night.
People make this sausage by stuffing cow or goat intestines with ground meat, garlic, spices, and fresh animal blood! That's right, you're not mistaken. Mutura is a blood sausage so it's an acquired taste that many eaters need time to adjust to.
But once you get used to the spicy, smoky, and intense flavor of Mutura, you will find it a very agreeable appetizer to go with soup or salads or a cup of beer.
3. Chipsi Mayai – Omelet And French Fries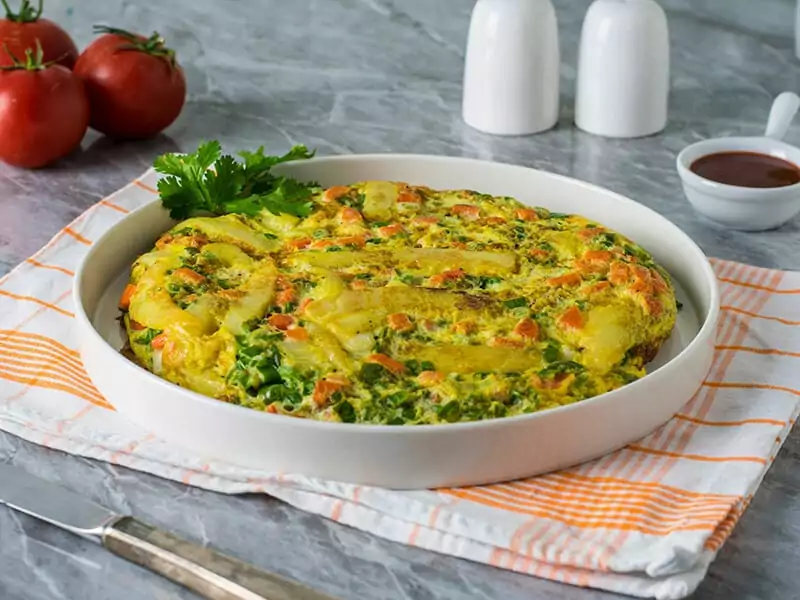 What can you eat with French fries? Perhaps the French (or Belgians since they also claim credit for the fries) can never imagine pairing crunchy, salty, fatty fries with buttery omelets. But Kenyans can, and they have the mouth-watering combo Chipsi Mayai to prove it.
Break some eggs, cook them with spices, and serve with French fries and Kachumbari. Chipsi Mayai is as simple as that but no foodies are safe from its scrumptiousness. It is a popular street food item and side dish in both Kenya and its neighbor Tanzania.
4. Ugali – Cornmeal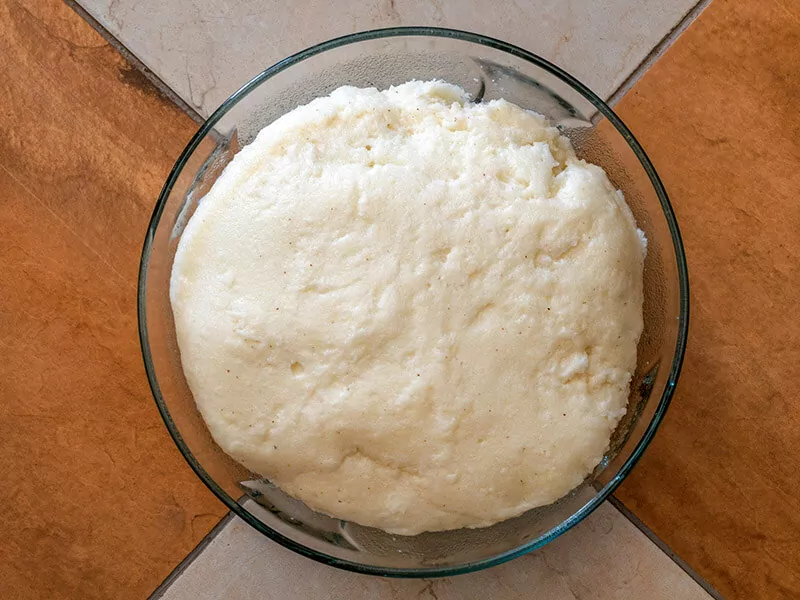 Ugali, or cornmeal, is a dish eaten across Africa. But in Kenya, it achieves superstar status. By boiling corn flour, or millet or sorghum flour, into a dough-like consistency, Kenyans have a versatile dish to go with all kinds of food: salad, meat, chicken, fish, etc.
A typical Kenyan breakfast recipe consists of Ugali with porridge and Chai (tea). Millions of Kenyans grow up with the nutrients of Ugali flowing in their veins. It isn't an overstatement to think Ugali is the national dish of the country or the hallmark of its culture.
Good Ugali doesn't stick to the fingers and can be shaped into an edible spoon to scoop your food with. When former US President Barack Obama visited Kenya in 2018, he fondly recalled the memory of sharing Ugali with his sister as a child.
Learn how to avoid common mistakes when cooking Ugali here.
5. Mukimo – Mashed Potatoes And Beans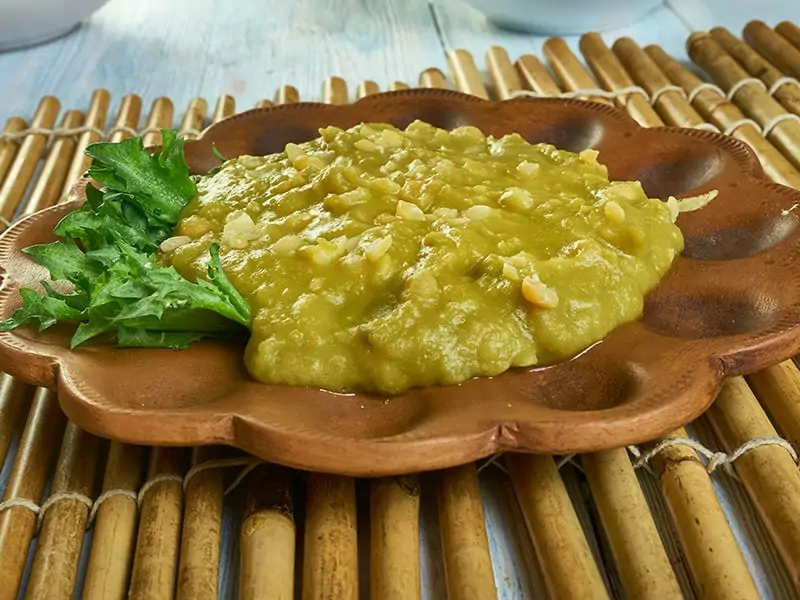 Starting as a tribal dish, Mukimo is currently the shared passion of the entire nation. It is an ancient specialty of the Kikuyu tribe, Kenya's largest ethnic minority, that lives in the highlands of central Kenya.
"Mashing" is the word to describe Mukimo. The Kikuyu people make it by mashing potatoes with green peas, corn, and any greens available together. The mixture is later cooked in water with some salt to taste.
Mukimo may sound simple, but the tribe usually cooks it for special occasions like weddings and funerals. On ordinary days, however, you can consume it as a tasty and healthy side dish with salads, grilled steaks, and stews.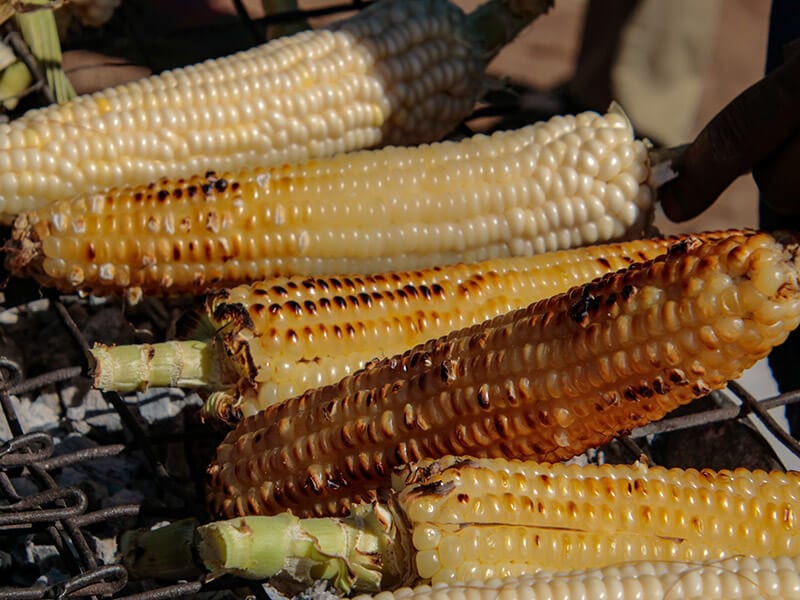 By some estimates, a Kenyan consumes 98 kilograms of corn annually on average. You can see how important this staple food is to Kenyan cuisine. So it's no wonder that Mahindi Choma, or roast corn, is one of the most popular dishes in the country.
It is ridiculously easy to prepare this dish. Kenyans usually roast peeled corn cobs over an open charcoal fire and garnish them with a rub of chili or lime salt. Hold the cob by the husk and you can enjoy warm, delicious roasted corn kernels.
Mahindi Choma is available at many food booths and carts in Kenya. People love this cheap and flavorful food. Kenyans eat it as a snack as well as a side dish with grilled steak.
Learn how to roast corn from a Kenyan local here.
7. Irio – Mashed Vegetables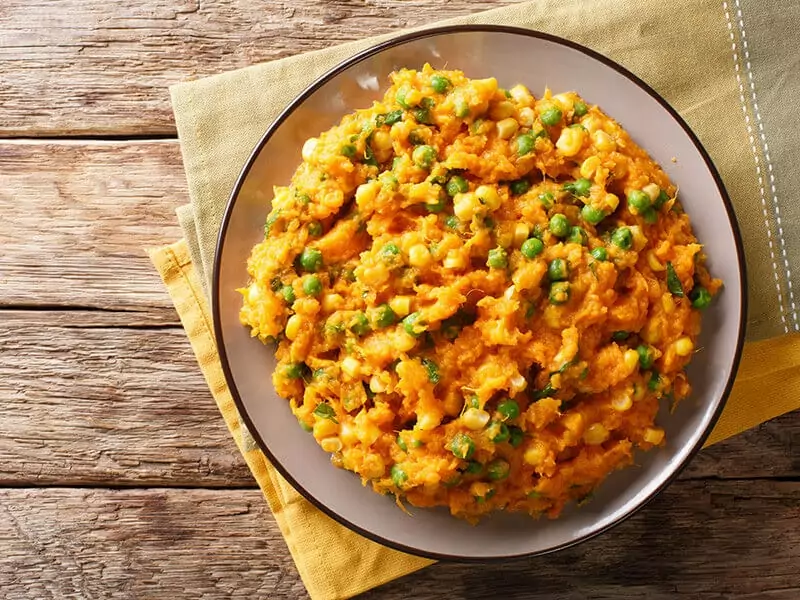 This is another variety of mashed potatoes and beans from the Kikuyu people. It can appear the same as Mukimo but there are several differences. The first disparity lies in their name; "Mukimo" means mashing while Irio is simply "food".
In addition, Irio includes Githeri, a Kenyan dish of boiled corn and beans, but Mukimo doesn't. Finally, people can mix Irio with sautéed steaks and gravy to create a scrumptious dish called Nyama Na Irio.
8. Chapati – Flatbread
During its time as a British colony, Kenya came under significant influence from India, another fellow subject. That's how Chapati, a popular Kenyan unleavened flatbread, came about. Its shape and ingredients strongly suggest inspiration from the famous Indian bread Roti.
Chapati is made from kneaded wheat flour that people divide into small parts, roll each of them flat and fry them in oil until crisp and golden. Some cooks add more ingredients to the dough to enhance the flavor, such as carrots, onions, or pumpkins.
Chapati is suitable for your everyday fare as well as special occasions, especially Christmas. You can munch on it alone with hot drinks or pair it with rich dishes for the main course.
It would be wrong to assume that Kenyan cuisine is all about meat and fat. Check out these vegetable-based options for a fresher and healthier meal.
9. Kachumbari – Tomato And Onion Salad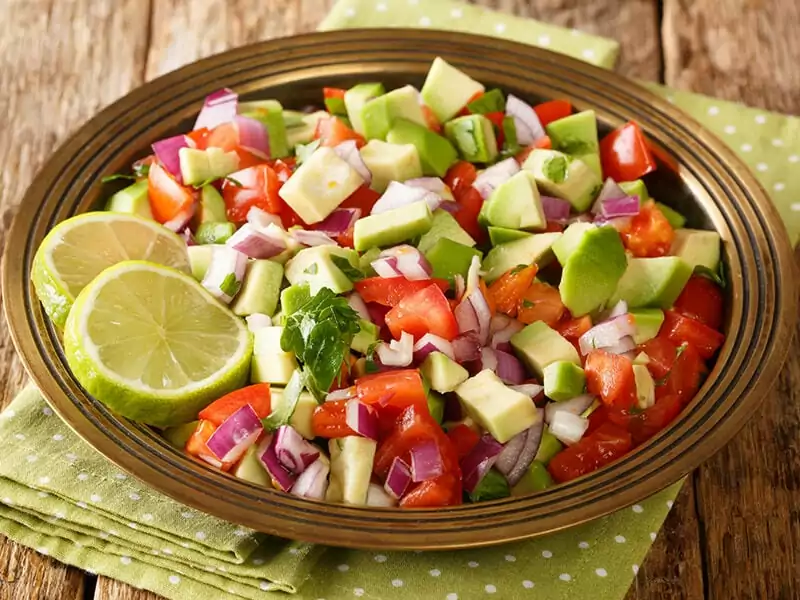 A lot of Kenyan dishes are fatty roasted/grilled foods or greasy, calorie-packed stews. To balance the amount of fat and meat, let me introduce you to Kachumbari, a Kenyan salad that will refresh your appetite and aid your digestion.
Kachumbari comprises fresh tomatoes, chopped onions, green chilies (or red ones if you love spicy foods), lemon juice, herbs, cucumbers, and avocados (the last two are optional). The salad doesn't contain mayonnaise so it is fat-free.
The freshness of those veggies makes Kachumbari extremely suitable for serving with Nyama Choma (grilled meat). But enjoying it separately as an appetizer is fine, too.
Follow this detailed tutorial to make your own Kachumbari at home.
10. Wali Wa Nazi – Kenyan Coconut Rice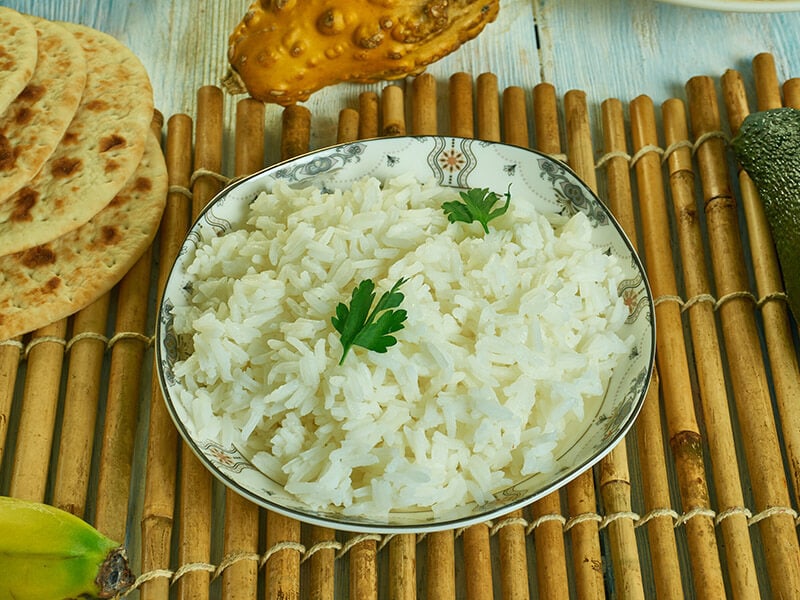 Here is another commonly cooked variation of Kenyan rice dishes. Unlike Pilau, Wali Wa Nazi only requires a small amount of seasonings; but in return, the rice has to be cooked in fresh coconut milk and possibly some coconut meat.
You will be more likely to come across this dish when trolling through Kenyan beaches dotted with coconut trees. The name may alarm you ("Nazi" is "coconut" in Swahili, though) but eating Wali Wa Nazi drizzled with stews while sea breezes caress your face is a supreme experience.
11. Pilau – Kenyan Rice Dish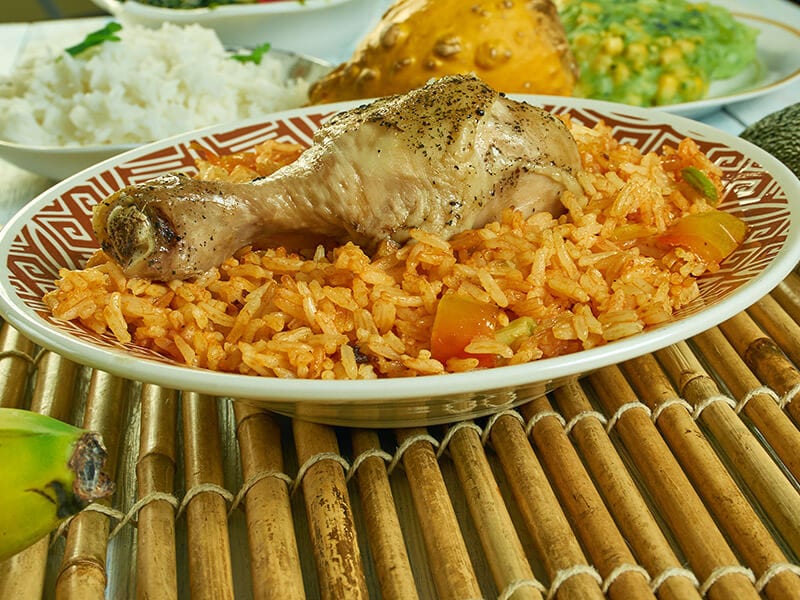 Of all Kenyan recipes with rice, the crown should unquestionably go to Pilau. This Kenyan rice dish has an incredibly powerful taste and aroma that you won't forget after experiencing it. Best Pilau is usually based on the aromatic Basmati rice variety.
Kenyans make Pilau by cooking rice with a large amount of spices, such as ginger, garlic, cinnamon, etc., to name a few. Cooking the rice in meat or fish broth is a must, while you don't have to add meat to the rice.
Pilau is especially popular in the coastal regions of Kenya. People usually pair it with Kachumbari or meat and consider the combo a meal for special celebrations.
Check out how a Nigerian couple reacts to their first try of Pilau.
12. Githeri – Boiled Corn And Bean Stew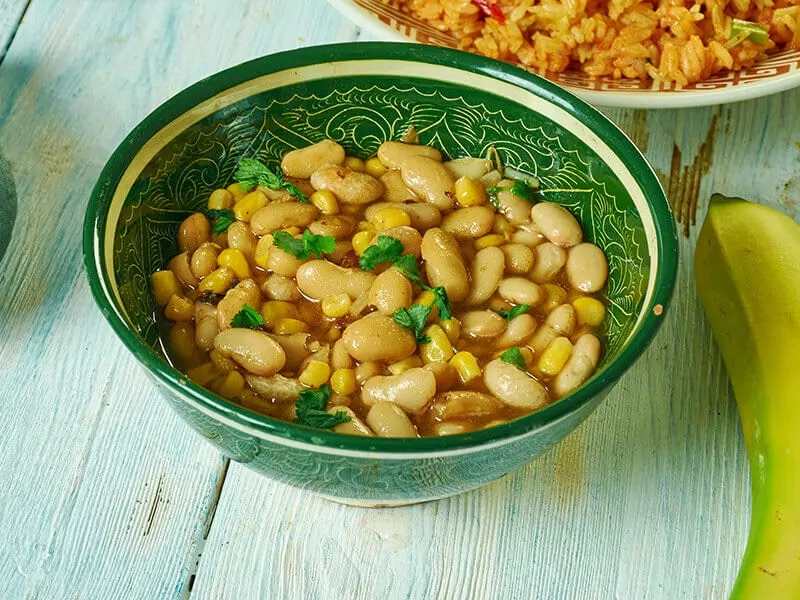 Besides Mukimo, the Kikuyu tribe bestows on Kenyan cuisine with another culinary delight. I'm talking about Githeri, a wholesome and delicious blending of corn with beans. They are boiled and then fried with onions, tomatoes, and spices into a nutritious and easy-to-digest dish.
As fitness and health awareness is gaining traction in Kenya, more and more people turn to Githeri as an ideal Kenyan lunch recipe. But Kenyan children are well ahead of that trend. The dish is the main lunch item at many secondary schools in the country.
13. Matoke – Plantain Banana Stew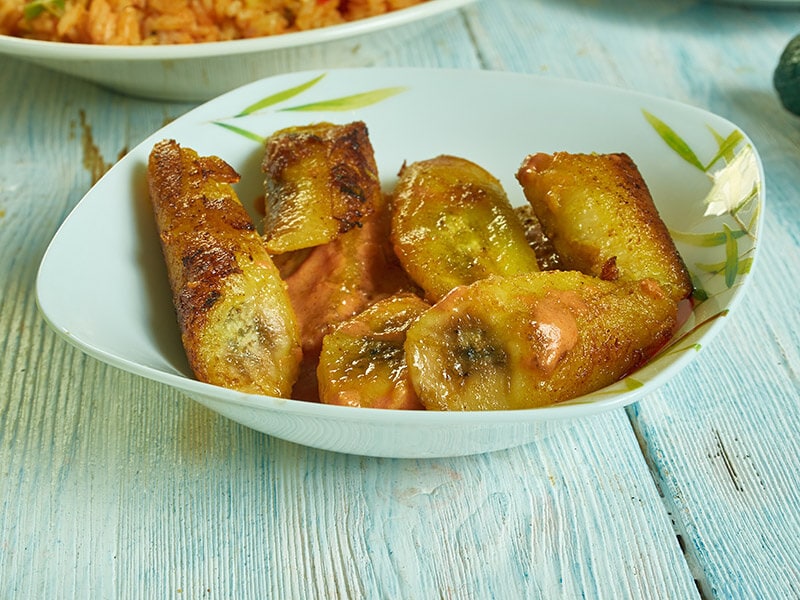 East African countries share a lot of things in cooking. So it's not surprising that Matoke (a name both for plantain banana and the dish cooked from it) from neighboring Uganda represents an object of love for countless Kenyan foodies.
Plantain is a type of banana that is larger, starchier, and sweeter when cooked than the ordinary banana. There are some methods to prepare Matoke with peeled plantains. You can steam-boil and mash them into a stew (most commonly), or fry them with onions, tomatoes, and spices.
Besides Kenya and Uganda, the dish is also famous in other African nations where plantain is prominent. For example, it's an essential dish for the people in Tanzania.
Matoke is a healthy Kenyan dinner recipe that you should try. Beef stew or other meaty dishes are the best accompanying foods to bring out the sweet and fruity flavor of Matoke.
You will find it easy to cook Matoke with this in-depth guide.
14. Maharagwe – Spiced Coconut Bean Soup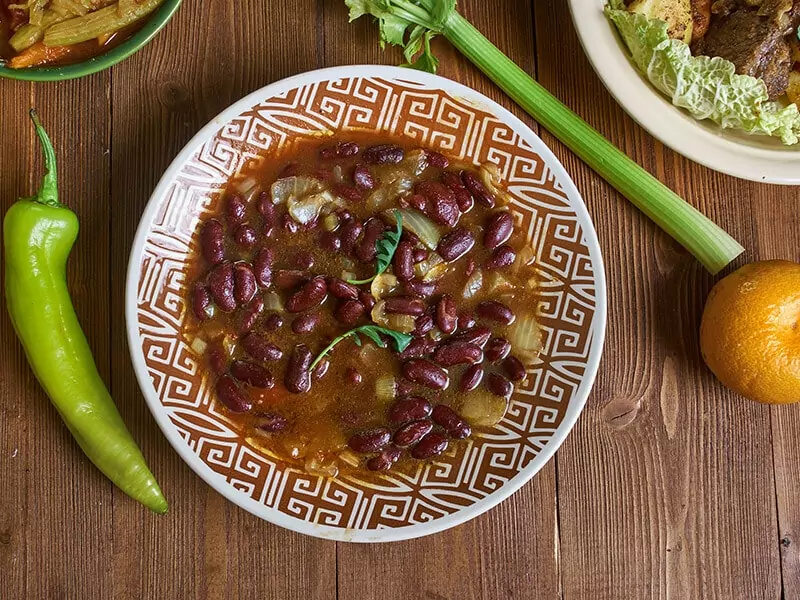 Taking refuge at Kenya's stunning, coconut tree-lined white sand beaches, you can come across many street vendors selling Maharagwe. It is a delicious and spicy soup made from beans and coconut milk and served with cornmeal, bread, or rice.
Don't be surprised if you see Maharagwe in Chadian cuisine as well since the dish is quite famous in many African countries.
People usually cook red beans for the dish, but some consider yellow beans to be superior and use them instead. People sauté the beans with spices, tomatoes, and onions before adding coconut milk to the mix to create a sweet and spicy bean soup.
Check out how to cook Maharagwe here.
Indulge Yourself With These Hearty Kenyan Meat Dishes
Whether it's breakfast, lunch, or dinner, Kenyan cuisine always has delicious dishes meat, poultry, and seafood to offer. Prepare yourself for these sexy, spicy foods.
15. Omena – Silver Fish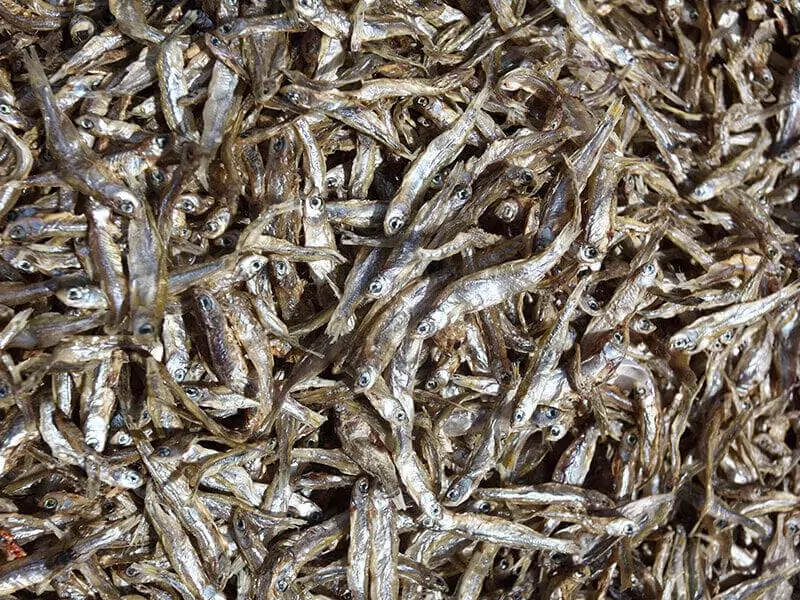 In the west of Kenya lies Lake Victoria, the largest lake in Africa. It serves as the main habitat for Omena, a small freshwater fish precious to Kenyan cuisine. The name means "silver fish" in Swahili, the dominant language of East African countries including Kenya.
Omena can be used in innumerable dishes, but Kenyan specialty involves sun-drying and later frying those tasty in oil. Fried Omena goes well with Ugali, tomatoes, and vegetables. You can't find this delicacy outside of East Africa so don't forget to enjoy it whenever possible.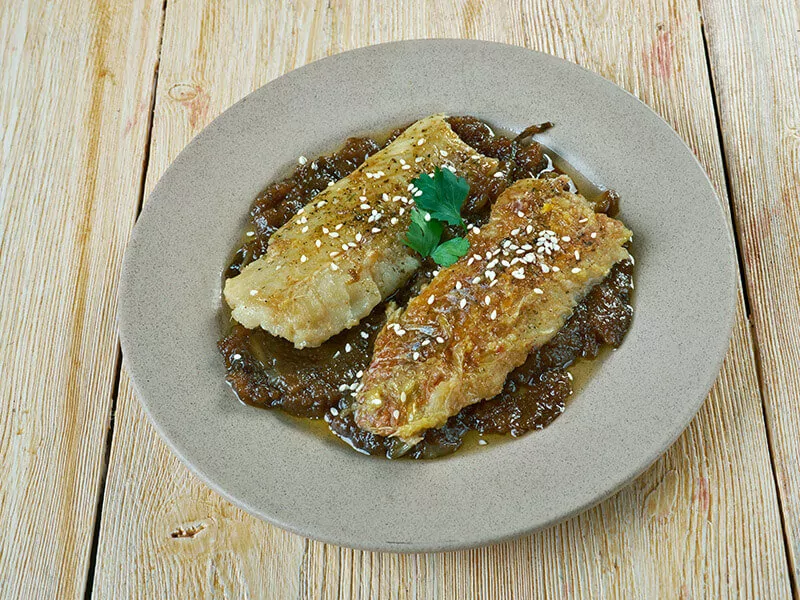 Fish, or "Samaki" in the native tongue, is a staple food of Kenyan cuisine. The country has many gigantic lakes, such as Naivasha Lake, to give them a bountiful supply of fish. Kenyans love to serve this valuable delicacy with tamarind sauce.
The first step is to season fish filets with spices and fry them. People then whip up some Ukwaju (tamarind) sauce by pureeing tamarind juice with chilies (both fresh and powdered) and salt.
Rice with some slices of Samaki Wa Kukaanga drizzled with Ukwaju sauce is a memorable meal.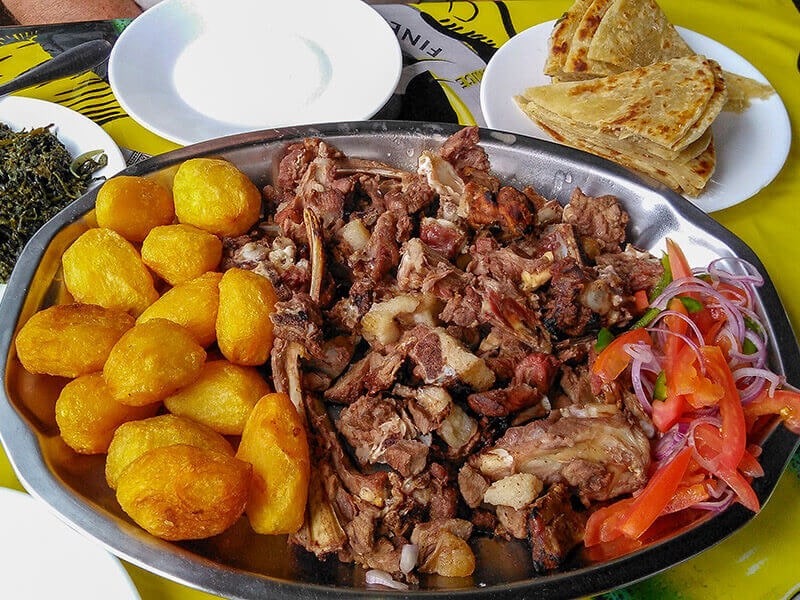 Many people say Ugali is Kenya's national dish, but others claim the title must go to Nyama Choma, Kenyan roast meat. Considering that both are cornerstones of Kenyan cuisine, perhaps both should be granted the distinction.
Nyama Choma means "grilled goat meat" but beef is sometimes a good substitute. People infuse the meat with spices and seasonings before grilling it over a low fire. Sizzling Nyama Choma should go with starchy Ugali or fresh Kachumbari to highlight its meaty quality.
Kenyans love Nyama Choma as much as Americans can't live without barbecues. Fancy restaurants or roadside carts, holidays or weekdays, there is no stopping them from enjoying delicious Nyama Choma with their bare hands (it's fun to do so).
Hop on a wonderful tour of Nyama Choma in Nairobi here.
18. Ingoho – Luhya-Style Stewed Chicken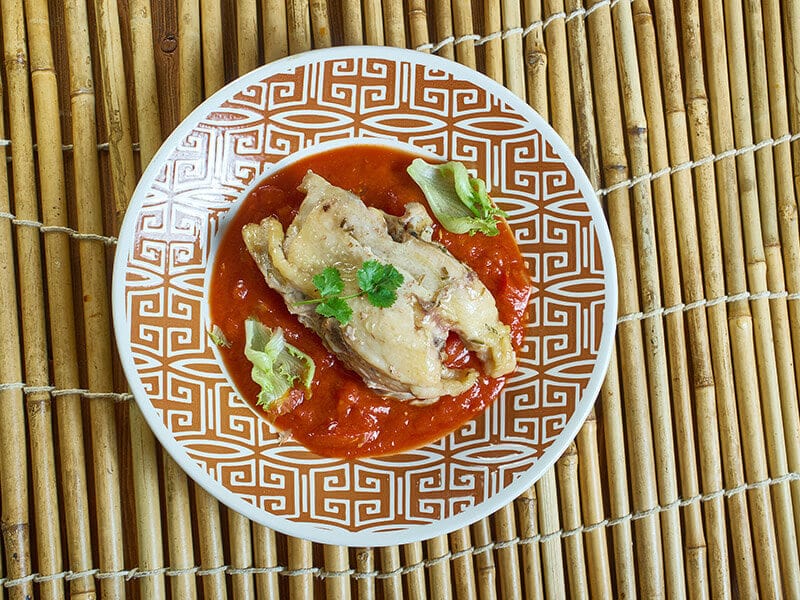 Ingoho is a special chicken stew belonging to the Luhya community in western Kenya. Those people account for more than a third of the country's population. One of their customs is to cook Ingoho for important guests.
So if you are a visitor to a Luhya family and are treated with this dish, that's great news because it means they hold you in great esteem. Anyway, you can enjoy this dish at local restaurants.
This dish involves braising a whole chicken with onions, tomatoes, spices, soy sauce, and fresh coriander. It isn't very difficult to prepare at home.
19. Sukuma Wiki – Sauteed Collard Greens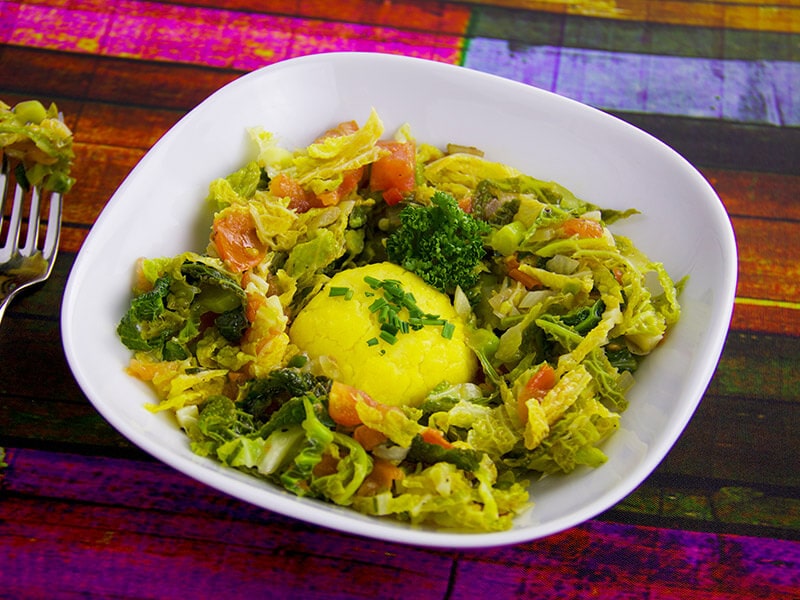 If you don't like to eat your greens despite knowing the enormous health benefits of vegetables, perhaps I have a solution for you with love from Kenya. Let's tempt your appetite with Sukuma Wiki, a dish of sautéed collard greens.
Many people mistake the vegetable for kale, but it is actually tastier. You just need to cook some collard greens in oil until tender, then add chopped onions and tomatoes. Some spices will enrich the flavor.
The literal meaning of "Sukuma Wiki" is something like "the weakling pusher" as an allusion to the cheap cost of the dish. Just have a bite and you will see that the simplicity of Sukuma Wiki actually masks a multitude of nuances of flavors. Ugali or Pilau is good to go with the dish.
Discover how to prepare Sukuma Wiki the Kenyan style here.
20. Nyama – Kenyan Style Beef Stew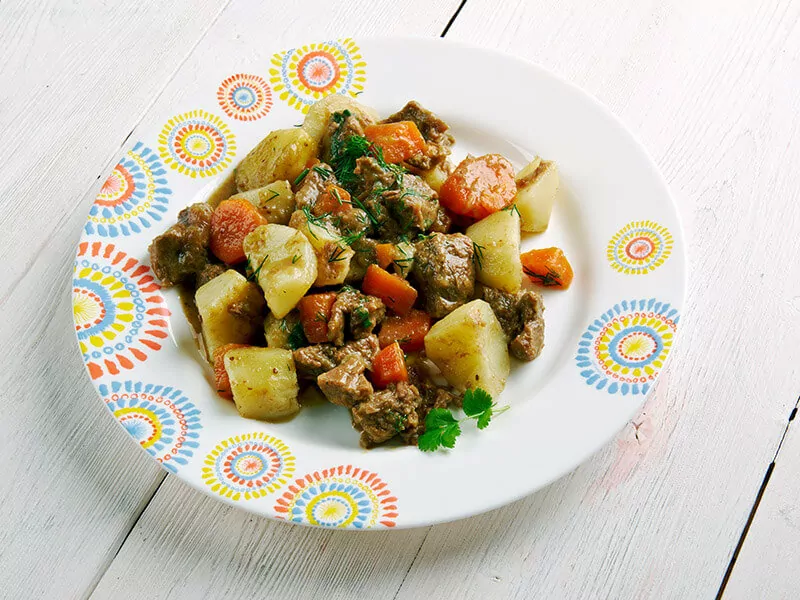 No man ever steps in the same river twice. Likewise, no Kenyan can cook the same pot of Nyama twice because the ingredients can vary considerably between each time. Nyama, or beef stew, is a popular dish in East Africa, but many consider the Kenyan version to be the best.
Kenyan Nyama consists of braised beef, spices. and vegetables. Here is the interesting thing: except for tomatoes and carrots, you can add any kind of veggie to the stew. So every Kenyan family has their own version of Nyama containing whatever they like.
People sometimes add mashed potatoes, cornmeal, or coconut milk to thicken the broth. But whatever Nyama contains, it has to go with Ugali, rice, or salads. You will have no trouble finding this dish on the menu of most Keynan restaurants.
21. Mishkaki – Beef Kabobs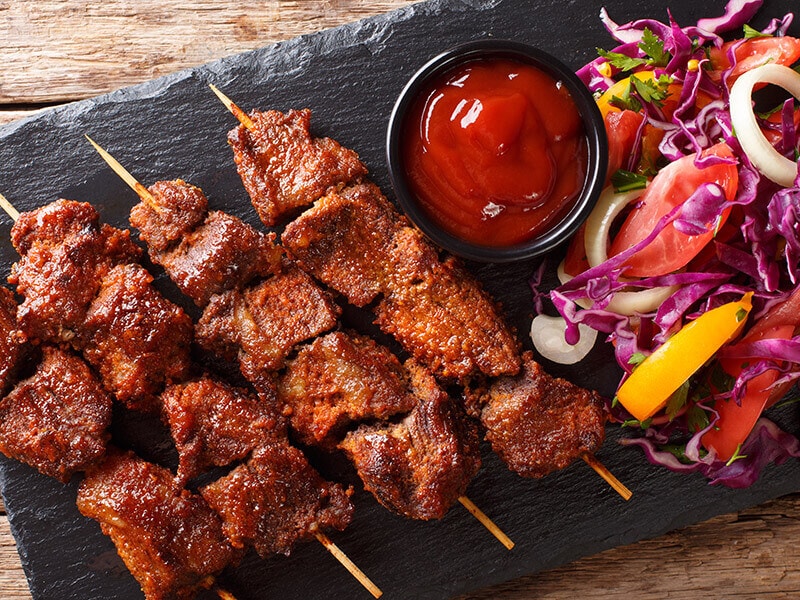 The legendary Nyama Choma is omnipresent in Kenya, but it isn't the only player in town. There is another traditional Kenyan dish of grilled meat that you shouldn't miss out: Mishkaki, literally "meat on a stick" in Swahili. It is a popular treat in Tanzania, Kenya, and other African countries.
The popular way to prepare Mishkaki is to generously season pieces of beef or seafood with spices, skewer them with bamboo sticks, and roast them over a charcoal fire. It is a dirtily, greasily fun sensation to hold those hot sticks and bite off bits of spicy, succulent Mishkaki.
Don't forget to eat Mishkaki with your bare hands. Traditional accompaniments are Ugali and rice, but you can go Western and pair it with French fries.
22. Kuku Wa Kupaka – Chicken In Coconut Sauce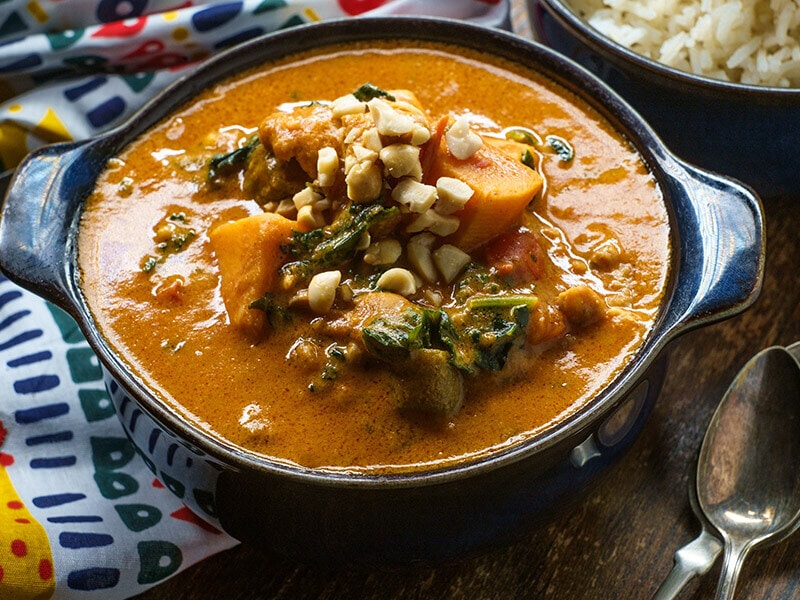 Another relic of the Kenyan-Indian fusion is Kuku Wa Kupaka, a Kenyan chicken and coconut stew that strongly resembles chicken curry.
Kenyans prepare Kuku Wa Kupaka by cooking chicken pieces with sweet coconut milk, nutty peanuts, tangy tomato paste, and strong herbs such as cumin and turmeric. You should expect it to have a curry-like rich and spicy taste.
This dish is very popular in areas along Kenya's coastline. Eating a bowl of savory Kuku Wa Kupakathe with rice or bread while gazing at the Indian Ocean is a pleasant experience.
23. Kuku Paka – Char-Grilled Chicken With Coconut Milk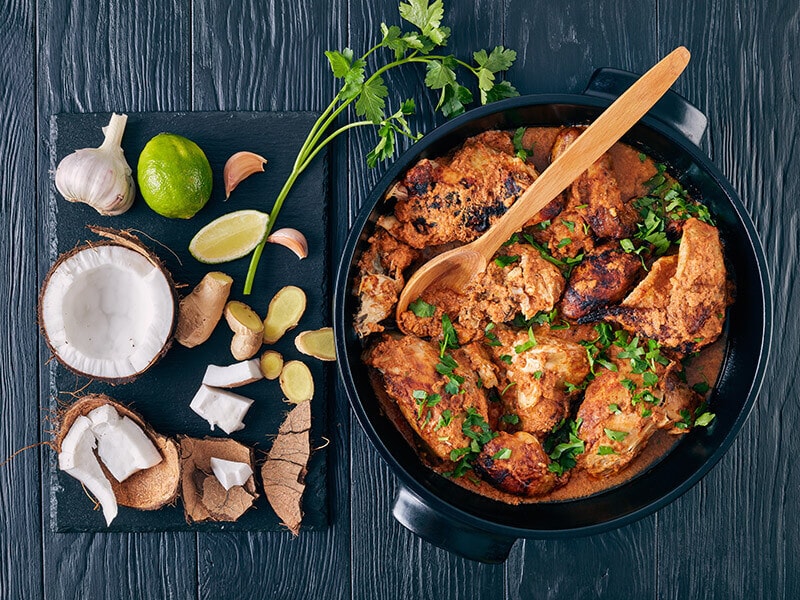 Another dish with chicken and coconut milk like Kuku Wa Kupaka? Yes, that's right but this one requires more elaborate preparation and produces a more diverse sensation.
The secret of Kuku Paka is to grill the chicken over an open charcoal fire first. Then, you drench it in a rich and savory curry sauce of coconut milk and potent spices. You have a spiced chicken that is not only aromatic and fatty but also imbued with a pleasantly smoky flavor.
In Swahili, "Kuku" means "chicken" and "Paka" "to smear, to apply". The dish goes well with vegetables or starchy food like Ugali.
Here is a detailed walkthrough of how to cook Kuku Paka.
Finish Your Meals With These Exotic Kenyas Snacks And Drinks
To have a complete Kenyan experience, let's conclude your food tour with these interesting snacks and drinks. Some of them can be quite peculiar to you.
24. Samosa – Kenyan Triangular Pasty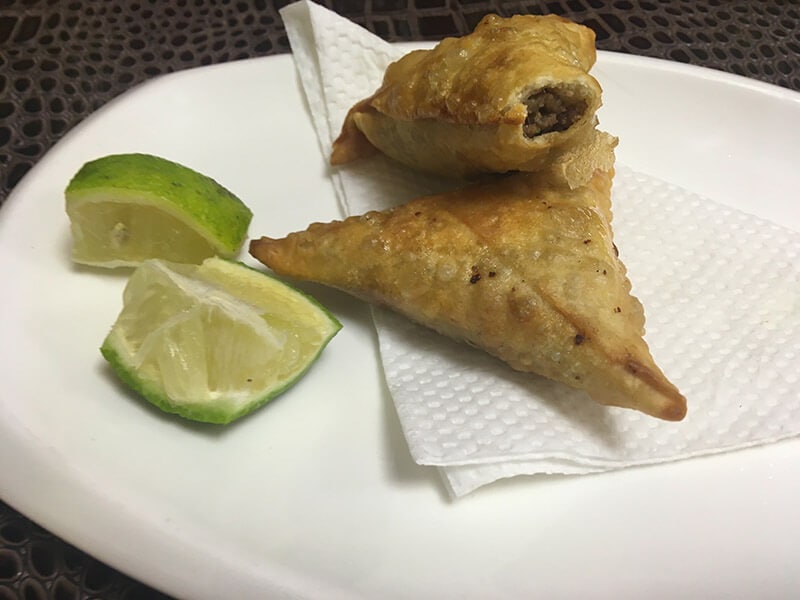 Regardless of where they come from, most Kenyans share a strong liking for Samosas. It is a type of pasty wildly popular in many forms and in many parts of the world. The Kenyan version always has a triangular shape and requires to be deep-fried.
The crisp exterior of Samosa is made from flour wheat, while its filling consists of minced meat, onions, peas, and spices. A vegan variety can replace meat with mashed potatoes. This treat is also a well-loved food in Somali cuisine, but the ingredients vary based on the location.
Kenya is a country of many disparate tribes. Against that background, hot Samosa served with Chai (tea) is one of the useful culinary wonders to hold them together. The snack itself is the harmony of diversity, having influences from various places: India, Arab, and East Africa.
Let's have a taste of Samosa in the streets of Nairobi, Kenya's capital.
25. Mabuyu – Baobab Seeds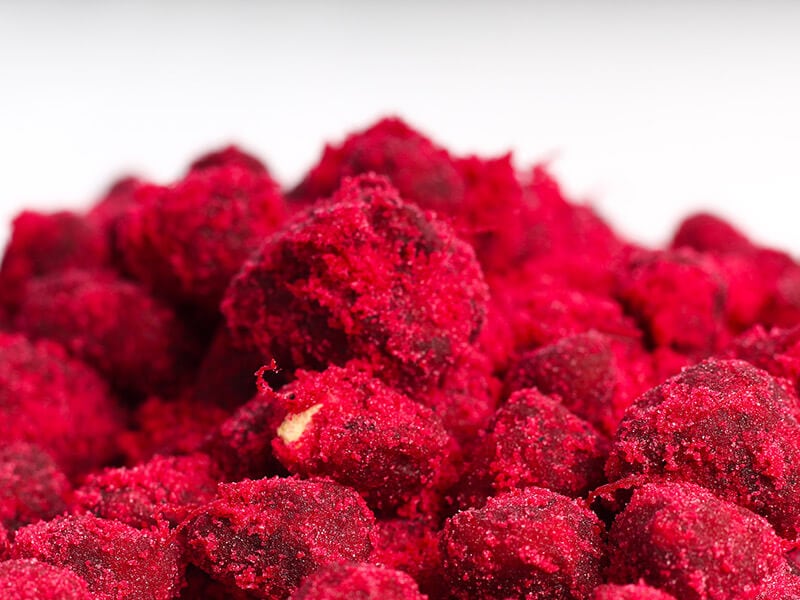 If you are looking for a true Kenyan dessert, Mabuyu, or coated baobab seeds, will happily please you. Everybody knows that the majestic baobab trees are an iconic sight of the Kenyan landscape, but not many people outside Africa realize how tasty baobab seeds are.
Baobab trees produce big, berry-like fruits that have gray color and kidney-shaped seeds. Kenyans roast the seeds and coat them with a syrup of flour, water, chili powder, spices, and food color (usually red or pink). When the coated seeds cool down, sweet and nutty Mabuyu is ready to serve.
The Swahili name of baobab is "mbuyu", hence the name of the candy. You can buy it at any Kenyan street vendor or supermarket, especially in the coastal region.
26. Kaimati – Deep-Fried Dumplings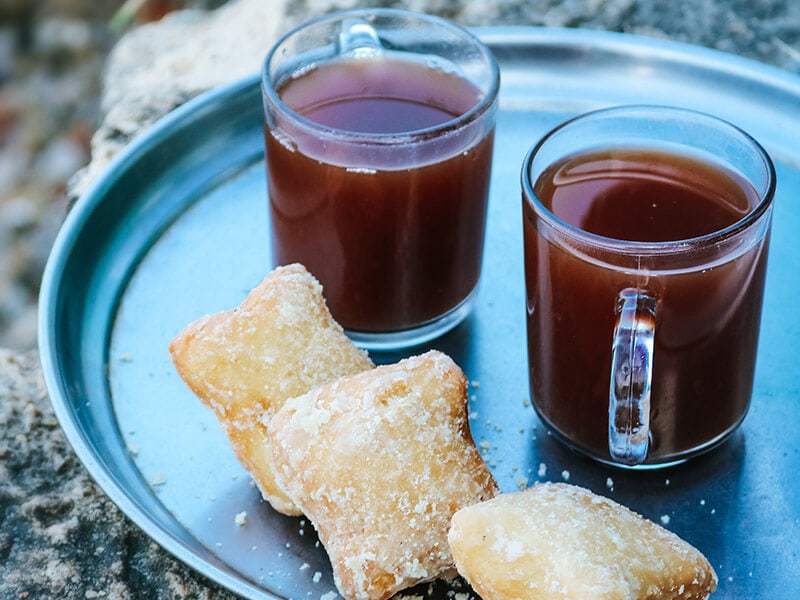 While Kenya is a Christian country, 10% of its population is Muslim. The minority helps diversify Kenynan cuisine by contributing their Kaimati, a type of sweet deep-fried dumpling that is very popular during the month of Ramadan
The snack consists of flour, yogurt, and ghee (a fattier and healthier variety of butter). After people have fried the dumplings in oil, they douse them in a sweet, thick syrup made of sugar, water, lemon zest, and spices. Sometimes, there are also chocolate or sugar coatings.
Kaimati is a savory and energy-rich snack that is very valuable during the period of fasting. But enjoying it with beer or spiced coffee on a normal day is great, too.
27. Mandazi – Kenyan Doughnut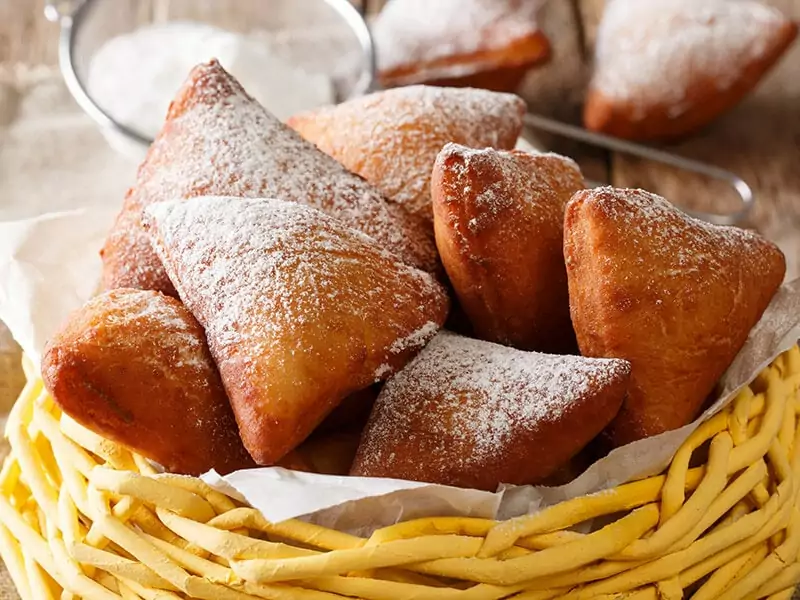 Along the coasts of East African countries, this snack is all the rage. It is a precious jewel of the Swahili people in general and Kenyan cuisine in particular. People enjoy Mandazi as a delicious snack or pair it with stews, salads, or sauces for a light meal.
This type of doughnut is made from leavened flour, sugar, water, and coconut milk for additional sweetness. It is fried in oil or butter until crisp and golden brown. Good Mandazi should be crunchy to bite but fluffy and hollow on the inside.
28. Viazi Karai – Fried Boiled Potato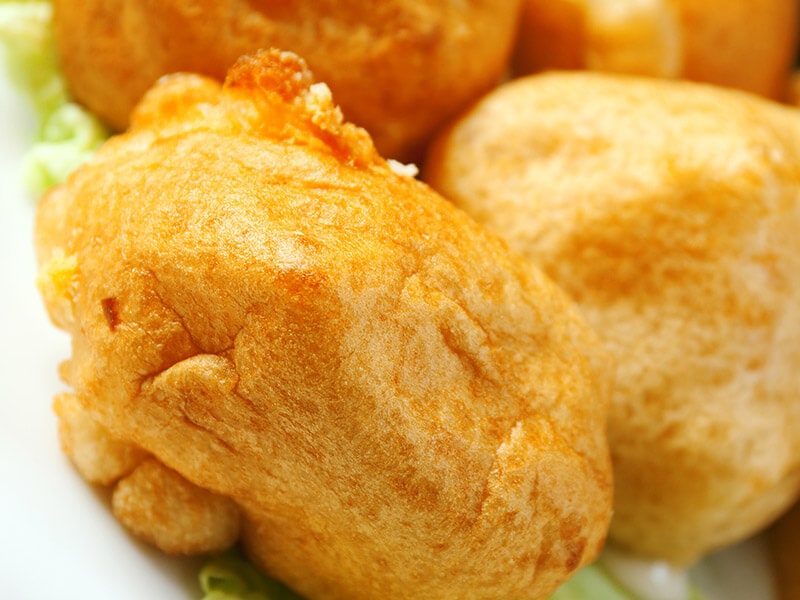 This dish represents another ingenious use of potatoes from Kenyans. It is very popular as a street food item throughout the country, but more so in the coastal region. Viazi Karai means "potato in a huge bowl", referring to street vendors placing potatoes in the basin before cooking.
To prepare this dish, people boil potatoes, then coat them in a mixture of flour, gram flour, and spices (usually turmeric or saffron). Next, the coated potatoes are deep-fried in oil until golden brown and served with chutney (a savory spread originating from India).
Learn how to cook Viazi Karai at home here.
29. Urwagwa – Kenyan Banana Beer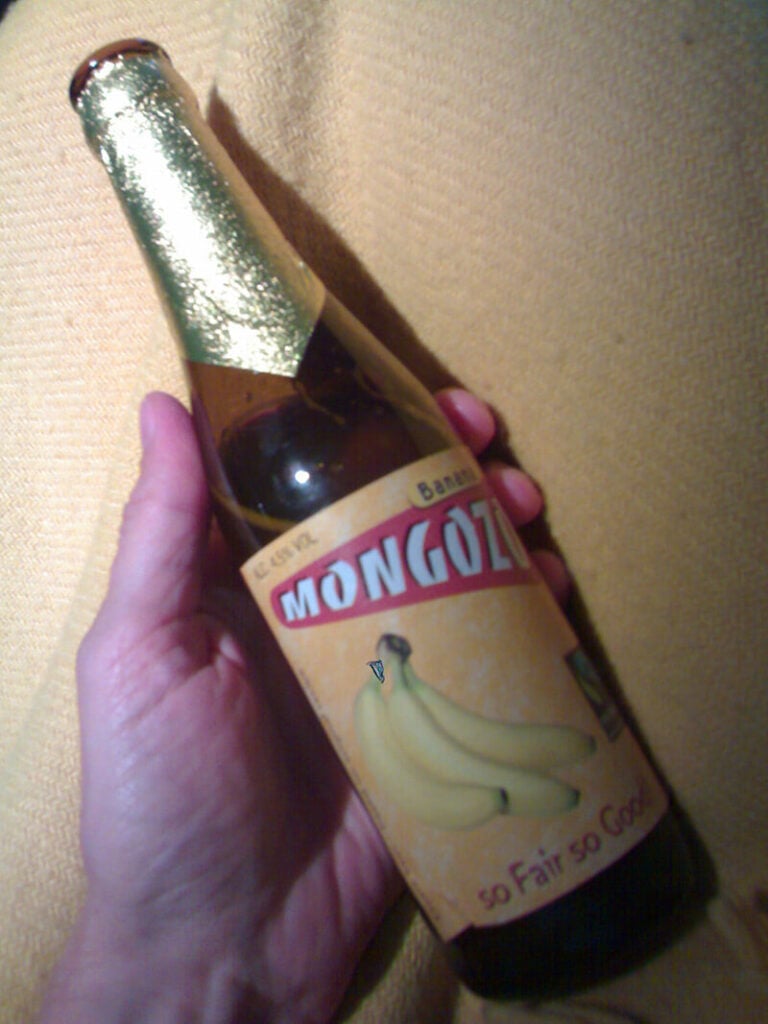 A trip to Africa won't be complete until you taste the continent's exotic banana beer. It has many names depending on where it comes from but Urwagwa, the Kenyan variety, usually stands out because ripe East African highland bananas (or Matoke) are the best ingredient for the beer.
Urwagwa is made by fermenting mashed bananas with wild yeast. People do so by adding ground sorghum or corn flour to the banana juice and leaving it to sit for about 24 hours. The beer is later filtered, possibly pasteurized, and bottled.
The alcoholic content of Urwagwa is rather light, though it can differ considerably from one batch to another. The usual amount is around 5% to 15%.
30. Chai – Tea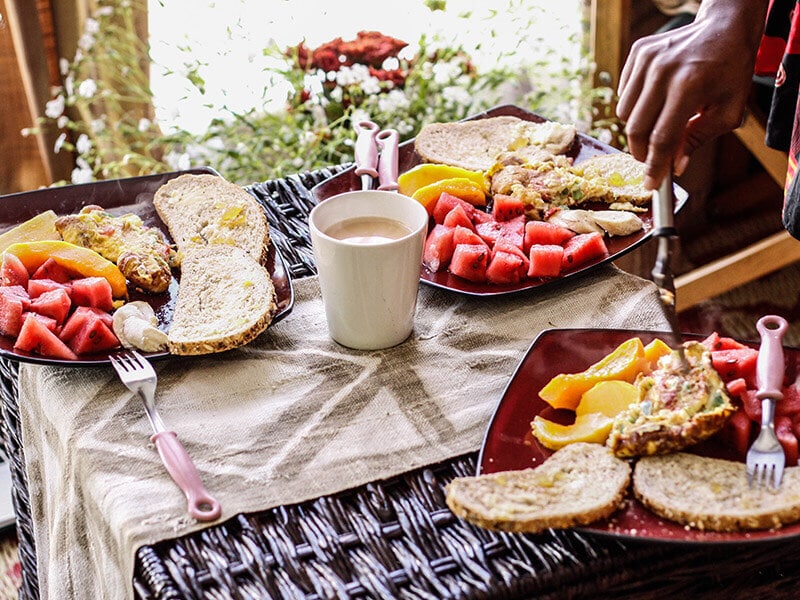 Many people tend to think of the British or East Asians as the heaviest tea drinkers. Perhaps you should add Kenyans to the list because they consume a rather large amount of the drink. Tea, or "Chai" in Swahili, is ubiquitous in the country, popular with both the haves and have-nots.
Kenyans usually drink tea with milk. They usually mix two parts of water with one part of milk (or more for hard-core drinkers) in a pot, then add tea leaves and brew the stuff.
Fatty, bittersweet Chai is the favorite drink for many Kenyans at breakfast or after dinner.
Make Kenyan tea like a pro with these instructions.
31. Maziwa Mala – Kenyan Fermented Milk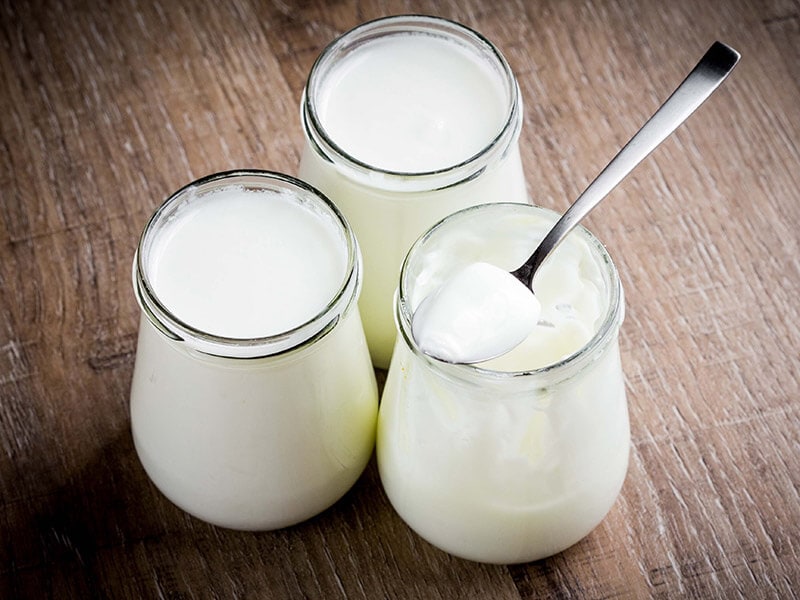 Why are Kenyans so good at sports? One of the reasons is perhaps they receive a lot of nutrients from Maziwa Mala, a type of Kenyan fermented milk.
Kenyans make Maziwa Mala the same way people culture yogurt. The sweet and sour drink is a great condiment to go with the staple Ugali. It is vitamin-rich, body-building stuff that bestows numerous health benefits, from easier digestion to bone health boost and lower blood pressure.
Expand Your Culinary Knowledge With Kenyan Foods
That's all I have to share with you. Kenyan cuisine may appear as uncharted territory to many people. But if you dare to go forward like explorers of old, you will be amply rewarded with great culinary treasures.
Be the first among your friends to bring Kenyan flavors to the menu. They will be vastly impressed by those exotic dishes. And don't forget to like and share this post if you like it. Have a good, spicy Kenyan meal!