Jordanian foods and the culture of this country are way more mesmerizing than you can expect! Just like other Middle East countries, Jordanian cuisine is famous for its spices and has various dishes, from meaty to vegan.
Jordan is also notorious for its aridity since it's almost a landlocked country bordering the Dead Sea with just a small coast to the Red Sea. Hence, though Jordan shares numerous dishes with Lebanese cuisine, the ingredients may differ due to the lack of supplies.
However, the Jordanians don't consider it as an omission. They have created their own deliciousness that you're going to find out now! Keep reading for information that surely will enlighten you!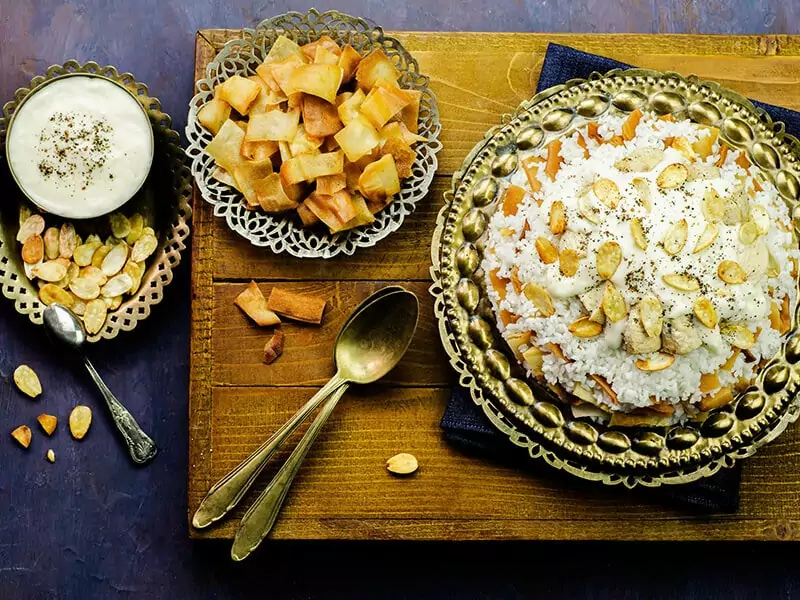 4 Traditional Jordanian Condiments You'll Regret Not To Try
Before getting into the hearty dishes, let's find out about the delicious condiments of Jordan. These dips have a creamy texture and a rich flavor that will catch your love right at the first taste. They play a significant role in almost any Jordanian meal.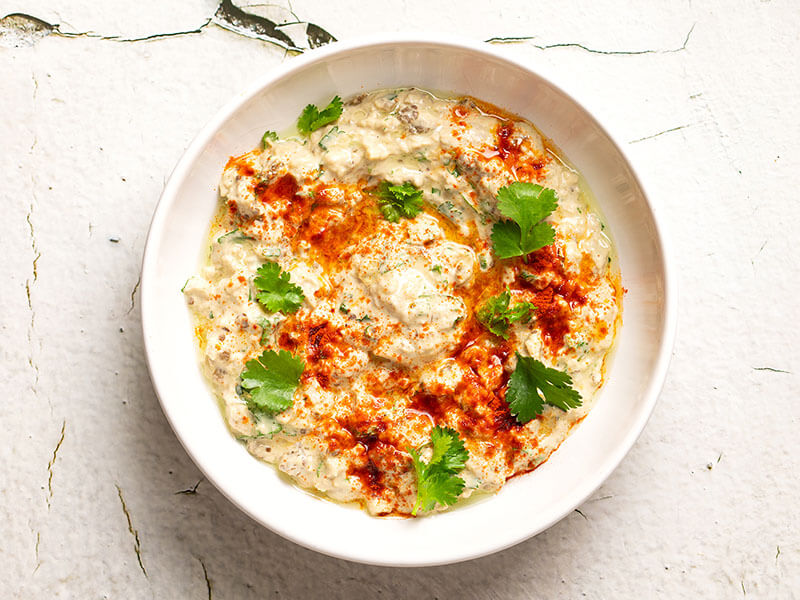 For those of you who don't know, the Jordanians have the culture of having Meze. It's a generical meal that uses multiple dishes, mostly appetizers and condiments, to enjoy communally. This culture is also present in other Middle Eastern and some European cuisines.
The Arabians almost always prepare Baba Ghanoush for their Meze. You can also find it in the menu of Jordanian restaurants either as a dip or an appetizer alongside flatbread. This dip consists of pureed eggplant, olive oil, regional spices, and tomatoes.
They will broil the eggplant over open flames before peeling it so that the dip has a somewhat smoky fragrance. Baba Ghanoush also has a slightly sour flavor that comes from lemon juice. As you may have shadowed, Baba in Arabic also means father.
The word Ghanoush means spoiled or pampered. There are two theories about the stem of this dip that are both connected to the father's meaning. The first one links to an innovation of the royal harem. The other is simply from a mashed dish for a toothless father.
In Jordan, cumin is an irreplaceable ingredient for Baba Ghanoush, and you will see this spice present in many dishes that I've gathered below. They also occasionally use parsley and coriander to enhance the aroma of this dip.
You will be delighted to see this simple way of making Baba Ghanoush.
2. Mutabal – Sesame Eggplant Dip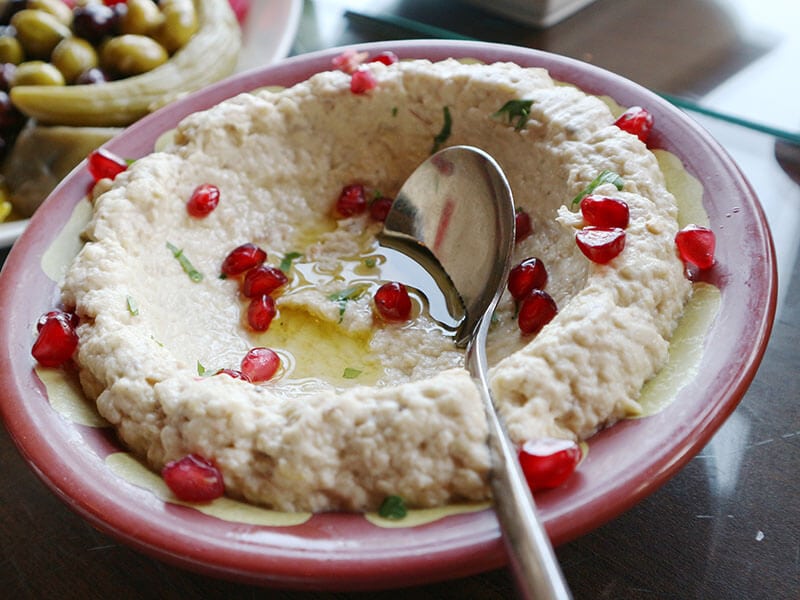 Many may mistake Mutabal or Moutabbal with Baba Ghanoush since they both consist of roasted and mashed eggplant, olive oil, lemon juice, and spices. However, you can consider that Mutabal is creamier than Baba Ghanoush, and sometimes it's also spicier.
The Jordanians usually prepare their Mutabal with Tahini – a hulled sesame paste that gives the dip a rich flavor and fine texture. Black peppers or chili are occasional additions.
Another significant difference is you can usually see Anar (or red pomegranate seeds) as the garnish for Mutabal. As with other dips, Mutabal is also commonly present in Jordanians' Meze comes with pita bread.
3. Hummus – Chickpea Dip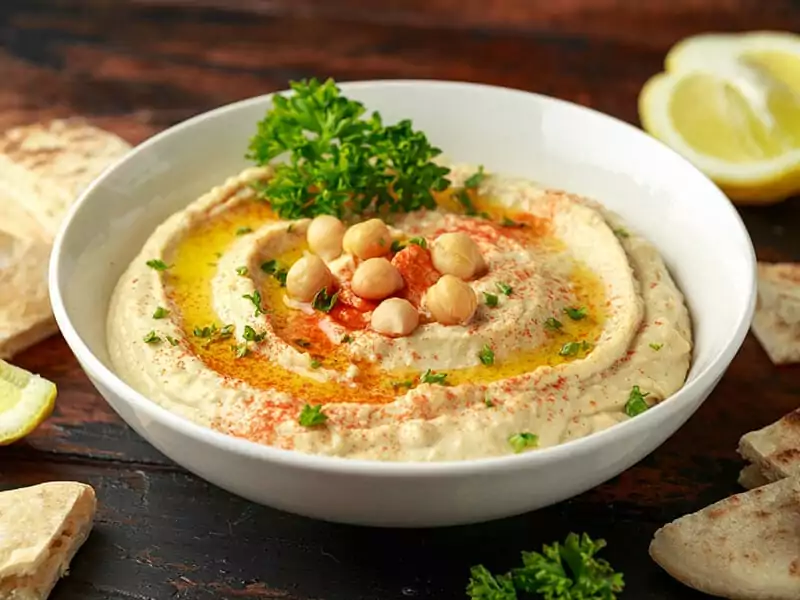 In comparison to Mutabal or Baba Ghanoush, Hummus also follows some same ingredients, which are garlic, lemon juice, olive oil, and tahini.
However, the central base alters eggplant by chickpeas. This recipe has been around for thousands of years and has countless variations.
It's also a famous dip among the Middle East regions and bordering nations, including traditional dishes in Israeli cuisine. While Hummus literally means chickpeas in Arabic, the full name of this condiment is Hummus with Tahini. However, the origin of this dish remains debated today.
Though the earliest information about Hummus is written during the 13th century in Cairo, the Arabians have made numerous similar dishes for centuries before that. In Jordan, the correct note of Hummus must include cumin and paprika.
You need to understand the origin of Hummus before tasting it in Jordan!
4. Labneh – Strained Yogurt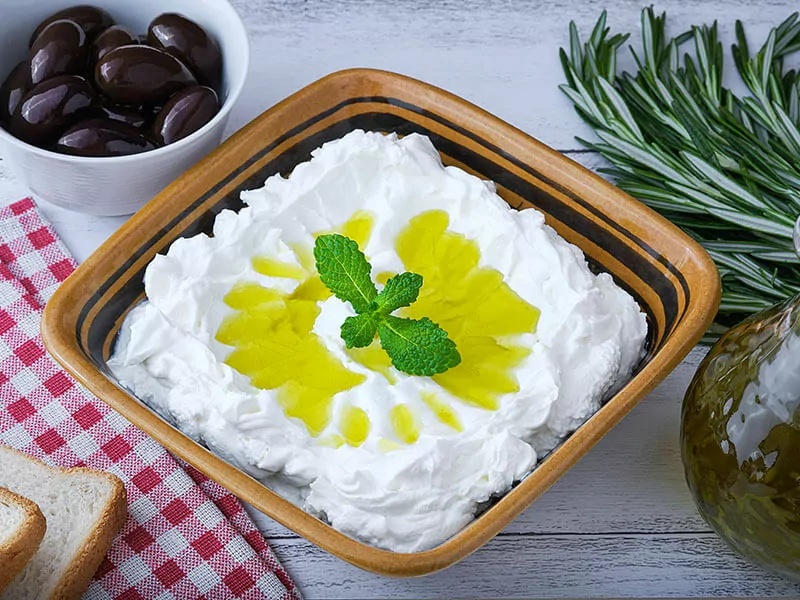 There's no official or insisted recipe for Labneh, but the Arabians basically make it by combining plain full-fat yogurt with salt and letting the combination strain for half or a day. The correct outcomes usually have a mild flavor and a creamy texture.
It's also famous in Lebanon and other Levantines countries. Unlike many yogurt types in America that are desserts or a salad accompaniment, Labneh is a dip. The Jordanians also serve Labneh for their Meze.
In addition, they also created Hummus Labneh which is simply a mixture of Hummus paste with Labneh yogurt. The dry version of Labneh is Jameed, and these yogurt balls are the key ingredient of Jordanian national dish, the Mansaf – more on this later down.
3 Types Of Bread You Can't Afford To Miss In Jordan
Generally, Middle Eastern cuisine loves bread, and the Jordanians aren't out of that habit. The famous Pita bread of these regions is also well-consumed in Jordan, but the locals may prefer to use some other delicious kinds.
5. Khubz – Flatbread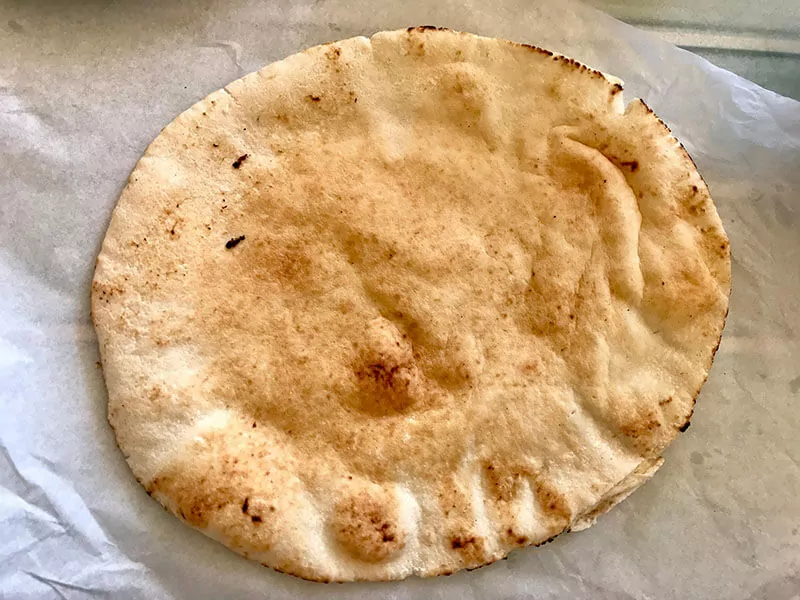 Khubz is a general term for bread in Arabian nations, but it more often refers to a flatbread that is similar to Pita but much thinner. Though the first bread in the Middle East is traceable 14,500 years ago in Northern Jordan, it's rarely credited for this invention nowadays.
Instead, the rest of the world usually knows of Khubz as Lebanese Pita. Some may call it the "pocket" Pita indicating the hollow interior. The ancient Jordanians (or the Nautifians) made their bread with wild cereal grain. Nowadays, the locals prepare it with wheat flour and yeast.
Khubz is also the main item for Jordanian Meze. They use this flatbread to dip in the above condiments or use it as a wrap for other dishes.
6. Manakish – Za'atar Flatbread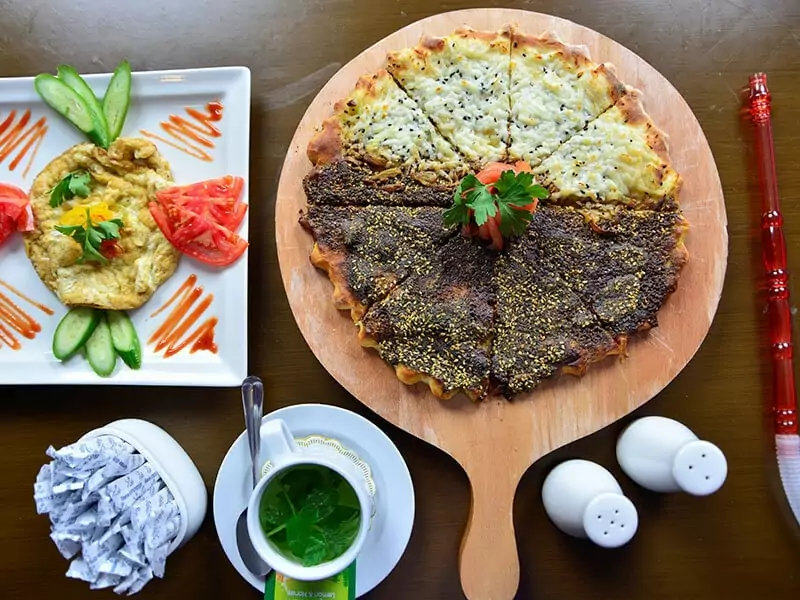 Manakish is among the iconic Jordanian lunch recipes that sprout from Levantine cuisine. Basically, it's also a flatbread that is similar to Khubz but comes with toppings. There are many variations of Manakish, but the most famous one is topped with Za'atar.
Za'atar is a combination of herbs and spices. The recipe differs from door to door, but it usually includes thyme, sesame seeds, oregano, and sumac powder. In Jordan, people will add their all-time favorite spice – cumin.
Some modern restaurants may serve Manakish with cheese and meat toppings. At this point, you may realize that it's pretty similar to pizza. And the Jordanians also enjoy it like a pizza by cutting it into wedges, though they may prefer to just roll it before eating.
You can create your own version of Manakish based on this detailed recipe.
12 Wholesome Jordanian Meat-based Dishes To Enjoy
For religious reasons, pork meat is forbidden in Jordan, as well as many other wild animals. Beef is also rarely used; instead, the Jordanians mostly use lamb, goat, fish, and poultry for their meals. Still, the meat-based dishes are varied and extremely enjoyable.
7. Kousa Mahshi – Stuffed Squash/Stuffed Zucchini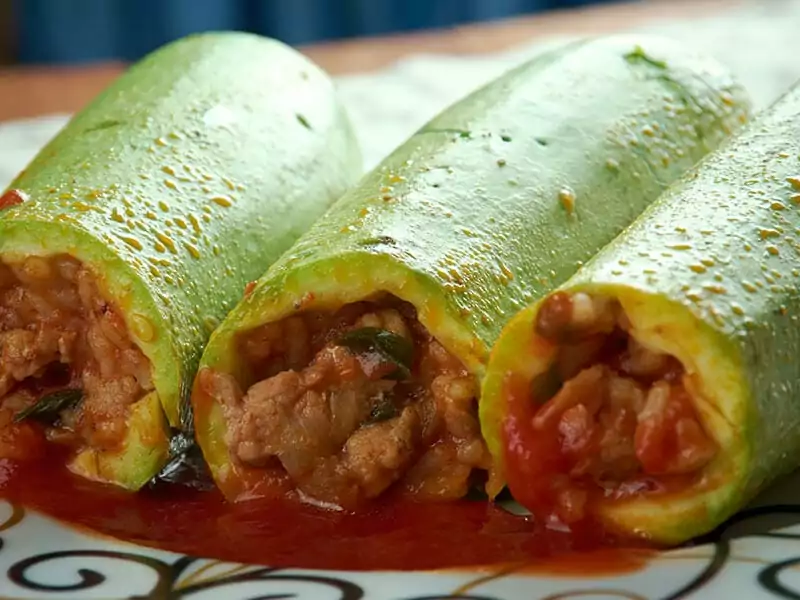 While many know of Kousa Mahshi as a stuffed zucchini dish from Lebanon, it actually stems from the Ottoman cuisine and is more relative to the old region of Jordan. The name Kousa also refers to a type of regional squash that is smaller and paler than zucchini.
The Jordanians prepare Kousa Mahshi by core the squash and stuffing it with a mixture of rice, minced meat, and spices. The traditional meat base for this dish is lamb, but you can sometimes see beef in the filling or even no meat at all.
They usually season the rice with cumin, pine nuts, and peppers. Other spices are optional, but it's always including Sanmeh – a typical clarified butter known as Ghee in other Middle Eastern nations.
Jordanian recipes for Kousa Mahshi differ from family to family. Still, the most well-known versions are "Kousa Mihshi Bi Bandoura" and "Kousa Mihshi Bi Laban". The first one accompanies tomato sauce, while the second comes with yogurt sauce.
8. Warak Enab – Stuffed Vine Leaves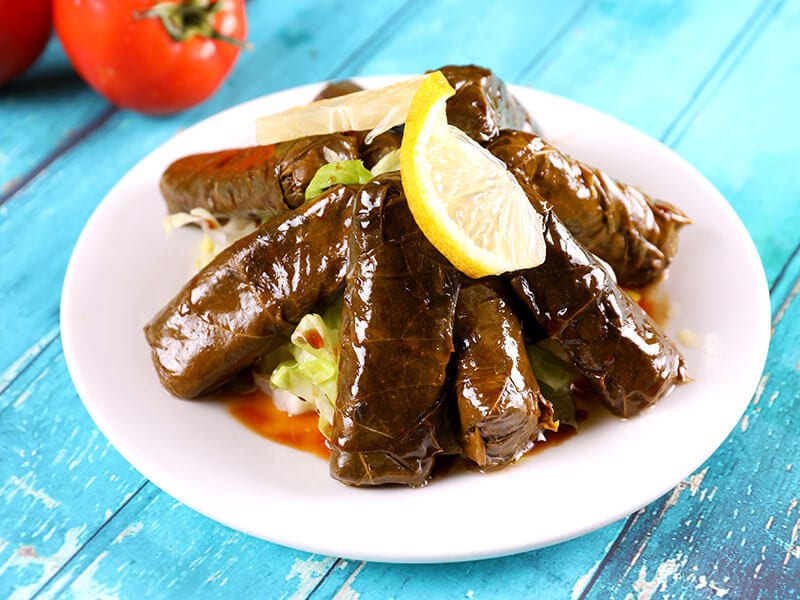 The origin of stuffed vine leave dishes is unexplainable since they are present in numerous cuisines. While it's known as Dolmades in Greece, Dolme in Iran, and Yebra in Syria's gastronomy, the Jordanians call this stuffed dish Warak Enab.
The filling is relevant to Kousa Mahshi, and people often prepare both dishes in one pot. However, the traditional recipes for Warak Enab call for lemon juice and are more likely to use beef than lamb.
When serving Warak Enab as a side dish, the Jordanians usually cook it in broth and garnish it with lemon wedges, yogurt, or tomato sauce.
You need to see this interesting cooking process of Warak Enab.
9. Malfuf – Stuffed Cabbage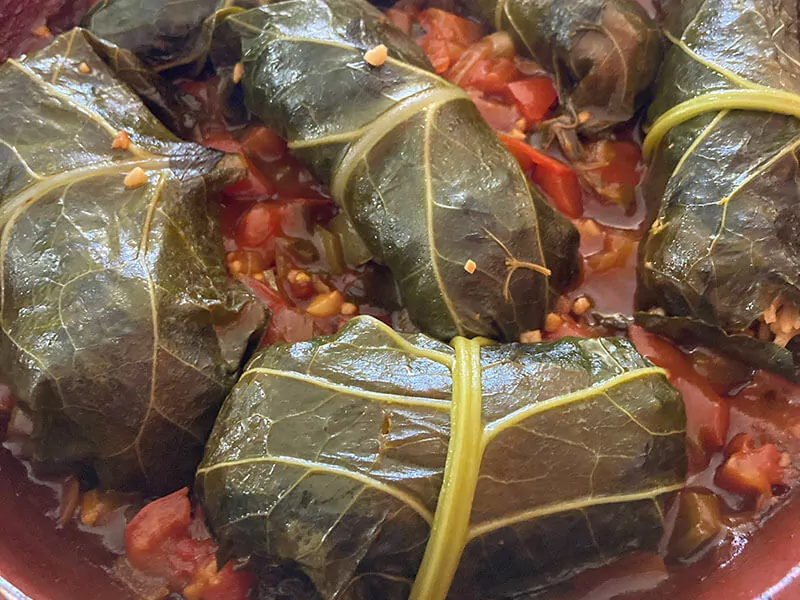 You can tell that stuffed dishes are a staple in Jordanian gastronomy at this point. Malfuf has many different names in other regions since it's present in the Middle Eastern, the Levantine, the Mediterranean, and the Balkan cuisines.
Unlike the two previous dishes, the locals usually cook Malfuf in a sauce consisting of garlic and lemon. Still, the stuffing is somewhat similar, consisting of rice, minced lamb, and regional spices.
The locals also mix the filling with Samneh and Baharat – a traditional blend of spices. Malfuf is more often the main dish than a side one, and the Jordanians enjoy it with plain yogurt sauce, wedges of lemon, and Khubz.
10. Zarb – Barbecued Dishes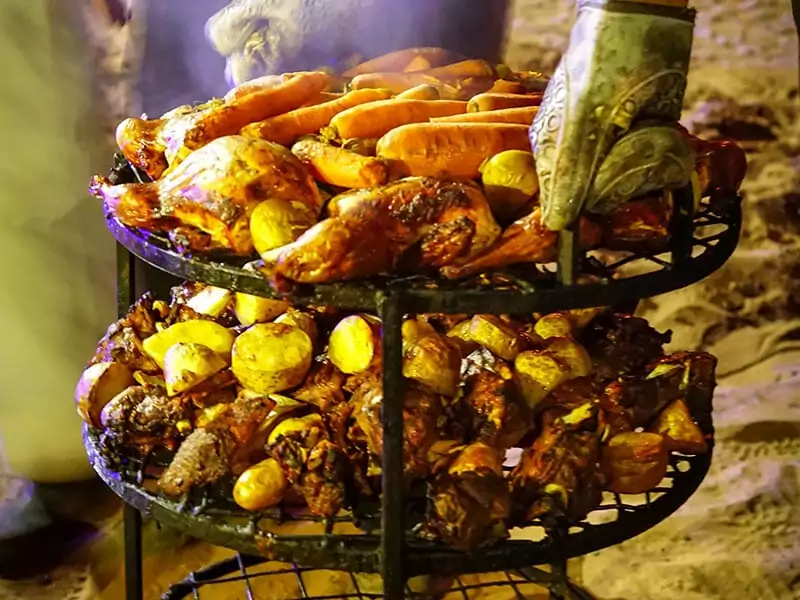 Zarb can refer to both the grilled dishes and the grilling technique itself. It's an ancient recipe that comes from the Bedouin – nomadic Arab tribes. Traditionally, they prepare a metal rack of foods which are vegetables and meat from goat, lamb, beef, or poultry.
They will then place the rack in an underground pit of hot charcoal. Afterward, they cover the hole with a blanket and allow the food to be slowly roasted.
Nowadays, the Jordanians usually use multi-tiered racks, and they serve Zarb on a large communal plate, alongside salad, rice, or Khubz.
Follow an adventurer to experience the taste of Zarb in Jordan.
11. Kofta Kebab – Grilled Ground Meat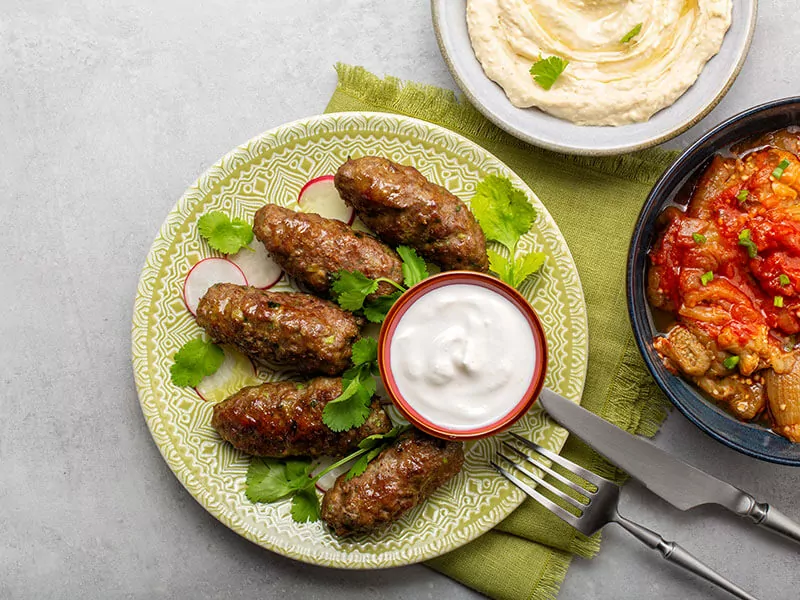 Kofta Kebab is the first street food on this list, and it's a Persian dish that is also well-known in Jordan. You assume that it's simply a grilled ground meat dish, and the locals usually mix it with their regional spices such as onions, cumin, cinnamon, and paprika.
The traditional way is to form meatballs, but you are more likely to see them grilled on the skewers. In addition, the Jordanians mostly use Kofta Kebab for Ara'yes – a cultural sandwich that is similar to the Mexicans' quesadillas.
It consists of Khubz or Pita flatbread and salad. The sauce bases differ from region to region, and the locals can use the condiments I've mentioned, Tahini, yogurt, or even chutney.
12. Shawarma – Middle Eastern Sandwich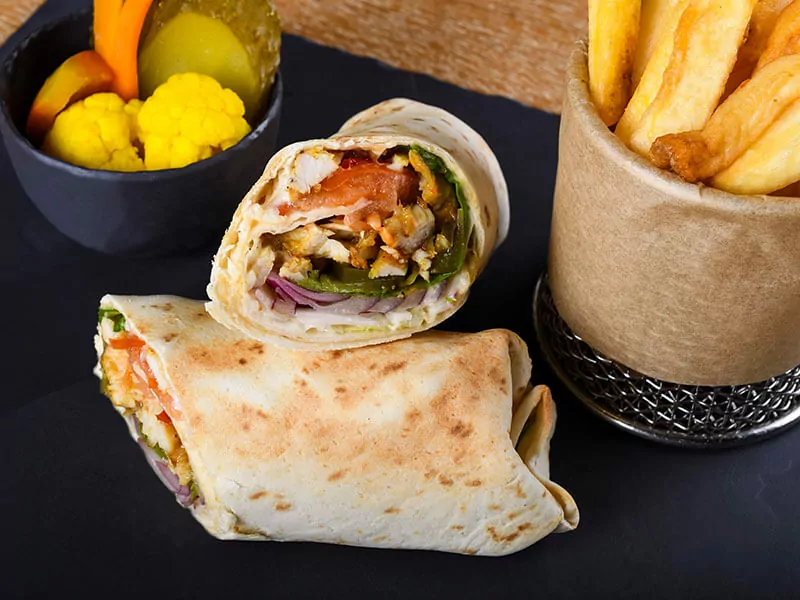 Shawarma is a traditional dish from the Ottoman cuisine that is now present throughout the Arabian, Middle Eastern, and Turkey regions. For this reason, don't be too surprised when you see it listed in the food culture of Saudi Arabian, Lebanon, and many more besides Jordan.
Moreover, it's also an inspiration for the Mexicans to invent Tacos Al Pastor.
It's more often known as street food. Vendors prepare a stack of thin meat slices, then roast it on a slowly-rotating spit. When serving, they'll cut the meat stack and use the tiny fallen pieces to stuff in a Pita bread roll, along with vegetables and Tahini or garlic sauce.
Any street cooks have their twist, and though Shawarma always includes onions and tomatoes, they can sometimes use sumac or Za'atar for the stuffing as well.
The first and the best place to sample Shawarma is Reem in the Second Circle of Amman City. This stall has been selling Shawarma with a beef and lamb combination since 1976, and many locals and visitors still insist that it's the best Shawarma they've ever tried.
13. Kibbeh – Meat Dumplings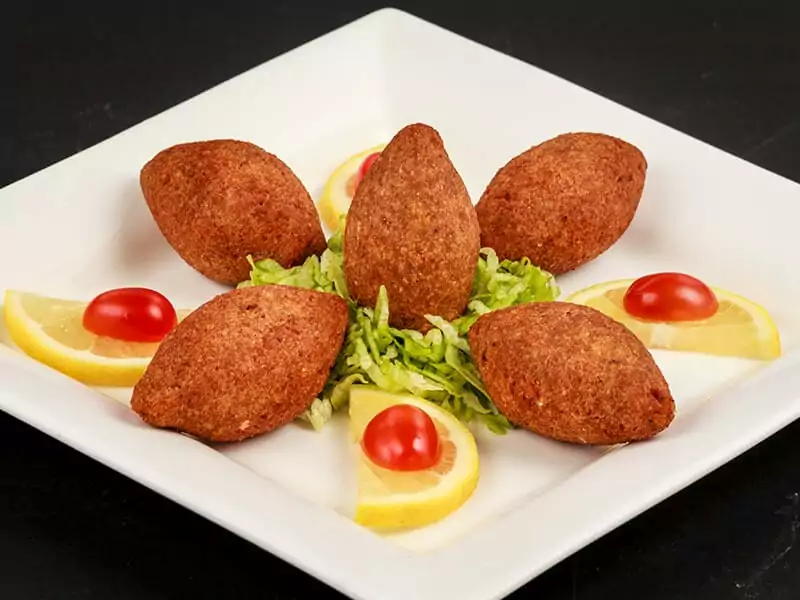 The Syrians and the Lebanese both consider Kibbeh as their national dish. Despite that, it's a famous dish in Middle Eastern cuisine, including Jordan. The central ingredients of Kibbeh are pounded bulgur wheat and minced lamb, alongside some herbs and spices.
This dish also traveled to Latin America with the Levantine immigrants during the 19th and 20th centuries. The Jordanian can bake or boil Kibbeh, but the most common ways to prepare are to deep fry it or eat raw. They call the fried version Kibbeh Nabilseeyah.
Kibbeh Nayyeh is created due to religious behavior. The Jordanians usually slaughter animals on Sunday, and they use the fresh-cut meat immediately for Kibbeh Nayyeh, mixing it with bulgur wheat, pureed onions, and ice.
They also enjoy Kibbeh with kebabs stuffed in flatbread. In addition, you can also find the steamed version of Kibbeh in Northern Jordan. For those ones, the locals will form balls from a paste of pounded wheat and meat, then steam them.
14. Musakhan – Sumac Chicken And Flatbread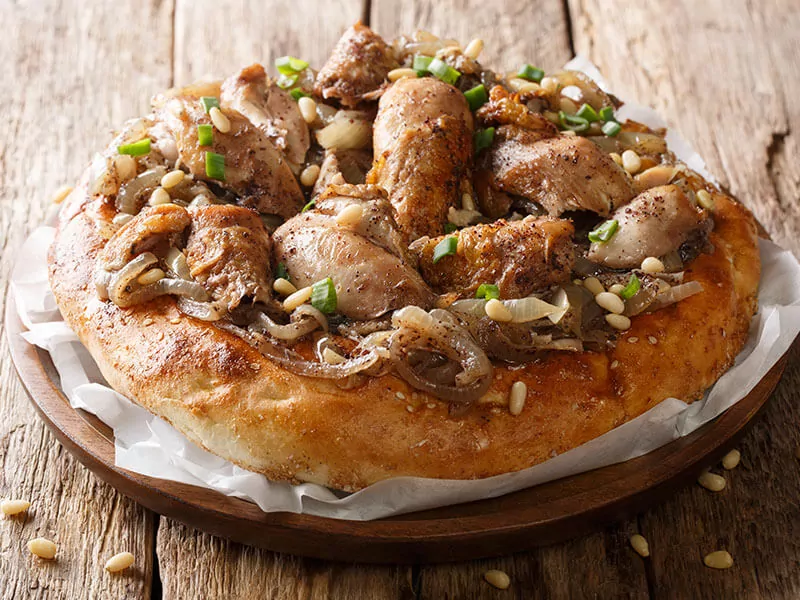 Musakhan usually refers to a Palestinian national dish. Still, it's also a staple in Jordanian cuisine. This dish consists of roasted chickpeas, pine nuts, caramelized onions, and a flatbread as the base.
Traditionally, the locals make Musakhan with Taboon, a typical flatbread that is baked in a clay oven called Tandoor. They usually dip this bread in olive oil before placing other ingredients on top of it, as well as the chicken.
Musakhan almost always accompanies yogurt sauce; the Jordanians also have some more bread on the side sometimes. The traditional way to enjoy this dish is using just one hand, though you may find some restaurants nowadays serve it as a pizza or a wrap.
15. Mansaf – National Goat Dish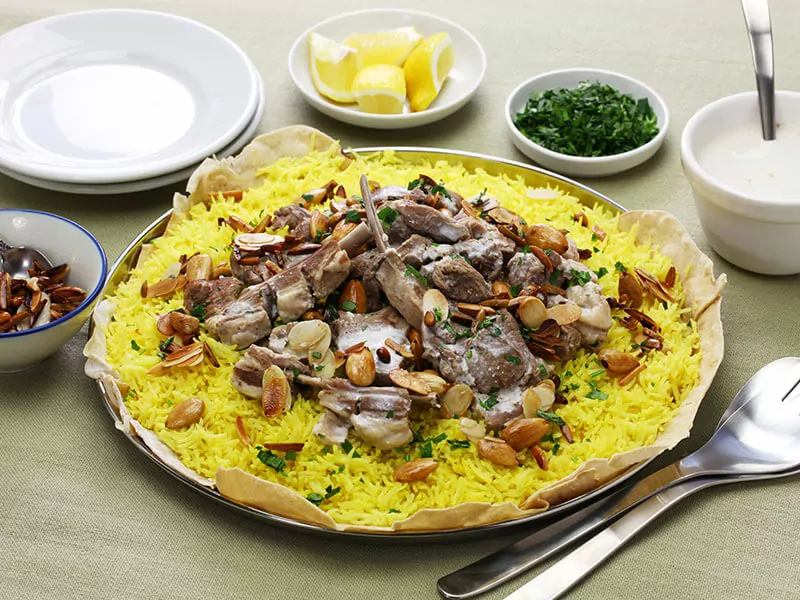 Even though the word Mansaf in Arabic means explosion, the dish is usually served for the guests as a sign of hospitality, respect, and appreciation. There's an interesting eating custom for Mansaf, and you can see this dish in almost any celebration of the Jordanians.
Traditionally, they prepare Mansaf with goat as a valuable offer to the guest since they believe goat is a precious animal to sacrifice. On the other hand, they consider beef, lamb, and chicken as showing less respect.
They will cook the meat in a broth of Jameed – a fermented and dried yogurt from goat's milk. Then, they will place the meat over a bed of seasoned rice on a large communal plate, then garnish the dish with pine nuts, almonds, and a layer of Khubz.
Jameed also presents in sauce form alongside Mansaf when serving. In the old days, the host must continually pour Jameed sauce over the rice to show hospitality. The traditional way to enjoy Mansaf is with your right hand while placing the other hand behind the back.
This dish used to be a resolution for conflicts between families or tribes in Jordanian. Back today, you can easily see Jordanian restaurants serving this delicacy, and it's also available in other neighboring countries with countless variations.
You must see the specific way to enjoy Mansaf of the Jordanians.
16. Sayadieh – Fish And Rice Dish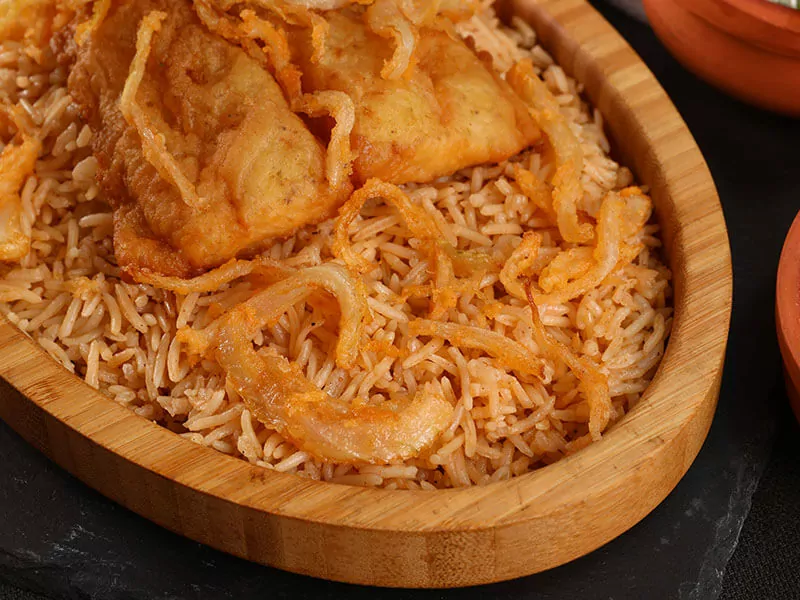 Sayadieh is a rare seafood dish on the list. Indeed, it's more well known in Lebanon and Syria since it's more likely the fisherman's food, and Jordan doesn't have much coastline, as I've mentioned. Still, it's a culinary staple in this country's gastronomy.
Traditionally, the locals prepare by baking or frying fish, mostly red snapper, sea bass, cod, or haddock. In another pot, they cook the rice with fried onions, cumin, and Baharat. When serving, they top Sayadieh with slivered almonds and toasted pine nuts.
If you want to sample Sayadieh in Jordan, it's best to visit Aqaba city. Since this area borders the Red Sea, you'll find more types of fish and have a higher chance of enjoying the best Sayadieh.
17. Maqluba – Upside-Down Dish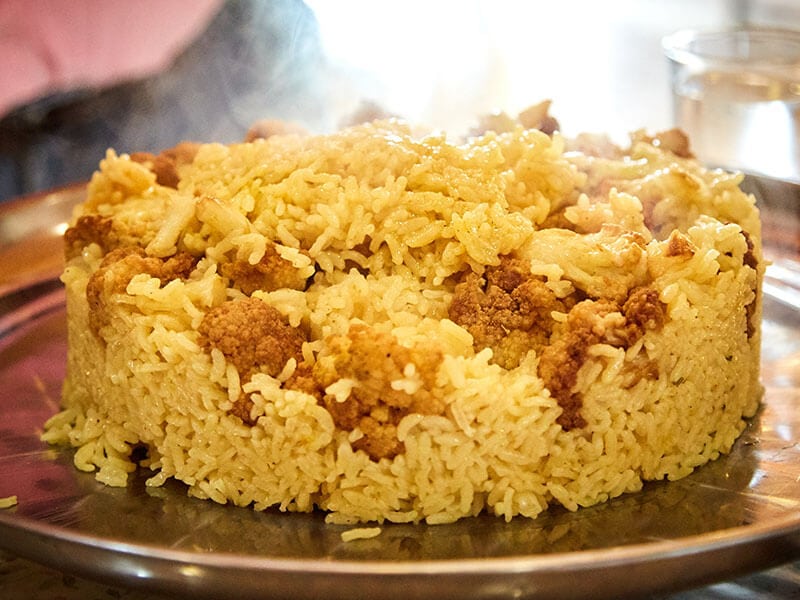 Maqluba is an ancient dish from Levantine cuisine that is still a staple throughout this region nowadays. It's among the Iraqis' Kitab al-Tabikh collection of recipes that have been around since the 13th century.
In Arabic, the word Maqluba literally means "upside-down", indicating how the dish is served. The Jordanians prepare this dish by layering rice, vegetables, spices, and meat in one pot. Then they boil the combination until there's no liquid left in it.
When serving, they will turn the pot upside-down onto a large communal plate and garnish with some pine nuts and parsley. There are many variations of Maqluba, but the most common ones consist of lamb or chicken as the meat base, with potato and carrot.
Following this recipe, you won't regret bringing Maqluba to your dining table.
18. Fatteh – Pita Hummus And Yogurt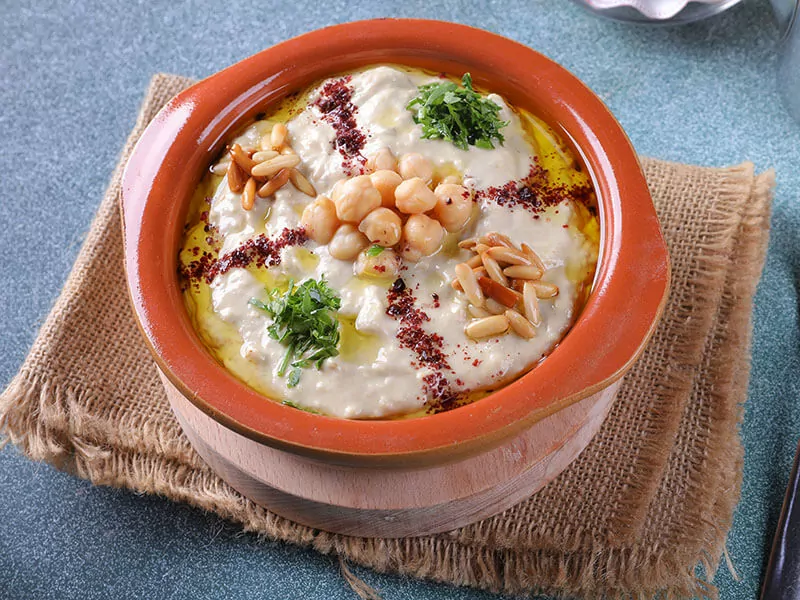 Fatteh, sometimes also known as Shamiyat, is the traditional Jordanian breakfast recipe that comes from Levantine cuisine. It simply comprises flatbreads such as Pita or Khubz with accompaniments, which differ from region to region.
The Jordanians use fresh-baked, toasted, grilled, or even stale bread for their breakfast, and yogurt, olive oil, and chickpeas almost always come alongside. They use one or combine their condiments for the dipping, and perhaps their favorite choice is Fatteh with Hummus.
They often top the flatbread with meat bases such as shredded chicken or lamb and garnish it with pine nuts. In addition, Fatteh is also present in Egypt, though the accompaniments are different and more often prepared for the feast than breakfast.
9 Mouth-Watering Vegan Dishes For Your Exploration in Jordan
As with many other Middle Eastern or Levantine cuisines, the Jordanians also own many mesmerizing plant-based recipes. Whether you're vegan or vegetarian, your culinary options are endless here. Even if you're non-vegan, these tasty foods are still worth your try.
19. Freekeh – Wheat Dish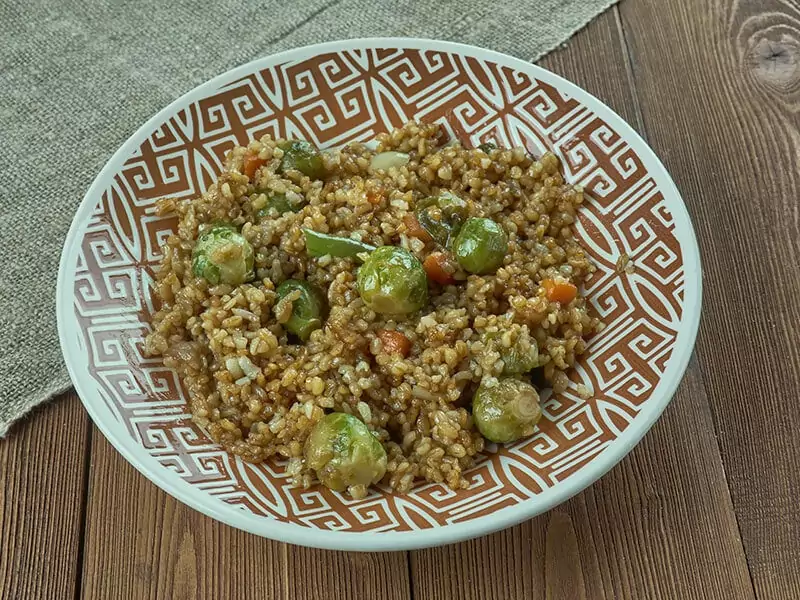 You can easily see the green cereal in Jordanian meals; that's Freekeh – a type of durum wheat. They prepare this component by dehydrating, toasting, drying, and rubbing the green wheat. Freekeh is becoming famous nowadays thanks to its nourishment and smoky flavor.
The Jordanians have two ways to serve this cereal. Both methods are to season it before cooking it in broth, but the second way uses more liquid to form a porridge or thick soup.
They usually top the first version with chickpeas and pine nuts and use it as a side dish for grilled meat. In contrast, the soup dish, also known as Shurabat Al-Farik, usually comes with lemon wedges and bread, though some may prefer to use it with yogurt or sour cream.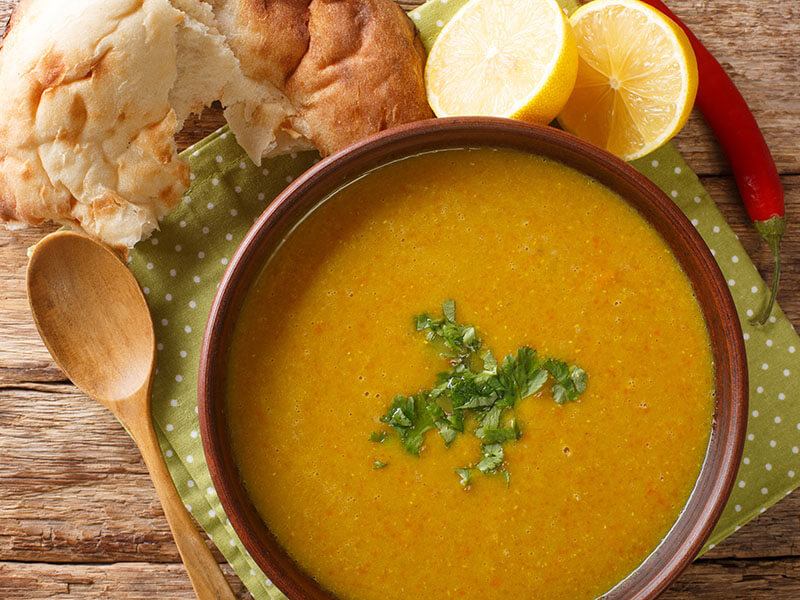 For a comfort Jordanian dinner recipe during the cold months, you should try Shorabet Adas. This soup, with lentils as the central ingredient, is present in many Arabic and Levantine cuisines with many variations.
Still, the Jordanians have their twist to elevate the taste. They usually use the green type of lentil, along with diced onion, Jameed, and chicken broth to form the deliciousness. However, you can find the vegan versions from the vegetable broth with just a little effort.
Though the locals usually use Shorabet Adas in the winter month with some bread and lemon, you will often see it accompanying Mansaf in their traditional feast.
21. Falafel – Fried Ground Chickpeas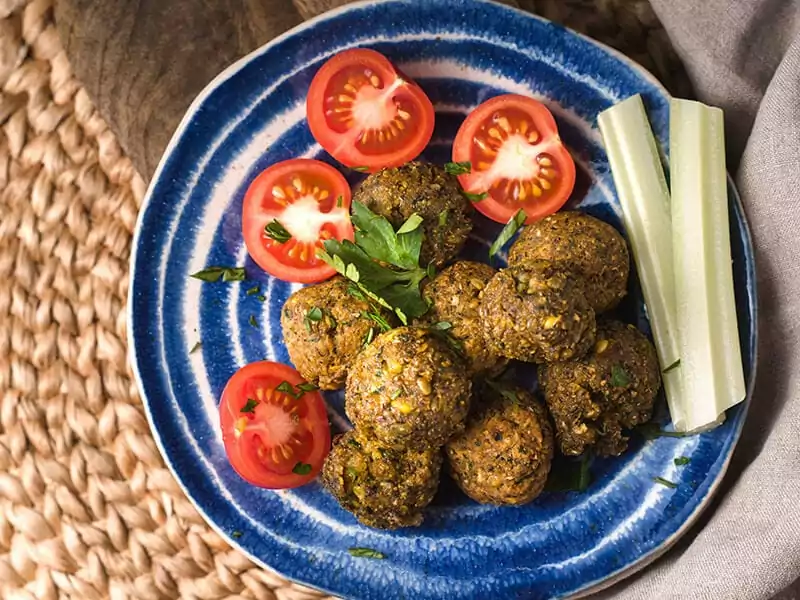 The origin of Falafel is still somewhat controversial nowadays. The Lebanese and Palestinians may insist that it's their invention, while the first written information about Falafel dates back to the 19th century in Egypt cuisine.
Despite that, the Jordanians also love these crispy treats. Falafel is a combination of ground chickpeas, onion, garlic, parsley, and optional spices. In some regions, the locals also prepare Falafel with fava beans, and sometimes they combine both types of beans.
Though the Jordanians are more familiar with Falafel as a snack or street food, it's also available in restaurants as an appetizer or a part of Meze. Otherwise, they also enjoy it in sandwich form when combined with Khubz, condiments, and salad.
See how the delicious Falafel is made in Arman, Jordan.
22. Tabbouleh – Bulgur Wheat Salad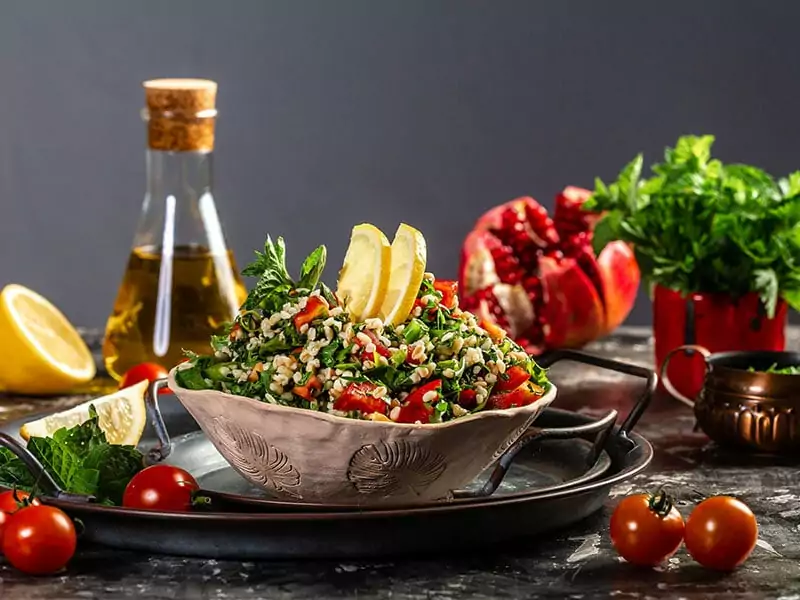 While many may not think of salad when talking about Middle East cuisine, Tabbouleh is a staple with a T at the beginning of its name that comes from Lebanon and Jordan. The locals use it in many different ways, as an appetizer, a side dish, or their Meze.
Basically, it combines tomatoes, parsley, mint leaves, onions, and cooked bulgur wheat. However, the Jordanians' version uses a higher ratio of parsley in their Tabbouleh. They also use lemon, olive oil, and salt to form a refreshing and aromatic salad.
The chewy grain of bulgur wheat also contrasts with the crunchiness of vegetables, making a marvelous combination. Traditionally, the Jordanians enjoy Tabbouleh by hand, and they usually wrap it with lettuce or vine leaves before consuming it.
23. Mujadara – Lentil And Rice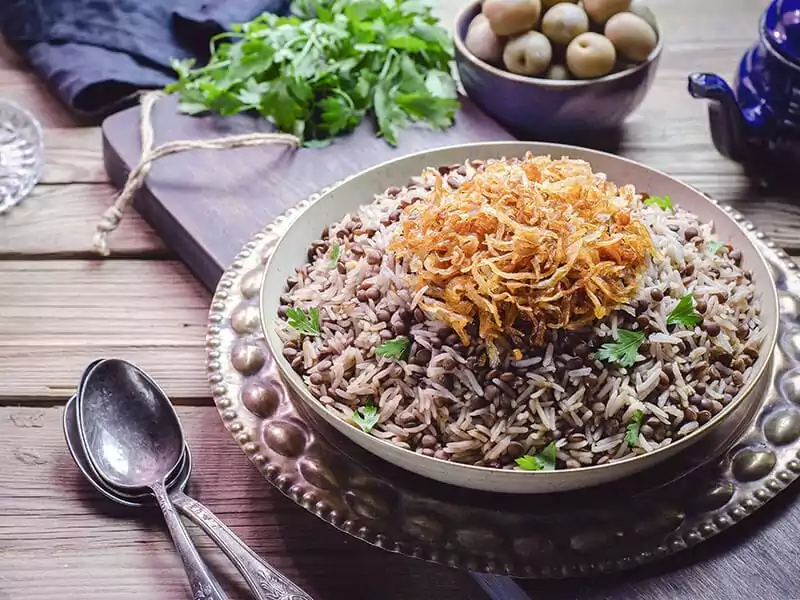 Mujadara is a vegan recipe that is famous in Lebanon, Palestine, and of course, Jordan. Its name derives from its appearance, which is "pockmarked", indicating the combination of rice and bulgur wheat. It's also an ancient recipe from the Kitab al-Tabikh collection.
Mujadara always comes with onions, either sauteed or fried in olive oil. The Jordanians cook lentils and rice together rather than separately hence their variants have a more blending texture. Sometimes they also add herbs or spices into Mujadara to enhance the flavor.
The vegetarian version of Mujadara with plain or garlic-flavored is also available in many Jordanian restaurants. The locals may enjoy Mujadara on its own, but if you see this dish served with Khubz, you should expect to eat it with your bare hands.
Take a look at how a restaurant in Jordan prepares Mujadara.
24. Fattoush – Bread And Tomato Salad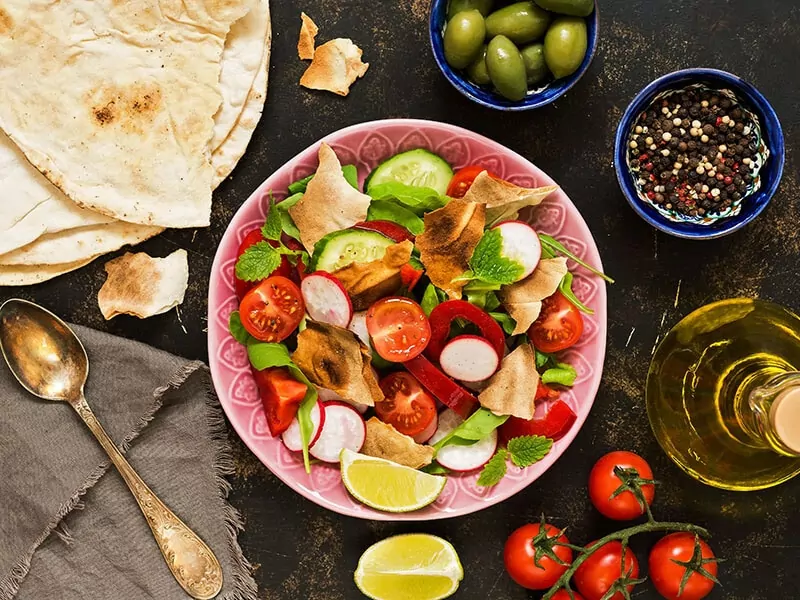 Fattoush is also a common salad among the Middle Eastern and West Asian regions. The Jordanians usually prepare Fattoush to celebrate and eat during Ramadan – the Muslim lent or fasting month.
To form this salad, the locals will first cut the flatbread into small bite-sized pieces, then either fry, bake, or toast it until crispy. The plant bases are mostly tomatoes, parsley, red onions, cucumber, mint leaves, and optional herbs.
They use lemon juice, red wine vinegar, and olive oil for the dressing, though Sumac is also a favorite addition. At this stage, you can tell that Fattoush has a pretty tangy, zesty, and distinct flavor – a taste that you'll never forget.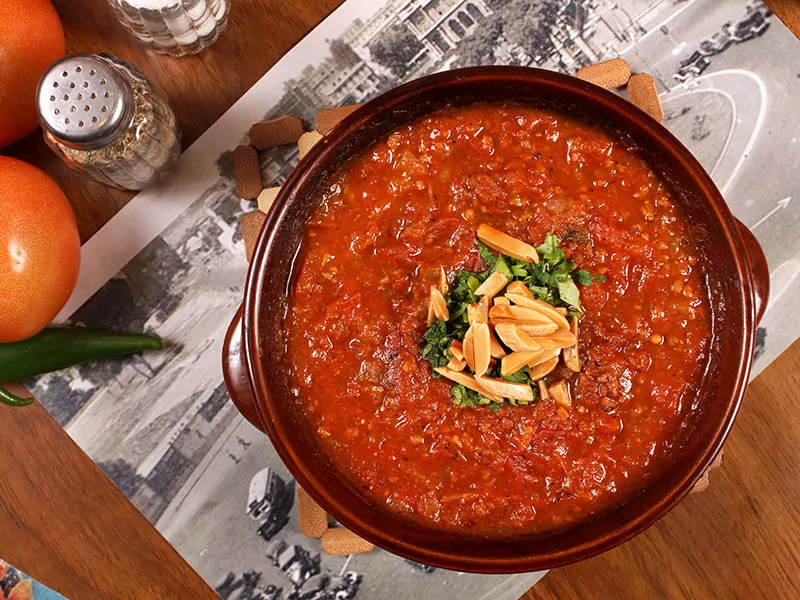 Also known as Qalayet Bandora, or sometimes simply Galayet, this stew is a popular vegan dish in Jordan and Palestine. Galayet Bandora is also among the simplest yet yummiest recipes of Middle Eastern cuisine.
It comprises tomatoes, onion, garlic, peppers, and salt. The locals set the combination on low heat with olive oil in one pot until it all disintegrated. They usually eat this stew with Khubz or other flatbreads, alongside pickled vegetables and a cup of tea.
Many families create their own deliciousness based on the stew by adding their optional herbs and spices. In addition, if you're not into vegan food, you can look for Galayet Banddura Bi Lahmeh or Shakshuka, which is adding meat bases or egg into the stew.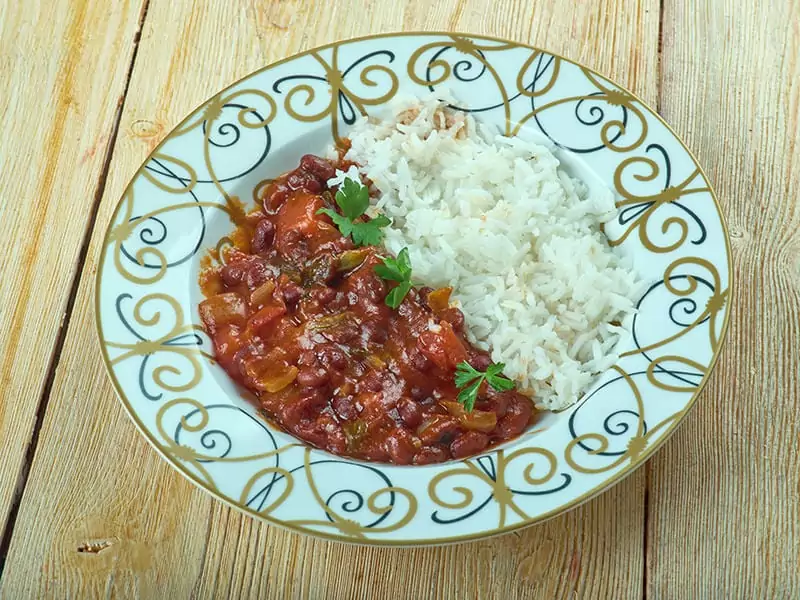 Basically, Fasoulya is a bean stew comprising white beans, tomatoes, carrots, celery, and onions. The locals can make this stew with different types of beans, such as green or kidney ones.
Fasoulya is present in many cuisines of the Middle Eastern region without any particular origin. Still, it's similar to a long historical soup in Greece called Fasolada. As always, the recipe for Fasoulya in Jordan is uncertain with countless variations.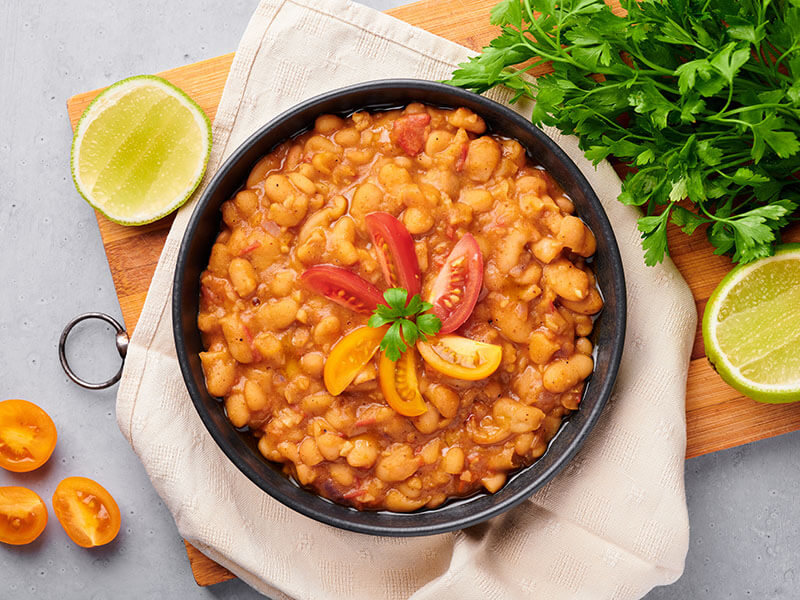 Ful Medames, sometimes simply called Ful, is an ancient stew recipe from Egypt. It has been around even before the Ottoman and the Islamic periods. Nowadays, you can see Ful Medames in many regions of North Africa and the Middle East.
Traditionally, the folks will soak or simmer fava beans overnight before preparing for breakfast. There are many variations of Ful Medames, but they always include lemon juice, garlic, and olive oil.
The Jordanians usually enjoy Ful Medames with Pita or Khubz flatbread. The favorite spice – cumin – is also present in their version of the stew, along with tahini and tomato to form the correct "Jordanian taste".
Don't Skip These Incredible Jordanian Desserts
After a bunch of spices and hearty dishes, you might need some dedicated treats for your sweet tooth. While many may never think of trying desserts in the Middle East, these foods are extremely appetizing. Keep reading to know what to expect on Jordanian sweets!
28. Warbat – Sweet Pastry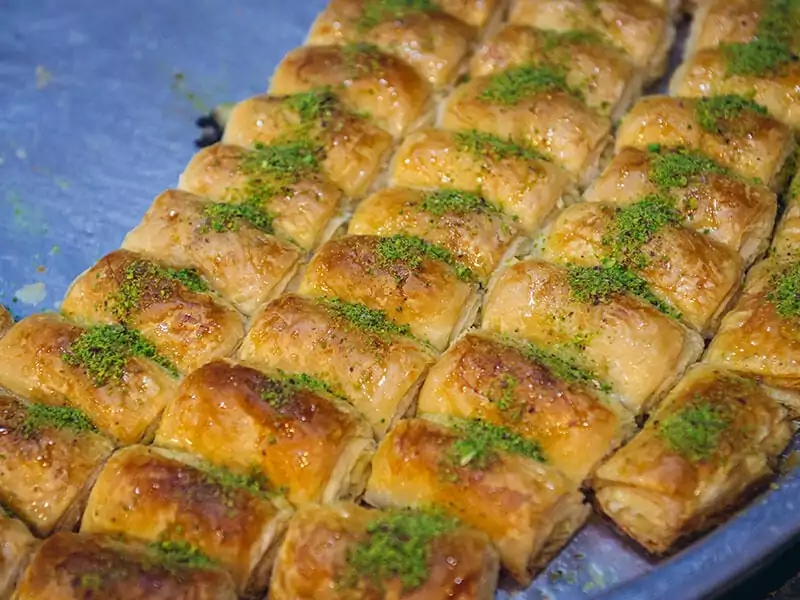 Coming back to the Jordan-origin food, Warbat is a sweet pastry made from layers of flaky phyllo dough. The locals usually fill Warbat with custard; hence, many know of this pastry as the Jordanian baklava.
Some bakeries may substitute the custard filling with sweet cheese or nuts such as pistachios, walnuts, or almonds. These nuts also take part sometimes as garnishing. After baking, the chef will either soak or glaze Warbat with light lemon syrup.
The vegan versions of this Jordanian dessert are also highly associated with Ramadan celebrations. Warbat Bi-Qishteh or Warbat Be Gishta is the variation with cream. In addition, you can also find Warbat treat in Lebanon with the name Shaabiyat.
Check out this interesting information and the baking process of Warbat.
29. Zalabia – Fried Sweet Dough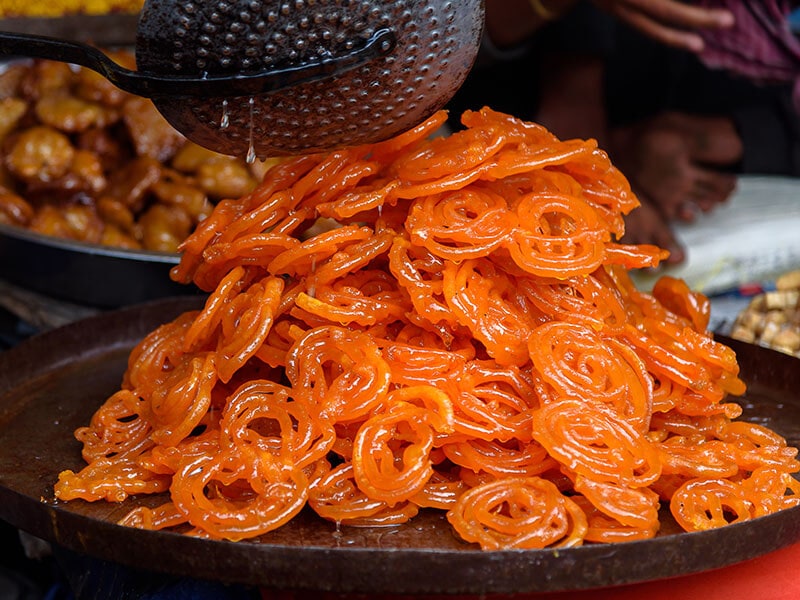 Basically, Zalabia is a crispy fried dough with a circular spiral shape and a glaze of sugar syrup. The origin of this sweet treat remains unknown, but it has many names, and you can find it throughout Western Asia, North Africa, and India.
Zalabia is typically famous in the villages and farms in Northern Jordan. Though there are some street food vendors that sell Zalabia, the locals prefer to use it with a dip, mostly honey or grape molasses.
Some Jordanians even skip on the glazing step and simply sprinkle some sugar on Zalabia while it's still hot and eat it right away.
30. Knafeh – Sweet Cheese Pastry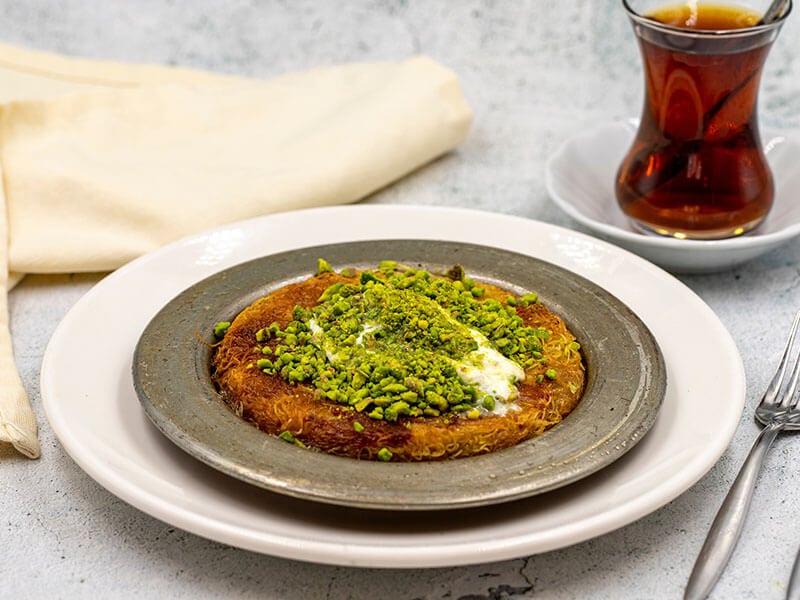 Along with the hearty Mansaf, the warmful Adas soup, a sweet Knafeh is the ultimate final dish for Jordanian feasts. You can find this pastry in many other regions in the Middle East, but it's usually known as a Palestine-origin dessert, especially in the Nablus city.
The locals usually prepare Knafeh by kataifi or knefe dough. They shred the dough and mix it with butter to form the base for Knafeh. They usually use two layers of dough base to adhere to sweet cream cheese.
The outcome dessert often has orange and cardamom flavors that come from the dressing. In Jordan, Knafeh always appears with an orange layer on top. They typically enjoy this dessert on a large plate while it's still hot.
Enjoy The Astonishing Food In The "Oasis Of Stability"
The Middle East regions are indeed notorious for turbulence. However, many claim Jordan as an "oasis of stability", indicating peace in this country. Therefore, though you can sample the foods on this list in many other places, it's best to experience them in Jordan.
Have you spotted your favorite dish? Did you try any of them? Or is there any pondering? Please feel free to spread your thoughts in the comment section!
Also, don't forget to share this article with your beloved people. They may be curious about this magnificent cuisine just like you are!