Haven't found any delicious Hawaiian foods' suggestions yet, and your trip to this dreamland is getting closer? Don't hesitate and take a look at my humble article!
You can find everything you need in this post, from luscious desserts to the delicious main dishes. All that is left to do is to bring your luggage and enjoy your trip there. No more beating around the bush; many quintessential Hawaiian dishes are waiting for you in the upcoming sections!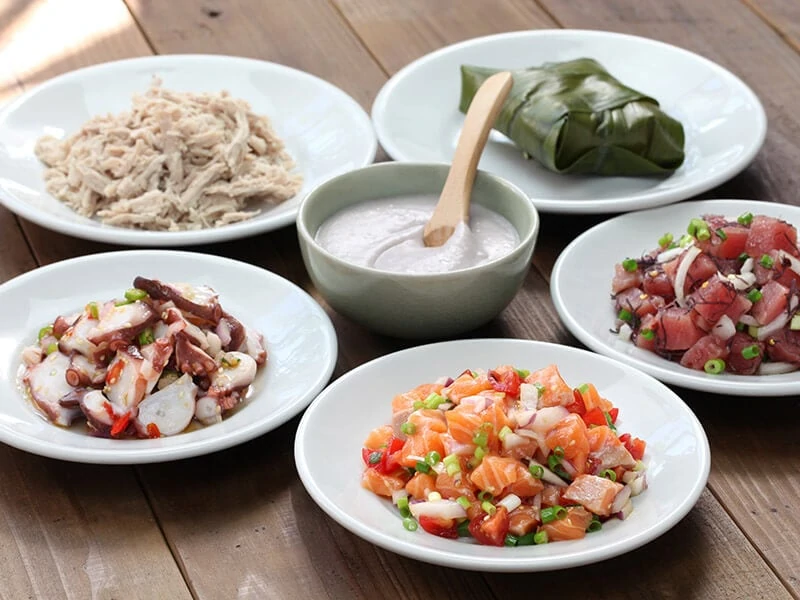 Stunning Hawaiian Side Dishes To Have Once
Now turning to the savory dishes section. Besides all the wonderful desserts I have mentioned above, this island is also known for creative ways to create Hawaiian-style food. If you haven't tried it yet, what are you waiting for?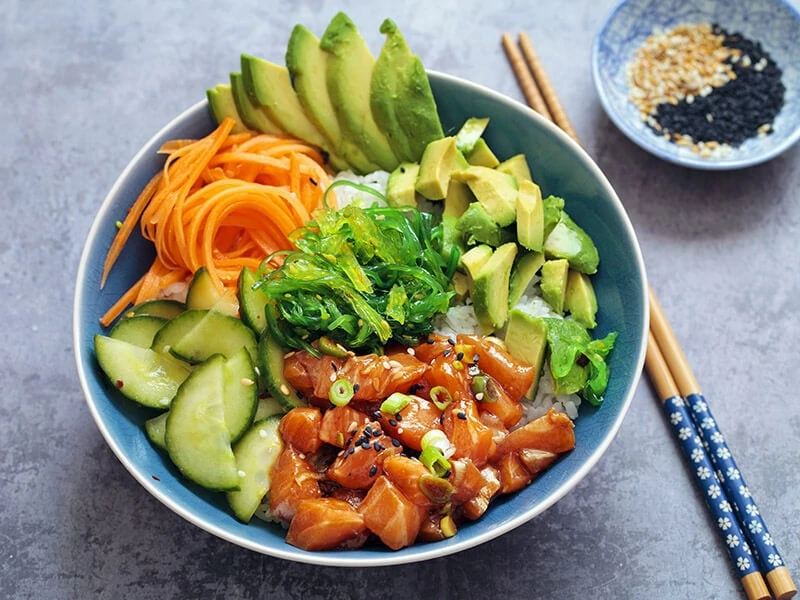 Poke in the Hawaiian vernacular means "small pieces," and this dish is the Hawaiian version of the Japanese sushi bowl. However, unlike sushi pieces with the fish that are thinly sliced or rolled, Hawaiian raw fish is cut into small cubes, mixed with other ingredients in a bowl.
This dish will be colorful and attractive with various bright hues from its components and can also be your Hawaiian style first meal of the day. Hawaiians will love to have a full poke bowl with fresh salmon and salads.
A standard poke bowl usually consists of 4 parts: the base (with rice or salad), the fresh seafood ( salmon, tuna, scallops, etc.), familiar sushi sauces (soy sauce, wasabi, teriyaki sauce), and the topping (corn, onion, seaweed, sesame, fish roe).
This review will show you how a standard poke bowl tastes like.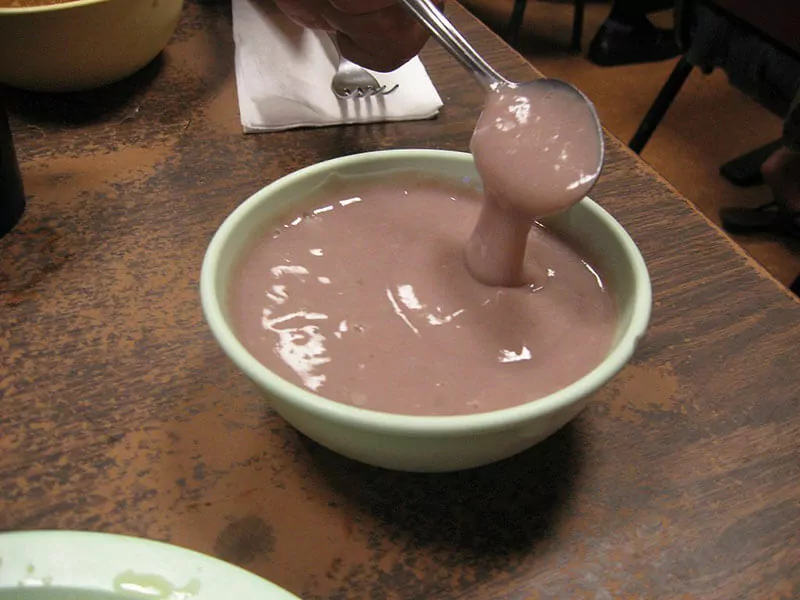 Taro is one of the oldest crops globally and came to Hawaii with the first Polynesians. Taro's tasty flavor allows its leaves to be used in laulau whereas its roots are for Poi. Invented by native Hawaiian around 400 AD, this dish still has a sacred existence in their daily lives.
Hawaiians have an exciting way to test how thick/dense the texture of Poi is using their fingers. They usually classify it as "one finger", "two fingers", etc. And the lesser finger they have to use to take some of the poi up means the food is denser.
It might look less tempting at first because of its brownish-gray color and wet paste-like texture. Yet, the unique flavor of Poi (which resembles unsweetened yogurt), requires several times of trying.
You'll probably feel delighted to know that Poi is also an iconic Samoan dish. In Samoan, Poi is known for its rich vanilla fragrance and sweet banana flavors. There's also a touch of zesty taste from the sour lemons. In short, I'd say that Samoan Poi is also a worth-trying dish.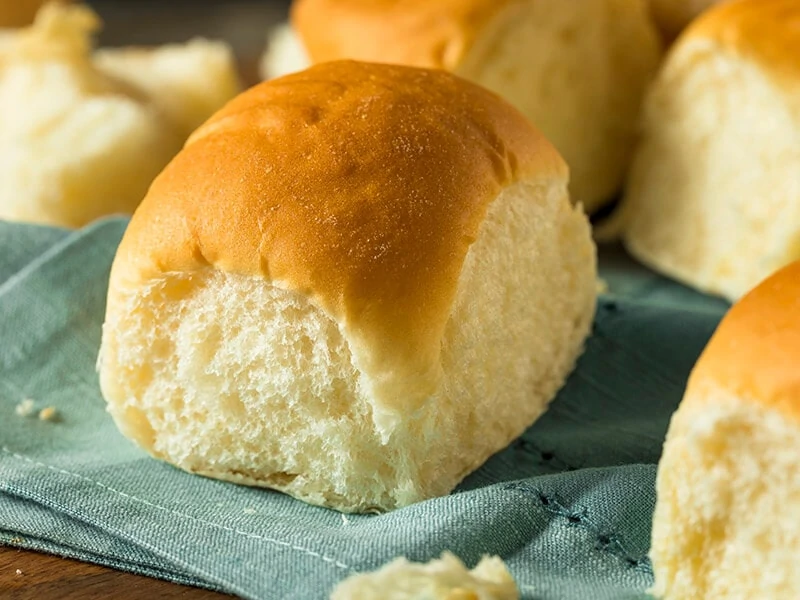 These gorgeous sweet rolls are familiar side dishes in Hawaiians' supper and can be matched with many other foods. These rolls first appeared in the 1950s and started from Robert Taira's bakery in Hilo (Hawaii's big island).
The main difference between these Hawaiian-style dinner rolls compared to the other kinds lies in their sweet level, and these island's rolls are much sweeter. They also require some pineapple juice in the recipe so that you can expect some hints of tangy and tart flavors.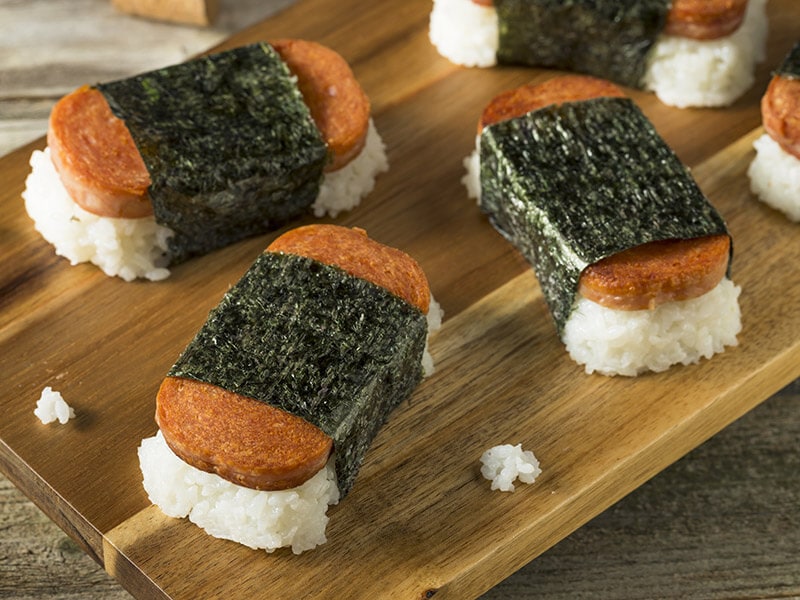 It is said that this food appeared at the same period of World War II when American soldiers brought this canned meat (especially spam) into Hawaii. Premium spam packed in a can is renowned worldwide for its versatility, easy-to-eat taste, and somehow nutritious.
When looking at this delicacy for the first time, you might immediately think of Japanese sushi or Korean kimbap. It is because the nori (dried seaweed sheet) wrapped the sticky rice and one to two pieces of spam.
This food might look basic, but the taste will be quite appealing and perfect for busy people's meals.
Luscious Hawaiian Main Courses That Should Be Opt For
What about some palatable options for savory dishes? These dishes I will mention below will be a great pair for any loco moco or sweet rolls as I listed above. Don't hesitate, just try to match them once.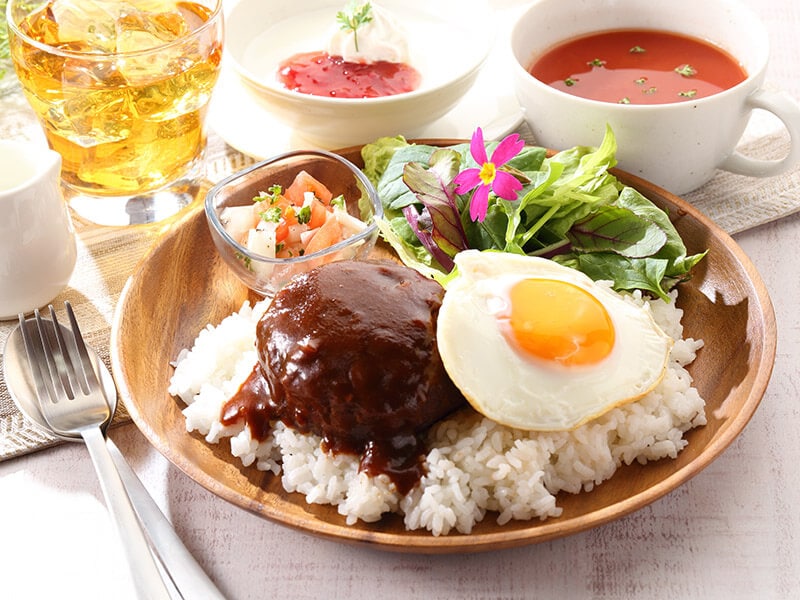 In actuality, there are numerous loco moco varieties across the world, but the authentic loco moco is still the best. It consists only of white rice, hamburger meat (meat patty), and a sunny-side-up egg.
Despite its simplicity, the dish is sufficient and nutritious for a light Hawaiian mid-day meal. The first loco moco dish was sold in Lincoln Grill restaurant in 1949, in downtown Hilo. Its name means "crazy snot" in Spanish. How interesting!
Loco moco is one of the most popular street foods in Hawaii. You can also opt for this dish first as an easy-peasy "warm-up" before trying the other palatable foods of this island.
Loco moco and its best taste test you definitely should take a look at!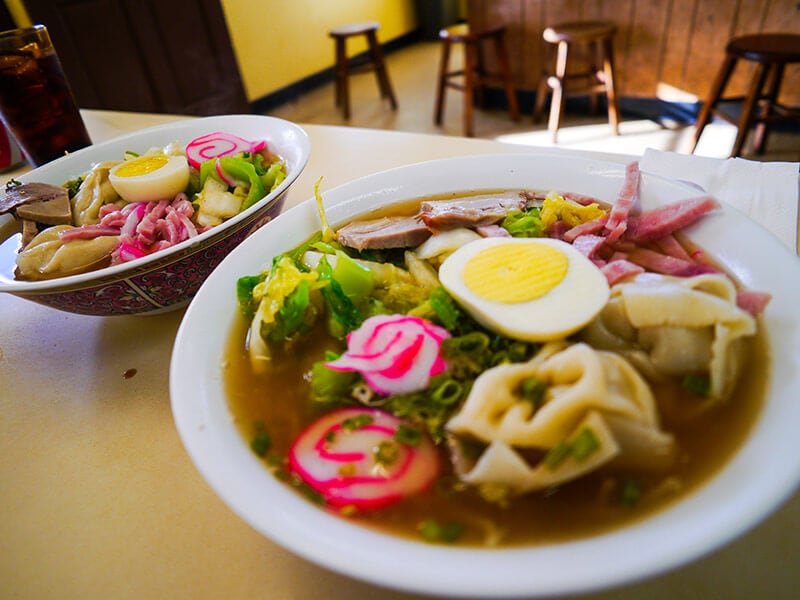 Saimin is a unique Hawaiian noodle dish inspired by Filipino noodles, Japanese Soba noodles, Chinese noodles, etc. Hawaiians have combined the palatable points of other noodle dishes, changing and twisting to create a typical dish of this island.
Noodles are served with boiled eggs, sliced meat, fish cakes, mushrooms, green onions, and tempting broth. Usually, at restaurants that sell Saimin, you are free to add these side dishes as you want in your own bowl.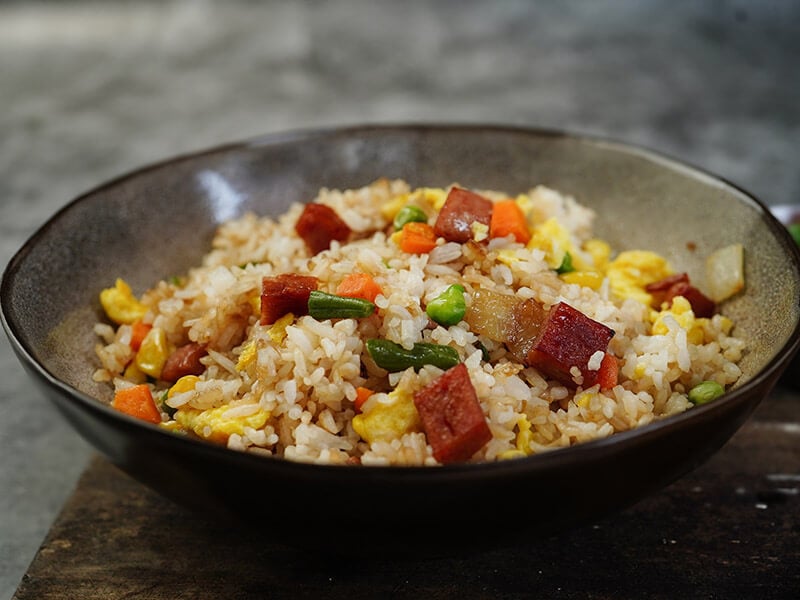 This is a simple, delicious breakfast dish loved by many Hawaiians thanks to the crowd-pleasing spam and variety of vegetables. The deli meat (spam) might be pretty salty, but the light fatty base and crisp exterior can absolutely please anyone.
Like other Asian fried rice dishes, Hawaiian fried rice is also processed until the rice is firmer and more evenly crispy. This creates a pleasant feeling when chewing and will also help increase the appetite of the eaters.
8. Manapua (Hawaiian Steamed Buns)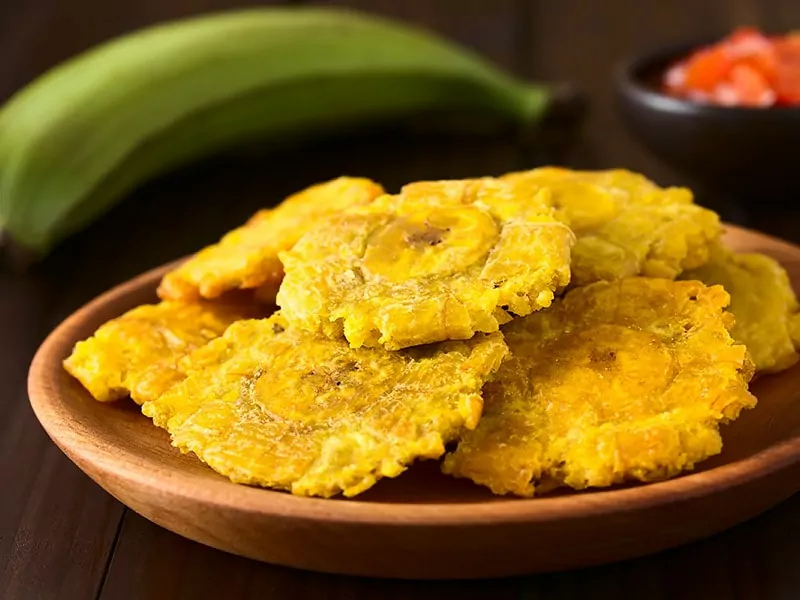 This Hawaiian-style steamed bun is derived from the Chinese's famous traditional baozi, and it also has a spongy, white exterior. It is prevalent here, so you can easily find this dish in any Hawaiian's Chinese restaurants.
Its name, manapua, is the shortened version of "mea ono puaa" ("delicious pork pasty") or mauna puaa ("pork mountain") in Hawaiian. Yet, its fillings now are varied from many things rather than only pork. Some listed here are lup cheong, sweet potatoes, and ginger chicken.
Delightful and detailed manapua taste explanations for you to refer to!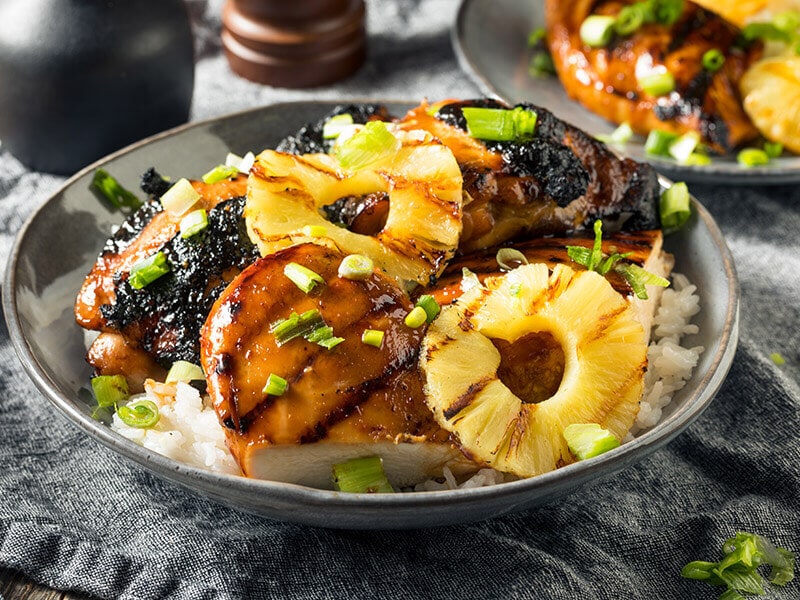 This grilled chicken dish is from Honolulu, an island in Hawaii, and you can easily find the island's vibe exuding from this delicacy.
Its main ingredients are quite simple, including fatty chicken, ginger, coconut, pineapple juice, and a few other things. You will experience all the aroma, spicy, pungent, rich taste thanks to the contribution of Honolulu's one and only Huli Huli sauce.
To eat this dish properly, you must eat it while it's still hot. Therefore, it is best to eat it right after it comes out of the charcoal stove, like at a garden BBQ. It will be even better if you dine with a bottle of Hawaiian specialty fruit wine, such as the appealing pineapple wine.
In appearance, there is not much difference between this shoyu chicken and the previous Huli Huli chicken, but the taste and processing method is a bit distinguished. One is grilled, and one is simmered.
Hawaiian shoyu chicken is derived from Japanese chicken teriyaki with a garlicky, gingery soy sauce base. This one-pot recipe is usually served in Hawaiian meals alongside white rice or macaroni salad.
Believe me, white rice will be a better option since the bland rice base will help balance the flavors of this flavorsome food.
11. Laulau (Meat Wrapped In Laulau Leaf)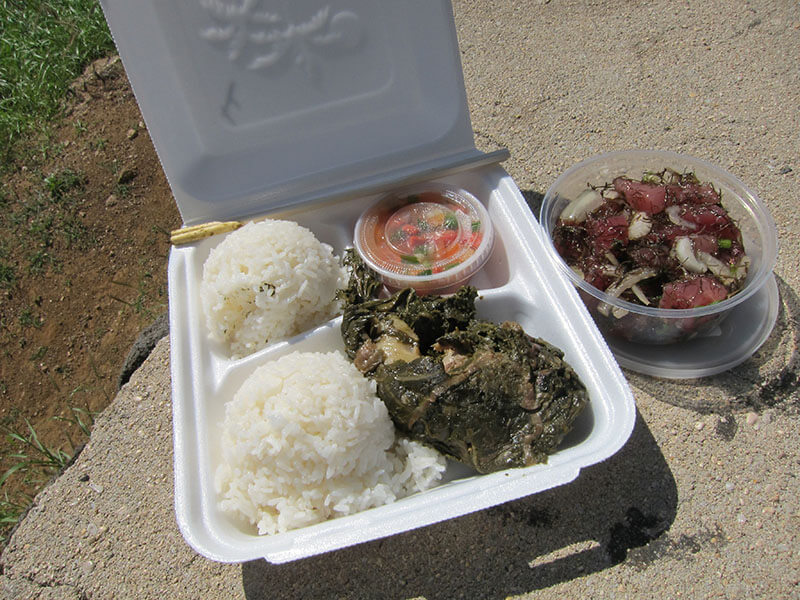 Kalo (Taro) plants grow a lot on the island of Hawaii and are an essential part of the life and culinary culture of the people here. Therefore, Hawaiians utilize kalo (leaves and roots) in their traditional dishes.
Laulau is a traditional Hawaiian dish that includes various meats from pork, chicken, beef to small fish. All will be marinated thoroughly, then wrapped in the cleaned leaves before steaming.
Laulau is often served with light starches such as rice or pasta. The note-worthy charm of this dish lies in its rusticity.
Do you want to know more about laulau? Here you go!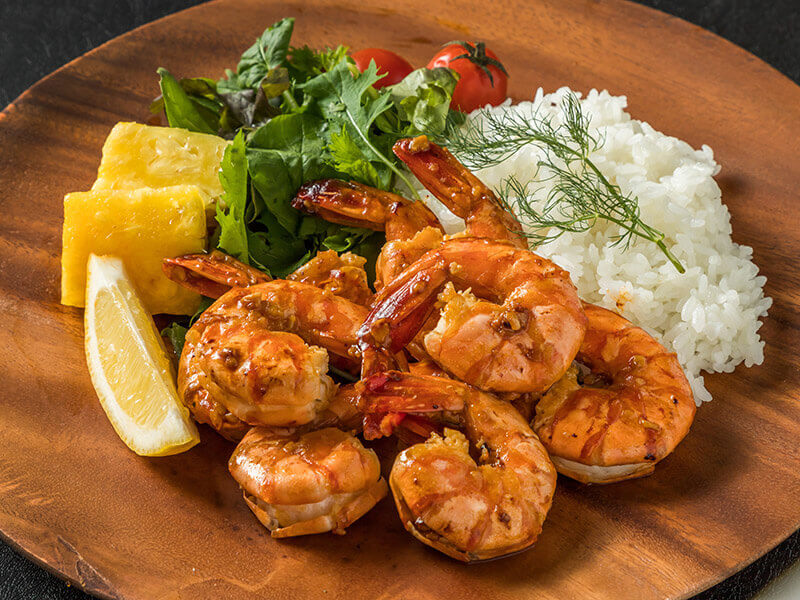 The weather in Hawaii is perfect for farming shrimp, leading to various uses of this ingredient in Hawaiian recipes. And garlic shrimp is a dish you can prep with leftover shrimps and new shrimps alike. It doesn't take great skills to prep this simple yet tasty Hawaiian dish.
This garlic shrimp is a prevalent local dish on the North Shore of Oahu ( an island of Hawaii). And many people come there just to visit a particular truck that sells this delicacy year-round.
The food is absolutely delightful with mildly sweet, buttery, and saucy layers; Hawaiians will serve this garlic shrimp with rice so you can enjoy it as a complete meal.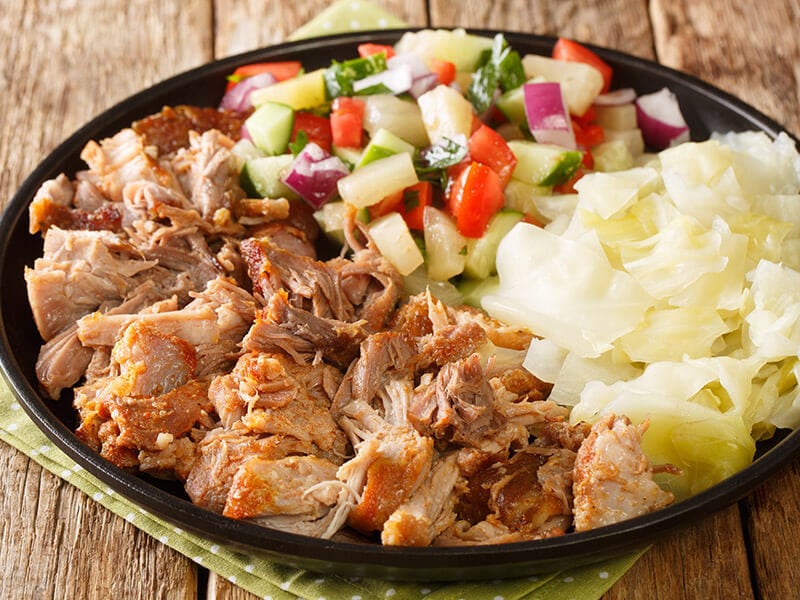 Referring to the oldest dish of native Hawaiians, it is impossible not to mention Kalua pork as a prime example. Preparing this dish requires many relatively complicated steps, but its tastes are well worth the time and effort.
To put it simply, Hawaiians would salt a cleaned pig, put it in an ima (a pit inlaid with hot volcanic lava), and close the crater with "ti" (a unique local leaf) and banana leaves.
It is considered a stew because it needs to be cooked underground for up to 20 hours. When cooked, people will eat it with hot rice or noodles.
Know more about this kalua pork dish through this!
Just as some other grilled pork skewers, this dish calls for tender pork meat, various veggies like bell peppers, and beloved Hawaiian fruits like pineapple. One Hawaiian point in these pork kabobs is the existence of pineapple.
The specific enzyme contained in the pineapple will tenderize the meat and help it absorb the sauce better. That is also the reason why many tourists have fallen in love with this food.
Although the appearance of pineapple on pizza creates controversy, when combined with a grilled dish, it will undoubtedly be divine.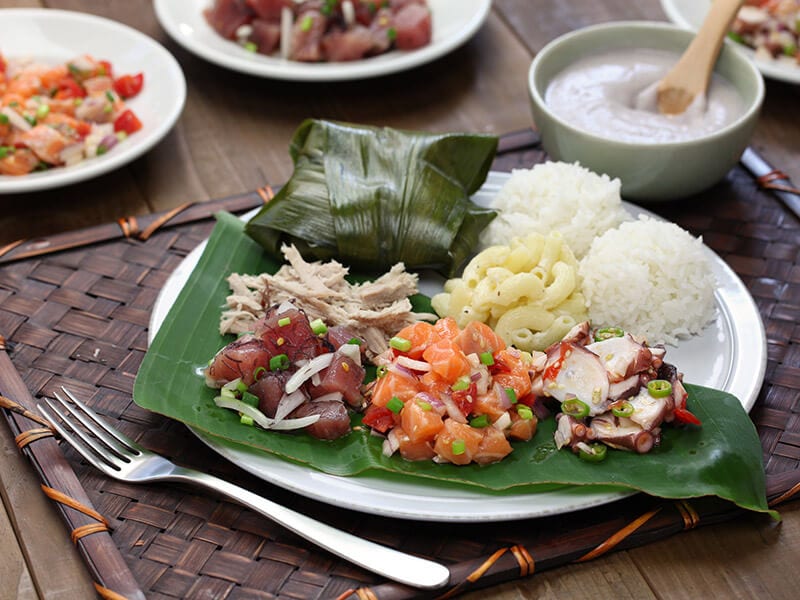 If you cannot choose which dish above to try first, how about having them all in one? Since there are many palatable options, you can experience them all scoop-by-scoop.
This combo is served in various Hawaiian restaurants so that you can order them easily. The best match for a standard Hawaiian plate includes laulau, salmon, octopus, kalua pork, and rice.
You can pair it with other iconic Hawaiian dishes such as pipikaula (dried beef) and have haupia (coconut pudding) for dessert.
You might not want to miss this Hawaiian plate's most detailed review!
Hawaiian Desserts You Should Add Into Your Must-Try List
When it comes to Hawaii, you might immediately think of their tasty desserts, sweet treats, or various kinds of cocktails. Yet, do you know which ones are the most recommended? I will show you here.
16. Haupia (Coconut Pudding)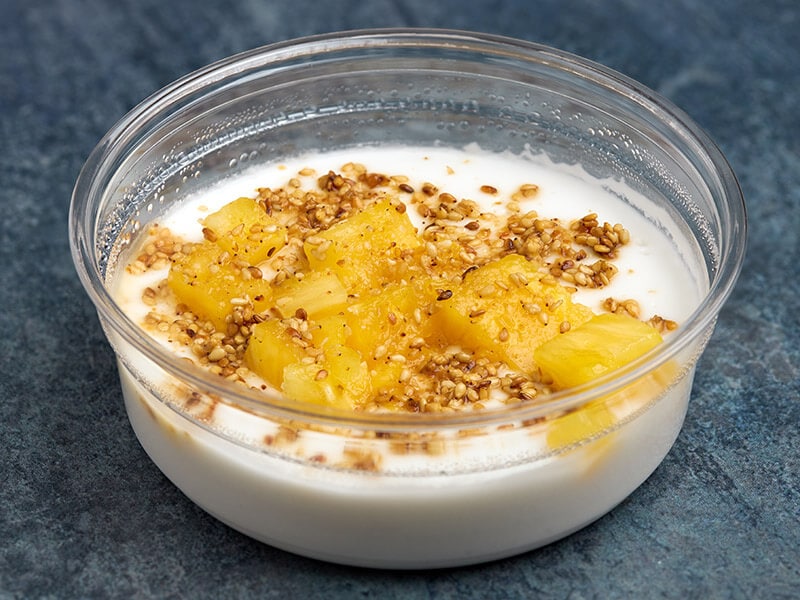 Haupia used to be a luxurious and scarce delicacy provided only to the tribe's elders at meetings due to the lack of a proper preserving method. Nowadays, it's the ultimate dessert for coconut lovers due to its rich, creamy flavors derived from coconuts.
These white puddings deliver a rich coconut taste, balancing supportive flavor from sugar and salt that make everyone swoon for them.
Haupia is now becoming more prevalent thanks to the appearance of gelatin and the fridge in the 1940s. This authentic Hawaiian sweet treat are now essential for Hawaiians' daily lives or meaningful occasions such as weddings or ceremonies.
Something you should know about making a perfect haupia.
Sipping a cool blue Hawaiian drink with a passionate, delicate flavor on a hot summer day is simply unrivaled. It was created in 1957 by a talented bartender, Harry Yee.
Blue Hawaii is made from light Rum (or Vodka), Blue Curacao wine, pineapple juice, coconut milk, and a sweet-sour blend (to create a typical tropical hint).
Some variations require a balanced ratio between rum and vodka to leave a tempting solid flavor in the throat. You may have wasted a good chance if you visit Hawaii without tasting this deliciousness.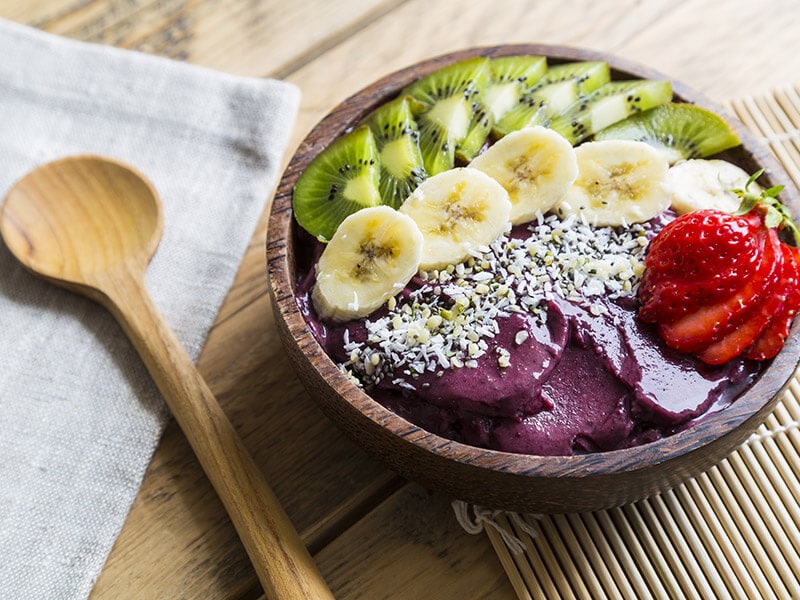 Being seen as a tropical paradise, Hawaii has a wide variety of fresh fruits served year-round.
This Brazilian-originated acai bowl (including a purple smoothie base, fruit topping, and honey) has been served to make it more convenient for people to enjoy a variety of fruits simultaneously.
Although a standard acai bowl is full of sweet and nutritious fruits, there is a lot of controversy about whether you should eat this dish as a main meal or not. In my perspective, it's better to have a balanced diet between the food groups.
Let's see this introduction to know more about the acai bowl!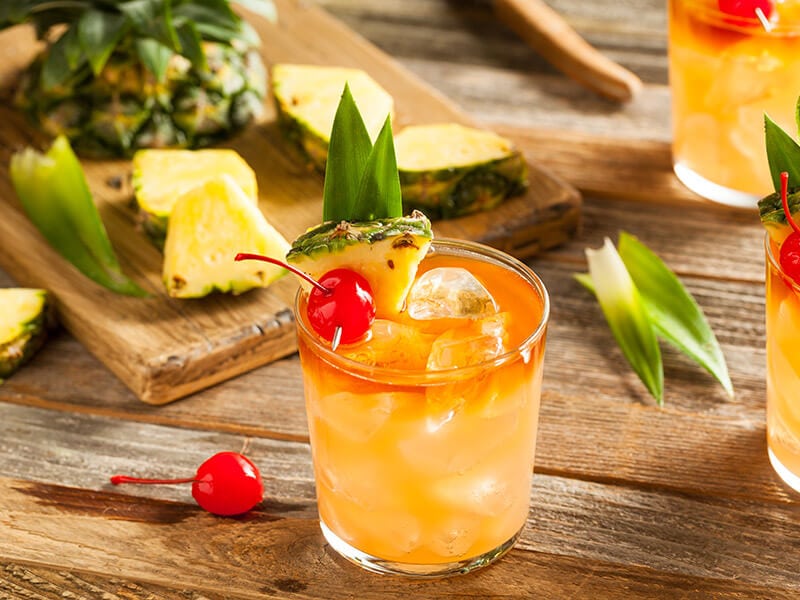 An alluring point of Hawaiian cuisine is the combination of fresh, natural ingredients with various other manufactured components. Mai Tai, a tiki cocktail that got its name from a Tahitian word, also delivers all the signature goodness.
Besides Rum, Curacao, and lime juice (akin to Blue Hawaiian), this classic Hawaiian-originated cocktail also features special yellow syrup. The harmonious mix of components creates a unique, unforgettable impression.
Enjoying a glass of Mai Tai next to the sunny white sand beach, under Honolulu's cool green coconut leaves, is a travel experience you should not miss.
An authentic mai tai will be done this way.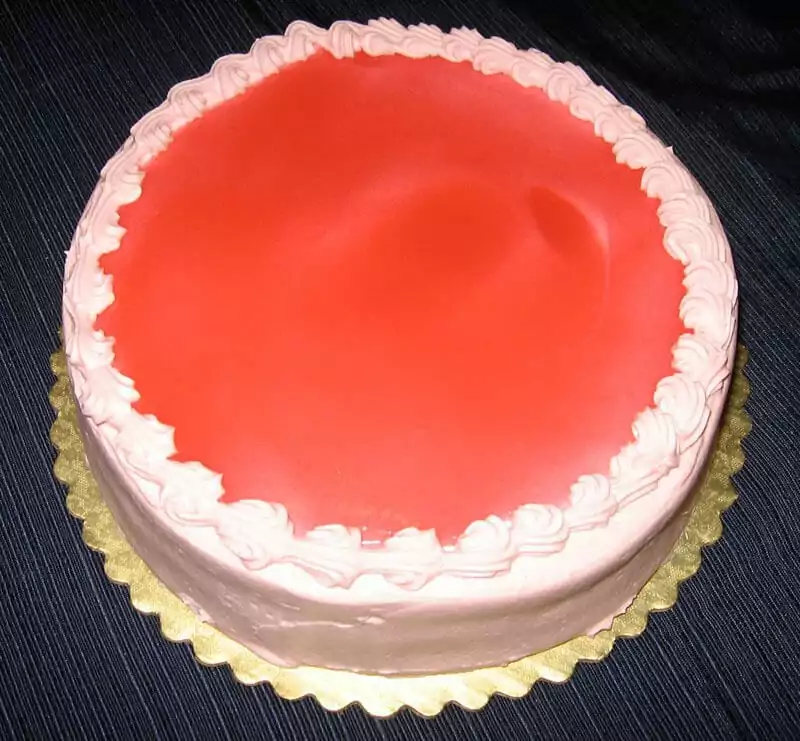 Since guava is the second most famous tropical crop in Hawaii (beside liliko'i), here is absolutely a sweet recipe that calls for guava that you definitely can't miss.
Although there are many other variants of guava cakes, the Hawaiian version will be the best one you have ever known. The distinctive nectarous flavors that comes from guavas are the highlight point of this treat.
The Hawaiians prefer to make their fluffy cake pink and taste extra creamy with more whipped cream in the ingredient list.
Liliko'i bars are the Hawaiian variation of lime/lemon bars renowned for their catchy tangy and sweet tastes. You can pinpoint the flavors of passion fruits as the variety used for these sweet treats are not regular purple ones, but the golden cultivars with bright yellow skin and mellower flavors.
These liliko'i fruits are grown prevalently on the islands of Hawaii and Hawaiians usually collect/harvest them in winter or fall.
The dessert includes two layers of shortbreads to balance the taste of the jelly-like passion fruit part. I am sure you will want to eat the food more and more.
This is how a local Hawaiian makes liliko'i bars you might want to look at!
When it comes to Hawaiian food, summer inspirations are just what you might think of, and so is rice pudding. Instead of eating chocolate chips or cinnamon, Hawaiians will eat this treat with fresh fruit topping, especially fresh pineapple.
Like many other sweets, coconut milk is indispensable in this island's culinary cuisine. Thanks to that, the creaminess of this delicious dish is further enhanced and appreciated.
If you ask Hawaiians about comfort food from childhood, they will likely mention this lovely dish.
E 'ai Kākou! It Is Time To Try Some Hawaiian Dishes!
The Hawaiian dishes that I present to you today are both attractive, rich in flavor, and highly nutritious. Therefore, as soon as you have the opportunity to enjoy these specialties, you should seize them immediately.
I hope that my advice today will assist you and your loved ones in having a wonderful Hawaiian vacation and discovering all of Hawaii's culinary treasures. Feel free to comment about your taste experience to share it with me. Loving is sharing!