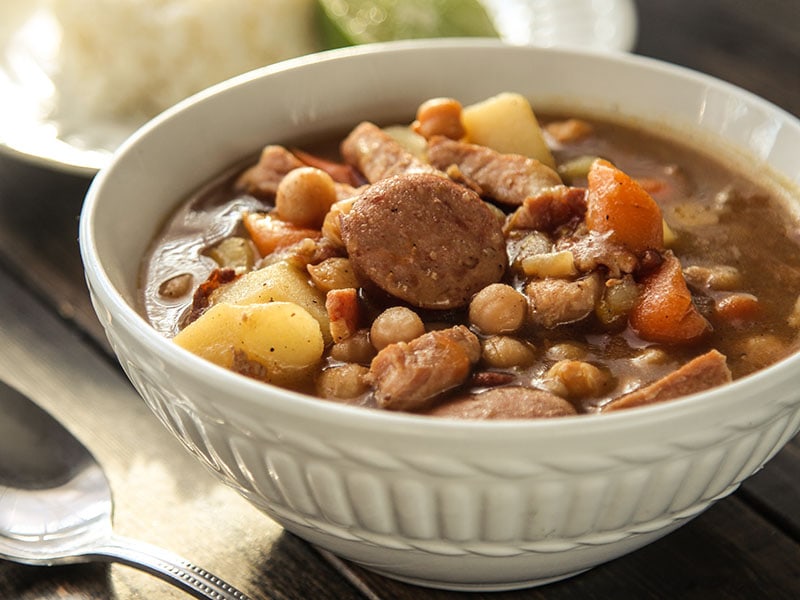 Dominican foods are all incredibly tasty. In the limited amount of time on your trip, choosing the best ones to enjoy is not easy. In this article, I will introduce you to the most loved dishes in the Dominican Republic so that you can make a great decision on which to try.
Most of the signature dishes in the Dominican Republic carry some pieces of the country's culinary tradition. Explore them! Then, you can make a good plan and enjoy both the country's delicious food and diverse culture.
7 Great Dominican Appetizers To Start The Meals
A good appetizer sets the stage for the following main dishes. So choose it very carefully. With these 7 options, you will be able to pick the best one for your Dominican party.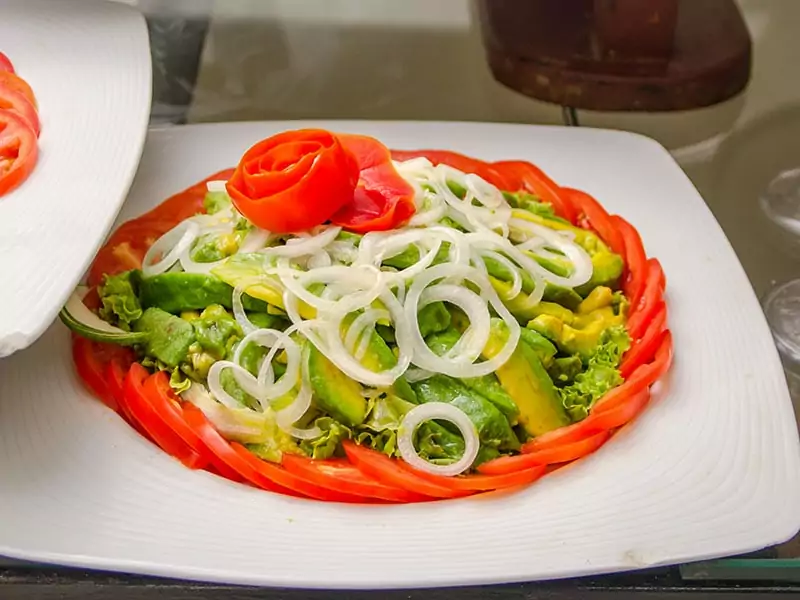 A salad is a crucial part of Dominican lunch recipes, and ensalada verde is the perfect choice to refresh yourself and add some essential vitamins. Its origin is still under debate, but its name is a Spanish word, which can be translated to "salad."
Traditionally, Dominican salad consists of beetroot, tomatoes, cabbage, cucumber, and red onion. These are simple and common veggies, but the flavor when combining them together is just mouth-watering. It will be the best compliment for heavy meat dishes.
2. Tostones (Fried Green Plantains)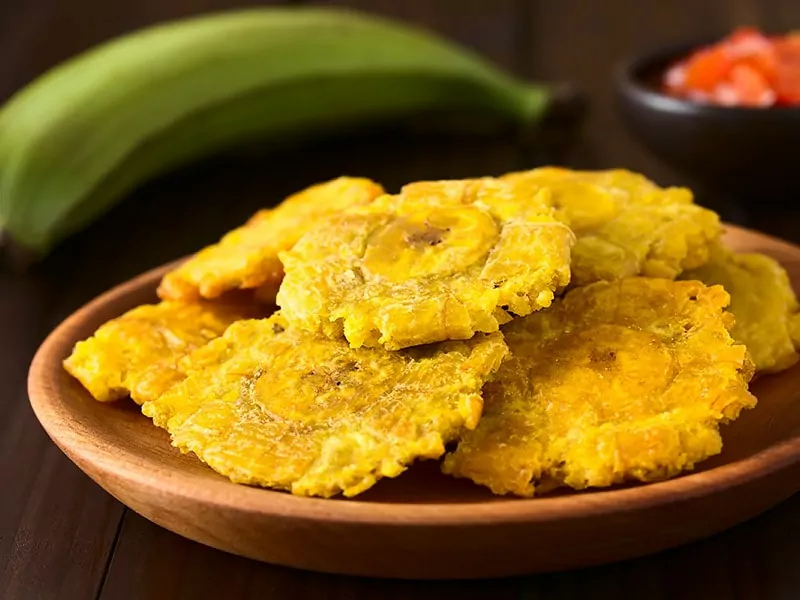 Dominican people love plantains. That's why they are present in a lot of Dominican recipes. They have a love for fried plantains, called tostones. It is a popular appetizer and street food in the country.
This dish is believed to come from the Dominican Republic, but more detail about its origin is still unexplored. However, its etymology is fascinating. The name "tostones" was derived from the Spanish word "tostón," which refers to the coin used in Spain when they settled in the country.
Tostones are not only famous in the Dominican Republic alone, you can spot this delicacy in Cuba, Nicaragua, and Venezuela. Long story short, tostones are a simple but delicious dish that has become popular in many cuisines outside of Dominican.
3. Salpicon (Dominican Seafood Salad)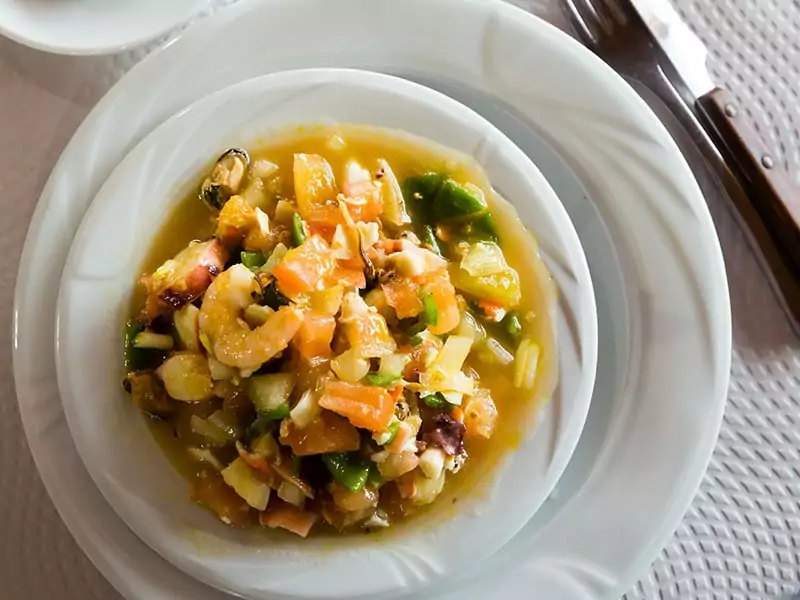 If you come to a coastal region in the Dominican Republic, salpicon is a must-try dish. Who doesn't love to enjoy a delicate seafood dish while sitting on the beach? You can enjoy it as both a main dish or an appetizer.
This delicacy also takes root in Spain. The specific time was not recorded. But it received an official status when being introduced by Sebastián de Covarrubias, a Spanish author at the end of the 16th century.
Salpicon features various types of seafood, such as shrimp, fish, octopus, and squid, and vegetables. They are cut into small pieces and mixed. When you taste it, you will feel amazingly refreshed.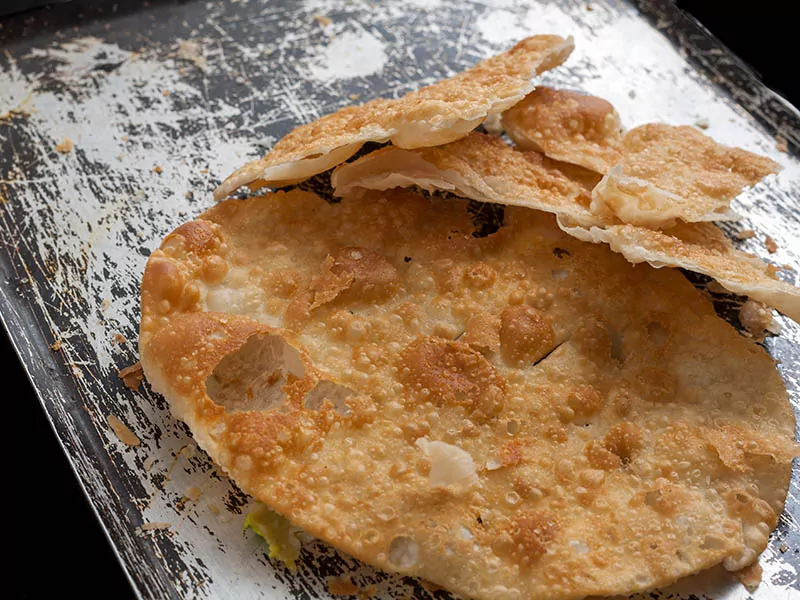 Yaniqueque was brought to the Dominican Republic in the 19th century by Afro-Caribbean immigrants. Initially, Yaniqueque was Caribbean starters, it's derived from jonnycake, an old-day American dish. These fritters are famous street food, particularly in coastal regions like Boca Chica.
Are you curious about what these crispy fritters are made of? The answer cannot be easier. The dough is made entirely from flour, baking powder, salt, and baking soda. This simple formula creates beautiful and appetizing fritters that everyone dies for.
5. Longaniza (Fried Sausage)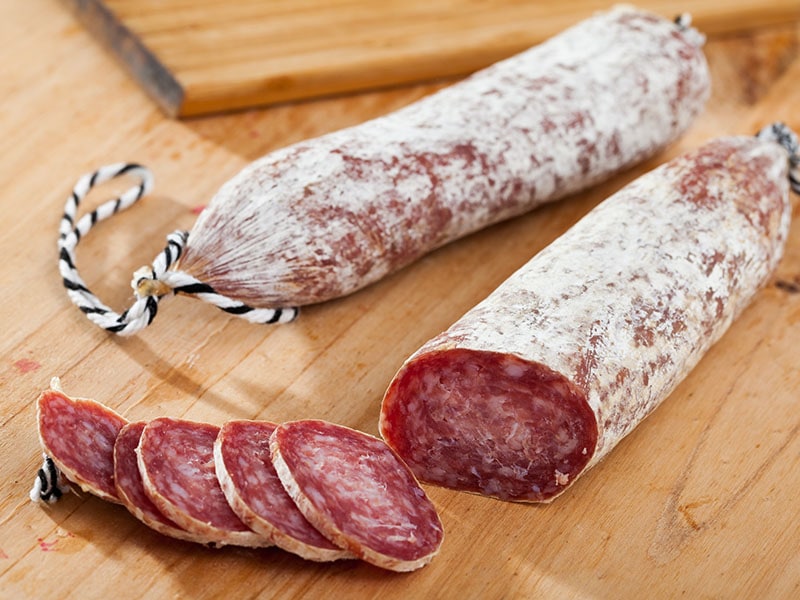 Originally from Spain, longaniza came to the Dominican Republic and made a hit here due to the many alluring features of longaniza. This specialty is made of pork meat and flavored with spices and vinegar. It is boiled, shaped, and then fried to perfection.
Each country varies in the way of cooking longaniza. For example, Mexican Longaniza can be cooked in a variety of ways, such as boiling or air frying. When you taste it, you will feel a slightly salty flavor that you will long for later on.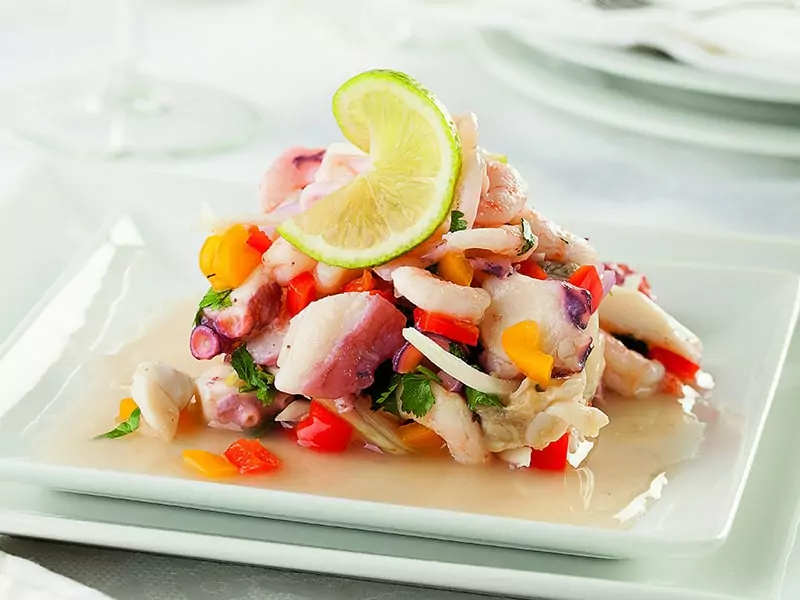 Cechive is a very famous dish in Peru. It made its way into the Dominican Republic and soon became popular here. The main ingredient of this dish is shrimp and fish. A few types of veggies, typically red onion and bell peppers, are used to add more freshness.
This seafood dish has a distinctive sour taste that will wow you. I am sure that it will be a hit at your Dominican party. Give it a try! You will never regret it.
7. Pastelitos (Dominican Savory Pastries)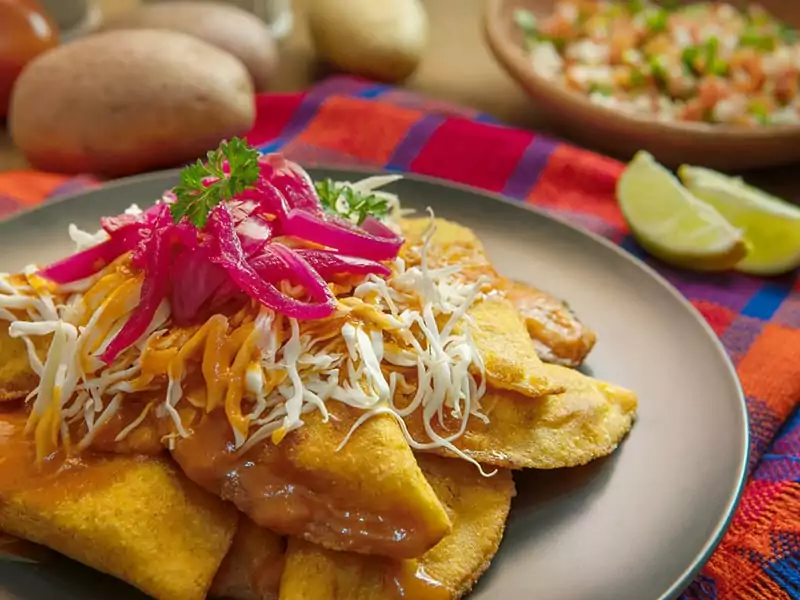 Many people are confused between pastelitos and empanadas. Both are beloved foods in the Dominican Republic and have similar appearances. However, pastelitos are smaller and have crispy edges.
The history of pastelitos is still unclear. It is probably native to Spain and spread to the Dominican Republic during colonization.
Pastelitos are also a kind of turnover. But if you translate its name into English, it means "cupcake." Isn't that interesting?
11 Dominican Main Dishes That Will Make You Crave
Main dishes are always the most important ones. It will shape your experience of the entire meal. Below are 11 lovely Dominican delicacies that will certainly expand your culinary horizons. Check them out!
8. Chenchén (Cracked Corn Pilaf)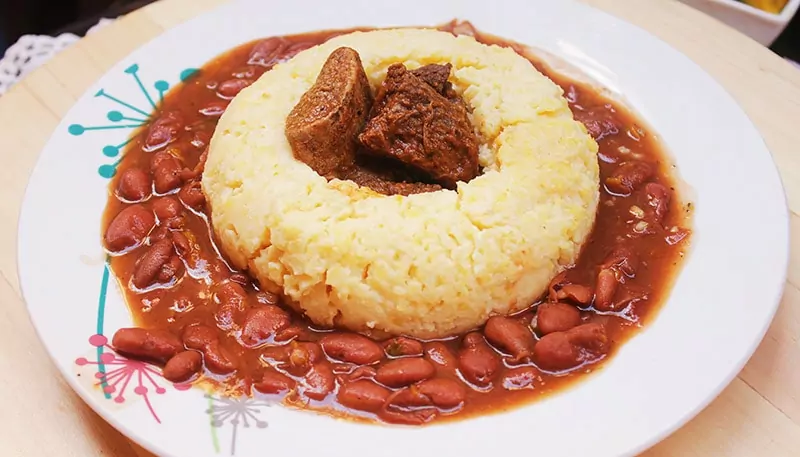 People of the Dominican Republic often eat chenchen instead of rice. It came from the southwest area of the country. The ingredient that creates this beautiful yellow hue is corn.
Sometimes it has a creamy texture. But a pilaf-like texture can also be found. Traditionally, it can entirely replace rice and is served with savory dishes such as meat and seafood. This rice alternative will bring you a new and exciting experience.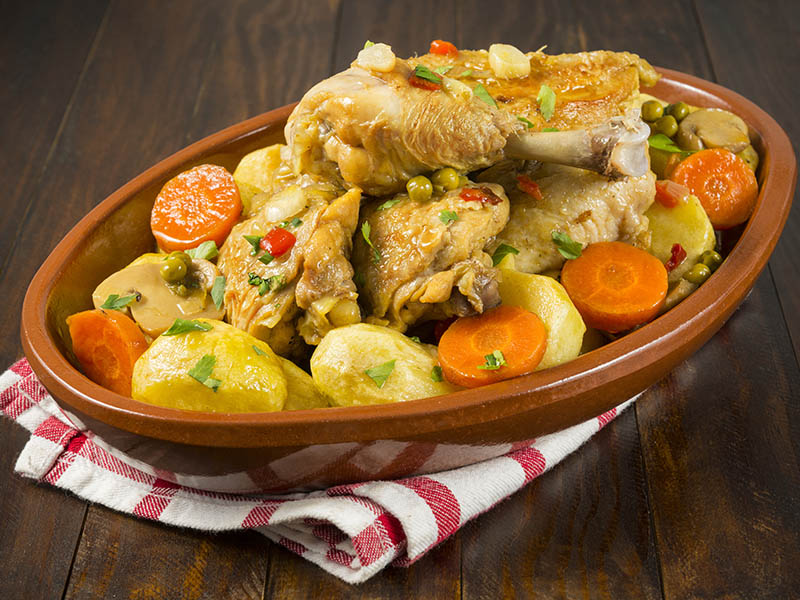 Braised chicken is a universally loved dish. Each country has a distinctive way of cooking it, and the Dominican Republic is no exception. You will find that its version, pollo guisado, has a very special taste.
This classic recipe came from Spain and is also pervasive in other countries, especially Puerto Rican cuisine. Pollo guisado is a hearty and warm dish that is absolutely needed on cold winter days. The tender chicken meat, nutritious veggies, and flavorful sauce will shock you.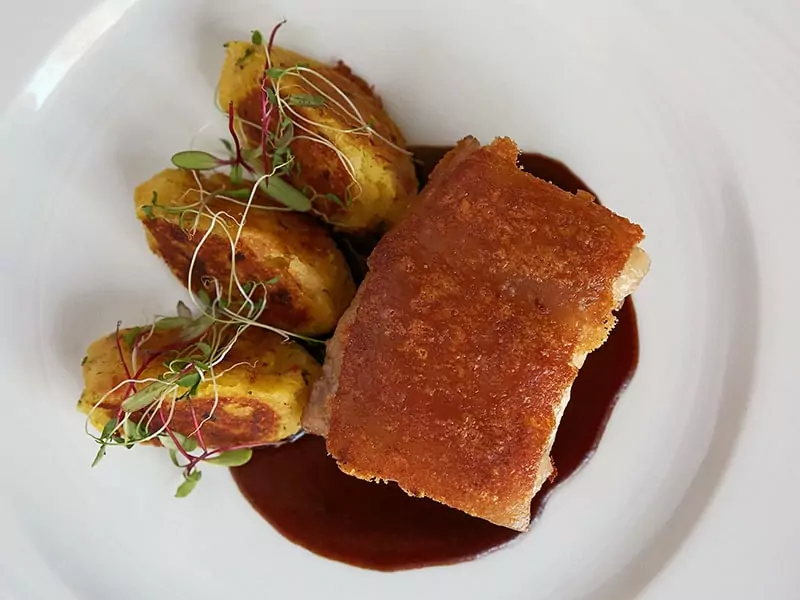 Chicharron is a pork dish made from pork. It is seasoned with bitter orange, salt, and oregano then fried until the attractive brown hue is achieved. The crispy skin is the thing that you love most about it. It is well-known street food in the Dominican Republic.
Similar to some other food, chicharrón de cerdo also takes root in Spain; more specifically, it came from the Andalusia state. It was transferred to the Dominican Republic during the period of colonization.
This dish is sold across the country, but you should try the specialty at Villa Mella village, where the African-Dominican people live. A lot of pigs are cultivated here, so you can get the most authentic feeling.
11. Sancocho (7-Meat Stew)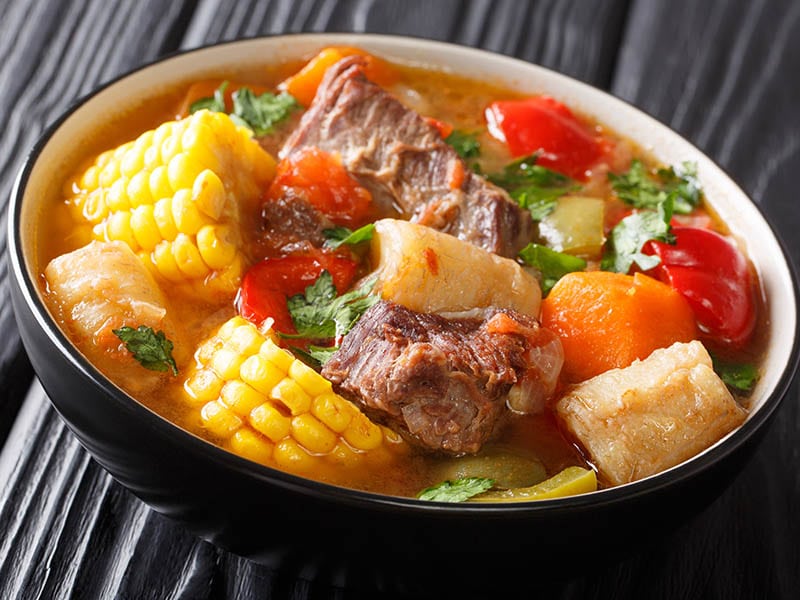 Sancocho is a traditional dish of all Latin American countries, so don't be surprised to see this tasty dish in Venezuela. It is here thanks to the Canary islanders who came to the country in the 16th century and brought the dish along.
It features various types of meat, typically beef, pork, and chicken, cooked with vegetables such as plantain, corn cob, yuca, and yam, and a savory beef broth.
Dominican sancocho is a little bit different from other versions because it does not include potatoes and tomato sauce, so you will find that it has a very distinctive flavor. Try it, and you will be stunned.
12. La Bandera (The National Dish of The Dominican Republic)
As one of the original Dominican foods, la bandera carries a lot of characteristics of this country's culture. It is the most popular Dominican lunch recipe, which contains white rice, beans, and meat and is most often served with a salad.
What is most interesting about la bandera is its name. In Spanish, it means "flag." The flag of the Dominican Republic has three colors: white, blue, and red. Rice represents white, beans stand for red, and meat reminds of blue.
La bandera has an important status in the country's culinary culture.
13. Mangu (Mashed Plantains)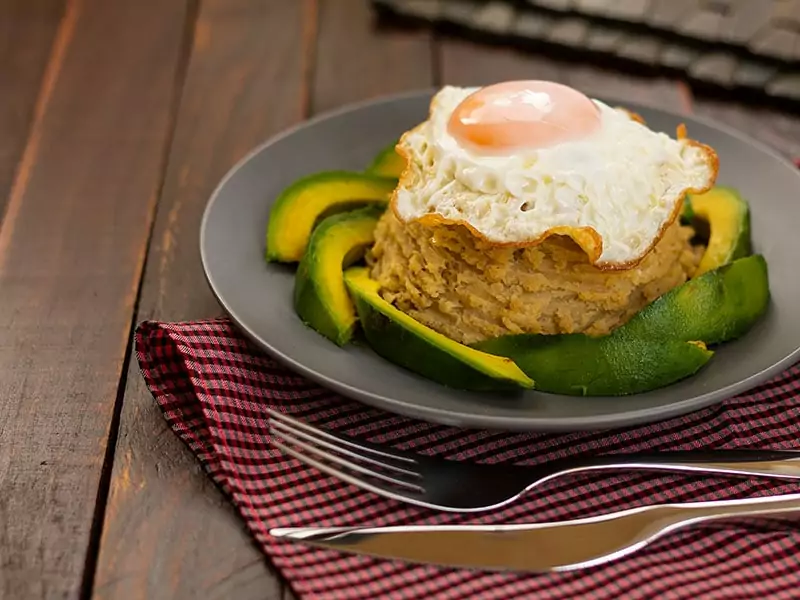 Among the Dominican breakfast recipes, mangu is the most popular one. As the name says, it mainly contains plantains and is served with fried eggs, cheese, and salami, which will provide enough protein for your body.
The Americans who invaded the country brought this dish to the Dominican Republic. More specifically, it came from Congo at the time of the slave trade.
Mangu used to be the food for the poor. But it gradually got recognition and soon became the national dish of the Dominican Republic. Now it is the food for everyone and a specialty that travelers worldwide want to try.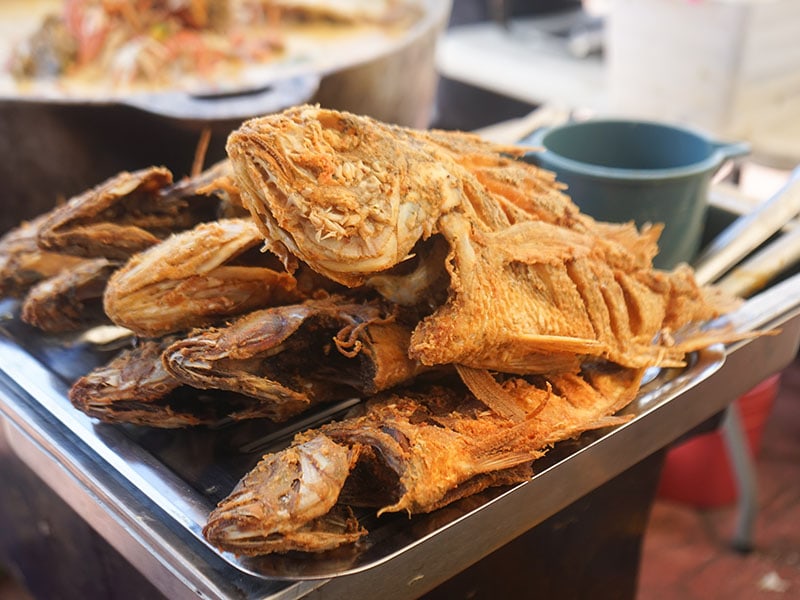 Fried fish is a specialty of the Dominican Republic and also other Latin American countries. Its country of origin is Spain.
It is the main dish and a famous street food that can be found in coastal regions. Try it at least once because you can hardly find a similar flavor when you come back.
Look at the beautiful golden brown color! As you bite it, you will feel the incredibly crispy texture that is irresistible. It may be the best fried fish you have ever tasted.
15. Mofongo (Flavored Mashed Plantains)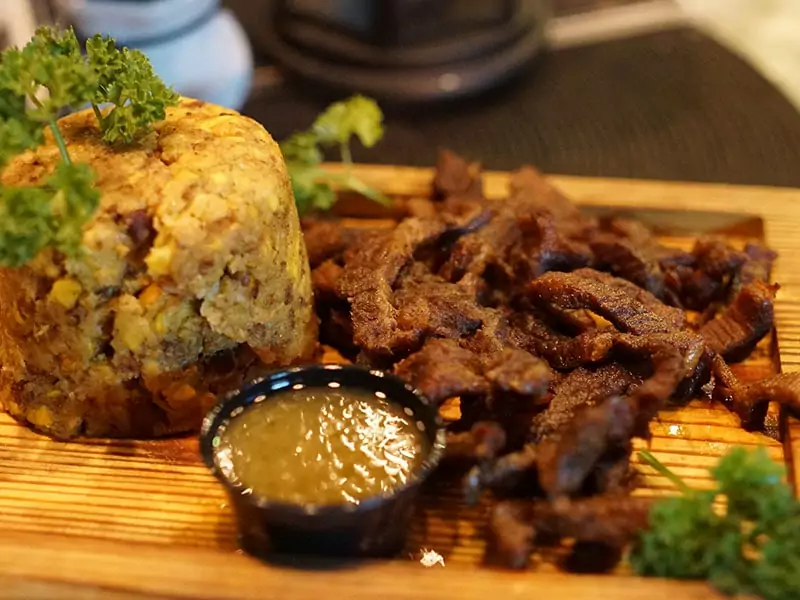 Mofongo was first acknowledged as a traditional street staple in Puerto Rico. But since it debuted in the Dominican Republic, it has become increasingly popular.
To make this dish, people fry ripe plantains and then mix them with garlic and pork. Then, it is shaped in a cup and served with meat and vegetables. The sweetness of plantain combined with the umami of meat and the freshness of veggies create an unforgettable flavor.
You will be stunned by how this amazing mofongo dish is made.
16. Chivo Guisado (Spicy Goat Meat Stew)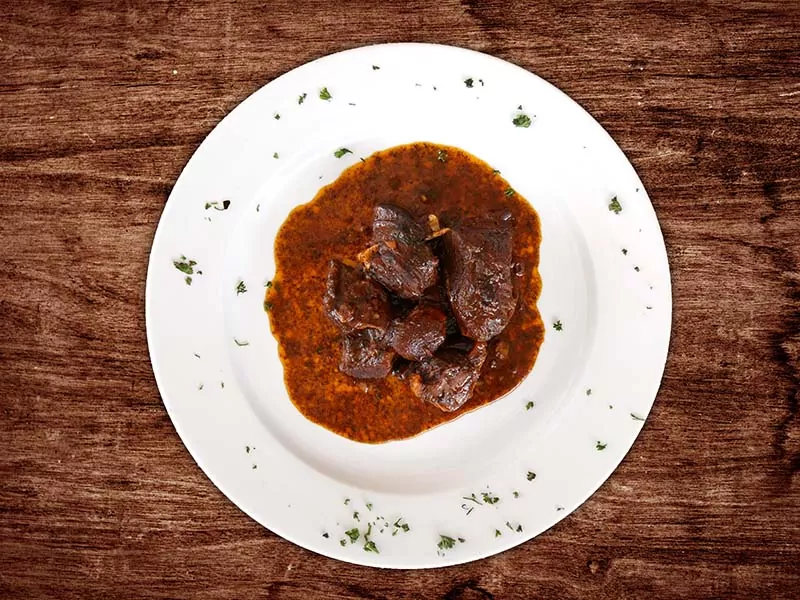 Chivo guisado is a great Dominican specialty made from goat meat and flavored with tomatoes, garlic, oregano, Scotch bonnet peppers, bitter oranges, and onion. What makes it special is the use of oregano, which provides a charming flavor and aroma.
This fascinating dish originates in the Dominican Republic. Not many cuisines in the world are famous for goat stew. But in this country, chiva guisado is an exception. Legend has it that the farmer fed the goats with wild oregano, which is the root of such an enchanting taste.
Despite being the traditional dish of the Dominican Republic, asopao de pollo actually takes root in Puerto Rico. It is also popular in other Caribbean countries.
This dish is a fulfilling stew made from chicken thighs, ham, vegetables, tomato sauce, and rice. It is an intersection between a paella and a soup. Such a rich dish is the Dominicans' favorite dinner recipe. You will not want to miss it!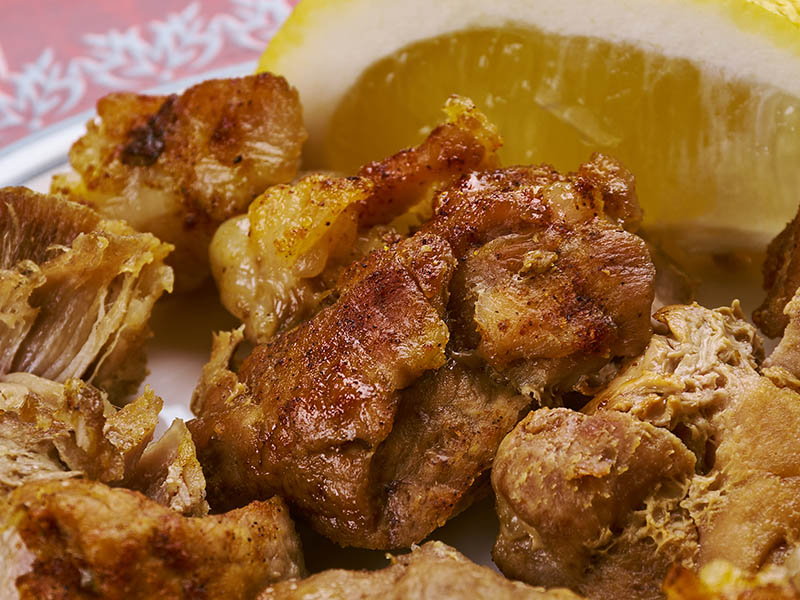 Americans have roasted turkey on Christmas, while Dominican people always eat pork roast, which is regionally called lechon asado. It originally came from Puerto Rico, but it is now a traditional dish of the Republic of Dominican because of the cultural diversity.
Speaking of pork roast, you probably imagine an attractive shiny brown piece of pork at the center of the table. Exactly! But its flavor is what will stun you. It is flavorful and fantastically delicious. Once you go for it, you can never go back.
5 Dominican Desserts That Are Fantastically Delicious
The list of Dominican desserts are diverse. But do you know what the most loved ones are? I will show all of them to you in this section.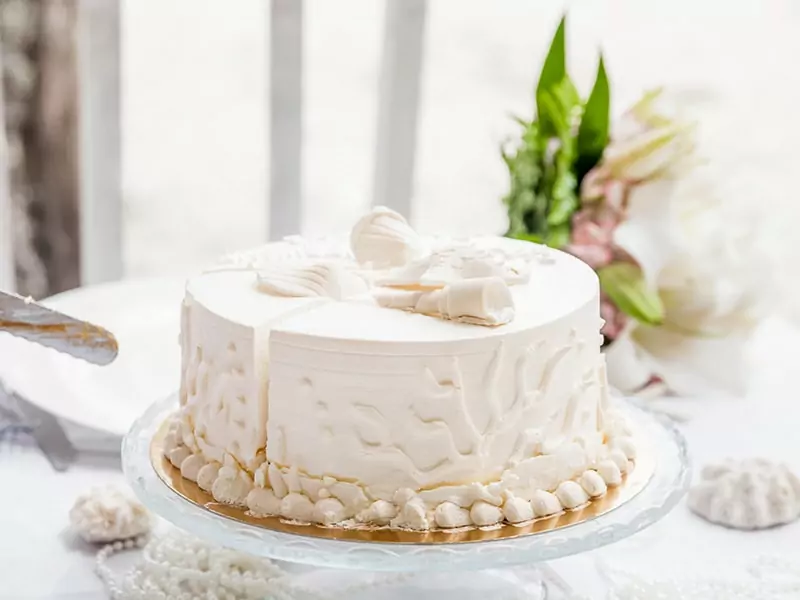 This beautifully made Dominican cake will become the star of any party or festival. It has a distinctively airy texture that no other cake has. And the meringue frosting is just fantastically awesome.
Bizcocho Dominicano originated on the island of Hispaniola in Colombia. It was spread out to other regions due to its unique texture.
It is hard to find any local people that are not in love with this cake. I promise that you will be over the moon if you try it.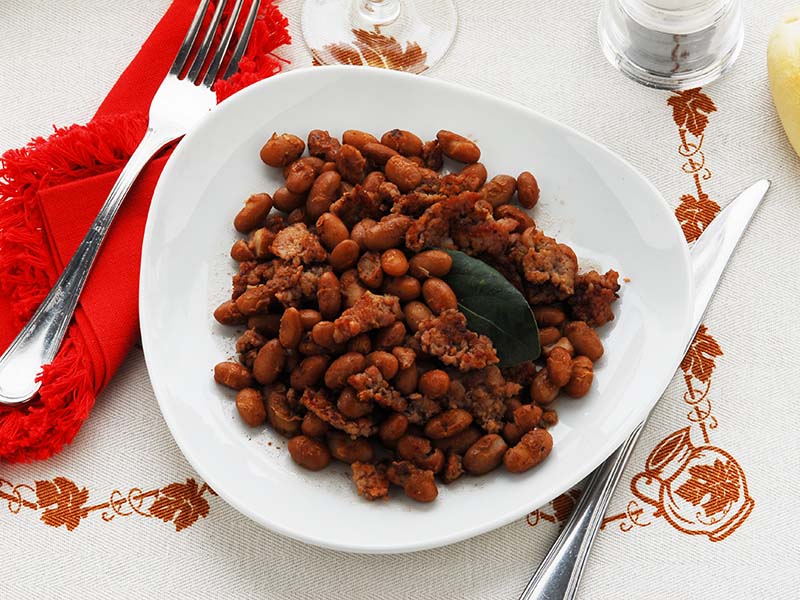 Habichuelas guisadas was created by African slaves and imported to Domico. It has a Spanish name that can be literally translated to "stewed beans."
This hearty dish features beans stewed in tomato sauce and served with white rice. Everything is reflected in its name, which can be understood as "beans and rice". Habichuelas guisada has been one of the most common Dominican dinner recipes for years. Is there any reason not to give it a try?
If you prefer a dense cake instead of an airy one, then arepa should be your go-to Dominican dessert recipe. It has a cheese-like appearance with a thick triangular shape and a bright yellow color. You will be fascinated by the sugary raisin embedded inside when you bite it.
More interestingly, it is delicious and inexpensive because it is traditionally the common breakfast for the poor. But now it has become much more popular and is enjoyed by both local people and travelers.
22. Flan (Crème Caramel)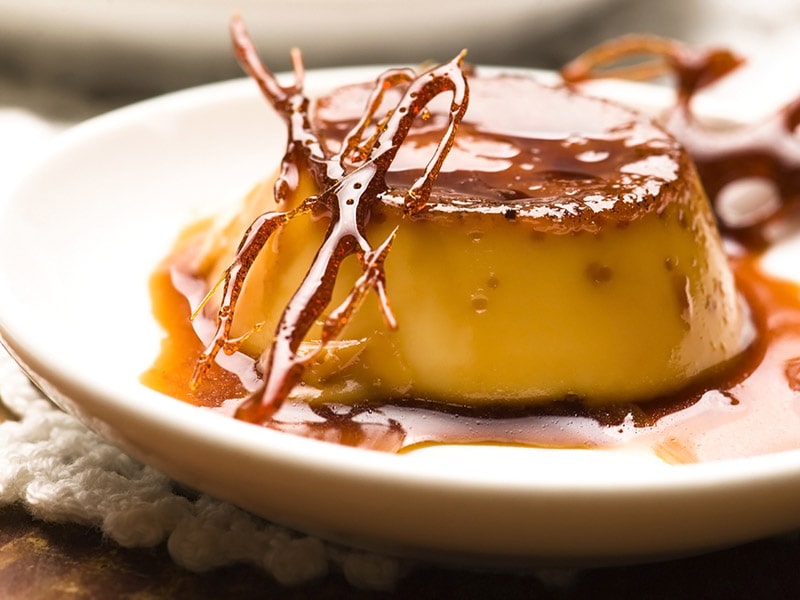 Flan is one of the most popular desserts in the world. In the Dominican Republic, it is extremely popular. Although its origin is in Europe, it was brought to the country by the Spanish hundreds of years ago and became one of the signature dishes.
When you try flan in the Dominican Republic, perhaps you will feel that it is somewhat different from other plans you have eaten in America.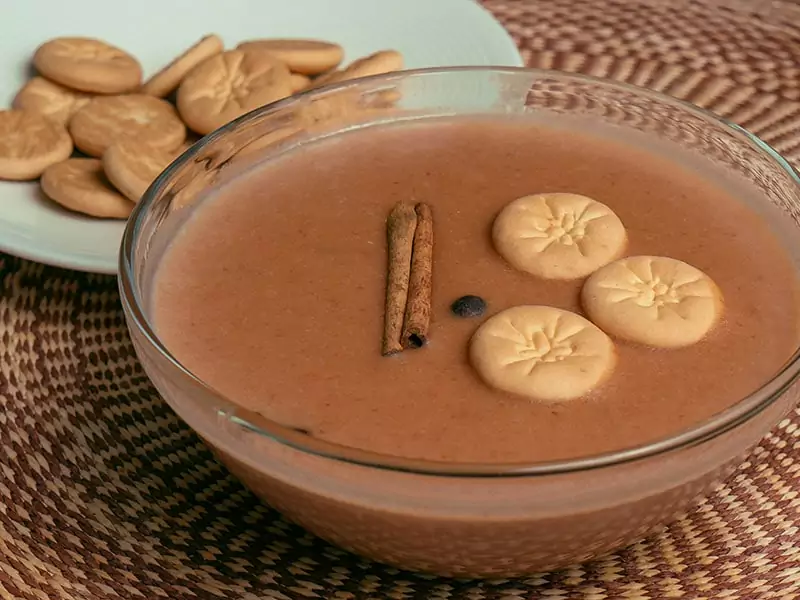 Habichuelas con dulce is the traditional dessert of the Dominican Republic, which is typically served in Lent. It is made from pinto beans and coconut milk often served warm. Local people have a norm of sharing it with the neighbors.
The history of this dessert has not been confirmed. Some people said that it was brought to the Dominican Republic by African slaves. This is because it looks like frejol colado, which the Afro-Peruvian people invented. It is also made of black beans, sugar, and milk.
This dessert is a must-try if you want to be a part of the beautiful culture. Its sweet taste and creamy texture are just so delicious. Make sure you enjoy it with some friends because it will bond everyone together.
Let's learn about how this classic habichuelas con dulce is made.
5 Sparkling Dominican Beverage To Finish Off The Meal
Now I am already done with the dishes. But are they enough to give you the most incredible culinary experience? No, good food must be complemented by a fantastic drink, and the Dominican Republic has a lot.
24. Jugo De Avena (Oats And Milk Cold Drink)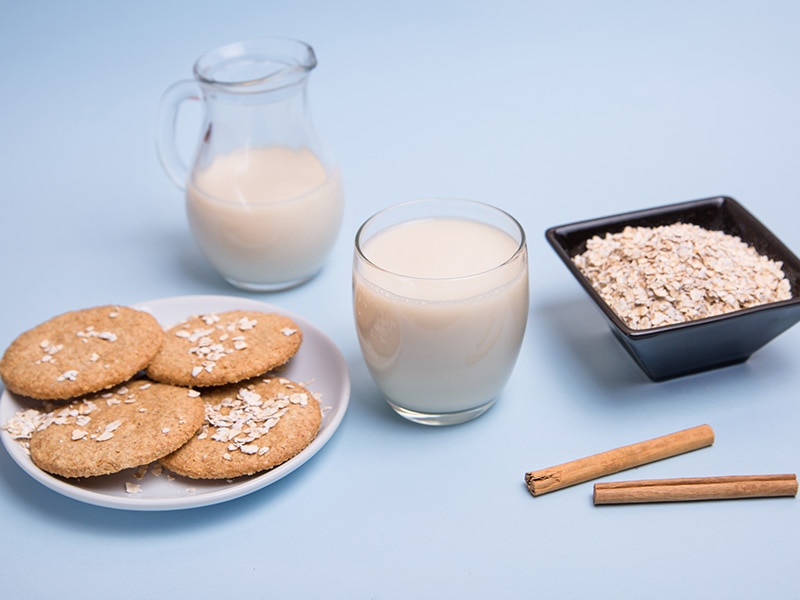 If you are not a fan of alcoholic drinks, then jugo de avena is the best drink to have in the Dominican Republic. The Spanish word "Avena" can be translated to "oat", so "jugo de avena" means nothing other than "oat juice".
Although its name is a Spanish word, South America is actually its country of origin. Local people make it by combining oats, sugar, milk, and spices. They drink it and also enjoy it with rice. Are you curious about the flavor? Give it a try!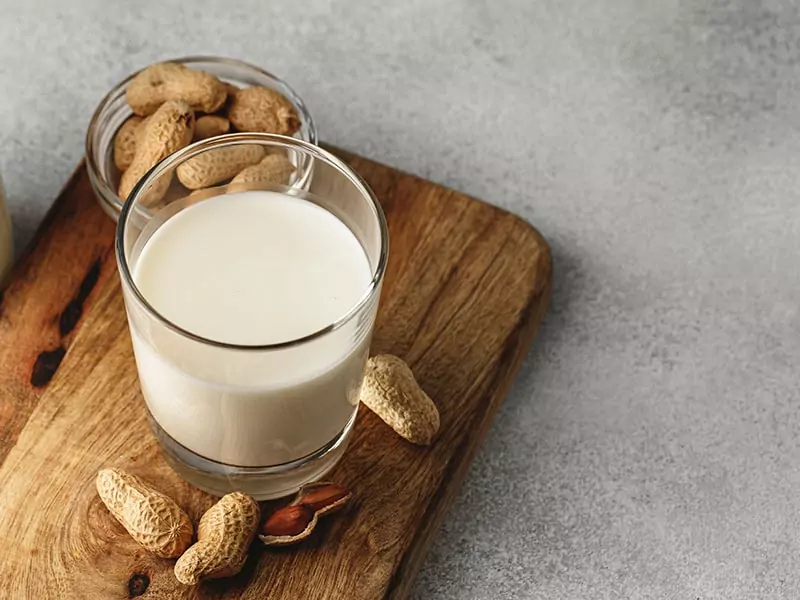 In the Dominican Republic, toasted peanuts are the main ingredients for this drink, adding hints of sweetness and nutrition and making it a perfect morning retreat. Also, cinnamon and nutmeg provide more flavors.
Similar to jugo de avena, chocolate de mami is native to South America. Nonetheless, whenever you want to find a heavenly tasty hot drink in the Dominican Republic, go for it! Few can resist such a fantastic drink.
26. Mamajuana (Spiced Dominican Drum Drink)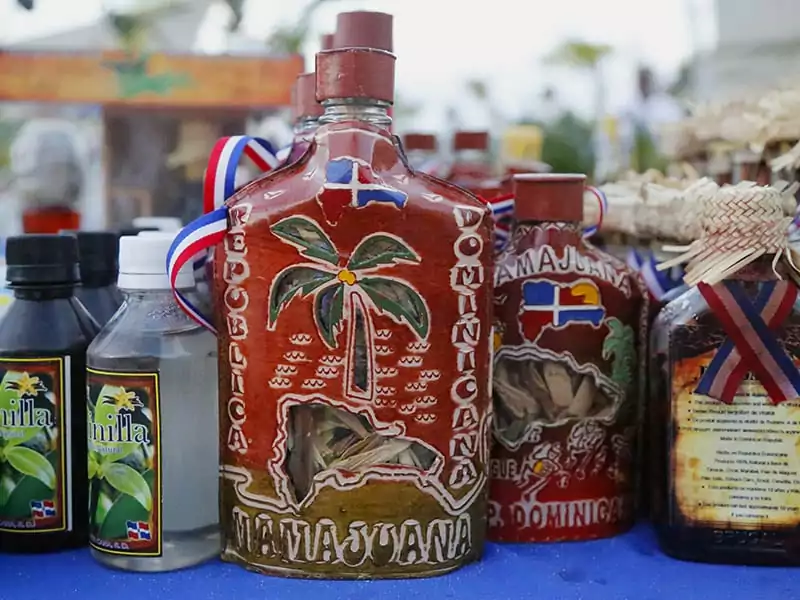 Mamajuana is perhaps the most iconic alcoholic drink of the Dominican Republic. It was created by Taíno people who resided in the Caribbean in the 1400s. In the beginning, it was just herbal tea made for medical purposes, but the modern version contains alcohol.
The most interesting thing about this signature drink is its weird name. Despite its origin, its name is taken from the French word "dame-jeanne" which means a bottle with a wide body and short neck.
Does it sound strange? Actually, there is a reason behind it. This kind of bottle is said to be the perfect container for this drink.
Are you curious about what mamajuana tastes like?
27. Morir Soñando (Milk And Orange Juice Drink)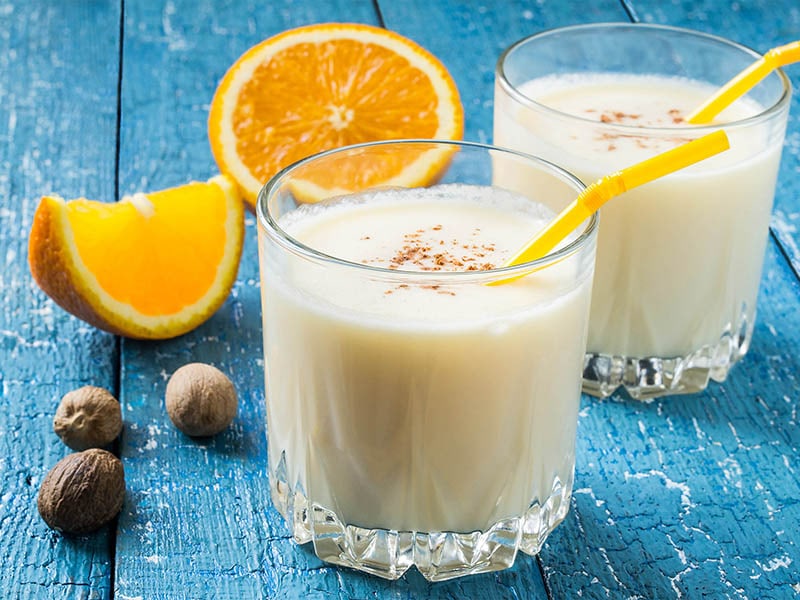 Summer in the Dominican Republic is terrible without morir soñando. Its ability to beat the heat is so well-known that people named it by the feeling it brings to them. Its name can be translated to "to die while dreaming." Is it tempting?
Morir soñando was invented in the Dominican, and later on, it also became very popular in other Latin American countries.
This refreshing drink is made by blending orange juice, sugar, milk, and ice, creating one of the most famous beverages featuring milk and orange juice. Don't leave the Dominican Republic until you try this fantastic drink!
28. Mabí (Mauby)
If you have ever heard of mauby tree, you probably know that its bark is used to make a delicious drink, whose name is mabí in the Dominican Republic. No one knows where it originated, but it first became popular in the Caribbean countries.
People make such a drink by boiling the mauby bark with spices and orange peel and adding sugar for some sweet notes. It has an impressive, bitter taste that can please someone but not the other. It's worth a try with such a unique flavor, isn't it?
You can make mabí can be made right at your home.
Have A Great Dominica Trip With The Most Tasty Dishes
Are you feeling craving? If you are in the Dominican Republic, step out of the hotel to find and enjoy your favorite dish. In case you are still preparing for your trip, that's great. You have plenty of time to plan your culinary journey.
If you have already experienced these foods, tell me how you think about them in the comment section. And, don't forget to give this article a share so that it can reach more people who are still looking for some Dominican signatures. Thank you!