Thanks to guidance through the best Chinese cookbooks, the signature Chinese cuisine is no longer something too far away for American home cooks and expects.
The sophistication and diversity of Chinese cuisine reflect in each flavor and color of the dish. Dishes must keep the freshness of ingredients, have a sweet aroma, an impressive presentation, and ensure the nutritional quality of each dish.
Plus the influence from many regions, Chinese cuisine is highly diverse, unique, and loved by many people today. Let's look at a round of prominent cookbooks to create delectable Chinese dishes!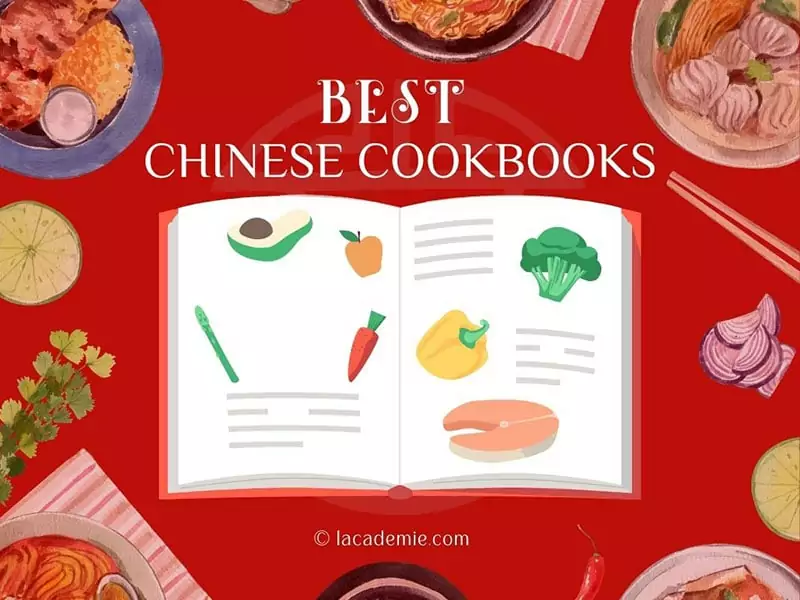 Unique Features Of Chinese Cuisine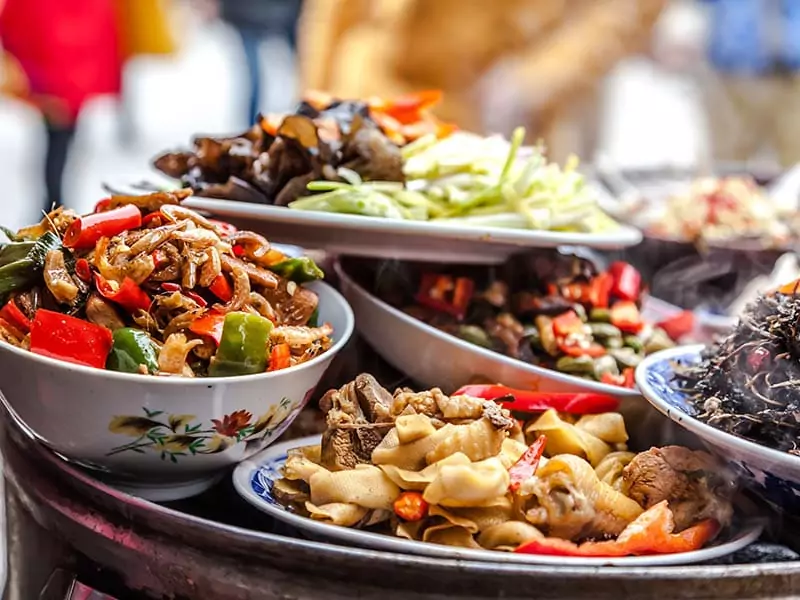 Chinese food is an essential factor of Chinese culture, including cuisine originating from diverse regions of China. People know China as one of the 10 most famed cuisines globally, with its own characteristics and rich identity.
Chinese cuisine also has a significant influence on the cuisine of Asian countries. As one of the most renowned countries in the world, along with the vastness and diversity of organisms and climates, the cultural and culinary regions of this country become distinctly different.
The arrangement and meaning of dishes is also a prominent feature in Chinese cuisine. Each recipe has its signature taste, fragrant, and color. People also focus on the ingredient, nutrition, seasoning, and the art of using knives.
Since the weather in China is usually colder all year round than in other places, especially in winter, Chinese people often add spicy spices to dishes to warm up and keep the body healthy.
Renowned Chinese Dishes You Must Try
Chinese cuisine is a diverse and rich cuisine with distinct identities. Now, let's learn about some illustrious dishes that make up the fame of China:
Dim Sum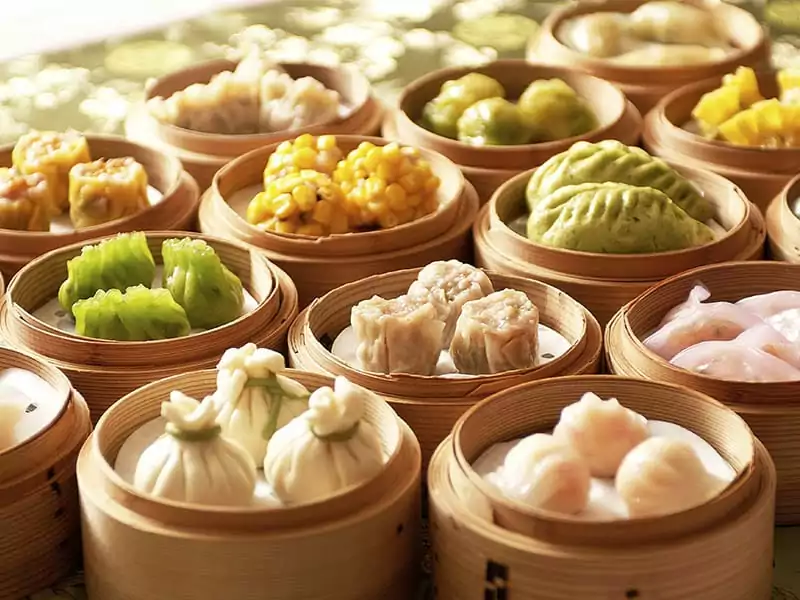 The legendary Chinese dim sum has an unmistakable shape and taste. The crust is a thinly rolled dough and wraps the filling inside. People can make the filling, whether sweet or savory. And chefs cook them by steaming, frying, sauteing, and other methods.
Sichuan Mapo Tofu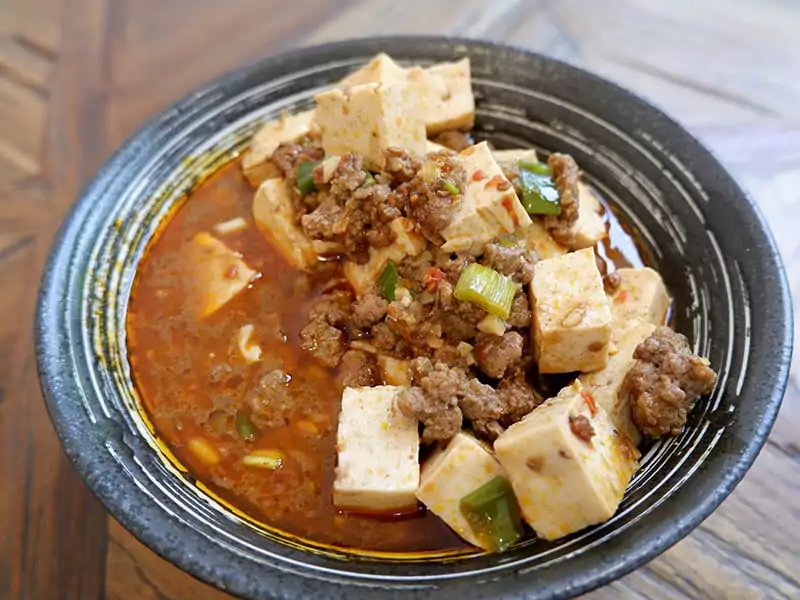 Sichuan cuisine stands out with a blend of many spices. You can say that the most popular dish in Sichuan is mapo tofu. This dish always holds an important position in China's list of favorite dishes.
Sichuan mapo tofu is quite simple with familiar ingredients: tofu, spicy sauce, douchi (chili paste and fermented black bean), douban (chili paste and fermented broad bean), along with minced beef. There are variations of mapo tofu using other veggies like onions, wood ears, etc.
Longevity Noodles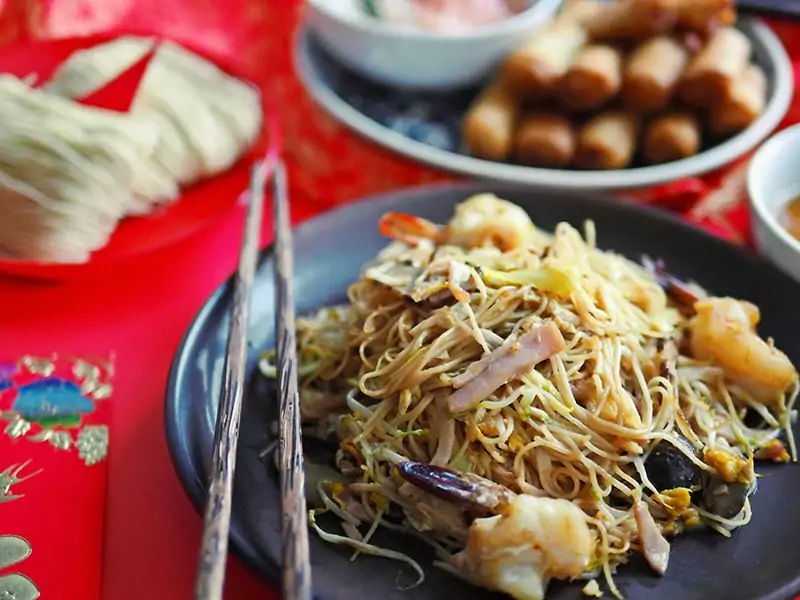 This is the signature dish for Chinese New Year and other important occasions like birthdays or longevity. The longevity noodles always reveal the irresistible delicious taste combined with shrimp, roasted duck, and char siu
This is also a very valuable spiritual food of the Chinese people. They believe that eating this dish on special anniversaries will bring good health and long life.
Longevity noodles are more special than other noodles because each bowl of noodles includes a single and very long noodle bowl. This implicitly speaks to the spiritual meaning behind the dish: "long life".
Peking Duck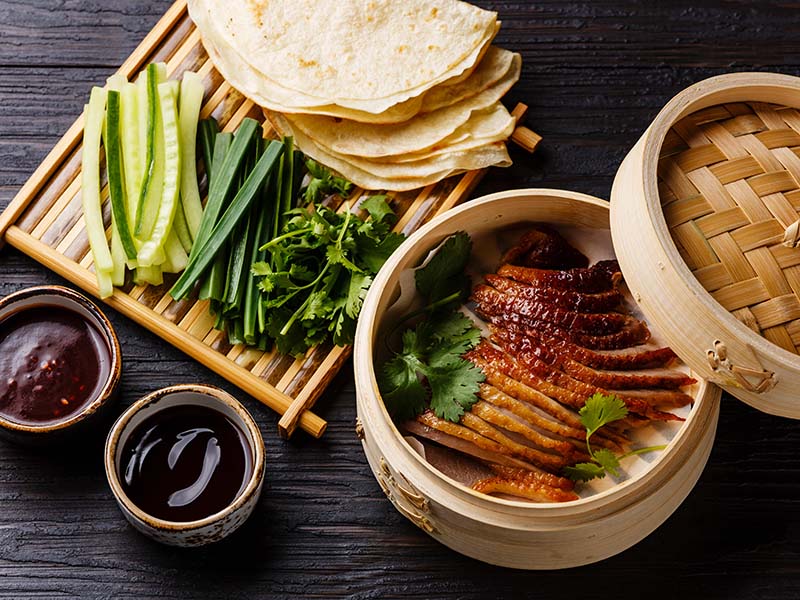 Northeast China is famous for the legendary Peking Duck. The chef preliminarily processes duck meat, stuffs it with herbs, and marinades it with many spices. After baking in the oven, the duck meat has a dark yellow color, with the crispy duck skin. The meat inside is soft and fragrant.
Crossing-The-Bridge Noodles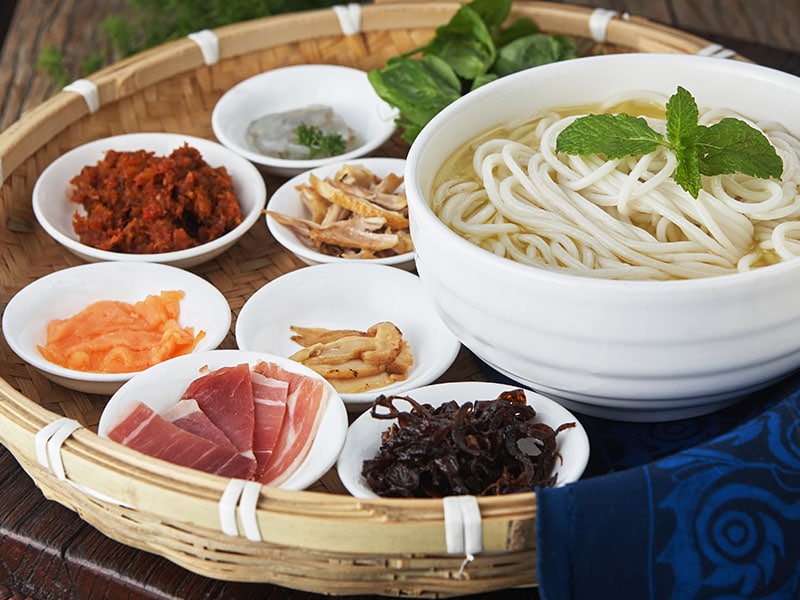 Chinese cuisine is impressive with various sumptuous Chinese noodles. In Yunnan province, this mixed noodle dish is attractive from the taste to the love story behind it.
This dish uses a variety of ingredients such as meat, chicken skin, eggs, and veggies (sprouts and chives). According to your favorite, you can vary the oil, vinegar, soy sauce, and chili. Chineses usually add a chicken fat layer to create a unique fatty taste for the soup.
Yangzhou Fried Rice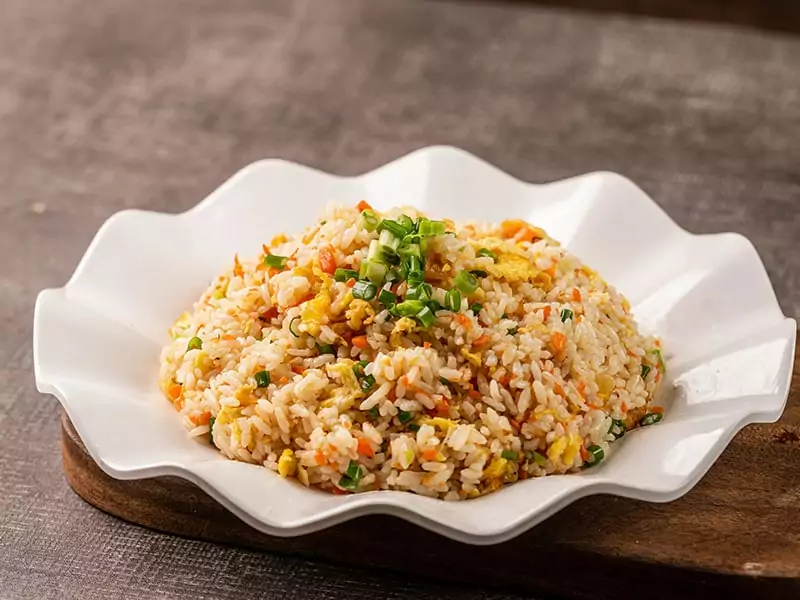 This has been a favorite dish from time immemorial and is always on the menus of most eminent Chinese restaurants.
Keeping the original from the past and breathed into modern flavors, this dish is colorful with fried rice combined with eggs, char siu, sausage, shrimp, peas, and carrots.
Which Are The Best Chinese Cookbooks You Can Choose In 2023?
What is the most outstanding Chinese cookbook you should buy this year? Let's take a quick look at some highlight titles in 2023:
20 Best Chinese Cookbooks To Improve Your Cooking Skills
Let me show you what you can do to level up your cooking skills and cuisine knowledge with the 20 best Chinese cookbooks below:
1. Chinese Takeout Cookbook: From Chop Suey to Sweet 'n' Sour, Over 70 Recipes to Re-create Your Favorites, by Kwoklyn Wan
(Best Of All Time)
---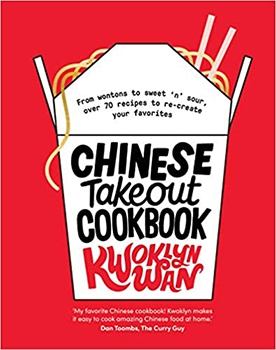 Shop now at Amazon
Shop now at Strandbooks
Shop now at Vintagesfinewine
Shop now at Barnesandnoble
Shop now at Bookshop
Shop now at Abebooks
---
Chinese cuisine constantly gives people a feeling of remembrance. You will experience it when reading the Chinese Takeout Cookbook. This is a product of Kwoklyn Wan – a chef with a deep background in classical Chinese cuisine.
Kwoklyn is the owner of many distinguished restaurants. He is also well-known to the public through many food and charity programs. An expert like him definitely can lead you to experience the unique features of Chinese cuisine.
With 70 classic recipes, the book is a complete collection for anyone interested in discovering the classics of Chinese cuisine. In a simple and easy-to-understand way, you can learn many recipes, such as sweet and sour chicken, crispy seaweed, wonton, char siu, shumai, etc.
Not only learn how to make a tasty dish, but with these creative recipes, you can also make a scrumptious meal in no more than 20 minutes! Classic Chinese dishes are no longer far from your kitchen!
Pros
Familiar takeaway dishes are to Americans
Clearly list the ingredients
Useful cooking tips provided
Short and easy-to-follow recipe
Create many innovative flavors
Inspiring photos, awakening the taste buds
Cons
Miss some traditional Chinese recipes
Some words used are British English instead of American English
Let's take an overview of the "Chinese Takeout Cookbook" to see how it looks!
2. The Essential Wok Cookbook: A Simple Chinese Cookbook for Stir-Fry, Dim Sum, and Other Restaurant Favorites, by Naomi Imatome-Yun
(Best For Wok Recipes)
---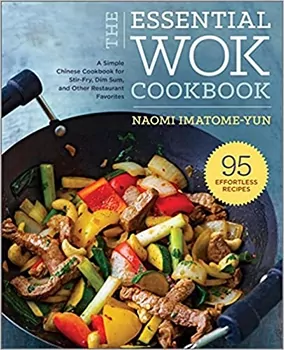 Shop now at Amazon
Shop now at Walmart
Shop now at Ebay
Shop now at Target
---
Do you believe that you can fully enjoy Chinese delicacies right in your kitchen with just one pan? The Essential Wok Cookbook will help you do just that. This is the work of Naomi Imatome-Yun, the author of numerous best-selling cookbooks and an esteemed food website.
The book gives you the necessary knowledge about ingredients, cooking, and seasoning. It carefully guides you on making Chinese shrimp treats, stir-fried vegetables, pork, and beef by step-by-step instructions.
The technique of making dim sum, shaping dumplings, wontons, and egg rolls with illustrations makes it easy to follow. Right next to the recipe is the anticipated cooking time, so you can easily choose the suitable dish for your schedule.
Tips for changing ingredients and choosing cost-effective dishes are also in the book. Let's buy this cookbook and create healthy, nutritious, and economical dishes!
Pros
Quick, simple recipes stating the basics
Illustrations make it easy to imagine how to shape the dish
Ingredients are easy to find and affordable
Promote healthy food choices
Cons
There is no picture of the final recipes
3. Every Grain of Rice: Simple Chinese Home Cooking, by Fuchsia Dunlop
(Best For Rice Recipes)
---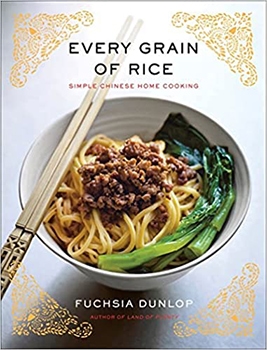 Shop now at Amazon
Shop now at Walmart
Shop now at Wwnorton
Shop now at Ebay
---
Chinese cuisine has a considerable appeal even to foreigners. Therefore, chef Fuchsia Dunlop has diligently researched and produced many award-winning culinary books about this cuisine.
With the James Beard Foundation International Award, 'Every Grain of Rice: Simple Chinese Home Cooking' is a practical choice for anyone who loves Chinese cuisine.
Inspired by the daily cooking of the people of Southern China, this book introduces simple and tasty dishes. The book provides all the leading techniques and spices needed to cook Chinese rice courses. These recipes do not require too many ingredients, making them easy to prepare.
The recipes and the book also come with 150 unique photos to inspire readers. Whether you're an expert or a beginner, you can try your hand at the dishes in this book. Let's experience it!
Pros
Specific information about raw materials, tools, spices
Short ingredient list, not too cumbersome
Easy to do with specific and detailed instructions
Vivid color photos inspire cooking
Cons
Some ingredients are a bit hard to find at markets
What does Fuchsia Dunlop say about "Every Grain of Rice"? Let's find out now!
4. Xi'an Famous Foods: The Cuisine of Western China, from New York's Favorite Noodle Shop, by Jason Wang
(Best For Western China Cuisine)
---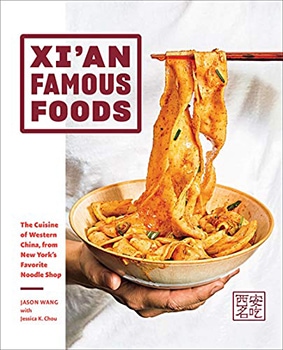 Shop now at Amazon
Shop now at Waterstones
Shop now at Barnesandnoble
Shop now at Kinokuniya
Shop now at Portersquarebooks
Shop now at Omnivorebooks
---
Have you heard of 'Chinatown' in New York? One of the most prominent restaurants there is the Xi'an Famous Foods restaurant chain, which brings the taste experience of Chinese cuisine to Americans.
It is also the result of many years of construction by businessman Jason Wang – with a culinary background from his family and a passion for mouth-watering Chinese dishes. The book of the same name will help you discover the culture and cuisine of Xi'an.
This book reveals untold anecdotes about the formation of Xi'an Famous Foods through authentic writing. It specifies the recipes for authentic Xi'an dishes such as caramelized pork, lamb, vinegar sauce, salad, and Biang Biang noodles.
You will find many interesting recipes that the author has never published before. Clear, authentic writing makes it easy to approach each recipe the author introduces. Soul-warming dishes and unique artistic photos will inspire anyone who loves Xi'an food.
Pros
Inspirational stories about the author's childhood and career
The recipes of the dishes are specific and authentic
Pictures describe each step clearly
Easy to do even if you are a beginner
Cons
The author focuses quite a bit on business successes
Let me introduce you to chef Jason Wang and Xi'an Famous Foods!
5. Easy Chinese Cookbook: Restaurant Favorites Made Simple, by Chris Toy
(Best Traditional)
---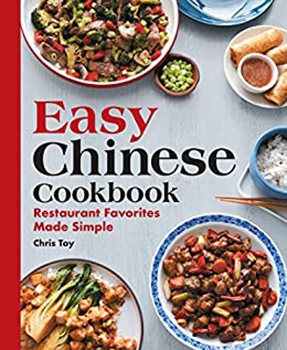 Shop now at Amazon
Shop now at Walmart
Shop now at Porchlightbooks
Shop now at Ubuy
---
Have you ever thought that food nourishes your body and your soul? Master chef and culinary educator Chris Toy has inspired this massage for over 30 years. Easy Chinese Cookbook is a work that he wants to convey the "soul" of traditional Chinese food.
The book teaches you how to cook traditional dishes such as Chinese soup dishes, scrambled eggs, orange chicken, kung pao beef, and lo mein shrimp. The guidance is simple and easy to cook, even for beginners.
Divided into specific sections, the book gives you helpful information on ingredients, sample menus, and cooking techniques for the classics. You can learn the regional flavor background, equipment lists, and many useful tips.
The book mentions a wide range of traditional recipes from Cantonese takeout, dim sum, new year dish, and vegetarian-vegan takeout. Each recipe requires no more than 30 minutes, so you'll have an appetizing meal in a short time.
Pros
Simplify ingredients, easy to find, and quick to prepare
Recommend the cost-effective ingredients
The detailed step-by-step formula makes it easy to follow
Quick preparing and cooking time
Lots of interesting information about traditional Chinese cuisine
Cons
Some ingredient omissions in the cooking instructions
6. Gok Cooks Chinese, by Gok Wan
(Best Modern)
---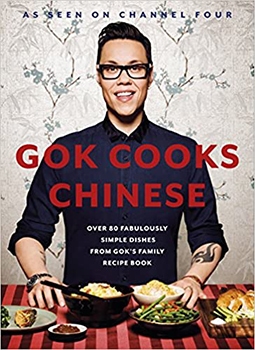 Shop now at Amazon
Shop now at Bookdepository
Shop now at Waterstones
Shop now at Walmart
---
Gok Wan is the UK's leading fashion stylist and favorite Chinese chef. This author will surprise you with his unique point of view about Chinese cuisine.
He has enjoyed tremendous success with popular women's fashion collections and has published many interesting books, including Gok Cooks Chinese, conveying his love of Chinese cuisine.
The book brings you 80 modern recipes with a unique and contemporary perspective. The author selects and composes straightforward recipes so that anyone can cook Chinese food. All the recipes emphasize the harmony of elements: taste, health, and pleasure!
Moreover, the author offers a full range of techniques to cook tasty dishes such as Chinese pork, shrimp wonton pho, fried rice, dim sum, street food, and great party dishes.
Whatever the occasion, you'll find the right recipe for you. Gok also carefully guides the procurement of materials and preparation of tools. Let's explore Chinese cuisine with Gok Cooks Chinese!
Pros
The simplified step-by-step recipe that's easy to follow
Divide each chapter according to each type of dish
Valuable tips for choosing ingredients
Healthy ingredients good for health
Easy-to-access for even beginners
Many attractive illustrations of the dishes
Cons
Some ingredients are only available in specialized stores
Take a look at the beautiful cookbook of Gok Wan – Gok Cooks Chinese!
7. Complete Chinese Cookbook, by Ken Hom
(Best For Regional Cooking)
---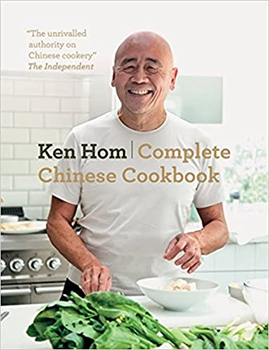 Shop now at Amazon
Shop now at Walmart
Shop now at Target
---
Among the esteemed food writers, chef Ken Hom – host of the popular PBS series 'Great Food' – brings fresh and accessible discoveries about traditional Chinese cuisine with Complete Chinese Cookbook.
The cookbook starts with a short overview of the differences between Cantonese, Peking, Oriental, and Sichuan culinary traditions. It provides readers with a wide range of dishes and techniques typical of each place.
With a passion for Far Eastern cuisine, the author gives us the feeling of cooking as a proper art form. The book contains 250 recipes with clear instructions and simple techniques.
The approachable, creative style and clear layout of each section help you receive accurate and complete information. Authentic and healthy Chinese recipes that suit your busy lifestyle are waiting for you to put in the kitchen!
Pros
Step-by-step instructions are simple and easy to understand
Divide into sections according to categories
A lot of Chinese food information to learn
There are specific guides for purchasing ingredients
Effortless to cook, even if you are just a beginner
Cons
There should be more illustrations to make it easier to understand
Get to know more about Ken Hom's Complete Chinese Cookbook with this review!
8. Mooncakes and Milk Bread: Sweet and Savory Recipes Inspired by Chinese Bakeries, by Kristina Cho
(Best For Bakers)
---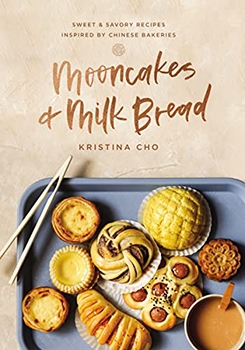 Shop now at Amazon
Shop now at Barnesandnoble
Shop now at Ptreyesbooks
Shop now at Walmart
Shop now at Target
Shop now at Booklarder
---
Kristina Cho has a unique interpretation style of Chinese cuisine. She is an architect, food blogger, and much-loved culinary teacher. She spends her life researching the flavors of typical Chinese dishes, mixing in new and modern creativity.
The book Mooncakes and Milk Bread is where you can find and make your own beautiful and flavorsome baked goods. The book shows you how to make sweet and savory pies, bread, cakes, dumplings, and some well-known Chinese drinks.
The author is also very thoughtful when giving you baking tips, such as kneading the dough without a machine, keeping the steamed buns from collapsing, mixing the dough, and folding the dumplings.
The attractive writing style takes you into the illustrious Chinese cuisine. The book wholly easily presents new and traditional recipes to understand and grasp. It is fascinating that you can ultimately create Chinese sweets right in the home kitchen.
Pros
Simple explanation formula, easy to follow
There are step-by-step pictures for guidance
Helpful information about ingredients, necessary equipment
Provide various types of baked goods
Cons
Should include additional notes on the estimated time for each dish
Find out this review about Mooncakes and Milk Bread by Kristina Cho to discover how it is!
9. The Healthy Wok Chinese Cookbook: Fresh Recipes to Sizzle, Steam, and Stir-Fry Restaurant Favorites at Home, by Charmaine Ferrara
(Best For Healthy Stir-Fry)
---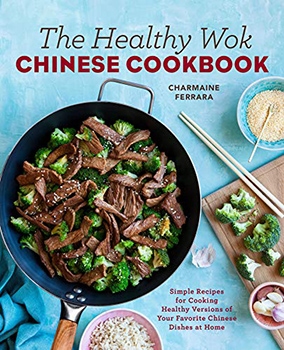 Shop now at Amazon
Shop now at 2dandelionsbookshop
Shop now at Barnesandnoble
Shop now at Ebay
Shop now at Kogan
Shop now at Walmart
---
Chinese stir fry food in particular and wok recipes, in general, are a bit greasy. Don't worry; you can still enjoy their healthier versions right in your kitchen with The Healthy Wok Chinese Cookbook by Charmaine Ferrara.
The book includes recipes geared toward healthy cooking methods. The author tries to reduce sodium and sugar while adding more heart-healthy oils, lean meats, and fresh produce without using a deep-fryer or MSG.
88 restaurant's popular recipes come to you, such as orange chicken and honey walnut shrimp. You'll also know some popular family meals like Yangzhou fried rice and steamed egg. The author also gives you suggestions for alternative recipes and variations to suit your kitchen.
Pros
Healthy recipes limit sugar, fat, and MSG
Show how to proceed quickly and easily, saving time for busy people
Clear, eye-catching, full of detailed information
Fresh and healthy ingredients list, easy to find
Vivid recipe illustrations
Cons
Some recipes require sauces that are available only at specialty stores
Learn about some information from The Healthy Wok Chinese Cookbook right here!
10. The Chinese Takeout Cookbook: Quick and Easy Dishes to Prepare at Home, by Diana Kuan
(Best For Takeaway)
---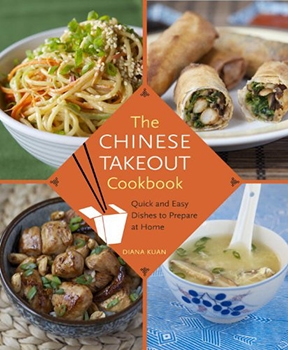 Shop now at Amazon
Shop now at Bookshop
Shop now at Penguinrandomhouse
Shop now at Thriftbooks
Shop now at Walmart
---
Chinese takeaway or takeout is a favorite food for many busy Americans. But it will be much more special if you cook it yourself right in the family kitchen! That's what Diana Kuan, a culinary writer and Chinese cooking instructor, brings to you through The Chinese Takeout Cookbook.
She owns the blog Appetite for China with more than 6.5 million views and many food and travel articles published in The Boston Globe, Gourmet, Food & Wine. Her book is definitely a reliable choice for you.
You can learn all the Chinese sweets, starters, main courses, noodles, and rice dishes details. The author also suggests ways to cook toothsome, healthy Chinese vegetarian dishes with colorful illustrations.
The book depicts the American love affair with Chinese cuisine. You will have access to over 80 popular Chinese takeaway recipes. In addition, the cookbook provides valuable tips on food storage and how to shape egg rolls, dumplings, and wontons.
Pros
Cooking tips are specific, beneficial, and time-saving
The recipes are clear and detailed
Helpful notes and tips for a wide range of dishes
Vivid color photos, realistic illustrations
Cons
There should be recommendations for servings for each menu
11. The Food of Sichuan, by Fuchsia Dunlop
(Best For Sichuan Cuisine)
---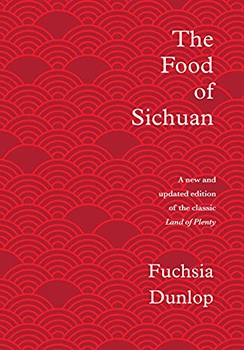 Shop now at Amazon
Shop now at Barnesandnoble
Shop now at Wwnorton
Shop now at Waterstones
Shop now at Pippyeats
---
Sichuan is famous for its unmistakably poetic and practical cuisine. Fuchsia Dunlop's cookbook reflects this characteristic. The author is arguably the most important authority on Sichuan cuisine and the author of numerous culinary books with four James Beard awards.
With The Food of Sichuan, Fuchsia Dunlop brings readers knowledge of all aspects of this cuisine. The book also subtly involves the historical and cultural features of the Sichuan area.
With 200 classic and 70 newly updated recipes combined with beautiful photos, the book gives you fascinating descriptions of the taste and texture of Sichuan food. The classics mentioned are Chinese tofu dishes, bang bang chicken, roast beef, and green beans with ginger sauce.
Pros
An easy method to approach Sichuan food
Up-to-date and essential recipes with inspirational artwork
Specific step-by-step instructions save you time
Useful information about tourism, history, and culture of the Sichuan region
Cons
There should be some necessary notes on where to buy the ingredients
12. Easy Chinese Recipes: Family Favorites From Dim Sum to Kung Pao, by Bee Yinn Low
(Best For Beginners)
---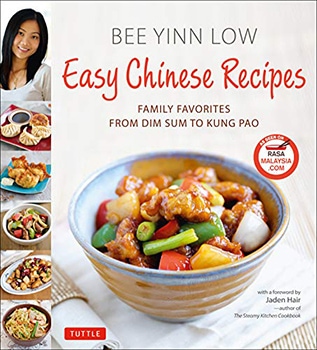 Shop now at Amazon
Shop now at Pearlriver
Shop now at Barnesandnoble
Shop now at Kinokuniya
Shop now at Walmart
---
Food and culture are two inseparable things for the Chinese, creating a unique feature in Chinese dishes. Bee Yinn Low, an editor of the world-celebrated Asian food blog and website, is always passionate about conveying that idea with Easy Chinese Recipes.
This is a guide to making your Chinese food at home. Bee produces Chinese dishes with versions that guarantee the taste but save a lot of time and effort compared to traditional cooking.
The cookbook shares many recipes for kung pao chicken, sweet and sour pork, homestyle chow mein noodles, and Mongolian beef through colorful photos to stimulate your taste buds.
Whether it's the traditional dishes or unusual dishes from the menus of respected Asian restaurants, this book provides you with all. You can learn many techniques and ingredients to make these recipes.
With a limited time, with simple ingredients in your local store, you can still cook palatable Chinese food for your family with Easy Chinese Recipes.
Pros
The opening section details some unique Chinese ingredients
Clear illustrations attached
The recipe is not complicated, and the steps are simple
Offer many effective cooking tricks
Good tips for preparing ingredients and kitchen tools
Cons
A few recipes are slightly salty or a little bland compared with the standard American taste
13. China: The Cookbook, by Kei Lum Chan and Diora Fong Chan
(Best Recipe Book)
---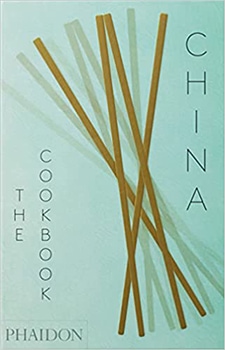 Shop now at Amazon
Shop now at Phaidon
Shop now at Bookdepository
Shop now at Abebooks
Shop now at Barnesandnoble
Shop now at Target
---
With the diversity of Chinese cuisine, it is challenging to put together all the recipes in one book. But with their passion and extensive knowledge of Chinese cuisine, Kei Lum Chan and Diora Fong Chan have gathered, tested, and compiled many recipes within a year.
All are available in China: The Cookbook. A remarkable record for this book is you can find a complete guide to cooking almost every Chinese dish right in the home kitchen.
The book represents authentic Chinese dishes through 650 recipes from many outstanding regions of China. The author shares all the popular dishes of 33 prominent areas and lesser-known dishes from Xinjiang and Tibet.
The clear presentation of each section makes it easy to read. The author shares the recipes in an accessible way and easy to do right in your home kitchen. China The Cookbook is a comprehensive and practical culinary guide for any Chinese food lover.
Pros
Lots of recipes for you to choose from
Some advanced recipes that are suitable for professional chefs
Diverse dishes from all regions in China
Clear, easy-to-understand layout
Cons
Should have more pictures illustrating the steps
Overall the book is a bit thick and heavy
Authors Kei Lum and Diora Fong Chan talk about their China: The Cookbook!
14. The Wok: Recipes and Techniques, by J. Kenji López-Alt
(Best For Chefs)
---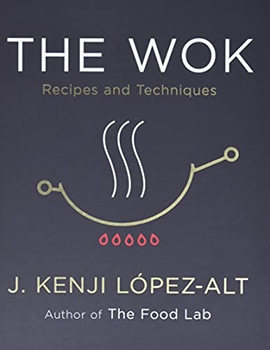 Shop now at Amazon
Shop now at Barnesandnoble
Shop now at Bookshop
Shop now at Indigo
Shop now at Omnivorebooks
---
Chinese chefs always cooperate with a simple yet effective kitchen tool: the wok! Whether fried, sautéed, simmered, or braised, the wok can help you master the kitchen and create many succulent Chinese dishes with just a few techniques.
And for sure, all chefs will become more professional with the cookbook 'The Wok' – New York Times Bestseller, Washington Post Bestseller, One of Time's 10 Most Anticipated Cookbooks of 2023.
The author of this book – J. Kenji López-Alt – is a talented chef. He is a New York Times best-selling author and food editor. Through his thorough knowledge of Chinese cuisine, the author will help you quickly grasp the basic knowledge to prepare dishes with a wok.
Readers can learn many dishes such as pad thai, garlic noodles, kung pao chicken, beef chow fun, fried rice, dumplings, and Chinese seafood courses through 200 complete and straightforward recipes.
The book is also eye-catching and inspirational, with 1000 beautiful color photographs. The small tips for choosing and using a wok suitably or how to preserve food longer are also pretty valuable for you.
Pros
Excellent cover, easy to read font
Lots of recipes for you to choose
Eye-catching illustrations to inspire cooking
Provides practical techniques on using pans and preparing ingredients
Provide some quick non-cooked recipes
Cons
Some photos are a bit dark and hard to see
A few typographical errors make the content obscure in some places
15. This Is a Book About Dumplings, by Brendan Pang
(Best For Dumpling)
---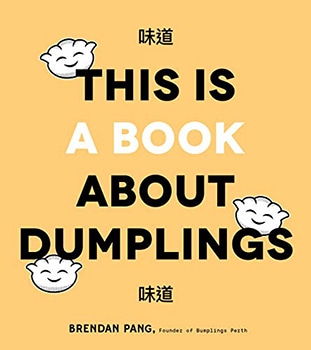 Shop now at Amazon
Shop now at Brendanpang
Shop now at Dymocks
Shop now at Bookdepository
Shop now at Barnesandnoble
Shop now at Qbd
---
Standard Chinese dumplings are a unique dish loved by many people. It seems challenging to make dumplings at home because of the strict requirements for flour, flavor, and shaping. However, it's doable when referring to Brendan Pang's 'This is a Book about Dumplings'.
This book is where you learn all the techniques around making authentic Chinese dumplings. Author Brendan Pang is a chef who appeared on MasterChef Australia, then founded Dumplings – a mobile dumpling kitchen.
Brendan also succeeded with many culinary works introduced by ABC Perth, Chinatown London, and PopSugar. In 'This is a Book about Dumplings', the author shares dozens of classic and contemporary dumplings, toppings, and signature Chinese sauces.
You can feel the vibrancy of each dumpling recipe, whether they are boiled, steamed, or fried dumplings. The book carefully presents the recipes step-by-step, so it's accessible even if you're making dumplings for the first time.
Pros
Detailed and meticulous instructions, easy to follow
Each recipe has eye-catching, clear illustrations
Many other exciting dishes besides dumplings
Guide dumpling shaping techniques step by step
Cons
Should talk a little more about how to handle the dough
16. Chinese Soul Food: A Friendly Guide for Homemade Dumplings, Stir-Fries, Soups, and More, by Hsiao-Ching Chou
(Best Classic)
---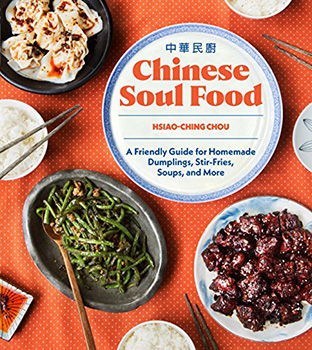 Shop now at Amazon
Shop now at Barnesandnoble
Shop now at Herringbonebooks
Shop now at Vromansbookstore
Shop now at Walmart
---
You love classic Chinese foods but can only enjoy them at restaurants. You never thought you could cook them yourself because of their complexity! You will change that mindset as soon as you read this book by Hsiao-Ching Chou.
The worries about cooking Chinese food will melt away when you read carefully described recipes that are easy to follow. You can quickly cook Chinese pork dishes, dry-fried green beans, braised beef noodle soup, and green onion pancakes.
Each classic recipe has a highly reasonable structure and content, minimizing any hesitation, even for beginners. The author is also very thoughtful in showing you how to choose alternative ingredients.
Some helpful kitchen tips will help you quickly complete the meal, saving time for those who are busy. You don't have to go far to eat Chinese food. Cook a luscious meal for your family yourself!
Pros
The formulas range from simple to complex
Helpful tips in choosing and substituting ingredients
The processing steps are detailed and easy to follow
Ingredients are easy to find at markets
Amusing word use
Cons
Should add some more pictures to illustrate better
17. The Wisdom of the Chinese Kitchen, by Grace Young and Alan Richardson
(Best For Cantonese Cooking)
---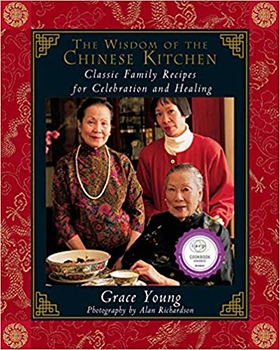 Shop now at Amazon
Shop now at Thriftbooks
Shop now at Walmart
Shop now at Target
Shop now at Barnesandnoble
---
The classic Cantonese dishes have a less greasy and more balanced taste than general Chinese dishes. The spice should not overwhelm the main components. Cantonese people also focus on choosing fresh and quality ingredients to make the dishes.
Conveying that, the talented food writer Grace Young and photographer Alan Richardson send out The Wisdom of the Chinese Kitchen. The book's content is a collection of Cantonese dishes, from simple to complex.
Grace meticulously screens each Cantonese dish recipe with 17 years of experience as a culinary director. The book layout includes clear sections: basic cooking principles, party dishes, and several healthy menus.
The book shares different methods for cooking and chooses ingredients thoroughly. The glossary of spices and herbs makes it easy to find. Alan's unique photos and Grace's stories will also give you great inspiration about Cantonese cuisine.
Pros
Provide basic techniques for your first step
Easy to choose with many dishes for different purposes
Detailed illustrations of each processing step
Helpful tips for home cooks to apply
Explanation of novel culinary terms
Cons
Not suitable for chefs or seasoned home cooks
Some dishes may be too classic to fit young generations
Get to know how Grace Young came to write "The Wisdom of the Chinese Kitchen"!
18. Chinese Homestyle: Recipes For The Modern Kitchen, by Flo Lum
(Best Modern)
---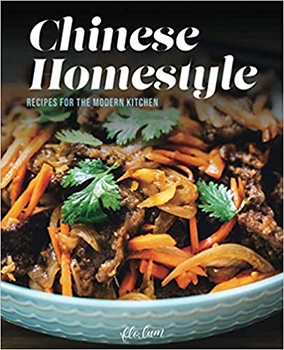 Shop now at Amazon
Shop now at Walmart
Shop now at Wob
---
The complexity of Chinese cuisine sometimes makes you hesitate to include it in the home kitchen. But there are ways to simplify them. Chinese Homestyle is a suggestion for you.
Witty author Flo Lum brings a modern twist to many Chinese dishes. The book has nearly 200 pages with beautiful color photos. Besides, it vividly illustrates most of the recipes with beautiful pictures.
You can learn to use familiar kitchen tools such as fryers, pans, and pressure cookers most efficiently. You will cook delish meals without spending too much time. Flo will help you learn many valuable things with years of studying modern recipes.
Pros
Recipes in line with new trends
Save cooking time with useful tips
Clearly illustrate each step with pictures
Funny words inspire cooking passion
Cons
The price of the book is a bit high
19. Land of Fish and Rice: Recipes from the Culinary Heart of China, by Fuchsia Dunlop
(Best For Jiangnan Cuisine)
---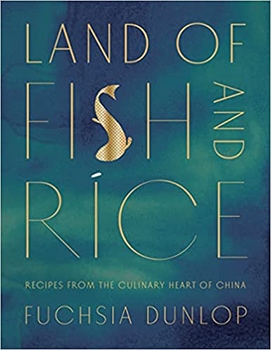 Shop now at Amazon
Shop now at Walmart
Shop now at Hudsonbooksellers
Shop now at Booksamillion
---
Cuisine from Jiangnan has the signature of the freshness of ingredients. Favored by nature, this place owns all the fresh fish and vast rice fields. The food author with four James Beard awards, Fuchsia Dunlop, sees the culinary specialties here.
Her book "Land of Fish and Rice " shares a classic Jiangnan dish with readers. She introduces you to Beggar's Chicken, Dongpo Pork, Soy-Steamed Sea Bass, and many other stimulating dishes. Besides, she explains in detail each step for implementation.
The whole book has 116 beautiful pictures of Jiangnan food and culture. The author also conveys the joy of family meals. "Land of Fish and Rice" is a must-have for anyone who loves classic Chinese food and Jiangnan cuisine in particular.
Pros
Recipes with illustrations for each step
Use fewer ingredients for each dish
Guide on choosing fresh ingredients to ensure flavor
Share valuable classic cooking secrets
The vibrant and exciting writing style
Cons
Some recipes may not suit the American taste
20. Mister Jiu's in Chinatown: Recipes and Stories from the Birthplace of Chinese American Food, by Brandon Jew and Tienlon Ho
(Best For Chinese-American Recipes)
---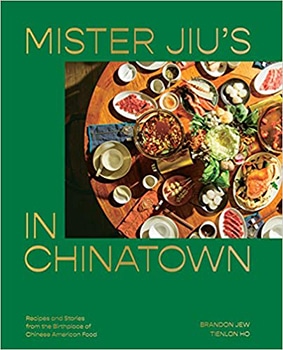 Shop now at Amazon
Shop now at Penguinrandomhouse
Shop now at Target
Shop now at Omnivorebooks
---
San Francisco's Chinatown has been a favorite place to hang out and eat for many generations of Americans. At this place, there is a longstanding Chinese-American restaurant owned by chef Brandon Jew.
He and the food writer Tienlon Ho published the book "Mister Jiu's in Chinatown", sharing with readers Chinese cuisine according to modern trends.
With a passion for authentic Chinese food, the two authors have compiled 90 recipes. Old-fashioned dishes from Chinatown transform into a trendy twist for Americans. Techniques and culinary stories intertwine to create curiosity and interest.
There are many interesting recipes, such as sizzling rice soup, liberty roast duck, mushroom mu shu, and squid wontons. The authors also carefully guide on how to shape dumplings and wontons. There are also fancy dishes for Chinese parties.
Pros
Provide treasured history of San Francisco's Chinatown
Classic dishes turning into modern recipes
The book presentation is easy to read
Coordinating colors, harmonious images
Cons
Some ingredients have quite a high price
Some recipes may take a long time to prepare
FAQs
Take a look at the questions and answers below. They will help you learn more about Chinese foods and culture:
My Top Pick
Through the detailed review today, I hope you find your favorite Chinese cookbook. Not only guide you through cooking, but these writings can also inspire you to the soul of Chinese cuisine.
I really appreciate the work of Kwoklyn Wan's Chinese Takeout Cookbook: From Chop Suey to Sweet 'n' Sour, Over 70 Recipes to Re-create Your Favorites. This book is an excellent inspiration for anyone passionate about Chinese cuisine and culture.
Let's share this post with all the Chinese food lovers around you. And let me know which cookbook you love the most in the comment section right below!