If you are an Italian foodie, the best Italian cookbooks are the information you should not miss. The signature dishes that go into legend and the poetic cooking style of Italian chefs make you yearn to enjoy. However, you are afraid that your ability to cook Italian cuisine is out of reach.
You will altogether remove that fear when you go through these books. All of them are excellent instructions on Italian cuisine, opening a new and exact view of traditional and modern cuisine.
At the same time, you can cook and enjoy authentic Italian dishes according to thousands of exciting recipes revealed by the authors. Let's explore the top 13 best Italian cookbooks together!
Why Is Italian Cuisine Outstanding Over The World?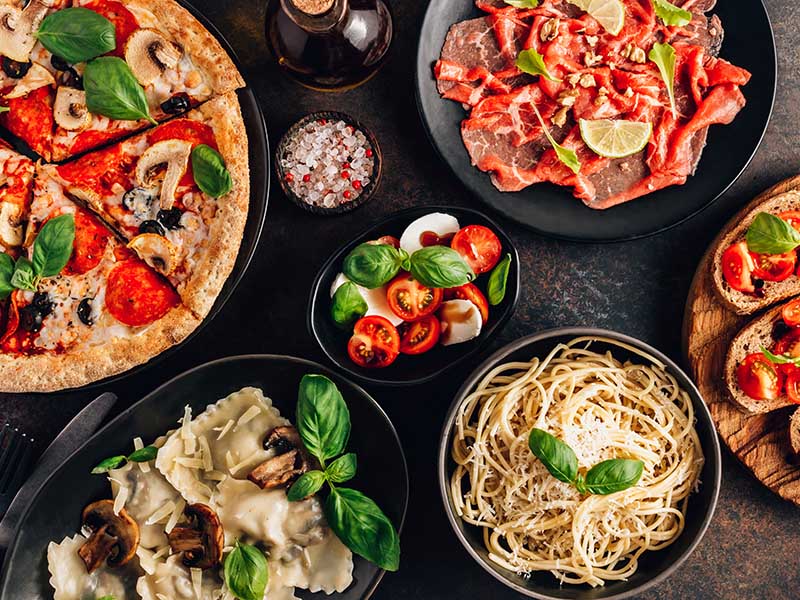 Italy always evokes romance in you and me, dreaming about scenery, culture, art, and cuisine too. Calling Italian cuisine the quintessential world cuisine is really not an exaggeration!
Italian cuisine gradually transcends borders. The diversity of regions and the richness of differences in flavors have made Italian culinary culture spread far and wide and captivate food lovers around the world.
The beautiful country of Italy contains more than 20 different cultural regions, each developing its own dishes. The difference in climate is also the reason why the ingredients in the food will have their own unique flavor according to each locality.
Today, Italian cuisine has become an attractive art. Therefore, although the cuisine of many countries is more and more famous, Italian cuisine has always maintained its position.
Impressive Characteristics Of Italian Cuisine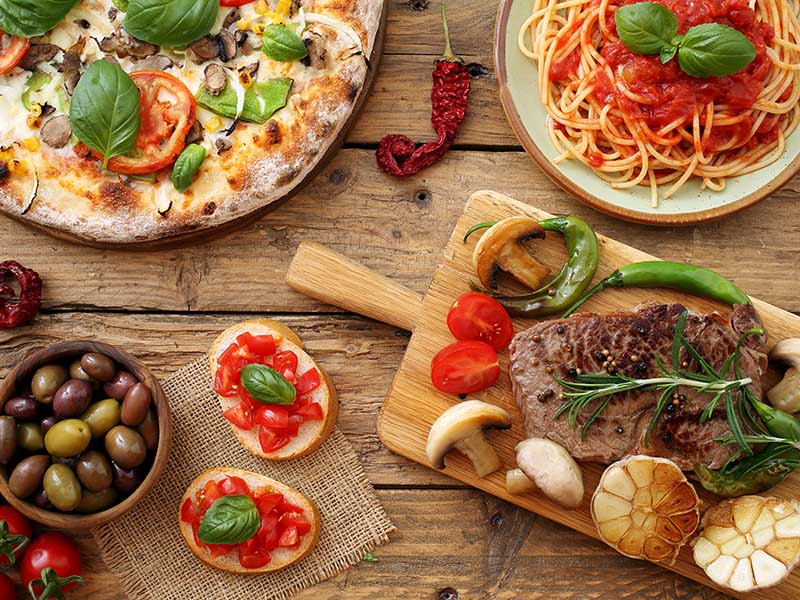 Italian food has only a few ingredients, but the difference from the cuisine of other countries lies mainly in the freshness of those ingredients. The food used for cooking is always of top quality. The fresher, the better.
Their dishes also require no effort and the preparation time is quite short. Since Italians cook with simple ingredients and the process is not too complicated, anyone can prepare a mouth-watering restaurant-style meal with no experience in fine dining.
Cooking in Italy is also a hereditary art. One of the highlights of Italian culture: their dishes still retain the same flavor that has passed through many generations.
The Italians do this by keeping the same ingredients and regional cuisine characteristics over the centuries. That is why Italian food has always retained its great essence through many years.
5 Dishes That Bring Italian Cuisine To The Next Level
Here are the dishes that diners from all over the world have verified that you should not miss when it comes to Italian cuisine:
Pizza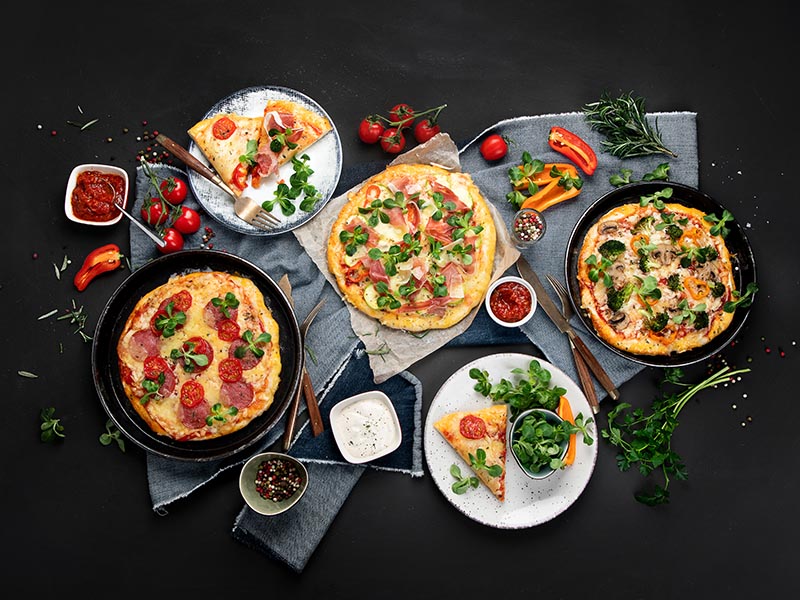 Pizza has become a global dish with thousands of endless variations. People complete the signature pizza of Italian by adding cheese, tomatoes, and a lot of ingredients such as mushrooms, olives, ham, etc. Traditionally, Italians bake pizza in a wood-fired oven.
Pasta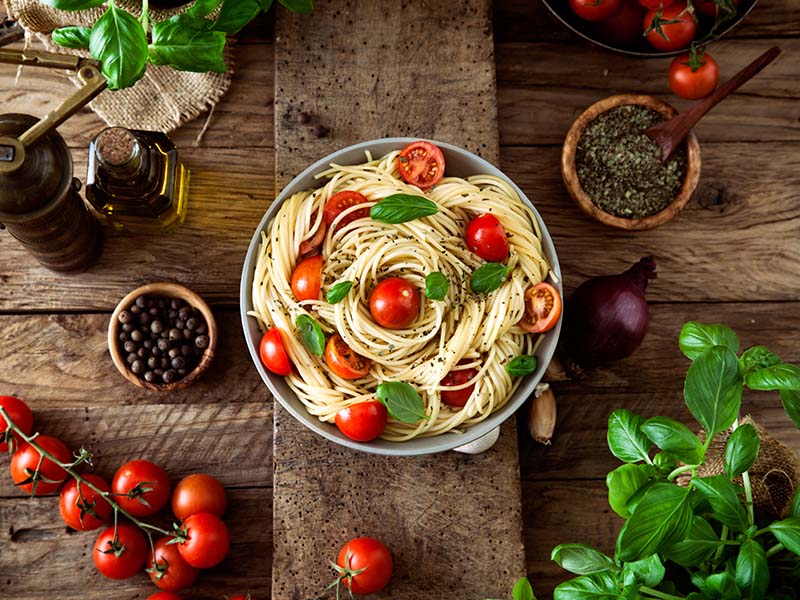 Pasta is one of the indispensable dishes on the Italian menu. Italian people love to enjoy each type of pasta with the suitable cheeses and sauces such as white sauce, Bolognese sauce, tomato sauce, and more.
Panzerotti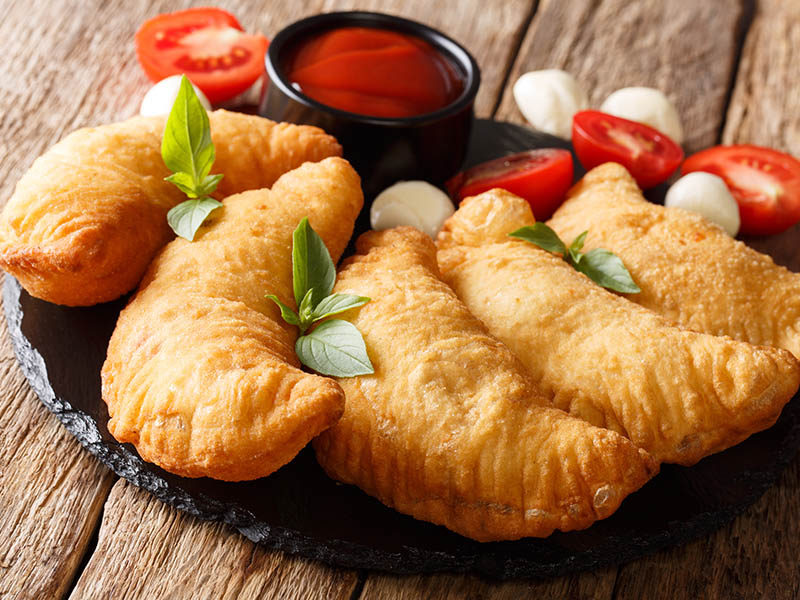 Italians make this dish from semicircular flour with a traditional filling of tomatoes and melted mozzarella cheese. Panzerotti has many variations of fillings, from vegetables and mushrooms to meats. Eat while still hot to feel the crispy crust and the cheese melt in your mouth.
Arancini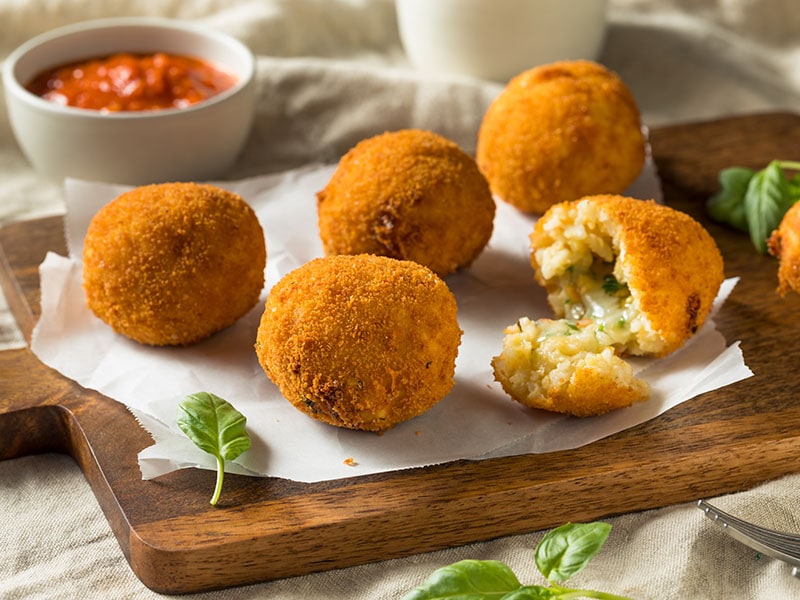 Arancini are rice balls with an outer crust made of bread crumbs. The most typical fillings of arancini are mozzarella or caciocavallo cheese, ragu sauce, peas, ham, and mozzarella.
Diners will experience the blend from the crispy crust on the outside to the attractive golden-brown sticky rice inside, and finally to the greasy cheese-scented filling.
Gelato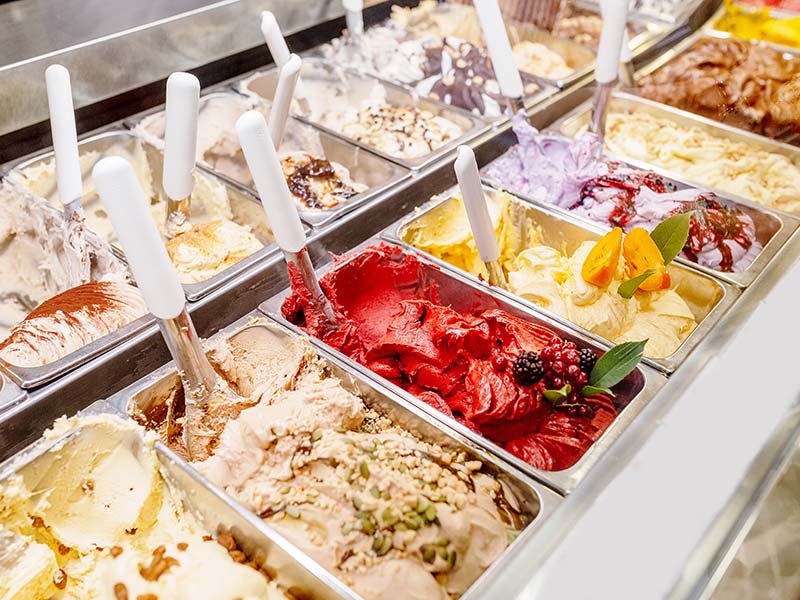 Gelato in Italian means "frozen", and you can consider it a type of ice cream. Italian artisanal gelato has lower butter fat than other frozen desserts (about 6–10%). The gelato texture is also denser and richer than other ice creams since it contains 70% less air.
Therefore, gelato seems to have an addictive element with the most flavorful taste. This Italian ice cream stands out by intense flavors of fruit and nuts and has a pleasant sweetness.
Which Are The Outstanding Italian Cookbooks You Must Buy In 2023?
Italian cuisine has always retained its position in the cookbooks. These books bear the Italian imprint in each recipe handed down by cooking lovers worldwide. Let's see what those titles are:
11+ Excellent Italian Cookbooks Right Below Can Enhance Your Skills!
Today, you and I will find out why Italian cuisine ranks among the best in the world by checking out these 13 excellent Italian cookbooks of all time!
1. Pasta Grannies: The Official Cookbook: The Secrets of Italy's Best Home Cooks, by Vicky Bennison
(Best For Home Cooks)
---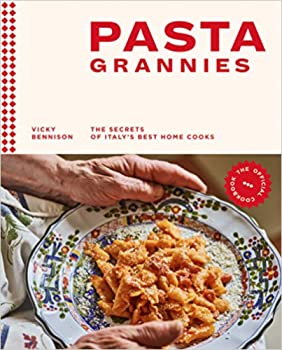 Shop now at Amazon
Shop now at Pasta Grannies
Shop now at Barnesandnoble
Shop now at Walmart
Shop now at Littleprofessorhomewood
---
Vicky Bennison worked in places like Siberia, South Africa, and Turkmenistan for many years. She chronicles her culinary adventures and puts her love and care into a decent meal that reaches every corner of the world.
She wrote Pasta Grannies – an anthology of simple recipes to cook at home, with all the warm meals with love from the grandmothers. At the same time, the brook celebrates the extraordinary talent and stories of the incredible women behind each tasty dish.
This cookbook is invaluable since it preserves culinary values and cooking skills that only grandmothers know. What a joy to know those traditions are never lost. This wonderfully emotional cookbook preserves them forever.
There are many good Italian pasta categories: vegetarian, seafood, and meat. You have plenty of options, from easy to ingenious recipes. Let's create a meal full of love with Pasta Grannies for your family!
Pros
Provide a lot of traditional pasta recipes
Divide into separate categories for easy following
Variety of dishes from many places in Italy
Easy cooking method and ingredients
Pasta cooking experience over generations
Inspiring housewives to cook every day
Cons
Some dishes require following a Youtube video
Some pictures have low quality
Let's look through "Pasta Grannies: The Official Cookbook – The Secrets of Italy's Best Home Cooks"!
2. Essentials of Classic Italian Cooking, by Marcella Hazan
(Best Authentic And Healthy)
---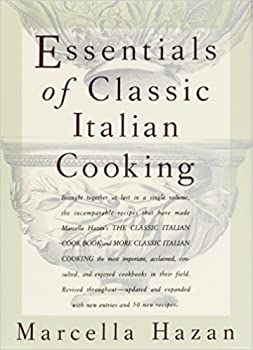 Shop now at Amazon
Shop now at Barnesandnoble
Shop now at Penguinrandomhouse
---
The classic art of Italian cooking is not too far away when you read Essentials of Classic Italian Cooking. This product combines recipes from two classic Italian cookbooks by Marcella Hazan, More Classic Italian Cooking and The Classic Italian Cookbook.
She collects quintessence of classic Italian cuisine from around the country and leaves us with a collection of succulent recipes suitable for both beginners and culinary experts.
Marcella Hazan always considers the selection of each ingredient that you can easily buy everywhere. Besides, she also doesn't forget to explain complex terms and methods for your easy access.
This book brings easy-to-understand terms, simple methods, and great information about many kinds of Italian cheeses, spices, and herbs. It helps you create a family meal that is both yummy and nutritious and easy to find ingredients and methods.
In particular, the author also provides the most subtle tips, from choosing alternative ingredients to going to the market, to help you grasp the main cuisine insight of Italia.
You will gain a whole new experience of flavors and more! Join the kitchen and enjoy classic Italian cuisine with "Essentials of Classic Italian Cooking"!
Pros
Simple recipes, straightforward to make
Suitable for experts and beginners
Focus on new flavors
Formula to reduce fat and good for health
Easy-to-understand guidances
Easy-to-find ingredients
Cons
There should be more pictures in this book
3. The Elements of Pizza: Unlocking the Secrets to World-Class Pies at Home, by Ken Forkish
(Best For Pizza)
---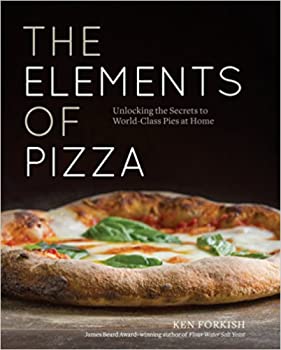 Shop now at Amazon
Shop now at Barnesandnoble
Shop now at Powells
---
As a professional pizzeria, Ken Forkish loves to give you pizza recipes at home with fun and exciting communication, but no less mastery. That's why he created "The Elements of Pizza: Unlocking the Secrets to World-Class Pies at Home".
You will learn how to shape pizzas with excellent textures and flavourful toppings in both traditional and modern ways, suitable for each family's taste. More than 10 dough recipes to meet the unique requirements of each kitchen.
The simple instructions are ideal for readers of all skill levels. Moreover, with many techniques and tips for mastering various pizzas, you can ultimately reach the pinnacle of making pizza right in your kitchen!
Pros
Systematically divided sections are easy to follow
Useful and beautiful illustrations
Easy to do at home with standard tools and ingredients
Tips for making an unbeatable pizza base
Recipe to combine palatable pizza fillings
Suitable for many audiences, from professional chefs to beginners
Funny and enjoyable way of conveying
Cons
Sometimes the recommended temperature doesn't give the expected results
May not be suitable for the wood oven
See how author Ken Forkish introduces his book – The Elements of Pizza!
4. Mastering Pasta: The Art and Practice of Handmade Pasta, Gnocchi, and Risotto, by Marc Vetri and David Joachim
(Best For Pasta)
---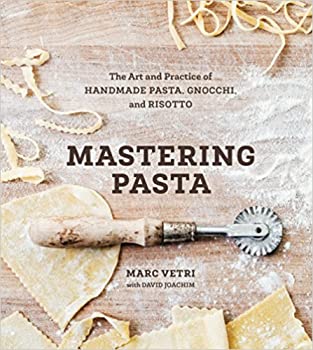 Shop now at Amazon
Shop now at Barnesandnoble
Shop now at Penguinrandomhouse
---
Chef Marc Vetri is the founder of Vetri Cucina, a critically-acclaimed chain of restaurants. His cooking brings a bold, modern touch to the classic Italian style.
He teamed up with David Joachim, an author, editor, and collaborator of over 50 best-selling cookbooks, to create "Mastering Pasta". Mastering Pasta is a complete work on the subject of pasta.
You can learn over 30 different types of pasta flour and many different and attractive ways to make sauces. Following methods from classic to inventive, Vetri shares recipes for stuffed pasta, toast, and pasta sauces and the best way to store pasta.
Whether you're a culinary expert or a home cook, you can find the quintessence of pasta in this book and enhance your craft! You need this book to create finger-licking dishes in your beloved kitchen.
Pros
Plenty of recipes and useful cooking tips
Provide deep knowledge to master pasta
Valuable and easy to understand information
Share engaging personal experiences of the author
Advanced knowledge section for culinary professionals
From classic to the inventive cooking method
Cons
Some recipes require a semi-expert, not really for a beginner
Discover Marc Vetri's Mastering Pasta cookbook by looking behind the scenes!
5. The Silver Spoon (Traditional Italian Home Cooking Recipes), by The Silver Spoon Kitchen
(Best Modern)
---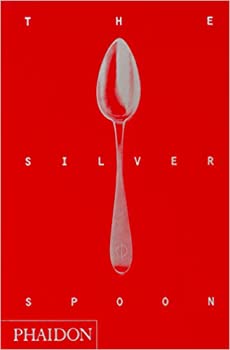 Shop now at Amazon
Shop now at Walmart
Shop now at Barnesandnoble
---
A team of culinary experts – The Silver Spoon Kitchen – has collected and synthesized thousands of traditional Italian recipes. They adjusted methods and ingredients to suit modern cuisine while preserving the beauty of the traditional cooking way.
In this book, you can experience the typical forms of Italian cuisine, how to prepare a truly "Italian" meal, and a range of modern authentic Italian recipes from famous chefs in the area.
The book gives us over 2000 recipes divided into 11 color-coded chapters based on the course for easy following. There are also 400 vibrant photographs that make for fun moments and surprise reading! Bring your books, and let's go to the kitchen!
Pros
Many modern, authentic recipes to choose from
Book structure classified by color for easy following
Easy to read, understand, and remember
Excellent illustrations with 400 photos
Provide more knowledge of classical Italian cuisine
Cons
The quality control may not be very excellent
The formula may be incorrect because of the translation
A lot of information may cause overwhelming
The book's size is quite big and hard to carry around
6. La Cucina: The Regional Cooking of Italy, by The Italian Academy of Cuisine
(Best Regional Cookbook)
---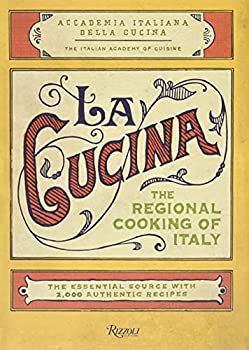 Shop now at Amazon
Shop now at Walmart
Shop now at Barnesandnoble
Shop now at Waterstones
---
The Italian Academy of Cuisine was founded in 1953 in Milan. The academy preserves the culinary heritage of Italy, organizes educational programs and awards culinary awards, publishes, etc.
In La Cucina, they have researched and synthesized more than 2000 traditional recipes in the Italian countryside. Each recipe notes a specific place of origin, ingredients, and techniques that vary by geographical region.
The book offers fascinating insights into the Italian folklore of the past. You can apply recipes for your family's daily meals with familiar dishes, simple ingredients, and easy implementation, such as Italian chicken dishes with lemon or white bean and soup.
Moreover, the book has four different indexes to help you quickly find what you are looking for. La Cucina is an essential reference for those passionate about traditional Italian cuisine.
Pros
Provide more knowledge with 4 indexes
Comprehensive and loaded with exciting recipes
Follow the modern cooking trend
Introduce the cuisine from many Italian regions
The measurements are converted to US metrics
Show the traditional culinary features of the past
Cons
Illustrations can be hardly found
Not very suitable for beginners
Some ingredients are hard to find
7. Lidia's Mastering the Art of Italian Cuisine: Everything You Need to Know to Be a Great Italian Cook, by Lidia Matticchio Bastianich and Tanya Bastianich Manuali
(Best For Chefs)
---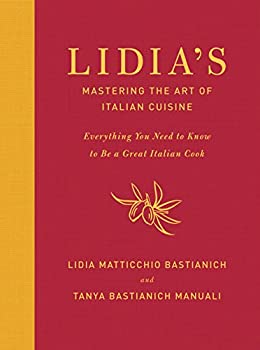 Shop now at Amazon
Shop now at Barnesandnoble
Shop now at Penguinrandomhouse
Shop now at Eataly
---
Lidia Matticchio Bastianich is an author of twelve books, a talented presenter, a judge of the Masterchef Jr. Italy, and the owner of many famous restaurants.
Together with her daughter Tanya Bastianich Manuali, a cookbook author with many advanced degrees in the arts and manager of many famous culinary brands, they brought the cookbook "Lidia's Mastering the Art of Italian Cuisine".
Some fabulous recipes mentioned are crunchy Italian bread and prune gnocchi or beet ravioli in poppy seed sauce. Over 400 recipes cover a full range of genres for you to choose from and have new experiences every day.
Moreover, the authors clearly list all the handful tools you need to support the best result. The book also provides a glossary with incomprehensible terms and phrases related to Italian foods and culture. It's a perfect cookbook for chefs at any level.
The author also suggests the standard ingredients like fresh Italian meat, fish, vegetables, fruits, grains, and spices. The book will guide you on how to buy, store, and turn them into mouth-watering dishes.
Pros
Effortless to choose with 400 recipes
Provides a lot of knowledge and useful tips
Guide from preparing raw materials and tools to processing
Has a glossary of words related to cuisine
Cons
The presentation of the recipe is a bit confusing
There should be more pictures in this book
8. Food of the Italian South: Recipes for Classic, Disappearing, and Lost Dishes: A Cookbook, by Katie Parla
(Best For Southern Italian Recipes)
---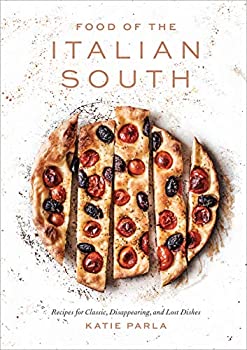 Shop now at Amazon
Shop now at Collectedworksbookstore
Shop now at Barnesandnoble
Shop now at Kitchenartsandletters
---
Southern Italy offers a rich culinary culture and long history. With passion, author and food journalist Katie Parla wrote "Food of the Italian South" to help you explore all sides of the place.
The book includes 85 authentic Southern Italian recipes. Not stopping there, this book has 100 photos throughout, depicting cultural traditions, cuisine, and wonderful geographical landscapes from the mountains to the coast.
Here, you can try the rustic and rich dishes. The author keeps some some original dishes while recreating others. You'll also learn about the deep history and culture that built Southern Italian cuisine today.
In particular, the book also brings recipes passed down through many generations only found in Southern Italy but few people know about. From Campania, Molise, Basilicata, and Puglia to Calabria, this excellent cookbook will reveal all the cuisine secrets.
Pros
Provide deep knowledge about Southern Italy cuisine and culture
Include both traditional and modern Southern Italy recipes
Introduce the old recipes that few people know about
85 authentic Southern Italian recipes and 100 wonderful photos
Cons
Miss some interesting Southern foods
The font may be a bit small
9. Pasta: The Spirit and Craft of Italy's Greatest Food, with Recipes, by Missy Robbins and Talia Baiocchi
(Best For Italian-American Recipes)
---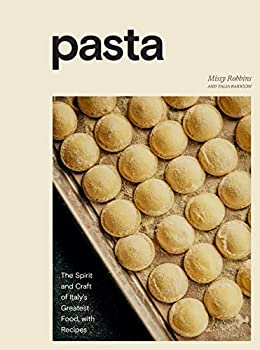 Shop now at Amazon
Shop now at Barnesandnoble
Shop now at Penguinrandomhouse
Shop now at Crateandbarrel
Shop now at Bookshop
Shop now at Bearpondbooks
---
Chef Missy Robbins is the owner of two famous pasta restaurants in America, Lilia, and Misi, with 25 years of working with pasta. She has researched and learned deeply about the dish that has existed for more than five centuries.
With the food and drink writer Talia Baiocchi, also the founder and editor in chief of Punch, they inspire you with their book "Pasta: The Spirit and Craft of Italy's Greatest Food".
This cookbook writes about the signature ingredients, recipes, and how to make these legendary Italian-American dishes while satisfying those who are yearning to discover the art of pasta cooking.
You will learn Italian-American recipes through a special section. All the dishes from traditional meatball-style spaghetti to the latter-day sorts with aged provolone and baked ziti. The amazing ingredient combination ideas will also inspire you to create the best classic-modern recipes.
With a variety of ingredients, sauces, and hundreds of pasta recipes shared through each page, you will be able to touch the essence of this popular dish that is leading the world.
Pros
Books suitable for modern cuisine
Provides more than 40 ways to shape pasta
Specific recipes for 100 American pasta dishes
Nearly 100 vivid pasta photos and 20 Italy scenery images
Cons
The prints are a bit small
The texture of the cover is not very solid
Let's learn some helpful tips for cooking pasta by Missy Robbins!
10. The Complete Italian Cookbook: Essential Regional Cooking of Italy, by Manuela Anelli Mazzocco
(Best For Desserts And Drinks)
---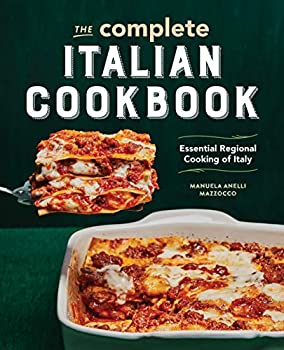 Shop now at Amazon
Shop now at Barnesandnoble
Shop now at Growitalian
Shop now at Walmart
Shop now at Abebooks
---
Manuela Anelli Mazzocco wrote The Complete Italian Cookbook. She is a recipe developer, photographer, and spokesperson for the cooking blog Cooking with Manuela. She includes in this book the essence of authentic Italian cuisine gathered from many parts of the country.
The Complete Italian Cookbook will help you prepare your favorite dishes with over 100 authentic Italian recipes in your own kitchen. You will have recipes for Italian first courses, side dishes, main dishes, desserts, and drinks, etc.
You will also learn techniques for preparing fresh, seasonal ingredients and cooking methods true to traditional Italian cuisine. There are also sample menus suitable for each meal and a brief guide to the famous foods of each region.
Pros
Introduce the cuisine from North to South Italia
Easy to understand instructions
Effortless to approach even for amateurs
Outstanding presentation with sample menus
Provide knowledge about famous Italian foods
Cons
There should be more pictures in this book
The recipes may be a bit simple with advanced chefs
11. The Tuscan Sun Cookbook: Recipes from Our Italian Kitchen, by Frances Mayes, Edward Mayes, and Steven Rothfel
(Best With Traditional Recipes)
---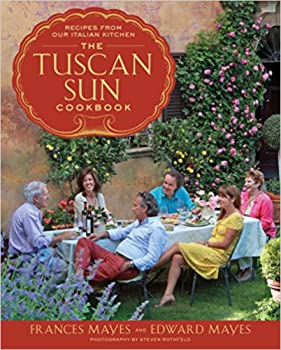 Shop now at Amazon
Shop now at Barnesandnoble
Shop now at Thriftbooks
---
The icon of Tuscany, Frances Mayes, is the author of many best-selling books and popular poetry collections. With Edward Mayes, the award-winning author, and photographer Steven Rothfeld, they released their first cookbook: The Tuscan Sun Cookbook.
In this book, Frances and her husband share the unique cuisine of Italy's Tuscany region. They focus on authenticity, simplicity, and tradition in cooking with a selection of quality ingredients. You will be impressed with the tried and true hand rolling pasta method of the couples.
Besides, you can learn how to coax the out-of-season ingredients with many practical techniques. You can also learn small useful tips such as how to pair wine and food, the best way to choose olive oil, and how to arrange your cupboard.
You can also immerse yourself in photos of food, people, and scenes, along with the poetic captions of the talented chef. This is truly a book for those who love Italian food and photography.
Pros
Captured the essential simplicity of Tuscan cooking
Poetic words and simple recipes
Unique arrangement of dishes like a traditional dinner
Provide inspiration and positive energy
Illustrated with vibrant artwork
Cons
You may need more pictures of food in this book
Some ingredients may be hard to find in the US
12. The Italian Cookbook for Beginners: Over 100 Classic Recipes with Everyday Ingredients, by Salinas Press
(Best For Beginners)
---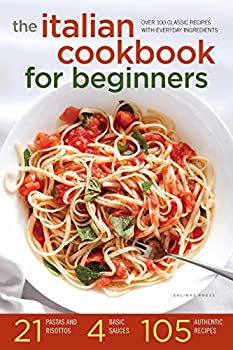 Shop now at Amazon
Shop now at Barnesandnoble
Shop now at Ebay
Shop now at Newtonvillebooks
---
Italian food is not easy to make, especially hard for beginners to create the authentic taste. Understanding this issue, Salinas Press, a famous family-oriented publisher, has written The Italian Cookbook for Beginners.
With this cookbook, even the most amateurs can bring the true taste of Italian cuisine right into their kitchen. With more than 100 classics and simple yet luscious recipes, The Italian Cookbook for Beginners is as intimate as a good Italian mother.
This book will help you cook Italian with ease, know how to use everyday ingredients, make authentic Italian sauces, and tips for choosing fresh food. And most of all, you'll create a hearty family meal with this book!
Pros
Offer more than 100 American-Italian recipes
A lot of interesting details added
Straightforward recipes for beginners
Suitable for family meals everyday
Easy-to-find materials with reasonable prices
There are great tips for buying and storing food
Cons
Lack of illustrations, only focus on written instructions
More American-Italian recipes than authentic Italian recipes
13. The Italian Baker, Revised: The Classic Tastes of the Italian Countryside, by Carol Field
(Best For Baker)
---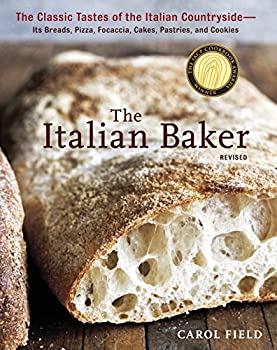 Shop now at Amazon
Shop now at Barnesandnoble
Shop now at Strandbooks
Shop now at Citylights
---
The Italian Baker, Revised: The Classic Tastes of the Italian Countryside is the work of Carol Field, author of many cookbooks, novels, award-winning cookbook journalist, and culinary contributor.
This revised version updates new recipes and colorful photos in every part. There are also the source guides, ingredients, weights, and utensil choosing sections. This makes your cooking job so much easier.
In this book, Carol Field draws from generations of Italian bakers to introduce Italian baked goods, artisanal kneading techniques, ingredients selection, tool preparation, etc.
The book summarizes the traditional recipes for making Italian sweets and pastries unique to each region of Italy, selecting for you the quintessence of Italian cuisine. Let's experience that wonderful thing together!
Pros
All knowledge of baked goods
Provide many new pastry recipes
Valuable notes on ingredients and kitchen tools
Eye-catching color illustrations
Cons
Some recipes may not be very authentic since the book is written for American
The book should provide more pictures
FAQs
Are you still not satisfied with your knowledge of Italian cuisine? Check out the list of answers below to get what you love to know:
My Top Pick
How many books are suitable for you in the series introduced above? To me, Vicky Bennison's Pasta Grannies: The Official Cookbook: The Secrets of Italy's Best Home Cooks is something special!
Perhaps due to the tendency to be a bit nostalgic, I love the author's message on every page, the classic but not outdated recipes of respectable ladies in the family, and the spice of love. Love the seasoning in each dish.
Not only a book, but it is also a monumental art treasure containing the beautiful souls of chefs – also artists who burn their hearts out with their passion for food. So many people love the food of the boot-shaped country!
And now, you can like and share this post so everyone can choose the best Italian cookbook of their own!