The best cookbooks for chefs are essential for both professional and beginner chefs. Whether you are a skilled one or just want to experience more exciting recipes, the following accomplished books are right for you!
When the chefs show off their skills, they often use their sense of food, taste buds, creativity, and cooking techniques accumulated over the years to create an attractive dish their way.
Of course, you and I, even as skillful ones, always need to learn from other legendary chefs and experts. These cookbooks will give you a fresh experience in the colorful, professional culinary world.
Written by the masters with deep culinary knowledge and passionate love for food, these 25 cookbooks are undoubtedly the kitchen secrets of every great chef. Let's jump in and choose the best one for you!
Criteria For Choosing Cookbooks For Chefs
The question is, what are the criteria for a chef to choose the right cookbook? Some of the principles below may be good suggestions for you.
Choose The Cookbook That Suits Your Specialty
Are you a chef specializing in vegetarian dishes? You definitely need some excellent vegetarian cookbooks. Or do you love desserts and specialize in making all kinds of cakes? Then try to find some pastry bibles.
Find books with content relevant to your expertise. What you are pursuing will continue to be built and perfected by the new things you learn in the cookbooks.
Choose Cookbooks Written By Culinary Experts
Choose the work of culinary experts with boundless love for meals. With their research and experience gained from countless cooking times, their recipes will open up a whole new world of culinary knowledge for you. And their handy kitchen tips will help you a lot too!
Choose A Cookbook That Stands Out And Masters The Trend
Next, let's focus on revolutionary and trendsetting recipes. While preserving the classics, you must always create new dishes to meet the taste of modern diners. You will be liberated from the old ideas and embrace recent creative culinary trends.
Choose Inspirational Cookbooks
Inspiration is also a factor that helps raise the culinary art inside the chef. Cooking with love, passion, and the mindset of an artist will make your dish a great work of art. At the same time, the chef will be a real artist with high cooking quality.
Choose Cookbooks With Valuable Tips And Information
Good cookbooks give you a lot of information, such as prep times, helpful cooking tips, serving recommendations, and explanations of unfamiliar ingredients. A good book should add to your knowledge of recipe history and preferably have essential nutritional information.
What Are The Best Cookbooks For Chefs In 2022?
Take a quick look at the list of 25 cookbooks for chefs below to see some of the authors and titles that will impress you:
25 Best Cookbooks To Inspire All Chefs In 2022
You will indeed find the truth for yourself in the 25 great cookbooks written by experts and many awards below. Check out the detailed information about the author and content right away to make your choice:
1. Salt, Fat, Acid, Heat: Mastering the Elements of Good Cooking, by Samin Nosrat and Wendy MacNaughton
(Best Of All Time)
---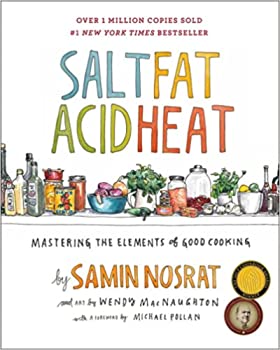 Shop now at Amazon
Shop now at Barnesandnoble
Shop now at Target
Shop now at Bookshop
Shop now at Booksamillion
---
Author Samin Nosrat is a writer, teacher, and chef. She has been cooking professionally since 2000, researching the combination of precise techniques with the finest ingredients.
With Wendy MacNaughton, an illustrator and graphic journalist, they publish "Salt, Fat, Acid, Heat" – expressing a revolutionary and straightforward culinary philosophy.
Once you become proficient in 4 essentials: salt, fat, acid, and heat, you can make every recipe taste wonderful. Just a few simple ingredients in hand, you can confidently make all the delectable meals with the handy techniques in this inspiration cookbook.
With 100 recipes, a wide range of variations, 150 illustrations, and graphics, the cookbook can turn every beginner chef into seasoned chefs. This is a classic cookbook for chefs you can't miss!
Pros
100 classic and varied recipes
Combine personal stories and cooking tips
Specific instruction and inspiration
Many illustrations, up to 150
The first half is suitable for professionals
The latter half is friendly with amateurs
Cons
Some scientific information is not really appropriate
The illustrated pictures sometimes conflict with the recipes
Discover Samin Nosrat's revolutionary method introduced in 'Salt, Fat, Acid, Heat"!
2. Joy of Cooking: 2019 Edition Fully Revised and Updated, by Irma Rombauer, Marion Rombauer Becker, Ethan Becker, John Becker, and Megan Scott
(Best Recipe Book)
---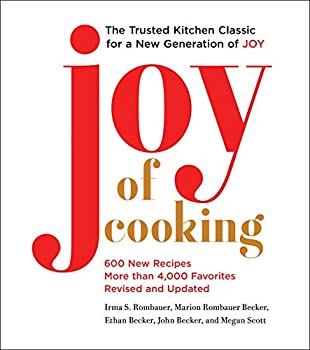 Shop now at Amazon
Shop now at Barnesandnoble
Shop now at Walmart
Shop now at Fireflybookstore
Shop now at Bookshopsantacruz
---
Irma Rombauer, Marion Rombauer Becker, Ethan Becker, John Becker, and Megan Scott are members of one family. Everyone has their own profession, but they share the same passion for food. That's why "Joy of Cooking" was born.
The book offers more than 600 new recipes and thousands of classic recipes. There are many new methods such as fermentation, sous vide, and low-temperature cooking. The authors also introduce details about pressure cookers technique and outdoor cooking.
There is also a new chapter guiding you to save time, ingredients, and efforts. You can also learn how to prepare cookware, bake cakes and cook vegetarian dishes.
The recipes in this cookery book are modern and not difficult to follow. All are quick, simple, nutritious, and mouth-watering. Let's bring this book home and get started right away!
Pros
Simple and accessible descriptions
Provide many comprehensive cooking tips
Suitable for chefs of all levels, even master
Guide to save ingredients and cooking time
Cons
The small and light text is a bit hard to read
3. The French Laundry Cookbook (The Thomas Keller Library), by Thomas Keller and Deborah Jones
(Best With Pictures)
---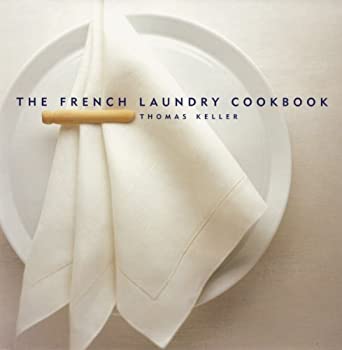 Shop now at Amazon
Shop now at Walmart
Shop now at Barnesandnoble
Shop now at Bookdepository
---
Thomas Keller is the only US chef holding 3 Michelin stars at his 2 restaurants. He also received the French Legion of Honour's Chevalier. He wrote this debut cookbook – a series of mini-courses on finesse and perfection.
The French Laundry Cookbook records memorable dishes' photos by the prominent photographer Deborah Jones at major US restaurants. This cookery book shows you that every chef and recipe is excellent and unique.
Through the author's thorough kitchen testing, 150 beautiful recipes right from the French Laundry Kitchen will conquer you. You can experience the perfection of cuisine with your own hand.
Thomas Keller combines the traditional ingredients to make many creative recipes. His techniques are simple and innovative, from cooking soups, desserts, to baking donuts and coffee.
The most interesting part is 200 attractive photographs throughout every page. The talented photographer captures every aspect of recipes, ingredients, and how the great chef works in his kitchen.
Pros
200 realistic photos of foods, ingredients, and chefs
An incredibly inspirational cookbook for any chefs
Provide exquisite methods to use ordinary ingredients
The recipes taste amazing and look attractive
Straightforward step-by-step guidance
Cons
May take a bit of time to prepare and cook
4. The Flavor Bible, by Karen Page and Andrew Dornenburg
(Best By Famous Chefs)
---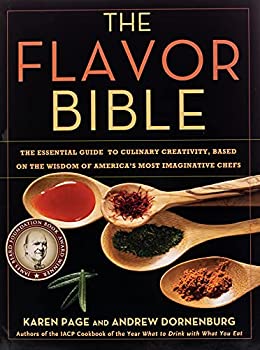 Shop now at Amazon
Shop now at Barnesandnoble
Shop now at Walmart
Shop now at Abebooks
Shop now at Bookdepository
---
Karen Page and Andrew Dornenburg have written several groundbreaking books celebrating the American culinary revolution, winning numerous book awards. They are also professional chefs with extensive experience in large restaurants.
They are the co-authors of "The Flavor Bible", which is mentioned as one of the best cookbooks of the past century. That's why this book should definitely be on every chef's bookshelf.
"The Flavor Bible" helps you figure out how to create an exceptional taste in every dish. It is not exactly a precise cookbook but rather intuition. It is based on the experience and taste of many pro chefs.
The book suggests several new combinations of ingredients to refresh your old kitchen. The alphabetical order is absolutely easy to follow. In addition, you will also learn about tips, culinary anecdotes, and typical American dishes.
Pros
One of the best cookbooks of the past century
Easy to look up due to the alphabetical order
Effortless-to-read page presentation
Suggest many new combinations of ingredients and foods
Vivid pictures and creative content
Provide more knowledge about American culinary
Cons
Sometimes too focus on describing the flavor
Find out some detailed reviews and demos of The Flavor Bible!
5. Mastering the Art of French Cooking, Volume 1: A Cookbook, by Julia Child, Simone Beck, and Louisette Bertholle
(Best French Cookbook)
---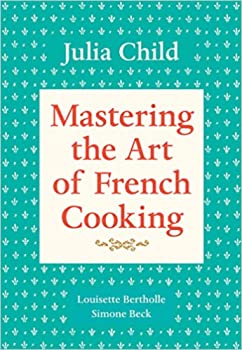 Shop now at Amazon
Shop now at Walmart
Shop now at Barnesandnoble
---
If you are a chef majoring in French cuisine, you cannot miss the most outstanding French cookbook: Mastering the Art of French Cooking.
Surely you must know the all-time renowned chef Julia Child, with all her devotion to world cuisine. Simone Beck and Louisette Bertholle are also two excellent French cookbook writers and cooking teachers.
They all were raised in France and the United States. This is what makes the wonderful trio understand the cuisine of the two countries and equip them with everything they need to write about French cooking for Americans.
Thus, "Mastering the Art of French Cooking" was born. With 524 appetizing recipes and more than 100 illustrations, you're guided step-by-step to complete your dish. The book is suitable for everyone, from pro chefs to amateurs.
Mastering the Art of French Cooking teaches you the authentic French cooking foundation and many modifications. From that basis, you can cook every real French dish right in your American kitchen.
This book not only focuses on basic recipes but also expands to other elaborations. If you want to recreate the flavorsome taste of French cuisine, get this book right in the kitchen and learn it!
Pros
Provide authentic French cooking foundation for American Kitchen
Up to 524 fantastic recipes to choose from
Detailed step-by-step instructions
Include both basics and elaborations
Suitable for everyone from experts to beginners
100 amazing illustrations for inspiration
Cons
There is hardly something to dislike about this book
The recipes may take a long time to make
Dive into more detail to find out whether Mastering the Art of French Cooking is actually worth buying!
6. The Noma Guide to Fermentation, by René Redzepi
(Best For Fermentation)
---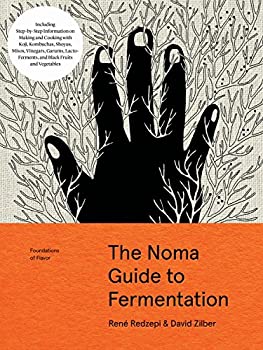 Shop now at Amazon
Shop now at Barnesandnoble
Shop now at Workman
Shop now at Bookdepository
Shop now at Waterstones
---
This cookbook is created by two talents. René Redzepi is a chef and restaurant co-owner, with many important culinary awards in the US. David Zilber is the chef of Noma's Fermentation Lab.
Through a period of research and synthesis, they came up with The Noma Guide to Fermentation, the book that covers everything about fermentation. You will have the authors share their wonderful knowledge and techniques.
The authors wrote and tested all the dishes precisely, with a full range of fermented foods to novel combinations. Besides, you can contemplate more than 500 step-by-step pictures.
The cookbook also shows how to use different ingredients to create extraordinary dishes. This is an indispensable book for home cooks and professional chefs alike. Read on and discover the wonders of fermentation techniques to make a splash in your kitchen!
Pros
Help you learn the deep-rooted science of fermentation
Suitable for chefs of many levels
Quick to follow with step-by-step instructions
Lots of new and creative dishes introduced
A pretty book with many nice pictures
Cons
Focus more on fermentation of condiments than main courses
Some recipes may be a bit hard to apply
Not very excellent bound
7. Korean BBQ: Master Your Grill in Seven Sauces by Bill Kim and Chandra Ram
(Best For BBQ)
---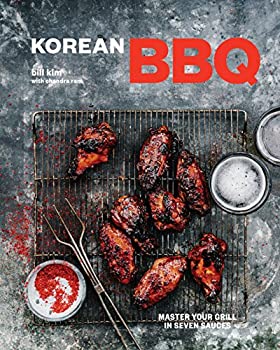 Shop now at Amazon
Shop now at Indigo
Shop now at Markuphero
Shop now at Alibris
Shop now at Bookdepository
Shop now at Kobo
Shop now at Barnesandnoble
---
This is one of the most prominent Korean cookery books by chefs and for chefs. Bill Kim, a chef with imaginative Asian-inspired dishes, wrote the book along with Chandra Ram, a cookbook author and food writer who works for many trusted organizations.
This excellent BBQ cookbook brings readers 80 recipes suitable for home chefs. You will begin with the basic principles of Korean barbecue through the requirements for configuration, ingredients, and flavor. The next is a specific recipe for each dish.
Along with 7 main sauces, 3 condiments, snacks, drinks, desserts, and accompaniments, the book also gives you a variety of new barbecue recipes. Moreover, the author is very thoughtful when offering suitable substitutes for ingredients that are hard to find.
Pros
Korean flavor but suitable for American taste
The recipe is effortless to follow, even for beginner chefs
A wide selection of new dishes to suit your party
A lot of suggestions for applicable ingredient substitutions
Cons
Some recipes require a lot of preparation time
8. The Pizza Bible, by Tony Gemignani
(Best With Pizza Recipes)
---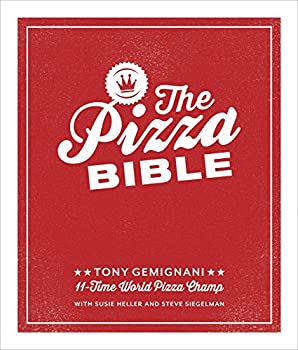 Shop now at Amazon
Shop now at Target
Shop now at Walmart
---
This is the book by Tony Gemignani, a chef who owns 8 restaurants in the US and co-owner of the International School of Pizza. Gemignani has been making pizza for over 20 years and holds many impressive awards.
Therefore, his book will help you to touch on the true art of pizza making. This is the treasure to inspire chefs to master pizza. The book teaches you to choose ingredients, shape, top, and bake pizza with wonderful techniques.
There are also quotes from the author about the spirit of a generous pizza maker! With the book's structure like a pizza class, you will experience many new and exciting methods, like a true craftsman! And you can make a professional pizza right in your own kitchen.
Pros
Methodical instruction, like a study program
Deeply inspirational for pizza craftsman
Approach the art of making pizza dough
Anticipated cookbook to meet your pizza desires
Cons
The content structure should be a bit more concise
High requirements for raw materials and utensils
The recipes may be time-consuming
9. Mastering Pasta: The Art and Practice of Handmade Pasta, Gnocchi, and Risotto, by Marc Vetri
(Best With Pasta Recipes)
---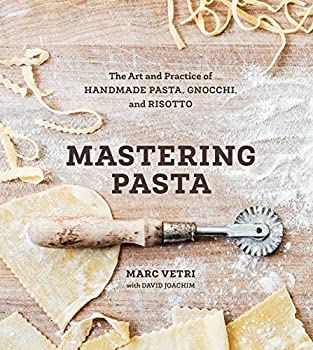 Shop now at Amazon
Shop now at Barnesandnoble
Shop now at Penguinrandomhouse
Shop now at Omnivorebooks
---
This book is written by a chef who owns many restaurants in Italy – Marc Vetri. This chef turns the traditional Italian dishes into modern recipes. Collaborating with David Joachim, a best-selling author and editor, they wrote "Mastering Pasta" – a complete chef's work on pasta.
Here you will find many other kinds of pasta flour, up to 30 types. The book also teaches you how to make various kinds of sauce. The authors share with readers many recipes for the best pasta and sauces he has researched. You also learn very useful tips on storing pasta.
This book is suitable for home cooks as well as professional chefs. In particular, the pro chefs also get advanced knowledge through a special section. To make the legendary pasta dish right in your home kitchen, hurry up to get this book!
Pros
Many valuable tips for pasta mastering
Straightforward to learn the formula and making process
Personal knowledge of the talented chefs provided
Provide an advanced section for professional skills
Cons
Not suitable for beginner chefs
Take a look behind the scenes and discover why Mastering Pasta: The Art and Practice of Handmade Pasta, Gnocchi, and Risotto is so famous!
10. Essentials of Classic Italian Cooking, by Marcella Hazan
(Best Italian Cookbook)
---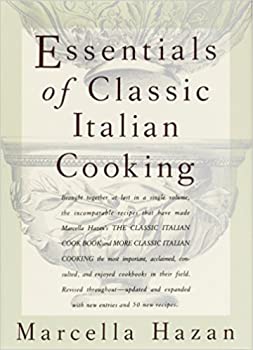 Shop now at Amazon
Shop now at Barnesandnoble
Shop now at Penguinrandomhouse
---
The renowned cooking teacher Marcella Hazan was born and raised in Italy's leading culinary region – Emilia-Romagna. She collects quintessence of classic Italian cuisine from around the country and writes "Essentials of Classic Italian Cooking".
This cookbook is considered one of the best cookbooks in Italy. It contains a compilation of recipes from her 2 famous cookbooks: "The Classic Italian Cookbook" and "More Classic Italian Cooking".
The book provides you with recipes suitable for both beginners and culinary experts. The author uses easy-to-understand terms, simple methods, and quick implementation. There is also plenty of useful information about spices, cheese, flavorings, etc.
Moreover, you can easily find the necessary ingredients according to the instructions in the book. Whether it's pasta, meatballs, or other novelties, all will give you a new sense of taste.
Pros
Reduce fat in the recipes
Suitable for experts and new chefs
Focus on new flavors
Easy-to-understand guidances and terms
Easy-to-find ingredients
Cons
It would be great if there were more pictures
11. Sous Vide at Home: The Modern Technique for Perfectly Cooked Meals, by Lisa Q. Fetterman, Scott Peabody, Meesha Halm, and Monica Lo
(Best For Sous Vide Cooking)
---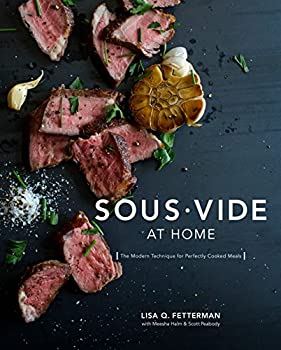 Shop now at Amazon
Shop now at Barnesandnoble
Shop now at Penguinrandomhouse
Shop now at Bestofbooksok
Shop now at Strandbooks
---
This unique cookbook is written by Lisa Q. Fetterman, an author, top chef, and culinary pioneer, Scott Peabody, a professional chef, Meesha Halm, a content strategist, and Monica Lo, a photographer and creative director.
They created "Sous Vide at Home", talking about the sous vide cooking technique. Through this book, even a beginner chef can learn sous vide. This technique leaves the dish soft and succulent, cooked to perfection. Restaurant-quality dishes are made right in your home kitchen.
The book gives you the most thorough instructions and the easiest method to make every dish, from the main course to the sauces. In particular, you also learn how the temperature and cooking time will affect each dish.
With over 100 recipes, "Sous Vide at Home" shows you how to cook turkey, shredded meat, mouth-watering appetizers, and even the classics. Recipes are always simplified and suitable for every occasion. This book makes it easier for chefs and home cooks to enjoy quality meals.
Pros
Inspire every chef with the special sous vide technique
Bring the toothsome taste of the restaurant into your kitchen
Detail, simple descriptions and clear explanations
Guide to making dishes in all courses of a meal
New ways of creating fantastic meals
Give every home chef all techniques and recipes
Cons
Maybe a bit simple for professional chefs
12. The Flavor Matrix: The Art and Science of Pairing Common Ingredients to Create Extraordinary Dishes, by James Briscione and Brooke Parkhurst
(Best About Food Flavor)
---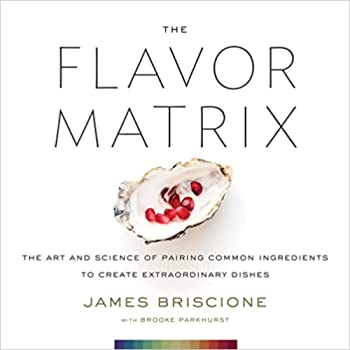 Shop now at Amazon
Shop now at Walmart
Shop now at Barnesandnoble
Shop now at Kinokuniya
Shop now at Jmichaelsbooks
---
The married couple James Briscione and Brooke Parkhurst are authors of four best-selling cookbooks. They are also chefs, culinary instructors, and award-winning culinary inspirational people. Their book "The Flavor Matrix" is an excellent study of food taste.
The book helps you realize science can open unprecedented possibilities for turning ingredients into amazingly creative dishes. The author will reveal unexpected ingredient pairings and demonstrate them by formulas.
Moreover, this cookbook is a world of information on why flavors come together. Filled with detailed knowledge and stunning graphics, this is a fun pick to step into.
Pros
Detailed information and formula demonstrate
Fresh and creative recipe ideas
Excellent illustrations to describe the foods
Clear details for flavor combinations
Cons
A bit difficult to read with scientific information
Learn more about the secret patterns of flavor by author James Briscione!
13. The Professional Chef, by The Culinary Institute of America
(Best For Professional Chef)
---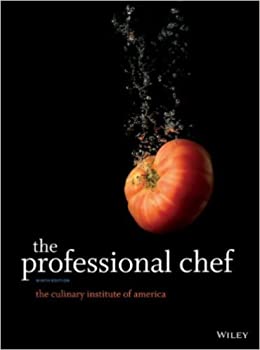 Shop now at Amazon
Shop now at Walmart
Shop now at Wiley
Shop now at Ciaprochef
Shop now at Target
---
The Culinary Institute of America (CIA) teaches culinary arts, baking, and wine, as a non-profit college. CIA owns 45000 alumni and quickly becomes the leading college of culinary worldwide. They publish "The Professional Chef" for the professionals.
The book reflects cooking in modern kitchens, showcasing the excellent foods and flavors all over the world. Chefs can find all information about ingredients, utensils, and techniques for the professionals.
The author also showcases a full range of high-level techniques for all kinds of sustenance, from grains, vegetables, fruits, to fish meats, and seafood. There are also several soups, baked goods, sauces, etc.
Besides, the book exploits many in-depth topics of international cuisine, such as sous vide cooking, plated desserts, ec. You can quickly learn the basic cooking principles thanks to the accessible new layout.
With hundreds of recipes, a lot of deep culinary knowledge, and vivid step-by-step photography, the entire book becomes an essential reference for any pro chefs.
Pros
A book of the leading culinary college worldwide
Many advanced skills and techniques for chefs
A wide range of dishes and special cooking techniques
Learn about new ingredients and kitchen utensils
Provide deep culinary knowledge all around the world
The design and structure are friendly for readers
Cons
The book is a bit large and heavy
Not suitable for amateurs
Take a bit of convert time since all ingredients are measured in grams
Let's get to know insider secrets about The Culinary Institute of America!
14. The 4-Hour Chef: The Simple Path to Cooking Like a Pro, Learning Anything, and Living the Good Life, by Tim Ferriss
(Best For Beginner Chefs)
---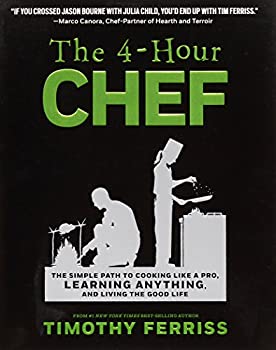 Shop now at Amazon
Shop now at Indigo
Shop now at Abebooks
Shop now at Thriftbooks
Shop now at Betterworldbooks
---
Tim Ferriss is an entrepreneur, chef, bestselling author, inspirational person, and influencer. His book "The 4 Hour Chef" immerses readers in the many wonders of food.
The book distills the quintessence of the kitchen, helping you tap into a culinary style that's strong, discerning, and palatable. The author presents logically organized sections that make it easy to read and arrange everything in your head.
Not only inside the kitchen, but you will also learn about many interesting topics related to food. Useful cooking tips and tricks are also covered here. Let's explore how to become a cooking master!
Pros
Written by the bestselling author and influencer
Split into easy-to-read sections
Easy to access logical knowledge system
Expand to many related topics
Cons
There should be more recipes in this book
Learn the simple path to cooking like a pro through The 4-Hour Chef!
15. Japanese Soul Cooking: Ramen, Tonkatsu, Tempura, and More from the Streets and Kitchens of Tokyo and Beyond, by Tadashi Ono and Haris Salat
(Best Japanese Cookbook)
---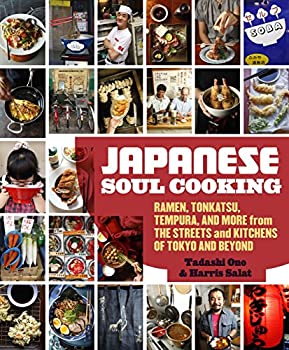 Shop now at Amazon
Shop now at Barnesandnoble
Shop now at Walmart
Shop now at Penguinrandomhouse
Shop now at Bookdepository
---
Tadashi Ono is the founder of many renowned restaurants. He has won many culinary awards, creating a great reputation in the chef world. He and Haris Salat, a writer of multiple famous publications, wrote "Japanese Soul Cooking" about his deep love for authentic Japanese food.
This cookbook soon became a highlight among the most impressive Japanese cookery books. This book celebrates authentic Japanese dishes and teaches many new ingredients and cooking methods.
The most impressive thing is you can discover the origins of many signature Japanese recipes. You can learn not only the popular dishes but also the uncommon Japanese recipes. Everything from ramen, udon, and soba to tempura, fried rice, etc., are included.
This book includes a wide range of up to 100 recipes, with gorgeous, brilliant step-by-step pictures. The book provides recipes for Chang's favorite dishes, such as meat buns and ginger-green onion sauce served with ramen.
Pros
Authentic Japanese cuisine inspiration for every chef
Fascinating illustrations for final dishes
Share the origins of signature Japanese recipes
Provide new ingredients and cooking methods
Include both popular and uncommon Japanese dishes
Cons
Some recipes may not be very authentic Asian
Why not take a quick look throughout all pages of Japanese Soul Cooking to see how fascinating it is?
16. Nopalito: A Mexican Kitchen, by Gonzalo Guzmán, and Stacy Adimando
(Best Mexican Cookbook)
---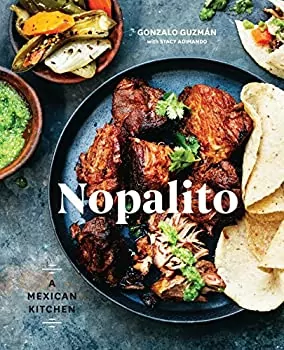 Shop now at Amazon
Shop now at Thebookroomatbyron
Shop now at Sfmoma
Shop now at Omnivorebooks
Shop now at Citylights
Shop now at Littleprofessorhomewood
---
With a strong passion for food, can a scullion become a talented chef? Quite possibly in the case of Gonzalo Guzmán. He collaborated with Stacy Adimando – a director of experimental kitchens and also a culinary journalist with many published works – to make this book.
The book is an exquisite and delightful collection of authentic regional Mexican recipes. Inspired by the simple ingredients of the sea and the land, the authors offer you 100 simple dishes with unforgettable flavors.
You can also discover the uniqueness of Mexican cuisine and culture through the author's interesting words. This cookbook can ultimately bring your favorite recipes from the legendary Nopalito restaurant into your kitchen and let you enjoy real Mexican dishes.
Pros
Expand your knowledge about Mexican culture and cuisine
The recipes process is refined and simple
Distinguished restaurants' dishes give you a fresh experience
Provides some beneficial cooking techniques for home chefs
Cons
The source of ingredients is pure Mexican and can be challenging to find in other places
Listen to Gonzalo Guzman, Chef at Nopalito, discuss his journey!
17. Season: Big Flavors, Beautiful Food, by Nik Sharma and John Birdsall
(Best Indian Cookbook)
---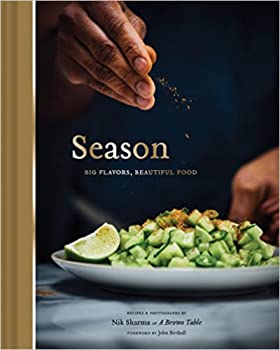 Shop now at Amazon
Shop now at Chroniclebooks
Shop now at Barnesandnoble
---
"Season: Big Flavors, Beautiful Food" is a beautiful cookbook about Italian food full of inspirations for chefs who love Indian cuisine.
Nik Sharma is a respected food writer, and John Birdsall is a well-known photographer with a high understanding of the Indian culinary background. Their artistic eyes make this book so crowned with success.
"Season: Big Flavors, Beautiful Food" wins one of the best cookery books awards in many reputed magazines. The book includes 100 unique recipes interwoven with 270 beautiful photos. This book guides chefs on how to cook with Indian spices and ingredients.
You can acquire a taste for the signature Indian spices such as saffron, turmeric, and za'atar. That helps you discover all knowledge in seasoning and the unique taste of Indian cuisine. In particular, Nik Sharma also introduces many healthy ingredients and cooking methods.
Not only India, the cookbook also covers the California and American South techniques. All the recipes always turn out excellent. The special dishes in this cookbook strongly reflect the originality and tradition of Indian cuisine.
You will find out how to create new palatable flavors by suitably using outstanding Indian ingredients. You can also be impressed when diving into the beautiful page layout and photographs. That's the reason why this book received the Best Cookbook Photography award.
Pros
Specific instructions about the crucial Indian spices
Full of appetizing classic and modern Indian recipes
Outstanding photography and art about foods
Approachable for any home chefs
Cons
Some recipes may contain hard-to-find ingredients
This quick review will help you find out why you should buy Season: Big Flavor, Beautiful Foods!
18. The Whole Beast: Nose to Tail Eating, by Fergus Henderson
(Best With Meat Recipes)
---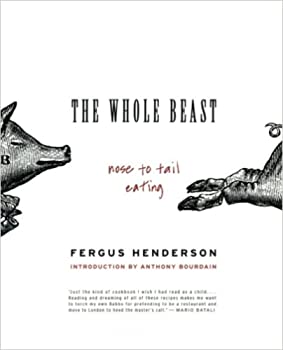 Shop now at Amazon
Shop now at Barnesandnoble
Shop now at Bookshop
Shop now at Strandbooks
---
The architect and chef Fergus Henderson has won many awards and honors in the culinary world. "The Whole Beast" is a book where he presents recipes that have been researched and tested in his kitchen.
The book gives you the most creativity from traditional recipes. All the dishes follow the motto: succulent and economical. In addition, his recipes make use of almost every part of an animal or a plant, turning into dishes with distinctive flavors.
Featuring challenging dishes for professional chefs and accessible recipes for the home kitchen, "The Whole Beast" is a classic cookery book that every foodie should own. All the recipes are customary but unprecedented at the same time.
Pros
Traditional yet innovative cooking methods
Easy-to-follow recipes, suitable for all level
Take advantage of all parts of plants and animals
Economical ingredients choosing methods
Combine innovative and traditional techniques
Cons
Some raw materials are not easy to find
19. Julia's Kitchen Wisdom: Essential Techniques and Recipes from a Lifetime of Cooking, by Julia Child and David Nussbaum
(Best With Q&A)
---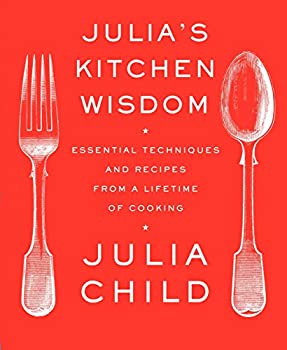 Shop now at Amazon
Shop now at Walmart
Shop now at Barnesandnoble
Shop now at Bookshop
---
Julia Child is a cooking teacher and cookbook author. She is famous for showing up in The French Chef's television series and has gained many prestigious awards. "Julia's Kitchen Wisdom" is her collaborative cookbook with David Nussbaum, a prominent social psychologist.
The book gives home chefs the answers to the outstanding questions that the cooks usually face. Everyday questions about cooking times, processing methods, ingredient proportions, and more will all be answered.
Besides, the cookbook brings out useful knowledge about many kinds of food, from veggies to baked goods. Cooking with this book, you are practicing to master all the recipes. The author guides carefully, helping you apply these cooking techniques to all the luscious dishes.
Pros
Provide answers to frequently asked questions about cooking
Bring a lot of helpful information and cooking tips
Teach the most efficient and fastest techniques
Detailed and careful instructions
Inspire fun with many family meals
Cons
May cause some delay in cross-referencing to familiar measurements
20. Plenty: Vibrant Vegetable Recipes from London's Ottolenghi, by Yotam Ottolenghi and Jonathan Lovekin
(Best Healthy)
---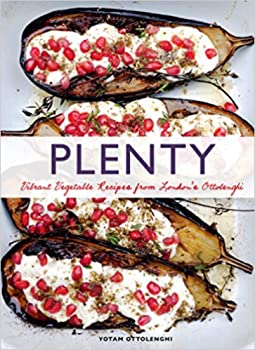 Shop now at Amazon
Shop now at Chroniclebooks
Shop now at Barnesandnoble
Shop now at Indigo
Shop now at Target
---
Yotam Ottolenghi is a culinary author, a chef, owner of 4 Ottolenghi restaurants, and the author of the Guardian's weekly Vegetarian column.
Yotam became an international culinary celebrity when he wrote "Plenty", the book on vegetarian Cuisine. The book was illustrated by Jonathan Lovekin, a notorious photographer who loves food and cuisine.
Readers will experience a collection of 120 vegetarian recipes. You can learn how to make attractive flavors and new combinations in vegetarian dishes. This cookbook is perfect for anyone looking for some ideas for healthy plant-based recipes.
This cookery book shows you how to use spices, herbs, and other ingredients to create something unique and creative, drawing from the diverse culinary cultures present in London.
The first-class recipes here will make every chef curious to learn more. Each recipe comes with illustrations and clear instructions, making it a fun experience whether you're a meat-eater or a vegetarian.
Pros
Provide many new healthy plant-based formulas
First-class and unique recipes for professional chefs
Clear instructions for easy accessible
Specific illustrations by talented photographer
Show how to take advantage of spices and herbs
Cons
The arrangement of ingredients is a bit confusing in some recipes
The cover is a bit spongy and not really practical
Not a cookbook for beginner chefs
Let's find out some detailed reviews from a reader of "Plenty"!
21. On Food and Cooking: The Science and Lore of the Kitchen, by Harold McGee
(Best About Food History)
---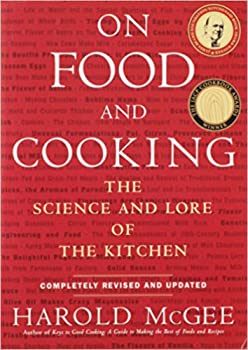 Shop now at Amazon
Shop now at Abebooks
Shop now at Walmart
---
Harold McGee, a culinary and food science researcher and award-winning author, writes this legendary cookbook. He focuses on the history of food science and the chemistry of cooking.
The book has been a culinary classic for over 35 years. The book delves into the definition of food, its history, origins, and quintessence. It is the foundation for the chef to create great dishes. This book describes all the knowledge clearly and concisely.
The new edition covers a number of key topics such as special substances that give each variety its flavor, old and new food production methods, cooking methods varied by time and place, the health benefits and risks of food, and how to choose the right ingredients.
This book has been edited with more information added. More than 100 illustrations will give you an immersive experience. Easier to read and more engaging than ever, On Food and Cooking opens your eyes to food.
Pros
Written by an award-winning author
Provide all the knowledge about food history and science
Suggest tips to choose the suitable ingredients
Helpful information about health benefits and risks with
Interesting kitchen tips and notes on healthy food
More than 100 vivid illustrations
Well-arranged index and layout
Cons
It would be great if the book focused on recipes more
Listen to how McGee recounts why he wrote about the science of cooking!
22. Culinary Artistry, by Andrew Dorneburg and Karen Page
(Best About Food Art)
---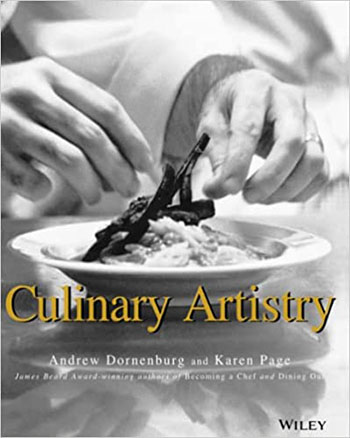 Shop now at Amazon
Shop now at Walmart
Shop now at Barnesandnoble
Shop now at Wiley
---
This is the product of a collaboration between Andrew Dorneburg and his wife, Karen Page. They are the award-winning cookbook authors of a groundbreaking series of books. They bring readers fresh ideas about the artistic potential in the culinary field.
This is the first book to study and explore the intersection of food: imagination and taste. This book can help you become a "food artist" through many recording conversations between chefs.
The author divides this cookbook into sections talking about chefs as the real artists who combine the flavor to create the whole cuisine. This storytelling style is captivating with alternating recipes.
The charts among the conversations are friendly for home cooks with the basic flavors of foods, matching ingredients, seasonal foods, and especially a whole dessert list.
This book will inspire you through the secrets of choosing and pairing ingredients and flavors into dishes. You will experience the art of cooking in your way, reaching the culinary quintessence whether you are a professional or just cooking at home!
Pros
Attractive storytelling style with chef's quotes
Clear and easy to understand presentation
Provide new techniques for combining foods
Friendly for home cooks with charts
Emphasis on art in food
Inspiring, upholding the spirit of love of food
Cons
The printing may sometimes not be excellent
There should be some color photos in this book
Only suitable for professionals
23. The Vegetarian Flavor Bible, by Karen Page
(Best Vegetarian)
---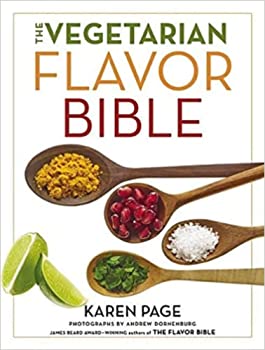 Shop now at Amazon
Shop now at Barnesandnoble
Shop now at Apple
Shop now at Ebooks
Shop now at Abebooks
---
Karen Page is a two-time James Beard Award-winning author whose books include The Flavor Bible, named one of the best cookbooks of the year on both Today and Good Morning America.
You can consider this one of the most impressive cookbooks for vegetarians ever. The beautiful illustrations will also spark the cooking inspiration in you. Furthermore, you are provided the critical guide to culinary creativity with fruits, vegetables, and fresh ingredients.
Here, the basic techniques of vegetarian recipes are introduced to you in a clear, easy-to-understand way. The author writes the recipes with care and detail, each step is broken down for you to follow straightforwardly.
Pros
A book by James Beard Award-winning author
Essential guide to culinary creativity with vegetables
A good cooking inspiration for chefs
Provide basic techniques for vegetarian
Cons
There should be an index to make the book more useful
24. Charcuterie: The Craft of Salting, Smoking, and Curing, by Brian Polcyn and Michael Ruhlman
(Best For Charcuterie)
---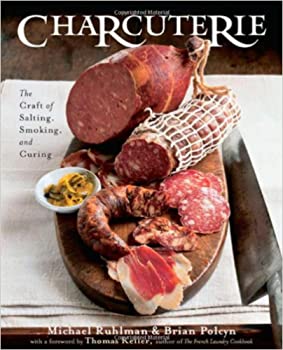 Shop now at Amazon
Shop now at Walmart
Shop now at Barnesandnoble
---
Brian Polcyn, a former chef and restaurateur in the Detroit area, is a professor of barbecue at Schoolcraft College in Michigan. Together with Michael Ruhlman, the best-selling co-author, they bring foodies to Charcuterie.
This book deals with the creation of pork products. You can learn to turn all the preserved foods into fresh and tasty dishes. The authors also provide a wide range of preparations, cooking techniques involving salting, smoking, and drying, as well as fermented side dishes.
A list of ready-to-eat and long-lasting dishes is for you in this book. The book includes 125 recipes and many vivid illustrations. Charcuterie contains content appealing to professionals while being intimately accessible to home chefs.
Pros
Available to the home cook and professional chef alike
A culinary specialty refers to pork products
Introduce a wide range of cooking techniques
Helpful notes when preparing food
Cons
The index is a bit complicated to use
Some recipes many be too complicated and overwhelming
25. The Baking Bible, by Rose Levy Beranbaum
(Best For Pastry Chefs)
---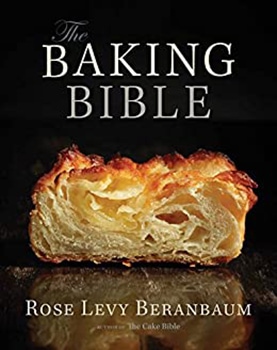 Shop now at Amazon
Shop now at Walmart
Shop now at Barnesandnoble
Shop now at Target
---
When it comes to professional pastry chefs, you'll be impressed with Rose Levy Beranbaum for her talent. She is both a talented chef and a culinary writer with 12 cookbooks that have won many important awards, such as IACP Cookbook Award for Baking.
The Baking Bible can be considered a giant culinary dictionary, bridging the gap between baking techniques at home and for professional chefs. The book is divided into four parts: Cakes, Pies, Tarts, and Other Pastries, the book gives you easily accessible recipes and techniques.
The attractive baking tricks will give you many surprises and delight. In addition, the writing attracts, inspires, and encourages your spirit of love for baking. Thus, this is an indispensable book for you to become an artist with fascinating cakes full of art.
Pros
The formulas are presented in detail, breaking down the steps
Clear layout with sections on different types of cakes
Provides useful baking tips
The writing style is encouraging and inspiring
Cons
Not provide the basic knowledge of baking for beginner chefs
Try to take a look at the detailed instructions in The Baking Bible!
FAQs
Do you want to know more about the tools and techniques a chef can use? Please refer to the answers below:
My Top Pick
Which cookbook do you think is the best? For me, Culinary Artistry, by Andrew Dorneburg and Karen Page, is a remarkable book. When you talk about food, it's not just about cooking. It is a unique artistic heaven, a harmonious combination of skill and creativity.
The chef is like a true artist, inspiring sweetness into each yummy meal. Cooking is tastier than ever with Culinary Artistry. That's how I feel! It's your turn. Decide to own the book you love and spread the positive energy of food!
Spread this article to all the chefs and food lovers around, so they too get the truth cookbook of their own! I hope you will have a great experience with the best cookbooks today.