Do you want to add Algerian foods to your menu? After reading this post, I hope the answer will be yes. Besides their flavorful tastes, Algerian foods are quite healthy and will do your diet a lot of good.
Algerian dishes represent a wonderful blending of passionate North African cuisine with Mediterranean delicacy. Therefore, you're going to find these African dishes presented in this post both strange and familiar, closely intimate, and unusually irresistible. Scroll down to see for yourself.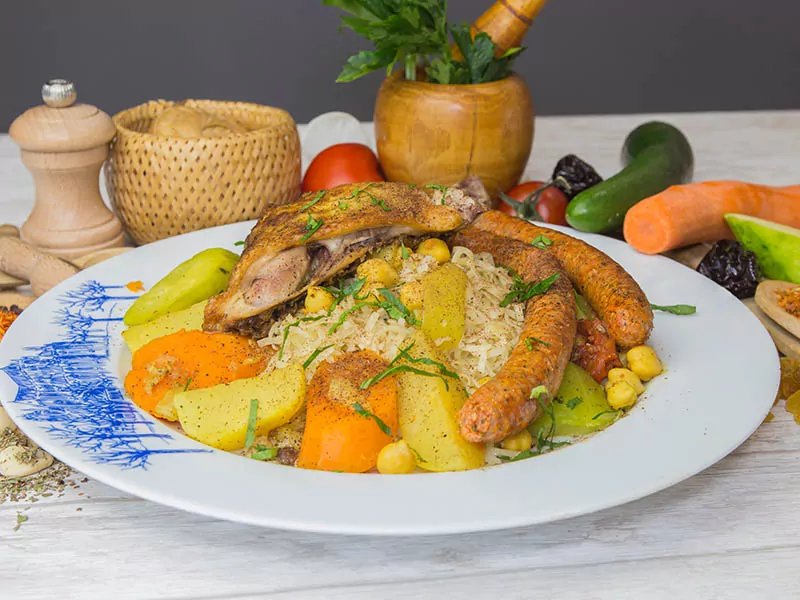 Check Out These Astounding Algerian Appetizers And Side Dishes
When it comes to whetting your appetite, all the Algerian dishes below are equal, but some are more equal than others (any George Orwell vibe?). Which one will you choose?
1. Couscous – Steamed Semolina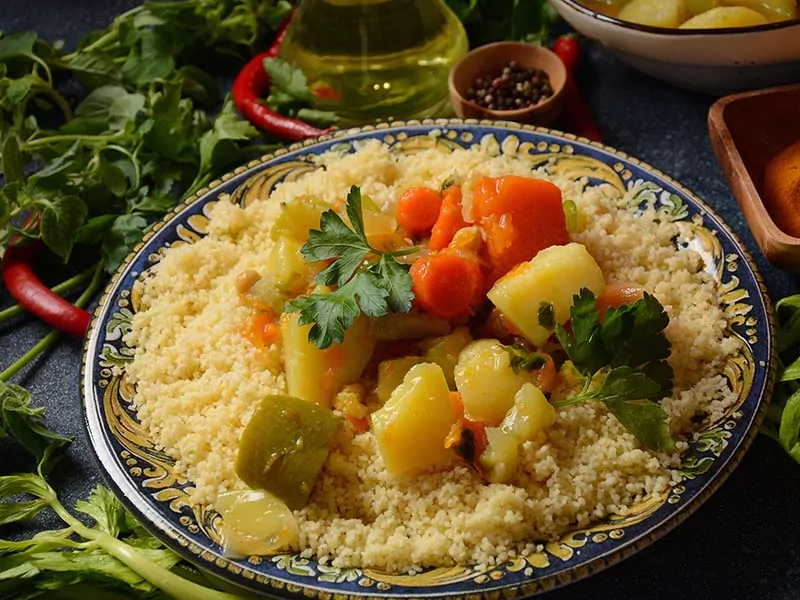 Ask any Algerian about their national dish, and you're likely to receive the same answer: Couscous.
Actually, ask anyone from the Maghreb (the part of North Africa bordering the Mediterranean Sea); it's still the same answer. It is also a familiar food in Libya. That underscores the popularity of couscous.
But what is couscous exactly? It is a dish made from steamed semolina which is a type of flour of durum wheat. The dish comes in the form of small, golden spherical grains that have a fat, nutty flavor when cooked.
Couscous is a healthy, nutritious starchy food to go with many kinds of dishes, such as vegetables, meat stews, buttermilk, etc. Algerians usually eat it on Friday at home after joining in midday prayers at mosques, as well as at funerals.
Learn about the differences between American Couscous and Algerian Couscous here.
2. Kesra – Algerian Olive Oil Flatbread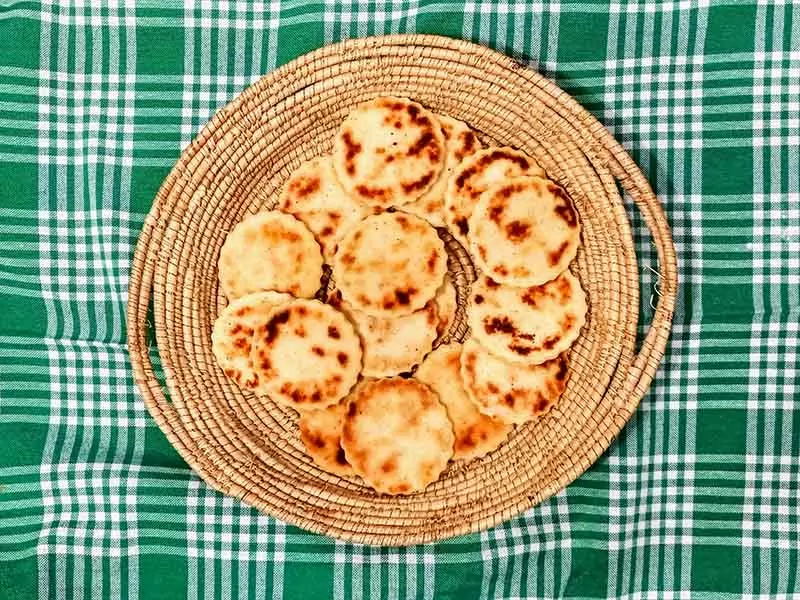 A typical Algerian breakfast recipe usually revolves around bread. There are many varieties to choose from, the simplest of which is Kesra. But don't let the simplicity fool you: Kesra is made from semolina dough mixed with high-quality virgin olive oil.
The bread goes by many names. It is Khobz Ftir in the capital city Algiers, Kesra near Constantine in eastern Algeria, and Aghroum Akoran in the Kabyle region north of the country. But true Kesra is good and hearty under any disguise.
Discover the easy way to make Kesra here.
3. Mhadjeb – Flatbread Stuffed With Tomatoes And Onions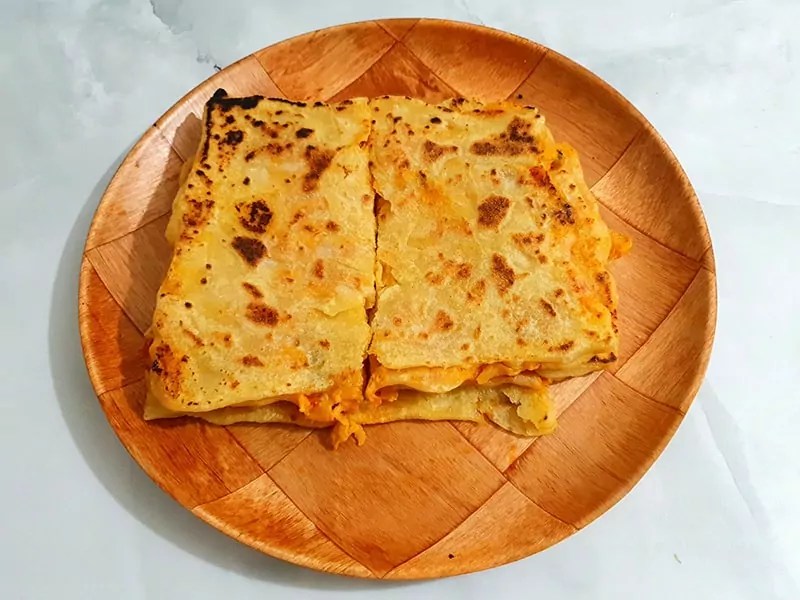 This is another type of traditional Algerian bread. Mhadjeb is a popular street food that people buy to eat alone or with Harrisa, a Maghrebi hot chili pepper. Like Kesra, it is made from semolina dough mixed with olive oil.
But what's different about Mhadjeb is that it is stuffed with sauteed tomatoes and onions before being fried. Therefore it has a stronger and more diverse flavor.
4. Chakhchoukha – Flatbread Pieces Topped With Stew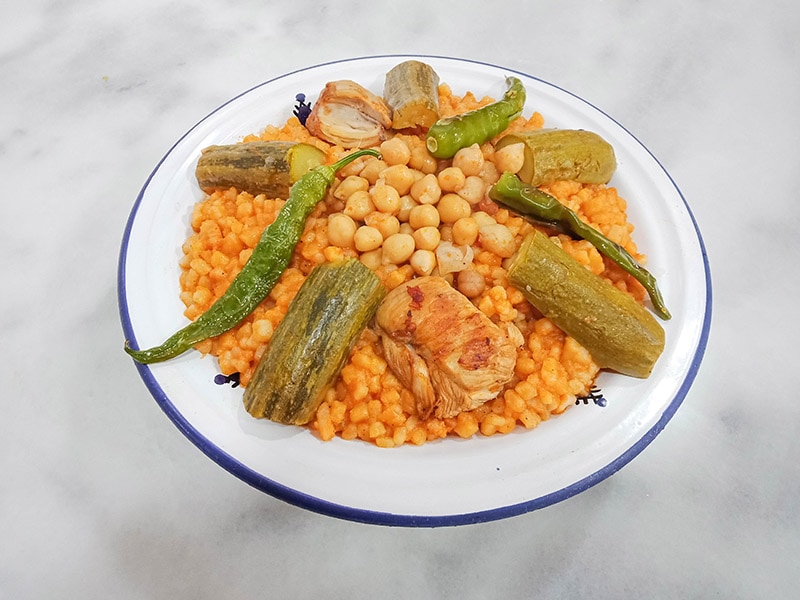 Chakhchoukha is a culinary contribution from the Chaoui people in the mountainous Aurès region in eastern Algeria. People believe that ancient Chaoui herders invented this "torn flatbread" (the literal translation of the name) as a nourishing dish for cold nights.
Chakhchoukha has two parts: the rougag (flatbread) topped with the marqa (the stew). The rougag consists of many torn pieces of semolina, hence the name of the flatbread. Meanwhile, the marqa is made from diced lamb, chopped vegetables, and lots, lots of spices.
You will appreciate the heat and the flavourful taste of this flatbread. After all, it first came about to deal with the cold nights of the Algerian desert. Nowadays, Algerians usually save Chakhchoukha for festivities or special occasions.
5. Baghrir – Spongy Semolina Pancake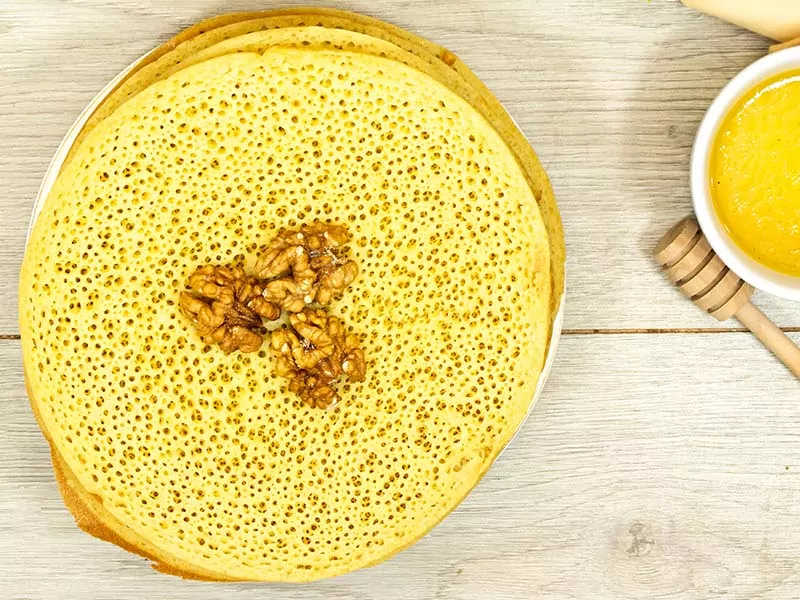 After getting fed up with rich and heavy foods, perhaps you need something lighter. How about some airy Baghrir, honeycomb-like pancakes that are a common sight at Maghrebi dinner tables?
Plus, you can consume it as an authentic African sweet treat as well. This type of pancake is made from fine leavened semolina flour. Just fry the batter over a medium fire until countless tiny holes appear on the surface. A good thing about Baghir is that you don't have to flip it.
The best condiment to go with Baghrir with a butter-honey mixture. The spongy surface absorbs every bit of the sauce, giving it a pleasantly sweet and fruity flavor. Algerians usually eat the pancake as a healthy snack on normal days as well as during Ramadan.
Check out this million-view guide on how to make Baghrir.
6. M'semen – Spiced Stuffed Crepe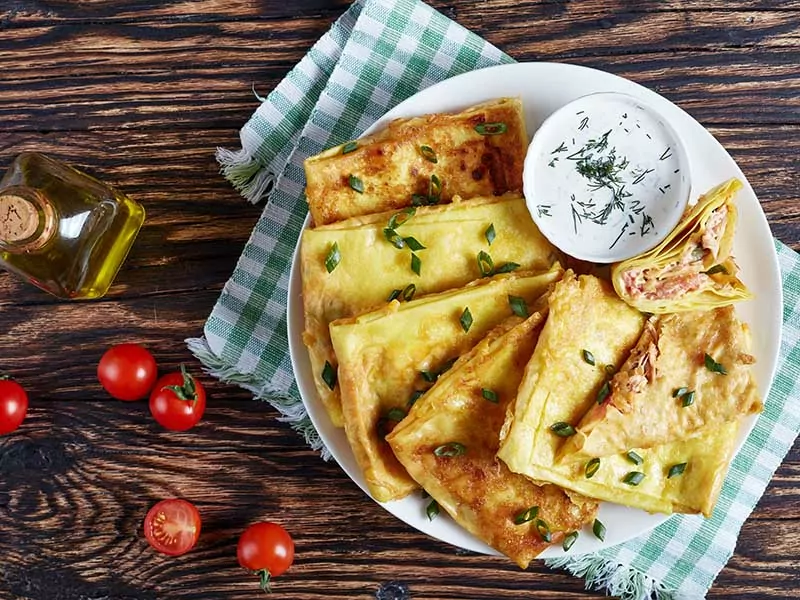 It is common knowledge that M'semen is a traditional Moroccan flatbread. While that isn't far from the truth, you should also know that it is very popular with Algerians as well. They love to serve it with coffee and mint tea or simply eat it as a snack.
People make M'semen from simple ingredients like semolina, flour, butter, and some water. They create a smooth mixture, then divide it into smaller parts before kneading and rolling them into paper-thin circles. The next step is to masterfully fold each circle into a square pancake.
The dough is prone to sticking to the fingers during the folding process, so oiling them constantly is a must. M'semen can also be stuffed with minced meat and vegetables before being fried in oil until crisp and golden.
7. Maaqouda – Potato Fritters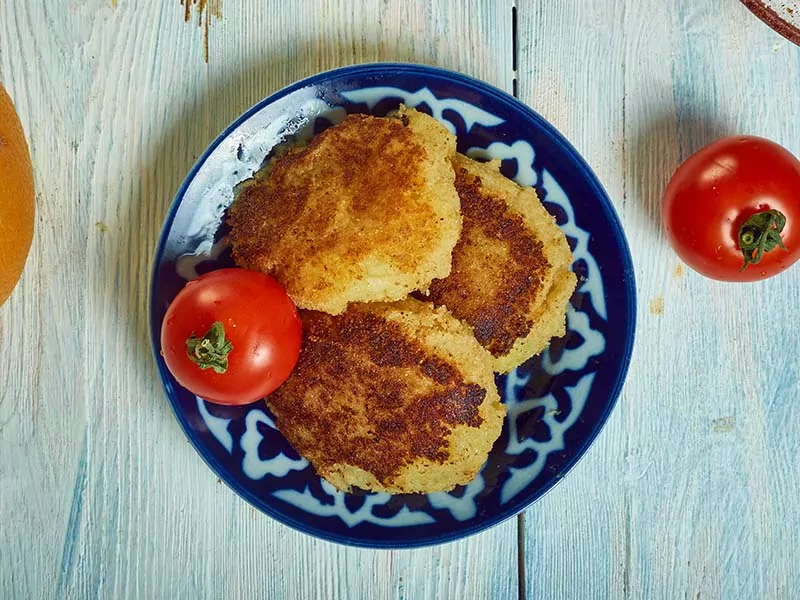 If you want to experience Algerian street food, never forget to try some tasty Maaquoda (also called Maakouda or Ma'quda). It is a type of Maghrebi potato fritter that is in high demand in Tunisia, Morocco, and especially Algeria.
There is nothing lavish about its preparation. All you need is to mash boiled potatoes with butter, flour, garlic, and seasonings before deep-frying the batter in oil. More fulfilling versions add meat, tuna, or cheese to the filling.
Maaqouda is a great year-round snack or appetizer. But Algerians consume it more during Ramadan.
8. Bourek – Meat-Filled Fluffy Pastry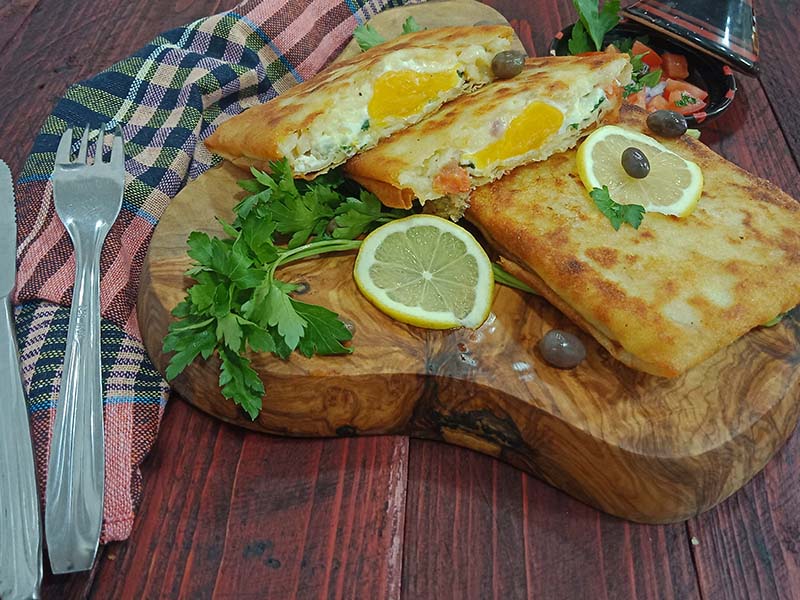 Centuries ago, the great Islamic Ottoman Empire spanned over Western Asia, Southeastern Europe, and Northern Africa, including present-day Algeria. Consequently, it's no surprise that Bourek, a tasty pastry created during the Ottoman age, is popular in the country as well.
Bourek is made of a thin baked or fried flaky dough sprinkled with sesame seeds and traditionally stuffed with potatoes, spices, and minced lamb or beef. Wandering through Algerian streets, you will have no difficulty finding vendors selling Bourek with seafood or cheese.
This pasty is savory and releases a wonderful crunchy sensation when you bite on its crisp, flaky crust. It is a great appetizer to go with stews or soups like Chorba Frik.
Learn how to cook Algerian Bourek at home here.
9. Chorba Frik – Crushed Wheat Soup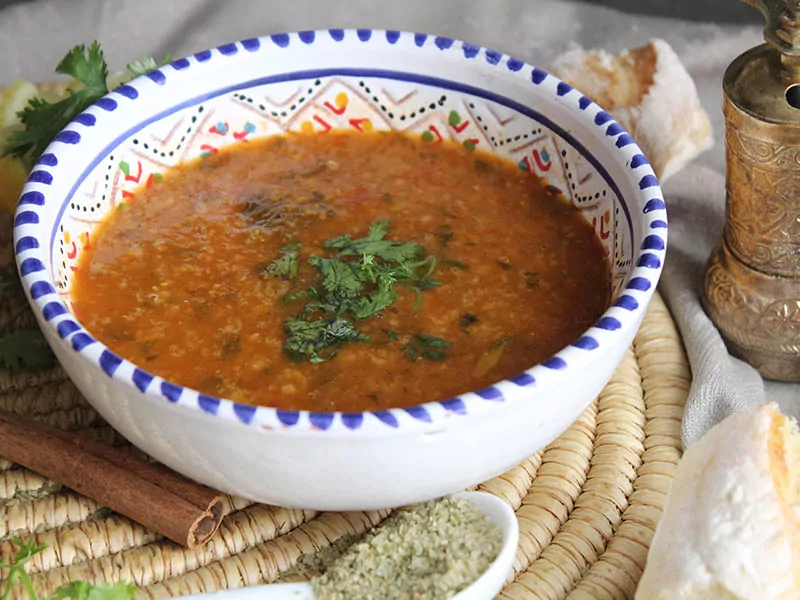 "Chorba" means "soup" in Arabic, and "frik" (or freekh) is a type of cereal food made from roasted green durum wheat. Chorba Frik is a light yet delicious soup that Algerians usually prepare during the 30 (sometimes 29) days of Ramadan.
The soup was brought to Algeria in the 17th century when it was part of the Ottoman Empire under the name of the Regency of Algiers. Back then, Chorba Frik was a favorite in the Ottoman army. It didn't take long to gain popularity in Algiers.
Chorba Frik consists of frik, tomatoes, beans, spices, vegetables, and occasionally meat. After a whole day of fasting, people usually eat this beautifully green soup as an appetizer before richer dishes. It is particularly popular in the northern and eastern parts of Algeria.
Cooking Chorba Frik is easy with this tutorial.
10. Chtitha Batata – Algerian Potato And Tomato Stew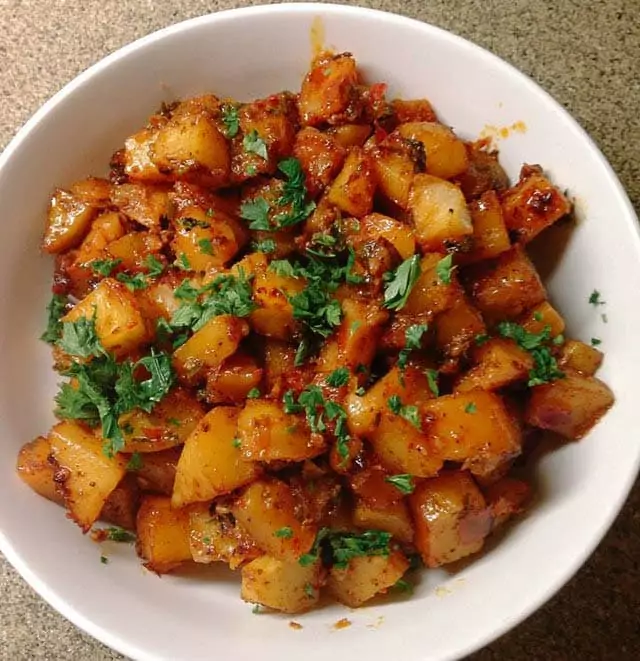 Both potatoes and tomatoes are relatively new in Algeria. From the Americas, they arrived in the country no sooner than the 16th century. It didn't take Algerians long to create wonderful dishes with them, such as Chtitha Batata.
It is a traditional and inexpensive Algerian stew. People stir-fry potatoes and stew them in a tangy sauce made from mashed or pureed tomatoes, onions, chickpeas, and herbs.
This is probably one of the simplest Algerian recipes. But you will be amazed by how much a bowl of hot tomato and potato soup can make you happy. It is easy to cook Chtitha Batata as a wonderful side dish to go with fish or meat dishes.
11. Harira – Tomato Soup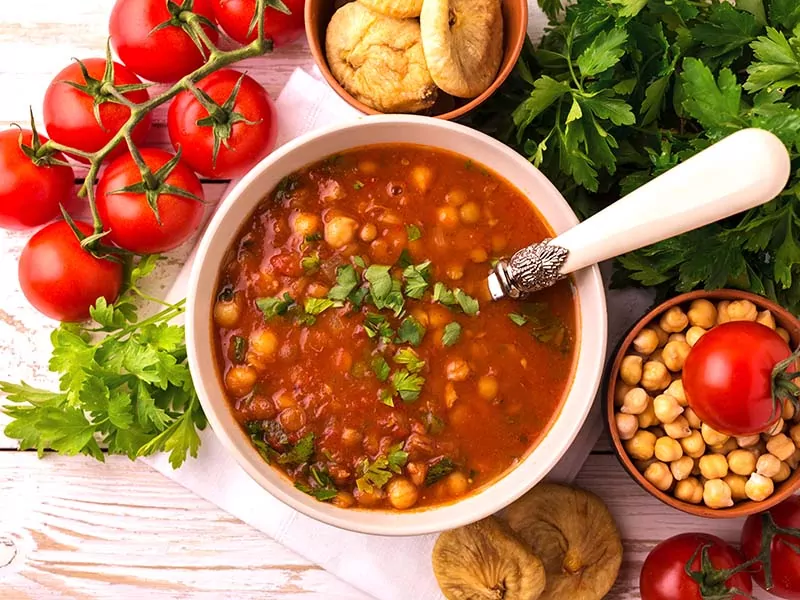 During Ramadan, if Algerians have Chorba Frik at the end of the day, what soup do they have at the beginning? For some people, especially in western Algeria, it's Harira, a beloved tomato soup of the country and neighboring Morocco.
Harira is a sophisticated Moroccan food as well with a symphony of flavorful herbs because it features a very large diversity: cinnamon, ginger, pepper, parsley, celery, turmeric, etc. They complete and complement the taste of tomatoes, meat, and vegetables in the soup.
Harira may vary from one region to another, but the liberal use of spices is a must. Algerians serve it with bread, dates, cookies, or drinks like coffee and milk.
Learn how to cook Harira the Algerian way here.
Indulge Yourself With These Marvelous Algerian Main Dishes
Algerian cuisine offers a wide variety of choices for every meal of the day. They are really strong and flavorful, though, so prepare yourself.
12. Tajine Zitoun – Chicken And Olive Dish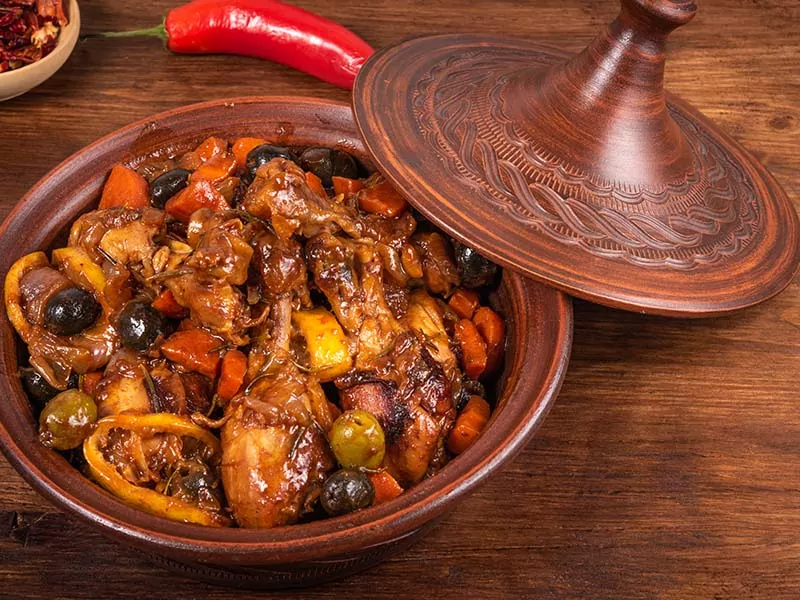 Algeria is an Islamic country so pork, a popular type of meat, is out of the question. But when Algerians have chicken and oily olives at hand, that doesn't seem so harsh. I give you Tajine Zitoun, a traditional Algerian dish of chicken and olives.
Preparation starts with sautéing chicken pieces with onions and spices. They are later cooked with dried olives, potatoes, and vegetables, with flour added at the end to thicken the stew.
Do you know the meaning of the dish? "Zitoun" means "olive", while "tajine" (or "tagine" in English) refers to a type of North African earthenware pot as well as the food cooked in it. You should use one to hold Tajine Zitoun and eat the aromatic chicken with rice or bread.
Brighten your dinner table with this easy Tajine Zitoun recipe.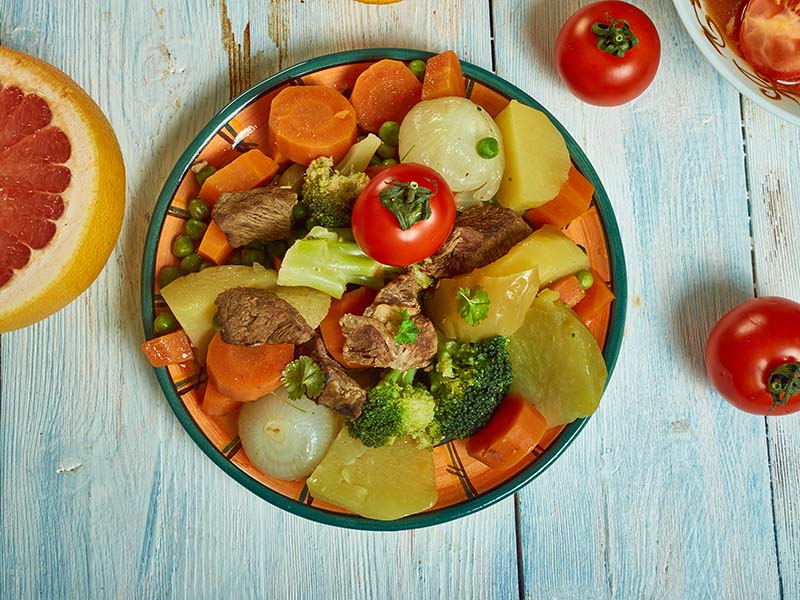 The tajine is an important tool for North African cuisine. It can serve as an effective piece of cookware that keeps the flavor of the food and an unusually beautiful vessel to hold the food. Tajine Jelbana, or meat tajine, is a fine example of that virtue.
The dish consists of sauteed beef, onions, spices, tomatoes, chopped vegetables, potatoes, and most importantly, artichokes. The last two ingredients are added at the end after the others are well mixed together in the tajine. Wait for another 30 minutes, and the stew is complete.
Tajine Jelbana derives a large part of its distinct flavor from artichokes which are present in many North African dishes as well as Mediterranean ones. You can easily find the stew at many Algerian restaurants and food stalls.
14. Zviti – Algerian Spicy Dish With Pepper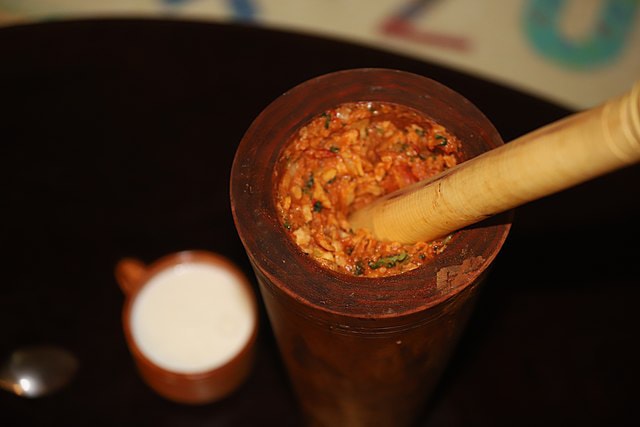 If you're looking for a spicy food challenge, Zviti will be a worthy opponent, and your battle will be legendary. It is a very hot food from the Bou Saada about 250 km south of the capital city Algiers.
Zviti is made from many pieces of semolina dough cooked with a lot of peppers. Some versions add potato taste and green olives to balance the spiciness. Anyway, this super hot dish must be served in a long wooden mortar called Mehrez, hence its other name Slata Mehrez.
15. Dolma – Vegetables Stuffed With Meat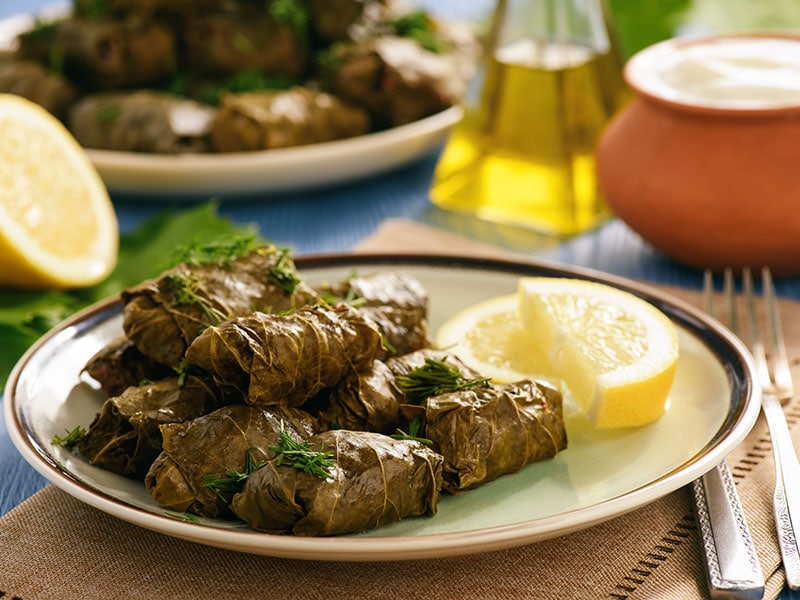 Like other Muslims, Algerians observe the holy month of Ramadan, which among other things, requires fasting from dawn to dusk. That calls for dishes that are both nourishing and quick to cook at night. And Dolma rises to the challenge admirably.
It is a dish made from grape or cabbage leaves wrapped around fillings of chopped vegetables and minced meat or seafood. Other varieties involve stuffing whole vegetables, such as green peppers, with fillings. Dolma doesn't take long to cook and can be served both hot and cold.
Dolma was created during the age of the mighty and notorious Ottoman Empire. It used to be a winter staple food for peasants in Persia. Eons later, the dish is a healthy and convenient food for many Algerians during the holidays as well as holy days.
You don't have to go to Algeria to enjoy Dolma; check out this recipe.
16. Dobara – Spicy Bean Soup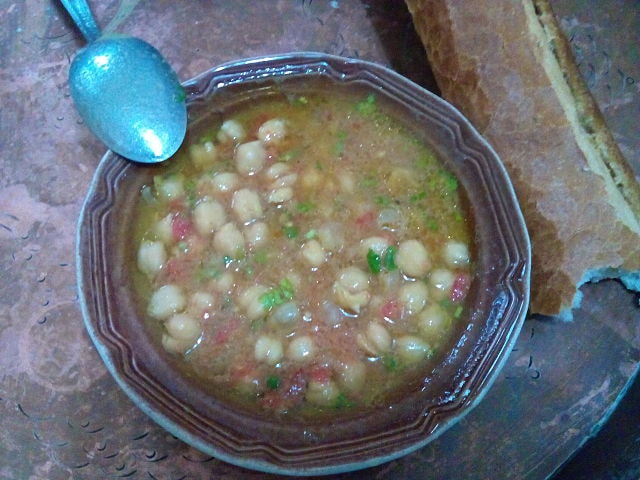 While being a Muslim North African country, Algeria also has Mediterranean influence in its foods. An example of this blending is Dobara, a spicy soup originating from the Biskra region in the northeastern part of the country.
The main ingredients of this soup are chickpeas or fava beans, or both. It is important to soak the beans in water overnight before stewing them carefully. When they are absolutely tender, add tomato paste, onions, herbs, and a great amount of chili pepper and other spices to the pot.
Dobara is a spicy and heart-warming dish that is especially suitable for winter. Since the dish comes from Biskra, it is also known as Dobara Biskra.
17. Rechta – Algerian Noodle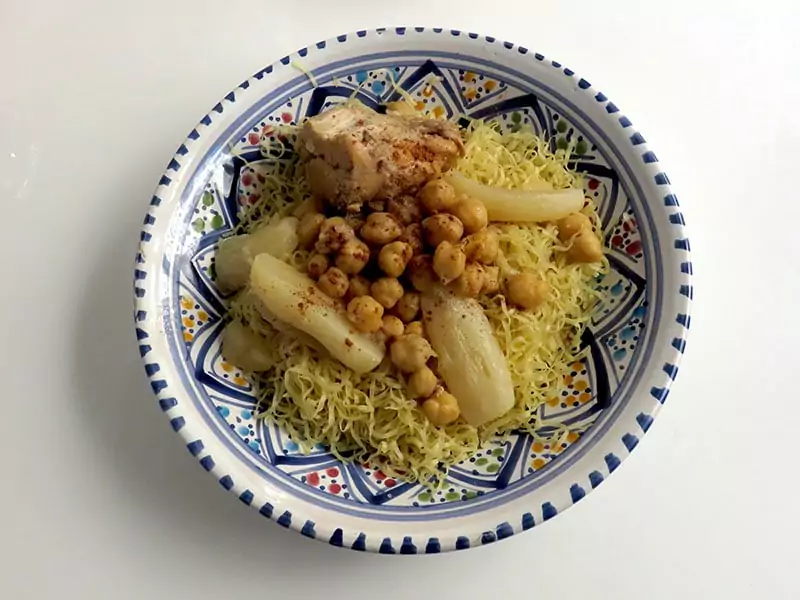 If you don't have much time for meals, let's try this amazing Algerian lunch recipe. It is a popular type of noodle soup convenient to eat and easy to find across the country.
Rechta is made from fat and nutty ghee-containing noodles cooked in a chicken sauce that comprises fried chicken pieces, oil, chickpeas, onions, potatoes, and spices.
Be careful with this scrumptious and aromatic dish, or you may be tempted into overeating. Besides a good lunch, Algerians also cook Rechta for special occasions such as weddings or Islamic holidays.
18. Shakshouka – Poached Eggs In Spicy Tomato Sauce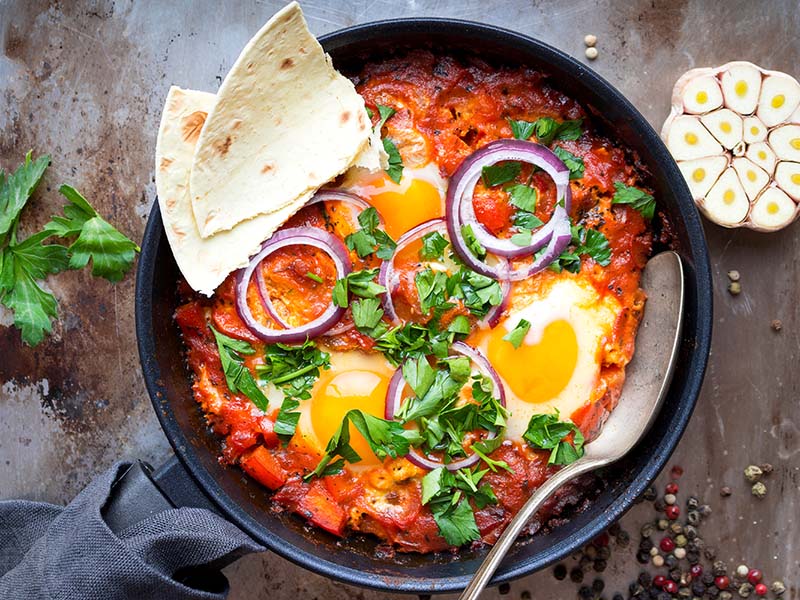 This Maghrebi dish is very popular across the Middle East, for example, in Yemeni cuisine, for both Muslim and Jewish people.
Its magic lies in the spectacular combination of nutty, buttery eggs with flavorful tomatoes and spices. While many countries claim credit for Shakshouka, the Algerian version is excellent.
Shakshouka is cooked from poached eggs mixed with a sauce of tomatoes and chopped vegetables enhanced by potent spices. Some people may add other ingredients such as lamb mince or yogurt to enrich the dish even more.
Shakshouka is an awesome Algerian dinner recipe, light yet delightful. Its sweet and sour taste goes best with starchy foods. Another name for it is Chakchouka; don't confuse it with the stew flatbread Chakhchoukha.
19. Kefta – Algerian Meatball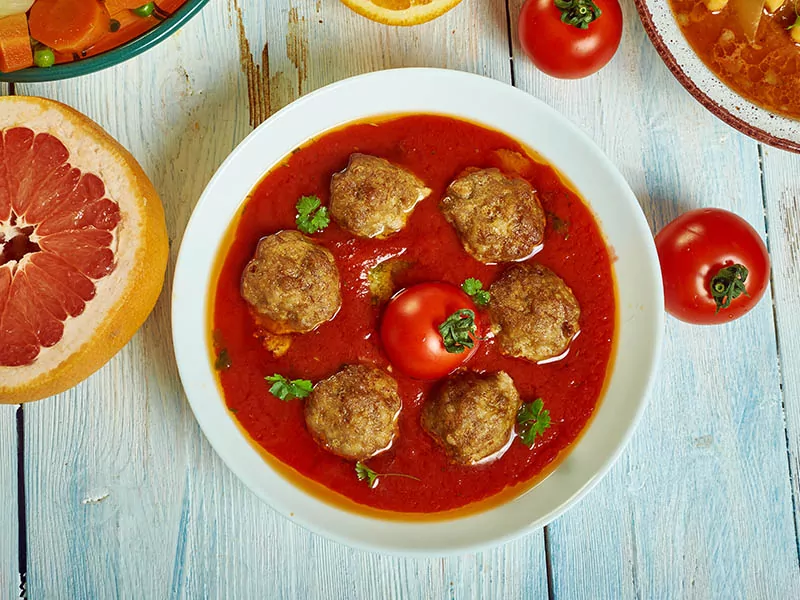 Meatballs are widespread all over the world, and Algeria is no exception. The Algerian version, as well as that of the Middle East, is called "Kefta" or "Kofta". It is a Persian word meaning "pounded meat".
Kefta is crisp, packed with flavorful spices, and served in sweet tomato sauce. But it is different from other types of meatballs in the aspect that its meat must be Halal-certified, such as properly butchered beef or lamb.
In addition, Kefta requires ras el hanout, an Arabic mixture of extremely potent spices, so you should expect a hotter taste. The best accompaniment for Kefta is Couscous, Algeria's national dish.
20. Tli Tli B'djedj – Algerian Pasta With Chicken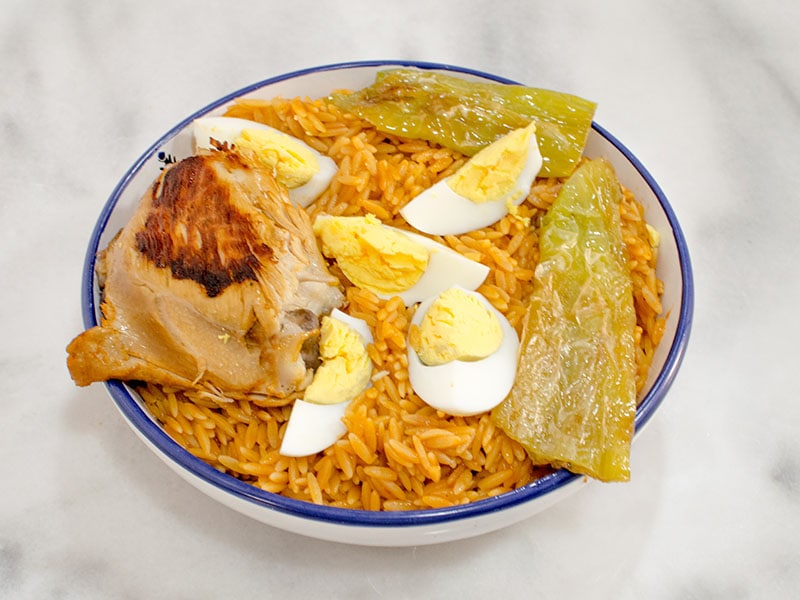 Algeria isn't very far from Italy, so it's natural for the two countries to pick up each other's foods. As Italian cuisine adopts Couscous, Algeria creates its own version of pasta with chicken called Tli Tli B'djedj or Tlitli for short.
The sauce is a vital part of this dish. It is made from tomato puree sauteed with butter, onions, strong spices and cooked in water. When the sauce is ready, drizzle it over boiled pasta, hard-boiled eggs, and sauteed chicken to complete the dish.
You should serve a bowl of water-mouthing Tli Tli B'djedj with couscous and salads. The spicy, creamy chicken and eggs will send your taste buds into hyperdrive. Enjoy as North Africa, and the Mediterranean region come together fully in your mouth.
Sweeten Your Life With These Spectacular Algerian Snacks And Desserts
Don't let the vast desert of Algeria lure you into thinking that it's a barren land. On the contrary, the African country can give you a lifetime of sweet foods.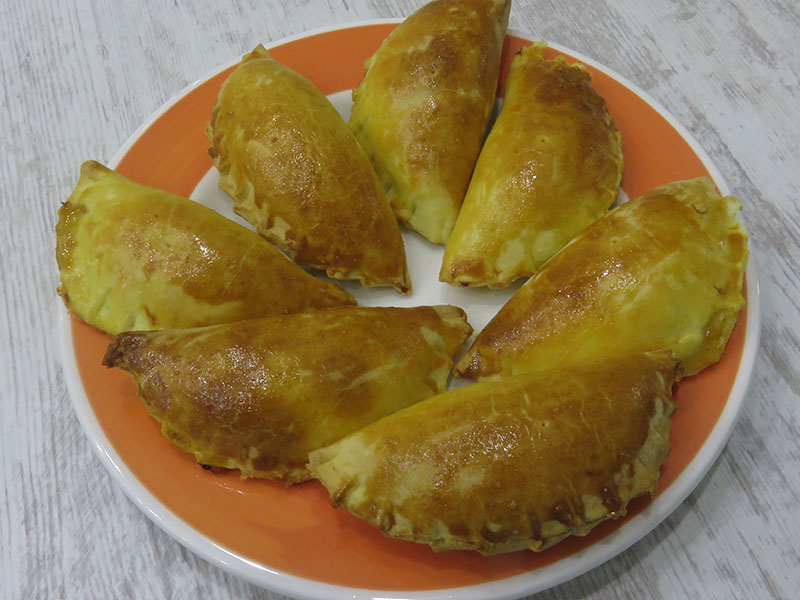 Algeria used to be under French colonial rule for more than a century. Algerians of French and other European origin born during that time were called "Pied Noir" ("Black Feet"). One of the consequences of that mixed heritage is a new cuisine with European and African elements.
That's how Cocas Algeriennes, or Algerian turnovers, came into existence. Originally a Catalonian dish, it made its way to Algerian households thanks to Pied Noirs. Now the pastry is a favorite snack in the North African country.
What's different about Cocas Algeriennes in comparison to other varieties is their fritta: a filling made entirely of bell peppers, onions, tomatoes, and garlic, all sauteed with olive oil. If an Algerian vegan snack or appetizer is what you desire, you now know where to find it.
22. Qalb El Louz – Semolina Dessert With Almonds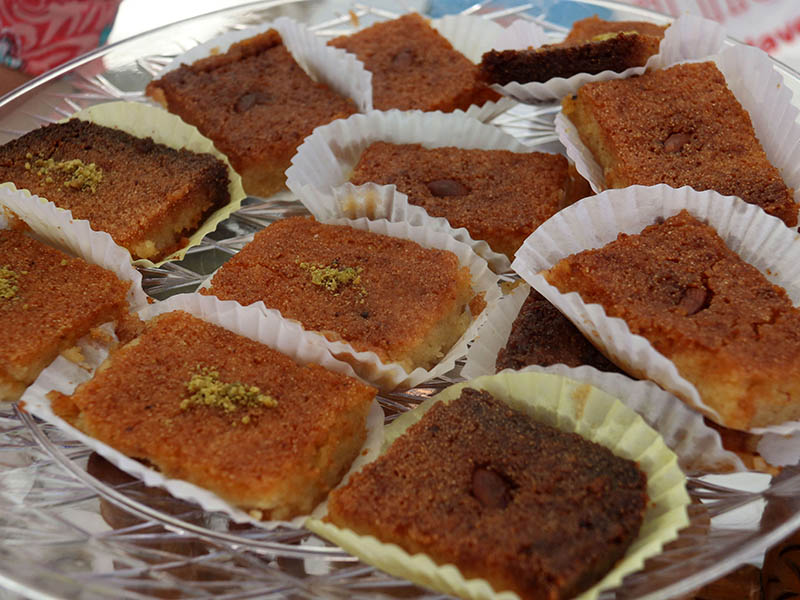 Dishes made with semolina are a typical concept in several North African countries, including several desserts in Morocco or Algeria. And Qalb el Louz is one of the best Algerian desserts that you can get your hands on.
Algerians make, sell, and eat it all over the country during all times of the year. But like many snacks, it is most readily available during Ramadan.
Perfect Qalb el Louz is a holy trinity of almonds ("Qalb el Louz" means "heart of almonds"), semolina, and honey syrup. A drizzle of aromatic rose water and orange blossom will make a divine addition, too. As you can imagine, the sweet and nutty taste of the cake is heavenly.
Discover how to bake delicious Qalb el Louz at home here.
23. Mbesses – Traditional Algerian Sweet Bread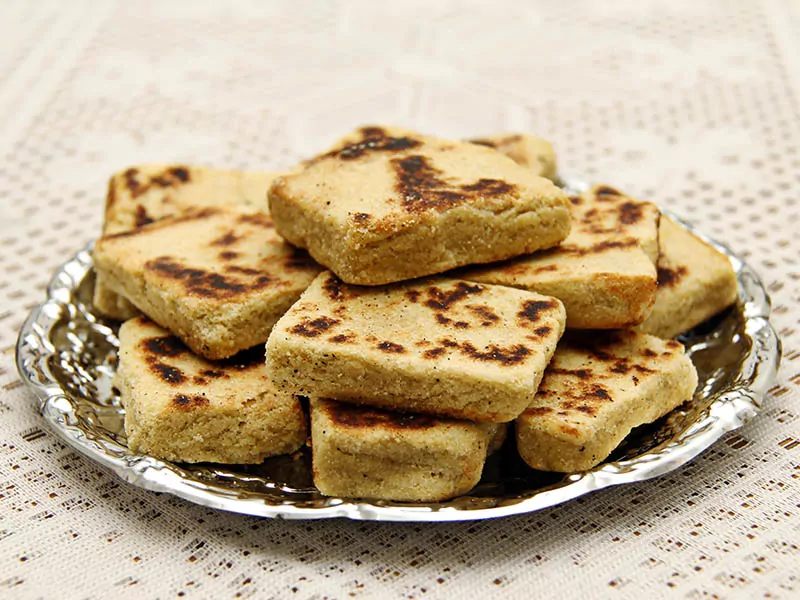 You probably know by now that semolina has an unrivaled presence in Algerian cuisine. It can make nourishing snacks as well as mouth-watering cakes. Mbesses, a traditional Algerian cake, is a combination of both.
People make Mbesses from semolina, eggs, yeast, milk, honey, and butter. When it comes out of the oven, a syrup of sweet honey, tangy orange juice, and fragrant rose water will turn it into a delicious dessert that will keep your hunger at bay.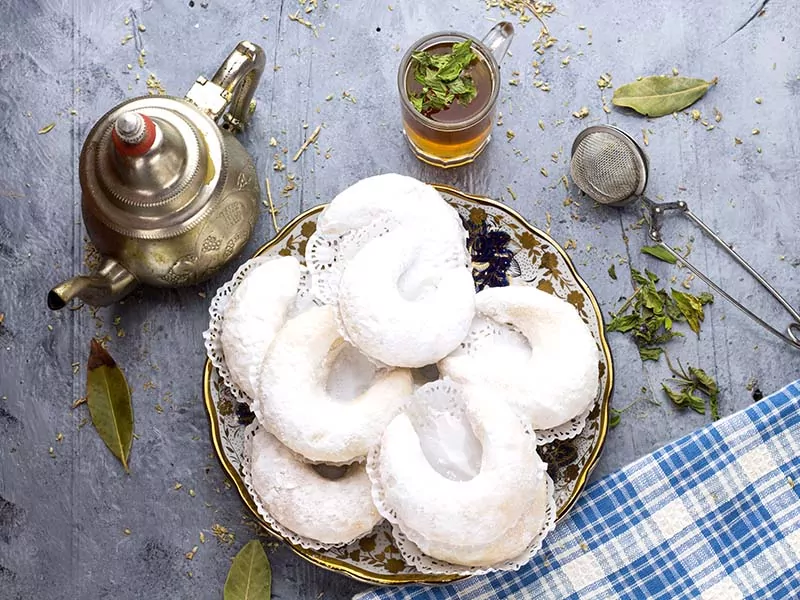 An iconic sight of African fauna and Algerian wildlife, gentle gazelles easily find their way into Algerian cuisine. At least, their horns do. Tcharek M'saker, or Cornes de Gazelles, is a delicious crescent-shaped cookie very popular in Algeria.
The main ingredients of Tcharek M'saker are flour, eggs, and orange blossom. Besides, its pastry dough additionally consists of butter, salt, and vegetable oil, and its filling of ground almonds, sugar, and ground cinnamon.
The cookie requires a lot of folding and kneading to give it the shape of a gazelle horn. It is among the assorted sweets prepared for the Eid al-Fitr, a celebration that marks the end of Ramadan.
Learn how to make beautiful Algerian gazelle horns from the locals.
25. Makradoudh – Fried Semolina Dipped In Honey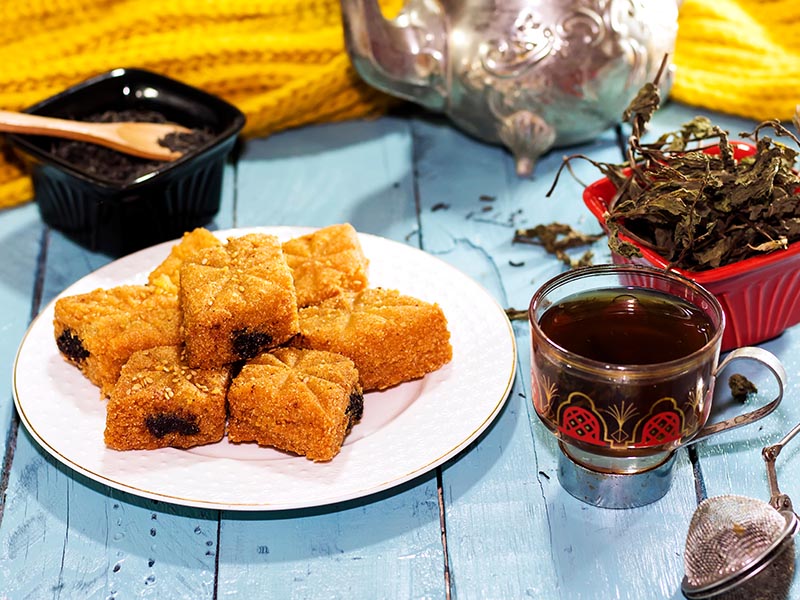 Honey features heavily in Algerian cuisine, especially its snacks and sweets. Let's have a look (and a bite) at Makradoudh, also known as Makrout, which is an extremely toothsome cookie in the Maghreb and the island of Malta.
Makradoudh consists of baked or deep-fried crust made from semolina and wheat flour and filled with almond or date paste. The last and most important step is to thickly coat it with honey syrup.
The almond-based filling is a distinct feature of the Algerian version of Makradoudh. This cookie is served at the Eid al-Fitr celebration along with many other sweets.
26. Tamina – Toasted Semolina And Honey Sweet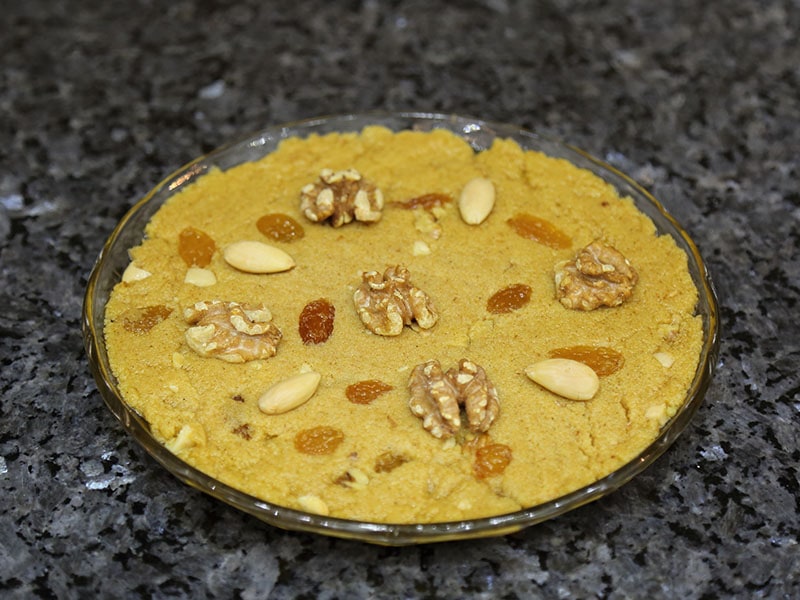 Algeria may not strike you as a land of milk and honey. But milk (or milk products) and honey are an integral part of many Algerian recipes. For example, the traditional Algerian dessert Tamina relies on them for its irresistible sweetness and fragrance.
People prepare tamina by mixing moderately roasted semolina with a mixture of butter and honey and heating the combination. Add some ground cinnamon, hazelnuts, or almonds, and your beautiful Tamina is ready to serve.
Tamina is usually made to celebrate newborn babies as well as the birthday of the Islamic Prophet Mohammad (Mawlid).
A World Of Flavors Is Waiting For You
So ends your tour of Algerian cuisine. I hope you have picked up many interesting ideas for your meals and parties. It's time to dazzle your friends with delicious dishes whose secrets they would beg to know about.
Good food transcends the border of geography, cultures, or even religions. On the shores of the Maghreb, steeped in rich history, lies a wonderful cuisine that will reward your attention with extraordinary delight. Make sure you're there to claim it!
If you like this post, you would highly encourage me by sharing it with your friends and telling me what you think in the comment section. Thank you and have a good day!