The best vegan cookbooks help you understand the importance of plant-based foods for health. Meat and fish dishes that need time to be tolerated by the body will make you feel tired. Vegetables, tubers, and fruits are the opposite: quickly converted into nutrients for your body.
Not only improving health, but a vegan eating style is also a therapy for a pure soul. And, of course – not as monotonous as many people think – vegan dishes are diverse, creative, and with unforgettable flavors.
Another step forward is that you can ultimately make those meals yourself with the best-selling vegan cuisine publications worldwide. Here are 25 suggestions for your reference!
The Difference Between Vegan And Vegetarian
Veganism and vegetarianism both focus on plant-based products and limit the use of animal products. However, these two eating styles still have some differences:
Vegan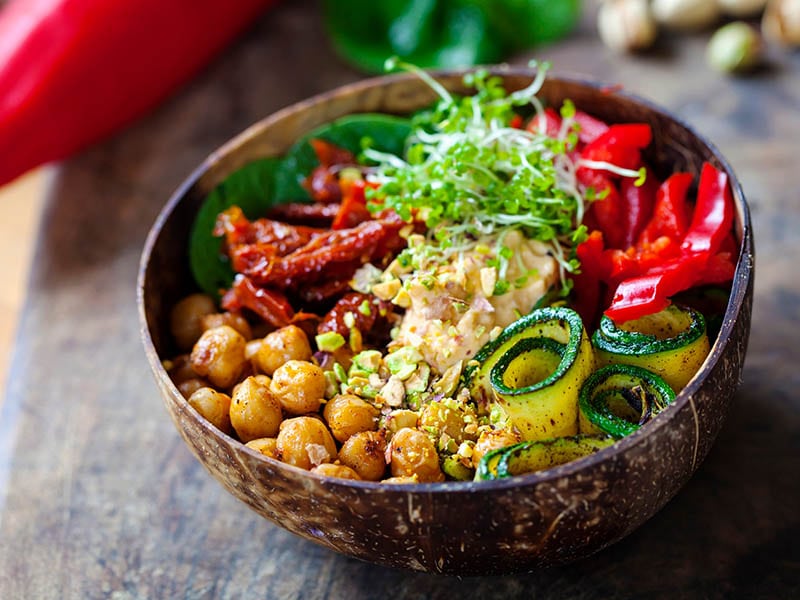 In vegetarianism, the vegan diet is the strictest form. When eating vegan, you cannot use any kind of meat or products from animals, such as honey, milk, eggs, etc.
Besides, if you follow a vegan diet, you should not use any clothing derived from animals or even animal-tested products.
Vegans only eat plant-based foods such as veggies, fruits, seeds, grains, etc. You can eat vegan for a week, a month, even a lifetime, or on certain days of the month that you feel comfortable.
Vegetarian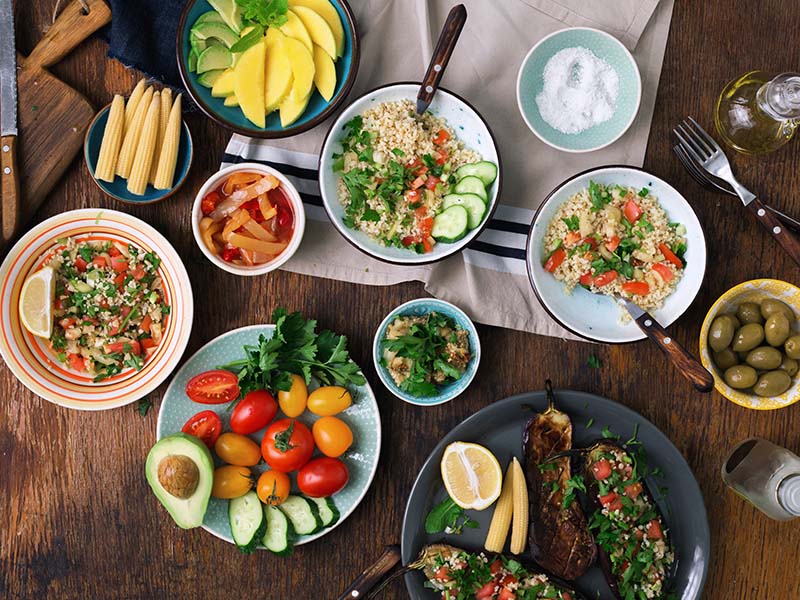 Vegetarian is the broadest term covering many healthy plant-based diet forms. It's not as harsh as veganism, for example, by not eliminating eggs and dairy entirely.
What Are The Best Vegan Cookbooks You Should Buy In 2022?
The top 25 best vegan cookbooks below can help you create a healthier lifestyle and improve your diet. Below are all the titles you should buy:
25 Best Vegan Cookbooks To Renew Your Healthy Diets
Are you a vegan lover but stuck with repetitive green foods? The 25 best vegan cookbooks below will be your saviors. Find out now!
1. Forks Over Knives – The Cookbook by Del Sroufe
(Best Of All Times)
---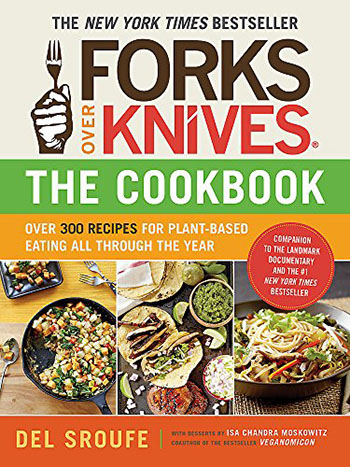 Shop now at Amazon
Shop now at Barnesandnoble
Shop now at Walmart
---
Your health depends largely on what you eat. To be healthy, you need to choose the right food every day. It will be safer if you can cook your own vegan dishes with reduced sugar, less fat, and mainly plant-based ingredients.
That is the message from Forks Over Knives – representing the health care movement from meals with plants. In this book, Wellness Forum Foods head chef Del Sroufe and several co-authors teamed up to create hundreds of vegan plant-based recipes.
Del Sroufe has 22 years of experience in vegan cuisine. He shares many dishes with purely plant-based ingredients. With such meals, you will limit the risk of cardiovascular disease, blood pressure, diabetes, obesity, etc.
You absolutely get a mouth-watering meal with just vegetables, beans, and fruits. The book includes affordable and exciting recipes for breakfast, salads, soups and stews, pasta, and noodle dishes.
There are also stir-fried, grilled, and hashed vegetables, baked and stuffed vegetables, beans, grain, and desserts. All are simple yet refreshing and, of course, healthy.
Pros
A summary of all healthy food
Simple ingredients from plants
Save on cooking costs
Diverse dishes and guaranteed taste
Engaging with the DVD edition
Cons
Some ready-to-drink sauces are a bit hard to find
Some recipes require a lot of time
Try to eat like Forks Over Knives with seven delicious recipes!
2. Plant Over Processed: 75 Simple & Delicious Plant-Based Recipes for Nourishing Your Body and Eating From the Earth by Andrea Hannemann
(Best For Bodybuilders)
---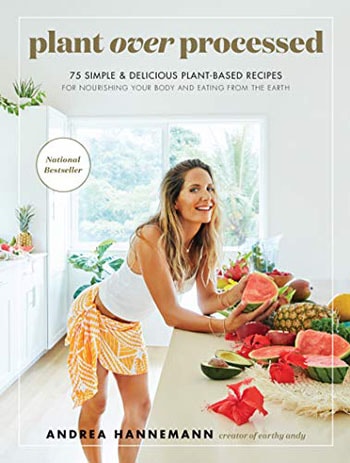 Shop now at Amazon
Shop now at Barnesandnoble
Shop now at Kobo
Shop now at Alibris
---
If you want good health, eat healthily! One of the famous vegetarian chefs – Andrea Hannemann – aka Earthy Andy, affirms the nutritional value of plant-based meals in Plant Over Processed.
This is a 30-day challenge to eat only the plant-based dishes for you. Many vivid and attractive images accompany simple recipes for appetizers, main courses, soups, and salads to help you build your body.
The book primarily focuses on desserts and smoothies with a wide range of delectable and easy dessert recipes to satisfy all the vegan sweet teeth.
The author has spent a long time struggling with many illnesses. And the situation was different when she changed her eating style by cutting the meat and starting a new diet. I hope you can also gain excellent health results with Plant Over Processed, like the book author.
Pros
Provide many healthy suggestions for bodybuilding
Range from easy to difficult cooking techniques
Suitable for any level of vegan eating
Easy to choose with listed-category
Beautiful illustrations of the final dishes
Cons
Should have more nutrition information
The type may be a bit small and difficult to read
The recipes for dessert and smoothies may overwhelm the recipes for meal
You can look at some attractive pages of the Plant Over Processed cookbook!
3. Ottolenghi Flavor: A Cookbook by Yotam Ottolenghi, Ixta Belfrage, and Tara Wigley
(Best With Restaurant Recipes)
---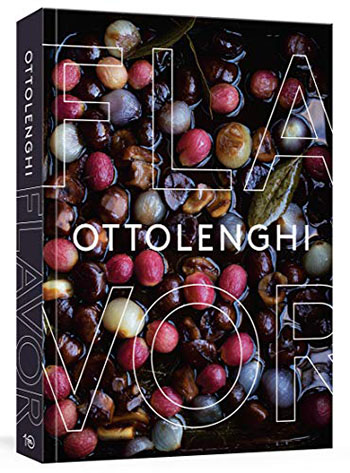 Shop now at Amazon
Shop now at Barnesandnoble
Shop now at Walmart
---
Can you create tasteful restaurant dishes with just vegetables, tubers, and fruits? New York Times best-selling cookbook author Yotam Ottolenghi, chef-partner Ixta Belfrage, and cookbook writer Tara Wigley have the most upgraded dishes from vegetables.
All the dishes become novel and innovative, especially with unprecedented flavor combinations. That's why 'Ottolenghi Flavor' won the best culinary book of the year, voted by the New York Times.
The book includes 100 unique recipes following 3 main basics: process, pairing, and produce. The process teaches you how to use the most straightforward techniques such as charre and infusion to definitely change your thoughts about cooking.
The book also shows you how to pair the common veggies with the fat, sweetness, and acidity to earn new flavors. And finally, you can learn how to produce your recipes into tasteful dishes.
You will have the opportunity to gain a deeper understanding of the flavor matching technique through the author's interpretation. You can learn many dishes from main meals to snacks step by step. The menu for the family party is also a plus point of the book.
Pros
Full of exceptional restaurant recipes
Presente each chapter clearly
A detailed explanation of ingredients and techniques
A lot of knowledge about the principle of flavor matching
Helpful menu suggestions for family parties
Cons
More suitable for the experts, not beginners
Some recipes take a long time to make
Some ingredients are not common in markets
Discover what is unique about Ottolenghi Flavor by this look-through!
4. BOSH!: Simple Recipes * Amazing Food * All Plants (BOSH Series) by Henry Firth and Ian Theasby
(Best For Dinner Party)
---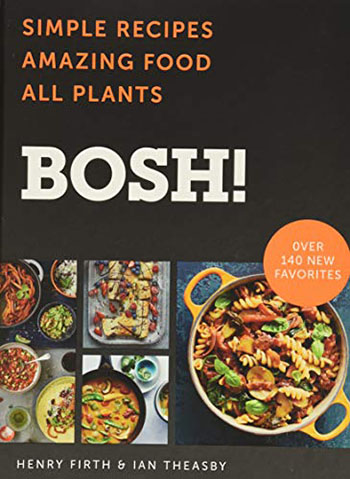 Shop now at Amazon
Shop now at Barnesandnoble
Shop now at Waterstones
Shop now at Walmart
---
Sometimes you want to change up your daily meals? Meat is boring, and you want something new with frugal, plant-based dishes? Experience "Bosh" – the book that gives you a healthy meal made entirely of vegetables. Let's cook with Bosh and enjoy the new taste of vegan food!
This is the work of Henry Firth and Ian Theasby, co-founders of Bosh, the largest plant video channel on Facebook. The cookbook shares 100 healthy recipes with you from fresh, easy-to-find ingredients.
The book provides menu suggestions for the dinner party and a full range of dishes for breakfast. It is also a great cookbook on beautiful cocktails. The book inspires you to love vegan food even more with playful writing.
Pros
Easy-to-find ingredients that are available at any supermarket
Clear, detailed book layout for each section
Easy-to-process recipes with fresh components
Full illustrations for the steps
Interesting writing style and word use
Cons
Some recipes use a lot of oil
Learn how to make 10 affordable and straightforward vegan meals from BOSH!
5. The Green Roasting Tin: Vegan and Vegetarian One-Dish Dinners by Rukmini Iyer
(Best For College Students)
---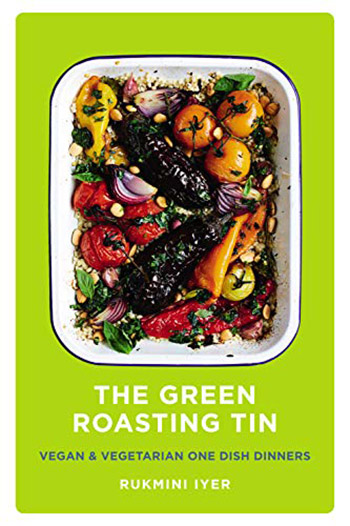 Shop now at Amazon
Shop now at Waterstones
Shop now at Abebooks
Shop now at Bookdepository
---
The choice of busy people such as college students is usually fast food. That – in the long run – is not good for your health. If you are, read The Green Roasting Tin.
The book is written by Rukmini Iyer – the author of The Roasting Tin series, with more than one million copies sold. She brings you more than 70 recipes with plant-based ingredients. The remarkable thing is that all the recipes have the same procedure.
You only need to do 2 factors for a perfect dish: gather the ingredients in a box and place them in the oven. This book provides you with valuable options for family dinner, lunch, or breakfast. Best of all, plant-based foods are your healthiest choice!
Pros
Easy to choose with both vegetarian and vegan recipes
Specific instructions on ingredients, preliminary processing
Effortless cooking technique with just an oven
Time saver for busy people as college students
Provide many family breakfast, lunch, and dinner options
Cons
Some recipes have ingredients that aren't suitable for the oven
Try to make a quick one-tin vegan broccoli and avocado in The Green Roasting Tin!
6. The Oh She Glows Cookbook: Over 100 Vegan Recipes to Glow from the Inside Out by Angela Liddon
(Best For Weight Loss)
---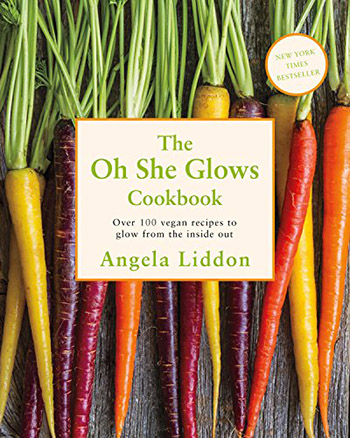 Shop now at Amazon
Shop now at Barnesandnoble
Shop now at Abebooks
Shop now at Walmart
---
Plant-based foods are an effective medicine for those who have health problems. Angela Liddon has been through it. She shares the most honest things about eating and health through her own experiences.
The Oh She Glows Cookbook contains creative vegan food. There are 100 recipes for tasty, nutritious, and healthy meals. Raw materials from vegetables, tubers, fruits, nuts, and limited sensitive ingredients.
You will be guided wholeheartedly for breakfast, main meal, or snack. Desserts and smoothies are also exciting and full of creativity. The different flavors in each dish will bring you many surprises.
Pros
Low-calorie food to suit weight-loss diet
Full menu for breakfast, lunch, dinner
Popular ingredients, easy to find at the store
Provide specific cooking time
Share real cooking and eating experiences of the author
Cons
Should add more food pictures instead of the author's photo
Take a deep look at Oh She Glows to see how beautiful it is!
7. Sweet Potato Soul: 100 Easy Vegan Recipes for the Southern Flavors of Smoke, Sugar, Spice, and Soul: A Cookbook by Jenne Claiborne
(Best For Chefs)
---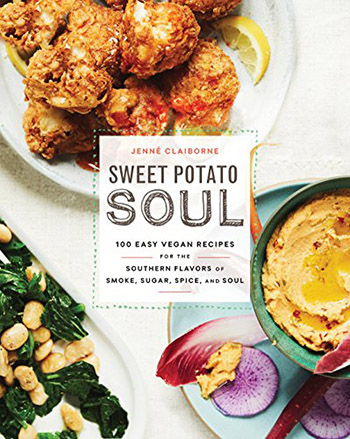 Shop now at Amazon
Shop now at Barnesandnoble
Shop now at Walmart
---
If a chef wants to try cooking vegan but doesn't know where to start, come to Buddhalicious – a vegan meal planning service. The creator of that service is Jenne Claiborne – a chef and culinary teacher, and blogger with hundreds of thousands of followers.
She also sends readers Sweet Potato Soul with the desire to spread the benefits of vegan cuisine. Here, you are immersed in countless flavorful and extremely nutritious dishes. 100 recipes are different nuances of flavorful vegan dishes. I'm sure any chef will love this cookbook.
The author will guide you through cooking them from fresh, close-up ingredients. In addition to how to cook plant-based dishes, nutritional information is shared with readers. And the book will fill your soul with profound culinary stories and beautiful color art photos.
Pros
The advanced recipes are suitable for chefs
Provides a lot of specific nutritional information in each ingredient
Vivid color photos create excitement
Impressed by the author's culinary stories
Suggestions for combining dishes into a complete meal
Cons
The recipes seem a bit difficult for beginners
Some ingredients are not easy to find in supermarkets
8. The Vegan Instant Pot Cookbook: Wholesome, Indulgent Plant-Based Recipes by Nisha Vora
(Best For Instant Pot)
---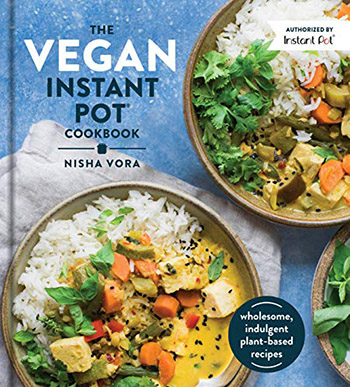 Shop now at Amazon
Shop now at Walmart
Shop now at Target
---
Vegan food is a unique culinary feature. They are toothsome, nutritious, and refreshing to the soul. This is also the message The Vegan Instant Pot Cookbook wants to convey.
The book's author is Nisha Vora – a vegan chef, talented photographer, and food blogger with a vast number of followers on social media. This book is one of the exceptional cookbooks for your instant pot recipes.
She leads readers into the diverse world of plant-based dishes with witty narration. Accompanied by eye-catching pictures, 90 recipes show you how to cook everyday dishes and also hearty dishes for special occasions.
Easy recipes for you to make in the home kitchen. The Instant Pot pressure cooker is the main tool for cooking. You can rest assured because the author has carefully shared all the techniques.
Pros
A humorous writing style creates sympathy
Detailed explanation of all instant pot's features
The recipe is easy to make, even for a beginner
Gives a lovely taste with all plant-based ingredients
Share many useful instant pot cooking techniques
Cons
Some dishes contain saturated fat
9. The Homemade Vegan Pantry: The Art of Making Your Own Staples [A Cookbook] by Miyoko Schinner
(Best Easy)
---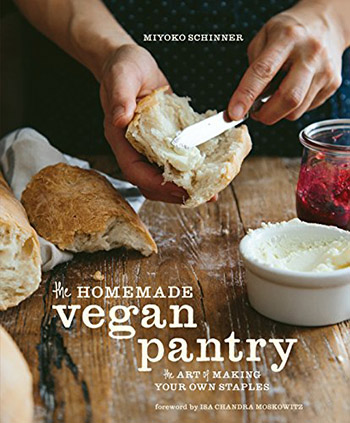 Shop now at Amazon
Shop now at Barnesandnoble
Shop now at Walmart
---
You love to enjoy your homemade food, but your busy life almost doesn't allow it. But there is one door open for kitchen lovers from The Homemade Vegan Pantry. You can make all the plant-based food as fast as you can.
The author of the book, chef and food writer Miyoko Schinner is known for her breakthrough with a company that makes vegan cheese from seeds. With many best-selling books, she conveys the beauty of vegan cuisine.
The Homemade Vegan Pantry offers you quick and simple vegan recipes. Some dishes that were thought to take a lot of time have been re-compiled to suit busy people. The book gives you a valuable method to create a light and healthy meal.
Pros
Many vivid illustrations for inspiration
Clear and concise formula
Quick execution time for "slow food"
Simple technique and few materials
Convenient for busy people
Cons
The font is a bit small, and some places are hard to read
Try some attractive recipes from The Homemade Vegan Pantry: The Art of Making Your Own Staples!
10. BOSH! Healthy Vegan: Over 80 Brand New Simple and Delicious Plant-Based Recipes by Henry Firth and Ian Theasby
(Best With Nutritional Information And Pictures)
---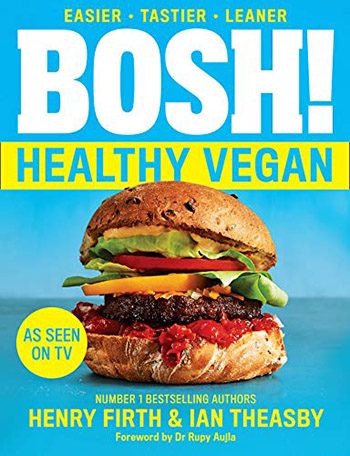 Shop now at Amazon
Shop now at Booksporch
Shop now at Walmart
---
Proper veganism will positively transform your health. That's the message from two Sunday Times bestselling vegan cookbook authors: Henry Firth and Ian Theasby. With BOSH! – the largest plant-based Facebook channel, these two friends share healthy, plant-based dishes.
Together they wrote 'Bosh! Healthy Vegan' with 80 exciting and novel recipes with entirely plant-based ingredients. When talking about the outstanding nutrition books, you must mention BOSH! Healthy Vegan.
The book has reference ideas for nutritious menus. Useful nutrition knowledge on plant-based foods is also what makes this book valuable and inspirational.
In addition, accompanying each recipe are attractive illustrated pictures for the best guide. Vegetables, tubers, and fruits are transformed into nutritious and flavorful meals. It's fun to eat palatable and healthy food simultaneously, isn't it!
Pros
Provide useful nutritional information
Beautiful pictures to illustrate each recipe
Specific formula, easy to carry out
Suggest many great ideas for plant-based menu
Vegan recipe yet can be modified with meat
Cons
Use the same ingredients for too many recipes
11. Deliciously Ella The Plant-Based Cookbook: 100 Simple Vegan Recipes to Make Every Day Delicious by Ella Mills Woodward
(Best With Desserts and Curries)
---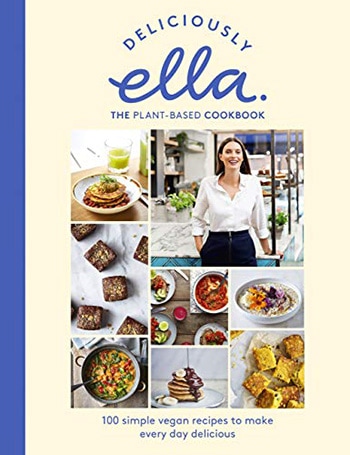 Shop now at Amazon
Shop now at Walmart
Shop now at Abebooks
---
If you hear a lot about healthy vegan food and want to try it, get instructions from author Ella Mills Woodward through Deliciously Ella The Plant-Based. This is the place to distill the plant-based dishes loved by diners from Ella's restaurant.
As the founder of Deliciously Ella, a popular blog and several New York Times bestsellers, the talented Ella will take you on a tour of her culinary scene. This book introduces many excellent and nutritious dessert and curry recipes.
You will also get a lot of delicious dishes such as salads, sandwiches, and stews, presented in detail in cooking techniques. You also know many rich and nutritious sources of plant-based ingredients for your health.
Next to each recipe are artful illustrations. More than 100 ways to process vegetables, fruits, and vegetables into nutritious meals. The book is suitable for anyone taking their first steps into vegan cuisine.
Pros
Provide flavorful curry and dessert recipes
Easy-to-process recipes for beginners
Simple ingredients with high nutritional value
Inspirational illustrations for each recipe
Come with the detailed cooking techniques
Cons
Some dishes are a bit high in calories
Some components are quite expensive
12. Vegan for Everybody: Foolproof Plant-Based Recipes for Breakfast, Lunch, Dinner, and In-Between by America's Test Kitchen
(Best For Families)
---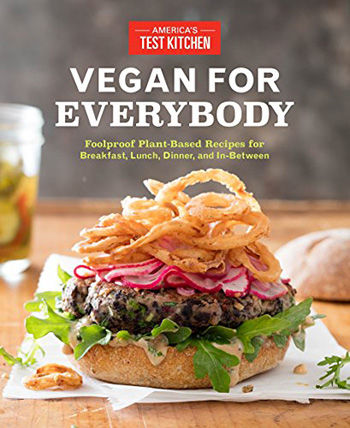 Shop now at Amazon
Shop now at Barnesandnoble
Shop now at Target
---
Approaching vegan cuisine, you will see how special, diverse and rich in flavor it is. Cooking them in your kitchen is no longer difficult with the help of Vegan for Everybody. This book from America's Test Kitchen is famous for its many TV shows and best-selling food books.
Through a period of research, this group now shares with you 200 vegan recipes suitable for families that anyone can make. Raw materials are mainly vegetables, fruits, and cereals from famous brands.
It guarantees rich flavor from the main course to the side dish, from breakfast to dinner for every family meal. Along with beautiful pictures, the book offers a variety of recipes that are easy to follow.
Moreover, there are so many basic introductions that can help beginners. Using the recipes in this book, your family will be in control of any healthy vegan dish.
Pros
Specific recipes for every meal of family
Provide suggestions from breakfast to dinner
The taste is well researched to satisfy the majority of taste
Valuable tips for ingredient substitution
Beautiful photos help clarify the recipes
Cons
Some ingredients are a bit hard to find at the supermarket
The cost of buying components for a recipe is a bit high
13. Minimalist Baker's Everyday Cooking: 101 Entirely Plant-based, Mostly Gluten-Free, Easy and Delicious Recipes by Dana Shultz
(Best For Gluten-Free Baking)
---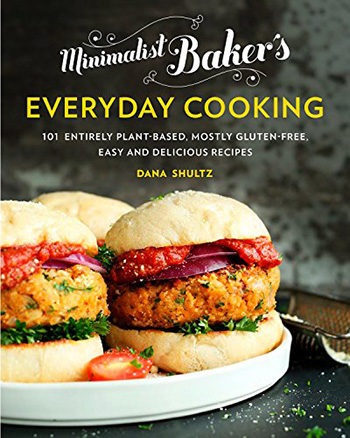 Shop now at Amazon
Shop now at Barnesandnoble
Shop now at Walmart
---
According to many nutrition studies, limiting gluten foods will help you improve your health. These specific eating instructions are contained in Minimalist Baker's Everyday Cooking. Accordingly, you can easily create nutritious menus for yourself and your family.
The book shares 101 vegan and gluten-free recipes. With color illustrations, you'll be guided step-by-step to a succulent meal. Not too difficult for you because of the few ingredients and simple technique.
Minimalist Baker's Everyday Cooking is an excellent cookbook focusing on desserts with entirely plant-based ingredients. Not only that, but the recipes also range from breakfast dishes, appetizers to side dishes.
This is also an inspirational book about vegan cuisine. The book's author – the developer of popular recipes, Dana Shultz – has researched and balanced many factors such as cooking time, ingredients, flavor, etc.
She provides a menu that is both scrummy and beneficial for everyone's health. With her husband founded Minimalist Baker, Dana spreads positive energy from vegan cuisine to everyone.
Pros
Contents clear forest section, step by step
Few ingredients, only a few dishes are enough for a meal
Short processing time for busy people
Provide many great kitchen tips
Offer food preservation techniques
Cons
Did not mention the time to prepare the ingredients
Take a glance at Minimalist Baker's Everyday Cooking, and some beautiful recipes come out from this cookbook!
14. Afro-Vegan: Farm-Fresh African, Caribbean, and Southern Flavors Remixed [A Cookbook] by Bryant Terry
(Best With Southern Recipes)
---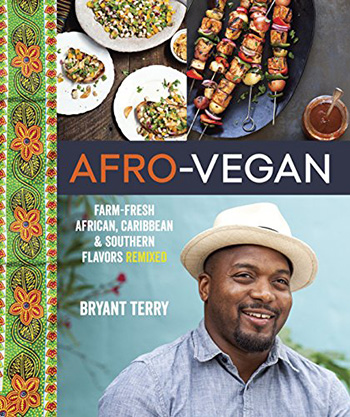 Shop now at Amazon
Shop now at Walmart
Shop now at Ebay
---
"Good food should be an everyday right and not a privilege" – host of Urban Organic – chef Bryant Terry said. And he used his youth to express his enthusiasm for food to the public.
Through this multi-talented chef, you can learn more about the unique aspects of vegan African cuisine with the book Afro-Vegan.
Entirely from plants, the book shares 100 yummy dishes with you. Each dish combines various ingredients such as potatoes, legumes, fruits, and nuts. The rich flavor and vibrant colors will surely make you excited.
Following Bryant, you are traveling around the world. Discover the food, discover the culture and history, and discover your own soul! We invite you to Afro-Vegan with healthy dishes for health and soul.
Pros
Mining many often forgotten materials
Novel and creative combinations of ingredients
Simple recipe but great taste
Inspirational narration style
Clear photos to illustrate the final dishes
Interesting recommendations for soundtracks
Cons
Some recipes require a lot of pre-prepared ingredients
Learn how to eat healthier with Bryant Terry and his Afro-vegan cookbook!
15. East: 120 Vegetarian and Vegan Recipes from Bangalore to Beijing by Meera Sodha
(Best With Asian Recipes)
---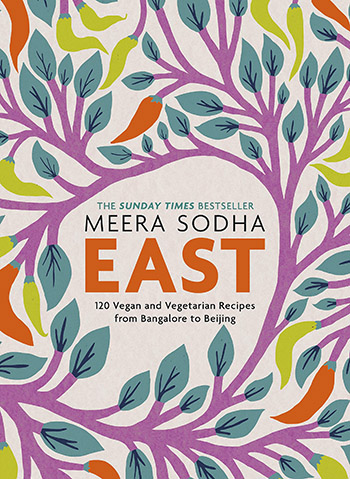 Shop now at Amazon
Shop now at Walmart
Shop now at Abebooks
---
Asian diets always have a lot of vegetables. Exploiting that, chef Meera Sodha – who conducts the 'New Vegan Guardian column' – introduces delicious vegan and vegetarian dishes through the book 'East'.
The book is one of the outstanding Asian cookbooks conveying typical Asian cuisine to readers. 'East' immerses you in the unique food culture of many countries.
The dishes introduced come from Singapore, India, Indonesia, Japan, Thailand, Vietnam, and China. Seasonal specialties are the ingredients that make the difference.
You can easily create a meal with a short cooking time. Each recipe is presented in an expressive style. Beautiful images bring cooking inspiration to readers.
Pros
Convey Asian cuisine suitable for the majority's taste
Provide knowledge about Asian seasonal ingredients
Reduce the cooking time for each dish
Easy to understand and emotional writing style
Vivid images to inspire your cooking job
Cons
Some regional-specific ingredients are hard to find
Mostly Indian dishes
16. The Complete Plant-Based Cookbook: 500 Inspired, Flexible Recipes for Eating Well Without Meat (The Complete ATK Cookbook Series) by America's Test Kitchen
(Best Vegan And Vegetarian)
---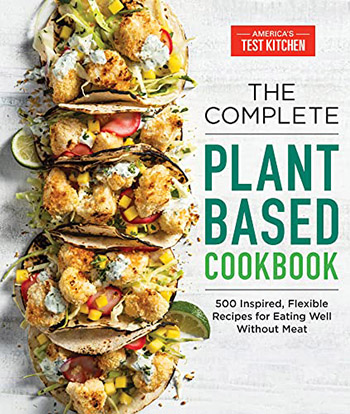 Shop now at Amazon
Shop now at Barnesandnoble
Shop now at Walmart
---
Vegetarian and vegan food is chosen for many purposes, but most of it is to improve health. For really practical vegetarianism, come to America's Test Kitchen. This team brings readers The Complete Plant-Based Cookbook, the book that shows you the practical path to vegan cuisine.
You will easily plan a family meal with 500 shared recipes in this cookbook. Diverse dishes, from simple to multi-ingredient, are introduced in turn. If you don't want to just eat vegetables, you will have specific vegan and vegetarian instructions to modify the recipe.
The detailed notes on buying and storing ingredients are also helpful to you. In particular, the practical cooking techniques and the in-depth knowledge of nutrition will help your health a lot.
Pros
Diverse recipe, easy to choose
Great tips for converting the recipe to your likings
Detailed notes on nutrition in the dish
Book layout in easy-to-read sections
Specific tips on buying and storing ingredients
Cons
Some recipes contain a lot of oil
17. Rachel Ama's Vegan Eats: Tasty Plant-Based Recipes For Every Day by Rachel Ama
(Best For Home Cook)
---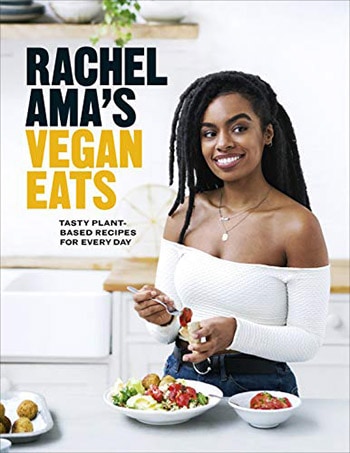 Shop now at Amazon
Shop now at Barnesandnoble
Shop now at Walmart
---
Vegan cuisine is the door that opens the door to freshness for health. Rachel Ama and her countless-followed YouTube channel advocate for that. Bringing you Rachel Ama's Vegan Eats, she wants to spread the value of vegan and vegan food.
Rachel Ama's Vegan Eats shares vegan recipes that anyone can cook. The source of the ingredients is easy to find, and the price is good. All the dishes are plant-based and reduced-meat.
Inspired by West African and Caribbean cuisine, Rachel brings readers such dishes as Tabbouleh Salad, Sweet Potato Chickpeas falafel, Caribbean Fries, Burgers, and Carrot Waffles. A beautiful song accompanies each recipe to lift your spirits.
Pros
The steps are simplified and easy to follow
Cooking ingredients are easy to find and cheap
Rich flavor stimulates the taste buds
Suitable for vegans and those who are new to vegan cuisine
Incorporating music to freshen up the meal
Cons
Repeat some recipes on Youtube
18. Vegan Cookbook for Beginners: The Essential Vegan Cookbook To Get Started by Rockridge Press
(Best For Beginners)
---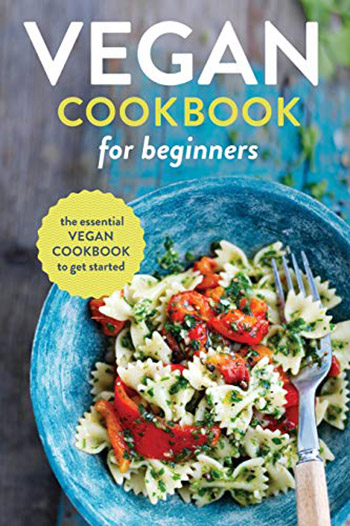 Shop now at Amazon
Shop now at Barnesandnoble
Shop now at Walmart
Shop now at Ebay
---
Vegan food is no longer considered bland food. Through each period, vegan cuisine affirms its unique taste and healthfulness. Rockridge Press publisher researchers created 150 vegan recipes and compiled them in the Vegan Cookbook for Beginners.
This great cookery book for beginners provides helpful guides for those just starting with veganism. You will understand the main principles of a vegan meal and how to do it most simply. Attached is nutritional information beneficial for health.
There are sample menus in 2 weeks for you to enjoy a new meal. How to store ingredients effectively and exploit the use of kitchen utensils are also valuable notes. You will be amazed at how wonderfully your health improves.
Pros
The recipe is easy to make for beginners
Not require a lot of ingredients
Helpful information on how to improve health
Specific shared kitchen techniques
Plan your meals thoughtfully
Cons
The book should have some more illustrations
19. Plant-Based on a Budget: Delicious Vegan Recipes for Under $30 a Week, in Less Than 30 Minutes a Meal by Toni Okamoto
(Best Budget-Saving)
---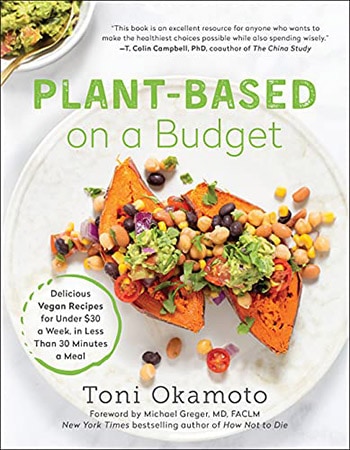 Shop now at Amazon
Shop now at Barnesandnoble
Shop now at Walmart
---
Are there nutritious meals that are both healthy and economical for you? Toni Okamoto answers that question with the budget-friendly vegan recipes in this cookbook.
As the founder of the website Plant-Based on a Budget, Toni Okamoto affirms the benefits of a vegan diet for your health and budget.
With many plant-based cookbooks, Plant-Based on a Budget provides information on creative vegan dishes. The recipe takes no more than 30 minutes with specific instructions. Raw materials are few, easy to buy, and economical.
Dishes like zucchini banana pancakes, soups, lentils, and sweet potato pancakes are created so you can customize the ingredients yourself. 100 recipes ready for you to open the door to a healthy and economical lifestyle.
Pros
Budget saving and easy to buy ingredients
Provide many categories of the vegan dish through 100 recipes
Simplified practical cooking steps
Save a lot of cooking time
Tips for replacing elements in recipes
Cons
Some formulations contain oil and highly processed food
There should be some nutritional information
20. The Korean Vegan Cookbook: Reflections and Recipes from Omma's Kitchen by Joanne Lee Molinaro
(Best Korean Vegan Cookbook)
---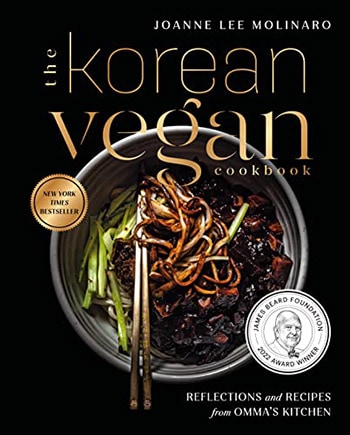 Shop now at Amazon
Shop now at Barnesandnoble
Shop now at Walmart
---
Korean vegan cuisine brings something brand new. Joanne Lee Molinaro and her extremely popular TikTok page @thekoreanvegan have spread her passion for vegan cuisine. You'll find a freshness in your soul with her work, The Korean Vegan Cookbook.
Among the most useful cookbooks on Korean cuisine, this book is outstanding. Traditional recipes in this cookbook bring a new breath of the times. Each dish is a touching story of the author, from when she was a child until she grew up.
These are the familiar Korean dishes her parents cooked for her. The book has many meaningful photos of the author's family and culinary culture. The stories are sincere and full of emotions that touch readers' hearts.
Pros
Introduce a wide range of well-known Korean recipes
Touched by the author's family real story
The presentation is new, engaging, and clear
Innovative new recipes from the classic ones
Recipes integrated into stories and easy to remember
Cons
It may be hard to find some ingredients in supermarkets
Let's look at "The Korean Vegan Cookbook: Reflections and Recipes from Omma's Kitchen"!
21. Isa Does It: Amazingly Easy, Wildly Delicious Vegan Recipes for Every Day of the Week by Isa Chandra Moskowitz
(Best For Week Days)
---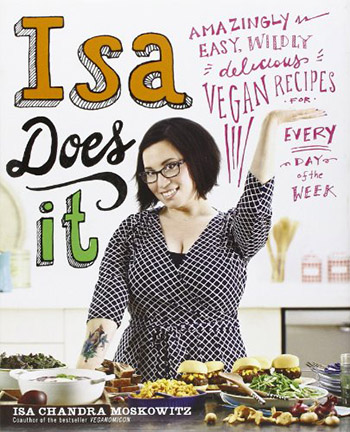 Shop now at Amazon
Shop now at Barnesandnoble
Shop now at Ebay
Shop now at Walmart
---
After a hard day's work, you come home and wonder what you will eat. You should choose healthy foods as the first option. These simple and time-saving recipes in this cookbook will come in handy.
The bestselling author Isa Chandra Moskowitz suggests how to get into the kitchen without any pressure. Isa's vegan dishes bring joy to the cook through the "Isa Does It" Cookbook.
You can really enjoy cooking a quick meal in under 30 minutes. It is also easy to go to the market because the ingredients are straightforward.
Completely eliminating meat, the dishes are still attractive and nutritious. Recipes for red sweet potato curries, summer stews with cilantro and lemon, and Bistro 'meat' sandwiches all tempt your taste buds. This is an instrumental book for busy people.
Pros
Save cooking effort for busy people on weekdays
Easy-to-find ingredients in any market
Beautiful color photos of finished dishes
Quick-cooking time, under 30 minutes
Illustrate specific steps to make cooking easier
Cons
Some recipes use quite a bit of oil
Let's cook with some Isa Does It Cookbook recipes and see how it works!
22. Vegetable Kingdom: The Abundant World of Vegan Recipes by Bryant Terry
(Best With Useful Techniques)
---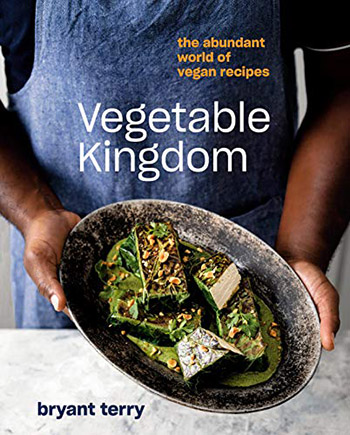 Shop now at Amazon
Shop now at Barnesandnoble
Shop now at Walmart
---
The dining table is fundamental since it is where the family gathers. Tasty dishes not only promote health but also build soul value. Bryant Terry's Vegetable Kingdom is all about that. It combines the most ordinary vegetables into the most palatable meal.
Bryant Terry is a culinary educator and James Beard Award-winning chef. As the chef-in-residence at the Museum of the African Diaspora, he has always spread the harmony of African-American cuisine.
You will learn the basic knowledge and principles of veganism before practicing. This book makes you feel that plants alone are fascinating enough.
You can make the most amazing dishes without meat with just the right ingredients and seasonings. It's also easy to decide "what to eat today" because ingredients organize the chapters.
The Vegetable Kingdom includes 100 recipes and amazing pictures. The ingredients are entirely plant-based and easy to find in the markets. Besides, the basic principles of vegan cuisine are subtly integrated into each dish.
Pros
Specific recipe and easy to follow
Divided by type of material for easy lookup
Easy-to-find raw materials in the market
Beautiful vintage visuals and presentation
An uplifting soundtrack accompanies each recipe
Cons
Some recipes require a lot of ingredients
Look at some new, healthy recipe ideas in the Vegetable Kingdom by Bryant Terry!
23. Vegan, at Times: 120+ Recipes for Every Day or Every So Often by Jessica Seinfeld and Sara Quessenberry
(Best With Easy-To-Find Ingredients)
---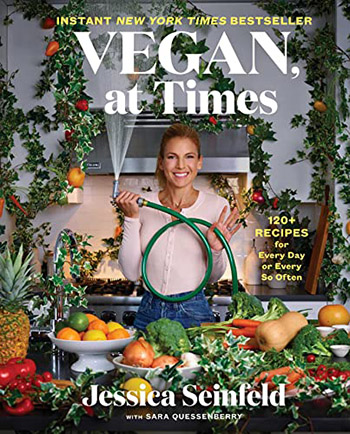 Shop now at Amazon
Shop now at Barnesandnoble
Shop now at Williams-sonoma
Shop now at Walmart
---
Not necessary to become a vegan; you can still enjoy luscious vegan dishes. Check out this tutorial from Jessica Seinfeld's Vegan at Time. She is the New York Times best-selling author and founder of the Good + Foundation.
Working with Sara Quessenberry, a recipe developer and cookbook author, Jessica brings readers 120 novel recipes. There are suggestions for breakfast, lunch, and dinner. Side dishes and sauces are also indicated.
This cookbook shows you how effortless it is to be a vegan. From affordable plants, you can make great-tasting meals whenever you want. You'll learn how to build kitchen cabinets with enough ingredients to make vegan meals at any time.
In addition to the interesting intertwining stories of the author, you are also provided with fun sample menus to try. The author guides carefully on techniques for storing ingredients. The story of the author's life will inspire you.
Pros
Special dessert suggestion with full of flavor
Useful tips for building ingredients
The simple and specific formula
Affordable ingredients for easier access
Suitable for vegan beginners
Cons
There should be more specific nutritional information for each dish
There should be more new recipes
You will definitely love to eat vegan after looking at Vegan at Times by Jessica Seinfeld!
24. La Vida Verde: Plant-Based Mexican Cooking with Authentic Flavor by Jocelyn Ramirez
(Best With Mexican Recipes)
---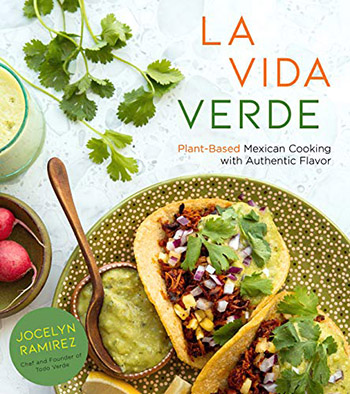 Shop now at Amazon
Shop now at Walmart
Shop now at Barnesandnoble
Shop now at Ebay
---
The cuisine of Mexican contains many beautiful tastes, including vegan food. Vegan delicacies from Mexico were researched and compiled by chef Jocelyn Ramirez into a collection of recipes. All in the book La Vida Verde.
As the co-creator of Across Our Kitchen Table, she's always inspired on how to empower women through food. Cooking is an art that transforms the soul and health.
La Vida Verde includes 60 detailed vegan recipes. It includes snacks, party items, and many exotic treats from Mexico. Fresh and not too complicated ingredients will help you quickly complete a nutritious meal.
With step-by-step instructions, all the recipes are easy-to-follow. There are also many beautiful illustrations for all dishes. You can learn how to make various dishes suitable for many occasions with fresh and healthy ingredients.
Pros
Highlighting the uniqueness of Mexican cuisine
Easy-to-follow recipe with step-by-step instructions
Harmonious illustrations
Fresh and healthy ingredients
A variety of dishes suitable for many occasions
Cons
Some Mexican ingredients are hard to find elsewhere
Need to be more creative in making 'fake meat'
25. Fast Easy Cheap Vegan: 101 Recipes You Can Make in 30 Minutes or Less, for $10 or Less, and with 10 Ingredients or Less! by Sam Turnbull
(Best For Busy People)
---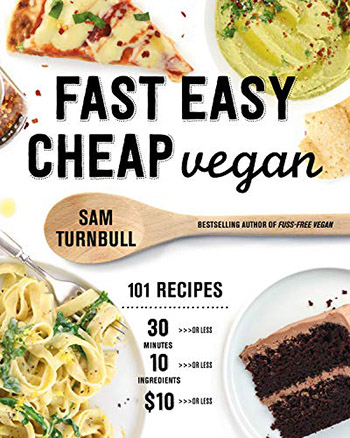 Shop now at Amazon
Shop now at Barnesandnoble
Shop now at Walmart
Shop now at Abebooks
---
Many people believe that vegan cooking is expensive and time-consuming. To the negative, Sam Turnbull's Fast Easy Cheap Vegan offers 101 recipes suitable for the busy person. All plant-based and only a few bucks!
Having written the hugely popular cookbook 'Fuss-Free Vegan', Sam is absolutely talented enough to help you get into vegan cuisine. Breakfast is only 15-20 minutes, and lunch is full of flavor with little effort. There are many cakes and ice cream that you can prepare and reserve.
The author brings you several simple cooking techniques step by step. Vivid images make formulas easier to understand. Tasty meals, health promotions, and everything-saving are what this cookbook prepares for you.
Pros
Cheap ingredients, easy to buy at supermarkets
Illustrations for each recipe
Quick-cooking time for busy people
Simple and neat cooking techniques
Suitable for people who are too busy but need healthy food
Cons
Some recipes are duplicated from other books
Some recipes omit some steps
FAQs
Jump in the questions and answers below to see what you need to become a real vegan!
My Top Pick
Health is precious, so the above plant-based cookbooks are something you should own. It opens up a new way to eat: palatable and good for health!
Like the message in Forks Over Knives – The Cookbook by Del Sroufe, ordinary vegetables can become unique dishes. They are delectable but help you balance your health and prevent many diseases. Your soul touches the peace amidst the chaos of life.
If you love vegans and find this post helpful, please do not hesitate to share now for all the vegans around you. Together, you and I can build a healthier life with all green ingredients.