The best Mediterranean cookbooks will inspire you most if you want to start a nourishing eating style. Mediterranean cuisine is well-known for its signature health-giving cuisine.
This culinary culture is born from many countries' geographical and cultural interference, including several countries in Europe, Africa, and Asia. This place is also a highlight that makes world cuisine richer and unique.
To reduce meat consumption, the cuisine brings diners fresh and delectable flavors accompanied by the best health effects. Whether in the US or anywhere, you can fully experience this nutritious cuisine through the sharing of many famous authors.
These authors summarize all the delectable Mediterranean dishes in best-selling cookery books. Typical Mediterranean recipes and culinary experiences are ready to join you in your home kitchen!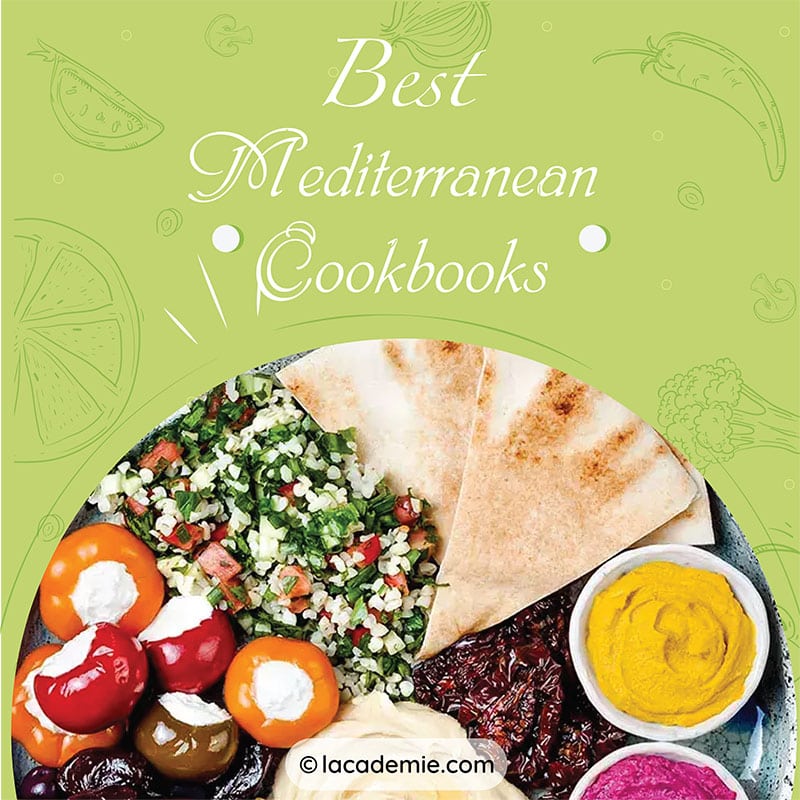 Origins Of Mediterranean Cuisine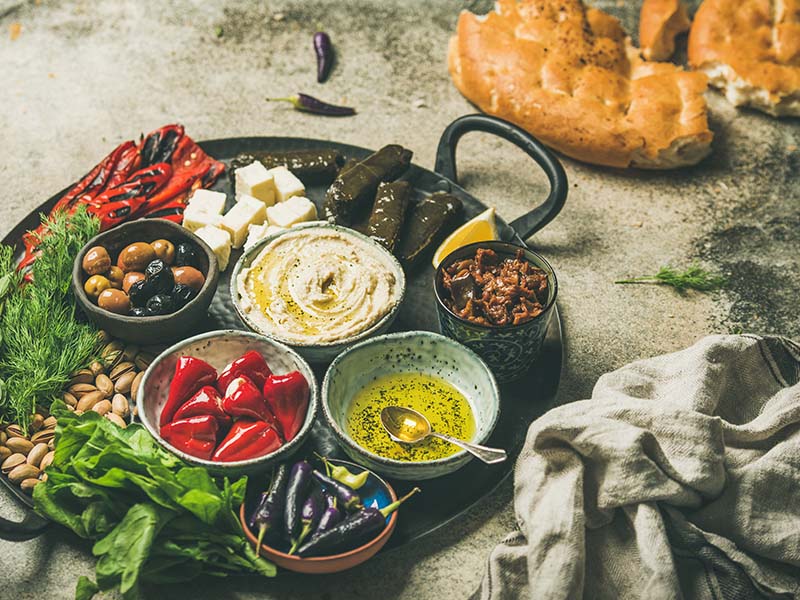 The Mediterranean region cuisine consists of three continents: African dishes, European dishes, and Asian dishes. The favorable geographical position creates a unique cultural exchange between the countries here.
Cuisine blends with all the quintessence of these areas to create a unique characteristic of the Mediterranean diet. Besides, the impact of climate and soil also builds a distinct foundation for this regional dish.
Yes, the Mediterranean has a temperate climate and fertile soil. This significantly affects the great food sources here: grains, vegetables, tubers, fruits, and herbs – the main Mediterranean ingredients.
Nature favors this place with favorable weather, abundant resources, and fertile farms, creating a source of fresh and nutritious food. Based on that, traditional Mediterranean dishes continue to retain their value today.
Signature Features Of Mediterranean Cuisine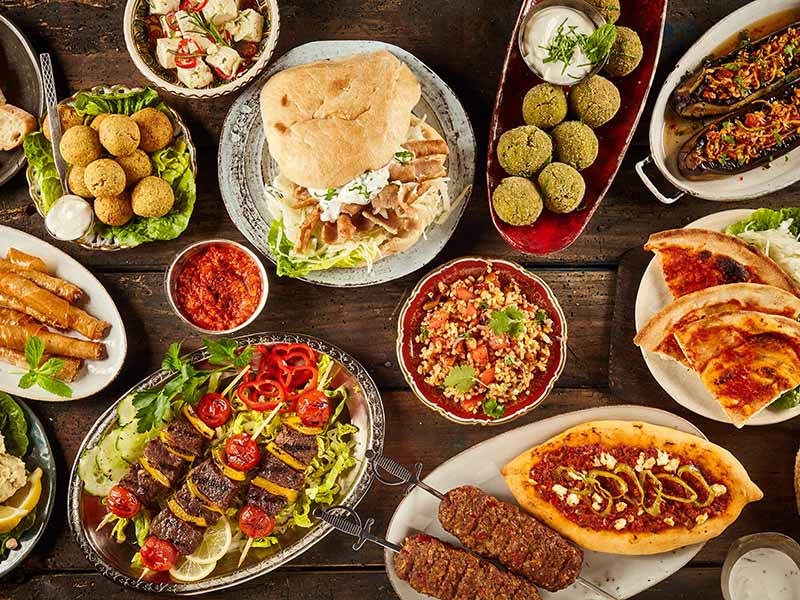 When it comes to Mediterranean cuisine, you must mention outstanding aspects such as fresh ingredients, nutritious foods, and simple cooking methods to preserve nutrients in food:
Fresh And Natural Ingredients
The main ingredients are fruits, legumes, vegetables, grains, mushrooms, olive oil, and herbs. Fresh fish and many other kinds of seafood are also top choices as an alternative to meats.
They use very little meat for the dishes here, but the recipes are still nutritious, thanks to a variety of naturally grown foods.
Beneficial Therapy For Health
Choosing the above ingredients to eat is a highly beneficial therapy for health. They support the treatment of cardiovascular disease, diabetes, and joint pain, which is good for the brain and weight loss.
Simple Cooking Method
The cooking method is simplified without unnecessary steps. The seasoning is less spicy, less sweet, and limited oil-using. These things boost your taste buds, nourish your body, and enhance your mood.
What Are The Best Mediterranean Cookbooks You Must Buy In 2023
There are many excellent Mediterranean cookbooks that I love to introduce to you right now. Let's take a look and see what title impresses you the most:
Top 15 Best Mediterranean Cookbooks: How Diet Can Build Your Healthy Body
In my detailed review, you can find all the information, pros, and cons you need to know in today's outstanding Mediterranean cookbooks. Let's jump in:
1. The Complete Mediterranean Cookbook: 500 Vibrant, Kitchen-Tested Recipes for Living and Eating Well Every Day (The Complete ATK Cookbook Series) by America's Test Kitchen
(Best Of All Time)
---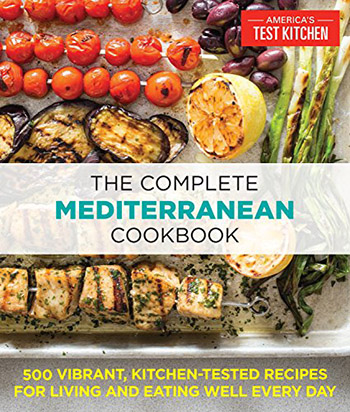 Shop now at Amazon
Shop now at Barnesandnoble
Shop now at Walmart
Shop now at Ebay
---
Food in the Mediterranean region, specifically Italy, Lebanon, Egypt, Morocco, Turkey, and Greece, is always wholesome for the body. America's Test Kitchen's professional team spread these recipes through The Complete Mediterranean Cookbook through extensive research.
Here you will find an overview of Mediterranean ingredients and creative ways to combine them. A guide to 500 new recipes with a logical step-by-step order makes you feel comfortable.
One remarkable plus point: this is the best cookery book, including nutrition information. The authors organize the book by chapters, based on the nutrition pyramid, prioritizing foods low in calories and fat.
Various Mediterranean specialties offer nourishing meals to improve your health. The recipe follows each type of ingredient from vegetables, meats, seafood, and fruits to help you make the right choice.
Furthermore, all the meals are simple and flexible with familiar ingredients that you can buy at all supermarkets. The book also includes valuable kitchen tips to make cooking easier.
Pros
Provide nutritional information for each recipe
Clear and easy to follow layout
Classify each chapter base on the type of food
Reasonable and convenient steps to apply
Familiar and easy to find ingredients
Reduce calories and fat, suitable for many dieters
You can flexibly change the ingredients to your likings
Cons
Some recipes require a lot of cooking time
2. The 30-Minute Mediterranean Diet Cookbook: 101 Easy, Flavorful Recipes for Lifelong Health by Serena Ball and Deanna Segrave-Daly
(Best Diet Cookbook)
---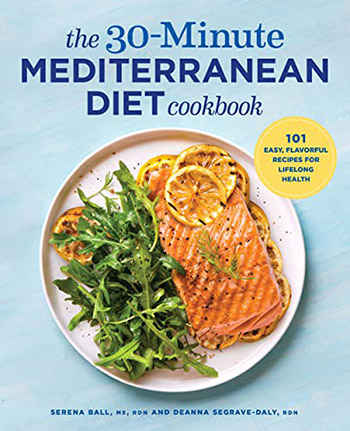 Shop now at Amazon
Shop now at Barnesandnoble
Shop now at Walmart
---
From uncontrolled foods, cholesterol will form in your body and cause many serious diseases. An exemplary Mediterranean diet will be the best choice for you to improve your health. Check out The 30-Minute Mediterranean Diet Cookbook for delectable and nutritious diet recipes.
The book sets out effective and easy-to-apply dietary principles. This is a super easy suggestion for newcomers with specific cooking times and cooking methods. 101 typical dishes of the Mediterranean region help reduce cholesterol and limit cardiovascular diseases.
The cookbook also provides a list of ingredients suitable for the diet. With 20 years of experience in food and nutrition, the co-authors Serena Ball and Deanna Segrave-Daly guide you through a sensible diet with this book.
Pros
Simple and step-by-step formula instructions
Suggest a specific time for each recipe
Easy to follow even for beginners
Useful information about ingredients that essential for dieters
Support the treatment of heart disease
Cons
Should have more illustrations for the recipe
Some recipes give the taste a bit lighter than the general taste
3. The Mediterranean Diet Cookbook for Two: 100 Perfectly Portioned Recipes for Healthy Eating by Anne Danahy
(Best For Two)
---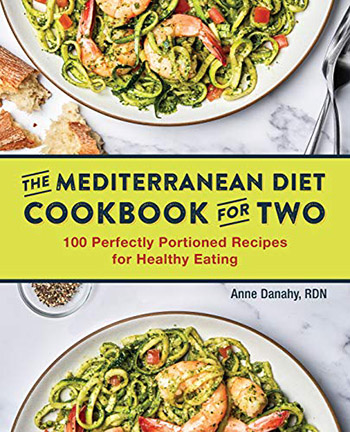 Shop now at Amazon
Shop now at Barnesandnoble
Shop now at Target
Shop now at Walmart
Shop now at Ebay
---
Busy couples do not have too many meal choices. Instead of buying fast food, you can check out 100 super-easy recipes in The Mediterranean Diet Cookbook for Two.
This book provides convenient recipes prepared according to two-person servings from the nutritionist Anne Danahy with 25 years of mastering in the culinary industry.
The dishes in this book bring simplicity in ingredients and cooking methods. The author selects dishes and combinations of easy-to-find ingredients from vegetables, seafood, and grains. The oil extracted from seeds suggested is good for weight loss and preventing heart diseases.
Many dishes with pure Mediterranean flavor can make your mouth water, such as cream cheese salad, herb boiled salmon, grilled beef with vegetables, and chocolate chickpeas. Losing weight will also be easier and less strict with this varied menu.
Pros
The menu for two is compact for preparation and ingredients
The way to cook is simple, limit unnecessary steps
Using oil from seeds helps limit cardiovascular diseases
The variety of ingredients gives you many choices
Cons
There should be more pictures to inspire readers
4. Mediterranean Instant Pot: Easy, Inspired Meals for Eating Well by America's Test Kitchen
(Best For Instant Pot)
---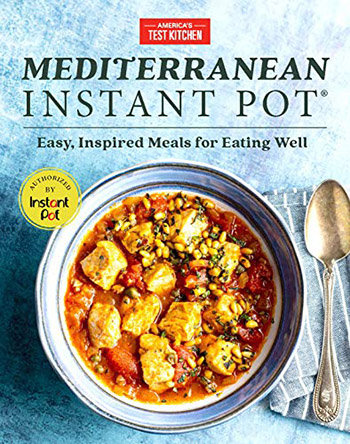 Shop now at Amazon
Shop now at Americastestkitchen
Shop now at Barnesandnoble
Shop now at Walmart
---
The Mediterranean-style diet has become a top choice because of its health-giving effectiveness. These regional dishes have a simple way of cooking, now even more minimalist with just one step with the instant pot.
Let's explore this cooking style in detail with "Mediterranean Instant Pot" – an excellent work among the famous cookbook for instant pot cooking. This is one enthusiastic product of America's Test Kitchen team.
Drawing on cuisine spanning from Turkey to North Africa, America's Test Kitchen's seasoned chefs have crafted many delectable recipes. The authors emphasize all kinds, from main dishes to side dishes.
The meals are completed with light and simple tasks with the help of instant pots. This device helps you cook everything quickly – even hard beans or grains. The ingredients are seafood, vegetables, and grains in a balanced combination based on the nutrition pyramid.
The book introduces a variety of vegetable dishes and limits meat dishes to provide more plant-based freshness. The attached nutritional information is also useful for dieters.
Pros
Thoroughly tested formulas ensure flavor and safety
Include all the necessary information about nutrition
Quick-cooking methods with instant pot
Friendly ingredients for weight loss
Provide healthy foods with the Mediterranean nutrition pyramid
Cons
Some typical Mediterranean spices are a bit hard to find
Let's discover the attractive content of Mediterranean Instant Pot: Easy, Inspired Meals for Eating Well!
5. The Mediterranean Diet Cookbook for Beginners: Meal Plans, Expert Guidance, and 100 Recipes to Get You Started by Elena Paravantes
(Best For Beginners)
---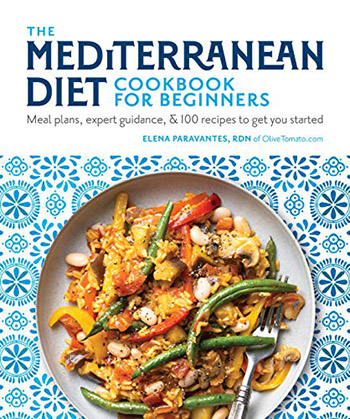 Shop now at Amazon
Shop now at Barnesandnoble
Shop now at Ebay
Shop now at Walmart
---
Benefits for health, convenience to prepare and cook, and irresistible toothsome taste are the main points for Mediterranean dishes. If you want to try the Mediterranean diet, this cookbook is the right choice as a must-read cookery book for newcomers.
This cookbook is like a medicine from Elena Paravantes, a nutritionist with 20 years of research on cuisine in general and the traditional Mediterranean diet in particular. Many dishes are suitable for dieting and chronic disease treatment support.
Based on detailed information, the book offers 100 easy-to-follow recipes for anyone. There are good tips on buying food as well as preparing and cooking the meal easily. All nutritional information is fully attached to each recipe.
The author tries to reduce the amount of meat. The main ingredients are vegetables, whole grains, and fruits for a meal filled with deliciousness and nutrition. The author also creates a 14-day healthful eating plan with a complete menu.
Pros
Easy to buy and easy to prepare ingredients
The tested formula ensures the taste of the final dishes
Include nutritional information in each recipe
Suitable for weight loss and chronic disease treatment support
Provide a specific menu for 14 days
Valuable tips on how to choose, buy and store food
Cons
A few recipes are a bit high in calories
Some dishes take a long time to complete
6. The Mediterranean Diet for Beginners: The Complete Guide – 40 Delicious Recipes, 7-Day Diet Meal Plan, and 10 Tips for Success by Rockridge Press
(Best With Meal Plans)
---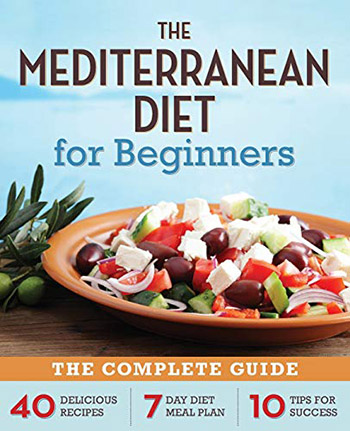 Shop now at Amazon
Shop now at Walmart
Shop now at Barnesandnoble
---
Creating a nourishing eating habit is essential for anyone. This message spread to readers through The Mediterranean Diet for Beginners from Rockridge Press.
Through many studies and experiments, the team of authors has specified the Mediterranean diet into an interesting menu. The book is suitable for people who want to start with a nutritious meal plan for the body.
A full menu for 7 days makes it easy to apply and continue to maintain for longer. With 40 recipes for all meals of the day, you can both lose weight and take care of your body while enjoying the great taste of the Mediterranean dishes.
The book is a helpful guide on choosing nutrient-rich sources, mainly fruits, vegetables, and nuts. It also clarifies the basic principles of a Mediterranean-style meal and the accompanying benefits page by page. This is the best choice for you to kickstart your uncontaminated diet.
Pros
Explanation of Mediterranean dietary guidelines
Meticulously crafted recipe, easy to follow for beginners
Detailed meal plan for 7 days to go on your diet
Recommend fresh food sources, and good support for weight loss
Highlight many benefits of healthy eating
Cons
The recipe should have more nutritional information
Need more illustrations for the book
Should invest more in graphics and book presentation
7. The DASH Diet Mediterranean Solution: The Best Eating Plan to Control Your Weight and Improve Your Health for Life (A DASH Diet Book) by Marla Heller
(Best For Diabetics and Heart Health)
---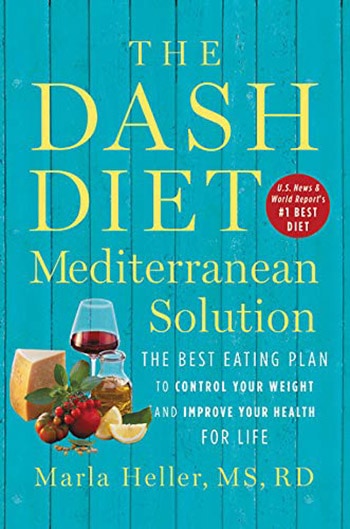 Shop now at Amazon
Shop now at Barnesandnoble
Shop now at Walmart
---
Diseases such as hypertension, heart disease, diabetes, overweight, and depression always threaten human health. To stay healthy, what you eat is an essential factor, and the Mediterranean and DASH diet is the convincing answer.
As a nutritionist, author Marla Heller shares with readers a diet menu to improve health and reduce disease risk. The book suggests 50 recipes without additives, minimizing salt and spices. The most refined cooking steps to keep the freshness of the food.
With this book, you will fully understand the health benefits of raw foods. The dish prioritizes fresh ingredients, providing essential minerals. Bringing a positive dietary incentive, The DASH Diet Mediterranean Solution will get freshness to the taste of meals and a wholesome lifestyle.
Pros
Provides essential information about a healthy diet
The menu supports the treatment of heart disease and diabetes
Simple and easy to follow the recipe
Guide to keep the freshness and minerals in food while cooking
Cons
Some ingredients are not popular and challenging to find
8. The Mediterranean Diet Weight Loss Solution: The 28-Day Kickstart Plan for Lasting Weight Loss by Julene Stassou
(Best For Weight Loss)
---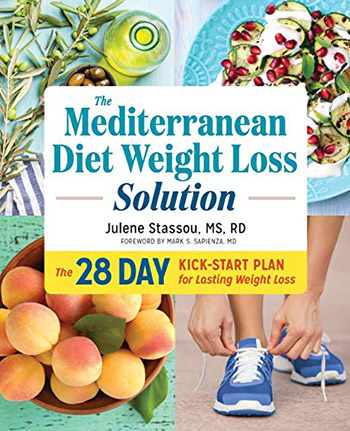 Shop now at Amazon
Shop now at Barnesandnoble
Shop now at Walmart
Shop now at Ebay
---
In the new era, weight loss is to achieve a standard physique while maintaining good health. With experience in nutrition and weight loss, nutritionist Julene Stassou brings you The Mediterranean Weight Loss Solution.
This book is a powerful assistant to your weight loss plan. The book sets out healthful eating standards based on the Mediterranean diet. Essential information for weight loss helps you know how to determine the number of calories in a meal to control the menu each day easily.
You also have a sample plan for exercise and rest in moderation. The authors provide 100 recipes that are clear, easy to make, and complete quickly in 30 minutes.
A grocery shopping list is also beneficial for you. In particular, the 28-day weight loss plan with palatable dishes while reducing calories will help you reach your health goals.
Pros
Professional nutrition guide that you can easily follow
The weight loss effect is visible after completing the 28-day plan
Attach proper exercise and rest regimen
Reduce calories but always succulent enough to maintain long term
Quick-cooking time, pre-listed food list to save you time
Cons
Should add more pictures to the book
Need suggestions for replacing ingredients to suit many objects
9. Mediterranean Air Fryer: 95 Healthy Recipes to Fry, Roast, Bake, and Grill by Katie Hale
(Best For Air Fryer)
---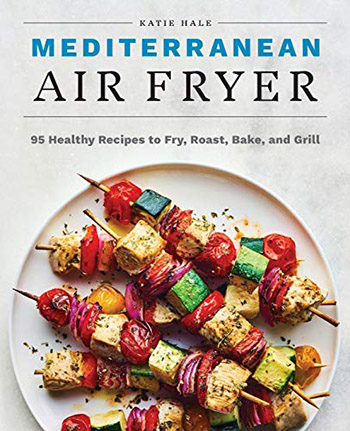 Shop now at Amazon
Shop now at Walmart
Shop now at Ebay
---
The Mediterranean fried and grilled dish is appealing in taste and health benefits. This diet style is associated with the air fryer and creates a breakthrough in modern cuisine. You control the fastest and most efficient way to cook the optimal meal.
The book Mediterranean Air Fryer by food blogger Katie Hale fully describes how to do the job. This is also one must-buy air fryer cookbook with many practical techniques for using these modern devices.
It suggests 95 Mediterranean-style diet recipes with full meals of the day. The dish is always crispy and full of flavor, ensuring the principles of good nutrition for health.
Hale also provides basic knowledge about using and caring for your air fryer. You can easily prepare the necessary kitchen utensils according to the specific instructions in the book. The recommended easy-to-access, easy-to-store ingredients support faster cooking.
Pros
Easy-to-understand instructions on how to use the air fryer
Popular ingredients, easy to buy
Recipe for crispy food, good support for weight loss
Simple cooking method with fast cooking time
Suggest proper kitchen utensils to prepare food
Cons
There should be information about the air fryer type to match the recipe
Need more nutritional information about the sodium content in dishes
10. Mediterranean Every Day: Simple, Inspired Recipes for Feel-Good Food by Sheela Prakash
(Best Easy)
---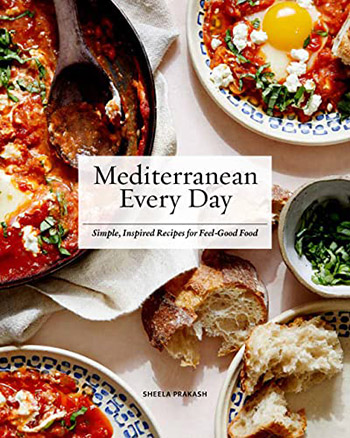 Shop now at Amazon
Shop now at Barnesandnoble
Shop now at Walmart
---
Seasonal food in the Mediterranean region is always fresh with high nutritional value. Sheela Prakash is a nutritionist and writer who exploits and conveys that to readers through her book the Mediterranean Every Day.
This book introduces the health-giving eating style of the Mediterranean regions. The recipes are flexible and suitable for many different eating purposes. Whether it's a family meal or an epic night out with friends, the dishes are full of flavor and nutrition.
Cooking becomes fun with lots of eye-catching photos. Tips for buying and storing food are also useful notes you should consider so that you can always have fresh food every day.
The varied menu, from soups, snacks, and salads, to main courses with beans, cereals, fresh vegetables, and several cocktails, gives you the complete experience of this active eating.
Pros
Recommend seasonal ingredients for the purest freshness
Provide a basic understanding of the Mediterranean diet
Diverse dishes, suitable for many different occasions
Guide to properly storing food at home
Clear layout, divide into sections according to the dish categories
Cons
Should add more pictures to make the formula clearer
11. Vegetarian Mediterranean Cookbook: 125+ Simple, Healthy Recipes for Living Well by Sanaa Abourezk
(Best Vegetarian)
---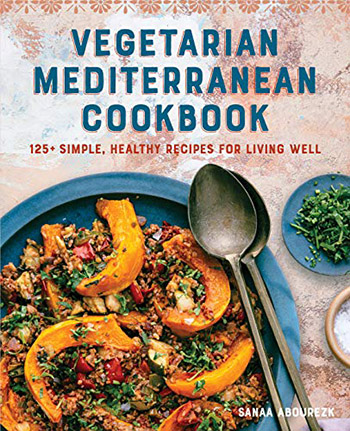 Shop now at Amazon
Shop now at Barnesandnoble
Shop now at Ebay
---
Vegetarian Mediterranean cuisine is a solution for many health issues with proven benefits. The vegetarian restaurant owner and nutritionist Sanaa Abourezk shares that in The Vegetarian Mediterranean Cookbook – one of the most excellent vegetarian cookery books ever.
The recipes in this book use fresh ingredients from farms, stretching from Spain to Syria. It has more than 125 vegetarian recipes from Mediterranean cuisine focused on simplicity. Many helpful kitchen tips make cooking faster.
The principles of traditional Mediterranean vegetarian cuisine remain deeply rooted in the value of wholesomeness. The dish has a pleasant texture in nutrition and flavor, combined with nut oils such as olive oil.
Pros
Complete knowledge of traditional Mediterranean vegetarian dishes
The formulas eliminate all the unnecessary steps
The ingredients are available anywhere
Useful component replacement tips
Many cooking tips to help shorten the time
Cons
Each recipe should have illustrated picture for the best understanding
Some recipes are slightly spiced for general taste
12. Essential Ketogenic Mediterranean Diet Cookbook: 100 Low-Carb, Heart-Healthy Recipes for Lasting Weight Loss by Molly Devine
(Best Keto)
---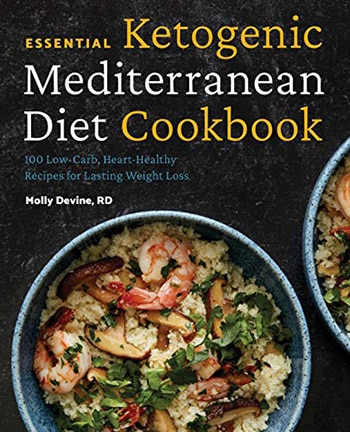 Shop now at Amazon
Shop now at Barnesandnoble
Shop now at Walmart
---
Experimentally, the ketogenic diet has many health benefits. Combined with the Mediterranean diet, this regimen creates a new step in weight loss, supporting the treatment of heart and digestive diseases.
You can say that the Essential Ketogenic Mediterranean Diet Cookbook is one of the excellent cookbooks for the keto diet. This cookbook comprehensively summarizes all the benefits of the keto diet.
Here, you can understand the mechanics of weight loss, the principles of calorie consumption, and why you should start dieting. The book explicitly suggests common ingredients for you to easily shop and stock.
The book showcases 100 recipes with Mediterranean flavors and satisfying ketogenic requirements. The meals contain ingredients rich in fiber, minimizing carbs and protein.
Author and nutritionist Molly Devine thoughtfully creates a 2-week diet plan for you with the pre-listed foods to buy. Therefore, the Essential Ketogenic Mediterranean Diet Cookbook is an effective solution for improving your physique and health every day.
Pros
Common ingredients, mainly vegetables
Innovative recipes combining ketogenic and Mediterranean
Provide a detailed 2-week diet plan, easy to follow
Supply pre-listed foods for easy shopping
Cons
The price of some ingredients is a bit high
Images should be more colorful and vivid
13. Mediterranean Paleo Cooking by Caitlin Weeks NC
(Best Paleo)
---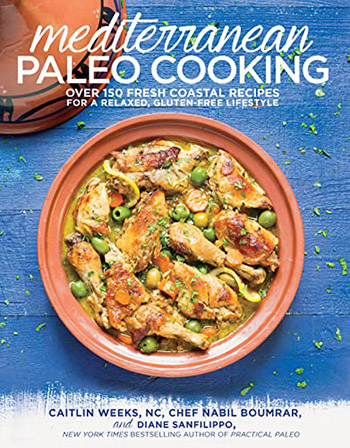 Shop now at Amazon
Shop now at Barnesandnoble
Shop now at Walmart
---
Traditional Southern, North African, and Middle Eastern dishes have been taken to a whole new level when combined with the Paleo diet. That creates luscious dishes with novel flavors for a nourishing diet. If you are looking for outstanding cookbooks for Paleo, this must be the one.
The Mediterranean Paleo Cooking Cookbook combines these two positive eating styles into various mouth-watering dishes for readers. Here, the technique of preparing some Mediterranean dishes is converted based on the Paleo diet.
The 30-day diet is a specific suggestion for you to quickly implement a weight loss plan. Some party menus are new and interesting ideas for moments of reunion. You'll enjoy every dish full of flavor without gluten, dairy, grains, or sweeteners.
150 recipes ensure nutrition and good effects for weight loss and health protection. With nutrition expertise and years of experience, nutrition consultant Caitlin Weeks NC will help you succeed with this healthy eating plan.
Pros
Basic techniques of cooking in the Mediterranean region
Recipes meet the standards of the Paleo diet
Formulated without grains, dairy, gluten, or sweeteners
Support weight loss and digestive disease treatment
Cons
Should add nutritional information to the recipe
The spine of the book needs to be more firmly
Take a quick look inside the Mediterranean Paleo Cooking to see how it looks in reality!
14. The New Mediterranean Diet Cookbook: The Optimal Keto-Friendly that Burns Fat, Promotes Longevity, and Prevents Chronic Disease by Martina Slajerova, Thomas DeLauer, Nicholas Norwitz, and Rohan Kashid
(Best Low-Carb and Gluten-Free)
---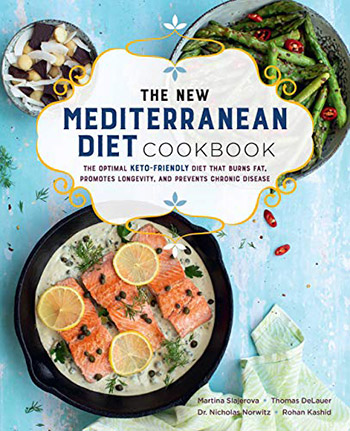 Shop now at Amazon
Shop now at Barnesandnoble
Shop now at Walmart
---
The ketogenic and low carb diet has proven outstanding benefits for weight loss, limiting many diseases, and prolonging life. And when combined with a nourishing Mediterranean diet, keto works even better. With this work, you will become a good manager of your health.
The New Mediterranean Diet Cookbook opens up an accurate and effective diet plan for everyone. A solid and professional team of authors has compiled this book: food blogger Martina Slajerova, nutritionist Thomas DeLauer, Ph.D. Nicholas Norwitz, and chef Rohan Kashid.
The book upholds the ketogenic principles of limiting carbs and focusing on high-fat foods. This is a combination of natural and diverse Mediterranean food sources. 100 recipes from fish, vegetables, and good fats from olive oil.
You will understand the metabolic process and how to synthesize nutrients for the body from selected foods. Combining the two diets above helps create beneficial bacteria for digestion, anti-aging, good for the brain and heart, and maintaining a standard weight.
Pros
Guide to gain the nutritional benefits of keto Mediterranean diet
Recommend sources of fresh ingredients from seafood, vegetables, and seed oils
Free from gluten recipes
Provide healthy fats and lower carb consumption
Based on science to help you master the eating method
Easy-to-understand terms for anyone
Beautiful pictures, encouraging word-use
Cons
Some ingredients are rare and high in price
15. Forest Feast Mediterranean: Simple Vegetarian Recipes Inspired by My Travels by Erin Gleeson
(Best With Pictures)
---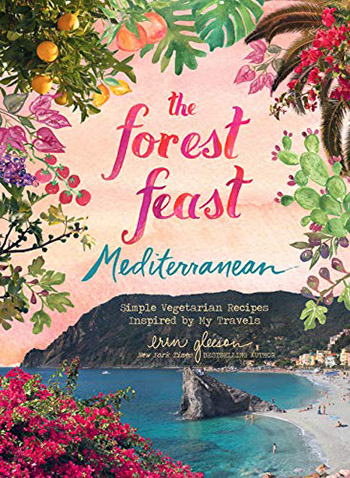 Shop now at Amazon
Shop now at Barnesandnoble
Shop now at Walmart
---
Mediterranean cuisine is wholesome, scrumptious, and exceptionally beautiful: beauty in every dish, beauty in fresh farmhouses, beauty in tradition and culture. Erin Gleeson's book Forest Feast Mediterranean captures all that beauty.
Erin breathes life into every page with her signature brushstrokes as a New York Times best-selling author, illustrator, and photographer. It's like living in a Mediterranean setting, directly seeing how people grow, harvest, and cook beautiful dishes.
100 vegetarian recipes create a colorful, nutritious, and soul-lightening feast. The author integrates the culinary culture of Italy, France, Portugal, and Spain through travel stories reminiscent of food.
The straightforward writing style makes the recipes she conveys easier to understand. Forest Feast Mediterranean is an endless source of inspiration for vegetarians.
Pros
Artistic pictures full of attraction and inspiration for cooking
Food stories bring a lot of practical knowledge
Various recipes that are easy to follow
Healthy plant-based foods suitable for vegetarians
Support medical treatment of some diseases
The word use is sincere, simple, and easy to understand
Cons
The font is a bit small
Quite a lot of information about culture, food, and tourism
Look through the content of Forest Feast Mediterranean and discover how superb Mediterranean cuisine is!
FAQs
The questions and answers below can bring you more knowledge about Mediterranean cuisine. Let's discover how many benefits you can gain from this:
My Top Pick
Coming to Mediterranean cuisine is coming to a nourishing diet. This is a valuable solution for those who need treatment or diet. With the pace of modern society, saving time for everything makes it hard to eat healthily.
The Complete Mediterranean Cookbook: 500 Vibrant, Kitchen-Tested Recipes for Living and Eating Well Every Day (The Complete ATK Cookbook Series) by America's Test Kitchen is my enlightenment.
Fully empathizing with your busyness, the authors of America's Test Kitchen team offer a laid-back look at the kitchen with this piece. Each meal is completed in a few minutes, and the cooking method is simple, but the health benefits are surprising.
The taste of Mediterranean dishes conquers the taste buds, satisfies the soul, and restores your vitality. With these bestsellers, you can easily become the chef who spreads excellent Mediterranean cuisine.
Let's spread this wholesome eating style to everyone by sharing my post. If you enjoy it, please don't hesitate to leave a comment below and show me what your most-impressive cookbook is.