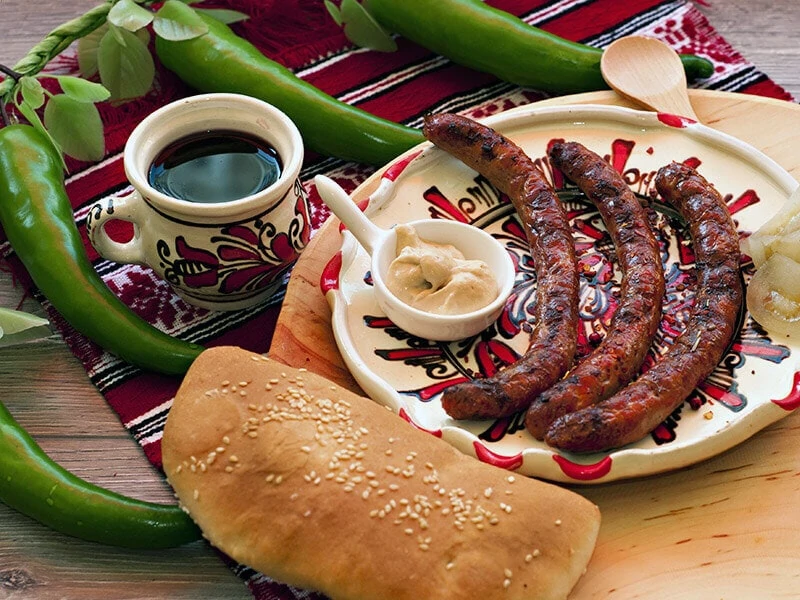 To be honest, Romanian foods are not something most people think of when they talk about this country. According to the foreigners, Transylvania, Dracula, or Nadia Comaneci is more internationally known and "worth exploring".
Although Romanian cuisine is indeed lesser-known, you can't deny how filling, diverse, and delicious the traditional dishes are.
So if you're ready to extend your culinary knowledge, give this article a read and learn about the must-try favorites you have to get when you visit Romania.
Delightful Appetizers In Romania That Will Make You Go Wow
Every full-course meal begins with an appetizer, so let's start this article with some of the most popular and well-loved in this lovely country. Read on and find out what they are!
1. Zacuscă – Vegetable Spread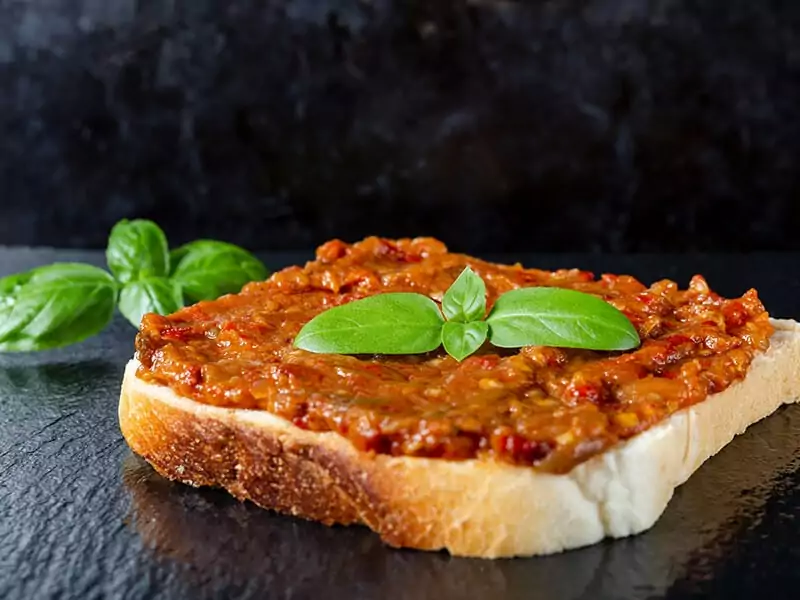 If you're not a fan of beans, here is a different spread that you can have with your toasted bread. Zacuscă is a Romanian vegetable spread made from roasted eggplant, tomato paste, sautéed onions, paprika, and roasted Hungary sweet peppers.
Zacuscă is typically made in a large quantity after every fall harvest to preserve the veggies. This spread is also typical during fasting seasons in Orthodox Christian majority nations due to the lack of meat, eggs, or dairy at the time.
The name of this lovely dish comes from Slavic, and it means "snack", "breakfast", or "appetizer".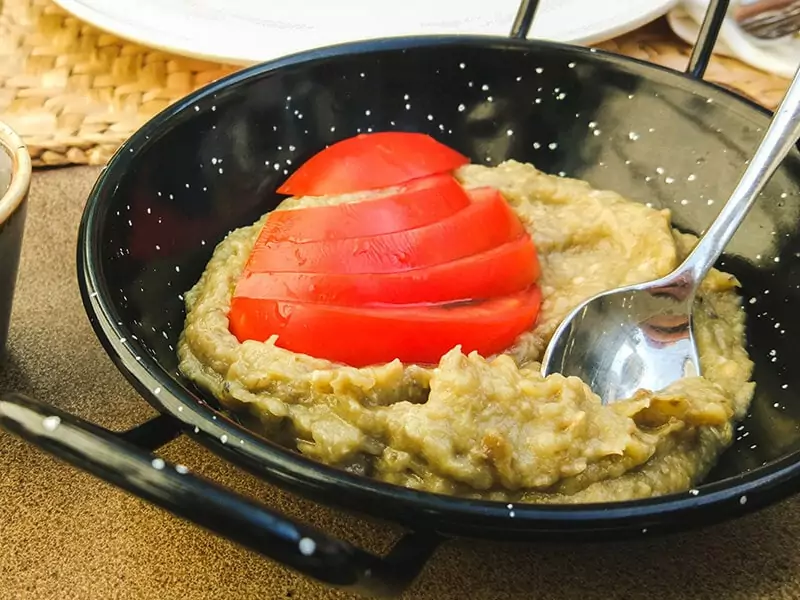 From grilling to baking and roasting, eggplants are used in various European and Middle Eastern traditional recipes. Romania is no exception.
Salată de vinete, also known as eggplant dip, eggplant salad, or just vinete, is one of the most popular dishes in Moldova, Romania, and Hungary. This dish uses chopped grilled eggplants, onions, and sunflower oil. Lemon zest can be added at the end to give it more flavor.
Many Americans refer to this dish as potlagel, which is understandable since eggplant was known as patlagea in the old Romanian language. However, the correct name for this dish is Salată de Vinete, with vânătă meaning eggplants in modern Romanian.
Salată de Vinete is not that hard to make at home, this tutorial will prove it!
Here's good news for all the cheese lovers out there: Cașcaval, meaning "cheese", is a ubiquitous ingredient in Romanian cuisine.
It's used in some of the country's most popular meals, including Cașcaval Pane – breaded and fried cheese. It's almost like an Eastern European version of mozzarella sticks.
Caşcaval pane is usually an appetizer or a simple snack. This dish will taste amazing next to polenta, mujdei, fried potatoes, salads, or a glass of pilsner.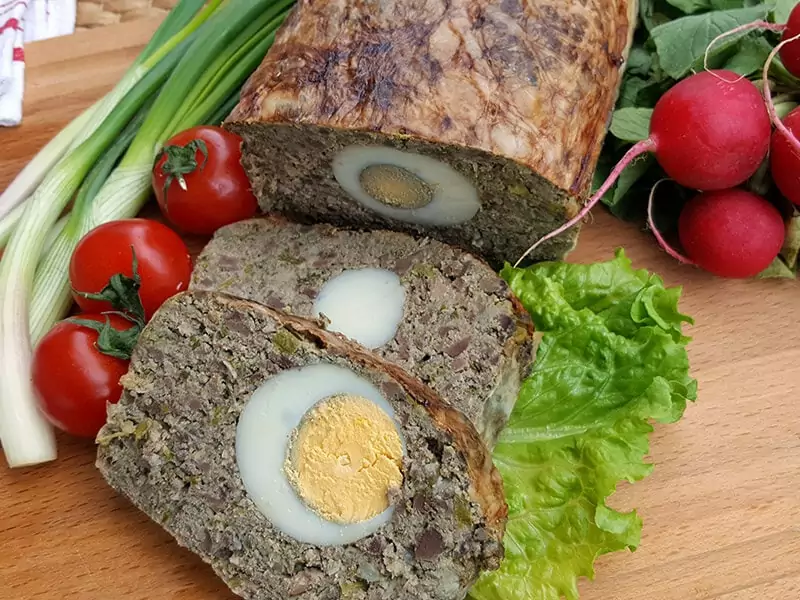 A typical Easter supper is incomplete without drob, a traditional Romanian meal made from lamb offals, eggs, herbs, green onions, and soaked bread.
There are a variety of recipes that vary from region to region and even from family to family. Some prefer using pork, mutton, or chicken offals, which is totally fine.
However, lamb offals shouldn't be substituted with other types of haggis during Easter. This comes from the traditional event when Orthodox believers butcher a lamb in preparation for the Passover festivities, representing Christ's sacrifice for humanity's redemption.
Delicious Romanian Main Dishes That Will Blow Your Mind
These delectable Romanian recipes have been produced and passed down from generation to generation. With robust flavors and superb pairings of meat and vegetables, the dishes in this section will surely delight your taste buds.
5. Mămăligă – Romanian Polenta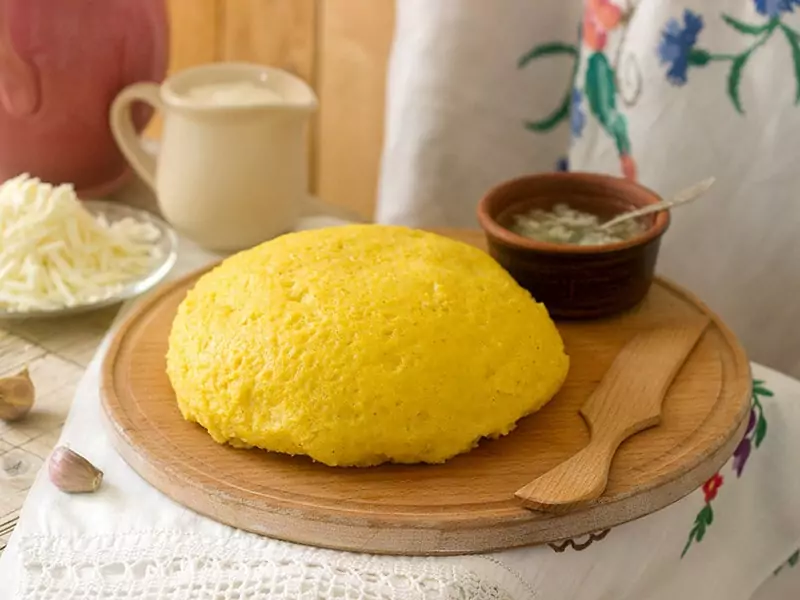 Mămăligă is a well-loved yellow maize flour polenta in Romania. Although this comforting dish originated as peasant food back in the day, it has now become a high-end meal served at the finest restaurants.
Despite being called "Romanian Polenta", this is not the typical cornmeal porridge you can have in Italy. Mămăligă is firm and circular, almost like a dome of deliciousness.
This popular Romanian breakfast recipe calls for maize, stock (or water), butter, and seasonings. Mămăligă used to be produced from millet flour, known to the Romans as pulmentum before maize was introduced to Europe in the 16th century.
You don't need to go to a restaurant to eat Mămăligă, try making it at home instead!
6. Bulz – Polenta With Cheese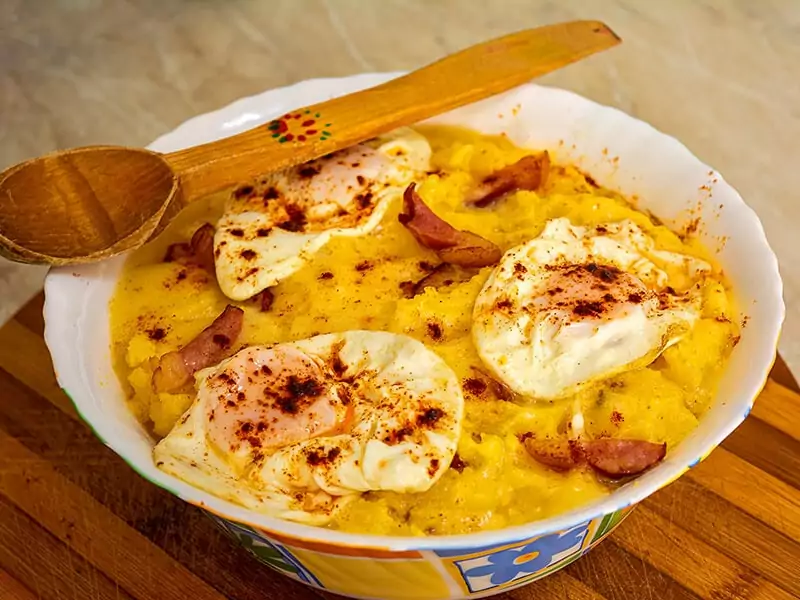 If you want to add even more flavor to your Mămăligă, sprinkle some cheese on top and turn it into Bulz.
Bulz, also known as urs de mămăligă, is a Romanian meal made by baking polenta and cheese together in the oven. It is frequently served with sour cream on top and fresh salad on the side. Bacon and eggs are also standard toppings of this dish.
Fun fact: In June 2010, Covasna, a town in Covasna County, Romania, set a Guinness world record for the largest bulz, measuring 50 meters in length. How impressive is that!
7. Sarmale – Cabbage Rolls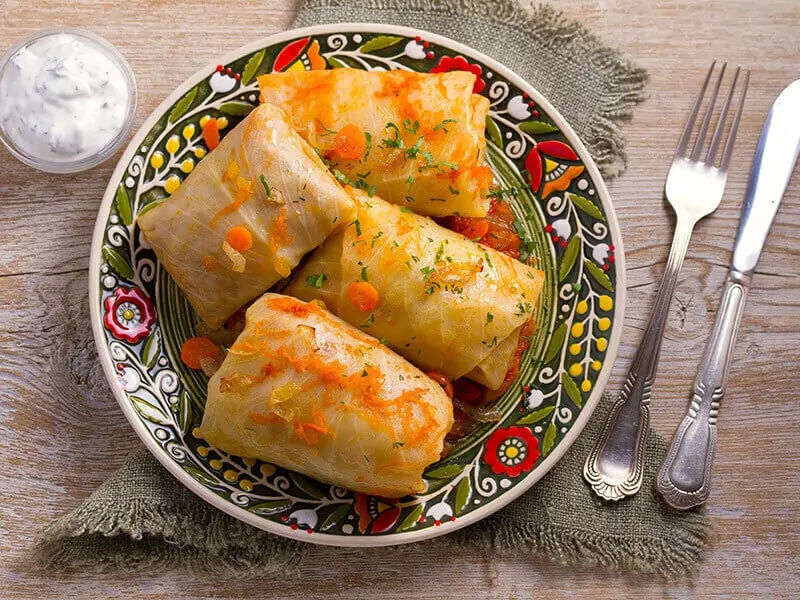 Sarmale is an incredibly comforting dish that you can easily find on the street during the Christmas and New Year holidays or at every typical Romanian wedding. Anyone who's looking for exciting ideas for making a meal with ground beef will be delighted to try out this dish.
People create this dish by combining minced meat, onions, rice, spices and wrapping the mixture in fermented cabbage leaves. The cabbage rolls are then cooked for a few hours in tomato juice.
Sarmale is by far the most popular dish in Romania for special events such as weddings, festivals, or every Sunday. Many countries claim that they invented this dish, but it's hard to know for sure whether it was the Romanians, Greeks, Turks, Hungarians, or Bulgarians.
Instead of cabbage, vine leaves can also be used in some Romanian areas. The minced beef can be substituted with ground nuts, shredded carrots, and chopped mushrooms for fasting or a vegan option.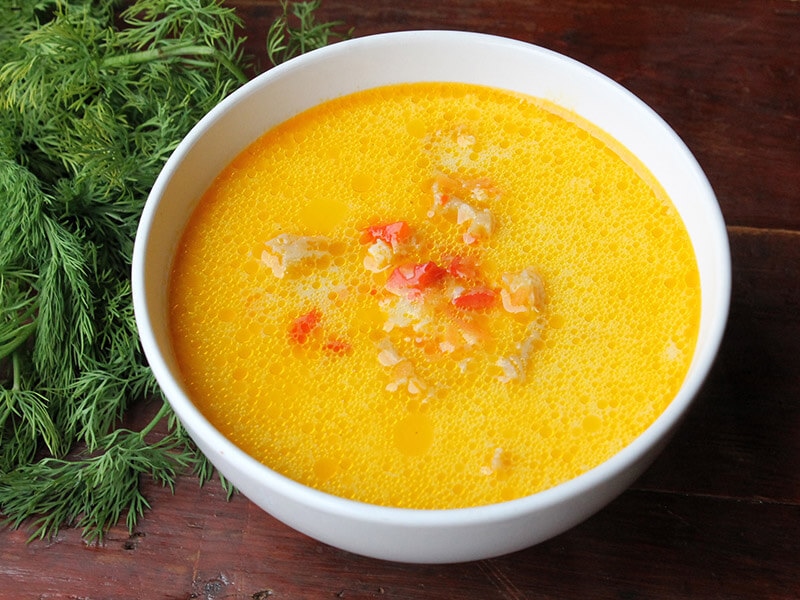 Let's break down the name of this dish first. The word "ciorbă" here means sour soup while "burtă" means tripe. So Ciorbă de burtă can be translated to sour tripe soup.
According to Radu Anton Roman, a journalist in Romania, Ciorbă de Burtă boasts the most complex and pretentious manner of preparation in all Romanian cuisine.
The flavor of this dish is the perfect combination of sweet and sour, simple and complex, delicate and fatty. What more can you ask for in a soup?
If you love Romanian tripe soup, perhaps you'll love the Salvadoran take on this dish as well. Whereas the Romanian version focuses on the balance between sweet and sour, this staple Salvadoran dish is more on the savory side with pleasant hints of various spices.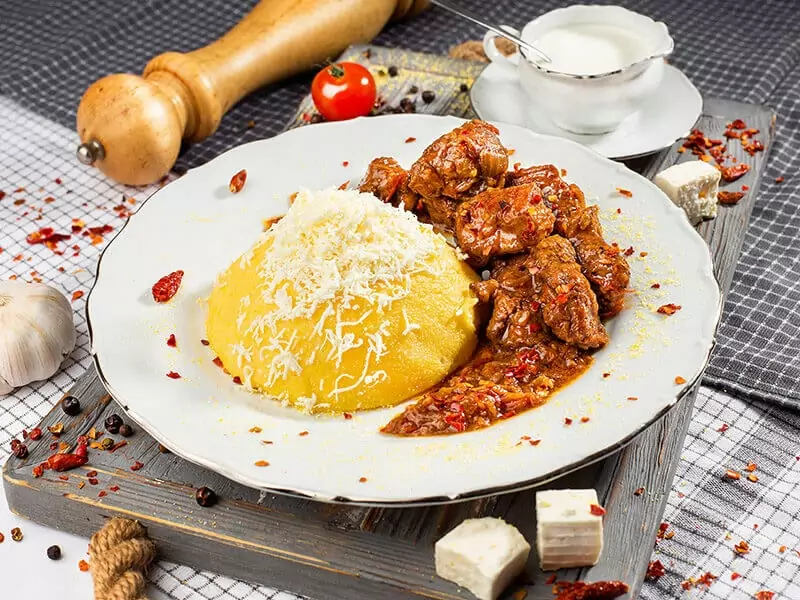 Another dish that pairs amazingly well with Mămăligă is Tochitură. This is a traditional Romanian lunch recipe made from small pork cubes cooked over low heat in their own fat. Besides Mămăligă, you can have it with sunny-side-up eggs, cheese, and maybe a glass of wine.
The name of this dish is derived from the verb a topi, meaning "slow cook meat in fat". This, of course, refers to the way the pork cut is cooked using its juices, creating a super tender and flavorful dish.
Here's a detailed tutorial for a homemade Tochitură with Mămăligă!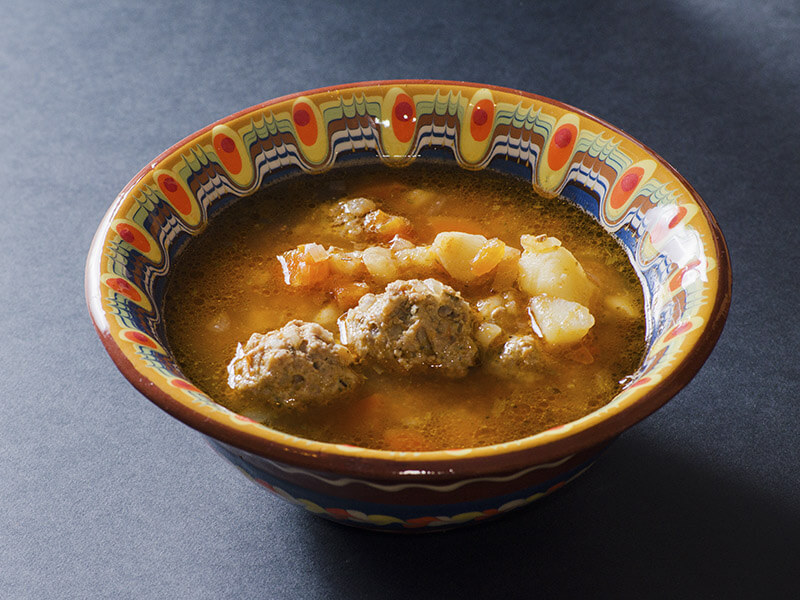 Here's another comforting Romanian soup for you to enjoy: Ciorbă de perișoare, or sour soup with meatballs! It's a savory soup recipe that you can make with crockpots that everyone can make at home.
Many countries and cultures influence Romanian cuisine. That is why some traditional dishes, such as Ciorbă de Perișoare, have international equivalents. For example, in the intriguing cuisine of Turkey, there's a similar soup called çorba.
The Romanians make the perişoare, aka meatballs, with minced pork, spices, and rice. These meatballs are then boiled in a ciorbă, a sour vegetable soup made with celery, onions, and parsnips.
This tangy soup with plump meatballs will taste even better when topped with sour cream, parsley, and cayenne pepper.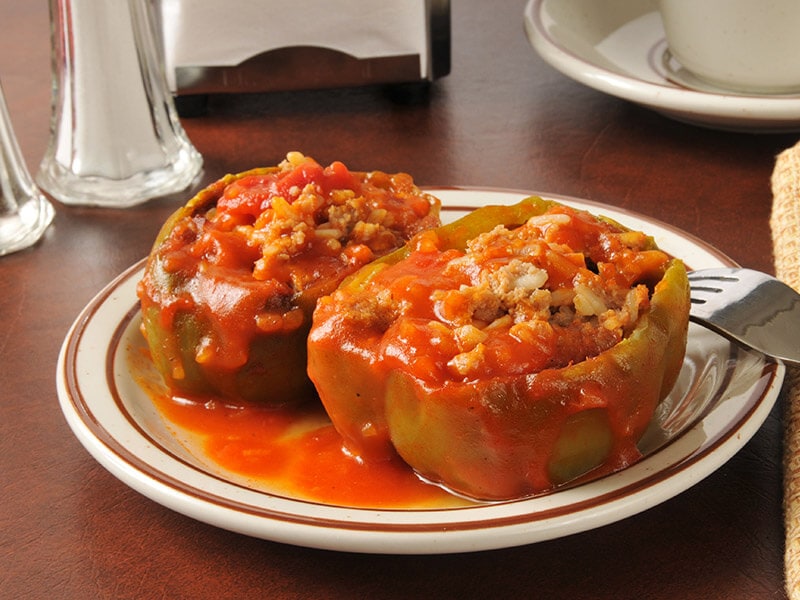 Stuffed peppers are a popular meal served all around the globe with a variety of meats, cheeses, and grains. It seems like every country has its own recipe and name for this tasty meal.
This dish is especially common in Central and Southeast Europe, but none can compare to their Romanian cousin. Even when you're eating leftovers and don't know the proper way to rewarm stuffed peppers, you'll still find this recipe from Romania a special treat to your taste buds.
Ardei Umpluți is surprisingly easy to make, which might be the reason behind its popularity. Just stuff yellow Hungarian bell peppers with some pork, onion, rice, and herbs. Afterward, boil them in a creamy tomato sauce, and you will have yourself a delicious plate of stuffed peppers.
12. Frigărui – Romanian Kebabs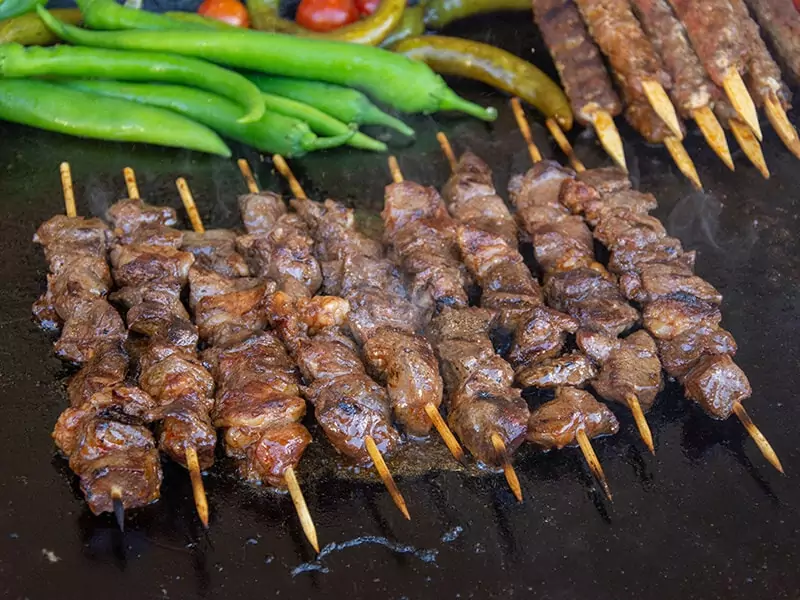 Similar to Middle Eastern kebabs, Frigărui is a skewered meat dish containing cubes of meat, vegetables, and seasonings. It also resembles the popular skewered and grilled meat dish in the gastronomy of Uzbekistan and other Central Asia nations called Shashlik.
You can combine these meat cubes with different veggies such as bell peppers, onions, mushrooms to boost the meat's flavor. Pairing this dish with mujdei de usturoi, a Romanian garlic sauce, is also an excellent choice.
The term frigăruie is a diminutive version of frigare, meaning "skewer". This, in turn, is derived from the Latin word frῑgĕre, which means "roast" or "fry".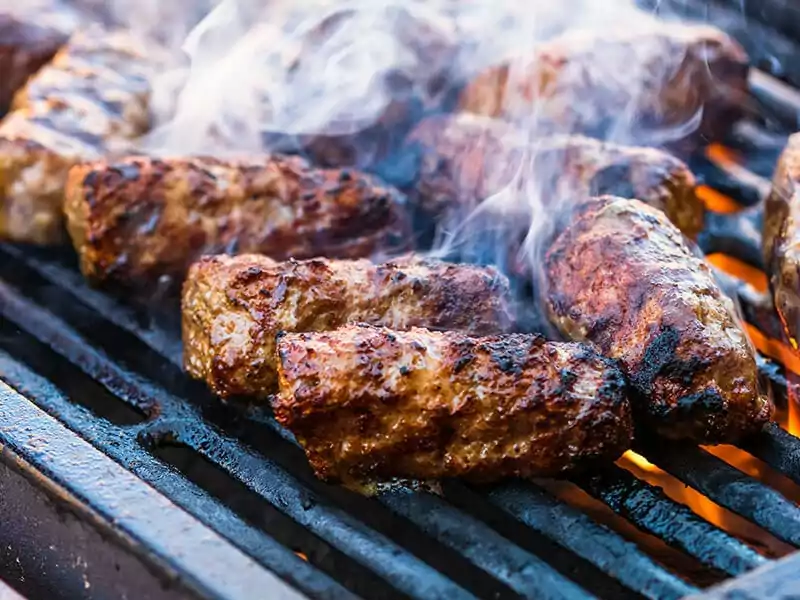 Mititei, meaning "tiny ones" in Romanian, is a grilled skinless sausage or ground meat rolls dish. These cylindrical-shaped rolls use a blend of lamb and beef with spices including pepper, garlic, thyme, anise, coriander, and paprika.
This dish is comparable to Ćevapi and other ground meat-based cuisines in the Balkans and the Middle East. For instance, Kebache, a popular dish from Bulgaria, also includes grounded meat shaped into cylindrical rolls before grilling.
Legend has it that Mititei were invented in the late 1800s by a cook at a pub named "La o idee" (which means "The Idea").
He came up with this brilliant dish on a hectic day at the pub when he ran out of casing. So he just placed the sausage filling on the grill and served it. The improvised dish was a huge hit, and its popularity has only grown since then.
Let's take a trip to Sibiu, a city in Romania, and taste some Mititei!
14. Pleșcoi Sausage – Romanian Sausage
Pleșcoi is actually the village's name in Romania's Buzău County, where the sausages are made using a traditional production method. Because of this, Plescoi sausage is one of the few Romanian food products with a Protected Geographical Indication (PGI) in the European Union.
These sausages have a unique and spectacular taste due to the correct proportion of beef and mutton, as well as a specific combination of paprika, garlic, and summer savory. The mutton must account for more than half of the meat.
Because the sausages are only made in small batches, they aren't sold in big amounts. So don't pass up the opportunity to taste some with a bunch of palatable sausage side dishes whenever the occasion arises.
These Romanian Side Dishes Will Make Your Mouth Water
The main dishes in Romania are amazing on their own, but I recommend completing your meals with these authentic side dishes. Just look at the mouth watering dishes right here; who can resist them?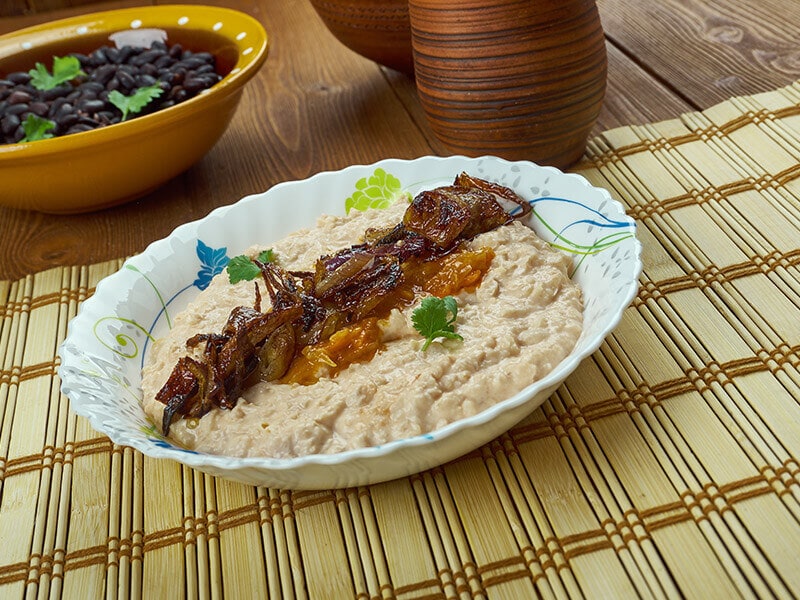 This traditional bean-based dip has several names, depending on the region. The most common ones are Fasole bătută or fasole făcăluită, which translates to "mashed beans". The name icre de fasole, meaning "roe of beans", is also frequently used.
For this recipe, you just need to mash some cooked beans and combine them with vegetable oil, caramelized onions, garlic, paprika, and lemon juice.
Fasole bătută pairs well with sausages, smoked meats, or dry-cured ham. However, it's best served as a spread for toasted bread slices.
16. Plăcintă – Cheese Pie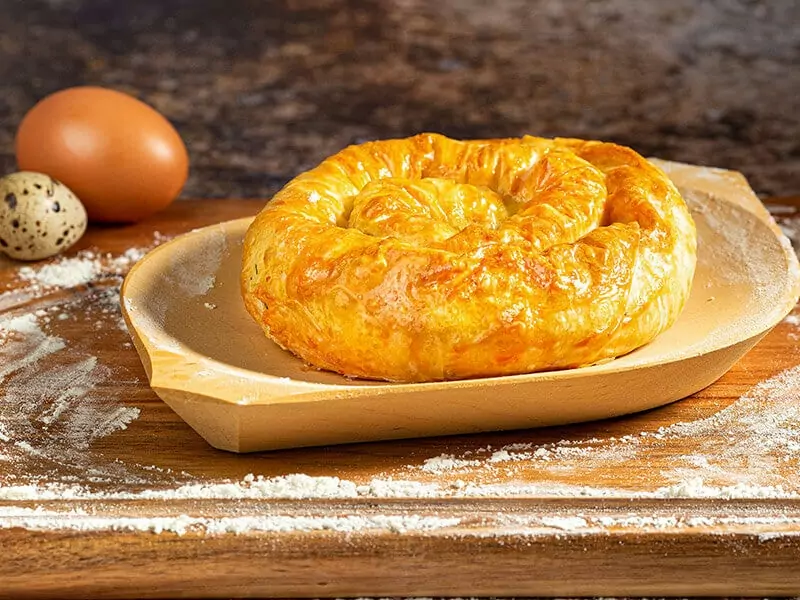 Here's another cheesy side dish that I know you would enjoy: Plăcintă! This is a classic Romanian pastry filled with Urdă cheese or apples.
The plăcintă originates in ancient Rome and stems from when Romania was a part of the Roman Empire. The Romans learned how to use cheese, herbs, and olive oil in their pastry from ancient Greek bakers.
In ancient Rome, bakers would create a huge placenta, a cake with cheese, honey, and bay leaves on top, that would be divided into squares and sold. Romanians continue to cook their plăcintă in this manner until this day.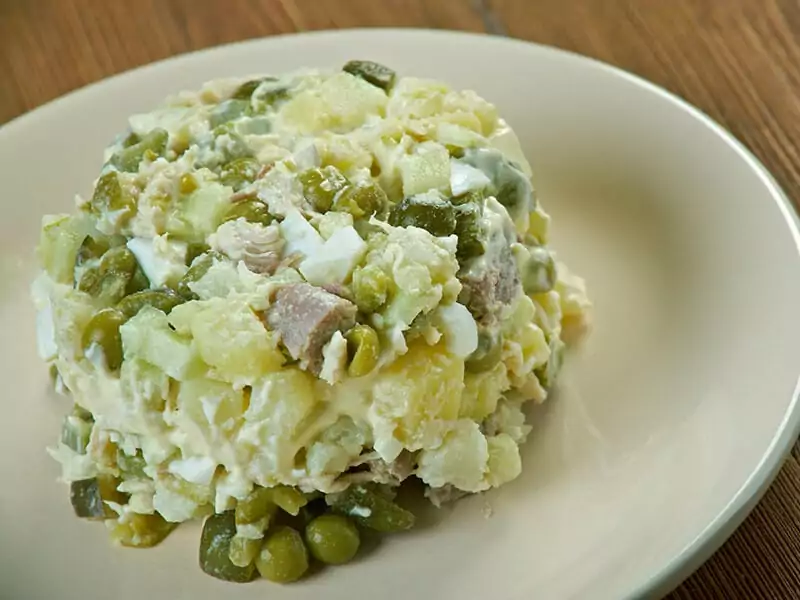 This traditional Romanian salad makes its appearance at all festive events around the country. It's made of finely diced beef, veggies, mayonnaise, and murături (Romanian pickled vegetable). This salad goes perfectly with other Romanian dinner recipes.
Despite its French-sounding name, Salată de Boeuf is actually inspired by a Russian dish called salat Olivje or Olivier salad. It was created by Lucien Olivier, a Belgian chef at the Hermitage museum in Russia in the 1860s.
Care For Some Yummy Romanian Desserts?
Don't leave, you haven't had your Romanian desserts yet! With all certainty, the Romanian desserts below will inspire you to take a trip to this southeastern European country, especially if you have a sweet tooth.
18. Cozonac – Easter Sweet Bread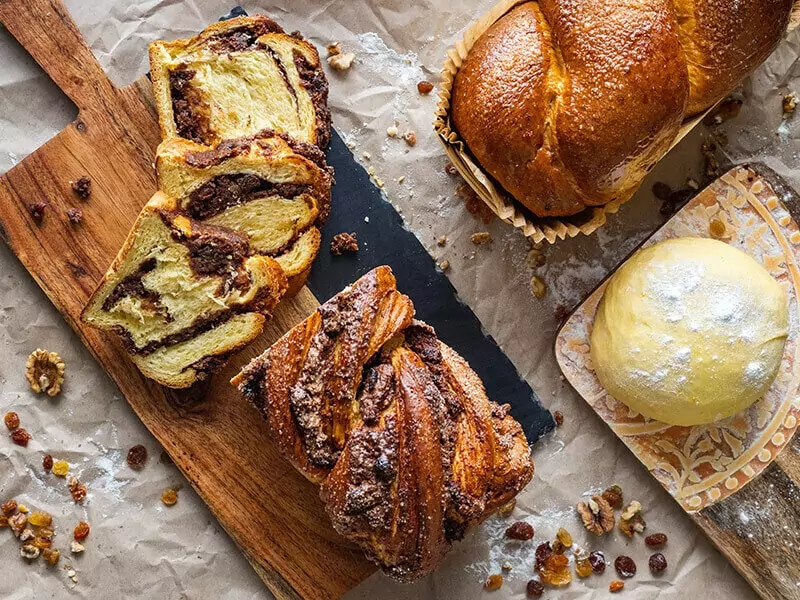 Cozonac, also known as Kozunak, is a well-known sweet leavened bread in Southeastern Europe, particularly Romania, Serbia, Greece, Macedonia, and Bulgaria.
It is traditionally made for Easter and major holidays such as Christmas or New Year's eve. This citrus-scented sweet dough is coiled around a nutty filling and baked into a spiral shape, giving the bread a festive look and soft texture.
On Europe Day 2006, Cozonac was chosen to represent Romania in the Café Europe project of the Austrian presidency of the European Union.
Looking for a recipe for Cozonac? Well, here you are!
19. Pasca – Easter Bread With Cheese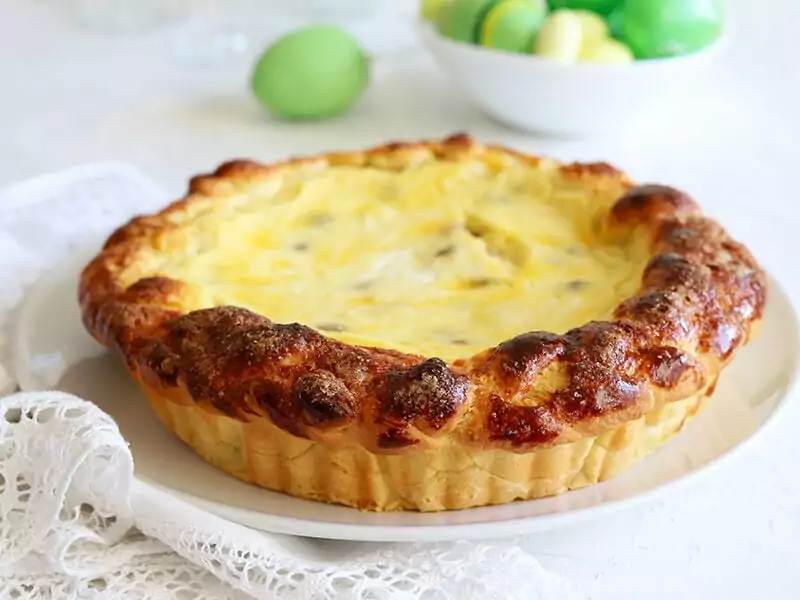 Another typical Romanian dessert bread for Easter is Pasca. This bread uses the same dough as Cozonac, but it's stuffed with sweet cheese and raisins. It's like a hybrid between a cheesecake and panettone, soft outside and creamy inside.
Pasca is an integral component of the Romanian Easter celebration, alongside Drob de Miel and Cozonac, the 2 festive dishes I mentioned earlier.
Pasca, like most Easter bread, has religious connotations. The sweet white cheese filling inside the dough actually represents Jesus Christ.
20. Papanași – Cheese Doughnuts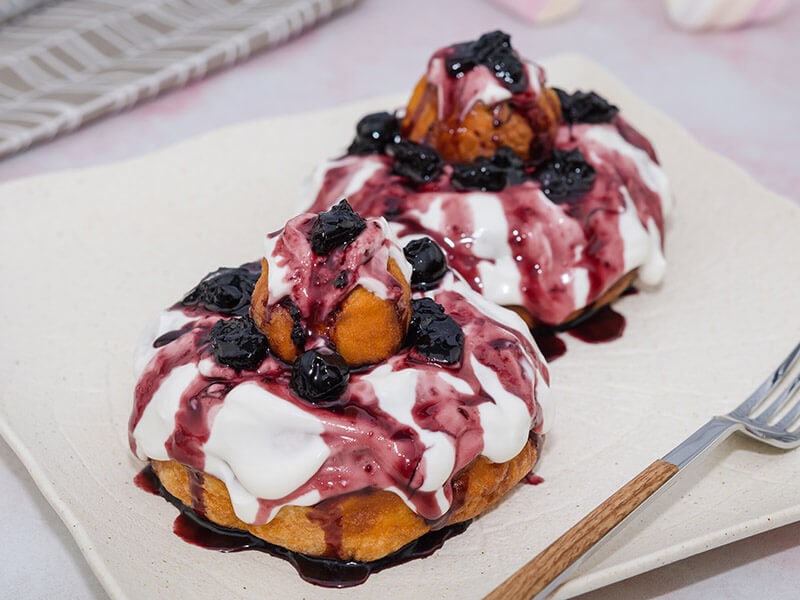 Even though I'm not a doughnut person, I can't deny how incredible these Romanian cheese doughnuts taste. Every bite is a delight with a soft yet crunchy texture along with sour cream and blueberry jam topping. It's no surprise that they're Romania's most famous dessert.
Papanași is stuffed with urdă, a type of soft cheese in Romania, giving the pastry a creamy yet delicate flavor.
The name Papanași might be derived from the Latin word pappa or papa, which signifies "children's food".
Want to try making Papanași at home? Check this out!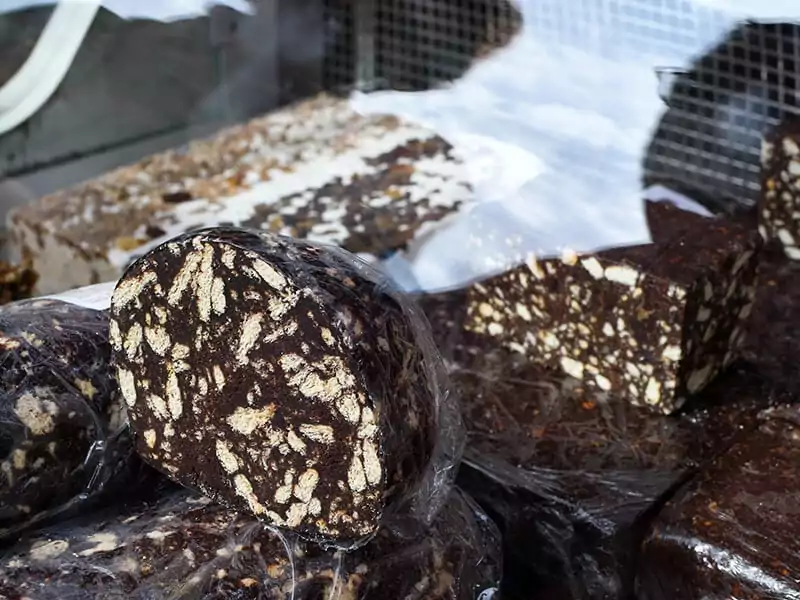 Salam de Biscuiți is an unbaked cookie shaped like salami slices. These unique cookies are famous during the Christmas season in Romania and across Europe, particularly in Germany, Hungary, and Italy, whose cuisines hugely impact Romania.
This dessert is made out of cocoa powder, sugar, butter, crushed cookies, rum extract, and Turkish delight. If you want to add eggs, you can, but be sure to use pasteurized eggs instead of regular whole eggs.
According to the locals, Salam de Biscuiți may have emerged during the communist era in the 1970s or 1980s as a result of food shortages.
Let's Wrap This Up!
Traditional Romanian dishes are influenced by Turkish, Balkan, German, Hungarian, and Serbian cuisine and cultures. The cuisine in this country combines a variety of components, creating unique, filling, and flavorful dishes that can leave you in awe.
I hope this post has inspired you to pack your bag and explore this beautiful country. Use this article as a handy checklist for all the favorite meals you must find and eat during your trip.
Thank you, everybody, for reading! Don't forget to leave a big thumbs up and share it with your travel buddies if you like this article. And if you have further questions about Romanian cuisine, type a comment in the section below, and I'll get you back as soon as possible!