The excellent flavor of Pakistani foods that I am about to introduce in this article are worth discovering. Furthermore, you will gain valuable information about the incredible dishes of this South Asian country.
So I have compiled a list of incredible and famous Pakistani recipes that you can refer to for your future reference. And I hope you will have fantastic moments and helpful knowledge about this gastronomy after reading this post.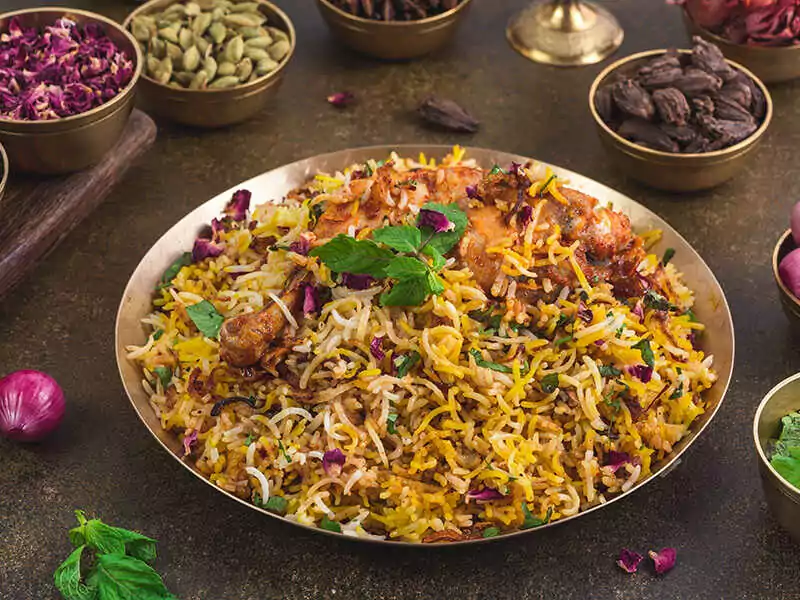 Recharge With Delicious Pakistani Main Foods
Meat is a rich source of protein, and these Pakistani main dishes with meat are amazing. You will love their flavors immediately.
1. Haleem – Thick Meat And Grain Stew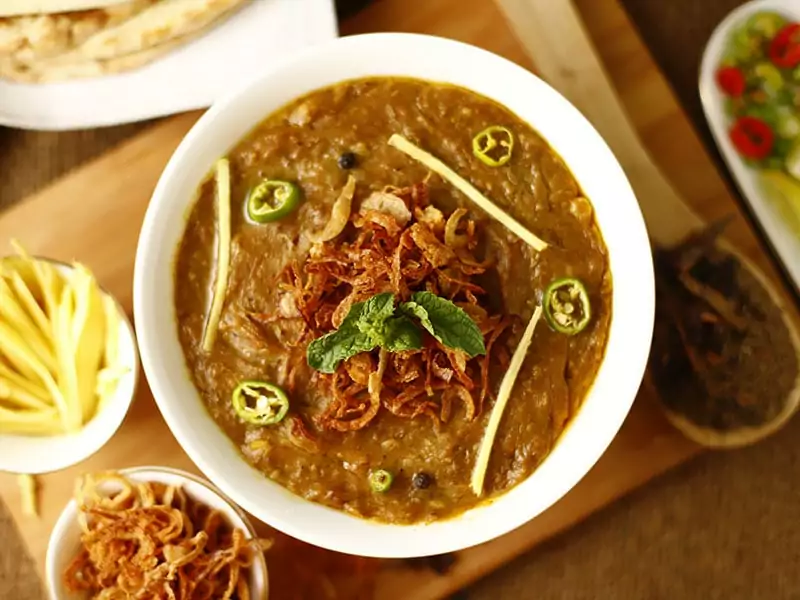 Haleem is a fantastic addition to your Pakistani lunch recipes. The key ingredients are barley, meat, wheat, and chana (chickpeas). This recipe is popular in this country, particularly for mouthwatering Pakistani street food, or in the Indian subcontinent, the Middle East, and Central Asia.
The chefs will cook it for seven to eight hours to get a consistent texture. Pakistanis eat this food all year. Especially, it becomes popular during Ramadan and Muharram.
The Harees of Arabic cuisine inspire this food. Harees have been around since the 10th century and were brought to the Indian subcontinent by Arab soldiers. To achieve the best taste, some chefs have to cook for more than a day at low heat.
2. Nihari – Pakistani Slow-Cooked Stew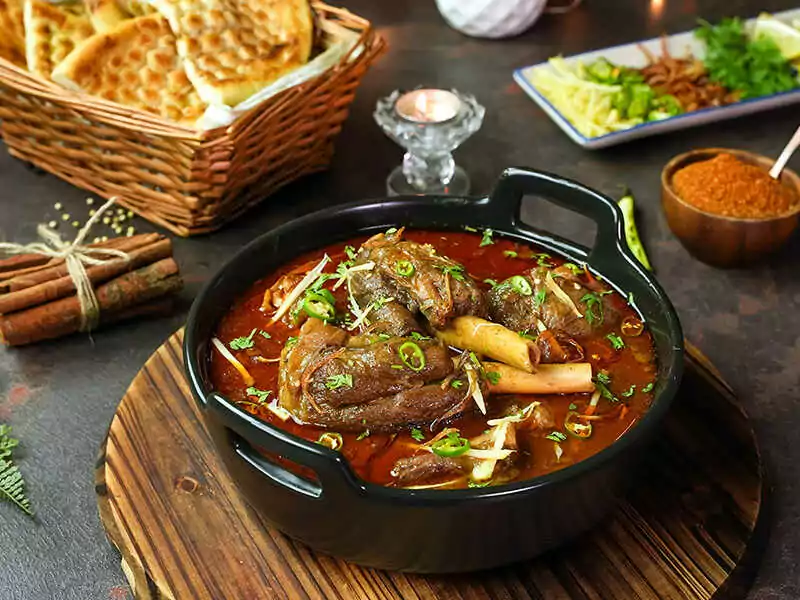 Nihari will fill your empty stomach quickly. This food was born in Old Delhi, including beef shanks, mutton, or chicken as the main complements. It is also usually served with rice or bread (naan).
Indian immigrants brought it to Pakistan when they gained their independence in 1947.Gradually, it became famous in Pakistan, especially in Karachi city, where many restaurants are selling this food.
The meat gets a rich taste when stewed with cloves, cumin, cardamom, and masal. Its name is derived from the Arabic word "narha", which means "morning".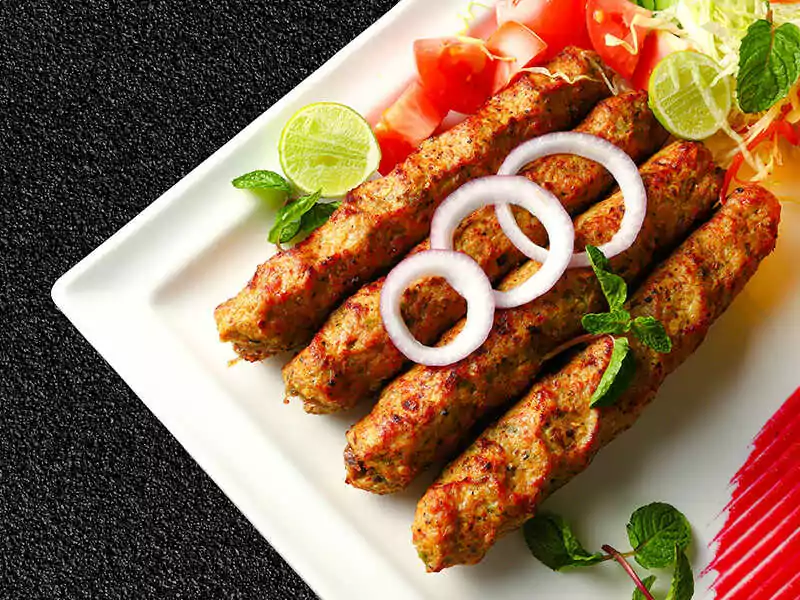 Seekh Kabab is one of the famous Pakistani kebabs. This food is the creation of the Pakistani and Indian people, that's why you can easily find them in the Indian-style starter menu. Chefs often grind beef, lamb, or chicken with various spices like ginger, garlic, and chili to make this food.
These grilled meat skewers will bring out a distinctive smoky flavor when enjoyed. In particular, baking with a tandoor oven will make the food more delicious and appealing. People normally serve it with flatbread, salads, fries, and chutney.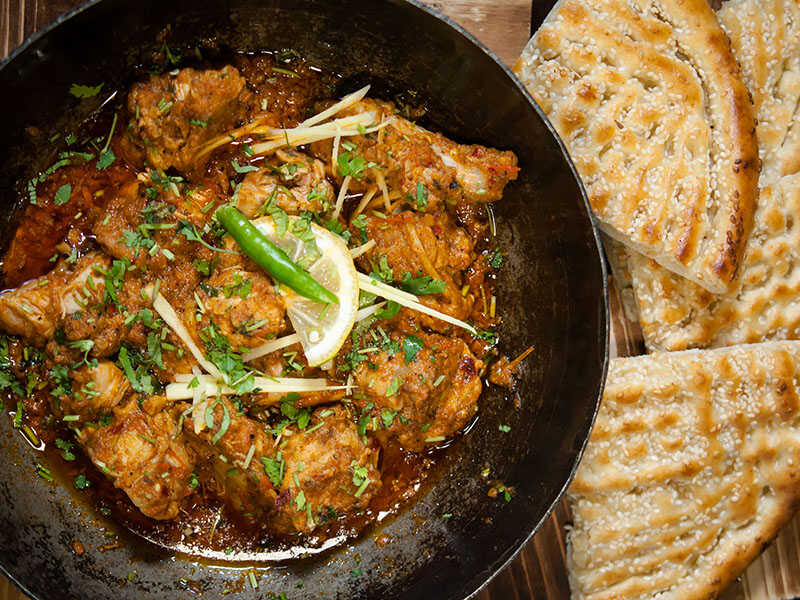 If you ask me about my favorite dish of Pakistani cuisine, I will answer "chicken Karahi". Karahi is a thick and deep pot used to cook this food. You can find flavors of chili powder, allspice, cardamom, cumin, and garlic in this recipe.
The feature that sets chicken Karachi apart from others is the appearance of the tomatoey base to bring a rich flavor to it. It is easy to prepare it with tomatoes, and it is good to use canned tomato puree or fresh versions.
Another version of Karahi using mutton is also pretty standard, and it is known as Gosht Karahi. People in the Khyber Pakhtunkhwa – a region on the northern border of Pakistan were the first to prepare this wonderful dish.
Follow these instructions to make delicious chicken Karani.
5. Sajji – Roasted Whole Chicken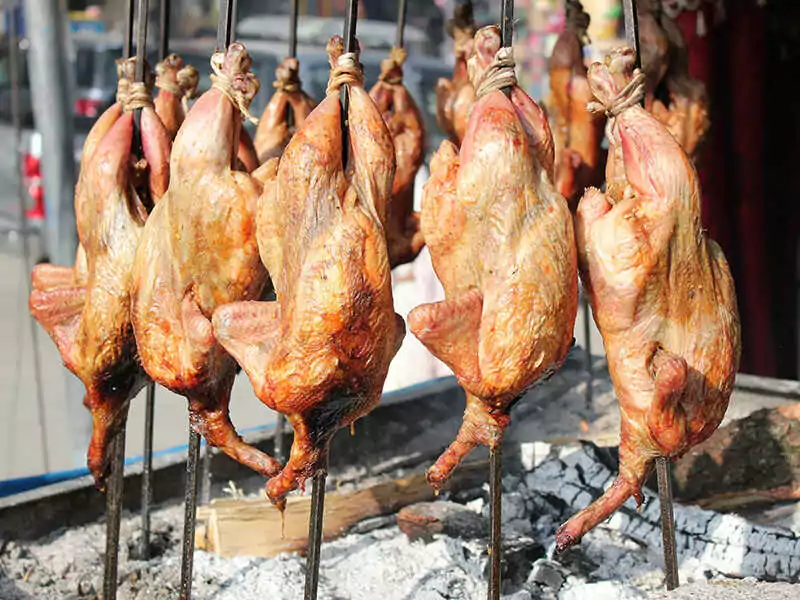 It is a pity that you missed Sajji. This wonderful dish is the pride of the cuisine of the Balochistan province of Pakistan. If you want to enjoy the best Sajji in Pakistan, you should go to Lehri Sajji House.
This restaurant was established in 1967 by Haji Aman Ullah, who is credited with bringing Sajji to many Pakistanis. You can choose the roasted chicken or lamb version. The crispiness of the outside and the tenderness and juiciness of the meat inside will surely enchant you.
6. Kabuli Pulao – Steamed Rice Mixed With Meat And Veggies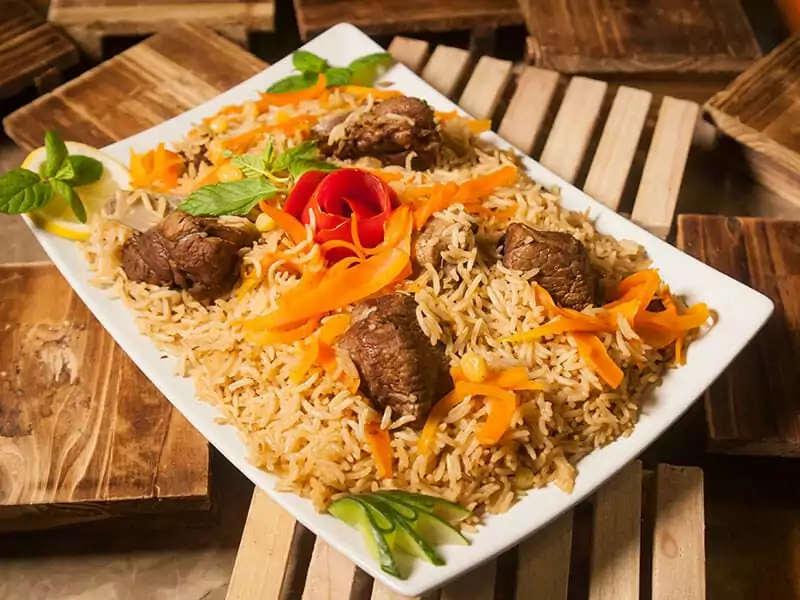 Although Kabuli Pulao is a specility of Afghan cuisine, it is also common in Pakistan. Kabul's upper-class families made it first when they had money to buy raisins, nuts, rice, and caramelized carrots.
Silk Road traders brought it from Afghanistan to western Pakistan, and it gradually spread throughout the country. The rice grains fried with dry spices will become rich. Moreover, mutton and beef are indispensable in this dish.
There are many places selling Kabuli Pulao in Pakistan. If you find a dish served on large stainless steel pots that look like bells tilted at a 45-degree angle, this is Kabuli Pulao.
7. Lahori Chargha – Steamed and Fried Chicken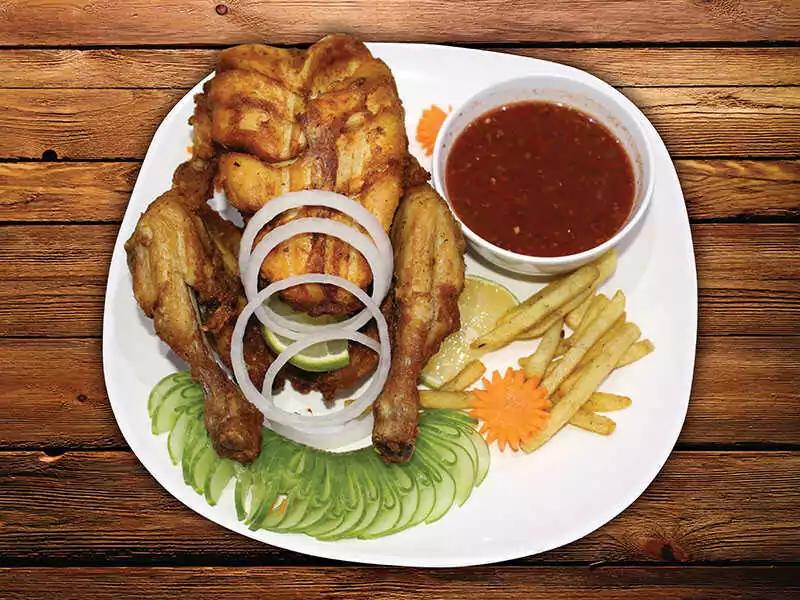 Chargha is a fantastic suggestion for you if you are a fan of chicken. This recipe combines chicken, spices, and yogurt to make a distinctive and delicate flavor. The chef will prefer to use freshly pecked chicken to keep it succulent and tender.
Its name "Chargha" means chicken in Pushto, and it is an invention in Lahore city, Pakistan. You can choose from the Tandoori Chargha version with roasted chicken or the traditional deep-fried chicken version.
Learn new things about chicken Chargha and how to make it with this review.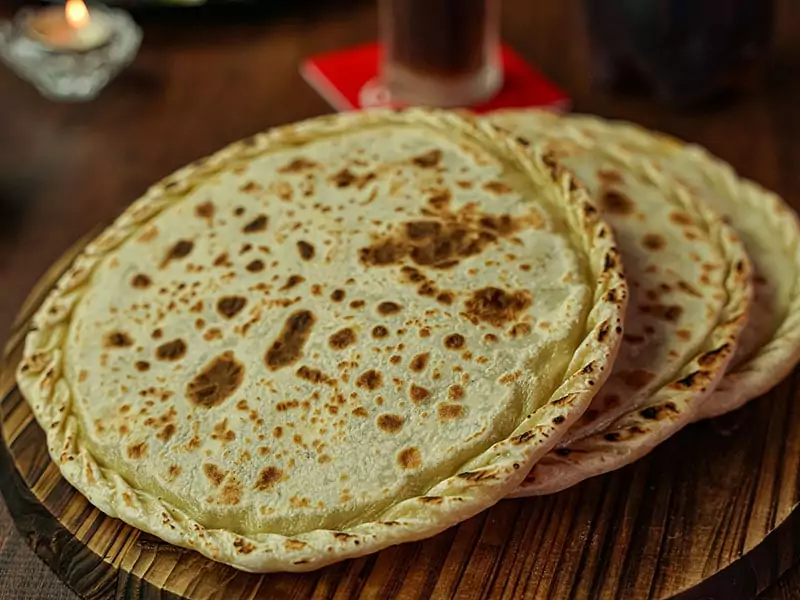 Let's move to the North of Pakistan, especially Gilgit Baltistan – a mountain area in this place, to enjoy excellent Chapshurro. The word "Chap" means "meat" in its name, so it is easy to find yak meat in this ideal food recipe.
This dish cooked on a convex steel plate is a favorite choice of tourists on cool days. You will feel the taste of pepper, onions, and sweet carrots in Chapshurro. Wheat is the key ingredient to making the dough of this food.
Most people want to go to Gilgit Baltistan to enjoy it, and you can also find it in many other regions across Pakistan, from Gilgit city to Hunza valley.
9. Biriyani – Pakistani Rice And Meat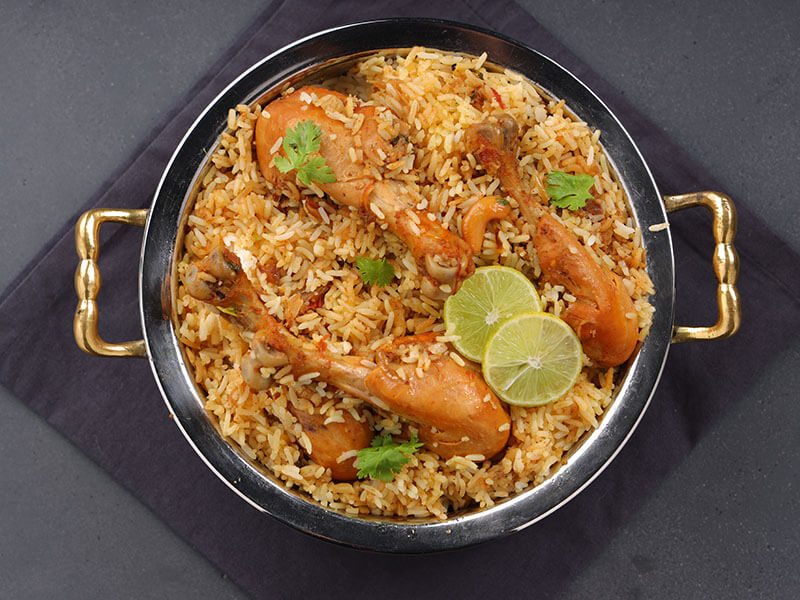 If you have a chance, try Biriyani on the streets of Pakistan. This food looks pretty similar to Pulao, but they are different. Pulao consists of ingredients fried together, while elements in Biriyani are entirely separate.
Regarding the cooking, before steaming, the rice is layered into a cooking vessel and seasoned with nutmeg, cumin, and cardamom. Then add a layer of peanuts and carrots over the top. Chefs will combine meat strips and light yogurt to enhance the flavor.
Rice is an essential component, so choosing a suitable type among many rice varieties to prepare Biriyani is important.
Before steaming, the rice is layered into a cooking vessel and seasoned with nutmeg, cumin, and cardamom. Finally, a layer of peanuts and carrots will be covered on top. Chefs will combine meat strips and light yogurt to enhance the flavor.
Moreover, Karachi city is famous for the bone marrow Biriyani version. This food first appeared in North India and was created by the Mughals.
Discover the history and origins of amazing Biriyani.
10. Aloo Matar – Green Peas and Potato Dry Curry
If you seek a Pakistani dinner recipe to fill your stomach after a long day, you should not neglect delicious and nutritious Aloo Marta. Moreover, it is a good choice for vegetarians, thanks to its plant-based ingredients.
Potatoes and peas are the main elements in making outstanding food. Its name is taken from the name of two primary ingredients when "Aloo" means "potatoes" and "Matar" means "peas". Alternatively, it becomes more flavorful with a tomato-based sauce.
Today, you can find packages of Aloo Matar at supermarkets as it becomes a commercial product. You just need to buy them and heat them before eating. In addition, it also appears in the fillings of all kinds of Dosa.
It is straightforward to make mouthwatering Aloo Matar.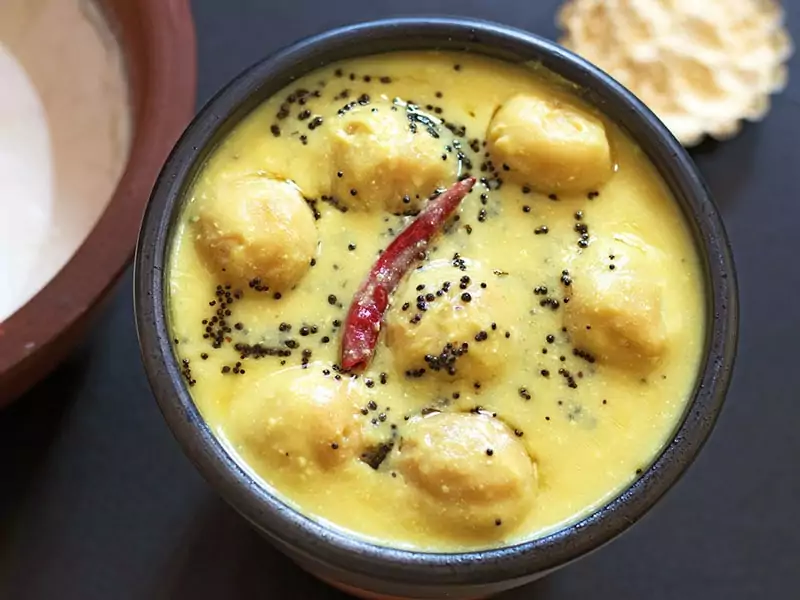 If you are looking for a vegan and yummy dish, Kadhi Pakora is the choice you should consider. This delicious yogurt curry is a combination of besan (gram flour), pakora (fritters), and spices that will add flavor to this food.
You will love the smooth and consistent texture of this food. This mouthwatering curry recipe originates from Rajasthan and is popular in Pakistan and India. People often combine it with rice or roti for dinner.
Well-Known Snacks, Side Dishes, And Bread You Can Find In Pakistan
There are many fantastic snacks, side dishes, and bread you can find on Pakistani streets. You will regret it if you miss these treats, so keep reading to explore!
12. Halwa Poori – Fried Dough And Semolina Pudding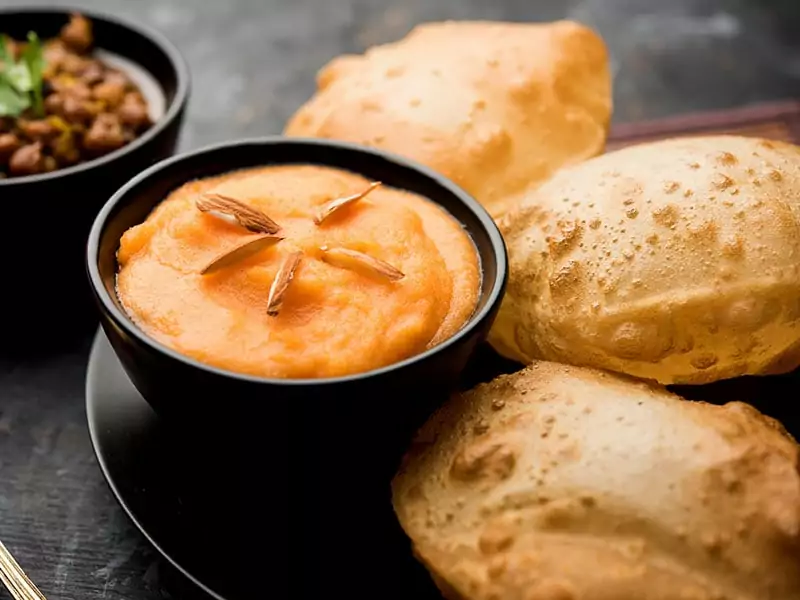 People normally consume Halwa Puri for snacks, but it is also an amazing Pakistani breakfast recipe. This is a traditional Pakistani and Indian dish. This food consists of fried dough (Poori – a kind of Indian bread and) semolina pudding (Halwa).
This treat also features the signature flavors of cloves, cardamom pods, and kewra essence. Halwa Poori is a product of the Indian subcontinent (Punjab) people, and it gradually spread to Pakistan, Nepal, and the Madheshi community.
It is a preferred choice of Pakistanis for special occasions and celebrations like religious festivals, holidays, or weddings. Besides serving at breakfast, it also usually appears at lunch or brunch.
13. Paratha – Pakistani Flatbread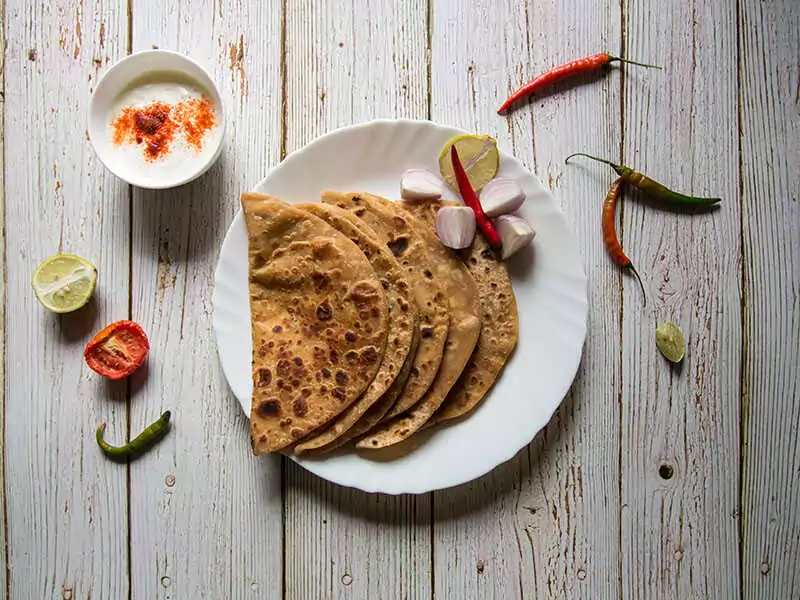 Pakistanis often choose Parathas for their breakfast. This food with a P at the beginning of its name is a flatbread with wheat flour as the key ingredient. Baking with ghee will leave a seductive aroma for Parathas. You can find it in triangle, round, square, and heptagonal forms.
Its name is from the words "parat" and "atta" (flour). The dish will be more flavorful with fillings like boiled potatoes, garlic, radish, and cauliflower. And it usually goes with pickles, curry, and Lassi (yogurt).
There are similar versions of this bread, like Sabaayad flatbread – a popular Somali-based food. This bread appeared a long time ago, and it was presented in the book Panjab of Nijjar in 1968. According to the information in the book, it was popular with the nobles from 1000 to 1526 A.D.
Listen to this review about an incredible Paratha.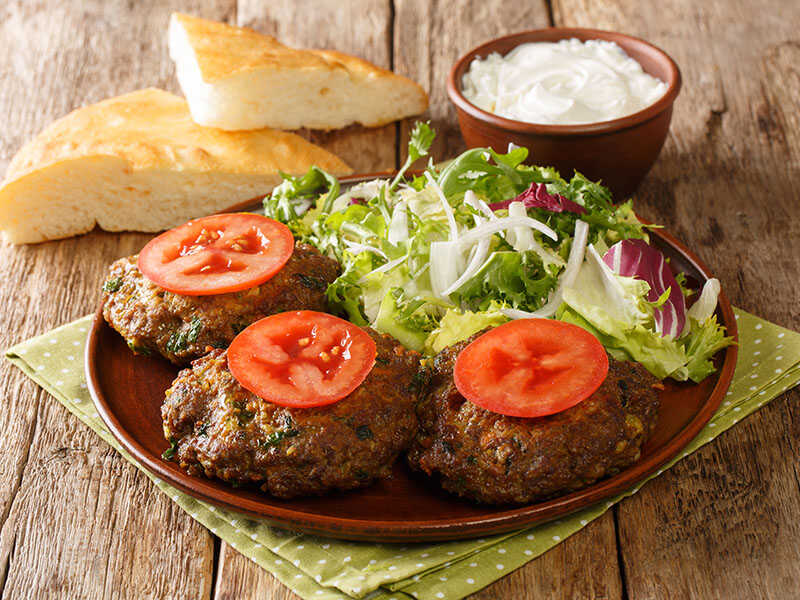 Chapli kebab is famous street food in Pakistan. Besides being a perfect side dish, you can enjoy it as an appetizer or main dish. These grilled ground meats are perfect for sipping a few beers. You can taste the flavors of coriander and pomegranate seeds in this tasty recipe.
Its name is taken from the Pashto word "chaprikh" which means "flat". It comes from the flat shape of minced meat slices. It is an invention of people in the northern region of Pakistan, such as Khyber Pakhtunkhwa and Peshawar.
15. Pani Puri – Filled Deep-Fried Flatbread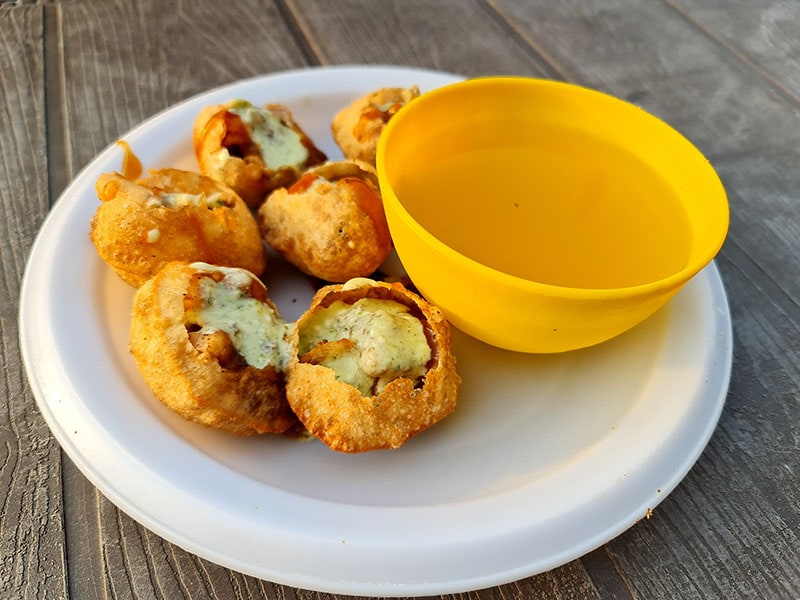 When you walk on the streets of Pakistan, you will easily come across vendors selling scrumptious Pani Puri. You will love the ball-shaped crispy flatbread (hollow puri) on the outside of it. In particular, it becomes more flavorful with different fillings.
There are other variations of Pani Puri, like those in delectable Bangladeshi foods. You can choose from sprouts, chopped onions, or mashed potatoes fillings.
When dipped into tamarind sauce, it will knock you out immediately. This food was born in the Indian subcontinent and is popular in Pakistan and many other countries, especially on the list of street foods in India. So if you have a chance to visit these places, do not miss this treat!
Let's purchase Pani Puri and taste it to understand more about its flavor.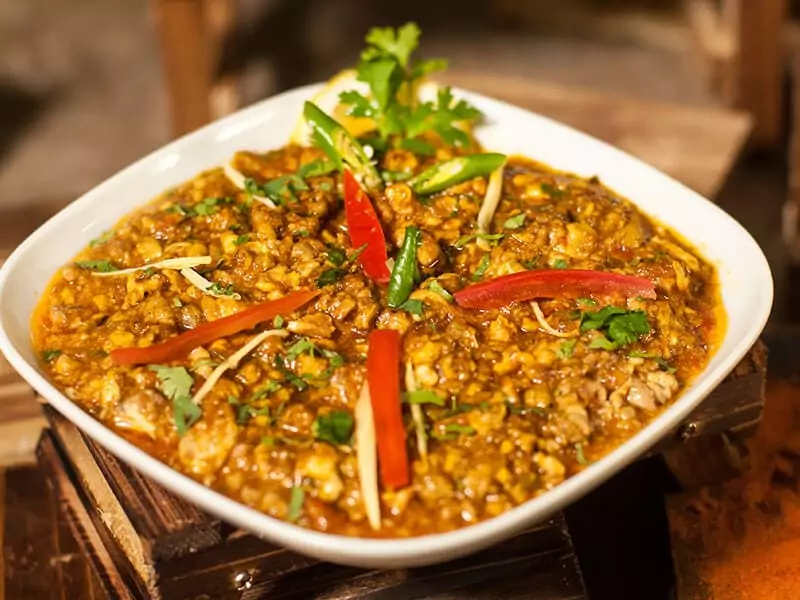 Brain Masala is a recipe you should not miss if you like foods made from animal organs. This side plate is pretty popular in India and Pakistan. This food has been around since the Mughal Empire in the Indian subcontinent.
Masala in its name means "gravy", so people often call it "brain of gravy". This recipe will use the brains of lamb, cow, camel, or goat for cooking together with red chili powder, cilantro, and onions until thickened like a curry.
They are basically a side dish to serve alone, but if you pair it with rice, you will have a full main course.
17. Saag – Mustard Green Sauce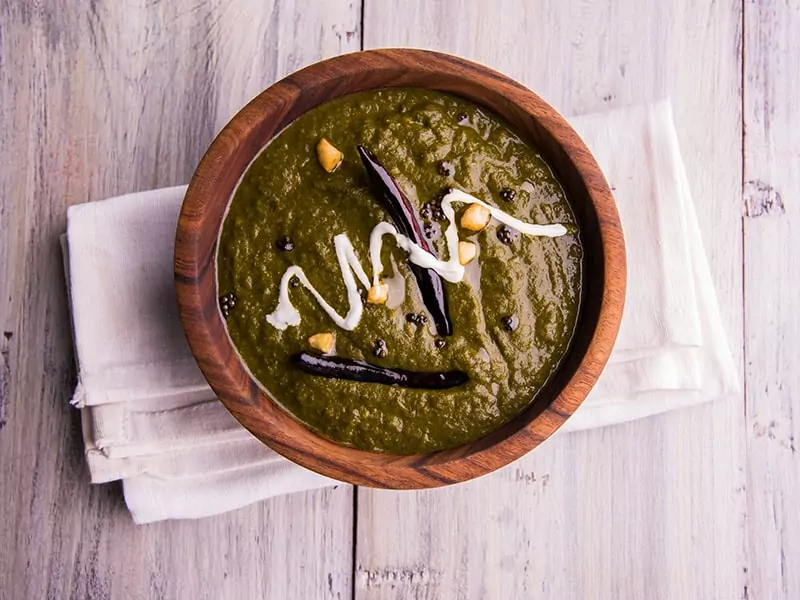 Saag or Sag is a famous Pakistani vegetable dish. This recipe is typical in the Punjab province of Pakistan. Its name means "mustard green", reflecting its appearance with a characteristic green color.
This recipe usually comes with naan and roti and sometimes goes with rice. Spinach, mustard greens, collard greens, and more are cooked until tender. The most famous version of Saag is Saag Paneer, with soft cheese as the main element.
The Northern Pakistan town of Skardu has a unique version of Saag made up of vast chunks of mutton. Peshawari Grandfather has a version of Saag with a distinctive sour taste and is suitable for health when it does not contain much spice. Enjoy it cold for the best flavor.
18. Baingan Bharta – Smoky Mashed Eggplants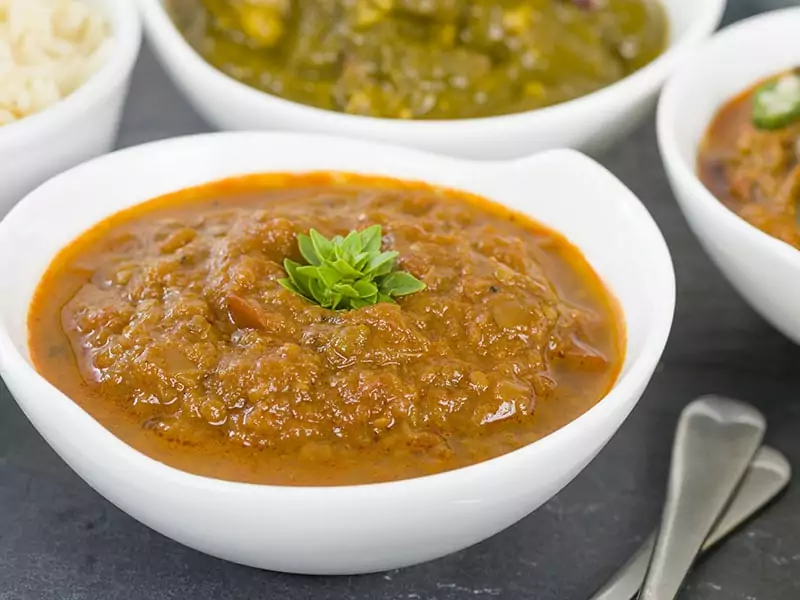 Baingan Bharta is the must-try plant-based recipe of Pakistani cuisine. This food originates from the Indian subcontinent and is common in Pakistan, Bangladesh, and India. Aubergines (eggplants) are the key ingredients that make up this food.
Pakistanis will grill aubergines over a charcoal fire, so you will feel some smoky flavor when eating this food. After baking, people saute it with onions and tomatoes. A little taste of cumin, coriander, and ginger will make you flutter.
Outstanding And Sweet Desserts Of Pakistani Cuisine
Desserts play a vital role in culinary, and they will help you refresh your taste buds after a heavy main course. Let's refer to these fantastic Pakistani desserts to add to your menu.
19. Zarda – Pakistani Sweet Rice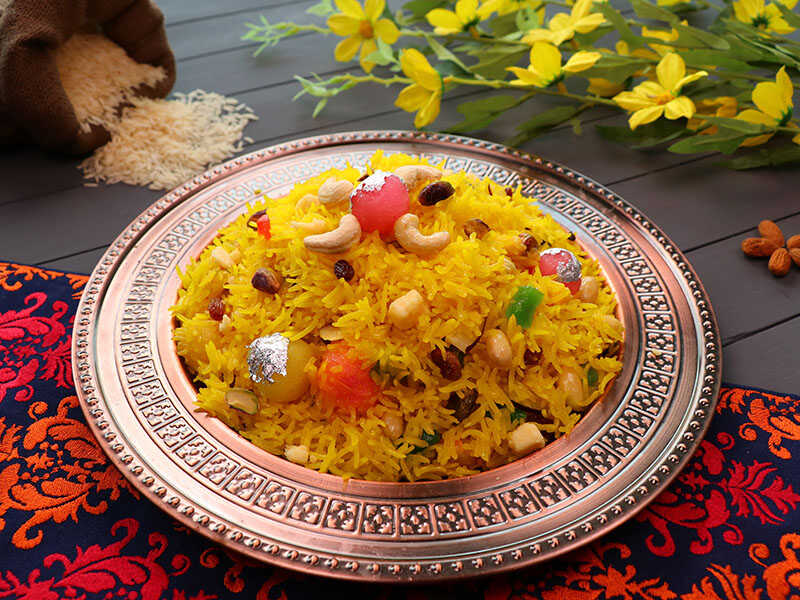 Zarda is a fantastic Pakistani dessert recipe that you should try. This food contains basmati rice as the main element. Significantly, this dish has a sweet taste when the chef cooks it with milk and sugar.
Zarda is a popular choice for Pakistani festivals and special occasions. Its name Zarda is derived from the Persian word "Zard," which means "yellow". The name is inspired by the eye-catching yellow color of sweet rice.
20. Lassi – Sweet Yogurt-Based Drink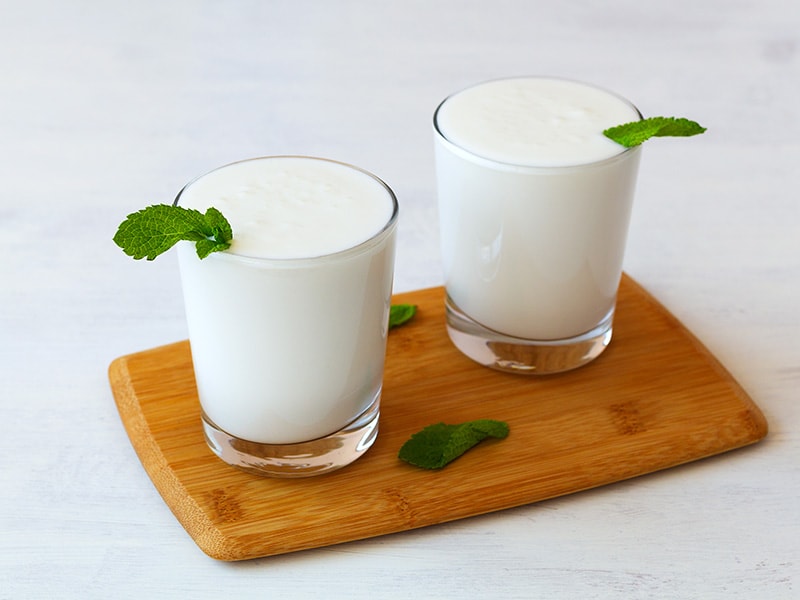 Lassi is an ancient drink of Pakistani cuisine. It might be one of the first smoothies created in 1000 BC with natural fruits. This food contains Ayurvedic healing properties suitable for the stomach and mind.
This wonderful and refreshing dish is a great option to refresh your taste buds. This silky smoothie has different variations, from savory to sweet and a fruit version with mango. Some variations have the appearance of cream and butter to enhance the creamy texture.
21. Falooda – Ice Cream Dessert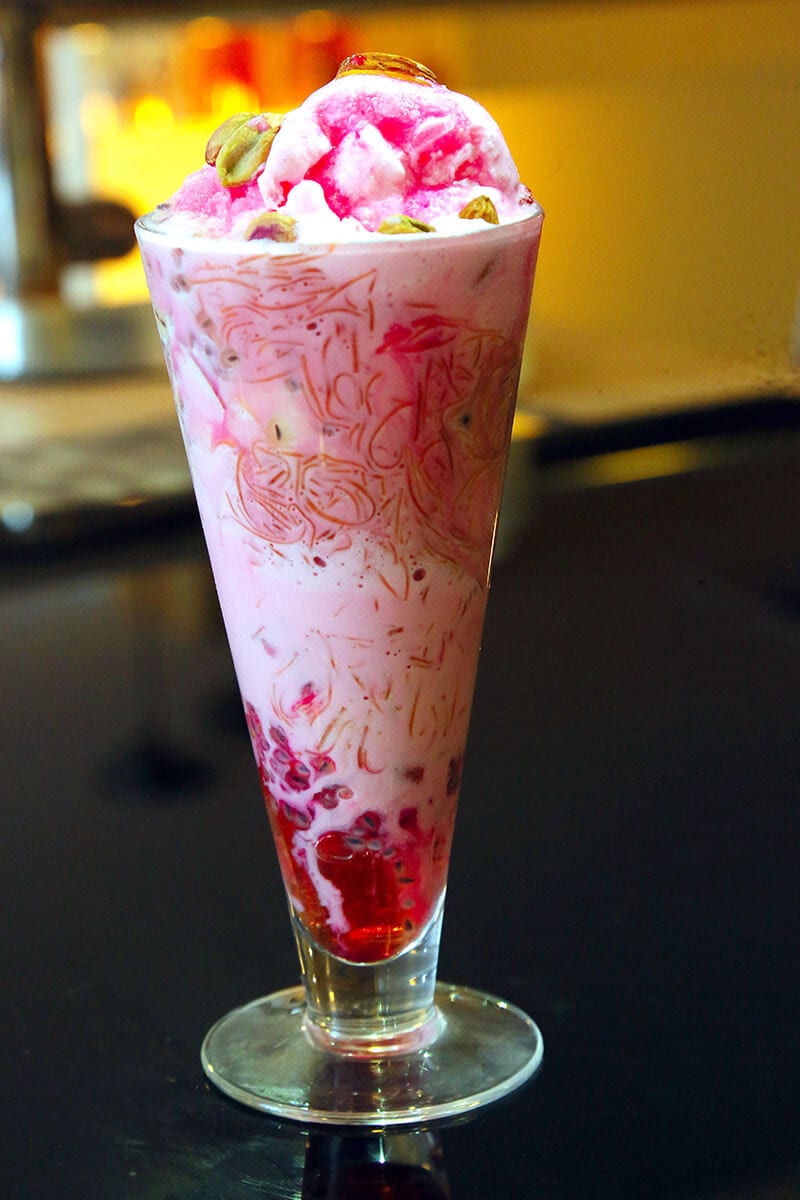 It is time to cool down with a delicious cup of Falooda. This scrumptious dish originated in Iran, but it has become an essential part of the cuisine of Pakistan and many other countries. Pakistanis will eat this food during Islamic holidays, weddings, and other important occasions.
You will indulge in its perfect sweetness. This extraordinary dessert recipe combines vermicelli, chilled milk, rose syrup, and ice cream. In addition, the layer of pistachios on top will make this dish even more special.
Watch this video to know more:
Even though Kunafa is a recipe originating from Middle Eastern-based desserts, it is pretty popular in Pakistan. People believe this yummy dessert first appeared in Syria in the 7th century and became an essential dish during the fasting period of Ramadan.
You will go crazy with the aroma and creamy taste of the cheese layer on top of the flake dough. A bit of sugar syrup will bring an enchanting sweetness to this dessert. Pakistanis often eat this dish while it is still hot.
23. Kheer – Pakistani Rice Pudding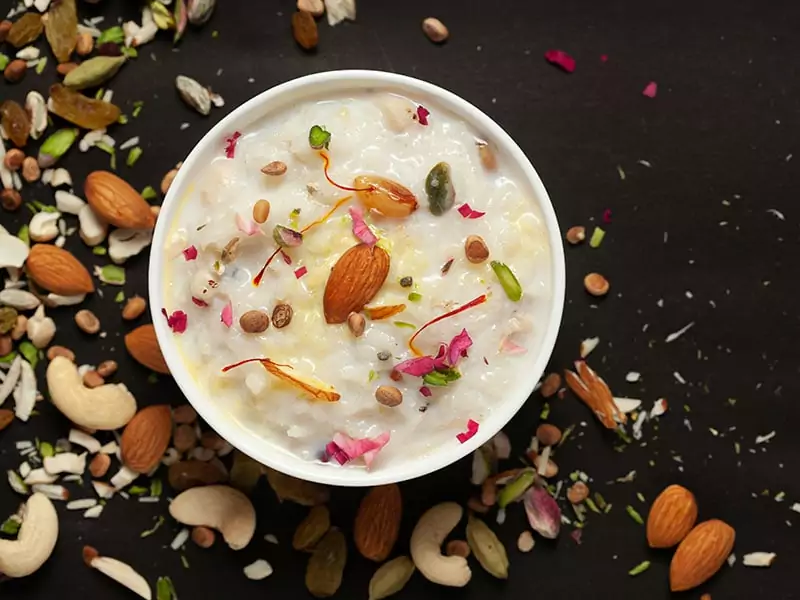 Everyone who comes to Pakistan wants to enjoy this smooth and fabulous dessert, Kheer. It is a type of rice pudding as rice is cooked with milk and sugar. You can eat it hot or cold depending on your preference. This recipe will have raisins, nuts, and desiccated coconut on top.
This dish originated from India 2000 years ago in the Lord Jagannath Temple in Orissa and was introduced to Pakistan in the Middle Ages. It is one of the ancient deserts of the Indian subcontinent.
24. Gulab Jamun – Sweet Ball-Sized Dessert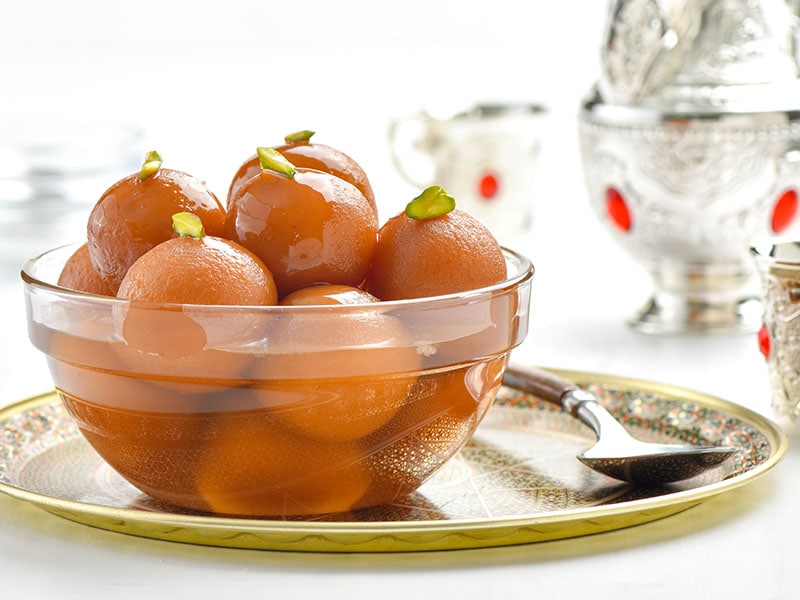 Gulab Jamun is a sweet dessert that originated in Medieval Iran and spread to Central Asia and the Indian subcontinent. However, there are many opinions that it is the product of a Mughal emperor Shah Jahan's chef.
Most Pakistanis know this dessert. You can easily find it at restaurants or tea houses. Initially, these small sponge balls were made from milk. Later, the chef used more flour to enhance the crunch.
The seductive sweetness of sugar syrup will leave an indelible impression on your mind. In some cases, rose water or cardamom are alternatives.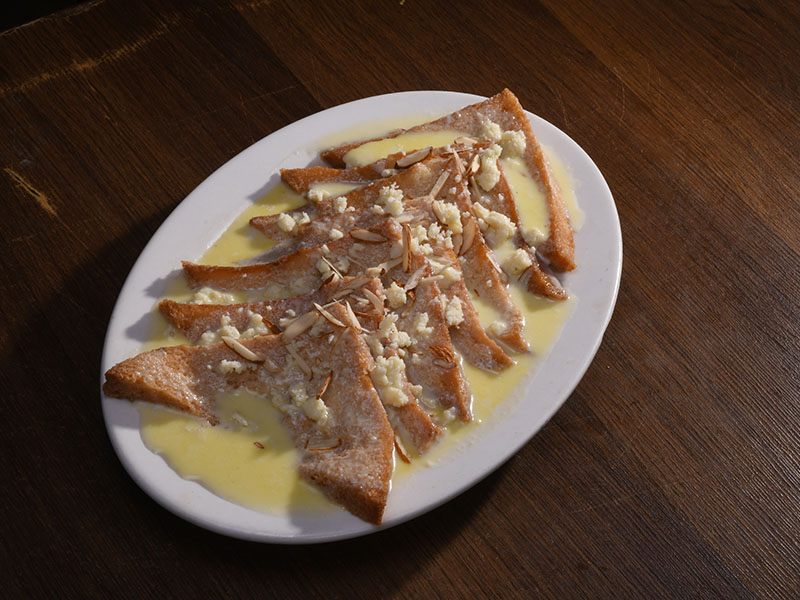 Have you ever thought about making pudding with bread? Shahi Tukray is a famous Pakistani bread dessert. The flavor of the bread will become more attractive when soaked in hot milk, cardamom, and saffron.
This food had its origins in ancient Egypt when it was developed from Umm Ali – an ancient bread pudding. There is a story that the Sultan and a group of people entered a village near the Nile searching for food and found it. Gradually, it is popular in South Asian countries and many other nations.
Do You Love These Pakistani Foods?
Do you want to try these fantastic dishes right away? I am sure that their attractiveness will pique your curiosity. I am glad that this article has brought you valuable information about Pakistani cuisine.
It is fantastic when this knowledge reaches more people, so do not hesitate to share this post with the people around you. If you still have other concerns, please share your opinions and questions in the comment section. Thanks for reading!