Before diving into the virtues of New England foods, let's learn some geographical facts. The term "New England" refers to the six states in the northeastern region of the United States. So the foods in this land resemble those from the rest of America, right?
The answer is both yes and no. While New England cuisine features mostly mainstream American dishes, it has developed signature dishes over the course of its long history. Let's experience the best of them in this post!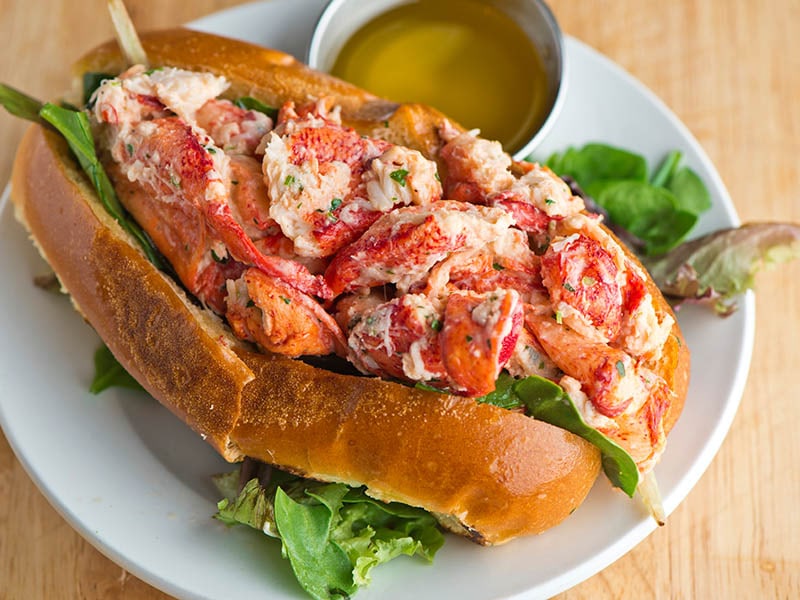 8 Flavorsome New England Dishes To Try Everywhere
New England includes the following six states in America: Maine, New Hampshire, Vermont, Massachusetts, Rhode Island, and Connecticut. Wherever you travel in these states, you can try all the finger-licking dishes I'm about to share.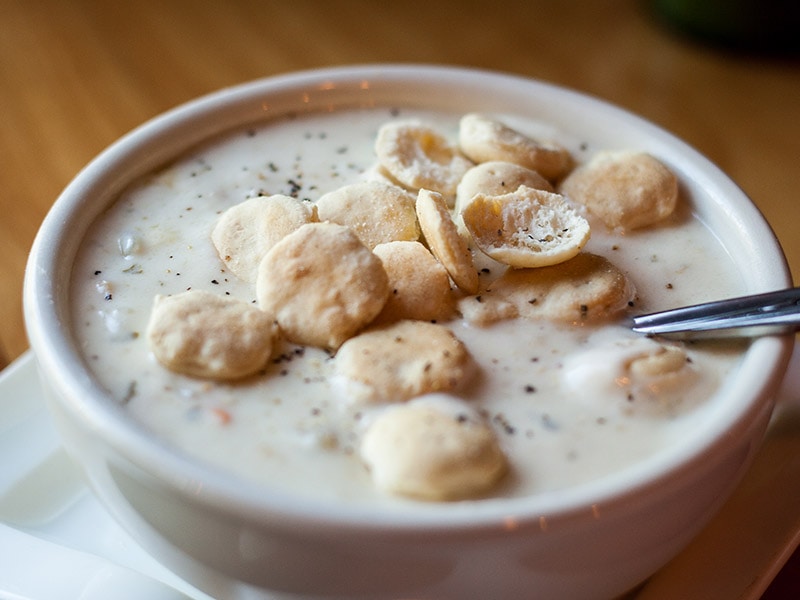 Many iconic New England recipes become so popular that people tend to think of them as universal American dishes. One example of such appeal is clam chowder, which originated in the Northeastern United States around the 18th example.
There are many variants of the dish in different states. But they all contain clams, milk/ cream, and onions. Except for in Rhode Island, a typical bowl of clam chowder from New England has a milky appearance, hence its informal name "white" clam chowder.
Rhode Island stands out from the rest of New England for using no milk in the chowder soup. To the south of the region, Manhattan in New York has a "red" version of the dish utilizing tomatoes, an ingredient that cooks from New England vehemently oppose.
Anyhow, clam chowder is a favorite treat that has no difficulty taking hold of other American states. It should be served hot with bread rolls, crackers, or salad. Those foods will bring out the perfect combined sweetness of both clams and milk.
Discover some of the best clam chowders in Boston here.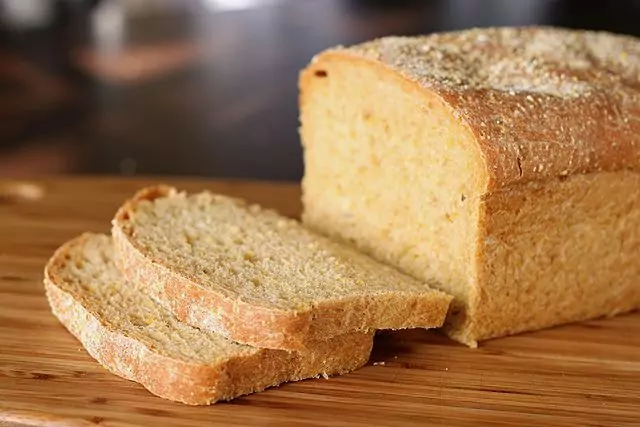 There are no verifiable records about how this traditional New England yeast bread came about, only legends. But many agree that it already existed in the mid-19th century. The buttery, grassy-smelling taste of Anadama bread has delighted the locals ever since.
According to a famous anecdote, a fisherman in Massachusetts is responsible for the bread's creation. Fed up with his wife's terrible cooking, he accidentally made it from the leftovers while cursing her: "Anna, damn her!". And so was born the recipe along with its interesting name.
What distinguishes "Anna damn" bread from other famous kinds of bread is the addition of cornmeal, molasses, and, sometimes, rye flour. The bread is crumblier and richer in nutrients, lending itself to every dish that goes with starch.
3. Clambake – Steamed Seafood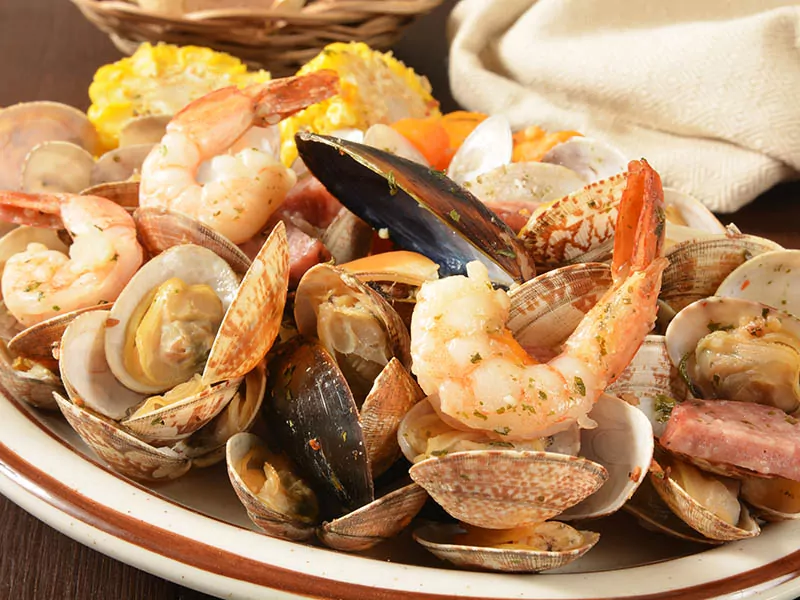 While the name only mentions "clam", this paragon of New England cuisine includes all kinds of seafood. Since the region shares a long coastline with the rich Atlantic Ocean, there is no shortage of fresh ingredients. Quahog (hard-shelled clams), mussels, crabs, etc., are plentiful.
The traditional method requires cooking a clambake over a fire pit, which isn't always feasible these days. So people opt to prepare the dish in a large pot, arranging alternating layers of fresh seaweed and seafood/ root vegetables. The next thing to do is to steam the pot for hours.
Clambake owes its creation to coastal Native Americans who steamed their shellfish with seaweed, a practice that the European settlers copied and improved. But for them, this salty, succulent seafood wonder wouldn't be around for us to enjoy.
Cooking a clambake the old-fashioned way with a fire pit is difficult, but you can do it on a remote island.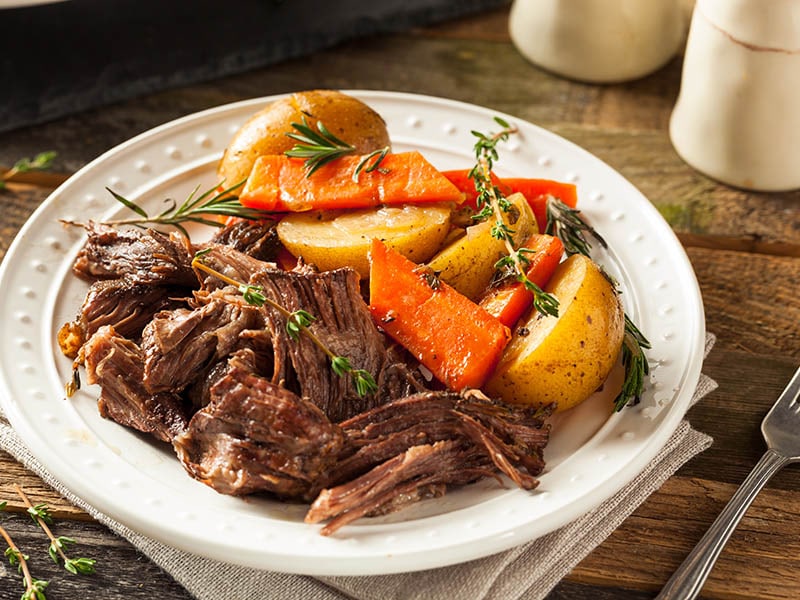 What is the difference between the ordinary pot roast and the New England one, which is also known as the Yankee pot roast? But most importantly, what is a pot roast anyway?
For a short answer, pot roast is an American dish of beef that is slow-cooked in its own juice. It draws inspiration from the similar French dish boeuf à la mode. That's not surprising since an early 17th-century French colony was the first European settlement in New England.
Back to the top question, New England pot roast has more than just beef. It is more nourishing for being cooked and served with root vegetables such as potatoes, turnip, or parsnips. Its alternative name "Yankee pot roast" is probably an indicator of its place of origin.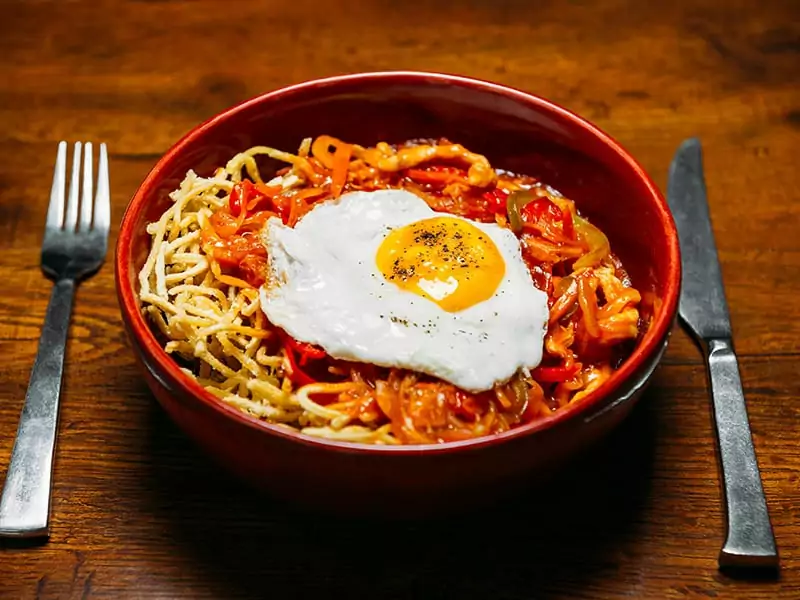 Have you ever heard of the American – Chinese dish called Chop Suey? It is a delicious blend of meat, eggs, and veggies with rice or noodles. Chop suey is sometimes confused with chow mein – a Chinese stir-fried dish.
But if you eat American Chop Suey, you will find that while the two share the name, they have nothing in common.
For starters, the latter version is a New England specialty and pasta dish with an influence from classic Italian cuisine. Locals whip it up from macaroni, ground beef, sautéed onions, and tomato sauce. The best accompaniments for this dish are bread and Worcestershire sauce.
It is difficult to establish clearly how American Chop Suey came about. But this yummy recipe appears to be the result of a long process of localizing the original chop suey, which started in the early 20th century.
6. Boiled Dinner – Corned Beef And Boiled Vegetables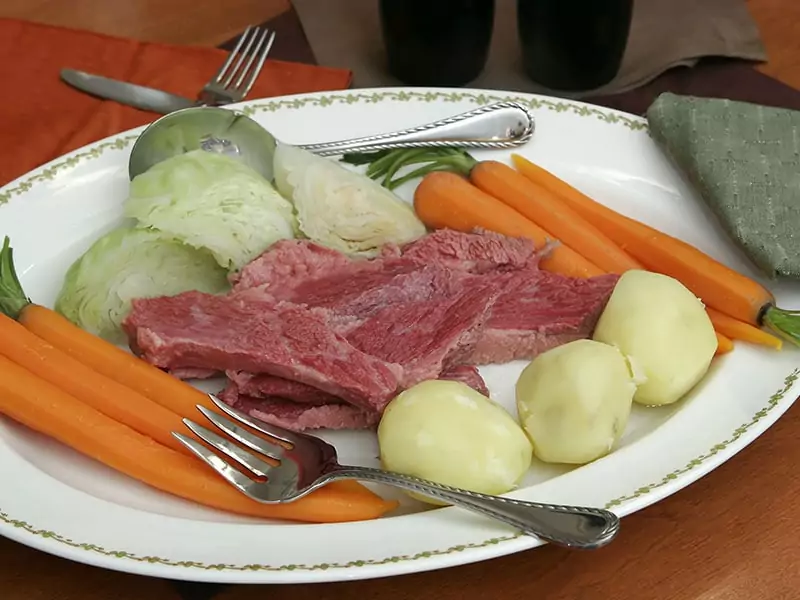 If you are looking for a healthy New England dinner recipe, what can be better than the region's own boiled dinner? This quick yet delicious one-pot dish is a contribution from the Irish immigrants. They moved to America in droves in the early days of the colonies.
At its core, boiled dinner is merely a mix of corned beef and vegetables, mainly potatoes, turnips, and carrots. Just like the name says, people boil everything until tender and add some spices, like horseradish or cider vinegar, for a stronger flavor.
In the old days, boiled dinner was symbolic of the promises that the New World could offer the Irish newcomers. The corned beef was a coveted luxury in old Ireland. But it was a cheap commodity that immigrants could eat to their heart's content in the new land.
While boiled dinner mainly is for, well, dinner, it is a common practice to use what is left of the meal for the next day's breakfast. In that case, people usually dice the leftovers and fry it with beets to create a new dish called red flannel hash (hash is a dish of chopped meat and veggies).
Cooking boiled dinner for a healthy meal is no big deal with this straightforward tutorial.
7. Snickerdoodle – Cookies With Cinnamon Sugar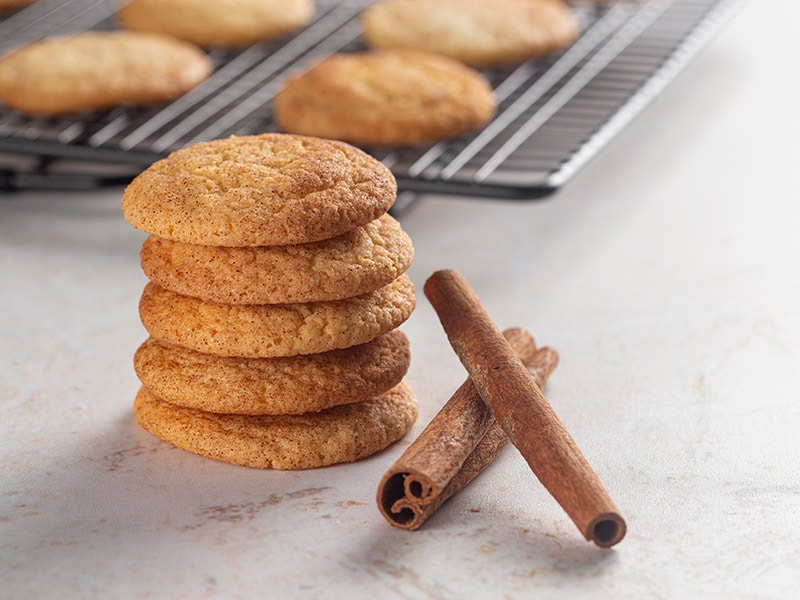 There are multiple theories about how this beloved snack got its curious name. One says that it is a corruption of the German word "Schneckennudeln" (a type of German sweet bun). Another argues that New Englanders just made up a funny-sounding name with no meaning in it.
A Snickerdoodle is just like any other normal sugar cookie out there, except for one key difference. It is rolled in a mixture of white sugar and cinnamon, which imparts a distinct taste and herbal aroma to the dessert.
This type of cookie has been around since the late 19th century. For all that time, it has charmed countless children and adults with its soft and chewy goodness. This is a classic dessert that has stood the test of time.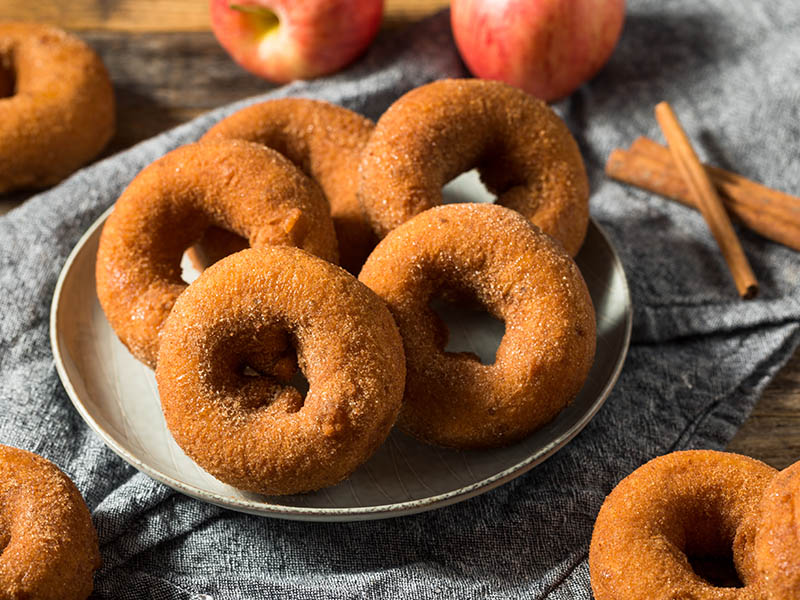 A common sight in all six states of New England is vast apple orchards that stretch as far as the eye can see. Between September and November, the fruity-smelling crisp autumn breeze signifies the apple season. That is the time that you are free to savor fresh apple cider donuts.
Actually, this mouth-watering donut type is available most times of the year. But only during the season can you enjoy the donuts of the highest quality, preferably right on a farm and among ripe apple-laden trees. That is a joy, even sweeter than the taste of the donuts.
Besides the namesake apple cider, this type of donut also contains aromatic spices such as cinnamon and nutmeg. You can eat it alone or improve the experience with fruit smoothie or fruit juice, preferably apple juice, for a more ample flavor.
9 Enticing Dishes From Massachusetts And Rhode Island To Taste
These two states possess plenty of delectable dishes that will arouse your tastes buds with merely their sight and scent. For both the main course and light snacks, you can find your answers here.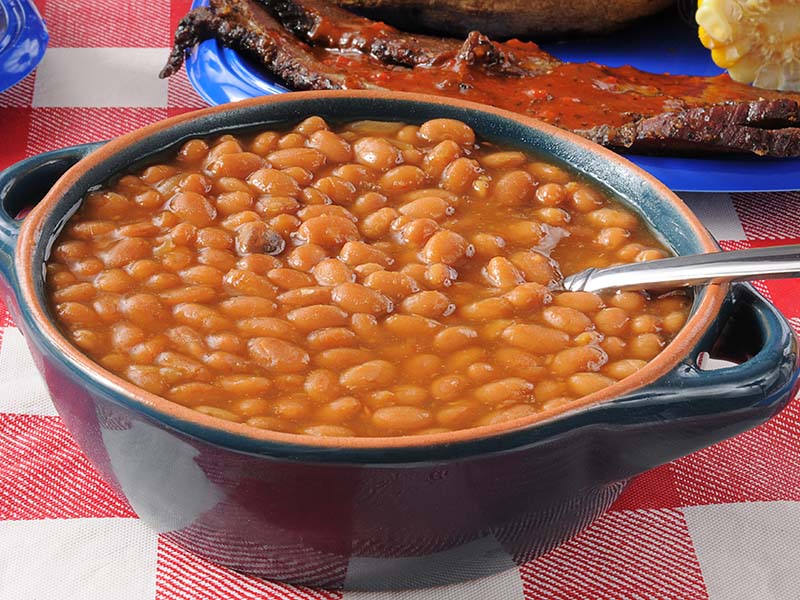 It is difficult to understand Boston's fondness for beans until you realize that the city is nicknamed the "bean capital of the United States". In line with their bean affection, the people of Boston have a simple yet hearty baked bean dish to serve with cornbread, salads, and meat.
Boston baked beans are made from dried navy beans, salt pork, and molasses. The last ingredient is a hallmark of the Boston variety, giving the dish its unique savory flavor. Pair your baked beans with suitable side dishes, and you have a simple yet awe-inspiring meal.
Its use dates back to colonial times when British taxes made sugar so expensive that locals resorted to molasses. Formerly, people cooked the beans with a cast-iron beanpot, which is superseded by a slow cooker these days.
Modern baked bean recipes probably drew inspiration from "beans and bacon" in medieval England. But it was Native Americans who came up with this protein-rich dish. Thanks to them, many modern families can effortlessly increase the healthiness of the foods with baked beans.
Learn how to cook Boston baked beans with a slow cooker here.
10. Boston Roast Beef Sandwich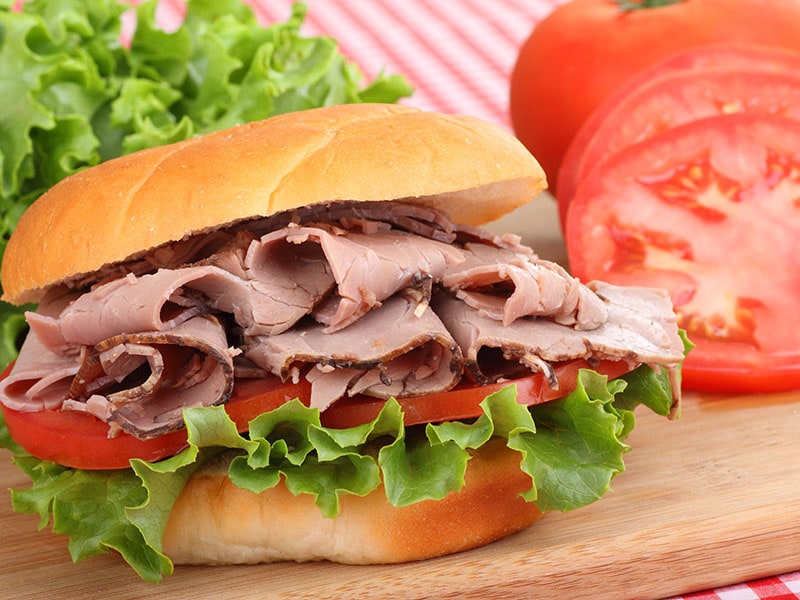 You're late for work and need a quick bite? This mouth-watering New England breakfast recipe is here to help. Roast beef sandwich is ubiquitous, but this Boston-originated heavenly-tasting delight will present you with 50 shades of pleasures.
The cream of this sandwich is the beef roast which is thinly sliced, grilled with aromatic spices, and served rare. But the tastiness of the Boston roast beef sandwich is incomplete without the accompanying fragrant onion roll, cheese, horseradish, and spicy chilly pepper.
Boston roast beef sandwich first appeared in the North Shore of Massachusetts around the 1950s. It never falls out of the list of delicious, on-the-go foods that both locals and tourists love dearly.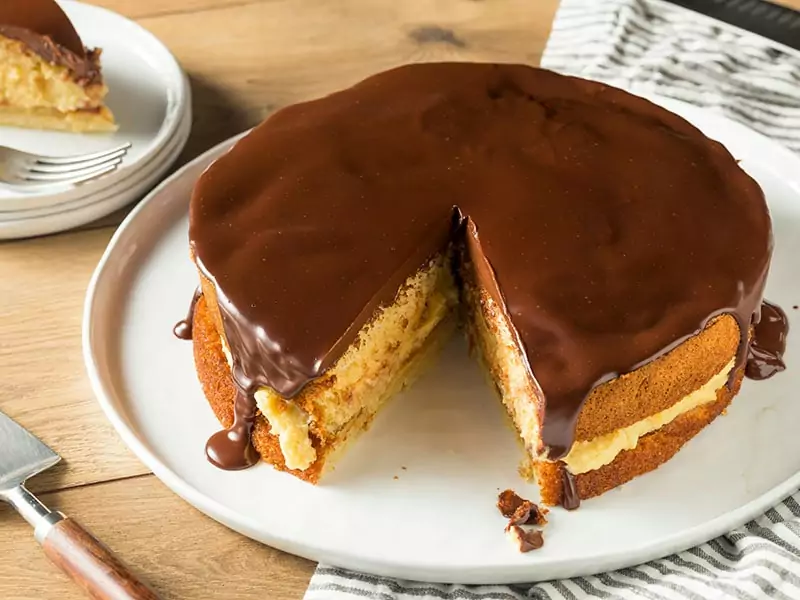 In 1856, a new hotel emerged in downtown Boston with the name of Omni Parker House. It would have joined the list of excellent yet ordinary hotels if its French chef hadn't invented this dessert that would immortalize the name of his workplace as well as his city.
While it reads as a pie, the Boston cream pie is a layered sponge cake. The confusion dates back to the widespread practice of baking cakes in pie tins in the mid-19th century.
This fantastic American dessert used to go by many other names, most notably Parker House chocolate cream pie.
Recognized as the official dessert of Massachusetts, the Boston cream pie surely has an undeniable allure. Can you defy the sweet yellow cake, the rich vanilla custard inside, and the nutty chocolate glazing that combine flawlessly with each other into this masterpiece?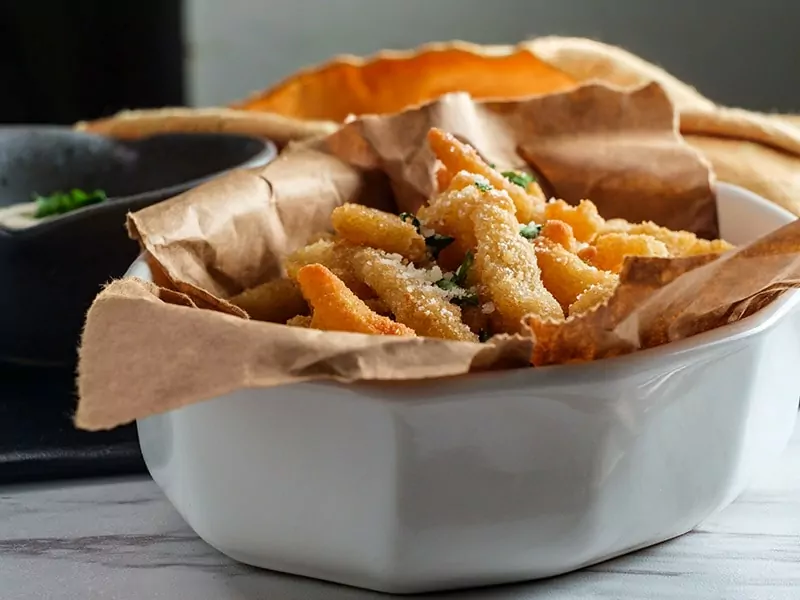 Clams for fast food, why not? Countless people in New England experimented with deep-frying this salty, succulent seafood in fats as early as the mid-19th century. But not until 1916 that the most recognized recipe took shape.
The credit goes to a man from Essex, Massachusetts, who owned a roadside restaurant. His method sets the standard for how to fry clams now. People dip shucked clams in a batter of milk, flour, egg yolk, and butter before deep-frying them in vegetable oil.
The universal condiment to go with fried clams is Tartar sauce (mayonnaise with herbs and chopped pickles). This combo and clam rolls (hot dog buns with fried clams) are two of the most wonderful street foods you can purchase from any New England food stall or cart.
It is an amazing experience to enjoy crispy fried clams in the birthplace of this dish.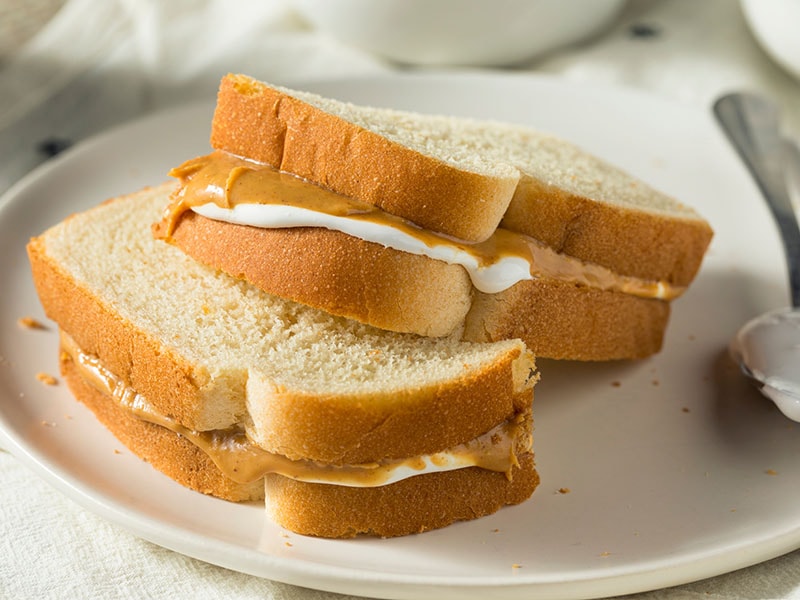 If you are a kid living in New England, one of the most popular foods you can have for a meal is Fluffernutter. But many adults have no qualms about relishing this snack/ dessert. It is incredibly quick and ridiculously easy to prepare, a great advantage that makes it popular with busy bees.
The Fluffernutter usually comprises two slices of white bread, one spread with marshmallow creme ("fluffer") and the other peanut butter ("nutter"). The charming American recipe first appeared in the early 20th century, while its catchy name resulted from a marketing program in 1960.
While an unsophisticated dish, the fluffernutter can be changed in many ways to add more substances. You can add more ingredients to the recipe for a more diverse flavor, such as banana or bacon. Replacing the bread with rice crackers or rye bread is also a great idea.
14. Stuffies – Stuffed Clams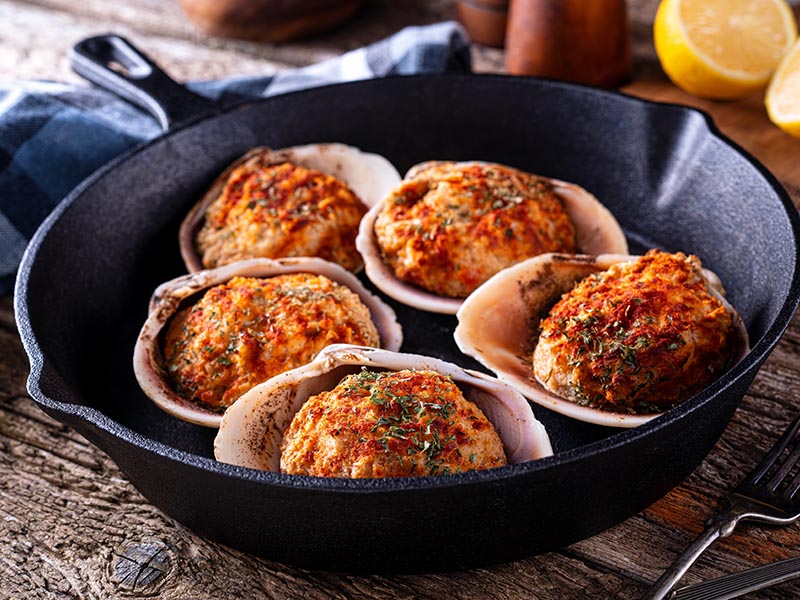 This New England lunch recipe from the tiny state of Rhode Island will provide you with pleasures of cosmic proportions. Like other local delights, stuffies started as a foreign dish brought by immigrants, Italians in this case, and changed to suit the taste of the new land.
There are many ways to prepare this dish. One approach is steaming shucked clams, getting the flesh out, dicing, and stir-frying it with flour, cheese, and spices. Or you can remove the meat without steaming it, which you also slice and stir-fry with condiments.
But the last step is always the same. You have to stuff the clam shells (the bigger, the better) with the freshly-cooked clam meat mixture and bake for about 20 minutes. Now, an irresistible appetizer is ready to pair with seafood or salad whose freshness brings out its yummy saltiness.
Although stuffed clams are popular in many places around the USA, New England stuffies always stand out. One reason is the abundance of premier clams that the region boasts. Clams casino is a variation of stuffies that serves clams with bacon in half the clam shell.
Dive into this wonderful recipe for cooking stuffies with mid-sized cherrystone clams.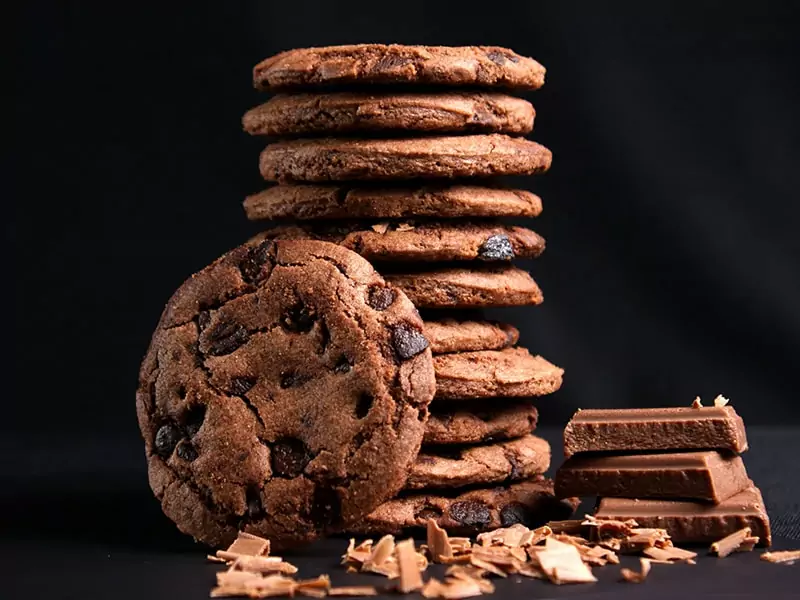 Here is a toothsome treat that floods innumerable New Englanders with childhood nostalgia. Originated in Massachusetts around 1938, this type of cookie is a perfect option to arouse your taste buds, especially when paired with milk or hot tea/ coffee.
The secret to its appeal lies in the simple combination of flour, butter, sugar, and chocolate chips. No manufacturer is willing to divulge the exact recipe. But all you need to know is that those chewy, sweet, and savory cookies feel extremely satisfying to bite.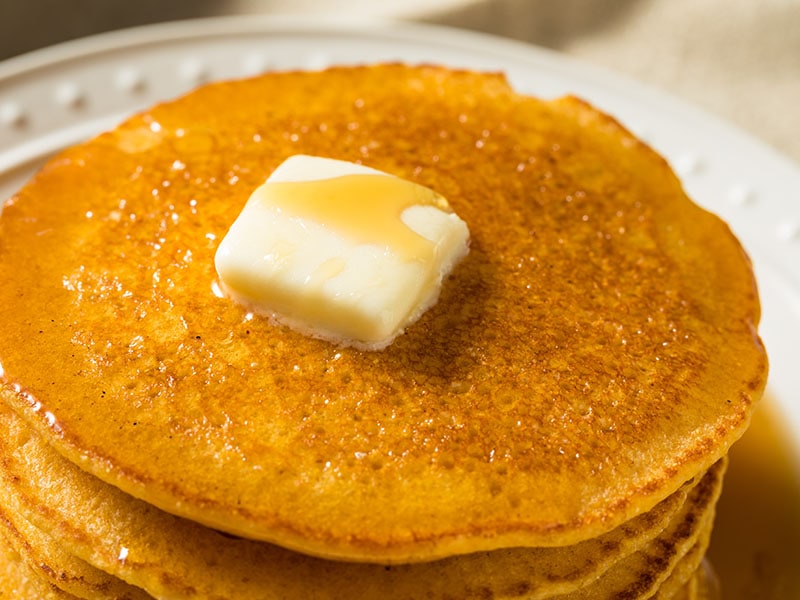 Despite its Western-sounding name, this flatbread is a Native American creation. There are competing theories about the origin of the name. One of them suggests that "Jonnycake" was derived from "Shawnee cake" (Shawne is a native people in the Northeastern Woodlands).
The use of cornmeal as the principal ingredient belies its indigenous root. A jonnycake consists of cornmeal, water, eggs, and solid fats like butter. Without the last two, it would strongly resemble the famous Tortilla. In fact, both types of flatbread are similarly cooked in a skillet.
While popular in many American states, especially identified with Rhode Island, jonnycakes are also a cornerstone of Caribbean cuisine. These treats also have a "cousin" named Vetkoek, which is a famous dish in Botswana, and other southern African coutries.
Jonnycakes can substitute for bread when necessary, but eating them with soups and stews will give you a meal strongly to your liking.
Making jonnycakes is easier than you think when you've got a good guide like this one.
17. Coffee Milk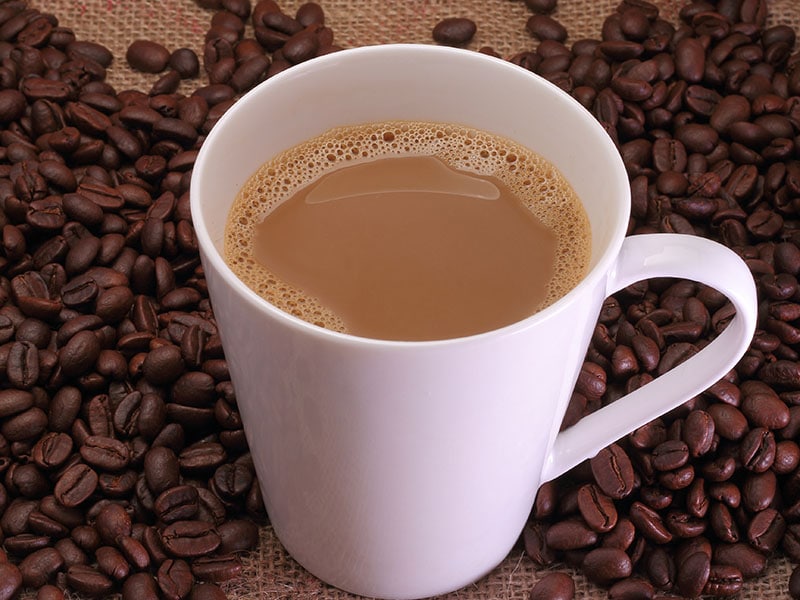 As the state drink of Rhode Island, coffee milk is a must-have treat when you check out New England cuisine. Local devotion to this enhanced blend of milk and coffee extract can be attributed to the Italian diaspora who brought it to the country around the 19th century.
Besides milk, you need coffee syrup to whip up this drink. It is made by straining water and sugar through coffee grounds or simply purchasing a bottle of coffee syrup. The last step is to stir it well with milk according to your favorite ratio and add ice if you like it cold.
5 Wonderful Treats Worth Living For From Other States
Stimulating your saliva production, that's what the following dishes will do to you. Like other New England foods, they take some time to get used to. But once you do, there is no going back.
18. Apizza – New Haven-Style Pizza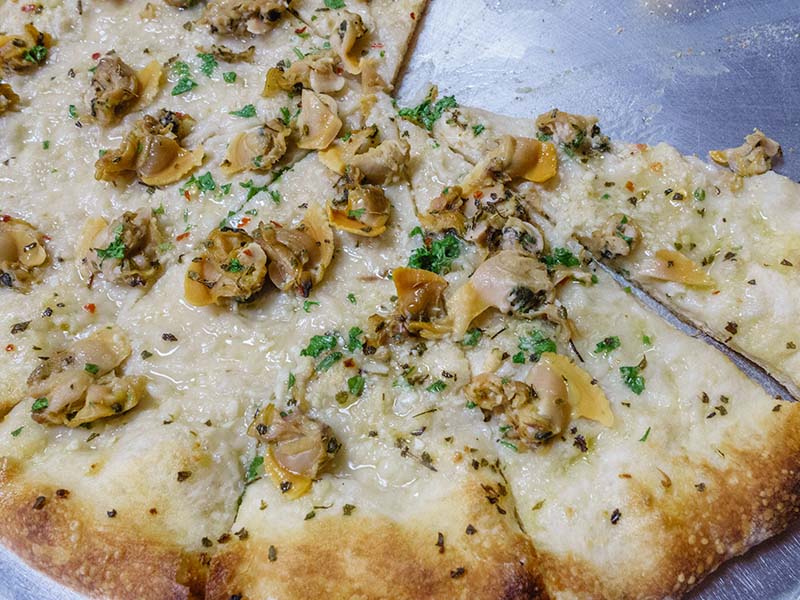 You can enjoy this improved version of pizza in many American cities. But it will always be worthwhile to make a pilgrimage to its birthplace, the coastal city of New Haven in Connecticut. In the 1920s, local pizzerias created it as a result of an intense family rivalry.
Apizza (pronounced abeets) is a variation of thin-crust, coal-fired Neapolitan pizza. It is superior to other types in terms of crispness and chewiness. And while the crust of normal pizzas always comes with a layer of red sauce and shredded mozzarella cheese, that of Apizza doesn't.
Instead, people adorn it with tomato sauce, garlic, and parmesan. Apizza also offers different choices of toppings: mozzarella, olive oil, anchovies, etc. If you love Littleneck – a special clam type, Apizza in New Haven is an especially delectable dish you can only find there.
New Haven-style Apizza and conventional pizza. Which one is your pick?
19. Grinder – A Type Of Submarine Sandwich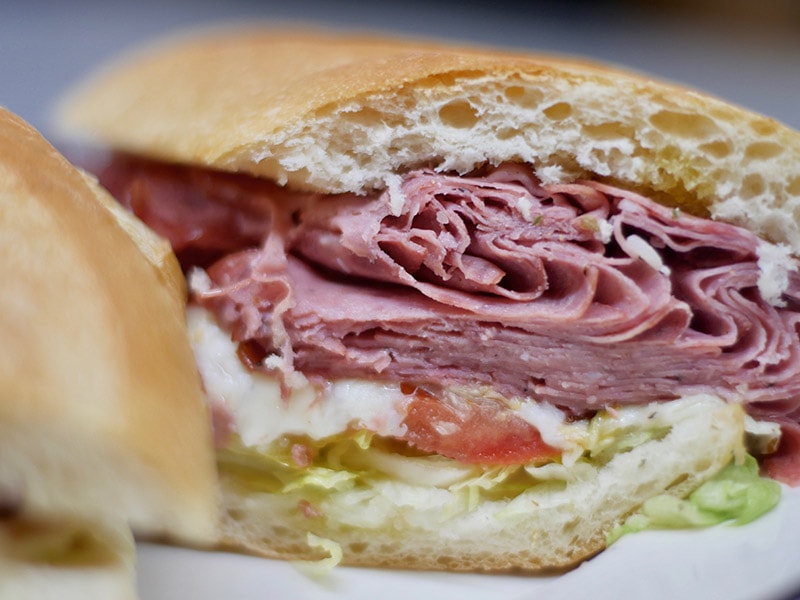 You've perhaps heard of the legendary sub, short for a submarine sandwich. Legend has it that the name first appeared in New London (Connecticut) before World War II. The reason was the sandwich's resemblance to the submarines in a nearby submarine base of the Navy.
But the original name that Connecticut people called, and still call, their beloved sandwich variety is "grinder". The explanation is simple: it forces your teeth to "grind" in order to chew the crunchy crust bread and its accompanying fillings.
Those savory grinders are another much-appreciated culinary wonder of Italian cuisine. They can come in hot or cold forms depending on the bread. The hot variety has a toasted Italian roll, meat, and mayonnaise. Meanwhile, the cold one includes a large bread loaf and cold cuts.
20. Whoopie Pies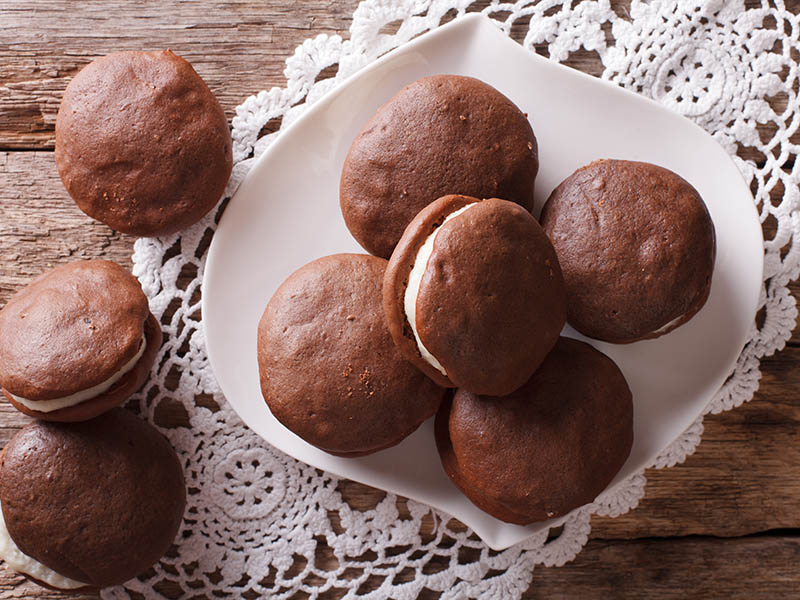 Want to round off your meal with a delightful New England dessert? Whoopie pies from Maine are at your service. Many American states compete for the birthplace claim of this sublime sweet food. But in 2011, Maine acted to recognize it as the official state treat.
Similar to the case with Boston cream cake, the whoopie pie is more like a cake than a pie. It consists of two large mound-shaped flavored cookies, usually made from chocolate or pumpkin. Between them is a white, sweet filling of marshmallow creme or buttercream.
The name "whoopie" possibly stems from the expression "whoopee" that people used to express joy in the old days. That's exactly the emotion you will experience when enjoying this creamy treat. But beware that it can spoil easily, so you should pay attention to its storage.
June 26 is designated as Maine Whoopie Pie Day with all kinds of exciting activities.
For those preferring a more politically correct but also more ambiguous name, let's call this treat hasty pudding. It is a traditional dessert for Thanksgiving celebrations in many parts of America, not least New England.
When the first British settlers arrived in the new land, they brought with them their traditional English wheat flour-based pudding recipe. But this kind of flour was difficult to come by in the early days of America, making the pudding a rare delight to cook, too.
But the colonists soon got an idea after having contacts with local Native Americans whose staple food was cornmeal. They replaced wheat flour with that new ingredient in the pudding to outstanding effect.
The main ingredients for today's hasty pudding are cornmeal, milk, eggs, and molasses. Everything is mixed together into a batter and made tastier with spices before being baked in the oven. The pudding is time-consuming to cook, but its flavor is totally worth it.
Against the onslaught of commercial easy-to-get puddings, this traditional recipe loses its appeal with many modern families. But in the rural parts of Connecticut, making hasty puddings when Thanksgiving is approaching is still a hallmark of the local lifestyle.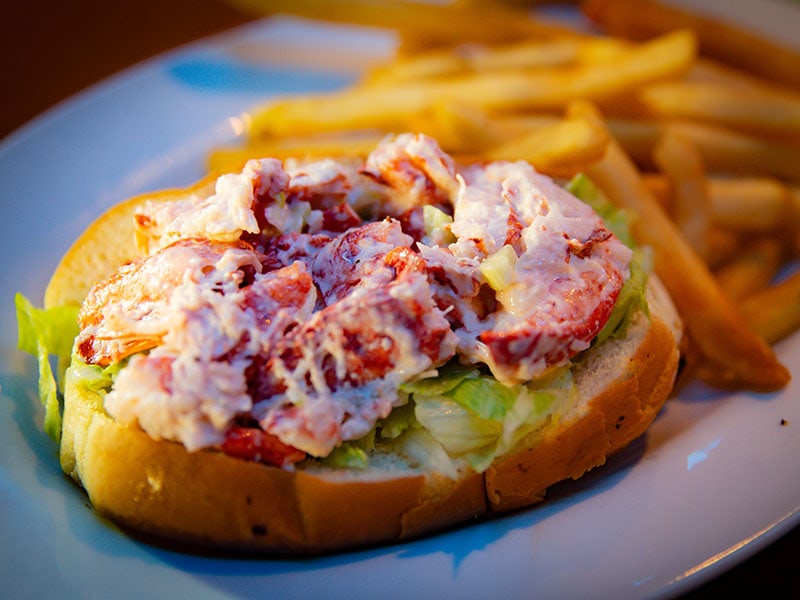 Maine's lobsters are among the best in the world with the sweet, juicy flesh that seafood from few places can rival. There are many ways to cook them to perfection. But if you set your sights on a truly New England culinary experience, try its signature dish lobster roll.
Don't let the name mislead you into thinking it's a roll. This recipe is more like a hot dog bun stuffed with a salad of cooked lobster meat, celery, and mayonnaise. But only the New England-style hot dog bun that is split in half at the top, not along the side, is best for it.
The description sounds simple, but the succulence of premier lobster meat plus the crispness of bread is more than addictive. Created in the 1920s, the lobster roll is now something the people of New England can't live without. Especially when it comes with potato chips and dill pickles.
Are you interested in the best lobster rolls that the Maine city of Portland can offer?
In terms of area and population, New England doesn't count for much: 2% and 4.5% of America's respectively. Nevertheless, the depth of its culinary wealth is more than a match for many places out there.
Whether you need a healthy diet or a nourishing meal, New England cuisine will readily please you. It masterfully combines various influences, from ancient Native American ingredients to newfound European recipes, to create its own mark that your stomach can't forget.
If you like the New England dishes I've introduced, please hit the "Like" button and share this post with your friends. Feel free to leave any comment below. Thank you very much and see you soon!