It's a hot day, and you try to find some juicy fruits to beat the heat. Well, you may know some, but it seems boring to eat the same fruits every day. Do not worry, I am here for you. This article will give you many different varieties of fruits!
Besides the name list, the post will also show you the origins, nutrition facts, and taste of the juicy fruits. So, let me be your tour guide through the article. Stay tuned and widen your fruits list with me!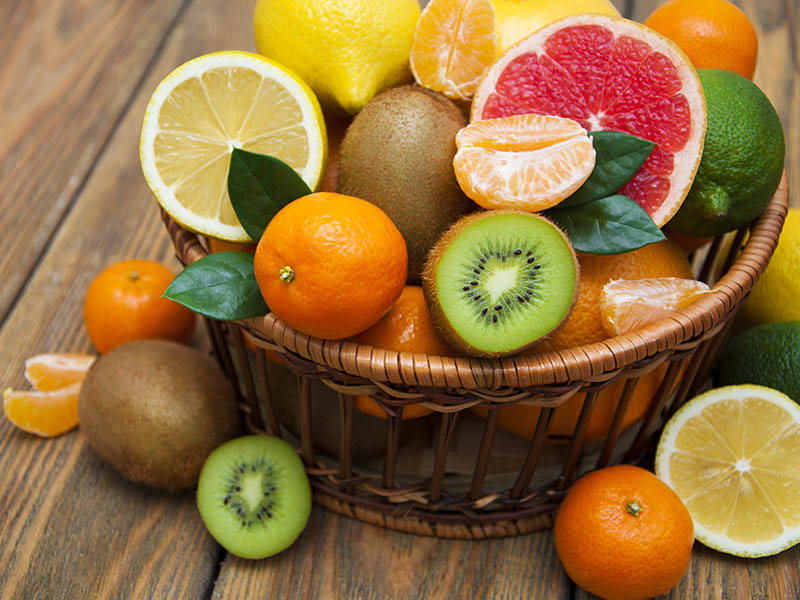 Juicy Citrus Fruits That Help You Refresh Your Hot Day
Citrus fruits may be strange to you, but these fruits always exist in your kitchen, even in your daily foods. This kind of fruit has a thick outer shell with segments of meat, which are separated by thin layers. Can you guess some names of them?
I am sure you have some names in your mind now. So, are you prepared to know more about your fruits? Let's start!
1. Limes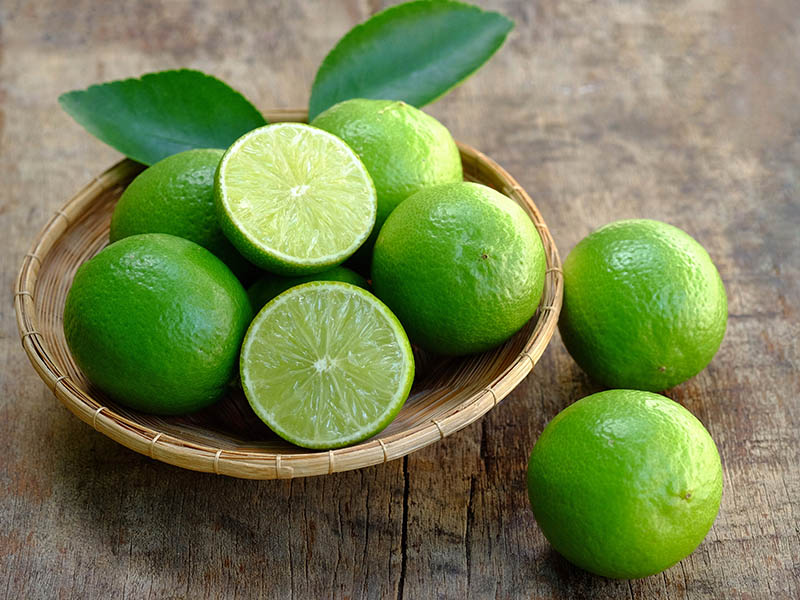 Limes are fruits that are never lacking on the dining table, especially in Asian countries. For most Asian recipes, limes are the source of sour flavor for the dishes. For example, Vietnamese Pho uses limes for seasoning, Thai Tomyum uses limes as a key ingredient, etc.
Besides, people also choose different varieties of limes to make refreshing beverages on hot days or after a long exercise. In limes, there are not only sugar, fiber, and protein but also vitamins and minerals. Thus, having lime juice will help you energize your body after a long run.
2. Lemons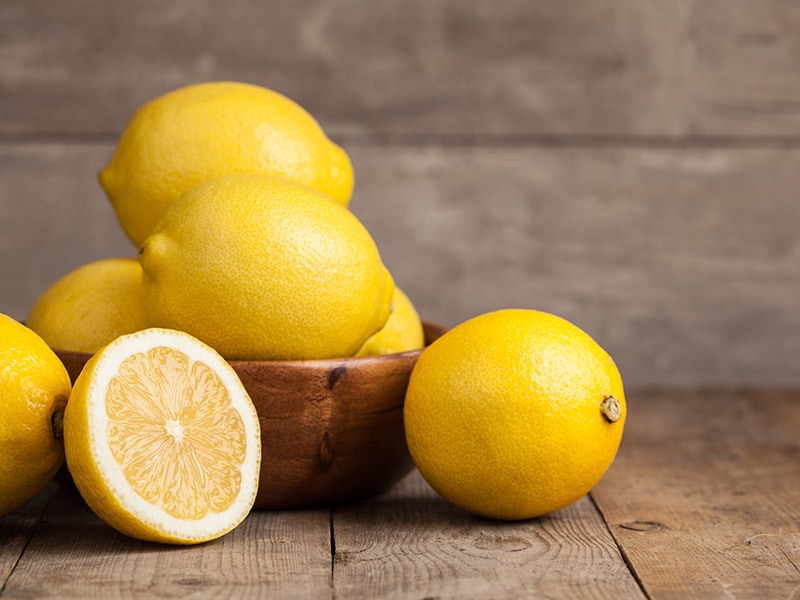 Like limes, lemons are the famous citrus fruits used in the beverage industry. However, lemons have several differences compared to limes, such as outer appearance and nutrition facts.
Although both limes and lemons have rough outer skin, it is easy to compare between them physically. Compared to limes, lemons have bigger sizes with a bright yellow color. Besides, while limes are round, lemons tend to have a more oval shape.
Regarding the flavor, lemons are preferable to limes because of their sweeter taste. Therefore, with the habit of liking sweets, the West prefers using lemons more than limes, especially using them to make lemonade every summer.
How to make the perfect lemonade at home?
3. Grapefruits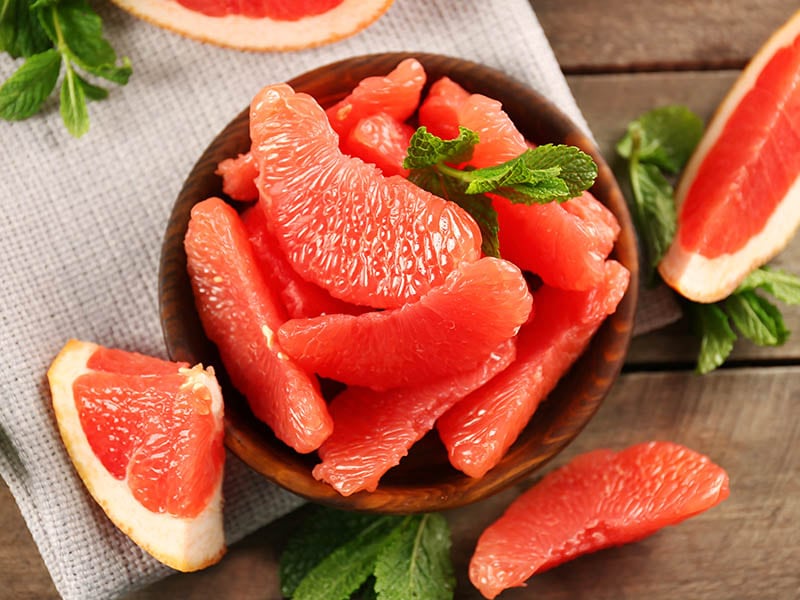 Like other fruits in the Citrus category, grapefruit has a sour taste. In addition, since grapefruit is a citrus hybrid between orange and pomelo, it also has a bitter and sweet flavor in your mouth after eating.
Many species of grapefruit contain some key nutrients important to the human body, including fiber, protein, and vitamins. The vitamin C source of grapefruit is the top 3 richest, just below orange and lemon. Thus, it is a choice for every American breakfast fruit.
Besides, due to its low calories, many people have grapefruits in their weight loss diets, while some just eat grapefruits to strengthen their immune systems, thanks to their high antioxidants.
4. Pomelos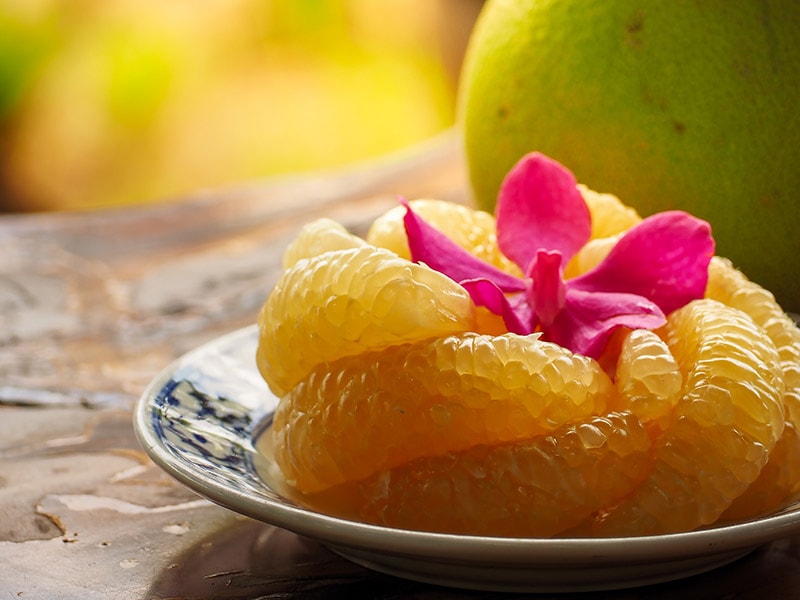 Although the shape is the same, pomelo peel is thicker and softer than grapefruit. In addition, the outer skin of the pomelo is somewhat rough with a green color, which will turn yellow when ripe.
About the flavor, the pomelos are sometimes sour, sometimes sweet, based on the seeds and the growing areas. Pomelos are less bitter than grapefruits. Therefore, if you cannot handle the bitterness of grapefruits, pomelos are the one for you!
5. Mandarin Oranges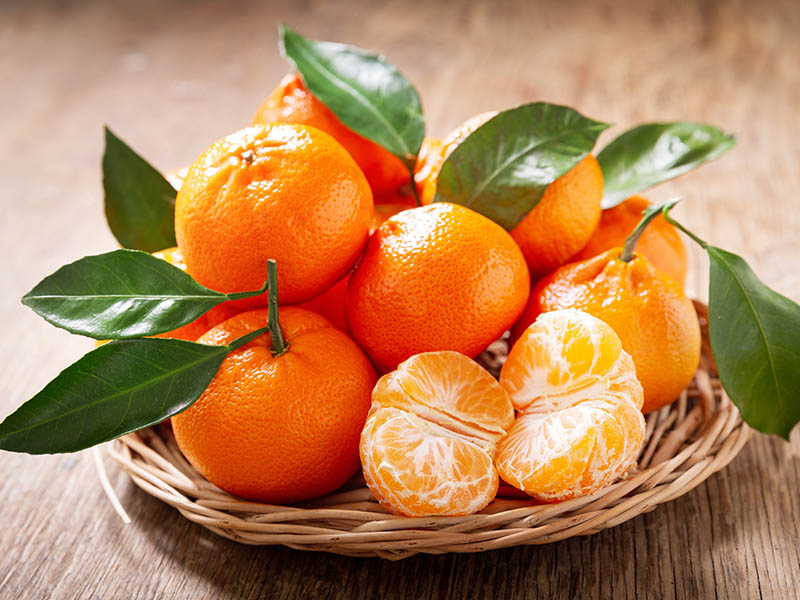 Compared to other citrus fruits, mandarin orange is sweeter and smaller with softer, easier-to-peel skin. Usually, mandarin has a deep orange color on both outer skins and inside the meat, which is a perfect ingredient to decorate dishes.
Thanks to its nutritional fact, mandarin brings a lot of health benefits. The first is vitamin A, which helps strengthen your vision. Next is vitamin C, a great nutrient for your skin and immune system. Last but not least is soluble fiber, which helps to reduce bad cholesterol in your body.
6. Oranges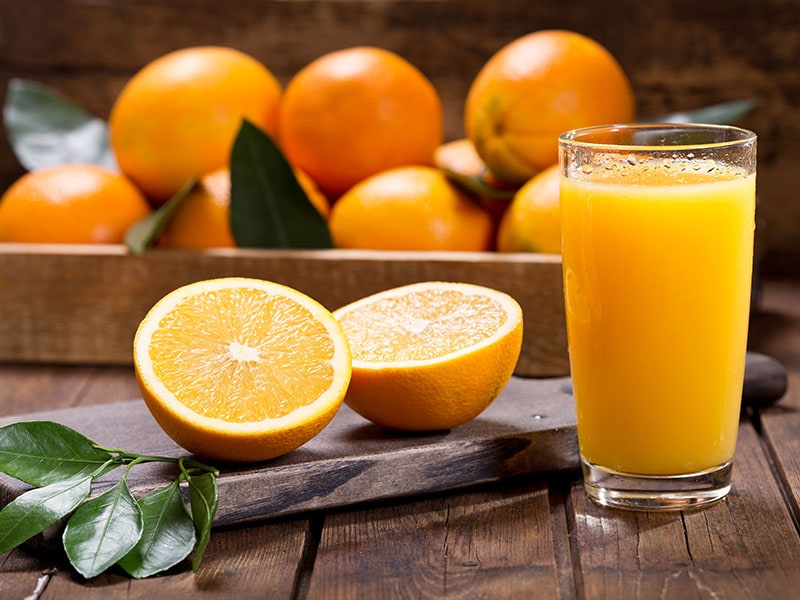 With the ease of growing, oranges are widespread in the world. And you may be impressed with its number of types. There are hundreds of varieties of oranges beside the common one, namely blood orange, Cara Cara Navel orange, Trifoliata orange, etc.
In the consumer field, orange has an essential part with its variety of products, such as:
Orange juice in the beverage industry
Essential oils in the cosmetic industry
Orange marmalade, orange peel powder, and candied peel in the food industry
Thus, if you want to have some vitamin C, go and find it on the shelves of your local supermarket. Oranges are there for sure!
Yummy Juicy Fruits That Belong To Tropical Areas
As tropical areas are the places having warm climates, juicy fruits in these areas are always high in demand. With the gift of nature, those countries have diversified delicious juicy fruits with special tastes. Is your mouth watering? Let's figure it out now!
7. Lychees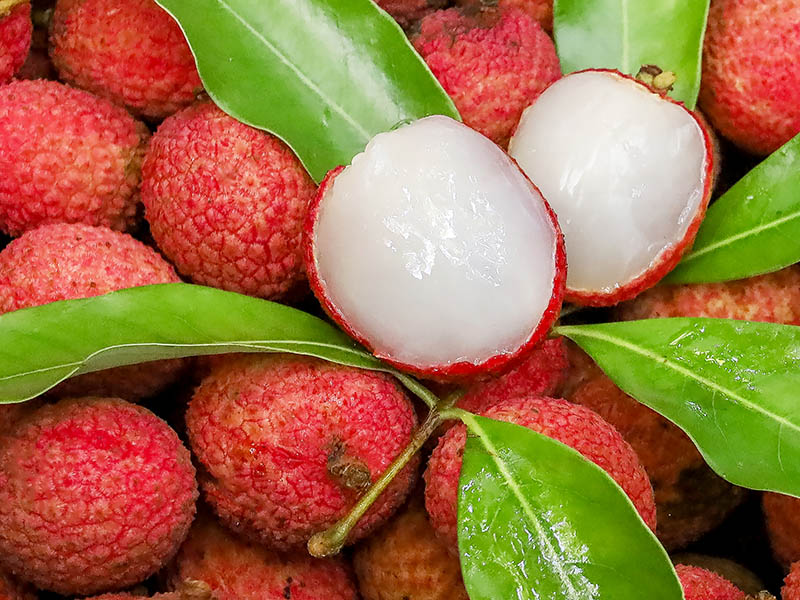 Known as the "Chinese strawberry", Lychee is the fruit that represents love in China. Lychee has a tough and thin outer skin, which will turn from green to red or pink-red color when ripe. Inside the skin is white lychee meat, which tastes sweet and fragrant like a flower.
With many healthy minerals and vitamins, people often eat lychees as food. In addition, people also treat lychees as a medicine for some diseases. Specifically, using lychees' meat to heal lungs and stomach while using its seeds to cure intestinal problems.
Want to know how lychees taste? Check this!
8. Dragon Fruits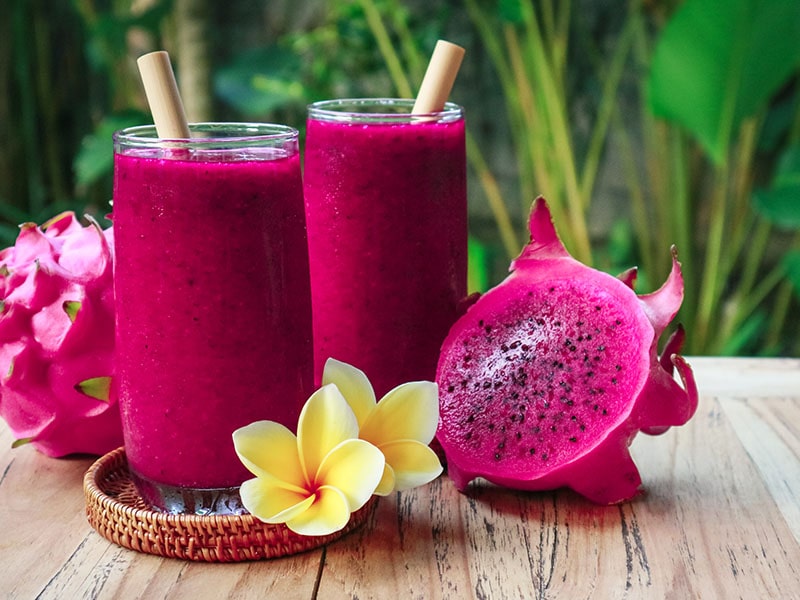 Although dragon fruit originates from Southern Mexico and Central America, Asia is its largest market. From the unique appearance (its dragon-like scales and flame color), people name this fruit "dragon".
But, do not let the appearance fool you! Dragon fruit is not bitter or spicy. Instead, its flavor is a combination of pear and kiwi: A little sweet, sour, and juicy. Dragon fruit is a great ingredient in your smoothie bowls, especially if you are on a diet due to its low sugar content.
9. Papayas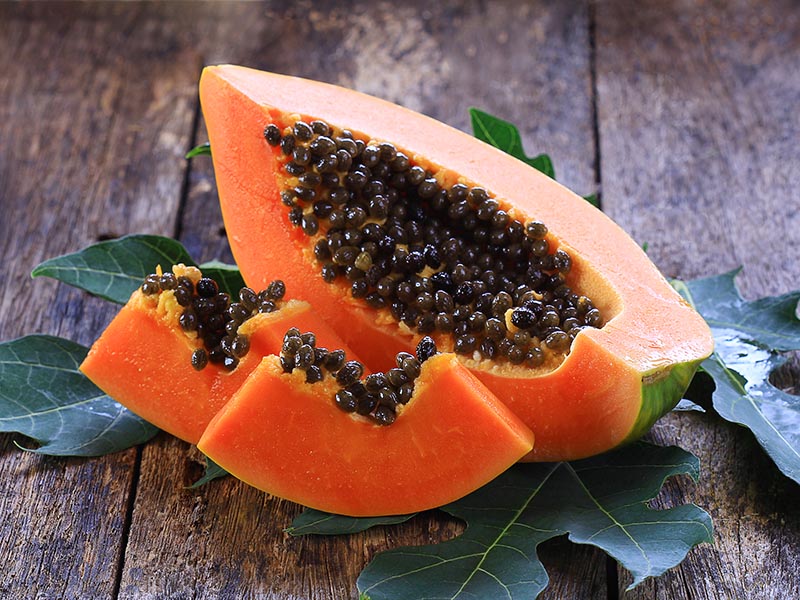 Papaya, also called pawpaw, is one of the popular fruits in Thailand, where it is used to make a local salad – papaya salad. It has an oval shape with a large size when being harvested. When ripe, the outer skin of papaya has a yellowish color while the flesh is a beautiful orange.
Like other fruits, papaya has many health benefits. Papaya will help you improve your digestion system, ease your toothache, and promote your immune system and heart health. Also, people believe that papaya can cure cancer.
10. Pineapples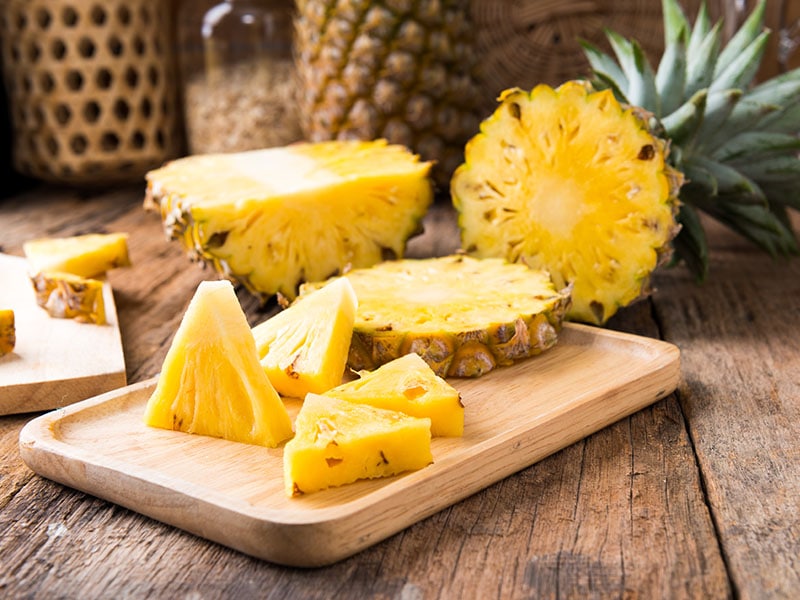 Pineapple is a tropical fruit that recalls sunny days. Thanks to its juicy and sour flavor, it is always a choice when I hang out on the beach. And I know you feel the same, too. If not, let me describe its tasty flavor to you.
Having a piece of pineapple, you will feel the sweet, sour, fresh, and juicy flavor at the same time. The juice from the pineapple meat will satisfy your thirst right away. If you want to have some salty flavor, pineapple with salt will be a great choice.
In addition, eating pineapple every day will help you clean up your organs and blood and nourish your nails and hair. Thus, try to add it to your daily meals for both the inside and outside beauty.
11. Mangos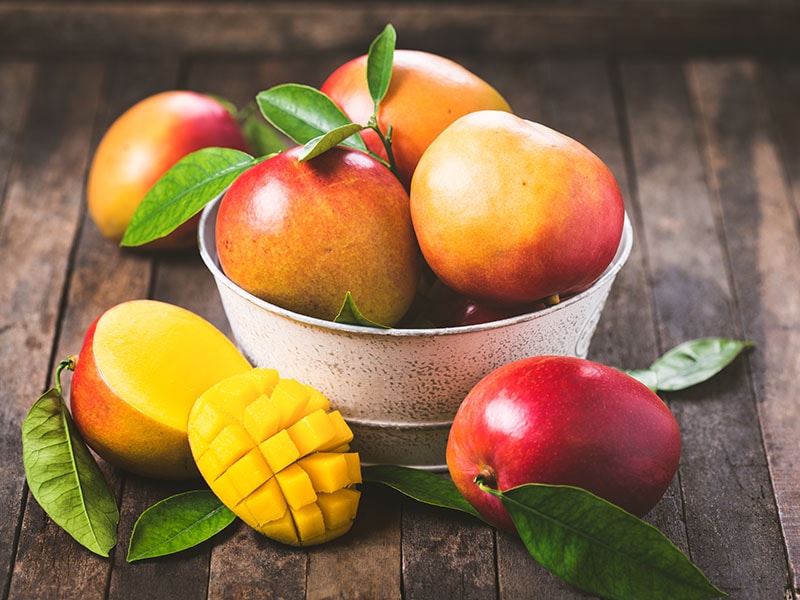 For your information, there are various types of mangoes in the world, namely Alphonso, Bombay green, etc. Some are sweet, some are bland, while others are creamy. But, on the whole, they have somewhat the same appearance: oblong shape, yellow skin, and juicy flesh.
Mango is used as food. Mango can be an ingredient in main dishes or a delicious dessert or beverage, such as mango rice, mango salad, mango smoothie, etc. Therein, the most famous one is mango sticky rice in Thailand, highlighting the juiciness of mango.
12. Kiwis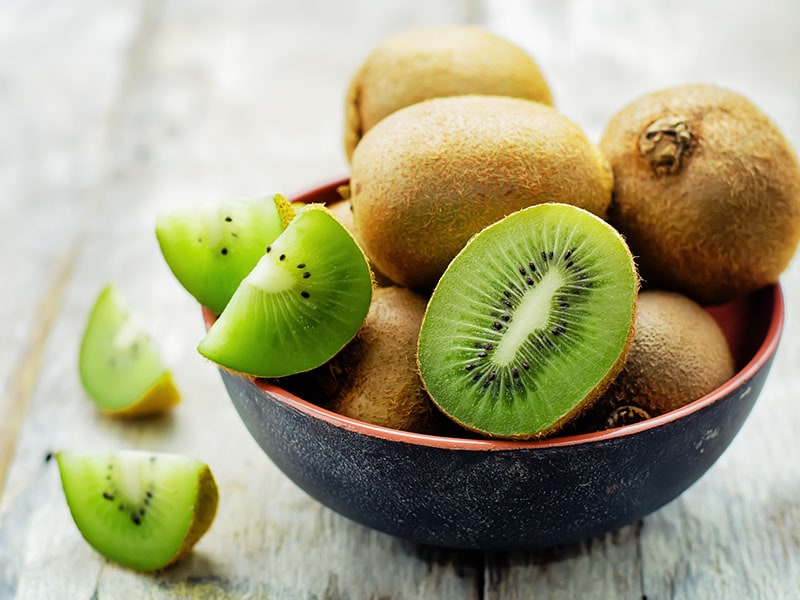 Kiwi has a furry and thin outer skin with brown color. After peeling the skin, the kiwi meat will be green with many edible black seeds surrounding the white core. Although kiwi skin is edible, many people like to peel the outer skin before eating due to its furry appearance.
Regarding the nutrition in the fruit, kiwi is an ultimate source of vitamin C, which is twice as much as orange contains. Besides, kiwi also has lots of dietary fiber, minerals, and antioxidants, making it a healthy option for fruits in daily meals.
13. Starfruits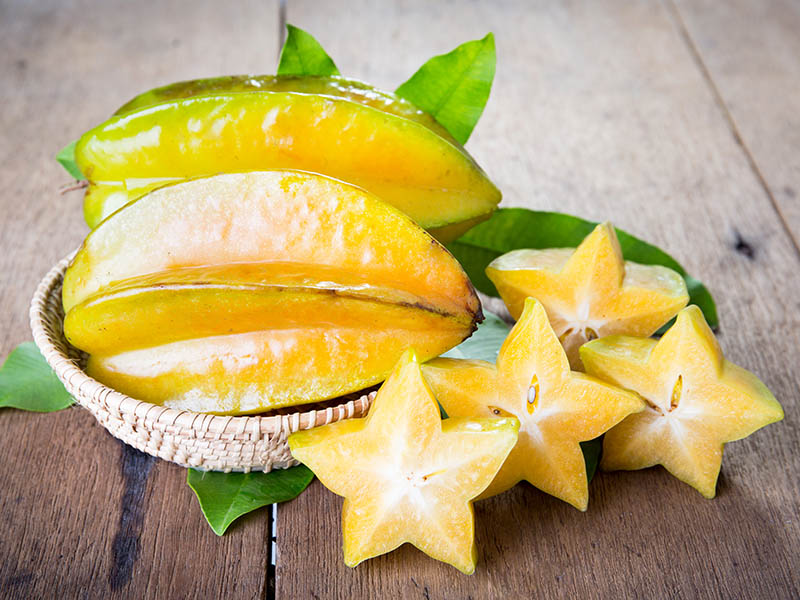 Starfruit is a strange fruit to some people. To explain the name, the unique fruit with a yellow shade has a five-point star shape when cutting. Starfruit tastes sour when small and sweeter, larger when ripe.
Although starfruit used to be less known, now it is a rising star in some recent juice recipes due to its nutrient greatness. In particular, starfruit contains lots of fiber and antioxidants but is low in calories and sugar, making it one of the healthiest sources of fruits.
Suffering cutting starfruits? Here is the help!
14. Coconuts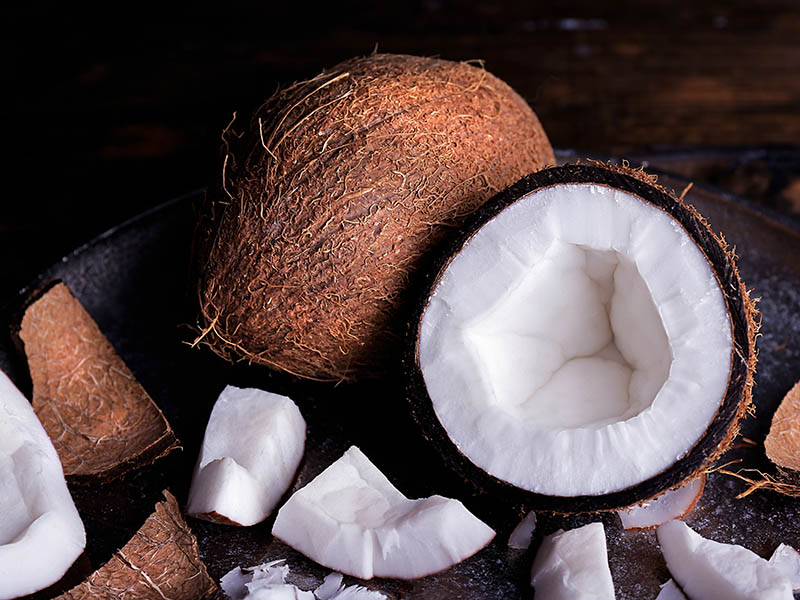 Unlike starfruit, coconut is popular on every continent since it has many related products. Therefore, I will not talk about its appearance but more about its nutrition and uses.
Regarding the nutrients in coconut, there are fat, vitamins, and minerals. However, compared to other juicy fruits, coconut is not an essential source of vitamins. Instead, it contains mainly minerals such as manganese, iron, and copper, helping strengthen your bone and immunity.
As mentioned, coconut has many uses. Not only do people use its water for beverage purposes, but they also use its meat and oil for food and cosmetic ones. In some places, people even utilize the whole tree of coconut, including its trunk and leaves, for food processing.
Mouthwatering With Some Juicy Fruits In The Berries Family
The berries family consists of those fruits that are small and juicy. For the structure of berries, they are easy to be perishable. However, people still love them and have them every day. Why? Let me drive you to the answer. Next, welcome to the berries family!
15. Grapes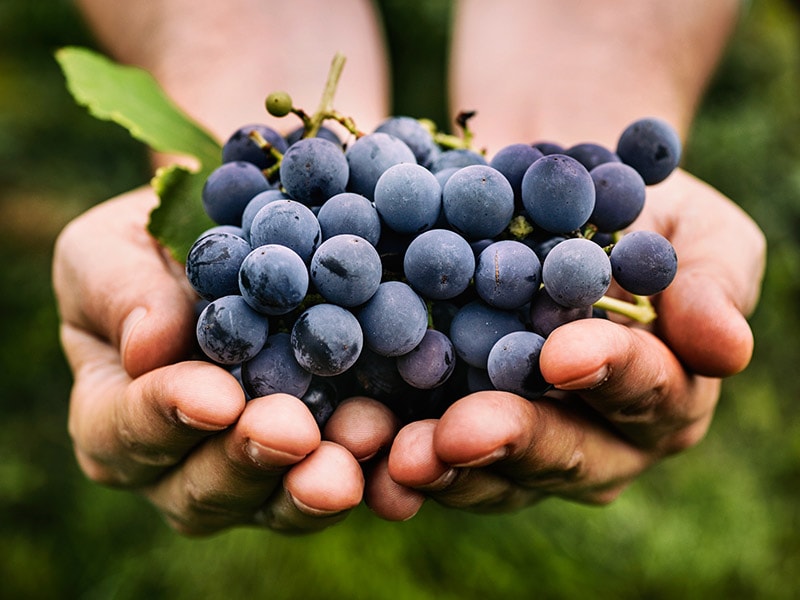 Like some fruits on this list, grapes appear with many types and various colors, namely red, purple, yellow, and green. Grapes have a thin layer to cover the juicy meat. Some types of grapes may have seeds in the core, some may not.
Regarding their nutrition and taste, grapes are famous as a key ingredient in making wine, a luxury and healthy beverage. In addition, manufacturers also use grapes to produce raisins, which are often added to breakfast cereal or yogurt to increase the nutrients and taste.
16. Tomatoes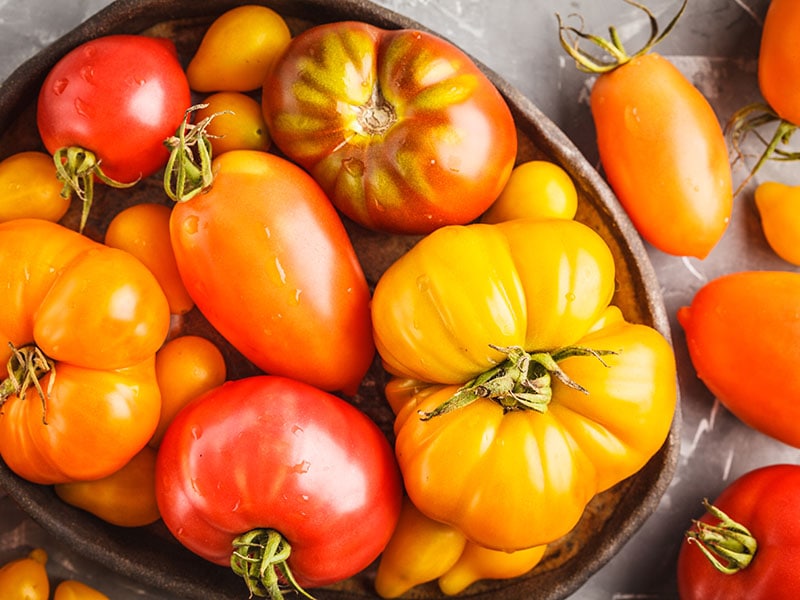 Tomato is a juicy fruit with a tasty red color. When you bite the fruit, the water inside will float into your mouth with the sour taste mixed with a little sweetness. For its unique juiciness and flavor, people usually use tomatoes to make salad bowls or sauces.
Besides, the nutritional value of tomatoes is also why people love them. It is a great source of potassium, manganese, vitamin B6, C, and K. Also, tomatoes consist of the antioxidant lycopene, a substance helping prevent the risk of cancer and heart problems.
17. Muskmelons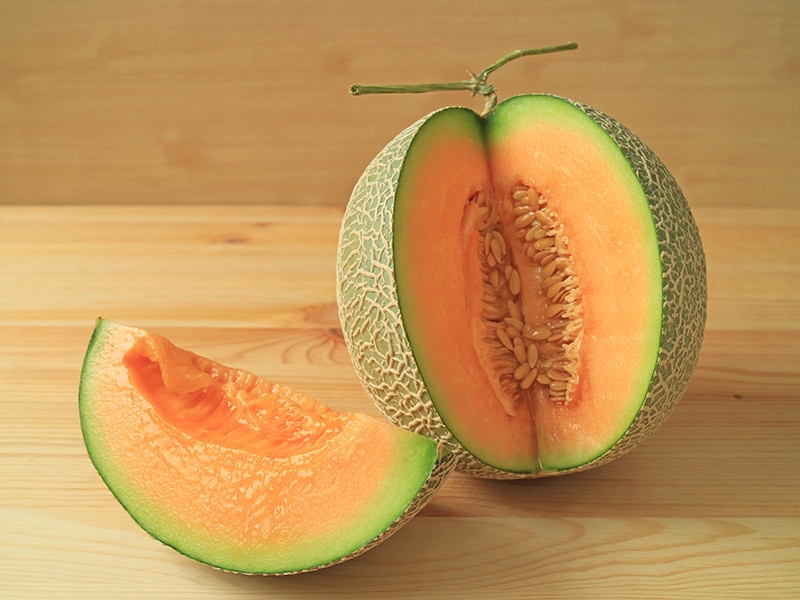 Muskmelons, also known as sweet melons, originate from Persia (Iran). The name of the fruits contains a Persian word, which means "aroma". Perhaps, the native had named muskmelon based on its sweet and musky flavor, sweet and musky.
Regarding the nutrient content, muskmelons consist of fat, protein, sugar, and minerals. Therein, fat is negligible, and the sugar content is low. Therefore, eating muskmelons will bring you many incredible benefits, such as stress relief and immunity.
Curious about the high price of melons in Japan? Check it out!
18. Watermelons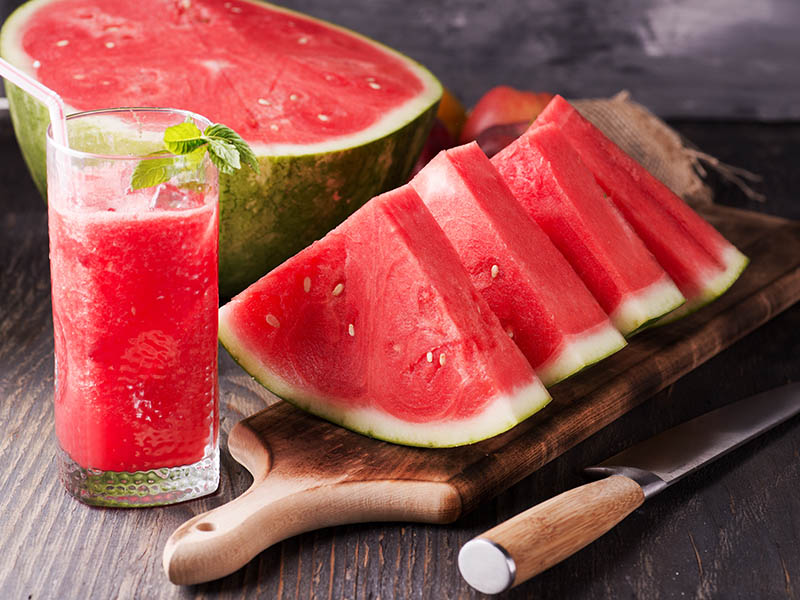 As the name says, watermelon is one of the juiciest fruits on the list. Watermelon is packed with a load of water consisting of various nutrients. The taste of it is refreshing, sweet, and fruity. Thus, having a dish of cold watermelon slices would be great after a long working day.
Besides eating the flesh, people also utilize watermelon's outer skin for making foods, such as watermelon rind salad and watermelon rind pickled. That's because it has lots of vitamin C for immunity, and citrulline, a substance that helps remove toxins from your body.
19. Cucumbers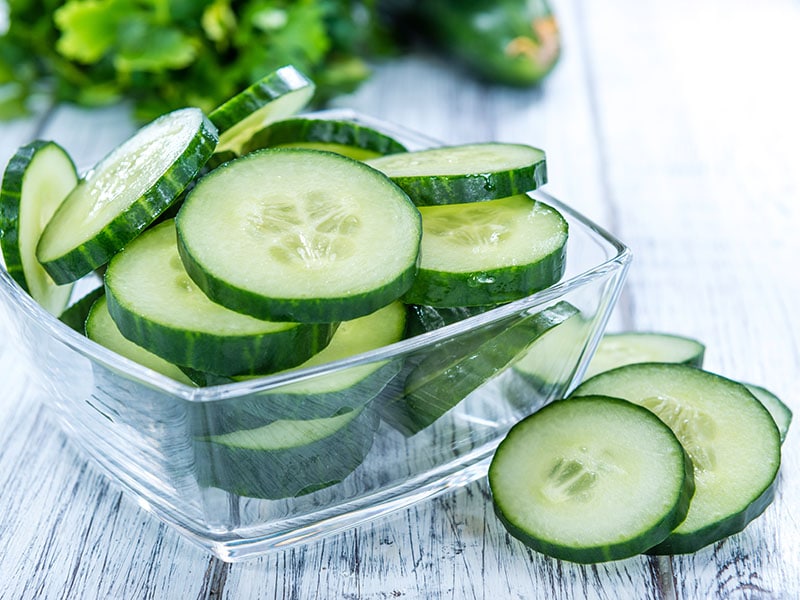 Cucumber is a popular fruit in the pickled community. Cucumber has many different types, but it mainly comes with a cylindrical shape and main colors of green and white. When eating fresh cucumber, you will feel its juiciness and freshness with a little bitter taste at the end.
With high in essential vitamins and low in calories, cucumber is a favorite fruit in weight loss diets. Besides, cucumber also has potassium, magnesium, and vitamin K, which helps reduce bad cholesterol and prevent diabetes as well.
02 Juicy Pits For Hot Summer Days
Pits family is the broad definition of fleshy and soft fruits, whose flesh surrounds a single and hard seed in the core. In this category of fruits, two popular juicy fruits may be well known to you. Let's go deeper into the details of the juicy pits!
20. Peaches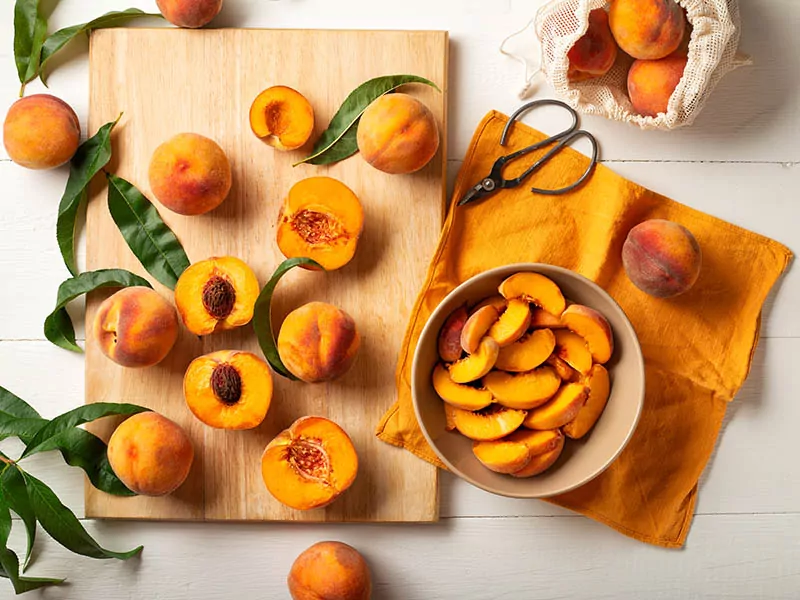 Peaches are the perfect fruit for hot days. They have a sweet and blooming flavor, which stimulates the taste and satisfies the instant thirst. But, the most surprising fact is that peaches' structure is mostly water. Therefore, eating the fruit will help you fully hydrate.
With their floral taste, people mainly use peaches in the food and beverage industry, namely peach tea, peach ice cream, etc. Moreover, people also use peaches in the cosmetic field due to their nutrients and fragrance.
Peach iced tea for hot summer days? Here is the recipe!
21. Cherries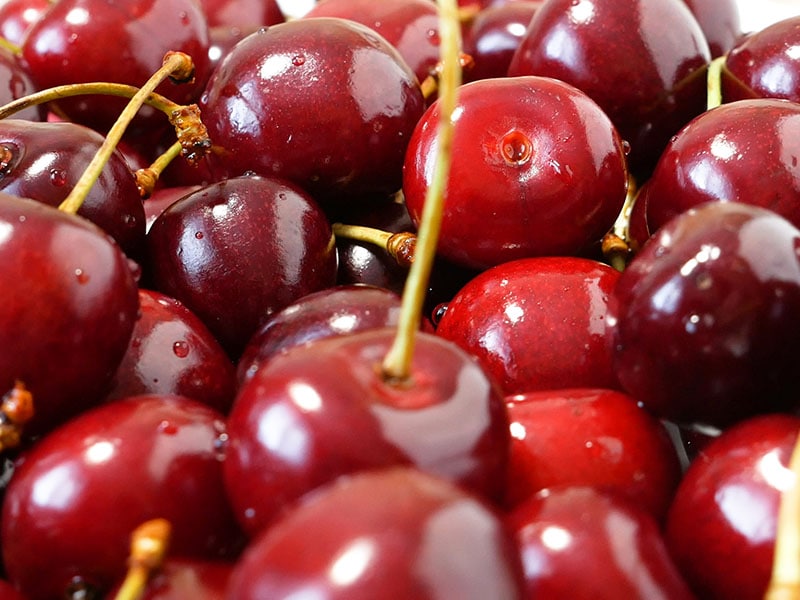 Cherries are the fruits related to the rose family. That's why this red fruit has such a delicate flavor, which tastes sweet and sour at the same time with a floral scent.
Although cherries have a sweetness in their taste, they are low in calories and sugars, suitable for the weight loss diet. Additionally, cherries also are full of nutrients, such as fiber, vitamins, and minerals. Thus, cherries are preferable to many gym-ers.
Other Juicy Fruits That Help You Survive Through The Heat
Do you still want to know some? Last but not least, the three fruits below will help you survive through the heat of summer days. Let's check it out now!
22. Apples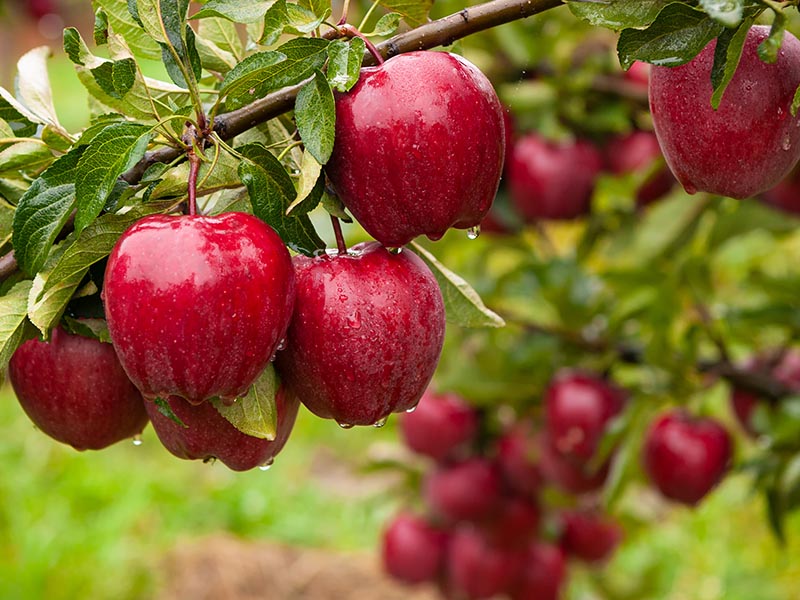 Apple is a well-known fruit not only in America but also in the world. But, there is an interesting fact that you may not know. There are 2,500 varieties of apples grown in America and up to 7,500 varieties grown in the world. There are various kinds of apples, aren't there?
With lots of varieties, the apple only has three main shades: red, green, and yellow. Due to its crispy texture with a juicy interior, you will feel the freshness in every bite. Apple tastes mixed between sweet and sour according to the weather conditions.
Having an apple per day will prevent you from many chronic diseases, such as diabetes and heart diseases. Besides, it also helps you improve your brain health. All thanks to the fiber and antioxidants it contains.
23. Pears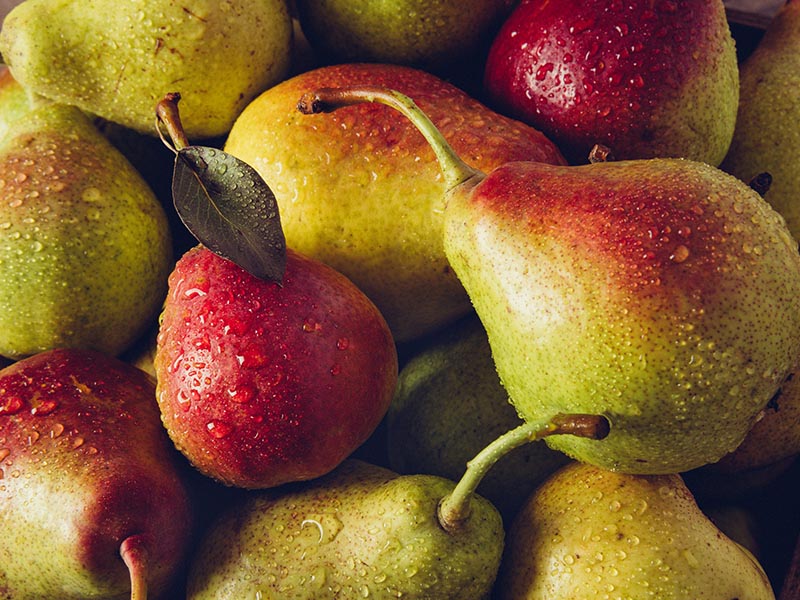 A pear is somewhat the same as an apple, but its shape varies by species, from spherical to "pear" shape. Like apples, pear can be sweet, sour, or between. Usually, the sweetness of the pear will be based on the ripeness of the fruits.
Regarding the texture, different types of pears will lead to different textures. For instance, while Asian pear tends to be crunchy, Bartlett pear will be softer and juicier. Therefore, you should acknowledge the types of pears if it fits your expected texture before buying.
24. Strawberries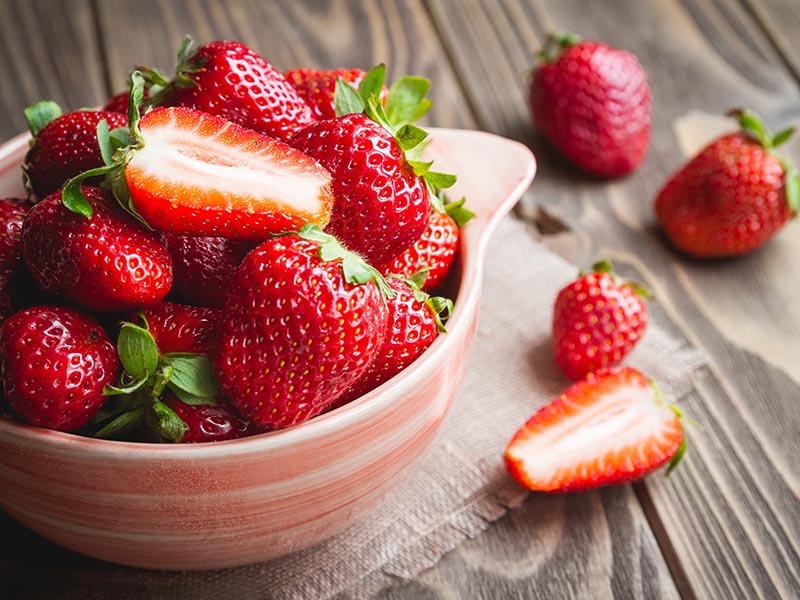 Most of the time, strawberries are the favorite fruit chosen by children. It may be because of its appearance and taste.
Strawberry is native to the Northern Hemisphere before spreading throughout the world. It is small and has a shape like a balloon with an attractive red color. Strawberry tastes sweet and a little sour, which will be sweeter when completely ripe.
About the health benefits of strawberry, it is full of vitamins, fiber, and antioxidants, which help protect you from chronic problems such as blood pressure and cancer. Besides, it is also fat-free. Thus, try having a pack of strawberries every day for a healthier body.
Can't eat all the strawberries in the fridge? Just make strawberry jam!
Broaden Your List Of Juicy Fruit For Hot Days
Well done! Now you have widened your juicy fruits list and have more than one fruit to enjoy. Besides, please do not feel overwhelmed since I have divided fruits by categories with detailed information for each. Take category by category, and then you will taste and remember all of it!
If you feel this article is useful for your family and friends, please like and share it. Your sharing is my biggest encouragement in providing more useful articles. Thank you, and hope you enjoy the list!