Haitian foods always leave an indelible impression in the hearts of diners after eating. You will want to return to this country to try these fantastic dishes again. Until now, those flavors are still imprinted in my mind.
In this article, I will share the most awesome foods from Haiti, so you can learn about them before trying them. I hope you will have a great experience reading this article. Let's enjoy it now.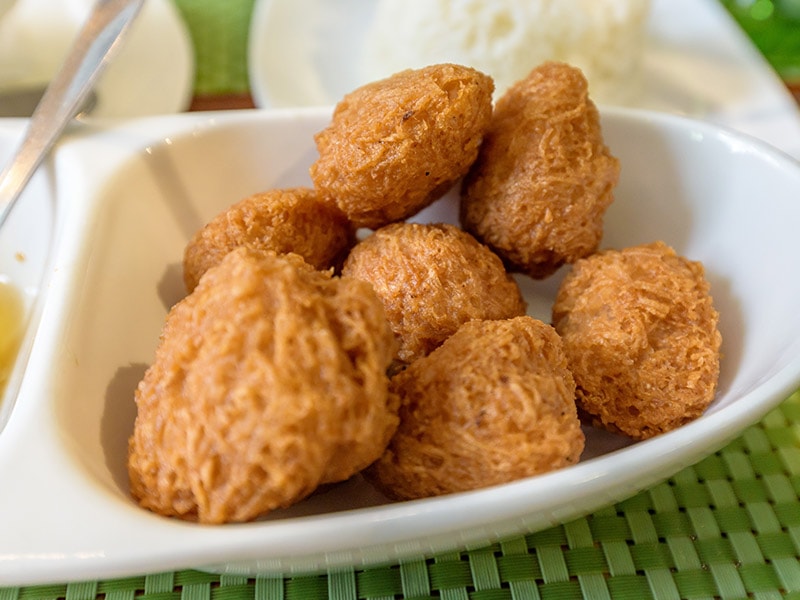 Yummy Foods That Appear In The Main Meal Of Haitians
Haitian cuisine is pretty diverse, with many outstanding main dishes that often appear at Haitian parties. You should try all of the amazing dishes below to fill your stomach.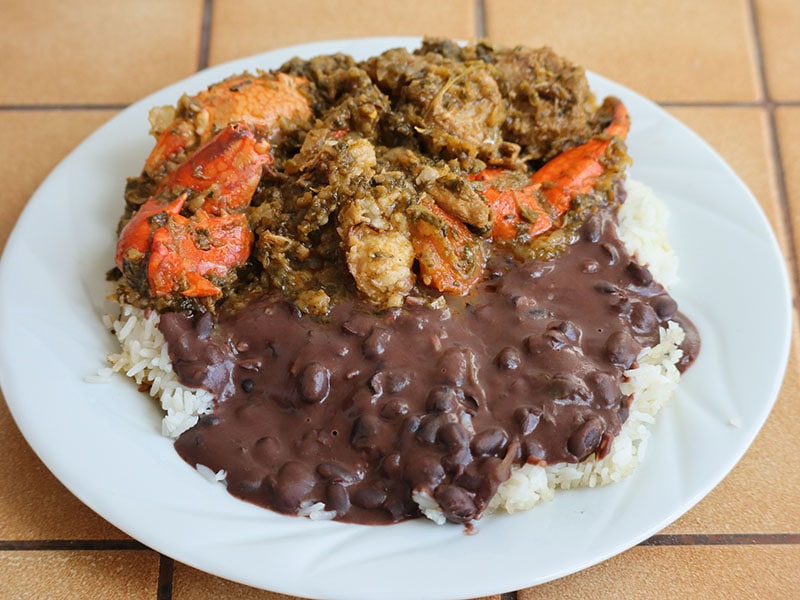 This healthy eggplant stew, Haitian Legume, is one of the most suitable dishes for Haitian dinner. This delicious recipe combines different vegetables like eggplants, spinach, cabbage, etc. It is a fantastic and healthy choice for vegetarians.
Besides the great taste, this food will add many nutrients to you with the appearance of eggplant and other veggies. Eggplant will add fiber, vitamins, and minerals to the body.
The conchs are native to the Caribbean, Bermuda, and Bahamas. They are also a favorite ingredient in the cuisines of these regions. Conchs can live the longest for about 20 to 30 years. The US consumes about 80% of the international trade of conch.
Lambi an Sos Kreyol is a beautiful dish with a conch as the main ingredient. The succulent conchs become rich when simmered in tomato sauce, onion, garlic, and various herbs. It is nice to take a bite of a tender and yummy conch.
If you can go to Haiti, you must try Kalalou or Haitian Gumbo. This recipe is a typical dish of the town of Jeremie in the South of Haiti. This food came from Ethiopia and was brought to Haiti and the Americas during the slave exchange.
When served with rice, the rich flavor and thick texture of broth will leave an indelible impression in your mind. You will fall in love with the tenderness and deliciousness of chicken, sausage, and shrimp in this savory dish.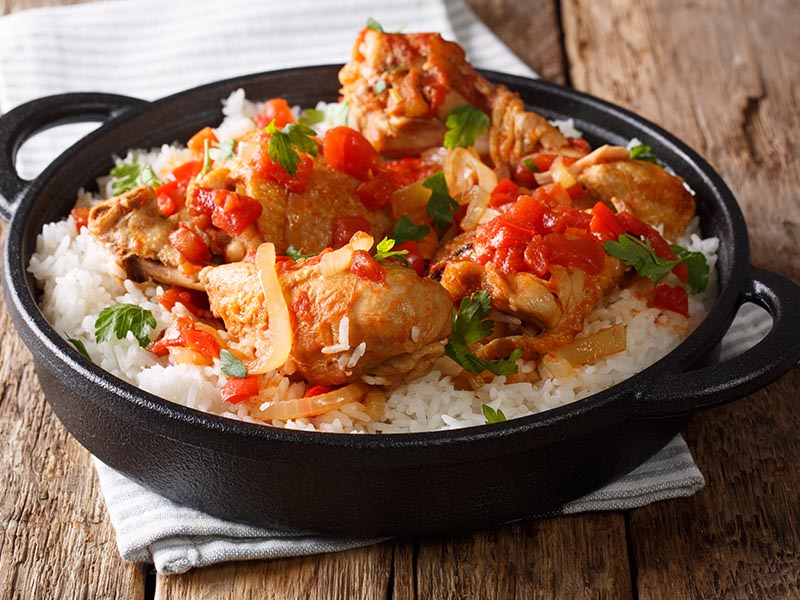 Your list of amazing Haitian lunch dishes will be more complete with Poul Nan Sos. This stewed chicken was born in France and arrived in Haiti and the Americas during the colonial expansion of the European empires.
King Henry IV was the one who helped bring the Poul Nan Sos to more people around the world. In French, it is recognized as a famous national dish.
5. Pwason Boukannen – Grilled Fish
Pwason Boukannen is a famous Haitian specialty. This grilled fish dish with the wonderful aroma and taste promises to make you addicted. The outer layer of the fish has an eye-catching brown color, and the flesh cooks evenly and remains soft and chewy.
The technique that makes this delicious fish dish is known as Boukan. The Haitian would use a wooden stick and split it in two. They will place the fish in the middle of two pieces of wood, tie one end of the wood stick to hold the fish in place, and grill it with fire.
In Haiti, cashews are an essential ingredient in cuisine. Haiti is an agriculture-led country, so many cashew farms are popping up all over the country. Cashew nut export is a crucial sector in the Haitian economy.
Poulet Aux Noix is a great cashew recipe that you should not miss. Besides, the appearance of chicken will help enhance the flavor of this food. The chicken will get tender and firm when steamed and pan-fried with tomatoes, onions, and tomato paste.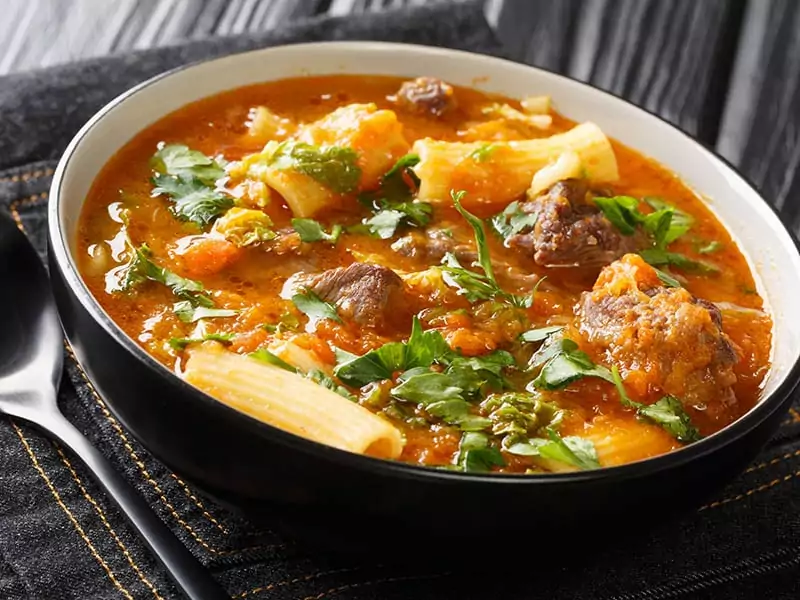 Soup Joumou is associated with a pivotal period in Haiti's history. It was a commemorative dish when Haiti was liberated from French colonial rule on January 1, 1804. Therefore, it is a popular choice on Haiti's Independence Day.
This tasty soup is a combination of goat meat and different vegetables. You will fall in love with the tenderness and flavor of the meat after simmering it for a reasonable amount of time. It is great to eat a bowl of warm soup on cold days.
In particular, in December 2021, Haiti's soup Joumou was recognized by UNESCO as an Intangible Culture Heritage of Humanity.
Learn everything about making delicious soup Joumou
Tassot or Tasso is a typical dish beginning with a T that many Haitians love. The main ingredient of this recipe is goat meat or beef and a few other components. You will feel the crispiness of the meat and the taste of orange juice and lemon juice.
This recipe is suitable for serving fried plantain, rice and beans, and spicy sauce. This food is quite popular worldwide because it is produced and sold in grocery stores in the US, Africa, and Spain.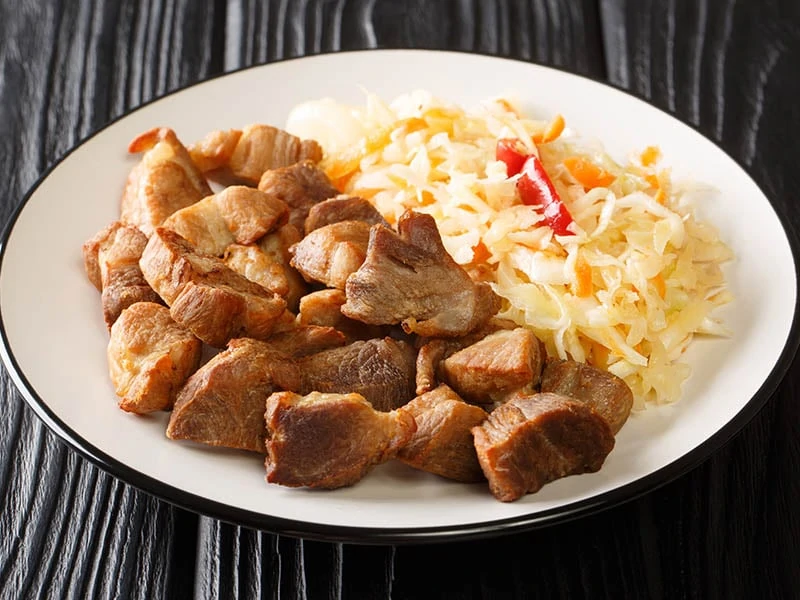 Griyo is a national dish of Haiti. Every tourist coming to this beautiful country wants to try it once. This recipe includes pork shoulder carefully seasoned with citrus. When fried, the meat will have a crispy texture and eye-catching color.
Haitians often eat this food with vegetables, salad, or spicy pikliz. It is easy to find this food at restaurants in Petionville. Alternatively, you can gather with friends to enjoy it with a few cold beers in Port-au-Prince.
If you go to Haiti on special occasions such as Christmas, Easter, and Good Friday, you will easily find groups of Haitian people gathering at tables with Griots.
Discover the history of Griot through a fascinating story.
Makawoni au Graten, also known as Grating De Macaroni is a Haitian version of mac and cheese. This wonderful dish has its roots in Italian cuisine and was brought to this gorgeous island nation.
Unlike other versions, the Haitian version does not use pasteurized milk but instead uses evaporated milk. Haitians also add bell peppers, onions, ham, and sauce to add more flavor to this excellent food.
Instead of using elbow macaroni like the other Mac and Cheese, Haitian Makawoni uses larger pasta, such as Penne, Rigatoni, and a few other ingredients like mustard, white pepper, and mayonnaise.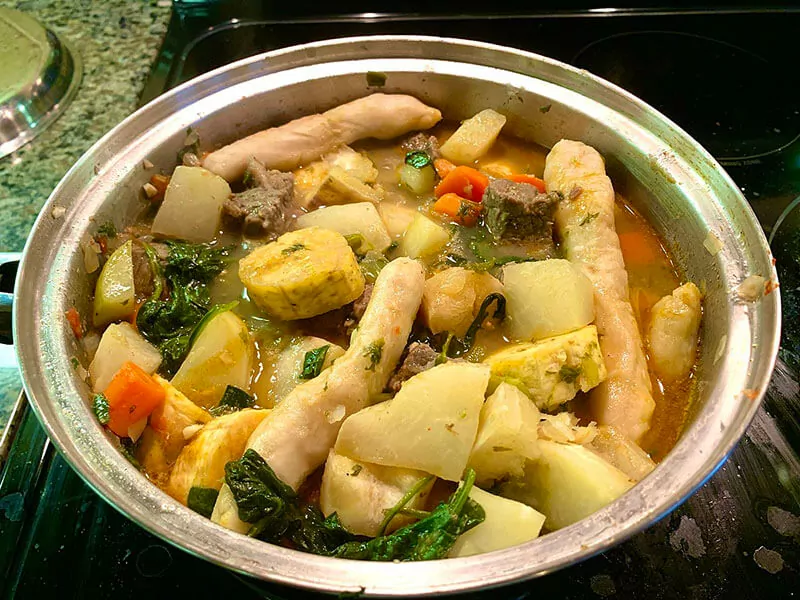 If you want a dish with beef as the main ingredient, you should order Bouyon Bef immediately. Beef will reach perfect tenderness after simmering with savory broth. You should eat it with vegetables or rice.
The savory broth is the unique highlight of this incredible dish. It has the umami flavor from beef and other seasonings. Nothing beats eating this recipe on a cold day or when you're under the weather.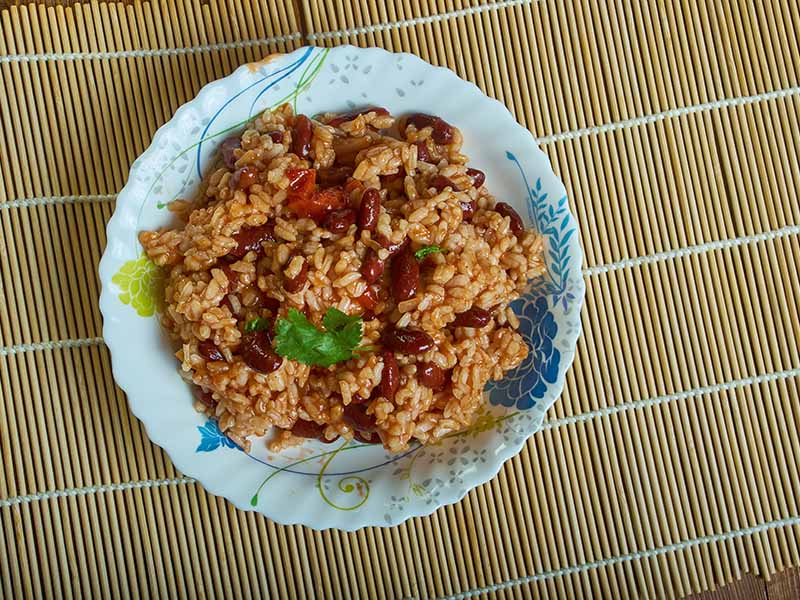 Diri ak Pwa, also known as Diri Kole Ak Pwa, is a traditional dish of Haitian cuisine. This recipe was born a long time ago and is associated with the slavery period of Haiti. The owners used rice, beans, and a few other ingredients to feed the slaves.
Rice will combine with many different beans such as pinto, black beans, kidney beans, and many more. This incredible dish will add a large amount of starch, vitamins B, iron, and protein to your body.
Learn the instructions to make yummy Diri Ak Pwa.
Amazing Haitian Sweet Foods For Those Who Crave Sweet
If you love the sweetness of Haitian desserts, you should not miss the scrumptious sweet treats in this section. You probably will not be able to escape their allure.
Nothing is greater than having a lovely Haitian sweet treat after every meal. Peanut butter is an iconic Haitian dessert. The chef will combine ground peanut with a scotch bonnet or habanero pepper. North and south versions of peanut butter will be different.
The northern peanut butter will be smoother because it is blended six times, while the southern version has only four-times blended. Peanuts originate from South America and gradually became popular in Central America, the Caribbean, and North America.
Plantains are a type of banana widely grown in Africa and Central America. In addition, areas with tropical climates such as South America, the Caribbean, and Southeast Asia have favorable conditions for plantain growth.
This recipe is of African origin – slices of plantains will have a beautiful golden color and an enchanting sweetness and crunch. Fried plantains are a favorite in Haiti and the Caribbean.
15. Kasav – Cassava Bread
Cassava is also known as yuca flour and is an excellent ingredient for cooking and baking. Cassava is native to the forests of South America, and people in Africa, Asia, and tropical countries were the first to eat it.
When enjoying cassava bread, you will feel drier than crackers and bread. Haitian people often stuff chocolate or peanut butter into the cassava bread to enhance the taste. It is fantastic to eat cassava bread after a hike.
New Guinea and The Indo-Maly region are the homelands of breadfruit. The Europeans knew about this fruit in the late 1500s. Breadfruit contains a lot of starch, and it smells like toast when baked. Captain Joseph Banks brought it to the Caribbean in 1769.
Haitians have taken advantage of this beautiful fruit to make this tasty dish. They boil the breadfruit, mix the mashed fruit with cod, and fry the fritters in hot oil until they have a nice golden color and crispy texture.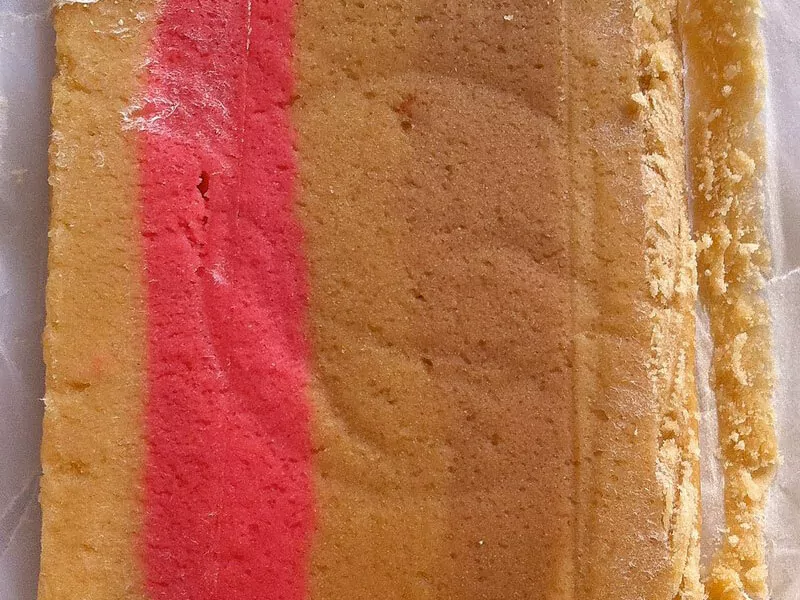 If you are looking for a version of fudge for dessert, you should consider Haitian Dous Makos. Fernand Macos of Petit-Goave invented this mouthwatering dessert recipe in 1939 with milk, sugar, colorings, and flavorings.
Fernand Macos took his name to this dessert. When you look at the Dous Makos, you will see 3 distinct brown, pink, and beige stripes. You can enjoy Haitian fudge in the streets of Petit-Goave.
Go to the kitchen to make mouthwatering Dous Makos.
If you come to Haiti on cold days, a cup of Chokola Peyi or hot chocolate is a perfect choice for you. When enjoying this fine drink, you will feel the flavors of chocolate, cinnamon, vanilla, milk, and star anise.
Haitians have created many variations by adding citrus fruit to create new flavors. Chocolate was nicknamed "The food of the Gods" as the Aztecs and Mayas ate it a while ago.
The main chocolate ingredient is cocoa from Central America and the Amazon basin. Therefore, chocolate plays an essential role in Haitian cuisine. People started adding sugar to chocolate in the 16th century.
19. Tablet Nwa – Cashew Ginger Brittle
Cashews are pretty popular in Haiti. It appears in many different recipes in this country, and Tablet Nwa is one of them. The food combines cashew nuts, cane sugar, and ginger. You will love the enticing sweetness of this dish immediately.
This food is famous in many parts of Haiti. You can buy it at vendors on the streets of Les Cayes and Port-au-Prince. However, it is a specialty of the town of Cavaillon because it was born here. There are many other variations with peanuts, almonds, and sesame seeds.
If you go to Haiti on hot summer days, a glass of Fresco will cool you down. The base ingredient of this cool dessert is shaved ice. Layers of syrup with thick texture and various colors and sweet honey will be topped.
You can find many variations of this delicious dessert in Japan and Hawaii. The Japanese name for this dish is Kakigori, which came to Hawaii and Haiti in the 8th century.
Famous Haitian Drinks You Must Try
The tasty Haitian drinks in this section will not disappoint you. They are typical and famous recipes in this beautiful island nation, so do not refuse any of them.
21. Haitian Coffee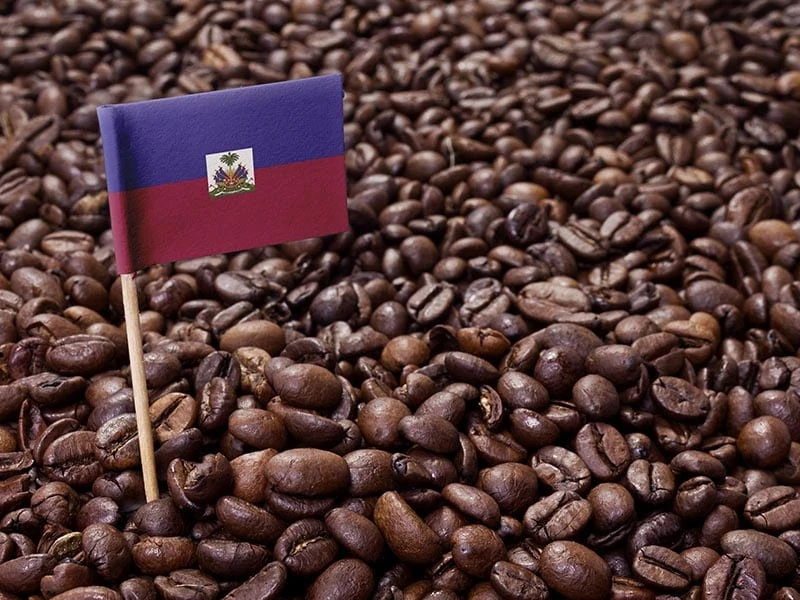 Coffee is a favorite Haitian drink in the morning to help them stay awake. In Haiti, coffee first appeared in 1725. The Jesuits brought the Arabica variety to Haiti from Martinique. It was grown in the Dondon region a decade later and is widespread across the country.
Haitian coffee has great taste and remains distinct from Central American and African coffees. Nowadays, you can find Haitian coffee beans in many supermarkets and grocery stores worldwide.
You can feel the rich taste of it but not too strong. Many people think it tastes close to chocolate but does not contain any cocoa. This coffee with a sweet tang, smooth texture and low acidity will make you fall in love.
Explore all information about the history of Haitian coffee.
It is a pity if you miss Cremas when traveling to Haiti. Drinks with ingredients like creamed coconut, condensed milk, and rum will leave you hooked. Its gentle sweetness and silky texture will draw you in no time.
This recipe originated in Haiti and is an excellent choice for special occasions like Christmas or weddings. Some of its variations will feature lime juice and lemon juice for an extra flavor. Its alcohol content is not too high, so you can rest assured to enjoy it.
If you like sweets, you can choose the version that contains sugar and milk. The recipe with hints of cinnamon and anise is a favorite among hearty lovers. You can combine this food with pastries.
23. Rhum – Haitian Drink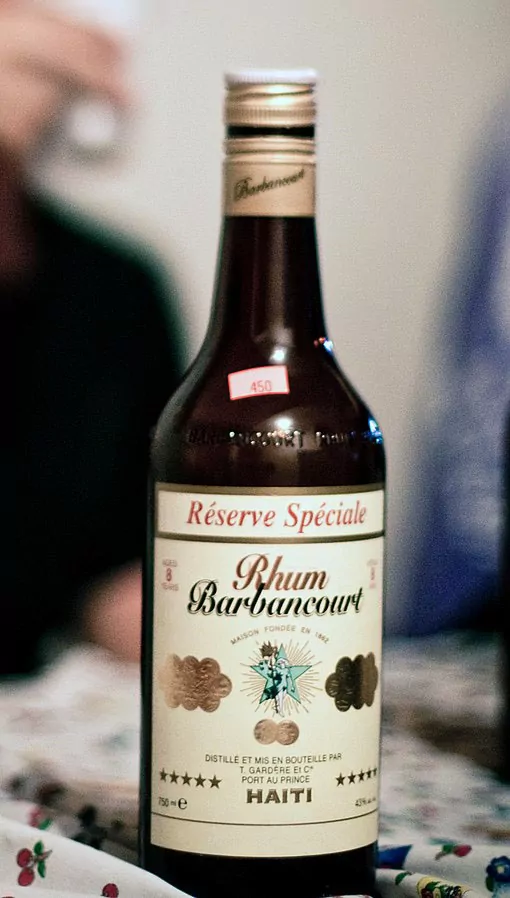 Rhum is a popular alcoholic drink in the Caribbean. It originates from the West Indies. In Haiti, the drink became common when a Rhum production company in the Damiens region was formed.
The local alcohol agriculture of Haiti created high-quality rum bottles in 1862. This Rhum recipe contains sugar cane juice. Barbancourt is the favorite Rhum in Haiti, with various grades ranging from 3 stars to 5 stars depending on the aging time.
Because this recipe is made with sugarcane instead of molasses, its name has an "h" in it. This results in a lighter taste and more flavorful liquor. White and black Rhum will have different flavors.
It is time to find out the origin and other valuable knowledge about the Rhum Barbancourt.
Almost every Haitian knows Ti Punch. It is a popular drink in Caribbean islands like Haiti, Martinique, and Guadeloupe. Furthermore, the beverage is well-known in France, especially in the French Guiana area.
The farmers first created this rum cocktail when they wanted a drink to help restore strength after the days of cutting sugarcane.
You can find rum Agricole, cane syrup, and lemon flavors in this cocktail. Haitians often drink it before every meal. Its name is derived from the name of another cocktail, "Petit Ponch," because the "Ti" in its name is short for "Petite".
25. Clairin – Haitian Spirit
When the French colonized Haiti, they developed sugarcane farming on this beautiful island. Thanks to good soil conditions, Haiti has become the world's largest sugarcane growing and sugar producer.
In the 18 century, the Haitians used sugar cane to create Clairin. It is a favorite alcoholic drink in Haiti. You will feel this incredible Haitian drink's mild sweetness and warm, earthy flavor.
Clairin's refining process is the same as Rhum's, but it is less refined. It is considered a White Rhum due to its similarity in quality. Compared to Rhum, it has a lower cost and is often applied in Vodou rituals.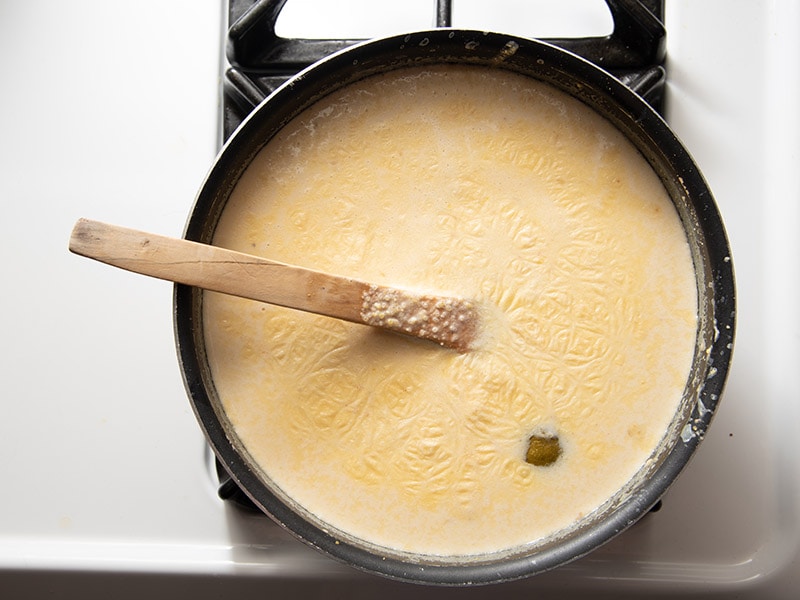 Your breakfast will be excellent and full of energy after enjoying a portion of Akasan. This is a famous sweet drink in Haiti and the Caribbean countries. It includes corn flour, milk, and spices like cinnamon, vanilla, and aniseed.
The name Akasan is derived from the number "100" because the Creole word "san" means "one hundred". There is no exact information about its origin, but many argue that it had appeared since the dawn of time when Haitians did not want to waste excess cornflour.
Incredible Other Haitian Foods You Should Consider
Food is an endless field, and you always want to discover more unique dishes. This section will be your savior with a list of other great Haitian dishes worth trying.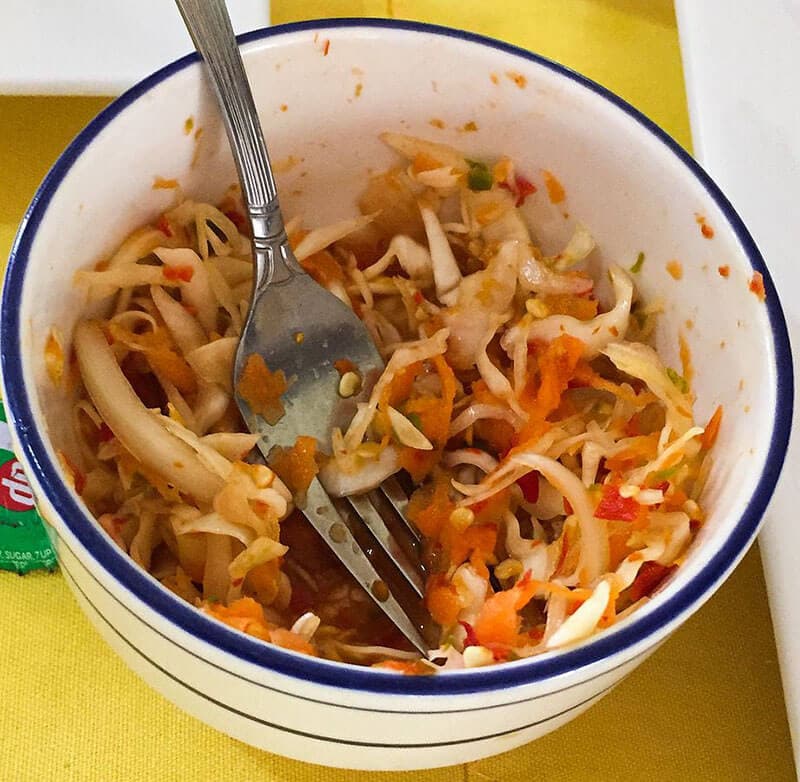 Pikliz is a national recipe of Haitian cuisine. The chef will combine pickled cabbage, bell peppers, carrots, and different spices to create a delicious dish. Its distinctive spicy taste is compatible with many fried dishes and rice.
It is an age-old achievement of Haitian cuisine. Its name comes from the French word "puquer", which means sting, so if you are faint of heart, stay away from it. Do not miss your chance to enjoy this delicious food.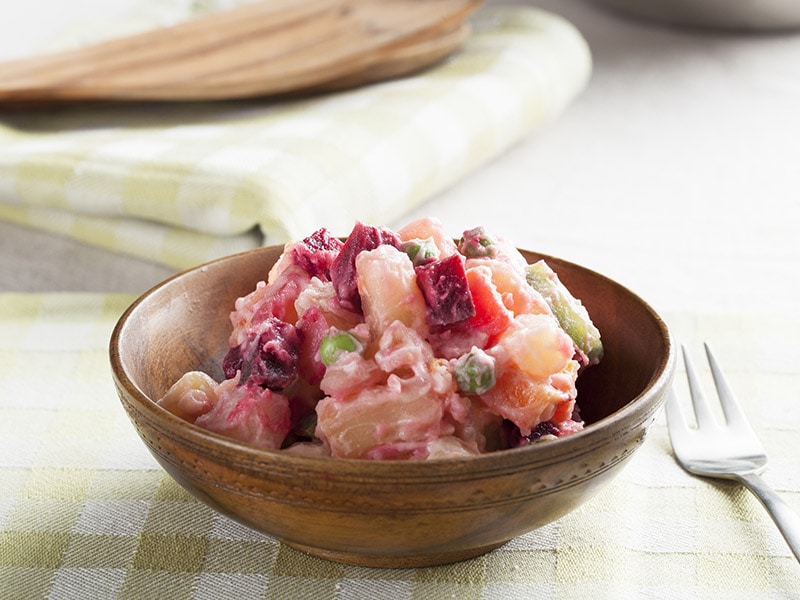 Haitian potato salad is a Haitian version of salad Russe in Haitian cuisine. It usually appears during Easter or springtime in Haiti.
Haitian potato salad is a refreshing and pleasant choice for you and your family. This recipe uses potatoes and other vegetables as the main ingredients. In addition, mayonnaise and eggs will add extra flavor to this incredible food.
One of Haiti's top preferred side dishes is Diri Djon Djon or black mushroom rice. When enjoying this rice dish, you will love the characteristic aroma and rich flavor of mushrooms. It is hard to forget this feeling.
This food first appeared in Northern Haiti before the independence revolution from the French colonial regime took place. As people migrated to Haiti, it became more popular and was an essential dish in celebrations.
Follow the directions to create a delicious Diri Djon Djon.
Labouyi Bannann is a great dish for your Haitian breakfast. This scrumptious and nutritious porridge is made with plantain and other ingredients. You will love its creamy, thick texture and sweet, enchanting flavor.
This porridge is a perfect choice for adults and children because it is gluten-free. The plantain in this food is a famous banana in Haiti, the Caribbean, South America, and tropical countries.
Mayi Moulen is a traditional Haitian food recipe. It is a Haitian product based on the tradition of grinding corn. This food is pretty similar to Italian Polenta. The word "Mayi Moulen" in Haitian Creole means "ground corn".
Mashed corn will bring creaminess and smoothness to this food. Moreover, the gentle sweetness and distinctive aroma of corn will pickle your taste buds. A hint of cinnamon and nutmeg will wake you up.
Akra is a delicious appetizer and snack of Haitian cuisine. Malanga is the critical ingredient that makes this excellent dish. After deep-frying, you will fall in love with the crispy outside of malanga, and the inside still retains its softness.
This outstanding food originated from Nigeria. African immigrants brought this food to Haiti, the Caribbean, and South America. I believe that you will want to eat it again before leaving Haiti.
Kibi is one of my favorite options when traveling to Haiti. It has its root in Middle Eastern native cuisine and has been modified by the Haitians to suit the local palate. You can find many different variations with meat or cream and cheese filling.
You will fall in love with these amazing fried balls. This mouthwatering recipe is crafted with ground beef or herring filet for an enticing flavor. It often serves as an appetizer at parties.
I hope your trip to Haiti will be more complete and enjoyable with the beautiful food I introduced in this article. Do not forget to record these foods in your travel book to enjoy gradually.
If you know of other unique Haitian dishes, do not forget to share them in the comments. Give a like and share if you feel the post's quality is enough. Thanks for your time!