Trust me! These easy crockpot side dishes will make you fall in love on the first try. They help diversify the delicious choices for your menu. They are the best method to enhance the flavor and value of the main courses.
To keep everything related to this topic in your mind, it is better to read this post carefully. To avoid forgetting these recipes, I recommend that you prepare tools to record them and view these tutorials whenever you want.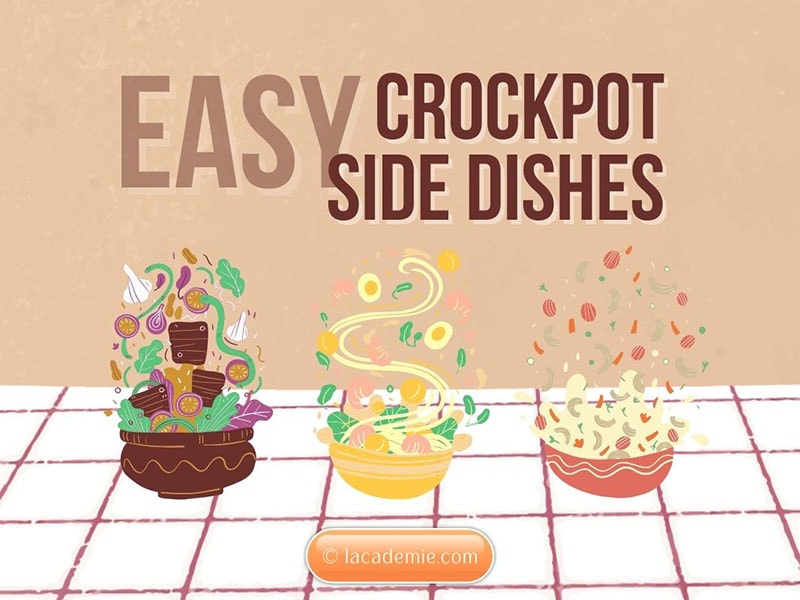 A General Brief About The Crockpot
Crockpot is familiar equipment in the kitchen of many households. People also call it "slow cooker". It is an electric cooking device, and it plays an essential role in simmering, boiling, frying, or baking dishes.
Normally, this is always the top priority when cooking pot roast, stews, soups, or other desserts that need a long cooking time. Structurally, it can be oval or round with a lid and cooking pot. It is usually made of porcelain or glazed ceramic.
In particular, it has a metal housing around the pot. And you will find an electric heating element inside this unit. Most slow cookers have 3 cooking methods, including low, medium, and high. Also, you can find the "keep warm" setting in several other variants.
In the US, people started using crockpots commonly during the 1940s. The slow cooker will soften the food, so you can cook tough ingredients into delicious dishes in this pot.
Moreover, cooking in a slow cooker will avoid burning food. Nonetheless, cooking for too long will lead to the loss of nutrients in foods.
Refer To These Crockpot Side Dishes For Your Meal
This section will answer all your questions about the excellent side dishes cooked in the crockpot. Are you ready to gain all fascinating and valuable knowledge?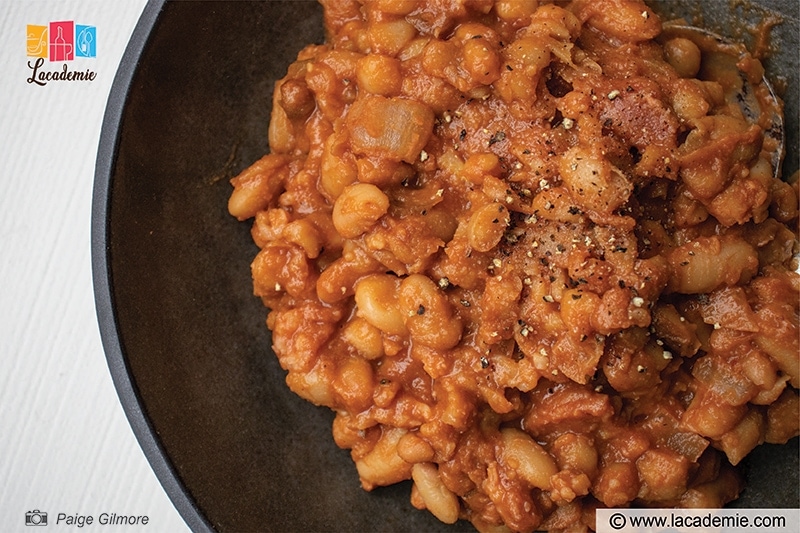 Have you ever tried making baked beans in a crockpot? Try it now if you do not want to regret it. Cooking beans with BBQ sauce and brown sugar will bring a legendary recipe with sweetness and richness. Plus, the dark shade leaves a deep impression on your mind.
One advantage is that you do not need to add water and stir it during the cooking process, which helps your kitchen clean. After adding the beans, bacon, and onions, you have to prepare a mixture of BBQ sauce, Worcestershire sauce, and other spices to flavor it.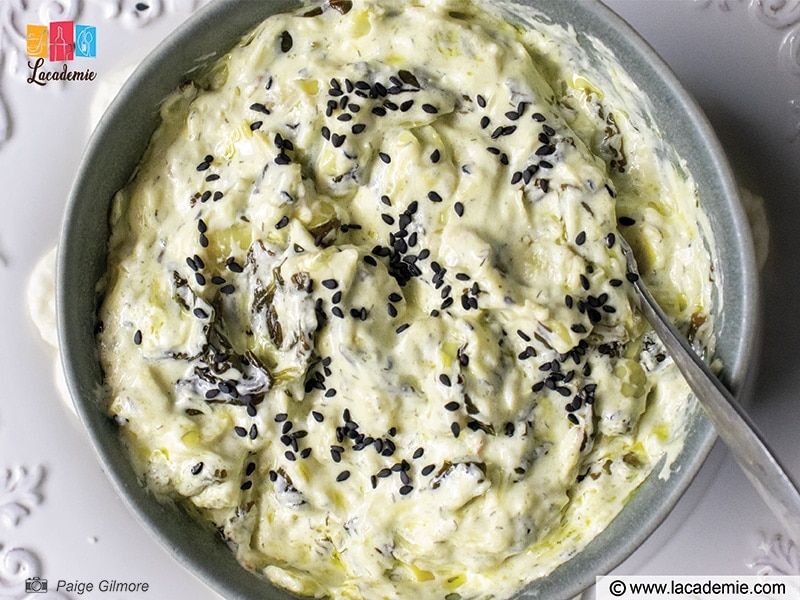 Dip sauce is a surefire side dish for every party. But many are afraid of ready-made products because they may contain additives. So, how about making a nutritious one yourself? This spinach artichoke dip is as tasty as it's healthy.
With spinach and artichoke hearts, this recipe is a great source of potassium, protein, and calcium. And the Monterey Jack and cream cheese make it more attractive with their richness. Even people who don't like vegetables will love this dip.
Total time: About 4 hours 10 minutes
Among the countless yummy slow cooker recipes, I prefer tasty and nutty Crockpot Garlic Ranch Red Potatoes for weeknight or holiday parties. It is effortless because you just need to burst roasted potatoes with ranch seasonings and garlic in a slow cooker.
Both powder and fresh minced garlic are acceptable for this beautiful recipe. Also, do not forget to make it a little spicy with some pepper. Creamy and tender red potatoes absorb the seasoning and give you a pleasant mouthfeel.
For extra tips, if you want to increase the crispiness of your potatoes, open the lid a little during the last hour of cooking. Using butter will boost the flavor of this dish.
It is good to add cheddar cheese to create a cheesy texture. For serving, you should serve it with grilled veggies or roasts.
Total time: Around 6 hours 10 minutes
If you are following a plant-based diet, I will not recommend skipping this delicacy. This will help raise the value of roasted vegetables. In particular, its taste will make you addicted whenever you give it a shot.
This healthy recipe is a blend of carrots, red onions, butternut squash, and spices. After a long time in the slow cooker, the veggies will absorb the seasonings and achieve the perfect tenderness. Remember to coat the veggies with olive oil on top during cooking time.
Total time: About 1 hour 30 minutes
Your meal becomes richer and more attractive with the appearance of Crockpot Cornbread. It looks pretty adorable with a brown edge and golden brown inside. When you bite it, you'll go from crunchy texture to soft and moist from the outside to the inside.
I usually use cornmeal for this recipe. In particular, the addition of milk will bring a light dairy taste to the dish. Plus, I will not use butter in this side dish. And I just use this ingredient to grease the crockpot insert.
Besides the crockpot, you can bake it in the oven for about 25 minutes if you do not have a crockpot on hand. Nonetheless, this method makes the cornbread not as moist as usual.
Alternatively, it is acceptable to add additional ingredients to create other variations. For example, a little smoked paprika and pepper make a Chipotle Cornbread version. Not only that, cheddar cheese and honey are other suggestions.
Total time: About 5 hours 40 minutes
Potatoes have always been a common ingredient in crockpot side dish recipes. So, give this recommended recipe a shot right now. It is a combination of creaminess, softness, and cheesy touch.
Your task is to mix scalloped potatoes, creamy sauce, and Gruyere cheese in a slow cooker with other seasonings. Plus, you can try these 2 ways to make a stronger impression on your diners' minds.
First, you can use a fantastic creme brulee torch to create a distinctive and eye-catching brown hue. Alternatively, it is better to pop this dish in the oven for about 3 minutes to color it.
Nevertheless, this method only works for crockpots with an oven-safe insert. In addition, you can beautify this dish by garnishing it with thyme.
Total time: About 6 hours 10 minutes
If you have a strong passion for corn kernels' subtle and delicate flavor, this delectable recipe should appear in your cookbook. It is an effective way to replace the usual grilling or boiling.
For ease of cooking, I'll cut the corns in half and cook them in a crockpot with water. I need a little buttery touch of butter. It is tastier with the addition of pepper and salt. The gentle sweetness of fresh corn creates a perfect and balanced dish.
A tip for those wanting a healthier version is to use olive oil instead of butter and coat the corns with lemon juice before serving. This distinctive citrus scent will captivate you in no time. Even better, it tastes more delicious when eaten warm.
It is time to discover the tutorials to get a tasty Slow Cooker Corn On The Cob.
Total time: Around 4 hours 10 minutes
I went crazy with these tasty mashed potatoes' creaminess and buttery taste. It is an incredible Thanksgiving-themed slow cooker recipe. You can serve it with Turkey Meatballs, Marinated Pork Loin, and Slow Cooker Pork Chops.
It's convenient to prepare it beforehand and keep it warm until the meal starts. I recommend the Yukon gold potatoes if you want a smooth dish. Meanwhile, russets will yield a creamier texture.
It is essential to cut potatoes into even pieces. Also, a little butter will help this veggie richer. To mash potatoes quickly, a potato masher or hand mixer are recommended choices. To preserve it, you can keep it in the fridge and freezer.
Check out these directions to get a yummy Crockpot Mashed Potatoes.
Total time: About 4 hours 12 minutes
If you have canned beans in your kitchen, I'll help you turn them into a scrumptious party accompaniment. It gets a smoky and buttery flavor. In addition, the subtle taste of the beans works well with the meaty touch of bacon.
Spicy red pepper flakes will tickle the tip of your tongue. You can adjust the spiciness according to your preference by increasing or cutting down the amount of pepper.
For serving, it is an ideal option for holiday or weekend parties. I love the fusion of this side dish and main dishes like steak, pork, or chicken. For variants, use fresh beans instead of canned ones. It will be more crispy with almonds. Also, the fresh pairs well in this recipe.
Total time: Around 8 hours 10 minutes
There are many delicious Italian side dishes, but Crockpot Italian White Beans With Mushrooms is always my priority at holiday parties. This hearty vegetarian dish is a collection of white beans, tomatoes, and capers.
Moreover, a little garlic note will awaken your taste buds. Italians often choose it as an accompaniment to spaghetti squash, cheesy zucchini noodles, or creamy spinach polenta. One plus is that you can freeze the leftovers and use them for later meals.
You can diversify the taste by adding leftover ground meat or sausage before using it again. To reduce the consistency, a little broth will be worth it at this point. Besides white beans, black garbanzo or pinto are ideal alternatives.
Total time: Around 4 hours 15 minutes
If you search for a delectable crockpot recipe for Christmas parties, you should not neglect the Crockpot Stuffing. Sausage, bread, seasonings, and veggies are the star ingredients of this fantastic recipe.
It is hard to resist the tenderness and moistness of this dish. In particular, a little crunch of bread will stimulate your taste buds. Usually, I use cubed bread stuffing or bagged cornbread stuffing for this delicacy.
The addition of chicken stock or broth adds more moisture to the dish and gives it a perfect texture. Do not confuse stuffing with dressing because cubed bread is the main stuffing element, while dressing is a cornbread-based dish.
Save these instructions for making fantastic Crockpot Stuffing.
Total time: About 5 hours 10 minutes
The creamy and tasty dish is the famous potatoes-based casserole recipe. My vest-love feature is the marshmallow layer on top of the dish. It creates an eye-catching white patch that covers the potatoes underneath.
This casserole recipe will not achieve the perfect texture if the potatoes have a lot of liquid. Hence, make sure to remove all the liquid before mashing the veggies. This delicious dish will add energy, carbs, vitamin A, and minerals to the body.
Total time: About 2 hours 50 minutes
Recently, I have been addicted to the Slow Cooker Green Bean casserole. It can be traditionally prepared with a baking dish, but cooking it in the crockpot offers a beautiful and novel experience.
Of course, green beans are an indispensable ingredient in this dish, and I usually use the canned version. Moreover, you need to prepare milk, fried onions, spices, and cream of mushroom soup when making this dish.
Apart from canned green beans, you can use frozen or fresh ones. After cooking, this delicious food can keep its warmth for about 3 hours, so it is best to serve it during this time.
Total time: About 4 hours 10 minutes
The rich and creamy Crockpot Jalapeno Creamed Corn is ideal for your weekend party. In particular, it will be a massive hit for the meal with the heat and spicy hint of jalapeno. Plus, it is easy to fall in love with the cheesy texture of this tasty side dish.
At meals, I often come across it with the main course like meatloaf, pulled pork, or fried chicken. Besides fresh corn, the frozen version is also a perfect substitute. With this component, you should use a smaller crockpot.
In case you are not good with spicy food, you can create a non-spicy or mild spicy version by replacing the jalapeno with green or red bell pepper.
Total time: About 1 hour 5 minutes
Next, I want to introduce a tasty crockpot recipe for your keto meal: Crockpot Cheesy Spinach. With just 3 main ingredients and 1 hour of cooking, you can enjoy a tasty, healthy, and rich side dish.
Spinach, cream cheese, and cheddar cheese are 3 elements you must assemble. This recipe is a low-carb food because the carb content is only about 2.2 grams. The cheesy and creamy consistency makes you want to taste it repeatedly.
I prefer baby spinach because it is less bitter than a grown one. In particular, frozen spinach can completely replace the fresh version. Nevertheless, you must defrost it and remove all the excess water inside by squeezing it.
Total time: About 6 hours 20 minutes
After removing the crockpot, the red and soft pieces of carrots are an excellent accompaniment for gatherings. This is a fantastic gluten-free dish with baby carrots, maple syrup, and other outstanding spices.
Nonetheless, what would you do without these ingredients? Look for honey, pancake syrup, or corn syrup as an alternative to maple syrup. Cutting whole carrots into a coin shape will give the same effect as baby carrots.
Plus, butter-flavored coconut oil helps you forget about butter nostalgia. To thicken brown sugar and maple syrup glaze, open the lid for the last 30 minutes or cook the liquid in another pan after removing the carrots from the pot.
Let's make wonderful Slow Cooker Glazed Carrots for your meal.
Total time: About 7 hours
Suppose you plan to host barbecues, potlucks, or summertime picnics, its salty and sweet flavor will make you hooked in no time. Furthermore, the tangy taste will bring a new breeze to the meal.
It is the result of combining red potatoes, bacon, and flour with other spices. This delectable summer crockpot delicacy will conquer the hearts of diners when served warm. Do not forget to sprinkle some chives on top to create a highlight for this food.
Total time: Around 4 hours 20 minutes
This delicious side dish has an attractive appearance with several colors. It is the perfect picture with the green of brussels sprouts, the black shade of pepper, and the white tint of Parmesan cheese.
The balsamic reduction is made by boiling brown sugar and balsamic vinegar in a pan. The next stage is to fill the slow cooker with sprouts and mix them with olive oil, pepper, salt, and butter. Once cooked, serve it with Parmesan cheese and balsamic reduction on top.
This dish is often served with grilled chicken, honey garlic salmon, baked teriyaki chicken, or Thai grilled chicken at restaurants. Even better, bring new experiences by adding bacon, shallots, dried fruits, or herbs to dishes.
Total time: About 4 hours 10 minutes
This is a gift for vegetarians. And its striking red color will catch your eyes at first sight. This flavorful side dish has the natural sweetness of honey and the sour-sweet taste of apple. In addition, other spices will enhance the flavor of this dish.
It is possible to make this dish in advance and store it in the fridge. Then, you just need to reheat it in the microwave to use. Polenta roast potatoes, cream cabbage, or sausage meat stuffing are perfect mains to go with this side dish.
Spice it up by adding dried cranberries, lemon juice, or nutmeg. You can especially use cider vinegar in place of balsamic vinegar. This food is a calcium, vitamin K, zinc, and fiber source.
It is a pity if you do not know the ways to make Slow Cooker Red Cabbage, so let's learn right now.
Total time: Around 8 hours 10 minutes
You will be pleased with the irresistible taste of this yummy Mexican crockpot recipe. I will use canned beans to make this dish. Furthermore, cooking in the slow cooker helps the beans soften and absorb the seasoning.
You will get a lot of value when making this dish, including budget-saving, classy taste, healthy, and well-accompaniment with many main dishes. Usually, I would use pinto beans, but you can use black beans if you like.
One trick to enhance the flavor and value of this dish is to use chicken stock or broth instead of water. In case you do not want to raise the spiciness and heat, do not forget to reduce the amount of jalapeno. Of course, soaking beans overnight will be more effective.
Total time: Around 3 hours 10 minutes
Cooking rosemary and beets in a crockpot with honey for a long time will bring perfect softness and natural sweetness to the dish. In particular, this dish's signature deep purple color is an effective way to impress your diners.
Besides the familiar seasonings, you can get creative with other combinations like orange juice, zest, thyme, and maple syrup. Plus, let's try a mixture of garlic, soy sauce, honey, and onion.
At the party table, there's no problem serving it alone. However, it is better to add crumbled goat cheese and pumpkin seeds to enhance its taste. This delicious dish will work best when eaten with fish or meat dishes.
Total time: About 5 hours 30 minutes
Have you ever thought about putting carrots, peas, honey, butter, and seasonings in the same crockpot? It is time to experiment with this combination to create a healthy and flavorful dish.
This accompaniment recipe is a suitable companion to holiday mains like turkey breast or brown sugar ham. In particular, the preparation of this dish is pretty quick, and this saves time in your kitchen.
If you are in the month of fasting, the vegan version with olive oil is worth considering. To color this dish, one can of corn is enough. Moreover, add aroma to this food with herbs like oregano, parsley, thyme, or rosemary.
Total time: About 3 hours 15 minutes
Until now, I still remember the smooth and buttery texture of Slow Cooker Butternut Squash soup. Moreover, its sweet and spicy taste will stimulate your taste buds on the first try. If you want a creamy and rich flavor, do not hesitate to add coconut milk or carrots.
Before serving, you can top it with coconut milk, pumpkin seeds, parmesan cheese, and fresh herbs to bring various flavors and make the dish more colorful and attractive. In particular, it is good to serve it with bread.
When making it, you just need to add all essential components and spices to the crockpot and cook for 3 to 4 hours. For variations, sweet potatoes are the perfect substitute for butternut squash – a new experience with the appearance of cumin, coriander, or thyme.
Follow these tutorials if you want to enjoy the delicious Crockpot Butternut Squash Soup.
Total time: About 2 hours 35 minutes
Rice is a familiar accompaniment at many different meals and events. Combining rice and butter in a crockpot will yield an alluring fragrance and exquisite taste. In particular, the rice grains will be softer and more succulent.
I usually consume it with pineapple chicken, a saucy shrimp dish, and curries. It's also a perfect chicken casserole side dish. This recipe is pretty helpful for your digestive system. It adds energy, niacin, and iron to your body. Before cooking rice, you must rinse rice beforehand.
To bring the perfect results, I recommend using Jasmine or Basmati rice to make this wonderful side dish. For extra flavor, it is acceptable to use broth instead of water to enhance the rice flavor.
Total time: About 4 hours 10 minutes
The combination of cheese and corn in cuisine always brings unexpected effects. The bright yellow corn kernels are covered with rich and creamy cheese. Also, it is more flavorful with the addition of bacon and green onions.
The light and natural sweetness of corn will make you want to eat them more. You need a little sugar to sweeten the corn and balance it with the savory bacon. Normally, I use frozen corn, but you can use fresh one instead.
To save cooking time, you should keep the heat in the pot continuously and not open the lid during the cooking process. Even better, you can enhance the flavor by adding other cheese, garlic powder, or jalapenos.
Total time: About 5 hours 25 minutes
Beans are a common ingredient in many different casserole recipes, and this Slow Cooker Bean Medley is one of them. This delicacy is popularly served as a gluten-free side dish. It has a rich flavor and soft texture of beans, vegetables, and various spices.
In this recipe, I'll use a variety of beans, such as black, kidney, lima, or northern beans. The dish becomes more memorable with the intense flavor of ground mustard. I'll enjoy it after cooking the components in the slow cooker for about 5 to 6 hours.
Do You Love These Crockpot Recipes?
Using a crockpot or slow cooker has become familiar and played as a common trend in cuisine. Therefore, let's get rid of the backwardness by trying to go to the kitchen to cook outstanding delicious dishes with this device.
I hope to receive your comments and feedback after reading this article. Also, please write other ideas you know in the comment sections. Thanks for your time, and let's share this helpful post with many others.
Nutrition Facts
10 servings per container
---
Amount Per ServingCalories261
% Daily Value *
Total Fat 11.5g

18

%
Cholesterol 29mg

10

%
Sodium 145mg

7

%
Potassium 957mg

28

%
Total Carbohydrate 36.2g

13

%

Dietary Fiber 5.5g

22

%
Sugars 2.8g

Protein 4.7g

10

%
---
Calcium

33

%
Iron

1

%
Vitamin D

6

%
* The % Daily Value tells you how much a nutrient in a serving of food contributes to a daily diet. 2,000 calories a day is used for general nutrition advice.