Let's explore the awesomeness of Chilean foods, and you'll never regret the experiences! Latin American regions have been famous for their colorful and tasteful cuisines for a long time. And Chile is not an exception.
This country also has a coastline along its length, which tribute a wide range of food varieties. Therefore, no matter what your taste is, the culinary options here are endless, just waiting for you to discover!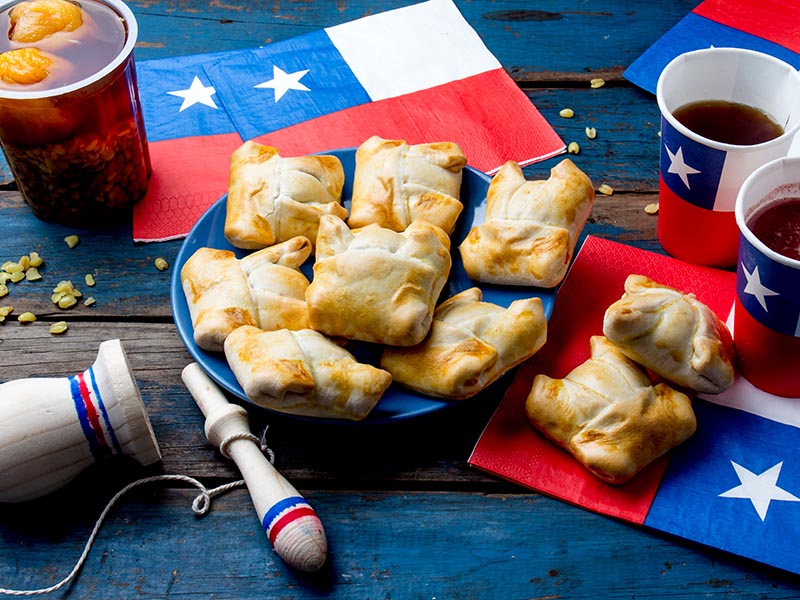 Take A Skim At Chilean Culinary History
Before getting into fabulous Chilean recipes, let's briefly look at their cuisine development. Historically, the essential ingredients of Chile were colorful vegetables, seafood, with multiple herbs and spices, until the Spanish conquest in 1540.
Since then, wheat, cattle, poultry, and wine have been added to the basis of Chilean cuisine characteristic little by little. Baked goods became famous during the 17th century.
Interestingly, it was the nuns and their delectable pastry recipes that made Chilean bakery treats famous.
You can even hear some Chilean saying "tiene mano de monja" (she has the hands of a nun) nowadays, which means a compliment for a woman or man with excellent culinary skills.
Then, there came Germany, Italian, and French during the late 19th century with the immigration encouragement of the Chilean government. While Chilean gastronomy had formed its own identity at this stage, European cuisine keeps contributing to diversity.
Therefore, "colorful" might be the keyword for Chilean foods. Now, let's skip the chat and get into the beautiful dishes to know about their "color".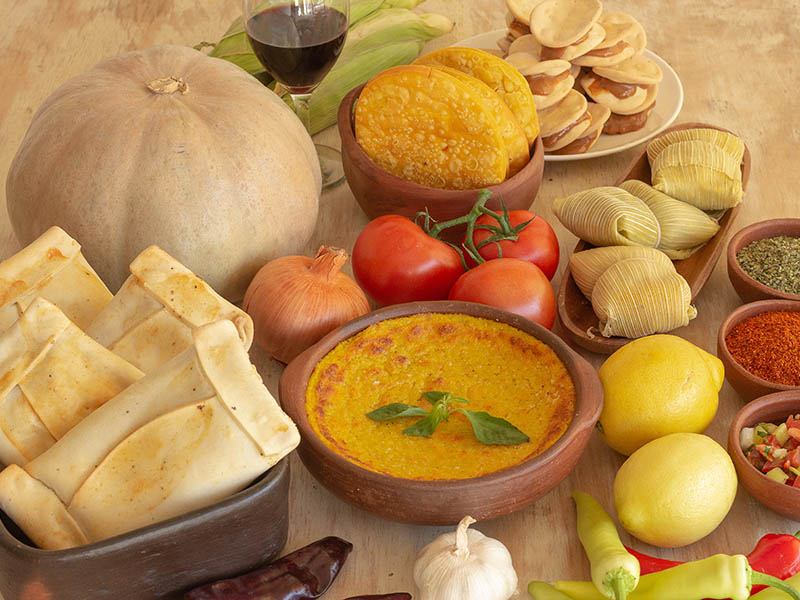 Let's Get Started With Mouth-Watering Chilean Appetizers
Suppose this article is a Chilean food tour, the best way to start it is delicious-looking appetizers. Note that these fantastic foods are not just meant to start the meals; you can use them as snacks or even upgrade them into the main course, totally your choice.
1. Locos – Chilean Abalone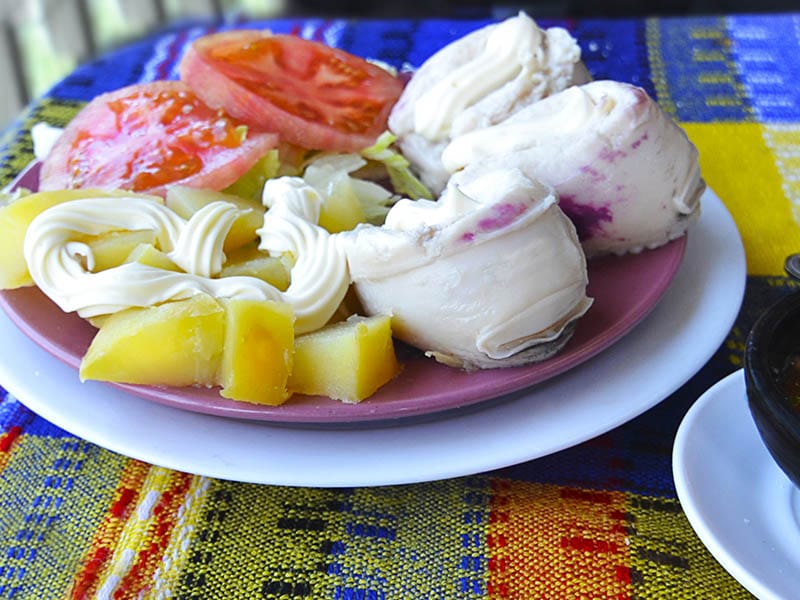 Locos is a type of abalone that used to be abundant in Chile until fishing and poaching went over control and put this species in danger. Nowadays, you can only find it during its season. But still, loco is the most famous Chilean shellfish.
The cooking method of this traditional food is quite time-consuming; the fresh abalone needs to be softened by pounding over ashes, then boiled slowly to bland. The most common way to serve it's with mayonnaise.
Another interesting fact is that "loco" also means crazy in Chilean. And when you try this fantastic appetizer, you know that the name is totally reasonable.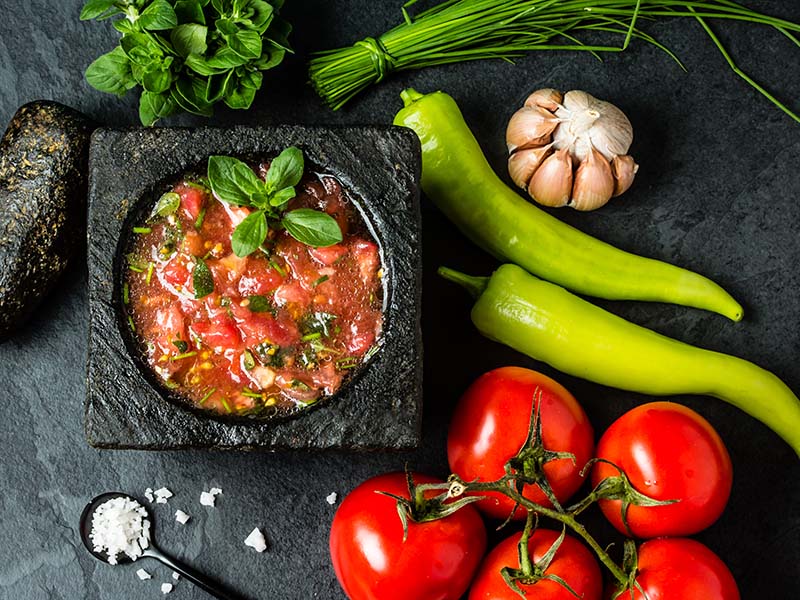 You may have heard of 'pebre' – a famous traditional Chilean salsa that is based on garlic, onion, coriander, chili pepper, lemon juice, salt, and olive oil. Basically, 'piedra' is 'pedre' combined with tomatoes and grounded in a stone mortar.
In fact, 'chancho en piedra' is 'pig in a stone', but there is no pork here. For serving, it is usually used as an appetizer with bread and butter. However, many Chileans also use this salsa as a sauce for the main dishes.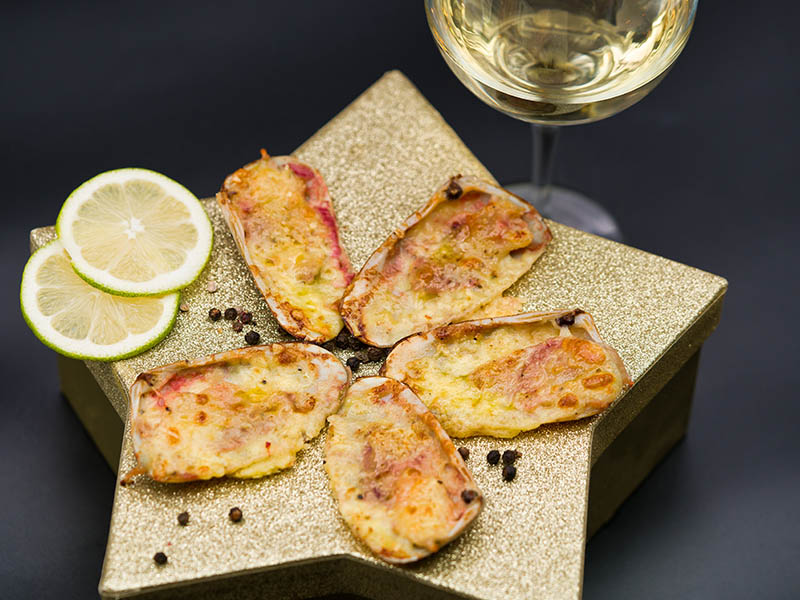 This is a typical dish that shows the interference of Italian cuisine to the Chilean. People believed that it was first introduced by an Italian immigrant restaurant in Vina del Mar in the 1950s.
On the other hand, macha is a razor clam that is also well-known as 'pink clam' in the U.S. This excellent appetizer is basically grilled pink clam topped with parmesan cheese. However, it sometimes also includes gouda cheese, cream, and butter for extra richness.
4. Humitas – Corn Cake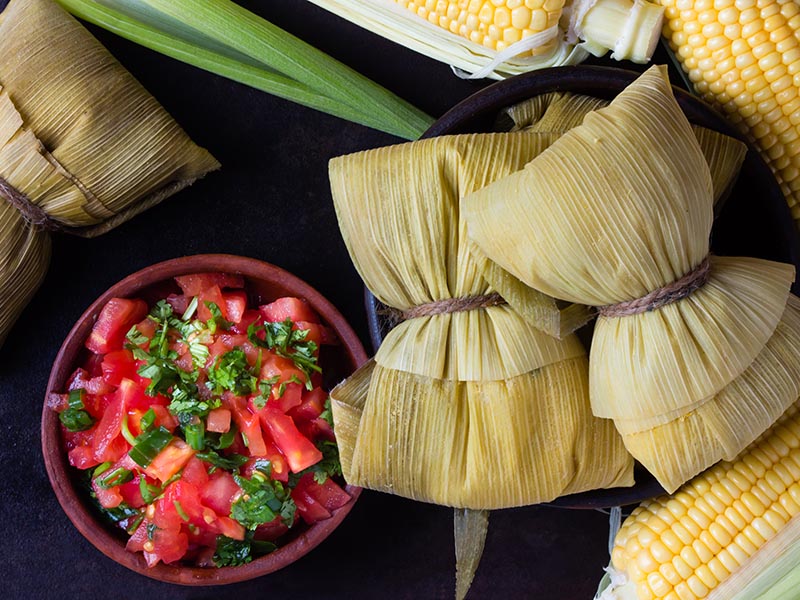 Humitas is a traditional corn cake of the Andes regions, but it was believed to first appear in Chile during the 19th century. Traditionally, humitas were made of mashed corn, mixed with basil, onion, and butter, then wrapped in corn husks.
The basic flavor is meant to be sweet; however, the Chilean also created other flavors for humitas, including savory, spicy, or sour, by adding salt, Chilean green chili pepper, or tomato.
5. Ceviche – Marinated Raw Fish
Ceviche is actually a traditional dish of Peru, but it also traveled to Chile and made its fame here. Mostly made of raw fish, lemon juice, coriander, and onion, Ceviche is a tasty dish that you should try at least once when coming to Chile.
The primary fish in this dish is Patagonian toothfish, which is widely commercialized in Chile. However, sometimes it is also substituted with salmon or shrimp and served in a small cup.
See how you can identify Chilean ceviche from the Peruvian version.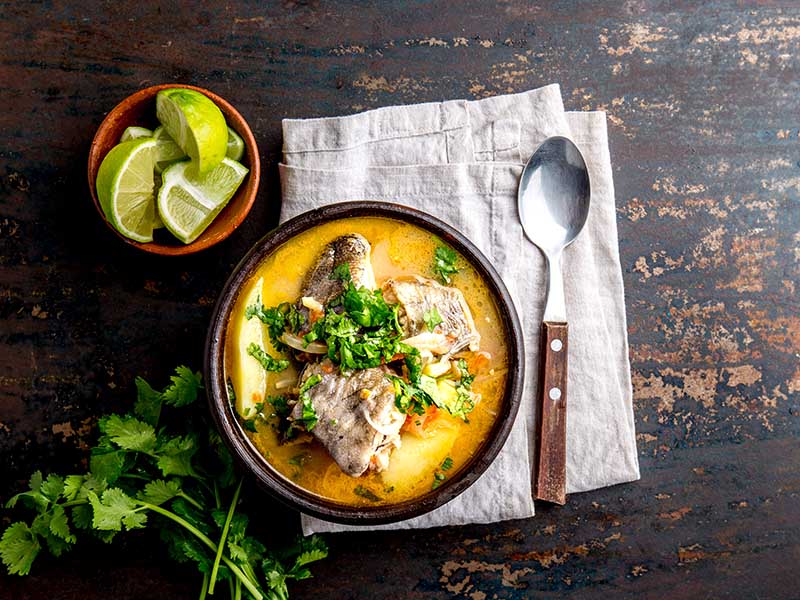 A popular soup widely served in the center of Chile nowadays, 'Caldillo de Congrio' does not tend to be heavy, but still invigorating that is perfect for lunch meals. Moreover, it's especially famous in Isla Negra more than anywhere else.
Isla Negra is the homeland of Pablo Neruda- the Nobel Prize for literature winner in 1971 – who had written an entire poem to honor this soup. 'Caldillo de Congrio' often includes carrots, onions, garlic, laurel, tomatoes, and most importantly – congrio.
Another fun fact, while 'congrio' is usually assumed as cuck-eel or conger eel in English, it's actually not an eel but a fish species instead. To be more specific, the right name of this fish in English is kingklip.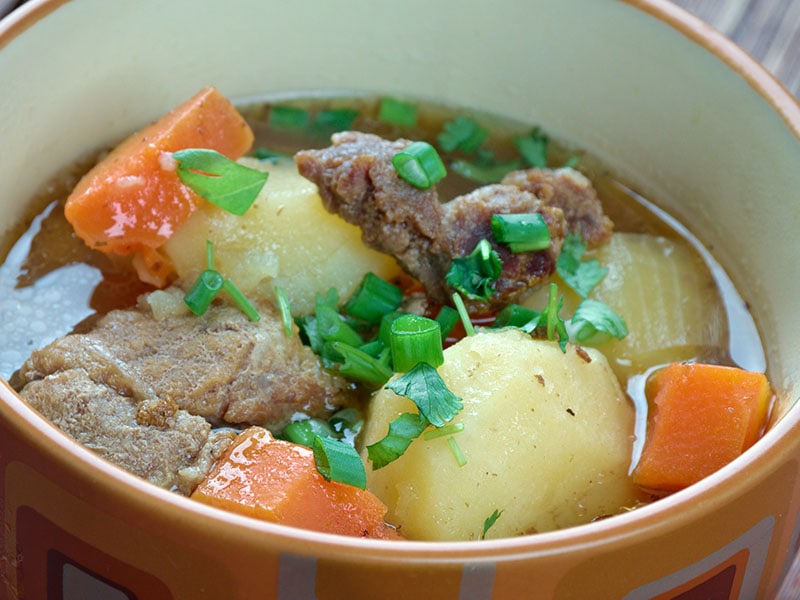 In the late 16th century, Valdivia was one of the last Chilean provinces still under Spanish territory, and most of the soldiers' supplies here were jerky. Then, after being tired of eating jerky, they added some ingredients to create the wonderful soup known as Valdiviano.
This soup is more likely a late dinner meal rather than lunch, especially after a drinking night. A compound of various Chilean spices and herbs, onions, with 'charqui', Valdiviano soup is an excellent warm-up meal.
Wholesome Chilean Stew And Baked Dishes To Crave
In traditional Chilean cuisine, lunch is the biggest meal throughout the day. And 'big' is also by the mean heavy. However, these meals are not just heavy foods to fill your stomach but also extremely delicious from the inside out.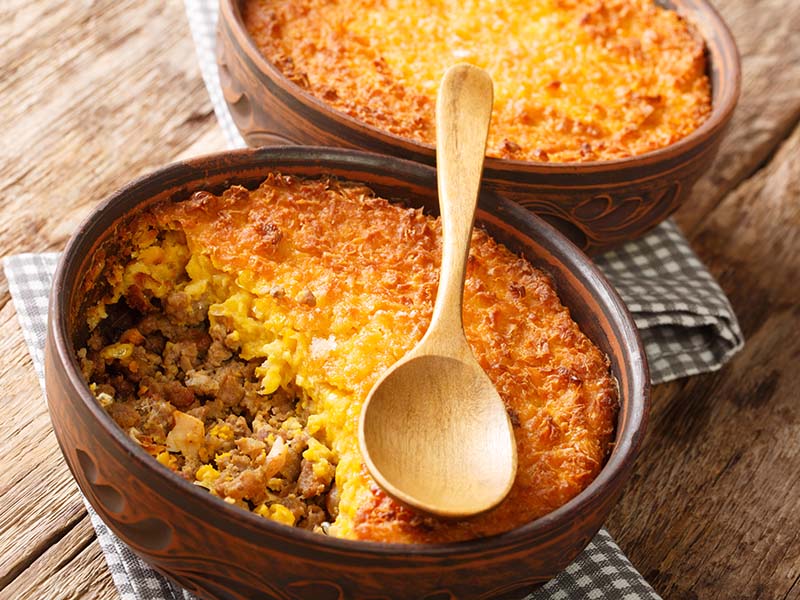 The Chilean has created Pastel de Choclo since the Spanish conquest, and it has become one of the signature dishes of Chile nowadays.
Traditionally, this corn pie is made of ground beef and mashed/pureed corn, then filled with 'Pino' – which I've mentioned in the introduction of the empanada.
The combination will be quickly heated up with milk and lard or butter in a clay pot, then slowly baked in the oven. Some Chileans also alternate beef with chicken in the filling, and some Chilean restaurants serve this corn pie with humitas.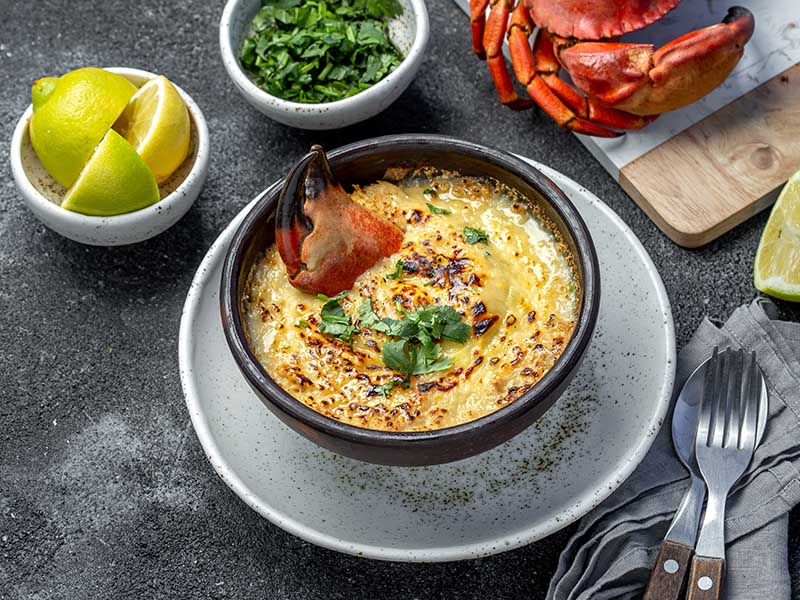 As the name has suggested, Pastel de Jaiba is also a baked dish that is served in a pot. It also has the same origin as Pastel de Choclo. However, the locals believed that Santiago contributed the most to the development of this wonderful dish.
The cooking process is the same as the previous recipe, but with crab in place of 'Pino' and bread crumbs instead of the corn purée. It is also usually served with parmesan or gouda cheese toppings.
See how 'Pastel de Jaiba' is served in Quintay, Chile.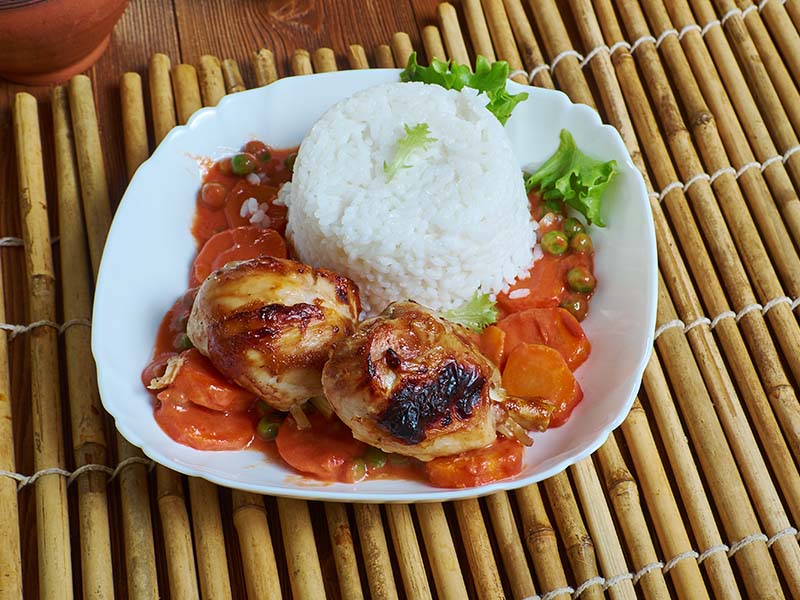 Believed to be first developed in Mapuche, Pollo Arvejado is now famous as a cultural Chilean lunch recipe. Basically, 'pollo' and 'arvejado' are the two main ingredients of this stew dish, which are chicken and peas.
Other participants include carrot, onion, garlic, white wine, and other Chilean herbs and spices. Nowadays, Pollo Arvejado is more abundant in the countryside and mostly used as a lunch meal served with rice or potato.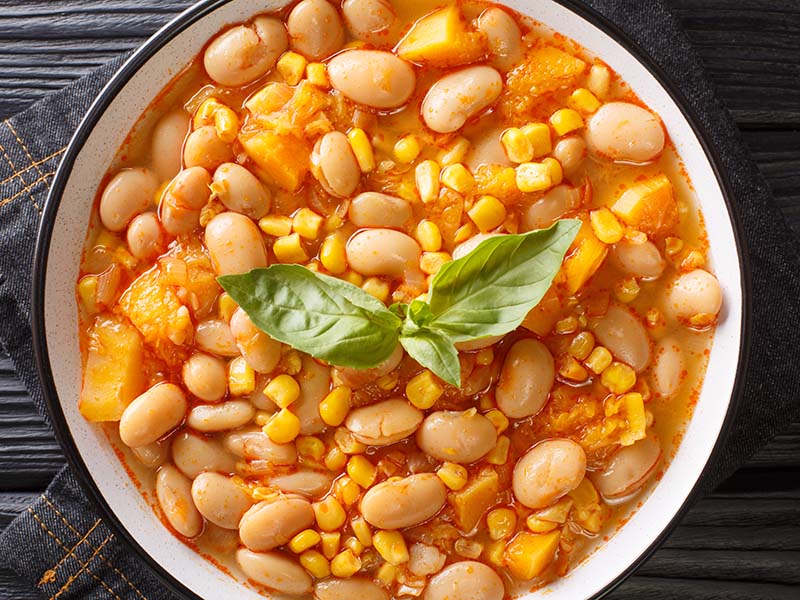 Sprouted from the central and southern regions of Chile, 'porotos granados' is a hearty, thick bean stew that is now often used as a Chilean dinner recipe. This stew is mostly white or cranberry bean, carrot, maize kernels, squash, and other spices and herbs.
Pumpkin is also included in the ingredients during the winter months. There's also another version of Chilean beans stew – 'Porotos con Riendas', which adds pork skin's strip, or more simply, spaghetti.
12. Cazuela – Chilean Stew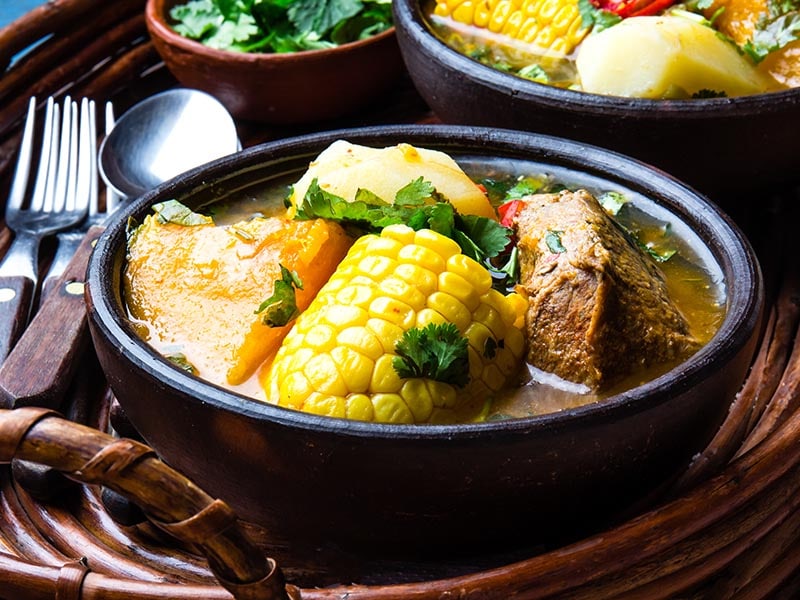 Cazuela is another stew dish that stems from Mapuche. If you want some comfort food, this is the best choice you can have in Chile, or perhaps among the best worldwide. The name 'cazuela' actually stands for the pot that stews the food.
Chicken or beef will be stewed in the 'cazuela' pot along with carrots and potatoes during the process. Other ingredients such as beans, corn, and squash will be cooked separately in another pot. They'll only be compounded on the table when served.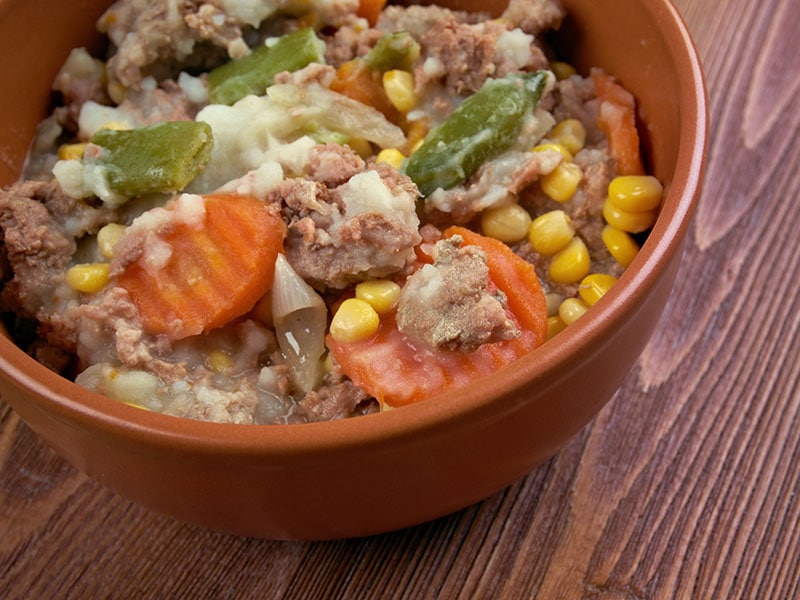 Charquican is a stew dish popular among the Andes nations, and Chile is not an exception. The term "charqui" actually means llama jerky; however, you can rarely find an "authentic" charquican since most modern dishes are made with ground beef.
Along with the beef broth are pumpkin, potato, corn, onion, and other Chilean spices. Many local restaurants served charquican with a fried egg on top for a nutritious breakfast.
Your Sweet Tooth Will Remember These Chilean Foods
As a Mediterranean country, Chile has the excellent ingredients to create sweet food that you'll never forget. Here is a list of unskippable sweets to try in Chile.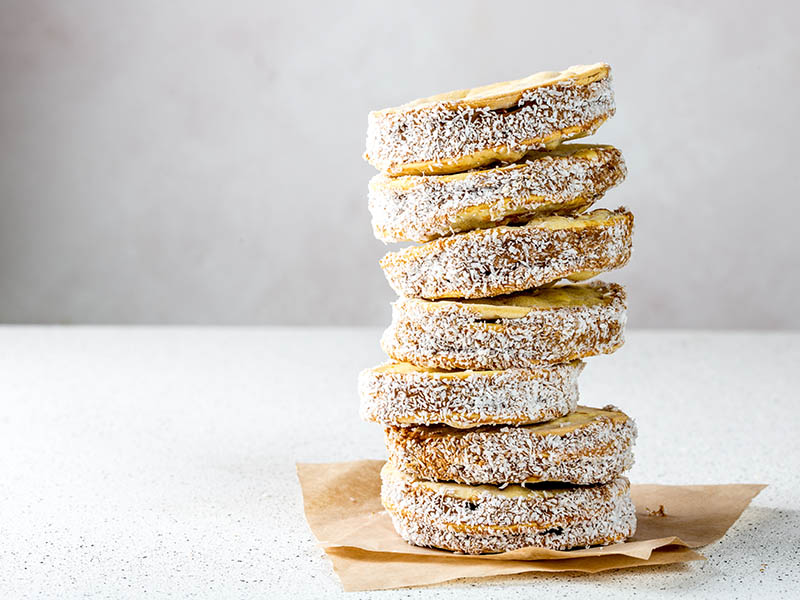 Alfajores is usually used as a dessert or sweet snack. Though you can find these small sandwiches throughout the year, it's most abundant in September, when the traditional Patriotic festivities occur.
What made the beautiful alfajores is simply two pieces of Chilean biscuit adhered with confectioners cream, or majar – as known as 'dulce de leche' – a Latin America caramel.
Nowadays, alfajores are often garnished with ground coconut or chocolate, sometimes both. And there's also another version of it which is covered in meringue – called 'chilenitos'.
15. Sopaipilla – Fried Doughnut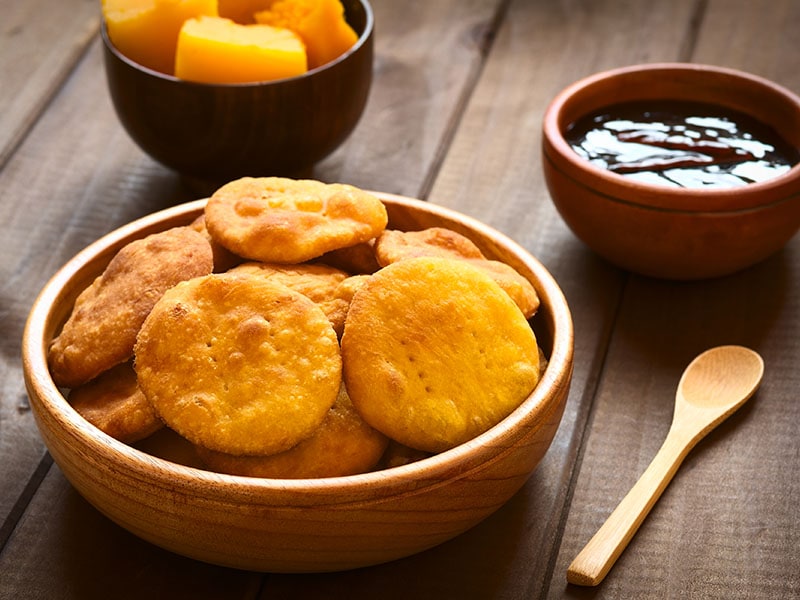 Sopaipilla is a well-known fried pastry among the Andes regions, and it was traceable in Chile back in the 18th century. Nowadays, sopaipilla is mostly served as street food, but since it's an easy-to-make pastry, almost all families have their own way of making it.
The dough comprises ground pumpkin, wheat flour, and butter or vegetable shortening. In the outcome, after being deep-fried, Sopaipillas puff up and look like pillows.
Nowadays, sopaipilla is not only served as a sweet snack, but it also can be combined with pebre salsa, mashed avocado, or other sauces to form a savory dish.
Sopaipilla is a snack that you can easily make and enjoy at home.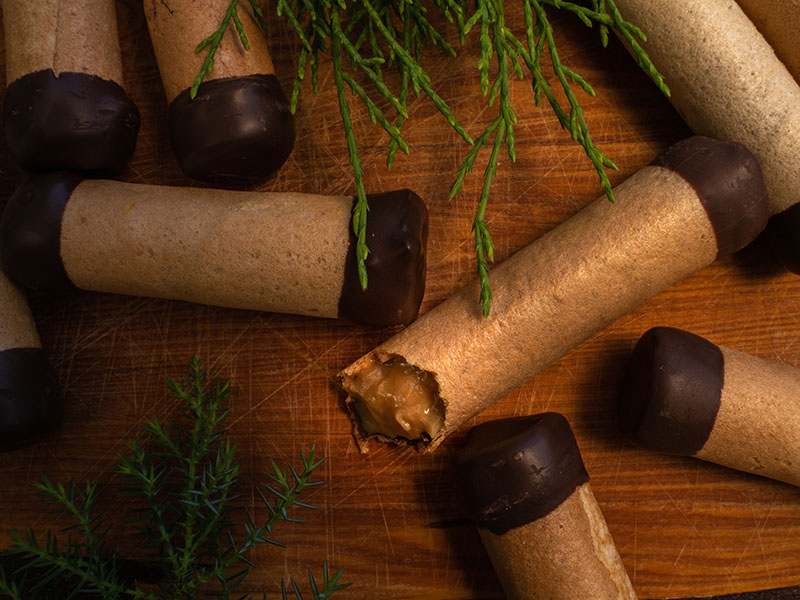 I've mentioned manjar or dulce de leche before, and it's a very abundant caramel sauce in Chile indeed. Cuchuflis also has manjar as the filling, and the outer is a Chilean wafer tube cookie.
Stemmed from the tube cookies – a well-known dessert in Spain, Chilean cuchufli has been developed and alternate the wafer texture as well as adding the filling to form a traditional Chilean dessert.
Nowadays, you can find cuchufli in almost any market or supermarket, and some modern upgrade versions are covered in black or white chocolate.
17. Pan De Pascua – Chilean Holiday Bread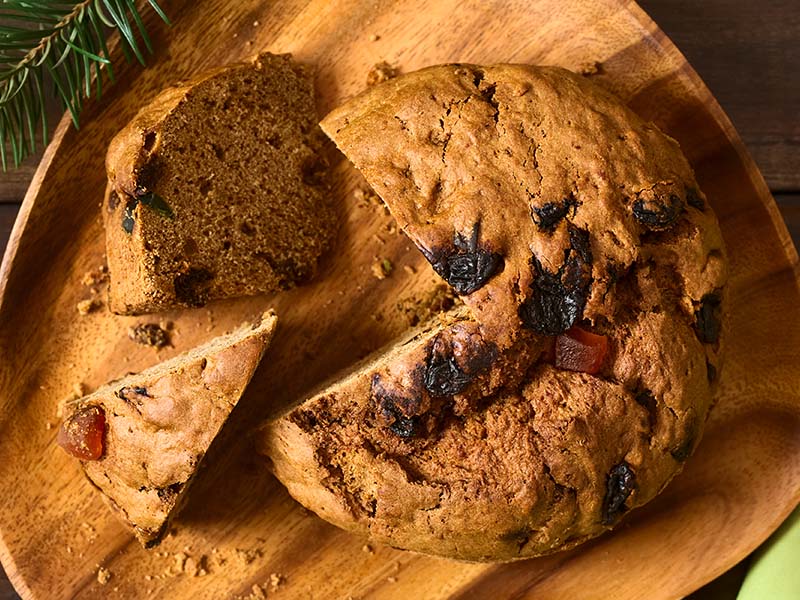 Though 'pascua' primarily means Easter in the Spanish tongue, the Chilean usually mistaken it with 'Navidad' in the old days. And after centuries, the name 'pan de pascua' has become a wide misnomer in Chile.
Inspired by the stollen in German culinary culture and the Italian panettone, the consistency of this baked good is not as thick as bread but more like a sponge cake that comes with ginger and honey flavor.
Its dough is also often kneaded with nuts, dried fruits, some brandy or rum, and some Chilean warmful sweet spices. Chilean families usually prepare this bread a few days before Christmas comes, along with purchasing a bottle of 'Cola de mono' – a traditional cocktail.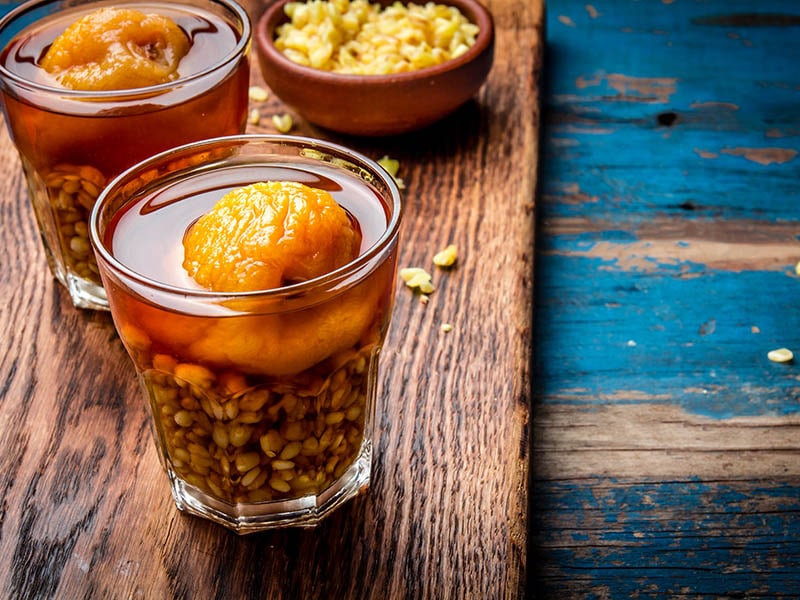 Last but not least, 'Mote con Huesillo' is among the Chilean desserts that don't include other cuisine influences. Traditionally, it's made of hulled wheat and prunes loose syrup – which is now replaced by the dried peaches version – and a pinch of cinnamon.
Though it's widely known as a beverage, you may want to have it with a cup of water since there are a lot of solid elements in the drink as well as its striking sweetness will make you feel thirsty.
See how 'mote con huesillo' has a special place in Chilean cuisine.
Other Beautiful And Fast Meals That Keeps You From Leaving Chile
As mentioned above, the Spanish have influenced Chilean cuisine ever since their establishment. Therefore, there are many Chilean bread and bun types, such as 'pan amasa do', 'marraqueta', 'hallullas', etc.
Though these baked goods are excellent, they're not meant to stand on their own in Chile. Here are some of the most famous Chilean foods that you can easily grab and enjoy.
19. Empanada – Chilean-Style Patty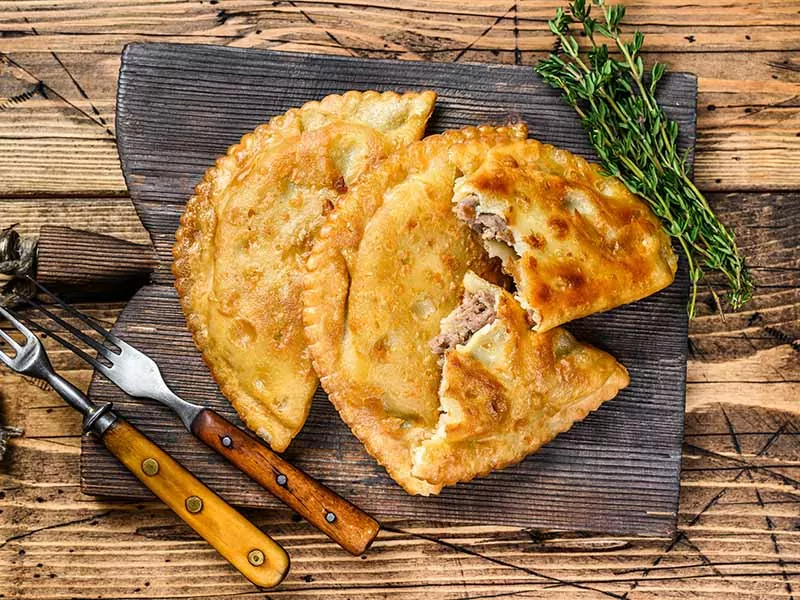 Empanada is one of the patties that was created during the establishment of Chilean culture. Though empanada is widely present in Latin America nowadays with many different recipes, the Chilean consider it as the representative of their cuisine.
Traditionally, the empanada is a deep-fried or baked patty stuffed with 'pino' – a traditional Chilean filling including beef, onion, olive – and hard-boiled egg. It's usually served in a small size as a snack or appetizer.
However, it is sometimes served bigger for the main meal or alternately stuffed with yummy Chilean fruits such as pineapple or apple for the sweet tooth.
See why you shouldn't miss the Chilean version of empanadas.
20. Pan Con Palta – Bread With Avocado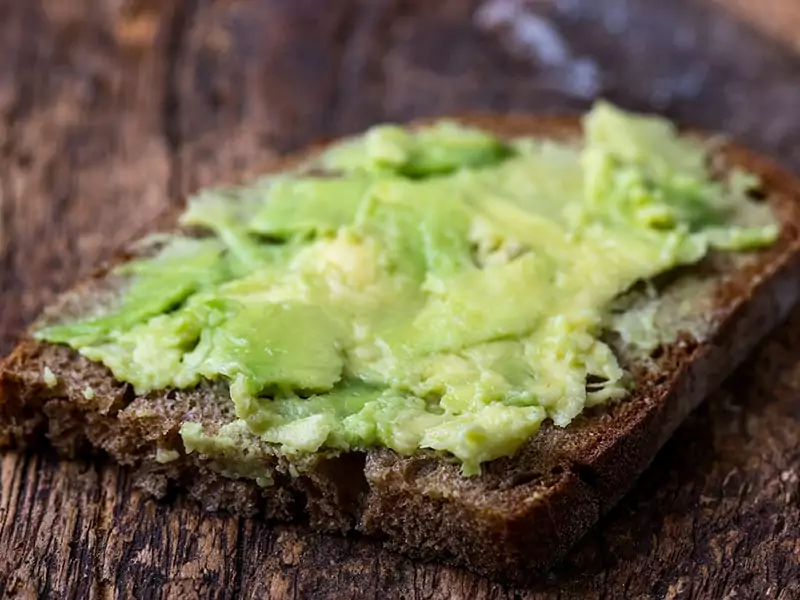 This is another stand-out traditional dish of Chile that is influenced by the Spanish culinary – Pan con Palta, a thin slice of bread spread with mashed avocado.
If you're a fan of American peanut butter sandwiches, why don't you try to create a delicious Chilean breakfast recipe right at home?
Though it may look simple, the taste of it is unforgettable for those who've tried it. In Chile, this is not just an appetizer or snack but also a typical treat for children.
21. Churrasco – Steak Sandwich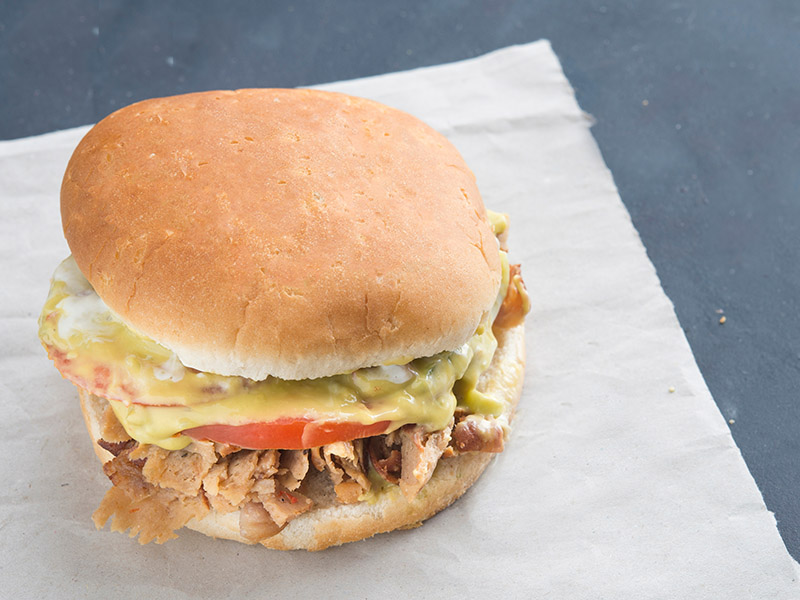 Though churrasco is more well-known as a Brazilian sandwich, it also has a stable place in Chilean cuisine. Mashed avocado is also included in the Chilean recipes for churrasco, along with thin steaks, mayonnaise, and tomato, stuffed in a Chilean bun.
There is another variation – chacarero – which has green beans, tomatoes, and Chilean green chili pepper in place of mashed avocado.
22. Completo – Chilean Hot Dog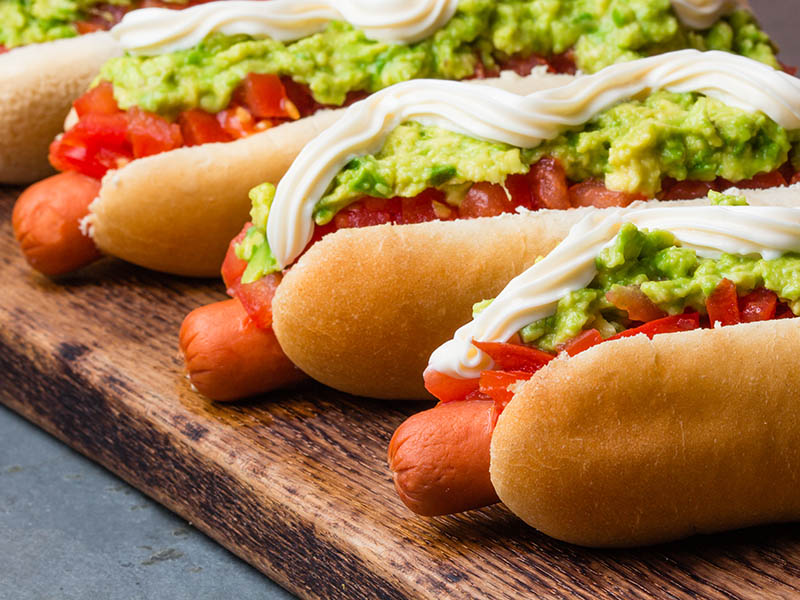 Though 'completo' may have the same topping with churrasco, this is among the "original" foods of Chile. What makes it stand out is the hotdog or sausage. Instead of the thin steak slices of churrasco, completo goes along with Vienna sausage.
Nowadays, you can easily spot this hotdog almost everywhere across the country. Like the previous sandwich, completo sometimes included mashed avocado in the topping to claim the name "Italiano" version – the chacarero.
The 'Italiano Completo' is a staple dish in Chilean breakfast.
23. Choripan – Chorizo Sandwich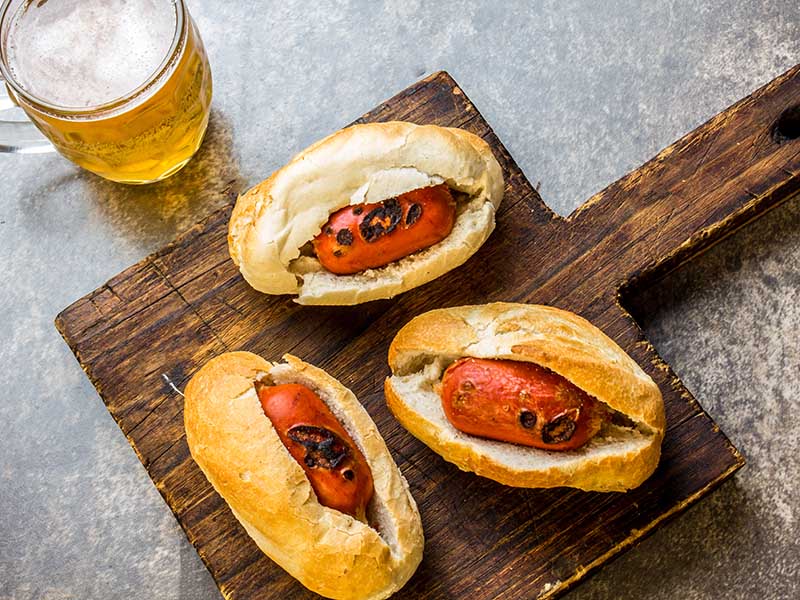 Choripan is a well-known type of small hotdog in the food culture of Bolivia, Argentina, and other Spanish-speaking countries. It's sometimes added with different toppings, but the traditional ingredients are just Chorizo – a Spanish sausage and pan – a local bun.
In Chile, choripan is also a portion of famous street food and is often served with 'pebre'. The Chilean also substitute chorizo with longaniza – another Spanish sausage.
24. Chochoca – Mashed Potato Flatbread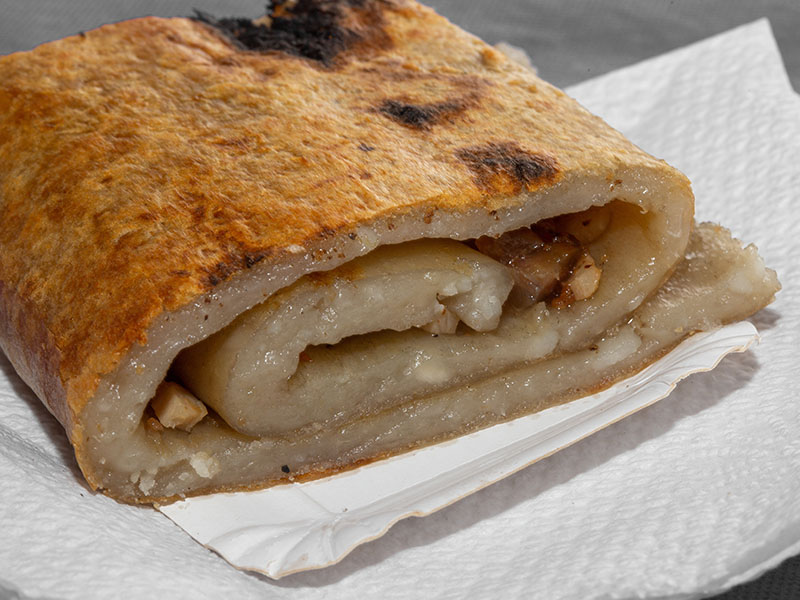 Chochoca is a Chilean flatbread that originated in Chilóe island – where it is famous for multiple types of potato. This bread dough is made of mashed potatoes with wheat flour and is usually wrapped over a long spit, rotating on an ember fire.
Once done, the flatbread is folded over until it fits the dish. Nowadays, chochoca is usually served on its own, but the traditional lunch is stuffed with chicharrones – a particular Spanish fried pork.
Discover Chile Now And Find Yourself In Love With The Cuisine
After walking through this fantastic food tour, you can tell that the Chileans have a wide range of ingredients as well as cooking methods in their gastronomy.
Whether you're finding a heavy food to fill your stomach or comfort food to chill the day out, Chilean foods will always give you more than the expectation.
Have you found the treasure on the list? Does any dish give you particular gut feelings? Share your thoughts with other readers in the comment section and me! Don't forget to share this article with your beloved ones who also indulge in the wonderful Chilean cuisine.