The best cooking classes can change your life in different ways.
Cooking isn't just a skill. It's art! And learning new things is always a good thing. A wise man by the name of Albert Einstein once said: "Once you stop learning, you start dying".
It's safe to say people cook for themselves and their loved ones now more than ever. And since we're all trapped inside, chefs have gone online to teach virtual cooking classes.
The best part? There's something for everyone! Whether you're a total beginner or a professional who's bored and has extra time on your hands, there's a cooking class for you.
That being said, let's review some cooking classes available online.
Related Posts:
no posts found
Are Cooking Classes Worth It?
Everyone has a different reason for enrolling in a cooking class or two. However, learning the basics and rules of fine cooking in a hands-on environment ensures a unique culinary voyage.
It's also good for self-esteem! A cooking class encourages individuals to demonstrate their new cooking talents with friends and family. Attending a cooking class comes with a lot of benefits.
For instance, once you learn the basics of cooking, you can make dishes from whatever ingredients you have on hand. You learn how to cook independently instead of following tutorials.
Top 15 Best Cooking Classes Reviews 2022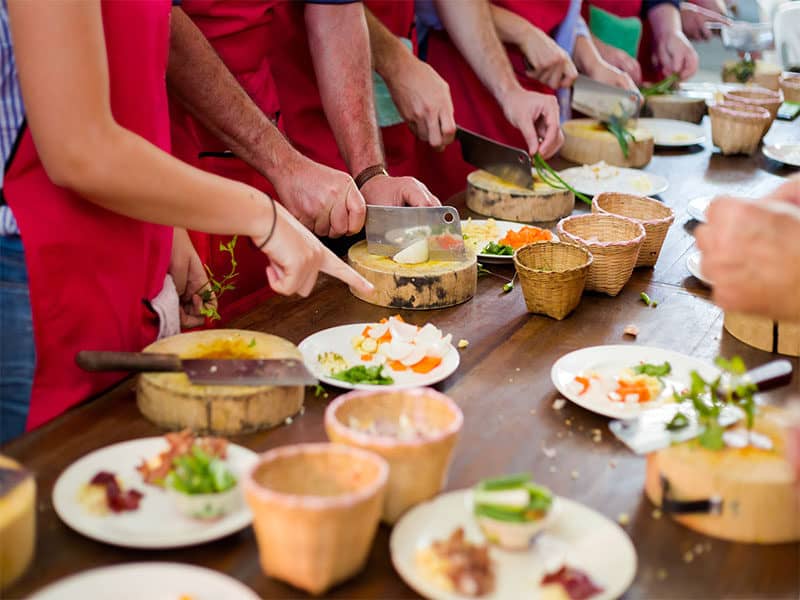 Whether you're a pro-cook wanting to try fresh ideas or you'd just like to graduate from "cooking" eggs, these affordable courses will teach you everything you need to navigate in the kitchen.
(Best Overall)
If you're searching for a full program and want to learn the ins and outs of cooking, then Kitchn Cooking School is for you. It's one of the most popular cooking brands launched in late 2019.
It offers a virtual culinary class that includes 20 lessons over 20 days. But here's the kicker. It's free, with no strings attached. I like this class because it's super-versatile, well-planned, and chill.
New day, new topic! The class begins with knife skills, including the anatomy of a knife, and ends with detailed instructions on how to plan and throw unforgettable dinner parties. You can find their whole lesson plan on their website.
The plan includes video clips and detailed descriptions of each class, plus product recommendations for kitchen gadgets, helpful tools, and related recipes. You will also get a small assignment after each lesson to practice what you've learned. The best part? The cooking instructors value joy in cooking.
Meaning, the tone of the brand is always playful, light, and fun. However, it's still super-informative and professional. You can also learn tips on how to properly organize and clean your home.
(Best Budget)
Udemy provides thousands of online courses including culinary and food-related courses taught by chefs around the world. You can choose from longer and shorter videos on different topics.
They include baking, vegan and vegetarian cooking, Thai cooking, Maroccan cooking, Indian cooking, and healthy cooking for inexperienced beginners, intermediate users, and advanced cooks.
The best part? You can check the bios and ratings of their chefs, so you can evaluate your options before signing up for a class. Their Essential Cooking skills course is great for learning the basics.
Their Healthy Cooking Fundamentals class, on the other hand, is suitable for individuals who're focused on staying healthy. As you can notice, Udemy delivers a wide selection of cooking classes.
There's also a great variety of free content. I like Udemy because they provide full, lifetime access when bought (prices range from $10-$100). They also have a 30-day, money-back guarantee.
(Best for Professional)
Rouxbe is a leading online culinary school in the industry-recognized and validated by both professionals and the American Culinary Federation Education Foundation.
It packs a broad selection of individual lessons as well as professional certificate programs. By signing up for this culinary school, you will gain access to their detailed video lessons.
The subscription also includes recipes with customized instructor support. Lessons cover eggs, knife cuts and knife sharpening, dry-heat cooking methods, how to prepare salad meals, stock, and salad dressing, and dry-heat cooking methods. You can also learn moist-heat cooking methods.
Their prices range from $99 per year or $10 per month. The best part? They also have discounts on their annual membership. You can also sign up for a 30-day free trial.
(Best Cooking Classes for Beginners)
America's Test Kitchen Online Cooking is known for its foolproof and delicious recipes. They bring their experience into your home with detailed instructional videos.
With this popular cooking class, you can learn both basic and advanced cooking skills. Despite your level of experience, this cooking class can take your cooking skills to the next level.
They also teach you what can go wrong with your recipe so you prevent common mistakes and how to cook like a real cook. You can take as many classes as you want at your own pace.
There's also an option to work with a cooking instructor for custom guidance. Courses include topics like essential eggs, weeknight meals, Thai takeout dinners, and weeknight roast chicken.
Their +320 classes are sorted by different factors such as the following:
Level of difficulty (advanced, intermediate, beginner)
Recipe type (quick, vegetarian, make-ahead, everyday essentials, outdoor cooking, soups, and stews)
Main ingredients (meat, poultry, pasta, beans, potatoes, seafood, vegetables, eggs)
Recipe category (technique lessons, recipe lessons, cooking basics)
Thanks to their organizational skills, you can easily filter and look for certain food or topic. But here's the kicker. They also have a special individual Young Chefs Club specifically made for kids.
If you're undecided, there's a 14-day free trial. After the free trial, you can pick between a monthly ($20) or annual membership ($180) and step up your cooking game!
(Best Cooking Classes for Couples)
The Masterclass is one of the most popular cooking classes taught by mixologists and celebrity chefs. They're well-known and respected because they provide professional knowledge.
However, they also equip people with skills to turn their cooking into a restaurant-quality experience. If you're searching for a high-quality cooking class, look no further than Masterclass.
Alice Waters, Thomas Keller, Gordon Ramsay, Massimo Bottura, and Wolfgang Puck can teach you knife skills, restaurant recipes at home, basic techniques, and Global Cuisine (such as Mexican dishes or Italian foods).
They focus on sharing techniques and tips they utilize when sourcing ingredients, cooking, and prepping in their well-known restaurants so that people can apply them in their home kitchen.
The best part? Each class includes a workbook and a series of mini-courses. If you want to learn from the best, sign up for Masterclass' full access membership for only $180 per year.
(Best Cooking Classes for Seniors)
Looking for tips on how to make a stir-fry with your specialized stir-fry pans, roast veggies, or make the perfect pancake? If so, BBC Food is the right cooking class for you. Their list of step-by-step videos seems truly endless.
The best part? They're available for different skill levels. Meaning, there's something for everyone! It's a great place where you can learn new techniques and take your cooking to new heights.
But here's the kicker. All of their content is FREE and usually connected to specific recipes on their page. Each recipe comes with an easy to follow text, including details on the difficulty level.
You will also get tips and tricks for success, basic instructions, and information on cooking tools you will need. Most of their videos last around a minute because of time-lapses utilized in filming.
However, they're still informative, concise, and suitable for people who don't have the time to spend hours of video courses. With over 13,000 recipes you're sure to find the perfect dish.
The New York Times is another reputable source for online culinary education. They're known for their food section and provide a huge selection of detailed cooking videos for all skill levels.
The best part? You can relax assured that you will be learning from professional chefs, food writers, and expert recipe developers. They provide over 19,000 recipes and hundreds of additional videos.
You can learn useful tips, techniques, and dishes. If you have specific dietary restrictions, you can easily detect what you're searching for by picking categories like low-carb, gluten-free, vegan, high-fiber, dairy-free, and vegetarian. They also teach you everything you need to know about various ingredients.
For instance, if you have bought something you haven't utilized before, simply type in the ingredient you want to learn more about, and all associated videos and recipes will be at your service in seconds.
You can also create and organize your favorite videos and recipes and put them into a virtual recipe box. There's a 30-day trial after which they charge $40 annually or $5 monthly for full access.
(Best for Popular Chefs)
The Top Chef University is a popular app made by Bravo. It's a modern and interactive course backed by 11 former top chef contestants. It's available for both Android or iPad and iPhone devices.
Once you enroll, you will gain access to over 200 FREE video classes and recipes arranged into a range of courses. Each course features over 60 hours of video demonstration and step-by-step tutorials.
The course includes subjects such as eggs and dairy, vegetables, global cuisine, soups, bread, grains, and even molecular gastronomy. Each one has up to 20 separate lessons you can pick from and view.
The individual videos last between 10-20 minutes. In less than 10 minutes, you will learn how to make a Fettuccine Carbonara and enjoy a delicious meal by yourself or together with your loved ones.
Previously called Bluprint, Craftsy offers over 100 online cooking classes. They also have craft classes and make a great choice for both beginners without any experience and experienced cooks.
Craftsy has something for everyone! Whether you're searching for family-friendly classes, bread baking classes, cheese-making classes, courses for beginners or professionals, Craftsy has you covered.
I like this platform because it's super-versatile and budget-friendly. Their classes start at $10 per class. If you're looking for recipes and instructions for every occasion, look no further than Craftsy.
In April 2020, Airbnb transformed their hands-on cooking classes into online cooking experiences so that their hosts could still earn a living and people could learn new skills while in quarantine.
They offer different online classes with instructions in over 30 countries. The classes take place via Zoom and can be reserved on the website for as little as $1. Their prices range from $1-$40 per class.
If you pick this platform, you can learn how to make chicken tagine with a Moroccan family, handmade pasta with a sweet Italian nonna, or Swedish pastries with a professional Baker in Stockholm.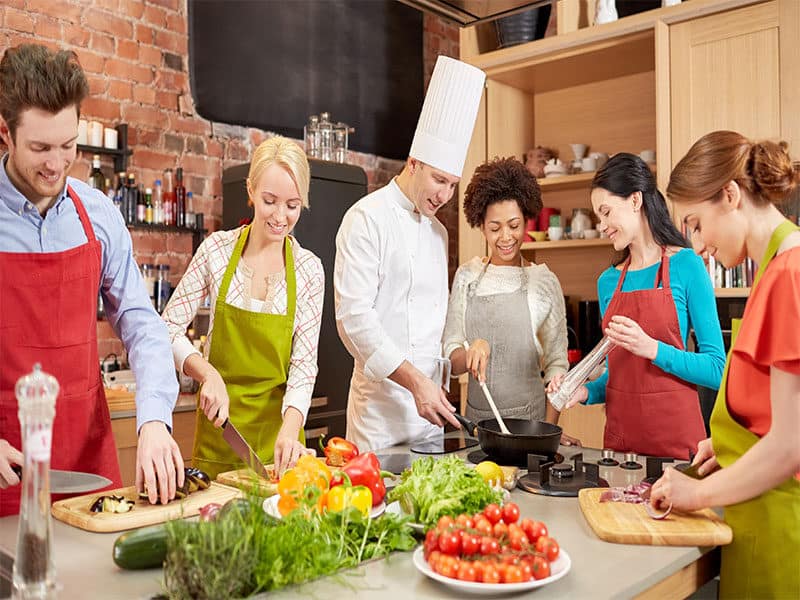 (Best for Baking)
You probably know how to slice onions, but do you know how to make delicious dishes from scratch? If not, Christina Tosi is here to teach you tricks and take your baking skills to the next level.
She's the pastry wizard at the New York's Milk Bar empire. The best part? Her recipes don't cost a dime. She's hosting virtual baking sessions each day at 2 p.m. ET on her personal Instagram page.
She shares recipes for modern and traditional baked goods like popcorn cupcakes, French toast muffins, soft pretzels, lemon curd, etc. The classes are collected in her IGTV channel and website.
18 Reasons Why normally provides nightly dinners and classes in person at their 18th Street classroom in addition to delivering free Cooking Matters classes to people in the Bay Area.
Those classes are intended for low-income people. It's a nonprofit cooking school connected to the city's popular Bi-Rite Market. I like this popular cooking school because it's adaptable to changes.
Meaning, instead of shutting down completely, 18 Reasons Why moved their courses online. Now, small groups of up to 20 enthusiastic cooks can learn cooking skills via Zoom for only $35 per class.
This platform can teach you some basic knife skills and how to make Japanese comfort snacks. There's a French crepes workshop for kids. Please, check their schedule for more details.
The Chopping Block is the ideal place for people hungry for learning new cooking skills. Their classes will satisfy your cravings and help you and your family lead a healthier and happier lifestyle.
This platform offers how-to videos, virtual private lessons, virtual private group lessons, and classes for children, and much more. It's designed for home cooks with a passion for food and busy lifestyles.
If you choose their cooking classes, you can learn how to cook the perfect steak, get familiar with Middle Eastern ingredients, and master cooking techniques you would learn in culinary school.
This website is ideal for free spirits who want to learn how to cook by the book…and then toss the book out of the window. At ChefSteps, you can learn how to do almost everything you can think of.
The team consists of writers, videographers, and chefs who love to cook and share their knowledge with other cooking enthusiasts. Their videos are made in a lovely place in Seattle's Pike Place Market.
However, to access their detailed videos and step-by-step recipes, you have to receive a "Studio Pass". It costs $69 a year. If you want to level-up your cooking and enjoy new meals, get your pass today.
(Best for Cake Enthusiasts)
If you're a cake enthusiast, this cooking class is for you. With thousands of cake videos and over 200,000 students worldwide, Cakeflix is your ultimate platform for becoming a professional baker.
You can learn how to create and decorate delicious cakes including nice geode cakes and birthday cakes. The best part? With specific memberships, you can take part in events like "Cake of the Month".
It's one of the challenges that can help you win prizes and get access to their Facebook group. They have been making and selling cakes since 2001. There's no contract, so you can cancel anytime.
6 Tips to Teach Yourself to Cook at Home
You can't just enroll in a cooking class and become a professional cook overnight. First, you need to get all the necessary tools and apply the following tips for a successful and rewarding experience.
The first big step is giving a promise to yourself. Promise yourself that you will prepare all of your meals at home for at least a week. Starting anything new with a positive mindset is 80% of the work.
Most people have tons of cooking tools that they don't need jamming in their kitchen drawers. If you're one of those people, grab a box and throw everything that you never utilize into this box.
When you use one of these tools, pull it out and use it, then put that equipment back in the box. You will realize that in about 30 days, you will have about 6-10 cooking tools in your kitchen drawer.
Those cooking tools will take care of 90% of the things that you do. Just stick with what you have in your drawer. Doing this can help keep your kitchen organized and make your cooking seem easier.
Minimize Your Pans and Pots
Many home cooks go out and purchase a silly overblown set of pans and pots for their kitchen. Again, if you're one of these people, it's time for a major change. You don't need 14 low-quality pans.
Instead, take that money and purchase a few high-quality pans including a large frying pan, a saucepan, and a pot big enough to handle a roast/soup. Toss the old ones in the garbage and start fresh.
Don't be scared of new things. On the contrary, try to learn new things each time you create something. Sometimes, skipping the instructions can help you learn as you go and invent your tricks.
Focus on Fresh Ingredients
If a recipe requires a vegetable or fruit, don't utilize frozen ones. Grab fresh ingredients from your local store. The fresh forms of ingredients just pop with flavor in a way that frozen versions don't.
The best part? When you utilize fresh fruits or vegetables, you're avoiding potentially unhealthy packing materials and preservatives, like the sweet high fructose corn syrup that canned fruits come in.
Keep Your Cooking Area Clean
The cleanup plays a huge part in preparing a meal at home. I realized it's better to take care of the mess as soon as possible. Keep your kitchen clean at all times. This will save you a lot of time and stress.
If your kitchen becomes a disaster area, you can get discouraged and give up on preparing food at home in the future. Apply these tips before you enroll in a cooking class and enjoy new homemade meals.
How Much Are Virtual Cooking Classes?
It depends on the cooking class. You can find cooking classes for free. However, most top-notch cooking classes in the USA come at a certain cost. You can find a cooking class for as little as $1 per class.
If you're serious about cooking, opt for a cooking class that's taught by professional experienced cooks. Usually, high-quality cooking classes have a monthly or annual fee and provide additional benefits.
My Top Pick
If you're trying to get into cooking for the first time, it can be a little overwhelming but the best cooking classes can help you tremendously. They can add fun to your life and help you develop new skills.
Starting with easy recipes, the right tools, and the support of a high-quality cooking class can make a big difference. What's your opinion on online cooking classes? Have you ever attended one before?
If so, what's your experience? Feel free to share your thoughts, questions, and recommendations in the comments below. I would love to chat about cooking and exchange opinions with fellow cooks.