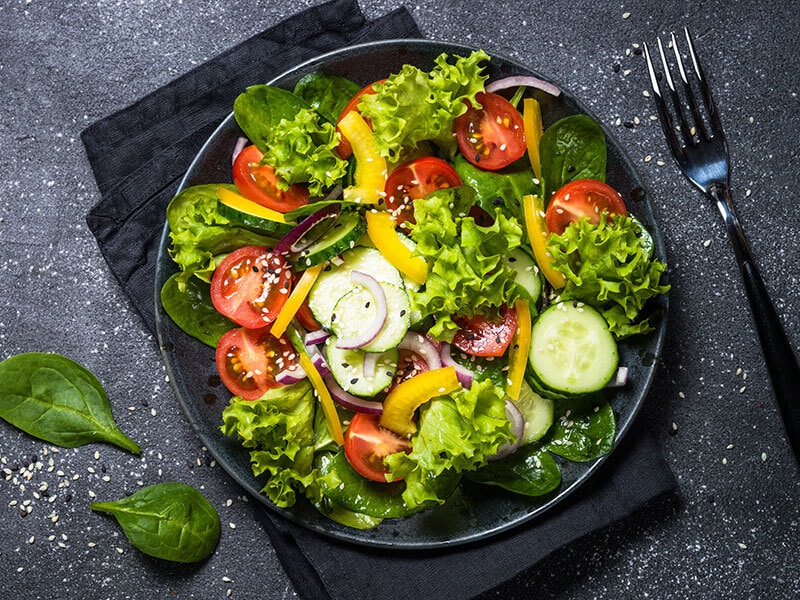 Salad meal prep ideas help you with planning your daily meals that can benefit your health and body metabolism and introduce plenty of good nutrients. Salads can have so many ingredients rich in healthy nutrients that will improve your healthy lifestyle with every meal you prepare for you and your family.
Choices are endless whether you are following a strict dietary regime or you are vegetarian or vegan, you can serve your healthy salad meal every day, even prepare it earlier and bring it with you to have a healthy snack on the run.
What Is A Salad Meal?
A salad meal is a type of dish, having usually several food ingredients from which at least one should be raw. The main ingredient in a salad usually carries the name of the salad such as tuna salad or potato salad. Options are endless, and you cannot go wrong with the tastes you like.
Salad meals can be a side dish but they are mostly considered a separate meal that can satisfy all your body requirements. You can benefit from having a salad as a meal instead of a meal that is rich in calories but low in healthy nutrients.
What Is The Importance Of Salad For A Meal?
Including salad with a meal is a great way to include powerful antioxidants, minerals, and vitamins in your diet. And making a salad a meal is an even better way to improve your lifestyle and boost your metabolism. A salad meal can have anything you need to satisfy your hunger and body needs.
However, if you are not careful with the ingredients and dressings, it is easy to go wrong with the salad choice as those calories can overpower the benefits of healthy raw ingredients such as vegetables, or fruits. Maintaining a balance when making a salad meal can be tricky if you are not careful.
Why Are Salad Meals Good For You?
Besides introducing higher levels of nutrients, consuming even a small portion of salad as a meal helps you meet the recommended intake of valuable vitamins such as C, B6, A or E, and folic acid. And if you add nutritive dressing to the salad, it will help you more easily absorb those nutrients.
Even women reaching menopause can benefit from eating at least one salad meal per day as the higher intake of raw vegetables and fruits is proven to lower the rates of bone loss in pre-menopausal women. Another reason to introduce fat in salad dressing is to help the absorption of alpha-carotene, lycopene, and beta carotene.
Is A Salad Considered Meal?
Salads are often considered as something that you eat before lunch or with the main dish, but salad can be considered a full serving as it can contain ingredients that have everything you need in a meal or if you are not careful, even more than you need.
Of course, if you want to, you can still enjoy your salad with something else. For instance, you can enjoy potato salad with various dishes, ranging from baked ham, meatloaf, to coleslaw and sandwiches. Honestly, you'll find that the possibilities for salad side dishes are quite endless.
Besides having your stomach full, a salad meal will provide you with healthy nutrients and vitamins that a regular meal might lack. Therefore, a well-balanced meal can be a salad meal, packed with flavors and tastes that no one can resist trying.
Is Eating Salad Every Day Healthy?
Introducing healthy salad every day will not harm you, rather it will load you with energy as you will remove the excess sugar and unhealthy carbs from your meal. Loaded with minerals, vitamins, and antioxidants, salads meals are a great choice for a home or work meal.
If you have a heavy meal, you will likely feel drowsy after it. Having a salad will boost you with more energy to help you keep with the day. Forget about being too full after a meal, salad will help you both feel full and energized and certainly help you feel much better.
Check out this video to see what happens to your body if you eat a salad every day.
What Is The Best Way To Meal Prep Salads?
Although preparing salads sounds like a job that takes a lot of time, it is not really like that. Salads are an excellent choice for a meal that can be prepared even 48 hours earlier. So, you can have your salad pre-made and take it out from the fridge ready to be served. Sounds amazing, isn't it?
The thing you need to remember is to always use fresh fruits and vegetables. Some of the vegetables will not last long so it is important not to leave them for too long in the fridge. Always buy fresh ingredients for several meals at a time to avoid wasting food.
Salad Meal Prep Grocery List
The plan is the key! Always plan your weekly salad meals! That way you will avoid wasting not so cheap fresh vegetables and fruits. Take your time to decide which salads you are going to prep during the week and shop accordingly. Make a grocery list and always buy exactly how much you need.
If you need to prep a salad meal much earlier, choose vegetables that can stay fresh for longer. Leafy vegetables such as lettuce, red cabbage, carrots, onions are great basic ingredients for any salad meal. Add some proteins such as chicken, soya beans, or you can simply take canned tuna, top it with dressing, and your perfect and healthy meal is ready.
Salad Meal Prep Tips
Good preparation and planning is half the meal. When you buy your fresh vegetables and fruits, there are some things you need to do first. Wash them thoroughly, dry and pre-cut them, and then store them in the fridge. Then you can use them to get your meal quickly.
Of course, some of the stores offer pre-cut and pre-shredded vegetables ready for you to use, but it will save you money if you do it on your own. You can also prepare some salads right away and store them in the fridge until use.
How Long Can You Prep Salad In Advance
Prepared salad can last in the fridge from 3 to 5 days depending on the ingredients used. But, it is always best to prepare a salad meal before eating it. However, sometimes busy schedule forces you to prepare your meals in advance. So it is better to make a salad in advance than to eat some unhealthy fast food.
Use clean and dry containers to store your salads in the fridge. Those that you intend to use the next day you can make with those fruits and vegetables that go bad fast. It is also important to make layers of food to avoid salad meals getting soggy.
Check out this video to see more about how to keep your salad fresh for days.
How Do You Meal Prep Salad Without It Getting Soggy?
To avoid finding your salad meal soggy two days later, you need to learn some things to always have your salad fresh and tasty like from the moment you made it. The trick is to layer the ingredients and pack them properly to stay fresh.
To keep your vegetable frisk, keep your dressing separately and mix it right before use. That way you can readily have a dressing ready and vegetables ready to transfer in the jar that you can carry to work. Or you can properly layer your ingredients and still keep them fresh and tasty.
What about the freezer? Is it possible to freeze potato salad, pasta salad, or other kinds of salads? To be completely honest, I think you should prepare your salad meal a day in advance at most. Otherwise, your salad might not be as fresh and tasty as you want it to be.
Layering Your Salad Meal – Step By Step
Layering the salad ingredients in the jar or the container can be a piece of art – both colorful and appealing but delicious when tasted. So to keep all the flavors ready for you, it is essential to make layers properly. Here are some basic steps that you should follow.
Step 1: Layering The Dressing
If you want to keep the dressing with the salad all along, make sure to put the dressing at the bottom, away from the greens that would get soggy if in contact with the dressing. Add several tablespoons of the dressing at the bottom of the jar or any other airtight container.
Anyone who's not on a diet can go wild on the salad dressing: from balsamic vinegar, to coconut cream, honey mustard, etc. If you're vegan, you need to ask yourself questions such as "Can Italian dressing be considered vegan?" or "Is this dressing suitable for my diet plan?"
Step 2: Layering Harder Veggies And Fruits
The harder veggies and fruits should go over the dressing such as apples, carrots, onions, red peppers. These would also taste better because of the dressing as they would slightly pick the taste from the dressing without getting soaked with it.
To prevent your veggies from getting soggy, it's also recommended that you use a functional spinner for salad to wring out all the excess moisture from the vegetables. No one likes watery, soggy salad, and I'm certain you don't either.
Step 3: Cooked Ingredients
The next layer should contain anything like beans, chickpeas, rice, quinoa, noodles, or pasta. Anything that you like, may work with it. Pasta should be cooked al dente, drained thoroughly, and cooled down. Do not add hot ingredients to the salad that you are going to store in the fridge.
Check this video to see more about layering salad meals in a mason jar.
Step 4: Protein Layer
The next layer should include some proteins. You can choose cooked meat, fish or cheese. Anything you decide to use, make sure it is chopped and drained from the excess fluids. You can also use boiled eggs or seeds such as quinoa that is also gluten-free.
Step 5: The Last Layer
The last but not the least layer should be ingredients that you keep ready in the fridge but you add them right before you intend to eat the salad meal. Keep your fresh cut lettuce, berries, avocado, or dried fruits ready but add them last.
Step 6: Mixing The Salad
Before eating this layered salad meal, mix it well and enjoy your homemade healthy meal. If you layer it properly it will stay fresh for several days and you can enjoy it fully without spending too much time preparing a high-quality meal that you can take to work or that will wait for you to come home.
10 Healthy Salad Meal Prep Ideas For 2023
When it comes to salad meal ideas the options are almost endless. There is so much versatility in a single meal that it is impossible to run out of ideas. Here are some of the fast and healthy salad meal ideas that will suit different needs. You can try some or all of them!
Combining a salad meal with lots of exercises can be a winning combination for successful weight loss. Include a lot of raw or cooked vegetables, some proteins, and dressing without too many calories and you will have a proper meal that will help you with weight loss.
Flat-Tummy Salad
You probably know how persistent you have to be to lose weight and to lose your belly is twice harder than anything else. However, it is not impossible to lose that stubborn belly by eating healthy and tasty salads and soon show off your look proudly.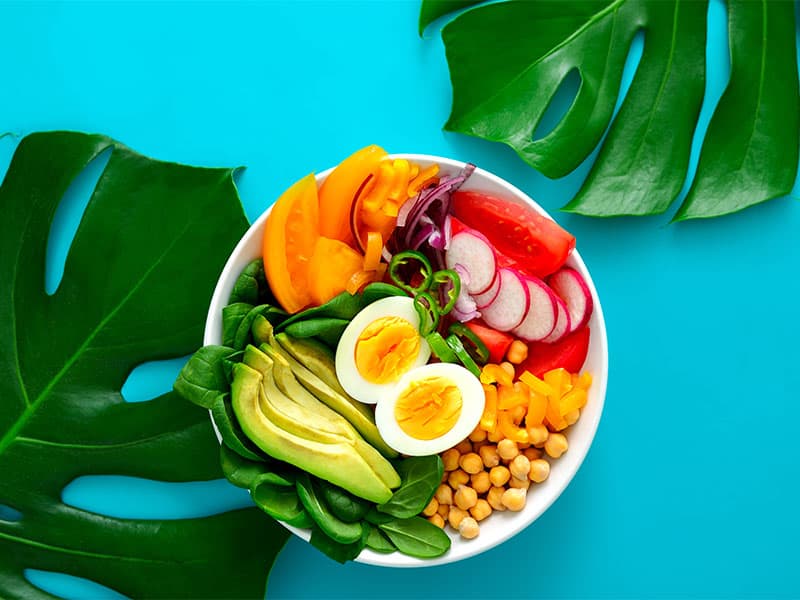 Ingredients
2 hard-boiled eggs
1 avocado
1 cup of rinsed chickpeas
14 oz of rinsed artichoke hearts
Around 5 oz of mixed greens
¼ cup of extra virgin olive oil
¼ teaspoon of pepper
¼ teaspoon of salt
2 teaspoons of mustard
2 tablespoons of apple vinegar
Cut the eggs, avocado, and vegetables into smaller bits. Rinse chickpeas to remove the saltiness from them. Make the dressing from the oil, pepper, salt, mustard, and vinegar in a separate bowl. If you are going to eat it right away mix it all and enjoy. If you preparing it for later, layer it without mixing.
Diabetic Salad Meal
A diabetic diet is often considered a low-carb diet. This type of salad includes a lot of chopped vegetables and protein that will be the best for those struggling with high glucose levels. And it is packed with flavor and most importantly – easy to prepare.
Ingredients
Chicken breasts seasoned on both sides
2 tablespoons of Olive oil
3 cups of chopped kale
1 cup of Brussel sprouts
1 cup of cucumber
1 cup of sliced cabbage
1 cup of shredded carrot
1 cup of fennel
½ cup of sliced red onion
1 cup of diced tomato
¼ cup of pomegranate seeds
For dressing
2 tablespoons of apple vinegar
2 tablespoons of olive oil
1 ½ lemon juice
1 minced garlic clove
1 tsp of minced fennel
Put the olive oil on the seasoned chicken breasts. Put the tray with the breasts in the preheated oven and let it bake for around 30 minutes. Let it cool down. In the meantime chop, slice, and shred the vegetables.
All need to be cut into smaller pieces, mix well and let rest in the fridge. When the meat is cooled down, chop it and add it to the bowl with the vegetables. Make the dressing with the given ingredients and enjoy your meal fully. If you need to stash the salad for later, keep the dressing and meat separately until you serve it.
Vegetarian Salad Meal
Most salad meals can be served as vegetarian when you leave out some of the obvious ingredients. They are still healthy and crazy delicious and can be served immediately or as a salad meal prep. Here is the recipe for this salad.
Ingredients
8 oz of pasta or rice noodles
¼ cup of chopped onion
6 oz of mushrooms of your choice (portobellos, morels, shiitakes)
2 tablespoons of extra virgin olive oil
3 cups of chopped asparagus
Salt and pepper
Parsley
4 chopped spring onions
For dressing
4 tablespoons of extra virgin olive oil
2 tablespoons of lemon juice
1 garlic clove
Pepper
Cook the pasta al dente, drain it and let it cool. Substitute pasta with rice noodles to keep this salad meal gluten-free. Prepare the vegetables, chop them and slice them. Heat the skillet and add onion and some oil. Cook for several minutes then add mushrooms, season it. Stir and cook for another five minutes.
Add asparagus and fry it quickly. Mix the pasta with onion, mushrooms, asparagus, and add parsley, and spring onion. Make dressing separately and top the salad with it. Stir it well and enjoy your meal. If you are preparing this meal for later, add the dressing before you serve the salad.
Salad Nicoise
Salad Nicoise originates from France, and the name comes from the French city Nice. Nice is a coastal province in France and all the ingredients are present in or around this area. No wonder anchovies, olives, or tomatoes are part of this meal salad.
Ingredients
15 ounces of sliced red potatoes
Salt
2 tablespoons of dry white wine
4 hard-boiled eggs
10 ounces of green beans
¼ cup of wine vinegar
¼ cup of sliced red onion
2 tablespoons of mustard
1 tablespoon of fresh chopped thyme
Ground pepper
1 cup of extra virgin olive oil
8 cherry tomatoes halved
1 head of lettuce
6 radishes, chopped
2 cans of anchovies, drained
½ cup of Nicoise olives
Cook the potatoes in salted water for at least five minutes or until they become soft. Drain, spray with some wine, and leave it cool down in a separate bowl. Boil green beans in a separate pan, drain, and leave it cool, too.
Hard boil the eggs for 12 minutes, transfer them to cold water to stop the boiling and let them cool down. Prepare the dressing in a way to mix oil, vinegar, onion, salt, pepper, and thyme. Whisk until everything comes together. Add ¼ cup of dressing to potatoes.
Put the lettuce leaves on the plate and add potatoes to it. Add green beans, radishes, anchovies, quartered eggs, and add the rest of the dressing over it. Arrange halved cherry tomatoes, drizzle with the dressing and top it with ½ cup of Nicoise olives.
Greek Salad Meal Prep
This simple, yet highly nutritious meal salad is what you may need on busy workdays when you need something waiting for you ready in the fridge. And make sure to make extra, as you would certainly ask for more.
Ingredients
Lettuce
Cherry tomatoes
Cucumbers
Red onion
Olives
Feta cheese
Vinegar, oil, and seasoning for the dressing
Dice all the vegetables and feta cheese. Place the lettuce at the bottom of the container. Place pre-cut vegetables, olives, and feta cheese. Make the dressing separately to be ready for the final mix and serving. Mix it well together before serving it and enjoy your tasty and delicious meal.
Thai Chicken Salad
Although it sounds exotic, it is nothing easier to prepare this salad with ready ingredients way ahead of time. Make sure to have everything handy and your crunchy and tasty salad will be ready, waiting for you to enjoy your meal.
Ingredients
A quarter cup of lime juice
1/4 cup soy sauce (low sodium)
1/4 cup peanut butter (creamy)
Honey (two tablespoons)
1 tablespoon chili sauce (Sriracha)
1 minced garlic clove
1 teaspoon fresh ginger root minced or 1/4 teaspoon ginger powder
1 tablespoon sesame seed oil
1 box (14 ounces) coleslaw blend salad
1 1/2 cups chilled shredded rotisserie chicken
4 green onions
Chopped 1/4 cup new cilantro, chopped
Optional: honey-roasted peanuts, chopped
To make the dressing, whisk together the first eight ingredients until smooth. Toss the salad ingredients with the dressing in a big mixing cup. Refrigerate for 1 hour, sealed. Sprinkle peanuts on top of each serving if preferred.
As chicken salad contains mostly meat, you're probably thinking to yourself "Should I freeze chicken salad so that I can always have a readily available meal?" And to this question, I will answer as I have above – The fresher your salad is, the tastier you'll find it to be.
Mediterranean Bulgur Salad
This salad recipe can be versatile as you can change the ingredients and have your own variation. Regardless of the ingredients you choose, it will be still tasty and remarkably appealing for your palet and worth the time for preparing it.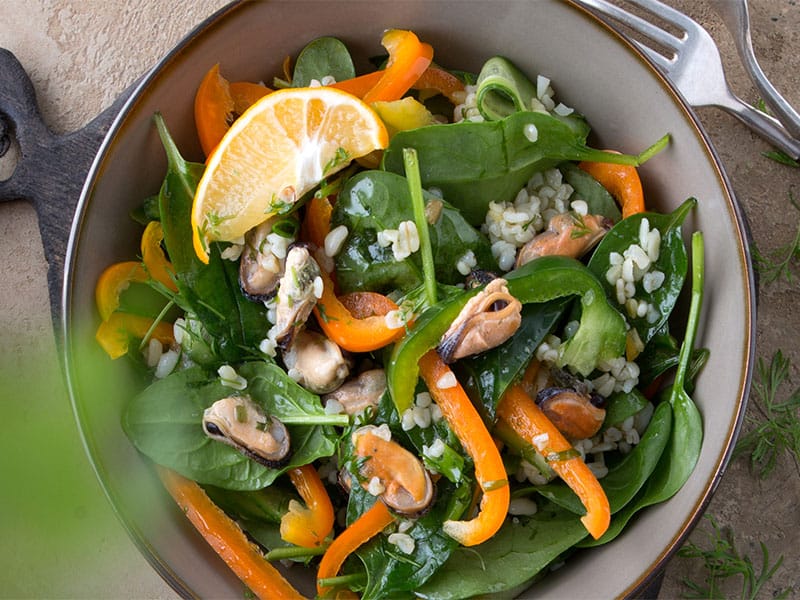 Ingredients
1 cup bulgur grain
2 cups water
1/2 teaspoon cumin
1/4 teaspoon salt
A can (15 ounces) of rinsed and drained garbanzo beans or chickpeas
6 ounces baby spinach (about 8 cups)
2 cups of halved cherry tomatoes
1 halved and thinly sliced small red onion
1/2 cup of feta cheese, crumbled
2 teaspoons chopped fresh mint
1/4 cup of hummus
lemon juice (two tablespoons)
Combine the first four ingredients in a 6-quart stockpot and boil. Reduce heat to low and cook, covered, for 10-12 minutes, or until vegetables are tender. Add the garbanzo beans. Remove from the heat and add the spinach. Allow to sit for 5 minutes, covered, until the spinach has wilted. Combine the remaining ingredients in a mixing bowl. Refrigerate and eat cool, or serve hot.
Ramen Salad
If you cannot resist salad with noodles, then this salad should be on your menu at least once a week. This amazing and tasty salad will not take too much time to prepare but it will taste good even if it is prepared several days earlier.
Ingredients
9 ounces of shrimp ramen noodles
6 cups of boiling water
1 pound of spicy pork sausage
3/4 cup of toasted sesame salad dressing (Asian)
3/4 cup of green onions, sliced
1/2 cup of fresh cilantro, chopped
1/2 teaspoon grated lime zest
3 tablespoons lime juice
About 8 ounces of fresh snow peas
1-1/2 cups of baby carrots
4 tablespoons chopped dry roasted peanuts
Place ramen noodles in a big mixing cup, quartered, with one seasoning packet set aside. Cover noodles with hot water and set aside for 5 minutes to soften. Drain the noodles and rinse them with cool water. Return to the bowl after draining well.
Cook and crumble sausage in a large skillet over medium heat for around five to seven minutes until the sausages are no longer yellow. Using paper towels, absorb the excess liquid.
Toss the noodles with salad dressing, 1/2 cup green onions, cilantro, lime zest, lime juice, and the contents of the reserved seasoning package. Combine snow peas, onions, 3 tablespoons peanuts, and bacon in a large mixing bowl. Add the leftover green onions and peanuts on top.
Avocado Steak Salad
This salad recipe is an amazing meal that you will enjoy throughout the year, but especially during summer. The appealing look and taste will certainly inspire you to try it out and make it at least once a week to enjoy with your family.
Ingredients
¾ pound of Beef flat iron steak or top sirloin steak
A quarter teaspoon of salt, separated
A quarter teaspoon of chili, split
1/4 cup extra virgin olive oil
2 tblsp balsamic vinaigrette
Lemon juice, 2 teaspoons
5 oz. baby spinach, fresh (about 6 cups)
4 radishes, thinly sliced
1 medium beefsteak tomato, sliced
1/2 medium ripe avocado, peeled and sliced
Optional: 1/4 cup crumbled blue cheese
Sprinkle a half teaspoon of salt and 1/4 teaspoon of pepper on the steak, grill it over medium heat or until beef achieves desired doneness (a thermometer can read 135° for medium-rare, 140° for medium, and 145° for medium-well). Allow for a 5-minute rest period.
Meanwhile, whisk together the oil, vinegar, lemon juice, and the remaining salt and pepper in a shallow cup. Distribute the spinach among four surfaces. Toss in the tomatoes, avocado, and radishes. Cut the steak and serve it over the salad. Drizzle with dressing and top with cheese, if desired.
Bean Salad
If you are looking for a salad rich in proteins but without meat, this bean salad is a meal that will fulfill your dietary needs. Besides being fast to prepare, it is also colorful and tasty. Prepare it way ahead and enjoy it fully at work or home.
Ingredients
Half a cup of extra virgin olive oil
A quarter cup of red wine vinegar
1 teaspoon of sugar
1 minced garlic clove
1 teaspoon of salt
1 teaspoon of cumin powder
1 teaspoon of chili powder
A quarter teaspoon of pepper
3 cups of basmati rice, cooked
1 can (16 ounces) rinsed and drained kidney beans
1 can (15 ounces) rinsed and drained black beans
1/4 cup minced fresh cilantro
1 1/2 cups frozen maize, thawed
4 green onions, diced
1 small sweet red pepper, chopped
Whisk the dressing made of oil, vinegar, and spices. Mix rice, beans, and other salad ingredients in a large bowl. Add the dressing, mix it well. Put it in the fridge to cool down well. Serve the salad cooled for the best taste.
Ideas Worth Extra Time
If you are still not convinced about trying out salad meal prep ideas, just think about how much time will you save during the workweek when you know that a healthy yet delicious meal awaits you in the fridge. And surely, at work, everyone will be interested in what colorful and inviting meal you have for a lunch break.
And you only have to spend some extra time stashing your fridge with airtight containers filled with nutritive food that would boost up your metabolism and offer you healthy food choices every day. Your body energy will be restored and you will be ready to keep on your daily tasks.
Have you already tried some of these salad meal prep ideas? Do you have your favorite salad that you would recommend? Share your thoughts and recipes with me in the comments below.
Nutrition Facts
4 servings per container
---
Amount Per ServingCalories503
% Daily Value *
Total Fat 28.3g

44

%
Cholesterol 82mg

28

%
Sodium 299mg

13

%
Potassium 1156mg

34

%
Total Carbohydrate 50.6g

17

%

Dietary Fiber 19.3g

78

%
Sugars 8g

Protein 18g

36

%
---
Calcium

133

%
Iron

6

%
Vitamin D

8

%
* The % Daily Value tells you how much a nutrient in a serving of food contributes to a daily diet. 2,000 calories a day is used for general nutrition advice.