Looking for perfect side dishes in the following list of what to serve with clam chowder will help you save a trip to restaurants. In addition, you can reference their features and learn how to cook them at home by reading my post.
Clam chowder is not hard to cook, and nowadays, there are various brands selling clam chowder in cans that taste like homemade ones. But choosing side dishes for it is quite challenging. The 28 different foods will ease your concerns. Let's discover them right now.
What To Serve With Clam Chowder? List Of 28 Delicious Side Dishes
There are many ways to make clam chowder. However, whether you choose to go with a Manhattan, Rhode Island, or New England-style dish, it will always taste better when paired with fitting accompaniments.
Here are 28 excellent side dishes to serve with clam chowder. Let's read and pick several ones.
Seafood – Flavorful Pairs With Clam Chowder
Mussels Mariniere
Bacon-Wrapped Scallops
Clam Fritters
Shrimp Cocktail
Crab Cakes
Lobster Roll
Fish Tacos
Salmon Cakes
Lobster Boil
Veggies – Ideal Land For Vegetarians
Basil And Butter Corn On The Cob
Classic Caesar Salad
Spinach Salad With Blueberry Balsamic And Warm Goat Cheese
Carrot Salad
Thin-Cut French Fries
Corn Salad
Vinegar-Based Coleslaw
Roasted Vegetable
Loaded Baked Potato Salad
Avocado And Lime Shrimp Salad
Bread – Fluffy Ideas For Thick Soup
Bread Roll
Oyster Crackers
Cornmeal Pancakes
Skillet Cornbread
Beer-Battered Bread
Cloverleaf Rolls
The Grilled Cheese Sandwich
Dessert – Perfect Finishes For Appetizing Meals
Brownies With Vanilla Ice Cream
Baked Apple
9 Astonishing Seafood Side Dish You Should Try To Pair With Clam Chowder
Clam chowder only includes a small amount of clam in its recipes; thus, adding more seafood flavor when serving clam chowder is the most effective way to upgrade its taste to a new level. You will get a perfect party every time.
Mussels Mariniere is a French dish cooked with fresh mussels. Mussels are an inexpensive ingredient and have several characteristics similar to clams. Before cooking mussels, you should clean them carefully to get rid of grits and beards from them.
Mussels have a mild sea flavor and are slightly sweet with their undertone as mushrooms; therefore, they are easily combined with other ingredients. When you cook them with leek, garlic, shallot, and white wine, they will take these materials' character.
Mussels mariniere just takes you a total 15 minutes to bring it to the table. So let's try to make this dish for your family at the weekend to serve with clam chowder.
The smoked and savory bacon will balance the ocean-umami of clam chowder. The bacon-wrapped scallops are straightforward to cook and elegant enough for a cozy and romantic dinner under the candles.
After doing a lot of experiments for this dish, I have determined 12-15 minutes is an appropriate period for baking bacon-wrapped scallops, and you will get a tender and juicy dish.
You should choose larger sea scallops instead of the small bay ones and have the same size. The sea scallops contain more flavor than the other; thus, they are quite pricey; however, I think these scallops are worth purchasing if you are an authentic seafood lover.
Clam fritters are made from clams combining with a mixture of flour, milk, and other ingredients. These nice, salty, and fresh clams are chopped or minced before pouring into the batch.
You need to scoop it up and drop spoonfuls of batter into the hot vegetable oil. You should be careful to protect yourself from splashing oil and fry them until they turn golden brown. Don't forget to use paper towels to absorb excess oil.
You will enjoy the crispy outside, but juicy and tender inside and I am sure that all people are attracted with this dish. It is even more flavorful if you use whole clams and do the same steps. First, let's prepare an amazing sauce to dip the hot and crunchy fritters.
A shrimp cocktail is an old-fashioned dish, but it is a classic choice for parties. Fresh shrimps will be cooked in water with a little bit of lemon to remove their fishy. After boiling, let's reduce the heat and add shrimps to it.
You only boil them within 4 minutes and let them soak into water for 2 minutes. To retain their delicate, sweet flavor and firm texture, don't peel them. The key to making the shrimp cocktail well-known is the spicy and tasty cocktail sauce.
The shrimp cocktail is quick to make, and you cook the ingredients from yesterday, and it will be ready to serve tomorrow. Don't forget to arrange shrimp in a cocktail-like shape to enhance the culinary art.
Crab cakes always have a hard-to-resist attraction to seafood lovers and can be served as a starter dish in any seafood restaurant. Crabs consist of a lot of meat in their body and lump. The meat in a jumbo lump is perfect for any dish relating to crabs
Crabmeat is soft, squishy, and salty without a fishy smell, and you can find it quite similar to fish meat. However, before mixing crab meat with other ingredients, make sure you got rid of the shell from it.
You need to add mayonnaise to add a creamy taste and help the meat can stick together. You can choose bold spices to supplement more flavor to the crab meat as it is quite mild; you certainly love this change.
Let's try to make this super delicious lobster roll for your family and enjoy the perfect combination of this dish and clam chowder. These firm pieces of lobster meats will be mixed with mayonnaise, herbs, and fresh-squeezed lemon that come with toasted buns when serving for you.
The flavor of lobsters is pretty similar to shrimps, but it is sweeter and saltier. Summer is a season of many kinds of lobster; why don't you havea trip to groceries and pick premium-quality lobster for your dinner.
The creamy taste of mayonnaise, the attractive aroma from herbs, and acidity from lemon juice with buttery-smell buns will be an excellent choice for those who are headache as they don't know what to serve with clam chowder today.
Tacos are a traditional accompaniment in many Mexican parties. But this fish taco is on another level. The crunchy tortillas are filled with fresh vegetables, tender, sweet plump fish, and drizzled with a special sauce. Some pinches of grated cheese will upgrade the flavor.
You certainly cannot wait to bite and swallowing these flavorful tacos when you see them. You should marinate fish with lime juice, cumin, and chili powder before cook it; I surely this taste will like as a kick.
Don't skip cabbage slaw since it is an indispensable ingredient and a star of this dish. Its grassy, crispy and fresh flavor will ease the greasy feeling, and you can constantly eat without being bored.
Salmon contains a lot of health benefits, including supplementing omega-4, protein, high vitamin B, and more. It is famous for sashimi dishes; however, salmon cakes are also a dish you cannot miss when mentioning salmon, especially when finding side dishes to serve with clam chowder.
The flavor of salmon is different from other fishes and is considered as an explosion in your mouth when tasting it. Salmon is not fishy like others; it consists of ocean flavor with subtle and refreshing taste; that's why people are pleasant when enjoying it.
Salmon cakes have crispy on the outside but tender, juicy on the inside; I am sure that this dish will disappear within several minutes by the quick hands of your children. You should bake salmon for 10-15 minutes, depending on its thickness, and before doing the following steps.
That will ensure your dish will have the desired appearance without drying the inner meat. Don't forget to add other veggies and dip them into a sauce to enhance the taste. Using leftover salmon is also a good substitute in case the fresh salmons is not available.
The simple lobster boils, yet I believe it will satisfy any grumpy guests. The easy-to-cook lobsters can bring to you all memories relating to your trip to a beach. The summer's lobsters will be plentiful and less pricey, and that is also a perfect time for the beach; why don't you cook this dish right now?
Boiling lobsters can help you enjoy their natural flavors, including the sweetness, salty, and crunchy goodness due to the tendons' fiber. The taste can change depending on which sauce you choose to dip lobster meat into.
I recommend melted butter as it will brighten and add extra moisture to the original taste of lobster. Besides, mayonnaise or lemon juice are also appropriate with it. So then, let's cook lobster boil for your family and friends; although it is quite messy because of their shell, the fun can last forever.
11 Veggies Dishes For Balance Clam Chowder Meal That You Need To Try
Clam chowder contains a lot of nutrients and is a little savory; adding veggie dishes to accompany it will help you balance the taste and supplement extra fiber to your body. So let's try to make simple but delicious dishes.
You will never go wrong when serving clam chowder with basil and butter corn on the cob. Enjoying the corn alone is amazing, but adding more flavors to it will enhance its flavor. The corns on the cob have natural sweetness with a soft and juicy texture.
There is nothing better than fresh chopped basil and melt butter that is brushed on corns. Besides, don't forget to sprinkle a little salt and pepper to make this dish savory. The buttery flavor combines with aromatic and mint of basil will make you go crazy,
You need to roast the corn on the cob until its outer turns slightly burned, and you can smell the attracted aroma from it. Then, it's high time to enjoy this summer food.
I always make corn on the cob in large batches so that I can have a quick meal the following day. The necessary steps for rewarming corn on the cob are quite easy and time-saving, so I figure this can be noteworthy consideration for busy people as well.
Caesar dressing is the soul of the classic Caesar salad. This traditional side dish from Cuba is made from fresh romaine lettuce. The dressing is made from egg yolk, mustard, and lemon juice to create an emulsion texture. Then, drizzle it into the salad to create a creamy taste.
Lettuce seems to be born for all salad recipes since it has mild, crispy, buttery, soft, peppery flavor; thus, it is not strange that lettuce has become one of the most popular vegetables. The classic Caesar salad cannot miss the anchovy fillet that will be mashed and added to the sauce.
These anchovies will supplement umami and rich taste with a little fishy and salty sauce, and it is a hit for this salad recipe. This recipe is quick and simple to make; let's try to prepare for your gatherings.
Have you ever tried to eat blueberry in any salad recipes or make blueberry dressing? If you have not yet, you should start with a spinach salad with blueberry balsamic and warm goat cheese. It can balance the taste of clam chowder thanks to its different layers of flavor.
Spinach is considered a superfood, while blueberries are rich in antioxidants; thus, their combination is perfectly healthy. Spinach is also a favorite choice of many people when they intend to make salad since it is mind and slight sweet if you eat it raw.
The excellent taste of blueberry balsamic dressing can surprise you with its sweetness and acidity combined greatly. Don't forget to add goat cheese to this salad for its tart and earthy flavor. Goat cheese is an indispensable ingredient as it helps to dress up other components.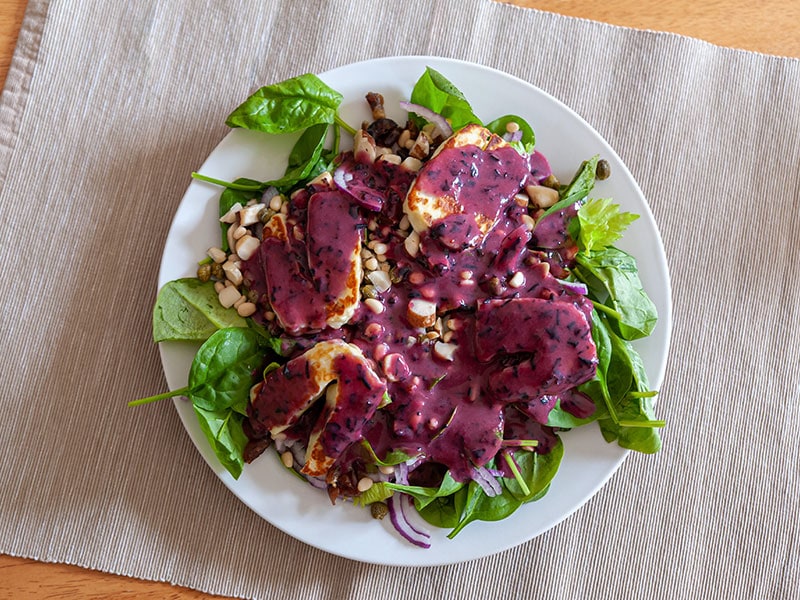 A classic carrot salad just requires several ingredients, and it is the easiest salad to prepare. First, you need to grate carrot in advance and toss with apple, raisins, and more.
Carrots don't release much water as several veggies; thus, you can make this salad ahead and keep it in the fridge for later use. Carrots are crispy, woody, sweet, and earthy with having a little bit of harshness.
They are also a versatile vegetable since you can grill, stir or cook soups with them besides making fresh salads. In addition, they have certain health benefits thanks to their nutritious sources, including fiber, beta carotene, vitamin K1, and more.
If you think thin-cut French fries just compatible with fried chicken, it will surely be the wrong thought. French fries are also a perfect add-in dish to serve with clam chowder. This side dish is super easy to cook at home as long as you have potatoes on hand.
Potatoes are rich in starchy, and you will find fries are crunchy on the outside yet soft on the inside. To get that result, make sure you use a restaurant-grade French fry cutter to cut them. After that, don't forget to soak them; the longer you soak them, the crispier fries are.
You can shake them with cheese powder if you want or omit this step when you eat a dairy-free side dish. Using an air fryer is a good option to reduce the oil for frying potatoes.
In case you don't want to eat corn on the cob, corn salad will be a perfect substitute. There are various versions of corn salads, including Mexican corn salad, grilled corn salad, and more. However, the dish I bring to you is classic corn salad.
Classic corn salad consists of simple ingredients such as ears corn, Roma tomatoes, green onion, bell pepper, and more. The slightly acidic and sweet from Roma tomatoes can balance the sweet taste from corns.
In addition, the pungent taste of onion and bell pepper will blow your mind and make an explosion in your mouth. Of course, you can supplement other ingredients to upgrade the flavor, and I can suggest cheese, herbs, black beans, and more.
Don't be too concentrated on other dressings that forget vinegar-based dressing. The vinegar-based coleslaw is incredibly delicious and straightforward to make, and its tangy flavor will be perfect when eaten with clam chowder.
You can add these basic vegetables to coleslaw, such as green and red cabbage, carrots, red and green onions, and spice; besides, let's dress up for your salad with extra ingredients like kale, bell pepper, and others.
The tangy and sweet vinegar-based dressing will refresh the crunchy and grassy taste of all veggies. You can store unseasoned coleslaw in the fridge and toss it when needed to preserve its perfect state.
Roasted vegetables don't have certain recipes; you can broil any veggies you like and taste them. These veggies will have caramelized color and crispy sear on the outside. They will be coated with basic condiments, including pepper, oil, and salt.
However, it is creative to sprinkle extra flavor for these vegetables after roasting. I will bring you several ways to dress up your side dishes: using flavored oils, tossing with citrus or mustard, adding grated cheese, sprinkling spice blends or drizzling with various dressings, adding a glaze, and broiling with bacon.
You can apply all methods or try one by one way. Let's diversify basic roasted vegetables with them.
Loaded baked potato salad can be considered an upgrade version of classic steakhouse-loaded baked potato, yet this recipe needs to be peeled after baking. Baking potatoes will prevent them from absorbing water compared to boiling them.
Therefore, the meat will be light, fluffier, and easy to soak sour cream and mayonnaise. Because the recipe contains baked potatoes, it cannot miss bacon and cheese to add-in flavors.
You can use Greek yogurt instead of sour cream when you want to supplement more protein to the dish. Ensure you mix all ingredients well to create an exclusive twist in taste.
Shrimp is perfect to go with clam chowder, and avocado and lime shrimp salad are also worth trying. This salad is light and fresh enough to eliminate fat feeling after consuming different dishes. You just need to spend 10 minutes tossing all ingredients.
This dish even doesn't require you to cook shrimps since you can buy pre-cooked ones. The fresh-squeezed lime in the salad calls all summer along with you.
Besides, the fresh veggies, including avocados, red onion, tomatoes, and more, will refresh your mouth with a crunchy and juicy taste. If you are bored with boiled or steamed shrimps, you can broil them for a different feeling.
9 Bread Side Dishes Can Save You From Empty Stomach
Pasta and rice are not appropriate choices to serve with clam chowder. Instead, bread is an excellent choice since it is fluffy and light.
Bread rolls are a common side dish to serve with clam chowder. They are soft, fluffy, buttery, and made from several basic ingredients. You can make these rolls at home and knead shapes as you prefer, such as round or long.
For the best result, you should use whole milk to add extra flavor to your bread and use instant yeast to shorten the time for rising. In addition, serving with clam chowder, you can retain the leftover bread to make mini hamburgers.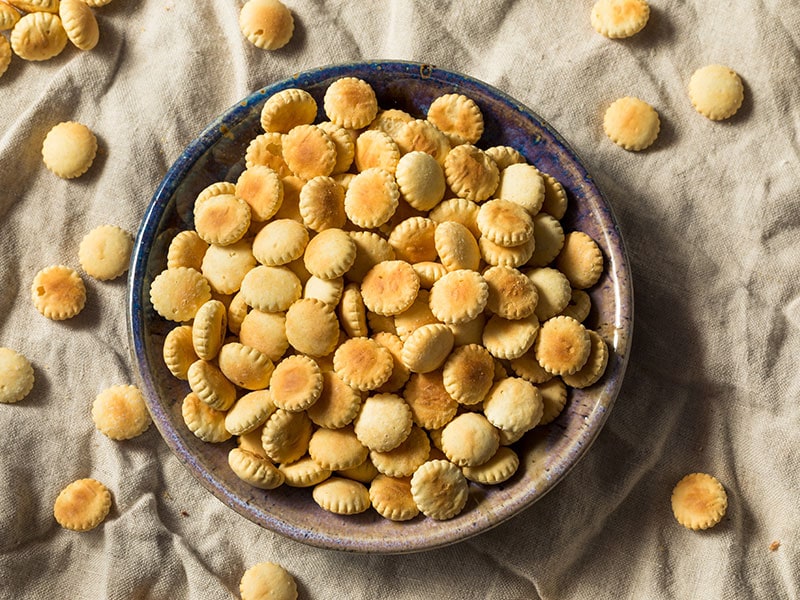 Oyster crackers are a the Northeastern United States and a popular side dish to serve with clam chowder. They have a small and round shape with a crispy and salty taste; thus, you need to protect them from your kids.
You can make oyster crackers at home with basic ingredients, including all-purpose flour, baking powder, sugar, salt, unsalted butter, and water. Besides, adding extra seasonings is a good choice to enhance their original flavor.
The original pancakes are not suitable to serve with clam chowder, yet cornmeal pancakes can complete this mission. These pancakes are tender, light, and fluffy that will attract you at first sight.
Cornmeal is coarsely ground corn, and it is more nutritious than cornflour. You just need to add all ingredients into a blender and turn on the machine. Remember to choose the blender type that is suitable for your purpose. After complete mixing, you can fry a spoon of mixture.
When you see the underside turns brown and the top appears bubbles, it's high time to flip the pancakes. Be careful to avoid breaking the nice shape. If you are on a gluten-free diet, you should try this recipe.
Another side dish made from cornmeal is skillet cornbread; all you need to do is mix the ingredients into a skillet and place it in your oven. This dish has moisture, fluffy and buttery flavor that make you unforgettable.
You need to weigh exactly the amount of each ingredient to ensure the taste is balanced and the appearance has eye-catching golden brown. You should use a cast iron skillet for baking cornbread since it is heavy and can retain the heat longer.
The perfect cornbread is crispy and light; moreover, its flavor can be plain or sweet depending on the ingredients you add.
You will be addictive beer-battered bread after the first bite since it is delightful, cozy, and buttery. You don't need to use yeast in this bread; you have to add beer instead. The bubbles in beer will be activated to work as the leavening agent.
With this recipe, you just need to spend less than 5 minutes to mix all ingredients, including all-purpose flour, sugar, baking powder, salt, unsalted butter, and the main character-beer. If you are afraid that this bread can cause problems when the kids consume it, that's nonsense as the alcohol will evaporate while baking.
This bread will take you 50-60 minutes to finish its task; meanwhile, you can complete other jobs and come back to enjoy after this period. The yeast bread is too regular; why don't you try this beer-battered bread?
These cloverleaf rolls are not only beautiful but also fluffy, soft, buttery, and delicious. The ingredients in these rolls are quite similar to bread rolls; however, you should be careful when shaping the dough to get the desire rolls.
The grilled cheese sandwiches are a favorite breakfast of many people; but now, it is served with clam chowder. The perfect grilled cheese sandwiches are made from slices of bread, filled with a lot of cheese, and coated with mayonnaise before being grilled.
If you don't want to buy mass-produced bread in supermarkets, you can try to make homemade bread with simple ingredients containing all-purpose flour, butter, milk, salt, and more. Of course, you need to make it firm enough to prevent the cheese from spilling out.
You can fill any cheese you like with these slices of white bread. My favorite pick is American cheese. Regardless of the distinctions between yellow and white American cheese, these two varieties both go incredibly well with grilled cheese sandwiches.
Other than American cheese, you can also go for cheddar cheese, mozzarella, parmesan cheese, or even mix them together to create a creamy and smooth cheese sandwich. To upgrade the flavor, pepperoni, eggs, or other ingredients will be perfect choices.
2 Desserts Will Finish Your Meal Perfectly. Let's Check Them Out.
After filling your stomach with these above dishes, you need to finish your meal with different desserts. To be perfect for serving with clam chowder, there is no dessert better than brownies with vanilla ice cream and baked apple.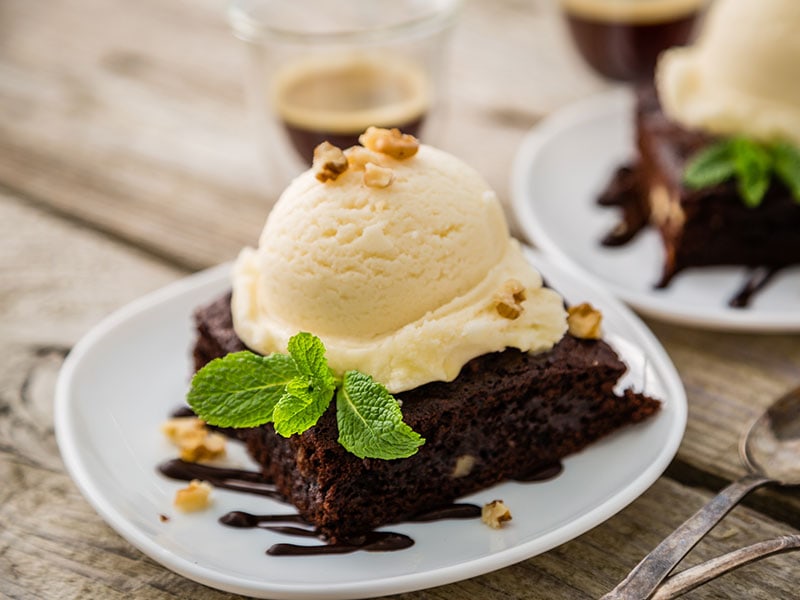 Brownies are popular cakes and are a perfect puzzle for clam chowder. They are quite crispy on the outside but soft, sweet, with slightly bitter on the inside. The unique color of brownies is chocolate powder, and I am sure eating them will help you get over a hard day comfortably.
The intensity of chocolate powder and melted chocolate chips make this dessert are incredibly delicious compared to other cakes. You don't need to use a blender to mix the ingredients; all equipment you need is a bowl and a spoon.
Remember the signs of great brownies: A bit dry on the top and a pretty firm texture when touching it. You need to let it cool down since the hot brownies are hot and easy to break when you cut them. Also, don't forget to dress up vanilla ice cream to enhance the flavor.
Have you ever known which dessert is easier to make than baked apples? The juicy apples will be filled with a buttery mixture of brown sugar, cinnamon, nutmeg, whole rolled oats, and raisin, then placed into your oven until they become slightly tender.
This dessert is no mess since you just need to use a spoon to dig out the core of apples and pour the mixture into them. They will have soft, crunchy, juicy, and sweet flavors; thus, if you want to try a more special dessert from apples, how about baked apples?
You should add warm water to the baking sheets to prevent apples from evaporating all moisture. It is good when eating alone; however, supplementing vanilla ice cream, whipped cream, or salted caramel will not disappoint you.
Clam Chowder Meal Will Not Be Boring Anymore With These Tasty Side Dish
Have you picked several dishes from 28 suggested dishes? No matter which dishes you choose, I am sure they will complete the missing puzzles in clam chowder meals. These dishes vary from seafood to desserts that allow you to finish your meals excellently.
Do you have more recommended side dishes to serve with clam chowder? You can type some words for me via the comment box chat below. Also, don't forget to share my post with your friends and family if you find it helpful.
Many posts will be updated constantly, and remember to come back and collect for yourself more cooking knowledge. See you soon!
Nutrition Facts
16 servings per container
---
Amount Per ServingCalories31
% Daily Value *
Total Fat 0.4g

0

%

Saturated Fat 0.1g

0

%
Trans Fat g

Cholesterol 10mg

4

%
Sodium 78mg

4

%
Potassium 55mg

2

%
Total Carbohydrate 5.7g

2

%

Dietary Fiber 0.2g

0

%
Sugars 0.6g

Protein 1.1g

2

%
---
* The % Daily Value tells you how much a nutrient in a serving of food contributes to a daily diet. 2,000 calories a day is used for general nutrition advice.