Tunisian foods are well-known for using original ingredients. Thanks to the long beach coasts, many dishes are prepared from seafood. Mentioning Tunisian recipes, you can imagine the blue beach with the sound of the surf.
Its cuisine is enriched with diversified vegetables, starches, fruits, and more. Your Tunisian trip cannot be perfect if you don't enjoy the Tunisian signature dishes. Check them out!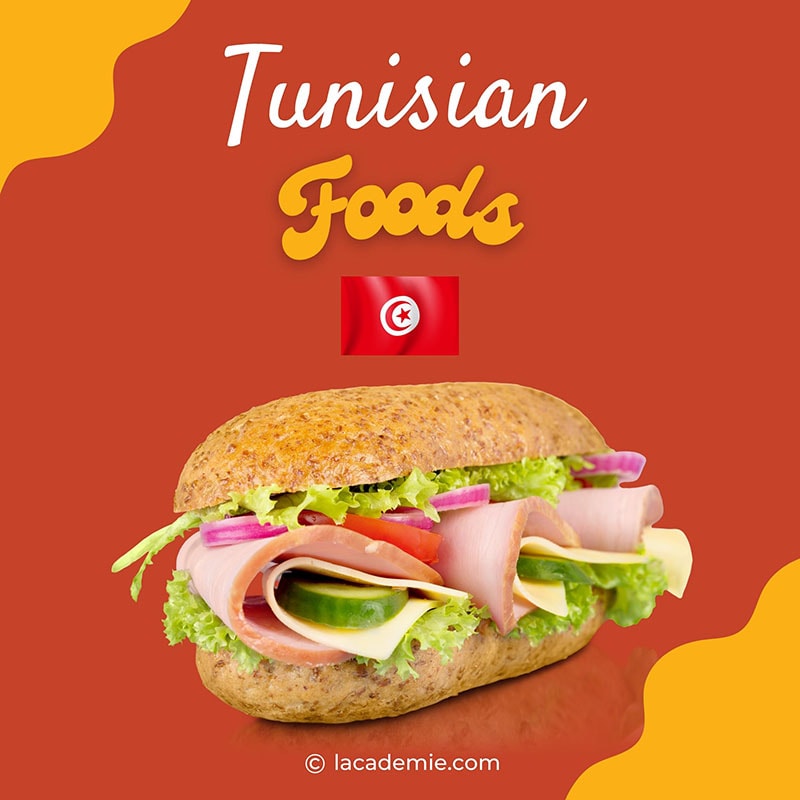 Tunisian Savory Dishes Are Difficult To Resist For Main Meals
How can you experience the main meal without savory recipes? I have some recommendations for you to help you have an excellent lunch or dinner with Tunisian recipes. Take a seat, note down and order immediately when you have a chance.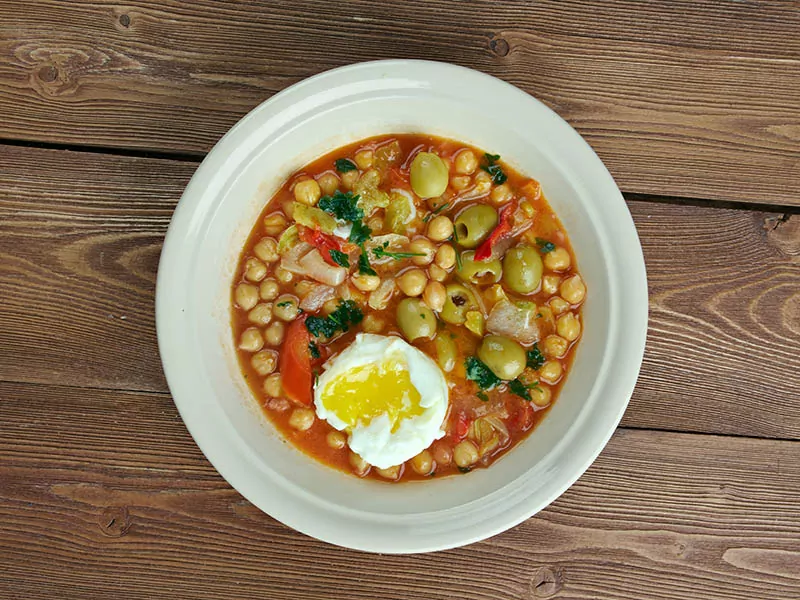 Lablabi is a traditional dish in Tunisian usually served at breakfast, but now you can enjoy it whenever you want. This is a chickpea soup cooked with some spices such as cumin, Harissa, and caraway.
Harissa plays an important role in Tunisian cuisine, and I will explain why in the next parts. You can order Lablabi in restaurants throughout this beautiful nation. Iraq and Turkey also have their own Lablabi versions.
The special feature when you taste Tunisian Lablabi is that it uses dry chickpeas instead of canned ones. The chefs will recommend you eat this soup with stale bread, a poached egg, and a spiced dressing.
Thanks to Tunisia's coasts and rich seafood sources, the locals also decorate the dish with tuna and olives to add more flavor and texture to it. In some places, you can see the citizens add parsley, capers, cow trotters, and more to make a twist in taste.
In local restaurants, the waiters can allow you to "cook" the dish on your own. They will prepare for you stale bread, a bowl, and Lablabi. You need to fill bread in the bowl and pour Lablabi on the top. Don't forget to mix them before eating.
Let's explore how local restaurants serve Lablabi.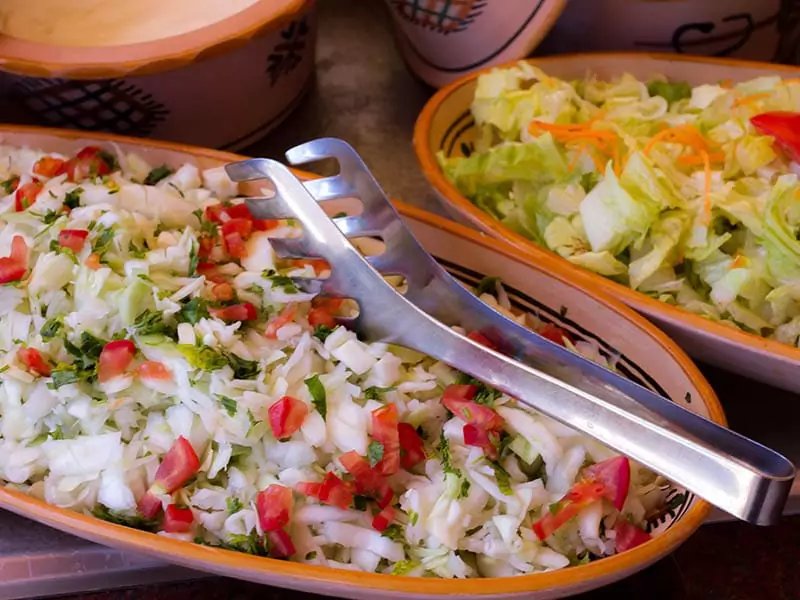 If you are looking for a Tunisian side dish to relieve the heat of summer and enjoy for lunch, you should not skip Assiette Tunisienne. It is one of the Tunisian salads that I am excited to recommend to anyone I meet.
I read this recipe in a book about North African dishes written by Kitty Morse, and I wish to place my feet in Tunisia to taste this salad. This is also a smart way to make use of leftover cooked eggs from Easter.
Under sliced or diced vegetables, cooks can garnish some olives, eggs, capers, and one of Tunisia's specialties – tuna on the top. However, you should not mistake it with Salade Nicoise. This dish will be a perfect puzzle for grilled poultry or fish.
3. Harissa – Chili Paste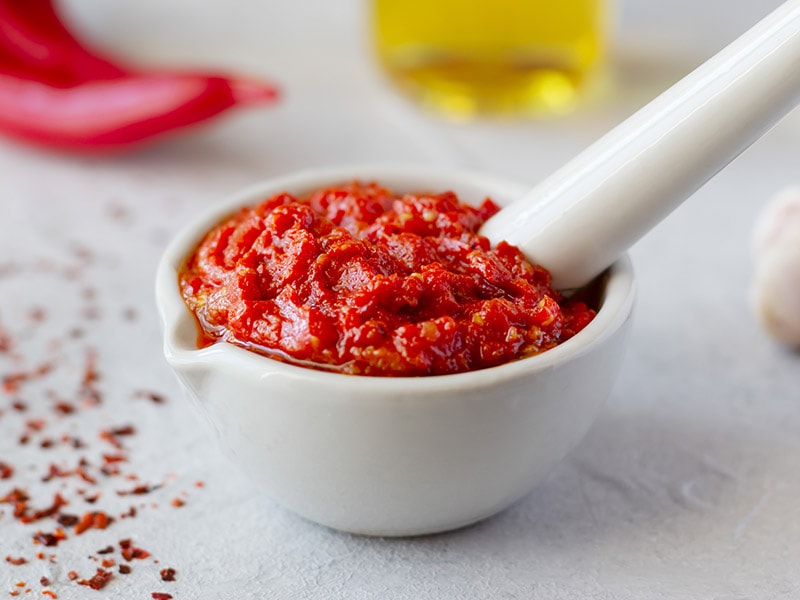 Is anyone a fan of spicy condiments? You can raise your hands or give this post a big like as I have a gift for you – Harissa. The Spanish brought red chili pepper from America in the 16th century and introduced it to Tunisia in 1535-1574 when they occupied this country.
Thanks to the suitable climate, this plant has grown prosperous here. The locals have created and consumed Harissa and made it become one of their favorite sauces. Besides red chili, you can taste other spices, including salt, garlic, cumin, and more.
The heat level can be varied depending on which kind of chili pepper the chefs use. They can smoke it to create a twist in flavor. For over 500 years, this species has attracted the Tunisians and some surrounding Middle East and North Africa nations.
You can purchase it in both paste and powder form to blend it into meat, pizza, stews, sandwiches, soups, and scrambled eggs. I'm sure it is hard to find a condiment more versatile than that.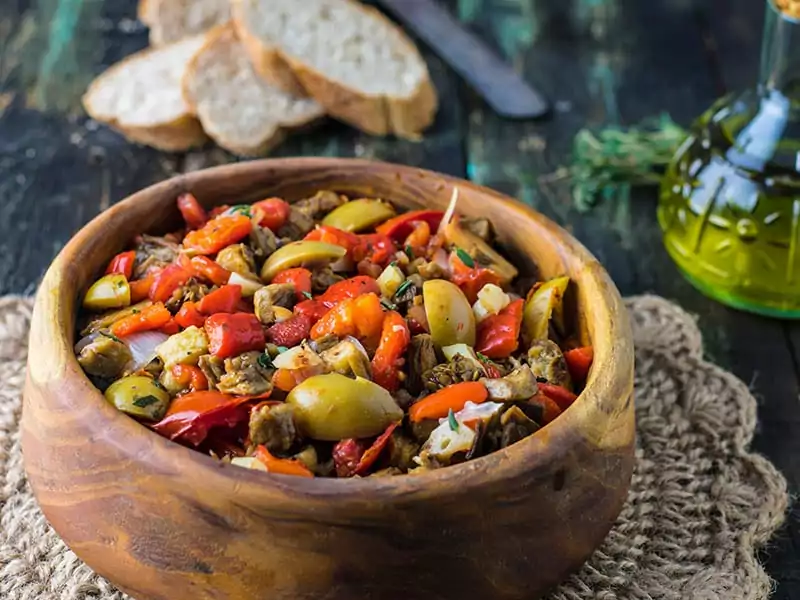 Another dish to welcome Tunisian summer. Are you ready to try it? Mechouia Salad is native to Tunisia, and it is usually served as an appetizer. It consists of grilled vegetables instead of raw ones like others.
Moreover, you can find tomatoes, onions, peppers, and garlic in the dish. It is spicier than Harissa, so make sure you know that before ordering. The locals usually enjoy it with grilled fish and lamb.
If you are a vegetarian, don't hesitate to order a plate of Mechouia Salad. However, the citizens will suggest you should place some wedges of hard-cooked eggs, pieces of tuna, or olives to create a nuanced and rounded flavor.
The Northern African nations surround the Mediterranean sea, so how about adding a little bit of Mediterranean breath to the dish by combining the above 3 toppings? You will miss this dish when you go back to your hometown.
5. Kosksi – Tunisian Couscous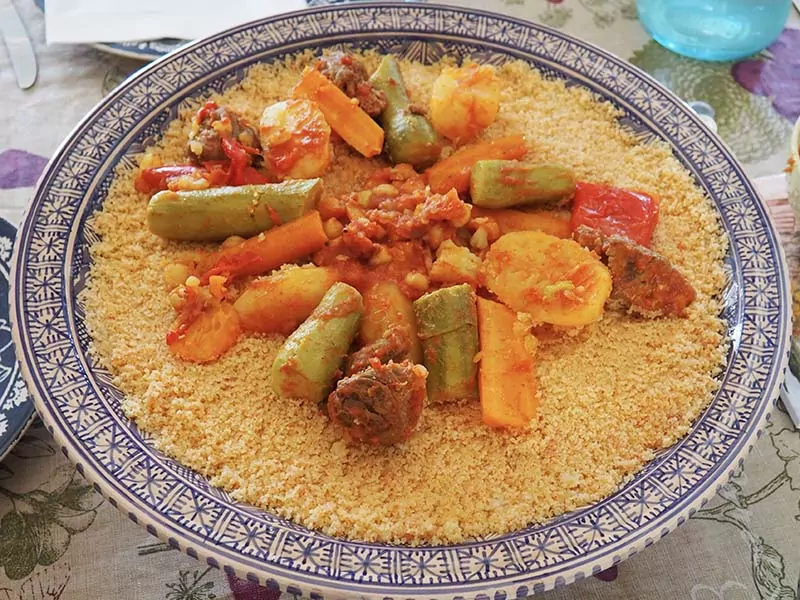 Take your seat as you will taste a long-established dish in both taste and history that is Tunisian Couscous. Couscous gained the Intangible Cultural Heritage title in 2020; thus, tasting it is one of my honors.
It is a national dish in Tunisia, and they believe eating Couscous will connect between family members. People love it despite Couscous's size, mild or hot and especially in the summer.
Although countless recipes contain Couscous, its exact origin is still a secret. Charles Perry assumed that Couscous appeared in the 13th and 14th centuries as the Arabic cookery books wrote couscous recipes.
Meanwhile, another opinion said Couscous has a connection with the word "kuskusu", which existed between the 11th and 13th centuries. This evidence suggests this grain popped up from the Berbers located in northern Morocco and Algeria.
Tunisian Couscous is dissimilar to other couscous dishes since it contains semolina. You can eat it alone, but it will be better if you pair it with beef and vegetable broth. The natural sweetness from these ingredients will level up this combo so much.
You can find numerous Couscous variants in Tunisia: Sometimes with fish (sea bass, red snapper, and more), cinnamon, crushed rosebuds, and seafood. The cooks also use different spices to breathe new flavors into the traditional dish.
Tunisian Couscous is one of the most recommended dishes. Can you imagine what it tastes like?
6. Tajine Maadnous – Baked Eggs And Cheese Quiche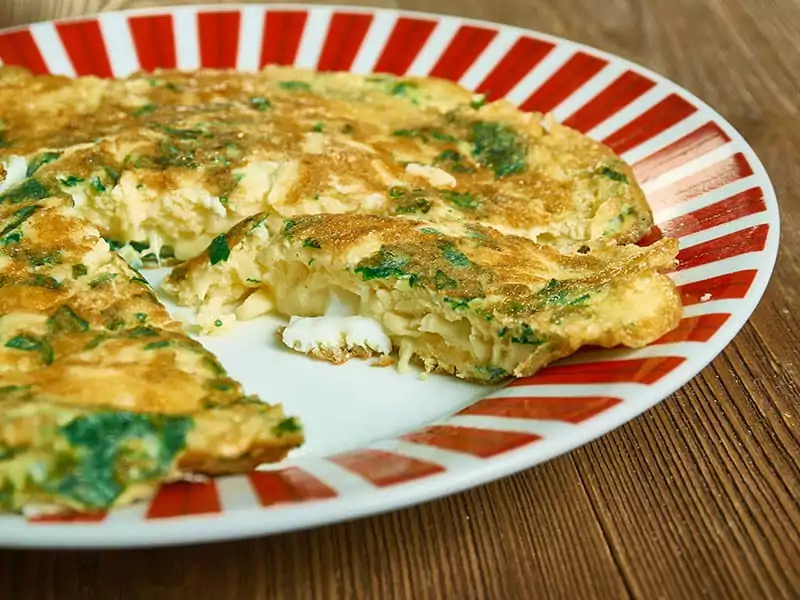 Egg and parsley will become a classic combination and win your heart after you try Tajine Maadnous. At first sight, you can find it is similar to Quiches, but you will be persuaded soon by distinct Tusinian spices in this dish: cumin, Harissa, and more.
Tajine in Tajine Maadnous is not a ceramic pot; it is a baked egg with cheese and some fresh ingredients. Moreover, the most interesting thing is that you can ask for numerous versions of this dish when entering any restaurant in Tusia.
You can consume it as a snack before main meals or even enjoy it as a main meal. Your preferences should be prioritized.
Almost all of them are rich in nutrients and perfect to serve cold or hot. Believe me; it can please any strict diners. That's why you can see it in Tunisian weddings and other festivals which gather tourists and guests from all over the world.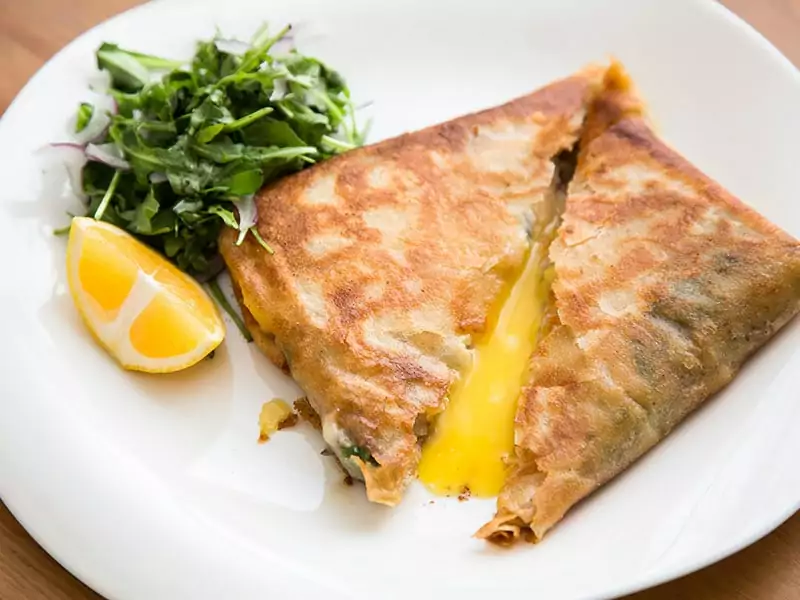 While the Chinese are proud of their Xiao Long Bao, the Japanese are famous for Gyoza, and the Tunisians can confidently scream "Brick a l'oeuf" as their traditional dumpling. The opposite texture between the outside and inside of this food will make you "wow".
The thin crispy pastry sheet deep-fried and the runny egg interior will create a funny yet harmonious symphony in your mouth. It is perfect when you enjoy it right after being taken out of the pan and squeezing some splash of lemon juice to grab you to heaven.
The locals will recommend you to enjoy this food by hand instead of forks. But be careful to avoid the egg yolk dripping onto your chin.
Besides this savory version, you can taste its sweet one, and both of them are worth trying. If you attend a Ramadan ceremony, you can find different fillings: meat, olives, and more.
The shape can be varied with the fame going beyond Mediterranean areas and reaching to further places.
8. Koucha – Lamb Stew
On a windy day during your Tunisian trip, make sure you have a hot pot of Tunisian lamb stew on the table. To save valuable time, chefs can cook this dish in a cast-iron, oven-safe, or even in a pressure cooker.
However, the stew cooked in a gargoulette-type vessel will bring you the most authentic "Tunisian" and rustic feelings. To have a fulfilling meal, you should enjoy it with rice or bread; thus, every drop of sauce will be kept in place in your stomach.
The cooks can cook lamb stew with potatoes to add more texture to the food. European citizens brought this vegetable to the nation in the early 20th century. Over the years, potatoes have been a familiar face appearing on various salad recipes.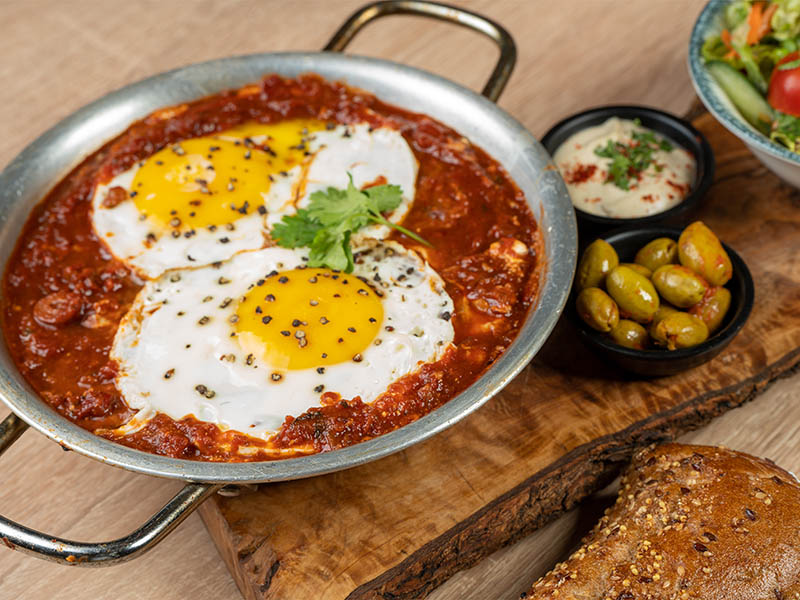 Shakshouka is a word coming from the Maghrebi Arabic language mixture meaning vegetable ragout. Only this element is enough to prove to you its hometown. The Maghrebi habitats are a part of North Africa, and this dish appeared for the first time in the middle of the 1600s.
The surprising thing is that it has become famous worldwide after being printed in the Jerusalem cuisine cookbook. Before that, It was just popular in Tunisia in the 1990s, although the Jewish citizens had brought it here in the 1950s-1960s.
As the locals love spicy foods, they add some paprika peppers to enhance the flavor of tomatoes and eggs.
You can serve this traditional Tunisian dish for breakfast, lunch, dinner, or even a midnight snack, yet don't forget to attach a plate of bread to sop up all sauce in the pan.
Chakchouka is found in numerous variants, yet the Tunisian one is the most impressive.
10. Kefta/Kofta – Spiced Meatballs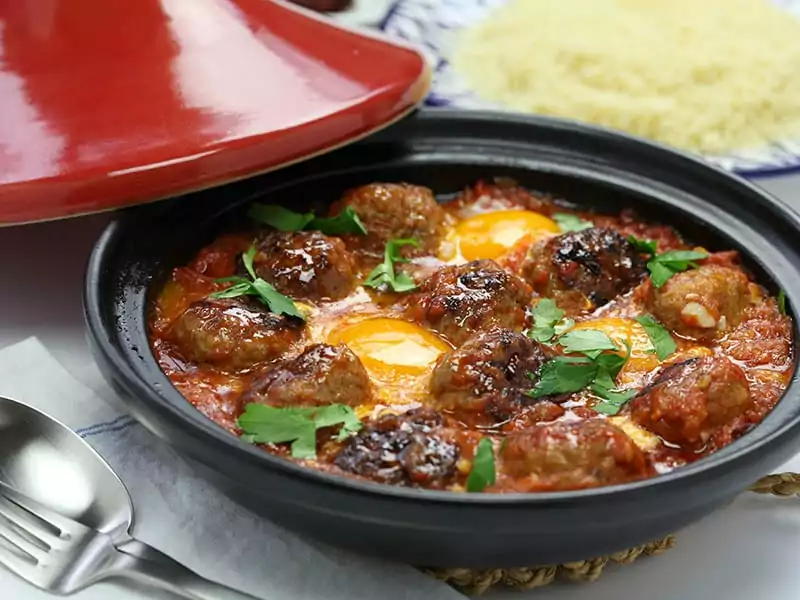 Kefta is a dish having the most variants I have ever known. When you come to each region, you will find its distinct version, and you should not skip the Tunisian one. Although its origin is still unclear, I'm sure its name "kofta" comes from the Persian language meaning pounded meat.
Before being printed in the Arab cookery books, nobody knew what Kefta was. The first recipes are made from minced lamb meat with saffron and egg yolk. As I mentioned, you can find numerous meatball recipes when landing in other Northern African nations.
The cooking methods are also varied from baking, grilling to steaming and more. You should pair it with spicy stew and soup as these foods support each other well. The ingredients in meatballs: rice, vegetables, eggs, or bulgur can relieve the spiciness.
11. Mloukhia – Braised Veal With Dried Greens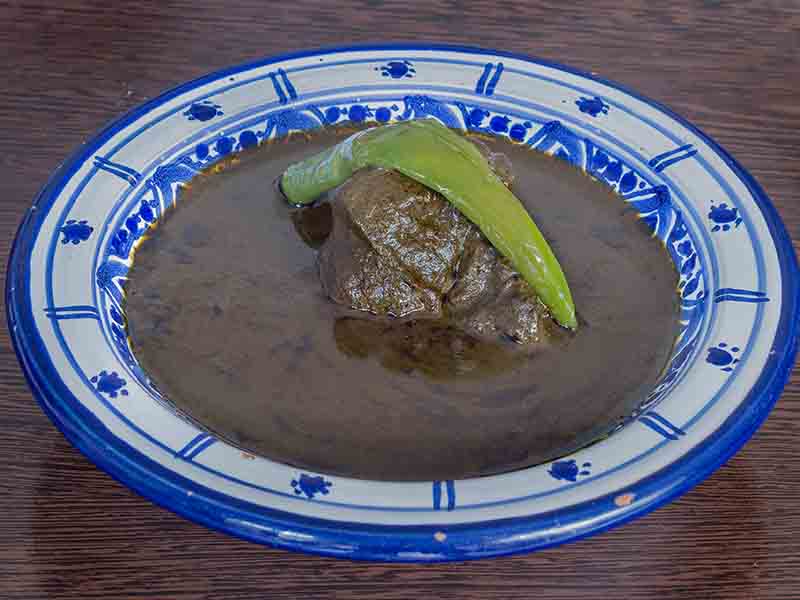 The texture of Mloukhia can remind you of cooked okra. However, it is made from Jew's mallow, leaves of Corchorus olitorius. This dish has different versions, yet nothing is as impressive as the Tunisian variation.
The locals use chopped fresh leaves instead of dried or ground ones like others. Besides, they also combine protein sources like beef with them and cook on over a dull and lasting flame from charcoal.
The name can be translated loosely as "king". That's why some people call it "the delicacy of the king". It is a must-have dish in new-year parties of the Hegira or Ras-el-am holiday.
No one can tell you about the exact origin of these leaves, and it has appeared in Asian and African countries for a long time. The tropical climate is perfect for the prosperity of Jew's mallow.
I prefer the theory that they come from India since several Jew's mallow's cousins are credited to there. The chefs usually cook stew or soup with the leaves instead of eating raw and white rice with some wedges of lemon are the missing pieces to finish the culinary art.
12. Kamounia – Beef And Liver Stew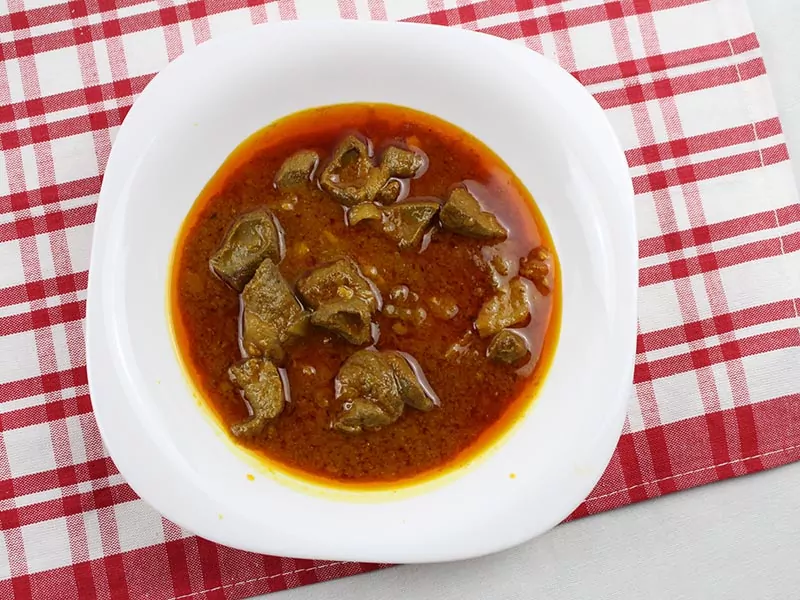 Viscera (liver in particular) is not a popular food for all people. Yet, believe me, if you can enjoy it, your culinary knowledge will be enriched so much. For the fans of this state-of-art food, you must try Kamounia.
The Sudanese also fall in love with this dish, and it has become an essential part of Sudanese cuisine. Moreover, the cooks add beef and cumin to elevate the stew to a new level.
Many people claim that this food is inspired by Mediterranean cuisine when people want to produce something easy.
Like other foods, you can find some variants that use different meat, such as lamb and spices, to make a twist and fit with other tastes.
There are 2 ways to serve it: Pour some scoops of stew on top of rice or place it next to rice. Adding some parsley, garlic, or olive oil are also simple methods to new its flavor.
Let's bring Tunisian breath to your home with Kamounia.
13. Chorba Frik – Mutton Or Lamb Stew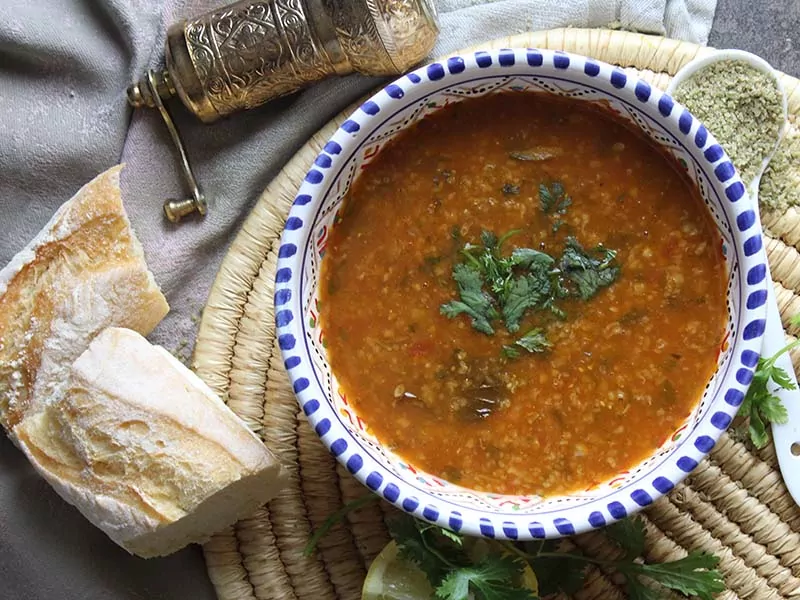 Another dish people enjoy widely during Ramadan months is Chorba Frik. This food is a traditional dish in Alegria nevertheless, the cuisine is something that can spread out quickly, and you can taste it in Tunisian.
Don't mistake that it originated from this country as the real hometown is in Turkey, and they brought it to Algeria in the 16th century. In lieu of mutton or lamb, the cooks can use beef or poultry to remodel the food.
The protein and other nutrients are packed in Chorba Frink, so you can taste it alone. Otherwise, flatbread can go well with it. A favor you just get when you visit Tunisia in Ramadan is you can enjoy Borek besides a hot bowl of Chorba Frik.
14. Asida/Aseeda – Wheat Flour Porridge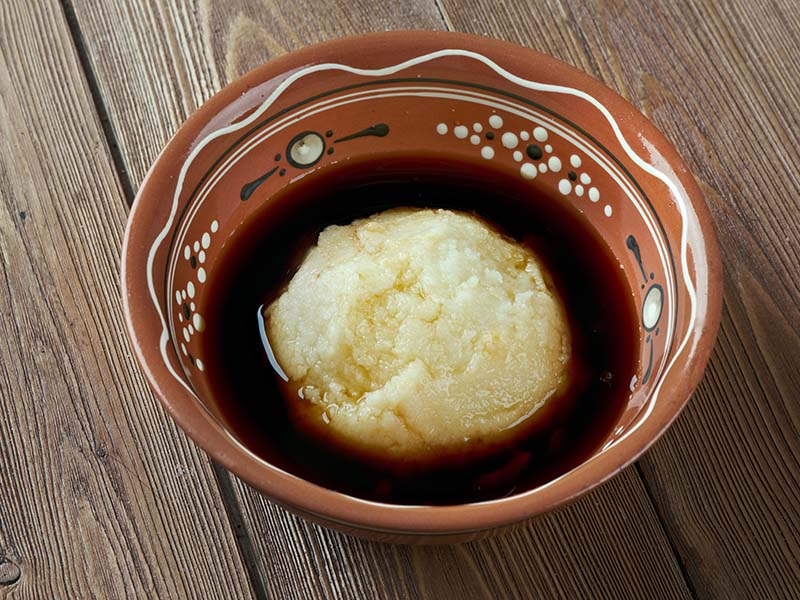 Let's close this savory category with a versatile dish – Asida. Why did I call it "versatile"? You can serve it as a sweet treat or savory food in Tunisia, depending on what side dishes you pair it with. For the former, you can choose a combination of honey and butter.
Harissa is a perfect puzzle for the latter. Moreover, people in Southern Tunisia recommend you mix date syrup or carob syrup with this porridge. The sweet one is served earlier than the other.
It was a common breakfast dish in Arabic cuisine, which is also its birthplace. The first appearance of this food was in the 10th century when being printed in The Book of Dish, written by Ibn Sayyar al-Warraq.
Besides the typical ingredient, the citizens use barley and any grains. It can be a regular food or a signature choice for festivals and other events. A French historian assumed Asida were the favorite food of the Bedouin people existing in the pre-Islamic period.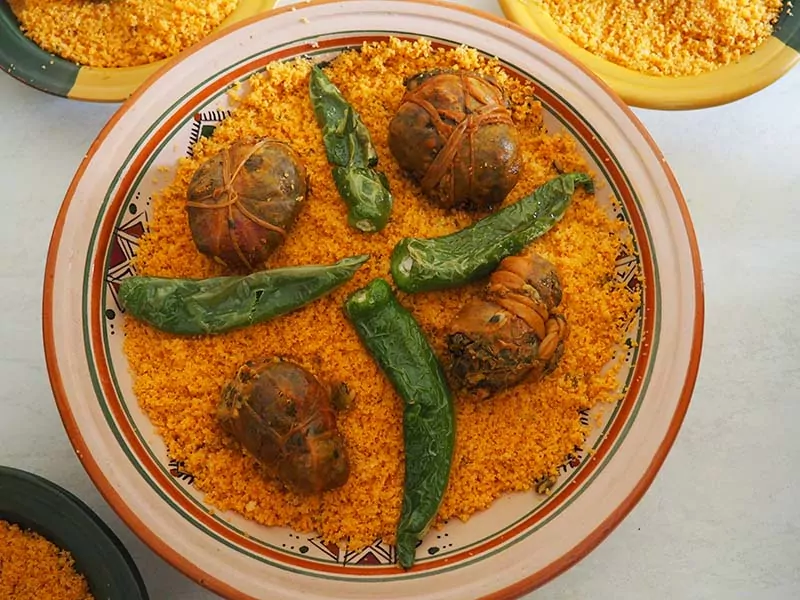 Do you know what dish can challenge the cooking skill of Tunisian mothers? The answer is Usban. This dish is one of the nutritious Tunisian dishes as it contains different nutrients such as proteins, minerals, vitamins, and more.
Usban is a traditional Tunisian sausage prepared from lamb viscera such as stomach, liver, lamb meat with a few veggies and spices. The local mothers usually prepare it for Eid Al Adha day, and it requires much time to finish this task.
The appearance of Usban was recorded in some documents in the 13th century AD. Before stuffing the lamb stomach, the chefs need to cut all ingredients carefully to create a beautiful shape. The sausage is served with a sauce made from tomato paste, garlic, onion, and more.
Quickly Fulfilling Meals With Tunisian Bread Variants
The food loved by almost all Tunisian families is the bread and other dishes made from it. The Tunisian bread recipes have been a long story, and the locals have created numerous dishes to serve with it. Cereal cultivation allows people to develop bread variants.
16. Brik – Stuffed Filo Pastry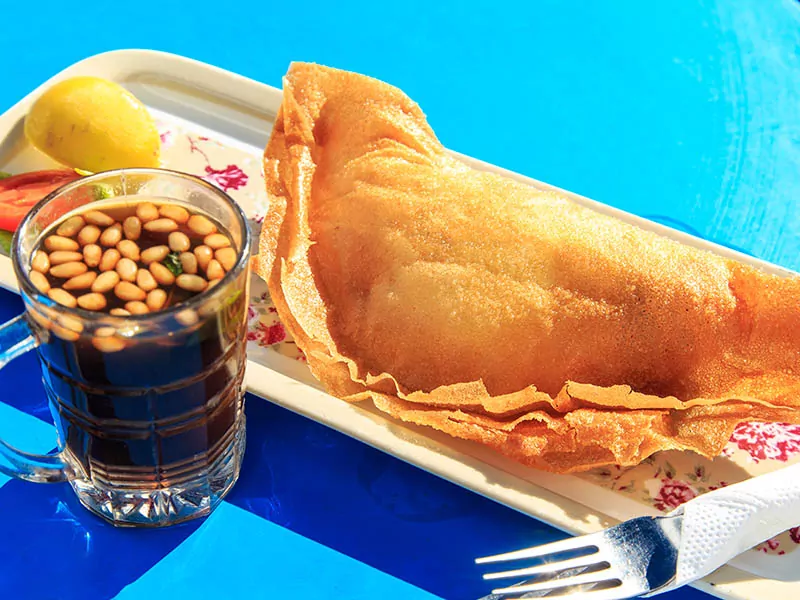 Brick a l'oeuf is the most famous variation of Brik; however, I still recommend you try this Brik version when coming to Tunisia. It comes in a short name, but the name's history is quite complicated.
Many people believe the "Brik" is credited to the "borek" word in the Turkish language. Meanwhile, the origin of "borek" is "bur", and you can translate it littery as "to twist" in English. The outer of it is made from filo pastry having thousands of layers.
Brik is also refered as Byrek in tasty Albanian food. Overall, it is so well-known in Tunisian that every restaurant you enter sells this food. It is also popular with Tunisian Jewish inhabitants living in Israel who play an important role in exporting Tunisian cuisine.
Although there are countless fillings you can realize, all of them are produced in the same preparations. After the chefs take it from deep-fried oil (commonly), they will garnish it with capers, cheese, or Harissa to level the overall flavor.
If you fell in love with Brik, you could try to cook it at home with simple steps.
17. Fricasse – Filled Mini Sandwiches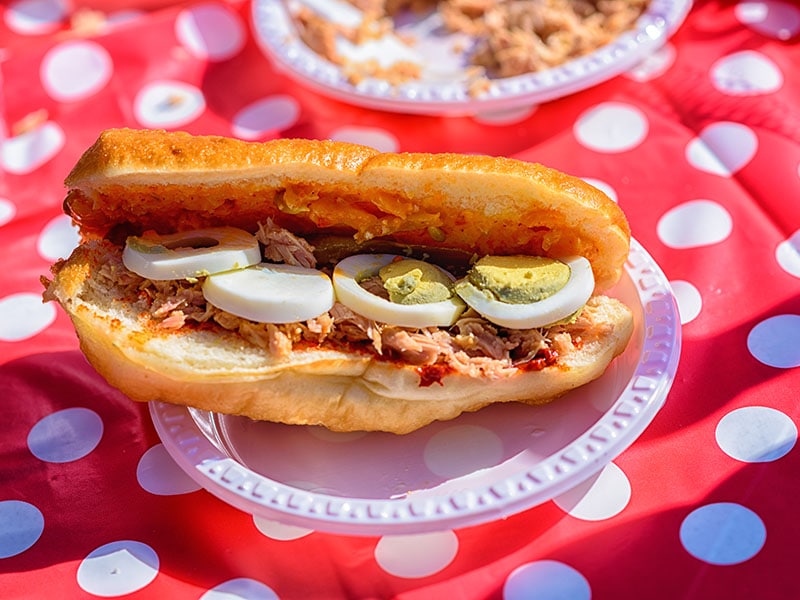 What is a dish you can purchase easily from a vendor in Tunisia? The answer is Fricasse. This traditional dish can also appear in some fast-food restaurants as the ingredients cannot be simpler, but its flavor will seduce you at first bite.
Inside an oval-shaped bread, cooks will stuff potatoes, Harissa, tuna, and other ingredients. To impress the tourists, they can add capers or Citron Beldi to create a unique taste. After reading the information, can you differentiate Tunisian Fricassee from the Fricassee in French gastronomy?
The latter is a gravy dish, while the former is a sandwich-style dish and served as an appetizer to stimulate your taste. Many people claimed the Jewish citizens created this food in the 19th century when a woman stuffs different ingredients in fried donuts.
18. M'semen – Flatbread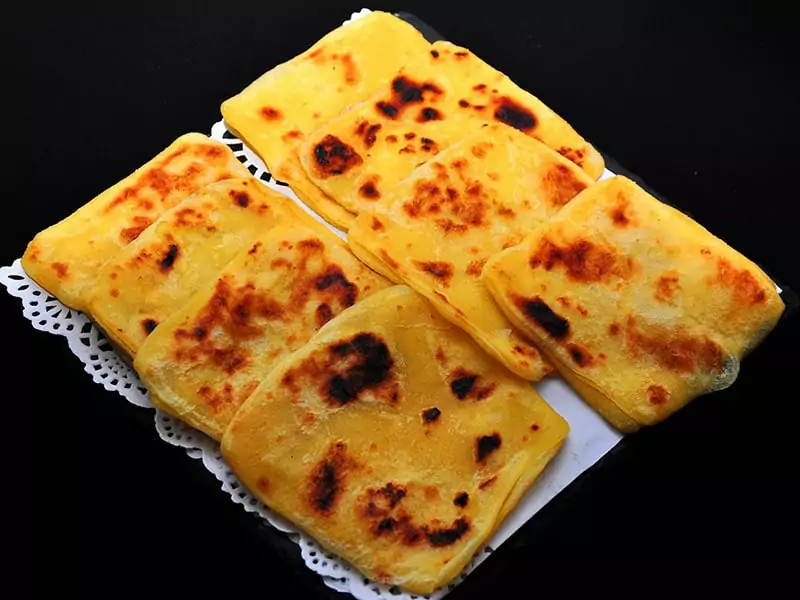 M'semen is a sourdough flatbread in Tunisia, Algeria, Morocco and comes from the Maghreb. The chefs use semolina flour, durum wheat, and more to create a smooth mixture. After kneading dough, people need to shape it into squares.
People fold M'semen to create 8 layers inside, and they sprinkle semolina flour between layers to prevent them from sticking. There is a variety of this dish called "Malwi". It is popular with people living in northwest Africa. Basically, it is quite similar to Somali Sabaayah.
There are 2 options to prepare side dishes. The first choice is honey, a cup of mint tea, or coffee to have a quick and aromatic breakfast. The other is to stuff it with meat (khlea), tomato, and onion to create a savory and nutritious meal.
8 Tunisian Treats For Sweet Tooth
Don't forget to soothe your stomach after trying a lot of savory dishes with some Tunisian sweet treats. The locals can process a ton of delicious food from the simple components. Do you believe my words? Let the following dishes prove for you.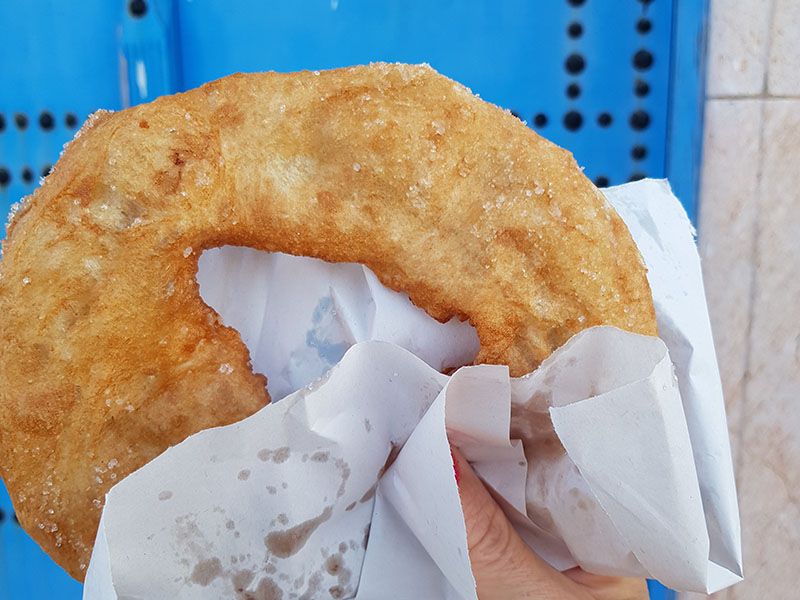 If you are too familiar with Western donuts, why don't you taste Tunisian ones? You can find under 2 titles "Bambalouni" or "Bambaloni", so don't be confused when seeing them. In Libya, people call it "Sfinz".
This dessert is simply a dough deep-fried and dipped into sugar or honey to add sweetness to it. You can enjoy it whenever you want, yet I recommend 2 ideal times: breakfast and at the end of the day. The breakfast will be perfect with a cup of coffee.
Although these donuts are especially famous with people living in the Sidi Bou Said village, you can get them from fast-food restaurants throughout this country.
Don't forget to taste several famous street foods, especially Bambaloumi.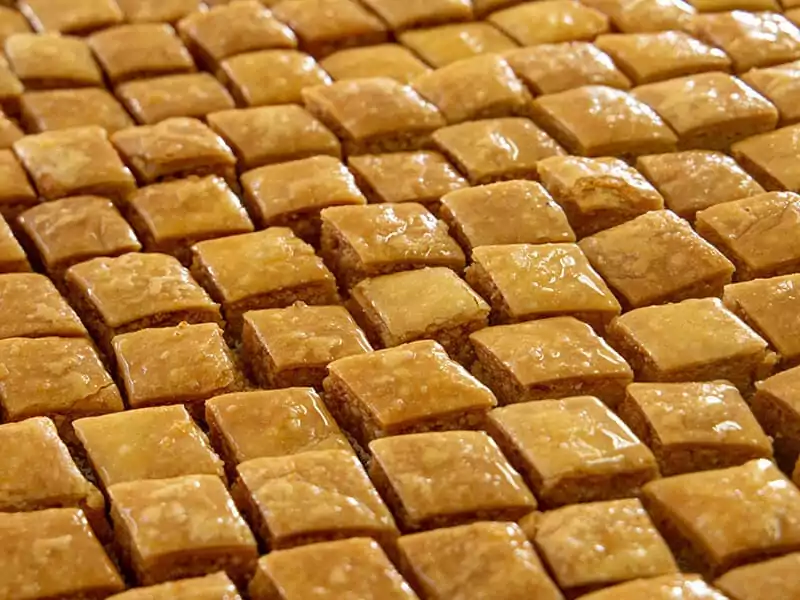 If you love to enjoy sweet treats with numerous thin layers, you should not skip Baklava when visiting Tunisia. This country is one of the areas consuming this dessert popularly, such as some Maghreb nations, Arab cuisine, and more.
This food simply contains filo pastry and is filled with chopped nuts and syrup or honey. These are natural sweetness, so you can freely enjoy them without paying extra attention to the scale.
The origin of the treat is still a big question, yet its flavor will make you forget about this problem.
Baklava is a borrowing word from Ottoman Turkish. It is easy to understand since its ancient name, "Baqlawa", came from Turkish. The recipes have been developed in the royal kitchens in Istanbul. The locals usually serve it on the 15th during Ramadan months.
At this event, the Sultans give Baklava to the Janissaries to hold a "Baklava Alayi" ceremony.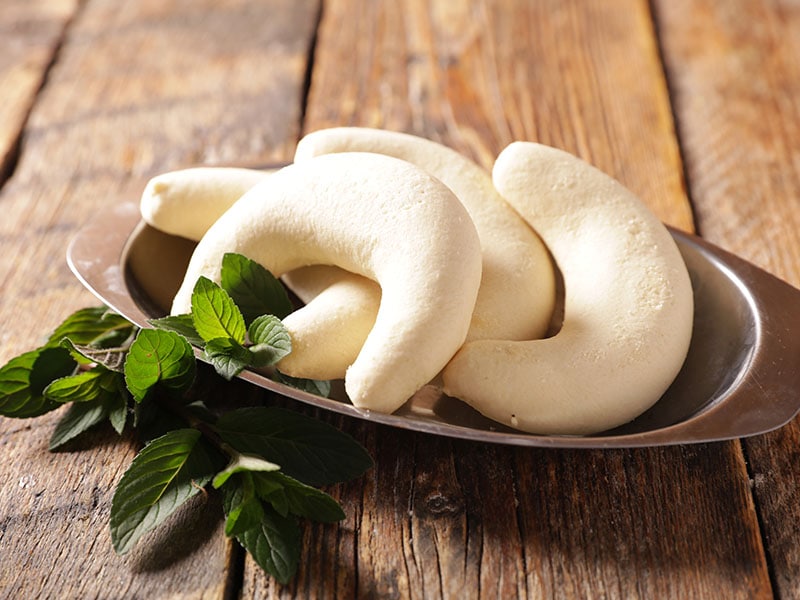 It is hard to find a pastry that has a classic and unique appearance like Cornes De Gazelle Tataouine. This dish once belonged to Moroccan cuisine with the shorter name – Corne De Gazelle. But now it has gained fame from all over the world, resulting in various names.
Inside a special shape is a sweet filling made from almond paste. The outer is only made from the highest-quality almond powder to keep its authenticity, special taste, and texture. This food is flexible as people can serve it in traditional ceremonies or Eid and Ramadan months.
When visiting Tunisia, you not only find the sweet version but also order the fried one under the "Mahchi" name. Interestingly, the Moroccans call beautiful women "Gazelle"; therefore, the cooks have to be careful to shape the dough perfectly.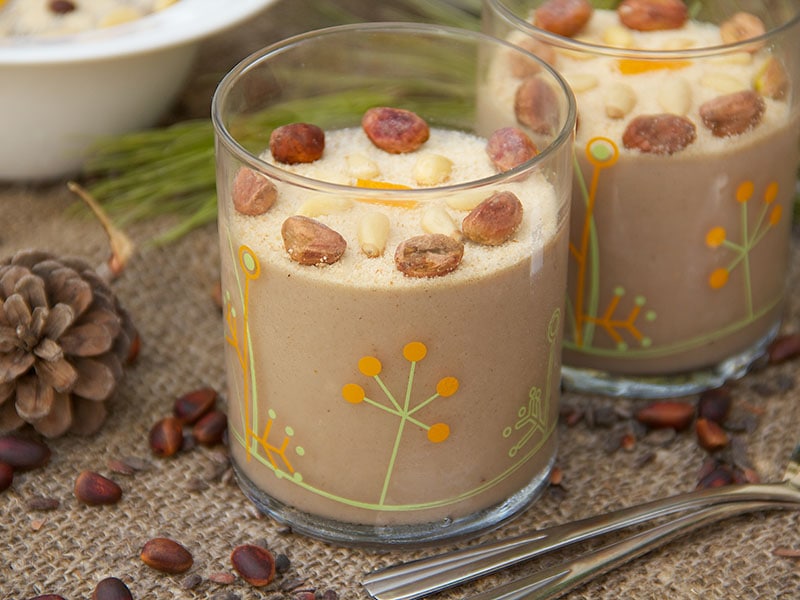 In case you are bored with pastry-based desserts, let Assidat Zgougou breathe a new wind to your taste buds. This is a long-established Tunisian dessert that will win your heart after the first try. It is served in a glass or bowl and has 3 different layers.
The lowest layer is a mixture of ground "Zgougou", meaning Aleppo pine grains and water. The middle one is concentrated milk, and the cooks cover the top with seeds or ground nuts. These beautiful glasses of dish dessert usually appear in the Muled festival.
In this event, people will give each other a bowl of Assidat Zgougou to celebrate the birth of Muhammad together. Therefore, they always update new decorations and ingredients to create a unique flavor and eye-catching look.
23. Makroudh – Date Pastries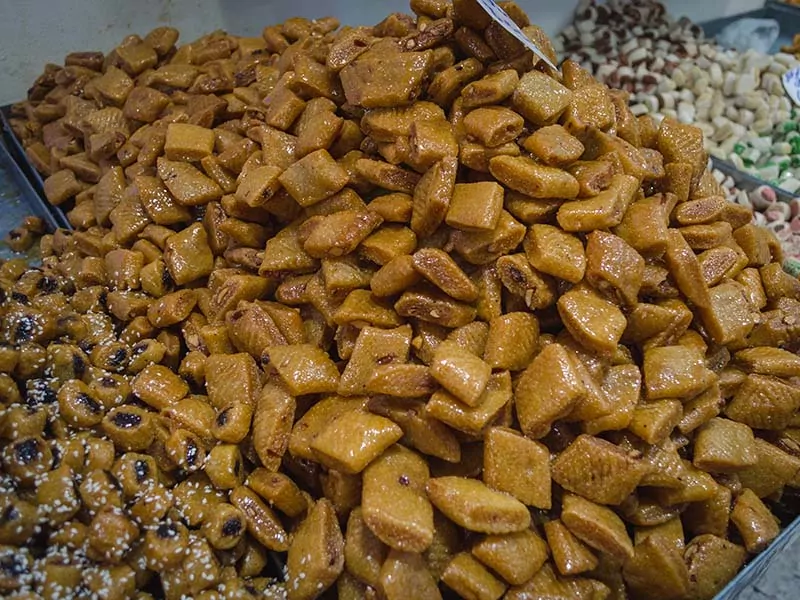 Have you ever imagined that you could travel to Northern African countries just with a dessert? It is possible when you taste Makroudh, made from the goodness of the area: semolina, dates, olive oil, and nuts.
Its birthplace is still a controversial topic. Some people believed it came from Mzab and Setif in Algeria, while others claimed Kairouan, a city of Tunisia, gave birth to Makroudh.
I prefer the latter theory as the first Makroudh festival was held here in 2008. It is a traditional dish for Eid Elfit, Ramadan, and other important occasions.
In Tunisia, you can easily find the 2 most well-known Makroudh versions: Kairouan Makroudh and fresh-fig-filling variant. Although the Kairouan appeared after the other, they are consumed equally.
Everybody can imitate the flavor of Makroudh like the local version. Make it and enjoy your product.
24. Zrir – Sesame Butter Dessert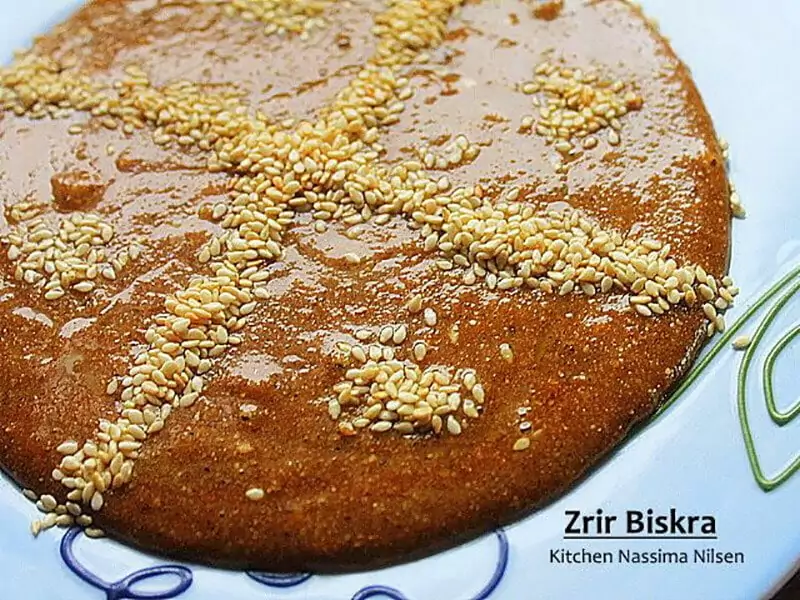 The arrival of a baby into the world is an important and happy event for every family. In Tunisia, the family members frequently prepare a sweet treat to feast on their guests, Zrir. New mothers should make this dessert to express respect and warm welcome when their guests visit the newborn baby.
Moreover, the locals believe this sweet treat can restore the health of new moms after undergoing the pain and promote milk production. Each family has its own versions; some people make it soft, creamy, and caramel-like color, while the others like a hard texture.
It is a meaningful dessert, and people need to transform sesame and hazelnuts into paste form.
Traditionally, this treat is poured into compact and transparent glasses to serve the guests. They need a spoon to take the dessert out of the containers.
25. Jalebi – Sweet Deep-Fried Dough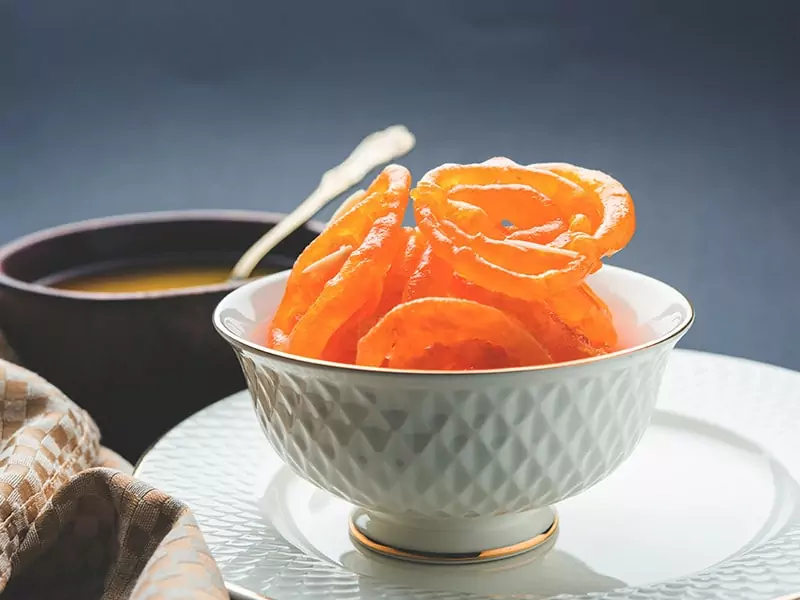 Jalebi has appeared throughout many places with different varieties such as South and West Asia, Africa, India, and more. Basically, it is a deep-fried dough and is sweetened with various condiments.
In Tunisia and other North African nations, the locals use honey syrup and rose water while Souther Asia soaks these fried dough sugar syrup. Each cooking method will bring the individual flavor. You can enjoy it when it's hot or cold.
I prefer the cold version as I can taste crystallized sugar/honey that is crunchy. There are numerous theories about the origin of Jalebi. Some people say it has roots in Middle Eastern under "Zalabiyeh" name.
Some historians assume that the first Jalepi existing in Western Asian cuisine was printed in an Arabic cookbook in the 10th century. However, Nagma Malik claims its origin might be in Turkey and brought to Tunisia before becoming popular in India.
The moderate sweetness is enough to win worldwide hearts no matter where it comes from. It is considered a signature sweet treat of Beja, a city in Tunisia.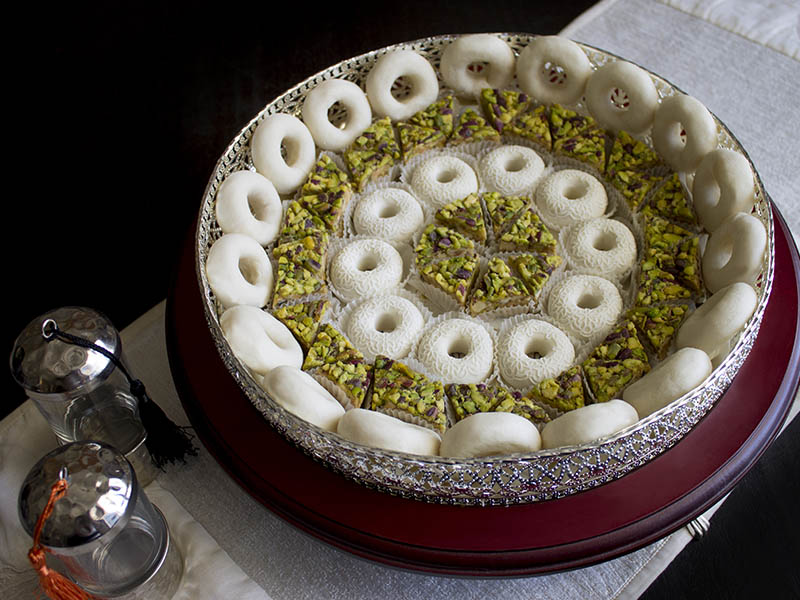 Besides different pastry sweet treats, the Tunisians also love Bjawia – a dessert made from roasted dried fruits. To create a uniform shape, the cooks mix them with soft syrup and pistachios, then cut them into small pieces.
It originated from Sfax, a city in Tunisia. Although this food has appeared since the ancestors, its values are still maintained and inherited by Tunisian women. Before the late 1960s, each family had their own recipes, and they never purchased this treat from bakeries.
In the past, people only prepared Bjawia for important occasions as they used premium-quality and healthy dried fruits and nuts, such as almonds, hazelnuts, and more.
But now, when people become richer, almost all families can enjoy it, and they believe Bjawia is a joyful and hospitable symbol.
Exploring Tunisia Through Its Dishes Is Never A Bad Idea
Each country will have its own culture. Culinary is one of the elements that obviously reflects this aspect. The more dishes you taste, the more interesting information you can explore.
Tunisian cuisine is built on blending its signature factors with others from different countries. You can enjoy more Tunisian foods, yet these 26 dishes are the must-try ones. Don't forget to tell me about your thoughts after trying them in the comment box chat below.
Probably you and I are the same that fall in love with these foods after the first scoop. Like and share this post to prove that I am correct. Have a nice day, my friends!