Peruvian foods are full of delicious treasures waiting for you to explore. Since this country offers numerous delicacies, you might find it hard to choose the best ones to try on your upcoming trip.
Understanding the difficulty you face, I have come up with this article. It is a list of typical and outstanding Peruvian recipes of this diverse cuisine. I am sure you will love it, let's discover now.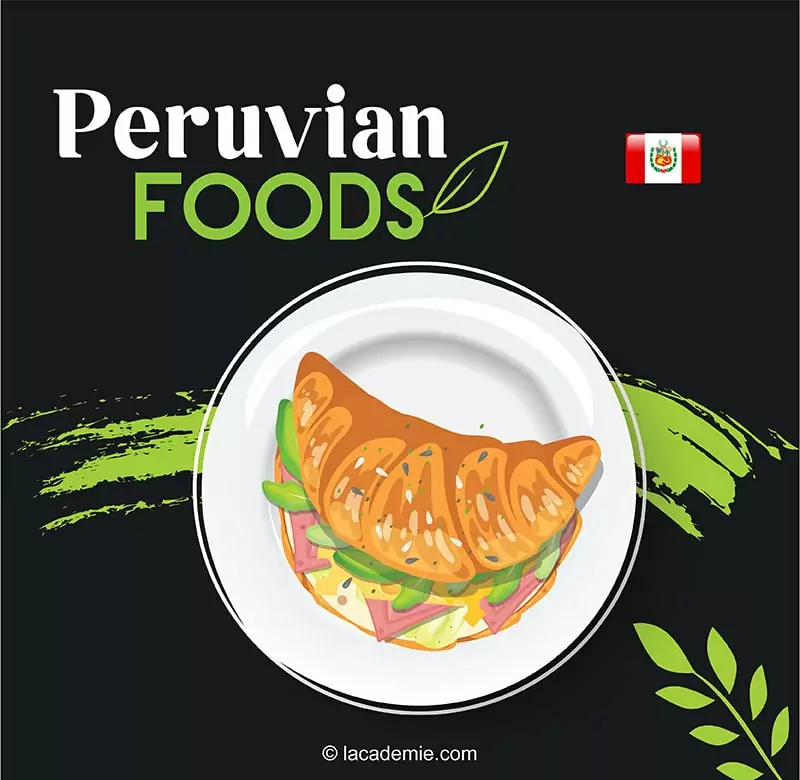 The main meal always plays an essential role in the diet. The main dishes need to replenish nutrients and fill the stomach. Choose from the following great Peruvian dishes to add to your main course menu.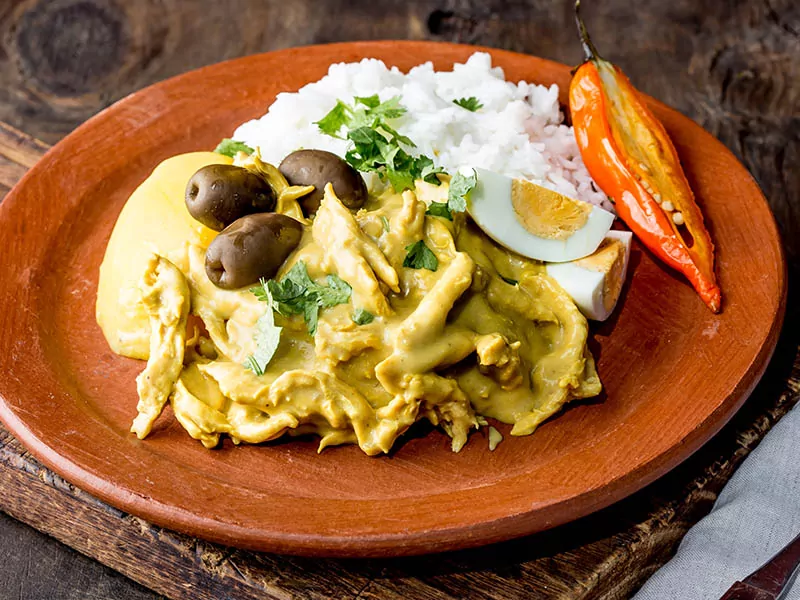 Replenish nutrients with a quality Peruvian breakfast recipe. This delicious dish results from stewing chicken with yellow chili peppers, garlic, walnuts, and other seasonings. Its flavor is pretty mild, and the yellow pepper provides a moderate spiciness.
The Maja Blanco inspires this fantastic food made with chicken, rice, and almonds. When African slaves brought it to Peru in the 16th century, Peruvians modified the ingredients to give it a distinctive flavor and suit the local palate.
2. Anticuchos – Grilled Beef Hearts And Livers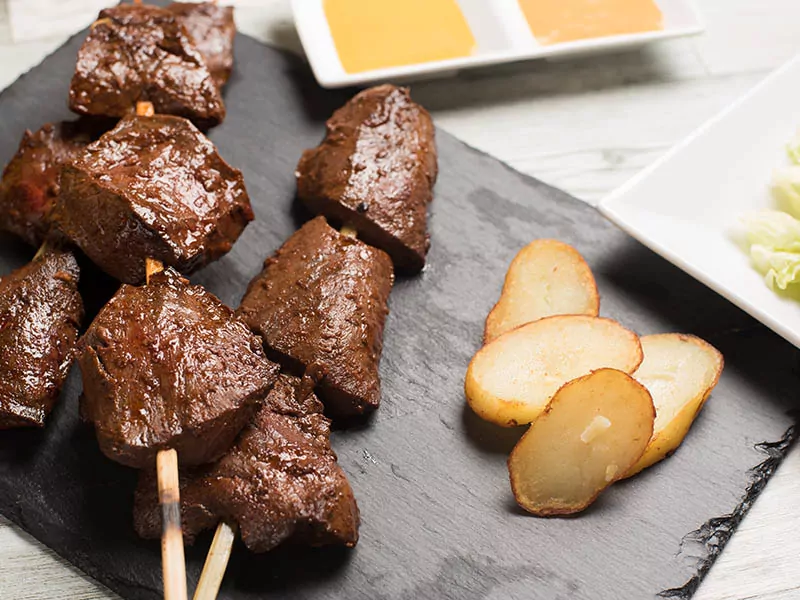 When you look at Peruvian anticuchos, it is easy to think of shish kebabs or skewers. However, the main ingredient of this dish is not chicken or beef. Anticuchos are beef hearts and livers grilled over a charcoal fire.
This recipe originates from the Andes region and has a long association with the people of Peru. A variation of this food in Bolivian cuisine combines roasted potatoes and peanut sauce. This food is most consumed in July and Peru's Independence Day.
Take a trip to Peru to taste the delicious grilled Anticuchos.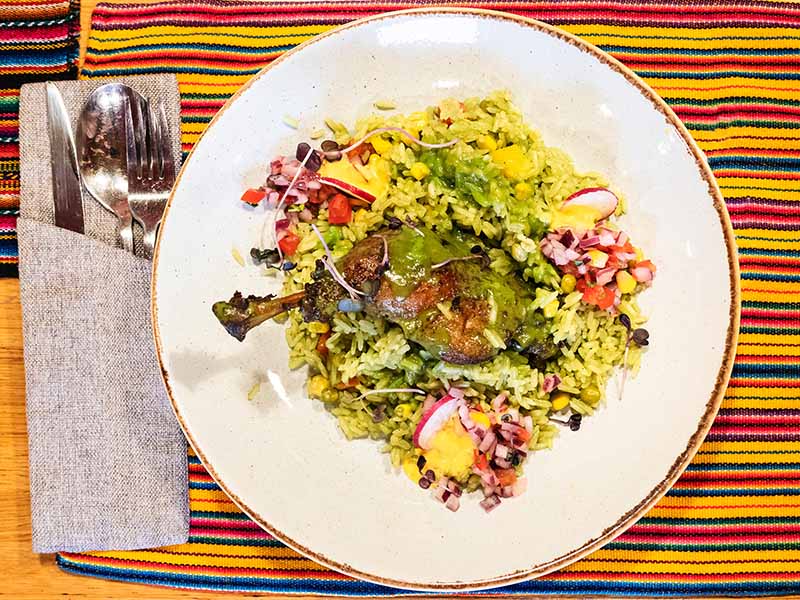 I think your Peruvian lunch recipes will need Arroz con Pato to fill your empty stomach. This famous food combines rice and duck cooked with other ingredients such as onions and cilantro to make a rich flavor.
This traditional recipe is the pride of Northern Peruvian Chiclayo cuisine. In particular, in this region, the rice will have a unique green color when the chef cooks it with spinach and cilantro.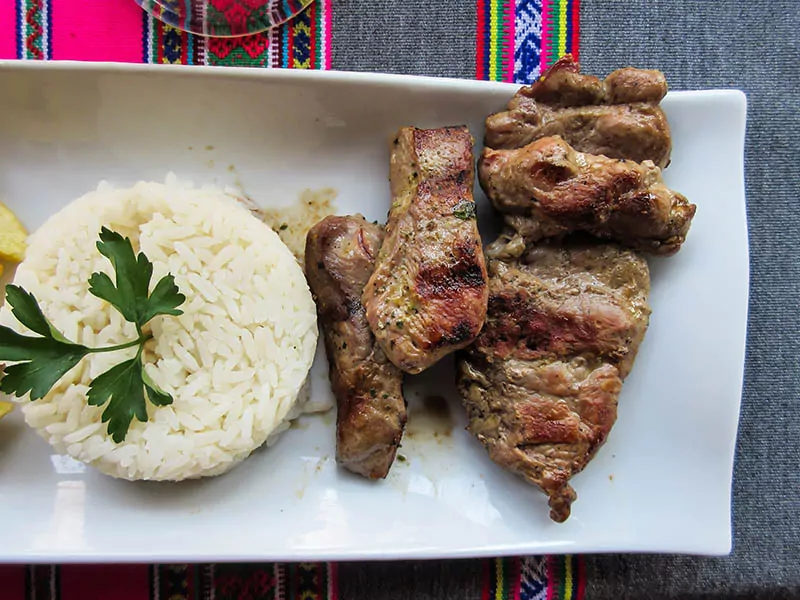 Alpaca meat is a food with a long tradition in Peru. In terms of texture and taste, it is pretty similar to beef steaks. You will feel different softness and flavor when enjoying other parts of alpaca meat.
You can go to Cusco city or the Andean mountains to enjoy the authentic taste of this meat. The Peruvians domesticated alpacas since pre-Incan times for fur and meat. Its meat is only used for vital occasions because the amount of meat is small.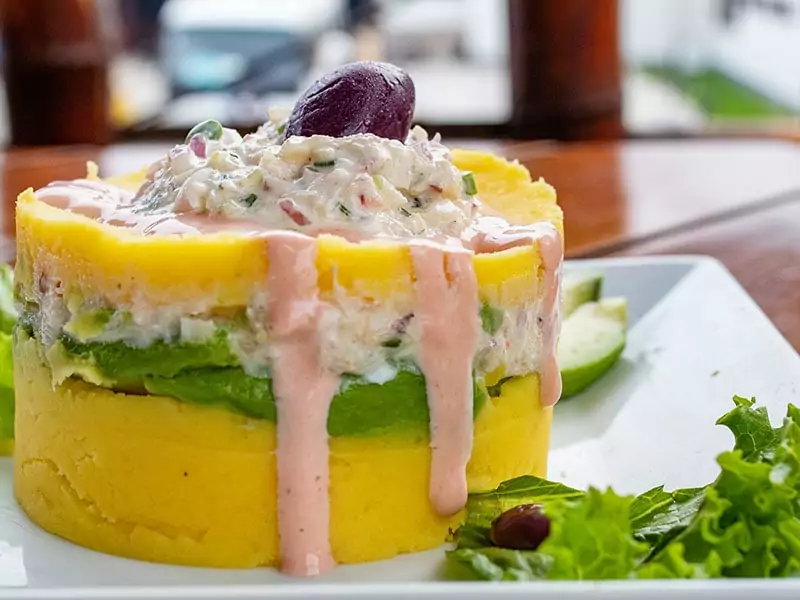 Referring to the traditional dishes of Peru, it is impossible not to mention Cause Rellena. At a glance, it was pretty similar to a cake stuffed with veggies. However, it is a recipe made up of 2 layers of mashed potatoes and the filling in the middle.
You may find chicken, veggies, or seafood stuffed between potatoes. The name "Cause Rellena" means "stuffed cause" when translated into English. In addition, its name also has an interesting story hidden behind it.
When Peru's wars with Bolivia and Chile broke out, food shortages were frequent for the Peruvian army. So, the women gathered potatoes and veggies to make this food. When they gave this dish to the soldiers, they said, "This is for the cause", and the name was born.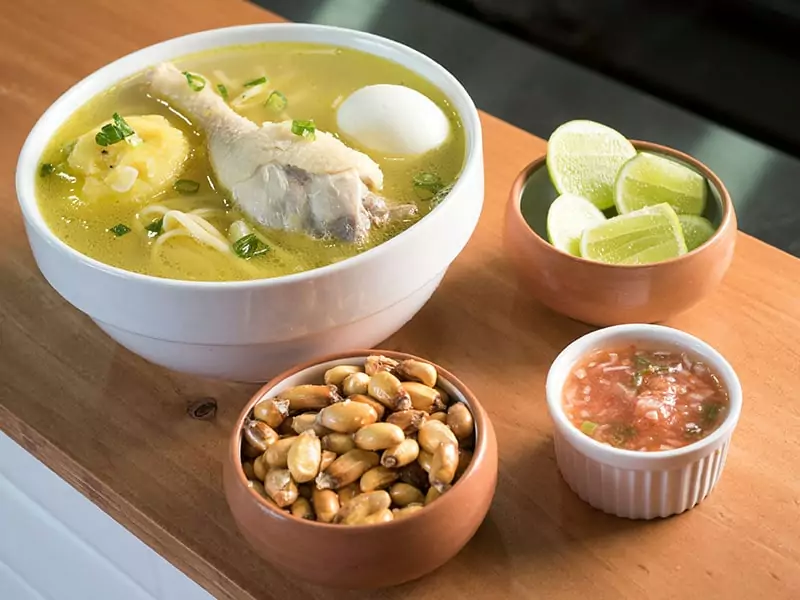 Caldo de Gallina is one of the oldest dishes of Peruvian cuisine. It is a soup made from hen meat, noodles, boiled eggs, and potatoes. You will enjoy many different types of potatoes in this food as Peru has more than 3500 varieties.
The hens are cooked for many hours to bring out the characteristic flavor of the meat. Peru has another variation of soup called Caldo de Pollo, which is cooked with chicken. However, do not confuse them as one.
Since hens will be raised in a natural environment and eat organic foods, their meat will be tougher and richer. Whereas the chicken in Caldo de Pollo will not be the same. This soup will help warm the body on cold days and relieve nervousness.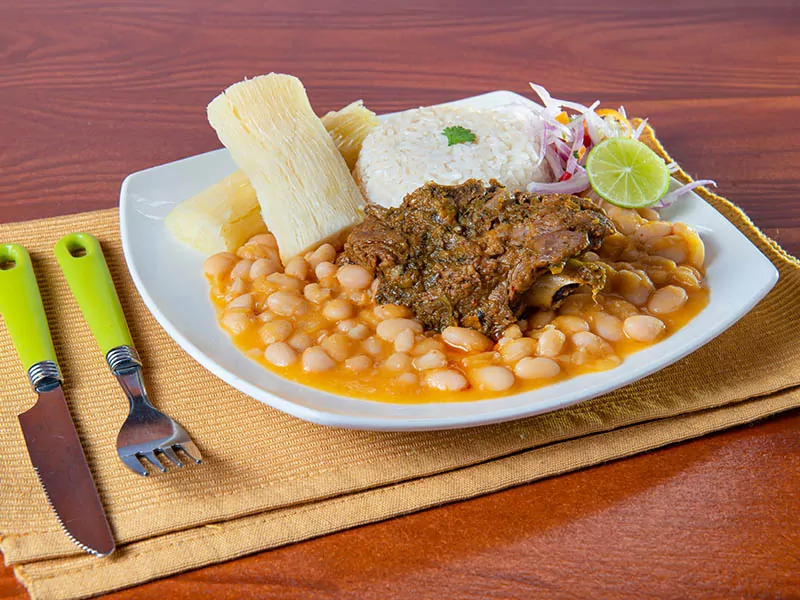 Seco de Cabrito is a dish of Arabic origin, and the Spanish colonists brought it to Peru when colonizing this country. Initially, it was made up of goat meat and herbs.
This food is pretty standard in the Northern region of Peru. In traditional Angolan cuisine, there's a similar stew called Caldeirada de Cabrito.
Today, chefs have brought in various ingredients and seasonings to add flavor to this goat stew. So, it is a perfect complement to the Peruvian dinner recipes menu. In particular, the Peruvian version has the appearance of beans.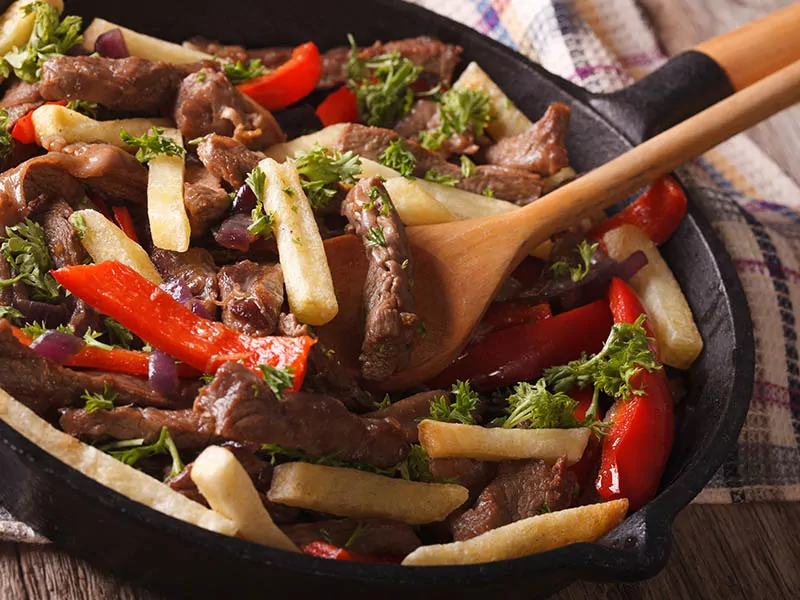 Lomo Saltado is a beautiful dish that I highly recommend when visiting Peru. It is a blend of Chinese cuisine and traditional Peruvian cuisine. You will enjoy tasty beef strips sauteed with onions, peppers, tomatoes, and other ingredients.
This recipe is inspired by the "chifa" tradition, also known as the Chinese part of Peruvian cuisine. When Chinese immigrants came to Peru in the 19th century, they brought this food with them.
However, the Peruvians have added potato fries to the food to set it apart from other popular stir-fried beef dishes. Your meal will be fuller when you eat it with rice.
Let's try Lomo Saltado to understand more about its taste.
9. Tacu Tacu – Refried Beans And Rice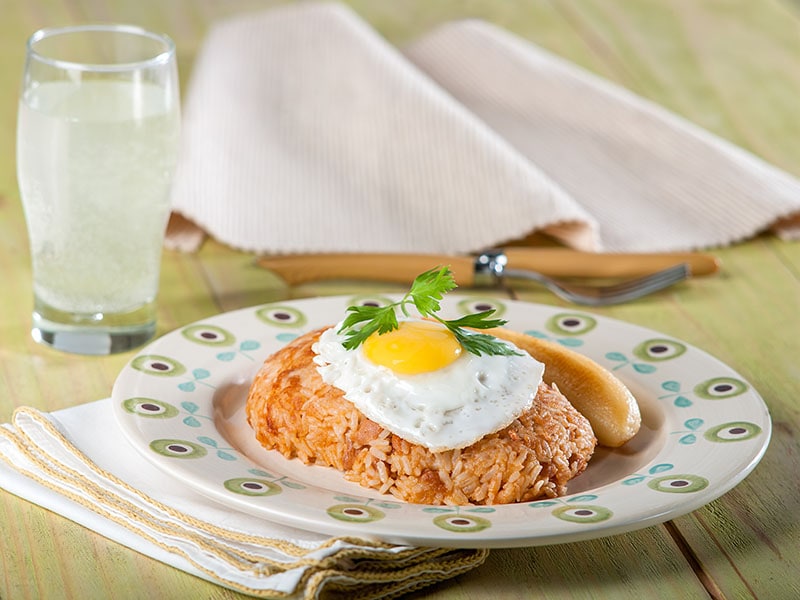 Tacu Tacu results from the creation of the slave class in Peru. African slaves satisfy their hunger by collecting leftovers to make a healthy and nutritious Tacu Tacu. They also have affected various foods of Peruvian cuisine.
In Peru, the version of Tacu Tacu with beans and rice is most popular. You'll also come across a similar dish called Casamiento in Salvadoran native cuisine.
Peruvians usually eat it for breakfast with a fried egg. Therefore, do not miss this wonderful dish when you have the opportunity to come to Peru.
10. Cuy – Fried Guinea Pig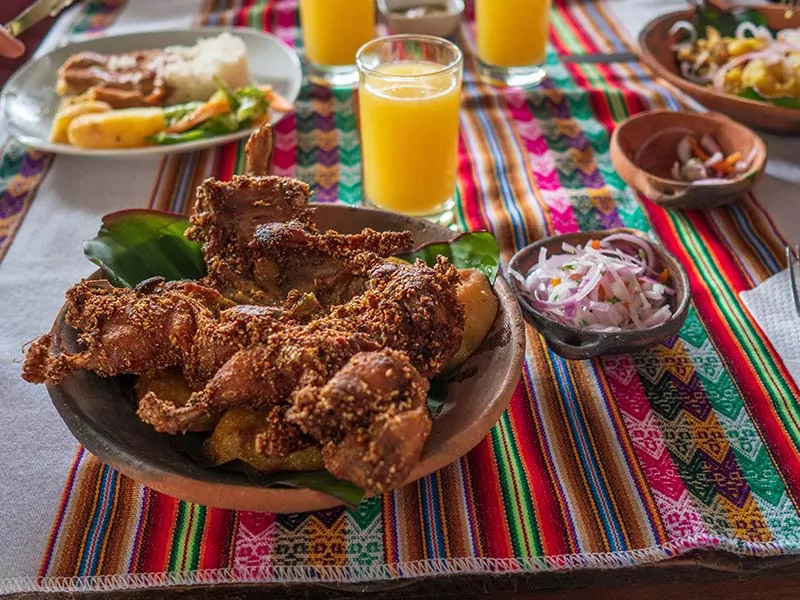 Although this food is often called guinea pigs, its main ingredient is not precisely pigs, and it is not from Guinea. This is a famous recipe of Peruvian cuisine made from a mouse that resembles a hamster. I believe you will love it on the first try.
Peruvians have been eating this special dish for over 5000 years, and it was a favorite among the ancient Incan nobles. They believe that this food represents luck and sacrifice. It is believed to have originated in the Andean region.
It is time to taste the famous Peruvian fried guinea pig.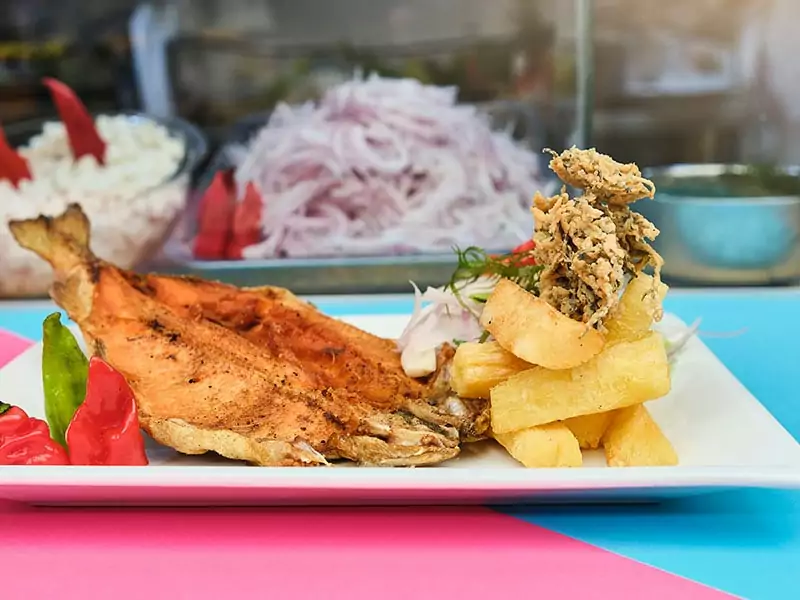 Trucha Frita or fried trout is a great dish you should not miss. It is native to the Andes mountains of Peru, the site of the largest trout reserves in Peru. The freshwater here is suitable for the growth of fish.
You can find many trout farms in cities in the Andes. When coming here, you will have the opportunity to experience the feeling of catching and cooking fish yourself. Peru has the largest share of rainbow trout exports in the world.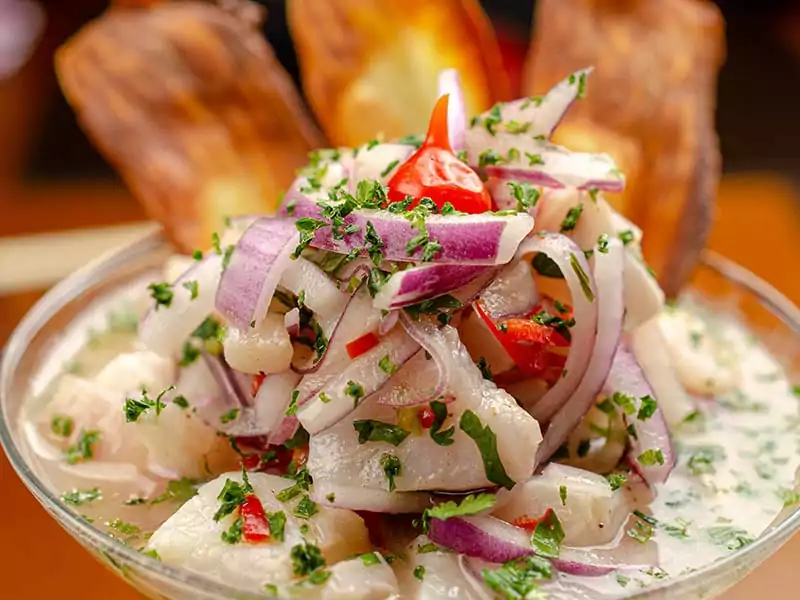 Ceviche is one of my favorite dishes in Peruvian cuisine. It is believed to have appeared from the Moche people in Northern Peru 2000 years ago. However, other opinions suggest that it was born during the colonial period in Peru. Outside Peru, the Panamians also love this dish.
Today, the dish has made its way to other countries in Central, North, and South America as well as the Caribbean. It's one of the most loved dishes in Chile and Ecuador.
The deliciousness of this food depends on the freshness of the fish and the quality of the lime. Peruvian lime is really suitable for this food because it can cook fish and kill risk bacteria.
Restaurants in Peru often pair it with cold sweet potatoes to make a perfect appetizer for hot summer days. Meanwhile, this food famous throughout the Americas is served with tortillas in Mexico.
Listen to some information about Peruvian Ceviche and how to cook it.
Immerse Yourself In The Yummy Peruvian Street Dishes
Street food is always an aspect that many tourists love to explore because they can find many unique dishes and better understand the local culture. If you are looking for the most famous Peruvian street delicacies, do not miss this section.
13. Mazamorra Morada – Peruvian Purple Corn Pudding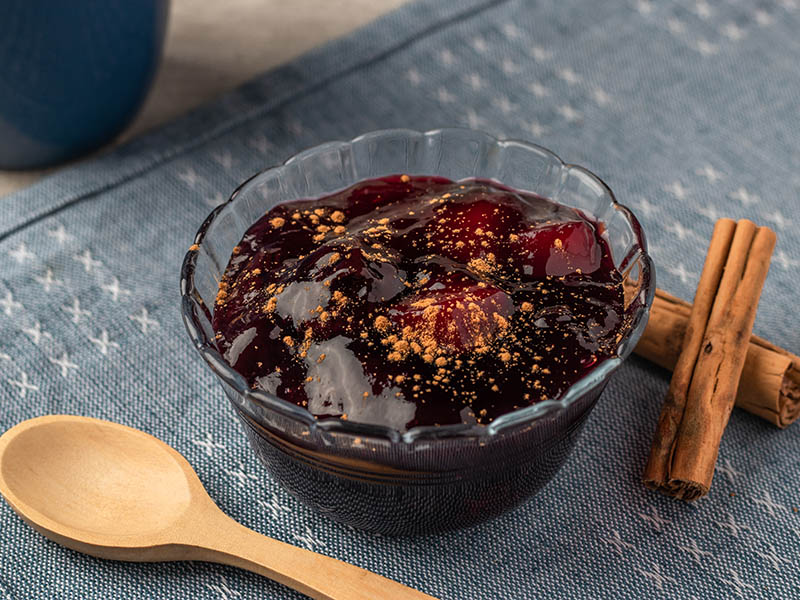 Have you heard of purple corn pudding? It is a unique and outstanding dessert of Peruvian cuisine. The dish consists of a mixture of purple corn starch and spices like cinnamon, cloves, and diced apples.
This sweet recipe dates back to pre-Hispanic times. It is considered a Peruvian creation, although the food has its roots in Arabic and Spanish culinary cultures. This is a product of cultural fusion during the colonial period.
14. Picarones – Peruvian Doughnut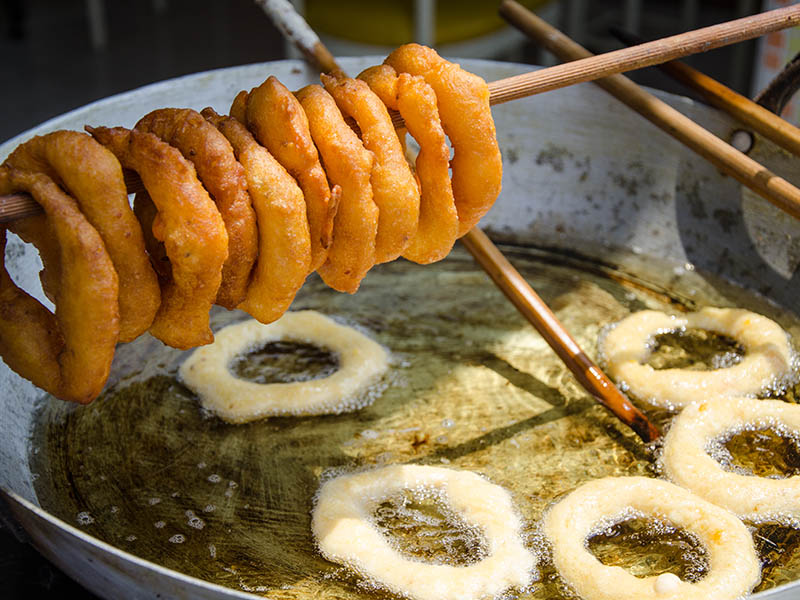 You will easily come across circles of Picarones on the streets of Peru. This unique donut variety was born in Lima, and it looks pretty similar to the Spanish colonial Bunuelos. The Spaniards brought it to Peru, and African slaves modified it to create today's picarones.
Pumpkin and sweet potatoes are added to give the dish a mild sweetness. When you bite into Picarones, you will feel the crispiness of the outer crust and the softness and chewiness of the flesh. It will be yummier when served with a syrup made from chancaca.
Expand your knowledge with the valuable information about Picarones.
15. Butifarra – Ham Sandwiches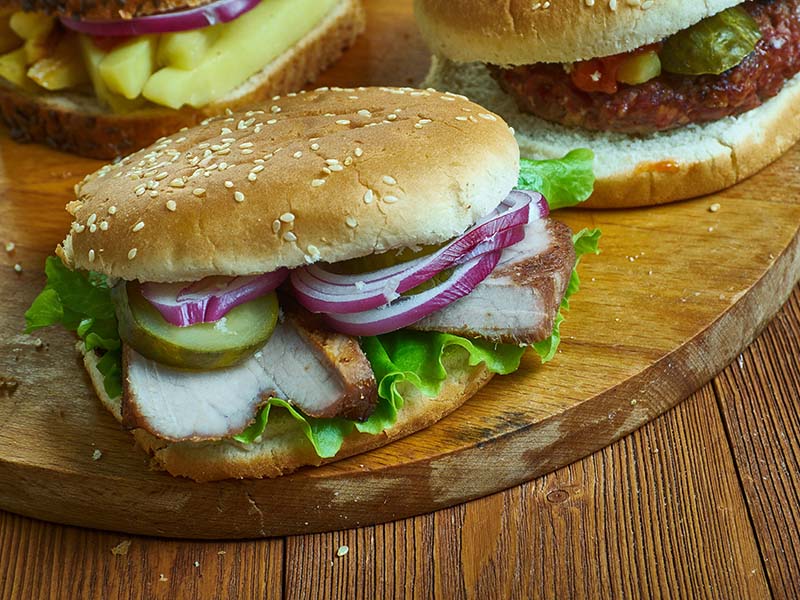 You can fill an empty stomach after a long night with this Peruvian breakfast recipe. Butifarra is also known as Peruvian sandwiches and is often sold on the streets of Peru. It is also called by other names, such as Jamon del Pais or country ham.
This is a famous pork sandwich recipe here. Pork, onion, and pepper will be sandwiched between two slices of white bread. Vendors will place mobile carts on the sidewalk along with a plancha to bake bread.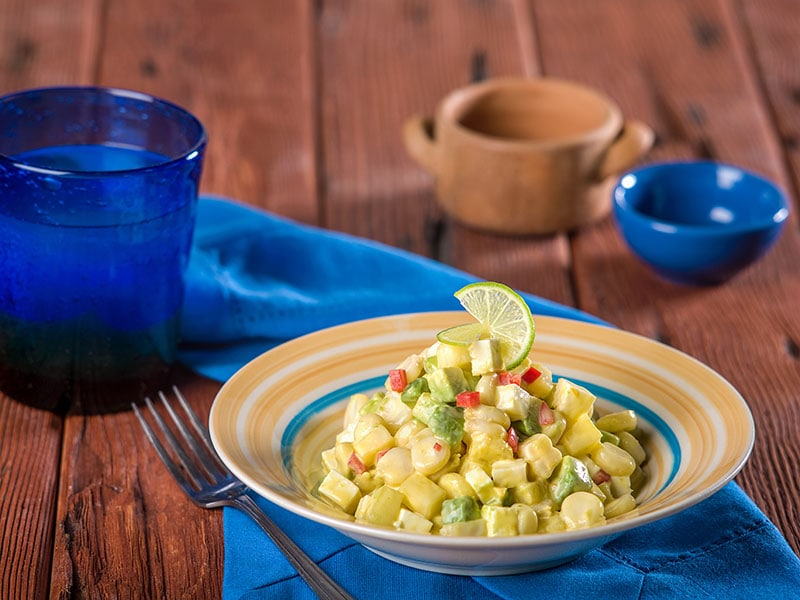 When it comes to the wonderful foods made from Peruvian corn, you should not ignore Choclo con Queso. It is served as an appetizer at parties or a snack on the streets of this beautiful country. Nutty taste combined with creamy cheese creates an alluring whole.
Choclo, also known as Peruvian corn, is a large kernel variety native to the Andes mountains. It became popular throughout the Americas. In Bolivia, it is used in recipes for Humutas, and you will also find it in Colombia's Choclo Arepas.
17. Peruvian Tamale – Corn-Based Dough Steamed In Corn Leaf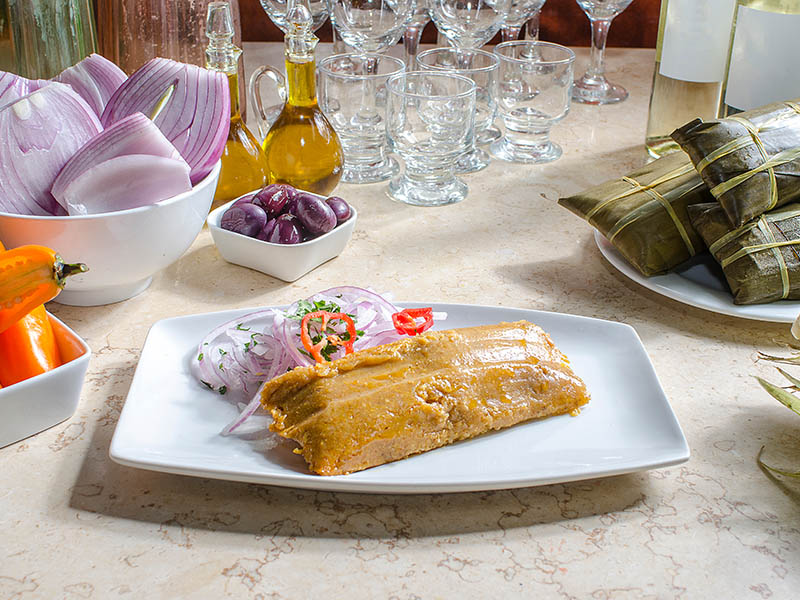 Tamales are a typical dish in Latin American countries. It comes in various shapes and sizes, with corn, potatoes, veggies, and meats wrapped in banana leaves. Peru has a version of Tamales with its own identity.
Unlike the Tamales found in the culinary culture of Mexico and other Hispanic countries, the Peruvian versions use white or yellow corn. This is an ideal snack sold all over the street in Peru. This is the food that every tourist to Peru wants to try.
Kick off your day with a mouthwatering Peruvian Tamale.
Fall In Love With The Sweetness Of Peruvian Desserts
Dessert is an essential need after every meal. Delicious desserts will leave a more profound impression on you about the meal. Try these fantastic Peruvian desserts right away.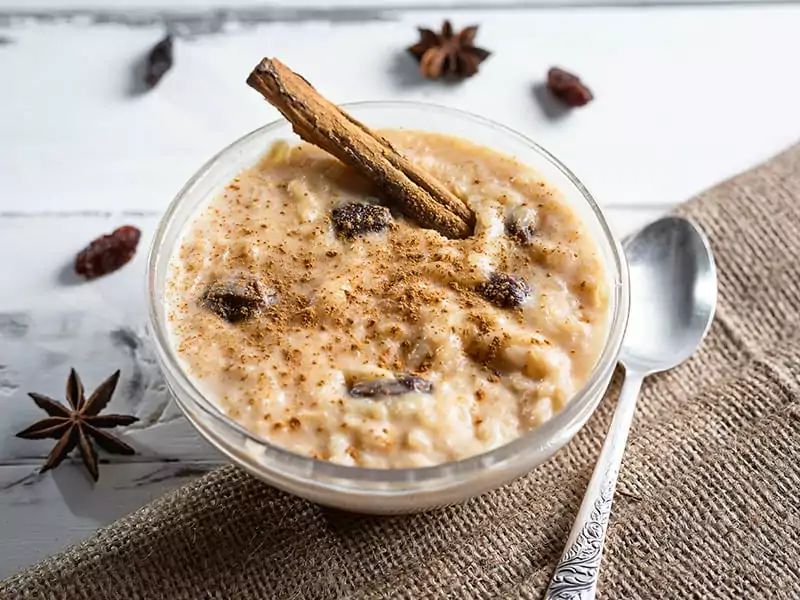 It is time to refresh your palate with this amazing Peruvian dessert recipe. Sweet rice pudding is a favorite choice of Peruvians in particular and Western countries in general. This recipe is said to have originated in China and India.
The Spaniards knew this recipe before, and they brought it to South America when they came here. The soft and smooth rice grains are bathed in milk and sugar for an irresistible dessert.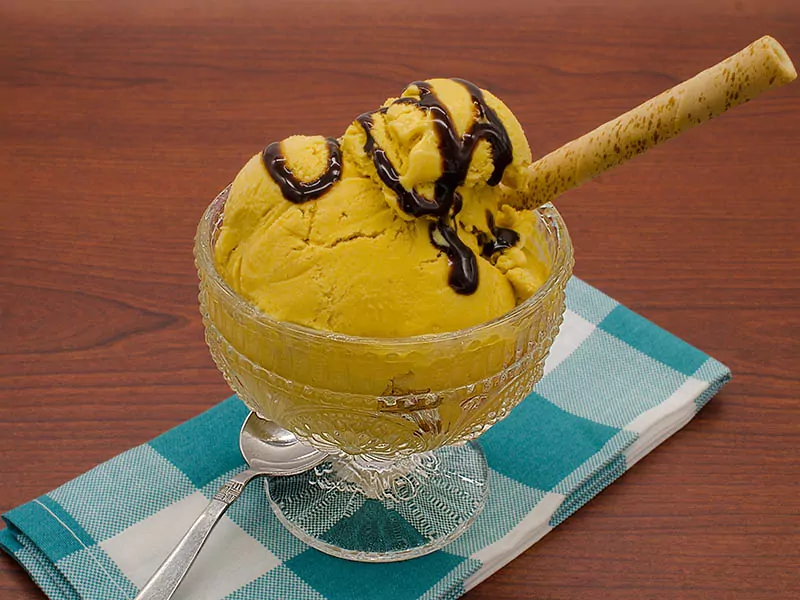 On hot summer days, lucuma ice cream is always the preferred choice of Peruvians. This ice cream made with pureed lucuma delivers creamy and citrusy flavors. In addition, you will feel a slight caramel taste when enjoying it.
Lucuma is common in South America and is a widely grown fruit in Peru and Ecuador. However, raw lucuma is pretty dry and not very enjoyable. The Peruvians call this recipe the "Gold of the Incas".
Discover fantastic information about lucuma fruit.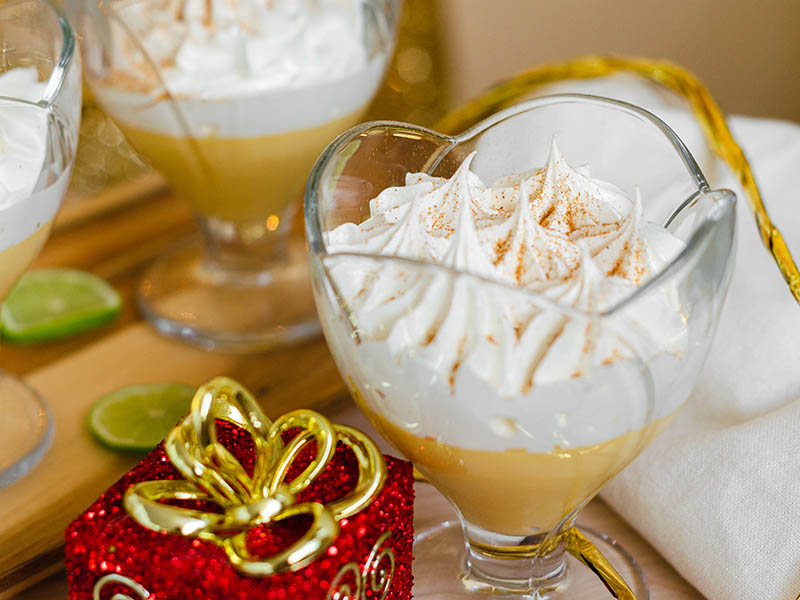 If you are looking for a classic Peruvian dessert, I highly recommend considering Suspiro de Limena. This sweet recipe has been presented in this country since the 19th century in the Lima region. Its name is translated into English as "sigh of the lady from Lima".
It is a custard like the Manjar Blanco of other South American countries. Especially, its port meringue layer on top will create an eye-catching appearance for desserts. A little cinnamon on top brings out the signature flavor.
There is an exciting story about the origin of its name. Poet Jose Galvez when enjoying this dessert that was made by his wife felt its sweetness and he exclaimed "like a woman's sigh". hence the name Suspiro a la Limena.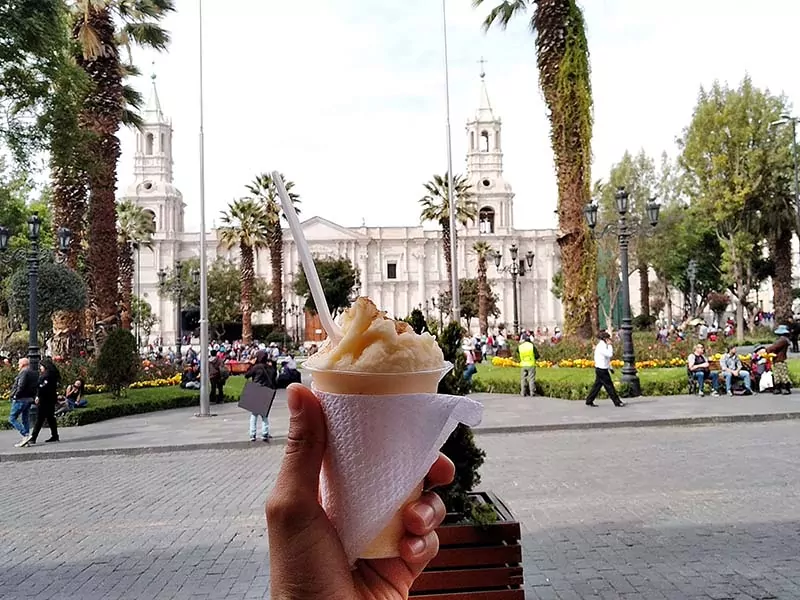 It is remiss if you do not enjoy the Queso Helado or cheese ice cream of Peruvian cuisine. This excellent food was born in the Peruvian city of Arequipa and is pretty standard here. You will not be able to resist the sweetness and fatness of this food.
Although it is known as cheese ice cream, it does not contain any cheese. The main element of it is condensed milk. This dessert is so popular that the 4th Sunday of January is chosen as the Day of Queso Helado. It is as essential as Thanksgiving Day in the United States.
22. King Kong – Multiple Layers Cake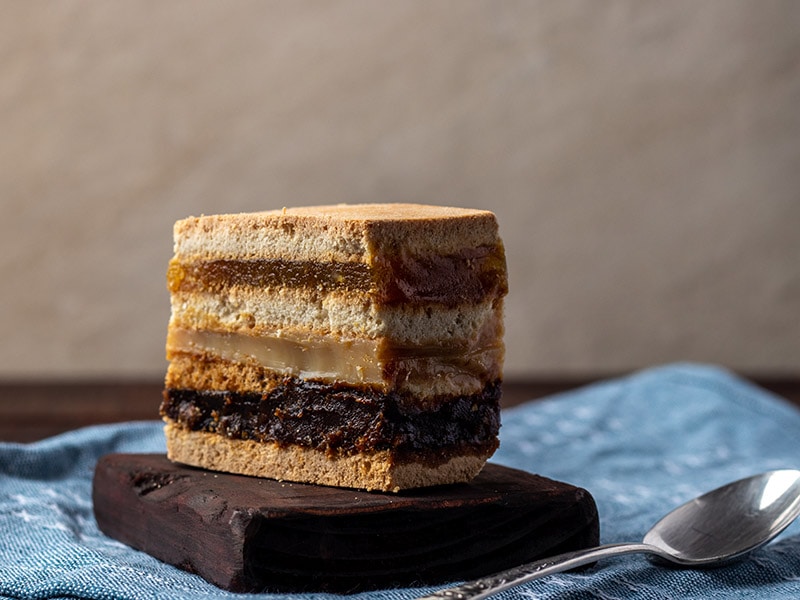 This sweet King Kong dessert of Peruvian cuisine was born in the 1920s when a baker named Victoria Meijia tried to enlarge a famous confection. Its name is named after the movie King Kong screened in 1930 in Peru.
Initially, this dessert with layers of fillings and cookies was called Alfajor. King Kong is the rectangular version of this incredible dish. Today, many factories produce this type of cake and sell it.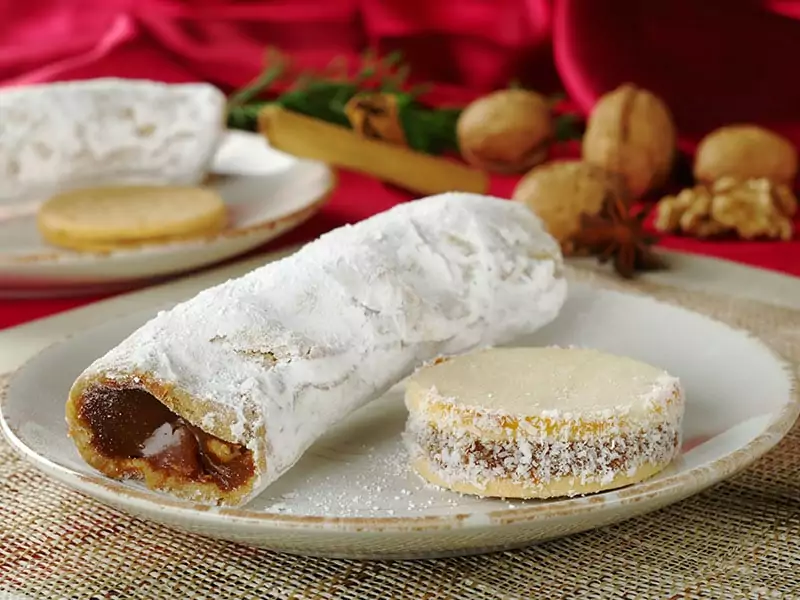 Guarguero is a desert created after the Spanish occupation of Peru. Egg yolks, butter, and flour are carefully kneaded to form the dough. The cake is tubular and deep-fried in hot oil. It is filled with manjar Blanco or custard inside.
This food is distributed evenly throughout the country of Peru. It is a typical Easter dish of Moquegua on the South coast. You will also find it in other cities like Cusco, Tacna, and Arequipa. In Lima, it is sold as street food.
If you have tried all of the above dishes, here are other choices that you can consider. These foods will give you a fantastic experience after eating, and please trust me!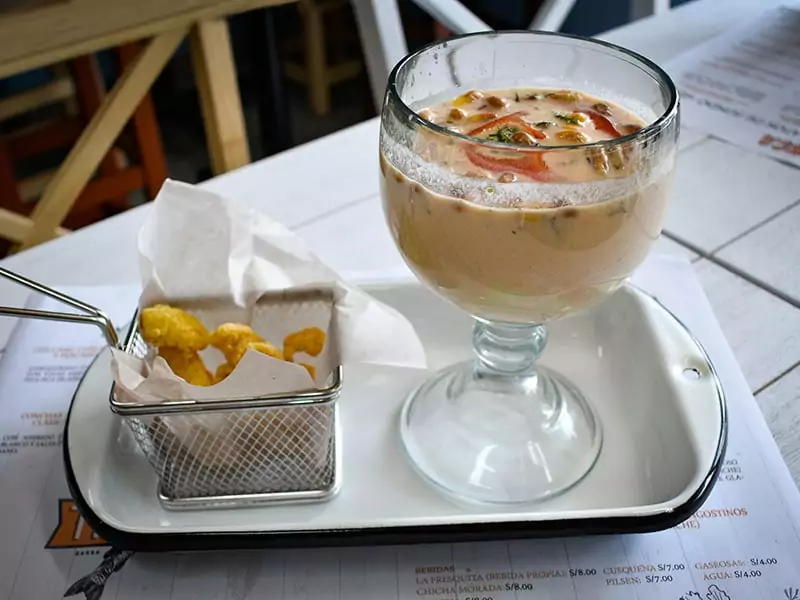 Leche de Tigre, also known as tiger's milk, is nutritious for your health. Do not confuse it with leftover juice from Peruvian ceviche because it is made from fish stock with lemon juice and other spices.
Leche de Tigre has a very good healing effect. It helps you become healthier and cure hangovers. Some even call it an aphrodisiac.
This wonderful recipe appeared in Peru when Moorish women brought it from Grenada. There are other variations of it, such as Japanese ceviche or a Peruvian recipe with the addition of sweet potatoes, corn, and onions.
25. Tiradito – Peruvian Raw Fish Dish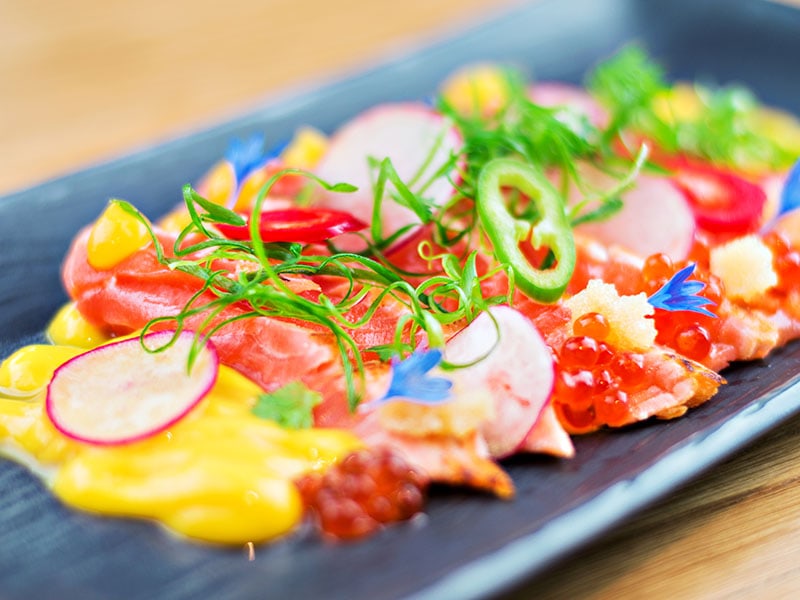 If Japan has a famous sashimi dish, Peru also has their signature version of sashimi. It was invented by Japanese Peruvians in the 20th century when they migrated here. This recipe plays an essential role in Peruvian summer cuisine.
The main ingredient of this food is raw fish served with traditional Peruvian Tiradito sauce. This is a spicy sauce made with lime juice, chili, and other spices. You will enjoy the natural taste of raw fish when eating this dish.
Do not confuse Tiradito with Ceviche. Before serving, the Ceviche is bathed in a sauce while the chef simply pours the sauce over the Tiraditos so the fish will stay fresh.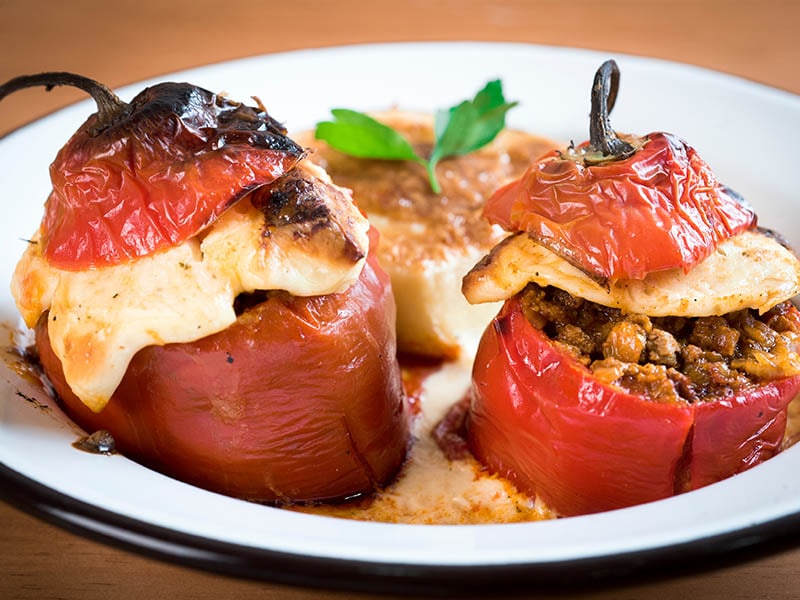 I still cannot forget the hot spicy taste of Rocoto Relleno. The Aji Rocoto red peppers will be filled with a mixture of ground beef and veggies. The chef will coat the top with Queso Fresco and bake it with milk and egg sauce.
Do not rush to eat it as soon as you see its beautiful red color since Rocoto peppers are 10 times hotter than the Jalapeno. Enjoy slowly to feel the sweetness and savory taste of the filling mixed with the spicy flavor of chili.
Aji Rocoto is a famous chili pepper native to Southern Arequipa. You can hardly find this chili outside of Peru, so Peruvians living abroad will feel homesick when eating this food.
Learn about the Aji Rocoto pepper in this recipe.
27. Chicha Morada – Purple Corn Beverage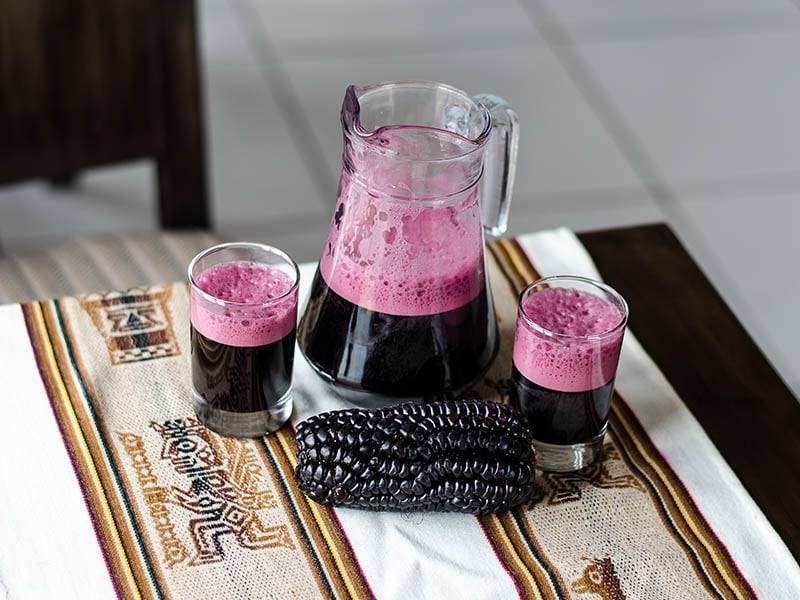 It is a pity if you do not enjoy this iconic Peruvian drink with the characteristic purple color of the nation. Chicha Morada is native to the Andean region. Purple corn is its main ingredient, and it is grown extensively along the Andes.
Don't be afraid of getting drunk when drinking this beverage because it does not contain alcohol. You will feel the typical flavor of cinnamon and cloves in the drink. In addition, some variations will add apple, pineapple, or lemon.
28. Mate De Coca – Coca Tea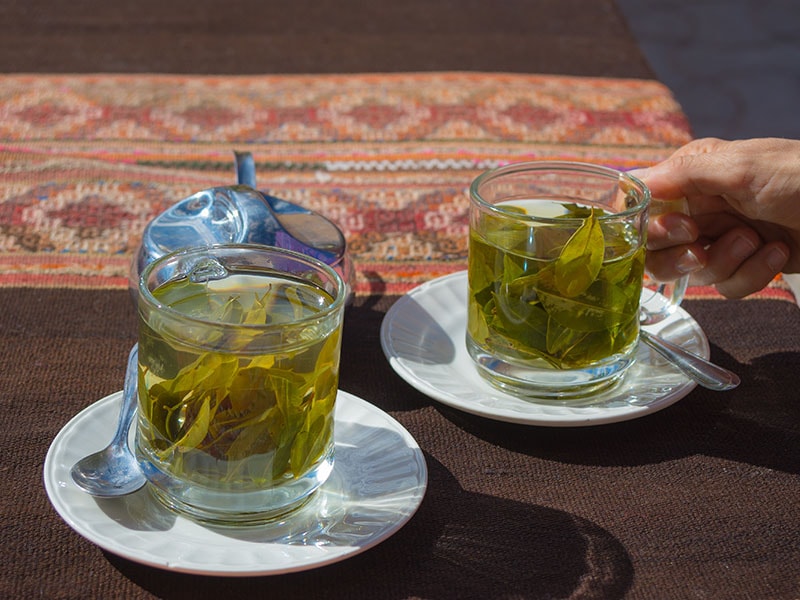 Mate de Coca is a healthy tea that was born 3000 years ago. Many archeologists have found mummies with signs of coca leaves and ceramic pots showing coca that have been in use since the 6th century BC.
When you are sick or have other health problems, drinking a cup of Mate de Coca will make you better. This tea contains alkaloids known as cocaine-based leaves. Although it is low in content, it can make you fail a drug test.
Feel Free To Contribute
How do you feel about the dishes that I have introduced? Have you tried any of the foods on this list? After reading this whole article, let me know your thoughts and feelings through the comments below.
I hope you find it easier to plan your trip to Peru with the culinary suggestions in this post. You can help more people know about this food list by sharing it. Thanks for your time!