One fact is that North Indian foods are strongly influenced by the country's specific weather and living environment. You can somehow guess their featured characteristics by noticing the foods' richness and creamy gravies.
However, these notes might not be correct every time. There are various smaller regional culinary cultures belonging to Northern Indian cuisines. Some of them are Kashmir, Himachal Pradesh, Uttaranchal, Uttar Pradesh, Punjab, etc.
Although the foods from Kashmir, Punjab, and Mughlai cultures are more prevalent, the delicacies from other regions are also promising. Alright! It is time to get to the main point and learn more about the foods you should try there in the upcoming section.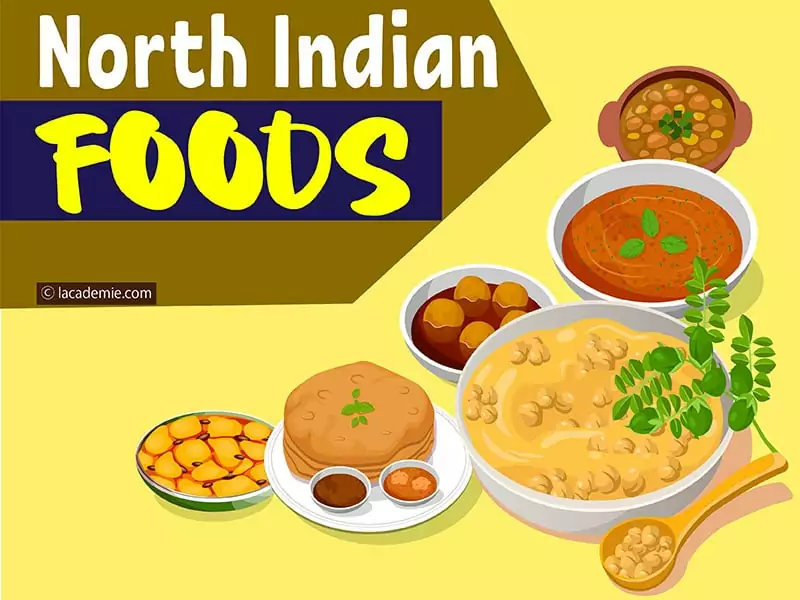 Have You Ever Tried Indian Curries In Northern Style?
Whether you have tried these Indian delights or not, you will feel amazed by how delicious and robust these Curries are. The more detailed information you've been waiting for is here!
1. Rajma Masala (Red Kidney Beans Masala Curry)
Having its roots in the Indian subcontinent (or Punjab) and becoming a staple in North Indian people's diet from ancient times, Rajam Masala states its value through its popularity.
Local cooks soak the beans overnight before cooking the food in a pressure cooker with spices until it is soft. This Indian vegetarian-friendly delight provides both a filling effect and many nutrients, especially proteins (from the rajma/beans).
Including this food for your veganism or vegetarianism diet, you won't need to worry about the lack of proteins anymore.
Just like various savory Curries, this Rajma Masala perfectly goes along with rice or some kinds of Indian bread like Naan (leavened flatbread) or Roti (Indian unleavened flatbread). When eating, don't forget to add a splash of lime juice to your food and enjoy.
This instruction might show you something you wish to know about Rajma Masala.
2. Chole Masala (Chickpeas Masala Curry)
The next Punjab delicacy on this list is this Chole or Chana Masala. The word "chana" or " Chole" both refer to "chickpeas" in the Hindi and Punjabi languages. This North Indian specialty has various other names, such as Channay or Chholay.
You can easily find restaurants or street vendors selling this dish as it is pretty easy to make. They might serve it with a bowl of hot rice or some Puri (a deep-fried Indian hollow bread).
The main components of this Indian-originated Curry are the chickpeas (chana) or black chickpeas (Kala chana, with smaller size, tougher texture, and a more robust flavor.
When cooking, local people will pair the legumes with a tangy, savory, and spicy gravy made of onions, tomatoes, and a wide range of spices. Turmeric, cumin, amchoor (dried mangoes), and Garam Masala are more prominent in taste.
Don't be confused between this Northern Indian Egg Curry (or Andey Ki Curry) with the Southern-style Kerala egg Curry (or Baida Curry). Boiled eggs matching with spiced tomato-based gravy is the central concept of this exquisite yet easy food.
Once having this Curry for breakfast or other meals in the day, you can easily taste the strong scents of cumin, garlic, ginger, and the robust Garam Masala flavors. In some variations, you can also see potatoes served with this delicacy. It harmonizes the overall taste.
In case you want to prepare the replicate version of this dish ahead of time at home, feel free to make the sauce and freeze it until use. Rice and some veggies are the toothsome partners beside your delight, and you should never miss a chance to taste them together.
4. Aloo Gobi (Potatoes And Cauliflower Curry)
The term "Aloo" means "potatoes," and "Gobi" means "cauliflower" in the Indian language. That name also states what this dish is all about. People in India love this vegetarian-friendly delight a lot since a bite into it will always be filled with aromatic spices.
Typically, Aloo Gobi is a dry Curry with not very much sauce and delivers a bold flavor from red chili powder/Garam Masala and the yellow hue from turmeric.
Based on that, potatoes and cauliflowers are an excellent taste balancer since their soft veggies taste neutralize all the spices.
If you are a meat-eater, you should try eating this authentic Indian specialty in its motherland, and its deliciousness might change your opinion about vegetarian dishes.
Do you wonder how Indians make this Aloo Gobi?
Dum Aloo is the creation of Kashmir, and as you can see, it calls for whole baby potatoes instead of chopped ones. The idea to create a portion of Dum Aloo is pretty simple. Local North Indian people will deep-fry the mini potatoes before pairing them with special gravy.
Cashew nut paste, yogurt (or khoya – Indian thickened milk) matching with a warm, earthy, and robust spiciness from ginger, chilies are what you can expect from Dum Aloo's sauce. Don't worry; when you have this treat with a piece of Naan, you'll experience a gorgeous harmony.
The name of this dish, Dum Aloo, literally means "slow-cooked potatoes". Therefore, in case you want to create some at home, it's a perfect Indian recipe for slow cooker. Or else, enjoying it in native Kashmir restaurants during your trip is also a way to go.
If you are a fan of the red and spicy dishes, this Rogan Josh Curry is definitely a treat you should try. The name of this food, Rogan Josh, is the combination of "clarified butter/oil" with "stew/braise," so you can partly know that this Curry consists of an oil-based vibrant red gravy.
But, the actual origin behind the name of this dish is indeed unclear. However, it doesn't matter that Kashmiri people usually have Rogan Josh for their traditional multi-course meal (called "wazwan").
The treat looks red, so some people might think it's spicy. But Rogan Josh is not a particularly spicy Curry as the cooks will de-seed the dried chilies to utilize its red hue only. About the meat, goat/mutton briskets are the best nominee for this dish, don't miss them.
However, adding some curd into the gravy can neutralize the robust flavors. Or pairing your curry with a mild starch-based food (like rice or Naan) is also an ideal way to enjoy Rogan Josh at its finest.
7. Tandoori Chicken (Tandoori Baked Yogurt-Marinated Chicken)
Tandoor is a clay oven used in South Asian cooking, especially in Indian gastronomy. Even though various dishes are cooked in a tandoor, this Punjabi Tandoori chicken is the most prevalent. To make it, people bake the spiced yogurt marinated chicken in the oven.
Harappan civilization, which lived in Punjabi, was believed to be the first to come up with this delight in 3000 BC. However, it was not until the 1940s that people popularized the dish in New Delhi and the other parts of the country. Notable, isn't it?
Besides yogurt, the hot spices used for this recipe are pretty spicy and fragrant. Cayenne pepper or Kashmiri red chili powder and turmeric are crucial, and you can always find their notes when eating.
People in this country have Tandoori chicken mainly for appetizers/starters or main courses, so you can try to enjoy this succulent meat part with some fresh Indian salad delights or Naan on the side. Trust me; the combination can never go wrong.
Wonder how foreigners react to Tandoori chicken? Look at this!
This Butter Chicken dish is less spicy and contains a less robust aroma than the other suggested Curries. It is because the fresh cream used makes the Curry's base much milder (even milder than various other Curries).
The most prominent essences you can notice are from fenugreek, Garam Masala, or garlic. The highlight of the food, which is also the thick sauce of cream and butter, is why people started to call it Butter Chicken.
Founders of the Moti Mahal restaurant in Delhi were the first to combine drier Tandoori chicken meat with a creamy, thick gravy in the 1950s. He was trying to make the leftover chicken taste better.
However, it was not until 1974 that it was called Murgh Makhani, and this name, from then on, refers to the "Tandoori chicken cooked in butter and tomato sauce".
To serve this delight, people might match it with Naan, Roti (Indian flatbreads) or utilize it as a Pizza topping. Sounds tasty!
9. Dal Makhani (Butter Lentils Curry)
Apply the similar idea of Murgh Makhani; this Dal Makhani is more "vegetarian" and has its origin in the Punjab area. The father of Dal Makhani was also Kundan Lal Gujral (some other theories called him Jaggi), who created the famous Murgh Makhani.
An essential part of a portion of Dal Makhani is urad ki dals/maa ki dals (also known as black lentils). The cooks need to pre-soak the legumes overnight or at least a few hours before slow-cooking them for a long time. Crave it with Naan, and you won't regret it!
For those trying to have some healthy and weight-loss assisting food to enhance their daily diets, go for this Dal Makhani immediately. It is full of healthy vegan protein with various vitamins which can benefit human muscle and bone health.
10. Malai Kofta (Indian Veg Balls/Dumplings Curry)
Another dish from the Mughlai culinary culture or the nowadays' region of Punjab, its appearance might immediately remind you of a bowl of curried meatballs with a thick sauce.
Actually, locals fry the balls until they have crusty golden brown sears before tossing them in thickened gravy. As the food offers a gorgeous richness and is undeniably exquisite, Indians usually have it for special occasions like weddings or festivals.
The term "Malai" in the name of this food aims at the cream used inside the gravy, while the Koftas means the deep-fried vegetarian dumplings. Local chefs put potatoes and grated Paneer (mild Indian cottage cheese) to make your veg balls richer.
You should ask for Naan and a portion of Jeera rice (cumin rice) when ordering this delight at any Indian restaurant since all flavors create a beautiful balance when tasting. The slightly sour tomato sauce pairs with a good base; thinking of it makes my mouth water.
Have you ever thought of making some Malai Kofta at home?
11. Bhindi Masala (Indian Okra Masala Curry)
Okras, lady's finger, or bhindi, is an ancient crop in India, and Bhindi Masala appeared for the first time in the Northern region of India. Some people might feel uneasy when eating this non-leafy vegetable because of its sticky juice coming out when cooking.
However, I promise you'll love it when having the first bite into this combination of Masala spices and okras. You can now consume a rich amount of vitamin A, C, B9 (folate), and magnesium with no obstacle from now on.
More importantly, the mentioned compounds benefit your health by helping prevent cancer, heart disease, or others.
Now, what are the best sides to this Bhindi Masala (or okras cooked with ground spices, tomatoes, and onion gravy)? Obviously, the old-but-gold Naan, Roti, or a cup of hot rice can never be wrong here.
Another take on the Makhani recipe is the use of Paneer (or Indian cottage cheese) in the original tomato-cream gravy. Also having its motherland in Punjab in the 1950s, this Paneer Makhani once belonged to the top 5 of long-favored delights in India (in a survey in 2016).
The best Paneer to go in the pot of Paneer Makhani is the freshly made ones (which you can make as an instant pot-compatible Indian food at home). A notable fact about this cheesy Curry is that it might be more creamy than other variations.
Although the cooks still use the signature Makhani spices like kasuri methi (dried fenugreek leaves) and Garam Masala, the pronounced richness from Paneer is spot on. Fried cashews also take a crucial role here, so never miss out on them.
This foolproof Indian way to make Paneer Makhani might inspire you to try it once.
Even the eggplant haters love this Punjabi Curry, so there is no reason for you to ignore it. When serving this savory Curry on the side of Raita (Indian yogurt condiment), the light sourness and richness boost the palatableness of your food efficiently.
I personally love devouring Baigan Bharta with rice or flatbreads. In Uttar Pradesh, another North Indian state, people enjoy eating it with Baati (hard wheat rolls).
The authentic Punjabi eggplant Curry requires mashed, charcoal-grilled eggplants cooked with chopped tomatoes and caramelized onions. You should notice these ingredients if you want to know whether you have the original version or not, as the other versions might omit them.
In the last plating step, the cooks garnish some chopped fresh herbs (like cilantro) and drizzle some drops of mustard oil for the toppings.
14. Kadai Chicken (Spicy Chicken Cooked In Traditional Vessel)
As previously said, a kadai or karahi is a classic wok, and this Northern Indian recipe also makes use of this kitchen appliance. People here develop something so hot like this because of severely frigid winters. The heat from foods can warm them from the inside out.
This authentic Indian chicken dish is a pack of hot spices and various other pungent condiments to taste. Some of them are Kashmiri red chili powder, ginger/garlic paste, and green/black cardamom.
Based on that, don't forget to have this treat with something milder to neutralize the taste if you are not a fan of spicy delights. How about some buttery Roti or Naan? I'm sure these starch bases won't disappoint you.
15. Kadai Paneer (Spicy Cottage Cheese Cooked In Traditional Vessel)
One significant advantage of this cottage cheese twist for a spicy Kadai recipe is that its richness and creaminess can moderate the intensity of all the hotness here. However, the existence of Phulkas (Roti/Chapati) or some rice dishes is still unchangeable.
This Kadai Paneer acts as a superbly good Indian-infused side dish for a simple meal. Not only is it easy to find this favorable Kadai Paneer at the Indian restaurant, but you can also effortlessly whip some up at home. The steps are easy to follow.
Besides the tomato puree to lend depth to the gravy, you might also find other veggies like bell peppers (capsicums) here. This freshness from them delivers a lovely sweetness and allurement to your food.
Amazingly easy to make and easy to eat; let's take a look at this now!
16. Kadhi Pakoras / Pakodas (Deep-Fried Fritters Cooked In Tangy Yogurt)
The food consists of Pakoras (with vegetables, fish, mango) with a creamy, lightly orange gravy with yogurt (or Dahi). You can also find the food in Uttar Pradesh or other Indian regions; however, the original Kadhi from Rajasthan is a little sweeter than the others.
The use of jaggery is the main reason for that deeply sweet taste. Yet, thanks to the additional sourness from yogurt, the body of this delight is much more tempting. Gram flour also exists in this food's base, so you might feel a slightly thick consistency there.
Dunking the crispy Pakoras into a liquid makes their crust softer; however, it's a good way to elevate a simple dish like Kadhi.
It might surprise you, but the first idea of mixing Pakoras and Kadhi came from Punjabi, not Rajasthan. Sounds amazing, isn't it? About the companions besides this Punjabi creation, the companions are Roti, Paratha, and a cup of hot steaming hot rice.
These Favorable North Indian Starch Bases Won't Let You Down
Nothing beats pairing Northern Indian savory dishes with the Northern-style starch bases. Therefore, I have some suggestions that you can opt for right here. Take a look and consider having them once.
17. Aloo Parathas (Indian Potato Stuffed Flatbreads)
Thank me if you are a flatbread lover, as this is my next North Indian bread recommendation. This treat has roots in the Indian subcontinent and acts perfectly as an Indian breakfast delight, especially in North Indian households.
The components for a perfect portion of Aloo Parathas are a layer of a golden-brown, flaky, unleavened whole-wheat flour exterior with a spiced, mixed mashed potatoes interior. This mashed potato part usually includes chili powder, ginger, and some salt to taste.
For the side dishes besides these favorable Parathas, locals might recommend some toothsome Chutney, Raita (Indian yogurt condiments), and some pickles. The refreshing, tangy, and tart taste from these sides is excellent for enhancing the goodness of the food.
Let's look at how Indians make Aloo Parathas in restaurants.
Why didn't I mention Naan or Biryani but coming straight to Rumali Roti? It's because Naan has a pretty unclear origin, and Biryani is a South Indian delicacy. However, if you love the softness of Naan, this Mughal bread can also lend you what you expected.
Thanks to the use of mixed atta (wholemeal wheat four) and maida flour (all-purpose flour), Rumali Roti is exceptionally soft. People often make it in large size (on an inverted pot over a wood fire or hot coal) so that the folded Roti looks like a folded handkerchief.
An exciting folk myth is that the Mughal royal chefs used this kind of thin flatbread as a handkerchief to serve on the kings' table or take off excess oil from food. Nowadays, people often serve it for a gathering feast or simply a family meal.
The best partners for Rumali Roti are varied. You can consider having it with Dal Fry (fried lentils), Dum Aloo (potatoes Curry), or Palak Paneer (spinach and cottage cheese Curry). All taste great with the soft, starchy bread so you can enjoy a surely filling meal.
Compared to the previous Dal Baati, this Dal Baati Churma is more prevalently known as a Northern Indian treat since its birthplace is Rajasthan state.
Basically, a portion of Dal Baata Churma consists of "Dal Baati" and "Churma" (a sweet treat of mixed wheat flour, Ghee, and sugar). Therefore, making this toothsome treat might take time, but enjoying it at a local restaurant would be extremely fine. Easy peasy!
Normally, local people not only serve them as a daily treat but also prepare these hard wheat rolls for special occasions (weddings, religious festivals, etc.). Based on that, you might now know how important this humble delicacy is to this Northern India regional cuisine.
Northern Indian Desserts/Snacks To Renew Your Taste Buds
Appealing, refreshing, and light are what you might expect in a portion of dessert or snack. I'm sure your needs will be satisfied here, and the food ideas below won't fail to impress you.
20. Dahi Bhalla / Vada (Sweet Lentils Balls With Curd / Yogurt)
Dahi Bhalla or Vada is a legacy from the ancient Mughal kingdom that still easily relishes modern people's taste buds. One notable fact is Dahi Bhalla is the name of this food in the Punjabi language, while Dahi Vada is its name in the Southern Tamil language.
Because of that, whenever you want to order a portion of fried flour balls soaked in thick yogurt/curd with some herbs/spices sprinkled on top, ask for Dahi Bhalla, not Vada. The recipe to create the Bhalla (or Vada) balls is different from region to region.
But the most famous version uses the overnight soaked urad dals (split black gram) topped with crushed black pepper, cumin, and mint leaves in the last step of cooking. Other ingredients for this sweet treat are shredded coconut, golden raisins, or fresh pomegranate.
These flavor layers help the food connect better with tamarind-coriander Chutney used for condiment/side dishes. Nowadays, people often serve Dahi Bhalla for special occasions like Holi (the Festivals of Spring and Colors).
21. Jalebi / Jilebi (Fried Batted Steeped In Curd)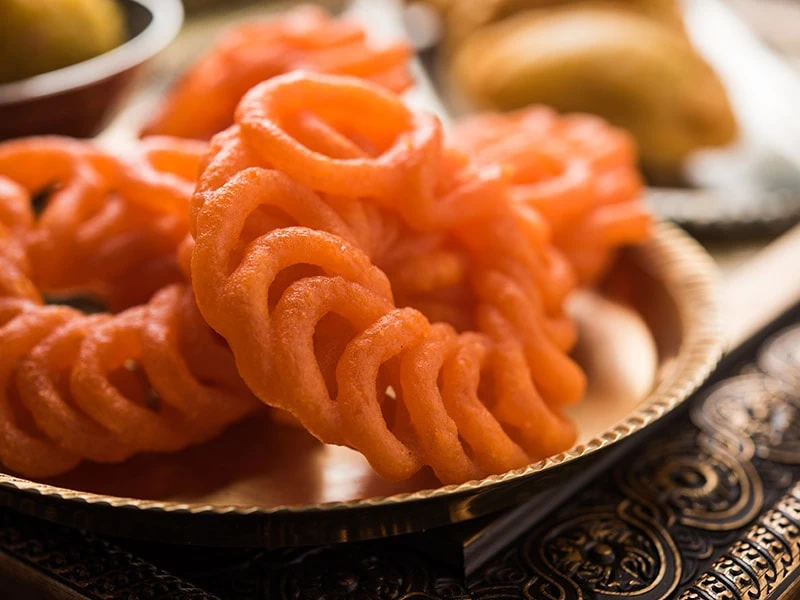 Jalebi is not an Indian creation, and its true roots are actually unclear. One thing for sure is this Indian beloved sweet treat came from the Indian subcontinent and has its variations appear in various South Asian and North African countries.
South Indian cuisine also has a variety of Jalebi, called Jilebi; yet, the Northern ones include several distinctions. Still made of deep-fried maida (all-purpose/plain) flour with typical circular or pretzel-like/swirl shapes, the North Indians serve the food with different sides.
Instead of rose-flavored syrup, North Indian Jalebi goes with Kewra/Kewda (pandanus flowers' essence) syrup, curd, or Rabri/Rabdi (Indian sweet thickened milk). Some vendors might serve this treat with other foods like veggie curries or Kachori. Interesting!
Best review for Jalebi you might find is here.
22. Rabri / Rabdi (Indian Sweet Thickened Milk)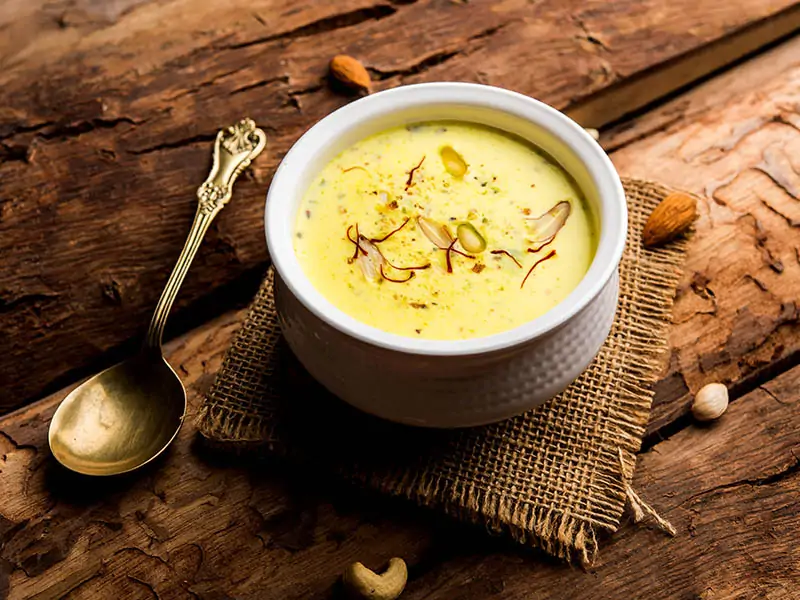 Not only going along with Jalebi as a side dish or taste enhancer, but this Rabri can also still go alone like a decadent, sweet, and pudding-like dessert. This treat is definitely ideal for a sweet tooth, as you can expect your first sip will be intensely sweet.
Local people love preparing this delight for special occasions like celebrations or religious holidays as it's both easy to eat and effortless to make. They often make the food in a thick-bottom deep pan or a kadhai (traditional Indian-style open vessel) on low heat for about 1 hour.
The main ingredient for the treat is only whole milk with sugar. In the last few steps, they add the other components like saffron and cardamom into the mixture so that the dish can deliver a more prominent yellowish hue.
Believe me; it won't be greasy even though it only contains milk and sweet stuff. The topping of chopped nuts is the true hero here, and it helps to offer you a more balanced sweet treat.
23. Samosas (Deep-Fried Triangular Pastry)
Although Samosas have their name sticks to Indian gastronomy, it actually came from the ancient Central Asian cuisines. To be more specific, the original versions, Samsa, came to the land of India and their neighbors in the 13th or 14th century following the traders.
When the Mughal people came in the 16th century, they reported a food named "sanbusah" existing there. No matter how many regional variations of this delight, the authentic Indian recipe calls for maida (or all-purpose) flour and various fillings.
Vegetarian-friendly or the non-vegetarian ones, you might find all of them here. Yet, the vegetarian versions of spiced mashed potatoes and green peas/lentils are preferable.
Locals fry the whole thing in vegetable oil or Ghee (Indian clarified butter) until the crust turns golden brown. You can receive a portion of this food served with some tangy-tart tamarind paste, some refreshing green Chutney, or fresh, aromatic herbs (like coriander).
One of the most popular North Indian light meals or snacks is this Aloo Ki Tikki, which might remind you of the famous Hash Brown. Since the first potato came to India on the Portuguese ships, it became a prevalent root veggie used in various Indian delights.
In India, people make Aloo Tikki (meaning "potato croquettes"), generally consisting of mashed potatoes, peas, and some typical Curry powder. The cooks then form the mixture into small patties and deep-fry them in hot oil until creating an appealing crust.
Aloo Tikki tastes best when hot with a portion of chickpeas, sweet ginger Chutney (Saunth Chutney), Dahi (Indian yogurt), or Raita (Indian yogurt condiments). Some cafe-eateries even make it into sandwiches. This Aloo Tikki sounds absolutely versatile.
25. Pani Puri (Deep-Fried Crispy Snacks)
Pani Puri, Phuchka, or Golgappa refer to deep-fried crispy flatbreads originating from the Mahabharata times. Its ancient name was Jalapatra and has been renowned as a typical Indian street delicacy that every visitor should try once.
Whenever it comes to Pani Puri, it is never complete without a portion of Imli Pani (flavored water) since the crispy hollow bread is pretty plain on its own. The crunchy exterior combined with a suitable seasoning liquid might initially sound odd, but it's indeed attractive.
Whenever you encounter stalls selling it on the Indian streets, you might see the vendors prepare a big pot of the flavored waters or some Chutneys to serve beside your treat.
Each portion of Pani Puri will include 4 or 8 pieces served on a dry leaves-made plate. The fillings for this food are of choice; you choose from spiced mashed potatoes, Chaat Masala (Indian spice mix), or chickpeas. They are all good.
Never miss this review of Pani Puri to know more about this delight.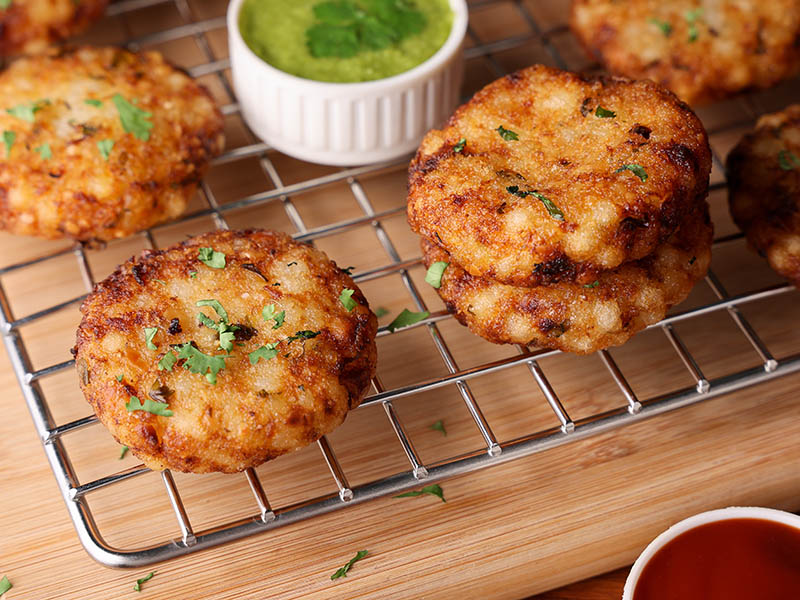 Although Pakoras are a prevalent treat in various countries in the Indian subcontinent, it is so prevalent in the Northern part of India that everyone here knows about it. The main ingredients for Pakoras are diverse; you can find it going with onions, chicken, or veggies.
The crispy exterior with various spices mixed with gram flour (or buckwheat flour) is the most appealing aspect of a portion of Pakoras. When you take your first bite into this cuisine, the actual appeal is the fenugreek with its mild bitterness and the aromatic note of coriander.
Locals commonly serve it as an Indian street delicacy you can also find it in desi households. When delivering this treat at a meal, it can be an Indian-style starter alongside some refreshing sauces like tạmarind Chutney or Raita (Indian yogurt condiments).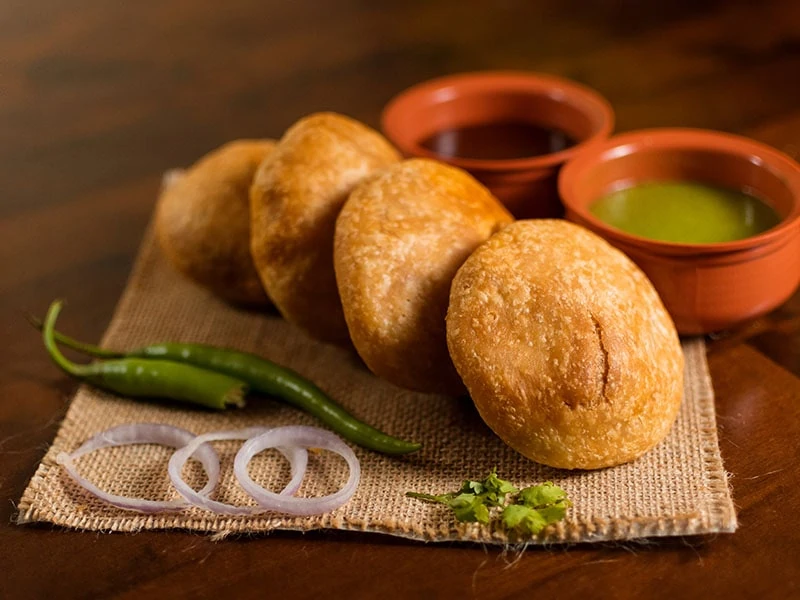 The main ingredient to form a piece of Kachori or Katchuri is deep-fried fine flour balls with simply spiced fillings. This food is famous around this country, so you might find its variations in other regions, but many people believe that Rajasthan is its true motherland.
Rajasthan Kachori or Kota Kachori is the most prevalent variety of these crispy-fried flattened balls. The standard version of this treat includes crushed and washed besan (gram flour)/urad dals (horse beans) or yellow moong dals (yellow lentils).
Some other variants of Kachori go along with additional chana/chole (chickpeas), spices, and potatoes, which are a bit different from the Rajasthan ones.
There is one exciting story about the goodness of this treat. A famous author called Banarasidas adored this dish so much that he bought a lot of them every day for 7 months. He then owed 20 rupees; however, you might now know how delicious this snack is.
28. Ghewar / Ghevar (Rajasthani Disc-Shaped Sweet)
Mentioning Ghewar or Ghevar in Rajasthan, a Northern region of India, people might remember it as a festive sweet treat for the festivals of Teej. Teej here means the monsoon celebrations occur every year in the month of July-August in North and West India.
The meaning of these occasions is to cherish nature's bounty. With some information like this, now you know the meaning of Ghevar in local people's hearts.
The main components of this delight are refined wheat flour, sugar syrup, milk, and some Ghee. The cooks mix everything well together before putting the mix into a mold and deep-fry it. Sometimes, they add Kewra essence to the mixture to enhance the flavors of this treat.
Making Ghewar is a true art, and you can observe it clearly here.
29. Lassi (Flavored Yogurt-Based Drink)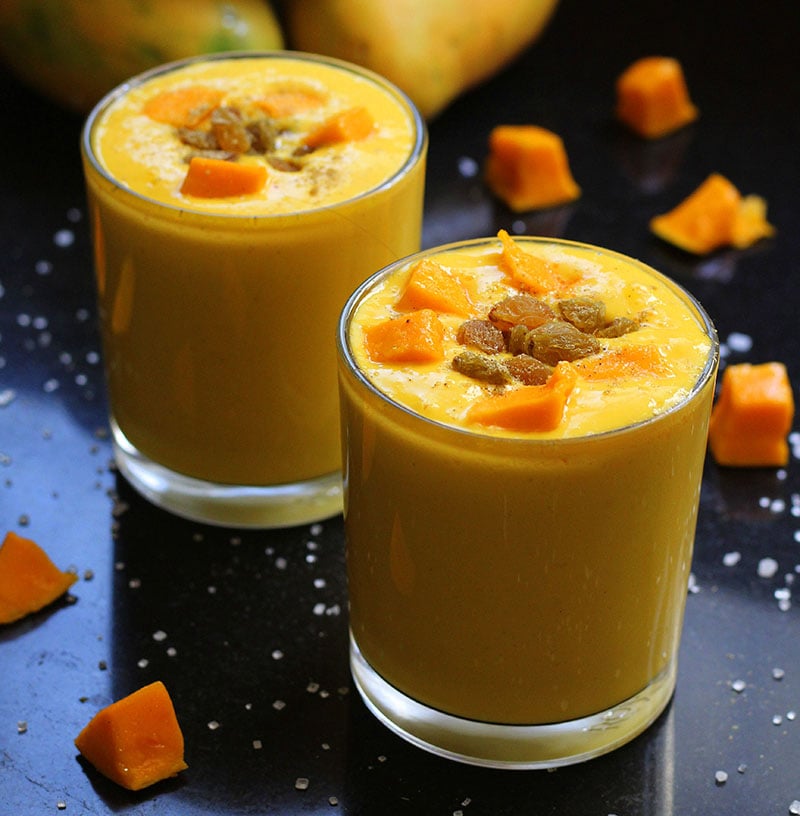 People believe that Punjab (or Multan) is the motherland of Lassi or at least the idea of mixing a diluted yogurt-based drink with various fruits (for flavoring). The first version of this authentic Indian drink appeared in 1000 BC, making it an ancient beverage.
Ancient people tried mixing it with honey to sweeten the delight, which turned out incredibly mind-blowing. This beverage has two main versions depending on its taste: sweet and salted. The bhang variation with the bhang liquid (cannabis extract) added is also famous.
Lassi made of buttermilk exists; however, the yogurt-based variations are a bit famous, especially to the foreign visitors. Nowadays, local people develop their traditional treats by adding various herbal ingredients to benefit the eaters' health even more.
Something like cumin and cardamom scents are the most prominent here. When ordering your Lassi, you can go for Masala Lassi or fruity Lassi with mangoes and strawberries. All are great, and you should taste them at least once.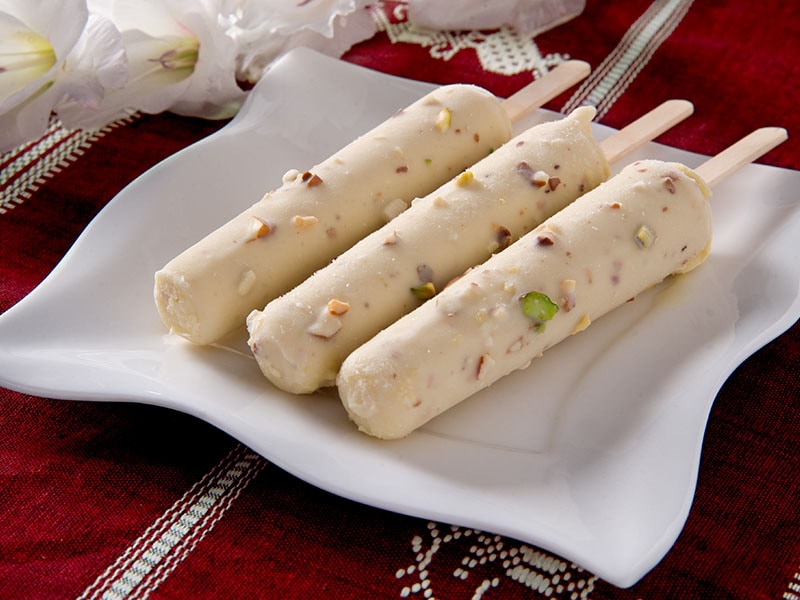 Bet you wish for something cold and luscious now. If you do, this Kulfi is definitely for you. First appearing during the 16th century or under the Mughal Empire, this lovely cold treat has been a long-favored summertime dessert in North India since then.
To create this mellowy treat, the general idea is to slow cook the flavored thickened milk and put it into the kulhars (the ice-cream molds). After that, the local chefs cover and freeze them inside the Matka (traditional freezing tool) until used (with chopped nuts garnished).
The best quality Kulfi has a soft, smooth texture when eating, and every bite into it will be filled with fragrance from nuts (like pistachios) or a piney note from cardamom. No one can resist the milky flavors together with the soothing effect that the dish delivers.
In case you have a question, this is how Indian people serve Kulfi on the street.
Other Northern Indian Dishes You Should Also Opt For
Besides various recommendations above, there are many other dishes you can bet on for their deliciousness in North Indian gastronomy. Are you curious? Check them out now!
31. Aam Ka Murabba (Savory Mango Chutney / Raw Mango Preserve)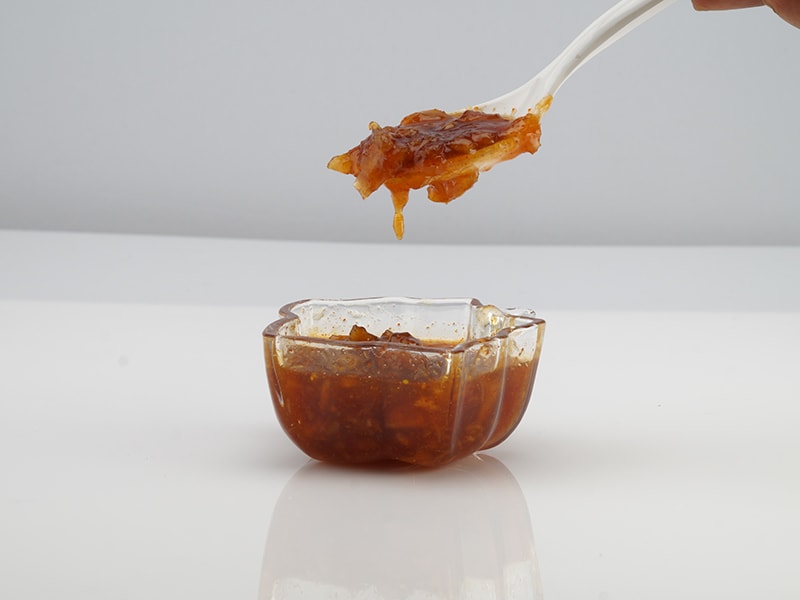 A king of Chutney! This humble Chutney is flavored with common Indian fruits and mangoes, and this condiment can match with other dishes or starch bases. Aam Ka Murabba comprises sliced/grated raw mangoes, spices (like cumin or aniseed (or saunf)), and sugar.
Some other variations also have saffron, clove, and green cardamom to enhance the yellowish hue with a slight zing. The use of various spices inside this treat helps it become more flavorful and boosts the health benefits inside it.
Locals will cook the whole mixture on low flame for a while until the dish offers an appealing mild licorice-like essence with a dominant sweet-tart taste. Since the Chutney has a luscious, dense consistency, you can either have it as a spread for bread or with Naan or Roti.
An Aam Ka Murabba tutorial to show how local Indian people make this food.
32. Sarson Ka Saag (Punjabi Greens And Spices)
Native to Punjabi, this Sarson Ka Saag or Saryon Da Saag is a wintertime specialty consisting of mustard greens (meaning sarson) and spinach (meaning saag). The spices used here are also essential; Garam Masala and ginger garlic paste are sometimes used.
While the spinach offers a lovely greenish and thick consistency, the mustard greens offer the horseradish wasabi-reminiscent taste. The spicy note from this particular winter greens can quickly warm you up from inside out.
The Makki Di Roti, or unleavened cornbread, is a recommended companion beside a portion of Sarso Ka Saag. When having a chance to visit, you should never miss out on this favorite local delicacy, and remember to enjoy it when it's steaming hot.
33. Moong Dal Tadka (Skinned Split Mung Gram Tempering)
Tadka means "tempering" in the Indian language. Still, this Moong Dal Tadka recipe can perfectly go as a main course for a ketogenic Indian-inspired meal. The original recipe contains no honey, sugar, or carbs-loaded components, so don't worry.
To flavor the Tadka, local people put on garlic, cumin, and chili powder; therefore, the warmth and spiciness are pretty pronounced. Paired with a portion of rice, Chapatis, and a splash of lemon juice, you can have a fulfilling meal just like that.
Since Moong Dal, in general, and this delight, is widely loved in India, you can easily find restaurants, including its menu. Try it as it's hard to go wrong!
34. Papad Ki Sabji / Papad Sabzi (Deep-Fried Gram Flour Dough Cooked In Curd-Based Gravy)
Papad Ki Sabji is sure to leave one mesmerized, although you might think it's weird to match fried Papadums with a kind of wet gravy (Sabji) at first. The base of the dish consists of curd and tomatoes so that you won't need to worry about the greasy feeling when eating a lot at once.
Additionally, the use of spices here is pretty genius. The slight bitterness from fresh methi (or fenugreek) and a hint of zing from chili powder accentuate the other gorgeous points inside this Curry well.
Lastly, starchy sides are important to make the overall meal more complete. I highly recommend rice, Parathas, Roti, and what locals might suggest to you. Simply grab a piece of the suggested treats and dunk it into the favorable gravy to enjoy this food.
You probably wonder how to make a portion of Papad Ki Sabji, then here you go.
The last Mughlai dish recommendation on today's list and also the last recipe you should go for whenever you have a chance to visit India is this fish Amritsari. The term "Amritsari" refers to the origin of this delight, meaning it comes from the Amritsar region of Punjab.
The highlight of this humble Indian fried fish lies in the spices mixed with the gram flour-made batter. After deep-frying the whole thing, the outcome will be extra crispy and flavorful.
Magically, the juice encased inside the fish filet is still preserved, which delivers a fascinating effect whenever you gnaw into it.
Don't Lose A Chance To Enjoy These Northern Indian Foods!
Do my descriptions or introductions about the common North Indian specialties appeal to you already? Are you ready to give some of them a chance? I guarantee they won't let you down, even if you are only a beginner at this distinctive and tempting gastronomy.
So if you have no ideas about which delicacies to try in North India, you should definitely take a glance at my recommendations here. And don't forget to share them with your loved ones. Thanks in advance!