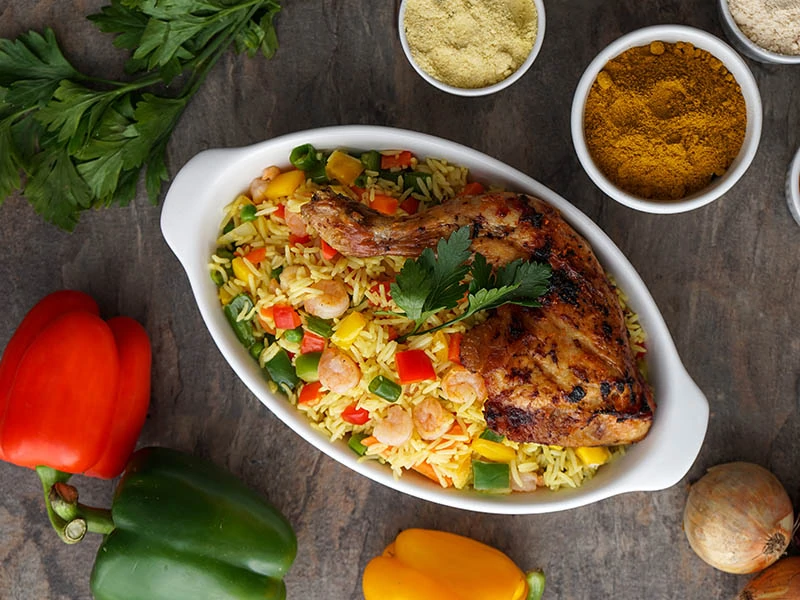 Are you wondering what Nigerian foods to try on your upcoming trip to Nigeria? I've got you covered. In this article, I will introduce to you the most popular dishes in this wonderful country so you can easily make a plan to explore the essence of Nigerian cuisine.
You can have a great chance to learn about the origins, tastes, and traditions associated with each dish. Much interesting information is waiting for you ahead. Sit down, get a snack, and enjoy plenty of fascinating stories.
5 Nigerian Side Dishes That You Need To Try
First of all, let's look at the most famous and versatile Nigerian side dishes that can pair with any dish. I bet that once they are placed on the table, they will disappear in a second.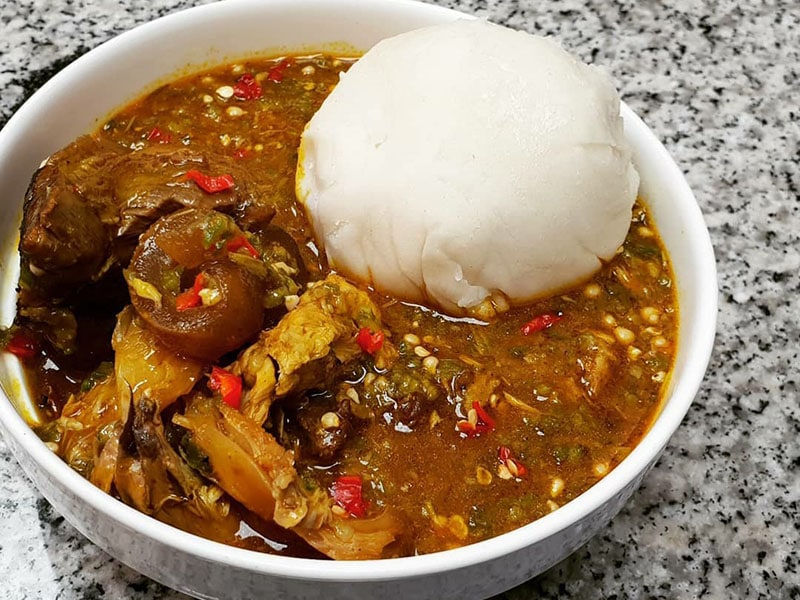 Tuwo Shinkafa was invented by the Hausa tribe who used to live in the northern area of the country. It comes in the form of ball-shaped mashed rice or corn.
I believe that you can't find mashed rice in other cuisines. Traditionally, people use short-grain rice but sometimes they also use rice flour.
To create such a texture, people cook the rice or corn in water and use a long-handled wooden spoon to mash it, then shape it into balls. Tuwo Shinkafa is now a popular side dish of stews and soups. It is mostly served warm.
2. Eba (Cassava Meal Swallow)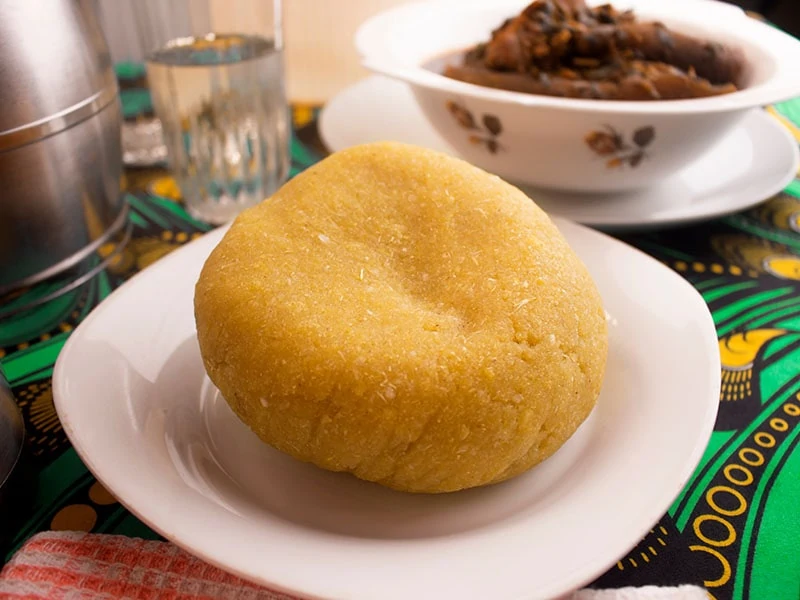 Nigerian people love to make food from the cassava root, also called "Garri." They use dried grated cassava flour to make Ẹ̀bà, a comfort food that is very popular among Yoruba people. It is also made in other West African sub-regions.
Ẹ̀bà is made by cooking dried grated cassava flour in hot water and shaping it into a large ball. Its color can be white or yellow, depending on how it is cooked. If people add palm oil when drying the grated cassava, then the dish will have a yellow hue.
People eat Ẹ̀bà using their fingers. They take out a small piece, turn it into a small ball, and then dip it in soup or stew.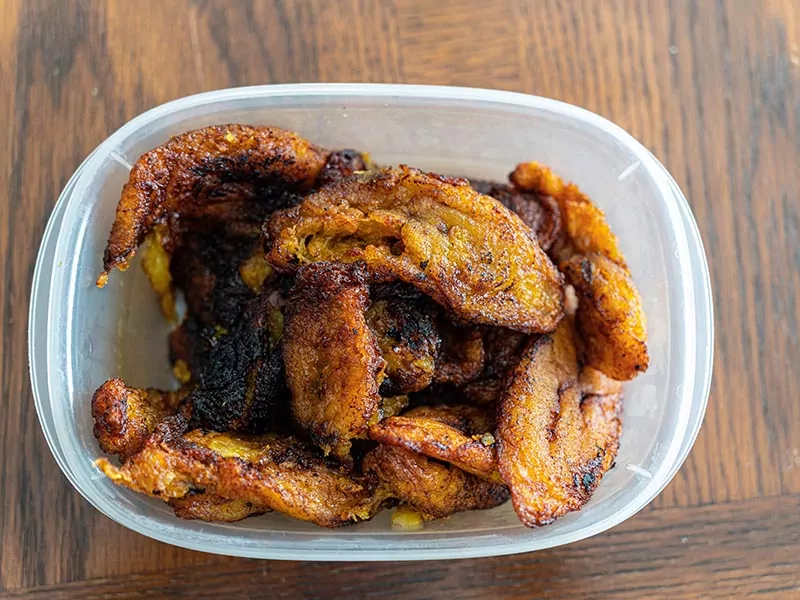 Are you curious about what Nigerian people do with ripe plantains? They deep-fry it in palm oil, creating a delicious side dish.
In Ikire, a town in the Southwestern area of Nigeria, there was a woman who tried to cook something with overripe plantains. She decided to season it with some salt and pepper and fry it in palm oil. The result was surprisingly successful, so Dodo Ikire was born.
Dodo Ikire does not have a stunning appearance. It is almost black in color, but its delicious taste already outweighs the look.
Are you curious about the process of making Dodo Ikire?
4. Moin Moin (Steamed Bean Cakes)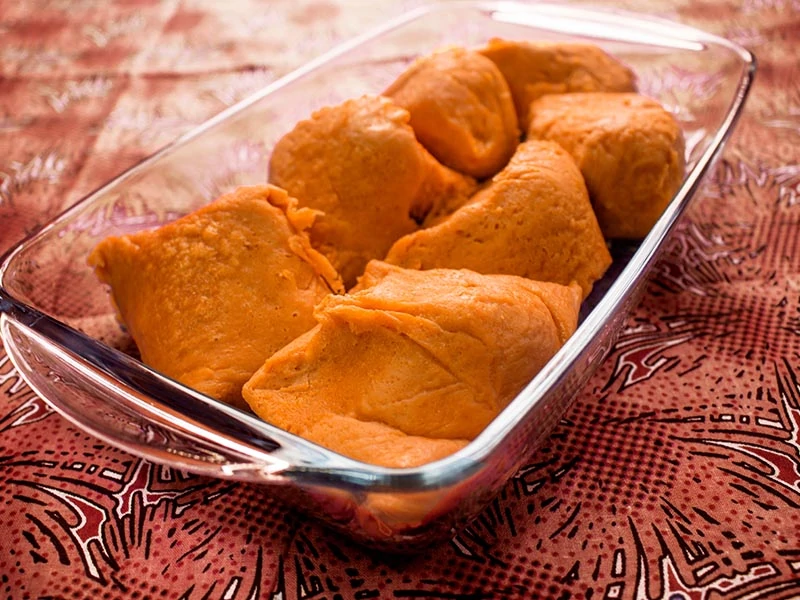 When Nigerian people enjoy Jollof rice and fried plantains, they often place a dish of Moin Moin on the table. They also serve it at parties and special occasions alongside salad and soft drinks. Moin Moin is one of the most popular Nigerian side dishes.
This amazing food staple originated in the West of Nigeria. It is in the form of a thick and creamy paste made from black-eyed beans, onion, and ground red peppers. Depending on the preference of the cook, it can have a pyramid or cylindrical shape.
According to the tradition of Nigeria, each extra ingredient of Moin Moin is considered a "soul" or "life". If 3 additional ingredients are added, it will be called "Moin Moin with three souls."
A popular variant with 7 more ingredients is named "Moin-Moin elemi meje" or "Moin Moin with 7 souls," which include minced meat, hard-boiled egg, lobster, titus fish, butter, green peppers, and carrots.
5. Fufu (Blended And Fermented Cassava)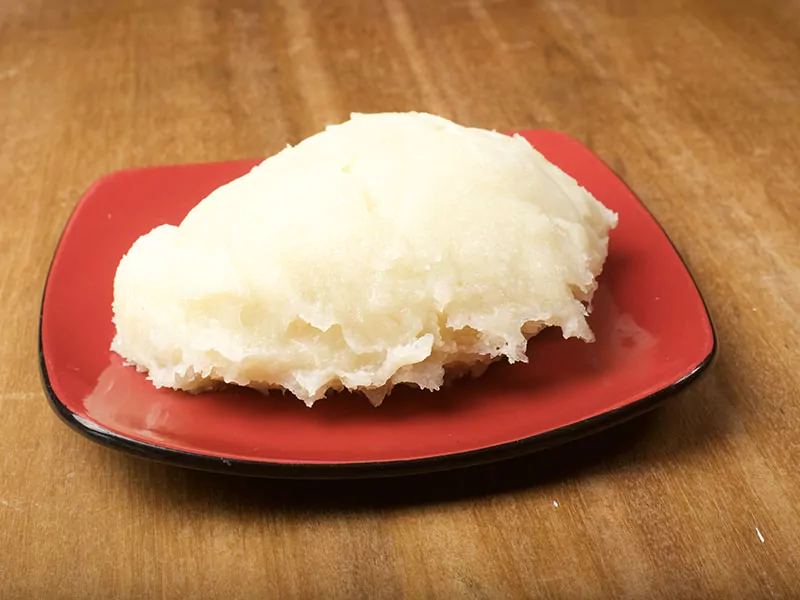 Nigerian people love to make food from the cassava root, also called "Garri." Besides Nigeria, "Garri" is also a prevalent food in Ghana and many West African countries like Togo, Benin Republic, Guinea, Liberia, and Cameroon.
They use dried grated cassava flour to make Ẹ̀bà, a comfort food that is very popular among Yoruba people. It is also made in other West African sub-regions.
This side dish features a sticky dough made of fresh or fermented cassava. It takes several days, normally 3-4 days, to prepare Fufu. Traditionally, people enjoy it with Egusi Soup.
They use their hands to take out a small piece of the dough, roll it into a small ball, make a hole in the center with their thumbs and dip it in the soup.
You should note that you must never use your left hand when eating Fufu because Nigerian people often think that the left hand is used when you go to the toilet. It will be considered an impolite action.
9 Nigerian Main Dishes That Taste Best
Although Nigeria is not a very famous destination for food, travelers are often surprised about how delicious the food is. In this section, let's discover the most popular Nigerian main dishes that you should not miss.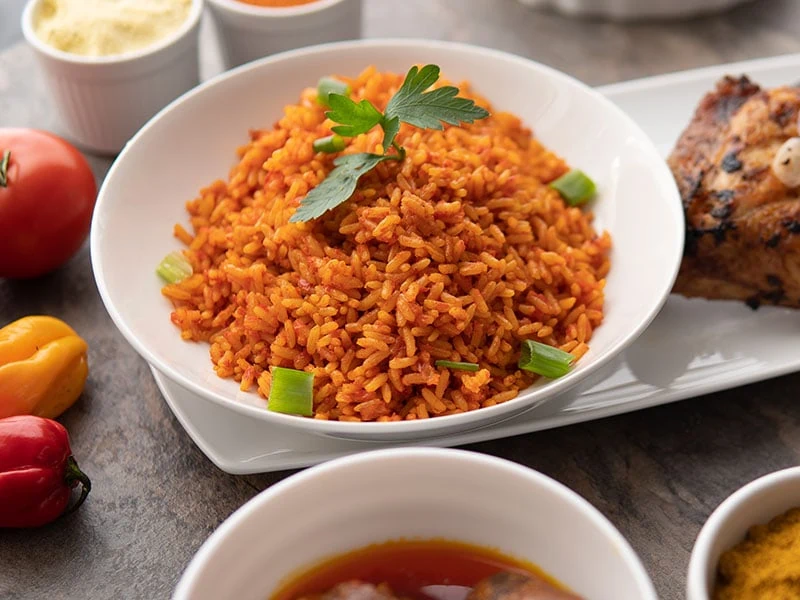 If you are looking for the best Nigerian rice dish, Jollof Rice is an ideal choice. It is also the iconic dish of many African nations. It was founded in the 14th century when the ancient Wolof Empire dominated the region. More specifically, it came from the Senegambia region.
Jollof Rice is made of curry powder, rice, tomato pastes, meat, and onion. It has a charming orange hue and a deliciously flavorful taste. But this rice is loved not just because of the taste. It is also a symbol of unity between the West African countries.
Jollof Rice has many variations. Let's see what people think about them.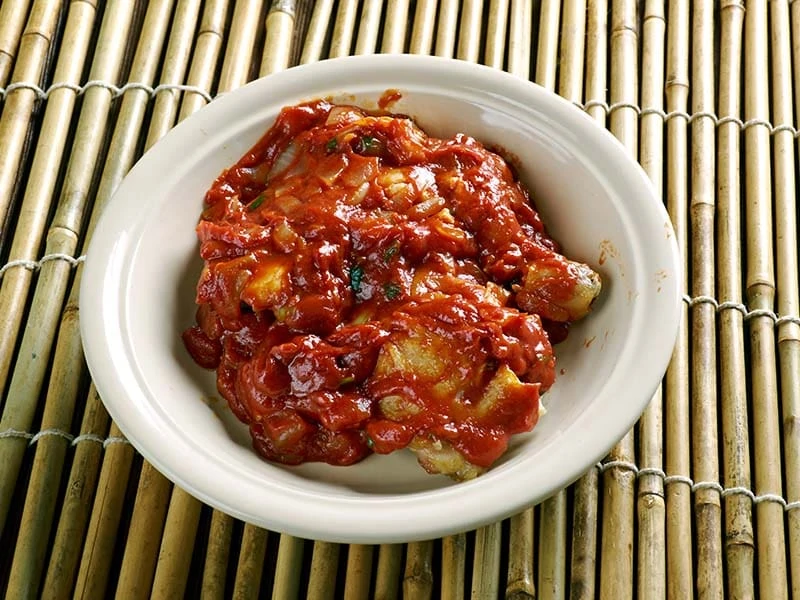 Stews are a very beloved dish in Nigeria and other West African countries. One of the most popular Nigerian stews is chicken stew or red tomato stew. It is warm, flavorful, and aromatic, delivering a feeling of satisfaction.
Nigeria has a classic recipe for chicken stew. It is made of chicken thighs, accompanied by a delicious savory sauce made from bell peppers, tomatoes, and onions. People always enjoy it with Fufu, so make sure you don't miss it.
8. Ngwo Ngwo (Goat Pepper Soup)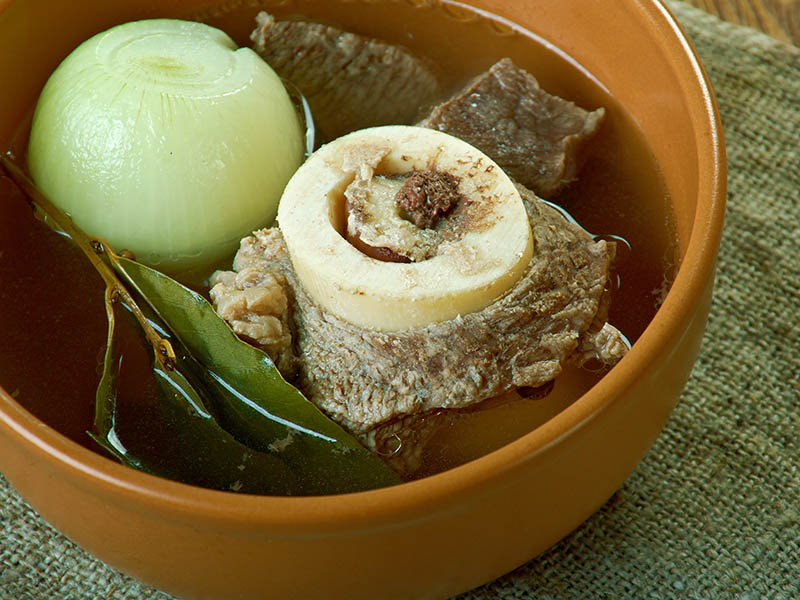 Speaking of peppers, you will often think of a very spicy dish. Yes, it is. In Nigeria, people cook goat meat with spices to create a delicate spicy soup that is used to treat common colds and flu.
Ngwo Ngwo does not have a fixed recipe. The ingredients used vary across regions, but the base ones are always goat meat, and spices are the base ones.
The Igbo people use onions and tomatoes. Those who live in the Delta region make Ngwo Ngwo with rigije, uda, gbafilo, es, and ataiko.
9. Asaro (Yam Porridge)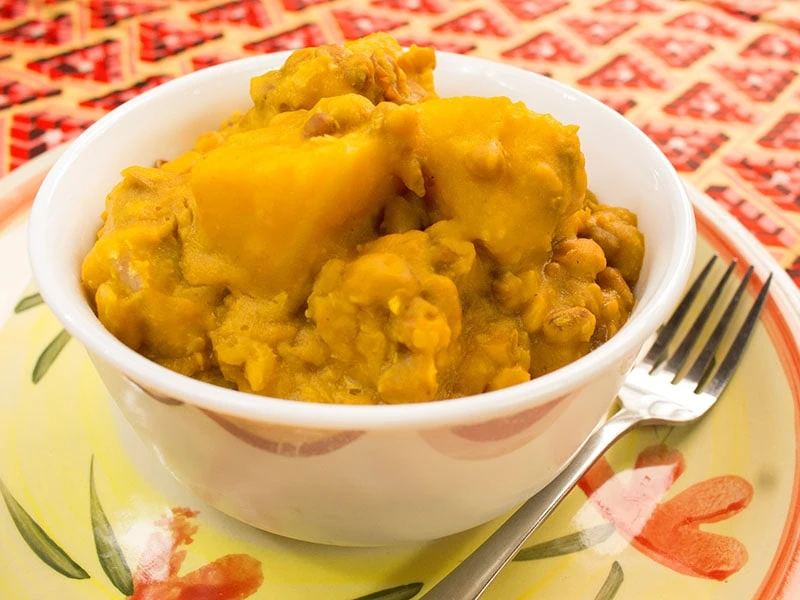 Asaro was created by the Yoruba people of Nigeria. It is made from yam and a few other ingredients such as peppers, onions, palm oil, and tomatoes.
The recipe varies a lot across regions, but it is one of the most beloved Nigerian lunch recipes. In some areas, you will also hear people call it "Potash."
This yam porridge is a very rich and nutritious dish, and it is often enjoyed with soups. While most Nigerian foods contain meat. Asaro is completely vegan. It is packed with nutritious vegetables that are perfect for a fulfilling lunch or dinner.
10. Egusi (Melon Seed Soup)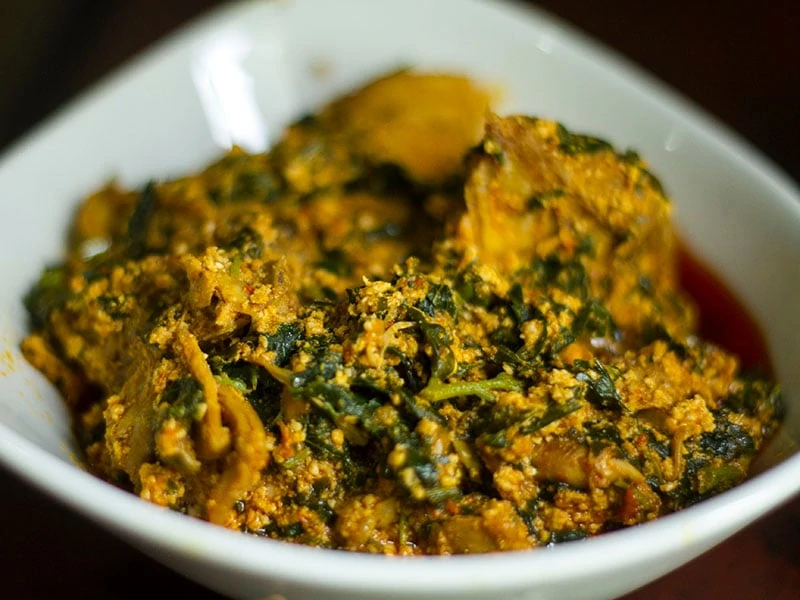 Egusi is the Nigerian word for "Melon." The Yoruba people created a soup from melon seed years ago and named it "Egusi." However, some theories posit that it actually belongs to the Igbo people.
You will also see "Egusi" in the food culture of Cameroon, Mali, Ghana, and many more African countries.
Ground melon seeds are used to create a thick consistency of the soup. Other ingredients include meat, fish, vegetables, and seasonings. It has a distinctive nutty and spicy taste, thanks to melon seeds.
Nigerian people often eat Egusi soup at celebrations and festivals. It is one of the most popular delicacies in this country.
Egusi and Fufu is a perfect Nigerian lunch combo.
11. Kilishi (Nigerian Beef Jerky)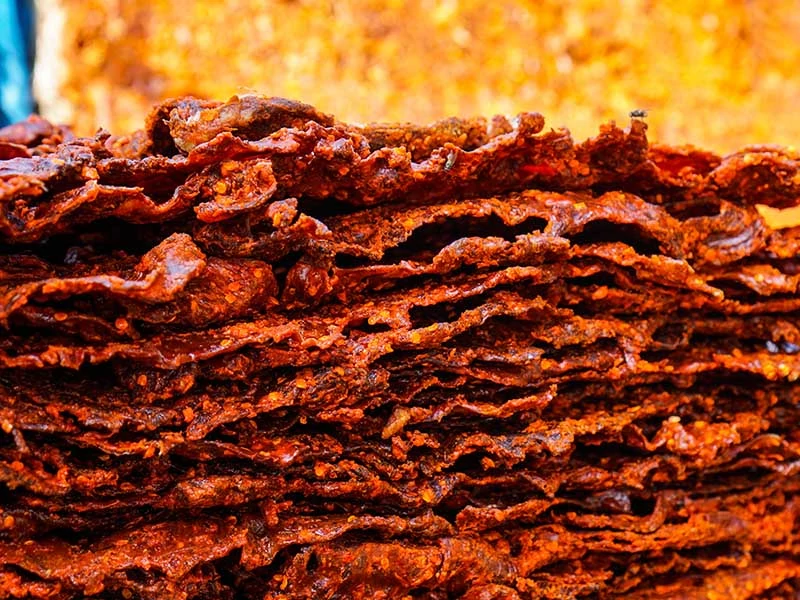 Any fan of dried meat should never miss this Nigerian delicacy. It came from the state of Bauchi and was invented by the Hausa people. They make Kilishi by removing the bone of sheep, goat, or cow meat, then cutting it into thin slices and drying it under the sun.
People make Kilishi because they want to keep meat for a long time in the past. Those who need to go through the Sahara would bring it along to eat. Nowadays, the Nigerians serve Kilishi as a snack or enjoy it with rice dishes, especially Jollof Rice.
12. Ofe Akwu (Banga Soup)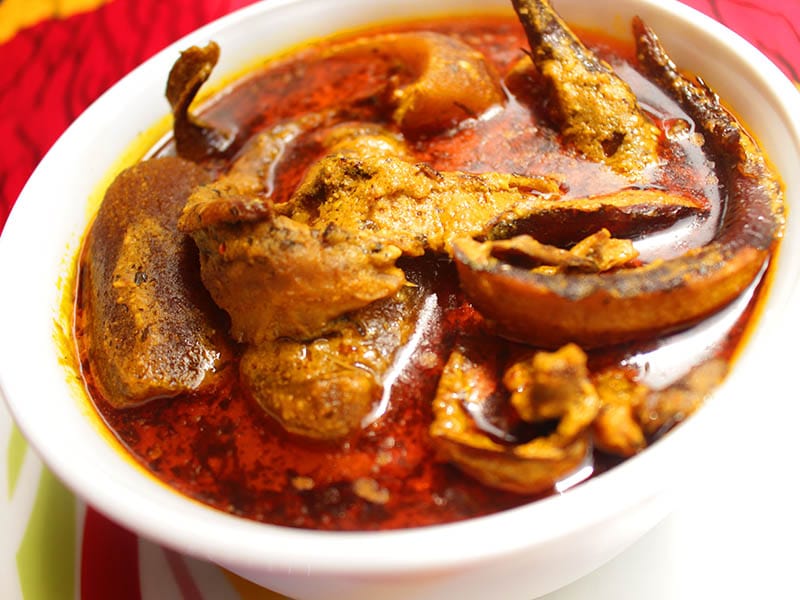 Made from various types of meat, fish, palm nut fruit, and spices, Banga Soup is a delicious delicacy that you should never miss. It is spicy and full of flavors. It pairs perfectly with Fufu, creating a fulfilling meal that everyone asks for.
Banga Soup is an authentic Nigerian recipe that was invented by the Urhobo tribe, who resided in the Delta state of Nigeria. Nowadays, it is widely popular among the Itsekiris and other tribes. Each tripe has a unique recipe.
Its name consists of 2 words. "Ofe" refers to soups or stew while "Akwu" means palm fruit.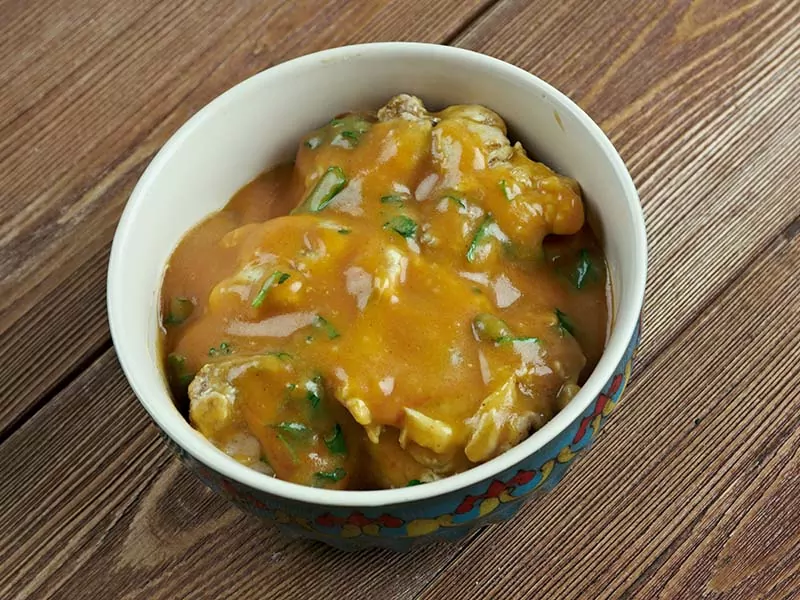 Ogbono soup came from the south-eastern part of Nigeria, especially Igboland. It is named after the main ingredient, which is ogbono seeds. Other ingredients include bitter leaf and celosia, vegetables, meat, and seasonings.
This soup is not only famous for its rich and flavorful taste but also for its impressive health benefits. It is shown to contain potassium and can control blood sugar levels and reduce fatigue. This Nigerian dinner recipe is definitely worth trying. I can't recommend it more.
Ogbono soup also pairs perfectly with Fufu.
14. Efo Riro (Spinach Stew)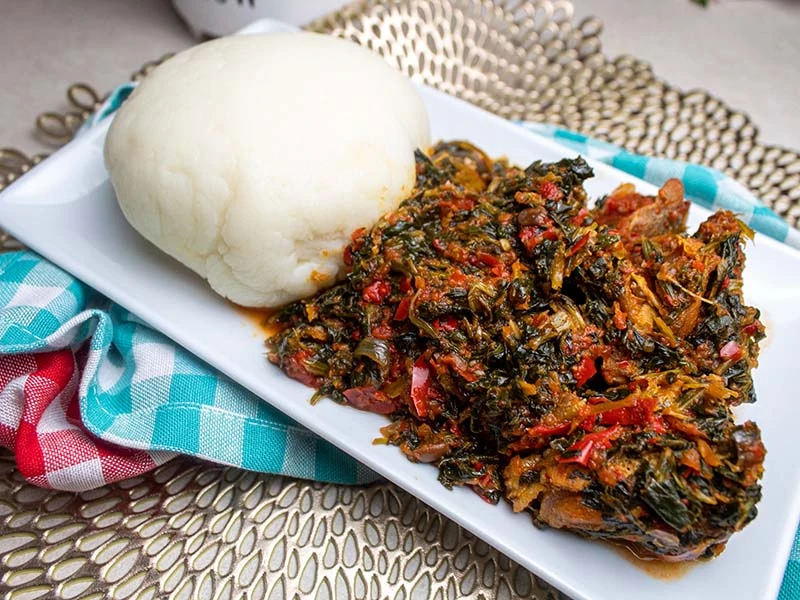 Efo Riro is another Nigerian delicacy coming from the Yoruba people. "Efo" means green leafy vegetable while "Riro" means "to stir."
Can you guess what this dish is made of? Yes, the main ingredients are vegetables, including efo shoko (Lagos spinach), efo tete (African spinach), habanero peppers, red bell peppers, onions, and tomatoes.
Sometimes meat is included. Efo Riro is often served with starchy dishes, such as Fufu or Eba, like other stews.
8 Iconic Nigerian Street Foods That Will Make Your Jaw Drop
Street food is an amazing thing that everyone loves. In Nigeria, there are 2 dishes that are always present on street vendors. Check them out!
15. Masa (Rice Cake)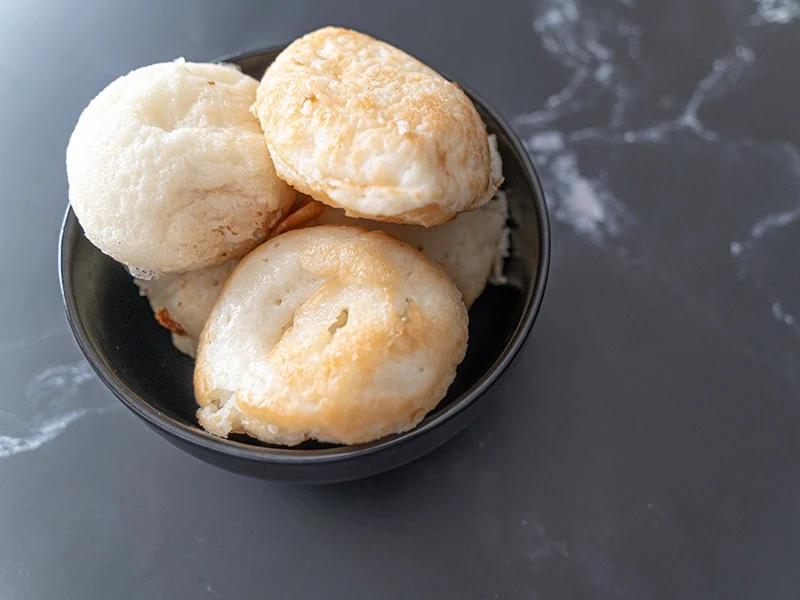 If you come to the city of Bauchi, which is located in the northern part of Nigeria, Masa is a must-try. It is the delicacy of this city. Also, it is particularly popular among the Hausa tribe.
Masa has the form of small cakes made out of rice. Other ingredients include yeast, sugar, and salt. Nigerian people love it because it is inexpensive and easy to make. They often serve it alone as a snack or dip it in vegetable soup.
16. Àkàrà (Fried Bean Cake)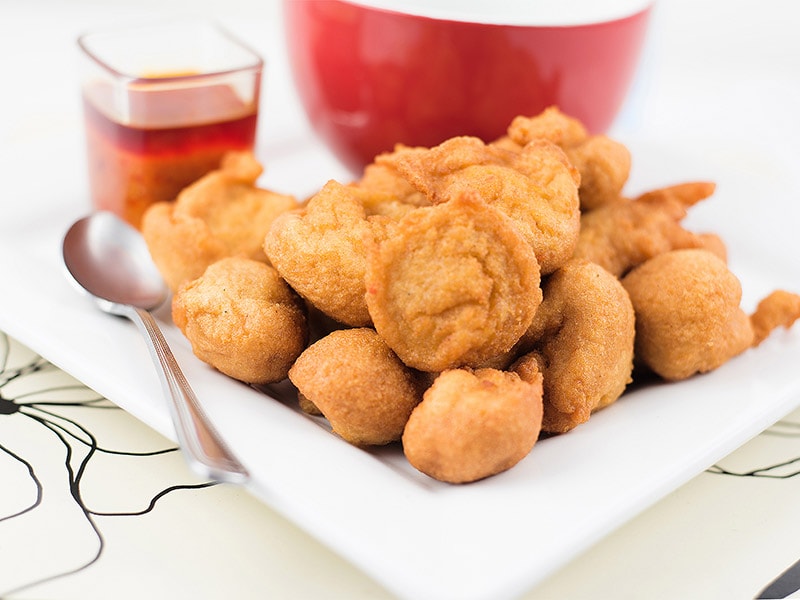 Àkàrà is a famous authentic Nigerian breakfast recipe. It is called "Àkàrà" by the Yoruba people who invented it. Hausa people call it "Kosai." Tradition has it that Yoruba people often serve Àkàrà to the soldiers who had just won the war.
In the past, it was eaten in burial ceremonies of people who were over 70 years old, but this tradition has become outdated.
If you know the traditional Brazilian food "Acarajé," you may not know the fascinating truth that it is actually derived from Àkàrà.
This dish is made from black-eyed peas. They are soaked overnight, ground, seasoned, shaped, and finally deep-fried to reach the desired tasty flavor and crispy texture.
17. Ewa Agoyin ( Bean Porridge)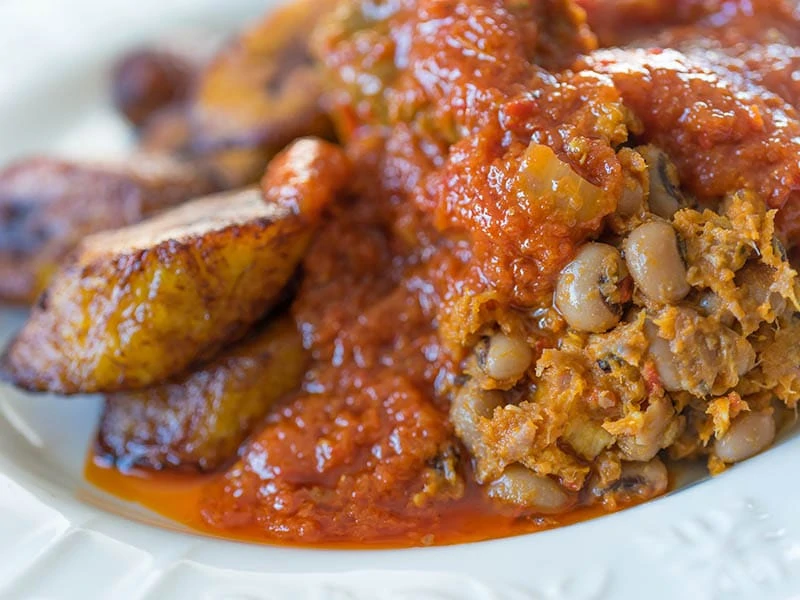 "Ewa" is the Yoruba word for "beans" while "Agoyin" refers to the Togolese and Beninese people. Putting together, the name "Ewa Agoyin" indicates a bean dish that is made by the Togolese and Beninese people.
People make Ewa Agoyin by mashing beans and serving it with a tasty sauce made from spicy peppers, onions, and palm oil. It is spicy street food that is incredibly delicious. The Nigerian people often say "ewa G go block belle," which can be translated to "Ewa Agoyin will fill your stomach."
18. Abacha (African Salad)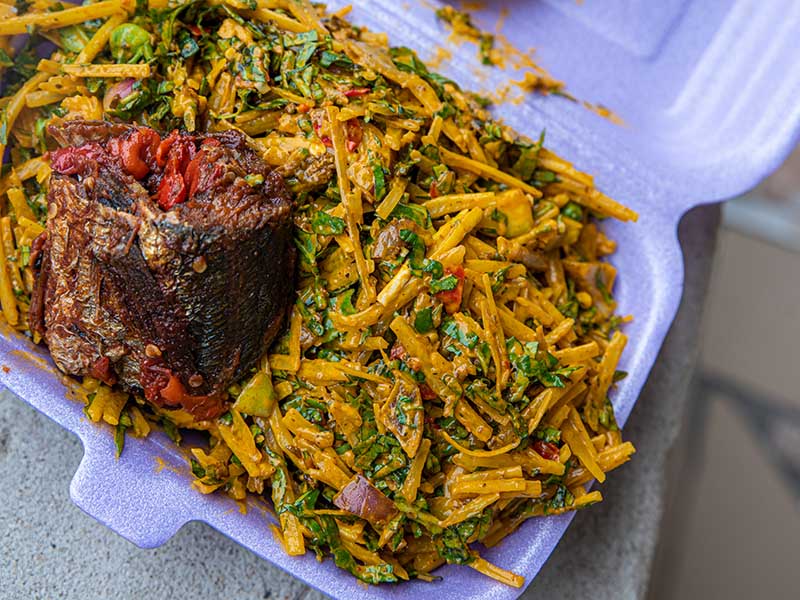 Abacha is native to the Igbo tribe, who resided in Eastern Nigeria. It is made from the Nigerians' favorite root vegetable, cassava. Most vegetable dishes in this country are created from cassava.
Although local people often consider this salad a street food. It is also a Nigerian dessert recipe. Feel free to enjoy it as a refreshing African dessert if you want to.
To make Abacha, people dry and shred cassava. It is also seasoned with calabash nutmeg and other species. Then they top it with fried meat or fish. Abacha is traditionally served alongside Ugba, made from oil bean seeds.
Abacha may be the best salad that you've ever tasted.
19. Suya (Spicy Grilled Kebab)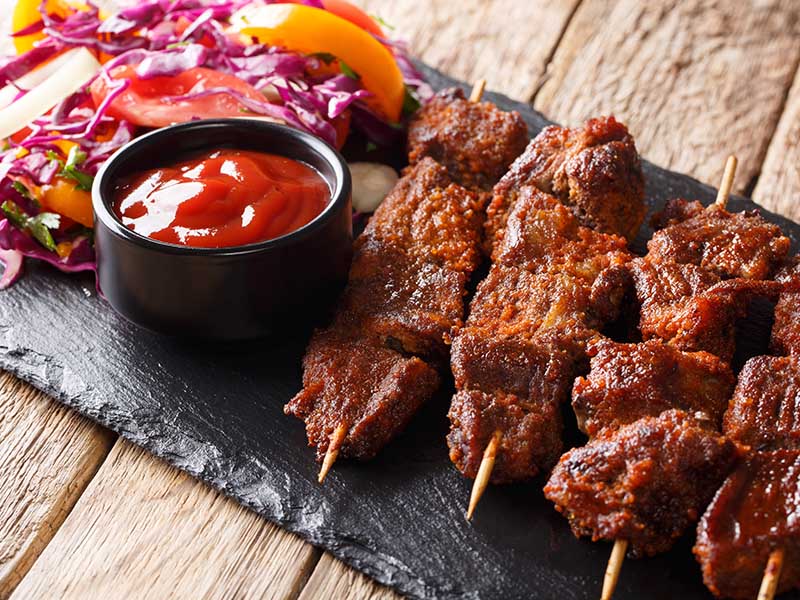 Suya is a very famous street food in Nigeria and other West African countries. It came from the Hausa people in the northern area of Nigeria. Nowadays, people in some regions regard it as the national dish.
People often make Suya with chicken, beef, or ram. They season the meat with spices such as salt, pepper, paprika, ground peanuts, and chili pepper, creating a sophisticated spicy flavor that will make your mouth water.
After cooking, people often wrap it in old newspaper or foil and serve it with fresh vegetables, namely tomatoes, cabbage, and onions. Feel free to enjoy it with any kind of vegetables you want.
Suya is considered the best street food in Nigeria.
20. Boli (Roasted Plantain)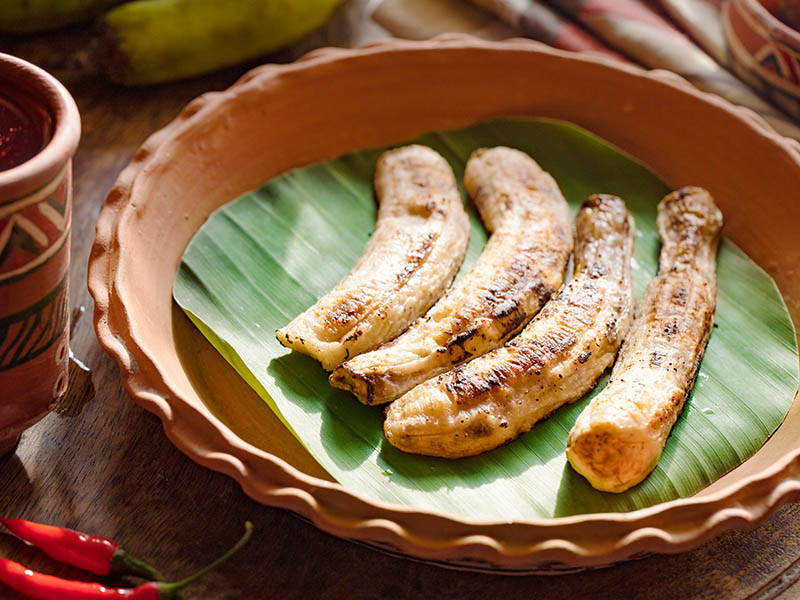 Roasted plantain will perfectly serve as a snack or even a main dish in your Nigerian meal. The amazing thing is that both ripe and unripe plantain are roasted. So don't worry if you don't like the sweetness of ripe plantain.
Boli was created by Yoruba people living in Nigeria and has been their traditional dish for years. People call it "Boli" in the West, but if you come to the Southern part, it is often pronounced "Bole." Nowadays, it is a festive side dish that is served with fried chicken and roasted fish.
21. Puff-Puff (Fried Sweet Dough Ball)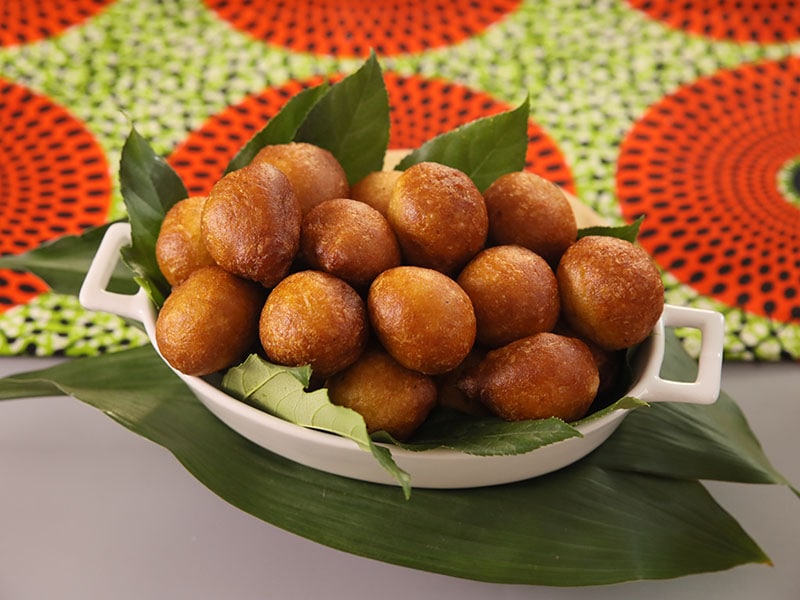 A lot of travelers die for Puff-Puff when they come to Nigeria. Although it is just fried dough made from simple baking ingredients including flour, yeast, butter, and vegetable oil, its lovely flavor and the crispy flavor are greatly seductive.
Little is known about the history of Puff-Puff. The only information is that it came from Sub-Saharan Africa. It is the signature snack of Nigeria and is also popular in other neighboring countries.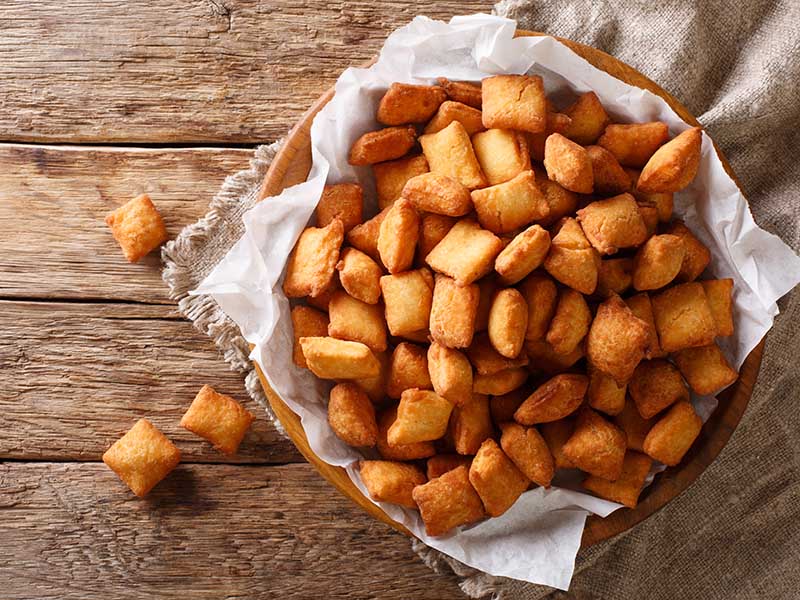 Chin Chin is a festive snack that is typically served at Christmas and weddings. It is often said that there is no wedding in Nigeria without Chin Chin. Besides those special occasions, you can also enjoy Chin Chin all year round.
It comes in the form of crunchy fried dough made from wheat flour and other baking ingredients. The dough can have various shapes. Nowadays, you can find Chin Chin at supermarkets and street vendors.
You can customize the texture of Chin Chin if you want to. It can be hard, soft, or crunchy. The longer people cook it, the harder it will be. Some butter also helps to adjust the texture.
4 Nigerian Drinks To Quench Your Thirst
Let's talk a little bit about the beverages! Any Nigerian meal or party cannot be completed without them. Below are my top 4 suggestions for you. All of them are very healthy and tasty.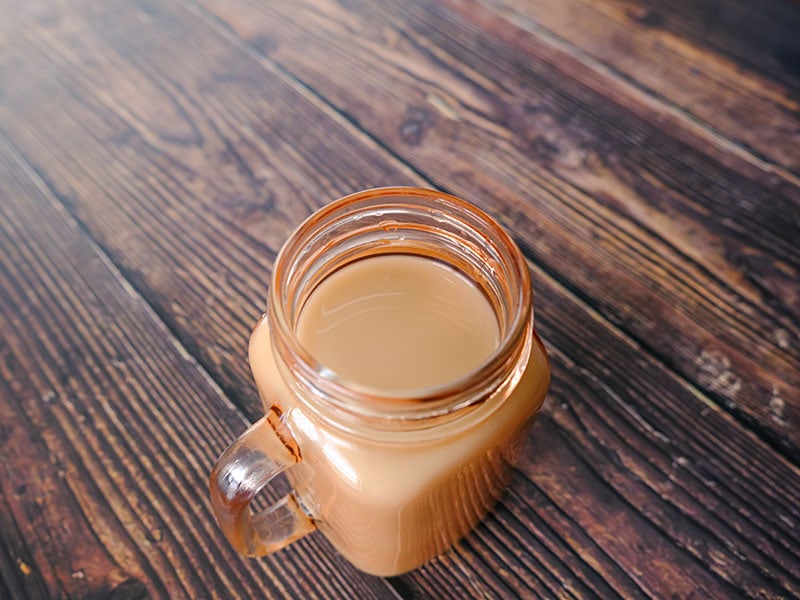 Kunun Zaki is a pervasive non-alcoholic drink in the Northern part of Nigeria, especially among the Hausas people. It is believed to originate here but still remains unconfirmed. This drink is rather common among low and middle-class people.
This drink is well-known for its rich nutritious content and its mouth-watering nutty and spicy taste. It is made from millets, corn, or whole grains. Notably, it can prevent dehydration and promote heart health.
And if you're a fan of dishes made from millet, you'll also love millet porridge, which is the staple dish from Senegalese cuisine. Aside from millet, this dessert also features peanut butter, yogurt, and baobab cream.
24. Zobo (Hibiscus Tea)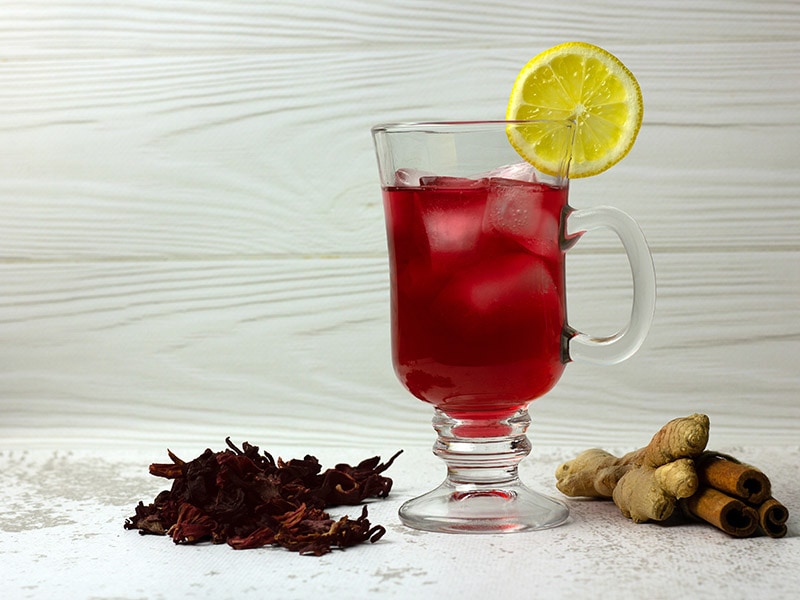 No matter whether you go to the restaurant, local houses, or party, you can always find Zobo, a classic and authentic Nigerian drink that has gained popularity around the world. "Zobo" is the Nigerian word for the hibiscus plant, which is the main ingredient of this delicious drink.
Zobo is made from the leaves of the hibiscus plant. Some other ingredients are cloves, ginger, and pineapple. When finished, the cup is garnished with fresh citrus fruit, such as lemon and orange. It has a taste similar to cranberry juice, which is impressively pleasing and delectable.
You can also try making this amazing drink yourself with this recipe.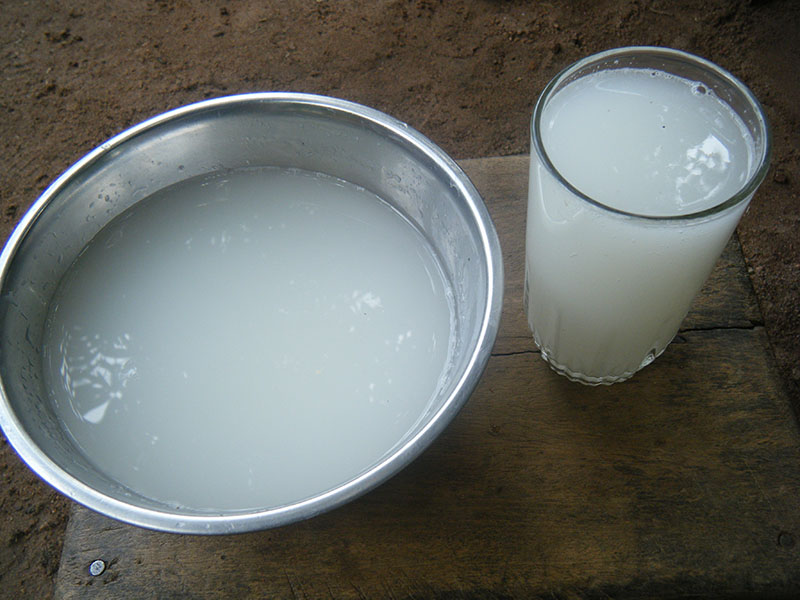 Alcoholic beverages are often considered unhealthy. But this is not the case for palm wine, which is fermented from the sap of multiple types of palm trees. It is a popular drink among students and old people in Nigeria because it comes from natural ingredients.
Palm wine plays an important role in the social tradition of Nigeria. People drink it at parties, gatherings, and celebrations. According to the Igbo tradition, the men often give palm wine to the fathers of the women that they want to marry as an indication of close and long-lasting love.
26. Chapman (Nigerian Cocktail)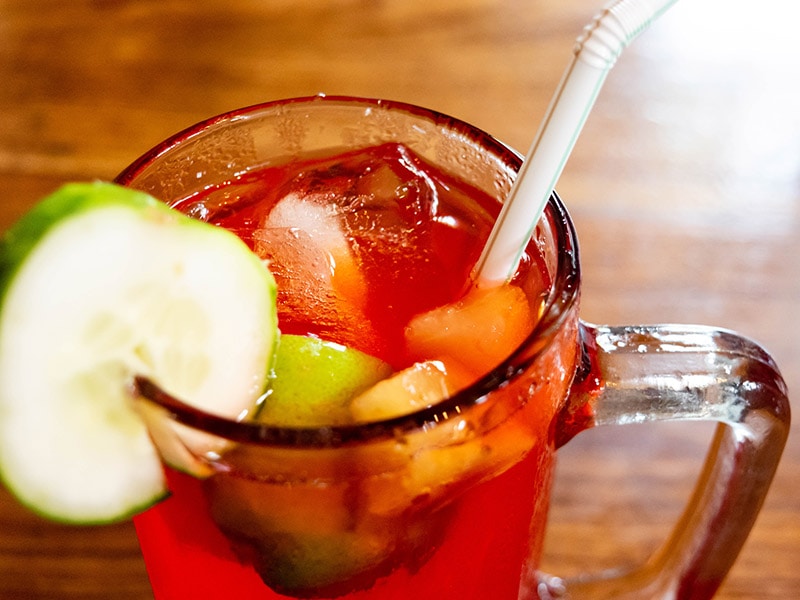 Chapman is a delicate cocktail with an interesting history. Legend has it that it originated in Ikoyi Club in the city of Lagos. There was a customer called Chapman. He wanted to have something special to drink, so the waiter created a new drink and named it "Chapman."
Traditionally, this drink is made from Fanta, Sprite, Angostura bitters, lemon, cucumber, and grenadine. The cocktail is held in a mug and garnished with some cucumber slides. The modern version sometimes has some vodka or rum.
Your Mealtime In Nigeria Will Be More Meaningful And Enjoyable
I believe that now you are also fascinated with Nigerian foods, history, and culinary tradition. Now all you have to do is to make your own list and wait until your trip begins. I hope that you will have a lot of memorable experiences in Nigeria.
If this article is helpful to you, please give it a heartfelt share. I am also very curious about what you think about these dishes, so it would be great if you could post some pictures of them along with your review.