New Zealand foods are always present on the world culinary maps. Being an island country, New Zealand is famous for its fresh and delicious seafood, and you may have heard that the indigenous there always adore their sweet tooth.
But that's not all; the oceanic climate also provides a wide range of culinary ingredients that the New Zealander is always proud of. And did you know that they called themself the "Kiwis" after the name of their national bird and fruit?
So now, let's skip the chatting and get to see how those "Kiwis" enjoy their foods!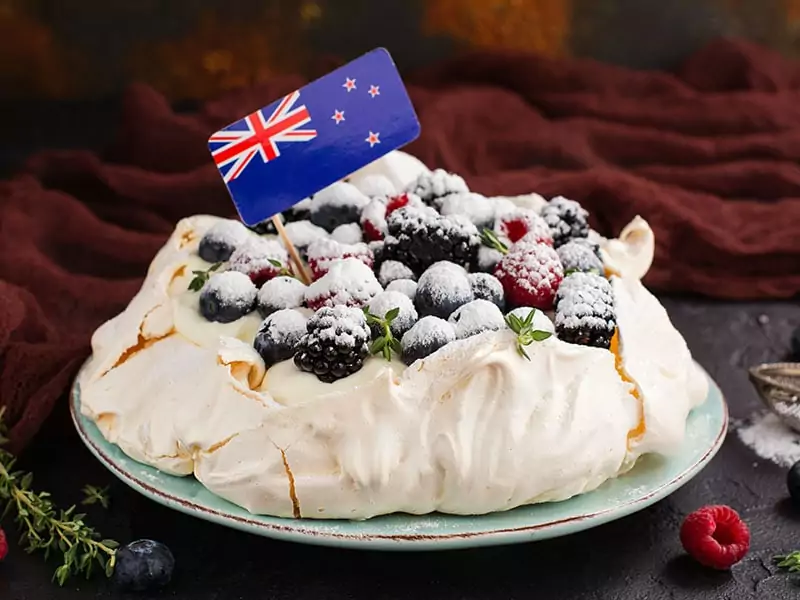 It's A Huge Shame Not To Try New Zealand Seafood Dishes
As mentioned above, New Zealand has a wide variety of seafood for being an island country. There are certain kinds of seafood that you can only enjoy properly in New Zealand. Therefore, always take your chance to try them when you get there.
Indeed, the Fish and Chips is a popular dish sprouted from England. However, it's also a culinary tradition staple of the Kiwis. Most of the fish and chips restaurants or shops in New Zealand provide various options for the dish.
For the fish, elephant fish, hoki,, and red cod are some common varieties. And you can choose the regular French fries or the traditional kumara fries for your meal. Enjoying this dish while resting on the beach is one of the habits of the Kiwis.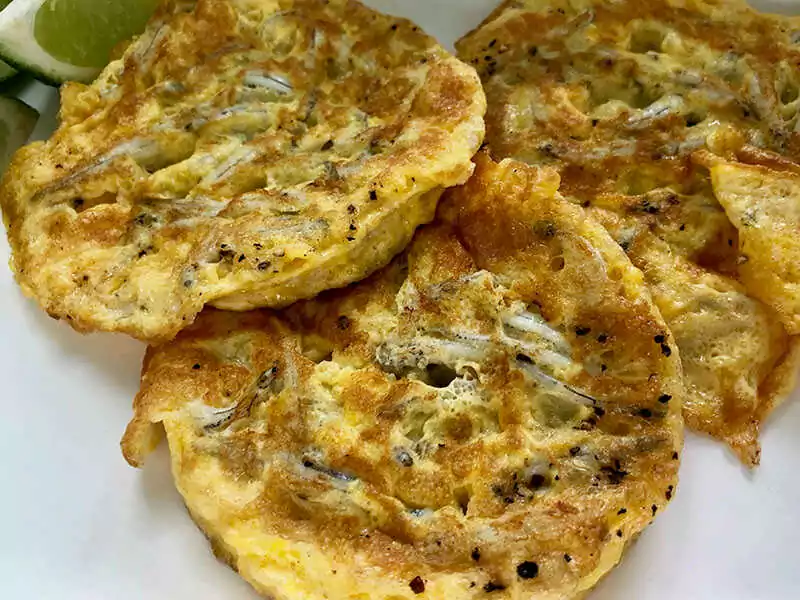 If you haven't heard about this before, "whitebaits" is a term for immature or tiny types of fish. And whitebait fritter literally is a pancake with these fish present in many gastronomies, but the Kiwis version uses smaller whitebait than the regular ones.
Since most fritters are made of freshwater whitebait, this is a good option if you're allergic to seafood. And you can easily find it at street food stalls, especially on the West coast of Southland.
However, due to the overfishing in New Zealand, this is also a controversial dish that you might want to think twice before purchasing.
See how the locals make fritters with their fresh-caught whitebait.
3. Kina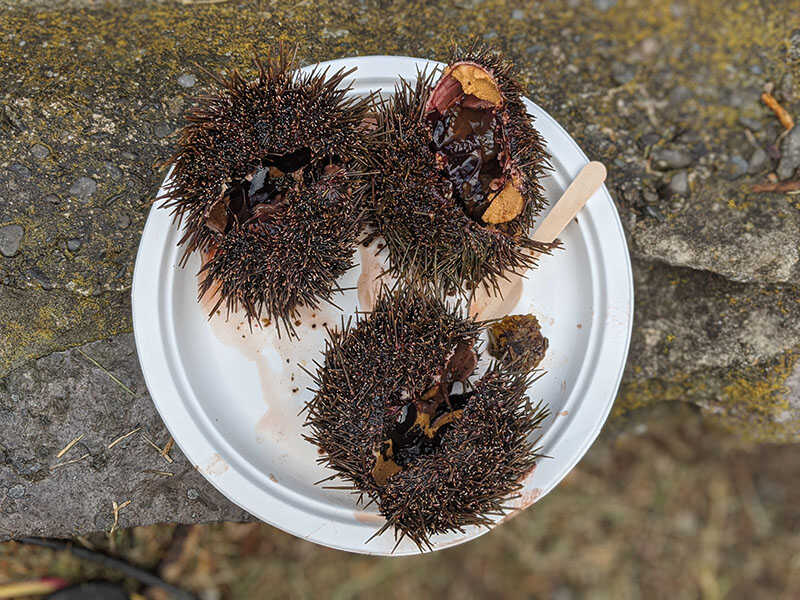 Kina is a very abundant sea urchin species across New Zealand. The indigenous have enjoyed this sea delicacy for centuries, but it's only become commercialized since 1986.
Nowadays, you can find deep-fried Kina or Kina pie. However, the best way to enjoy this ocean snack is raw on a boat tour at the country bays. Once fried, its tender flesh will release a unique fragrance that you can never forget.
See how the locals enjoy their tasty sea urchin snack.
The dark green shell and the bright green lip have given this mussel its name. Nowadays, you can find Green-lipped Mussels in other regions of the earth, but it's much more affordable in New Zealand since you can enjoy them freshly caught.
The locals also believed that Green-lipped Mussels could reduce asthma and arthritis. The Kiwis usually prepare this ocean delicacy steamed or grilled, but some restaurants also offer it in their chowders. Havelock is where you can easiest find those mussels.
5. Crayfish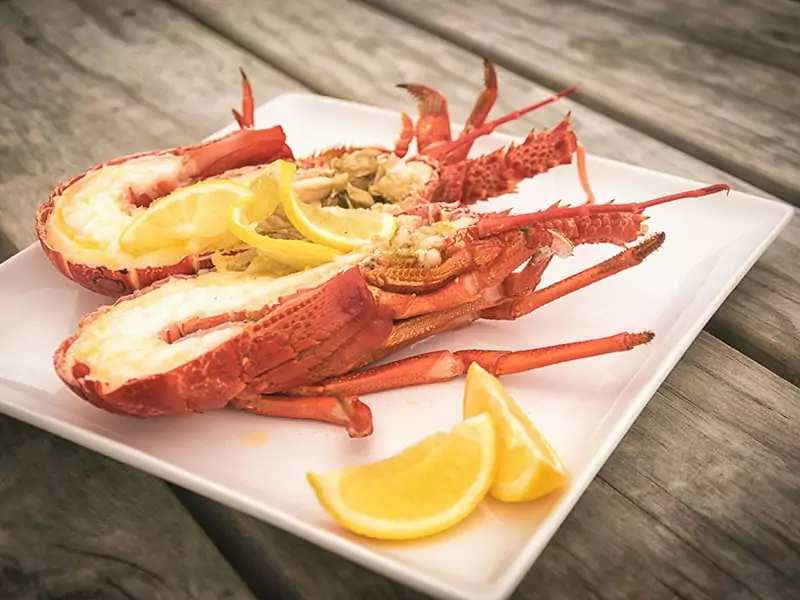 Crayfish is another well-loved seafood in the country. People normally cook them in the same way as they do with lobster. However, similar to lobster, this food might not be too affordable.
But if you have a chance to try them in New Zealand, you can sense the delicately sweet flavor with a meaty texture that resembles tiger prawns.
The best place to enjoy crayfish is Kaikoura. This is a beautiful town on the South Island of New Zealand.
6. Pāua
Paua is an abalone species with a vibrant shell mostly caught in New Zealand. It has become an aquaculture product back in the 1980s. You can now find it in the Kiwis jewelry, and it's especially abundant in cultural souvenir stores.
It is also edible, and you can have Paua in many ways, raw with some lemon juice, steam, fried, or even fritters and soups. However, it's believed that the best way to enjoy this abalone is to grill it.
See how Gordon Ramsay catches and tastes the paua.
7. Bluff Oyster
You may have tried many kinds of oysters before, but skipping this one and you'll regret it. In fact, many Kiwis and even foreigners assume that this is the tastiest oyster in the world. Nowadays, Bluff oysters have been commercially cultivated on a large scale.
Therefore, they are available across the country, and you can enjoy Bluff oysters all year round. For further enlightenment, its season begins from March to August, and the peak season is May, with an oyster festival that you shouldn't miss.
How Can You Resist These New Zealand Meat-based Dishes?
New Zealand cuisine is not only famous for its variety of seafood but also remarkable for its grilling and baking dishes. And these Kiwis love meat, indeed. Let's take a look at some outstanding meat-based dishes that you can only try in New Zealand.
8. Hāngī
Not a specific food or a dish, the term "Hangi" stands for a cooking method from the Maori people that can also be understood as the "earth oven". It indicates a group of food covered in a packet, which is then buried in a pit lined with hot stones.
Hangi is usually served as a buffet, and the Kiwis would prefer to use root vegetables, pork, beef, and chicken for their feast.
However, since this process will take about seven hours or more, you can now only find the Hangi in some specific restaurants or during the cultural tour. And it's now covered in aluminum foil and steel basket rather than the traditional flax leaves.
Check out the way Kiwis prepare and enjoy their Hangi.
Indeed, meat pie appeared in different versions across countless regions. However, you'll be surprised to know how famous it is in New Zealand and Australian food culture.
The Kiwis even considered it one of their national identities and held an annual festival to honor their love for Meat Pies.
The meat pies here are as large as a hand, and the cultural filling includes minced or diced meat from cattle or poultry, onion, mushroom, and the essential gravy. However, you can also find various types of meat pie around the country; the most favorite addition is cheese.
Interestingly, the number of sheep in New Zealand is even greater than the population, and Canterbury gathered the most significant flocks. It's also among the finest export lambs you can have from New Zealand.
In fact, about 25% of imported lambs of the United States were exported from Canterbury. There are multiple ways to enjoy delicious lamb in New Zealand, grilled, toasted, or even sandwiched. Setting up a lamb crown is also a premium version of this delicacy.
11. Sausage Sizzle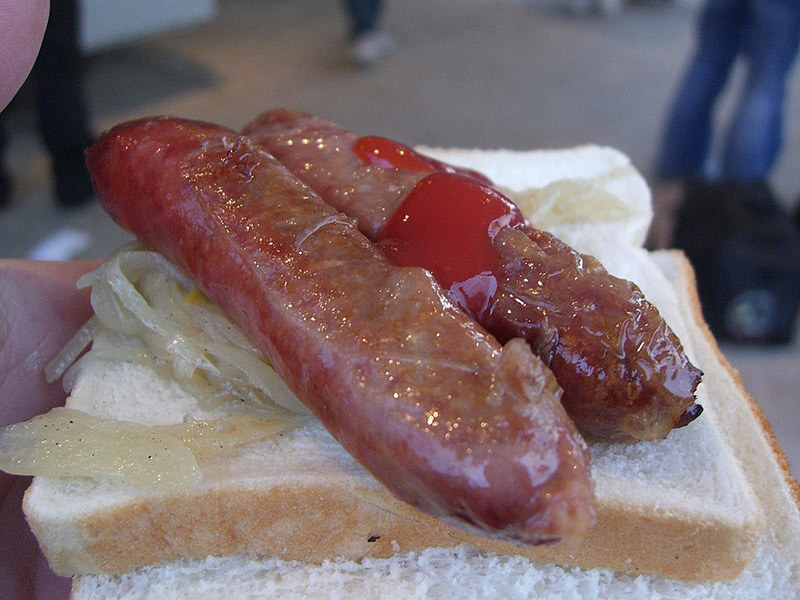 Sausage Sizzle is associated with either a fast meal for weekends or fundraising events. This highly affordable snack is simply made of white loaf bread slices and "sizzling" cheap sausages, with ketchup, mustard sauce, and fried onions as accompanies.
The fun fact here is you can only find it on the weekends, when and where either kid or adult fundraising events are held. Hence, it's also a New Zealand street food staple that you shouldn't skip.
Kiwi Burger is actually named after the Kiwis, and it doesn't contain kiwi fruit in any aspect. Comparable to the regular burger, the Kiwi burger is a combination of qualified local ingredients, such as grass-fed beef.
The significant identities of the Kiwi burger are a fried egg and a few slices of beetroot in the layers. However, some Kiwis local eateries may not write the "Kiwi" name on their menu, so if you're wanderlust and want to try this delicacy, just look for the burgers with beetroot.
McDonald's also offers the cultural Kiwiburger for the Kiwis; check it out!
13. Kiwi BBQ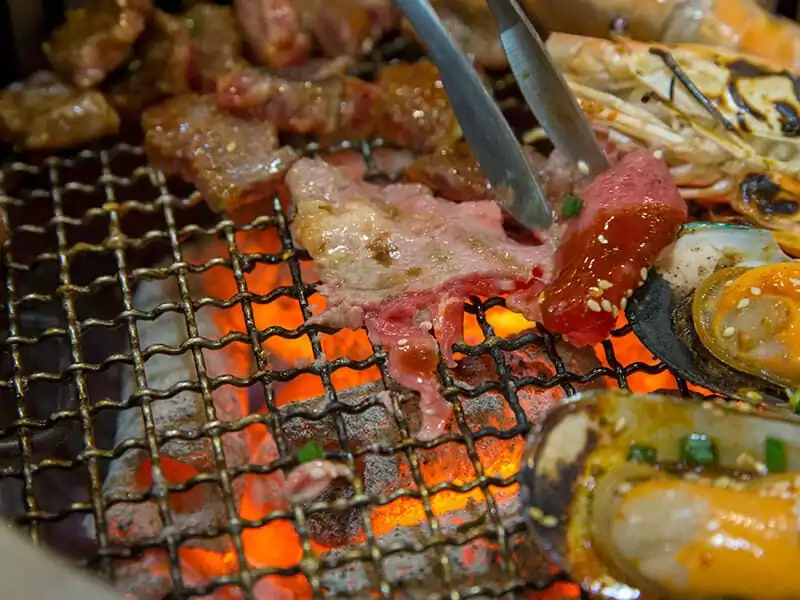 At this stage, I'm positive that you are not mistaking Kiwis and the kiwi fruit any longer. Traditionally, the Kiwi BBQ only calls for a few varieties of sausage and tomato-based sauces. And it has developed to become a Kiwis tradition today, especially in Auckland.
During the weekends of the summers, you can easily spot New Zealander families gathering in their backyard, grilling sausages, chickens, beef, burgers, seafood, and multiple sorts of vegetables. Most importantly, alcoholic drinks are rarely absent in the Kiwis BBQ.
Occasionally, Kiwi BBQ is also an excellent New Zealand dinner recipe for Christmas. Therefore, if you're traveling to New Zealand during the summer or the Christmas season, don't skip the chance to join their friendly and delicious Kiwi BBQ.
What About The Sweets In New Zealand?
Save the famous Pavlova for an exception; many sweet foods have deeply rooted into the Kiwis gastronomy and can't be found anywhere else but in New Zealand. Here are some cultural confectioneries that you won't be able to resist.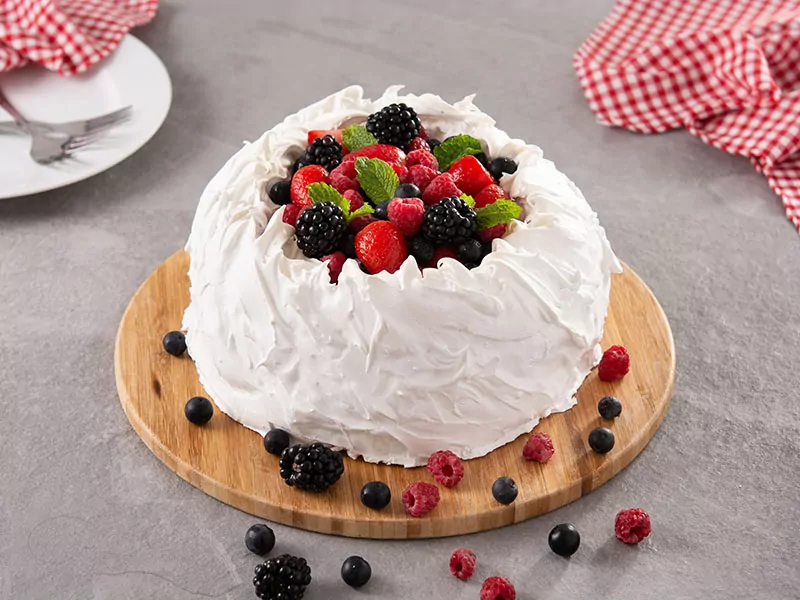 Though the recipe for Pavlova was formed long ago, it only got its name during the 1910s. This meringue-based dessert is named after Anna Matveyevna Pavlova – a famous Russian ballerina. There was a saying, "She does not dance; she soars as though on wings."
Therefore, you can get an idea of how she inspired the chefs. During this time, Pavlova visited both Australia and New Zealand on her ballet tour. Since then, things have been debated about whether the Kiwis or the Aussie originated this cake.
Regardless of the origin, this is a simple New Zealand dessert mainly made of egg white and sugar; flour is rarely added. Fruits like plums or strawberries are also popular ingredients in making this cake. A sweet and creamy Pavlova might be the best plum dessert you'll ever taste.
When serving, Pavlova is usually topped with whipped cream and a lot of delicate fresh fruits.
Take a visual and historical look at the famous Pavlova.
Besides calling themself the Kiwis, New Zealanders have more interesting slang than you might think, such as Lolly – which literally means sweets in general. And this cake is made of multiple types of sweets such as marshmallows, candies, cookies, etc.
Traditionally, this cake will be made of crushed malt biscuits, condensed milk, and melted butter, and the rests are optional. Then, the mixture is shaped into a loaf, rolled over ground coconut, and served in slices. The Kiwis also consider slices of Lolly cake as a sweet gift.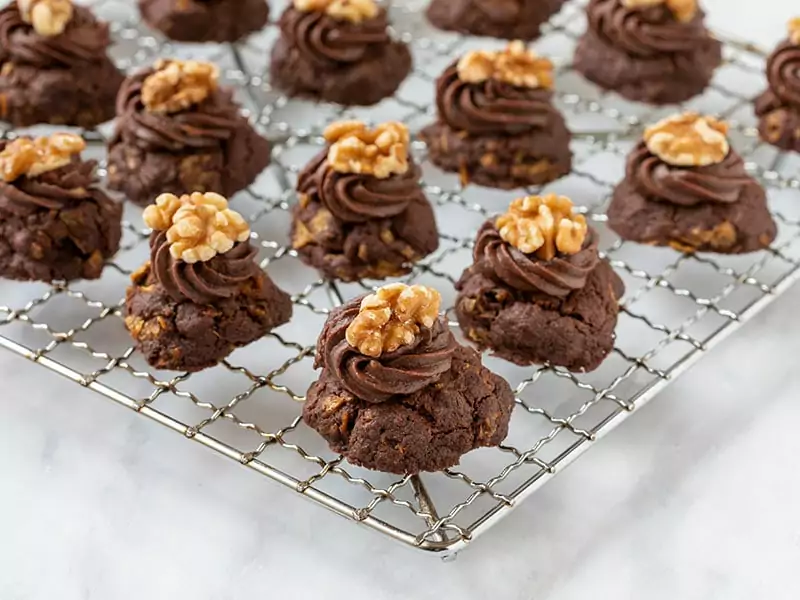 Though it may sound like a Middle Eastern region, Afghans is an actual cookie that originated in New Zealand. This name has led to many controversial theories on its origin, about whether the name was inspired by the Afghanistan landscape or just the Afghan's hat.
Also, though the cookie was invented in 1934, many historians assumed its name was reminiscent of the first Afghan war, which led to racist and culturally defensive debates. Regardless of the arguments, this sweet includes cornflake, flour, sugar, butter, and cocoa.
It's also coated with chocolate icing and topped with a piece of walnut. Since there's no leavening or rising agent, the texture is denser and quite heavy compared with the regular cookies. It's best to enjoy these confectioneries with a cup of hot coffee or tea.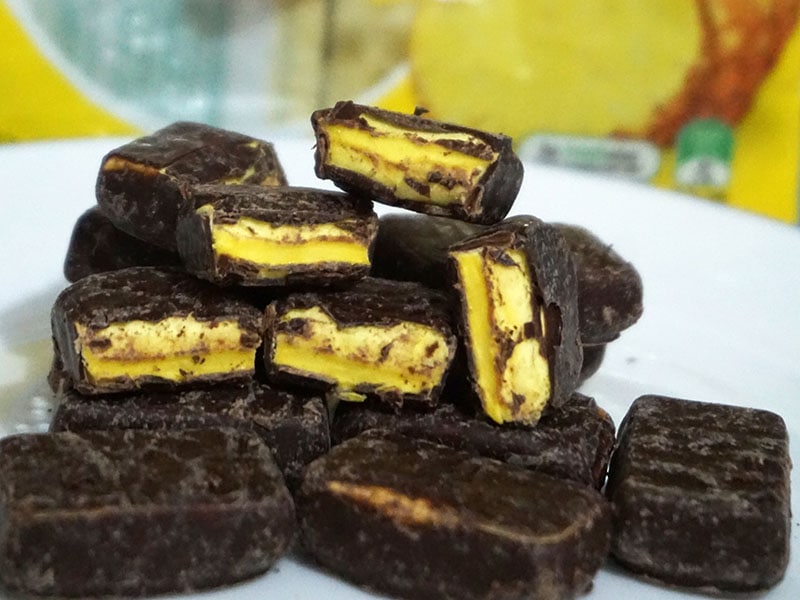 Pineapple Lumps is a treat that you can easily buy from supermarkets or ice-cream stalls along the streets. It has been available since the 1950s and is deeply rooted in Kiwis culture.
This is a sort of firm marshmallow with pineapple flavored and covered in milk chocolate. You might think that pineapple and chocolate are a weird combination, but it eventually works well for this treat, especially in a frozen state.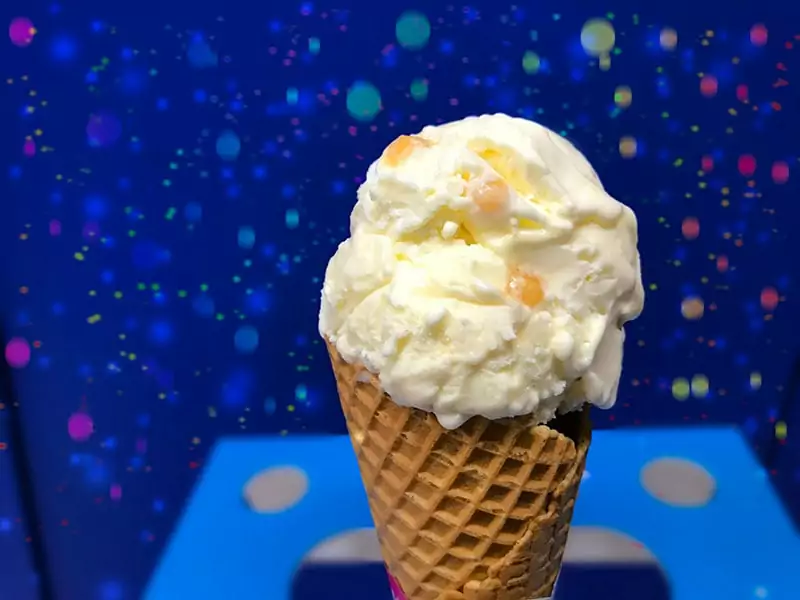 New Zealand is the world's most loving ice cream nation. Therefore, you can find countless kinds of ice cream here. And Hokey Pokey is a particular ice-cream flavor that you can easily get in both ice-cream parlors of the supermarket.
Basically, this flavor calls for a plain vanilla ice cream topped with tiny pieces of honeycomb toffee. Caramel sauce is usually added as well. Despite how many flavors there are, Hokey Pokey always remains a staple with these Kiwis ice cream lovers.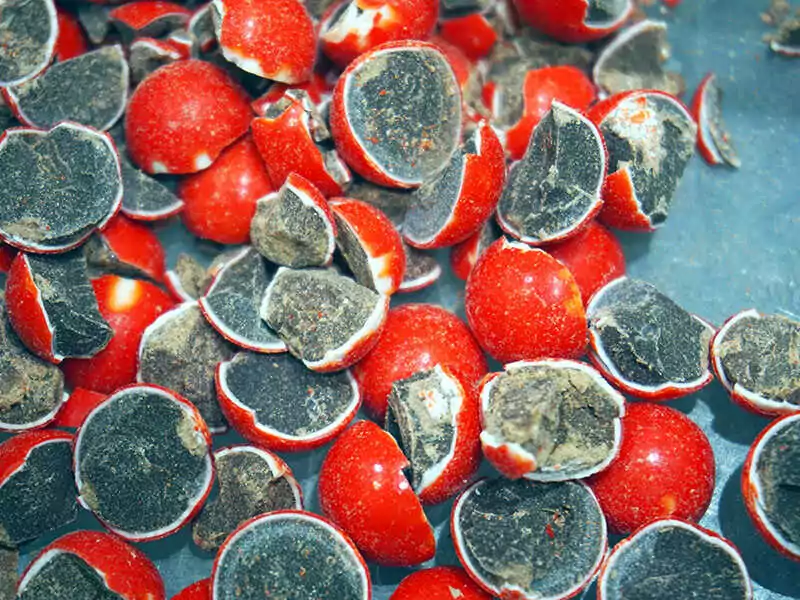 While Jaffa is a kind of orange, the Kiwis Jaffas are a type of balled chocolate. To be more detailed, Jaffas were first produced in New Zealand in 1931. It appears in small spheres, combined with a sweet red coating that has an orange flavor.
For further enlightenment, New Zealand holds the world's steepest street, where the Kiwis organize an annual Jaffas race. Hence, you can tell how much the Jaffas have gone into the Kiwis' hearts.
20. Manuka Honey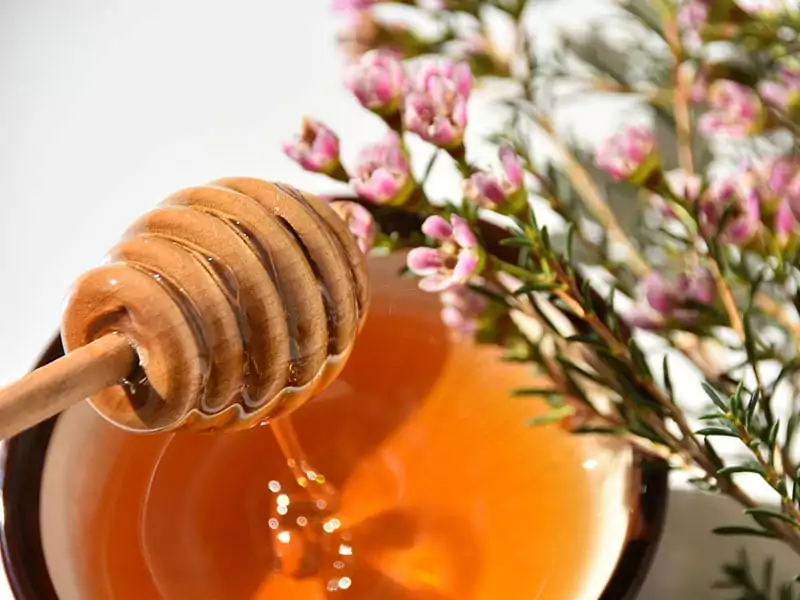 Indeed honey is not a confectionery, but it's hard to talk about the sweets of New Zealand without mentioning Manuka Honey. The Maori settlers have found the medical benefit of the Manuka tree more than a century ago.
But it was only known for preventing gastrointestinal illnesses at that time. Recently, the Manuka Honey has been discovered to have magnificent benefits in cosmetic and skincare products.
It's also known as the world's most expensive honey; Depending on the quality, first-class Manuka Honey can cost up to $1000 per kilogram! However, in New Zealand, you can find the best quality version from the beekeepers at a lower cost.
Don't Visit New Zealand Without Trying These Fruits
The Oceanic climate has given New Zealand many types of plants that you can barely find anywhere else on earth. These fruits below are the most outstanding ones that you must try once you get to New Zealand.
21. Feijoa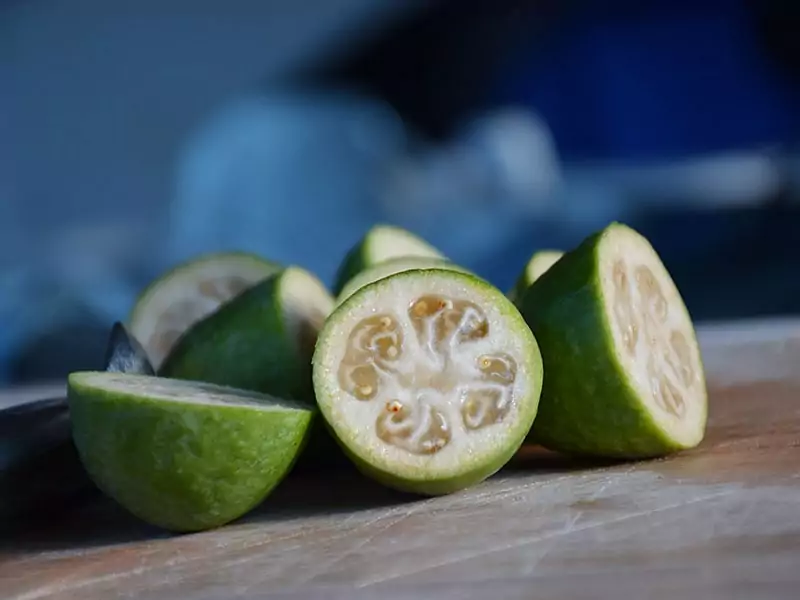 Many foodies love to explore food names starting with a certain letter. If that's your hobby, New Zealand offers you a famous gastronomic delight that begins with F – feijoa.
Also known as the pineapple guava, this egg-sized fruit is extremely abundant in New Zealand, especially during its season from March to June. And besides the kiwi fruit, feijoa is also an important fruit in the country.
If you're curious about the taste, it's a mixture of guava, pineapple, and strawberry. Many families have a feijoa plant in their garden, and it's an exciting experience to have these fruits right from their vine.
Otherwise, it's still easy to buy feijoa in the supermarket. Though the best way to enjoy feijoa is eating raw, it's also available if you want to try this superfruit juice, jam, pie, and even alcohol.
A brief introduction and taste testing of New Zealand's superfruit – Feijoa.
22. Kiwi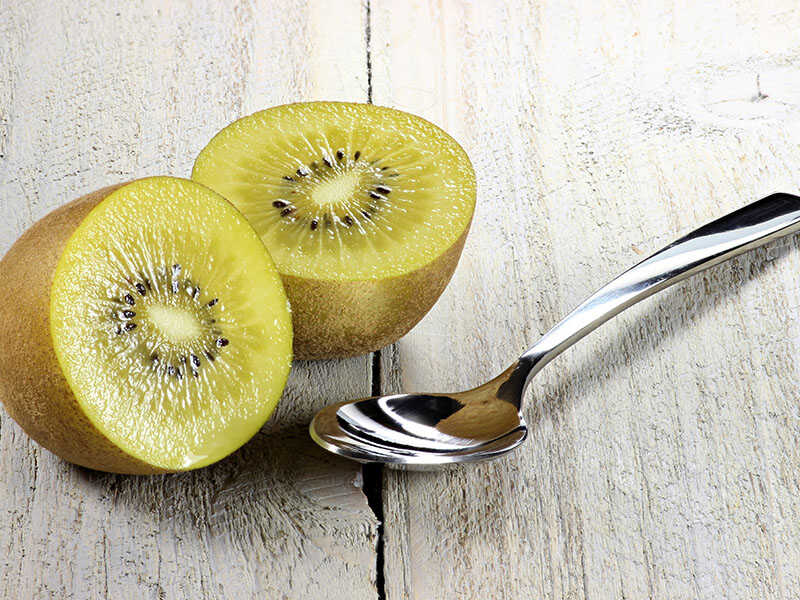 At the end of the list, now you can assume that I'm referring to the actual kiwi fruit. The delicious and tangy flavor of this fruit does not need to be debated anymore. But did you know that the kiwi is actually a fruit originating in China?
Despite that, kiwi fruit has been widespread in New Zealand and has become one of the most important exports as well as the national fruit today. Therefore, you can find countless varieties that are highly affordable.
You can also find kiwi flavor in almost any dessert of the New Zealanders. However, the most effortless and enjoyable way to eat kiwi is to cut it in half and use a spoon to scoop out the beautiful juicy flesh.
It goes without saying that kiwis should only be eaten when they're ripe. Without knowing how to make kiwis ripen, you might end up with fruit too sour and astringent for your taste.
Check out some facts about this magical fruit that you may have missed!
Bonus: Tasty Foods That Keep Your Heart Stay In New Zealand!
Lastly, some cultural dishes of New Zealand are extremely tasty but easy to be missed. Here are some fantastic foods that you'll fall in love with, and keep in mind that these dishes are so simple that you can even make them at home.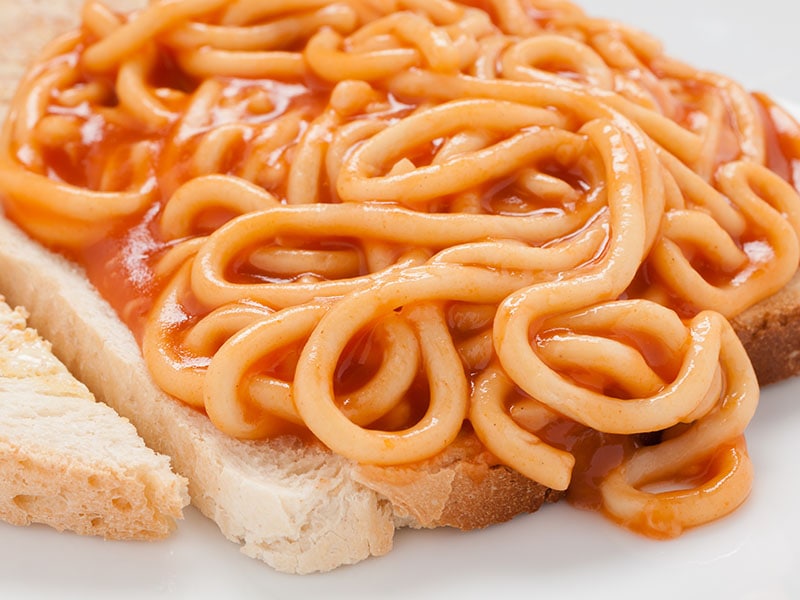 If you're an avid fan of charming Italian cuisine, this dish might seem absurd at first sight. However, this New Zealand version is absolutely worth trying. As simple as the name, this is simply putting the spaghetti on the toast, a meal full of starch that is perfect for filling your stomach.
Though you can rarely find a restaurant or street food stall that serves it, it's actually a traditional homemade breakfast of the Kiwis, sometimes lunch as well.
You can use your favorite kind of spaghetti or make your own recipe for this dish. Still, the New Zealand recipe would call for the canned spaghetti as it is convenient and excellent for a rush breakfast or an effortless meal for a chilling weekend.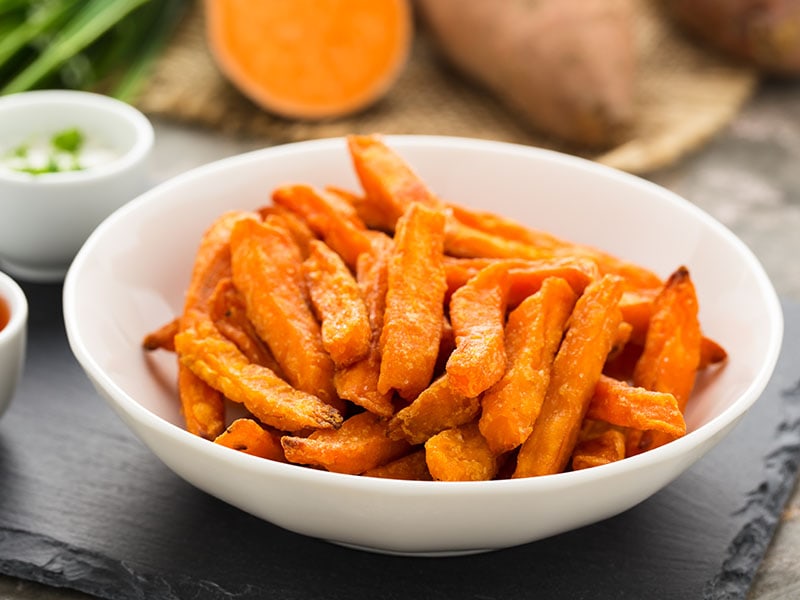 Kumara, or sweet potatoes, was brought to the New Zealand islands ever since the first settlement of the Maori. You can now find them in many Kiwis dishes, such as traditional hangi, but deep-fried in oil is the best way to enjoy this sweet root vegetable.
Of course, this method was influenced by the world's popular French fires during immigration. Therefore, almost everywhere that serves French fries in New Zealand also offers their traditional fries as well, and don't hesitate to give them a try!
This is a popular snack worldwide with the stem from Native American cuisine. What makes the difference is while the Native American communities prefer to use maize, New Zealanders utilize their sweetcorn for this dish.
This could be considered a superb option for a New Zealand lunch recipe. The sweet corn will be pureed before mixing with egg, flour, baking soda, and a pinch of salt. Then the mixture will be pan-fried with oil or butter.
You can also find the premium version of this dish across New Zealand, which is served along with pan-fried bacon, sweet chili sauce, and fresh sour cream or their traditional Aioli sauce.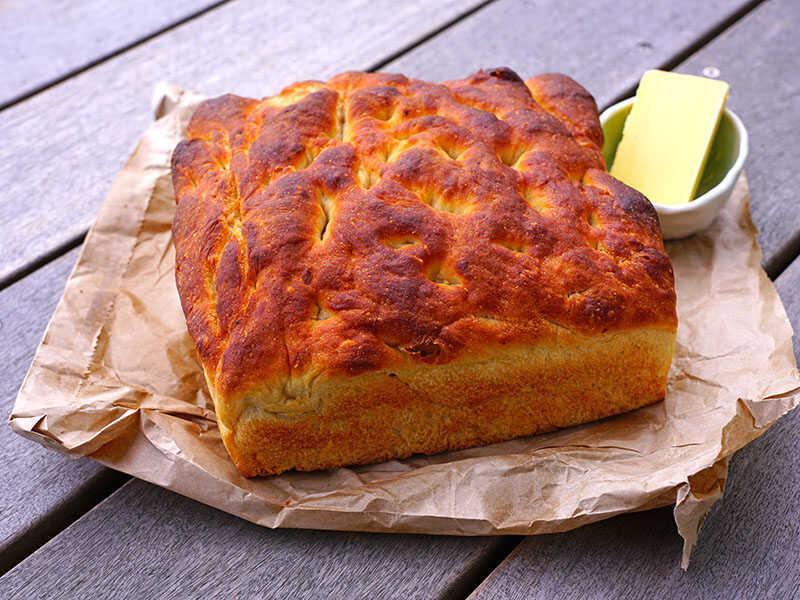 As the name has suggested, the origin of this dish is from the Maori, and it's called "Rewena Paraoa" in their tongue. This kind of bread is kind of rare today, you can only find it in farmer markets or specialty bakeries, but it's definitely worth the search.
The key ingredient that made the fame of this bread is "bug" – a cultural potato starter, and the remaining elements are the same as regular bread recipes, which are flour, sugar, baking soda, and salt.
There's also another kind of this bread that wasn't baked but shallow fried instead. It's more common than the baked type but still not that easy to find since it's sold mainly by the traditional bakery or cultural places for foreigner's tours.
Check out how you can substitute "bug" with yeast but still get a delicious Maori Bread.
The dairy industry in New Zealand is very well developed. Therefore, you'll find that the artisan cheeses here are bigger either in size or fame. One of the cheese dishes you must try is the Southland Cheese Rolls.
These are cheese rolled in bread slices and brought to a toaster, and it's chiefly served with ketchup. This cultural New Zealand breakfast recipe gained its name because it's only widespread in this part of the globe; it even rarely appears in Northland.
Check out one of the first places to enjoy Southland Cheese Rolls.
Travel To New Zealand To Find Yourself In Love With The Cuisine
New Zealand is famous for its Maori culture, cozy Oceanic climate, and countless beautiful scenery, but skipping its fabulous cuisine is a huge mistake to make.
Always remember to eat your heart out when you get to New Zealand, or you'll find yourself regretful at home not to try those beautiful dishes when you've got the chance.
Also, let me know your thoughts on the Kiwis food. I'm positive that you have your own list of the desired dishes. Don't forget to share this article with your beloved ones. Let them know that they might have missed an outstanding cuisine.