Discover the flavors of Australian foods with this article! Australia is a treasure trove of exotic dishes, but which one will capture your heart?
If you have an opportunity to visit this land of kangaroos, take the time to savor every bite and explore the full range of its delicacies. You're sure to fall in love with each dish!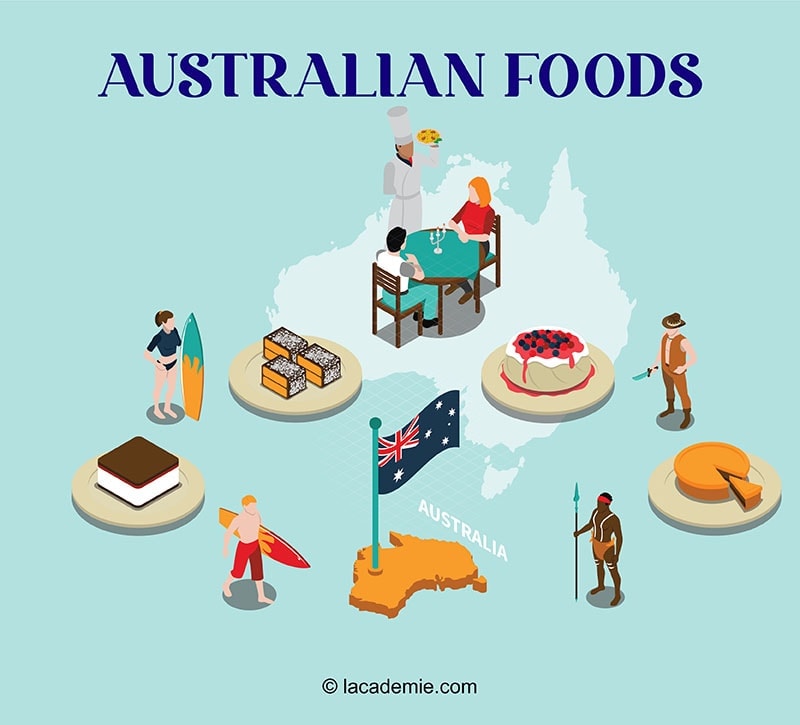 Introduction to Australian Cuisine
With such a diverse culinary heritage, Australian culinary practice is worth discovering! Below are some key characteristics that you should know before exploring specific food in this nation.
Diverse Influences
Australian cuisine has affected and adapted various cooking cultures, including European, British, Asian, and Middle Eastern.
Common Ingredients
Native Ingredients
Australia's Aboriginal and Torres Strait Islander communities have been using native ingredients, also known as "bush tucker," for tens of thousands of years for both food and medicine. Some examples include macadamia nut, lemon myrtle, Kakadu plum, wattleseed, and warrigal greens.
Meat and Seafood
Australians enjoy various kinds of meat, such as Chicken (the most widely-eaten meat with around 46 kg per capita in 2022), beef, lamb, and even game meat, like kangaroo or crocodile. 
Australia is also famous for its abundance of fresh seafood, with its vast coastline providing a rich source of marine life. Common ones are abalone (occupy 55% of global wild-caught production), lobster, oyster, and many fish varieties. 
Beverages
Beer is a popular beverage in Australia, with a wide options for local and international brews. The country is also a major wine producer. Some renowned wine regions are Barossa Valley, Margaret River, and Yarra Valley, providing many world-class wines.
For non-alcoholic drinks, their café culture is thriving with different high-quality espresso-based drinks.
Alright, it's time to dive into the world of Australian delights to see how wonderful it is.
Australian Meat And Poultry Dishes
Besides common traditional meat, you may find some of the most unexpected types of meat in Australia. But they can be your new favorite meat dish after trying them! Don't hesitate to take a bite, and you'll be impressed by how they taste!
1. Kangaroo Meat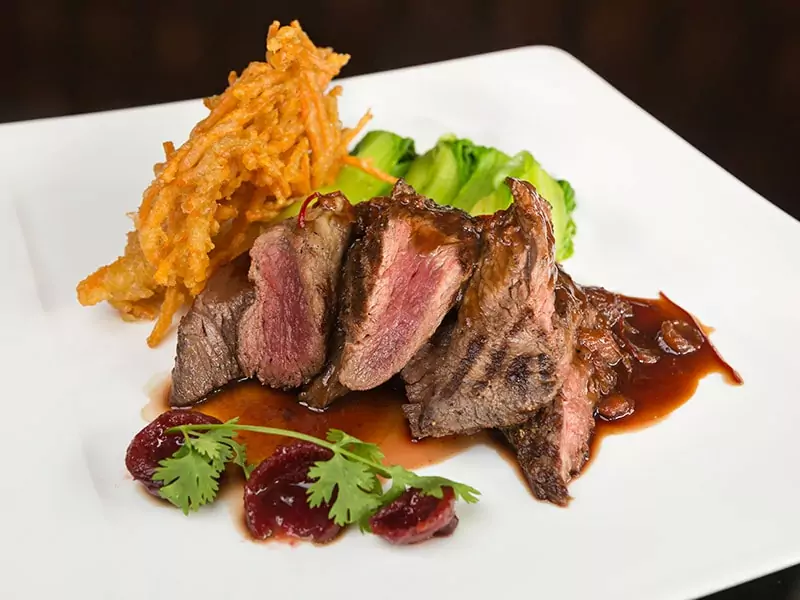 You may wonder why Australians eat their national animal, right? You should know that kangaroo is as juicy and tasty as any other type of meat that you have eaten! Kangaroo has become a staple protein source for indigenous Australians.
Kangaroo meat is a kind of uniquely lean red meat. It is firm and dense, yet surprisingly delicate. This meat type is also super low in fat content so you won't have to worry about calories when eating it!
Australians cook kangaroo meat like other types of meat: they can marinate and sauté or make it into a steak if they want! Moreover, you can buy it in supermarkets across the country.
2. Crocodile Meat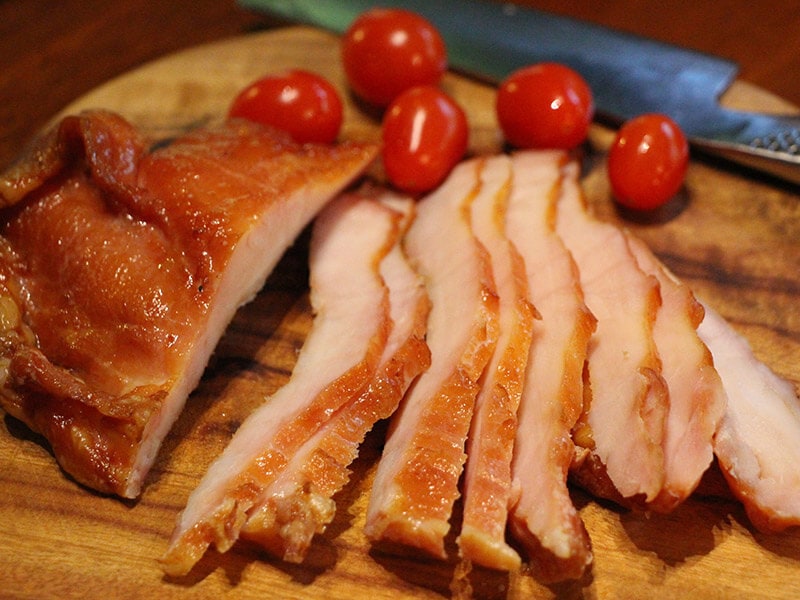 Crocodile meat is available throughout Australia, especially in the Northern Territory! The locals used to hunt crocodiles only for their skin to make leather accessories, but Australian cuisine has developed so much that this white meat has become so famous in this country!
It has a mild, slightly sweet flavor and a firm texture that is similar to chicken or pork. The meat is lean and low in fat, making it a healthier alternative to conventional meats.
In Australia, they will make use of many cuts of the crocodile, such as steaks or ribs, and turn them into a perfect dish. One of the most common ways to cook crocodiles is to marinate the meat with citrus-based seasonings and bring it to fry on a pan.
3. Emu Meat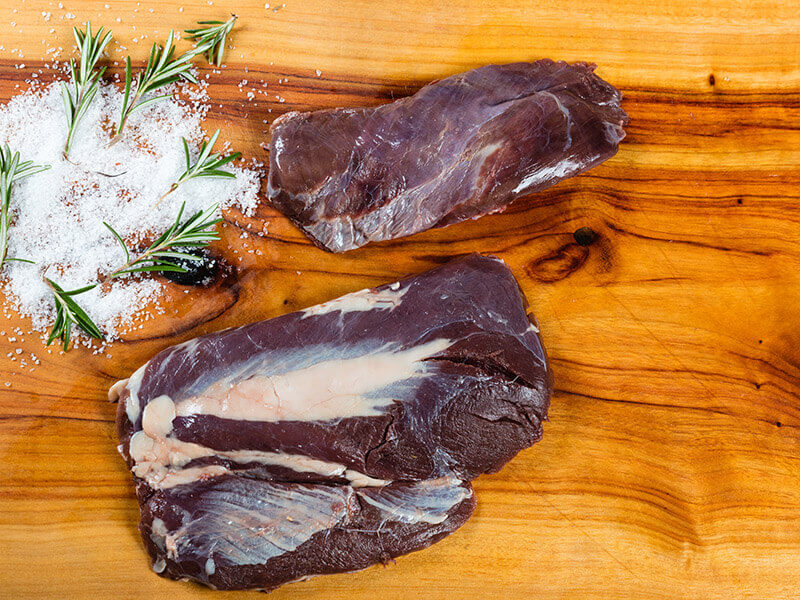 If you've ever searched for food names beginning with the letter E, you must have known about the emu – the largest flightless bird native to Australia.
Emu appears everywhere in the mainland of this country. It is a potential source of protein in Australian cuisine, which tastes somehow like beef or lamb. Unlike other types of poultry, Emu meat has a deep red color, similar to beef.
Australians can serve emu in many different ways. They can make it into steaks, wrap it with burger buns to create a perfect burger, or roast it in a slow cooker for a delicious breakfast. There is also a type of meatloaf using ground emu instead of beef in Australia.
Finally, emu meat is also considered to be a healthy choice, as it is low in fat and high in protein.
4. Barbecue Snag (Thick Australian Sausage)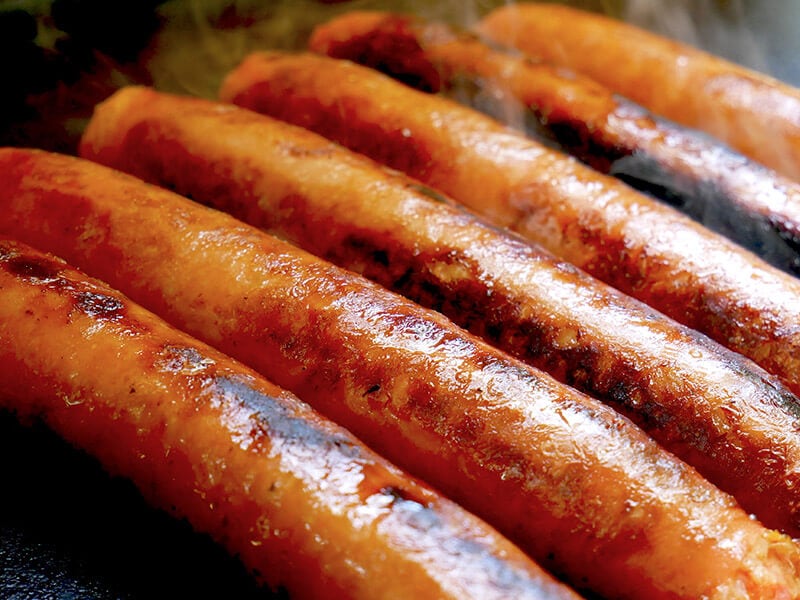 Barbecue Snag is an Australian sausage type including pork, beef, or mutton, seasoned with common spices like salt, paprika, and pepper. Australians likely serve these sausages between a hot dog bun with grilled onions and sauces (tomato sauce, mustard, BBQ sauce, etc.).
Barbecue Snag usually appears in a sausage sizzle, a community event of grilled or barbecued items in Australia and New Zealand. They usually sell these snags for fundraising in this grand event. Overall, they are a great choice for outdoor barbecues and social gatherings.
Quick fact: The term "snag" comes from the British slang word "snaggle," which means sausage. And "sausage sizzle" has also been used to call the Barbecue Snag itself since the 1980s.
5. Chicken Parmigiana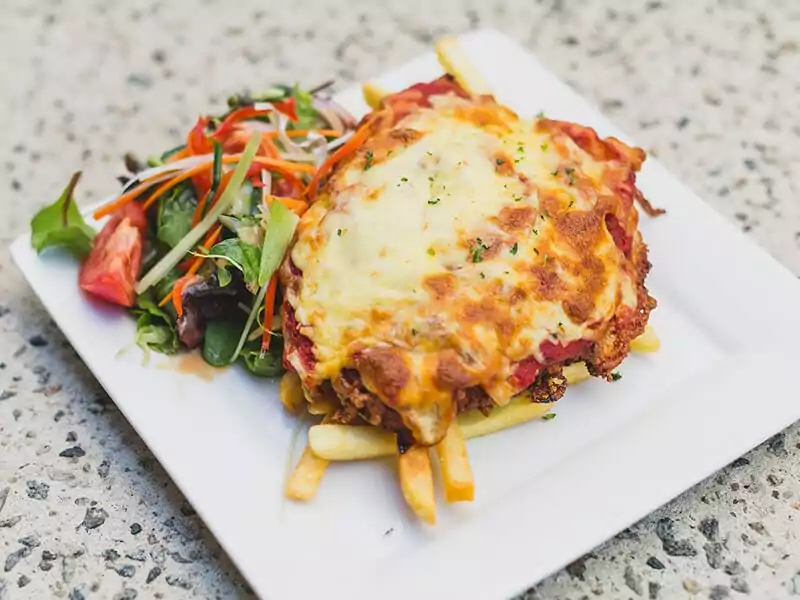 Chicken Parmigiana, or Chicken Parmesan, is a poultry dish including chicken breast coated in breadcrumbs and dipped in tomato sauce and cheese. In Australia, its name may vary due to the region. The most well-known variants are "Parmi," "Parma," and "Parmy."
This dish originates from American cuisine, and it is actually popular in American cities that consist of a huge number of Italian immigrants (New Jersey, New York, etc.).
You can order a dish of Chicken Parmigiana as a staple of pub food in Australia, along with a glass of beer. It is a perfect idea for a hearty dinner. The locals will serve Chicken Parmigiana with chips and salad as a side under or next to the main ingredients.
See how this man prepares the Aussie Chicken Parmigiana dish!
6. Carpetbag Steak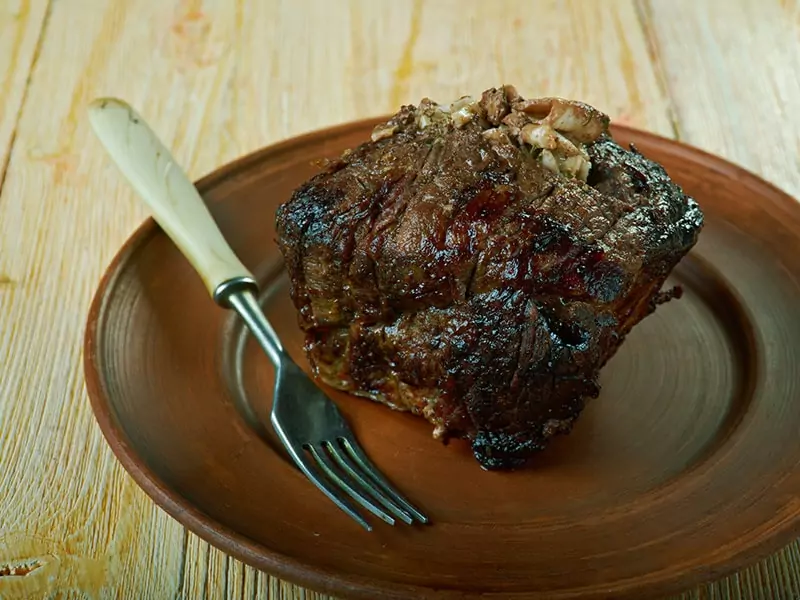 Carpetbag Steak is a pleasant combination of beef and oysters covered in butter garlic sauce. This dish is popular in New Zealand and Australia. Especially in the 1950s and 1960s, it remarkably rose as a superstar dish in these countries!
Carpetbag Steak is from a fishing village named Mumbles in South Wales, UK. The name of this steak is derived from the significant opening located on the top of the carpetbags, which implies the way to create it.
To prepare the dish, a pocket is made in the steak and then filled with fresh oysters, which are seasoned with salt, pepper, and herbs. The steak is then grilled or pan-fried to the desired doneness.
Finally, people will serve it with some Worcestershire sauce on top, and other sides, like fresh salad or roasted veggies.
Australia Fish and Seafood Dishes
If you want a more refreshing meal for dinner among thousands of Australian dinner recipes, take a look at the following fish or seafood dishes! Their names should totally stand in your must-try food list for the next trip to the homeland of kangaroos!
7. Sydney Rock Oyster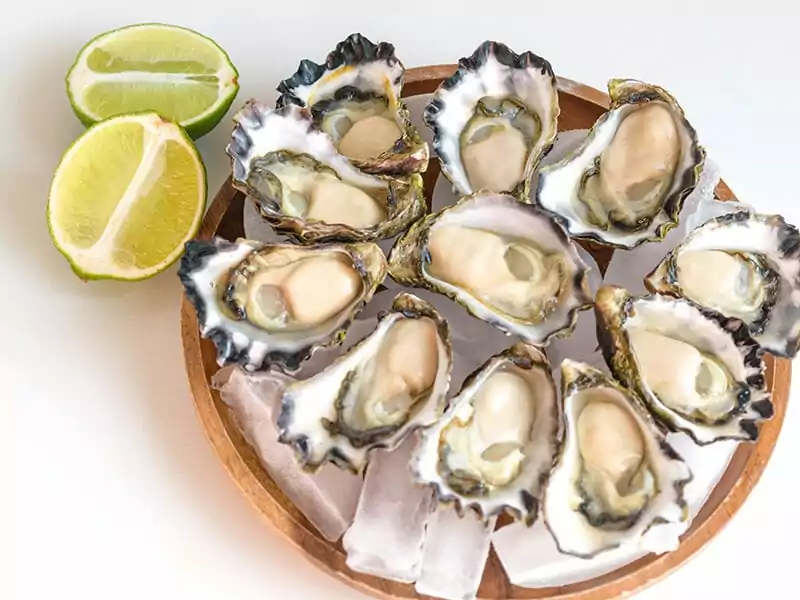 The Sydney Rock Oyster, whose scientific name is Saccostrea Glomerata, is an endemic oyster species of Australia and New Zealand. It is called the "jewels of the ocean" for its gorgeous appearance and lasting sweetness. It tastes best when freshly shucked.
Australians always consume Sydney Rock Oyster raw with a pop of vinegar or lime. If you want to cook it, just batter it with some flour and sauté it at low heat. Enjoy the oysters with a glass of Sémillon wine! They are a match made in heaven!
8. Moreton Bay Bug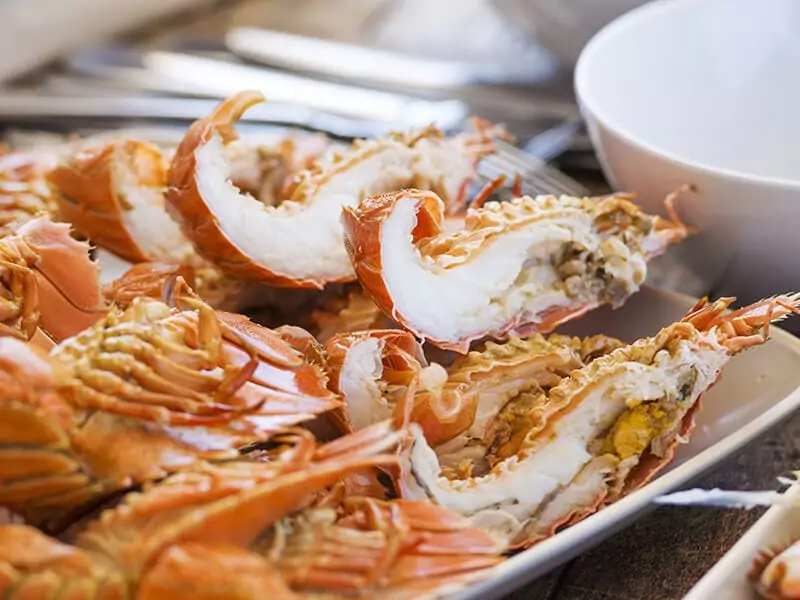 Moreton Bay Bug is a marine crustacean with a large flat head and short narrow tail. But don't mistake it for lobster. Though it is also called Baylobster or Flathead Lobster, it is not a true lobster. In fact, they are a type of slipper lobster.
Plus, this seafood is typically smaller than lobsters. The edible part of Moreton Bay Bug is usually the flesh in its tail with a sweet, delicate flavor and a firm texture.
The cook will chill them in the freezer for about 45 minutes, then bring them to poach, grill, steam, deep-fry, or stir-fry to make soups, casseroles, curries, and many more.
9. Prawn Cocktail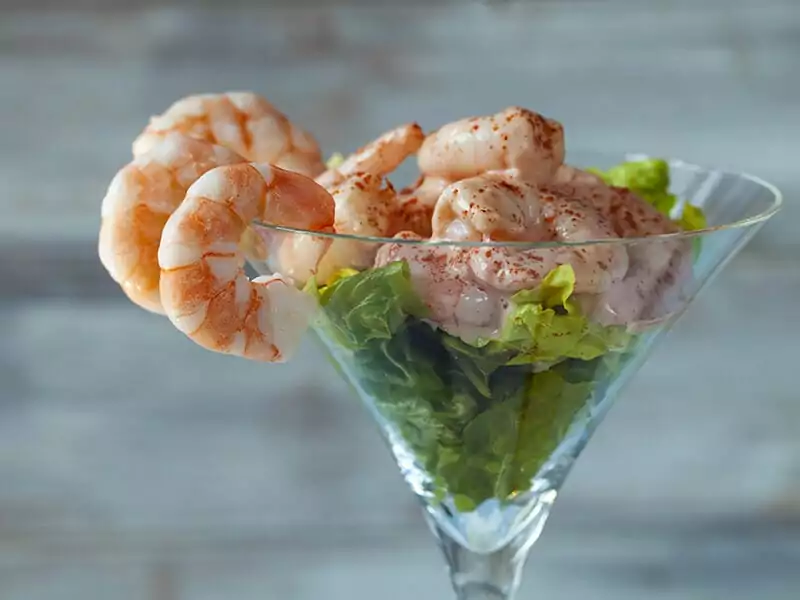 Prawn Cocktail is a classic seafood dish for parties in Australia. It includes boiled prawns and cocktail sauce, served together in a glass. The special dipping sauce is a mixture of ketchup, mayonnaise, and horseradish.
Prawn Cocktail's origin is traced back to the 19th century when a California miner created a dish with oysters in a glass. This dish was a rising star from the 1960s to the 1980s, and it has kept its popularity since then.
Australian prawn cocktail is typically served as an appetizer or entrée, and is a popular dish at summer barbecues, Christmas parties, and other festive occasions.
10. Fish 'N Chips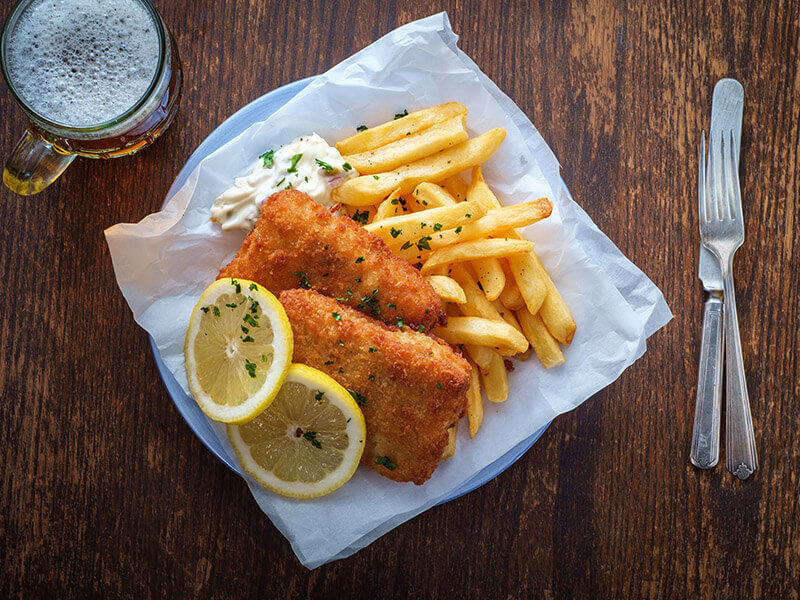 As its name suggests, Fish 'N Chips basically include fried fish in batter and French fries (aka chips). It was originally an iconic British dish before becoming popular worldwide. The first shop selling Fish 'N Chips was by a Greek migrant named Athanasias Comino, who opened it in 1879.
Nowadays, there are approximately 4000 Fish 'N Chips shops all around Australia. It is also a really popular name on the menu of most pubs and eateries in this country.
The most popular types of fish for fish and chips in Australia include barramundi (which I will introduce in more detail later), flathead, snapper, flake, hoki, and whiting.
11. Barramundi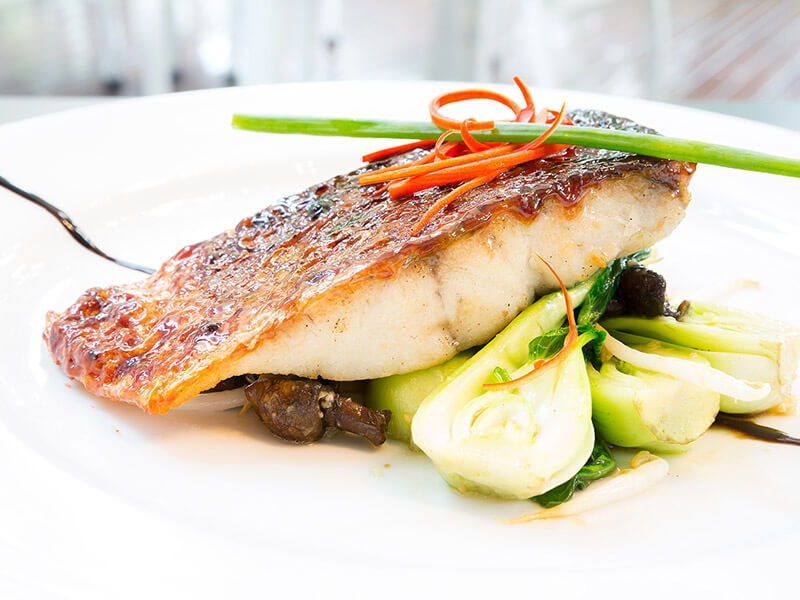 Barramundi, also called Asian Sea Bass, is a versatile fish native to Australia and the Indo-Pacific. It is a catadromous fish from the Latidae family.
This fish can be found in both saltwater and freshwater environments and is a staple in many coastal regions of Australia. However, 60% of Barramundi that Aussies consume is imported fish, which accidentally puts pressure on Australian fishers and farmers.
Barramundi has a delicate, sweet flavor with a buttery texture, making it a popular choice for many dishes, including grilled, baked, or fried delights. They are especially common in making fish and chips
Plus, Barramundi has a low content of calories but still consists of a large amount of Omega-3, lean protein, vitamin D, and selenium.
Australian Desserts and Sweet Pastries
Are you looking for great Australian dessert dishes to finish your perfect meal? Here are some best desserts and sweet pastries that you have to try at least once in your life! Trust me; if you have a sweet tooth, these food items will never disappoint you!
12. Pavlova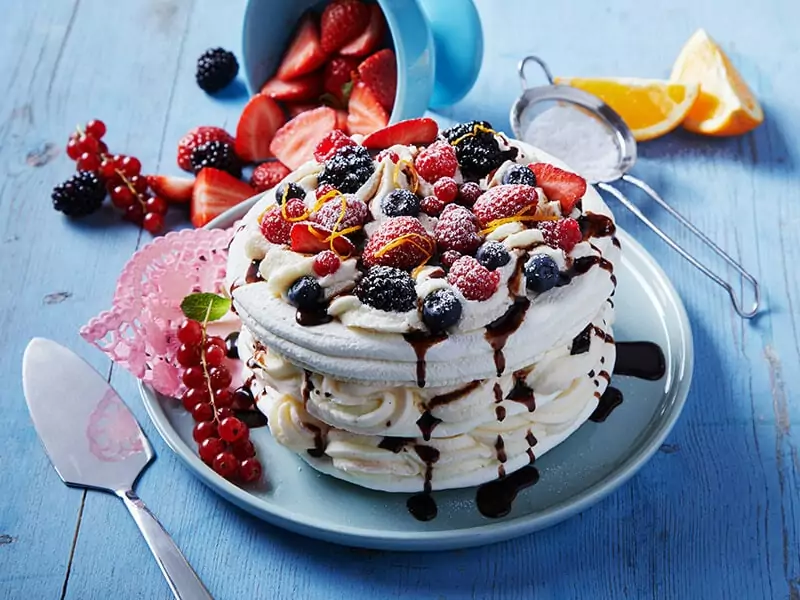 Pavlova is a famed dessert in Australia and New Zealand. Aussies make a Pavlova mixture from egg whites and bake it in a slow oven for a crisp crust outside. Then, the chef will top the baked item with whipping cream and a variety of tasty Australian fruits, most of which are berries.
It is named after Anna Pavlova, a renowned Russian ballerina. It was first a simple cream cake without an official name until the 1920s, when it celebrated the dancer's tours to Australia and New Zealand.
Pavlova is often popular during summertime or on special occasions in Australia, especially on Christmas Day. But you can always find it in many supermarkets or bakeries around the country any time of the year.
13. Lamington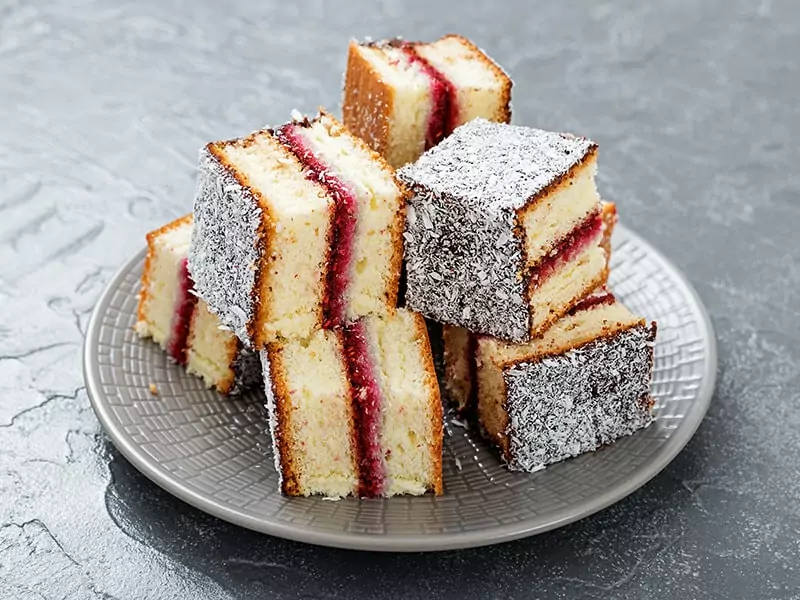 Lamington is a square sponge cake or butter cake bathed in chocolate sauce and sprinkled with desiccated coconut. It is a national dessert in Australian cuisine. The original version of Lamington includes cream or strawberry jam filling in between the cake layers.
As a kind of sponge cake, Lamington is light and fluffy in texture, with a slightly crumbly and moist interior. The outer layer of the chocolate sauce gives it a rich and sweet flavor, while the coconut adds a subtle nutty taste.
Lamington was named after Lord Lamington, the Governor of Queensland, in the final years of the 19th century. Today, it is an Australian iconic sweet treat and this country even has a National Lamington Day, which occurs annually on 21 July.
14. Hot Jam Donut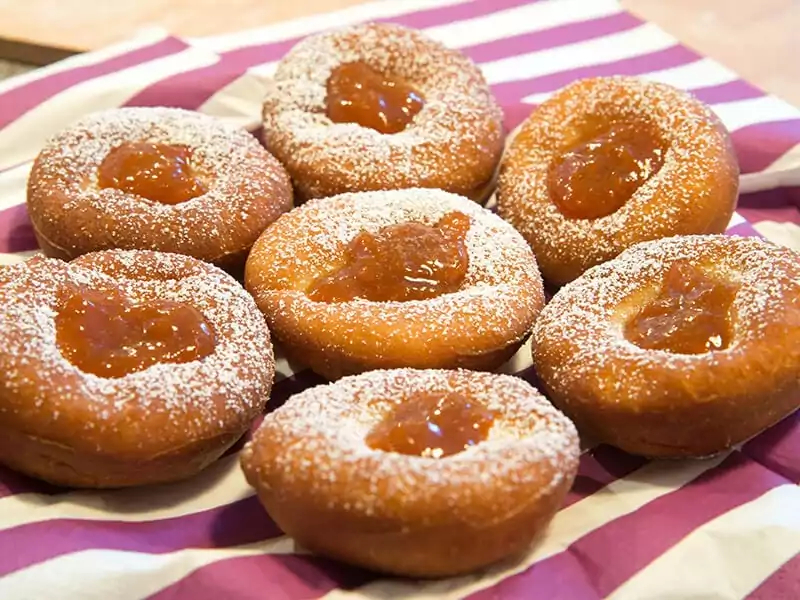 Hot Jam Donut is a ubiquitous sweet cake all over Australia, especially in Melbourne, Victoria. You can find it in markets, food fairs, or food trucks. It is actually a variant of the jelly doughnut from America and Germany with the dough having more yeast.
The fluffy batter for these delicious doughnuts is cooked before being filled with fresh fruit jam and coated in sugar. It is also a great sweet pastry that you can enjoy while drinking coffee or tea in Australia.
They are best enjoyed hot and fresh. If you want to enjoy one of the best Hot Jam Donuts in Melbourne, check out the American Doughnut Kitchen at Queen Victoria Market.
15. Iced VoVo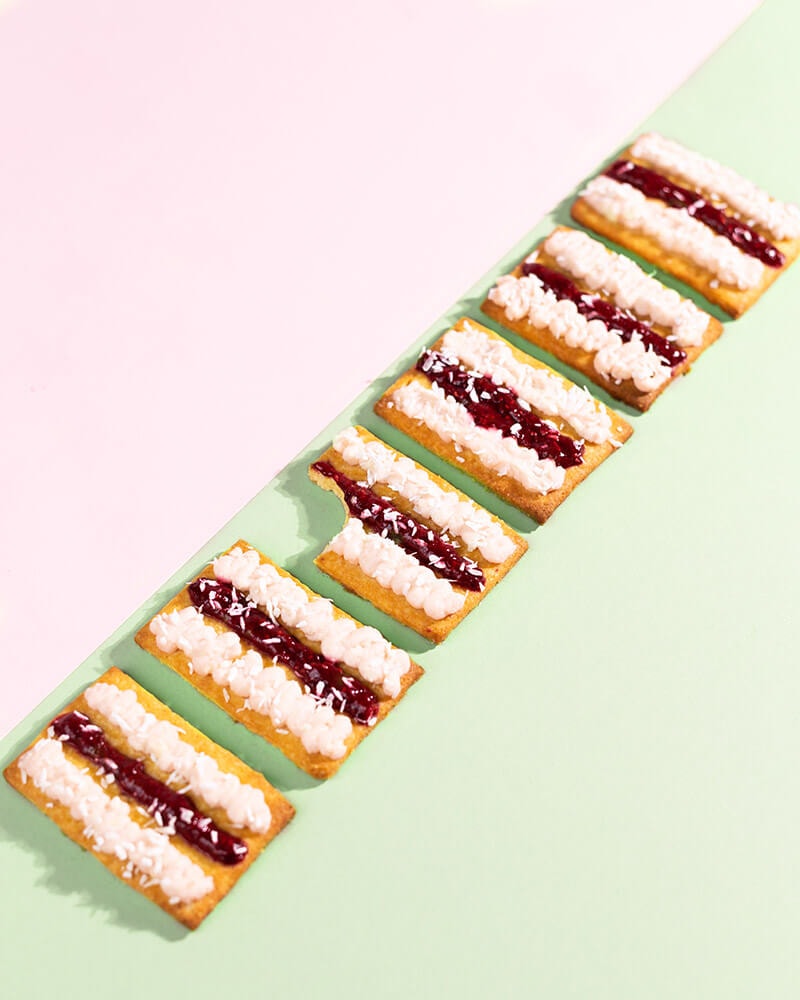 Iced VoVo is an Australian biscuit that has a signature look with a red strip of raspberry jam and two pink strips of fondant icing. Aussies make this biscuit from wheat flour and top it with shredded coconut.
It is from a trademark called Arnott's which was registered in 1906. In 2007, Australian Prime Minister Kevin Rudd mentioned Iced VoVo in his speech when he won the election. This event made the sweet treat so popular that there was a remarkable rise in Iced VoVo sales that year!
The biscuit is often enjoyed with a cup of tea or coffee and is commonly found in supermarkets and cafes throughout Australia.
16. Pikelet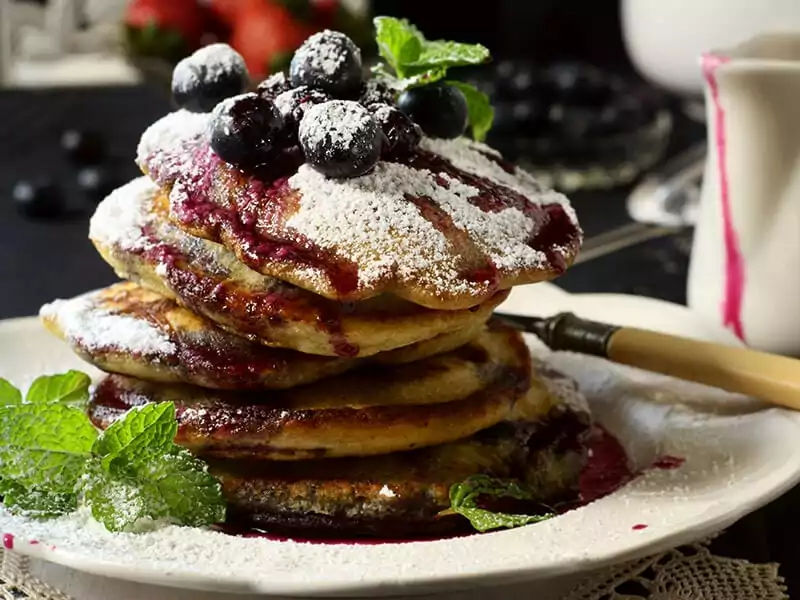 Pikelet is simply the Australian version of pancakes, but they are much thicker and smaller than the original edition from France.
The recipe for Pikelet is nearly the same as American pancakes with baking powder, milk, eggs, sugar, and self-raising flour. Compared to the American pancake, Pikelet's batter is somewhat thicker. Therefore, when it rises on the pan, it becomes heavier.
The toppings of Pikelet also include the most basic food items like jam, fruits, whipped cream, syrup, sugar, chocolate sauce, or whatever you like. Aussies like to have Pikelet in morning or afternoon tea.
17. Cruffin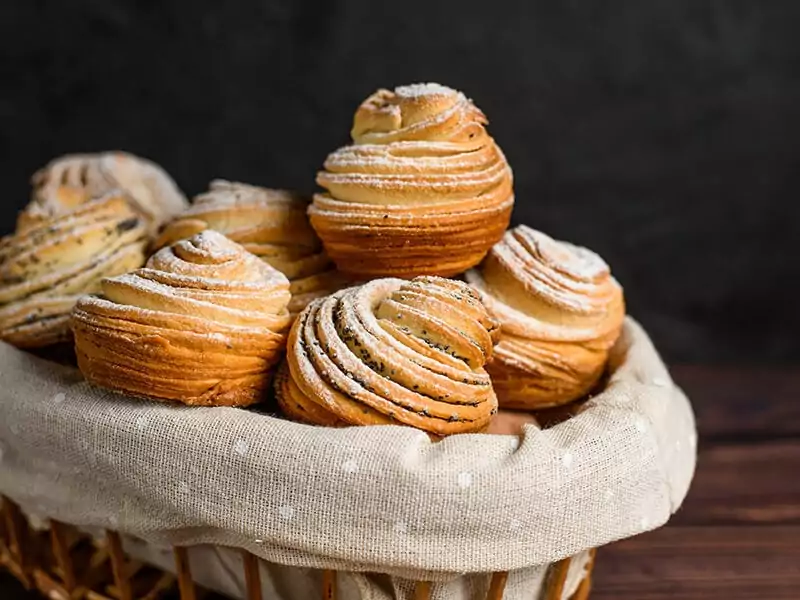 Australian Cruffin is a combination of a muffin and a croissant. It originates right in Melbourne, Australia, with the first version invented by Lune Croissanterie for Everyday Coffee in 2013.
The pastry is made by rolling croissant dough into a muffin shape and then baking it in a muffin tin. When the dough is ready, they will fill it with jams, creams, curds, or custards and decorate it with a layer of powdered sugar.
The result is a flaky, buttery pastry with a crisp exterior and an airy interior. Cruffins have become increasingly popular in recent years and can now be found in many cafes and bakeries across Australia. Enjoy the beautiful pastry with a cup of tea, and you'll be amazed!
18. Yo-Yo Biscuit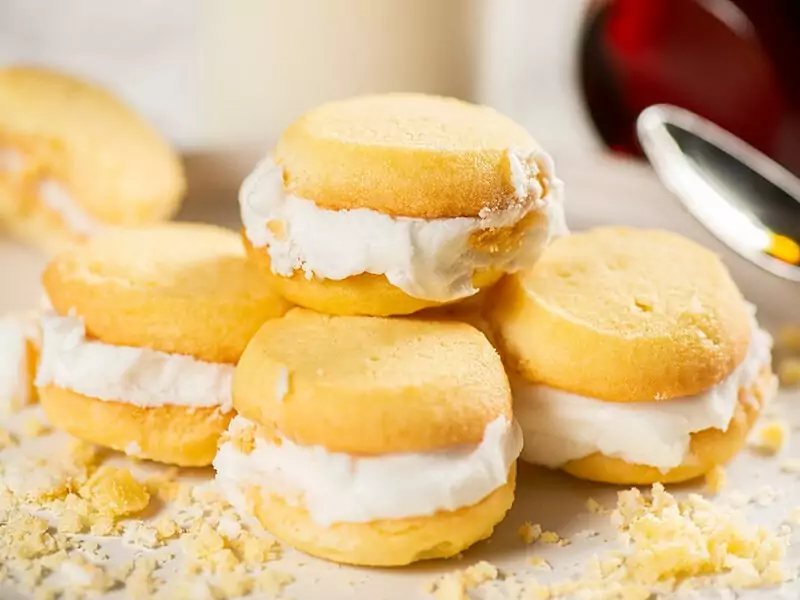 Yo-Yo Biscuit is a classic dessert in Australia that is popularly served during tea time or with coffee.
It is called Yo-Yo for the appearance that looks pretty similar to the old version of the yo-yo toy. The "biscuit" part consists of custard powder, icing sugar, butter, vanilla, and flour, while the filling includes a 3-ingredient buttercream.
Custard powder is the secret weapon of Yo-Yo Biscuit since it makes the biscuits creamier and tastier than typical baking powder. It also gives the sweet treats a beautiful yellowish color! So if you are going to make Yo-Yo Biscuit by yourself, don't replace custard powder.
19. Fairy Bread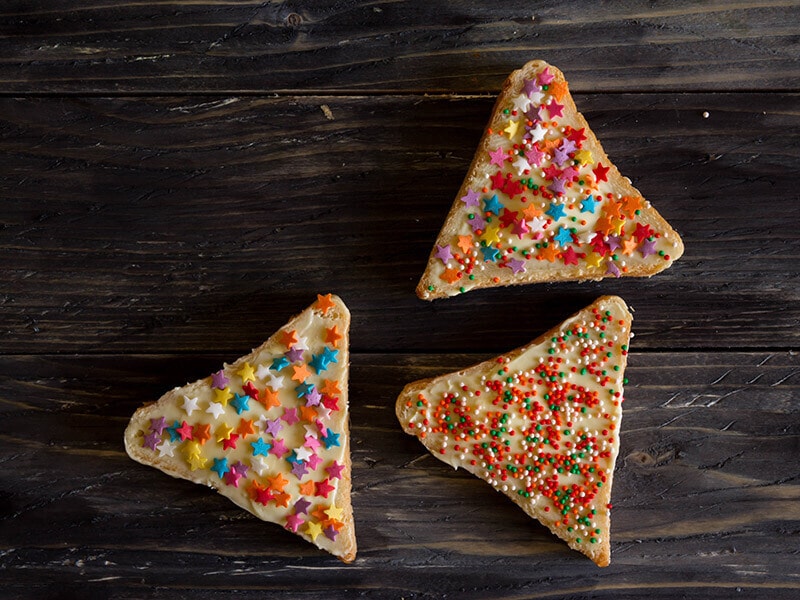 Fairy Bread is undoubtedly the most colorful dessert in Australia! It contains slices of white bread coated with butter and topped with solid layers of tiny rainbow-colored chocolate balls called "Nonpareils" or "Hundreds and Thousands."
The natives first witnessed the appearance of Fairy Bread in Hobart Mercury, an Australian daily newspaper, in 1929. This dish is truly the best sweet treat for the kids – they love it! The name "Fairy Bread" could come from a Robert Louis's poem for children in 1885.
Everyone from young to old in Australia adores Fairy Bread so much that this country even has a special day to celebrate this dish on 24th November annually!
20. Tim Tam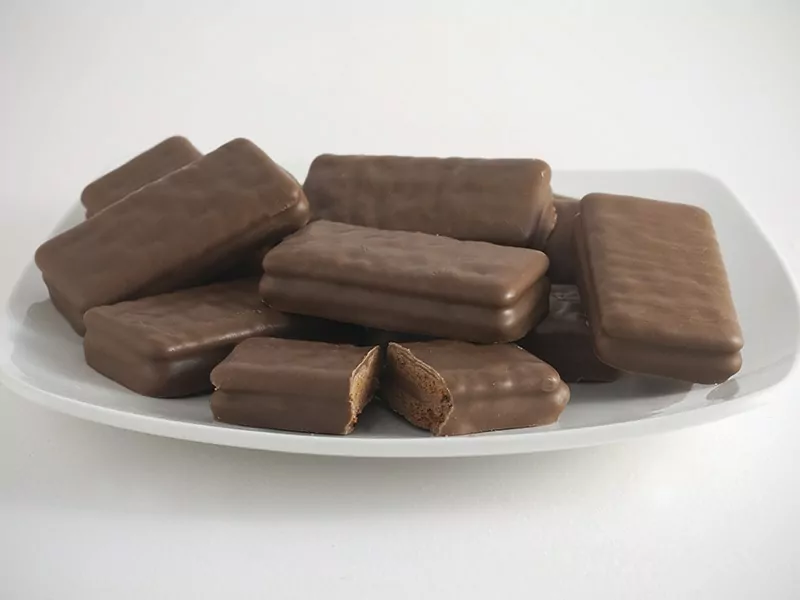 You may have heard about Tim Tam before! It is the brand of the all-time favorite chocolate biscuit of Australians. Arnott's, the famed Australian biscuit company, first introduced Tim Tam in 1964. It was also the creation of Arnott's former food technology director.
Tim Tam has a lot of variants that Arnott's launched. In the 2000s, they introduced new versions of Tim Tac with different flavors such as dark or white chocolate, chocolate mint, chocolate orange, caramel, and honeycomb.
There is an enjoyable activity using Tim Tam called Tim Tam Slam! Using Tim Tam as a straw, a person will drink a hot beverage, such as hot cocoa. In one of their advertising campaigns in 2002, Arnott's named this activity "Tim Tam Suck" to attract customers.
21. Anzac Biscuit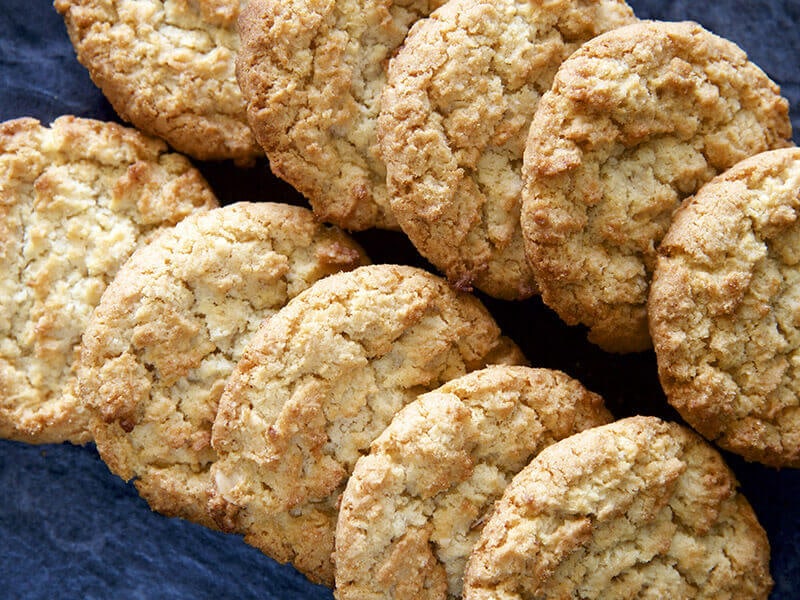 Fans of authentic Australian cookies cannot miss these crumbly biscuits. In fact, if you ever ask an Australian to name a cookie most famous in their country, the chances are that the answer they give you will be "Anzac Biscuit".
Anzac Biscuit is a typical type of sweet biscuit in Australia and New Zealand. Its original recipe first showed up in St Andrew's Cookery Book published in 1921. It includes rolled oats, flour, butter, sugar, golden syrup, and coconut.
Did you know that the Anzac Biscuit was invented during World War I? The very first version sent to soldiers was hard as a rock to lengthen the shelf life of the biscuits, so it is not really easy to eat. Fortunately, the present version is much softer!
22. Golden Gaytime Ice Cream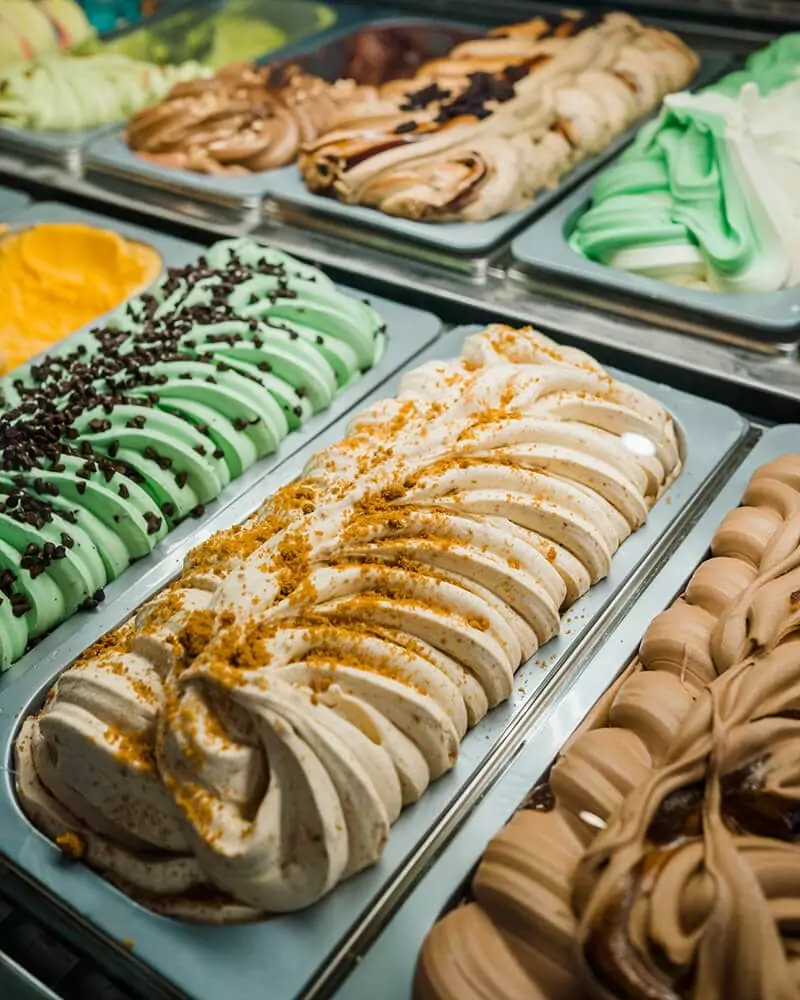 Australia is home to various delicious kinds of ice cream, and Golden Gaytime is a popular one that everyone craves! You cannot miss these freezing sweet treats when in Australia! 
It was first released in 1959 and has maintained popularity ever since. It is a toffee wrapped in vanilla biscuit crumbs.
Golden Gaytime has many flavors for you to choose from! From the basics like strawberry and chocolate to more signature flavors like Unicorn, Piña Colada, Krispy Kreme, Birthday Cake, etc., you can pick anything you like or even combine them.
However, this trademark name has recently been controversial when the LGBTIQ+ community sends requests to both keep and change the name that mentions one of their sexual orientations.
23. Neenish Tart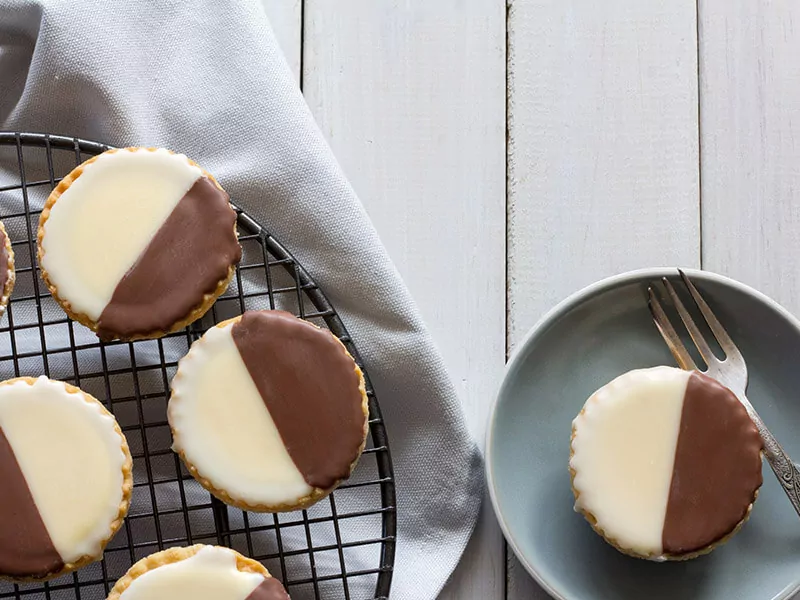 If you are really into eating tarts, Neenish Tart is for you! It has a pastry base in the bottom and a sweet filling inside, including mock cream, icing sugar paste, and gelatine-set cream.
The chef will decorate the tart with the dried icing in two different colors, which are usually the combination of white and brown or pink and brown.
Another version of filling often includes butter, sweetened condensed milk with a squeeze of lemon, wrapped with a short pastry crust. There is also a Neenish Tart edition named Pineapple Tart in Australia with passionfruit icing and pineapple jam included in the filling.
Other Famous Aussie Dishes
There are other kinds of foods/dishes that you should not miss while in Australia. Plus, this country is famous for takeaway and convenience foods, which are also some of the best representatives of Australian cuisine. Let's see what they are!
24. Vegemite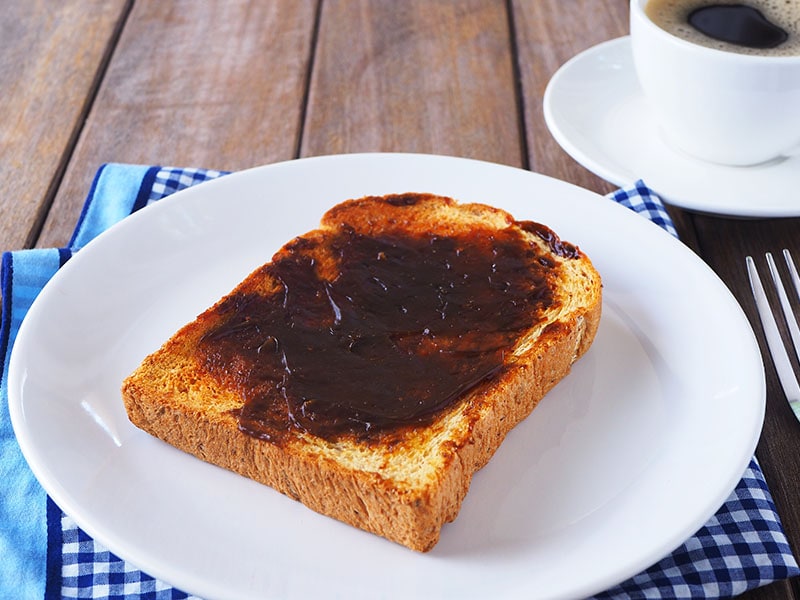 Vegemite is an iconic Australian food that can be found in nearly every supermarket in the country. As a thick, dark brown food spread, it is made from brewer's yeast extract, which is a by-product of beer production, and vegetable and spice additives.
The texture of the paste is smooth, and the flavor is very distinct, with a salty and slightly bitter taste. It has a distinctive aroma that is strong and savory, which is often compared to soy sauce or meat extract.
Vegemite is commonly spread on bread, toast, or crackers and is used as a flavoring for soups, stews, and gravies. This spread is also a popular ingredient in snacks, such as cheese and vegemite scrolls or vegemite and cheese sandwiches.
What's better, it is a good source of nutrients and has several health benefits. It is high in B vitamins, including thiamine, riboflavin, niacin, and folate. 
In the United Kingdom, Marmite is a similar thick dark brown spread. However, Marmite owns a burnt brown color with a sticky texture, while Vegemite is darker in color with a thicker consistency.
25. Damper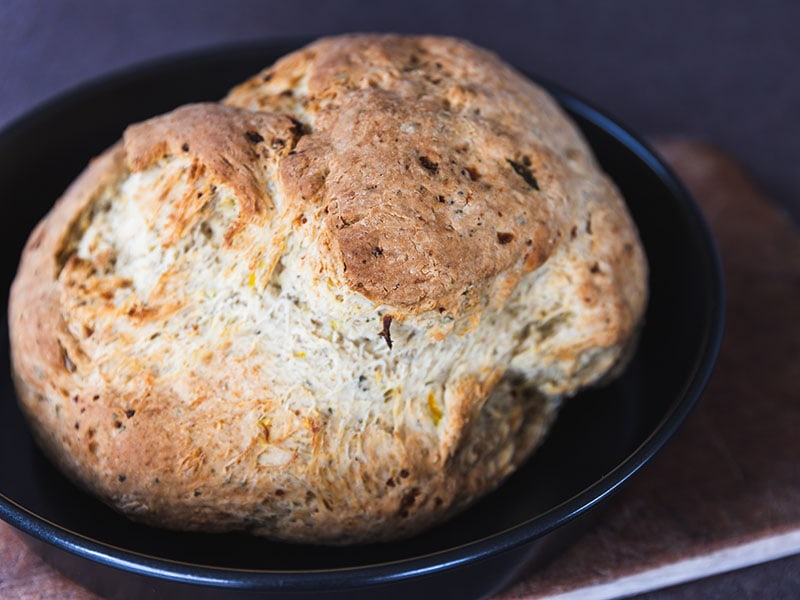 Damper bread is an Australian soda bread that has been enjoyed for centuries, particularly by swagmen, drovers, and stockmen, who used to make it while camping in the outback.
It was traditionally cooked in a campfire, using a cast-iron pot, or wrapped around a stick and held over the flames. The bread is made from just a few simple ingredients, including flour, salt, water, and sometimes milk.
The dough is shaped into a round or oblong loaf and baked in a hot oven until golden brown. The texture of damper bread can be dense and chewy, similar to a rustic loaf of bread.
The taste of damper bread is subtly savory, with a slightly nutty flavor. It pairs well with a variety of dishes, particularly soups, stews, and other hearty meals. It's also commonly served with butter, honey, or jam as a simple snack or breakfast.
26. Beetroot Burger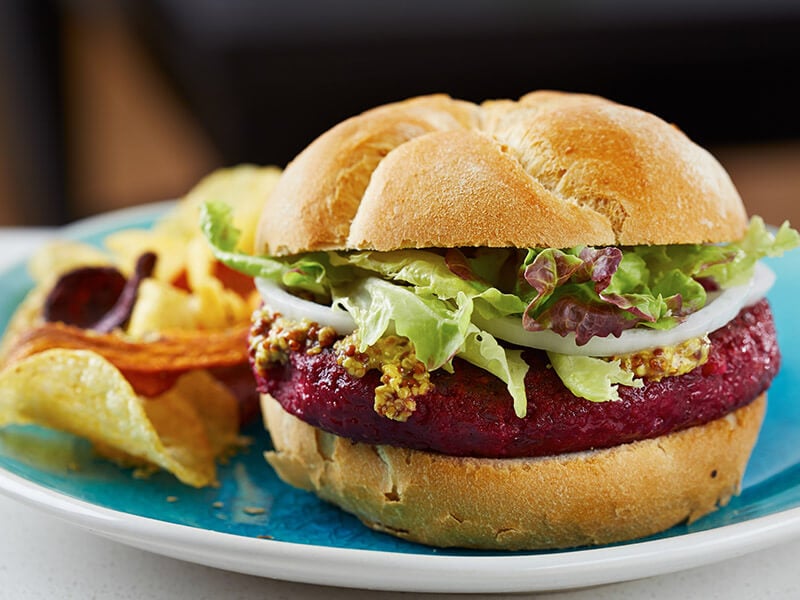 Beetroot Burger is a unique Australian burger with many toppings, such as blue cheese, fried eggs, avocado, pineapple, grilled onions, and of course, purple slices of beetroot. In Australia, burgers with beetroot reached their peak of popularity in the mid-20th century.
The standard recipe of Beetroot Burger includes meat and bacon, but there is also a famed variation for vegetarians and vegans. This wholesome version will not contain meat or egg but has nuts, beans, basic spices, and herbs.
27. Meat Pie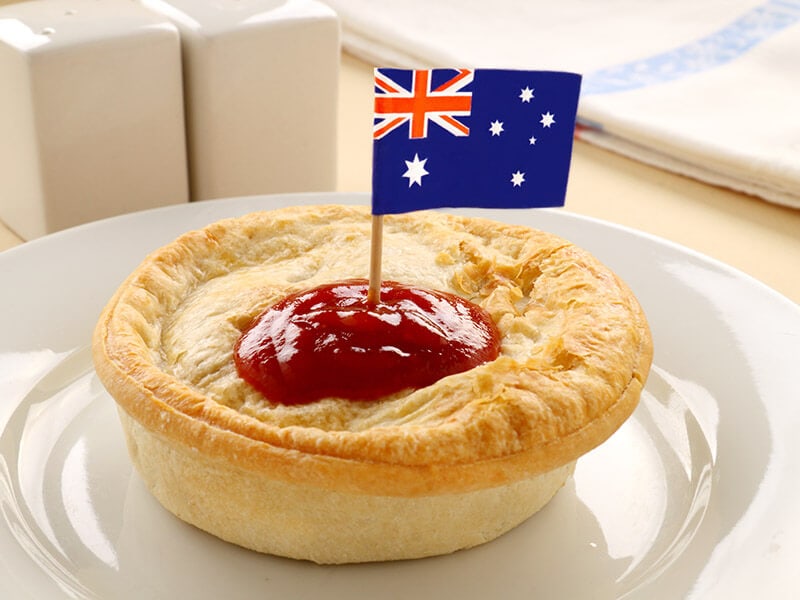 Meat Pie is a popular takeaway snack in both Australia and New Zealand. The conventional version is palm-sized, and you can hold it with one hand. It has a flaky layer outside and a juicy filling containing minced meat, gravy, mushrooms, onions, and cheese.
The meat used in the pie can vary, but the most commonly used meat is ground beef. This iconic pie is so famous in Australia that locals consider it their national dish!
You can find Meat Pie everywhere throughout this country, from small unbranded outlets to huge branded bakeries and restaurants!
Let's have a look at the following video!
28. Sausage Roll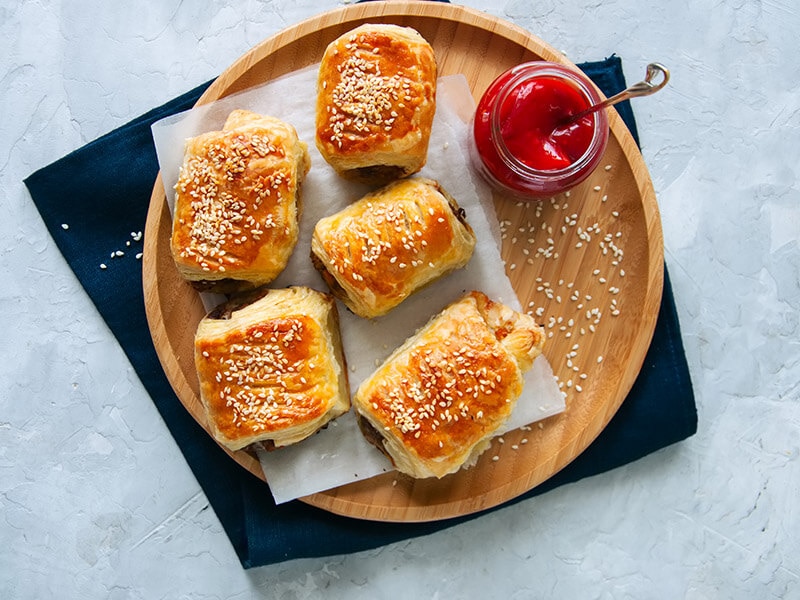 Sausage Roll is the perfect kick-off for a new day among many Australian breakfast recipes! The cook will wrap fresh sausages from beef or pork with a flaky dough cover to create palm-sized buns and bring them all to bake in an oven.
Aussie will serve Sausage Roll with unique condiments such as barbecue dipping sauce or kewpie mayonnaise. It can be a convenient lunch or snack for your kids to enjoy during break time in school, making it a favorite pastry of Australian children!
29. Chiko Roll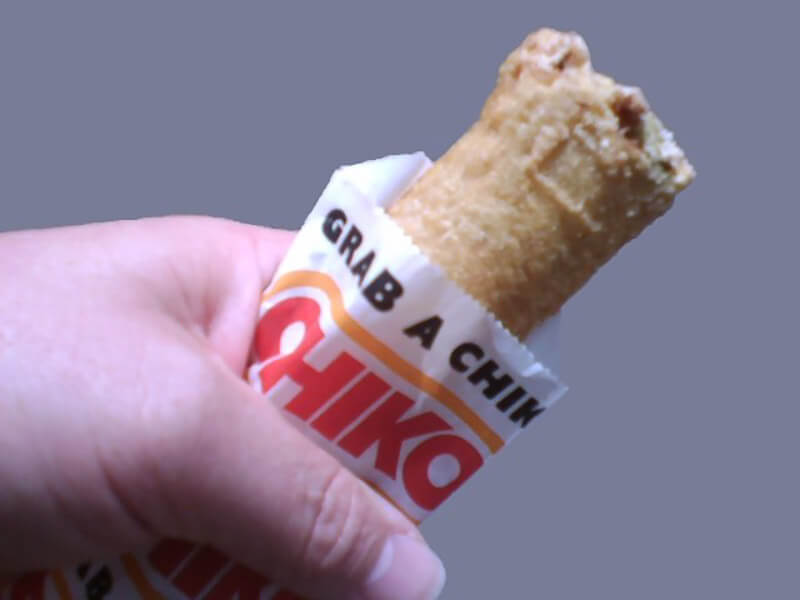 Chiko Roll is another typical savory snack in Australia. The locals get inspired by the Chinese Spring Roll to make this dish. The filling usually has mainly barley and cabbage, carrot, beef, celery, and wheat cereal wrapped in a flour pastry.
Australians designed an innovative packaging for Chiko Roll with paper so that people could easily handle it at football matches. It has become a super famous takeaway fast food throughout the country and even a significant cultural icon of Australia!
Chiko Roll has a significant relationship with the surf culture of the people here. They sell it at the fish and chips shops or the corner kiosks by the beach for surfers to enjoy after a long surfing day!
30. Halal Snack Pack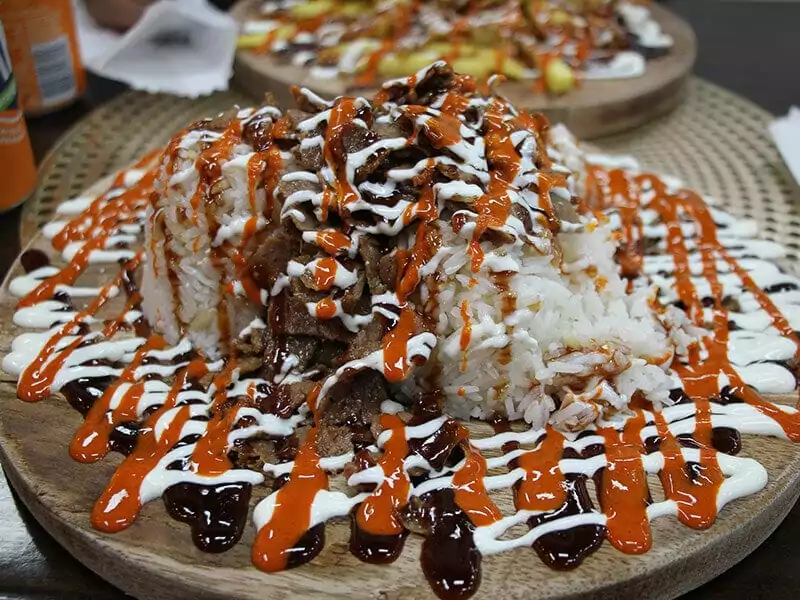 Halal Snack Pack includes doner kebab with halal meat (chicken, beef, or lamb) and French fries topped with barbecue sauce, garlic, and chili. Sometimes, Aussies also add cheese, yogurt, tabbouleh, and jalapeño peppers on top of the dish.
In Australia, you may find Halal Snack Pack on most menus under shorter names like "snack box," "snack pack," "HSP," or "mixed plate." Its origin is traced back to the 1980s, right in Australia. A popular variation in Adelaide is the "AB" dish with gyro meat.
31. Continental Roll
Continental Roll, or Conti Roll, is another typical sandwich in Australian cuisine that adapts to Italian sandwiches. People will fill the bread roll with mixed meat (salami, mortadella, and coppa), cheese, dried tomatoes, pickled eggplants, beetroots, or carrots.
You may not find Continental Roll at the supermarkets since the locals usually sell it at lunch bars and delis. It first appeared in Australia when it was sold by Perth delis opened in 1936 named The Re Store. It started to gain fame when Di Chiera Brothers sold it in 1957.
Furthermore, the Continental Roll is more popular in Perth, where it is considered an institution.
32. Dagwood Dog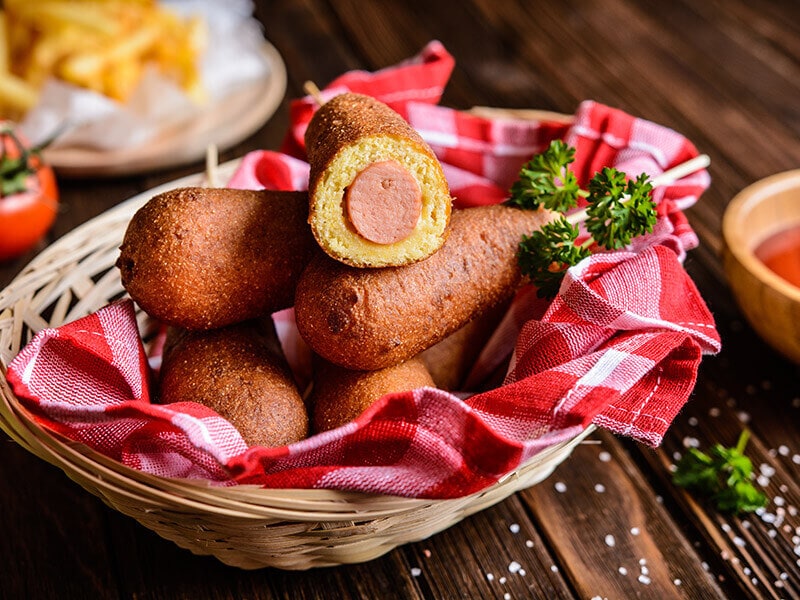 Dagwood Dog is the Australian version of hot dog sausage on a stick. The locals usually dip the sausage in corn-based or wheat-based batter and then bring them to deep fry in boiling oil. They will then serve this hot dog with some ketchup as a dipping sauce.
Dagwood Dog originates from American cuisine. In Australia, you can also find Dagwood Dog under the names "Pluto Pup" or "Dippy Dog." Its name also varies due to regional areas.
On the other hand, don't be mistaken between Dagwood Dog and Battered Savv! The latter is a saveloy sausage that is deep-fried in a wheat flour-based batter, while the former is a hot dog sausage on a stick that is dipped in batter and deep-fried in hot oil.
33. Fritz and Sauce
Fritz And Sauce is a classic sandwich in Australian cuisine that only includes white bread, Fritz, and some tomato sauce. It is the favorite sandwich of Aussie kids at school lunchtime! It is also a popular meal among the German settlers' community.
Fritz is a sausage including meat trimmings (beef, pork, lamb) with flour, starch, and spices. Fritz has other names in different regions, which are "Devon" in Victoria, Queensland, New South Wales, or "Polony" in Western Australia.
34. Dim Sim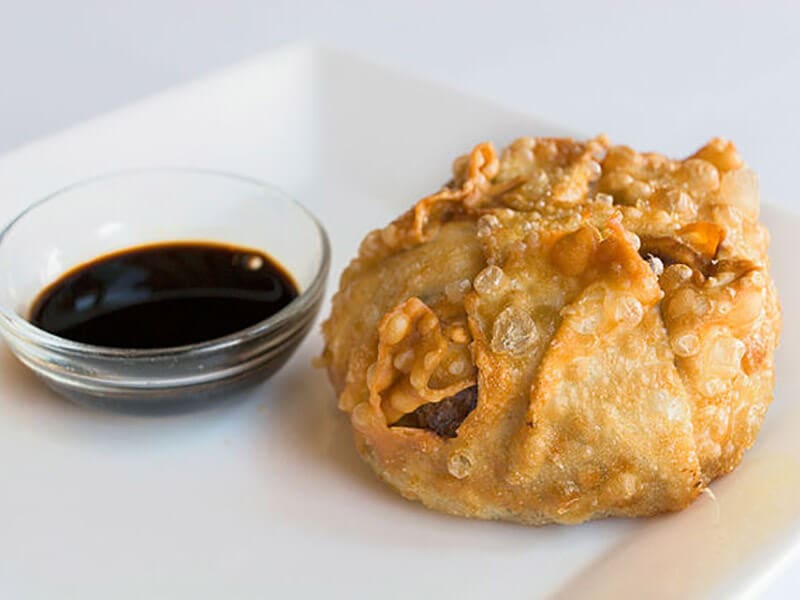 Dim Sim is an Australian adaptation of Chinese signature food – Dim Sum, but they are deep-fried, not steamed. The size is also a big difference. Dim Sim is as large as half of the fist, while Dim Sum is much smaller. It is another favorite on-the-go snack of Aussies!
The filling of Dim Sim often consists of minced meat, cabbage, and basic spices. The cook will coat the filling with a dumpling wrapper and make it into rectangular or circular shapes. It also has a vegetarian version with only carrot, vermicelli, and cabbage.
Australians used to serve Dim Sim to the gold miners in the 1800s with the mutton version. After that, a Chinese immigrant in Melbourne and an Australian superstar chef have made this dish so popular.
Australian Beverages
Besides having the most tasting dishes ever, "the Land Down Under" also has its fair share of irresistible Australian beverages.
Aussies enjoy drinking beer, wine, coffee, and other drinks! If you want to fully experience becoming a real Australian, you should drink what they drink, too!
35. Australian Beer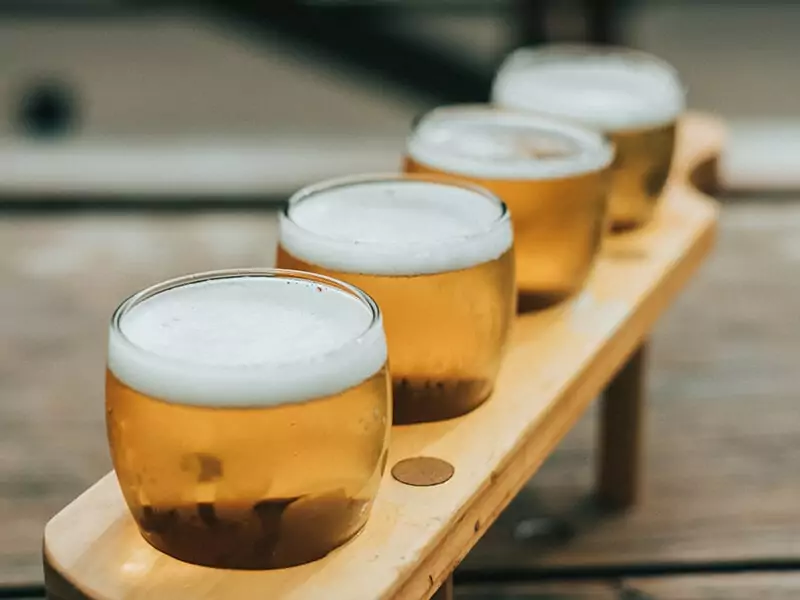 Australians love to drink beer! Australian beer has a long history since the 18th century. The first official brewer was John Boston, with the very first beer version including Indian corn with cape gooseberry leaves. More versions of beer have been developed since then.
Nowadays, if you visit Australia, you may easily come across a popular beer brand named Victoria Bitter, or VB for short. Aussie sell this beer with a CO2 gas chamber that has been cooled for 8 hours beforehand. How cool is that?
You may also want to try Australian specialty beers that contain a large number of ales. Both microbreweries and major brewers will produce these types of beers.
36. Australian Wine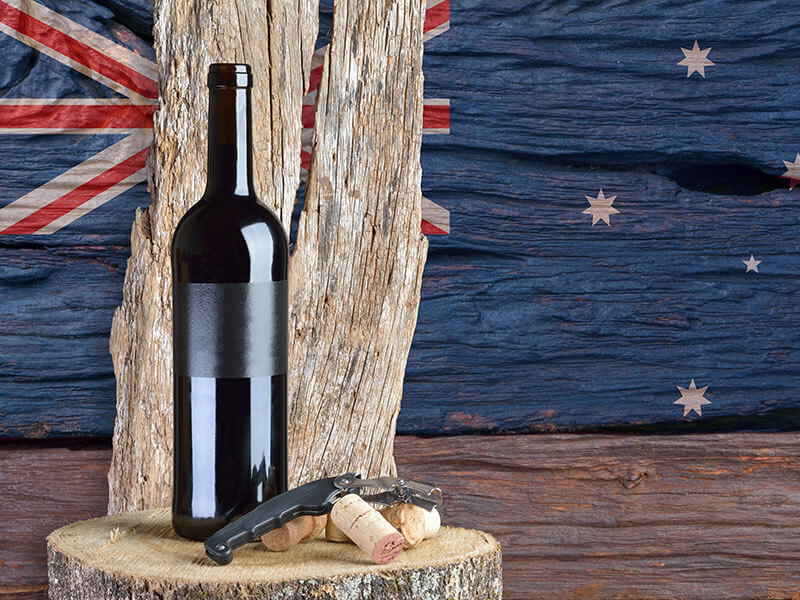 Do you know that Australia is one of the biggest exporters of wine? The Australian wine industry is a grand contributor to the economy of this country. Thousands of vineyards throughout Australia are located in Victoria, Tasmania, New South Wales, etc.
Want to know the best wine varieties in Australia? The most outstanding wine names are Shiraz, Chardonnay, Merlot, Cabernet Sauvignon, Sauvignon Blanc, and Riesling. They are usually named after the grape variety that they are made of.
After your big meal, drinking a glass of wine is a really great and "Aussie" idea!
37. Flat White Coffee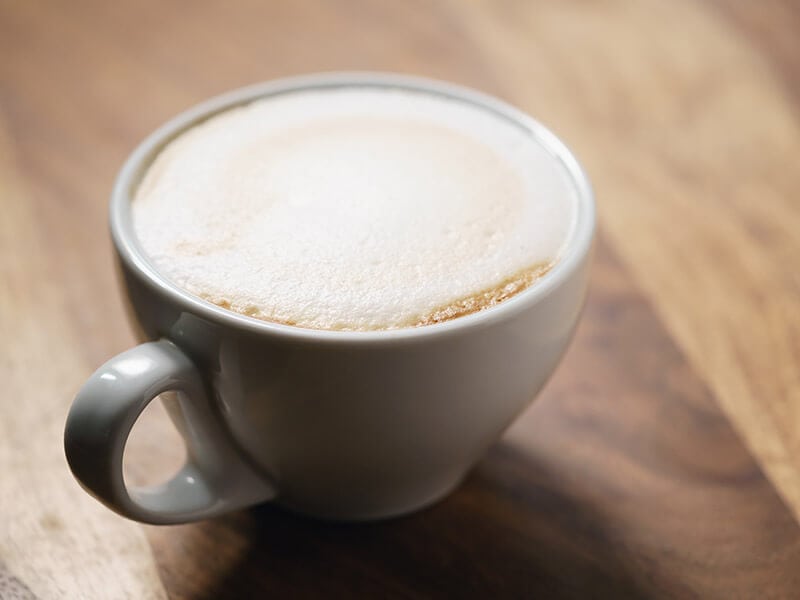 Flat White Coffee is a popular coffee drink in this country and has become a staple of Australian coffee culture since the 1980s. However, the true origin of the flat white coffee is hotly debated, with both Australia and New Zealand claiming to have invented the drink.
The drink includes espresso with steamed milk, also called microfoam. The barista will decorate the top surface with velvety and foamy milk. People may mistake Flat White with Cappuccino or Latte, but this actually has less bubbly and airy froth on top.
38. Milo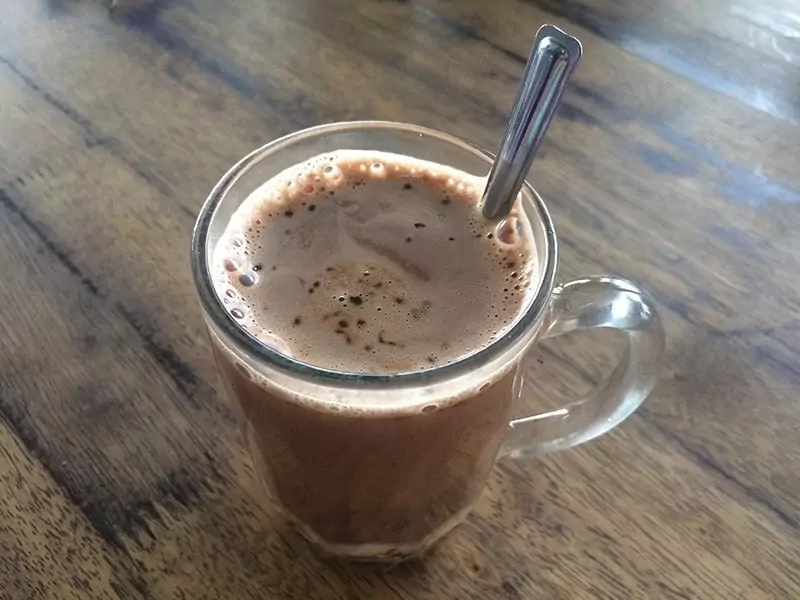 Milo is definitely the favorite drink of Aussie kids! It is a malted powder with chocolate flavors. Nestlé, the worldwide famous beverage brand, sells this product around the world.
Milo is similar to cocoa powder, but it is much sweeter. Besides drinking it as-is, you can integrate the chocolaty powder into an array of tasty sweet treats. For example, Postre De Milo is a brilliant Colombian dessert that combines Milo and pudding.
Milo was created in 1934 by Thomas Mayne, the Australian chemist working at Nestlé. The company launched it for the first time at the Sydney Royal Easter Show. This drink aims to provide children with enough nutrients to grow up healthily.
FAQs
In this FAQs topic, you'll explore some of the most common questions about Australian food, including its popular dishes, and other related cultural significance.
---
Eat And Drink In Aussie Style, Will You?
When you are a traveler, nothing is better than experiencing what the locals eat and drink in their country! I hope you've learned more about Australian cuisine and its extraordinary delicacies with the above list!
If you find this article interesting and helpful, remember to like, share and subscribe to the newsletter and get notified about the latest posts! Also, leave me some comments below if you want to share or ask me something about this topic!