Although situating among plenty of great cuisines, Honduran foods have many unique points that make them stand out from the others.
Furthermore, the gastronomy of the Republic of Honduras has also established their identity and garnered increasing attention from food enthusiasts all around the world. If you are also interested in knowing more about it, let me help you with the first step.
You will receive all the best recommendations in this humble article, from Honduran's savory dishes to desserts. Check it out now!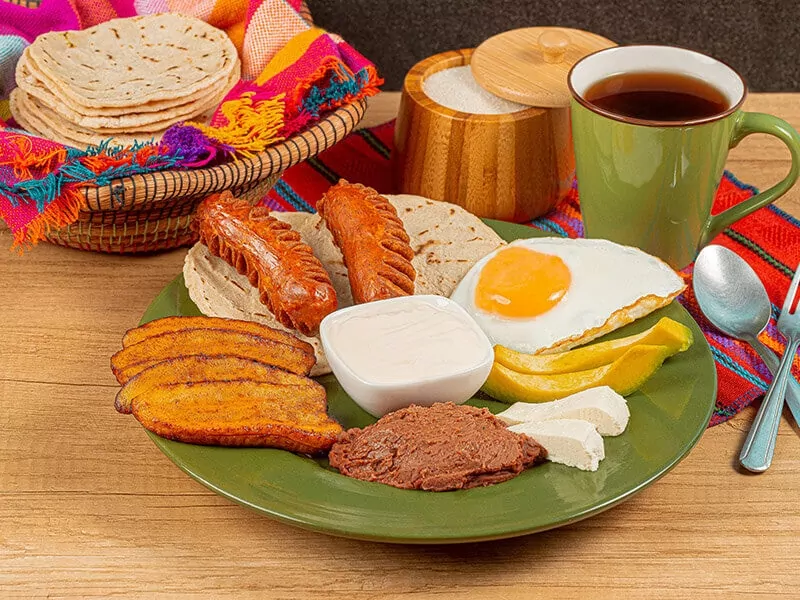 Notable Rice, Beans And Bread Dishes In Republic Of Honduras
To start this category, there is some information you might want to know. A typical Honduran breakfast usually consists of eggs, beans, and many starchy products such as bread or rice dishes.
Therefore, to start with today's list, let's begin with those foods that call for these components!
1. Casamiento (Honduran Red/Black Beans And Rice)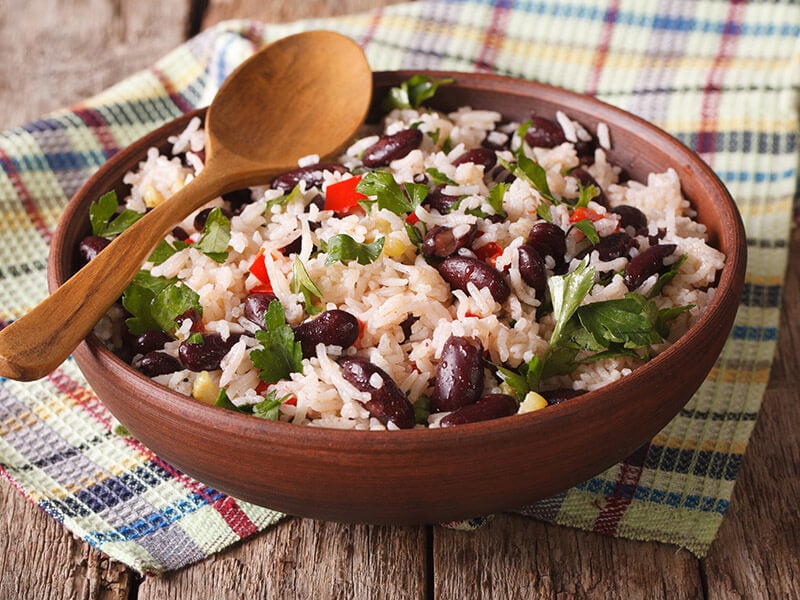 There are several bean and rice dishes worldwide, but this Casamiento will undoubtedly leave you with some fantastic memories. The name "Casamiento," which translates to "married," refers to the integration of rice and beans, which is a lovely marriage.
As you can probably imagine from the name, Casamiento is quite a delicious dish with harmonious flavors. That's why Casamiento is also a must-try dish in Salvadoran cuisine as well.
The Honduras beans are much smaller than the other types and will offer a smoother consistency when cooked. Casamiento also calls for long-grain rice and other veggies and proteins to provide more nutrition for a standard meal.
2. Arroz Con Pollo (Honduras-Style Chicken And Rice)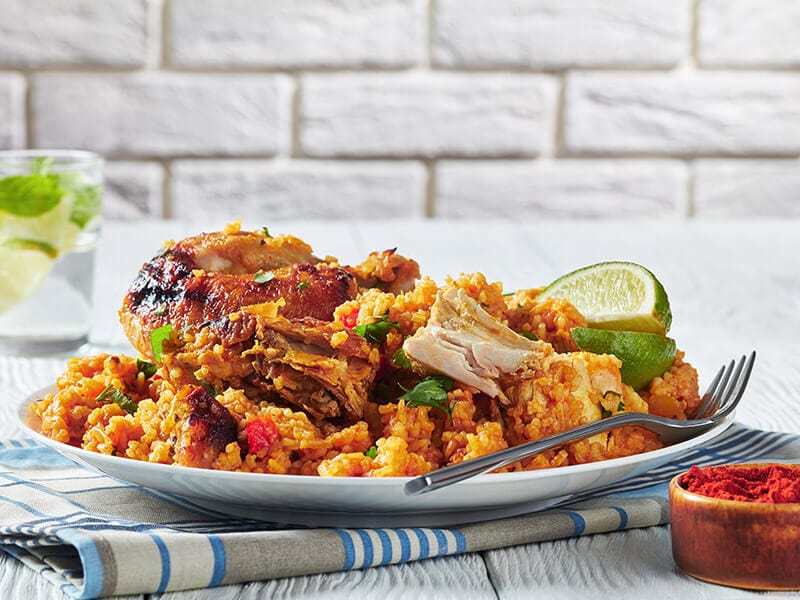 Arroz Con Pollo is a well-known dish representing the distinct cuisines of all Latin American cultures, for example, Cuban cuisine or signature Colombian foods. Created in Spain in the 8th century, it was then brought to the continent, and it has since become a "fever."
Arroz Con Pollo is now a delectable food that can drive Hondurans insane with its exquisite tastes and hearty features. To increase the overall aroma and appeal to anybody around, the rice utilized requires multiple fragrant herbs/condiments.
A good-quality pot, simple seasonings, classic ingredients, and a lime wedge when serving are all you need to serve a great meal of Arroz Con Pollo.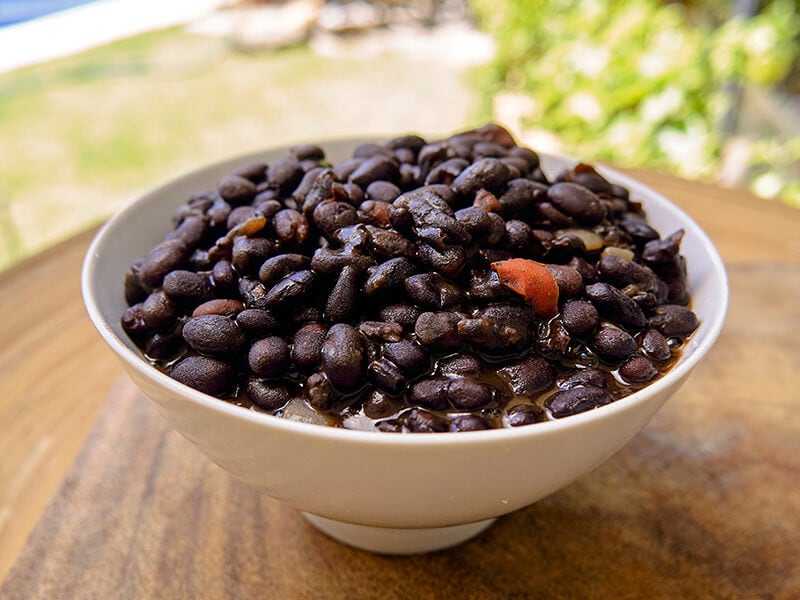 Black bean soup is not only a perfect dish for dinners in Honduran style, but this is also a fascinating dish of Guatemala. The locals really love to have a light dinner (or sometimes a hearty lunch), and a bean soup with various variations will meet all the requirements.
Dating back to the pre-Dominican time when they first created this bean treat, Sopa De Frijoles was so loved that it followed the Spanish conquistadors back to Europe and gained great success there.
However, Honduran Bean Soup is not influenced by their neighbor, Colombia, but rather the pre-Hispanic cuisine. Many features from the components and ancient cooking methods of this dish are still preserved in Honduras Sopa De Frijoles. If you are curious, try it now!
Looking at this Sopa De Frijoles recipe will help you know more about the treat.
4. Pan De Coco (Honduras Coconut Bread)
Have you ever heard of a bread dish that calls for no egg and milk? This Pan De Coco is a delicacy like that. The Garifuna people are the ones to make the original variant of the luscious Honduras Coconut Bread before the treat is spread to the other areas.
The Pan De Coco made in the authentic Honduran recipe is unleavened and considered a type of hard bread. It won't be as spongy as the other regular bread with milk and yeast and is not frequently served as a dessert in Honduran.
People in the Republic of Honduras enjoy eating Pan De Coco with soupy savory dishes as the bread will create an outstanding balance with the yummy sauce from those delicacies.
Another variant of this food is Filipino's Pan De Coco, which has a sweet base that may appeal to you if you have a sweet tooth.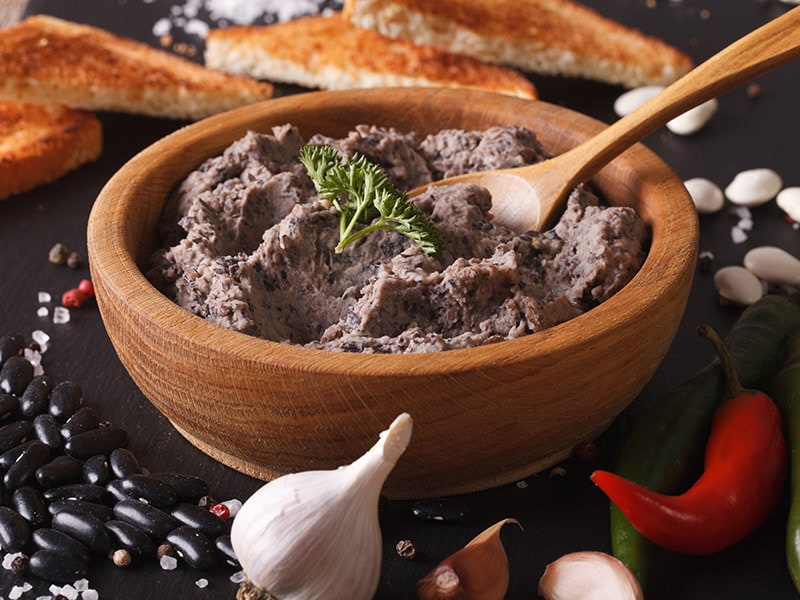 Frijoles Refritos is not a traditional Honduran treat, and its hometown is North Mexico. Although the dish is relatively new since it was introduced about 100 years ago, Refried Beans have become a staple in many countries influenced by Mexican cuisine.
In Honduras, the food is served for any meal in a day, from breakfasts to dinners, since the bean dish is relatively versatile and works quite well with other foods. The rich and creamy flavors of Frijoles Refritos will never go wrong.
It's also easy to preserve inside the freezer, so many Honduran families make some spare at a time and store them for later use.
The best instruction that can help you know more about Frijoles Refritos.
6. Catrachas (Honduran Bean Tostadas)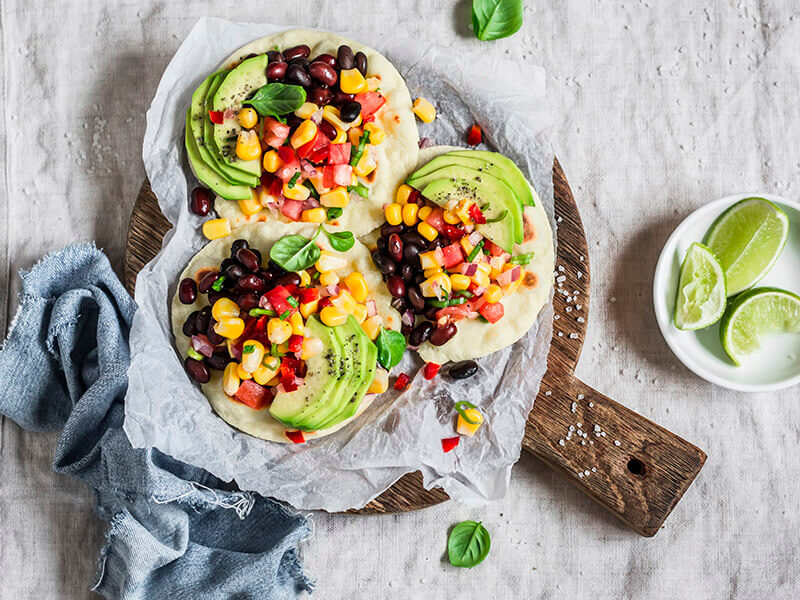 Catrachas might be the quickest bean dish to prepare on this list, and you can easily find it as famous street food in various vendors in Honduras. In this recipe, Honduran people won't use the baked or grilled corn tortillas as they prefer the deep-fried, crunchy ones.
In contrast to the distinctive use of tortilla base, the fillings of Catrachas are fairly simple. Refried Beans (Frijoles Refritos), cheeses (shredded/crumbled), and some sour cream/Tabasco chili sauce are all you need to have a delicious piece of Tostadas.
Breakfast, lunch, dinner, or mid-afternoon snack, any time of the day can be the best time to have Catrachas. Once having the first bite, you might not be able to stop eating.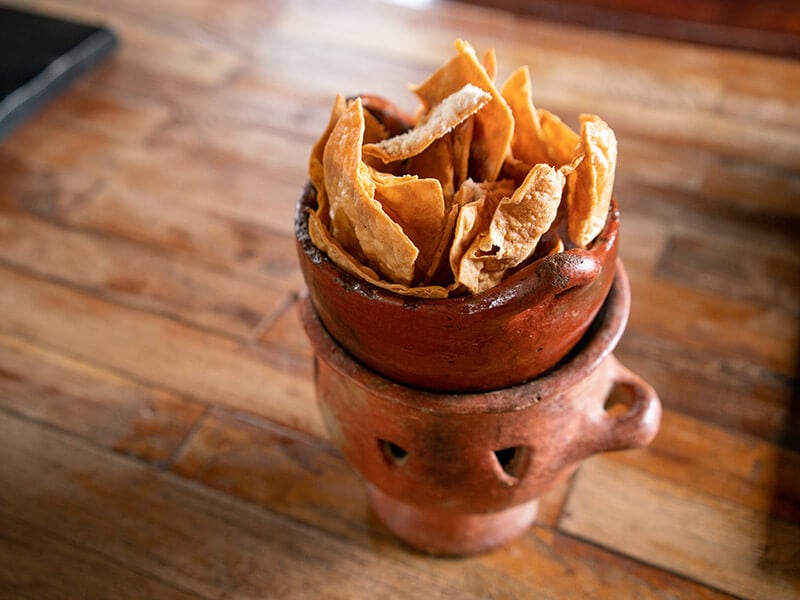 With a fondue-like appearance, Anafre De Frijoles is a traditional delicacy of Honduras. The term "Anafre" refers to the mini charcoal pot under the clay furnace of Frijoles Refritos (Refried Beans) and Quesillo (Honduran melted cheese).
Trust me, dipping the fresh tortilla chips on top of the dipping furnace, having the first bite, and you will not be able to stop craving for it.
The holes on the clay pot have their own usage that supports ventilation and continuously keeps the coals lit. As a result, the food above will be warm and bubbly for a longer time.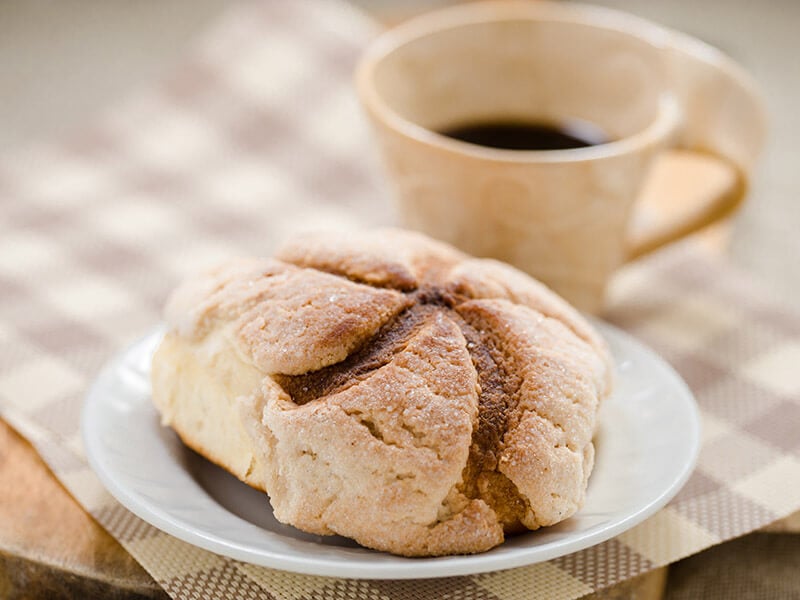 A cup of coffee is always the best partner with a piece of Semita Bread, and Honduras people will have this combination as a light breakfast or a fast mid-afternoon snack. The right way to enjoy a portion of Semitas is to dip it into the coffee.
About Semitas' roots, this bread was brought to the New World by the Semitic Jews in the 16th century, who colonized the Nuevo Leon state of Coahuila (now Texas).
The early record shows that the mentioned group of Jews eat a kind of bread for their Passover, which is somehow similar to nowadays Semitas. However, some believe that the food came from Islamic North Africa or Spain.
One significant feature of this treat is that it is not very sweet, some variations are mildly sweet, and others offer a bit of saltiness. Trust me, both of them will be worth craving for.
Semitas De Yema, and the information you might need is shown clearly here!
9. Pupusas (Honduran Stuffed Masa Flatbread)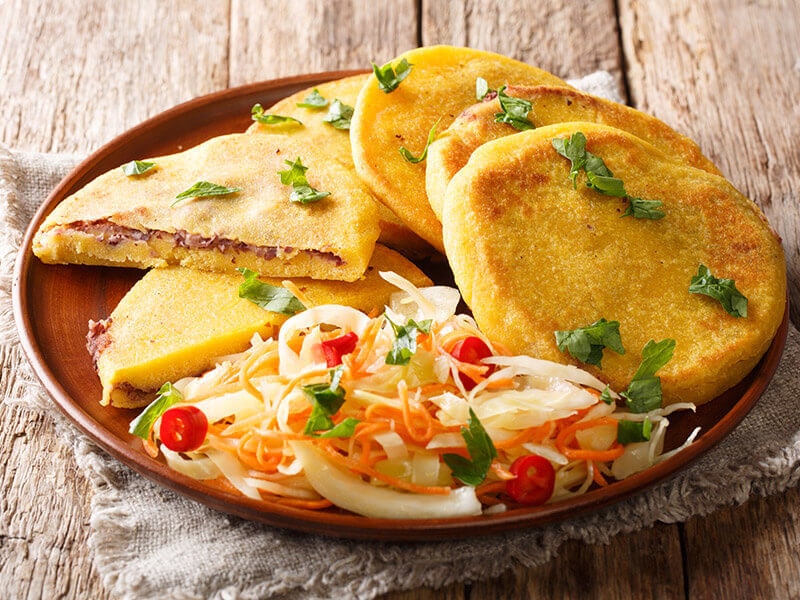 Pupusas don't originate from Honduras, but come from their neighbor, El Salvador. The treat is renowned for both Honduras and El Salvador variations. The idea to create this dish has nothing special, yet, the allurement lies in its simplicity.
The flatbread will be stuffed with a mixture of beans, cheese, pork/fish, and I highly recommend the cheesy ones. Not just because of the flavorsome tastes but also the attractive appearance when you separate them in halves and the melted cheese gently dropdown.
The side dish for Pupusas should be a bit sour, tangy, or offer a distinctive freshness to reduce the greasy feeling from overeating. Don't let the Pupusas cook down; eating it warm or freshly made will absolutely be better.
Don't Miss These Honduran Meat And Seafood Treats
Honduras is a mountainous nation with highlands accounting for 81% of its land area. However, this country is also bounded by the sea (the Caribbean to the north and the Pacific Ocean to the south
As a result, many traditional Honduran dishes feature a range of ingredients such as seafood, poultry, pork, beef, and freshwater products. Right now, I'll introduce you to the foods that have these ingredients. Please don't skip it!
10. Carne Asada (Marinated And Grilled Steak)
Meat, meat, and meat, you shouldn't ignore this dish if you are a meat lover. Carne Asada is made by the flank and skirt part of the beef, well marinated, and processed on direct high heat.
Although Carne Asada requires nothing much to become a perfect treat on your dining table, it has been loved globally for centuries. This treat is a popular dish in Mexico with many variants, yet the Honduras Carne Asada will not disappoint you.
A fascinating fact about this Carne Asada is it took part in the first-ever taco in the world, Carne Asada Tacos (which appeared in the 1500s).
Sneak peek: How Hondurans make their version of Carne Asada is shown here!
Just as the food's name shows, this Tapado Olanchano has its origin in the Olanchano region of Honduran and became a prevalent stew dish after that.
If you don't know what to eat for lunch in Honduran, how about a stew with dried, salted beef? Of course, the food is not processed alone. They usually use ripe/green plantains, yucca (cassava), potatoes, carrot, and coconut.
Those accompaniments help increase both nutrition and diversify the flavor profile (richness and sweetness) of Tapado Olanchano.
You should know that Tapado Olanchano is not a soup since there is almost no sauce/soup in it. Furthermore, the food can still pair with white rice, flatbread, or boiled yucca.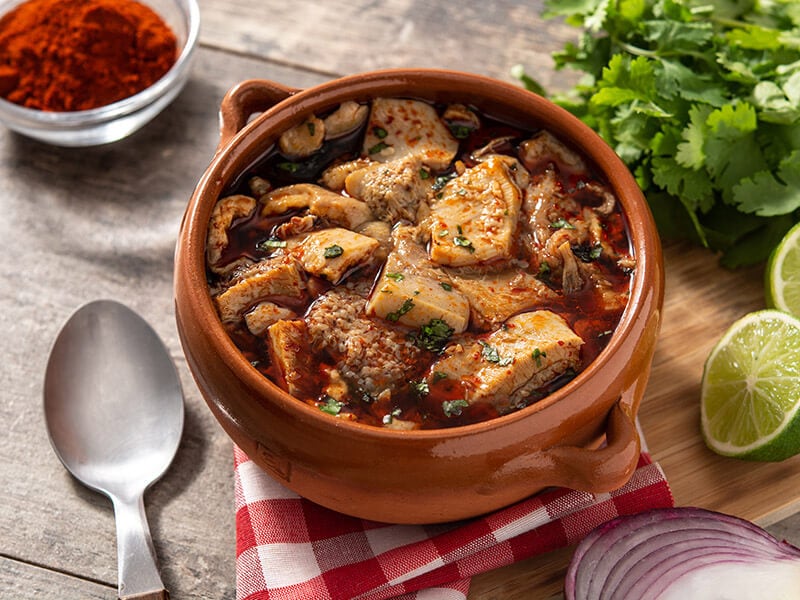 Tripe might be one of the hardest touse beef/pork parts since it usually reminds people of unpleasant smells. The story will be different in this food.
With the use of various fragrance spices, herbs, and condiments, you will love this Honduran Sopa De Mondongo from the first try. You will find other variations from other Latin American nations, like Venezuelan cuisine, but those won't offer the same taste.
Many countries want to take credit for the food, yet no official proof clearly shows where the dish came from. The only sure thing here is that it first appeared in Latin America in the 17th century, during Spanish colonization.
13. Yuca Con Chicharrón (Boiled Cassava with Pork Crackling)
Who doesn't love crispy pork skin? Definitely not me. Yuca Con Chicharrón is an authentic dish of Honduras, including boiled cassava (yuca) and Chicharrón (crispy roasted pork).
Truth be told, the Chicharrón didn't come from Honduras. However, this tasty combination of roasted pork and fried plantains was an idea of the Honduran people.
Since yucca is one of the highest yield crops in the Republic of Honduras, you might see it in many other foods below. This starchy root veggie can be a great source of starch instead of the other plants like rice or maize.
Besides the golden brown and crusty pork meat and the tasteful pieces of fried (boiled before frying) yucca, you can expect something refreshing such as salsa, shredded raw cabbage, and a few drops of lime juice.
Craving even more? You should experience the food yourself in Honduras then.
14. Pollo Chuco Con Tajadas (Honduran-Style Fried Chicken With Fried Plantains)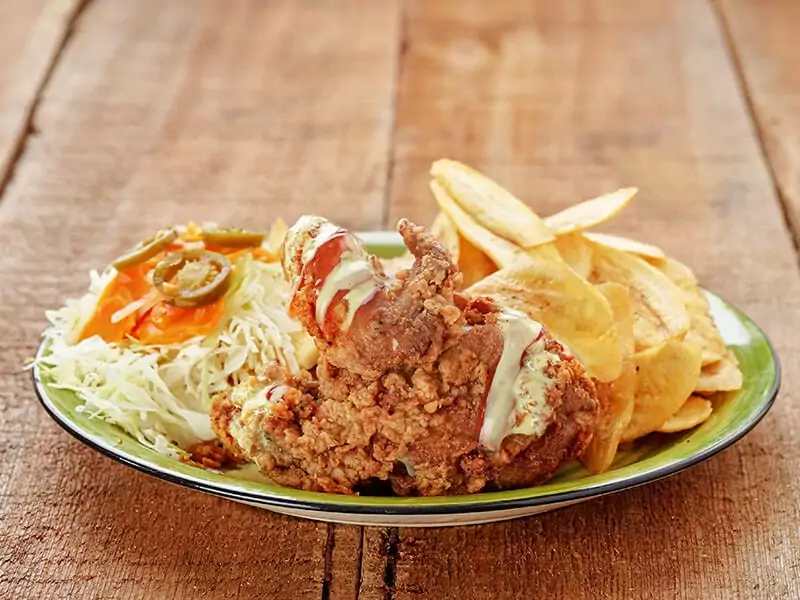 Pollo Chuco Con Tajadas calls for fried chicken, crispy fried plantain slices or tajadas (long slices of fried plantains). Those fried ingredients need some fresh salsa sauce, pickles, or sweet-sour-based dressings (like mayonnaise) to make them more harmonious and tasty.
Since Pollo Chuco Con Tajadas is delicious, affordable, and filling enough for a light/quick meal, Hondurans are totally in love with this treat. They even make a day to celebrate the Pollo Chuco by a chicken fest in San Pedro Sula (starting from 2020).
Do you want to know how to make a perfect portion of Pollo Chuco Con Tajadas?
15. Pescado Frito Con Tajadas (Fried Fish With Green Plantain)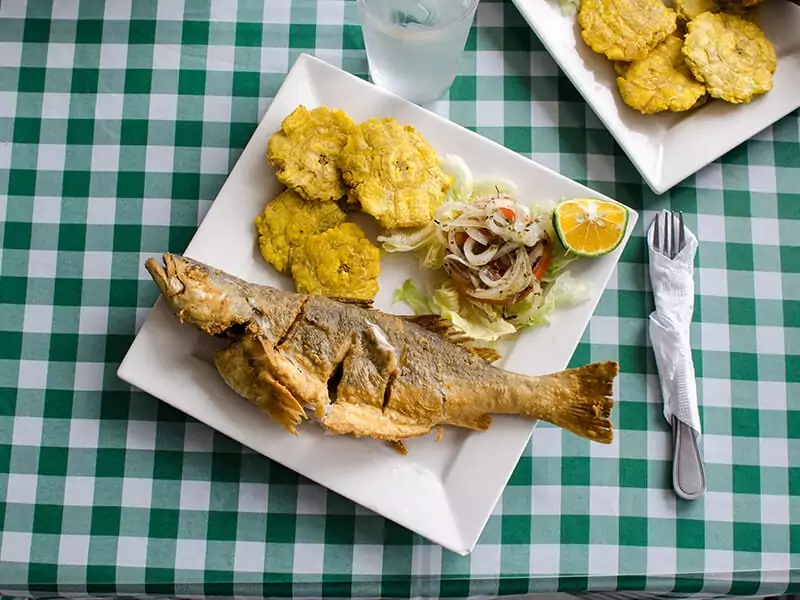 If it seems familiar to you, it is because of the use of Tajadas (long strips of fried plantains) in this Pescado Frito Con Tajadas. Tajadas is a versatile ingredient that can pair well with various other fried treats since it is crunchy (after being fried in hot oil twice) and quite bland.
Tilapia is the most common component in this fried fish treat. I recommend prioritizing the Honduran Caribbean variation of Pescado Frito Con Tajadas on your foodie bucket list. It'll be elevated if you serve it with lettuce salad and Casamiento.
You can see various seafood in the illustrated picture, but the only must-have ingredient is the snail. The best snail for Sopa De Caracol, the national treat of Honduran, is conch snail as all of its meat is edible.
About the origin of Sopa De Caracol, it is thought to start from the north coast of Honduras. Sopa De Caracol is the Garifuna people's specialty (they genuinely are the descendants of Africans and Carib settlers on the Atlantic coast).
With the gorgeous creaminess combined with robust, aromatic spices like ginger from a regional treat, Sopa De Caracol has become a widely-favored delicacy in Honduras.
The food is even mentioned in various songs, such as "Sopa De Caracol" (2013) of a Puerto Rican-American singer.
Honduras Desserts And Snacks To Eat Before You Die
When discussing Honduran cuisine, it would be a mistake to neglect the desserts/snacks. Those dishes are often convenient and versatile so that you can enjoy them anytime.
These amazing Honduran desserts are not an exception. Let's learn more about them in the below category.
As yuca (cassava) is a famous crop in Honduras, there is no reason not to create food that calls for this always-ready ingredient. It is not a sponge cake (more like a crustless pumpkin pie), but believe me, it will be delicious.
Hondurans prefer making this treat by hand since they believe that the handmade variations taste better than the machine-made. From the first bite, you can feel the taste from every ingredient: coffee, vanilla, milk, and some fragrance spices.
The cake base shouldn't be too sweet, and in case you want something sweeter, you can always drizzle some special condensed milk as a topping instead.
Easy-peasy to create Yucca Cake will show you more information about it.
18. Ayote En Miel (Seasonal Pumpkin Squash With Honey)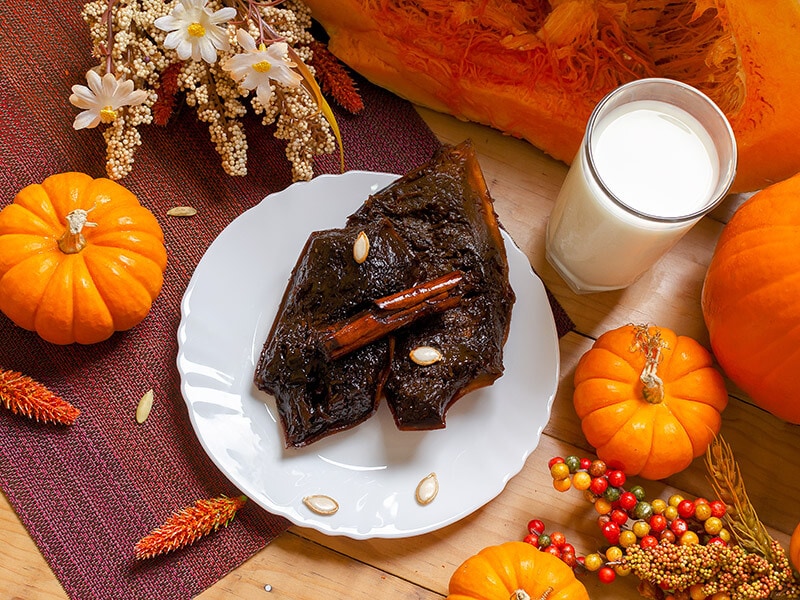 Although Ayote En Miel has its roots in Guatemala, it is also a famous dessert in El Salvador, Nicaragua, and Honduras. With the beautiful honey-glittering exterior and a rich, creamy base inside the piece of pumpkin, many people enjoy this dish.
To make the Ayote En Miel more fragrant, they also add some condiments such as sweet cloves, chopped panela, cinnamon sticks, and some coarse pepper. As a result, the sugary aftertaste is toned down, and the spices can lift the aroma effectively.
In Honduran, Ayote is the food that can bring the summer vibe into any household, and people in this country serve it for special summer-y occasions such as Holy Week.
19. Rosquillas (Corn Crunchy Rings)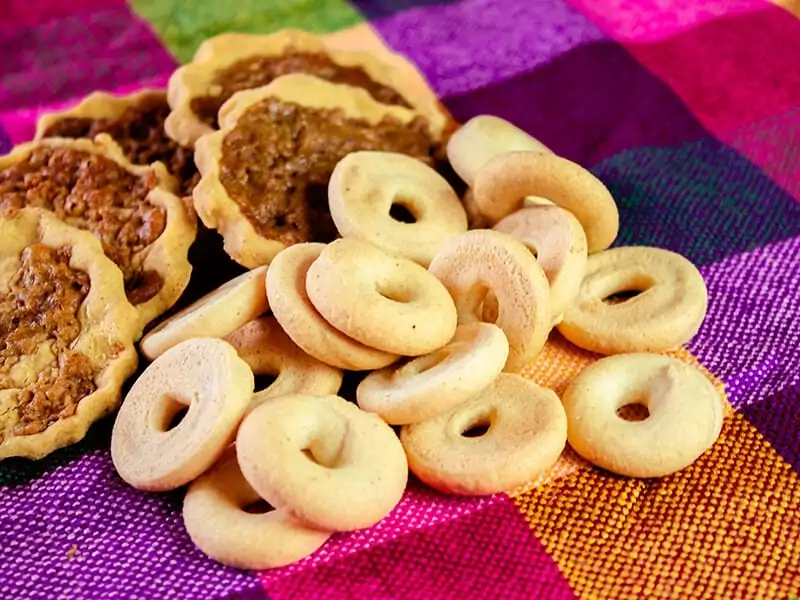 Where did these Rosquillas come from? This delicacy originated in Chinandega, Nicaragua, specifically in the tiny hamlet of El Viejo. Despite their humble beginnings, these corn cookies are today enjoyed by people worldwide, from the American continent to the others.
These small donut-like cookies have long been a favorite of Hondurans, and the proper way to consume them is similar to Semitas, by dunking them into a cup of coffee. The ideal soaking period for diluted coffee is 30 seconds and 10 to 15 seconds for undiluted coffee.
Rosquillas can also be a quick breakfast treat or a snack, the best time to have it is when you crave the cookies badly.
What is the authentic Honduran way to make Rosquillas?
20. Alcitrones (Crystalized Fruit)
Fresh fruits and sugar are all Hondurans need to create their famous Alcitrones. This delicacy originated in Mexico, and the first person to bring it to Honduras was Amalia Cardoza. Later on, the first Honduran Alcontrones were created in Siguatepeque.
Hondurans prefer using Chiberro to create their variation of Alcitrones rather than some other kinds of fruit, which also highlights this Honduras sweet treat.
This dish is a specialty of the Central Honduras region. If you have a chance to go there, definitely give it a try.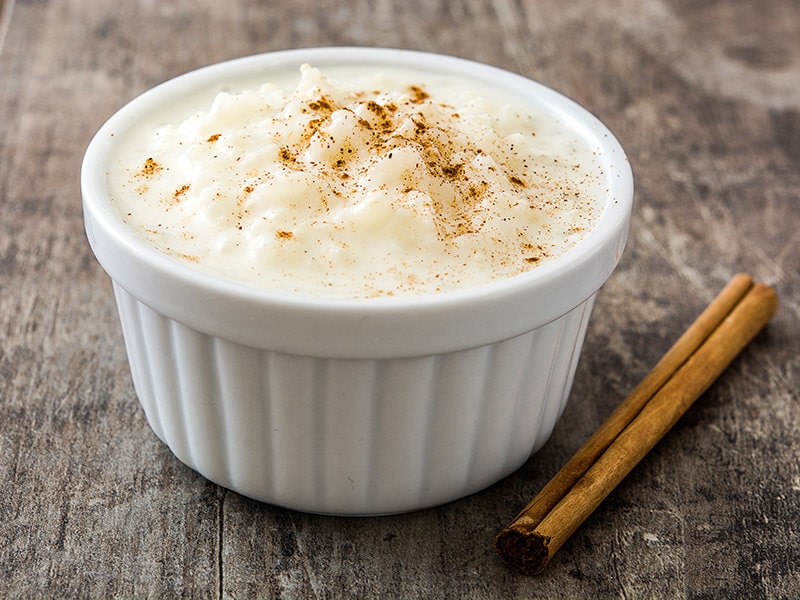 Arroz Con Leche / Rice Pudding is a flavor-rich food that you shouldn't ignore when coming to Honduras. I can't deny that you can find various varieties of this food worldwide, but each is worth trying once.
The origin of Rice Pudding is in Asia, and the Moors were the ones to bring this dish to Spain, making them become an iconic Spanish sweet treat before it became widespread in the Latin American areas.
In Honduras, the locals will make a huge portion once they prepare Arroz Con Leche as the food will taste better when eating together. Plus, rice – a key ingredient to make this treat, can be used to make a tasty Honduran beverage – Horchata that is reminiscent of rice pudding flavor.
They will also try to consume the treat simply with no fussy additional topping. The Honduran-style Rice Pudding tastes scrumptious enough with only some sprinkled cinnamon and cloves powders.
This is the most detailed instruction to making Arroz Con Leche you can find!
Several Other Delicacies You Should Notice
Last but not least, your trip to Honduras won't be completed if you don't give these below treats a go.
22. Marmahon (Honduran Couscous)
Marmahon, also known as pearl couscous or matfoul, is a classic pasta dish in Honduran cuisine with Palestinian, Lebanese, and Jordanian influences.
These bad boys are made from hard wheat shaped into beads or grains. You can think of them as a cousin to North African couscous, but a lot bigger.
They made their way into Honduran culture around the late 19th century, together with the immigration of the Arabic Christians.
Marmahon is often cooked with chicken, celery, squash, and carrots to create a thick, hearty stew. Other delectable applications for this Middle Eastern classic include curried vegetables and salad.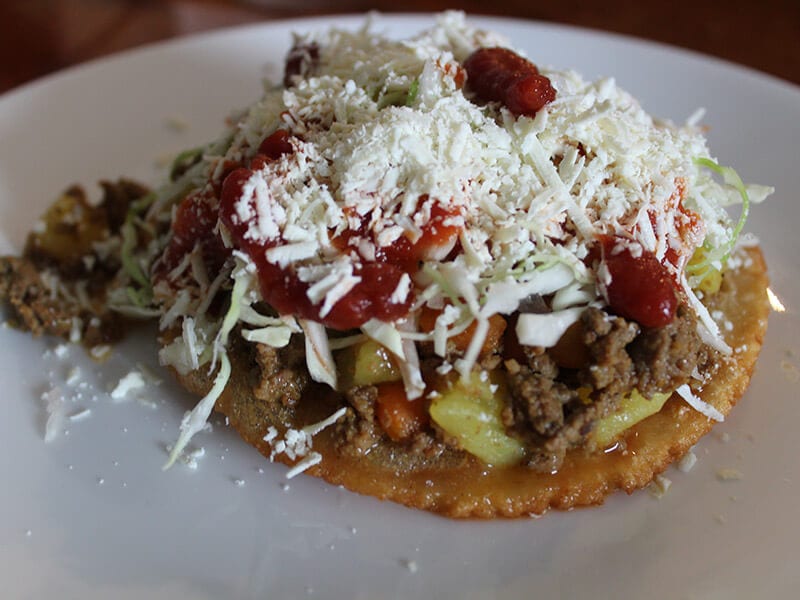 Enchiladas are a traditional Mexican meal with a distinct flavor and a lengthy history. It quickly became a beloved dessert in Honduras after its arrival.
Honduran Enchiladas distinguishes itself from the original version with the perfect combination of tortilla, beef, eggs, vegetables, and cheese. The crispy corn tortilla base pairs well with the fresh toppings, making an irresistible food scrumptious and palatable.
You might not want to miss this Honduran Enchiladas-making video to know more about it.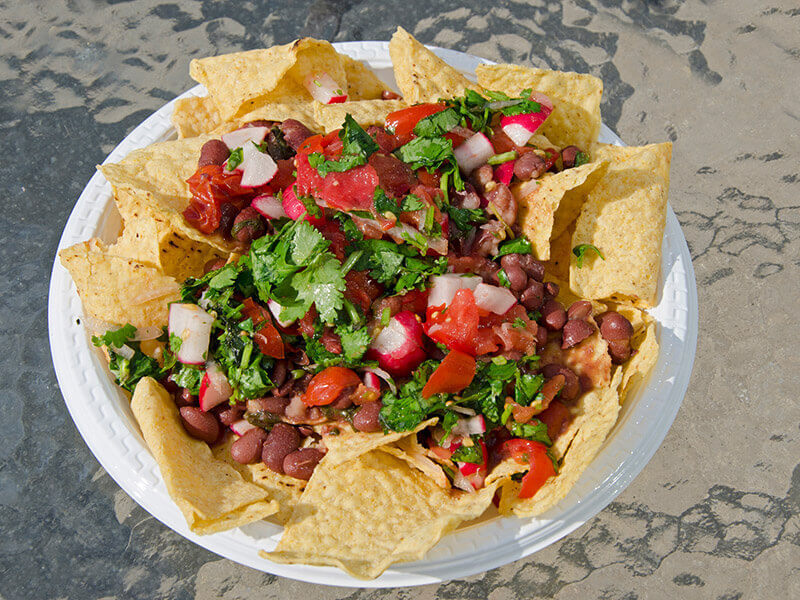 Now, move back to the indispensable Chimol! For a treat made only of refreshing veggies (tomato, onion, bell pepper) or herbs (coriander) and seasoned simply with lemon juice/vinegar, salt, and black pepper, Chimol is surprisingly delicious.
This Chimol can pair well with any meaty (grilled meats) or tortilla dishes in Honduras and become an essential side dish that can help you a lot in refreshing your taste buds.
25. Baleadas (Filled Wheat Flour Tortilla)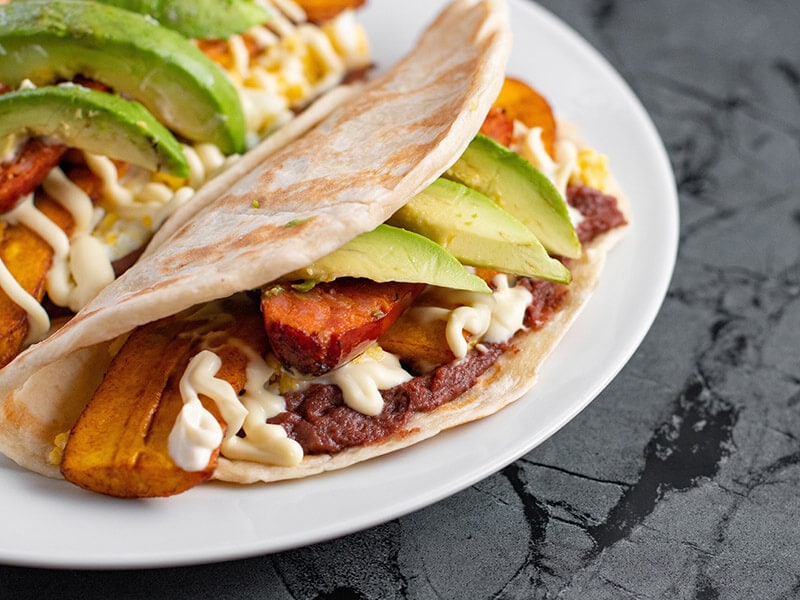 Gold will never be old. When it comes to the Honduran Baleadas, there is nothing that can turn wrong. This traditional Honduran delicacy will taste great on any occasion.
Although Baleadas are prevalent around this country, the most accessible place to find perfect pieces of this dish is La Ceiba in the North Honduran Coast area.
The Honduran breeze is also accentuated inside this treat, with some signature delicacies going with it (such as Refried Beans, Mantequilla, or Honduran-style sour cream and cheeses). In Honduras, they love eating Baleadas for a filling first meal of the day.
The best taste test you might get to know more about Baleadas's flavors.
26. Nacatamales (Wrapped Corn Dough)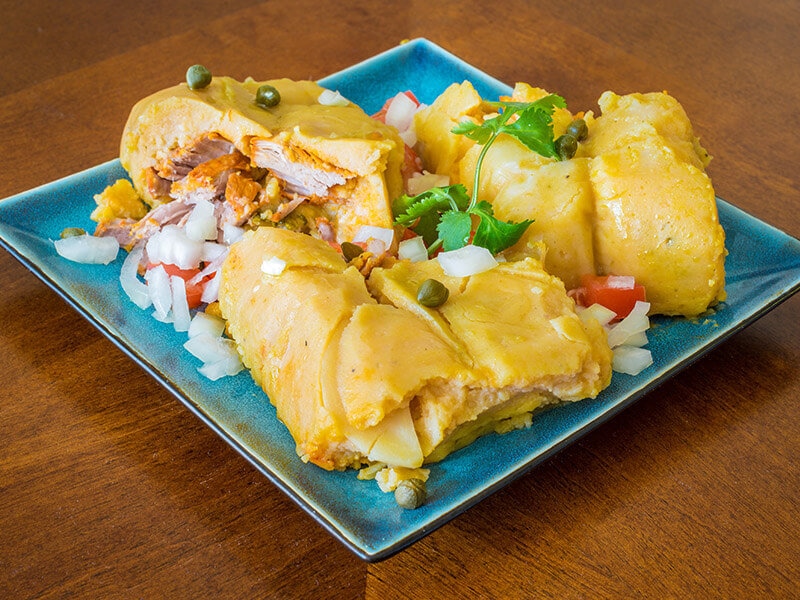 The next dish is derived from the pre-Hispanic's Tamal (also known as "Tamales"). Nacatamales, or the traditional Honduras-style Tamales, are also made of corn powder dough with beans, chicken/pork with some veggies (tomatoes, bell peppers) fillings.
The treat is steamed thoroughly, and the embraced plantain leaves' scent will spread all over your mouth when eating.
Hondurans serve this treat in their traditional Christmas/New Year's Eve afternoon, yet you can still have it for everyday meals. If you have a chance to go to Honduran on special occasions, as mentioned, you should not neglect these Nacatamales.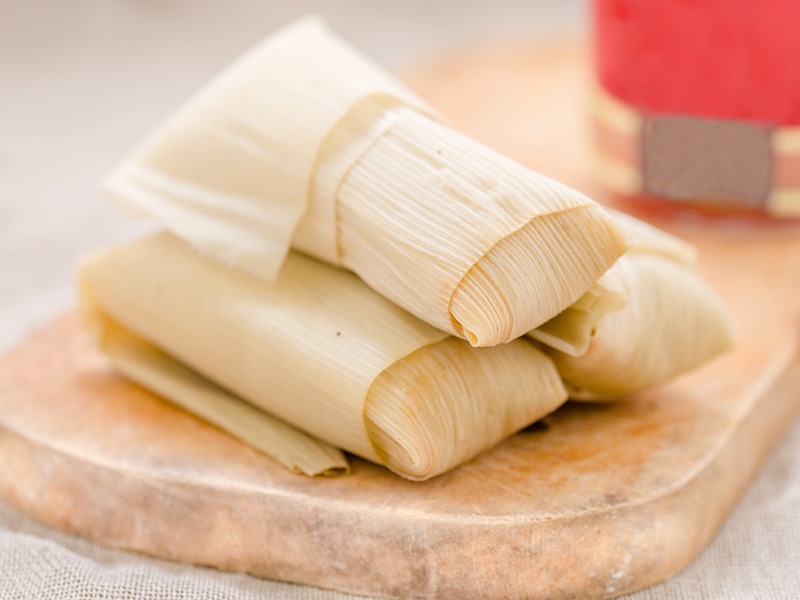 Montucas – a cousin of the renowned Nactamale, are a famous delicacy in Southern Honduras. They are made from sweet corn instead of corn powder dough and might have savory or sweet fillings.
Common fillings for these yummy treats include beef, chicken, pork, fruits, cheeses, vegetables, and chilies. The locals might also season the stuffing and the cooking water for a more extravagant taste.
Montucas often come wrapped in plantain leaves or corn husk. Occasionally, you'll come across ones that have avocado, banana, or canak leaves wrappings. Some modernized versions may also use aluminum foil.
Like Nacatamales, Montucas are part of many festive celebrations in Honduras. Christmas, New Year's Eve, you name it, can't be completed without some delicious Montucas.
I Cannot Wait To Try These Delicious Treat Once Again
I hope that all my recommendations above will assist you in your journey to the Republic of Honduras. Don't hesitate to share my article with your loved ones if you see it as convenient and helpful.
One last word, enjoy the gastronomic and culinary adventure across the world to ensure you don't miss a thing. Let me know when you try the suggested delicacies above with some comments or reviews!