The taste of Caribbean foods will take you to different exciting savory journeys. From a delicately sweet dessert to a delicious main dish, the delicacies in Caribbean region's countries will definitely satisfy your hunger.
Jamaican, Dominican, Cuban, and other countries' cuisine will allure you with a one-of-a-kind culinary culture that you can't find anywhere else. Are you ready for this fascinating journey? Let's dig in.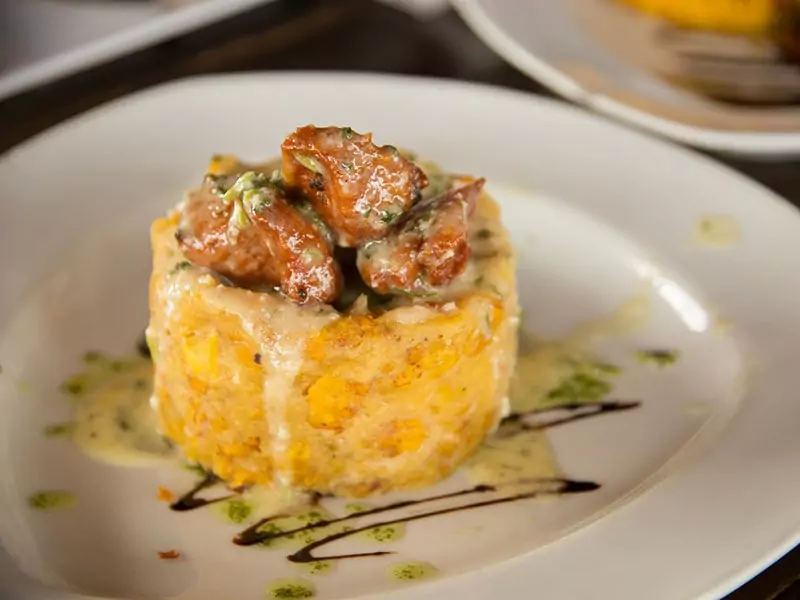 Let's Begin With Some Enchanting Specialties From Jamaica
Jamaica contributes diverse foods for the entire Caribbean cuisine. This country has plenty of beautiful Caribbean specialties that you will regret not trying.
1. Blue Mountain Coffee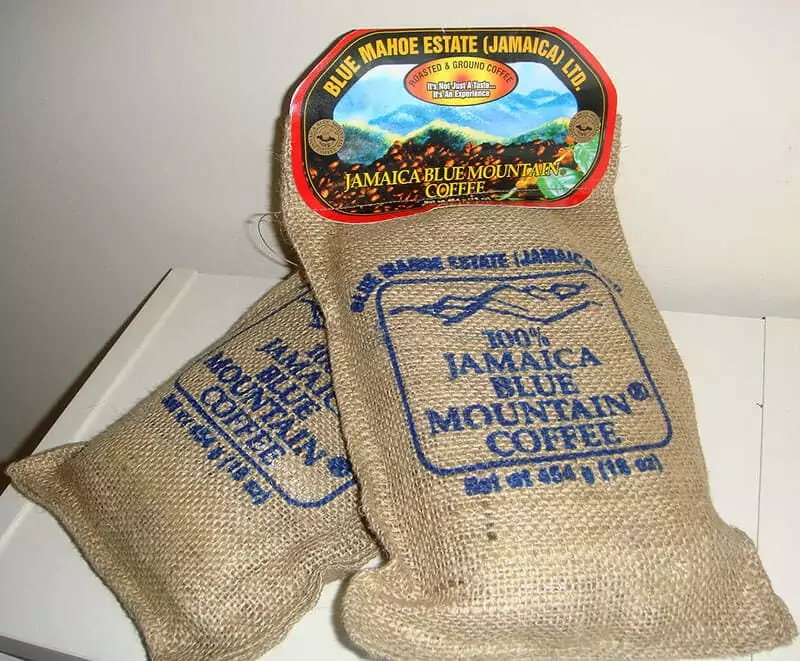 There is an extremely famous drink in Jamaica that you might have known its name, such as Blue Mountain coffee. This coffee is named after the mountain where local people harvest the best coffee. Blue Mountain coffee first appeared in this country in 1728.
This coffee is famous for its mild flavor without bitterness. You will also find a floral taste with a bright acidity while enjoying the coffee. Blue Mountain is one of the most expensive coffees in the world. Jamaicans will export most of the coffee to Japan.
This coffee develops well in volcanic soil that only offers a spectacular flavor in the Blue Mountain of Jamaica. Only the coffee certified by Jamaica Commodities Regulatory Authority can have the 'Blue Mountain' label.
Do you know why Blue Mountain Coffee is so famous? Let's dive in!
2. Bammy (Cassava Flatbread)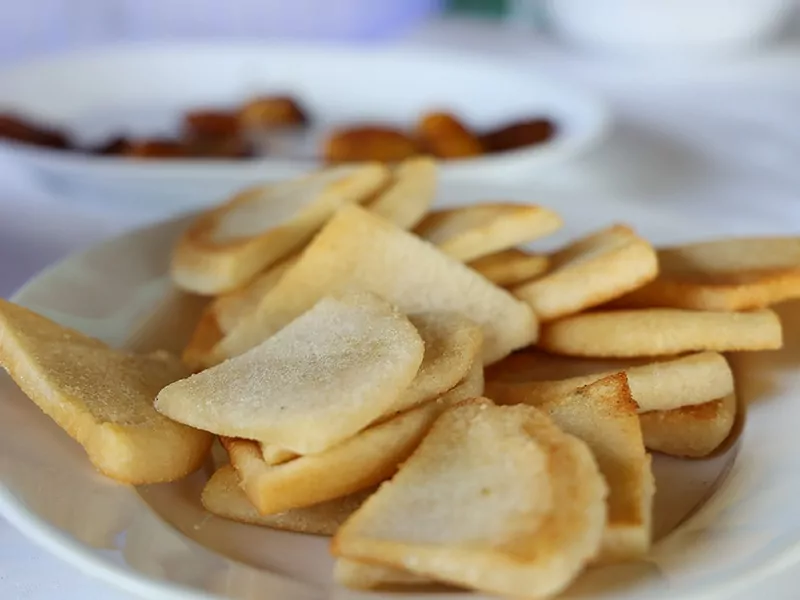 Bammy has its origins from the antique flatbread of the Arawaks (the indigenous people of Jamaica). This treat is famous street food in Jamaica that you can easily find, especially at any kind of food store or street food carts in rural communities.
This snack is a great Caribbean midday meal. Customarily, Cassava will be grated and placed in a thatch-leaves-woven bag. After that, people will dry it outside but not completely dry to keep a moist texture.
People often serve it with fried fish or salt fish. Jamaicans usually have Bammy with Escovitch (a savory Jamaican fish dish) to let all the savory juice soak into the tasty flatbread.
Bammy has a beautiful and rich taste from coconut milk. You can fry, bake, or steam the bread to gain a fascinating flavor.
3. Stamp and Go (Salted Fish Fritter)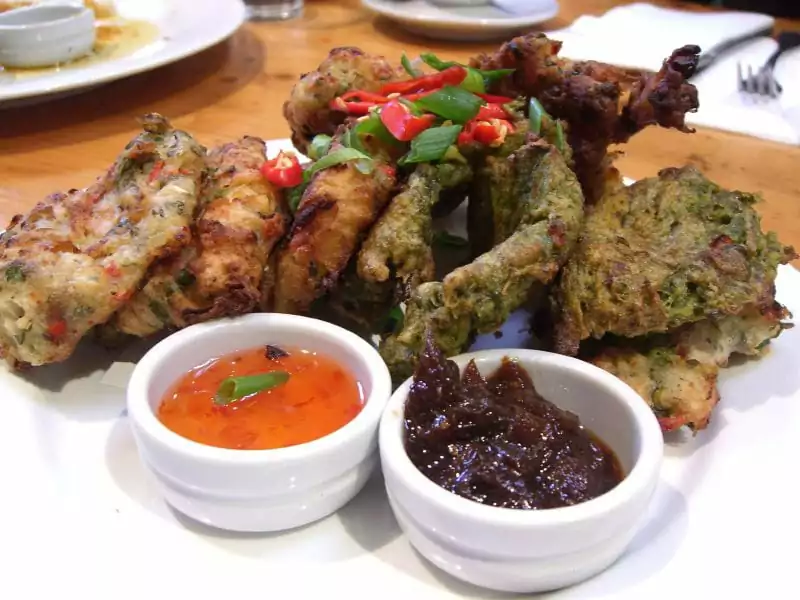 What do you do when eating fish with a crispy texture? This is a delicious Caribbean morning meal for a busy working day. Depending on your preference, you can make Stamp and Go in bite-sized or large sizes.
The bize-site is perfect to pair with some cocktails and tangy dips for any party, while the large version is often used for breakfast. Stamp and Go is a wonderful fast food that people in Jamaica usually enjoy on their trip.
It is said that the name of the dish comes from the 18th-century phrase 'Stamp and Go' on British sailing ships. Officers use this phrase for rushing something to be done in a short duration.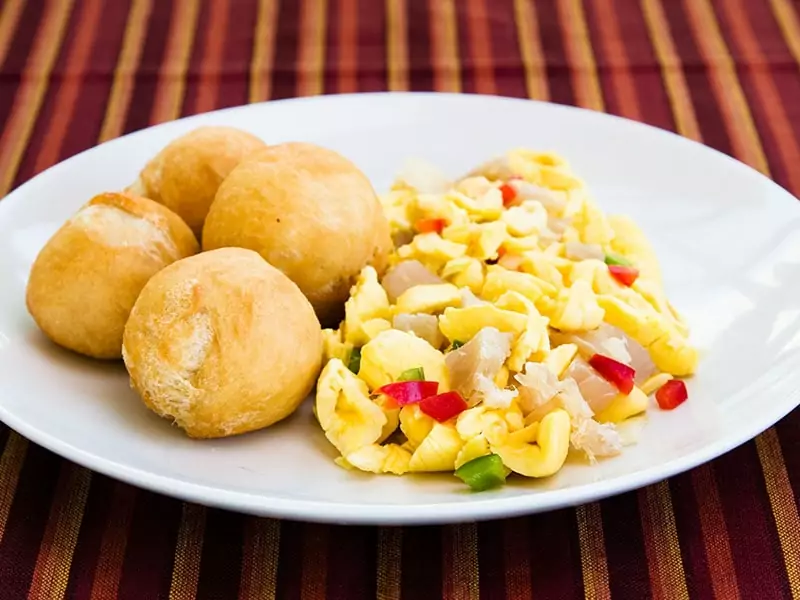 Let me greet you with a national dish in Jamaica, Ackee And Saltfish. Ackee is native to West Africa (tropical weather) and has become a famous Jamaican fruit. The fruit has its scientific name from the first person who brought this fruit from Jamaica to Kew (England) in 1793, Captain William Bligh.
The dish's English name originates from an Akan word, 'Akye Fufo'. Ackee and Saltfish is a wonderful dish with a nutty taste from Ackee's lobes. Don't forget that the sharp, salty taste of salt fish will boost the entire dish's taste.
Ackee requires proper preparation to remove the poisonous part. Ackee and Saltfish is an ideal choice for breakfast or brunch to start a day.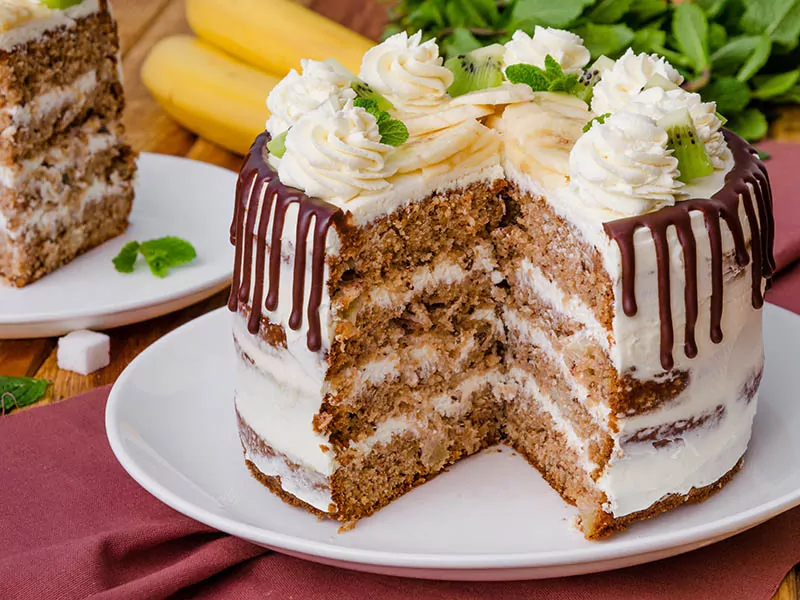 Hey! How about trying a delectable Caribbean sweet course? Hummingbird cake is a national sweet treat originating from Jamaica and adored by the United States citizens (especially the Southern region) since the 1970s.
The original name of this cake is Doctor bird cake. In fact, Doctor bird is the name of the scissors-tail hummingbird, a native species of bird in Jamaica. The cake has its lovely fruity taste from ripe bananas and pineapples.
This cake has its name because of the banana yellow streaks resembling the bird's plumage. For a wonderful taste, other ingredients like cinnamon, pecans, or vegetable oil. People often add cream cheese frosting to beautify the cake with a creamy flavor.
It's time to try this beautiful Hummingbird cake from Jamaica.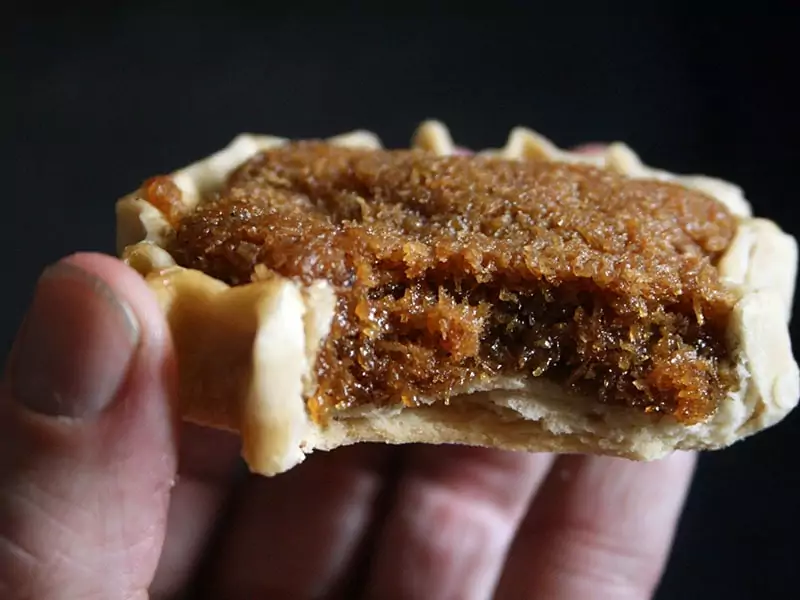 Gizzada is a one-of-a-kind tart famous in Jamaican and Portuguese cuisine. The treat is a rich open-face tart with crispy shortbread baked until golden. The filling is a buttery coconut flake waiting to satisfy your desire.
Gizzada has its name from the Portuguese word 'Guisada', a similar tart in Portugal. This sweet treat was brought to Jamaica during the fleeing persecution in the 1500s of Portuguese Jews.
People often enjoy this tart as a snack during the day and use the name 'pinch-me-round' to indicate this treat.
7. Festivals (Deep-Fried Dumplings)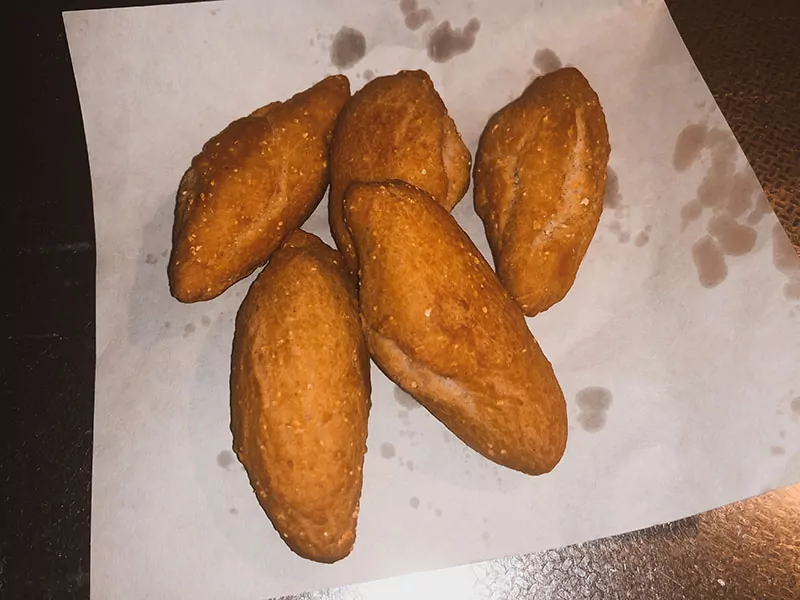 In Jamaica, there is a lovely deep-fried bread that is a must when mentioning Jamaican cuisine. The dish is a typical companion for two Jamaican dishes: jerk chicken (grilled chicken) and escovitch fish.
This bread has an oval shape with a sweet and buttery taste from milk and butter. The outer layer is so crispy that you should enjoy it while it is freshly made. You can add more cornmeal to create a more dense dough.
The Festival's taste is gently mild with a crispy texture complementing other savory dishes. The bread is an excellent choice for parties in Jamaica, so when you see the bread, you know a festive event is happening.
8. Coco Bread (Coconut Milk Bread)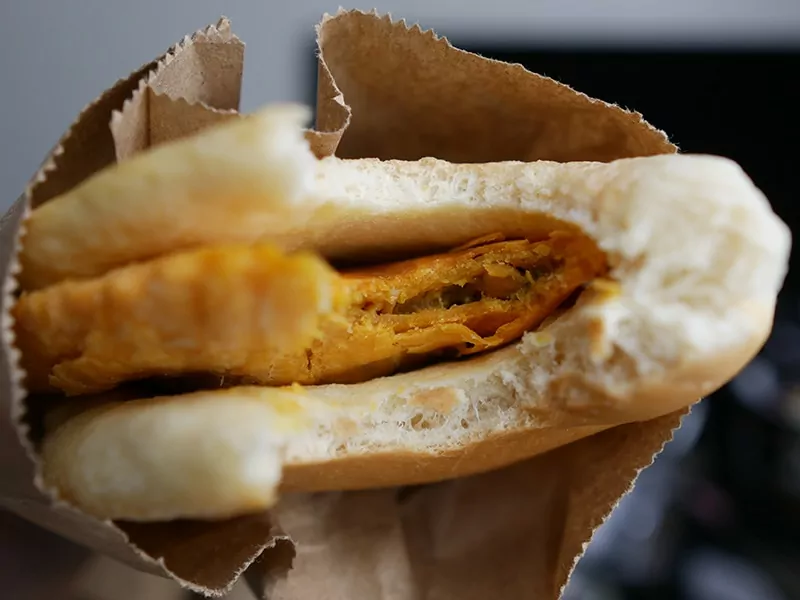 Coco bread is a staple bread in Jamaica and other neighboring countries. This is an excellent choice for breakfast full of buttery aroma from coconut milk. Jamaicans also serve this treat for dinner, lunch, or enjoyed as a snack during the day.
Coco bread is a creation of enslaved Africans who worked in the Caribbean region. The interior is soft, and the exterior is slightly firm that can hold any filling added to the bread. The folded shape of this bread is an ideal feature helping you fill any ingredient you like.
People often stuff this bread with vegetables, cheese, and meat to form a Caribbean version of a sandwich.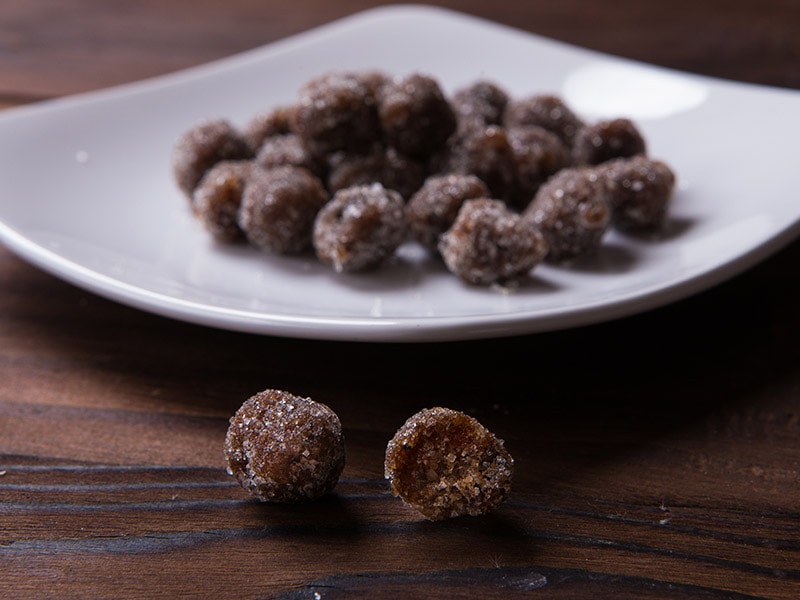 Tamarind is a common plant in Jamaica and Trinidad that will enchant you with a delicate sourness and sweetness. It is a healthy food that people usually use as a snack to treat their family.
The sticky flesh of Tamarind and sugar are often used for this treat, forming a chewy texture that is impossible to resist. You will also find a spicy version with hot pepper added to boost the flavor of these tasty balls.
Some versions also apply some Jamaican rum to perfume a lovely scent for these balls. I'm sure your kids will love this treat.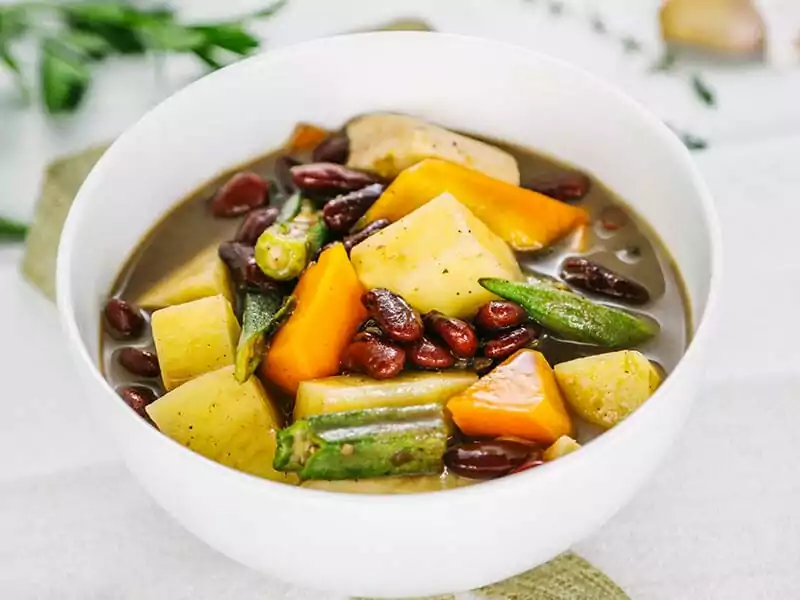 Ital stew is a special dish of the Rastafarian cuisine (a religion in Jamaica since the 1930s) that you should try. The dish is a party of different types of veggies, spices, and herbs that are often bathed in coconut milk.
Ital stew is a plant-based dish that could fit in your vegan diet. However, some versions have small fish (around 12 inches). You can't use other types of meat in the original Ital stew recipe. Sea salt, pink salt, and kosher salt are common spices for creating a salty flavor.
Basically, you can use almost any type of veggies to create a wonderful sweetness and savory flavor for the dish. Plantain, okra, Cassava, and pumpkin are typical choices for this magnificent stew.
11. Jerk Seasoning (Jamaican Mixed Seasoning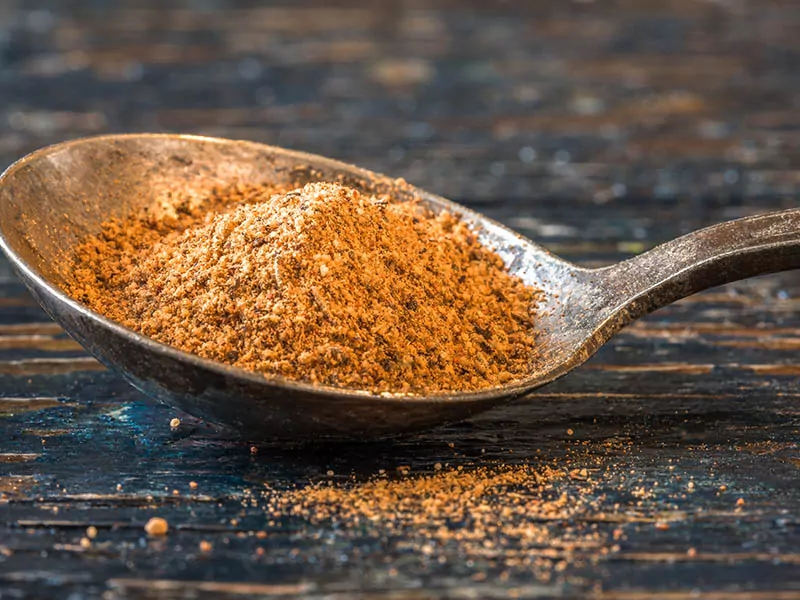 In Jamaica, there is a special type of spicy wet (or dry) rub that will boost your meat with a dazzling flavor. After marinating, people will grill the meat (chicken, beef, or pork) until perfection with a charming aroma.
This special seasoning is a specialty of Amerindian people in Jamaica. To achieve the smokey aroma of the meat, Jamaicans will use the complex technique to grill the meat. Wood-burning ovens of modern cooking style are also included in the original method.
Jerk seasoning has its name as a result of the meat processing procedure. The chef will jerk, prod, and poke the meat on the grill. The seasoning is incredibly hot, which will challenge your spicy eating level.
Let's explore the delicate Jerk cuisine in Jamaica!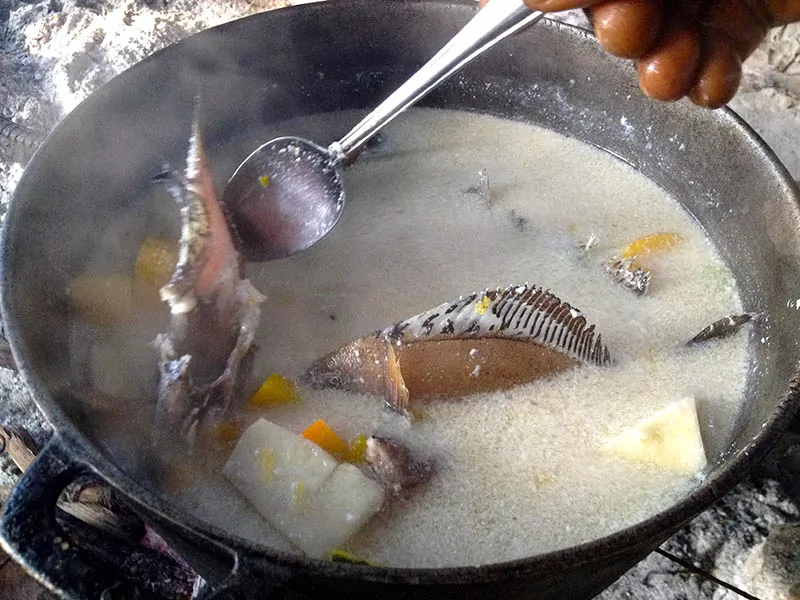 Let's move on to this beautiful spicy soup, shall we? Fish tea is an excellent way to spice your fish with a wonderful hot flavor. The soup is a famous specialty in the Caribbean region with a thin broth resulting from using simple ingredients.
The delicate and thin flavor of this fish soup resembles the flavor of tea; that is why people often use the term 'Fish tea' for this soup. Jamaicans often use this soup to help flu patients recover.
Doctor fish is often the primary choice for this soup, but other fish are also nice. Coconut milk and spices like scallion, thyme, and black pepper are usually used to create the soup's sophisticated flavor.
13. Scotch Bonnet Pepper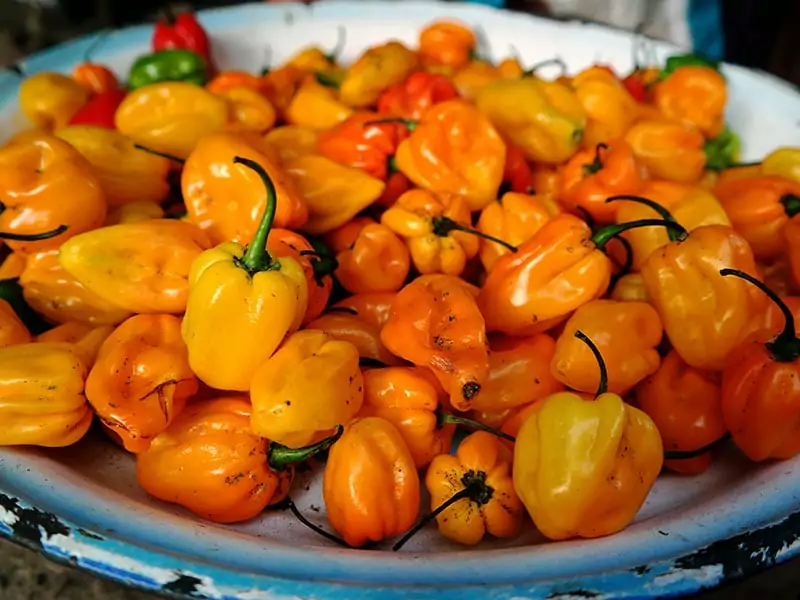 Speaking of spiciness, Scotch Bonnet Pepper will challenge you as it is one of the world's top spicy peppers in the world. Its heat rating is around 100,000–350,000 Scoville units; this hot level will give a kick to your taste bud.
The appearance of this pepper resembles a bonnet from Scotland called 'Tam o' Shanter'. Jamaicans often use this pepper to make hot sauces or condiments.
Following its spiciness is a delicate sweetness forming the distinct flavor of this pepper. The color of this pepper changes from green-yellow to bright red when it ripes.
Other colors like peach, chocolate brown, or orange appear in some pepper variants. Scotch Bonnet Pepper pepper has a sweet version called Cachucha Peppers that you should try.
14. Patty (Jamaican Baked Filled Patty)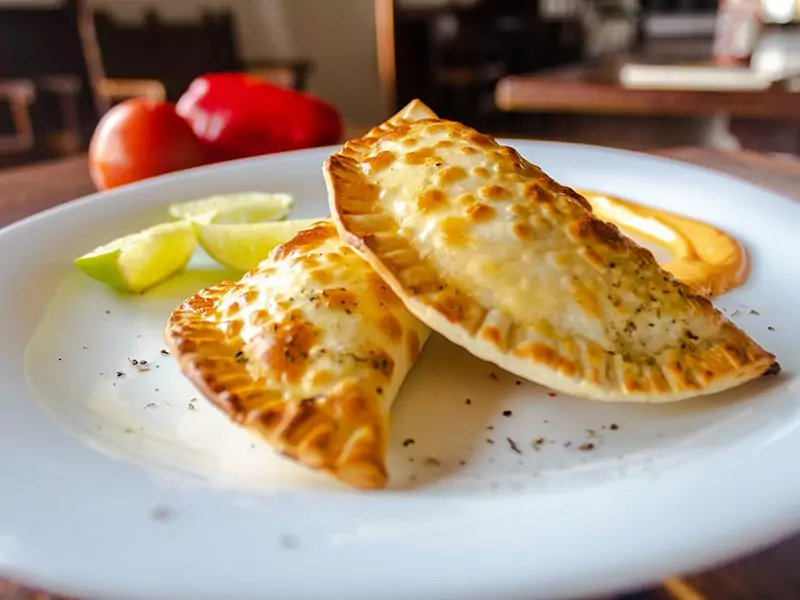 This wonderful Jamaican dish will make your day. Patty has a rich and savory filling wrapped inside a crispy and flaky shell. Its golden-yellow shade results from using turmeric or an egg yolk mixture.
This pastry is a typical food in Jamaica and other Caribbean countries. There are many choices for Patty's fillings. The most common choice is ground beef, but cheese, veggies, chicken, or pork are some ideal options for the filling.
Jamaicans often pair Patty with Coco Bread to enjoy this treat as a full meal. However, you can find it in bite-sized versions known as cocktail parties. The dish started gaining its reputation in the 1970s in some Western countries.
Hey! Don't Miss These Yummy Cuban Foods
Although Cuba is just a small nation, its foods are a masterpiece of the world that will charm your soul. Don't hesitate and explore them right here!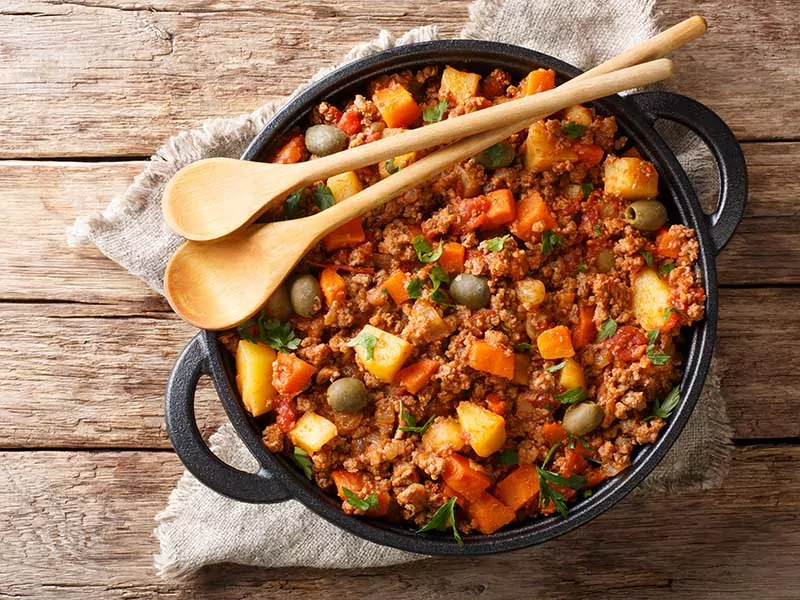 Picadillo is a specialty from Latin American cuisine famous in the Philippines and some Caribbean countries. In Cuba, this dish is a natural heat that is adored by most of the local citizens.
The Cuban Picadillo has minced beef (chicken and pork are sometimes used), Spanish chorizo, tomato sauce, and other spices that evoke a fragrant aroma for the dish. All these ingredients are then sauteed in white wine or olive oil to bring a dazzling flavor to the dish.
In Cuba, people usually match the dish with black turtle beans and rice.
16. Boliche (Pot Roast)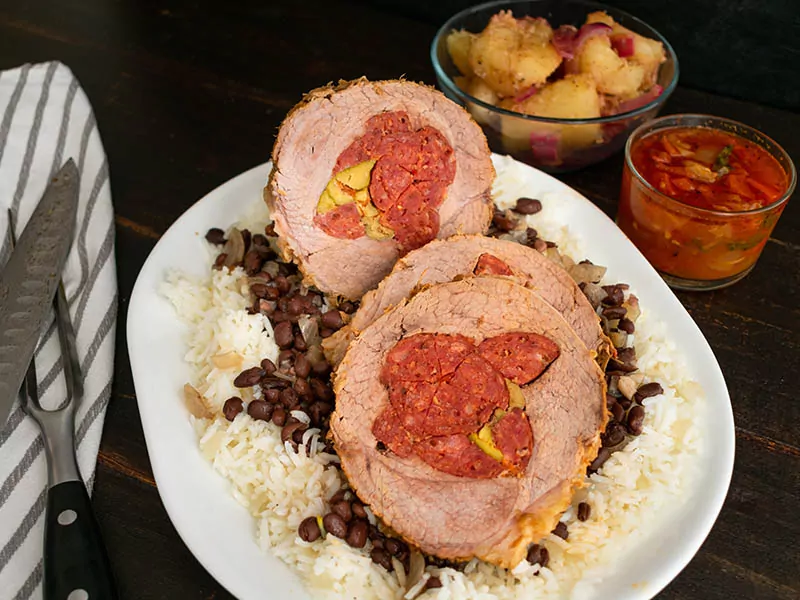 If you love a tasty Caribbean dish for dinner, a juicy Boliche will suit your taste. The traditional filling is chorizo (a unique Latin American sausage) or ground beef with ham.
Other ingredients like tomato, wine, and onions complement the dish with a delightful and rich flavor. People often use an eye round cut of beef and roast it for making Boliche. Other parts like rump or chuck roast are typical to pair with the dish.
The size of the roast must be large enough to place a pocket holding the stuffing inside. Pair Boliche with white rice, fried sweet plantains, or black beans to fill up your stomach.
This juicy and smoky Boliche will melt your heart.
17. Frita (Cuban Hamburger)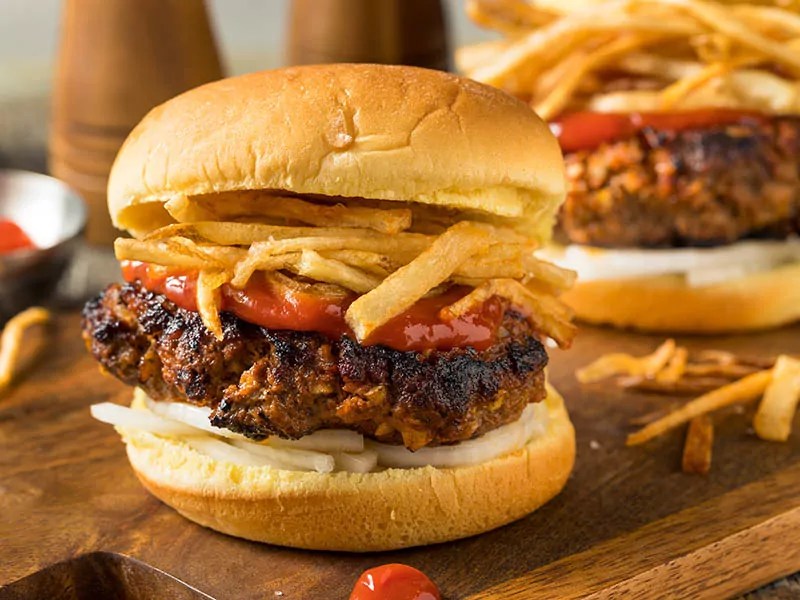 OMG! Did you know that Cubans also have tasty sandwiches? Frita is a mouth-watering Cuban specialty that is splendidly flavored with pork patty, chorizo, or seasoned ground beef. Frita variants sometimes have a spiced ketchup sauce, onions, and lettuce.
First appearing in the early to mid-1900s, this burger is usually sold by Frita makers (also known as Friteros) on the sidewalk near a food stall area in Cuba. At that time, people often mixed meat with flour to save ingredients.
Cuban citizens often pair Frita with a milkshake made from puffed wheat called 'Batido De Trigo'.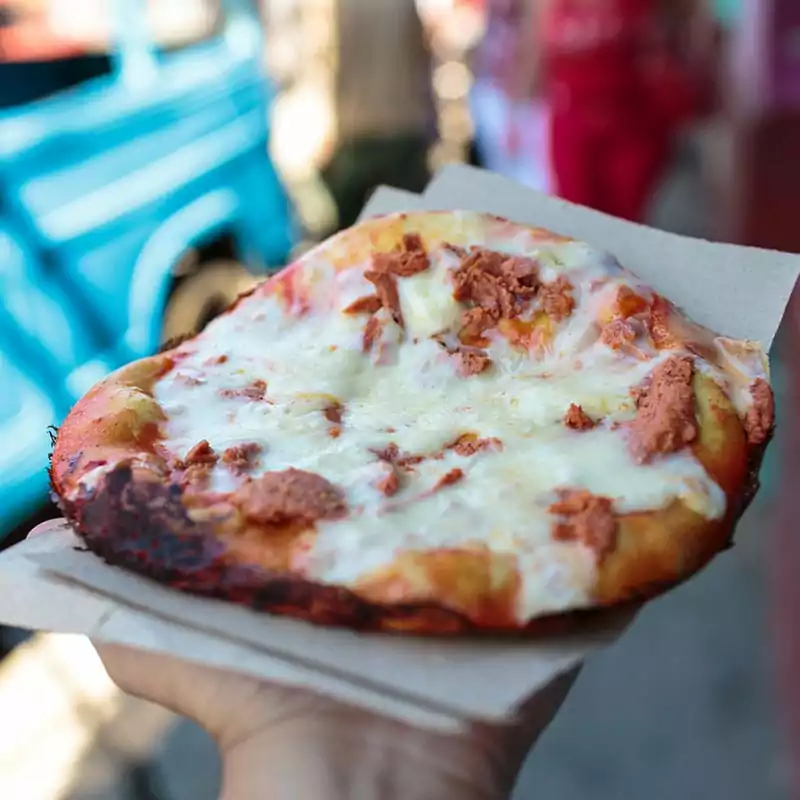 Hey, have you ever thought about trying a pizza in Cuba's style? Pizza Cubana is a unique pizza that has a thick dough and sweet sauce, making it stand out from other pizza recipes.
Basically, you can add almost any kind of topping to this pizza. From meat toppings like chorizo, pepperoni, ham to seafood like lobster, all of these ingredients are just perfect to flavor your pizza with a dazzling taste.
Don't forget that the creaminess from cheese (gouda or mozzarella) and tomato sauce will greet your taste bud with a complex flavor. The pizza is often folded and enjoyed as a sandwich or sliced; this way, the pizza's name is 'Picada'.
This pizza originated in Havana and became a magnificent specialty in Cuba. Some people claim that the founder of Rey Pizza is the first one who created this pizza.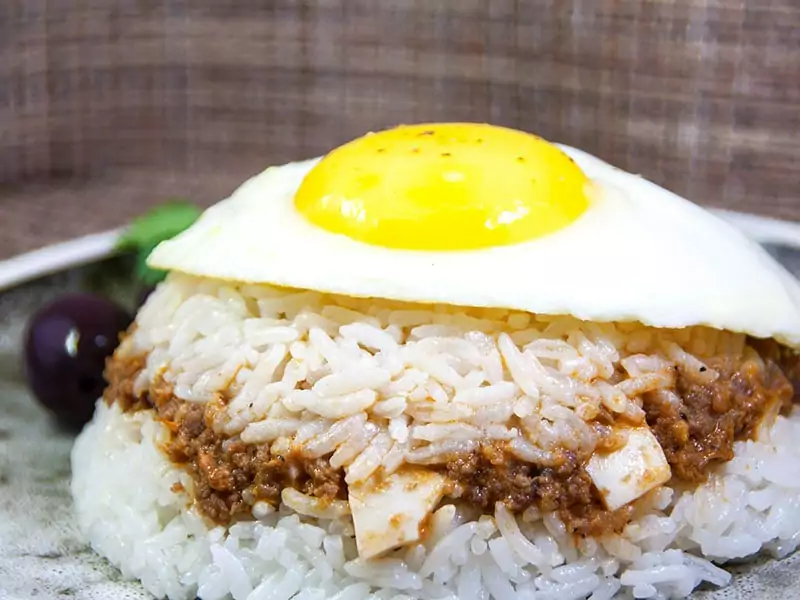 The name of this dish just simply describes all the main ingredients of this treat: Rice and fried eggs. Arroz Con Huevo is a rustic dish from Latin American cuisine that you can make for a quick dinner during the weekdays.
As the ingredients are quite cheap and easy to find, the dish was considered the food for poor people (also known as 'Comida De Pobre). However, in the present day, people from all classes enjoy the taste of this dish.
Local citizens often enjoy Arroz Con Huevo with plantains in the Caribbean region, while people in Spain prefer pairing it with Sofrito. Just complement the dish with the taste of chopped parsley and grated cheese.
20. Ropa Vieja (Shredded Beef And Vegetables)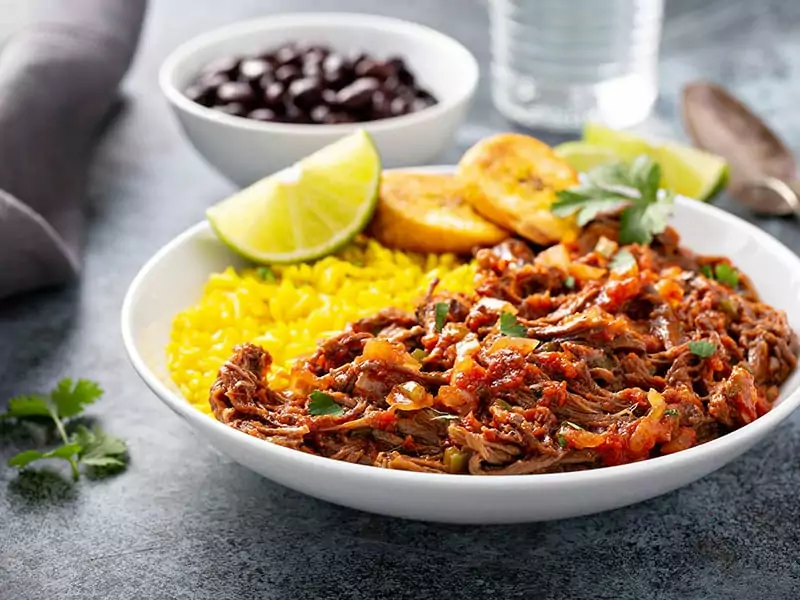 Ropa Vieja is a national dish in Cuba that has its origin in Spain. When traveling to the Caribbean area, you will find this dish with plenty of versions across the region. Sephardic Jews are the creators of this dish, and it first appeared in Cuba in 1857.
The chef will slow-cook this dish to perfection, giving it a savory and rich taste. Cuba's Jews love this dish and often make it for their meal. Congri rice (Cuban rice with beans) and plantains are a perfect combination for Ropa Vieja.
Besides beef, Cubans also substitute this ingredient with other types of meat like lamb or pork to twist the dish.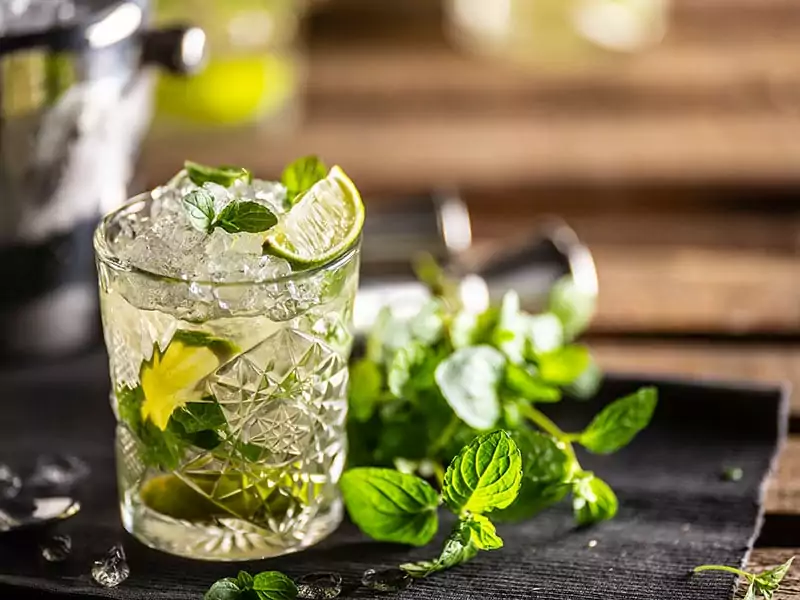 Cuba is a country of fascinating drinks, and Mojito is a beautiful creation that you will lose your head over. Mojito first appeared in 1932 in the literature name 'Sloppy Joe's Bar'. And the name of this drink means 'little spell', derived from an African mojo.
Others also claim that the drink originates from the Spanish word 'Mojar', which means 'wet' in English. Mojito has a strong body from white rum that complements other sweet and fragrant ingredients like mint, sugar, lime juice, and soda water.
Unlike other cocktails, the bartender will stir Mojito to control the overall flavor instead of shaking it. Traditionally, people will muddle mint leaves with sugar and a touch of lime juice for the icing sugar. However, in modern recipes, sugar syrup is also added for sweetness.
Mojito has many other variants in Mexico, Peru, and other countries worldwide. However, only in Cuba, the authentic flavor will charm you with its delicate taste.
Cuba has the most sophisticated Mojito in the world.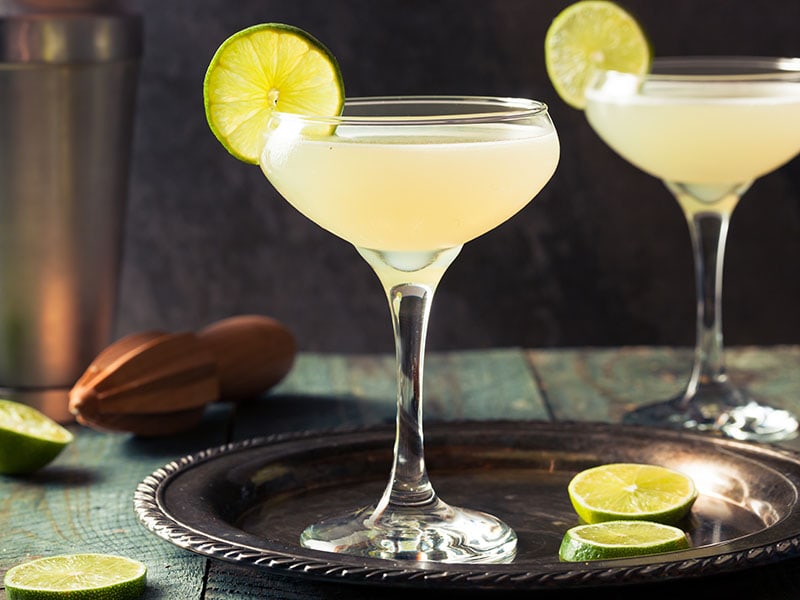 Similar to Mojito, Daiquiri has a strong kick of rum flavor, but this drink is embellished with a fragrant citrus scent (usually lime juice) and sweeteners. Daiquiri got its name from a beach and an iron mine in Cuba.
This Cuba masterpiece is one of the top six basic drinks mentioned in The Fine Art of Mixing Drinks book by David A. Embury. Local people often enjoy Daiquiri in a tall glass with lime, sugar, and cracked ice.
Today, people will mix these ingredients in a shaker with shaved ice and display it in a coupe glass (chilled). The drink is a creation of an American mining engineer who worked in Cuba named Jennings Cox.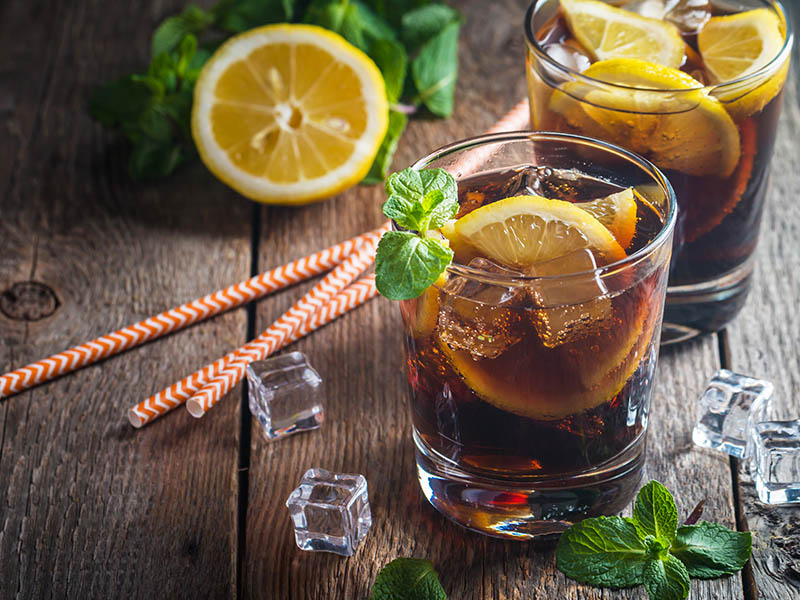 Cuban citizens surely adore the bold flavor and wonderful kick of rum. Cuba Libre is a magnificent combination of cola and rum that tickles your taste bud with a sophisticated flavor.
The drink first appeared in the early 20th century and became a must-have drink while visiting Cuba. Traditionally, Cubans will use Coca-Cola (or Coke) and light rum (usually Bacardi), but you can use any brand that you love to make this drink.
When you drink it, the sweetness from Coke complements the strong rum, leaving a mesmerizing experience on your palate.
How About Some Lovely Foods From the Dominican Republic?
Welcome to Dominican Republic! Here, you will get a chance to immerse yourself in one of the most spectacular cultures in the world. If you have doubts, go on and check these foods out.
24. Kipe / Quipe (Dominican Deep-Fried Bulgur Roll)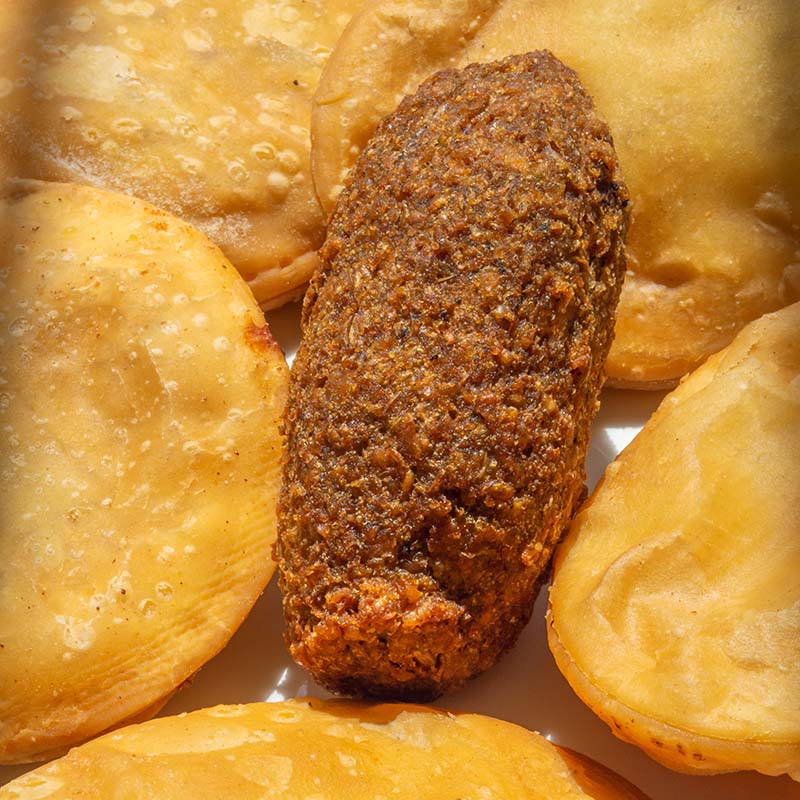 Hey! Don't you want to discover the taste of this deep-fried specialty? It is seasoned bulgur that Dominicans often use as an appetizer. These crispy and crumby treats are full of the savory flavor of minced beef.
Quipe is a Dominican style of the famous Lebanese Kibbeh. Middle East immigrants brought the dish to this country by Middle East immigrants in the 1900s. Unlike Kibbeh, Quipe uses beef instead of lamb with aromatic spices and herbs like cumin and mint.
In Dominica, people sometimes add raisins to add some texture when serving Quipe for kids.
Yum! These Kipes are so crispy that you can't miss them.
25. Arepa (Cornmeal Cakes)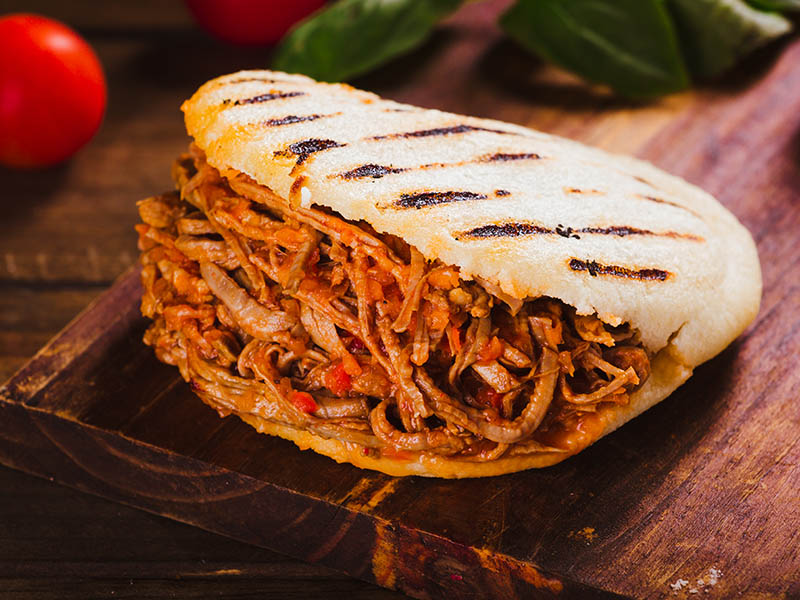 Arepa is an antique specialty from the Latin American region. This spectacular dish has roots in Panama, Venezuela, and Colombia. However, it is a crucial part of Dominican culinary culture.
In Dominica, this treat is a magnificent unleavened sweet treat with a beautiful dense texture. The charming aroma from coconut cake and cornmeal will spread all over the room after cooking in a hot dutch oven placed on burning charcoal.
Arepa was considered a poor man's dish as the ingredients are simple and easy to find. You might find the savory version of the cake called 'Arepa Salada', perfect for dinner or breakfast.
26. Pica Pollo (Dominican Fried Chicken)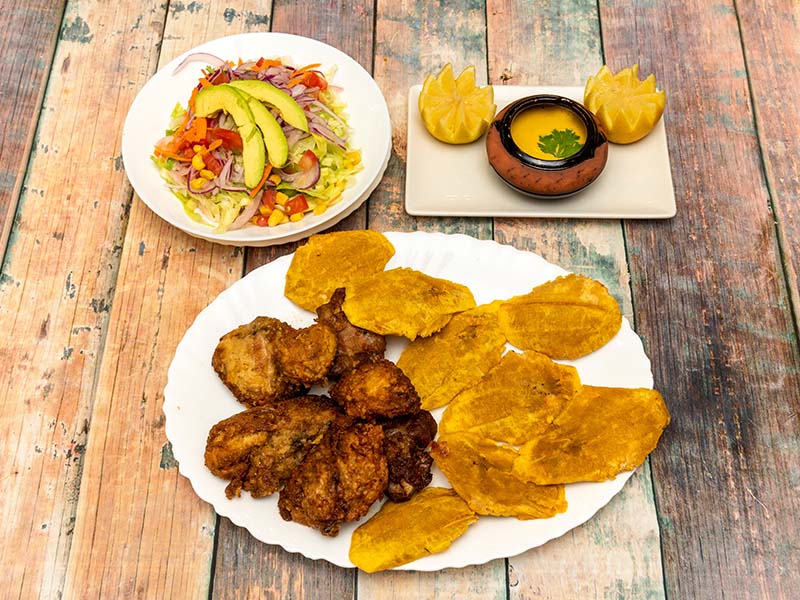 Can I see your hands, fried chicken fans? Pica Pollo is a delectable specialty from Dominica that you should not miss. You can find this dish almost everywhere, from big cities to small towns. This tasty fried chicken dish is an excellent choice for a dinner party.
Pica Pollo is so famous in Dominica that even a big fast-food chain can not be an opponent of it. The chicken is fried until golden brown for spectacular crispiness from flour (or sometimes cornmeal) with a tangy lemon juice taste.
Beer or Coke is often a companion for Pica Pollo, and people usually have some fried plantains to fill their stomachs.
27. Locrio (One Pot Rice And Chicken)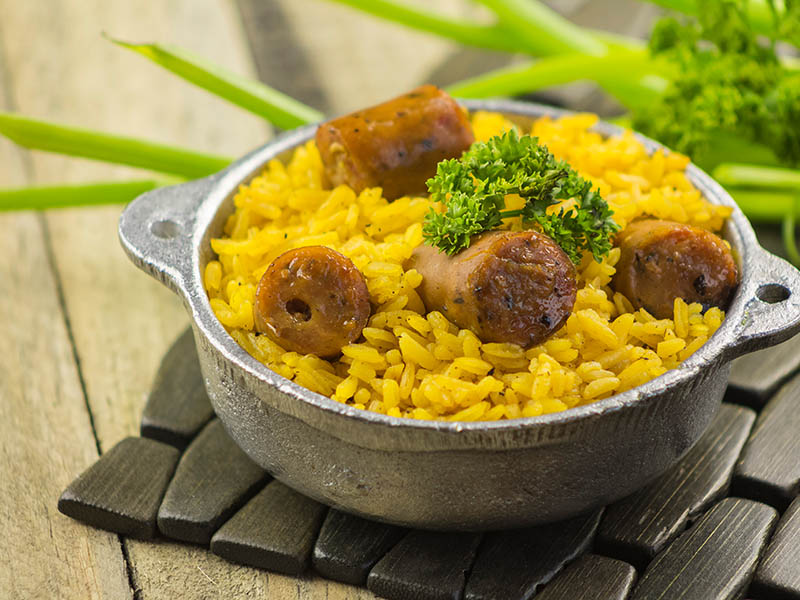 Locrio is wonderful rice flavored with spectacular ingredients like Bija (a red condiment in Dominica) and tomato sauce. Thanks to these ingredients, the dish has a mouth-watering yellow color that you can not resist.
You might confuse Locrio with Moro, but here Locrio is a combination of rice and meat while Moro is rice and beans. Chicken is a common choice, but fish, pork, or seafood are other choices for this specialty.
Dominicans don't use beef to make Locrio, but you can use beef sausage for this dish.
Locrio will be the easiest food you have ever made before. Try it!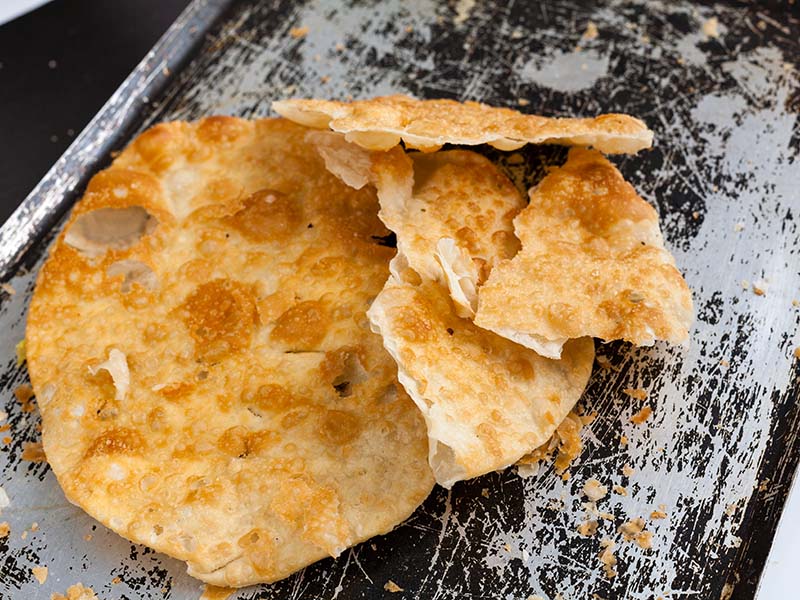 This Yaniqueque is a perfect Dominican dish with a round shape if you like crispiness. The dough is thin with crimped edges that will turn into a golden brown flatbread that will melt when it touches your mouth.
You can find Yaniqueque sold on many beaches and streets across Dominica. Some people claim that the dish originated from Johnny cake (a pancake in Jamaica). Then, Johnny cake arrived in Dominica in the 1900s.
You can enjoy Yaniqueque with just some sprinkles of salt, sugar, and cinnamon. Some ketchup will also boost the flavor of this specialty.
29. Callaloo (One-Pot Soup)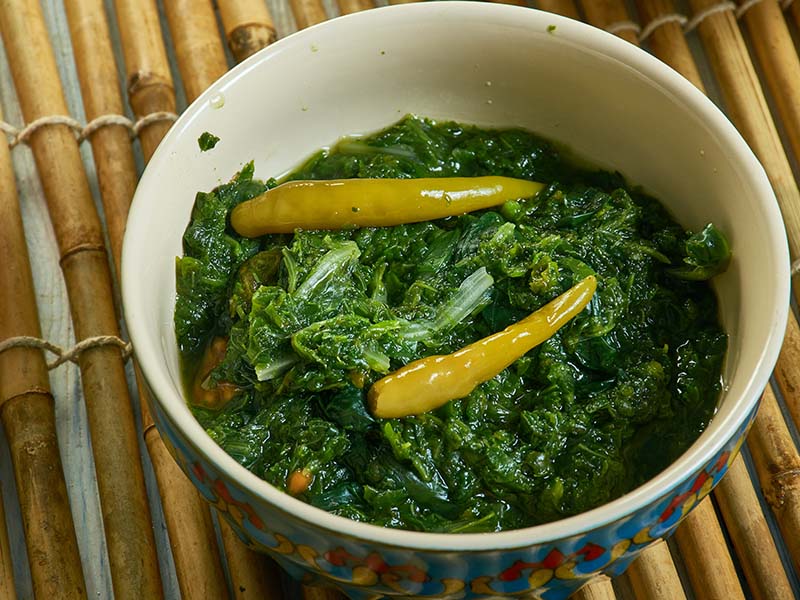 Wanna try some soup recipes from the Caribbean region? You have to try Callaloo right now. Making the soup is quite simple. You only need to cook all the ingredients in one pot, and the juicy and sophisticated flavor will wow you.
This is a national soup in Dominica and is often served on special occasions and celebrations. You will find the dish in many rural areas of Dominica. Veggies like Callaloo (spinach-like plant) or dasheen leaves are often the perfect choice to form the authentic soup flavor.
Local citizens usually use dumplings, green plantains, and green bananas for the dish. Therefore, Callaloo has lots of variants from region to region.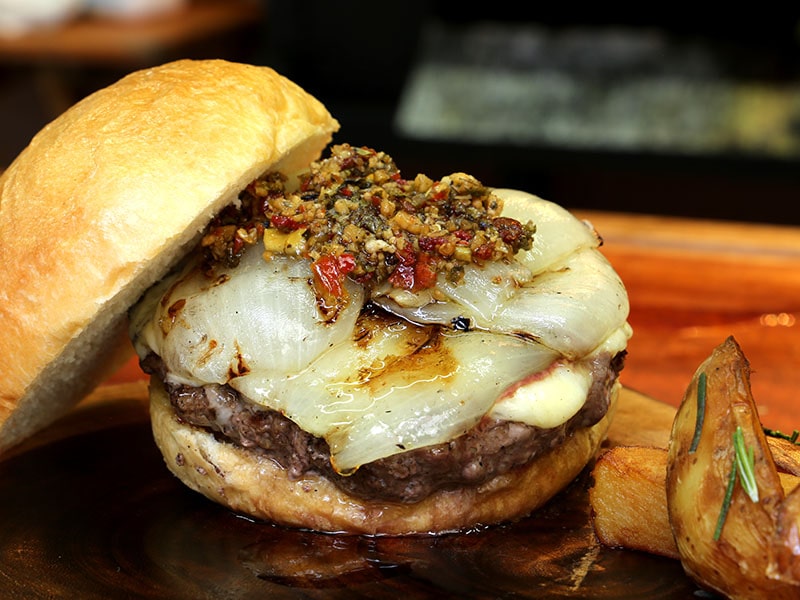 If you want to try a quick snack from Dominica, a Chimichurri burger is a perfect choice that you should try. Ground pork or beef will greet you with a juicy and savory filling sandwiched between two soft bread crusts.
Salsa golf (a thick and yellow sauce) and chopped cabbage will enchant the flavor. Chimichurri burger is tasty fast food with different flavors from different street vendors. Traditionally, Dominicans will enjoy Chimichurri with a glass of frosty beer.
This burger is believed to be invented by Juan Abrales, an Argentinian cook in Dominica during the 1970s. As street food became more popular, Chimichurri burgers became more common for Dominican citizens.
31. Mangú (Mashed Plantains)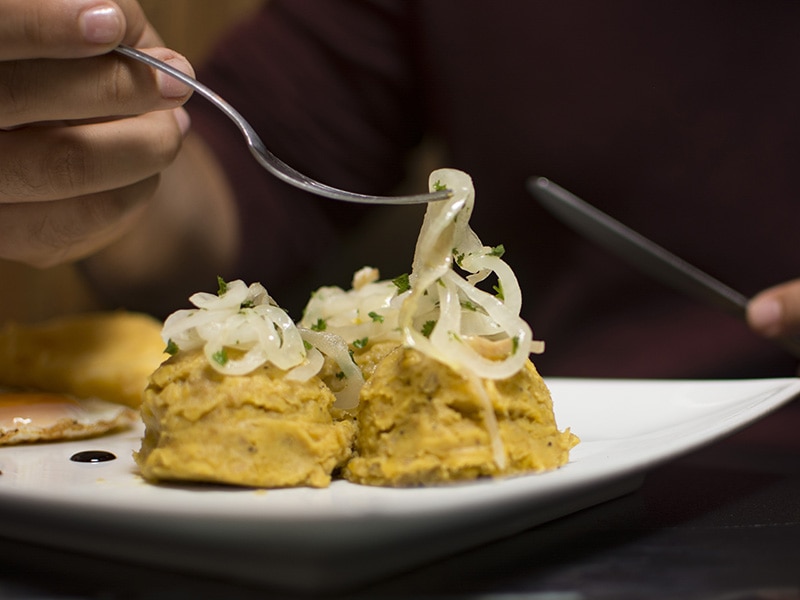 Plantain is a representative of the natural ingredient in the Caribbean region. In Dominica, Mangú is a wonderful dish made out of mashed plantains that you need to try. The dish is an iconic breakfast that can give you incredible energy to start a day.
Mangú is often served in a dish called 'Los Tres Golpes', which means 'the three hits'. This dish has Dominican-style salami, fried cheese, and eggs that match the Mangú.
Boiled plantain is mashed until forming a smooth, creamy, and sweet porridge. Sautéed red onions are a common choice to pair with this dish. Besides green plantains, green bananas, ripe-plantains, or squash (this version is called Mazamorra) are perfect for making dishes.
The gentle taste of Mangú is perfect to pair with other foods without overwhelming the entire recipe.
Why not try this Mangú from Dominica ? It is super tasty!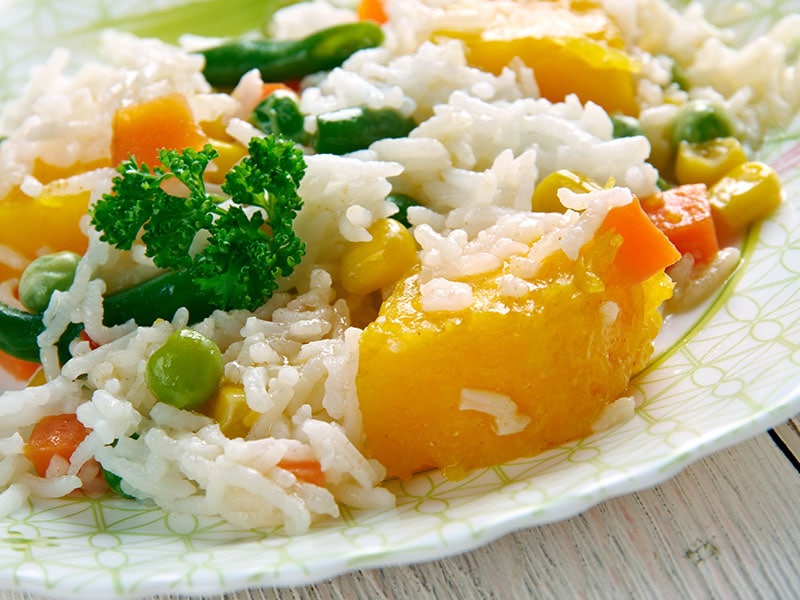 In the countryside of Dominica, there is a unique stew recipe that has a complex flavor. Beans are stewed with other ingredients to create a rich and nutty stew that will warm you during the winter days.
Each family has a special way to season and adjust the ingredients added to the stew. So, you will experience different tastes throughout the country. White beans, kidney beans, and sausage (often Longaniza) are typical ingredients for Chapea.
People often thicken the dish with mashed squash and garnish some cilantro for a fragrant aroma. Depending on your preference, you can enjoy Chapea with white rice or brown rice.
33. Carne Guisada (Dominican Braised Beef)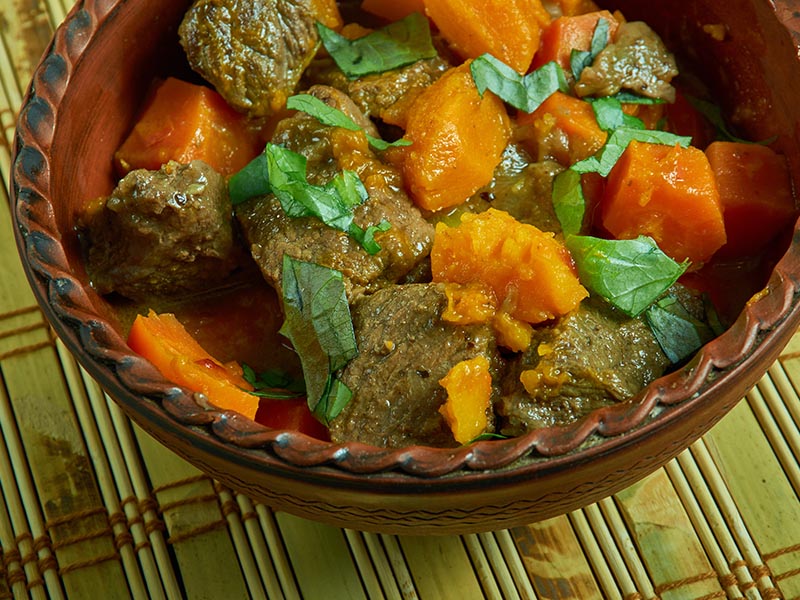 Dominica is a country with different unique and tasty recipes. Carne Guisada is one of the tasty dishes that you need to try right away. The dish is a hearty meal with super tender beef that Dominicans often enjoy as in their lunch.
The cut of beef used to make Carne Guisada is cheap and local people call it 'Res Para Guisar'. After a long time of slow-cooking, Carne Guisada will wow you with a rich, juicy, and savory taste.
Yummy! You Will Love The Taste Of These Foods From The Bahamas
The Bahamas has a rich natural ingredient source from its surrounding ocean. Don't be surprised if there are plenty of seafood dishes in this section.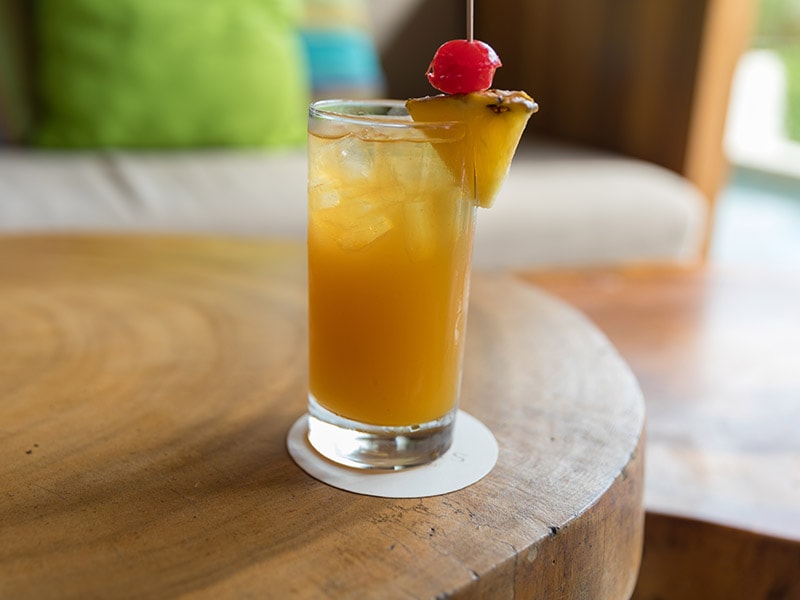 Let's start this section with an enchanting red shade from Bahama Mama. This summer cocktail will kick your mouth with a bold note from rum. Pineapple juice is added to evoke a tropical flavor to this drink.
Traditionally, Bahama mama combines two types of rum, sweeteners, and around two to three types of juice. It is a typical summer party drink served in a hurricane glass with cracked ice. People will garnish with an orange slice or a cherry.
The drink's name origin is believed to belong to a Caribbean dancer named Dottie Lee Anderson. This man was also a popular performer in the 1930s. The drink's color is like a tropical vacation to you, bright and exciting.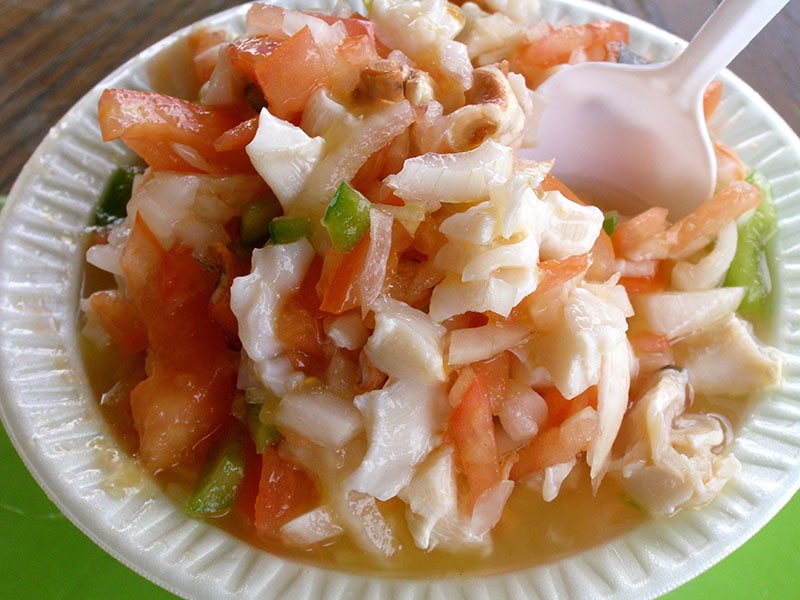 Conch is a true ocean treasure in the Bahamas, and conch salad is the best way to enjoy this fresh ingredient. Conch is a giant sea snail that tastes like crab meat with a white and bouncy texture.
After preparing properly, the raw Conch meat is tender and chewy. This texture is perfect to match with crunchy veggies in different colors. In this salad, you will enjoy this snail raw to feel the ocean flavor of this creature.
Tomatoes, cucumbers, peppers, and citrus juice will take this salad to another level. People often serve this cake as an appetizer or a light meal during summer.
What else could be better than a fresh Conch Salad right on The Bahama ocean.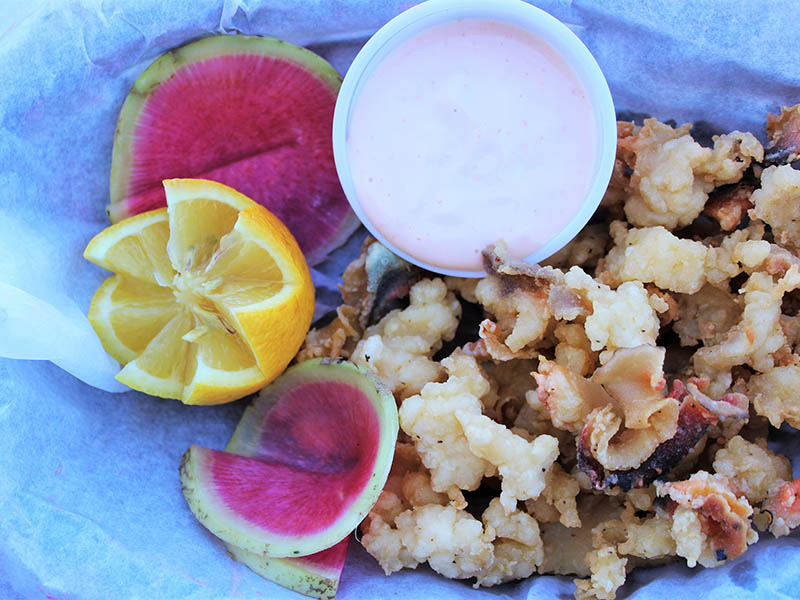 When mentioning food made out of conch, cracked conch is a nice way to give the bouncy conch meat a crispy texture. The coating batter embracing the conch is made from flour with a golden brown color after deep-frying.
The conch is tenderized using a frying pan or a meat mallet. People then use the name of this method to indicate this dish. These crispy treats are a wonderful appetizer highlighted with spicy goat pepper sauce or sour lime juice.
Enjoy the dish as a side dish with Peas and Rice or French fries for extra flavor and fill your empty stomach.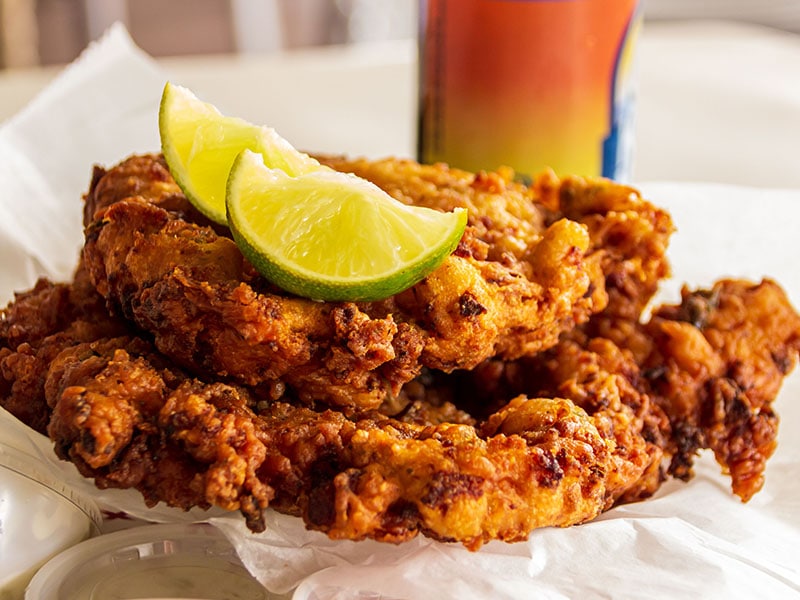 Yummy! Here is another way to complement your conch with a crispy texture. Conch Fritters is a mesmerizing dish from The Bahamas you should try. These treats are balls of crunchy and melty dough that cover the conch meat.
These treats are best served warm with your favorite dipping sauce (remoulade or tartar sauce are some typical choices). People often eat the cake as an appetizer or a midday snack. The dish is so easy that you can make it yourself at home.
38. Bahamian Crawfish (Spiny Lobsters)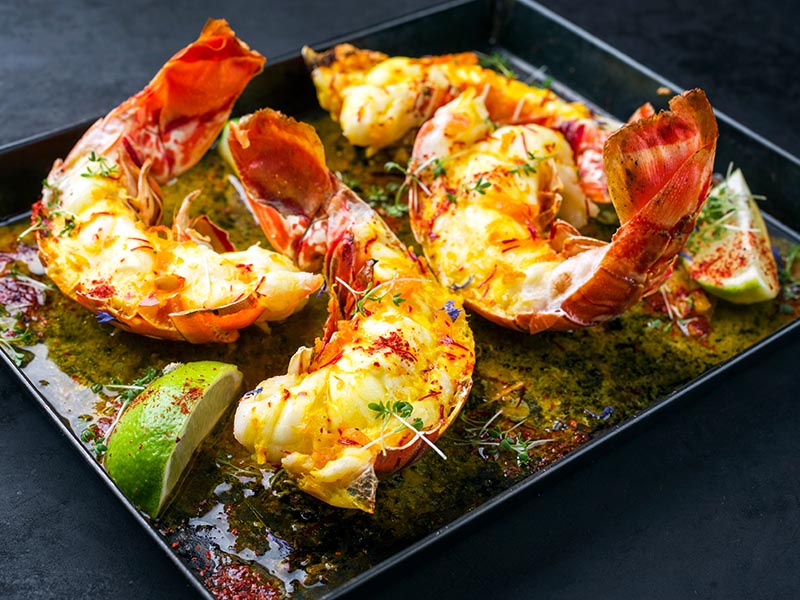 When you are in the Bahamas from August to March, it is a crawfish (also known as spiny lobsters) season in this country. These crawfish live in corals, rocks, and sponges under the sea and keep these areas clean.
These crawfish have tasty and tender meat with a little spongy texture after being cooked. People in the Bahamas love to grill this creature for a smokey flavor, but steaming, stewing, or salad are some common ways to enjoy crawfish.
This animal plays an essential role in the ecosystem in the Bahamas. So, the local people in this country have to limit the fishing activities to preserve the crawfish population.
Look at how people catch and make this giant delicious Bahamian crawfish.
39. Souse (Chicken Soup)
If you love to enjoy a soup with a mild and delicate flavor, Souse from the Bahamas will surely satisfy your hunger. The soup has a sophisticated taste from chicken and some fresh citrus juice.
Souse doesn't have as thick a consistency as head cheese or aspic. This soup only needs marinating for a short period of time.
Lime and hot chili pepper are the main ingredients that add a strong aroma to the soup, making it so effective in curing you of a hangover after an exploding party.
Local people often pair this soup with bread, Johnny cake, or grits to highlight the taste of the entire dish. Souse has plenty of variants across the region. You can have it as an appetizer or pair it with black or white pudding.
40. Grits (Corn Kernels Or Ground Corn Porridge)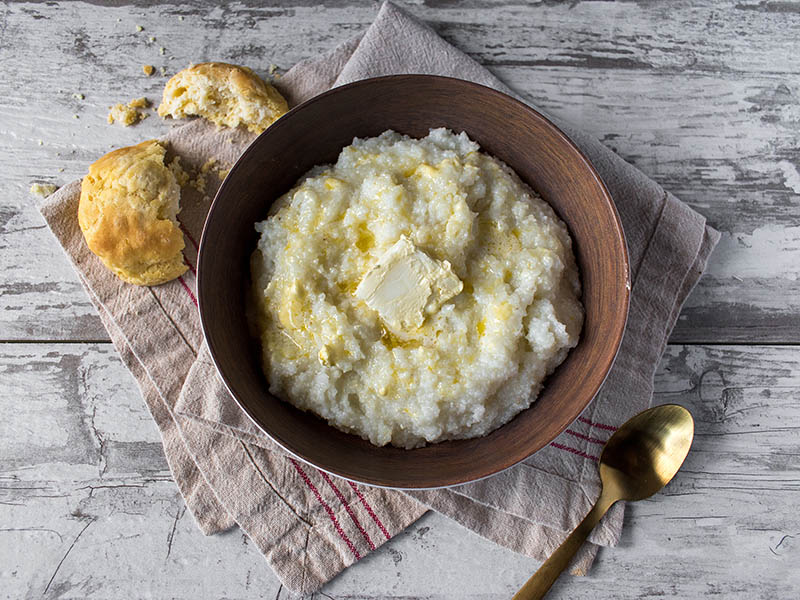 Corn is a crucial ingredient in the Caribbean region. Grits are the Bahama's staple food made of ground hominy, corn kernels, or ground corn. The dish is a beloved native American-Indian cuisine that is really popular in the Caribbean region.
In the slavery time, the enslaved Bahamians received corn from their owner weekly, and they turned this treat into the present Grits. The dish is a perfect breakfast dish commonly consumed by students.
There are two common types of Grits in The Bahamas: the yellow version and the white version. The consistency of this meal varies from different types of cooking. It could be gravy or thick, depending on your desire.
Pair Grits with chicken, corned beef, sardines, or fresh fish to have a savory dish. I'm sure your family will enjoy it.
11 Other Tasty Caribbean Foods You Have To Try
Hey! Here come some more tasty specialties from the Caribbean that you and your family will love. So, what to wait? Just keep scrolling down!
41. Empanadas (Fried Turnover)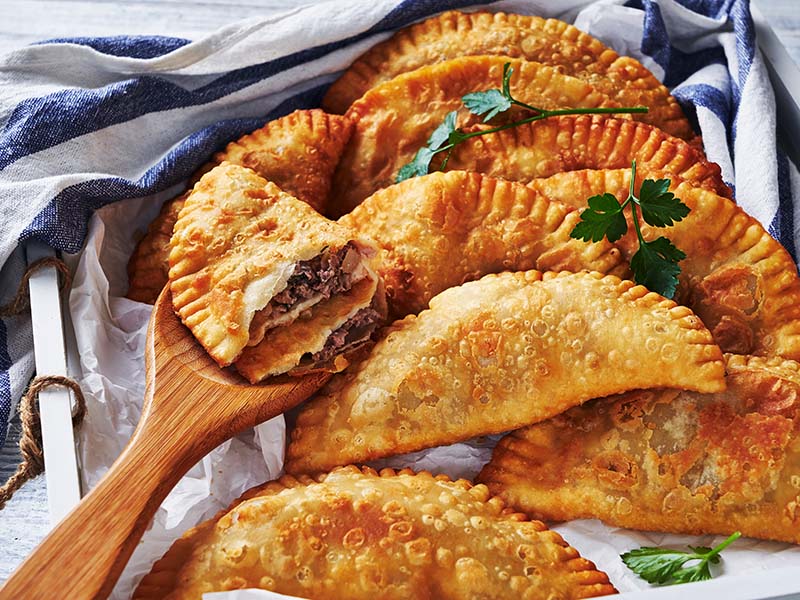 Empanadas is a Spanish specialty popular in Latin America, the Philippines, and the Caribbean nations. Its name has its origin from the Spanish word 'Empanar', which means 'wrap' in English.
The name describes the signature feature of wrapping the tasty filling inside this pastry. Empanadas were first recognized in the Western region in Argentina. The dish is so famous that in the United States, people celebrate National Empanada Day (April 8).
Aside from the US, the dish also appears in Puerto Rico and the Dominican Republic in a similar way to in Cuba: People stuff the pastry with chicken or seasoned ground beef. Then, the chef will fry it until golden brown before serving it.
42. Pikliz (Pickled Vegetable Relish)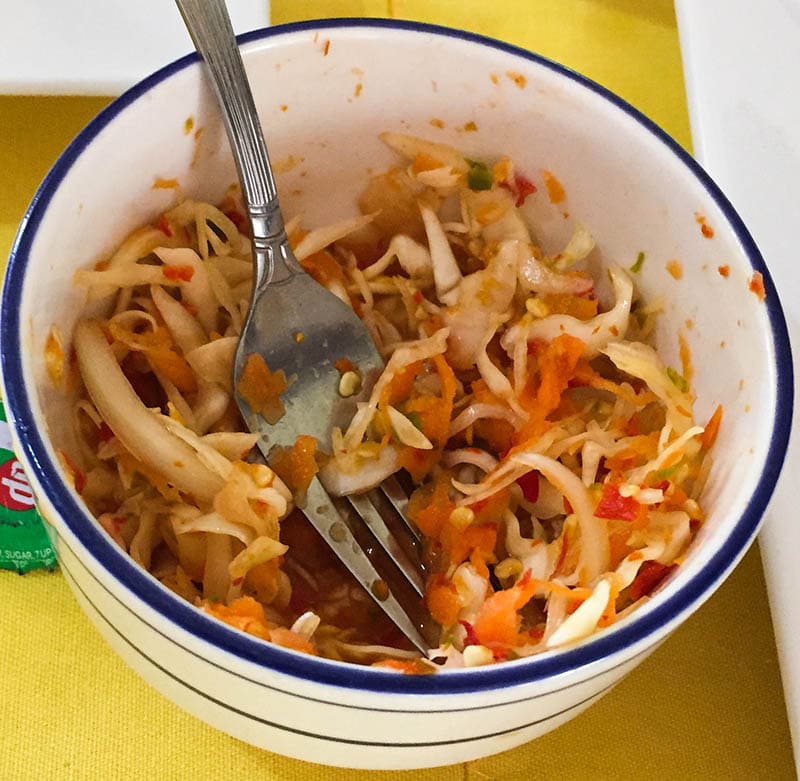 Pikliz is a Caribbean version of Western coleslaw made of cabbage, carrot, and some extra ingredients. Pikliz is a lovely combination of sweet and sour flavors perfect for dressing. The dish belongs to Haitian cuisine, famous for seafood and tropical dishes.
You can store this pickled vegetable relish in the fridge for just 2-3 weeks, so the dish's best performance is considered to be the very first week.
Besides, if there are some up-to-date pikliz in the fridge, here are some savory main courses for you to use with. It includes Griot (fried pork), Tassot (dry fried meat), or Pwason Boukannen (grilled fish). Trust me, either meat or seafood is tasty with Pikliz.
OMG! You can learn to make Pikliz in just a few minutes.
43. Griot (Fried Pork)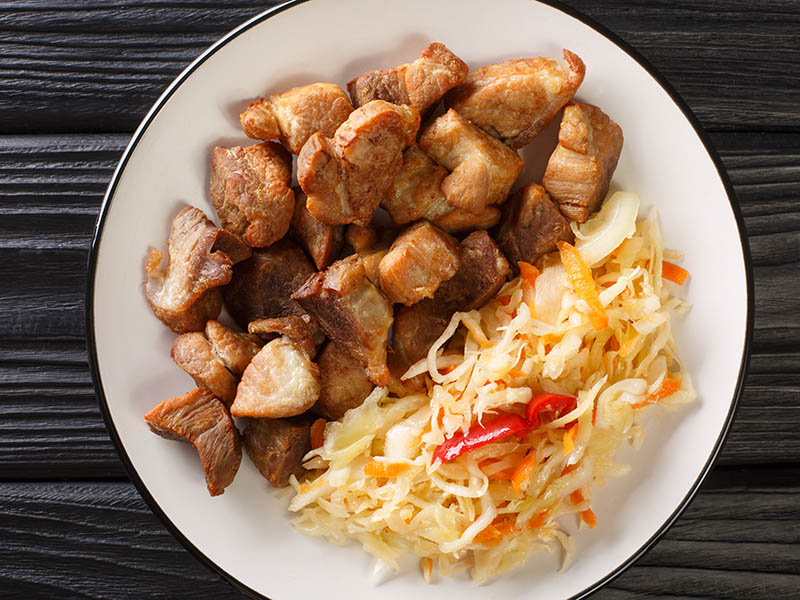 Check out this fried pork right away! It is effortless to make in just a couple of minutes. Griot is a tasty Haitian specialty that plays a big role in many native people's hearts. Haitians only make Griot in special events and celebrations as pork meat is quite expensive.
The dish is generally made with shoulder fried pork in a sweet and sour sauce like orange or honey mustard sauce. The sauce tenderizes the meat and makes it even more delicious. In addition, you can enjoy Griot with a side dish of fried potatoes.
Moreover, Griot can provide quite generous energy for your daily routine, so why don't you try it right now?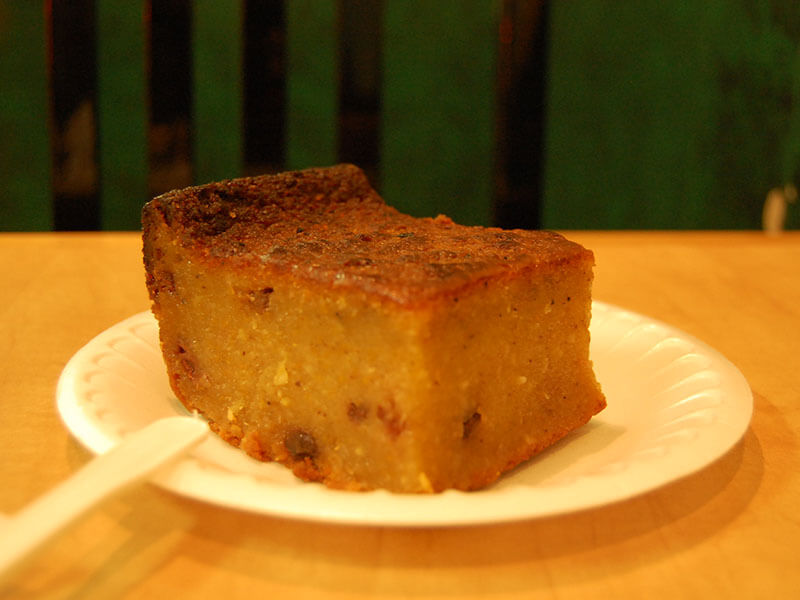 If you're looking for a luscious dessert for dinner or a dish to snack on for lunch, this one is made just for you. Cassava pone or yuca cake originated in the Philippines centuries ago. It is also very popular in some Caribbean cuisines.
You can quickly tell how yummy the cake is with its creaminess and nutty aroma. Plus, Cassava Pone is very tender and crispy on the edges.
Besides, the dish is a good deal of nutrients for your health as well, including vitamin C, calcium, and fiber. Therefore, it is not only tasty but also an ideal package of healthy nutrients for you.
45. Mofongo (Fried Green Plantains)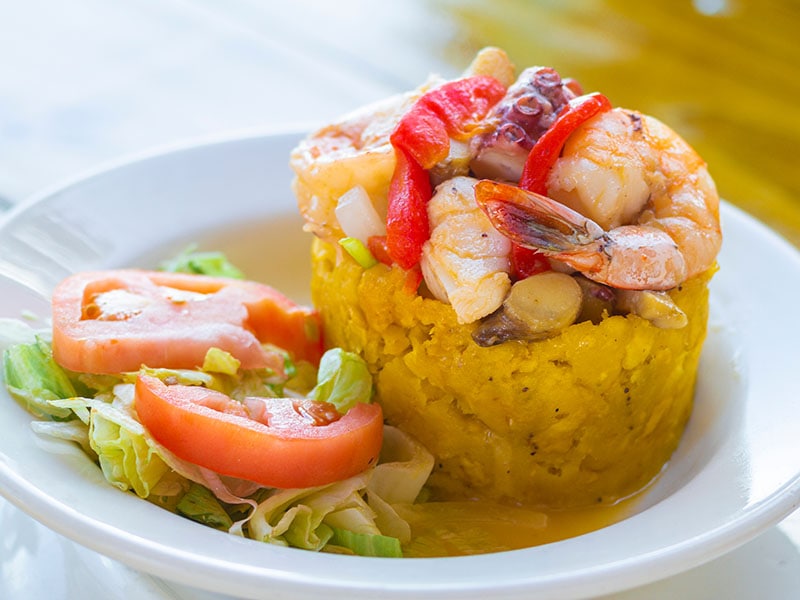 Mofongo is a traditional Puerto Rico dish that you can easily run into on a local street. From a casual restaurant to a food truck, each server provides delicious Mofongo for you to try.
Mofongo was invented at the beginning of the 14 century by the Spanish on Caribbean islands. Therefore, the dish is like a blend of local food versus foreign cuisine.
The dish comprises mashed plantain fried to get a nice golden color and crispy crust. Plus, you can use it with a side dish of sweet and spicy stir shrimp. Believe me; this combination is a perfect match for any meal of the day.
Let's discover the true taste of Mofongo right here!
46. Malibu (Coconut Rum)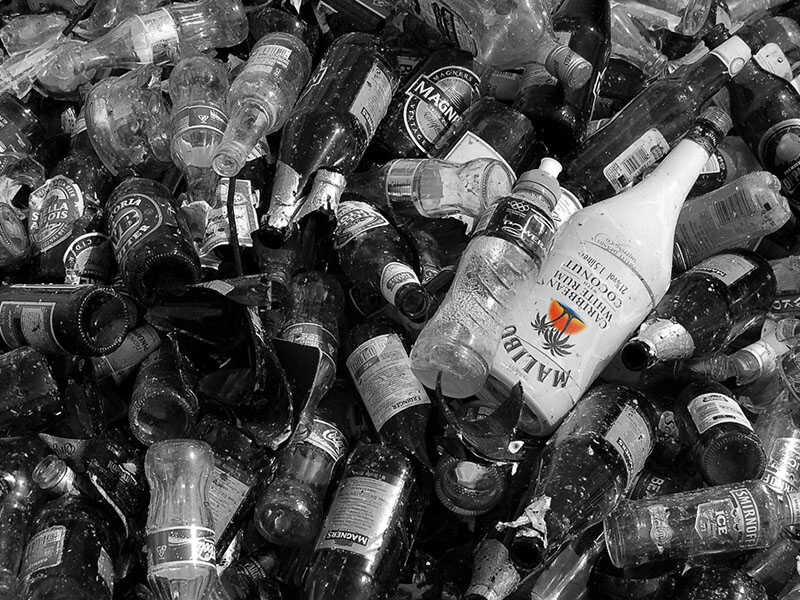 If you usually go to a bar, I believe that you may have heard about this top-famous rum, Malibu. The alcohol base has an iconic coconut taste that is very aromatic and sweet, so it will be good with some mellow recipes.
Malibu is an invention of Tom Jago in Curaçao to facilitate the making of Piña Coladas. You can find this drink in almost every bar in the Caribbean region and worldwide.
There are many delightful cocktails that you can make from Malibu, such as Bahama Mama, Mojito, Piña Coladas, or blue Hawaiian. These drinks generally taste very fruity and tropical because they mostly combine alcohol and seasonal fruits.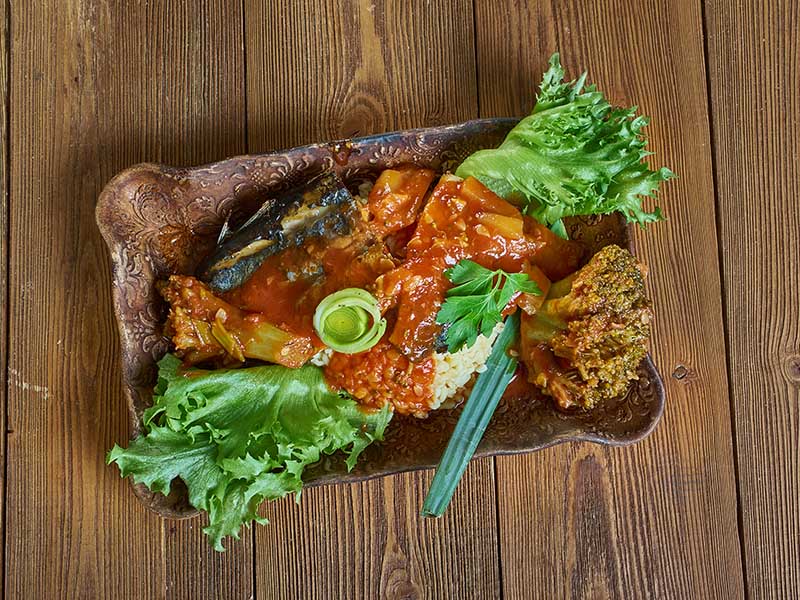 Here comes the most excellent Barbados national dish that I promise won't let you down. In Barbados, the dish is usually served on Friday at most local households or a restaurant. It's like wonderful food that family and friends can gather and share happiness with.
Cou-Cou is a combination of cornmeal and okra; these two ingredients create a delicious porridge. Besides, flying fish has a savory taste that gives the dish an exquisite experience.
Furthermore, the nutritional value of the food is quite generous. It contributes to your daily diet and prevents some unhealthy risks like heart attack, stroke, or cancer.
48. Pepperpot (Caribbean Meat Stew)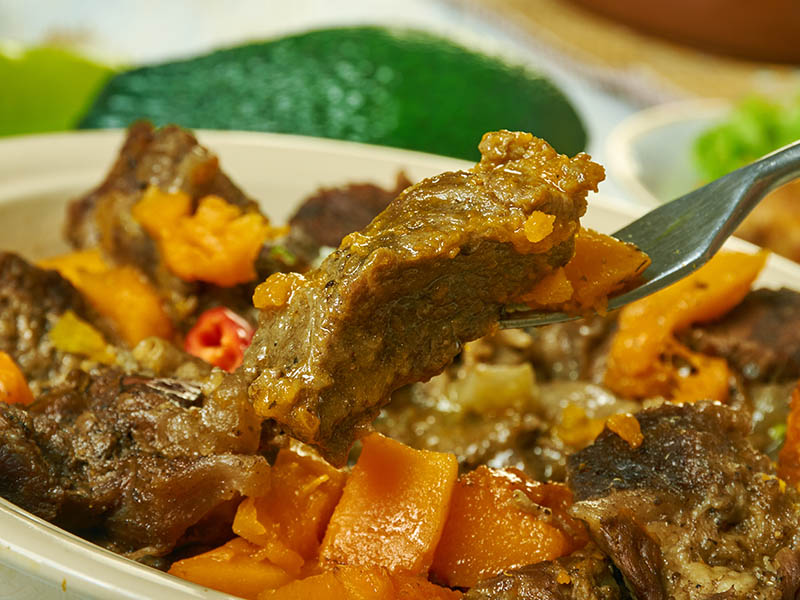 I would like to introduce you to this beautiful Caribbean meat stew that you may fall in love with right on the first try. Pepperpot is a traditional Guyana food that the local people like to use for Christmas dinner, and so do the other Caribbean countries.
You can use any type of meat for this stew dish, such as beef, lamb, goat, or pork. Each choice will form a unique experience for you when enjoying the dish. Trust me; no one can deny how savory and aromatic the dish is.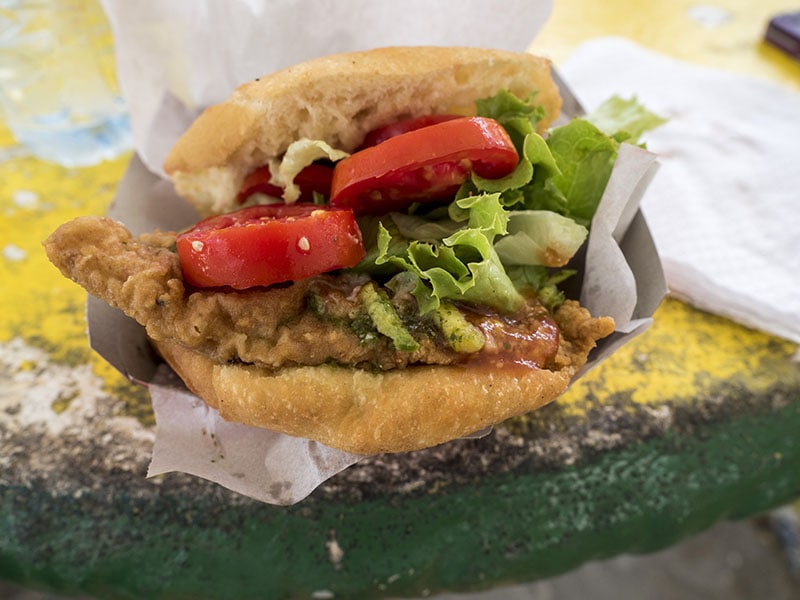 Yes, you didn't hear it wrong. In Trinidad and Tobago – a beautiful island country in the southern Caribbean, the dish is actually made with blacktip shark meat, and people usually have it as a delightful sandwich.
As shark meat is rare compared with the other seafood on the market, the dish price is not very comfortable. Overall, the price of a bake and shark ranges roughly from $35 to $40 for regular order and from $45 to $55 for a special one. Well, what a fancy experience, right?
That's because not anyone can really cook shark; its meat can be very dangerous to your health if you don't clean it well. So, ensure that you handle the process before trying this Caribbean fast food.
Peas And Rice seem to be one of the best-loved dishes in Caribbean cuisine. Generally, you can use this food for any meal of the day. It provides a good source of fibers, vitamin B6 and especially riboflavin that produces energy to the body.
Peas And Rice is just simple like its name, but the taste will definitely be something that you will get addicted to. The peas in the recipe are usually pigeon peas.
However, you can also substitute that with kidney beans as well. Moreover, you can use the rice with curry goat as a savory addition too.
51. Doubles (Fried Dough With Chickpea Sandwiches)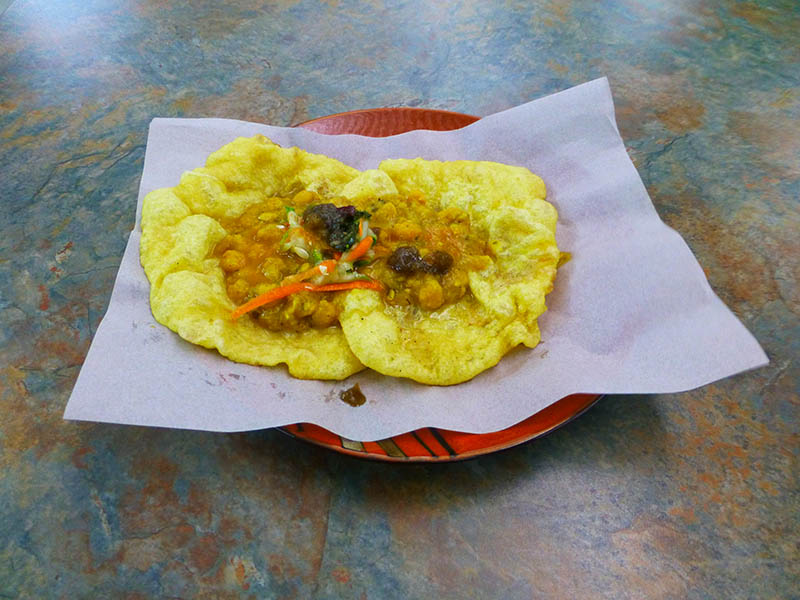 Check out these beautiful Caribbean Doubles right away; I promise you will love them. The food was a signature specialty in Trinidad and Tobago in the middle of the 19th century. At that time, a couple in Trinidad created this dish inspired by Indian food.
The dish is generally a combination of a flat fried dough covered with chickpea like a topping. You can quickly tell how savory the dish is.
It is a fusion of sweet, spicy, and very creamy coconut juice. Besides, you will love its texture, from the crispy dough to the tenderness of the topping.
Doubles is one of the best street foods in Trinidad and Tobago you should try.
Let's Try These Delicious Foods Now!
The Caribbean region has a rich natural resource from the land to the ocean. So, when you visit any country in this region, you will surely be welcomed by the tastiest specialties.
Do you like any of the suggested foods? Feel free to tell other readers and me about your favorite pick. Don't forget to like and subscribe to our site to receive the upcoming posts about food all over the world.