You will lose your head over the delightful taste of the following Dominican recipes. The Dominican Republic is a large island lying in the middle of the Atlantic Ocean and the Caribbean Sea. It is the second-largest Caribbean country with a rich culinary culture.
Dominican cuisine is influenced by Spanish and other Latin American cultures. You don't have to wait any longer because the most delicious recipes from this country are right here!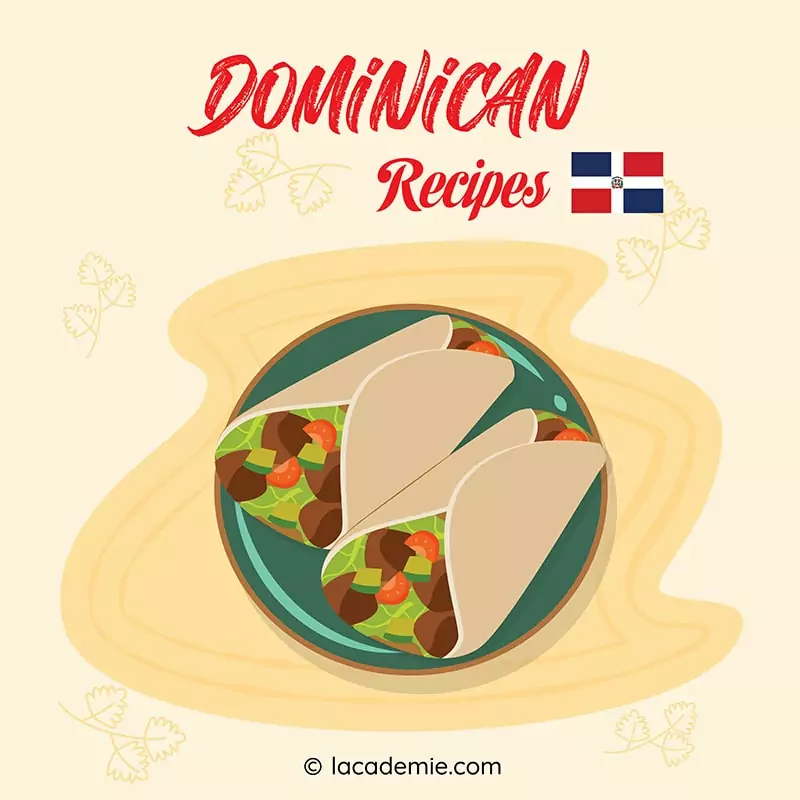 31 Magnificent Dominican Recipes To Treat Your Family
Are you ready to open the door to Dominican Republic cuisine? I guarantee that this will be your most exciting exploration. Drumroll, please!
Let's start the list with one of the most flavorful Dominican dishes – Sofrito. The dish is a harmonization of different types of veggies and herbs. You will find the natural sweetness in bell peppers and tomatoes.
Not to mention the fragrant aroma from cilantro leaves. If you like your sofrito to be a bit spicy, you can add some peppers to the recipes.
Brilliant! This is an authentic way to make the best Dominican sofrito.
Ensalada Rusa is a treasure salad dish from Dominica that makes the taste of potatoes so memorable. The potatoes are pounded until you achieve a smooth, cream-like paste. It's perfect for a weekday lunch to re-energize for a working day.
There are plenty of veggies that you can add to this salad. For example, some carrots or peeled beets will balance the rich flavor of mayonnaise.
Let me share a delicious Dominican dish for lunch. Chofan Dominicano is a fried rice dish from Dominica that has a lovely brown or yellow color.
The dish is full of onion and garlic scent that will trigger your taste immediately. Complete the dish with a savory and sweet soy sauce and enjoy your lunch!
Tostones is a deep-fried dish from the Latin American region commonly served in Dominica. After frying the plantains, you will achieve a beautiful golden or brown dish that is so irresistible.
A special technique to gain beautiful and crispy tostones is to fry them twice. There are plenty of dipping sauce choices for this dish, but the mayo-ketchup seems to best fit the dish.
Pollo guisado is a comfort chicken stew recipe from Dominica that is perfect for dinner. The chicken meat is tender and melty with a savory sauce waiting for you to try.
The chicken needs to be cooked in low heat to reach flawless tenderness. The fresh bell peppers and the chicken bring a sweet and juicy sauce, so tasty!
Craving for some chicken? Let's try this Dominican Pollo guisado.
Who doesn't like warm sweet soup, right? Habichuelas con dulce is a traditional sweet cooked bean soup that will enchant you with its delightfully sugary and nutty taste. It would be best to enjoy this dish warm to enjoy its best flavor.
The presence of some cinnamon sticks evokes a fragrant aroma. You can place some milk cookies or crackers to decorate and add more textures for the soup.
Let's light up your breakfast with this Dominican dish. Pasteles en hoja is a Dominican-style tamales recipe packed with a sweet and flavorful flavor. Traditionally, Dominicans wrap the dish in plantain leaf for extra scent.
The soft cover complements the savory and juicy meat filling interior. You and your family could gather around and make this lovely meal together. The wrapping party will be the best activity to increase your family's bond.
Domplines is the boiled dough recipe with a rich and smooth tomato (or cheese) sauce coating the dumpling-like dough. The dish is effortless to cook with just a few ingredients.
It is fun to make a dish because you have a chance to prepare the dough. What else could be more interesting than shaping the dough with your own hands, right?
Rabo encendio is a complex dish with various ingredients. By stewing the meat oxtail with various veggies like bell peppers, carrots, and red onions, the dish will have a sophisticated flavor that you can not find in other recipes.
A touch of pepper, garlic, and olive oil give the dish a wonderful aroma and delightfully rich taste. This rabo encendio is absolutely worth trying!
Hey! Don't miss out on this delectable sweet course from Dominica. The dessert has a soft and spongy texture that matches the vanilla smell. The slightly sweet flavor from sugar will leave a great taste in your mouth.
The buttery flavor from this cake is the result of using milk and butter. This makes the cake more appealing and delicious.
Who is a fan of crispiness? This Dominican pork crackling recipe will suit your desire. The pork belly taste is fried until incredibly crispy that it will melt right in your mouth. Every bite of this dish will be a wonderful treat for your taste.
Besides the crispy skin, you will also feel the tender fat greeting you with a pleasant rich taste. It could be a perfect companion for many other Dominican recipes, such as boiled yuca.
Sancocho, also known as "three meat stew", is a Dominican recipe with a rich combination of several different kinds of meat. Usually, it harmonizes beef, pork, and chicken; however, you can also use Kielbasa sausage or smoky sausage.
The dish's flavor is so rich and delicate that every spoon will take you to the savory paradise. Such a perfect dish to serve on winter days!
The number one Sancocho Dominicano is right here!
Pescado con coco is a unique dish from Dominica that matches fish taste with a touch of creaminess from coconut. The fish is bathed in coconut sauce, so it has a sweet flavor and a lovely tenderness.
A touch of sour taste from the lime juice will wake your taste and boost the flavor to another level. You can serve the dish with fried plantains or white rice for an exploding meal.
Here is another rice recipe for you to try. This Arroz con gandules has a great nutty and earthy taste from pigeon pea. This ties with the flavor of the brownish-yellow rice.
You can make a vegan variant of this recipe. With the vegan version, the taste is still savory and memorable. In fact, the dish's flavor is leveled up with a crunchy flavor of fresh vegetables.
Yaniqueques or cake tortillas are famous Dominican street food that you can find almost anywhere in Dominica. People say that the cakes are made by the water from the sea, that is the reason why they usually appear on many Dominican beaches.
Yaniqueques have a flat appearance with crispy edges that are perfect for serving coffee or sweetened condensed milk.
Plantains are one of the most tropical fruits that appear wildly in the Latin American regions. In Dominica, you can mash the plantains to get a smooth and sweet dish called 'mangu'. You can have this dish for breakfast to start an energetic day.
The plantains are boiled until tender, then mashed with a bit of water. You can pair the dish with some eggs for a lovely meal.
Don't you want to try this delectable Dominican mashed plantain?
Mofongo is a traditional dish from the Caribbean region made with deep-fried green plantain. In Dominica, it is usually served with some crispy Chicharrón (also known as Pork cracklings).
The fried plantains are mashed by a pilón for a crumbly texture that ties with the Chicharrón. To complement the plantains ' flavor, you can serve the dish with chicken or beef broth.
Let me welcome you with a Dominican national dish, La Bandera. The dish has an earthy flavor from beans that emphasize meat's flavor and rich taste. The dish's flavor also has a sweet and sour taste from tomato paste.
You can decorate the meal to achieve an appearance of a Dominican flag. It is pretty simple; just arranging the white rice in a cross shape. Then, place beans and chicken, you now have a delectable and beautiful meal.
Morir Soñando means 'to die dreaming' in English. This name shows the wonderful artistic soul of the drink's creator. The glass is a nice combination between citrusy orange juice and rich milk.
Mix all the ingredients, then add some ices; you now have an excellent drink to blow the summer heat away.
Being a part of the tropical region, Dominicans adore the taste of coconut. They add this lovely fruit to many dishes of the country. This pan de coco is my favorite one. The bread is thick with a soft and spongy texture that will enchant you.
The cake has a mild and slightly creamy flavor so that you can pair it with soup or stew without overwhelming the whole dish's flavor.
Majarete is a silky corn pudding that will allure you with its sweetness. Put the corn cobs or kernels in a blender, then run the machine; you will have a smooth and creamy corn pudding for the upcoming meal.
You can perfume the dish with a pinch of ground cinnamon. I'm sure every spoon of this dish will give you a heavenly feeling.
This will be the fastest and easiest Majarete recipe you have ever tried!
I'd like to introduce you to another baking recipe. I swear you and your family can not resist the creamy taste of several different cheese varieties used in this Pastelon de Platano Maduro.
Aside from cheese, this dish also contains a sweet plantain savory flavor that will amaze you. The filling is rich with juicy beef, highlighting the plantain's taste of the pastelón cover.
Craving for some salad but still want a pleasant creamy flavor? Try this Ensalada de coditos immediately. This macaroni salad has a bouncy texture from the well-cooked macaroni with a buttery flavor from mayonnaise.
Carrots and bell peppers add an exciting texture to the whole salad. You can sneak some onions into the recipes for some pungent scent.
Do you know that Dominica has a unique and tasty hamburger recipe? Yeah, this Caribbean country is famous for Chimichurri – a breath-taking sandwich variety that will capture your soul.
The burger is so juicy and creamy with soft slices of beef with a touch of mayonnaise and Worcestershire sauce. You can add ketchup to meet your taste.
When you come to Dominica in the papaya season, it is not hard to find a vendor that sells a cooling papaya smoothie. The ripe papayas have a naturally sweet taste that harmonizes with the rich cups of milk.
There are many recipes that add a little twist to this papaya smoothie. You can add honey for extra sweetness or bring a bold character from rum.
Yum! Who is a fan of eggplant? You can have it with a crispy version right here. These Berenjenas Fritas have melty crispiness that makes eggplant's sweet and rich flavor so irresistible.
The harmonization of eggs and eggplants forms a wonderful taste for every bite you take. Trust me, and give this recipe a try.
Want an oozing dinner meal for a heartwarming family gathering? This Carne guisada recipe won't let you down. The meat and veggies are cooked until it reaches the perfect tenderness.
The sweet water from all the ingredients creates a magnificent paste that you can not forget. Serve this hearty dish with some rice and enjoy its flavor.
OMG!! This Carne guisada is the most delicious and flavorful recipe I have ever had!
A special feature of Dominican cake is its incredibly airy and spongy texture. Unlike other cakes, Bizcocho has a moist center that harmonizes with the cake's sweetness.
The fruit filling of the cake will create so much impact in flavor for this sweet treat. The typical filling is the pineapple with a gently sweet and tangy.
This Avena Caliente will splendidly change your breakfast. The combination of oatmeal and milk is so smooth, warm, and thick. The mesmerizing smell of cinnamon will attract you immediately.
You can serve this heartwarming beverage from the Dominican Republic for breakfast, lunch, or even for a light dinner. The dish will always give an alluring flavor.
Coconetes is a national coconut cookie from Dominica with a rough and dry texture. This feature makes these Coconetes stand out from other typical cookies.
Crumble, sweet with a hint of cinnamon; these cookies will make your day. You can serve them as a welcome snack for your guests. They sure love these sweet treats, believe me!
Such a lovely recipe that is so irresistible! This Arroz Amarillo has a strong scent from red or yellow onion. The presence of some bell peppers will add a little sweetness and yummy textures to the dish.
You can serve the dish for lunch or dinner to recharge the family member's energy for a productive working day.
Such A Lovely Rich Culture!
How was your expedition? Amazing, right? The Dominican Republic has a diverse culture that represents the whole Caribbean region. Rich in tropical flavor with flavorful spices from this special cuisine will attract and hypnotize your food lover's soul.
Don't hesitate to explore new cultures! You will have the best experience making them. Share your favorite recipe in the comment section. Peace!
Nutrition Facts
4 servings per container
---
Amount Per ServingCalories535
% Daily Value *
Total Fat 18.6g

29

%
Cholesterol 219mg

73

%
Sodium 998mg

42

%
Potassium 266mg

8

%
Total Carbohydrate 28.6g

10

%

Dietary Fiber 2.3g

10

%
Sugars 2g

Protein 17g

34

%
---
Calcium

72

%
Iron

3

%
Vitamin D

32

%
* The % Daily Value tells you how much a nutrient in a serving of food contributes to a daily diet. 2,000 calories a day is used for general nutrition advice.