Besides keeping your body warm, winter fruits can also add vitamins and water. Winter fruits help prevent influenza, runny nose, cough, or pneumonia.
People assume fruits are rare in winter because many trees are naked from autumn. However, several toothsome varieties of fruits still thrive well in the cold season and offer nutritious and tasty fruits.
This article will give you common winter fruits that can help you enhance your resistance in the coming winter. Don't skip this exciting and helpful information if you care about your health!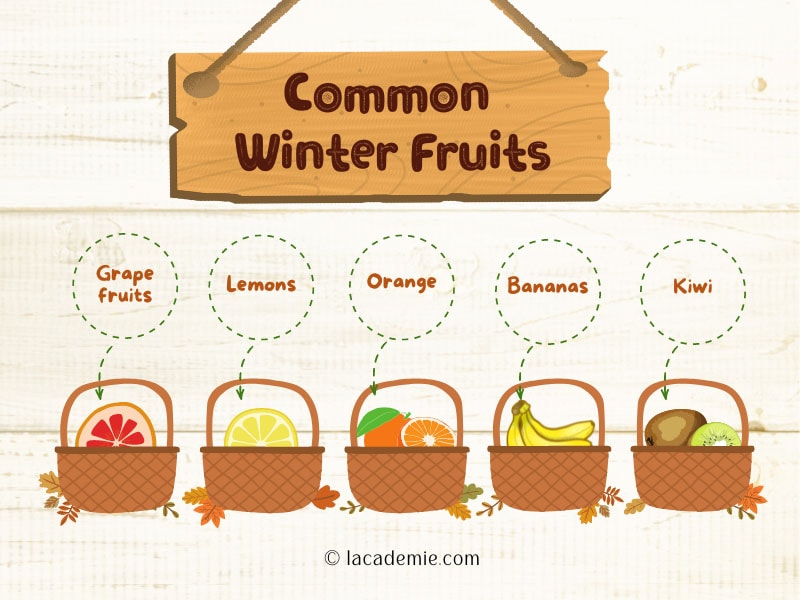 List Of Amazing Citrus Fruit For Cozy Winter Days
Do you know that winter is also the citrus fruit season? Yes, you can easily find the sweetest citrus fruits like lemons, grapefruits, and oranges this season.
Consuming citrus fruits in winter helps you add vitamin C to your body. The role of vitamin C is very crucial for your immune system. It helps prevent disease, shorten disease time and promote body recovery ability.
Let's take a look at some fruits and exciting information about them!
1. Grapefruits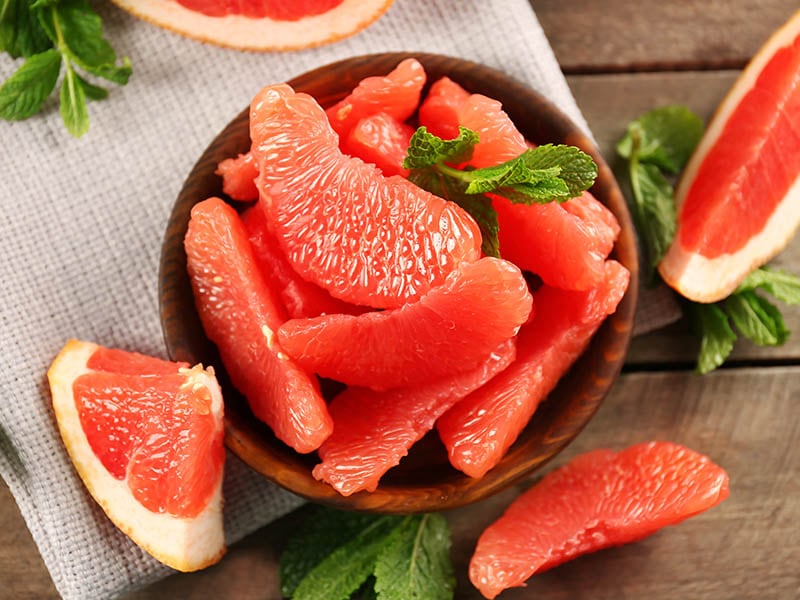 Grapefruit is the opening fruit of this list. It grows from November to June of next year. Grapefruit's origin in 2 ancient fruits: Jamaica sweet orange and Indonesian pomelo.
A small tip for choosing the juicy grapefruit: the larger the fruit, the juicier the pulp! When you go to the supermarket and wonder which is the best type of grapefruit, just take the heaviest one!
Unfortunately, grapefruit will react to some medication, so if you are in a period of illness or taking medicine, you should consult your general doctor.
The answer to whether grapefruit suits the keto diet!
2. Pomelos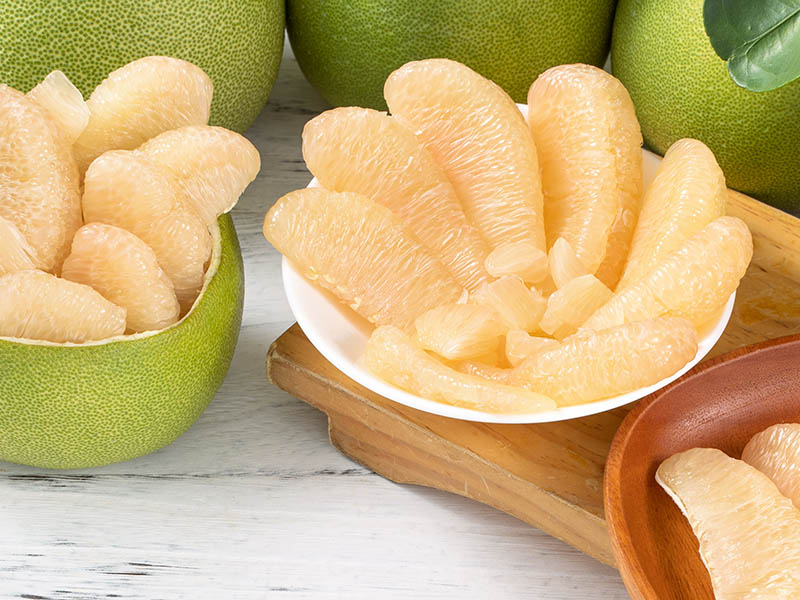 Many confuse pomelos and grapefruits. I assure you will be the exception after reading this article.
Pomelos are the bigger than other citrus family fruits and usually planted in Southeast Asia. The shape of pomelos is like a teardrop, while the grapefruits are pretty round. Besides, the skin of pomelos is yellower, thicker, and pimplier than grapefruits' skin.
Pomelos can play a primary role in dessert recipes and juices. Pomelo peel is one of the famous ingredients for making teas, jams, and wines.
3. Lemons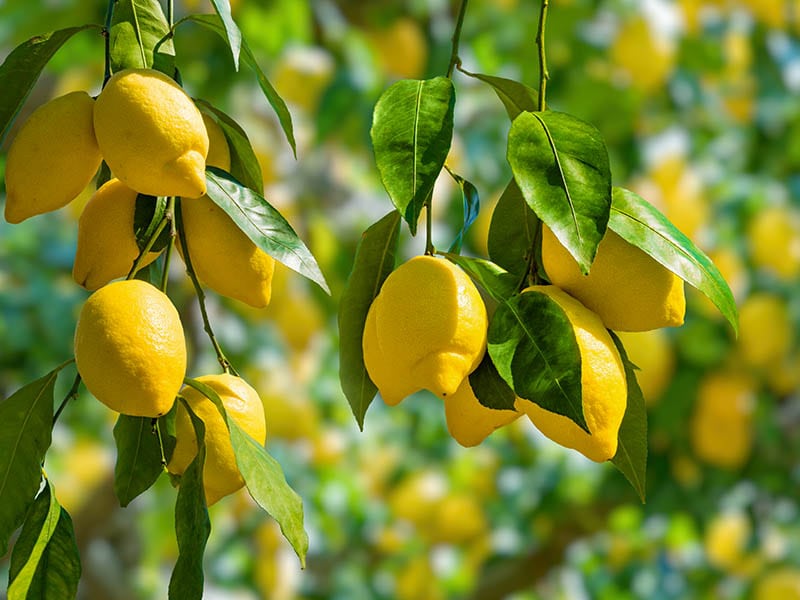 People have found various kinds of lemons since the 1st century AD. Today, the popular lemon-planting countries include Brazil, India, Mexico, China, and Argentina.
Lemon is a familiar fruit of housewives; it is suitable for food and drink and can become a spice that enhances food taste.
A piece of notable health information is that the high citric acid content of lemons will cause discomfort for people with stomach ulcers or reflux esophagitis.
Besides health benefits, lemons also have other useful uses for your house.
4. Kumquat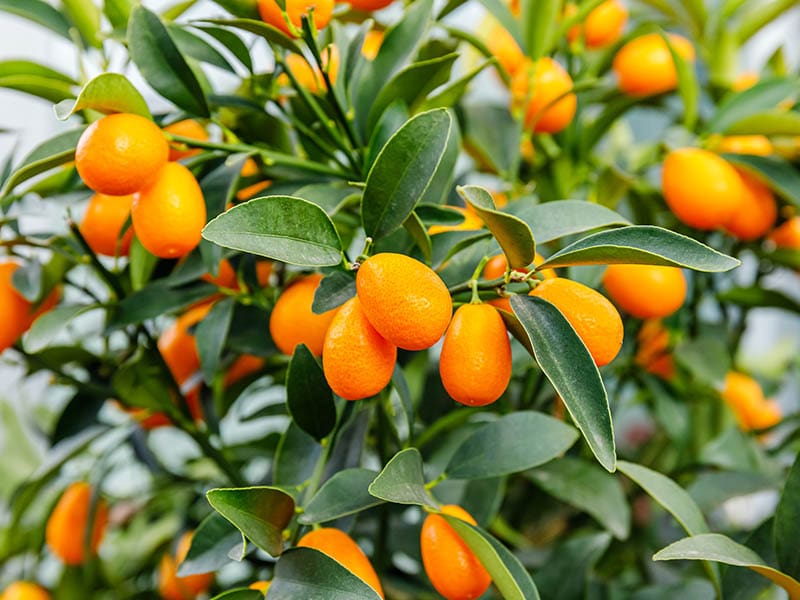 Kumquat is a small, sweet-tasting orange fruit. The kumquat tree originated in Southern China in the 12th century. The English name of kumquat comes from the Cantonese name that means "golden mandarin orange".
Kumquats contain a small amount of vitamin E, which helps increase the growth of new cells and reduce pain and discomfort in PMS. The pregnant woman should eat kumquat during pregnancy. Kumquat aids in reducing anxiety and enhancing lactating ability.
Despite being so benign, kumquats still cause allergies in children. Parents should give children small kumquat pieces to eat until they get used to it.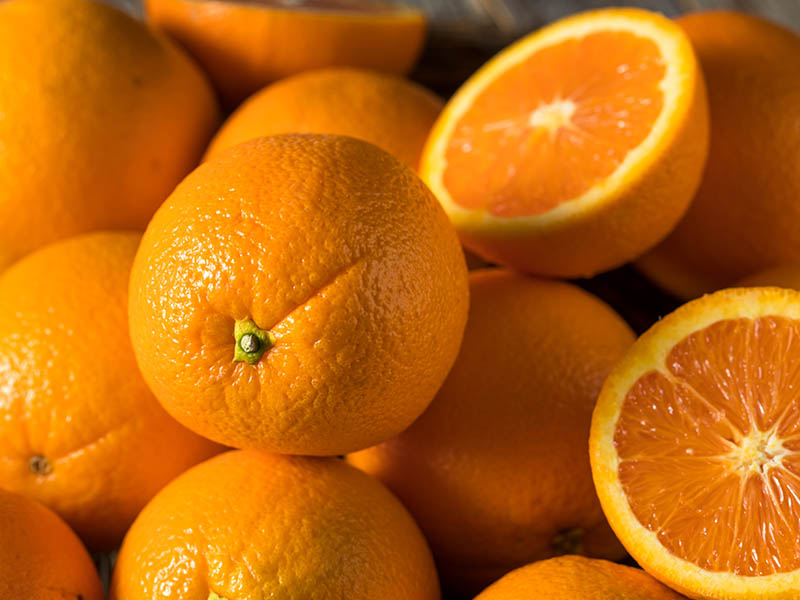 The first Navel orange originated in Brazil in 1820. This strange name is because it has a slight indentation on its rind like the navel of humans. It has a sweet and slightly sour taste, especially without seeds. The shape of this fruit is round or oval and has 3 to 4 inches in diameter.
In cuisine, you can use Navel orange in all orange recipes. It creates tasty sauces for dishes, desserts, and salad dressings. However, Navel orange is not suitable for making orange juice because its juice is slightly bitter when it reacts to oxygen.
The navel orange is also a source of nutrients, including vitamin C, vitamin A, fiber, and calcium. This fruit peel is an ingredient in whitening teeth and reducing bad breath in California. Eating Navel oranges helps athletes reduce pain during training.
6. Blood Orange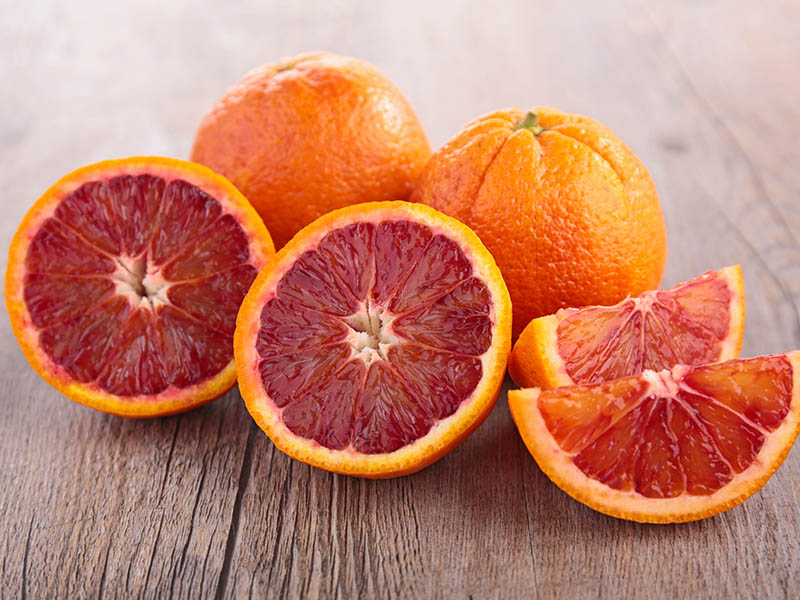 Blood orange, or raspberry orange, has orange skin like other familiar fruits in the orange family. Still, the flesh is dark red like blood color. The blood orange was a popular tree in the southern Mediterranean in the 18th century.
In fact, blood orange is a hybrid of pomelo and tangerine, so it also has a different taste and tougher skin from other oranges. This orange has the three most common types: Moro, Tarocco, and Sanguinello.
Blood orange tastes sweeter than other classic oranges. Decorating and making desserts, cocktails, and baked goods with this orange is an ideal idea. It helps your dishes be more colorful and attractive.
7. Cara Cara Orange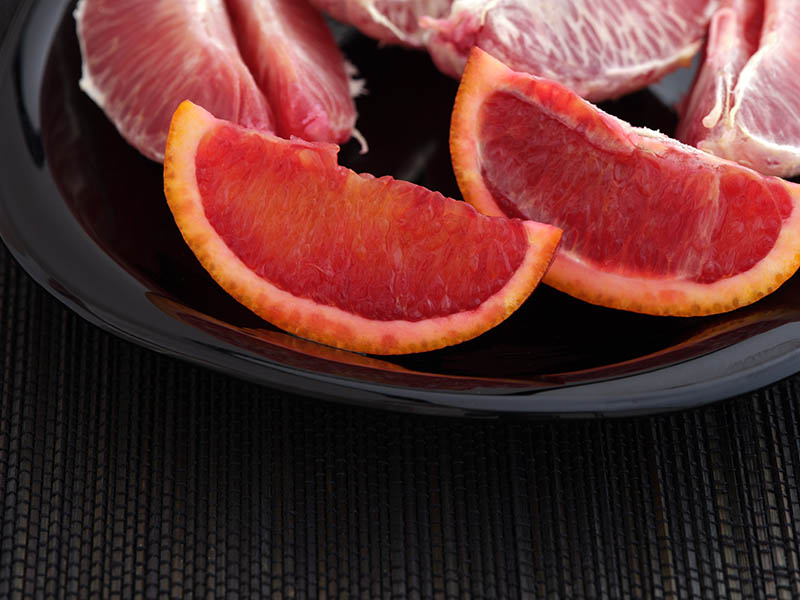 Cara Cara orange appeared in Venezuela in 1976. Cara Cara is the name of the city where this orange appeared. People believe this orange results from a spontaneous bud mutation from a Navel orange tree.
Cara Cara orange is a Navel orange with pink flesh like blood orange but lighter and seedless. The outer shape of this orange is similar to the Navel orange, so it is usually difficult to distinguish these two types from the outside.
There are more carotenoids contained in Cara Cara orange than in other types of Navel oranges. Consuming this type of orange frequently helps prevent cancer risk and skin aging and is good for the eyes and heart.
Exciting information about Cara Cara orange makes you amazed!
8. Seville Orange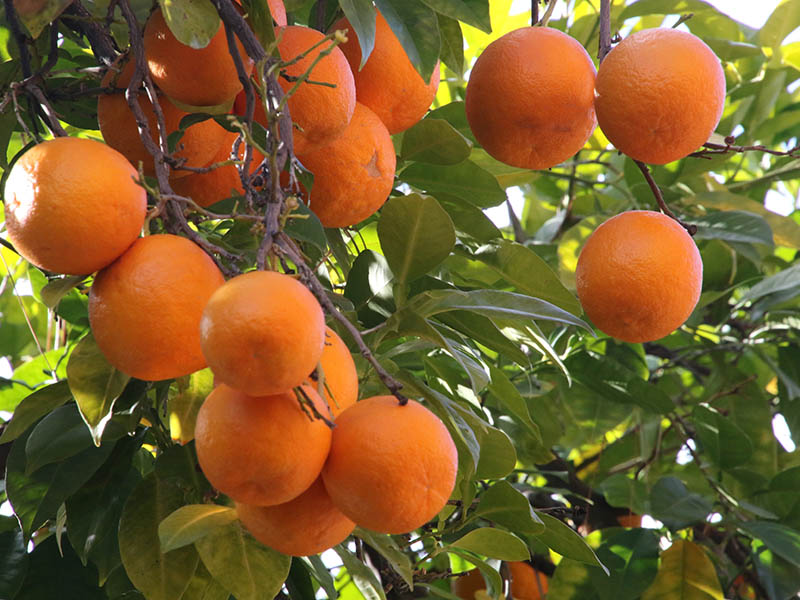 Seville oranges are medium size, averaging 7-8 cm in diameter. The color skin of Seville orange is between orange and yellow. Not as sweet as its brothers, this orange is a bit bitter and sour.
This orange is native to southeastern Asia and is a wild plant. In the 10th century, these trees appeared in Europe by trade routes. In the 12th century, Spain planted the first tree and called its formal name Seville orange.
Seville oranges have a bitter taste compared to other oranges. Hence, people usually use this orange to make marmalade, essential oils, or as a sauce in savory dishes. Typically, you will hardly find them in ordinary stores and supermarkets.
9. Tangerines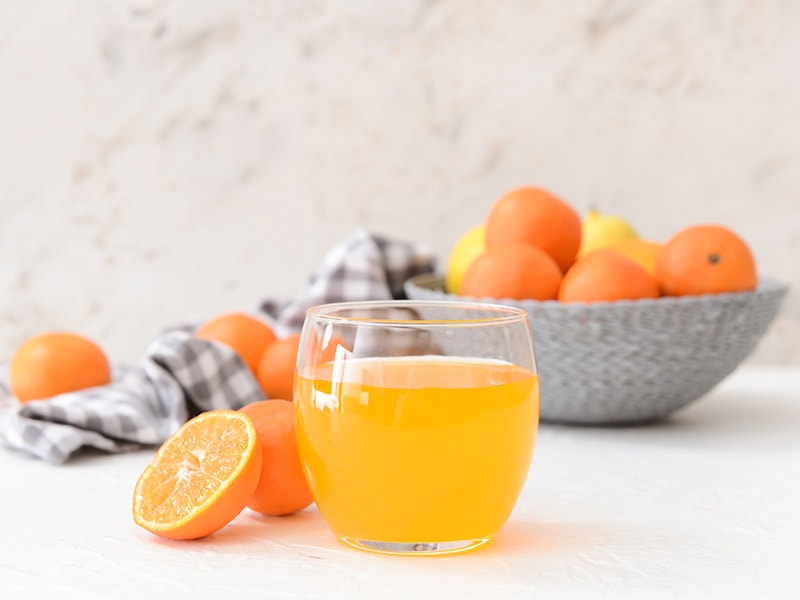 Tangerines are a smaller orange and have thick and bright orange-skinned. The first tangerine trees grew in South America. The name of this fruit is after a city that imported this fruit.
The flavor of tangerines is quite sweet, often used to make cakes and juices. Tangerines are rich in vitamin A, C, and B6. These vitamins help regulate the intestines and improve absorption.
The tangerine season is longer than other citrus fruits. It is common in many countries such as China, Spain, Turkey, etc.
10. Satsuma Orange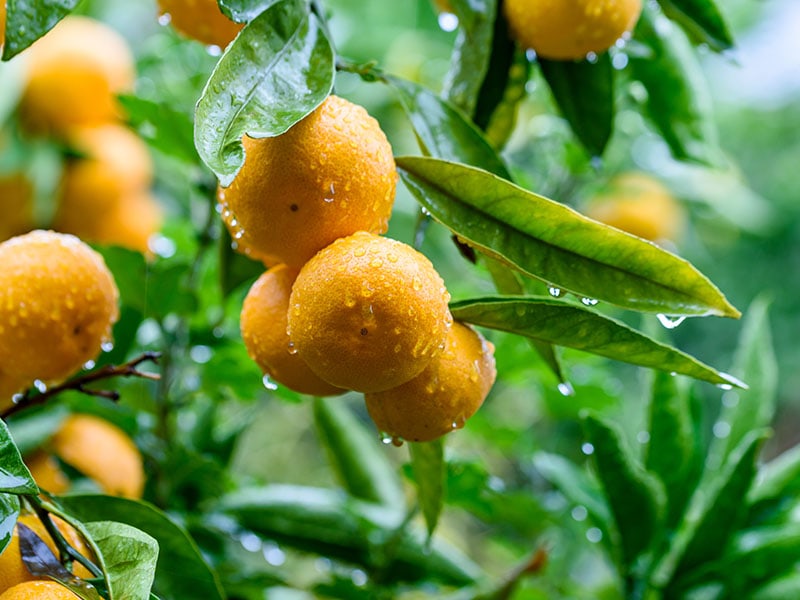 Satsuma orange is a small and seedless orange with loose skin. In the US, California and Southeastern states are 2 places where you can find Satsuma oranges. People found this orange first in East Asian countries such as Japan and Korea.
The Satsuma juice is quite sweet, and everyone loves to eat this fruit as a snack; if not, you can try to make salad dressings or cocktails with its sweet juice.
Satsuma oranges can keep their highest quality at room temperature within 4 to 5 days. However, you can keep them in the refrigerator for a longer storage time, up to 3 weeks.
11. Clementines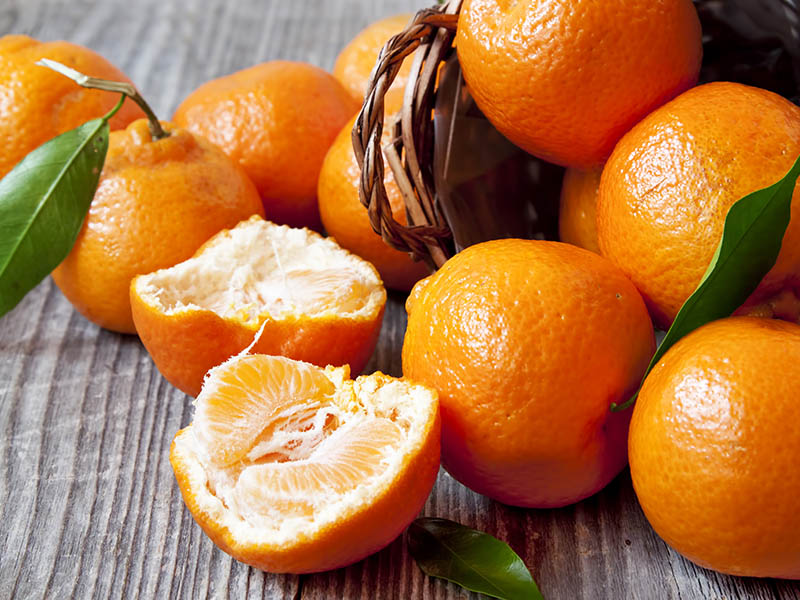 In the 19th century, Clemen Rodier – a missionary who found this orange first. In 1902, it was officially called clementine, a tribute to the founder.
Clementine is rich in vitamin C, B6, and calcium. Eating clementine orange helps prevent cancer and promotes healthy digestion and eyes. It is beneficial to add sugar by absorbing from clementine orange for people with low blood pressure.
There are three types of clementines: seedless clementines (North Africa), sweet clams (Spain and northern Africa), and Monreal (North Africa). Some popular clementine varieties are Algerian, Fina Clemenules, Clementine del Golfo di Taranto, and Clementine di Calabria.
Surprise your friend with a unique curd from clementines.
12. Mandarins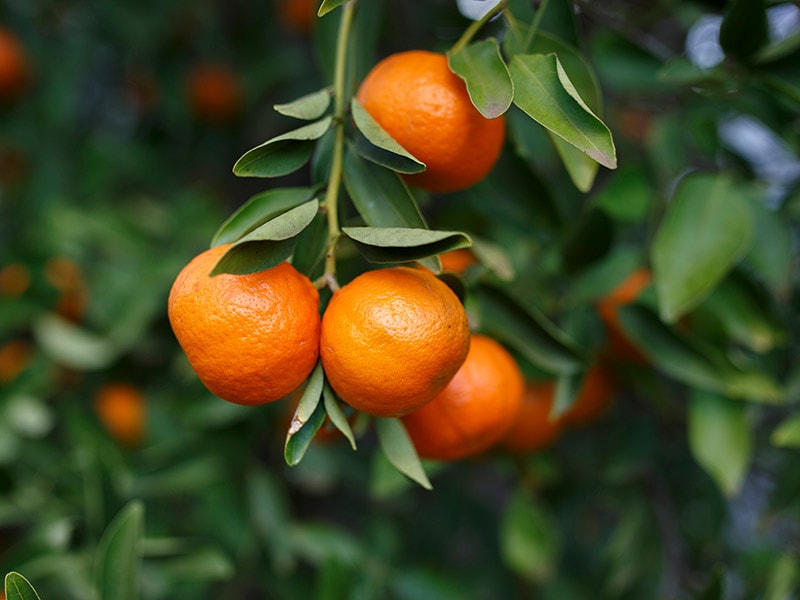 Mandarin oranges is a fruit originated in China, which is also the reason for the name of this fruit. Mandarin is a small citrus orange commonly used in fruit salads. This orange has a small oblate shape with the taste is sweeter considerably than other typical oranges.
The outer skin of mandarin is usually orange or yellow-orange. It has a thin skin that easily peels off. This type of citrus usually has few seeds, some of which are almost seedless.
There are a lot of health advantages when eating this delicious fruit. Thanks to many vitamins, minerals, and antioxidants inside mandarins, consuming them helps people prevent skin and eye diseases, adding essential nutrients to your diet.
In Winter, You Can Easily Find These Juicy Berries
Berries are small, round, colorful fruits. Besides catchy colors, berries are sweet, fleshy, and seedless. They are an essential food source for birds that live through the winter.
Can you classify which fruits are berries? I'm sure the list below will make you gasp in surprise!
13. Bananas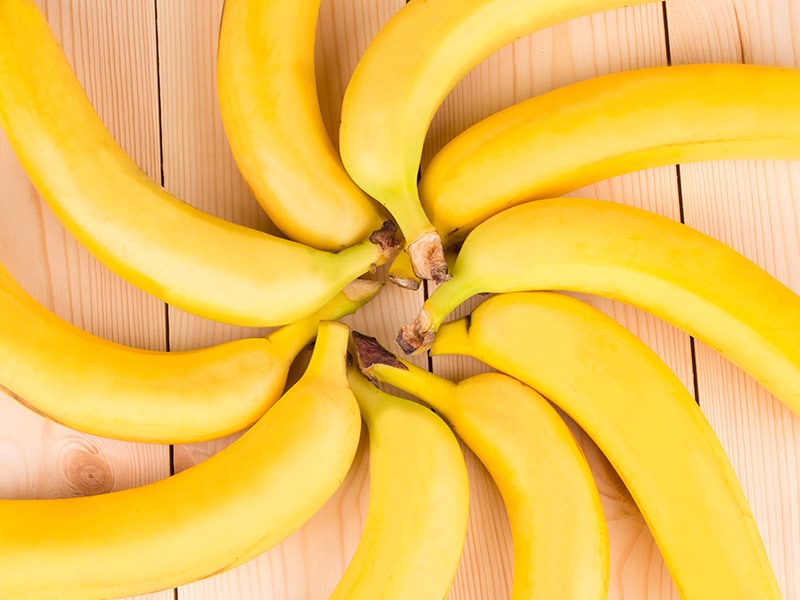 They were first found in the wild in New Guinea and are grown in more than 100 countries worldwide today. Bananas are berries of many sizes and colors, and particular bananas have other colors when ripe.
This fruit contains many vitamins, fiber, magnesium, and zinc, which are beneficial for health, especially skin and hair. It is also effective in preventing stroke and high blood pressure.
Despite being a friendly, widespread, and abundant nutrient, there are cases where bananas cause allergies in humans. The most common allergies are urticaria and allergic syndromes in the mouth, such as swelling and painful throat.
14. Red Bananas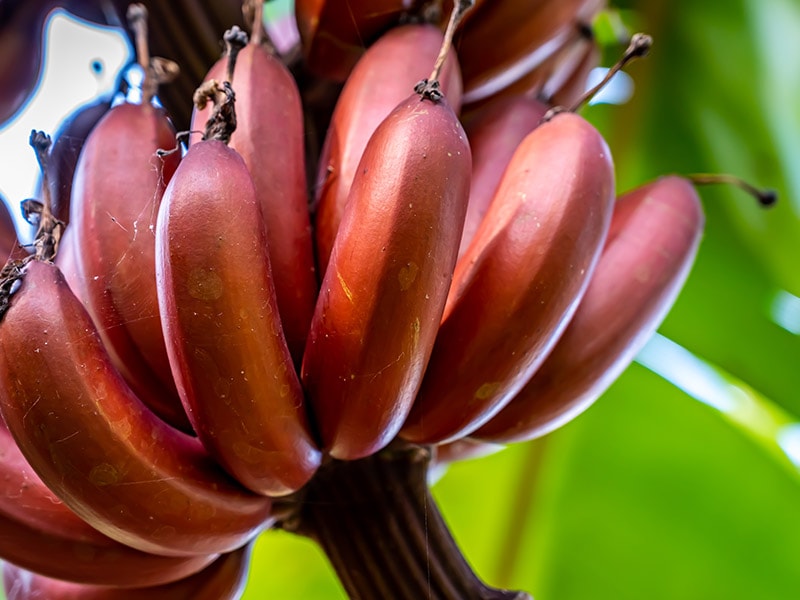 Red bananas are not ordinary. They are native to Costa Rica and are famous in Mexico and Australia. Red bananas have burgundy outer skin but cream flesh. The flavor of red banana is a blend of banana and raspberry with the smell of strawberry.
Red bananas are more petite than other famous banana kinds and have a longer shelf life. The price of red bananas is relatively high because the supply is quite rare. It is difficult to find red bananas in the local groceries.
You can eat red bananas when unripe. When ripe, it will have a deep red or chestnut color. Compared with yellow bananas, red bananas contain more vitamin C; the redder the banana, the higher the protein!
Are you curious about what red bananas taste like?
15. Pomegranates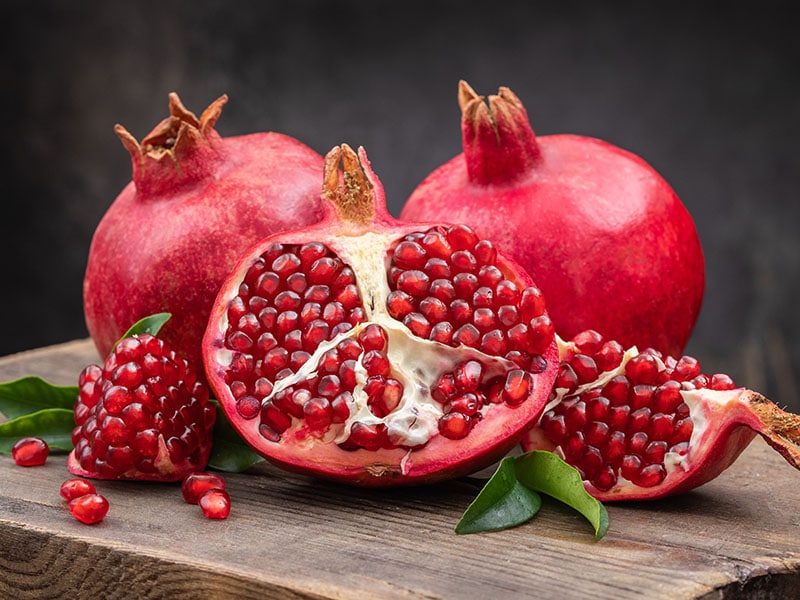 Pomegranates are native to regions from Anatolia to northern India and southern Asia. Ancient people used pomegranates to treat heart diseases, high blood pressure, and diabetes.
This fruit has a hard pink skin. The average diameter of pomegranates is around 5 – 12 cm. You can add pomegranates to your daily diet because it is low in calories and fat, high in fiber, vitamins, and minerals; they even contain protein!
Although Korea and Japan are not the birthplaces of pomegranates, you can find wide varieties of them here. In these two countries, pomegranates are not fruit trees but are also grown as bonsais.
16. Kiwi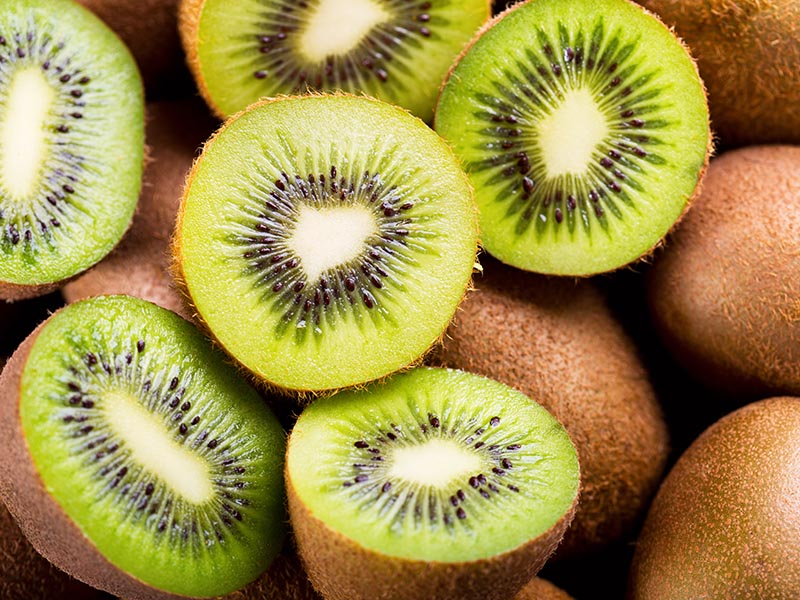 Kiwi usually has brown skin with green flesh and tiny edible seeds inside. In the 12th century, Chinese people discovered this fruit and called it "the Chinese gooseberry". Then, the first kiwi appeared in New Zealand in the 20th century.
The name kiwi is after the name of a famous New Zealand bird. Some main types of kiwi are Hayward, Chico, Saanichton, and golden kiwifruit. Golden kiwifruit is the most outstanding because it is sweeter than green kiwifruit.
Kiwi is a healthy fruit high in vitamins, fiber, and antioxidants; these nutrients support heart health, digestive health, and immunity.
17. Star Fruits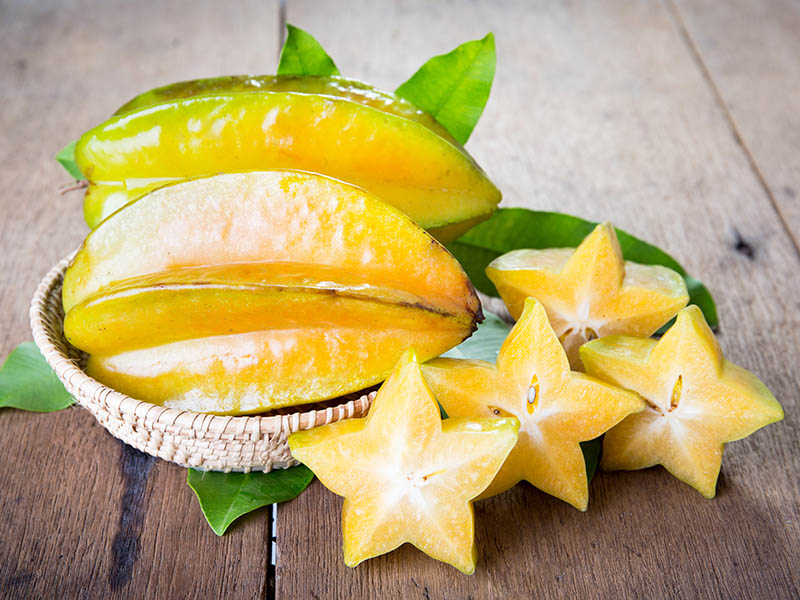 Star fruit has another name Carambola; you can easily find this plant throughout the tropical areas. When cut crosswise, this fruit's shape is like a star, called star fruit. In fact, star fruit has many different names, depending on the cultivated country.
Star fruit has a sweet and sour taste that many people love. The regions that consume the most star fruit in the world include South Asia, Southeast Asia, Brazil, and the South Pacific.
Starfruit is not only rich in vitamins C and B but also low in calories. In addition, star fruit also contains small amounts of essential minerals such as magnesium or zinc. Eating star fruit can improve digestion, aid in weight loss, prevent heart disease, and improve eyesight.
18. Avocados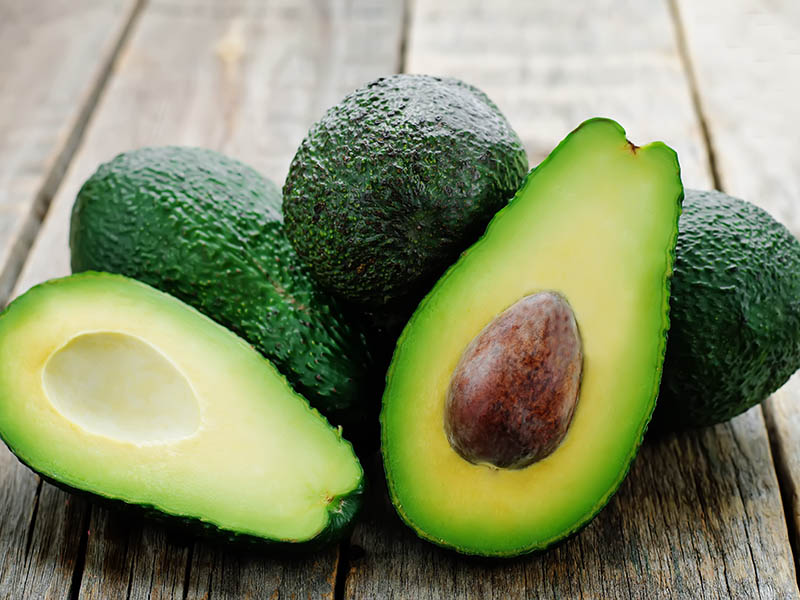 Another name for avocados is alligator pear because they have a pear-like appearance and rough skin like crocodile skin. Despite their strange appearance, avocados are popular all over the world. Mexico is the world's leading avocado producer, followed by California.
Avocados contain the highest fat content of any fruit. They are the fattest fruit on the planet, with 75% of avocados' fat being unsaturated. Therefore, avocados are the ideal fruit recommended for all types of diet.
Here are some interesting facts about this fruit. Avocados won't ripen on trees. An avocado tree can produce 150 to 500 avocados annually, an impressive number! Avocados are the fruit that requires the least pesticides due to their thick skin, which keeps harmful insects away!
Do you know how to choose the perfect avocado?
19. Persimmons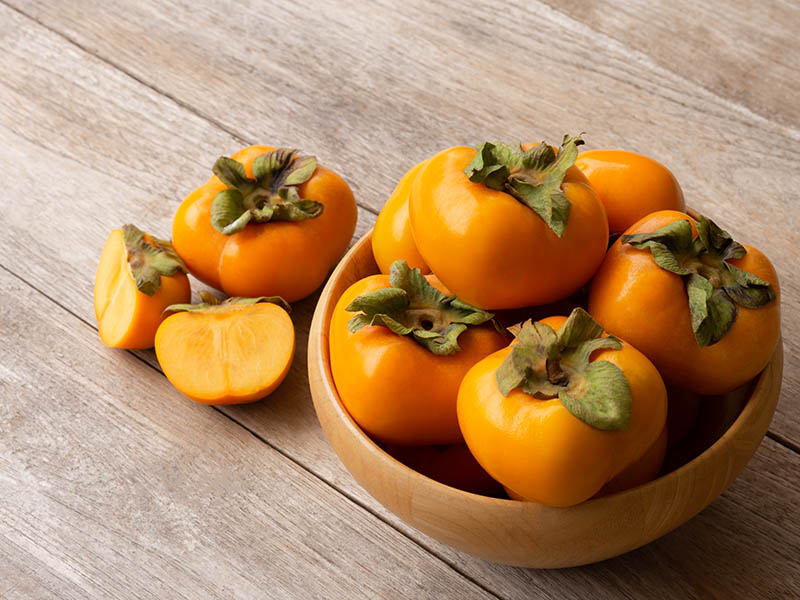 Originally from China, persimmon fruit is a commonly found fruit in Japan. The persimmon tree is a woody plant grown in many East Asian countries like China, Japan, Korea, etc. There are more than 400 varieties of persimmon in the world, the most popular of which are Fuyu and Hachiya.
Persimmon contains a lot of vitamin C, antioxidants, and minerals, which are good for your eyes and heart, helping prevent diabetes and high blood pressure. You can easily buy this fruit at agricultural markets.
Many people wonder whether the skin of persimmon is editable. The answer is yes, but the persimmon skin is quite tough – tougher than apple skin! Therefore, everyone has a tendency to peel their skin.
20. Cranberries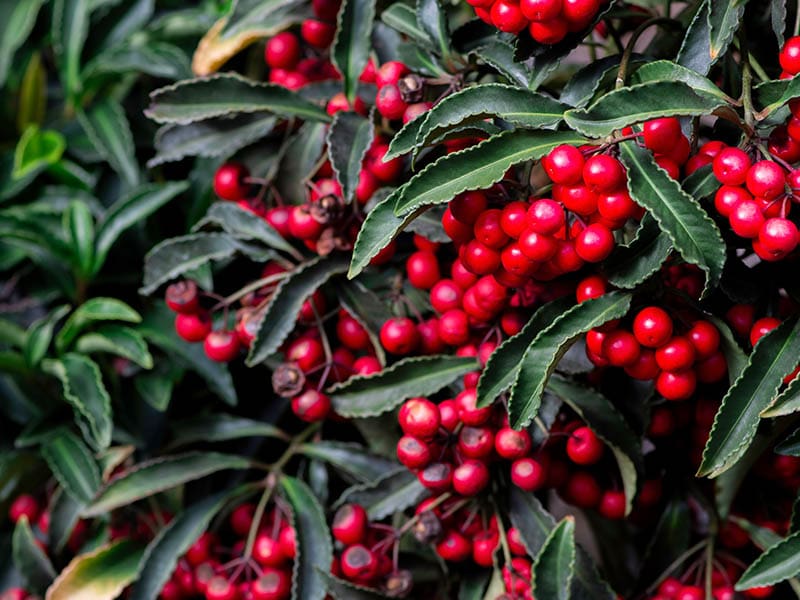 Cranberries or red berries are shrubs or vines about 2 meters long, growing in cool climates. Cranberries are white, turning a deep red when ripe. Today, cranberries are good ingredients for food, medicine, and even as a dye.
Cranberries are rich in vitamin C and E, which have many health benefits, such as antioxidant effects and lowering cholesterol. They are good for the brain and prevent urinary tract infections.
These fruits have a sour taste, so making juices, sauces, jams, and cocktails with cranberries is a better choice. Dried cranberries are the most popular product of this fruit.
Keep Your Health During The Winter With These Nutritive Other Fruits
You are wondering: Isn't this already a very long list? But I still have many delicious and nutritious fruits that are no less than the above. Keep expanding your winter fruits list!
21. Apples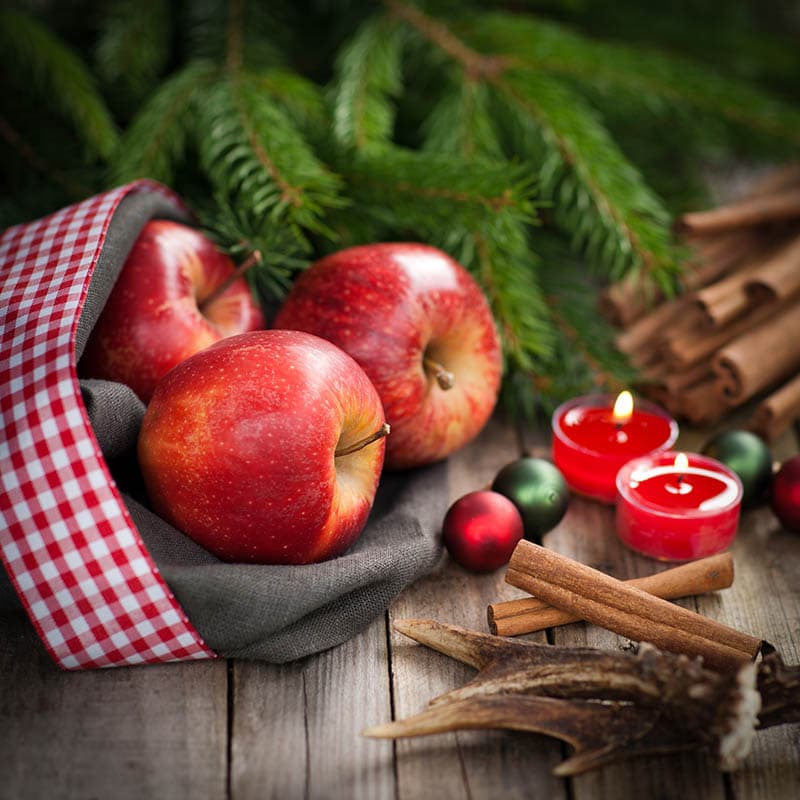 The apple trees are native to Central Asia. European colonists brought them to North America from Asia and Europe thousands of years ago. Today, thousands of varieties of apples exist in the world!
There is a famous proverb related to apples: "An apple a day keeps the doctor away". Indeed, adding apples to your daily diet helps supply valuable nutrients to the body. Raw apples with their peels provide up to 322% vitamin K, 142% vitamin A, and 115% vitamin C.
It is common to eat raw apples as a dessert fruit. Both flesh and skin of an apple are editable, except for the seeds and core. Juice, jams, cakes, or savory foods can be made with this healthy fruit.
Do you know all the health benefits of eating apples?
22. Pears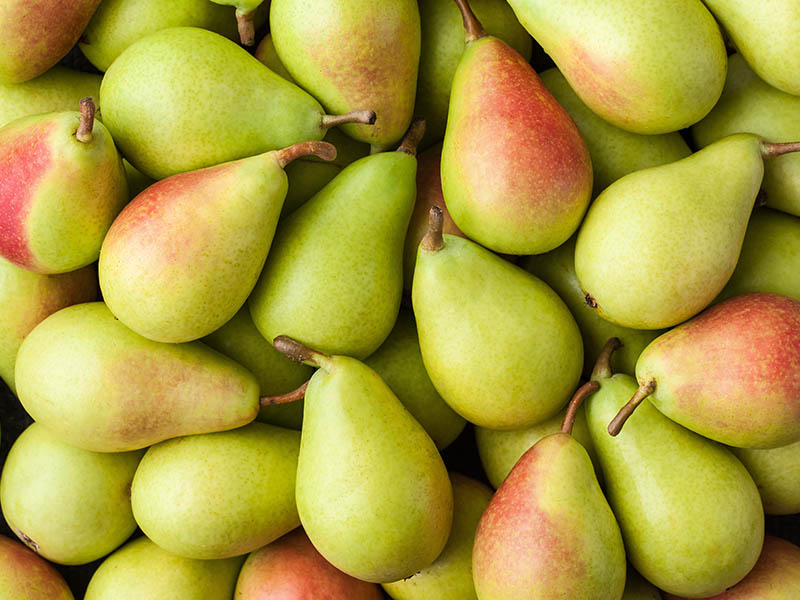 The winter is the best time to eat pears because they are rich in fiber and vitamin C. Pears are pretty diverse in types, with more than 3000 varieties of pears worldwide. Different kinds of pears will have different shapes and tastes.
Pears contain many irons and antioxidant nutrients. Hence, they have an essential effect on building the immune system. Consuming pear is helpful for people with diabetes, preventing allergies, skin diseases, and anti-alkali deficiency.
To choose the best pear, you can apply this small tip: Push slightly on the neck of the pear. If you feel the neck is soft, this pear is ripe. Pears ripen quickly at room temperature, so you should store them in the refrigerator to keep them fresh longer.
23. Quinces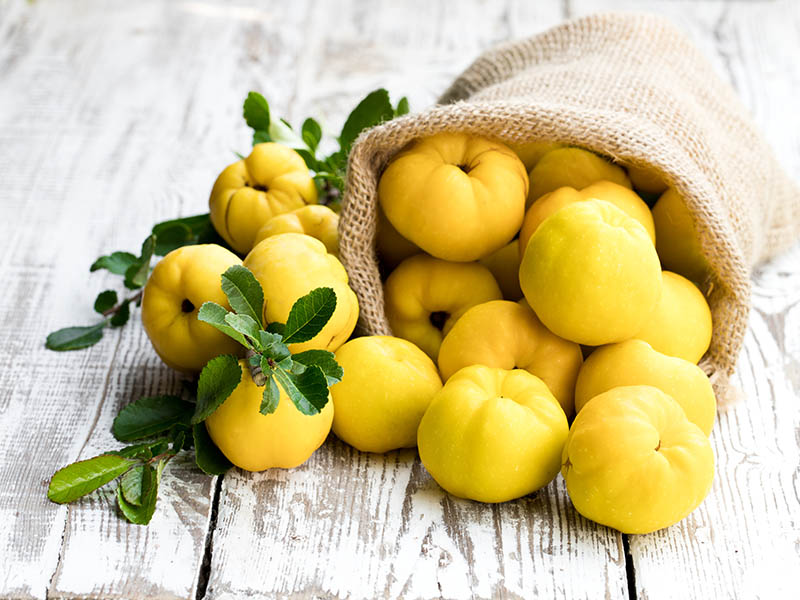 Quince is a lumpy, pear-shaped, bright golden-yellow fruit. It is a cross between an apple and a pear. Quince has a strong aroma, firm texture, and spongy flesh. The quince was a prominent part of the ancient Greeks and Romans' diet.
Since ancient times, quince has appeared around the Mediterranean. Some old people called this fruit "golden apple". In traditional medicine, quince is a medical ingredient to help relieve pain, prevent hepatitis bacteria, and promote heart health.
Most quince is still not edible when ripe; you must cook it if you want to eat it. Plus, because the quince's peel is so hard, cooking makes it softer and easier to cut. There are two types of quince that you can eat raw: Aromatnaya and Kuganskaya.
24. Dates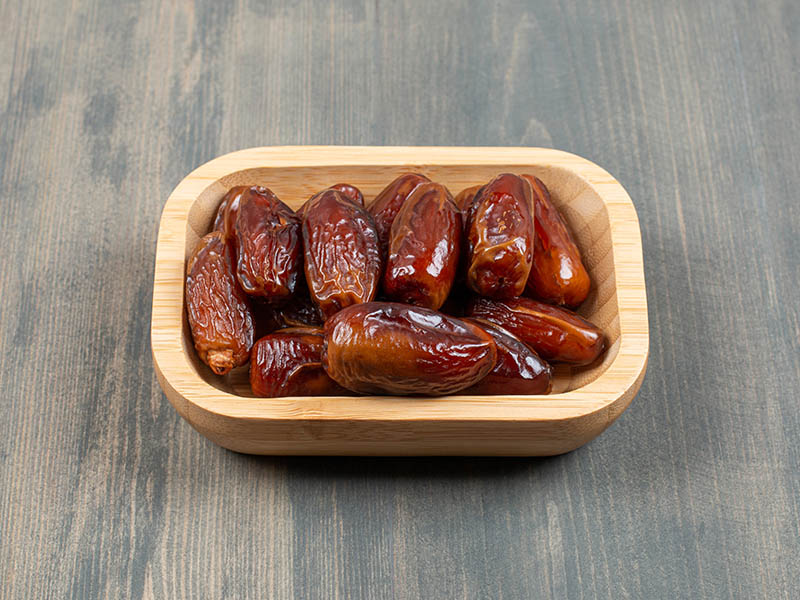 You can see many dates in North Africa, the Middle East, and South Asia. You can find this tree grown naturally in many tropical and subtropical regions worldwide.
Besides vitamins and minerals, dates contain the three most potent antioxidants: flavonoids, carotenoids, and phenolic acids. Eating dates help you prevent the risk of diabetes, Alzheimer's, cancer, and heart disease.
Dates are nutritious snacks for everyone. You can eat this fruit in two forms, fresh and dried. Fresh dates are low in calories and have shorter shelf life than dried dates, so people tend to prefer dried ones.
25. Rambutans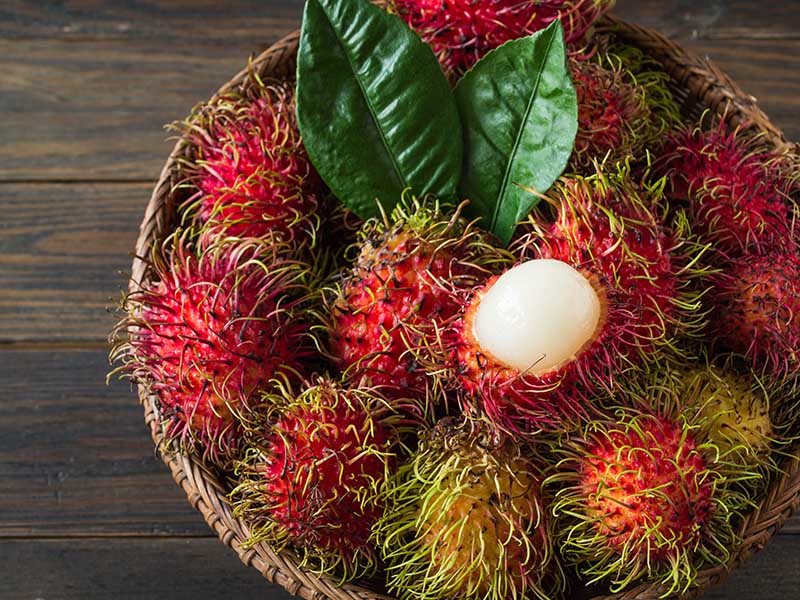 Originally from Southeast Asia, the rambutan is a tropical fruit. The name rambutan is from the Malay name "rambut", which means hair, to describe the hairy appearance of this fruit. Southeast Asia's top three rambutan-producing countries are Thailand, Indonesia, and Malaysia.
The outer skin of the rambutan will turn green to red when it rips; both adults and children love its sweet taste. Besides beneficial vitamins, rambutans contain many calories, fats, and sugars that are unsuitable for people on a diet.
You can find fresh rambutan easily in grocery stores. Rambutan has a short shelf life. If you want to store it for a long time, you should place your fresh rambutan in the refrigerator. The cold temperature can put back the ripening of fruit.
A detailed guide about how to eat the rambutans.
26. Strawberries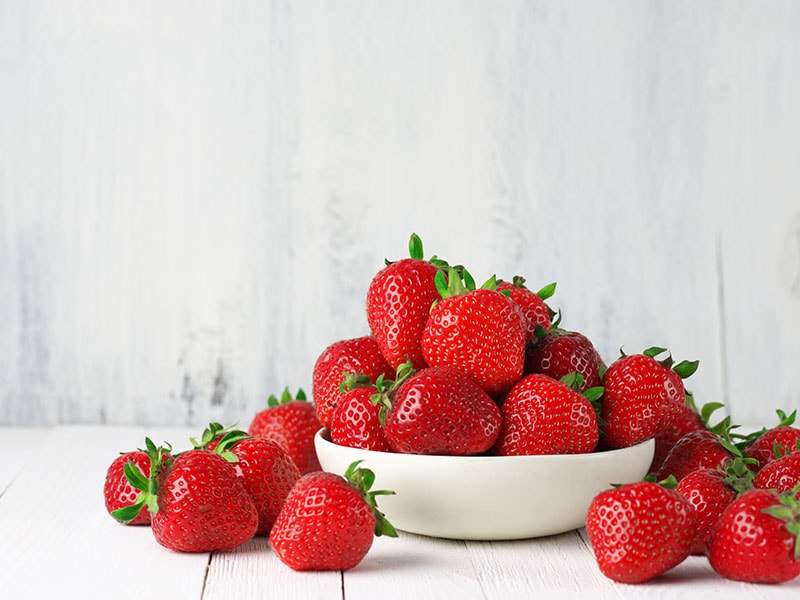 Strawberries are the only fruit with seeds on the outside, with an average of 200 seeds per strawberry. Contrary to what many people mistakenly believe, the strawberry is not a berry but belongs to the rose family.
This fruit contains antioxidants that help prevent cancer cells, Alzheimer's disease, and other neurological impairments. Women eat strawberries to regulate menstruation and rejuvenate the skin.
Not all strawberries are red! Strawberries have many other colors, such as yellow or white. Snow White strawberries are white and are the most precious and expensive strawberries globally!
How Many Fruits Above Can You Name?
How many fruits do you know on this list? Which fruits are your favorites?
I hope this list will be helpful to you when winter arrives. Surprise your friends and family with your knowledge of winter fruits and the health information they can bring to all of you.
If you find this helpful information, please remember to share it with your loved ones and tell them how much you care about their health! Don't forget to leave a few comments if you want to add more winter fruits to this list!