Summer comes with high heat, so the best summer snacks should help you cool down or forget how hot it is for a while. It's easiest to go for a cold snack like ice cream or frozen bites.
However, there are many more recipes that can help you relax and escape the heat without having to come from your fridge. This article compiles such treats while maintaining conventional cold snacks for you to make.
Note that a lot of these recipes are simpler than their names suggest, so I encourage you to give all of them a try if you haven't before. Now, let's get started!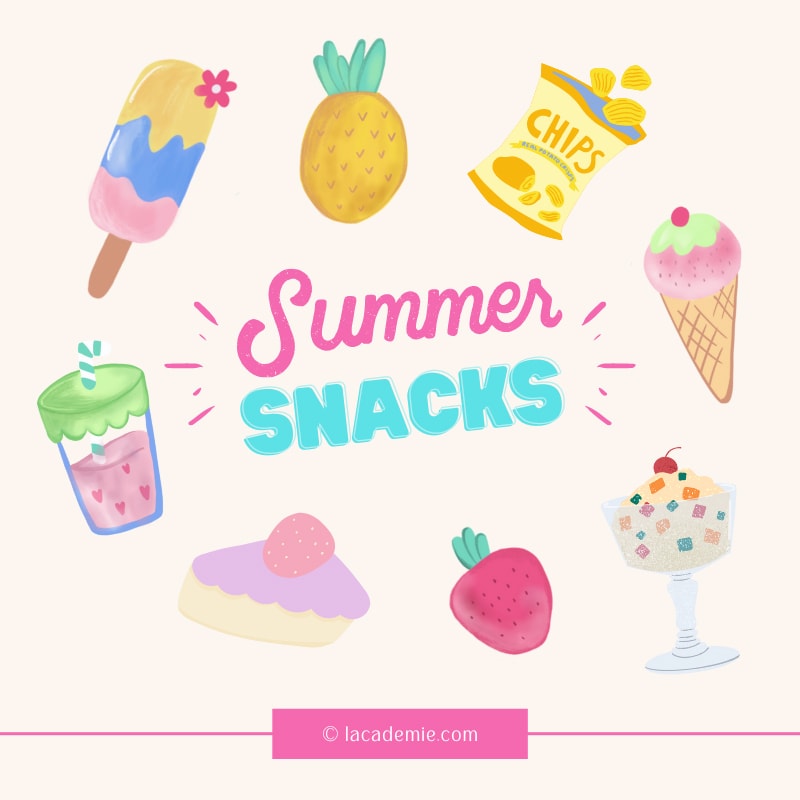 Find Your New Go-To Summer Recipe Among These Amazing Names
Do you like a sweet or salty snack? Are you in for a fruity treat or crispy bite? Regardless, going through this list will give you what you need. If you have no idea what type of snack you want to make next, I'm sure these recipes will help you as well.
Total time: 40 minutes.
Watermelon feta salad with avocado is an unexpected combination involving watermelon, mint, feta cheese, avocado, and red onion. The snack offers both sweet and savory tastes in one delectable mouthful. Strange as it seems, this dish is a winner!
You get a full package of crunchiness from watermelon flesh and smoothness and creaminess from the avocado when it comes to texture. This is assisted by the crispiness of the onion. Lastly, the juice from watermelon helps blend every ingredient.
To get the best result from this recipe, pocket these tips for choosing watermelon. You should pick the one that has a large yellow spot and feels heavier than it seems. Also, tap the fruit. If it makes a deep sound, the watermelon is ripe and juicy.
Total time: 40 minutes.
This peach crisp dish is incredibly simple and tasty. Baked fresh peaches with simple syrup and a fantastic cinnamon oat topping. Serve it with a scoop of vanilla ice cream while still warm.
My favorite fool-proof method to remove the peach skin is placing two to three peaches at a time in a saucepan of boiling water. Wait for half a minute, then move them from the pan into an ice bath. This way, you can peel the peaches even without a knife.
My favorite topping is ice cream, but you can tweak it and opt for yogurt, whipped cream, or coconut whip instead. It totally depends on your appetite.
Is this your first time working on fresh peaches? Follow this instruction to cut peach slices properly.
Total time: 5 minutes.
I'd like to call this Smores snack mix the family recipe. It's easy to prepare, doesn't even require any cooking, and is deliciously made up of several types of snacks both adults and children crave.
Whether you are lazy on a summer afternoon or have to fix a plate for your kids and their friends quickly, this one won't let you down. Simply take out chocolate chunks, cereal, pretzel sticks, and marshmallows, then mix them on a big plate and serve.
This snack is so easy even your kids can make one themselves. On top of that, you can follow the recipe or adjust the amount of each ingredient as you like.
Total time: 3 hours and 15 minutes.
Peaches are harvested between mid-May and mid-August. This fruit is crunchy and juicy when served fresh, making it a perfect ingredient for summer snacks. In this recipe, I want to introduce a different approach to enjoying peach: oven-dry it.
Apart from that, oven-dried peach can be the ultimate vegetarian dish for the summer. It could be your new best friend because peach is the only ingredient in this snack, so the dish is completely meat-free.
Oven-dried peach chips taste awesome in trail mix, with granola, or just on their own. However, pick your peaches carefully as they directly determine how sweet your chips will be.
Total time: 1 hour.
I cannot say enough how happy I am to find this amazing summer delight. It's cold, delicious, healthy, and perfectly sweet. You and your sweet tooth can munch on a bowl full of these frozen blueberry bites without feeling guilty about consuming too much sugar.
If that's not appealing enough for you, these flavor bombs are super easy to make. Simply dip each of them in any yogurt of your choice, place them on a plate or baking sheet, and put the whole thing in the freezer.
You can use a toothpick to dip each berry to get nicely shaped bites. But when I'm lazy, I just pour the berries into the yogurt all at once, then take them out one by one.
You can add maple syrup to your Frozen Blueberry Bites for more sweetness. Find out how in this video.
Total time: 10 minutes.
When you have friends over, treat them with a big bowl of this toothsome summer fruit salad. Never are there any leftovers! Best of all, it takes only 10 minutes to prepare this snack, so you can quickly fix a bowl if there are surprise guests.
You can follow this recipe for summer salad and use blueberries, grapes, kiwi, mango, pineapple, and strawberries. Yet, you can choose any fruit you like and buy it at the store. Just dice them into bite-size pieces, and mix them up with honey and lemon juice.
The only thing you should keep in mind is to pick fruits that balance out each other's taste. Choose some sweet fruits, some tart ones, and avoid watery fruits.
Total time: 14 minutes.
Beach Bum Chex mix comes into my list as another simple, easy snack for your entire family. It's the perfect recipe when there are a lot of crackers and cereal in your cabinet. Yet, you need to spend a little more time and effort than preparing the smores snack mix.
Besides mixing cereals and crackers, you need to microwave butter, add dry ranching mix to the bowl, and stir well for an even mixture. Lastly, adding cheese balls gives the snack a salty, fatty touch, balancing its overall flavor.
Total time: 10 minutes.
Watermelon pizza contributes its tropical vibe to this list through its flavor and its look. You can serve this dish as a snack or dessert for a summer day, and your diners will always be pleased.
Combining blueberries, cherries, pomegranate seeds, raspberries, strawberries, watermelon, yogurt, and syrup, the snack offers a flavor blast packed with a colorful appearance. Any yogurt would make a great pizza, but Greek yogurt offers creaminess.
Total time: 5 minutes.
Banana sushi is a healthy snack you can rely on when you have an empty stomach, and I'm sure your kids will love these banana rolls, too. This snack is made up of simple ingredients available at most homes at any time: Nutella, peanut butter, banana, and tortilla.
I get it; not all families have tortillas around. But you can easily replace it with thinly rolled sandwich bread. It will still be tasty.
If you don't have sandwich bread or tortilla, you can still make Banana sushi by following this recipe.
Total time: 5 hours and 10 minutes (including freezing time).
This snack doubles as a dessert and comes in handy when your family goes out to do some sports activities for the afternoon. Then, you go home to this stomach-filling, body-cooling, mouthwatering treat.
There are only four ingredients in this recipe, but each dedicates different values to a kid-friendly snack. Yogurt provides protein, vitamin B, and calcium. Peanut butter offers healthy fats and minerals; natural peanut butter will be even better for this recipe.
Meanwhile, banana is rich in antioxidants, dietary fiber, and vitamins B6 and vitamin C. Chocolate chips have antioxidants, too, and are super tasty.
Total time: 10 minutes (excluding egg boiling time).
Deviled eggs are the "evil" snack because they are so yummy that they tempt you to eat daily, but you know you should not. These bite-sized pieces also take a short time to make, so you can quickly make a batch after getting home from work.
The trick to perfect deviled eggs is boiling them right. You need to put raw eggs in a saucepan and cover them with water. Then, turn on high heat, and remove the saucepan from heat as soon as the water boils.
Cover the saucepan and let the eggs sit in hot water for 10 minutes. Once the wait is over, take the eggs out and submerge them in an ice bath.
Total time: 45 minutes.
If you have done regular fries for years, it's time to tweak this dish with some Greek-style dressing. First, fry your fries as usual. This step may be easy but take the most time in the process. If you have never made fries before, just follow the manufacturer's instructions.
Once your fries are done, toss them with parsley, olive oil, mint, oregano, salt, and pepper. Lastly, top them with tomatoes, crumbled feta, lemon zest, and green onions. The dressing and topping add a completely new flavor to your fries.
While Greek-style fries are a popular side dish, you can always have them as a light snack between main meals. Just remember to serve them warm for the best taste.
Total time: 6 hours and 15 minutes (including freezing time).
If tiny frozen bites like the blueberry recipe are not enough for you to escape the heat, these fruit popsicles should do the job. You can get your favorite fruits from the store or use what's already in your kitchen to make these refreshing, chilling popsicles for peak summer days.
In terms of juice, like with the fruits, you can utilize any juice sitting in your fridge. I only recommend you keep the flavor balance in mind. It means the taste of the fruits and the juice should come together to form a popsicle that's not too sweet or too sour.
For example, when you make fruit popsicles with a lot of berries, you may want to add extra sugar to your juice because berries are often sourer than some other fruits.
Also, try to stuff as many fruits into the mold as possible. This way, the final results will be the most eye-catching and delicious.
Here's how to make the most fulfilled fresh fruit popsicles.
Total time: 40 minutes.
Baked cauliflower is one of the most versatile dishes you'll ever know. Not only a snack, but you can make it for an appetizer or even a main dish if you like. More importantly, this recipe makes cauliflower taste nothing like the cauliflower you remember.
With a lot of seasoning and a dipping sauce of your choice, you can relax and enjoy a crispy yet soft piece of veggie. Milk, paprika, pepper, salt, and turmeric come together and form a flavor blast in your mouth.
Baked cauliflower is straightforwardly fun to make and delicious to taste.
Total time: 1 hour and 10 minutes.
Greek yogurt is one of my favorite ingredients for the summer. I always have a big fair in the fridge. It can be a great dressing for almost any salad and a yummy dipping sauce for an afternoon snack.
At the same time, roasting makes the sweetness of strawberries pop out. This is paired with the amazing scent of the fruit, resulting in a complete package of taste, smell, and look.
You can serve these roasted strawberries with the feta dip or throw in some toasted bread if you are hungry. Regardless, it makes a refreshing, delicious snack in the summer.
Total time: 8 hours and 15 minutes.
Requiring no cooking or complicated preparation, this recipe is the ultimate option for a gourmet party snack. Not only is it easy, but Alabama firecrackers are also cheap and delicious.
All you need is multigrain saltine crackers, which you can simply buy online or from the store; no cooking is needed. Then, make the dressing by mixing garlic powder, vegetable oil, black pepper, onion powder, crushed red pepper flakes, and ranch dressing mix.
Put the crackers and the dressing in a bag or plastic container, and let it sit overnight. During the first few hours, you should flip the bag once every hour for an even flavor.
Total time: 2 hours.
The period from mid-April to late July is cherry season, and summer is not complete without a touch of this fruit. Cherry is both sweet and sour, delivering a refreshing feel to you and cooling your down within seconds with its juicy texture.
This flavor is present in cherry hand pies, too. When making these delicious pies for the summer, be patient with the dough. It may seem dry and shaggy, but it will come together. Don't rush into adding more liquid. Just keep kneading properly.
Total time: 15 minutes.
There is more than one way to enjoy fruits in the summer, and putting them on a skewer is a fun one to try. Any fruit works for this snack, but choosing fruits of different colors will ensure a beautiful rainbow color mix. The more fruits you add to the skewer, the more tastes you get.
When it comes to the dipping sauce, you can follow the recipe and make a marshmallow dip or switch to a yogurt dip.
Total time: 45 minutes.
Originally, the pinwheel was not a type of food. It refers to a toy made with paper and a stick, where the paper curls spin if they come in contact with the wind.
In the culinary world, a pinwheel resembles this toy, including a filling made of several ingredients rolled up in a tortilla. When you slice each roll, the pieces look like colorful pinwheels spinning.
The recipe I'm introducing to you uses broccoli, carrots, and cauliflower for the filling. Yet, feel free to alternate them with different vegetables of your choice.
If you want your Veggie Pizza Pinwheels to have additional fatty flavor, here's what you can add to the recipe.
Total time: 5 minutes (excluding celery cutting time).
Ants on a log are the classic kid snack anyone must know. The name checks out as these lovely bites are long featuring nuts that look like little ants running on a log.
This kid-friendly summer treat allows for various variations, and you just have to change the fillings with the type of nuts you like. Also, if you or your kids are allergic to peanut butter, you can replace it with almond butter.
Total time: 3 hours.
Frozen yogurt bark is not suitable for those with a sweet tooth. But if you crave refreshment and cold mouthfeel in the summer, this snack is your savior. It's a bit tart, frozen, and energizing.
The best kind of yogurt to make this snack is Greek yogurt. It offers a thick, creamy texture and a fatty flavor that other types of yogurt can't compete with. Apart from that, maple syrup serves as a great sweetener because it has a deeper flavor than regular sugar.
On a side note, those who want to make this snack vegan just need to replace Greek yogurt with dairy-free yogurt.
Total time: 10 minutes.
Peanut butter banana smoothie earns a place on this list as a healthy snack, but it doubles as a quick breakfast. It's extremely thick, creamy, smooth, and nutritious. The smoothie also takes little effort to make.
You need to place peanut butter, bananas, yogurt, vanilla, honey, and milk in a blender. Let the device do its job until you get a smooth, thick mix. If the smoothie comes out too thick for your appetite, blend it with more milk.
To make sure the smoothie is cold to cool you down, chill all the ingredients in the fridge from the night before, or add some ice to the blender in the process.
This chef shares a secret to making the perfect Peanut Butter Banana Smoothie.
Total time: 15 to 25 minutes.
A macaroon is a small biscuit or cake comprising groundnuts, sugar, and optional flavorings. These tiny bites are toothsome, carrying coconut's signature fruity, sweet, and milky taste.
I'm introducing to you a basic coconut dessert recipe so that you can make adjustments to obtain a batch matching your appetite. For instance, you can add nuts or chocolate as fillings for your macaroons. If you want some refreshing feel, add dried fruits to them.
Total time: About 40 minutes.
These sweet treats are the perfect snack for hot days. They are refreshing, mouthwatering, and don't involve any heat. That's right, no cooking, no baking, so you don't have to worry about sweating before enjoying this snack.
In case you accidentally make much more than you can eat, you can store the mix in the fridge for a few weeks or in the freezer for a few months.
Total time: 10 minutes.
Guacamole is a Mexican dish with avocado as the main ingredient. It can act as a dipping sauce, spread, or standalone salad dish. Guacamole is naturally smooth and creamy, thanks to avocado.
However, it also delivers the heat from jalapeño, a popular Mexican chili pepper. If you are passionate about spicy food and don't mind suffering extra heat in the summer, make some Guacamole. Serve it with tortilla chips for a filling snack.
Total time: 2 hours and 35 minutes.
I can get snacky any time, and it's best to have food around the house that I can eat immediately. Therefore, every once in a while, I make a few batches of pretzel rods because these little flour-based sticks can last for up to two weeks.
Pretzel rods offer crunchiness along with a salty flavor. You can eat them alone or with different dips like chocolate dip, peanut butter, caramel, and cilantro pesto.
There's an easier way to make Pretzel Rods without kneading the dough. Check out this instruction.
Total time: 30 minutes.
These crunchy chips are perfect for movie nights. Whether you're enjoying them alone or with friends and family, this snack makes a great tweak to your regular potato chips.
The flavor of baked sweet potato depends on the amount of salt you use. If you follow the recipe, the outcome is a sweet-salty snack. If you use less salt than that, the lack of salt will boost the sweet taste. If you use more salt than the recipe, you will end up with a savory snack.
Lastly, you can serve baked sweet potato chips alone or with a creamy, tangy dip for additional flavors.
Savor Your Summer With These Easy Recipes
There are countless summer snacks for your to choose from. Whether it's a relaxing weekend or a busy workday, you can always rely on this list to pick a suitable recipe for your light meal.
If you have time, make some effort and experiment with Pretzel Rods or fresh fruit popsicles. If you don't, just mix up a smores snack mix and enjoy a movie after a hard-working day.
I hope you will find what you need in this article. Also, know someone who can benefit from these amazing summer treats? Share the article with them and turn a hot summer into a toothsome season.
Nutrition Facts
4 servings per container
---
Amount Per ServingCalories75
% Daily Value *
Total Fat 4.2g

7

%
Cholesterol 1mg

1

%
Sodium 76mg

4

%
Potassium 141mg

5

%
Total Carbohydrate 7.4g

3

%

Dietary Fiber 0.9g

4

%
Sugars 4.8g

Protein 3.3g

7

%
---
* The % Daily Value tells you how much a nutrient in a serving of food contributes to a daily diet. 2,000 calories a day is used for general nutrition advice.