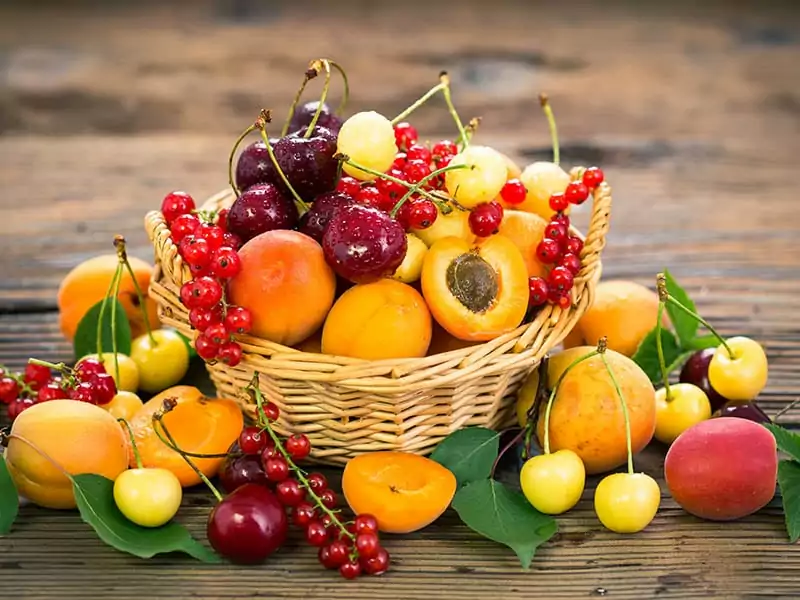 These 22 summer fruits are waiting for you to try during this hot summer. Especially when they are at their best, they will make your summertime more unforgettable.
More than a relaxing vacation around the beach, summer heat makes you a bit grumpy and severely drains your energy. For this case, do you know how to smartly cope with hot weather to keep yourself cool without staying all day under an air-conditioner?
Enjoying fresh fruits, of course! Here I list for you these fruits in specific types so you can know which to choose for your favorite snack. Now, let's hydrate yourself with them!
Berries And Citrus Fruits – The Signature In Summer
Topping this summer fruits list are berries and citrus. When it comes to handling the hot season, juicy berries and flavorful citrus fruits are the first you should look for.
1. Blueberries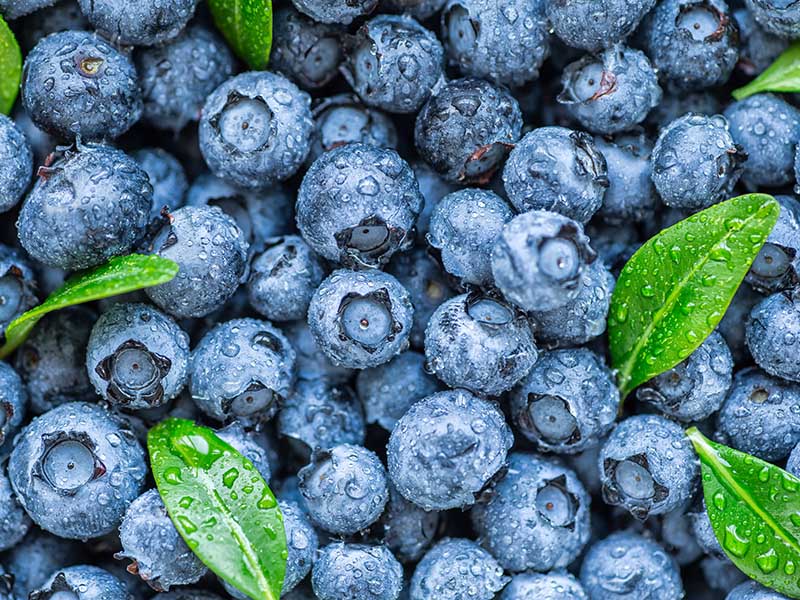 Blueberry is widely distributed in many North American, European, and Asian countries. You may love eating these fruits because they are so sweet, fragrant, and delicious without realizing how powerful they have for your health benefits.
Blueberries have a very high nutritional value, with many nutrients like phytonutrients, vitamins, carbohydrates, and fiber. So, eating them frequently will help you improve your immune system, anti-aging, and many other diseases.
Blueberries are multi-purpose in daily life. You can use them as jam, jelly, or powder, and for if you are interested in having a glass of blueberries cocktail to survive the heat, it's still the best choice to call it a day.
2. Grapes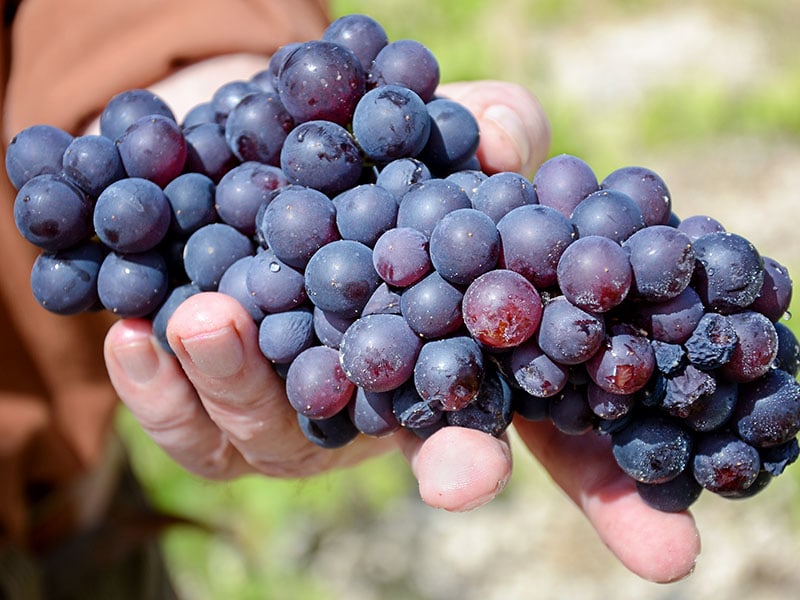 Grapes have been cultivated for thousands of years worldwide. Part of the berry family, grapes are one of the most easily accessible fruits on hot days. Whether you eat fresh or dried grapes, they still earn a prize of wonderful go-to finger snacks.
As they are everywhere and easy to afford. Therefore, make sure to always have this nutrient-rich fruit in your fridge. You can also find them useful in terms of supporting immunity, providing anti-aging antioxidants, or against cancer, among other things.
Apart from consuming raw grapes, you can try to consume them in more interesting forms such as desserts, juice, or wine. What can be better? Let's brighten up your hot feeling with a bunch of sweet and sour grapes.
Want to make grape juice with easy instructions? Here is the recipe for you.
3. Mulberries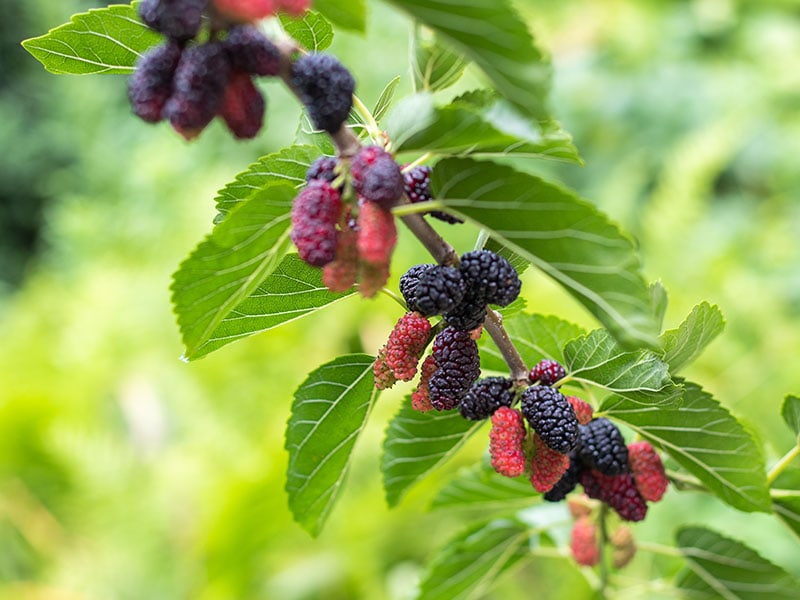 Mulberries initially outgrow in South Asia and across North America. These fig-like fruits taste very chewy, crunchy, and sweet, a sensation that is addictive to most fruit lovers. They will taste less sweet than blueberries and can ripen in various colors: white, red, dark purple, or black.
This berry is rich in iron, vitamin C, and antioxidants and contains a high level of flavonoids. Therefore, they offer you a wide range of health benefits. You will be surprised by how these little fruits can positively boost your physical, cognitive, and emotional health.
Take a bunch of mulberries, mix them with other fruits in a bowl of ice cubes, and join the berries party. Or you can make them into iced juice or a glass of mulberry wine. What a great way to have a luxurious beverage to release the heat away.
4. Strawberries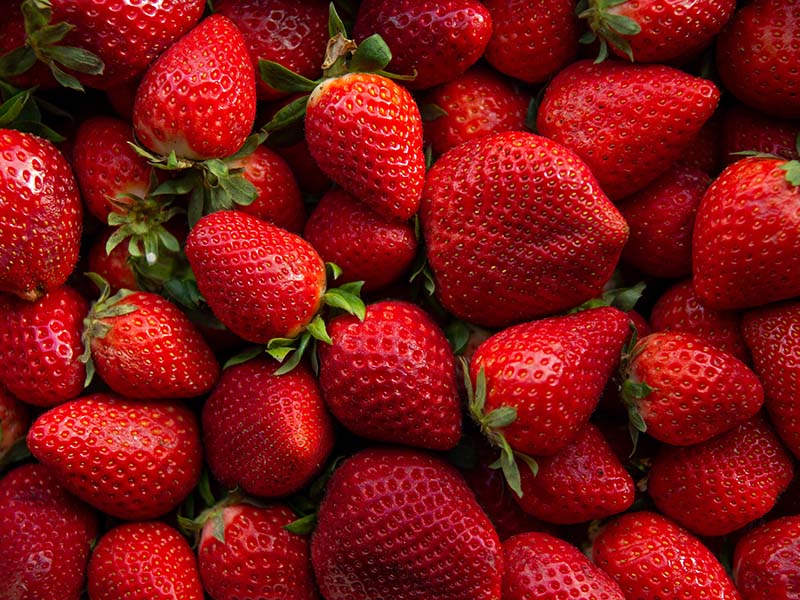 There is no way ruby-red strawberries cannot be mentioned in the summer list. Even before you taste these insanely sweet and antioxidant-loaded strawberries, their heart-like shape already makes you love them at first sight.
Strawberries taste the best when consumed fresh, so you should know how to store them in such a hot season. Cover them with an airtight container with paper towels and keep them in the fridge for 7 days at most. Here is another tip: only wash them when you're ready to eat.
Besides their diverse use in food and drink, this highly-nutritious food can involve many preventive and therapeutic health benefits. Therefore, your summertime can be saved if you add strawberries to your daily diet.
5. Lemons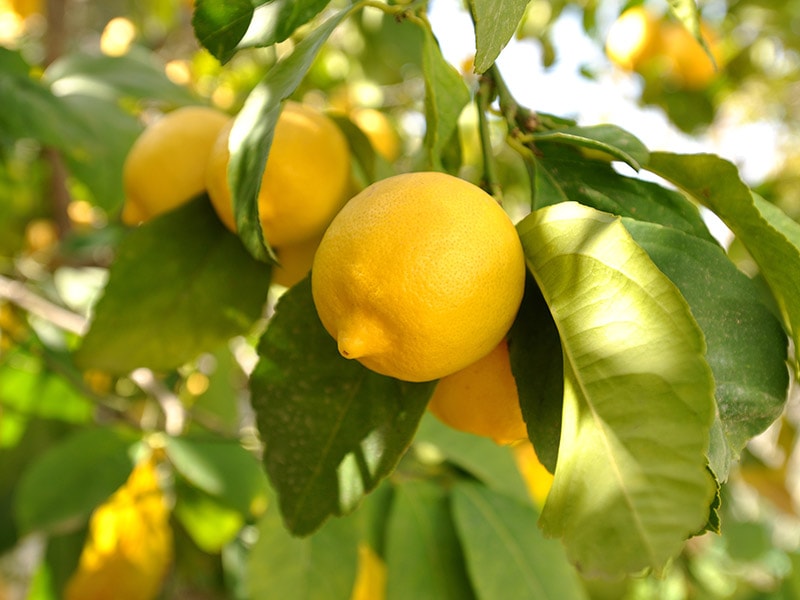 Don't confuse them with limes. While limes are small, round, and green, summer lemons are larger with an oval shape and bright yellow skin. Lemons have a sweeter but less tart taste, so it is best to serve them in lemonade to save your day.
Lemons are available year-round, especially in North America, but they develop the most in summer and create a great refreshment for users. With a packet of vitamin C and 89% of its weight as water, lemons will quench your thirst very quickly.
You can make various drinks or food out of these lemons, but don't forget this fruit is also a great life hack for other practical purposes. For example, it can act as furniture polish to bleach all the stains and dirt away.
Try to make a homemade lemonade for your family to beat the heat.
6. Valencia Oranges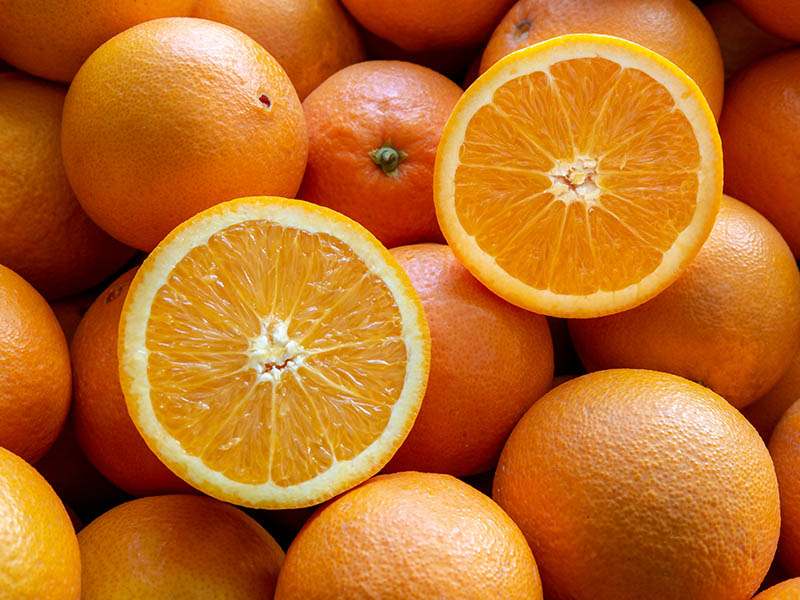 As you can guess from the name, Valencia oranges originate from Valencia, Spain. But you can also find them in California and Florida. If you are looking for juicy and sweet oranges, this fruit beginning with the letter V will be your best option. It is the only type of orange to bear fruit in the summer.
Sometimes when you make orange juice and do not use it immediately, the liquid becomes bitter, right? However, these Valencia oranges are a different story. They don't have limonin (the substance that makes the juice bitter), so they remain perfectly sweet even after the air exposure.
This golden-orange skin fruit will be best to serve in juice or marmalade for your summer days. You can also make use of its utilized juice containing a high level of vitamin C and flavonoid to add to cooking recipes.
Still Not Getting Over The Heat? Try These Tropical Fruits!
Now let's jump to your favorite tropical fruits. They are classified as tropical fruits for growing primarily in tropical and subtropical climate environments. As they live in such a humid condition, these tropical fruits always contain a high level of water content.
7. Bananas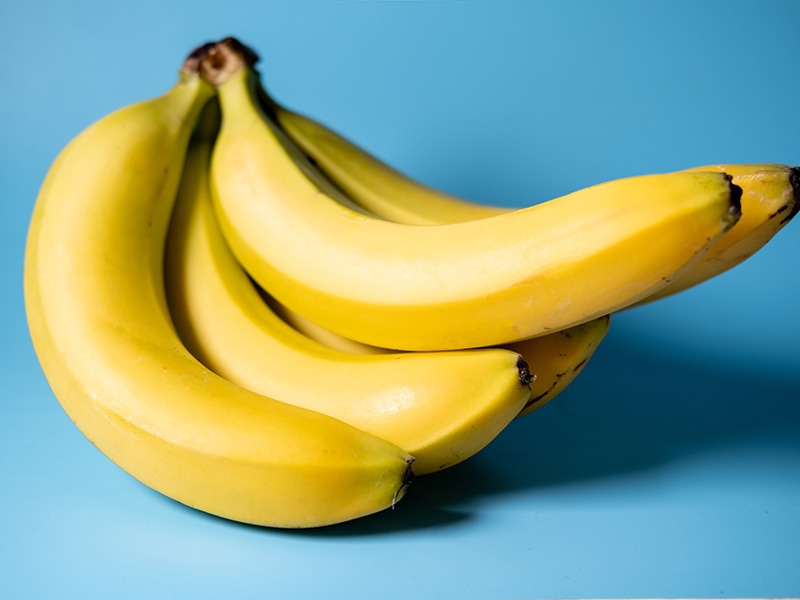 Bananas are loved worldwide due to their sweet flavor, high nutritional value, and all-year-round availability. Especially, banana becomes abundant when it comes to the summer season.
There are a large number of banana varieties. In the US, you can usually find the Cavendish cultivar in markets and supermarkets.
As fruit from tropical regions, it delivers various contents of dietary fiber, vitamins, and minerals. This fruit is also helpful to your brain function and improves memory. Therefore, if you sometimes have headaches under sunlight, try this fruit frequently.
Instead of consuming them raw and fresh, you can use bananas for your beverages, smoothies, cakes, or salad. No matter how you use them, moderate consumption, about 2 bananas per day, will be best for your health.
8. Kiwi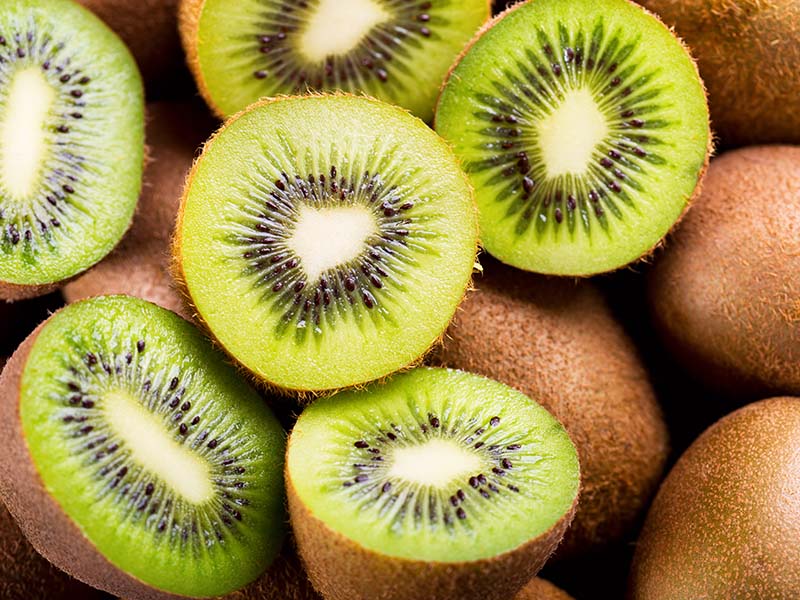 Kiwi fruits are native to eastern and central China. But by the early 20th century, they spread to New Zealand and other parts of Europe and America. This fruit contains a variety of nutrients and high content of serotonin, which can help you reduce insomnia and enhance concentration.
Kiwi, however, requires some effort to clean. Besides rinsing it under running water, use a firm scrub brush to remove the dirt on the skin. You can also eat the skin, so clean it well to safely consume and not get sick.
This sweet and subtly tart fruit has common uses for cooking (as a meat tenderizer or desserts topping) and medicine (asthma treat). For summer treats, kiwi is a perfect ingredient for drinks, from juice to cocktails.
Learn to cut kiwi for the most aesthetic look on your fruit plate.
9. Coconuts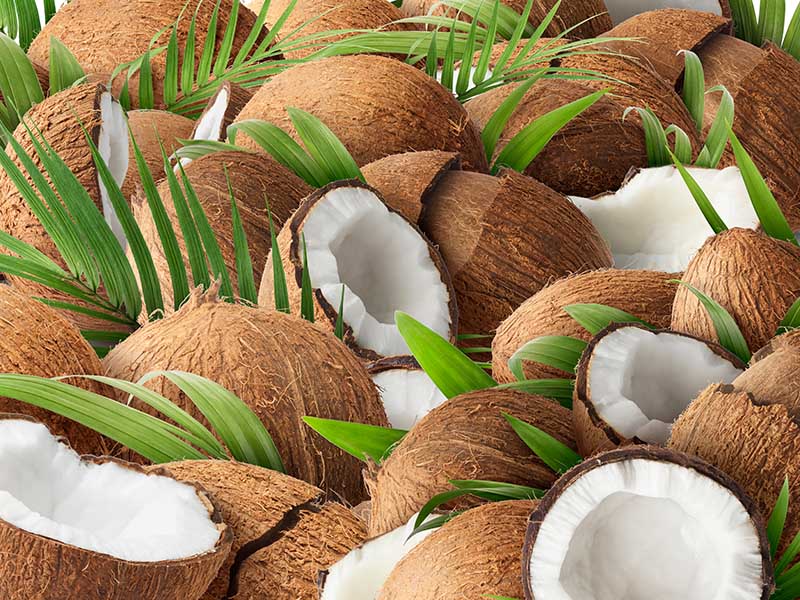 Well, another signature to mention in hot summer! Coconuts are a type of fruit that is associated with summer. Its water is one of the most refreshing and delicious drinks to keep you cool throughout the whole day.
When hot weather makes you sweat and you feel so drained out, coconut water will replenish your body with electrolytes (potassium, sodium, and magnesium), vitamins, and minerals.
For such benefits, heat stroke, dizziness, or whatever illness caused by hot weather are less likely as long as you have coconuts at hand. Besides, coconut also has many great commercial uses for people, such as making beverages, cooking, medicine, and cosmetics.
10. Guavas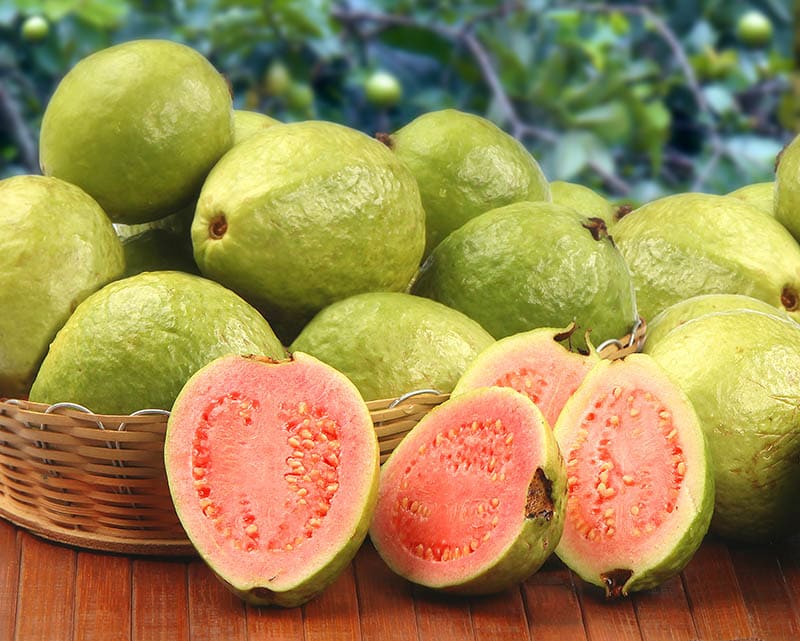 Guavas originate from the Americas. Nowadays, India, China, and Thailand are the world's top producers of this tropical fruit. They can be expensive for you if you don't live in regions with the same kind of climate.
Guavas' flesh is commonly in 2 main colors: white and pink. You will be surprised to know that guavas have more vitamin C than lemons. Moreover, they are well-known for being a traditional remedy for health benefits and medicinal properties.
Guavas taste floral and sweet with a crunchy bite. With a bit of spicy, salty sauce to dip in, you will not be able to resist eating this fruit for the whole day. Using it in juices will also be a perfect choice to refresh your body in hot summer.
11. Papayas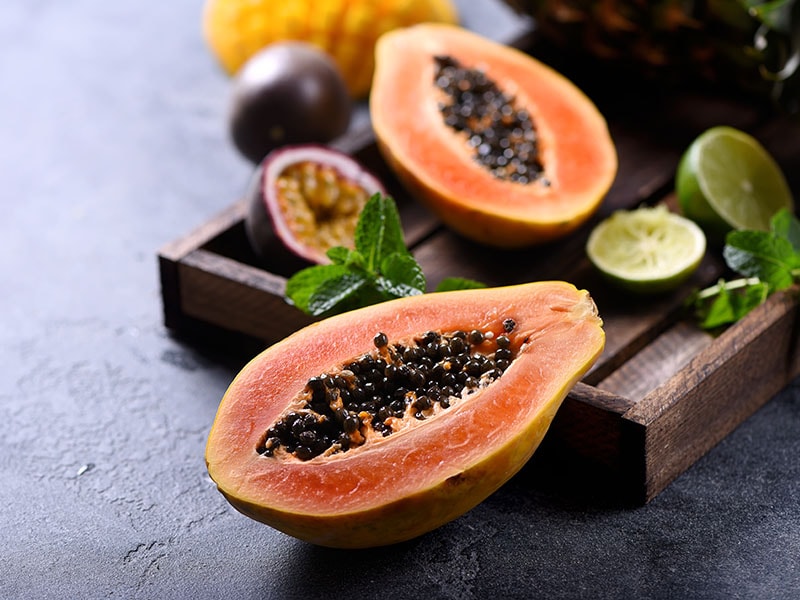 Papaya was originally from southeast Mexico and Central America. It is often described as having a similarly charming taste to mango with its sweet, succulent flesh. However, unripe papayas can emit white, sticky latex that can release an annoying smell.
However, once it's perfectly ripened, papaya is such a delicate treat for your summer. This is a healthy fruit, providing your body with plenty of nutrients, vitamins, and phytochemicals that can fight the heat during the summertime.
If you suffer from the extreme heat, try a papaya smoothie to hydrate your body. When you go on hiking trips or engage in outdoor activities, bring along these healthy papaya snacks to boost your energy.
It is super easy to make healthy papaya smoothies. Why don't you try it now?
12. Mangoes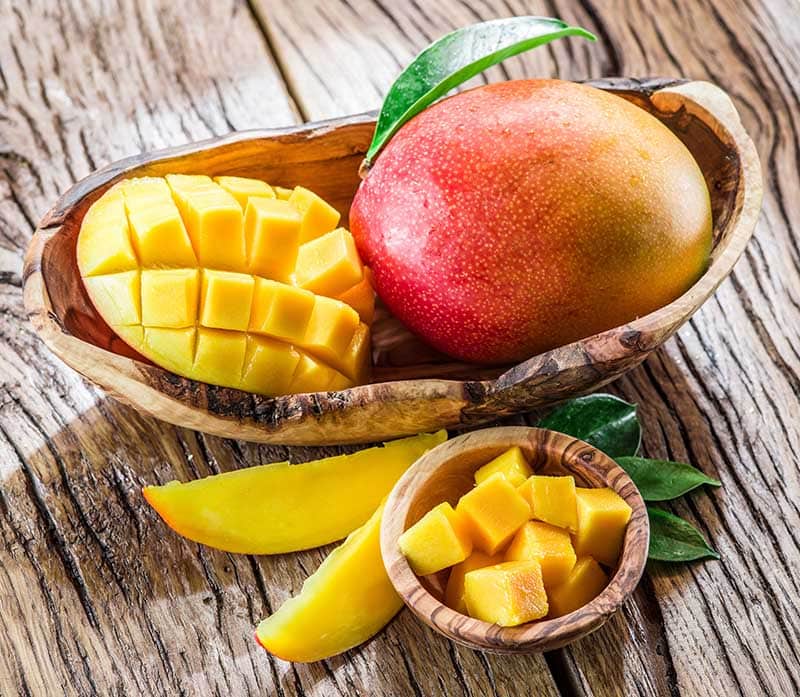 This tropical fruit is a go-to fruit for most people in India and South and Southeast Asia. Besides eating raw mangoes, you can use them in various dishes. They came to the US market during the 1800s and became a popular fruit to local people.
You may not know that mangoes are often called the "King of fruits". They are easy to eat, sweet, and delicious, so they are very popular for plant-based foods and drinks. Also, mangoes deliver a healthy pack of nutrients, vitamins, minerals, and antioxidants.
Depending on each person's preference, you can enjoy either green mango or ripened one. The former offers a sour taste and crunchy texture, so it's best to serve them in a salad. Meanwhile, the latter has a strong flavor and intense sweetness, which is best for a smoothie.
13. Pineapples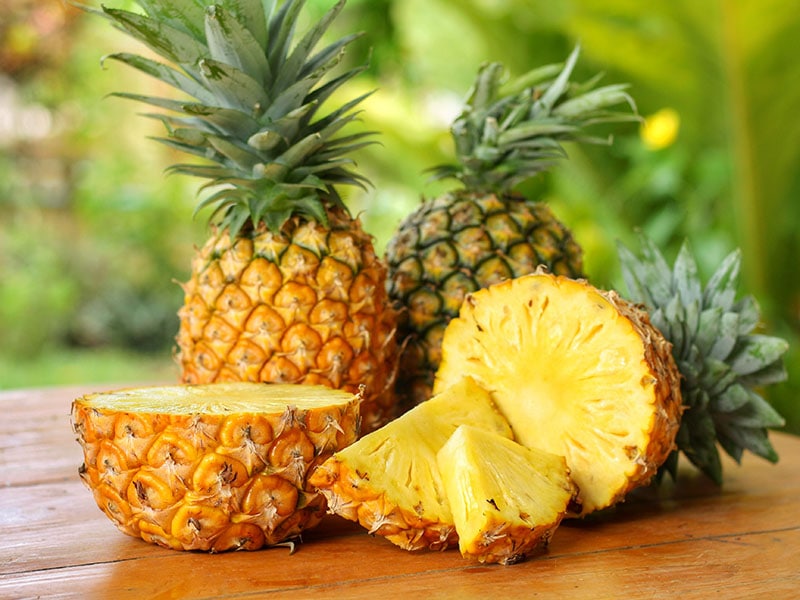 Here is another appealing fruit in summer. Pineapples are a staple crop in many tropical countries, from Asia to the Americas. This sweet delight can bring instant heat relief to your body, which explains why pineapples are essential to have during the summer season.
This fruit is known to be low in calories but rich in vitamins C, B, and manganese. You can also get dietary fiber by having this fat-free and cholesterol-free fruit every day.
Don't miss a chance to taste these juicy, sweet, and firm-textured pineapples under the severe heat. There are various ways for you to consume this delicious fruit, from pineapple juice, smoothies, jam to toppings on your favorite cocktail or ice cream, savory meals, and so on.
Pineapples have horny skin, which requires you the right method to cut them.
Other Choices For Cooling Your Summer With Stone Fruits!
Stone fruits get such a name for having a hard-centered pit surrounded by the fleshy outer area. They are all healthy, nutritious, and especially good for people with diabetes. Let's find out if any of your favorites are on the list.
14. Apricots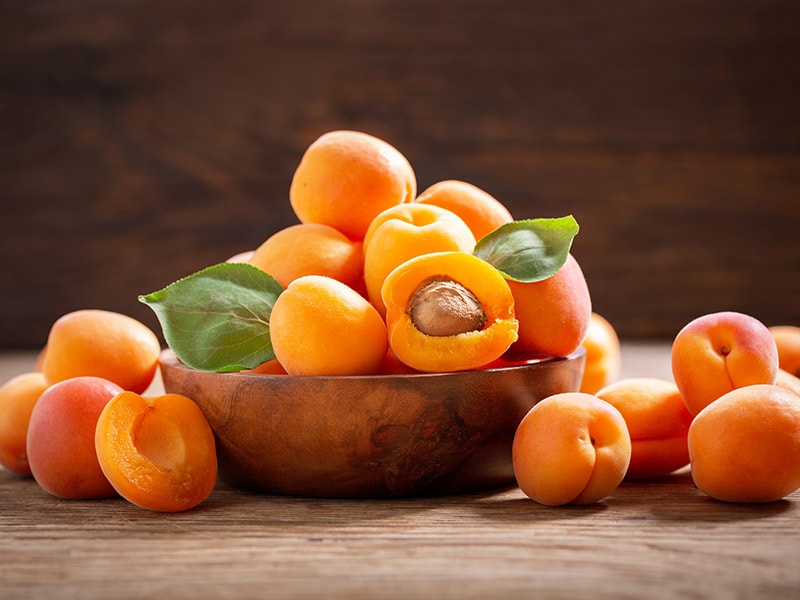 This small, round type of stone fruit is native to China, but they are also available in many countries around the world, such as New Zealand, Turkey, and the US.
Apricot's flesh is crunchy to chew, and its sweetness is on par with that of a peach. It remains a favorite fruit in summer due to being luscious and fragrant to taste buds. However, its kernel contains toxins and can result in poisoning if accidentally eaten.
The fresh apricot is good for healthy skin and anemia, while the dried apricots are known to strengthen your nerve function and bones. However, don't take them too much if you have issues with allergies or low blood pressure.
15. Cherries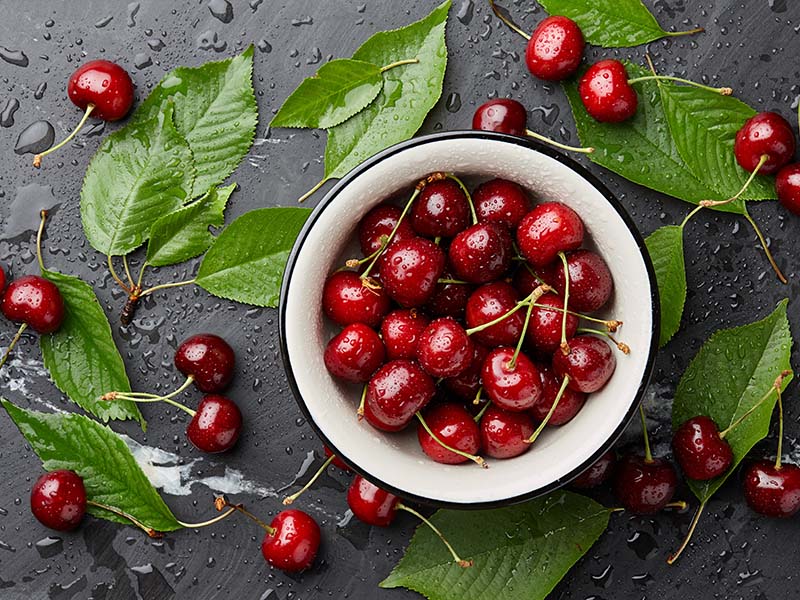 Cherry originates from Asia Minor and officially came to the US in the 1800s. You may be too familiar with this popular fruit, which is a common sight in many desserts like ice cream, pie, cheesecake, etc.
And why should you eat cherries in summer? These refreshing fruits keep you energized for a hot day due to their richness in healthy nutrients (vitamin C, antioxidants, and fiber). They can also protect the body from free radicals and productively reduce Alzheimer's disease.
Cherries' look is very appealing, from bright and vivid red to dark burgundy. However, these incredibly short-season crops only grow in selected areas, such as California, Oregon, or Washington, which makes their demand higher and can be expensive to purchase.
16. Peaches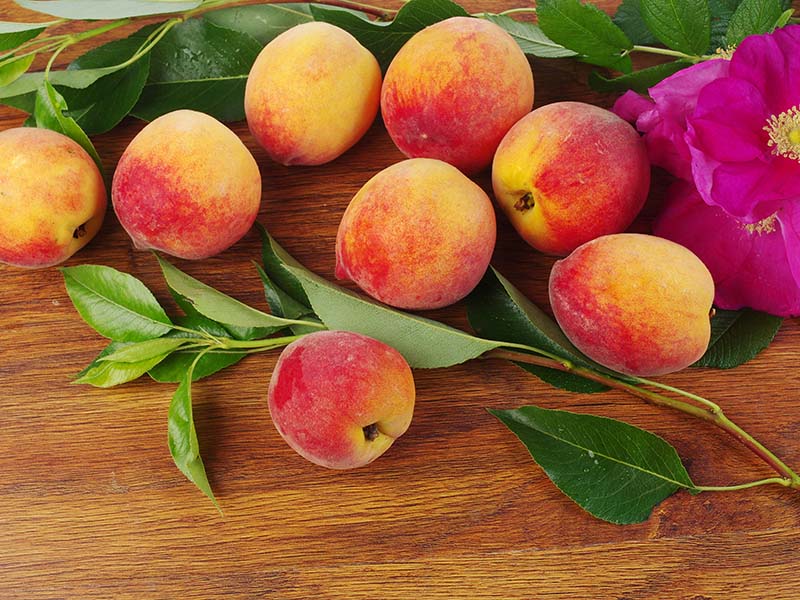 Native to northwest China, this lovely juicy fruit has gained enormous love from around the world. In the US, the state of Georgia produces peaches so delicious that the fruit became its nickname: "The Peach State".
Peaches can be orange or yellow and are the most famous for their firm texture, aromatic scent, and fruity sweetness. They deliver numerous vital nutritional payoffs, including improved digestive function and a stronger immune system.
You should eat fresh peaches to enjoy a crunchy and chewy taste, but you can also try them in many forms, such as peach juice, peach jelly, canned peaches, etc. Generally, the flavor of a sweet, ripe peach is the best for the summer vibe.
17. Black Plums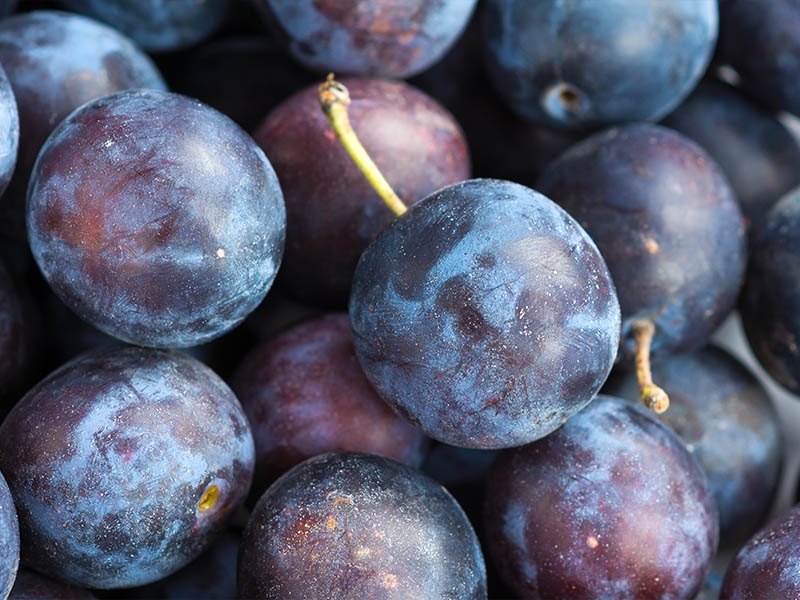 Black plum has a smooth bluish-black skin, while its interior flesh is yellowish-orange. Hailing from India and Southeast Asia, this tropical climate-loving fruit delivers a strong sweetness and purple coloring, which can, unfortunately, stain your skin and clothing.
In terms of nutrition, this fruit that has a black appearance is loaded with vitamin C and other minerals such as iron, calcium, manganese, phosphorus, and folic acid. Plus, their high water intake will keep you hydrated and cool this summer.
18. Figs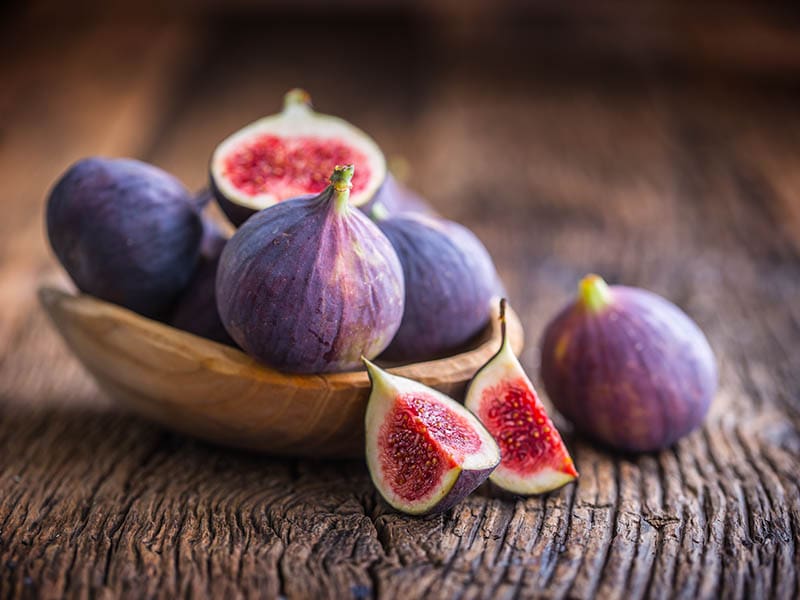 Find them a bit unfamiliar? Figs originated from Asia and spread widely in the Mediterranean. Whether these teardrop-like shaped fruits are in fresh or dried form, they always have a honeyed sweetness accompanied by a squishy texture that is very tasty to eat.
This summer fruit can be a powerful ally against constipation, worsening eyesight, coronary artery disease, and many other health issues. With such a huge impact on human health, figs are preferred to be used for medical purposes rather than for food and drinks.
Fried figs can be a perfect snack for your summer days, or use them as an additional ingredient for your savory meal. Make sure to consume about 2 -3 figs per day to moderate your calorie intake.
Wait, There Are Still More Other Types Of Summer Fruits
Is the number of fruits above enough to cool you down? Let's learn more about other fruits that serve best for summer. They all are the must-try fruits, so make sure not to skip them!
19. Asian Pears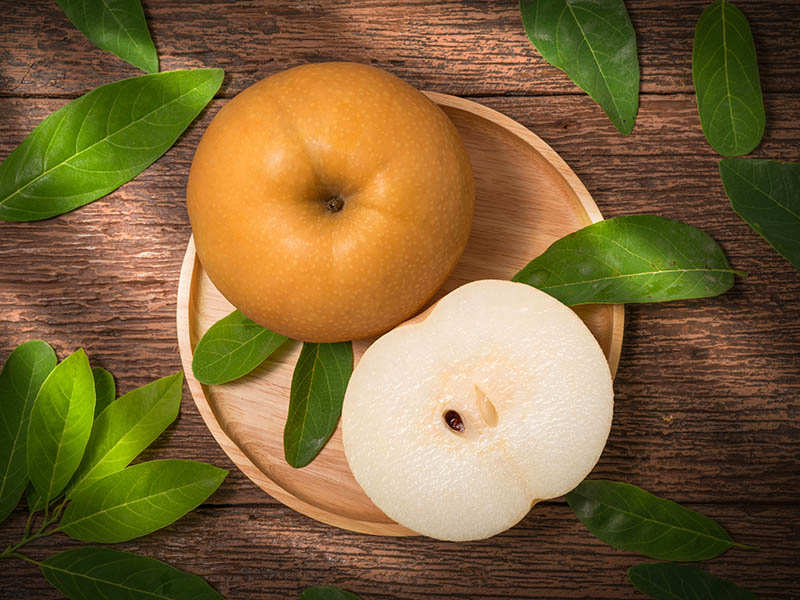 What is special about these Asian pears? Also known as nashi pear, they originate in the northeastern and eastern regions of Asia. They have a very similar shape to normal pears, but their texture is much juicer and crunchier, while their taste is considerably sweeter.
Asian pears are plentiful with fiber, potassium, and vitamin C. As healthy and delicious as they are, this fruit is the top choice for Asian people for helping healthy blood sugar levels, detoxifying, and improving the digestive system.
If you love crunchy things, try eating these fruits raw or help yourself with a glass of Asian pears juice to perfectly refill your energy. Don't forget to keep them cool in the fridge for a better taste and longer storage time.
20. Watermelons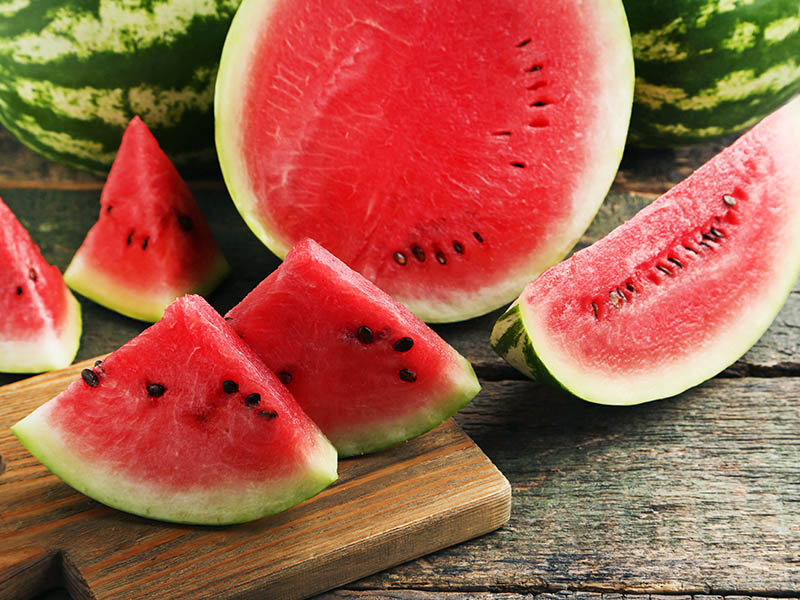 And of course, the special award for best summer fruits should go to watermelon. It is considered to be the best as its 92% water content can keep you hydrated for a long time.
You taste and smell nothing from the outside. But once you cut a watermelon into chunks, they provide you with a deeply sweet flavor and tropical freshness!
It's even better to eat them cold or toss the watermelon pieces into an iced box of various fruits. I am sure you find cut watermelons irresistible in the stifling summer heat!
Moreover, the available healthful nutrition of watermelon can help your body deal with issues caused by hot weather. Watermelon is also a great supplement to your physical performance if you exercise outdoors or do a daily workout.
21. Lychees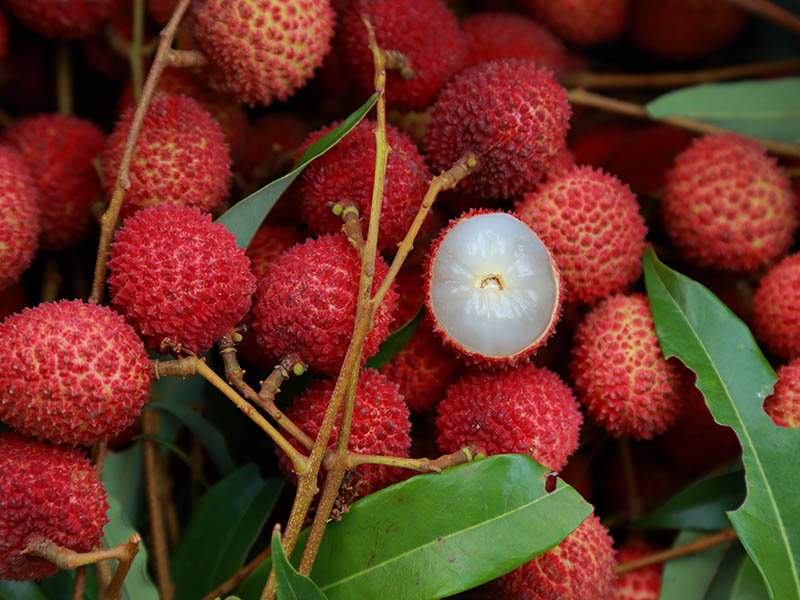 Lychees are typically grown in subtropical areas such as China, Southeast Asia, and South Asia. In the US, this fruit is a rarity, but you still find them on some farms in Florida or southern California.
Summer is the ideal harvest time for lychees when they are at their most delicious and nutritious. They have a crimson appearance like a strawberry, with soft and milky white flesh. The ripe ones taste intensively sweet, while the immature ones can be bitterly sour for you to eat.
In addition to supplying your energy, lychees have powerful anti-cancer and anti-heart disease properties thanks to the rich source of polyphenol compounds. However, while its sugar is suitable for diabetic patients, this fruit should only be consumed in a moderate amount.
22. Zucchinis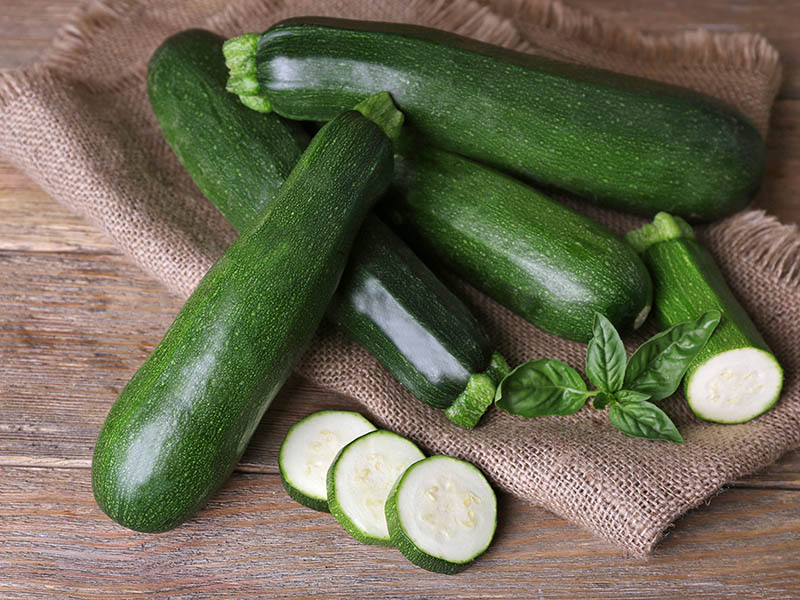 You may wonder why zucchini is on this list. Zucchini is a summer squash of the gourd family. While most people consider it a vegetable, it is botanically a kind of edible fruit. Zucchinis produce prolifically and grow most during the summer season.
Zucchini has been linked to many health benefits such as improved digestion and heart health, weight loss, healthy vision, and blood sugar levels. It has a lot of water content, so you can try to beat the heat with this versatile and friendly-budget zucchini.
What does this green grassy-looking fruit taste like? Zucchini is tasteless to consume raw, though it has a slightly sweet and bitter undertone. However, this fruit is the best ingredient to add to salads in your daily meal.
Here is an in-depth explanation of the nature of zucchinis.
Summer Fruits Will Be Best When They Are In Season
These summer fruits are grown widely and distributed differently worldwide. However, I will try to generalize their own peak season, when you find the fruits at their best and most abundant.
During their seasonal time, they boast the best nutrition, ripeness, and sweetness, so make sure to follow this chart to choose your favorite fruits at the right time.
| Fruits | Peak Season |
| --- | --- |
| Blueberry | April - August |
| Grapes | May - August |
| Mulberry | June - August |
| Strawberry | May - July |
| Valencia Oranges | April - June |
| Lemon | July (*) |
| Banana | All year round |
| Coconut | Throughout the year |
| Guava | November - April |
| Kiwi | March - May |
| Mango | May - October |
| Papaya | June - July |
| Pineapples | March - July |
| Apricot | May - August |
| Cherries | May - July |
| Peaches | May - September |
| Black plums | June - September |
| Figs | May- September |
| Asian Pear | August - September |
| Watermelon | July - August |
| Lychee | June - September |
| Zucchini | June - August |
* Lemon is considered to be planted and harvested throughout the year, but in July, they have the best flavor.
Are You Ready For A Healthy Fruits Party In Summer?
Summer is extreme to deal with, and you may be in an endeavor to maintain a healthy condition until fall comes. Here the seasonal summer fruits come to the aid! They are power-packed with various nutrients, vitamins, and minerals to help you survive the heat.
Don't forget to supply these delicious and healthy fruits to beat the heat daily. They are such a trustworthy protective shield to save you from dehydration or sunstroke. Summer is for vacation and having fun; try to stay cool with fruits every day!
Do you find this post helpful? Remember to share it with your friends as well as leave a comment. Thank you for reading!