What are the best frozen fruits for smoothies? Do you agree with me that a flavorful smoothie needs the premier ingredients? If the answer is yes, this article is what you are looking for.
Smoothies are popular for all ages. Smoothies are not only refreshing but also boost energy and support health, making them good treats for main meals, like breakfast.
However, many people are still struggling to find the best, most nutritious, and most suitable frozen fruit for these recipes. Let's scroll down to the next part of this article so I can show you what they are.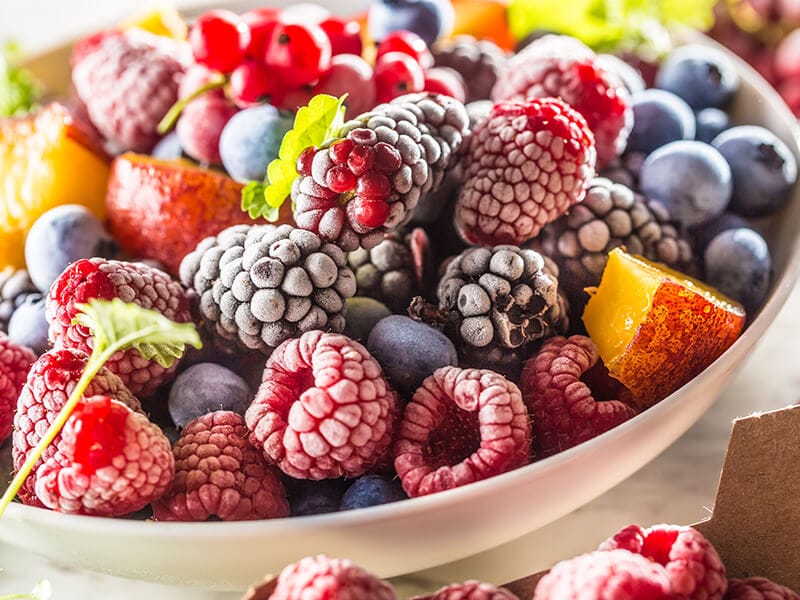 Benefits Of Frozen Fruits – Are They Good For Health?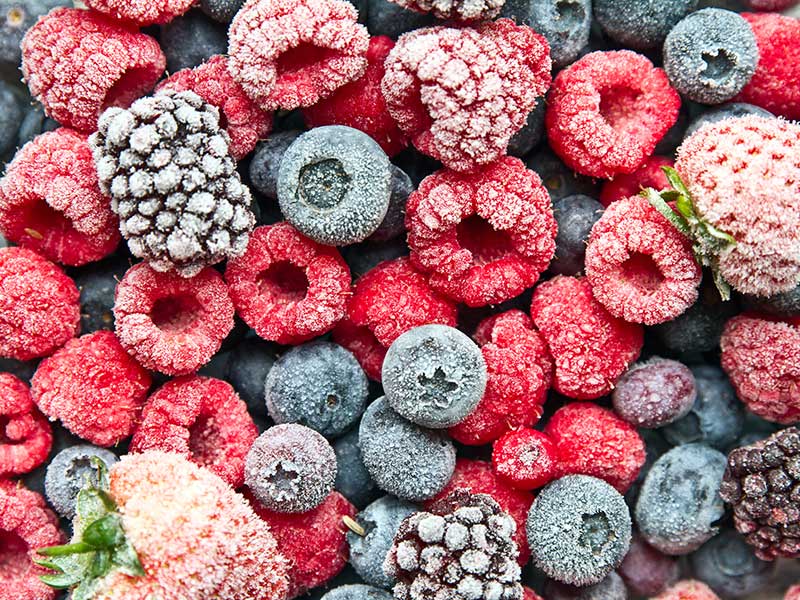 Do you agree that frozen fruits are useful in your daily life? But there has been a debate that they are sometimes seen as unhealthy or even junk food. What is the truth of this matter? Let me tell you, frozen fruit has many benefits which are more than you expected.
The Convenient And Versatile Food
Frozen fruit is a quick and convenient solution. You can eat your favorite fruit even when it is out of season so that you can prepare a variety of dishes with ease.
Toast, cakes, ice cream, or fruit smoothies no longer require too much time and complicated preparation. More than that, they are often cheaper and more affordable than the fresh type.
The Safe Food Growing Up In The Best Condition
Frozen fruits sold today must be picked at their peak ripeness. Previously, they were grown and tested against many food safety certification standards.
Fruits are immediately frozen individually after harvest and stored in a nitrogen atmosphere. Therefore, they are not lost and still retain the inherent nutrients.
The Nutritional Substitutes For The Fresh (Maybe More)
Many real studies prove that frozen fruits retain their nutrients. First, they are selected when reaching the highest peak of quality – fully ripe. The harvesting and freezing process happens in just a few hours, with all the best nutrients locked in perfectly.
Therefore, the frozen product does not destroy its nutrients and is sometimes even better than fresh because it has undergone transportation or artificial ripening.
Frozen fruit as nutritious as fresh ones? Let this video help you to compare these two.
No Preservatives
Unlike processed fruits appearing more and more in the diet, frozen foods do not need to use preservatives. Freezing food is a natural process by reducing temperature and packaging. So it keeps fruit fresh without having to use harmful chemicals and additives.
The Best Frozen Fruits To Make Nutritious Smoothies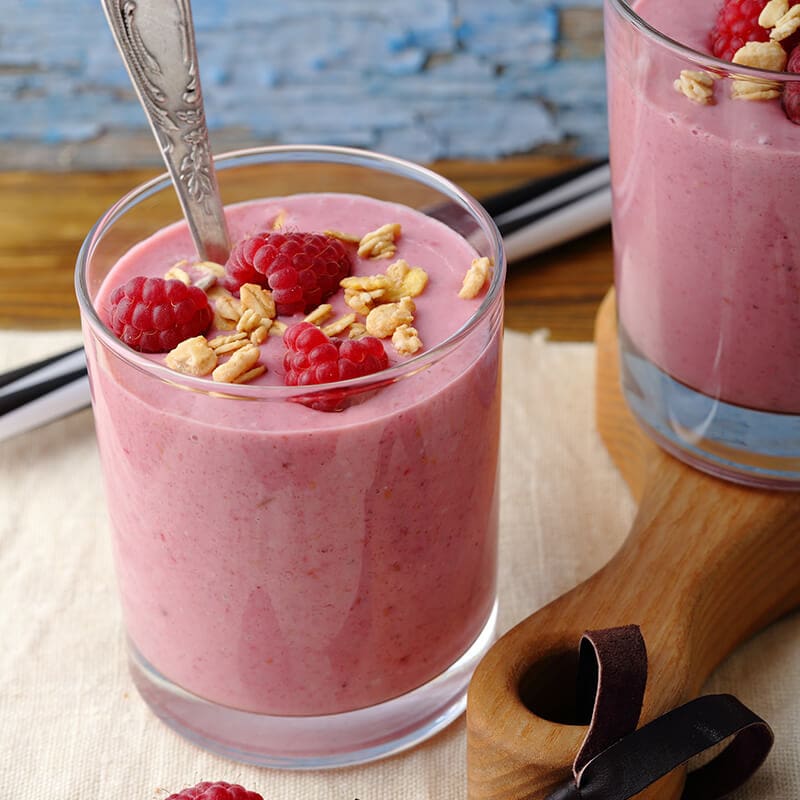 Frozen fruits are convenient because they are prepared (peeled or chopped) and ready for immediate consumption – So they are the perfect ingredient for any recipe.
Among these recipes, smoothies are the most optimal and brightest choice. A smoothie is a drink that looks like a thick cream. It is usually a blend of two key ingredients: one is a vegetable or fruit, and the other is an accompanying liquid or cream.
Depending on the ingredients and processing, its taste changes. Therefore, frozen fruit plays the most important role in deciding on a perfect smoothie.
1. Frozen Bananas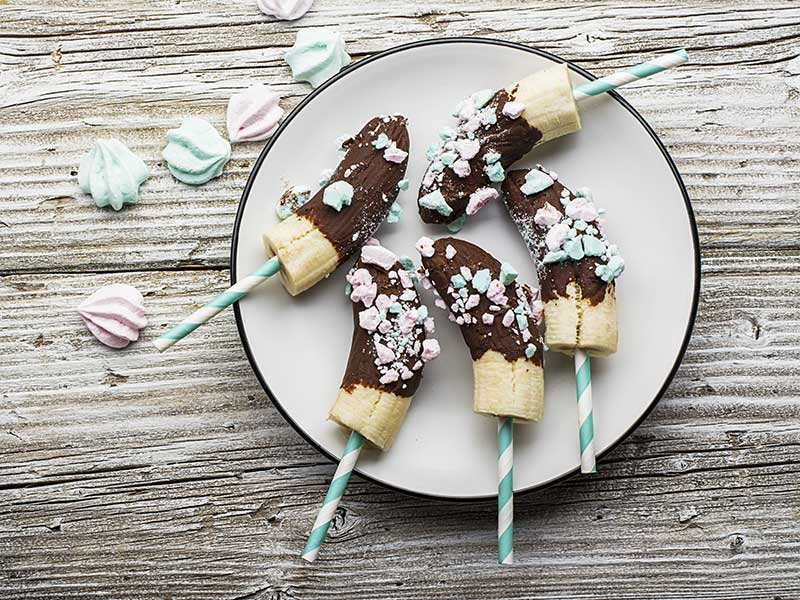 Bananas are one of the most attractive fruits, providing a rich source of nutrients and medicinal uses. It is one of the most significant and in-demand food crops.
General information And Ideal Recipe To Try At Home
Belonging to the Musa family, native to Southeast Asia, bananas are tropical fruits with a sweet, easy-to-eat taste and slightly pasty flesh. Bananas are a healthy food packed with several essential nutrients.
They provide benefits for digestion, heart health, and weight loss. Bananas are also a very convenient snack. That's why bananas are perfect for smoothies.
Besides numerous benefits, they have one major weakness: their short lifespan. Their ripening process lasts very quickly and is easily crushed. So, frozen bananas are a better choice.
Frozen bananas retain vitamins and minerals such as potassium, vitamin B6, vitamin C, magnesium, copper, and manganese.
Total time: 5 minutes
The sweet flavor of banana mixed with the slight bitterness of coffee and the richness of peanut butter is the perfect combination for any recipe.
The frozen bananas used in this smoothie serve as the match for the heavenly smooth consistency. You do not have to add too much ice, which makes smoothies melt quickly, thanks to frozen bananas.
2. Frozen Mangos
The fruit that deserves to be on your smoothie recipe list is mango. Dubbed the king of fruits, they are now loved and used by many people in the world.
General information And Ideal Recipe To Try At Home
Mango is a fruit of the Anacardiaceae family commonly grown in tropical areas. It originated in India around 5,000 years ago. Green mango will usually have a sour taste, but on the contrary, when ripe, mango becomes sweeter and has a unique aroma.
In addition to improving the digestive system, they help add vitamins A, C, and fiber to help control weight and inhibit cancer growth factors. In some places, it can be hard to find fresh mangoes.
However, frozen mango products are high-presented in almost all convenience stores or supermarkets. If you want to experience a tropical smoothie, consider mango. It can create a natural sweetness that you do not need to add chemical sugar.
Total time: 5 minutes
The principle of using frozen fruit is that there is no need to add ice. The mango banana smoothie has a natural sweetness without adding any sweeteners.
It is the perfect dish to replace fussy, time-consuming breakfasts. The vanilla yogurt adds flavor and makes the texture thicker and more flavorful.
The combination of sour and sweet from mango and banana will awaken your taste buds.
3. Frozen Cherries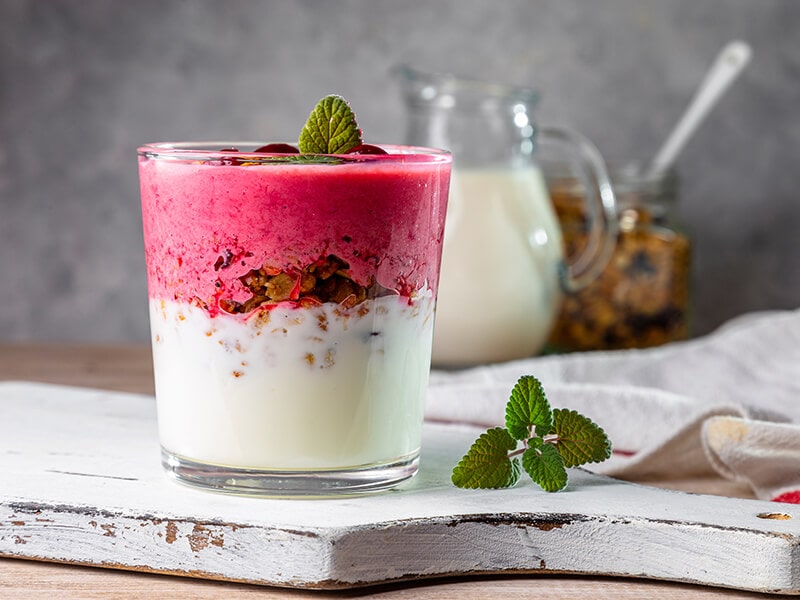 With their gorgeous and fresh beauty, cherries are also a good ingredient for eye-catching smoothies. They contain a lot of vitamins, minerals, and healthful nutritional compounds.
General information And Ideal Recipe To Try At Home
Cherry is a fruit of the genus Prunus. Cherries have long stalks, often growing in clusters. When ripe, they are berry red, yellow, or blackish. The fruit has a sweet taste, glossy skin, pleasant aroma, crunchy, and succulent.
Cherries are very nutritious when they contain several vitamins, minerals, carbohydrates, proteins, and other fats. However, their season only lasts from May to August. It is classified by scientists as a hard fruit to grow and can only be grown in temperate climates.
Given the high cost and hard-to-find variety, you're probably better off using the frozen variety. Therefore, cherry smoothie – the optimal snack, is also a very popular fruit drink and can be made to drink every day.
Total time: 5 minutes
One of the best pairings is cherry and chocolate. With opposing flavors, one sweet and one bitter will create the most balanced flavor.
As mentioned, you can't enjoy cherries out of season, and they're also hard to store, so choose frozen ones. This smoothie is highly nutritious and has the potential to reduce stress for you.
4. Frozen Pineapples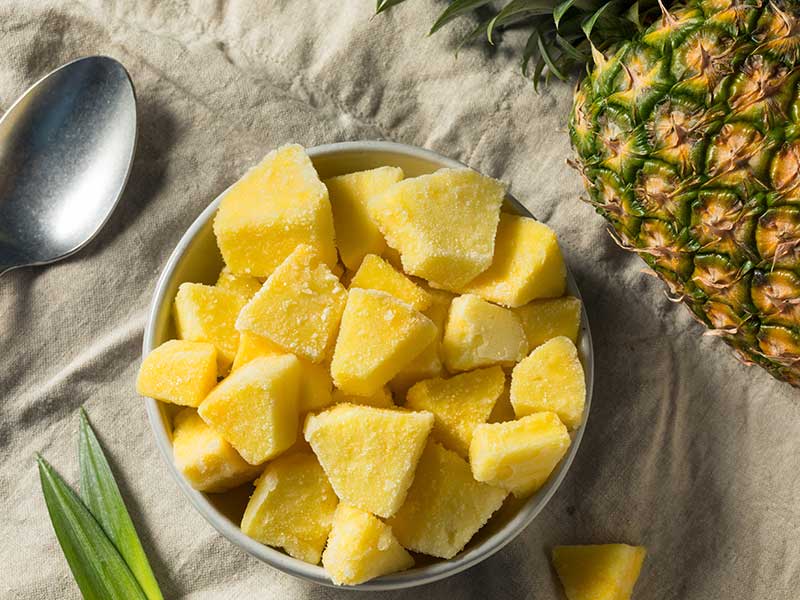 As a superstar of vitamin C, pineapple is one of the most famous tropical fruits. In frozen form, they are also easy to buy and reasonably priced. You do not have to wait until the pineapple season to cook delicious dishes from them.
General information And Ideal Recipe To Try At Home
Pineapple has the scientific name Ananas comosus and a unique appearance with many eyes, yellow flesh, sweet and sour taste, and high content of organic acids. Many people often think of pineapple juice rather than making them into smoothies.
However, the frozen pineapple smoothie with a mild sour and sweet taste will make your palate happy. Succulent, light aroma and tropical flavor, the combination of pineapple with other fruits will create a delicious mixed flavor smoothie.
Pineapple contains various vitamins and minerals such as vitamins A, C, B6, folate, iron, zinc, calcium, manganese, etc. Vitamin C is essential for growth and helps the immune system absorb iron from daily meals.
As manganese is a natural mineral so eating pineapple regularly will maintain a healthy metabolism and has antioxidant properties.
Total time: 5 minutes
Have you tried the Pina Colada cocktail yet? The mild soreness that underlies the rich sweetness of pineapple balances perfectly with the creamy coconut milk.
This frozen pineapple smoothie brings all the tropical vibes to wake you up after a long day. In just 5 minutes, you have a healthy copy of the famous cocktail. It is worth it, isn't it?
5. Frozen Papayas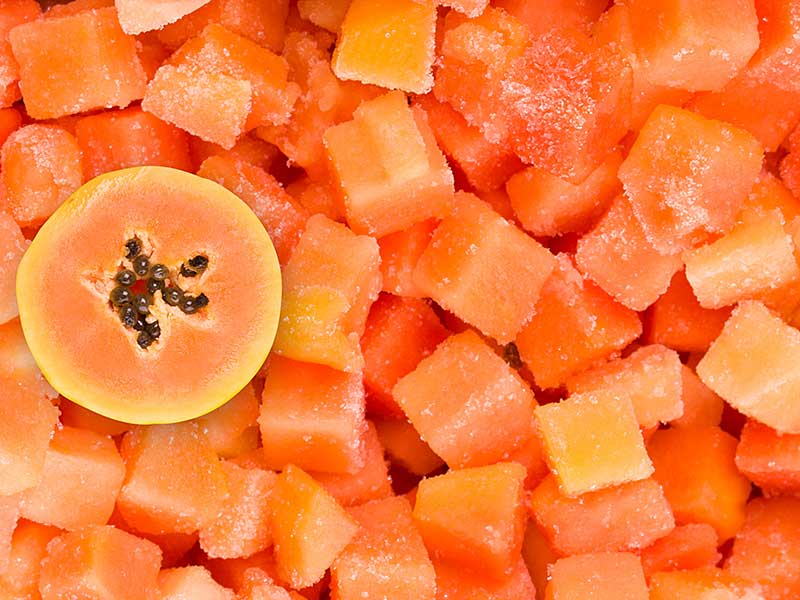 After the list of tropical fruits above, how can we ignore papaya? It is a fruit that is not so popular, so it is pretty hard to buy fresh papaya in the USA. Don't worry. Frozen ones are sold everywhere.
General information And Ideal Recipe To Try At Home
The scientific name of the papaya tree is Carica. Their fruits are usually large with pear or oval shapes. When ripe, the rind will turn from green to red or orange, like the flesh. However, the meat inside becomes much softer.
With a sweet taste and attractive color, papaya evokes a feeling of refreshment with a slight sweetness and a buttery texture. So it is natural to be the ingredient of a smoothie.
A frozen papaya smoothie will provide a rich source of vitamins A, B, and K, as well as calcium and potassium. Blend it up and use it as a healthy breakfast to support eyesight, fight asthma, boost bone health and beautify skin and hair.
Total time: 10 minutes
The best recipe for health combines ingredients that can treat diseases together. If you're having gut health issues, this smoothie recipe is a try.
With frozen papaya, pumpkin, and turmeric as a base, this drink can be a breakfast replacement to help your digestion work better. Adding the richness of almond butter and spiciness with a pinch of black pepper creates many different layers of flavor.
6. Frozen Strawberries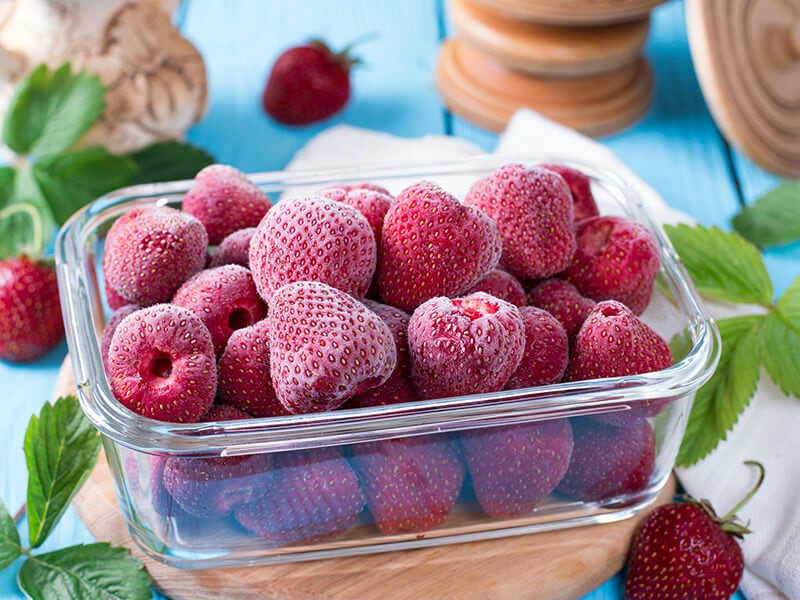 Strawberry smoothie, why not? You can buy fresh strawberries because they are easy to find on the market today. However, have you ever had to pay too much for fresh strawberries when you could replace them with a more economical option – frozen strawberries?
General information And Ideal Recipe To Try At Home
Strawberries are a very familiar fruit and are loved by many people. Belonging to the genus Fragaria and native to the Americas, strawberries have an eye-catching red berry color and a unique sweet and sour taste.
The nutritional profile in strawberries includes antioxidants and nutrients with powerful health-protective effects. They are low in calories, high in fiber, and packed with calcium and polyphenols.
One cup of strawberries contains more than 100% of the daily target for immune-supporting vitamin C. In addition to functioning as a disease and age-defying antioxidant, vitamin C also helps create collagen and maintain skin health.
A smoothie normally requires 1-1.5 cups of frozen strawberries. It is what you need to be able to both make a delicious drink and significantly improve your health.
Total time: 5 minutes
Strawberries are a great snack option for those watching their weight. If so, check out this super simple frozen strawberry smoothie recipe that requires just three ingredients and five minutes.
If you don't like yogurt, try this smoothie with coconut milk, nut milk, or protein powder to maintain consistency.
If you have too many strawberries to eat at once, you can still freeze them at home and use them gradually.
7. Frozen Blueberries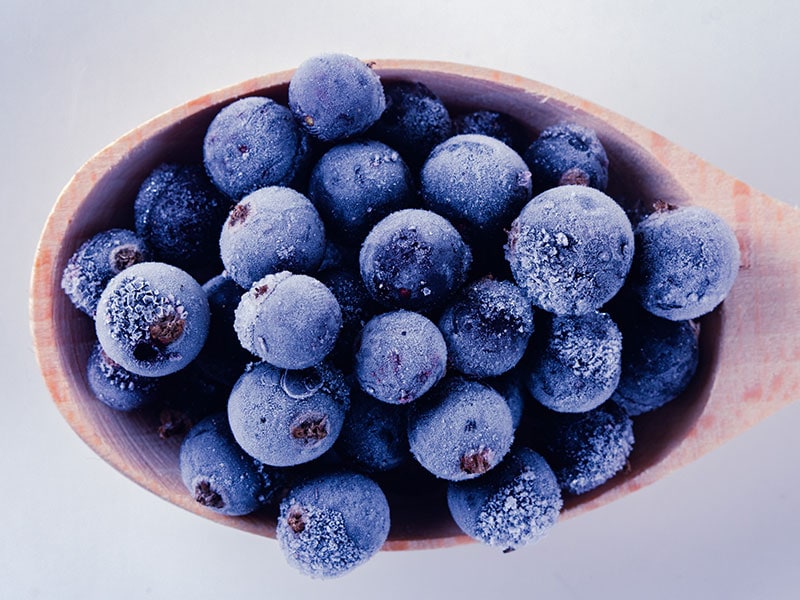 Another berry on this list is blueberry. Frozen blueberries are a versatile fruit when they are used for dishes such as jams, mixed fruits, salads, used to decorate cakes, or eaten fresh. The highlight of these must be the frozen blueberry smoothie.
General information And Ideal Recipe To Try At Home
Blueberries grow in clusters and are dark with a hint of purple. The flesh is red or purple. Unlike strawberries, blueberries have a sweet taste and rich aroma but a slightly acrid taste.
According to many experts, blueberries harvested in New Zealand have the best quality and most nutrients. However, the shipping process will reduce some, and obviously, you can use frozen blueberries to absorb all their nutrients.
Blueberries contain anthocyanins – pigments that give a dark blue color, destroy harmful free radicals, and prevent cancer. They are also a rich source of vitamins A and E that help restore myopia.
I would advise that you may add blueberries to your daily menu and use it as an ingredient in dishes such as smoothies or baked goods to improve health.
Total time: 7 minutes
Welcoming the new day with a frozen blueberry smoothie is the next suggestion. The benefits of frozen blueberries have been mentioned too much above.
Combine this super fruit with oats and chia seeds for the ultimate smoothie nutrition boost. In addition, the use of oats here is the key to creating the consistency of this drink.
8. Frozen Raspberries
Fresh raspberries have a short shelf life, so you should buy locally-grown berries and eat them within a day or two. If that's not possible, remember that you can eat raspberries year-round by buying frozen ones.
General information And Ideal Recipe To Try At Home
Raspberries are edible fruits from the same family as strawberries. They are native to Europe and northern Asia. There are varieties of raspberries – including black, purple, and yellow – but red raspberries are the most common.
Although low in calories, raspberries are packed with nutrients. One cup (123 grams) of raspberries contains 8 grams of fiber and only 6.7 grams of digestible carbs per serving.
Studies have shown that the H-6 sanguiin in raspberries is an antioxidant that can destroy more than 40% of ovarian cancer cells. Raspberries are also a common ingredient in jams and jellies.
However, you should add frozen raspberries to a smoothie. Inheriting the characteristics of the berry family, they have a sweet, slightly sour taste and a faint aroma, suitable for refreshment.
Total time: 5 minutes
This promising raspberry smoothie rescues you from the heat of summer. The article mentioned that smoothies could combine many fruits, and also include vegetables to add more nutritional benefits.
So, add spinach to any smoothie. Its taste is easy to eat so it won't overwhelm the unique flavor of frozen raspberries. Also, if you're someone who likes a richer taste but doesn't want milk or peanut butter, avocado is a great alternative.
It takes just over 5 minutes to have a gorgeous and healthy pink smoothie with frozen raspberries.
9. Frozen Blackberries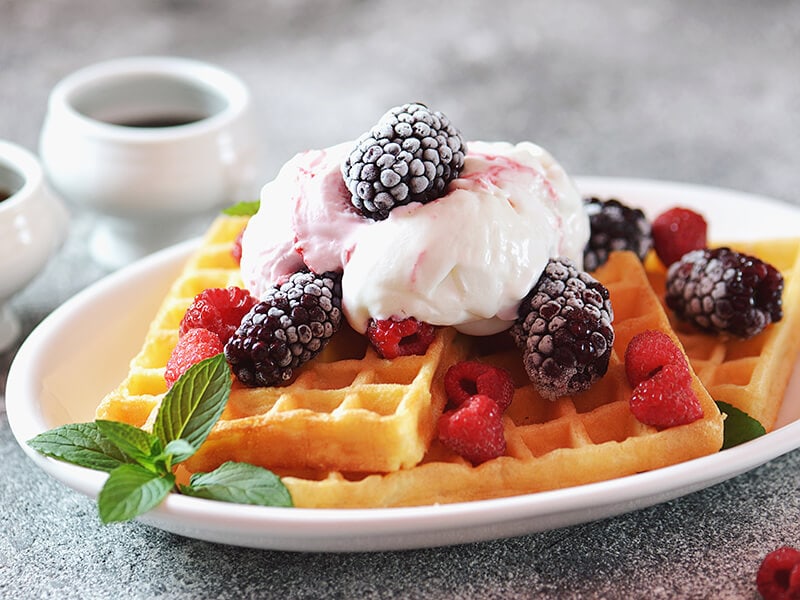 If I mentioned a lot of the Rosaceae fruits above without blackberries, it would be an omission. They are considered a universal source of nutrients for human health.
General information And Ideal Recipe To Try At Home
This is a plant that grows wild in the mountains but has great economic and nutritional value. Blackberries have full tufts of seeds that look delicious and are aesthetically pleasing. They have a sweet and sour taste, mild, and barbaric, when ripe, the fruit is dark black.
As a universal fruit for health and skin, blackberries contain a variety of nutrients such as flavonoids, vitamins K, E, C, folic acid, and omega-3. In particular, they help in antioxidants, and anti-cancer and protect the body's health from harmful factors.
Unfortunately, in winter, it is difficult to find fresh berries or they are not affordable. In addition, processed blackberries might lose some of their benefits. Frozen blackberries are the best option.
Total time: 5 minutes
A breakfast, snack, and vegan-friendly drink, this frozen blackberry smoothie recipe will meet your needs.
With five ingredients and five short minutes, you have this delicious and creamy coconut-frozen blackberry smoothie! With a gorgeous deep purple color, you should top it off with sliced blackberries with some coconut flakes for garnish.
Ever wondered how berries go from harvest to frozen product? They still look as fresh as when they were just picked from the tree.
10. Frozen Dragon Fruits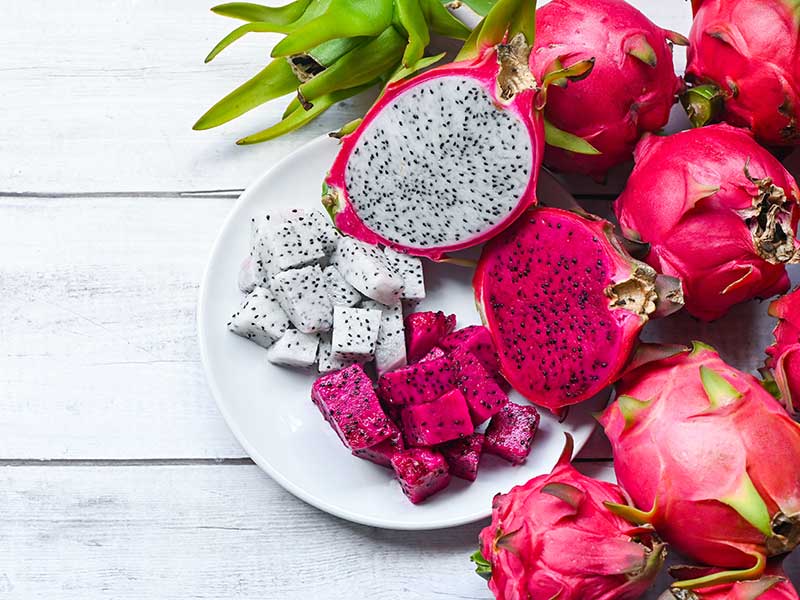 Among these tropical fruits above, dragon fruit is probably the least common. Unfortunately, dragon fruit is not popular in the US. They are mostly imported from Southwest Asia, so you can hardly find them fresh. However, buying frozen dragon fruit is a resolution.
General information And Ideal Recipe To Try At Home
Dragon fruit grows on the Cactus Hylocereus, also known as the Queen of Honolulu, it has flowers that bloom only at night. This plant is native to Southern Mexico and Central America.
Dragon fruit has a strange shape with white flesh and black seeds. Less common varieties have red flesh. Dragon fruit is a rich source of vitamin C and iron.
Eating dragon fruit every day helps you replenish some important antioxidants, protect the body's cells and prevent some risks of chronic disease and aging.
It is grown seasonally, and its flesh is full of water. So it is difficult to preserve. Fortunately, you can find frozen dragon fruit for longer use.
Total time: 1 minute
Unlike the above-frozen fruits, dragon fruit is less well-known. Some have described the taste of dragon fruit as a cross between kiwi, watermelon, and pear. Making it the main ingredient of a smoothie is also a new experience.
This smoothie recipe adds vanilla protein powder that's perfect for a breakfast or post-workout meal. You should try buying frozen dragon fruit with red flesh, this will make your drink stand out more.
11. Frozen Peaches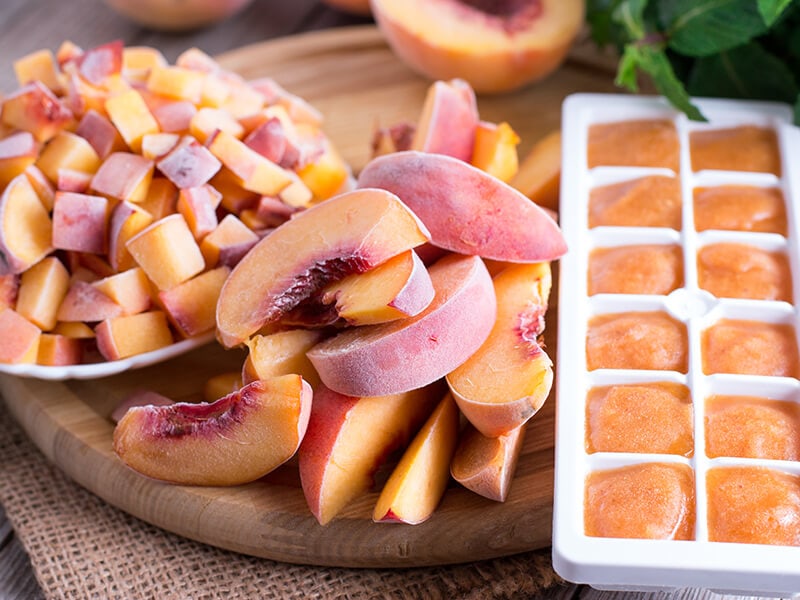 Peach is a fruit that many people associate with summer. They have many nutrients and good heat dissipation and are also delicious.
So peach tea, peach juice, or peach smoothie are all favorites. However, their flesh is quite tender, so preserving fresh peaches is much harder than frozen peaches.
General information And Ideal Recipe To Try At Home
This fruit is loved by many people. The scientific name of peach is Prunus persica (L.) Batsch, belonging to the family Rosaceae. They are yellowish, slightly red, have velvety skin, white or yellow flesh, and a lot of water (depending on the type).
Peaches are usually planted in early spring because they have a dormant period. So if you want to eat peaches out of season, choose to buy frozen peaches at convenience stores.
According to research, peaches contain a rich source of vitamins. The vitamin K, calcium, magnesium, zinc, and phosphorus found in peaches contain many health benefits.
In particular, they can improve vision, bone, and nerve problems. Besides that, peaches also have beta carotene and vitamin C – the two substances that create healthy skin.
Total time: 5 minutes
From frozen peaches that remain succulent, sweet, and nutritious, you can combine them with other ingredients to create a delicious peach smoothie.
Peach smoothie is not only good for health but also has an effective effect in supporting the weight loss process and beautifying the skin. It also doesn't take you too long to make this smoothie.
One of the other ingredients you might consider in this recipe is Greek yogurt. With its thick texture, Greek yogurt is also a good choice with a smooth, dreamy consistency.
Other Ideal Things Can Do With Frozen Fruits
In addition to delicious smoothies, you can make many different dishes with frozen fruits. Using frozen fruit is a great way to save time and cut costs for you. This article shows you some ways to combine and enjoy them!
Make Fruit Sauce
Making fruit sauces with frozen fruit is extra easy. You can add them to cupcakes, pancakes, or other desserts. In addition, to spice up the taste and be more unique, you can try barbecue sauce or marinade for savory dishes with frozen fruit.
With this type, you remember to cook on low heat, then optionally add onions, rosemary leaves, paprika, ketchup, and spices to taste. The trick here is that if you want a smooth sauce, you should strain it through a sieve.
The versatility of frozen fruit is proven in various fancy recipes, but you can use them to make a one-minute sauce.
Make Fruit Soup
Breakfast is often rushed and sometimes skipped when you are too busy. So try making soup with frozen fruit, it will save you maximum time. All you need to do is add 1/4 cup of frozen fruit of your choice to the pot and wait for the yummy meal.
Diversify the menu with different frozen fruits such as blueberries, bananas, strawberries, or mangoes. Another suggestion of mine is to use this soup with nuts, honey, and yogurt to be full of energy for the day.
Turn Into Salad Garnish
Salad is no longer strange to many people in modern life. In particular, this is a nutritious dish, bringing many benefits to human health.
Frozen fruits add flavor, fiber, and vitamins to that dish. If you add some fruits, the salad dressing is not only colorful and eye-catching but is also effective in relieving boredom.
Add Flavor And Cold Down Your Hot Tea Or Water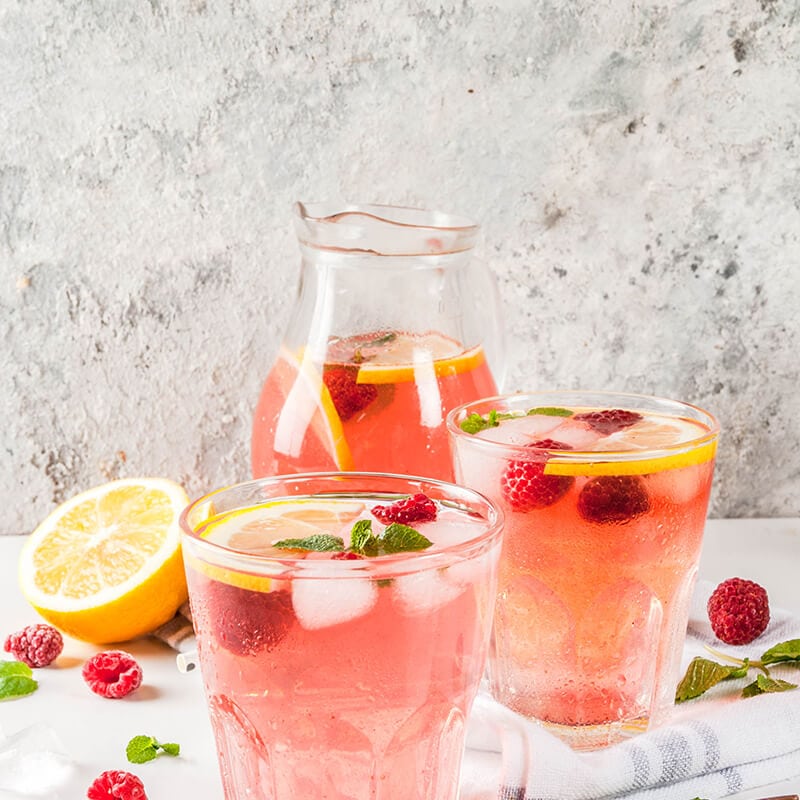 The perfect blend of sweet and sour mango, pineapple, peach, or cherry adds a beautiful glow to your seemingly tasteless glass of water. These frozen berries also balance the bitterness of the tea, creating a refreshing iced tea.
On a hot afternoon, adding frozen fruit to a glass of water is the most refreshing choice. Or another way that you can try is to put frozen fruit in the mold and add water. I bet the colorful ice cubes with the freshest fruit flavors will delight you.
Frozen Fruits And Their Benefits Are Better Than You Expect!
The article includes a list of eleven frozen fruits with eleven smoothie recipes included. I hope the above information is enough for you to start making a delicious and nutritious drink right away.
In addition to delicious taste, convenience, and versatility, frozen fruit retains all the precious nutrients it has. Therefore, you can prevent food waste due to improper storage of fresh fruit.
If you already know all about the best fruits for smoothies, why not treat your family to them? At the same time, if you have other creative recipes from the list above, please share them in the comment box. Plus, please click like or share this article widely. Thank you!