What do you know about Sicilian foods? An Italian autonomous region, Sicily is world-renowned for its cannoli and citruses, but there is much more to expect from this island. Discovering Sicilian cuisine is a worthwhile idea to diversify your menu.
While having a lot in common with the famous Italian gastronomy, Sicilian cuisine has developed its own identity. But what is it? In this post, you will have the chance to discover the most exciting Sicilian foods that you have to taste.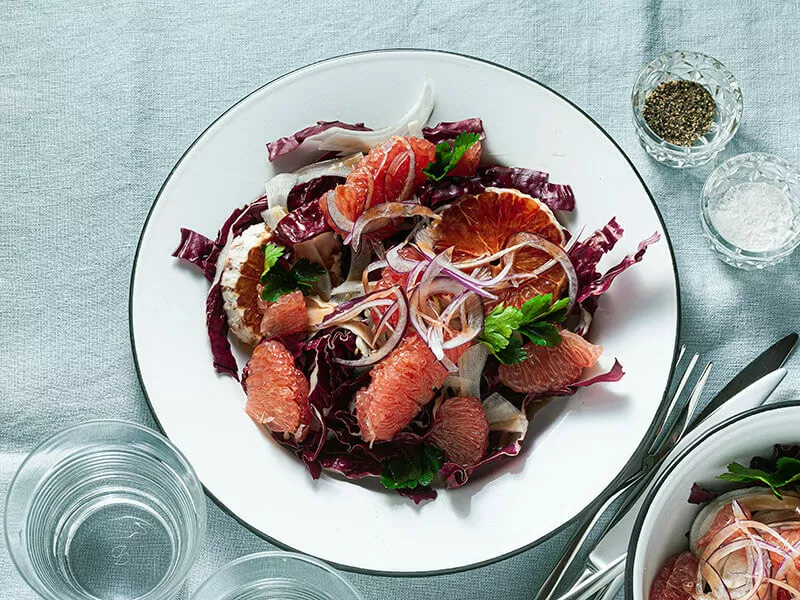 Indulge Yourself With These Savory Sicilian Dishes
Whether you like meat or vegetables, Sicilian cuisine is ready to please you. For both appetizers and main courses, you have plenty of choices.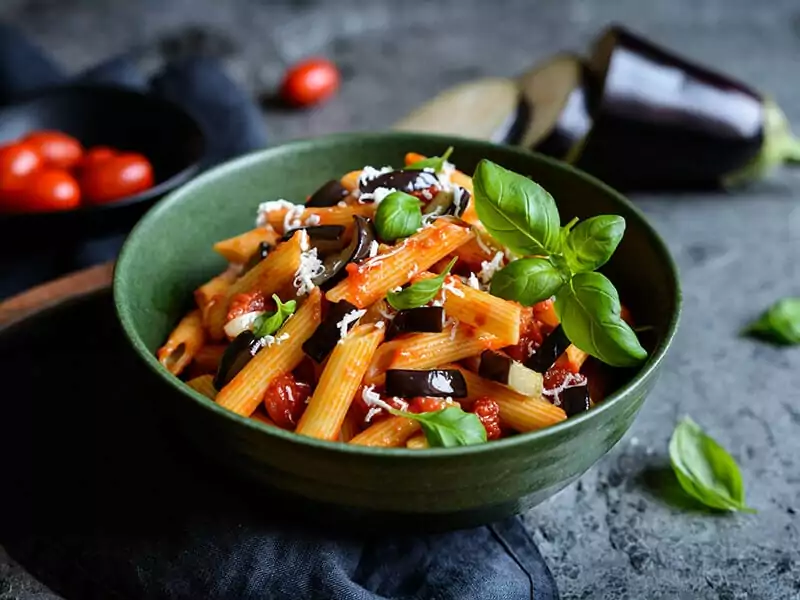 This pasta was named after a famous 19th-century opera, "Norma". Its composer lived in the Sicilian city of Catania, which was the birthplace of the dish. Before the arrival of Norma, the dish was aptly called "Pasta Con Le Melanzane", which means "pasta with eggplant".
As you can see, eggplants are the star of the show. People cook Pasta Alla Norma by stirring pasta with slices of fried eggplants with tomato sauce. A sprinkle of Ricotta Salata cheese will complete this tangy and hearty dish.
Pasta Alla Norma is considered a cheap choice for Sicilian dinner recipes. But you can increase its value by frying eggplants in extra virgin olive oil to create a healthy dish.
Learn how to make Pasta Alla Norma the Sicilian way here.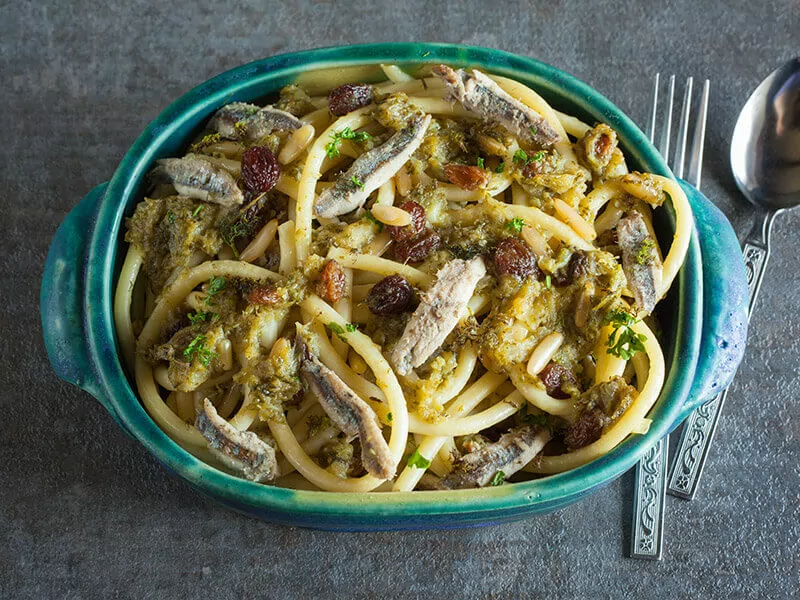 When you live on an island, it's natural to use fish substantially in your diet. As Sicily is blessed with a bountiful supply of sardines, it is equally natural for Sicilians to cook them with pasta into the iconic Pasta Con Le Sarde.
The key ingredients of the dish are, of course, finely chopped sardines and anchovies. They are cooked in olive oil and seasoned with aromatic fennel and saffron. When you serve it with spaghetti or bucatini pasta, sprinkle some bread crumbs over and enjoy.
Pasta Con Le Sarde comes from Palermo, the Sicilian capital. There is no difficulty finding good restaurants offering this food. People believe that the dish started around the 10th century when Sicily was under Arab rule.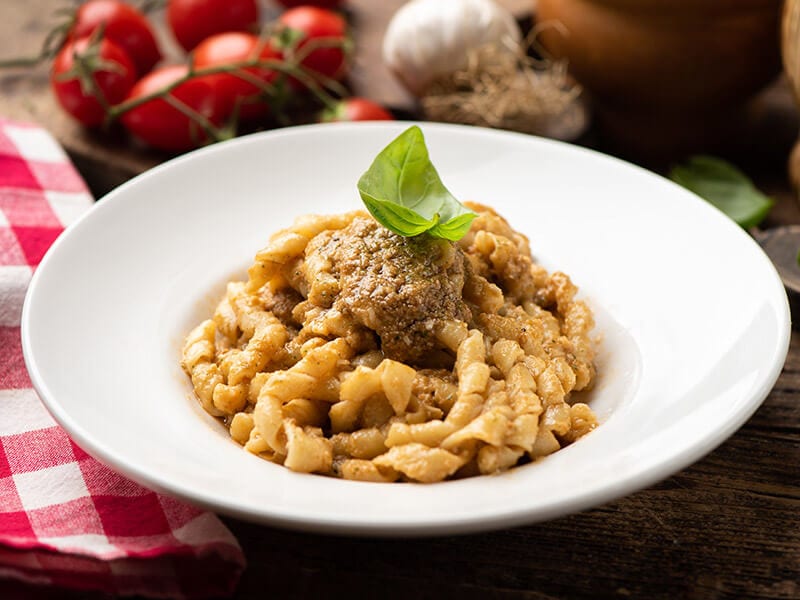 If you are looking for a great Silician vegan recipe, this dish from the Trapani province will delight you wonderfully. It is an amazing combination of busiate (a type of macaroni), fresh tomatoes, almonds, and herbs.
But the most important ingredient is pesto, a spicy sauce made from olive oil blended with crushed garlic, Italian cheese, basil, and pine nuts. Stir in the busiate with pesto, garnish with some bread crumbs or grilled eggplants if you like, and the party is on!
4. Arancini – Stuffed Rice Balls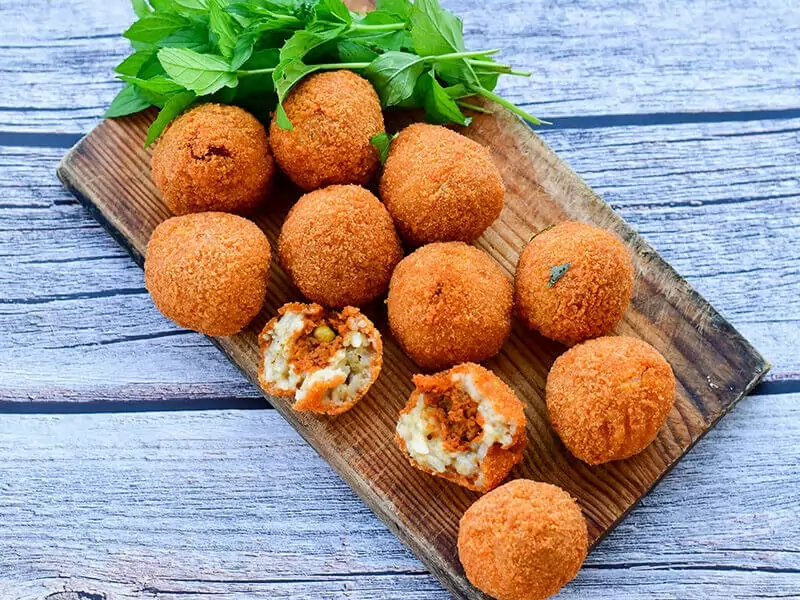 If asked about the most iconic Sicilian recipes, you would be in the wrong not to name Acracini. It can be found at virtually all food booths, cafes, and restaurants in Sicily, and almost every Sicilian grows up with it.
But what is really Arancini (literally "little orange")? They're rice balls that are coated with bread crumbs, deep-fried in oil, and stuffed with all kinds of fillings imaginable. You can fill it with minced meat, hams, cheese, cream, or even spinach and peas for vegans.
From as early as the 10th century, Arancini was already a Sicilian favorite food. Now, it's nothing short of Sicilian cuisine incarnate. Never forget to taste those crisp, flavorful "oranges" when you have the chance.
Enjoy a tour of Arancini in Catania against the breathtaking background of Mount Etna here.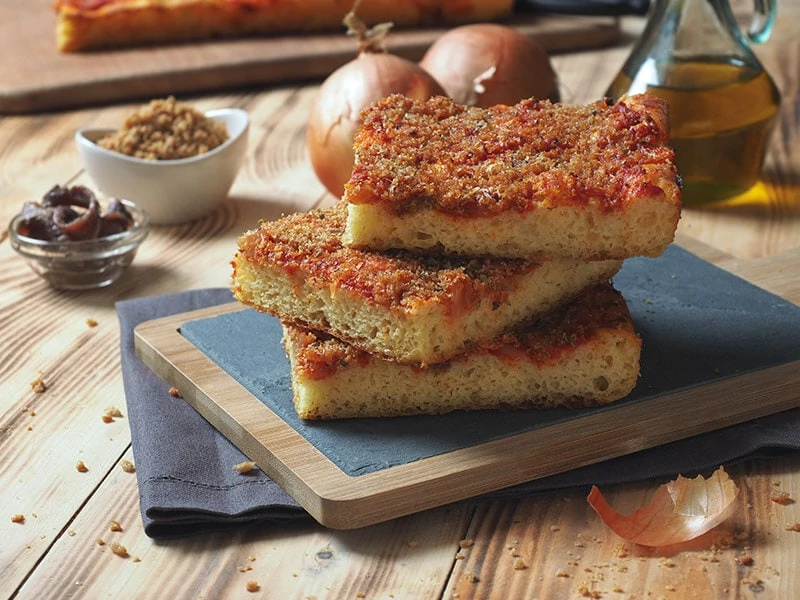 Not all kinds of pizzas are created equally. When the Sicilians first made Sfincione (literally "thick sponge"), or Sfinciuni in Italian, they meant for it to be a long-lasting dish for special occasions like Christmas or New Year's Eve. Now Sfincione is suitable for everyday enjoyment.
There are several differences between Sfincione and Italian pizzas. The former is thicker and rectangular in shape. It is more like a hybrid of pizza and bread dough that is topped with cheese, anchovies, onions, tomatoes, and/ or grilled vegetables.
Originating from the town of Bagheria close to Palermo, Sfincione is popular throughout Sicily. People consume it as a tasty and affordable snack, especially during a night out.
Discover everything there is to know about making Sfincione here.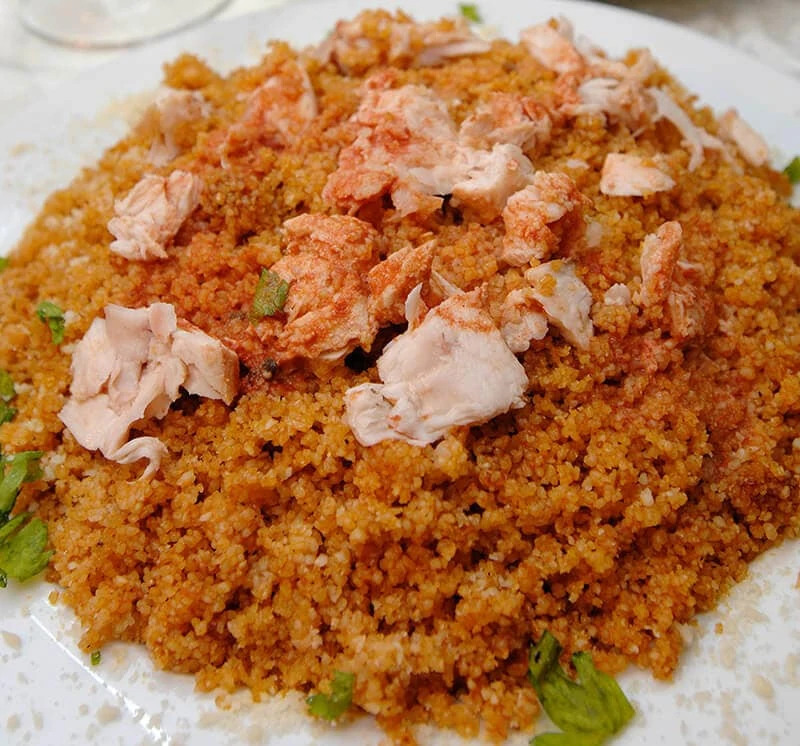 It's hard to imagine now, but Sicily used to be the jewel of the Muslim Arab world. A culinary relic of that past lies in the form of Couscous Alla Trapanese.
Originally a Moroccan dish, Couscous spread to the region of Trapani in western Sicily and became a staple food of the island.
The main ingredient is, of course, couscous, which is small steamed granules of durum wheat and water. Unlike the meat-based Moroccan prototype, Couscous Alla Trapanese makes use of gutted fresh fish, seafood, fish broth, olive oil, and cinnamon.
Couscous Alla Trapanese is a healthy and nutritious pasta that you can enjoy. The Sicilians even organize an annual Couscous Fest with exciting couscous-themed competitions in September.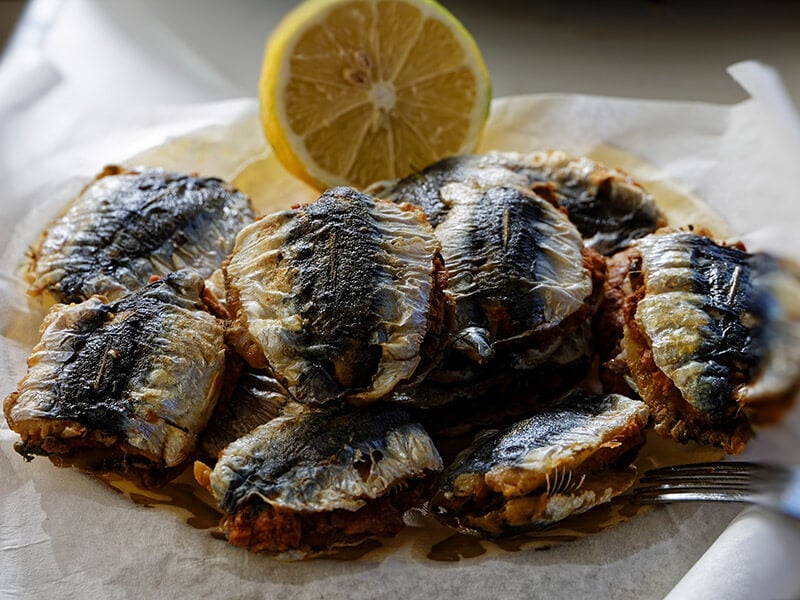 Once upon a time, the powerful aristocrats of Sicily hunted and ate the beccafico, a small songbird that had superbly delicious meat. The poor people had no tasty beccafico but plenty of sardines, so they cooked the fish and gave it the bird's name: Sarde a Beccafico.
Envisioned as a poor man's substitute, the dish is now a delicacy in its own right. People cook them by stuffing sardine filets with bread crumbs, raisins, pine nuts, and herbs before rolling and baking them until crisp and brown.
The recipe and ingredients can change from place to place. For example, some people mix sardines with lemon or orange juice to cloak their fishy smell.
8. Caponata – Fried Eggplant Stew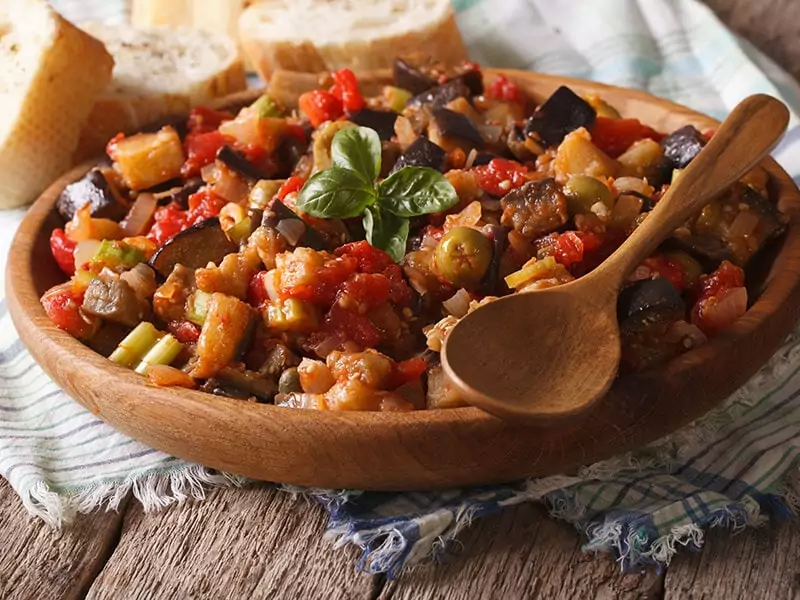 Most people think artichoke is the most recognizable Sicilian vegetable. That isn't incorrect, but there is another worthy contender to the title: eggplant. It's featured heavily in Caponata, a beloved sweet and sour Sicilian stew.
Caponata is somewhat like a version of ratatouille – a French delicacy, consisting of chopped eggplants with other veggies (preferably artichokes), onions, olive oil, sweet balsamic vinegar, and spices. The Sicilians usually cook the dish in a rich sauce and serve it as an appetizer.
It is best to refrigerate Caponata overnight for the flavor to fully settle in. Other versions include swordfish or octopus in the stew, but you can find the original Caponata anywhere on the island.
Let's make a healthy dish of Caponata with this detailed walkthrough.
9. Parmigiana Di Melanzane – Baked Eggplants With Cheese And Tomato Sauce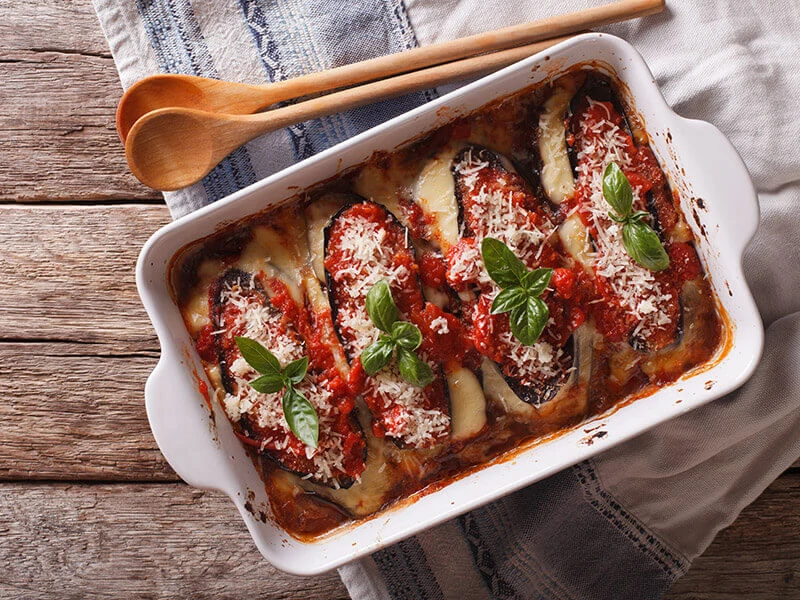 The origin of Parmigiana di Melanzane, another excellent eggplant-based dish, is shrouded in controversy. Sicily, Naples, and Parma all claim to have invented it. Regardless of how the debate turns out, nobody can deny that this rich, nutty dish is a classic Sicilian food.
People prepare this Italian-originated casserole by cutting eggplants into thin slices, pan-frying them, coating them with cheese and tomato sauce, and finally baking. The choice of cheese will decide the flavor, with goat's milk-based pecorino as the Sicilian favorite variety.
10. Falsomagro – Sicilian Meat Roll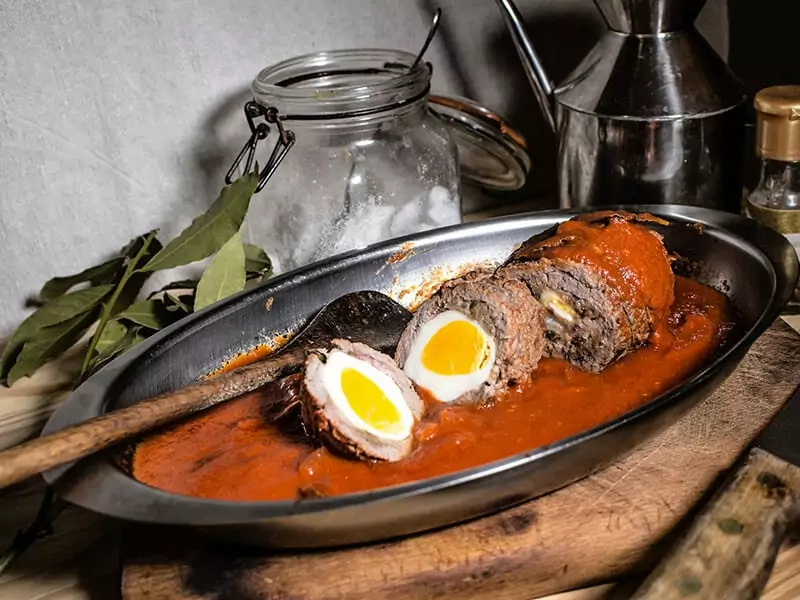 Also known as Farsumagru, Falsomagro is a popular meat dish from beautiful Sicily. Its name means "false lean", alluding to the relatively small amount of meat in the dish. But don't jump to conclusions yet: Falsomagro is a fatty and fabulous dish.
The exterior of the Falsomagro is made from a mixture of crushed bread, ham, cheese, chopped onions, and fresh herbs enveloping hard-boiled eggs. Outside this filling are thin slices of beef coated with a layer of bacon.
People usually save Falsomagro for special occasions such as Christmas and New Year. The hearty dish, when served with its own gravy, makes a wonderful and nourishing choice for the main course. You would be surprised to know that Falsomagro has a history of up to 800 years.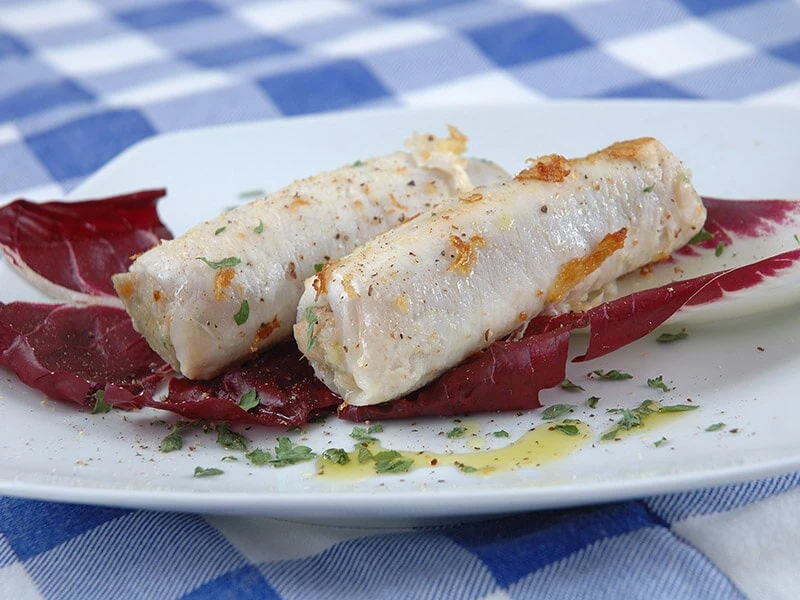 This dish is another sign of Sicilian fervent passion for swordfish. Involtini Di Pesce Spada, also known as Braciole, is made from thin slices of swordfish filets rolled and stuffed with bread crumbs, lemon zest, cheese, and various herbs.
The roll first appeared in Messina in northeastern Sicily before spreading to the rest of the island as well as Italy. The best way to prepare Involtini Di Pesce Spada is to cook it on a charcoal fire so that it has its distinct, pleasant smoky flavor.
This must-try Sicilian dish should go with lemon juice or salmoriglio sauce (which consists mainly of lemon juice, olive oil, and herbs).
Let's turn fleshy swordfish into delicious Involtini Di Pesce Spada with this Sicilian tutorial.
Savor These Sweet And Tasty Sicilian Desserts
If you have a sweet tooth, all your wildest dreams will come true in Sicily, the land of toothsome sweets, ice cream, and cakes. Children and adults alike are welcome!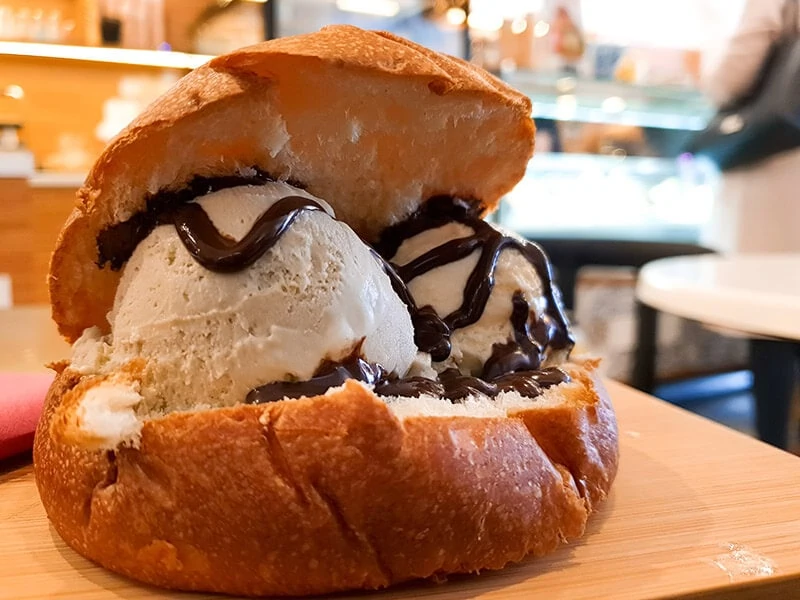 A loaf of brioche is a favorite choice for breakfast in Italy stemming from Sicily. There are many types of food to pair it with. The most exciting one is probably the ice cream-like gelato; I give you the Brioche Con Gelato, or ice cream sandwich.
The dish is simply buttered brioche stuffed with a large amount of gelato. Some people add powdered sugar, chocolate sprinkles, or whipped cream for extra sweetness. That is a simple yet effective combination that wins over countless sweets-lovers.
13. Cannoli – Sicilian Pasty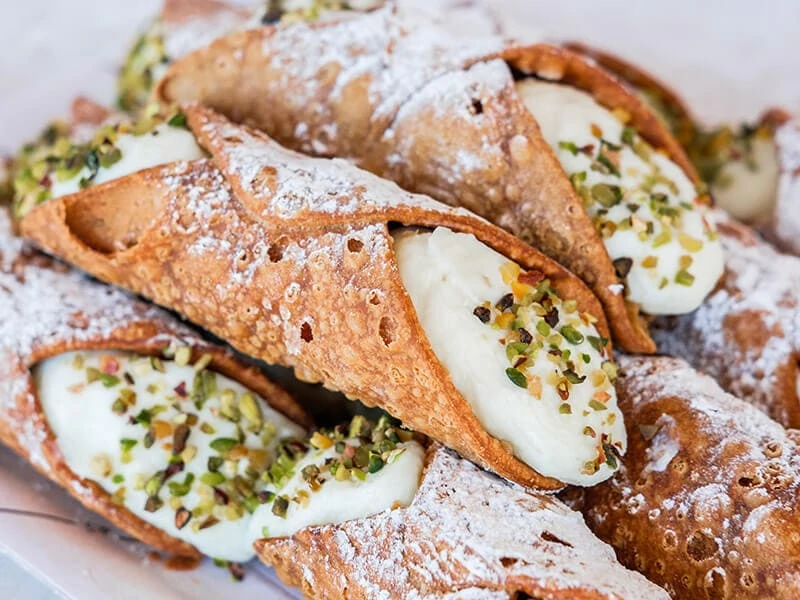 Cannoli is probably the most easily recognizable Sicilian dessert outside of the island. This beautiful and delicious pasty is the pillar of the Sicilian bakery. It is a souvenir that travelers to Sicily have to try, or their Sicilian experience risks only existing in name.
All varieties of Cannoli consist of fried and firm tube-shaped pastry shells filled with creamy ricotta. As for toppings, the classic version only allows dried fruits, while newer ones come with chocolate, nuts, berries, and so on.
Cannoli gives you the wonderful sensation of munching on the crisp pastry only to be followed by the sweet, soft cheese that melts right away. To preserve the crispness of the shells, you should only buy cannoli that are filled with ricotta just before serving.
Discover the classic way to prepare Cannoli here.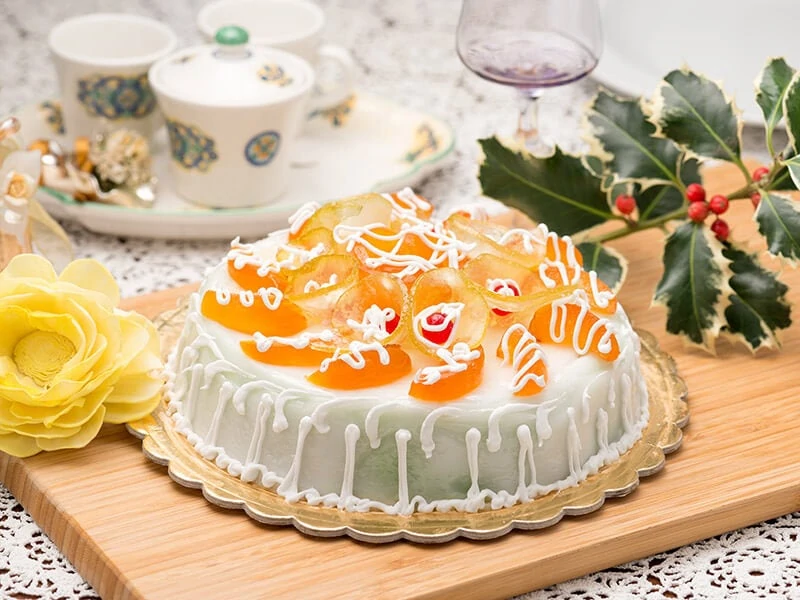 It is nearly impossible to visit Sicily without tasting its traditional cake Cassata Siciliana, or Cassata for short.
For one thing, it is everywhere as countless Sicilian bakeries and candy stores have it on display. For the other thing, the cake is central to Sicilian cuisine. Outside Italy, it is even considered a must-try dish in Malta.
Like the equally iconic cannoli, Cassata Siciliana uses ricotta and candied fruits as the main ingredient. But it is a moist sponge cake drizzled with fruit juices. In addition, Cassata Siciliana has colorful icings and delicate decorations on the surface.
Many people consider the cake to be very sweet but also delicious. So don't hesitate to have a piece of Cassata Siciliana whenever you can.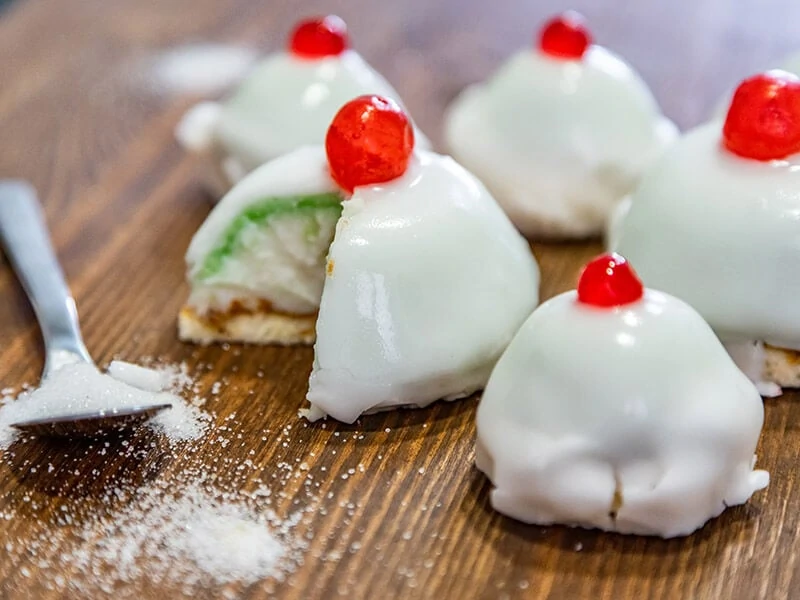 This dish is an offshoot of Cassata, but its story is perhaps more interesting than those of other varieties put together. Cassatella Di Sant'Agata has another name,Mminnuzzi Di Sant'Àjita which means "Saint Agatha's Breast". The cake is shaped exactly like you-know-what.
Back in Roman times, when Christianity was still under persecution, the Romans tortured Saint Agatha of Catania by cutting off her breasts. In her memory, the Silician people created a type of round Cassata with white icing and a red candied cherry on top.
Another thing is that the rosetta for the cake can only be made from sheep milk. People traditionally prepare Cassatella Di Sant'Agata around the Festival of Saint Agatha, taking place between February 3 and 5 and on August 17.
Check out how to make this impressive type of Cassata here.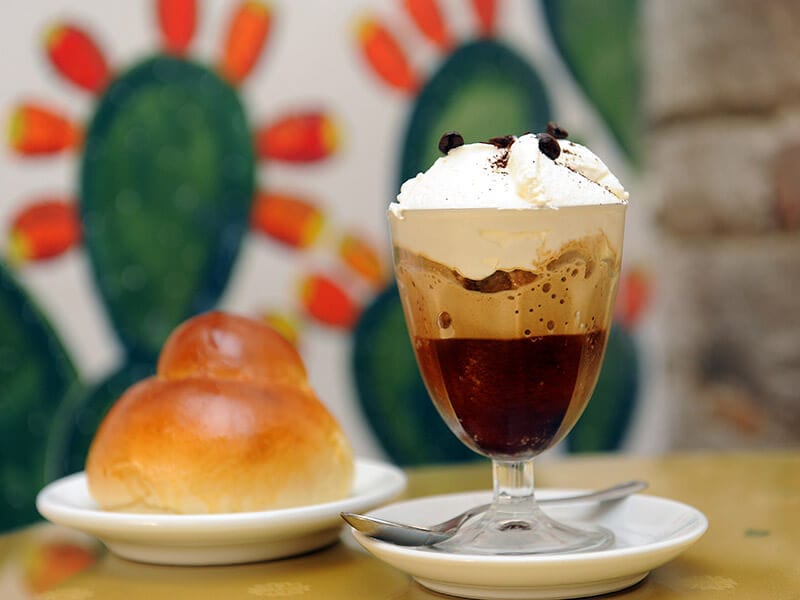 Italian Granita is so popular that you will be pardoned for not knowing it is of Sicilian origin. It is similar to sorbet (Italian ice) in the aspect that they are both semi-frozen sugar-sweetened water with flavorings. But Granita Siciliana is chunkier and coarser in texture.
Some slices of Italian brioche with a cup of Granita Siciliana make a great Sicilian breakfast recipe. A great upside of the dessert is its wide diversity of flavors: almond (Granita Di Mandorla), coffee (Granita Di Caffè), lemon (Granita Al Limone), etc.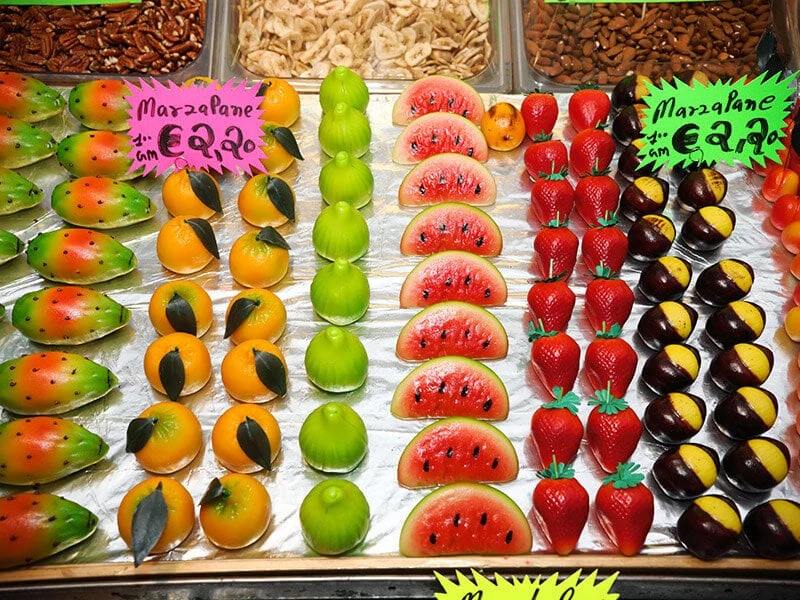 "Handsome is as handsome does", or so they say. But what if the beauty outside is as good as the inside? Let's consider the case of Frutta Martorana, a traditional Sicilian sweet that is both tasty and visually appealing.
Legend has it that in the 12th century, when the Pope visited a monastery in Palermo, the nuns had no fresh fruits for him, so they prepared sweets that looked exactly like different Italian fruits. That's how the Silician people came to possess the beautiful Frutta Martorana.
It is a delicate task to paint the Frutta Martorana; each one deserves to be considered a work of art. Sicilian children are usually given the sweet as a gift from their ancestors on All Souls' Day on November 2.
Discover Amazing Sicilian Street Food
You can't experience Sicilian cuisine without tasting Sicilian delicious street food items. Food booths and carts at markets, parks, and other public places in Sicily are as good as any restaurant.
18. Panelle – Sicilian Chickpea Fritter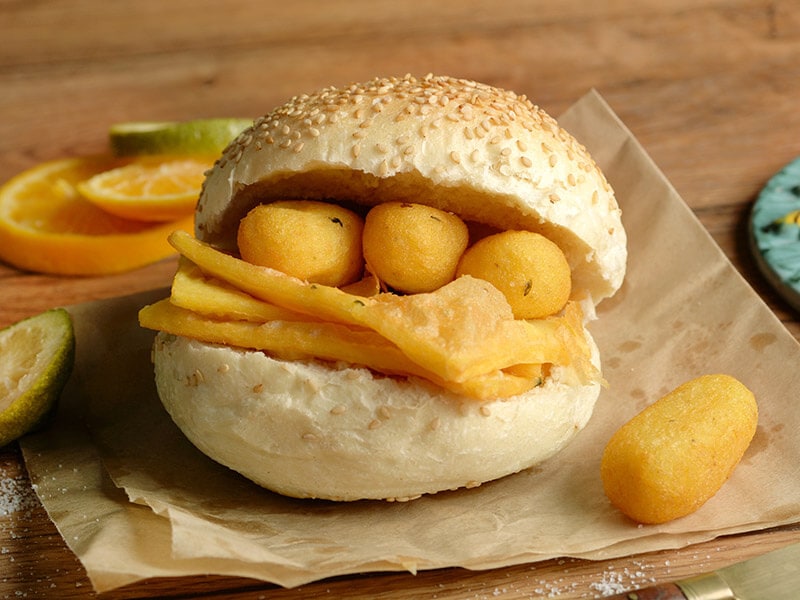 If Sicilian cuisine has anything like fast food, it should be Panelle ("paneddi" in Sicilian), deep-fried fritters made from chickpea flour. This well-known street food is a legacy of Arab rule because it originated somewhere between the 9th century and the 11th century.
To make Panelle, you need to prepare a mixture of chickpea flour with water, salt, and black pepper. Next, flat-roll the dough and deep-fry it in oil until golden. The best way to serve Pannelle is to sandwich it between two slices of sesame-topped Silician bread.
Panelle is a simple yet addictive dish. While it is cheap and suitable for less-than-well-to-do people, Sicilians from all walks of life are seduced by its crisp texture and savory, water-mouthing taste. Panelle isn't only food; it's a part of Sicilian heritage too.
You don't have to go to Sicily to enjoy Panelle – make your own with this guide.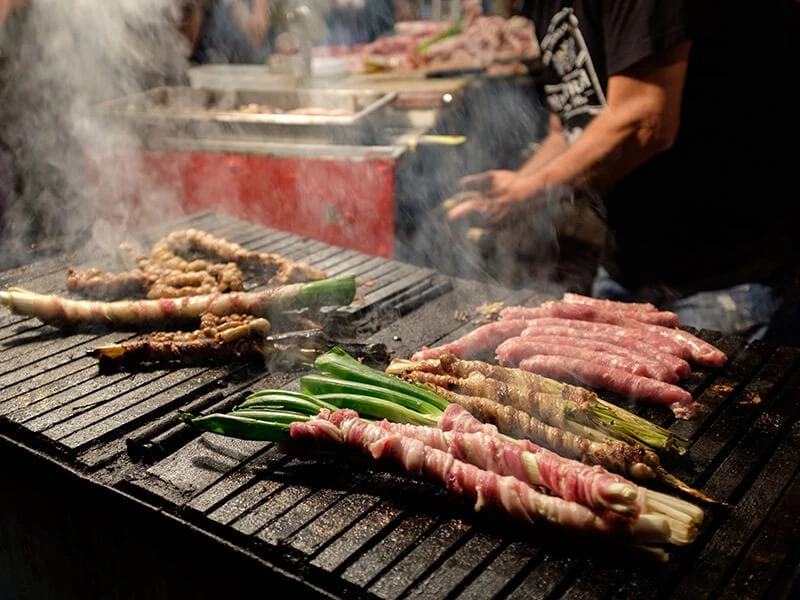 It is hard for a street food dish to find a place in a heaven of street food like Sicily. But Cipollate Con Pancetta, or Sicilian onion jams, is an outstanding example in that dog-eat-dog world. A Sicilian middle-aged man selling this stuff by his stall is a common sight of local markets.
Cipollate Con Pancetta is made by wrapping and grilling spring onions with slices of bacon. When the bacon is fragrant, and the onions are well infused with savory meat juice, you can enjoy the dish as a tasty snack or serve it with grilled meat or fish.
20. Crocchè – Fried Mashed Potatoes Dumpling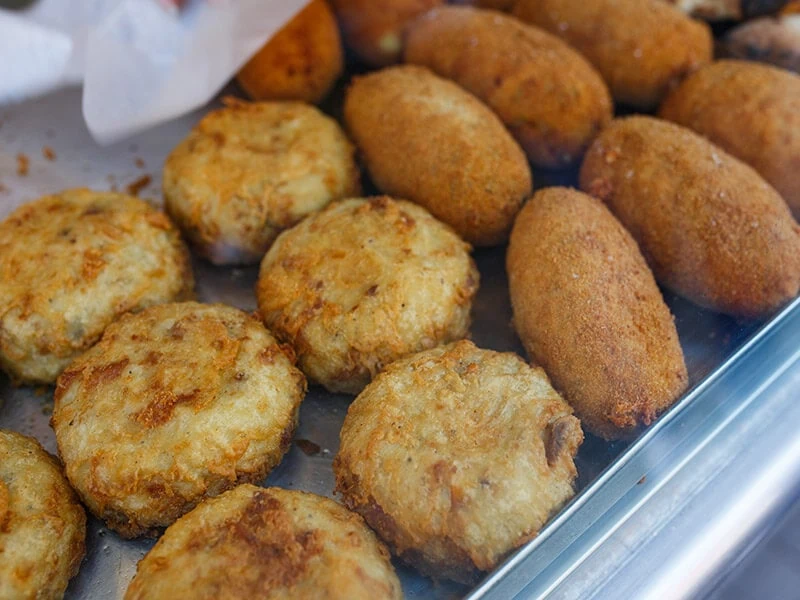 Centuries ago, Naples and Sicily were united in the Kingdom of Sicily. A culinary relic of that union is the introduction of Crocchè, a tasty deep-fried snack. Neapolitan in origin, it quickly became identified with Sicilian cuisine and now ranks as a supreme street food.
The dish was inspired by a signature dish in France called croquette. Its main ingredients are mashed potatoes, eggs, mint leaves, and the Italian element that distinguishes Crocchè from croquette: Parmigiano and mozzarella cheese.
Crocchè has a soft, delicious interior that is covered by a crisp exterior. When you bite it, the contrast will delight your senses beautifully.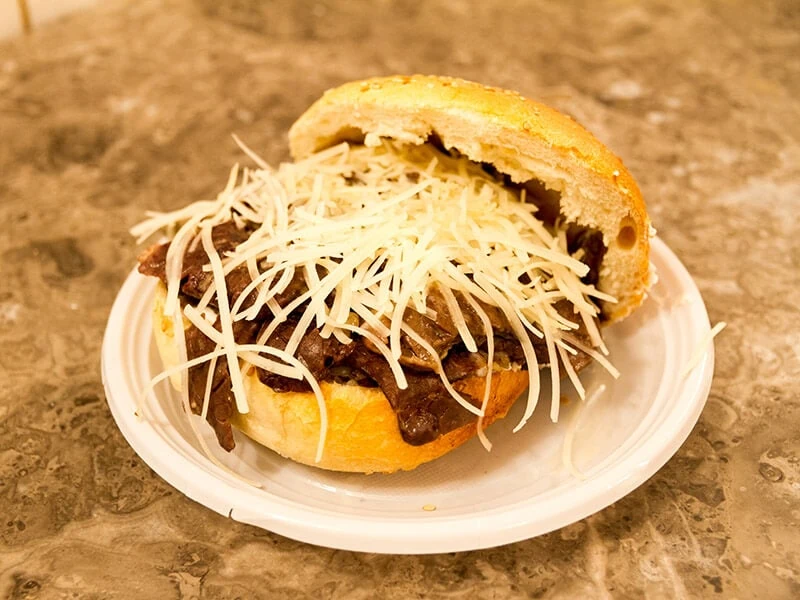 If you are confident of being a hearty eater who frowns at no challenge, I dare you to try Pani Câ Meusa, or "Pane con la Milza" in Italian. Its translation reads like "bread with spleen", and the dish is an interesting Sicilian delicacy.
In short, Pani Câ Meusa is a soft bun topped with sesame and stuffed with cow offal. The filling consists of boiled chopped cow spleen, lung, and trachea that are fried in pig lard. Add some Italian cheese to the stuff, and you can enjoy the notorious spleen sandwich.
If you have no qualms about tasting Scottish Haggis, blood sausages, or kidney pies, Pani Câ Meusa will be a piece of cake. An unusually delicious, fatty cake, that is. You can follow the Sicilian trick of drizzling lemon juice over the sandwich to make it easier to enjoy.
Check out Silician famous spleen sandwich in Palermo.
22. Stigghiola – Grilled Stuffed Caul Fat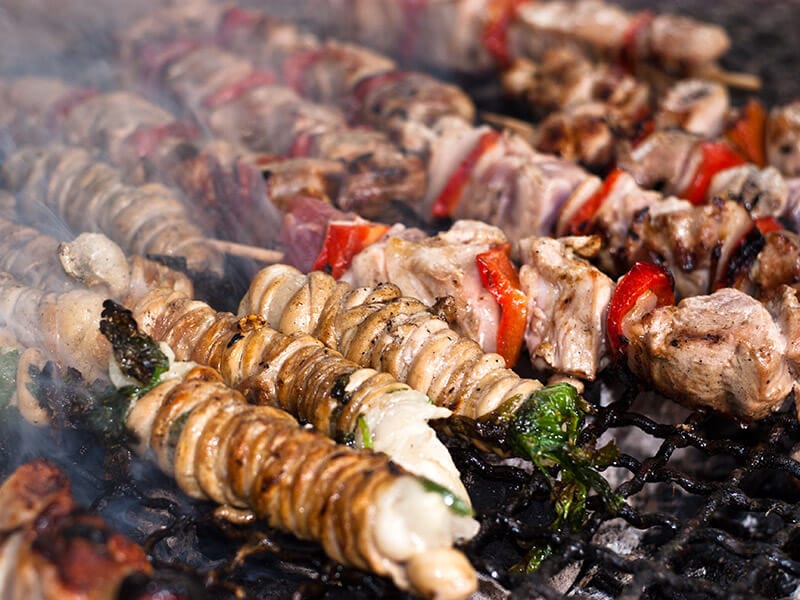 Are you looking for an exotic Sicilian lunch recipe? Then you should taste Stigghiola (plural: stigghiole), an extremely famous Sicilian specialty. The name is derived from a Latin word meaning "intestines".
That perfectly describes the nature of this street food. It is made from chicken, cow, or lamb guts that are skewered and grilled with onions, parsley, lemon juice, and sometimes cheese. The result is hot, savory Stigghiola drizzling with fatty juices.
You should enjoy this dish with some lemon wedges and possibly a beer. Don't judge this food by its cover. Stigghiola is recognized by the Italians as a valuable traditional product.
Prepare yourself for a tour of Stigghiola and other Sicilian specialties in the streets of Palermo.
23. Frittula – Sicilian Offal Sweet Food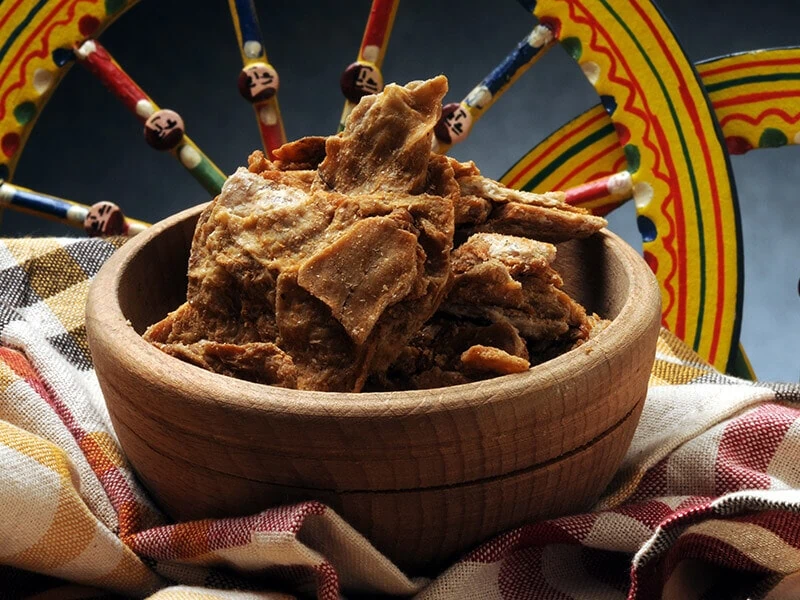 The Sicilian people fully demonstrate their hatred of wastefulness with this dish. Frittula is made from the leftovers of slaughtered animals after butchers have used up all the useful parts. Frittula ingredients include ground bones, skin, fat, and meat scraps.
People make Frittula by deep-frying the mixture in pig lard before seasoning it with herbs and serving with buns. The locals also enjoy this delicacy with focaccia or wrapped in waxed paper. Many young Sicilians don't even dare to taste it, but how about you?
May The Sicilian Foods Be With You
While enriching Italian cuisine, Sicilian foods have developed their all reputation. They are wholesome, nutritious, and delicious dishes that will do wonders with your everyday meals and big parties for special occasions.
Therefore, it would be great if you could incorporate it into your menu. Or you can experience them the next time you visit this beautiful island to get a true Sicilian flavor. Either way, those foods won't disappoint you.
Please share this post with your friends if you find it useful. Your feedback and comments would be very valuable to me. Have a good day and, like they say in Sicilian, "Bon Appititu"!