Nowadays, many people are curious about Salvadoran foods. This is a beautiful country, and their culinary practices are worth learning. Therefore, I have compiled a comprehensive list of the most popular and incredible dishes of this cuisine.​​
These Salvadoran cooking recipes are not only appealing but also flavorful. If you have a vacation to El Salvador in the near future, you should not skip this article. Let's get started!
Warm Up With Excellent Salvadoran Soups
These excellent Salvadoran soups will help you warm up and replenish nutrients. Do not pass the opportunity to enjoy all these fantastic recipes!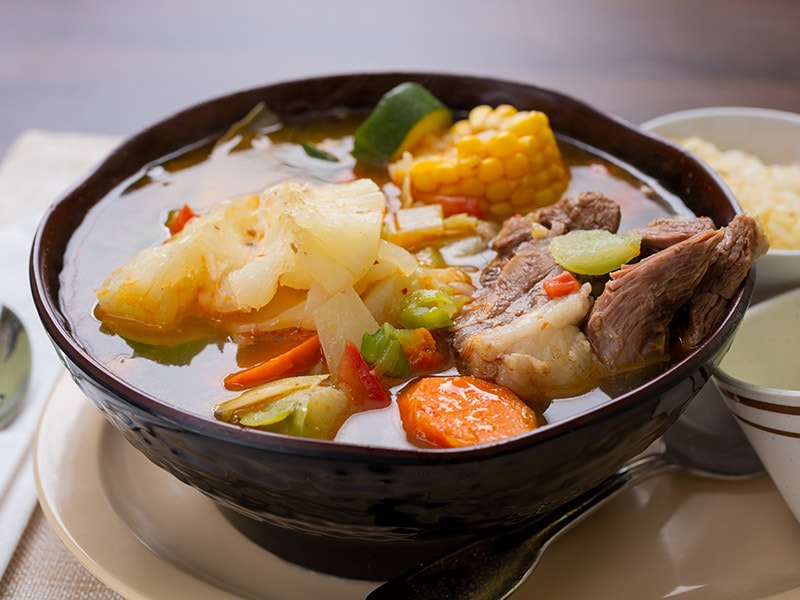 If you are looking for a great addition to your Salvadoran lunch recipes, you should not neglect Sopa de Res. This warm and sweet soup originates from Mexican cuisine and is pretty popular in Guatemala City.
Through many historical upheavals, this food was introduced to El Salvador and gradually became famous nationwide. The chef will cook chunks of beef with plantain, corn, and various root veggies. It contains many nutrients that are good for your health.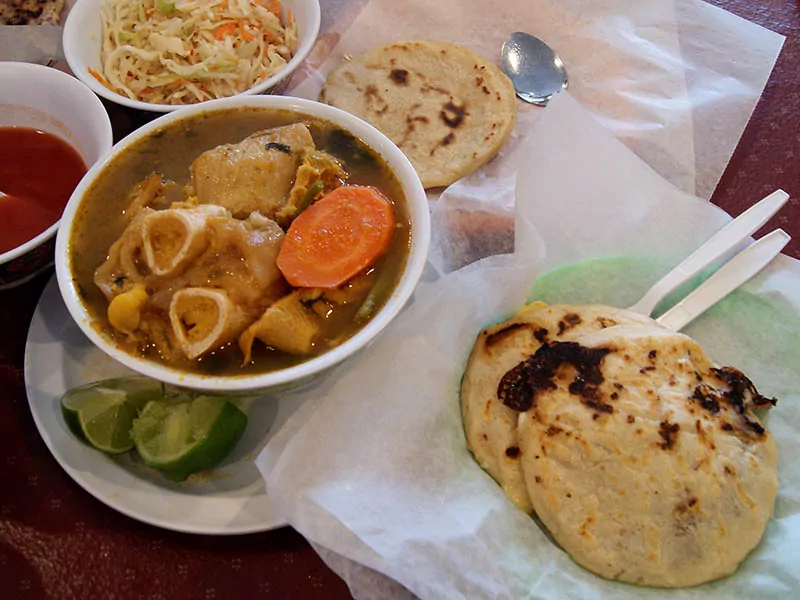 Sopa de Mondongo is a famous and well-beloved dish in Puerto Rico, Colombia, the Dominican Republic, and El Salvador. This soup was born in the 17th century in Latin America during the Spanish colonial period.
The fantastic flavor of this soup is made up of beef/pork tripe, calf feet, vegetables, and various spices. This rich and tangy soup comes in many variations in the Philippines, Latin America, and the Caribbean.
If you are in a hangover, Sopa De Mondongo will give you a quick release so it becomes popular on weekends. You can go to local markets to eat it.
Learn the methods to make outstanding Sopa De Mondongo.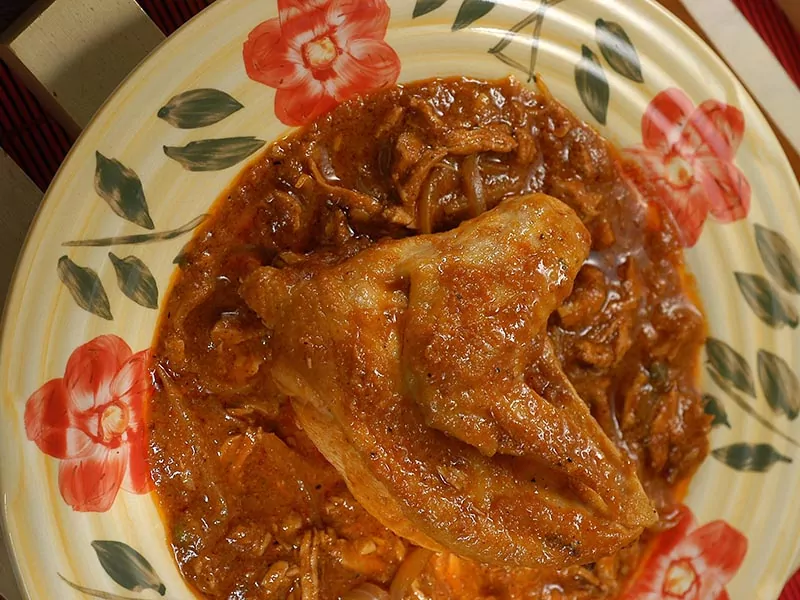 Chicken is a popular food in El Salvador. Gallo en Chicha is a famous chicken soup recipe of this country, and you can find this food in Central American countries. Its birth was a fusion of European delicate cuisine and traditional Salvadoran ingredients.
Rooster will combine with chicha to make a yummy pot of soup. Chicha is a fermented or unfermented drink with corn as the main element. In addition, you will feel the flavors of veggies, white wine, pineapple vinegar, and prunes.
There is a rumor about this dish as it is usually eaten on Mondays, especially made from the roosters that were lost in the Cock Fight the night before.
Sopa de Pata is pretty similar to Sopa de Mondongo that you can find beef tripe in this soup. However, the main star in Sopa De Pata is beef feet with other components like cassava, and various vegetables to create this tasty soup.
This recipe originates from El Salvador and is popular in many Latin American countries. In addition, you can also find images of this beautiful dish in the paintings. Salvadorans often make it at family gatherings on Sundays.
5. Sopa De Gallina India – Wild Chicken Soup
You will regret not eating this delicious Salvadorian dinner recipe. Sopa de Gallina India or Wild Chicken soup is an iconic dish of Salvadoran cuisine. After cooking, the wild chicken still keep its texture with a rich flavor.
Root vegetables appearing in the food will enhance its flavor. If you want to eat this soup at restaurants, you should go on Sunday because they only serve special occasions. Some of its variations feature rice, meatballs, and small eggs.
6. Sopa De Pescado – Fish Soup
Fish soup is a famous dish worldwide, with many countries boasting their own version of the dish. For example, it is an irreplaceable dish in Norway, France, Belgium, and many other nations' cuisine.
As for El Salvador food culture, this Sopa de Pescado fish soup will be a nutritious choice for you. You can find butter, onions, tomatoes, peppers, garlic, and fish in this delicious dish. Besides, the flavor of it becomes more intense with achiote.
Achiote or annatto is a red spice made from the achiote tree. This is a plant that occurs in many Latin American countries. The appearance of this seasoning makes Salvadoran fish soup different from other countries' versions.
Salvadorans usually eat it on Good Friday meals. However, restaurants in San Salvador (the biggest city in El Salvador) only serve it once in a while at times.
Mariscada is one of those great soups that will entice you from the first try. This rich seafood soup is famous in coastal El Salvador. You can find shrimp, squid, clam, crab, and lobster in this mouthwatering soup.
Mariscada was a creation of the Spaniards several centuries ago. They brought this recipe to the Americas in general and El Salvador in particular during the Conquistadors period and gradually became a prominent dish of this region.
Awesome Salvadoran Main And Side Dishes
Your Salvadoran dish list will be more diverse with the main and side dishes in this section. Please enjoy it all as soon as you arrive in El Salvador.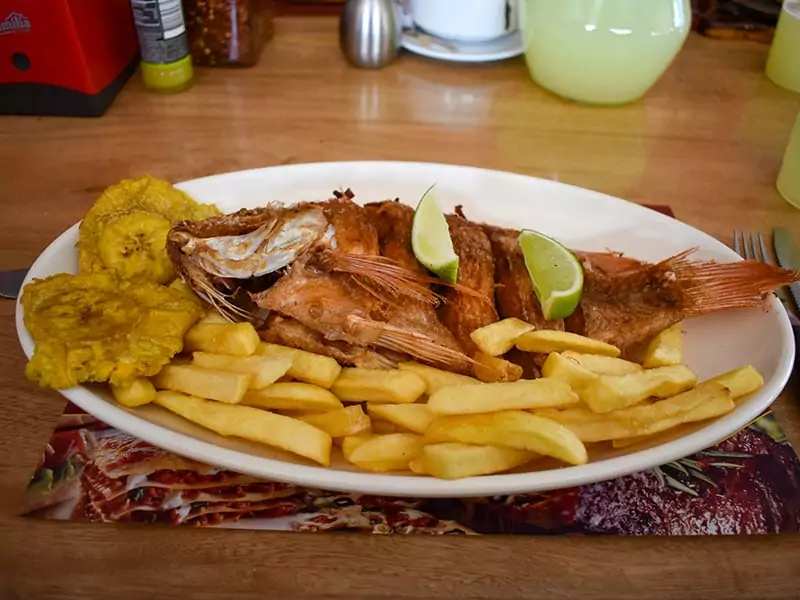 Mojarra fish are found in many tropical climates. The fish will be fried in hot oil until it has a beautiful golden color and a crispy outer layer. The inside of the fish remains soft and succulent.
This excellent dish is available in many different countries around the world. People first knew about this food in England in the 1650s when the Spanish Jews arrived in England. When the Spaniards invaded the Americas, they brought this recipe with them.
Salvadorans usually eat Panes con Pavo on special occasions. This turkey sandwich takes hours to prepare and make for a hearty, fulfilling treat. Roasted turkey will have a rich flavor when seasoned carefully.
The name Panes con Pavo translates to "turkey bread". The Aztecs and Central Americans started raising turkeys before Europeans knew about this land and set foot here. It is a favorite choice of Salvadorans at Christmas parties.
10. Enchiladas – Fried Tortillas With Meat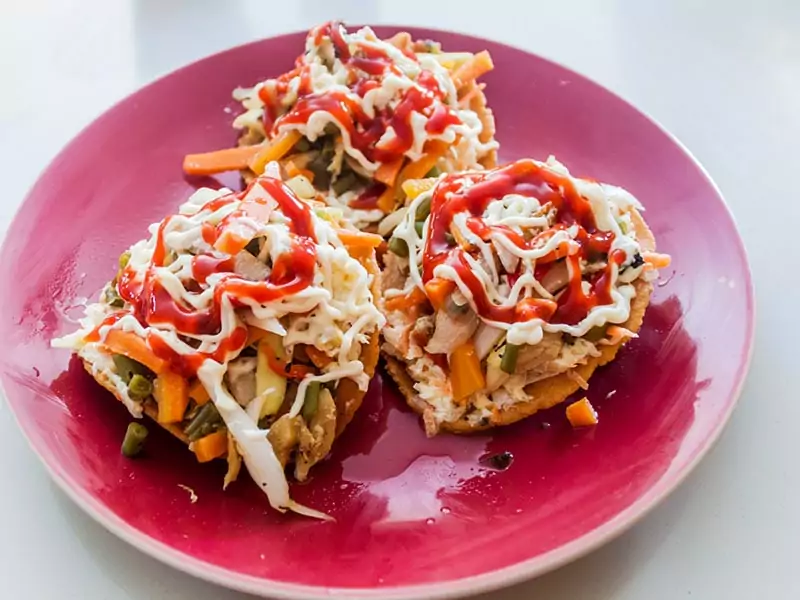 If you love traditional American and Salvadoran dishes, you cannot miss Enchiladas. You will love the crispy and delicious fried tortillas.
Topping with ground beef, eggs, cheese, and vegetables will enhance the flavor of the food. Although the dish might look complicated at first sight, you can make it quite easily at home with the help of some top-rated canned Enchilada sauce.
Unlike the rolled-up burritos of other countries' versions of Enchiladas, Salvadoran cuisine's version will include flat and crispy tortillas topped with a variety of fresh and delicious toppings. Remember to pair Enchiladas with a suitable side dish to enjoy them to the fullest.
This incredible dish originated in Mexico from the time of the Aztecs and gradually spread throughout the Americas. The 5th of May every year is National Enchilada Day. This yummy recipe first appeared in a cookbook in 1831.
Gain all helpful knowledge about the delicious Enchiladas.
11. ​​Carne Asada – Salvadoran Grilled Meat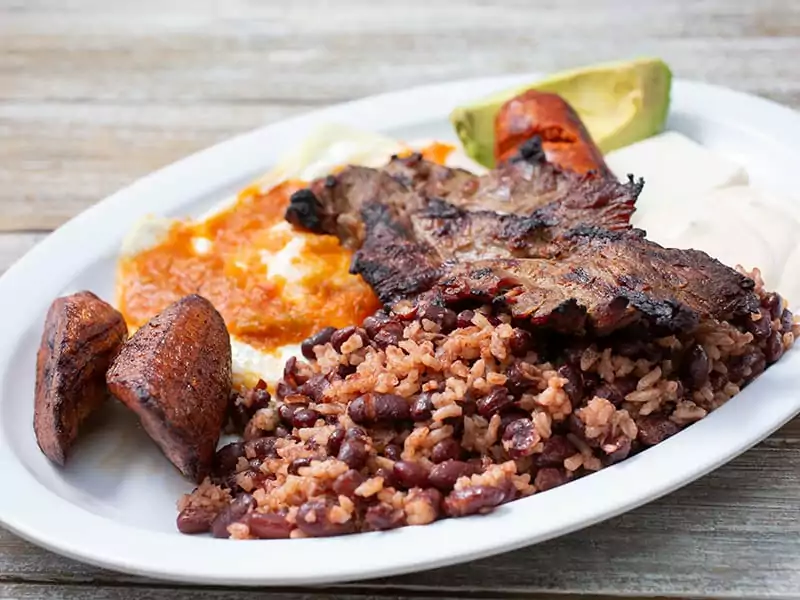 It is time for a protein boost with this delicious Carne Asada. This grilled meat is famous throughout El Salvador and many other South American and Caribbean countries' gastronomy. You will be immersed in the rich flavor of marinated meat.
This attractive dish is often combined with rice, grilled vegetables, tortilla, Casamiento, and Chirimol. It originated in Mexico when cattle began to be widely farmed in North America in the 1500s.
12. Casamiento – Salvadorian Beans And Rice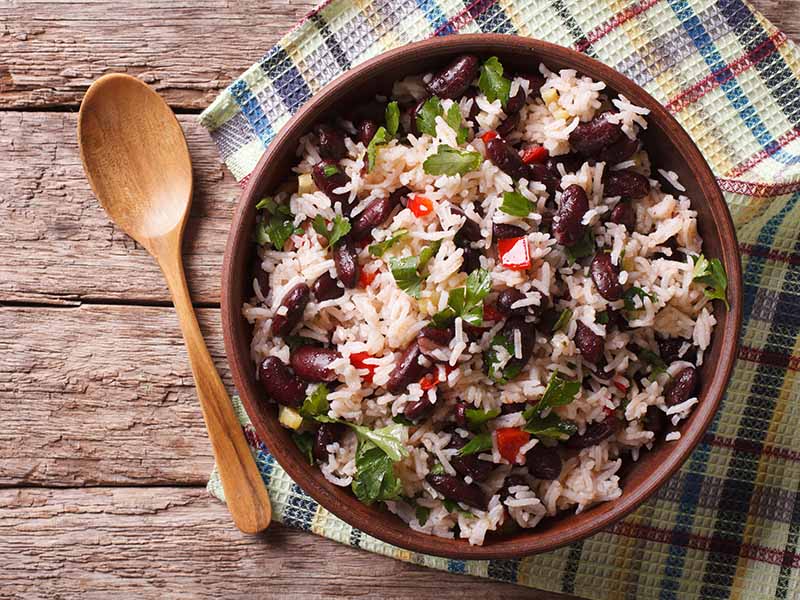 Rice is a staple food of the El Salvadoran people. Casamiento is a typical dish with a combination of beans and rice, and is considered a must-try dish in Honduras and Salvadora. The rice and beans will be refried to enjoy a distinctive flavor.
Veggies, onions, and peppers are added for extra flavor in some other areas. This food will have its names in various countries: Congri (Cuba), Tacu-Tacu (Peru), Gallo Pinto (Costa Rica), and Feijoada (Brazil). Its name means "wedding" which refers to the marriage of rice and beans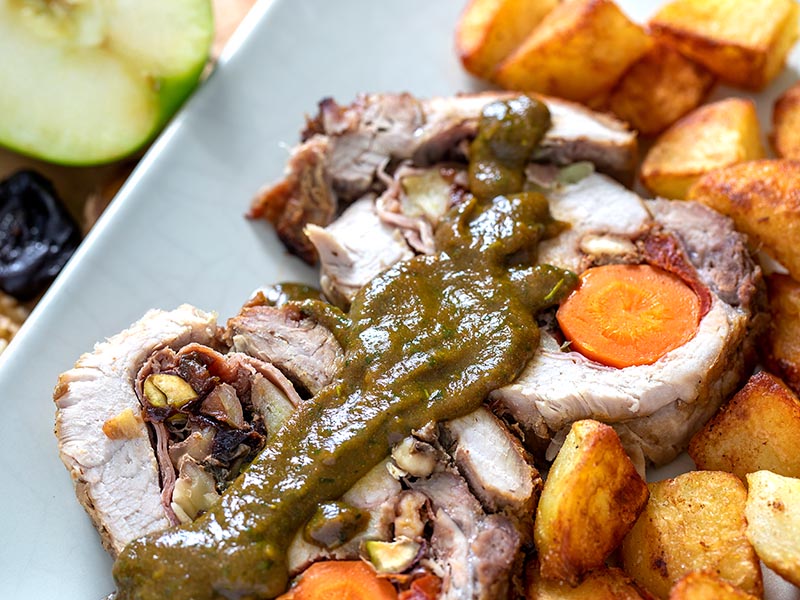 If you want to enjoy a succulent, aromatic, and attractive dish in El Salvador, Lomo Relleno is an excellent suggestion for you. Roasted pork, chorizo, shallots, tomato sauce, and all-purpose seasoning make up this savory main dish.
Lomo is the common name for loin meat dishes. There are different versions of Lomo from around the world, such as Spain's Cana de Lomo with cured pork tenderloin or Peruvian Lomo A Lo Pobre with grilled beef. It is a good choice for special occasions like Christmas.
Do Not Be Afraid To Go Hungry With Salvadoran Street Snacks
Everyone loves to enjoy snacks while traveling because of their convenience. You can buy these fantastic dishes at vendors or stalls on the streets of El Salvador.
14. Pupusas – Stuffed Corn Cake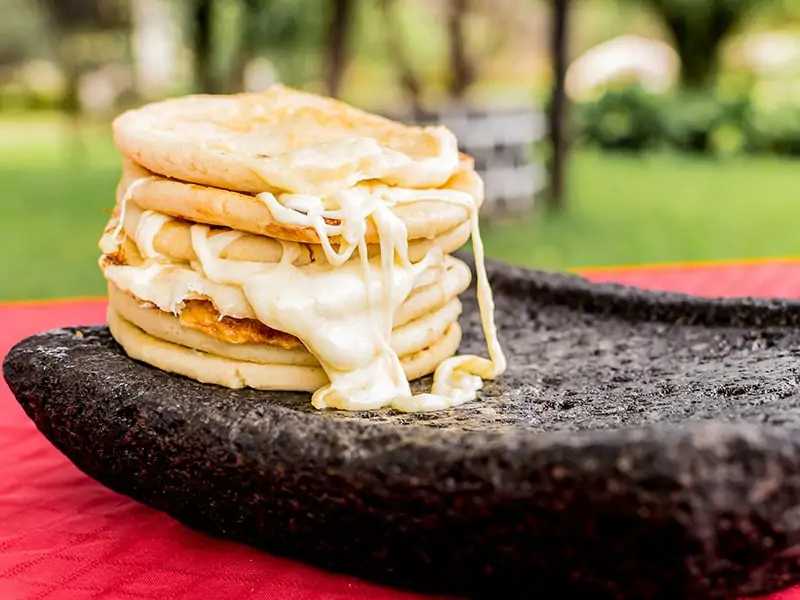 You can add Pupusas to your Salvadoran breakfast recipes for your upcoming trip to El Salvador. It is a national dish of this country. In addition, it's a well-loved dish in Guatemala.
Rice or corn is the main ingredient that makes up tortillas. Toppings like cheese, pork, shrimp, fish, and loroco will be topped with tortillas.
Salvadorans usually make it with their hands and eat it by hand. The 2nd Sunday of November is chosen as National Pupusa Day, and a Pupusa eating contest will take place on this day on the streets of El Salvador.
People of the Pilpil tribe who lived in El Salvador more than 2000 years ago created this food. When the civil war broke out in the 1980s, Salvadorans took Pupusas in the United States, Australia, and Canada.
Follow these instructions to make delicious Pupusas.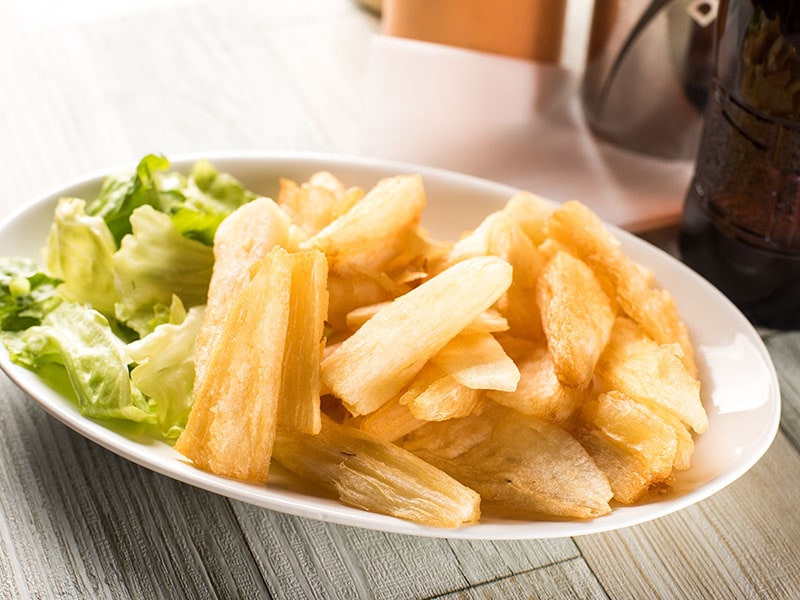 Yuca, or cassava, was present in South America 350 million years ago. Humans started eating yuca 12000 years ago in Brazil. By 8000 BC, the Brazilians were already cultivating yuca, and countries in the Caribbean like Salvador also began to grow it.
In the Caribbean, it is also known as "cassava". Salvadorans have taken advantage of yuca to create the wonderful Yuca Frita. You will fall in love with the gentle sweetness and crispiness of the yuca after frying.
You can find vendors selling this Yuca Frita on the streets of El Salvador. Ycodromo in Mejicanos is considered the place to have the best Yuca Frita. It's also a well-known treat in Panama. It is often topped with Chicharron or Pepesca when eaten at vendors.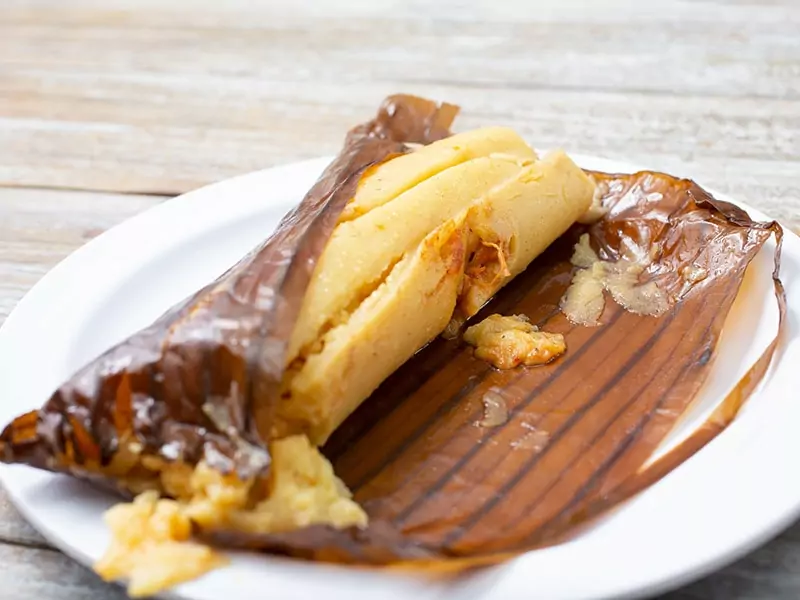 Referring to Salvadoran cuisine, I think of Tamales immediately. The chef will wrap the corn-based dough in a banana leaf and steam it for a few hours to get soft, supple, and fragrant Tamales. This food has various variations depending on the dough.
The traditional version will combine vegetables, chicken, pork, and tomato sauce. Meanwhile, the Tamales Pisques will have the appearance of fried beans. This excellent dish was born between 8000 and 5000 BC in Mesoamerica.
Let's taste Salvadoran Tamales and Mexican Tamales to find the differences.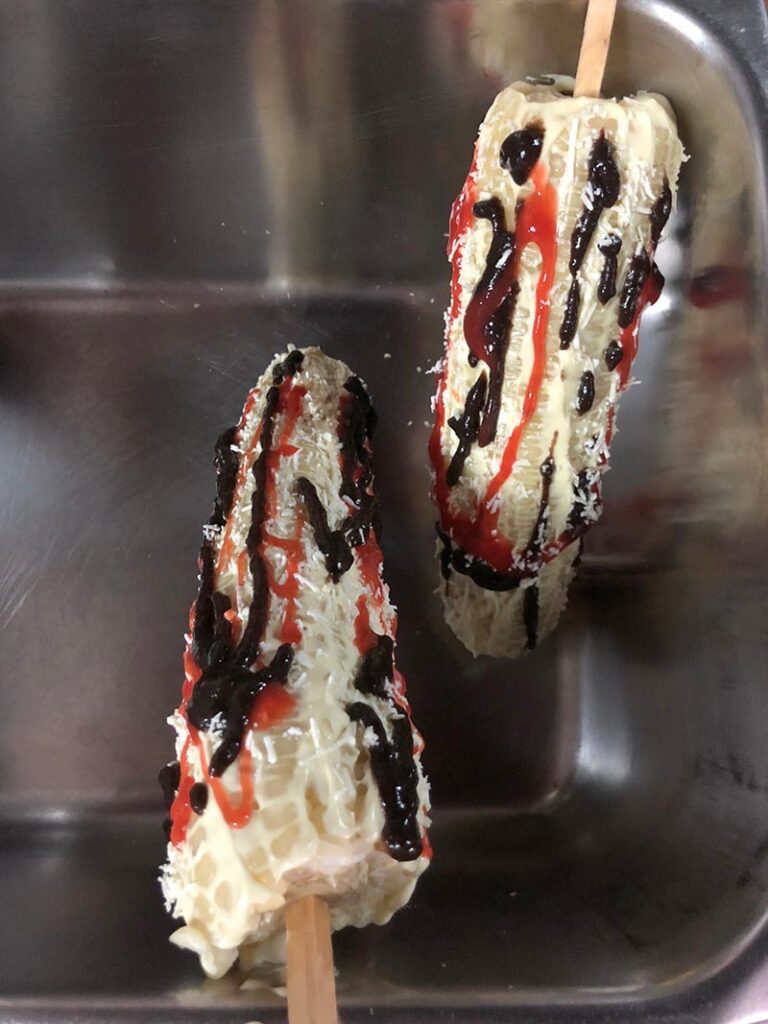 Elote or grilled corn is a portion of popular street food in Mexico, El Salvador, and other Spanish-speaking countries. Elote Loco is a variation of the traditional Elote created by Salvadorans with sweet corn and assorted topping.
Mayonnaise, Salsa Negra, cheese, and mustard topped with grilled corn will make you addicted. This wonderful recipe originated in Mexico and spread throughout the Americas. The word "Elote" in its name means "corn" in Spanish.
If you want to enjoy this amazing Elote Loco with the cheapest and explosive taste, let's go to the fairs, food markets, and parades in El Salvador.
18. Pastelitos – Salvadoran Turnovers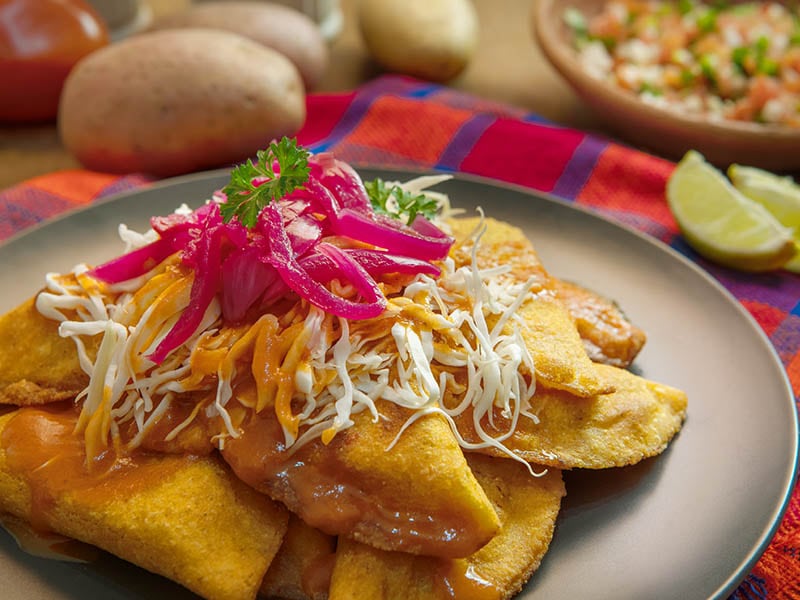 Corn is a common ingredient in Salvadoran dishes. Pastelitos is an awesome recipe with corn dough, spices, and achiote. The food combines a layer of corn dough wrapped around a filling made from vegetables and meat.
Salvadorans usually eat it with tomato sauce and fermented cabbage salad. This was an invention of enslaved people working on Cuban and Spanish sugar plantations. However, a few others argue that Cuban households made it.
19. Nuegados – Deep-Fried Corn Dough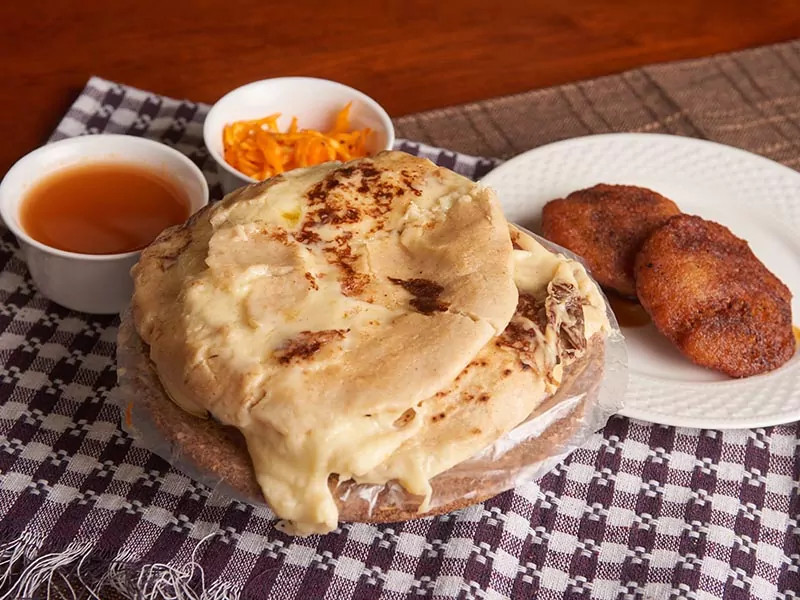 Wow, it is hard to resist the powerful appeal of Salvadoran Nuegados. This food has Yuca dough as the main ingredient. You will be addicted to the crunchiness of Nuegados after being deep-fried. It is indispensable for honey to make an enchanting sweetness for it.
There are many other ways of serving this food. It can be served with cane sugar sauce or cinnamon sugar syrup. The name "Nuegado" is derived from the Latin word "nux" which means "nuts".
7 Sweet Salvadoran Dishes Will Make You Fall In Love
Countless sweet Salvadoran dishes are waiting for you to enjoy. You will not forget the excellent taste of these scrumptious desserts.
20. Quesadilla – Salvadoran Sweet Cheese Cake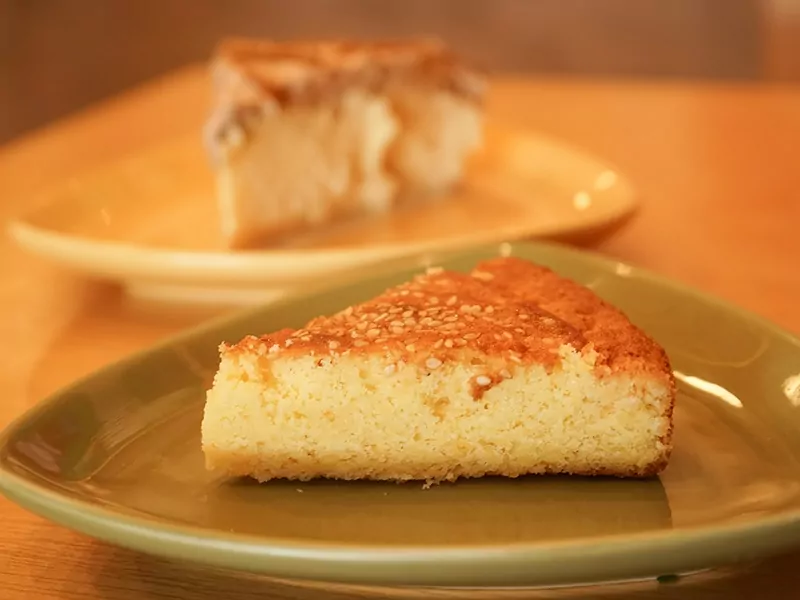 Quesadilla is one of the Salvadoran dessert recipes that are popular with tourists. It is a sweet cheesecake made with rice flour, Queso Duro Blando, and sesame seeds. It is hard to resist the allure of this tasty dessert.
Besides serving as a dessert, Salvadorans often enjoy it with a cup of coffee every morning. This dish is covered in many cities in the US, such as New York, San Antonio, Los Angeles, with a large Salvadoran population.
Discover the origin and fascinating stories about Quesadilla.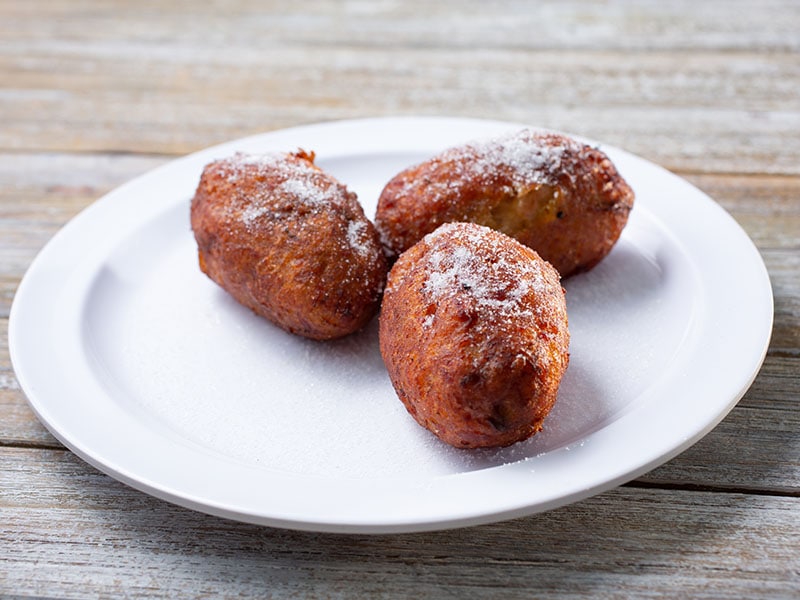 People in South America and the Caribbean have taken advantage of plantains to make many attractive dishes. Empanadas de Leche is a popular dessert recipe in El Salvador, with ground plantain as the main ingredient.
You can find vanilla custard or beans inside Empanadas' dough. The layer of sugar sprinkled on the top of the cake will bring a charming sweetness to this recipe. This food originates from Guatemala and is popular on the occasion of Semana Santa.
22. Tres Leches – Salvadoran Milk Cake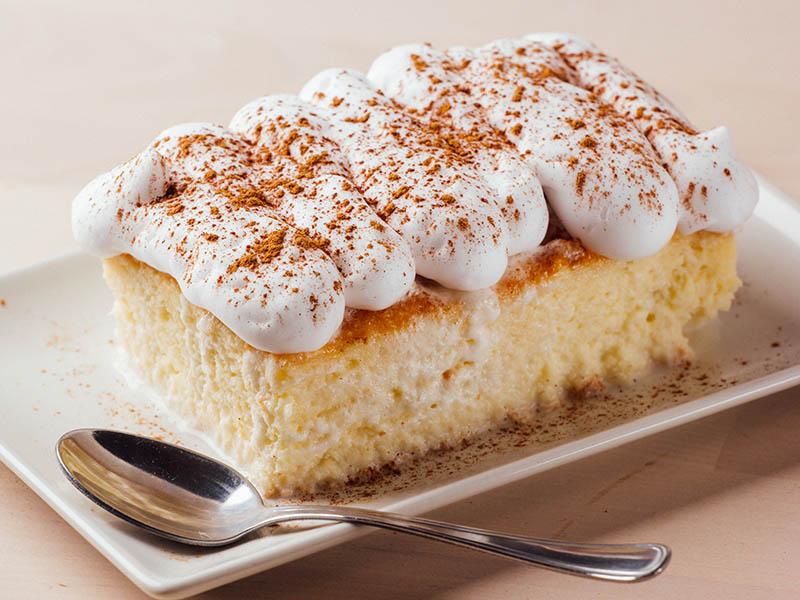 Its Tres Leches name means "three milk". In fact, it contains 3 different types of milk, including natural, condensed, and evaporated milk. Moreover, the taste of this soft and spongy cake is more varied with sugar, cream, eggs, butter, and vanilla.
This recipe is said to have been born in Nicaragua long ago. It is famous in El Salvador, Mexico, Puerto Rico, Cuba, and Guatemala. This cake became famous in the early 1900s when condensed, and evaporated milk became widespread in Latin America.
23. Torrejas – French Toast With Sweet Sauce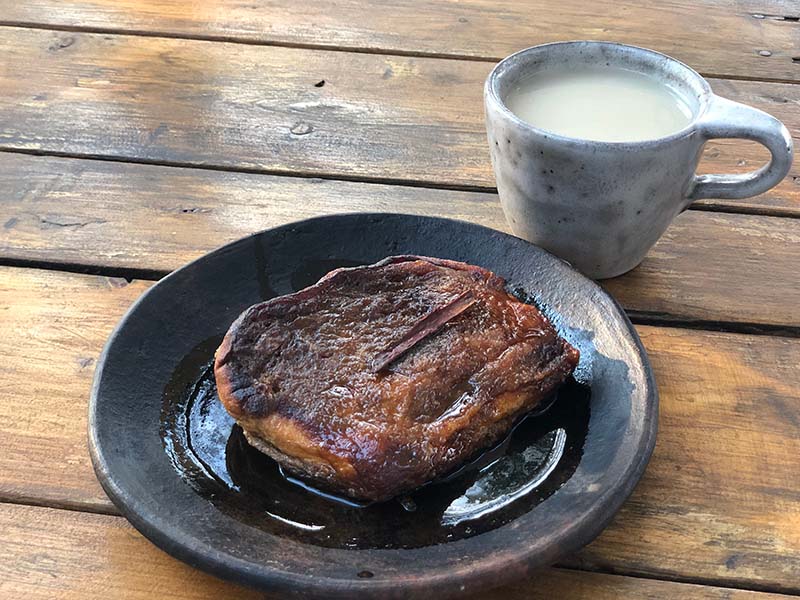 Torrejas is an ideal dessert for Holy Week. Yolk bread is the main element of this food. It becomes more flavorful when bathed in a mixture of milk, sugar, eggs, cinnamon, and salt. Significantly, the outer layer of it will be crispy after frying.
Unrefined sugar cane syrup will bring sweetness to Torrejas. In the 15th century, nuns invented these Torrelas. This food resembles French toast. This dessert is an Easter favorite.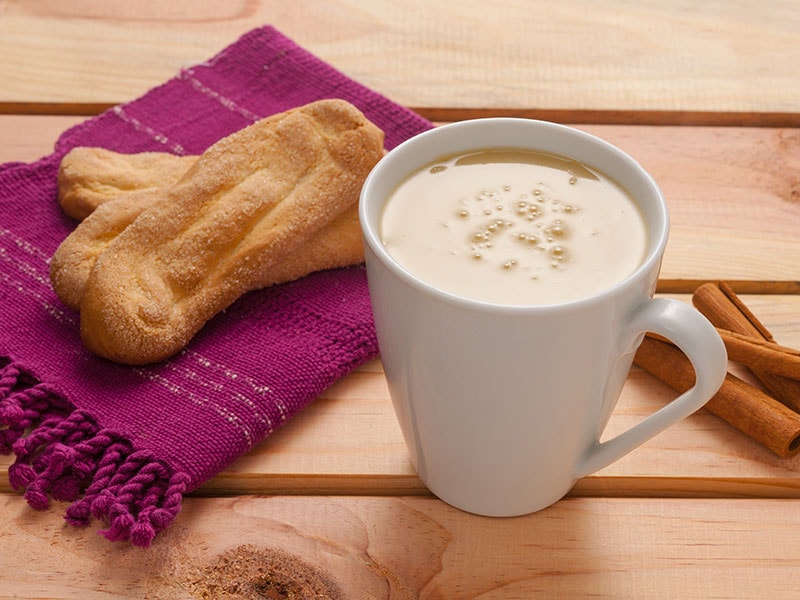 It is great to end a meal with a rich, delicious, and warm Atol De Elote – a well-loved Salvadoran beverage. You will feel the natural flavor of corn mixed with the sweetness of sugar and milk. Besides, a little cinnamon will make this dessert special.
The Salvadoran version is pretty similar to the version prepared by Spanish settlers. The Mayans made and enjoyed this mouthwatering dessert first. They used it along with tortillas and tamales for breakfast.
Go to the kitchen to make Atol De Elote to treat your loved ones.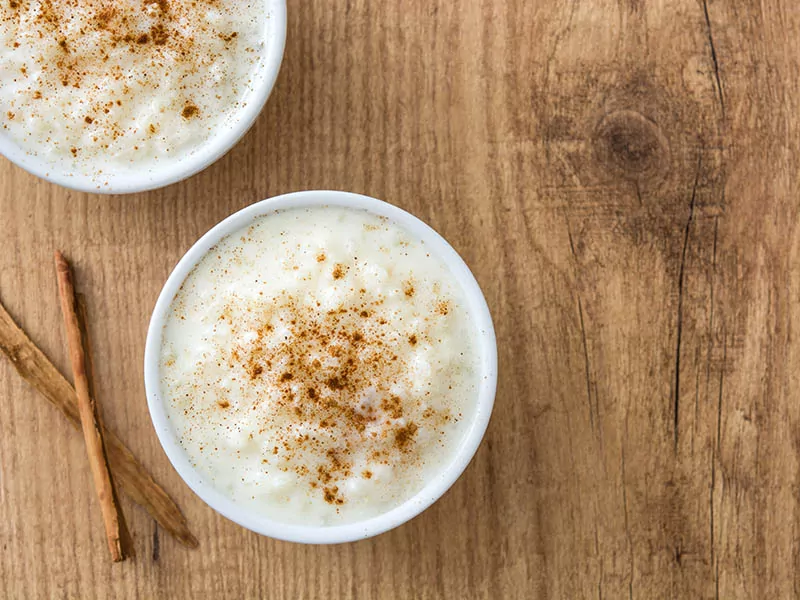 Arroz Con Leche was a dessert popular throughout the Americas when the Spaniards invaded the land. It was first made in the 8th century in Spain. The dish is a blend of traditional Spanish cuisine and Arabic spices.
Tourists often choose to end their meal at Salvadoran restaurants. This soft and smooth textured recipe includes rice, sugar, and milk. In addition, a little cinnamon sprinkled on top will create a unique highlight for this food.
26. Horchata – Rice And Seed Drink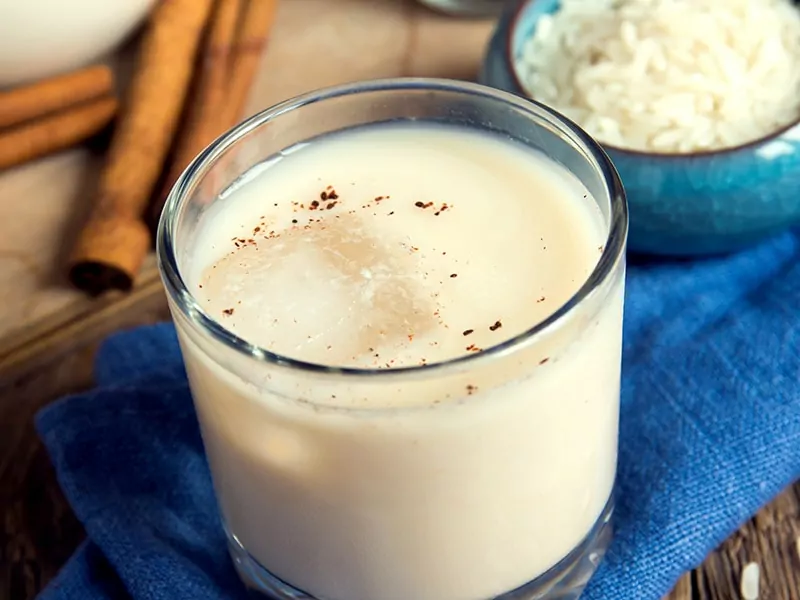 You will go crazy with this sweet and thick drink. You can find it on the menus of most Salvadoran restaurants. Its sweet, creamy, and refreshing flavor is made up of jicaro, rice, sesame seeds, and milk.
This recipe is of North African origin and is widely known among Hispanics. Gradually, it became popular in the countries of South America and the Caribbean when the Spanish colonists began to conquer the Americas.
This is a healthy drink as it contains vitamins C and E and various minerals like calcium, magnesium, and iron. Besides, Horchata is perfect for your eye health.
Explore all things about the mouthwatering Horchata.
What Are Your Favorite Foods In El Salvador?
I hope you will enjoy the flavors of the famous Salvadoran dishes on this list. So if you have a chance to visit this country, do not wait any longer to try them.
In the comments, let me know other dishes you know or have tried in El Salvador. If you feel this article deserves to be liked and shared, do not hesitate to do so right now. Thanks for your time!