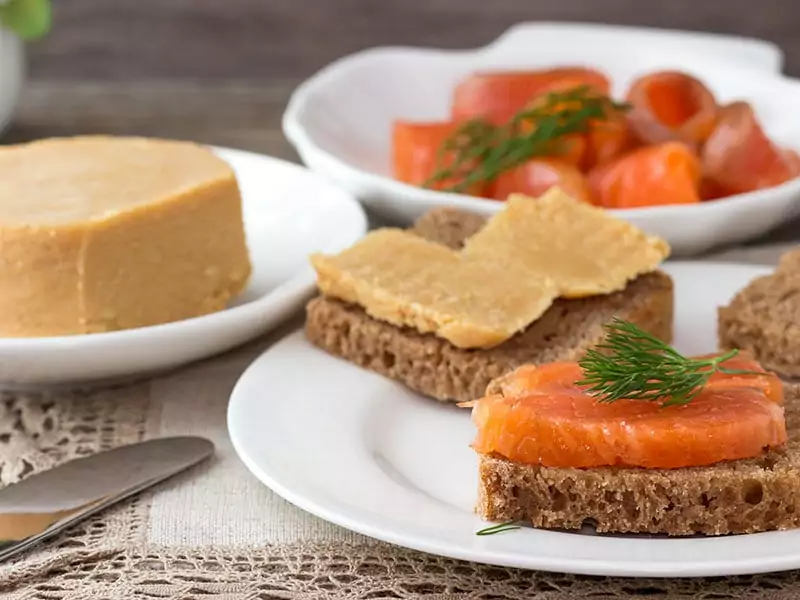 If you have the chance to visit this lovely country, Norwegian foods are worth exploring. Some visitors think they are intriguing, while others might think they are bizarre. Either way, it's worth a shot!
Like any other nation, Norwegian cuisine has been impacted by globalization and modernization. So nowadays, foreign dishes like pizza or hamburgers are becoming more and more popular. However, that is not what I am here for.
Today, I will mainly focus on the most well-known and classic Norwegian cooking recipes. So here is everything you need to know about traditional Norwegian cuisine, enjoy!
Norwegian Appetizers That You Don't Want To Miss
First of all, let's take a look at the most popular appetizers in this country. All of the appetizers below are incredible in terms of taste and their importance to Norway cuisine and culture. Read on and find out what they are!
1. Gravlax – Cured Salmon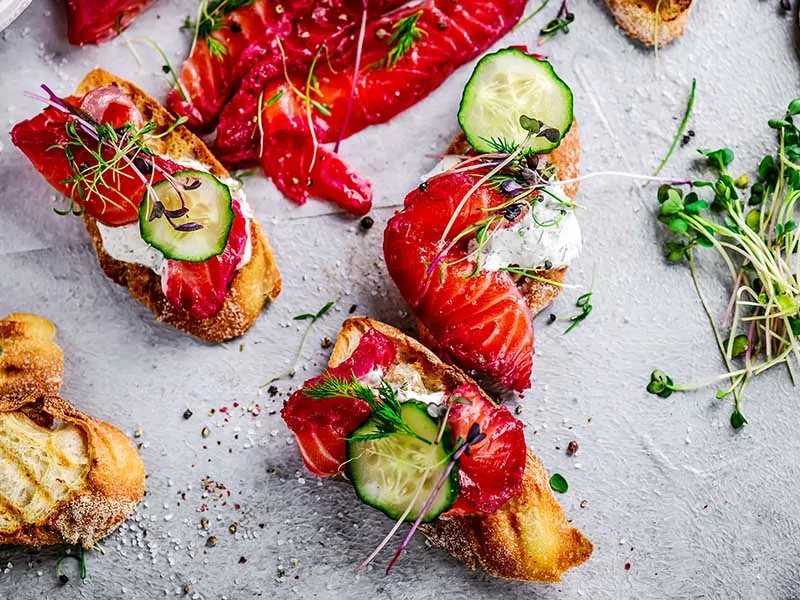 Gravlax is a Norwegian cured salmon dish, commonly served in thin slices on bread or with boiled potato and a bit of Hovmästarsås – a dill and mustard sauce.
In the Middle Ages, fishers preserved fish by burying it in the sand above the high-tide line for a few days to salt the fish naturally and slightly ferment it.
Now, the fermented taste is no longer welcomed in this dish, so people have come up with a different way of making the iconic Gravlax.
In fact, Gravlax is classified as "lox" – salmon preservation by curing, creating differences between lox and smoked salmon. And lox is a famous food in Scandinavian countries, including Norway.
A mixture of salt, sugar, and dill is used to cover the salmon or other fatty fish for at least 12 hours. Over time, the dry marinade draws out the moisture from the fish and turns into this highly concentrated brine.
You can easily make Gravlax at home by following this tutorial!
2. Fiskesuppe – Norwegian Fish Soup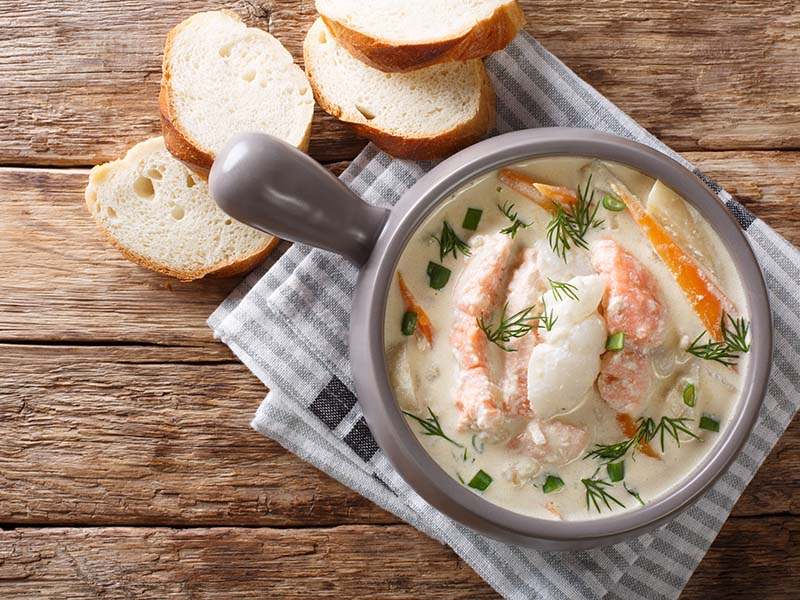 Fiskesuppe is a comforting creamy and buttery fish soup that is iconic to Norway. The dish is made with fish, shellfish, and vegetables boiled in a cream broth. The dish is also served with assorted fresh herbs and lemon juice.
Fiskesuppe is native to the coastal areas of Norway, but it holds an important place in the heart of all Norwegians. Local chefs may replace cod with other seasonal fish or add additional flavorings such as red pepper, bacon bits, or chive oil.
3. Sodd – Norwegian Traditional Soup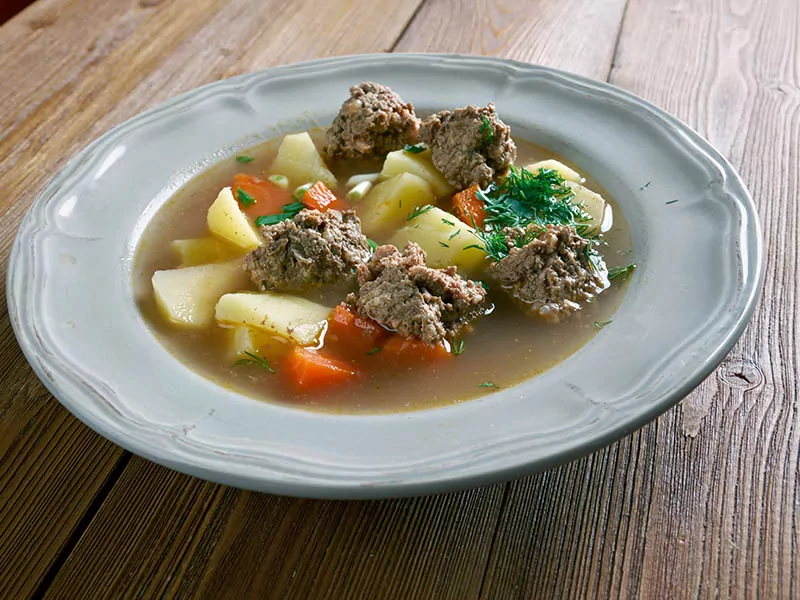 Sodd is a filling Norwegian meal made out of chopped mutton, meatballs (beef, mutton or lamb), and veggies served in a clear, aromatic broth. Typically, the veggies (usually carrots and potatoes) are cooked separately before being added to the soup.
Since the 13th century, this soup has been a mainstay in Norwegian cuisine, and it is most closely linked with the Trøndelag area today. Norwegians tend to eat Sodd on festive or special occasions along with a side of Lefse.
4. Lefse – Norwegian Potato Flatbread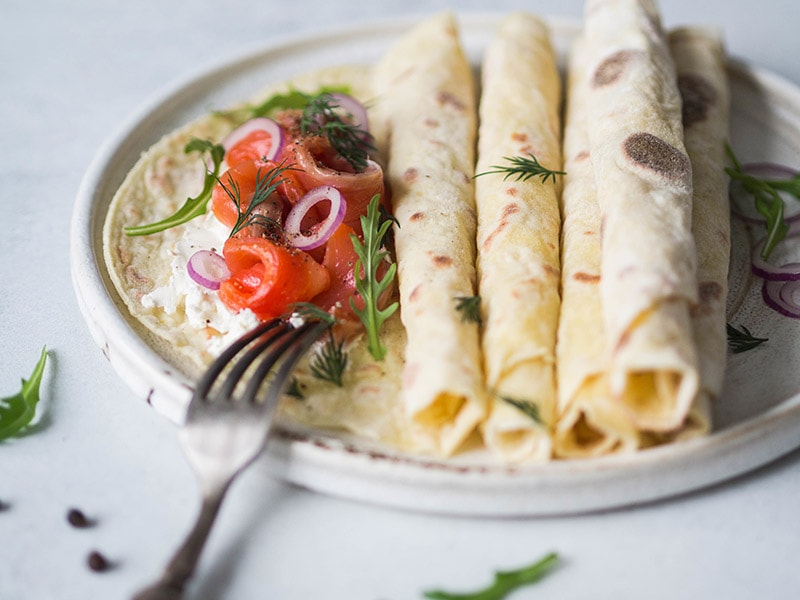 Lefse is a beloved Norwegian flatbread. Prepared on a large grill with specialized tools such as long wooden sticks and rolling pins, baking Lefse has become a fun and loving activity for every generation.
Depending on the regions, the way lefse is made and eaten has various versions. However, they are all flatbread and made with potatoes, butter, flour, milk, cream, or lard. The Lefse variation in Valdres is thinner, so you should try that if too much butter makes you sick.
Norwegian families used to make a lot of Lefse, then they dehydrated and stored them before winter. The dehydrated potato flatbread could be softened with water and enjoyed throughout this season.
Some other versions of Lefse are Lompe (which I will discuss later), Tynnlefse, Tjukklefse, Potetlefse, Møsbrømlefse, Nordlandslefse and Anislefse.
If you're in the mood for some homemade Lefse, here's an old family recipe!
Interesting Main Dishes In Norway That You Should Check Out
Let's take a look at the main dishes in this country now! Norwegian recipes are shaped by necessity and availability. That is why you see many fish-based main dishes in Norwegian cuisine.
But besides that, meat and veggie dishes also play a significant role in Norwegian food and culture. So if you're ready to learn more about all of them, check them out right now!
5. Smalahove – Sheep Head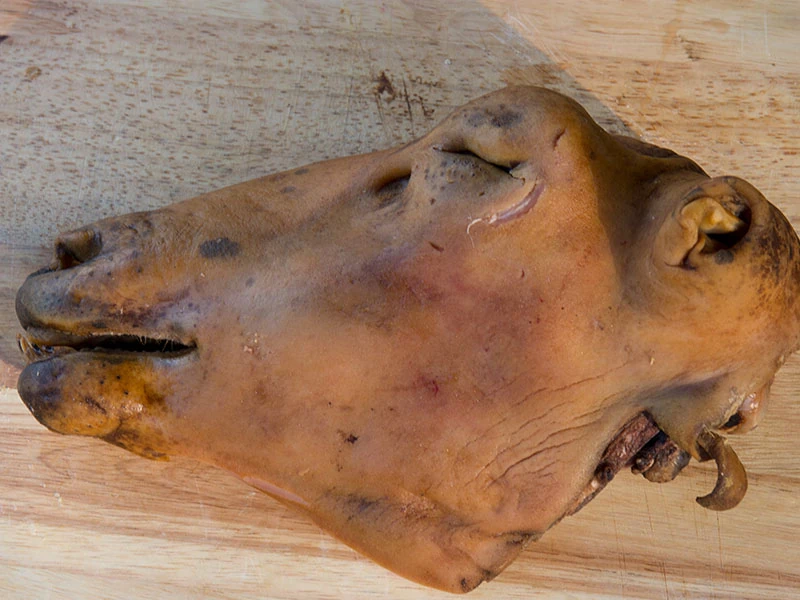 You can tell the main ingredient of this dish just by reading its name alone. The word hove means head while smale means sheep. Put them together, and you will have smalahove, meaning sheep head in Norwegian.
And yes, Smalahove really does contain a whole sheep head, like the Svid dish in Icelandic cuisine. Some visitors might find this dish unappealing or "repulsive", but for the thrill-seeking foodies, it is an attractive culinary trophy that they must achieve.
One serving of Smalahove contains half of the sheep head. Its brain will be cooked inside the skull and can be eaten with a spoon.
This Western Norwegian dish is originally eaten before Christmas time. This tradition still remains in some Norwegian villages where they serve the sheep head on the last Sunday before Christmas. The other parts of the sheep will be saved for Christmas dinner.
6. Lutefisk – Dried Cod Treated With Lye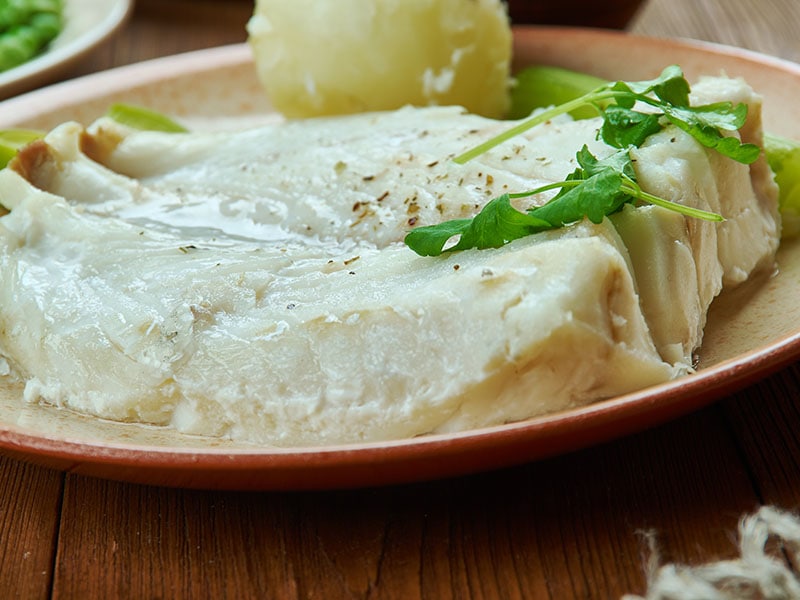 Lutefisk is a dried whitefish from Norway. The most common fish for this Norwegian lunch recipe is cod, but sometimes the locals also go for ling and burbot.
The dried, salted cod or air-dried whitefish is pickled in lye. After being soaked in cold water for a few days, the fish will have an interesting gelatinous texture that the Norwegians love.
Lutfisk is a Christmas custom in Norway as well as an essential part of Swedish and Finnish cuisine. It goes great with white sauce and a side of boiled potatoes and green peas.
7. Fårikål – Norwegian Mutton And Cabbage Stew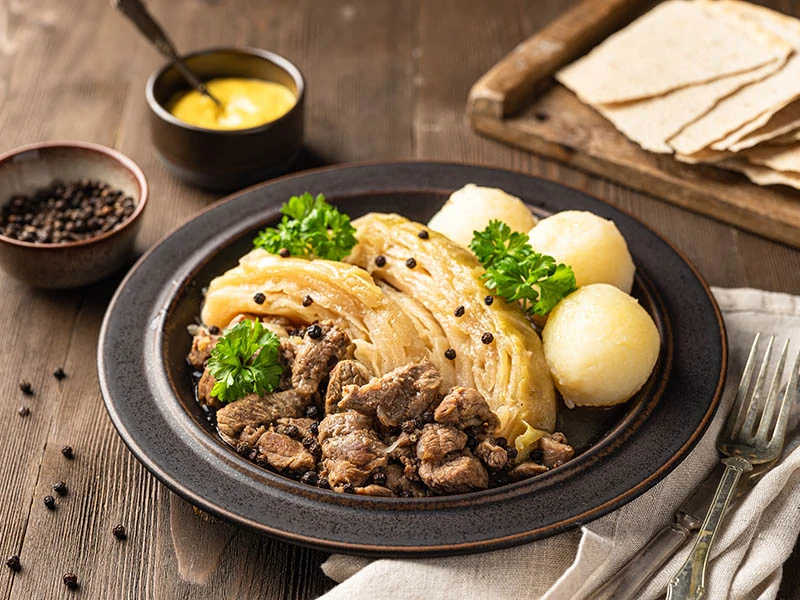 Mutton and cabbage is a foolproof combination. Once this food combo is seasoned with whole black pepper and paired with boiled potato, you will understand why this traditional Norwegian stew is a national dish.
Fårikål used to be an autumn dish, but it is available all year. The people here love this dish so much that they even have an annual Fårikål Feast Day. This particular day is celebrated every last Thursday in September, around the beginning of fall when the dish tastes best.
The Norwegians love to enjoy this dish on Sundays when they have guests over.
Fårikål might look complicated, but it's super easy to make. Here's how!
8. Klippfisk – Dried And Salted Cod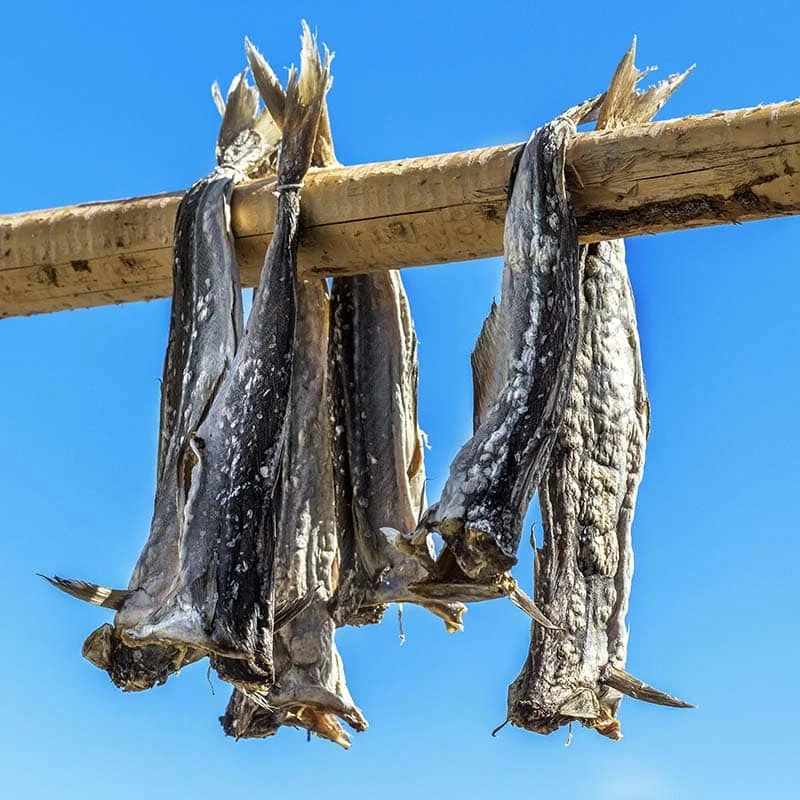 The Norwegians have manufactured and exported Klippfisk, or "cliff-fish", since the early 1700s. There used to be 5 distinct grades of salt cod in Norway, and "superior extra" was the highest rating.
"Superior extra" Klippfisk only uses line-caught cod. The perfect fish for this is skrei, a kind of cod caught once a year during spawning.
Klippfisk was traditionally dried in the open air, frequently on the cliffs and naked rock faces, by the wind and sun. That is why it has the word "klipp", meaning bare coastal rocks, in its name. It is now dried indoors using electric heaters.
Despite being salted, Klippfisk does not taste too salty. Salt cod makes its appearance in various cuisines in other regions, like Ecuadorian cuisine in South America, or the Atlantic and the Mediterranean.
9. Kjøttkaker – Norwegian Meatballs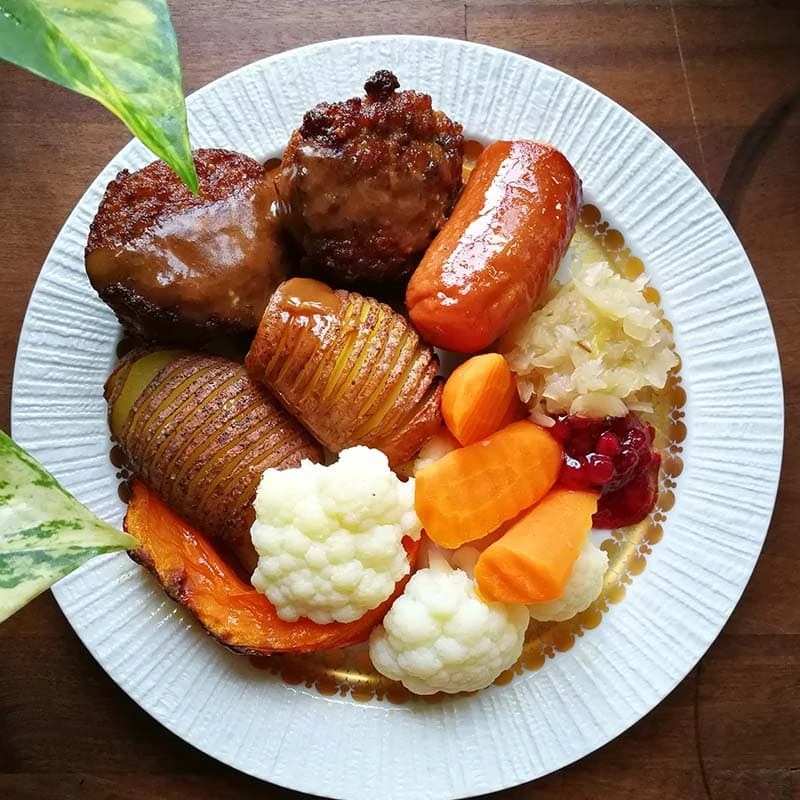 Every country has a different version of meatballs; Norway is no exception. These pan-fried, flat minced meatballs even make their way on the Christmas dining table of many families.
This meal is always served with hard-boiled potatoes to balance out the meatiness. You can also pair the dish with mushy peas and lingonberry jam (which is Tyttebær in Norwegian).
The term Kjøttkaker means meat cakes in Norway, which sounds quite odd in English.
10. Lapskaus – Beef And Vegetable Stew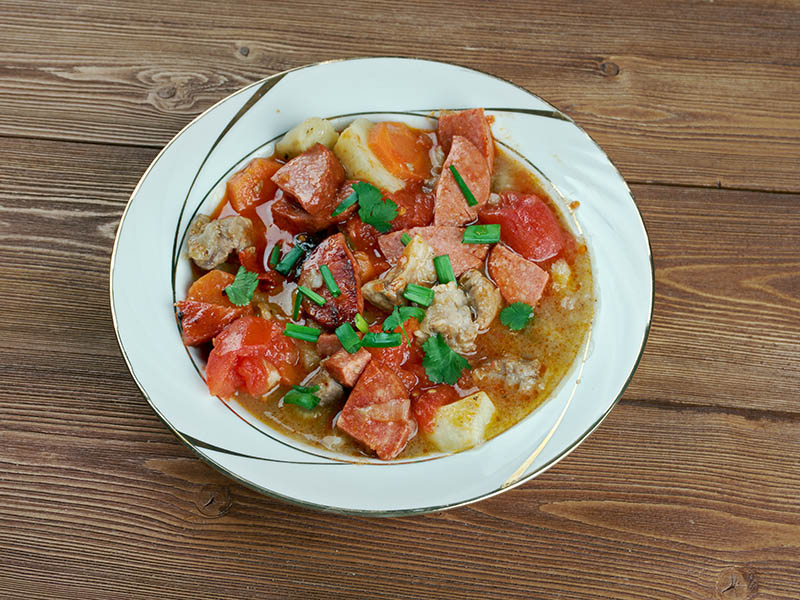 This hearty and comforting stew will surely fill your stomach and your soul. Lapskaus comes in a variety of forms. To make this dish, you will need meat and lots of vegetables, such as potatoes, carrots, leeks, celery root, onions, and rutabaga.
Lapskaus comes in two varieties: light and dark. The dark version has a brown sauce base, which is more flavorful.
You can use either fresh or leftover meat for Lapskaus, for example, most recipes use leftover roast beef, but pork, lamb, chicken, or ham are also common.
Lapskaus is also popular in Norwegian cuisine in the United States. Lapskaus even appeared on the Norwegian America Line's "official menu for the seamen's mess" in 1970.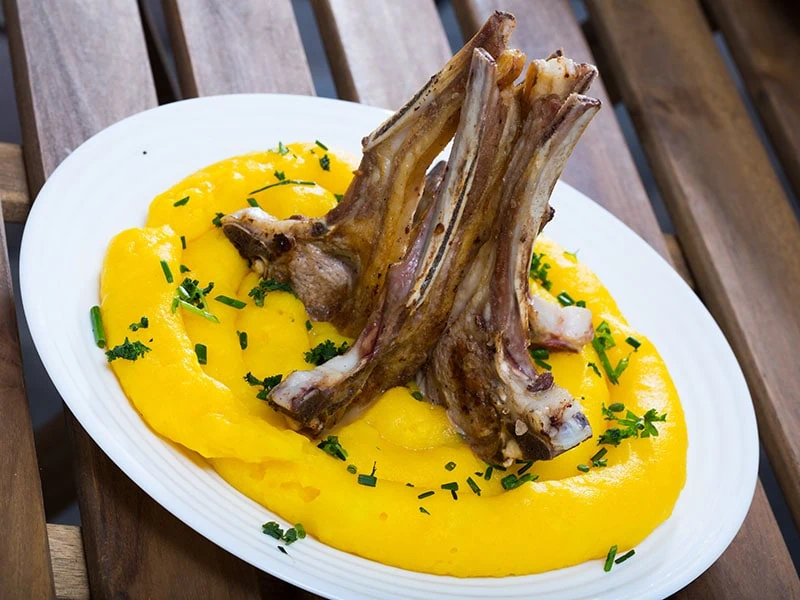 Pinnekjøtt is one of the best Norwegian dinner recipes you must try during your visit to this country. This traditional holiday supper dish is made with lamb ribs and typically served with potatoes, sausages, and puréed rutabaga.
This fancy dish originated from Western and Northern Norway and quickly gained favor in other parts of the country.
The reason why this dish is called Pinnekjøtt (meaning "stick flesh") is unknown. It might refer to the birch twigs that many people put in their pots as a form of steam grate. In dialectal Norwegian, the word pinne also refers to single ribs.
Pinnekjøtt is a must-have for Norwegians on Christmas Eve, especially in the western region. During this time, people often pair it with sausages and mashed swede.
12. Rakfisk – Fermented Fish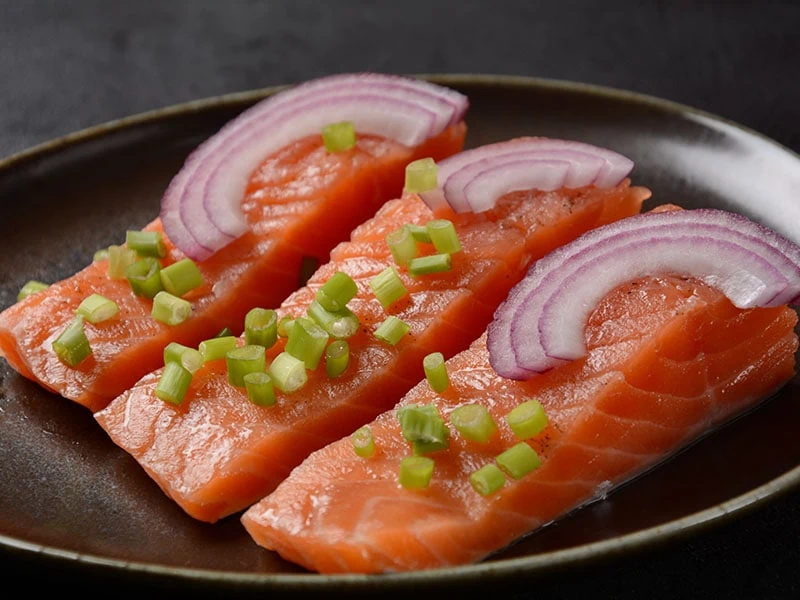 Rakfisk is a fish dish cooked from salted and autolyzed trout or char. The autolyzed Rakfisk can be eaten raw after fermenting for 2 or 3 months (or a year). Despite its intense, salty flavor and pungent odor, this dish is irresistible once you get used to it.
The name Rakfisk was first recorded in 1348, although the history behind this dish might go back further. The Norwegian term for "fish" is fisk, while rak is derived from the Norse word rakr, which means "wet" or "drenched".
Similar to Pinnekjøtt, the Norwegians usually enjoy Rakfisk during Christmas. But it also makes its appearance at the Rakfisk Festival in November each year. This festival is held in Valdres, the birthplace of Pinnekjøtt.
This delicacy tastes best when paired with Lefse, onions, sour cream, and mustard-dill sauce. It is commonly served fresh and cold, sliced or cubed.
Curious about how the locals prepare their Rakfisk and other fermented fish? Take a look!
13. Finnbiff – Sautéed Reindeer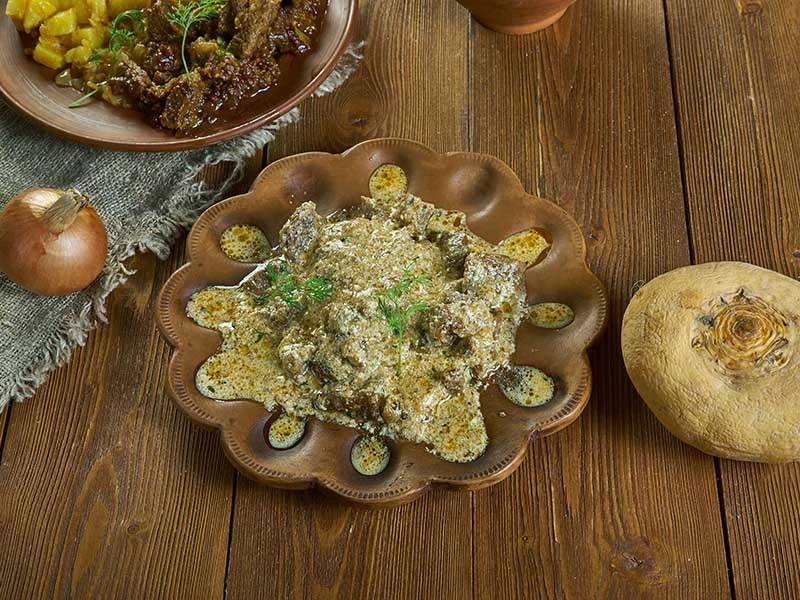 Many Norwegians appreciate this cuisine. Reindeer might not be as accessible as other types of meat, but it is a must-have in this recipe.
Finnbiff uses thinly sliced reindeer steak or back meat. The meat slices are traditionally fried reindeer fat, but most people prefer butter and oil nowadays. After frying and seasoning with salt and pepper, the cooks will boil it with water, beer, or milk.
The meal is typically served with mashed potatoes, lingonberry jam, or fresh lingonberries mixed with sugar. If desired, enjoy it with beer – one of the most well-loved drinks in Norway, for the most pleasant meal.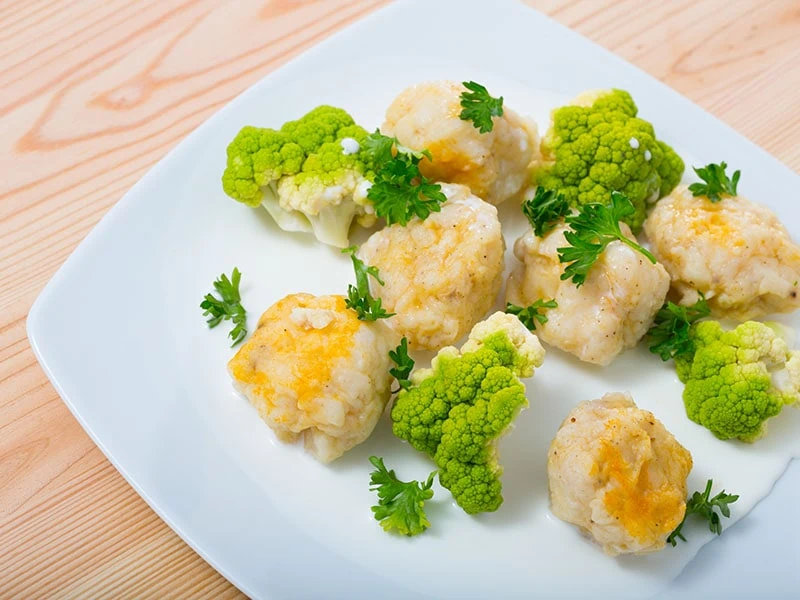 Fiskeboller is a traditional Norwegian dish with potato and wheat flour, fish broth, milk, and seasonings. This dish is available in cans or boxes with ready-made fish broth.
Norwegian fish balls usually go with a side of carrots, potatoes, broccoli, and a thick white sauce. The fish balls' flavor is quite bland on its own, which is why a popular variant adds curry powder to the simple béchamel sauce for an exotic touch and a more appealing flavor.
For more than 100 years, the Norwegian Fiskeboller firm called Vesteraalens has produced over a million cans of this gastronomic treat.
15. Rømmegrøt – Sour Cream Porridge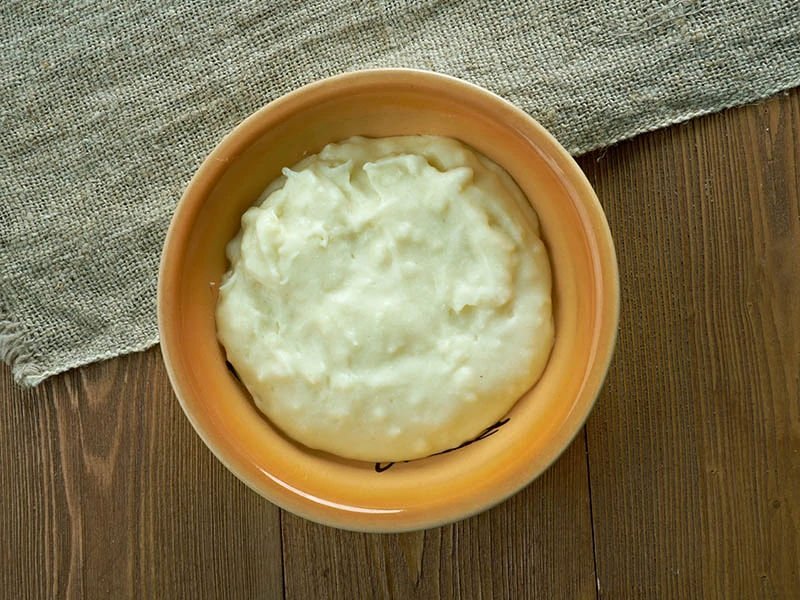 Rømmegrøt, a classic Norwegian porridge, is traditionally a delicacy served at special events and festivals.
The recipes vary according to the country's regions, but all of them must contain "sour cream" since it is the main ingredient of this dish. In fact, rømme is a Norwegian term that means "sour cream", whereas grøt means "porridge".
This thick and sweet porridge is best enjoyed with butter, sugar, cinnamon, or even cured pork. And since it is so rich, it usually comes in small cups.
It seems like the Norwegian immigrants in America still appreciate this classic dish since there is an annual Rømmegrøt eating contest held in Westby, Wisconsin, to celebrate their Norwegian heritage.
16. Whale Meat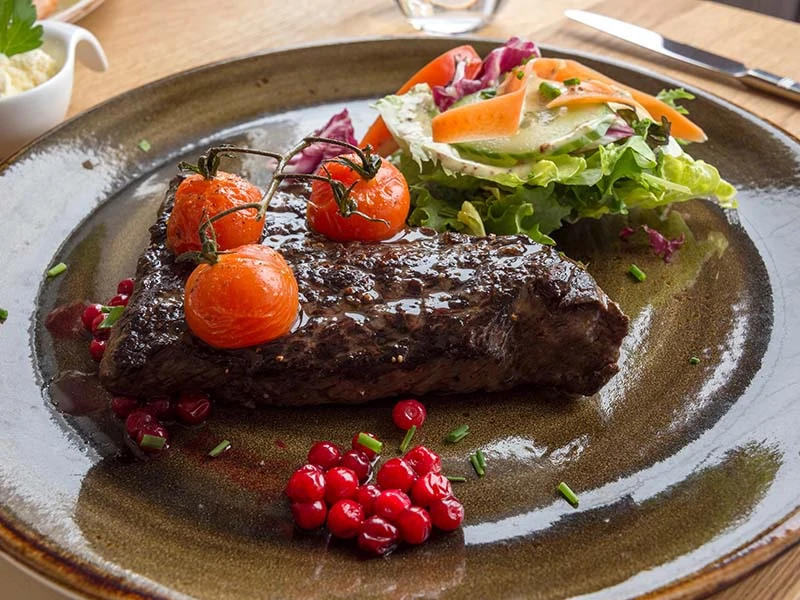 Whale meat is a legal source of protein in Norway and other countries in the Arctic. This type of meat is sustainably harvested twice a year in the spring and autumn and can be eaten throughout the year.
Up until the 1980s, Norwegians usually ate whale meat as an easy food source. The consumption has declined in recent years, but whale meat is still a staple food in Norway.
The locals often boil the meat with a bit of water and enjoy it with potatoes, vegetables, and Norwegian flatbread.
Your Meals Won't Be Complete Without These Norwegian Side Dishes
The main dishes in Norway are all fantastic on their own but pairing them with side dishes will make them taste 10 times more mouthwatering. So give this section a read and learn about the most popular side dishes in this beautiful country!
17. Brunost – Norwegian Brown Cheese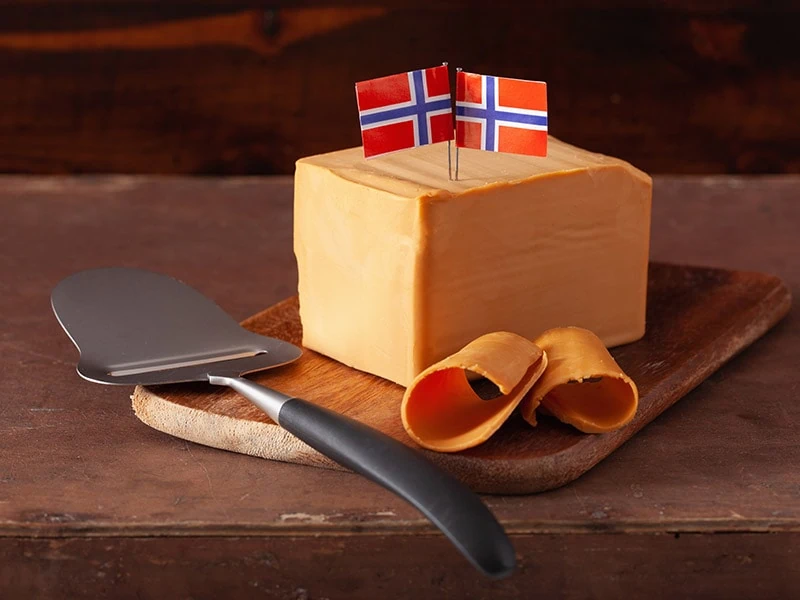 Mysost is a family of cheese-related foods made with whey, milk, or cream. And Brunost is a common cheese variety in Norway, which literally means brown cheese. This tasty spread will go perfectly with crispbread and other Norwegian breakfast recipes.
Since time immemorial, the Scandinavian countries have been boiling whey 10:1 to make this brown, cheesy spread (similar to Prim in Norway and Messmör in Sweden).
Brunost is considered an essential component of Norwegian gastronomical cultural identity and legacy. And it's also one of the country's most iconic meals.
18. Lompe – Boiled Potatoes Flatbread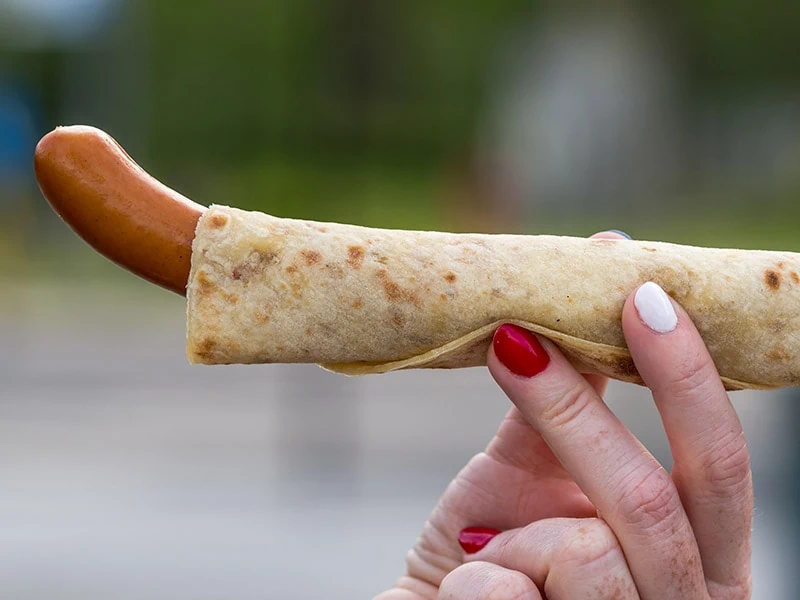 Lompe, also known as Potetkake, is a potato Lefse made with only boiling potatoes, flour, and salt. As I mentioned earlier, Lompe is a variation of the regular Lefse, almost like a small cousin of the original recipe.
It can be used to roll up sausages and can be used in place of a hot dog bun. This dish will then be known as Pølse Med Lompe. Ketchup and mustard are typical toppings, but you can also add raw onions or Bostongurka (Swedish relish).
Here's a fun fact for you: The most popular day to consume the meal is May 17, Norway's Constitution Day.
19. Raspeball – Norwegian Potato Dumplings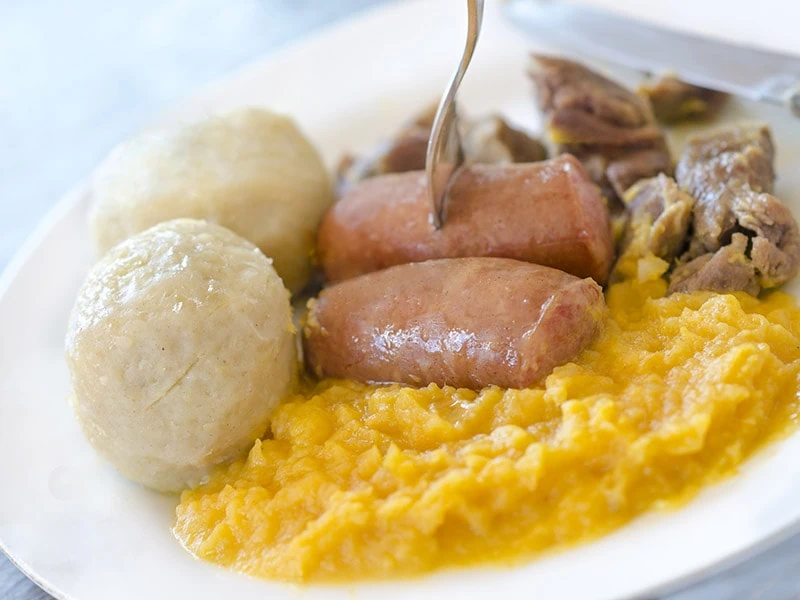 Raspeball (or Potetball) is a typical potato dumpling in Norway. Peeled potatoes are the primary ingredients, ground and combined with flour to make the balls stay together. Different types of flour potato proportions will lead to different results.
The dish is known as Kompe in the southern region, while the western part calls it Raspeball, Potetball, or Komle. Lastly, in the central area, the dish has the name Klubb.
The locals usually serve this meal at cafes and restaurants every Thursday in Vestlandet.
20. Sursild – Norwegian Pickled Herring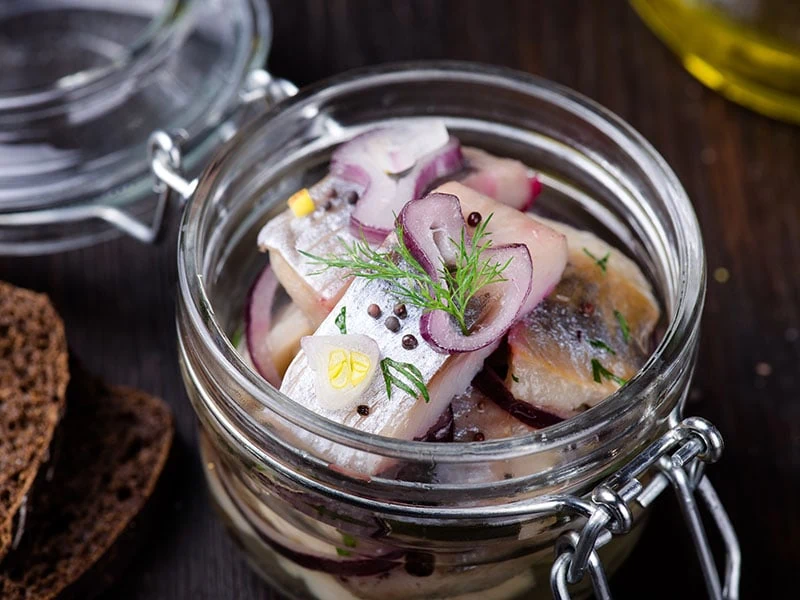 Pickling is a traditional Norwegian way of preserving herring. Most cured herring is brined in vinegar, raw onions, peppercorns, bay leaves, salt, and sugar. Sherry, dill, mustard, and other non-traditional components are also popular additions in recent years.
Sursild is a traditional pickled herring recipe in Norway. It is available all year, especially around the holidays. Other popular forms of saucing the herring include tomato sauce, sour cream, spices, and mustard.
Satisfy Your Sweet Tooth With Some Famous Norwegian Desserts
If you're into sweet treats and snacks, then these delectable Norwegian desserts are for you! Note them down quickly and try them all the next time you travel to Norway. You won't be disappointed; I can guarantee that!
21. Vafler – Norwegian Waffles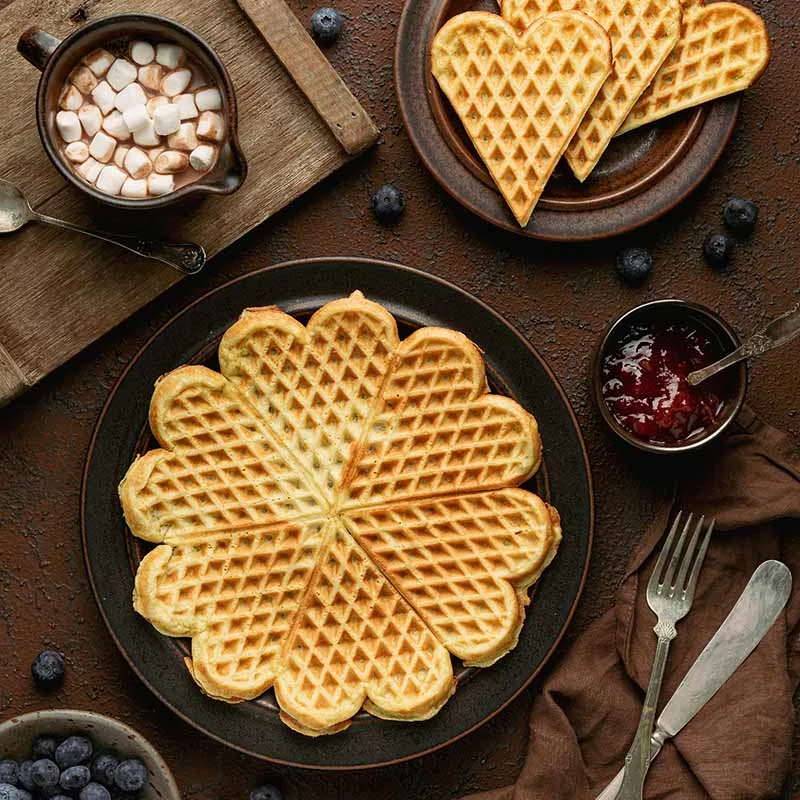 Vafler, or Norwegian waffle, is one of the country's most famous dishes to foreigners. It can be served whole or broken down into smaller heart-shaped pieces, perfect for sharing.
This yummy treat is made from a mixture of flour, baking powder, sugar, milk, butter, eggs, and cardamom. The mixture is then poured into a specially shaped waffle iron to create a super thin and crispy dessert.
In Moss, a municipality in Norway, the locals like to eat Vafler with sausages in place of a hot dog bun.
The Norwegian Church Abroad has shared this special dish for Norwegians and foreign churchgoers worldwide. Around 30,000 pieces were handed out every year.
If you've already had a waffle pan, be sure to give Vafler a try!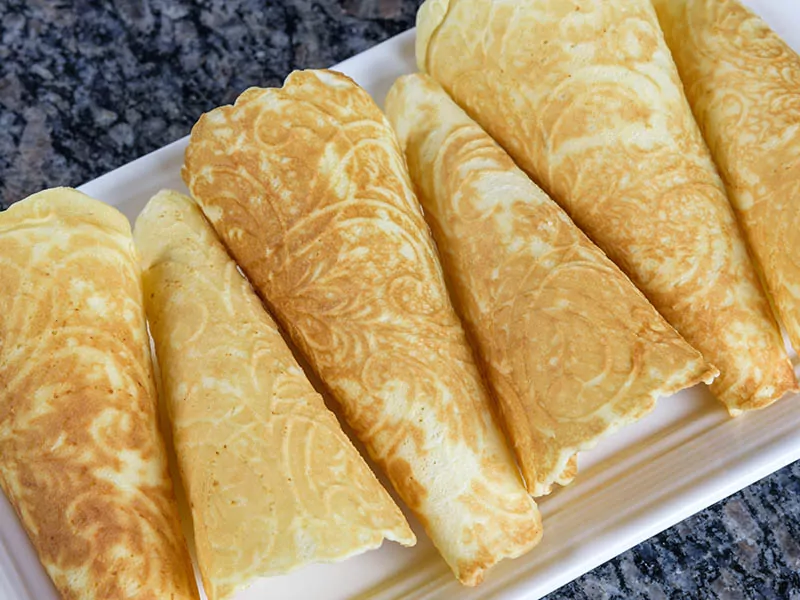 This Norwegian waffle contains the essential ingredients for any sweet treat: flour, sugar, eggs, butter, and cream. A distinctive decorative two-sided iron griddle (descended from the pizzelle of Italy) is the best tool to make these round cakes.
Krumkake is popular in Norway and among descendants of Norwegian immigrants in New England and the Midwest of the United States.
Krumkake and other Nordic cookies like Sandbakelse and Rosettes are typically baked in the run-up to Christmas.
23. Skillingsboller – Norwegian Cinnamon Rolls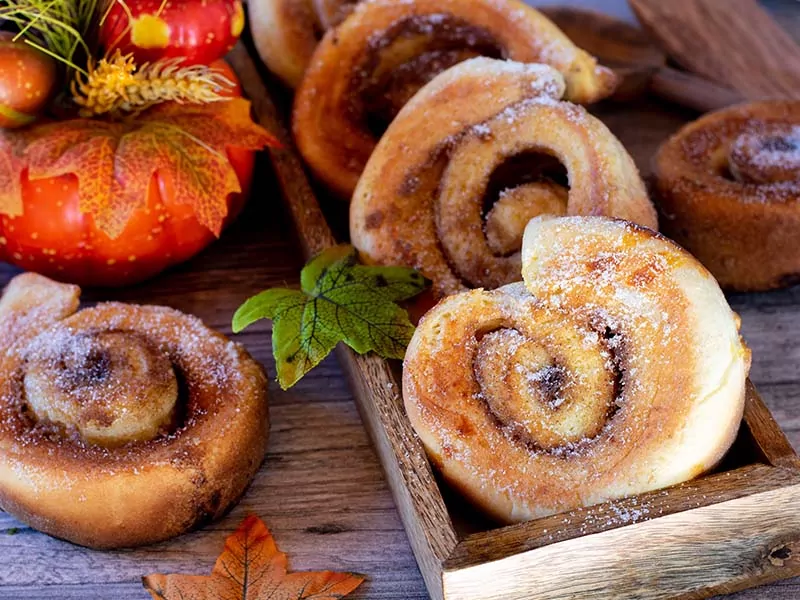 ​​Skillingsboller – a delicious recipe of European, meaning "penny bun" in Norwegian, is a cinnamon bun in Norway, typically Bergen. The locals usually make these sweet round rolls using flour, yeast, sugar, milk, eggs, butter, cardamom, and chopped almonds.
While still hot, bakers usually brush extra butter on the top and bottom of the Skillingsboller. They also sprinkle some sugar and cinnamon on top for extra flavor.
Skillingsboller is often served as an afternoon snack with a cup of coffee, although some prefer them with Brunost, the unique brown cheese I mentioned before.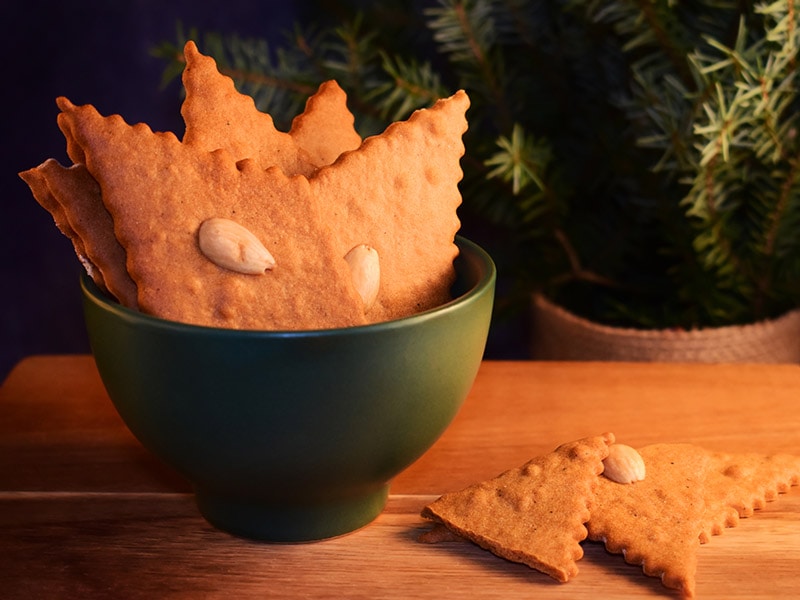 Pepperkaker is basically gingerbread cookies that can be made in all shapes and sizes.
Gingerbread houses were introduced to Norwegians by German immigrants in the 13th century. But the Christmas tradition of making gingerbread houses was taken to the extreme by the people of Bergen, Norway, as they created an entire gingerbread city.
Until today, Pepperkaker is still considered the most iconic Christmas cookie, having been in Norway for over 400 years.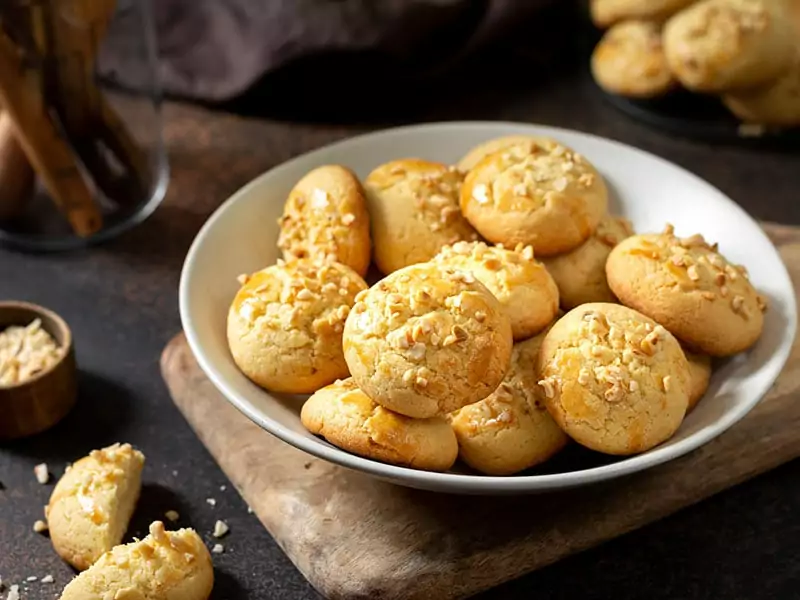 Serving Serinakaker during Christmas has been a tradition for over a hundred years. The humble buttery treat is rich and delicate with a wonderful flavor. Each little cookie is topped with sugar and almonds that get a bit toasty after being in the oven.
The recipe was first published in a household management text in the 1840s by Hanna Winsnes.
Serinakaker is also called Serina Cookies. This might be because the woman who popularized this traditional Norwegian cookie is named Serina, but the true origin of the term is unknown.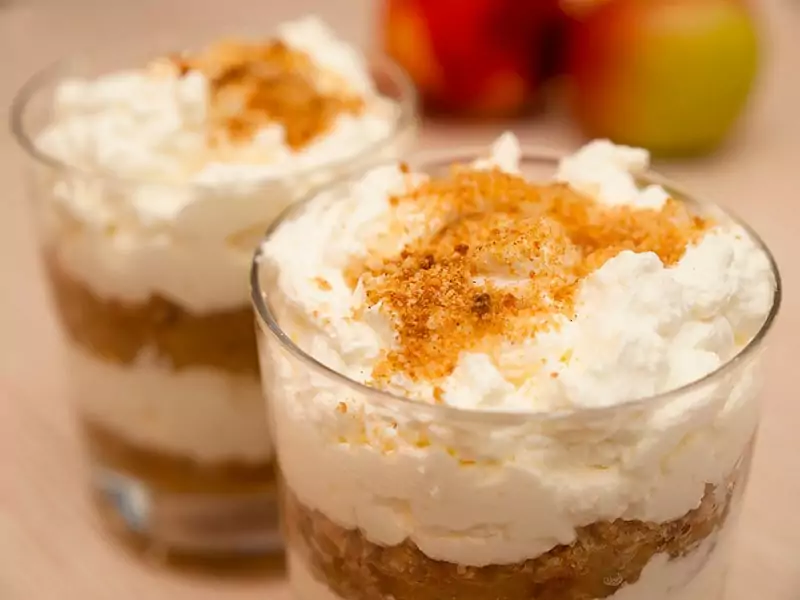 Tilslrte Bondepiker is a delectable tiered delicacy made with whipped cream, apple sauce, and sugar-roasted breadcrumbs.
This fantastic dessert also has an intriguing backstory. Many said Ivar Aasen, a Norwegian poet in the 1800s, was the one who made the dish so famous.
As the story goes, a peasant girl handed the poet the dessert, and he fell madly in love with her. He referred to her while naming the dish, despite his inability to bloom the romance.
Don't Miss Out On These Incredible Norwegian Dishes!
Norwegian cuisine is a one-of-a-kind gastronomic experience, rich in raw, fresh ingredients sourced from Norway's vast mountains and beautiful lakes.
Although you might encounter a few bizarre dishes that can weird you out, that is the fun part about exploring different cuisine and culture!
Did you have fun reading this article? If your answer is yes, please leave a like and share it with your friends. It's always a pleasure to receive support from you all.
Also, feel free to comment down on which dishes you would like to try first if you can travel to Norway right now. Have fun and goodbye!