Many fascinating things about Ivory Coast foods are waiting for you to explore. You will have the chance to expand your culinary knowledge with a list of popular foods and information about the origin and exciting food stories.
All will be presented in this article in a specific way. Ivory Coast recipes in this article will make you want to take a trip to Ivory Coast to enjoy them right away. It is time to step into the world of amazing Ivory Coast dishes.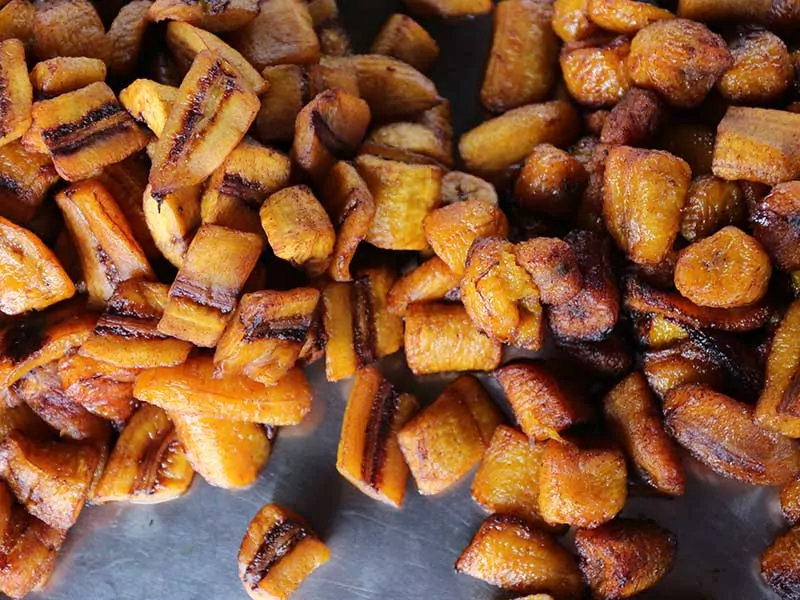 Outstanding Ivory Coast Seafood And Meat-Based Foods
If you seek seafood and meat dishes of Ivory Coast cuisine, this section will be valuable to you. It will give you a list of fantastic main dishes made from meat and seafood.
1. Kedjenou – Chicken And Vegetables Stew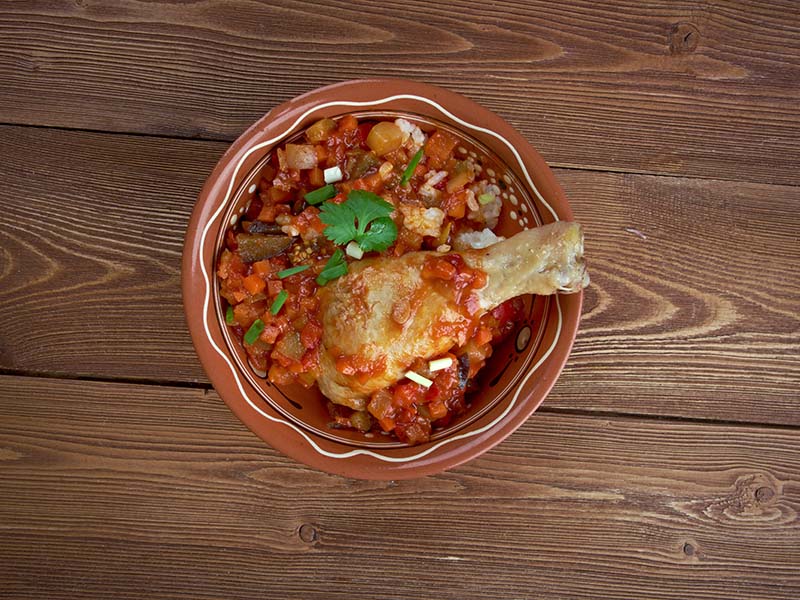 Kedjenou is a suitable suggestion for your Ivory Coast lunch recipe list. Chicken and vegetables are the key components of this fascinating spicy stew. It came from Baoule (an ethnic group in Ivory Coast), so it is well-known in this country.
Its name "Kedjenou" has its origin from the word "Kedjenou", which means "shake" in the Baoule language. Instead of chicken, Ivorians often use Guinea hen to change the flavor. The Terra-Cotta pot is the necessary equipment for cooking Kedjenou.
There are many ways to make this well-known African dish. There is no need to add liquid (or just add a bit) for cooking it as the meat will be better to cook in their own juice for rich flavor. 
Moreover, chefs can wrap meat and veggies in banana leaves and cook under hot coals. It is usually eaten with Attieke.
Check these directions to make mouthwatering Kedjenou at home.
2. Mafe – Peanut Butter Stew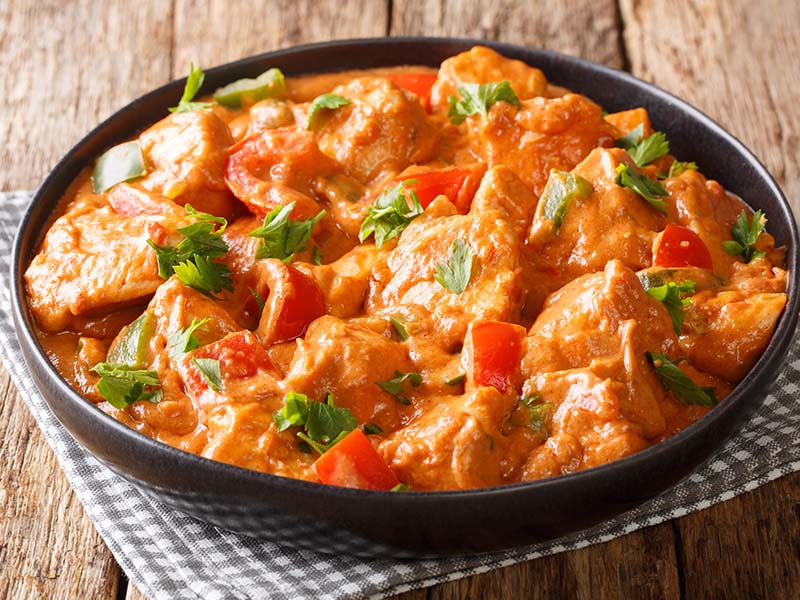 Do you like foods made from peanut butter? I love the tasty and gentle grease of peanut butter in recipes, and Mafe sauce or Peanut Butter Stew is one of them. You will fall in love with the tenderness and tastiness of meat and vegetables while eating them.
It is a common choice of Ivorians to eat with rice in meals. Originally, Mandinka and Bambara's people created the first version of this mouthwatering in Mali. Gradually, it spread to Ivory Coast, Senegal, and the Gambian during the colonial era.
In this era, groundnut cultivation has expanded enormously in West Africa. There are many versions of it with various meats such as chicken, lamb, or beef.
Also, you can come across the vegetarian version. Domodah is its proper name which means "peanut butter sauce" in the Mandinka language.
3. Poisson Braisé – Ivorian Grilled Fish
You should order Poisson Braise when coming to restaurants in Ivory Coast to enjoy great flavors from the fresh fish from this coastal country. This food is famous all over this gorgeous country. In English, it is known as Braised Fish.
As this country locates on Southern Coast, restaurants often use fresh fish to bring the better flavor. After seasoning fish with various spices, the chef will grill it. The rich flavor of the dish comes from sauteed onions and tomatoes. This food usually appears with Attieke.
4. Poulet Piquet – Grilled Chicken
When you arrive in Ivory Coast, you will easily see groups of people standing around the wood fire and enjoying the incredible Poulet Piquet. Restaurants often have giant sandpits outside to prepare this excellent and yummy food.
The typical smoky flavor of grilled chicken will leave profound impressions. In particular, its rich taste will stimulate your taste buds right away. Compared to other grilled chicken dishes, the meat of Poulet Piquet will be softer and less grease. You should eat it with Alloco (fried plantain).
5. Choukouya – Ivorian Grilled Meat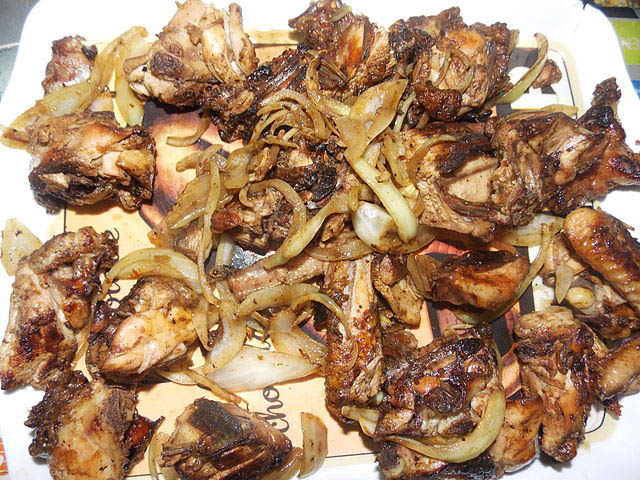 You should eat Choukouya before leaving Ivory Coast to enjoy the essence of this country's cuisine. Its name means grilled meat or steakhouse. It has many different versions with meats like chicken, goat, beef, lamb, etc.
Its taste becomes more diverse when covered with onions and spicy sauce. Ivorians often combine it with fries or Alloco during meals. It is a superb option to make your evening memorable.
The marinated technique is the difference between Choukouya and other grilled meat dishes. The chef will make 2 times seasoned. The first time will be done before grilling meat, and a bit of spice in the grilling process will make the beef richer.
6. Fisherman's Soup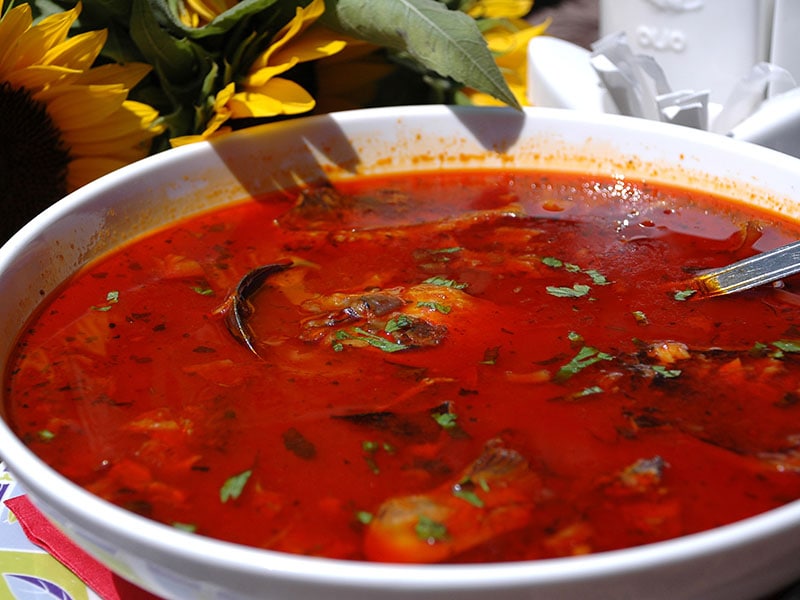 If you seek a seafood-based dish to add to your Ivory Coast dinner recipe menu, it is impossible to ignore Fisherman's Soup. Although its origin does not belong to Ivory Coast, people in this country love it.
The dish has roots in Hungary and was an invention of Hungarian fishermen. They made the first soup over an open fire along the rivers in this country. Nowadays, it appears across Europe, West Africa, and other continents. Initially, fishers used kettles to cook this delicious food.
It is a fantastic option for those who love spicy food because it is a hot paprika-based fish soup. Its red hue will show its spicy level. Ivorians often serve it with red palm oil Attieke. Besides fish, you can find vegetables like green peppers, tomatoes, and red onions in this food.
It is time to learn how to make delicious Fisherman's Soup.
7. Poisson En Papillote – Fish Baked In Parchment Packets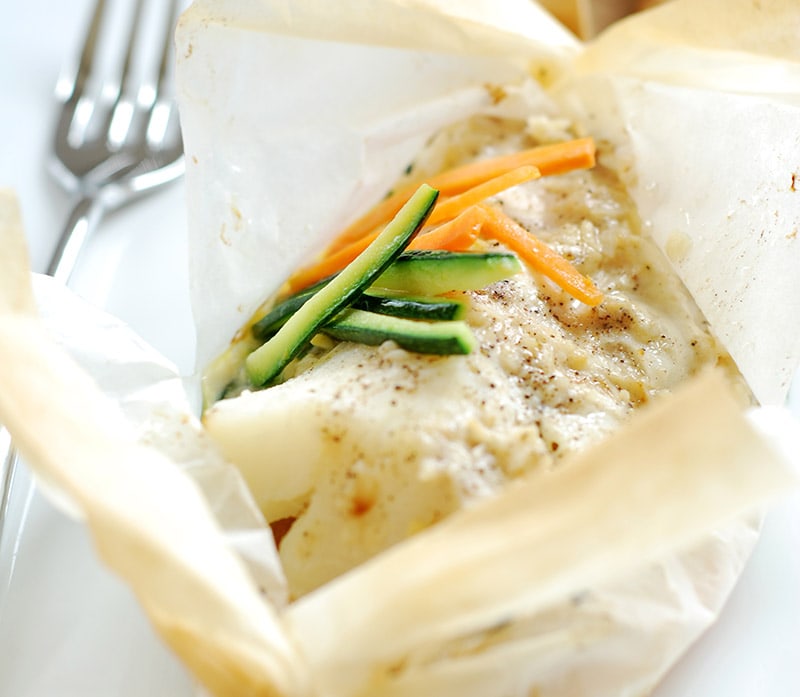 You will regret ignoring Poisson En Papillote of Ivory Coast cuisine. You will be crazy with the rich and appealing flavor when cooked with lemon marinade and tomatoes in foil. It is fantastic to eat fish with rice and sauce from the fish cooking.
Its name "Poisson En Papillote" means "fish in foil". This excellent recipe appears in meals of most households across the Ivory Coast. In particular, the freshness of the fish will fascinate you immediately.
8. Pain Brochette – Beef Skewers And Baguette
Pain Brochette is an excellent Ivory Coast breakfast recipe. It is also a fantastic snack for your midnight meal when you walk on the streets in Ivory Coast. It is not difficult to buy this distinctive sandwich at stalls in this country.
When the beef skewers on the grill are ready, the sellers will cut Baguette in half and put grilled beef inside. Of course, it is indispensable for mayonnaise, egg, flavors, and sauces to enhance the taste of this yummy food.
9. Akpessi – Herring And Eggplant Porridge
Akpessi is one of the most famous foods on the Ivory Coast. In this country, it is also called African eggplant. Moreover, it is impossible not to mention plantain, crumbled herring, and red oil in this tasty food.
It is a perfect combination of vegetables and fish. This great porridge is a healthy choice for eating in the morning or lunch. If you want to change your palate with delicious non-meat food, it will not let you down.
Stimulate Your Taste Buds With Ivory Coast Plant-Based Foods
It is a pity to significantly ignore these mouthwatering vegetarian foods as they are the staple foods of this cuisine. It is time to check their flavor right now.
10. Attieke – Fermented Cassava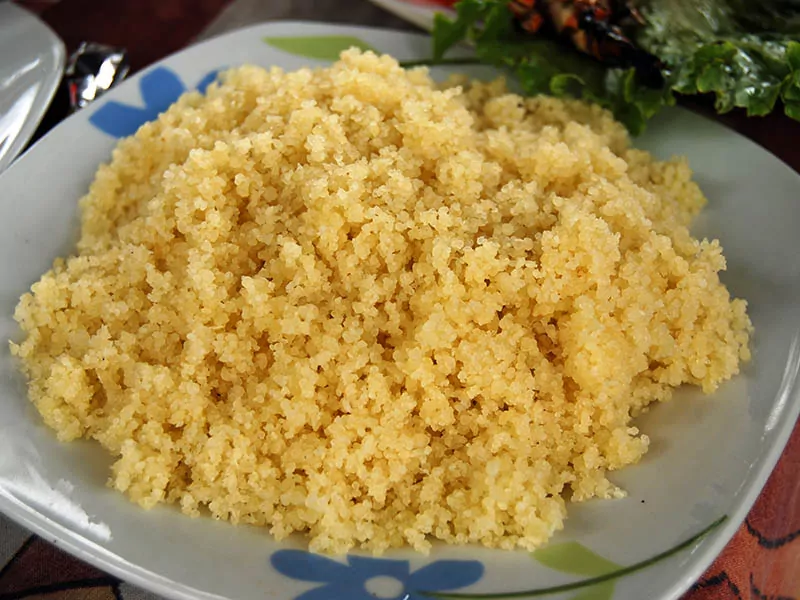 Cassava is a major and well-known food in Ivory Coast, and Attieke is an appealing food with fermented cassava as the main ingredient. It has a gentle flavor and the same texture as couscous. People in West Africa are passionate about this food.
This food is native to the Nzema tribe in Ghana and carried to Ivory Coast and many other countries in Africa. In addition to Ivory Coast, it's also an incredibly famous dish in Gabon.
Ivorians often consume it with braised meat, fish, couscous, or plantain. This dish has many different variations.
If you want expensive Attieke and high quality, you should try Abgodjiama. Attieke Petit Grain is a cheap version and is often sold in markets. Garba Attieke is more affordable than traditional Attieke 3 times, and this type is usually used for Garba consumption.
Listen to some reviews while eating Attieke with fish.
11. Foufou – Dough-Like Plantains (Or Jams)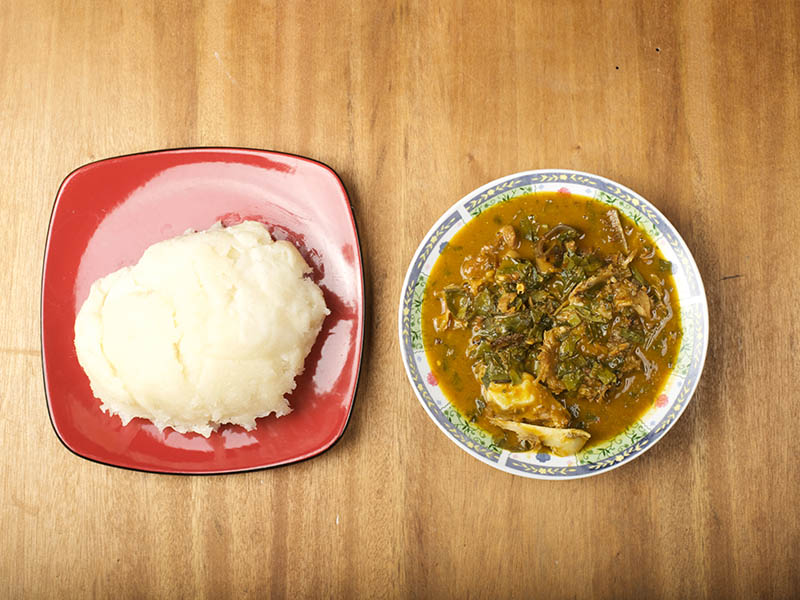 If you are searching for a great recipe made from plantains, Foufou is an excellent option. Besides plantains, you will also find jams in this delicious food. Its smooth and sticky texture will surprise you unexpectedly.
Ivorians usually combine this recipe with many different dishes, especially stews, hot pepper soup, clear sauce, or okra. Do not be surprised when the restaurant does not carry chopsticks or spoons when serving it because you will use your hands to eat it.
Many ideas said that the dish originated from Ghana. You can find it in many African countries with various versions. Instead of plantains, people can use cassava, semolina, or maize flour to make this fantastic food.
It is a specialty of the lagoon people in the big bridges area in the Ivory Coast. You can catch it at the birthdays, celebrations, and weddings of Adjoukrou people. Older women in rural regions especially prepare this food.
12. Garba – Fermented Cassava And Fried Tuna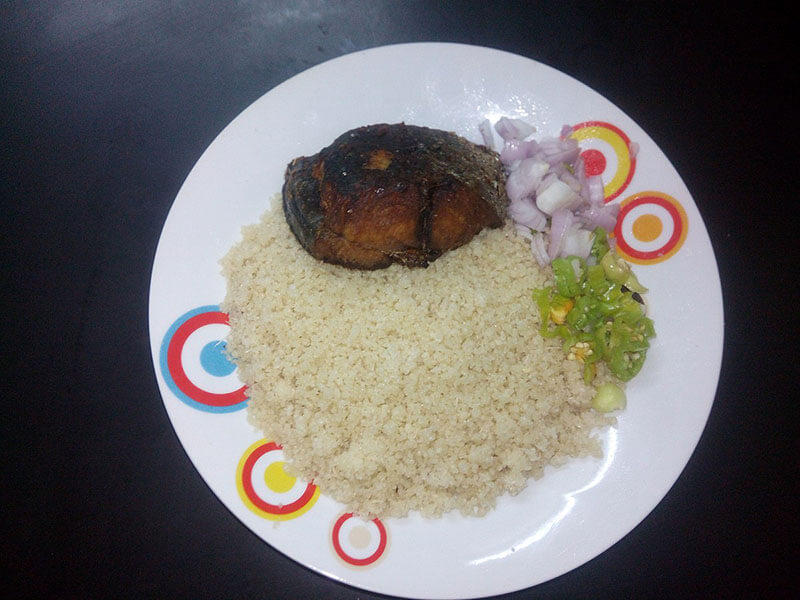 What are you going to do when you travel to Ivory Coast? In my perspective, I will walk on the streets and enjoy the incredible taste of Garba. It is considered a King of street foods of Ivorian cuisine. It is a harmonious combination of Attieke and deep-fried tuna.
Furthermore, chefs usually add tomatoes, peppers, onions, and the oil of dried tuna to enhance its flavor. You will use your hands to eat this food served on banana leaves. People knew about the existence of Garba in the 1990s.
Initially, it was an invention of a Nigerian named Garba when he mixed Attieke with tuna. And, its name was taken from his name. Many people loved it when it appeared for trade for the first time in the university halls because of its low price and high quality.
Take a trip to Ivory Coast to try Garba right away.
Do Not Miss Yummy Ivory Coast Sweet Snacks, Desserts, And Beverage
Snacks and desserts play an essential role in the daily diet of Ivorians. These foods in this part are the common choice to end the meals and satisfy your palate in the midday meals.
13. Alloco – Fried Plantain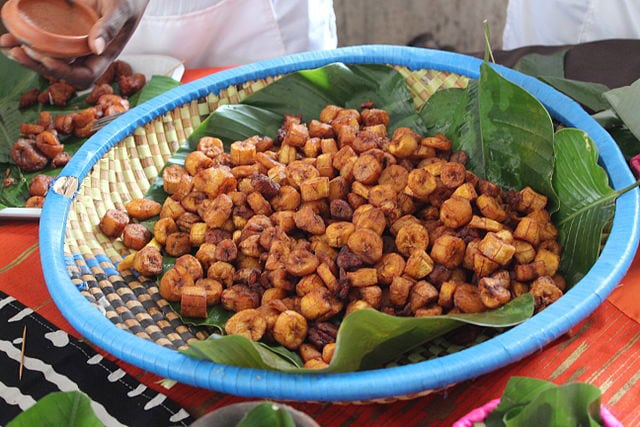 Alloco is an indispensable Ivory Coast dessert recipe in your travel book. You will immerse in the delicate crunchiness and sweetness of the deep-fried plantain slices. Their distinctive brown will make you remember it forever.
This recipe originated from Southeast Asia, where plantain was found first. Instead of eating raw plantains, people here have created this wonderful dish. Nowadays, you can find it in any country with the appearance of plantains from West Africa to America.
14. Merveilles – Orange-Scented Cookies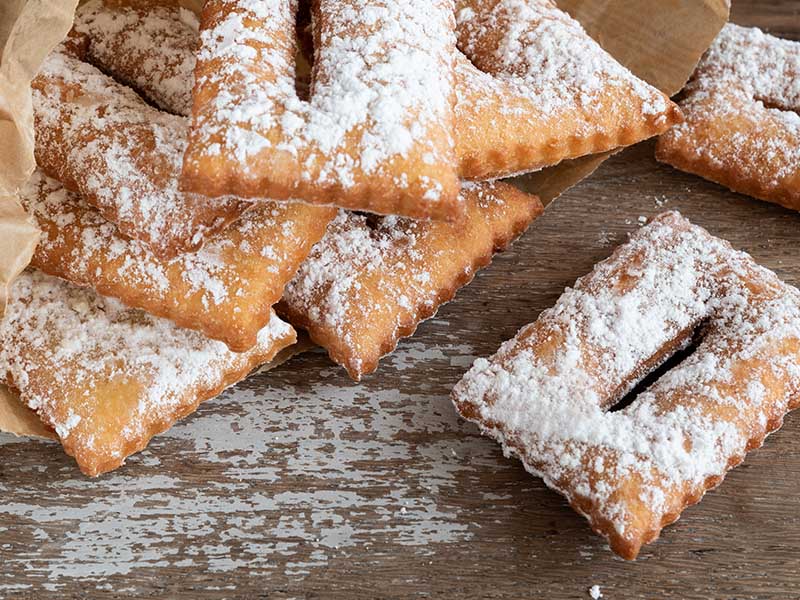 Parties of Ivorians regularly end with sweet Merveilles. It's originally a specialty of France, specifically the Atlantic Coast of Southwest France. 
This fantastic recipe comprises baking powder, sugar, orange zest, and many other components. In particular, a few flour croquettes will make it better.
When biting them, you will immerse in the perfect crispness. The gentle sweetness of this dessert will make you flutter. This fantastic recipe is attached to the social events of the Ivory Coast. Besides, it is also an incredible snack.
Get the methods to make delicious Merveilles at home right now.
15. Gbofloto – Sweet Fritters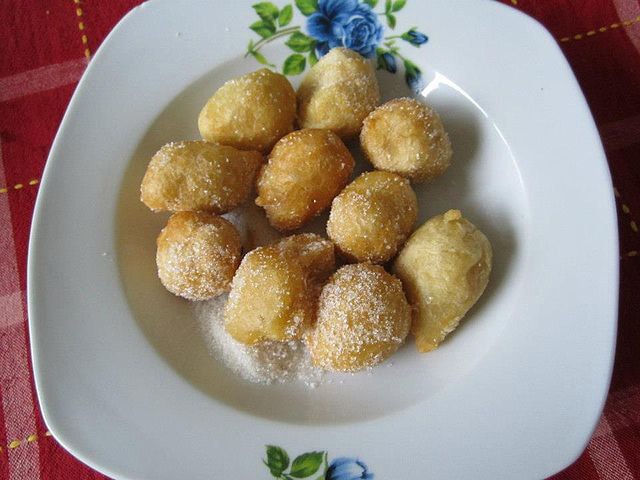 Besides the Gbofloto name, it is also widely known as Puff-puff. It is a famous dessert in many African countries, Ivory Coast included. This awesome Ivory Coast dessert recipe includes flour, sugar, yeast, eggs, and butter. All of them create an appealing flavor for food.
It is a famous donut on Ivory Coast. Its eye-catching golden brown will leave a deep impression on your mind. Its crispness will make you flutter from the first bite. It will be better when eating with strawberry or raspberry dip.
16. Tchapalo – Millet Beer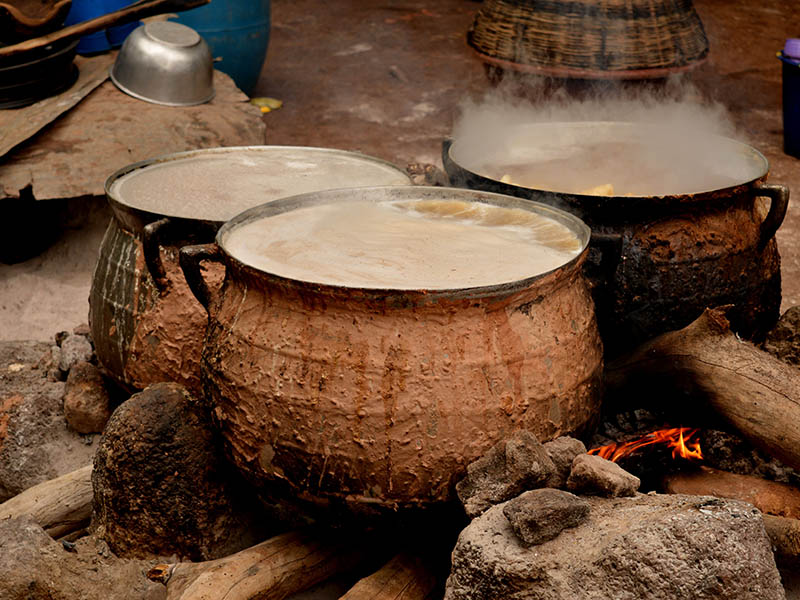 Millet beer is a favorite drink loved by natives and tourists on Ivory Coast. This alcoholic drink comes from Africa and is widespread across this continent. It comprises malted millet with various processing methods depending on the area.
In southern Africa, it is widely known as Umqombothi. Ivorians often contain Tchabalo (Millet beer) in calabash gourds (long lemon gourds). When you enjoy Millet Beer of ethnic groups, you will feel different flavors.
This drink is associated with many actual events like births, weddings, funerals, sacrifices, dances, etc. Women often open pubs at homes to sell Millet Beer. People often gather to drink it to enhance the spirit of solidarity.
According to Ivory Coast tradition, when drinking Millet Beer, you will use the right hand to hold a calabash and pour a little to the ground to show reverence with the ancestors. After drinking, you need to run the residue to the ground straight.
17. Banane Braisée – Grilled Bananas
There are countless delicacies made from plantains that you can find on Ivory Coast. Banane Braise is a great snack; you have to give it a shot. Ivorians place the plantains over hot coals and wait for a while before enjoying this excellent food.
After grilling, plantains will have an eye-catching brown shade. When biting plantain, you still feel the softness and juiciness of it. Especially its natural sweetness that will make you addicted. You can buy it at the vendors on the streets of Ivory Coast at a low price.
18. Degue – Wheat/Millet Milk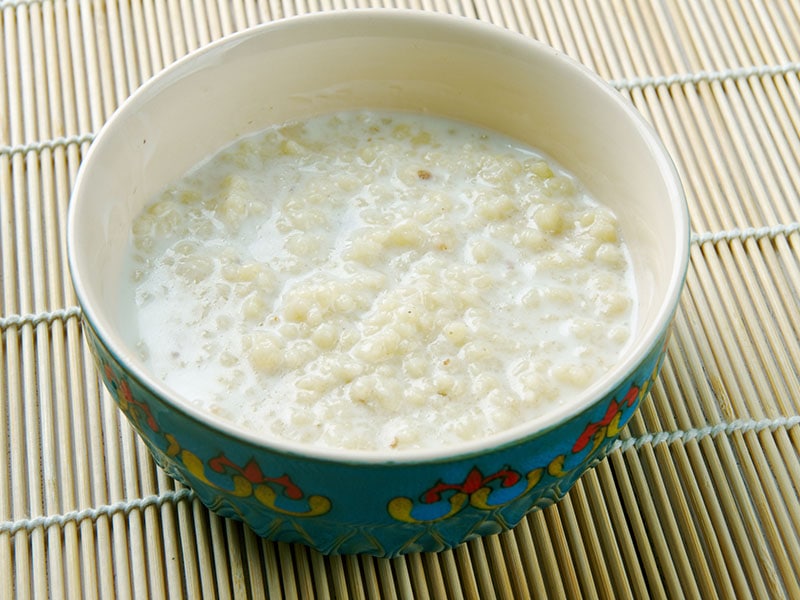 It is time to refresh your taste buds with a bottle of Degue after heavy meals. When you look at it for the first time, you will think of yogurt because its texture and appearance are similar to yogurt. However, it is not a kind of yogurt but rather a traditional dessert drink of Ivory Coast cuisine.
This recipe is a harmonious combination of miller flour, yogurt, and a bit of honey or sugar to sweeten. It is not complicated to find it in many restaurants in Ivory Coast. Its flavor resembles oat smoothie and Asian Sago desserts.
19. Bangui – Palm Wine
Bangui or Palm Wine is a standard alcoholic beverage in Ivory Coast and many other areas like South America, Asia, and the Caribbean. It is processed from the sap of palm trees, such as date palms or coconut palms.
Ivorians often use date palms and jaggery palms to make this drink. It is an essential part of the ceremonies of the Ivory Coast, such as weddings, births, or funerals. The combination of Palm Wine and medicinal herbs is an effective remedy to treat physical complaints.
Ivorians will pour a few drops of Palm Wine to the ground before drinking to express honor to their ancestors. Both men and women in Ivory Coast love this beverage. However, women should drink less in public.
Take a trip to Africa to see the ways people make Palm Wine.
Explore Dominant And Mouthwatering Ivory Coast Sauces
There are many delicious and famous sauces on Ivory Coast. They are essential things I must mention when talking about Ivory Coast cuisine.
20. Aubergine Sauce – Eggplant Sauce
Aubergine sauce is a pride of Ivory Coast cuisine. Many ideas said that Aubergine or eggplants appeared in Northeast Africa 2 million years ago. Gradually, it was grown much in South and West Africa.
Besides eggplants, this tasty sauce also contains fish, chicken, beef, and other meats to create a fantastic, rich, and appealing overall flavor. People in Ivory Coast often eat it with Foufou for lunch or dinner.
21. Palm Oil Nut Sauce
When referring to Ivory Coast cuisine's prominent types of sauce, it is impossible not to talk about Palm Oil Nut Sauce. Its tasty and hearty flavor will make you flutter when enjoying food made from this sauce.
Palm fruits are a common plant in African countries, and this fruit plays an essential role in the cuisine of this continent. Ivorians will pound the palm nuts and extract the pulp from them. This fantastic sauce is obtained after simmering with meats, crayfish, and spices.
22. Kple Ba Sauce – Bean Sauce
If you go to the western area of the Ivory Coast, you will have the opportunity to enjoy the flavor of Kple Ba sauce. It is a specialty of this region. The main component that creates Kple Ba is Irvingia Gabonensis seeds.
Ivorians often dry the beans from the pods of the plants to combine with this sauce in Baoule and Bete. They often call these dried beans with the name "Kaklous". This sauce is often mixed with cassava foutou, ripe banana foutou, and rice.
23. Gouagoussou Sauce – Aubergine And Okra Sauce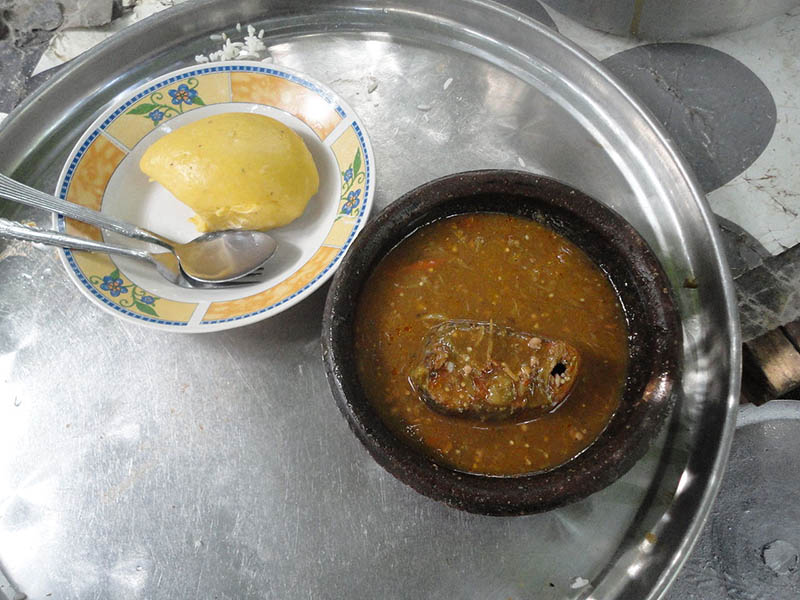 Gouagouassou sauce is one of the typical sauces of the Ivory Coast. Its name comes from the word "Sa to gouasso", which means "pour the sauce over the foutou" in the Baoule language. Its rich flavor will captivate you immediately.
It is a combination of aubergine and okra. The appearance of okra will bring a characteristic flavor and thick texture to this sauce. Ivorians usually mix this delicious with various meat or fish to create incredible recipes.
24. Djoumble Sauce – Okra Sauce
If you love the culinary recipe created from Okra, Djoumble is an excellent suggestion for you. Baoule people prepared the first version of Djoumble in the central area of Ivory Coast when they dried okra.
It often appears in many recipes, especially Ivorians, who usually add Djoumble into N'Tro sauce. This type of sauce with the typical flavor and dense consistency is a perfect option to eat with Foutou banana, yam, rice, or Placali (fermented cassava paste).
25. Gnangnan Sauce – Eggplant Sauce
Ivory cuisine has various sauces, and Gnangnan sauce is one of them. It is a traditional sauce of this country and is a substitute for Aubergine sauce because they have many similarities in taste and texture.
It is also widely known as a clear sauce. Small African eggplants are the primary ingredients to make this delicious sauce. You can find many different versions of it. And, its gentle bitter taste will stimulate your taste buds when eating rice or other dishes.
According to the culture of Africans, they claim that Gnangnan sauce carries many therapeutic values, and they consider it an ideal choice when suffering from malaria.
I was addicted to the flavor of these dishes when enjoying them, and I believe you will also experience the same feeling as I used to. It is time for you to satisfy your mouth and stomach with these delicious and appealing foods.
Do you like the information I have introduced in this article? Do you want to know any more? If yes, please write your questions in the comment section. I will try to respond as soon as possible.