Knowing how to make cookies soft again can come in handy a lot of the time. Cookies, like other sweets, can become hard from being left out for too long or baked the wrong way. This is unfortunate because after all, who doesn't love a soft, warming, and tasty treat to brighten up their day?
If you like your cookies tender, this article is for you. I will cover all the topics related to soft cookies, from how to make hard cookies softer to what baking and preserving tips you can try. No more eating hard and crumbly cookies; you can finally enjoy your cookies just as they are.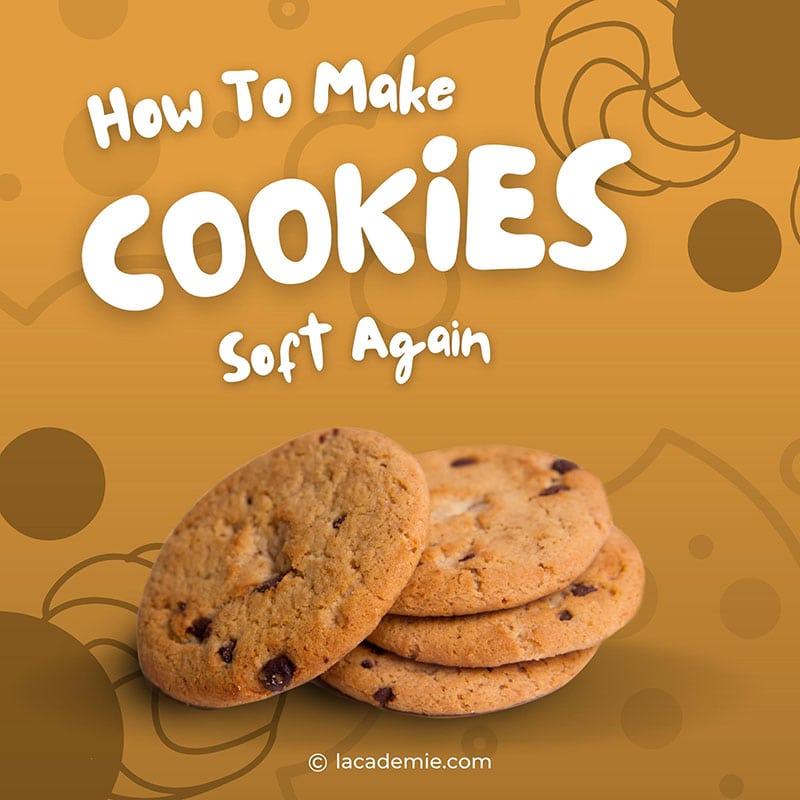 There are two simple ways to soften hard cookies. The first one includes putting a slice of bread in a mason jar with your cookies and letting them sit for a while. The other one is reheating them in a microwave while wrapped in damp paper towels.
While certain cookies are meant to be crunchy, others need to have a fudgy texture to be enjoyable. This all depends on their current level of moisture. Over time, this moisture can evaporate, making the cookies harder and stiffer. Some other common reasons are:
There is too much flour in the ingredients.
The cookies were baked for too long.
There isn't enough water, sugar, or butter in the ingredients.
It's no fun eating stale and rock-hard cookies. Take a look at these two simple ways to make your favorite dessert enjoyable again.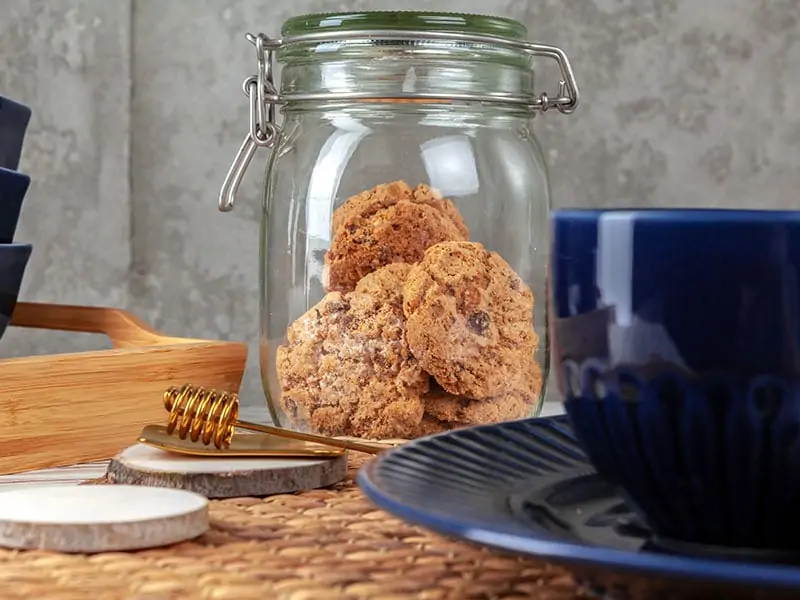 Method 1: Use A Slice Of White Bread
Much like other types of pastries, bread can release moisture over time. As cookies have a large portion of sugar that can absorb it, keeping them both in a large but airtight cookie jar together will help give your cookies some softness again.
Step 1: Prepare The Materials
For this method, all you need is a cookie jar or a tight-lid container and a fresh slice of white bread. If you don't have any bread, a slice of apple or a damp towel wrapped in foil with holes will also do the trick.
Step 2: Put Everything Into The Jar
Place the fresh slice of bread at the bottom of the jar. Then stack all the cookies on top of it and make sure the lid is closed tightly.
Step 3: Close The Lid And Let Everything Sit For 24 Hours
Keep the container closed for 24 hours. This should give enough time for the bread to release moisture into the air for the cookies to absorb. Don't forget to check the bread and replace it if it starts to get stale.
Step 4: Remove The Cookies And Try Them Out
After leaving the cookies overnight, you can now take them out to see how tender and chewy they have become. If they are not soft enough, use a new slice of bread and put them back in for another 6 hours.
Click here if you want some quick guide on how to soften cookies.
Method 2: Use A Microwave
This is a speedy way to instantly make your cookies soft again. However, keep in mind this only applies to cookies you will eat right away. This method can leave your cookies drier than before after they get cool.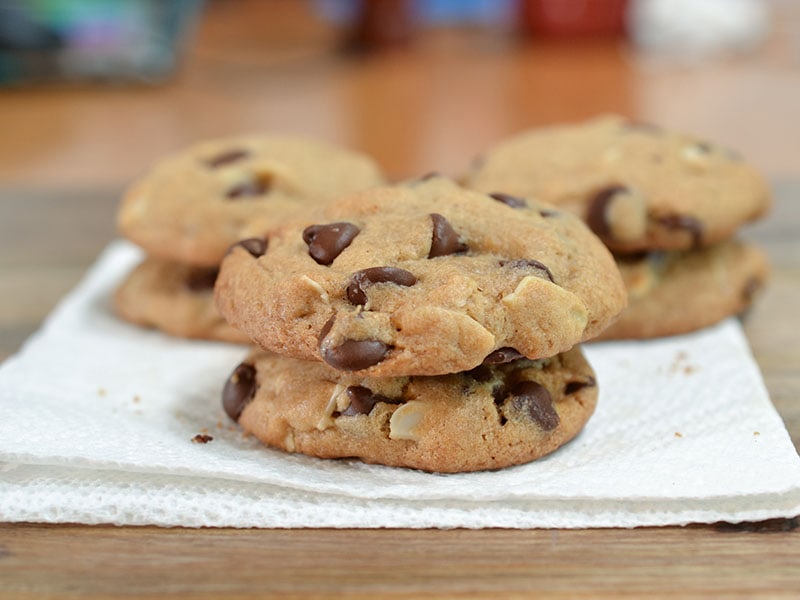 Step 1: Prepare The Materials
The main goal is to reheat the cookies. For that, you will need a microwave and some damp paper towels. Make sure you squeeze out all the excess water so your cookies don't get soggy.
Step 2: Wrap The Cookies In The Damp Paper Towels
Wrap the cookies individually in the paper towels if you only have a few for the best result. If you have a lot of cookies, place them all on a plate and cover them with a paper towel.
Step 3: Reheat The Cookies In The Microwave For 15 – 20 Seconds
As the microwave starts to heat up, the cookies will be able to absorb all the moisture evaporating from the damp paper towels. After around 15 – 20 seconds on medium settings, they should already soften up.
Step 4: Remove The Cookies From The Microwave
After your microwave has finished reheating the cookies, unwrap the paper towels and try them out. If they are still a bit hard, repeat the process one more time.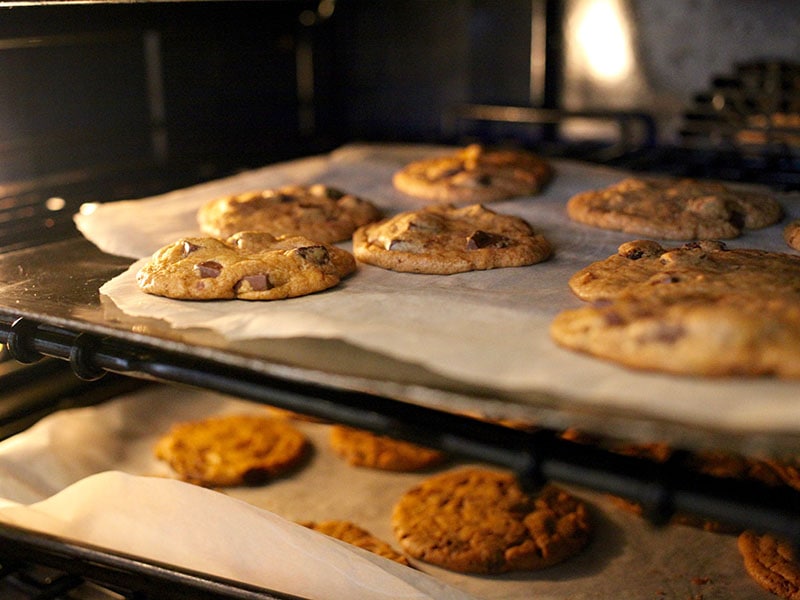 The secret to soft cookies lies in the moisture. The moisture content of cookies depends a lot on a good balance between the ingredients, baking technique, and temperature. In order to make sure this is possible, you can try some of the following ways.
Adjust The Ingredients Accordingly
Did you just discover brand-new cookies recipes to try out during the fall? Or did you just stumble across a collection of recipes for authentic Australian cookies? Don't be afraid to experiment with them!
Generally, butter, egg yolk, and brown sugar largely contribute to how long your cookies can stay soft. Try adding or fixing the ratio of those ingredients until you find out what works.
Use Brown Sugar Instead Of White Sugar
Brown sugar can hold moisture a lot better than white sugar. Add a tablespoon or two into your recipe so it can suck up the water and hang on to it for your cookies. It might taste slightly different, but nothing too drastic that you wouldn't like.
Replace Your Dark Baking Sheet With Aluminum Sheet
A dark baking sheet absorbs and distributes heat very quickly. It can rapidly suck up the moisture in your cookies and make them stick to the pan. An aluminum sheet's decent thickness will help to keep your cookies from over-browning.
Instead of flattening your dough like usual, try making tall large scoops instead. This way, the center will be soft while the dough is dense, which will keep the moisture in a little longer.
Remove your cookies when the edges are golden brown, and one-third of the center is still pale. This is usually one or two minutes before they are supposed to be done. The middle might still be tender but will eventually harden once they have cooled down.
Once your cookies have had time to take shape, move them to a cooling rack. If you leave them on the baking tray for longer than five minutes, they will continue to cook and lose all the moisture.
While your cookies are still warm, use plastic wrap to cover them up and keep the moisture from escaping. You can do this to each individual cookie or place them all in a container.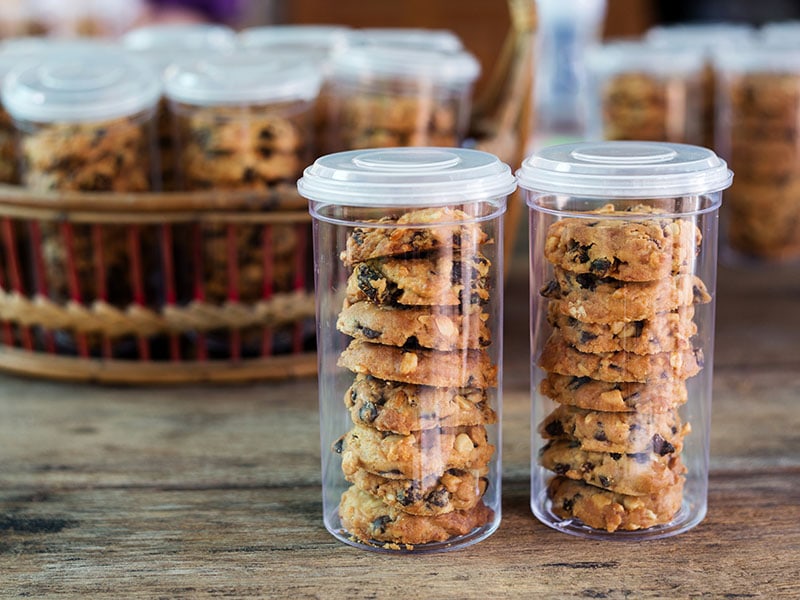 Cookies are usually made in large portions, and there's a very good chance you can't always finish them all straight out of the oven. Make sure they are still deliciously soft by the time you want to eat them again with the correct storage methods.
You can keep your cookies in a cookie jar, sealed plastic bags, or regular plastic boxes. As long as they are airtight, your cookies should be soft and ready for your next meal.
If you plan on saving your cookies for a long time, consider putting them in freezer bags or freezer-safe containers, then put them in the freezer. This can keep them soft and fresh for about three months.
This is a short-term method if you plan on having your cookies soon. The fridge can make the butter in your cookies harden, so room temperature is the better option.
This method works wonders even when your cookies are still soft. Do the same thing as you would if you were trying to soften them. Remember to choose white bread so it doesn't mess with the flavors of the cookies.
There is truly no greater feeling than biting into fresh and soft cookies with gooey, melt-in-your-mouth flavors. If you have been looking for more ways to try out soft cookies, here are a few suggestions.
These cookies are not only lusciously good and incredibly moist, they are also a fun way to put some veggies into your diet. Pair them with some almond milk to complete your healthy meal.
Big, warm, and cozy, that's what these cookies are. A delightful treat for any time you need a familiar pick-me-up, but especially during winter.
These are for those who love a little coconut in their sweets. They are delicate and chewy on the inside, perfectly toasted on the outside. What a complete joy to try.
These cookies are an addictive blend between sweet dark chocolate and sultry cherries. They make a great holiday snack for you to share with friends and family.
One of the best sugar cookies you will ever taste. You can make them easily using simple ingredients and have yourself some sweet snacks to eat anytime, anywhere.
FAQs
Soft cookies can come with a lot of questions and wonders. Keep reading to see if yours is included here.
If you want to experiment with your cookie recipes but don't want to risk the whole batch, divide the batter and use one-third to try out different ingredient ratios or baking techniques.
Add a tablespoon of corn syrup to give your cookies some moisture. Corn syrup usually becomes liquid at room temperature so it can help keep the edges crispy and the center tender for a while longer.
Don't put your cookies into the oven or microwave without damp paper towels when trying to soften them. This only takes more moisture from the cookies and makes them even harder than they already are.
You can also put a mug in the microwave alongside the damp towels when you are softening your cookies to produce even more steam for moisture.
If you are making different types of cookies, separate the soft ones from the crispy ones. Crispy cookies can suck up the moisture from the soft ones and dry them out.
They say you can learn something new every day. Hopefully, these tips and tricks are sufficient for the next time you find yourself with hard, stale, and unappetizing cookies. Don't hesitate to ask any other questions as well as share this article with those who need it. See you soon!
Nutrition Facts
1 servings per container
Serving Size1 medium (30g)
---
Amount Per ServingCalories148
% Daily Value *
Total Fat 7.4g

11

%

Saturated Fat 2.4g

10

%
Trans Fat 0.2g

Sodium 93mg

4

%
Potassium 51mg

2

%
Total Carbohydrate 20g

7

%

Dietary Fiber 0.6g

0

%
Sugars 9.9g

Protein 1.5g

2

%
---
* The % Daily Value tells you how much a nutrient in a serving of food contributes to a daily diet. 2,000 calories a day is used for general nutrition advice.